Kourakuen is a popular Japanese ramen chain based in the east of Japan that is celebrating its 65th anniversary this year. Their diverse ramen menu line-up elicits a hint of nostalgia amongst the people of Japan, with its number one product being the "Chuka Soba," a Chinese-style soba noodle dish.
The company just recently launched its first ever mascot characters called "Mama" and "Papa." They are a family who love to eat out at Kourakuen, with Papa having a weakness for ramen and Kourakuen's popular Chuka Soba, and Mama having a thing for their seasonal and limited-time dishes.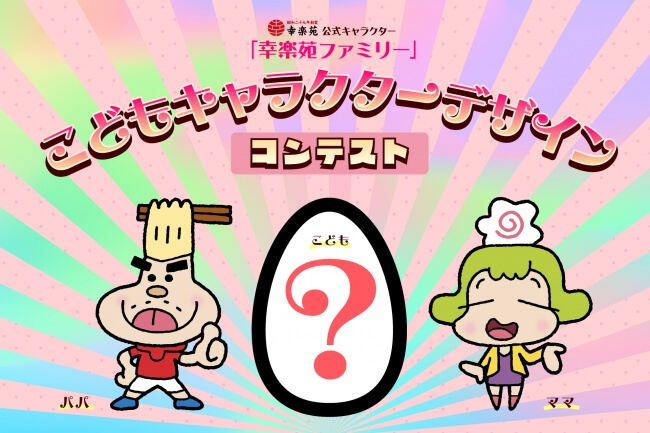 In celebration of 65 years since its establishment, Kourakuen announced an international Child Character Design Contest which people from around the world are able to participate in. Participants must create a child character for Mama and Papa. The winning character will serve to promote and make Kourakuen an even more fun place, appearing on the company's social media platforms and at events to spread the word of their ramen across the globe.
But that's not all. Winners will receive ¥300,000 travel money with JTB and ¥200,000 in prize money. Many people are unaware of Kourakuen outside Japan, hence the contest, so if you're reading this article, this is your chance to get involved and get the word out there!
Our MOSHI MOSHI Friends members decided to all get together and enter the contest!
Six of our amazing members came together. They are a diverse bunch, each of different nationalities and ages and having different hobbies.
They headed to the Dogenzaka branch of Kourakuen in Shibuya, Tokyo where they ordered food of their choice as inspiration for their character designs.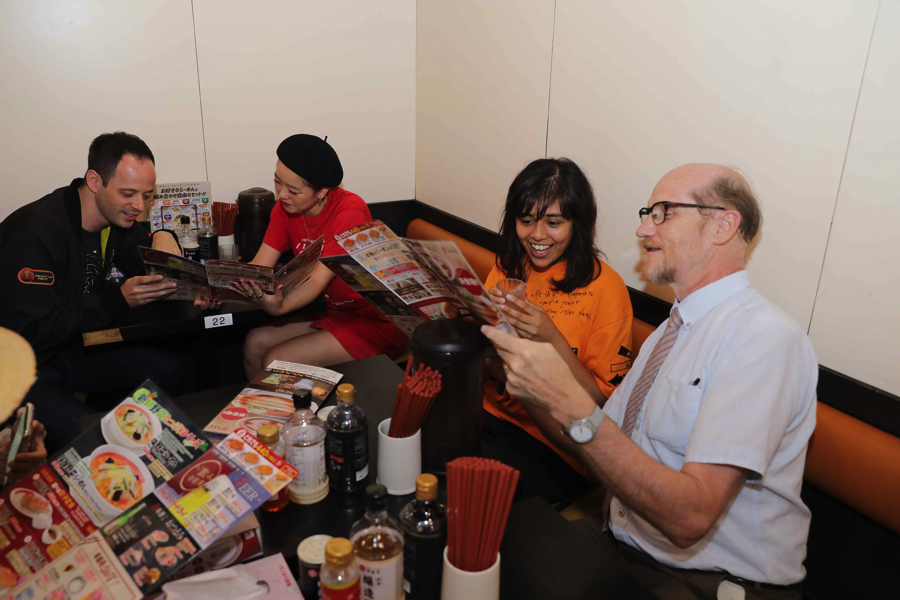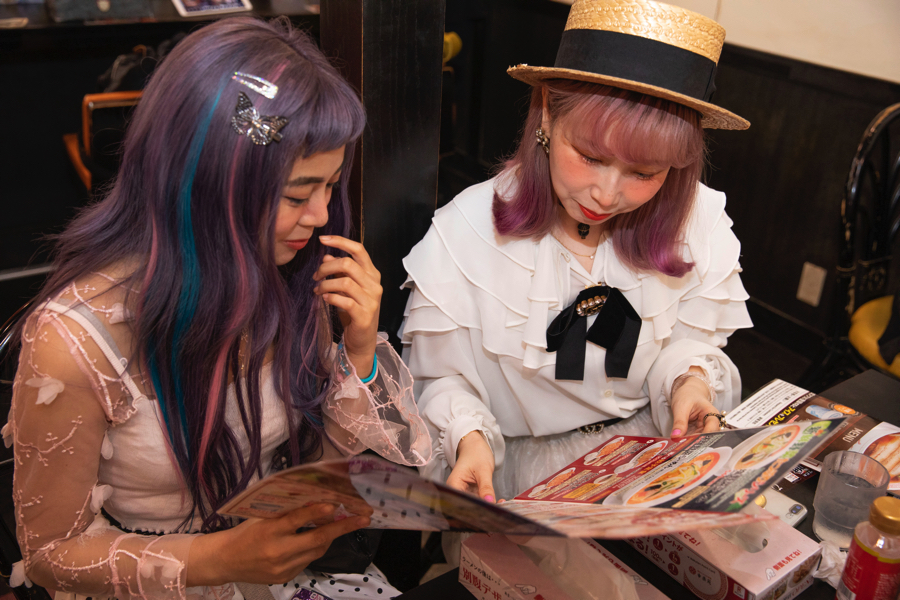 Being a ramen chain, Kourakuen of course has a long list of ramen options, but they also boast a selection of delicious side dishes too like gyoza and chahan. Our members were spoiled for choice and it took them 5-minutes or so to decide, but each of them settled on their favourite-sounding dishes.
Time to tuck in!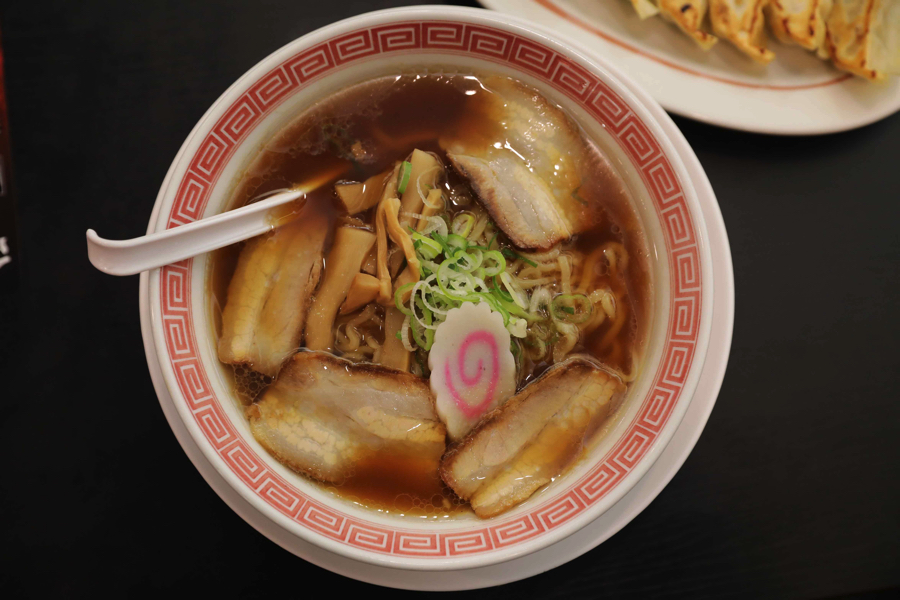 Chuka Soba – ¥440
Naomi is a model from the Philippines. She went and tried the "Chuka Soba," Kourakuen's most popular dish.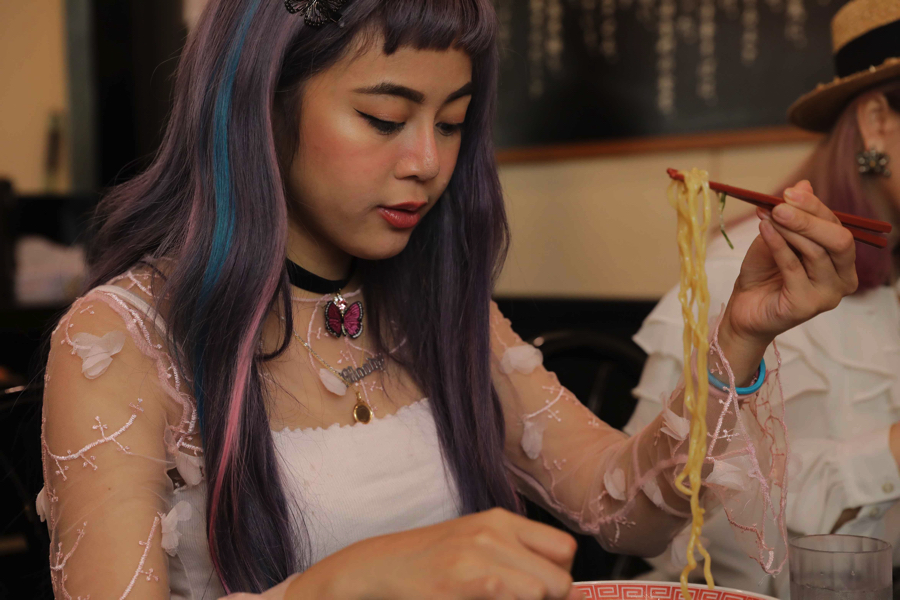 This was her first time eating at Kourakuen, and she seemed to enjoy the subtle flavours of her Chuka Soba.
Etsuna, a model from China, has recently been obsessed with going to Hakata to eat tonkotsu, so she went for the "Tonkotsu Chashu Noodles" (¥640). She was really happy that there were mustard greens in the dish which she said made it really tasty. We were looking forward to seeing what kind of character Estuna was going to illustrate as she graduated from an arts college.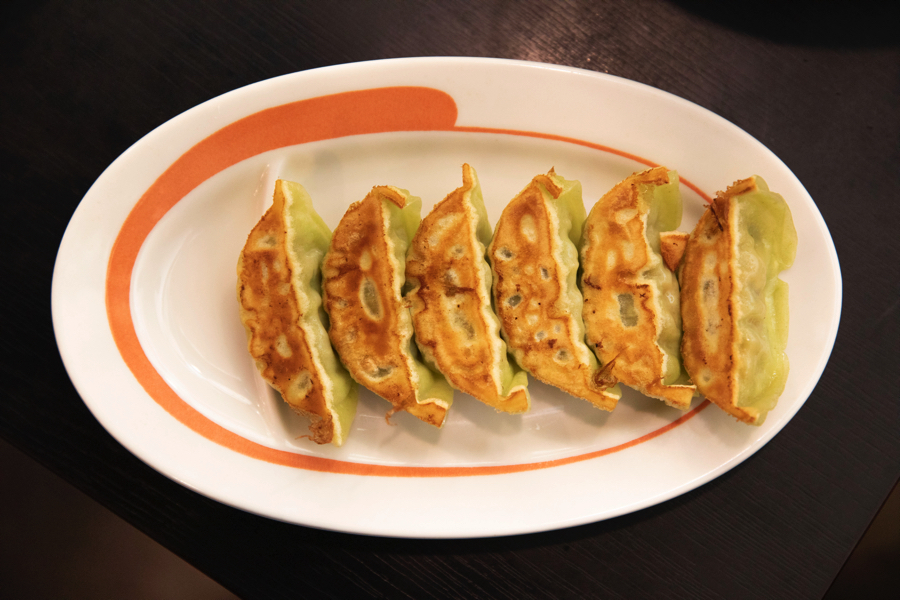 Vegetable Gyoza – ¥240
"I'll go with vegetable gyoza!" Peter decided promptly, a Canadian and vegetarian who was raised in Japan.
He was very pleased with his choice, saying: "I finally get to eat meatless gyoza after so long! There's plenty of veg in them like yam, beefsteak plant and ginger. The skin is chewy too, it's really good." Kourakuen's vegetable gyoza have no meat or onions in them, so we recommend them for people who have always wanted to try gyoza but don't like the smell.
Sammy is a British translator for us on MOSHI MOSHI NIPPON and she loves Japanese food. She loves ramen but is also health-wise, so she ordered the "Reduced Salt Chuka Soba" (¥440). "I came prepared, I've been practicing drawing my character since yesterday!" she explained, full of vim and vigour.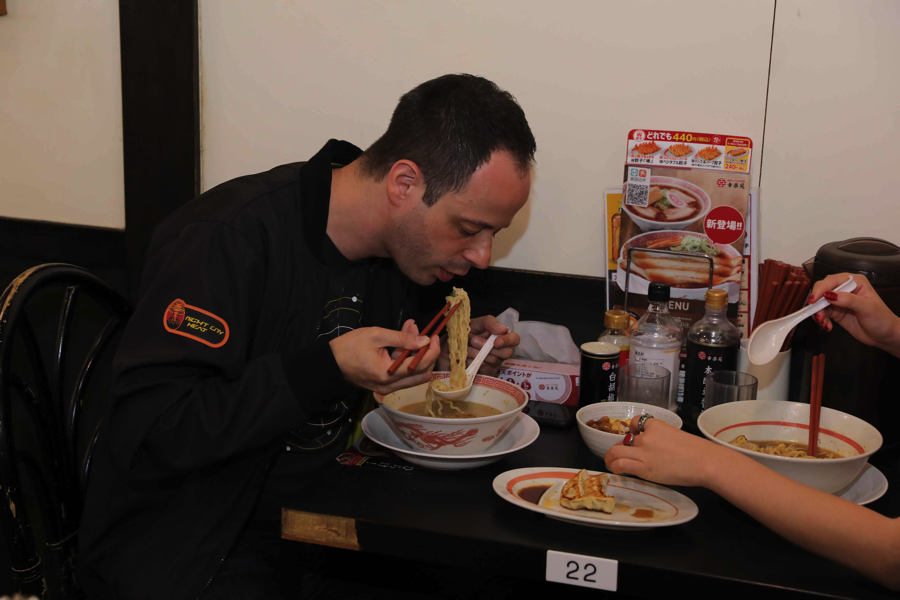 Our next member, Daniel, Chief Editor at game and entertainment website IGN JAPAN, ordered the limited-time "Sesame Miso Chashu Noodles" (¥640). He gave careful consideration to his dish and character design idea, explaining: "I want to use noodles in my drawing. I love adding egg to my ramen, and children are born from eggs, so I'm thinking I might include eggs too."
Egg Rice Bowl – ¥320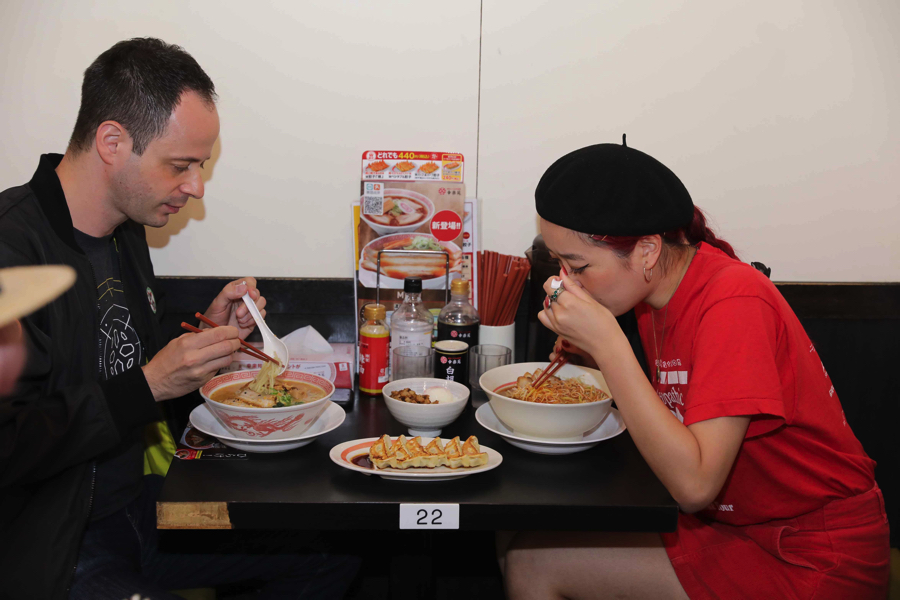 ChiMy ordered the Negi Ramen (¥540) together with the Egg Rice Bowl. She works as both as an illustrator and DJ. She actually frequents Kourakuen after her DJ sets, so she already had in mind her order.
With their bellies full and their minds filled with inspiration from each of their dishes, it was time to get drawing.
They laid out their crayons, pencils, coloured pencils and erasers onto the table. The competition allows both digital and hand drawn submissions. MOSHI MOSHI Friends went the traditional hand drawn route.
ChiMy got stuck right in, using the pens she normally uses for her works.
Everyone was chatty just moments ago, but as soon as they put pen to paper, they went straight into serious mode. We could see them incorporating different elements of their food into their drawings, like noodles, egg, seaweed, narutomaki, rice bowls, and so on.
Each person who participates in the contest can submit as many entries as they like. Estuna seemed to be drawing both a boy and a girl.
"Does this kid [character] even have a gender to begin with?" Daniel pondered as he worked on his character.
Our members had to come up with fitting names for their child too.
After about an hour of working hard, our members' adorable children were finally complete.
ChiMy's character is called "En-chan." She has a rice bowl for a hat and her hair is made of noodles. Her hair also has a stylish narutomaki hair clip.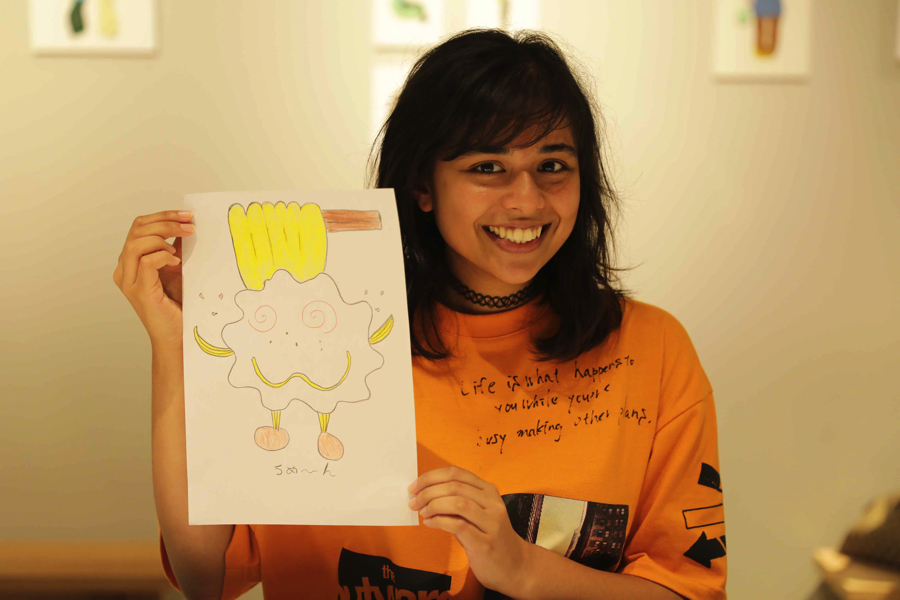 Sammy named her character "Umen," which makes use of both Papa's noodles and Mama's narutomaki. His cute shoes are actually eggs!
Naomi create a super adorable sibling pair, called Chad The E-Boy and VSCO-chan respectively. They have matching wavy noodle hair, as you'd expect from a brother and sister.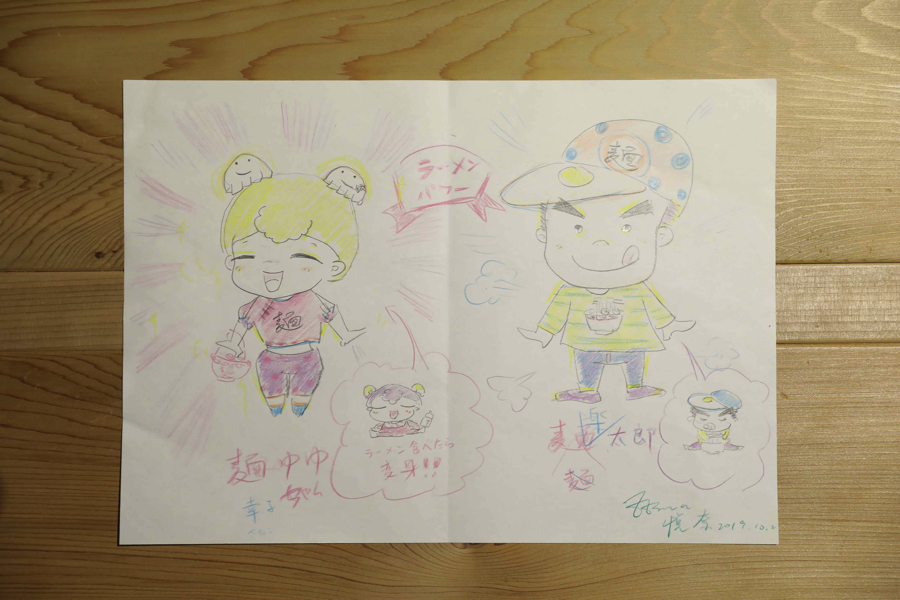 Estuna's idea was a twin brother and sister called "Menyuyu-chan" and "Rakutaro" who transform when they eat noodles. It's cool that she even added some lore to their character!
Daniel's character is "Ramen Baby," a creepy-cute ramen bowl who eats their own noodles, aka themselves. The diaper adds that baby touch to the character.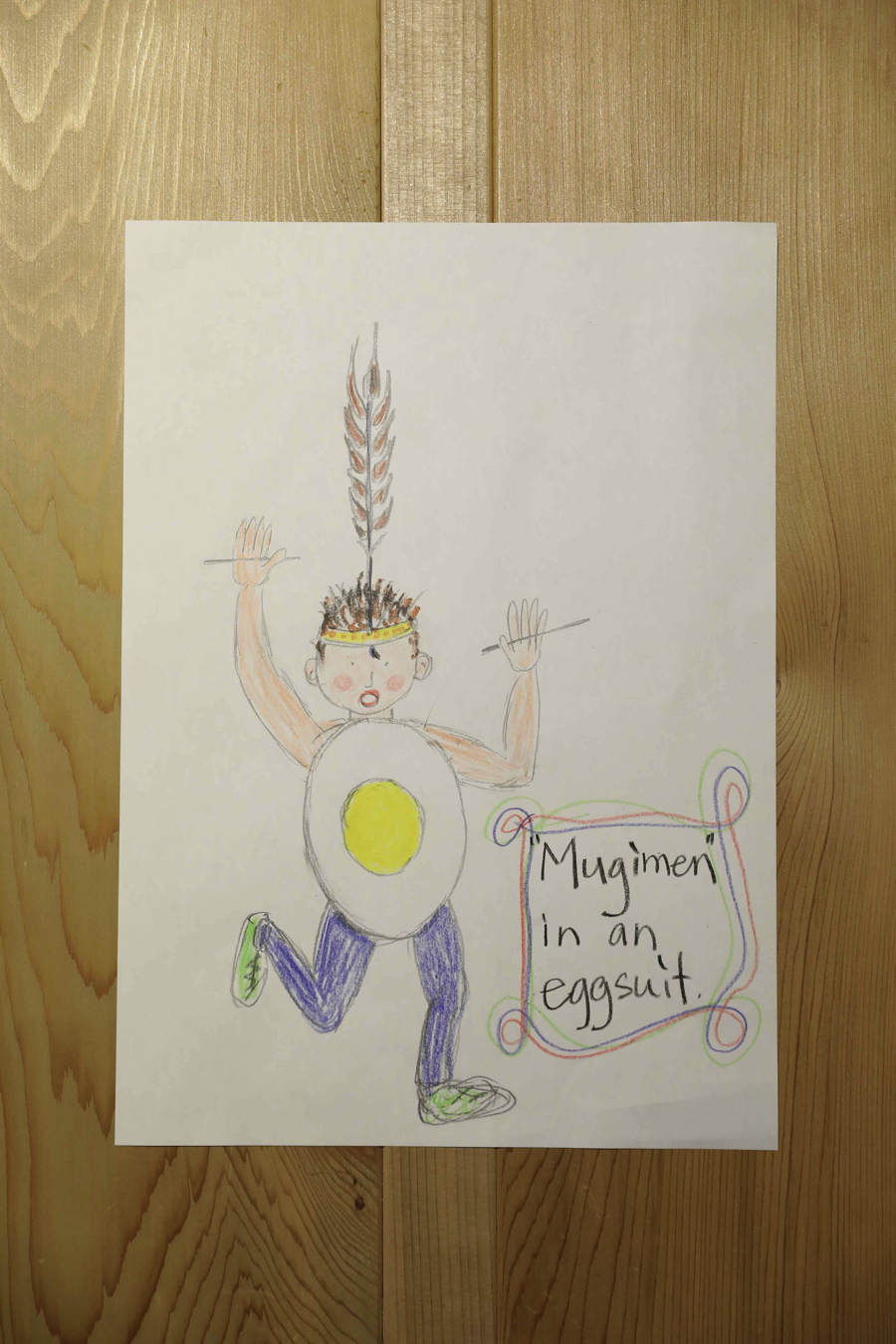 Peter conceived "Mugimen," who has a Native American-like appearance and whose torso is an egg. His headpiece is wheat which is a fundamental ingredient of ramen.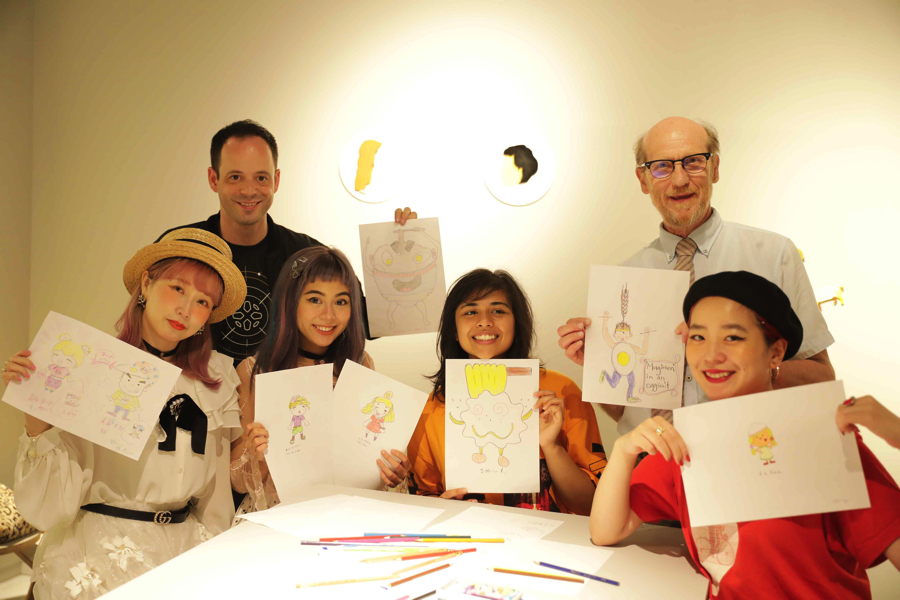 Everyone was able to come up with their own unique ideas and put them on paper. It's interesting to see how all their ideas came together and how their dishes inspired what they drew.
The MOSHI MOSHI Friends left feeling satisfied after their tasty food at Kourakuen and being engrossed in their work.
Submissions for the contest close at 23:59 (JST) on Friday October 25. Don't worry if you're not confident in your drawing skills as Japanese illustrator Shashamin will take your idea and add any finishing touches to your design and colouring. Anyone and everyone are encouraged to get involved.
*All listed prices of the menu items include tax
*Select branches may not stock select menu options listed in this article
*To see the full menu, please visit Kourakuen's official website at https://www.kourakuen.co.jp/
Models: Etsuna, Naomi, ChiMy, Peter, Sammy, Daniel
Writer: Ellie (MOSHI MOSHI NIPPON)
Photographer: pon
Translator: Joshua Kitosi-Isanga
Information
Kourakuen's Child Character Design Contest
Summary: Kourakuen is a ramen chain loved by families, so to celebrate the restaurant's 65th anniversary it has created the Kourakuen Family, a family who now serve as the mascots for the chain. The competition asks people to draw the Mama and Papa a child to complete the family, who is also the main character.
Prize: ¥300,000 travel money with JTB and ¥200,000 prize money
Running: September 24, 2019 at 10:00 (JST) – October 25, 2019 at 23:59 (JST)
Applying/Submitting
①Follow Kourakuen on Twitter@kourakuen_pr and post your illustration with the hashtag #幸楽苑ファミリー along with the name of your character. Illustrations must be in JPEG format and be less than 2mb.
②Upload your illustration to the campaign website along with the name of your character.
(https://www.kourakuen.co.jp/pr/campaign201909/character
*Your illustration must be coloured. You are free to draw whatever ideas you like. Submissions can be digital art or hand-drawn art.
*If doing a hand drawn illustration, please ensure your photo is taken in a brightly-lit room so it can be seen clearly.
*Each participant can draw as many drawings as they like. However, only one character will be accepted from a submission.
Submission Necessities: You must ensure the following 2 items are included in your submission. If you forget to include both, your submission will not be accepted.
①Character illustration (JPEG)
②Character name
*You may include how you conceived the character along with your drawing process, but this it not mandatory.
The winning entry will be posted on Kourakuen's official website and social media platforms 1 month after submissions close. Time frame is subject to change. Please make sure all the information and required items are included before submitting.
Contest Details (Japanese): https://www.kourakuen.co.jp/pr/campaign201909/character