Tokyo Stroll: The Café That You Want to Visit to See Someone #12 – 'J-COOK' in Gaiemmae
In this edition of The Café That You Want to Visit to See Someone, I visited J-COOK in Gaiemmae, a place I visited one time while off work which ended up in me wanting to absolutely feature it in the series!
It's just a 5-minute stroll from Gaiemmae Station.
The cafe enjoys lots of sunlight, which is brightened further by all the plants scattered through the shop. The cafes I have visited to date are often a little darker with only a little light seeping through the windows to create a certain atmosphere, and they are wonderful, but this was the first I have ever visited with so might light and so many plants. The air felt clear, adding to the level of comfort in the cafe, perhaps because there are so many plants adorning the interior.
The cafe also has a space with a slightly more darker light and atmosphere on the left side. I haven't sat in that area yet, so I think I'll try it out on my next visit.
When I come to J-COOK, my eyes always wander over to the marzipan creations (¥450).
These ones here were actually all individually handmade by the owner's husband from the early morning.
If you look really closely, you'll notice all the dog designs are different. When ordering, get to pick out which one you want, so try finding your perfect pup!
I had mine together with an iced coffee (¥450). The sweet marzipan is a delicious combination with the bitterness of the coffee.
I also got some potted cream (¥450). It's kind of like a Japanese custard pudding with just a moderate amount of sweetness.
I had mine with a bit of brandy which had fragrant vanilla notes. They've had this brandy for 33 years since the store first opened.
The cream was sensational, and the gentle notes linger afterwards.
They have a lot of different homemade soups too which are perfect for the coming cold weather. I got the New Orleans-style gumbo soup. It's spicy with clam and okra in it.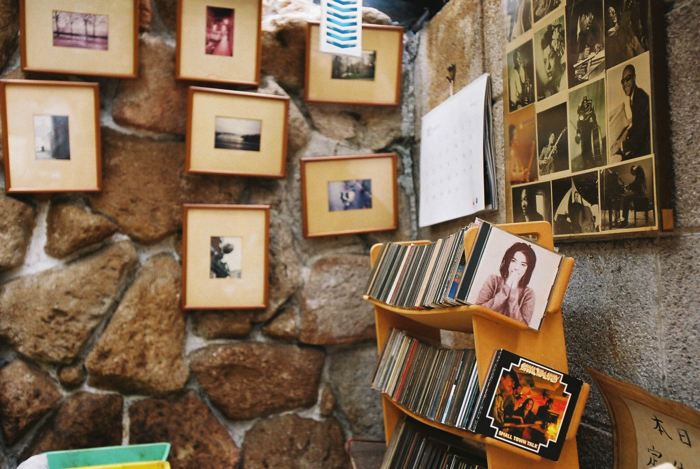 Relaxing jazz music plays in the cafe while you sit and enjoy your drink and meal.
J-COOK is a wonderful little cafe run by a husband and wife. When I first came, the wife came and talked to me. She's super friendly, and although it was our first meeting, she made me feel really comfortable and welcome. She must be full of happiness, which in turn naturally gives people who visit the strength to be positive and work hard.
I reckon their smiles have saved a lot of people.
I can't wait to visit again!
Writer/Model: Ema Tanioku
Photographer: Haruka Yamamoto
Design: Yuko Abe (ASOBISYSTEM)
Translator: Joshua Kitosi-Isanga
Information
J-COOK
Address: 3-36-26 Jingumae, Shibuya, Tokyo
Opening Hours: [Tue-Sat] 8:00-22:00 (Last Orders) / [Sun] 11:00-18:00 (Last Orders 17:30)
Closed: Mondays
Official Twitter: @jcookjp
RECOMMENDED ENTRIES
Tokyo Stroll: The Café That You Want to Visit to See Someone #11 – 'Hatoya' in Asakusa

In this edition of The Café That You Want to Visit to See Someone, I visited Hatoya which is located in Asakusa Shin-Nakamise Arcade.

The streets of Tokyo's historical district of Asakusa are packed to end with cafés. You can be spoiled for choice, but Hatoya stood out to me in particular as it's an especially old café. Business there began back in 1927 but the actual building was built back in the Taisho period, meaning its history spans more than 90 years ago!

The outside appearance of the shop is smart and chic so it's very easy to spot. I couldn't tell by looking from the outside, but the inside is full of old decorations and odds and ends which make you feel the history of the café.

One reason why I wanted to visit this place so much is because I was drawn to their logo. It's really retro-kawaii so I just couldn't resist!

You should take some photos too if you visit.

It was time to head inside. It's really comfy and cozy in there; the atmosphere was nice and relaxed.

Framed on the wall is a map of the Asakusa area during the Taisho era. Hatoya became famous back then because people could buy coffee for a mere 5 sen (a single sen is one-hundredth of a yen).

When business first began at Hatoya, because the café was opposite the stage door of a theatre, all of the famous actors and actresses would pop in. Some include famous Japanese comedian Roppa Furukawa and film actor Kiyoshi Atsumi who played Tora-san in the film series Otoko wa Tsurai yo.

I ordered the café's popular hotcakes which cost ¥600. They have been making these same hotcakes since before the war.

They were nice and fluffy and had a deliciously gorgeous brown colour. The flavour was out of this world when the butter melted from the heat of the hotcakes and mixed together with the syrup.

The portion might look like a lot but they are fluffy and have a light flavour so can be finished with no problem.

And is the café's signature milkshake (¥500).

It's so refreshing that you can knock it back all in one go. It has a simple flavour but it tasted so good!

I also ordered the ¥600 cream soda, my favourite beverage.

I've been to many cafés, and have covered many in this series, but this is the first I have dined at with such a deep history. I found myself enthralled by the stories of the owner who has continued to treasure the café and maintained it all the same since it opened. I feel like I have learned about a world I never knew about. The next time I go to Hatoya with a friend I'll be sure to let them in on its history. I encourage you to visit too!

Writer/Model: Ema Tanioku
Photographer: Haruka Yamamoto
Design: Yuko Abe (ASOBISYSTEM)

TALENT PROFILE

Ema Tanioku

"Emaeri" is the nickname for models Ema and Eri Tanioku, who are Aomoji fashion model twins. Ema and Eri Tanioku specialise in twin fashion coordination. Over the years their fanbase has increased due to their cute looks. Ema Tanioku spreads Harajuku culture within Japan as well as overseas and works as a Harajuku Tourism Ambassador. Starting off as a model, Ema has broadened her talent range from fashion magazines to TV, and from playing the lead role in dramas to movies.

Tokyo Stroll: The Café That You Want to Visit to See Someone #10 – 'Donguriya' in Nishi-Ogikubo

In this edition of The Café That You Want to Visit to See Someone, I visited Donguriya.

To get there I plodded along from the North Exit of JR Nishi-Ogikubo Station, and after about 3-minutes I saw it!

Various shops lined the street, but nature had almost reclaimed this single building which was wrapped in foliage. There's no doubt that the people who pass by this way stop to take a look. Its inviting appearance elicits a peek as you're left wondering what kind of place it is. I feel like a wonderful story is about to unfold!

A sign sits at the front of the cafe with its mascot character waiting to greet you.


He's cute in a way that I can't describe♬

Time to head inside.

Most of the interior is made of wood, a perfect accompaniment to the cafe's name Donguriya ("Acorn Hut").


All of the signs as well as the menu on the wall are handwritten by the owner himself. It's heartwarming just to look at♬

Sipping coffee while enjoying the jazz music coming from the record player is nothing short of a luxury!

I ordered pizza toast (drink + pizza toast set is ¥800), a Donguri cookie and coffee (drink + Donguri cookie set is ¥650).

The toast is sliced thickly; the crusts are crunchy and the middle is soft. It was really tasty and had an old-fashioned taste to it.
Donguri's cookies are made by someone who has been a fan of the cafe  since long ago. They have a simple sweetness and go perfectly with the coffee!

Since the cookies are made by a regular who has always loved Donguri they are the perfect cookies for Donguriya! If you pay a visit then you should definitely order one.

The blend coffee is full-bodied and has a rich aroma. There is a slightly bitter aftertaste too. The coffee beans are also roasted in-house! It was really tasty and easy to drink even for someone like me who doesn't know a lot about coffee.

The owner and his older brother went to numerous cafes with their friends to try various different coffees before coming up with their own blend. It's the real deal.

It really felt as if I had been sucked into the world of a story with the warm light filtering through the windows and illuminating the tableware and furniture.

Finally, a photo with the owner himself!

He told me wonderful stories about the coffee and food at Donguriya which made me fall in love with the cafe even more.

I want to bring my friends here next time♬

Writer: Ema Tanioku
Photographer: Haruka Yamamoto
Design: Yuko Abe (ASOBISYSTEM)

Translator: Joshua Kitosi-Isanga

Information

Donguriya
Address: 3-30-1 Nishiogikita, Suginami Ward, Tokyo
Business Hours: [Mon-Thur] 10:30-22:00 / [Fri-Sun] 10:30-22:30
Access: 3-minutes on foot from JR Nishi-Ogikubo Station

TALENT PROFILE

Ema Tanioku

"Emaeri" is the nickname for models Ema and Eri Tanioku, who are Aomoji fashion model twins. Ema and Eri Tanioku specialise in twin fashion coordination. Over the years their fanbase has increased due to their cute looks. Ema Tanioku spreads Harajuku culture within Japan as well as overseas and works as a Harajuku Tourism Ambassador. Starting off as a model, Ema has broadened her talent range from fashion magazines to TV, and from playing the lead role in dramas to movies.

Tokyo Stroll: The Café That You Want to Visit to See Someone #9 – 'Cafe Ace' in Kanda

In this edition of The Café That You Want to Visit to See Someone, I visited Cafe Ace in Kanda.

Being a cafe specialising in coffee it's no surprise they have 40 different varieties of coffee! They even have 15 kinds of tea. Being able to pick out your favourite coffee before the morning rush every morning is really wonderful.

Cafe Ace is one of the places I've wanted to cover for a long time in this series. I was excited to get inside!

Its striped roof gives it quite a retro atmosphere. The warm colour scheme of the decor inside is that from old times – it's very relaxed. It hasn't changed since it opened way back when. It has continued to maintain its ways in spite of times changing. I think that's wonderful.

The cafe carries all kinds of magazines that have been published over the years. They range from 3 to 40 years old. The owner showed me his collection as we spoke about the cafe and conveyed his sentiment for Ace. I feel I have learnt much about its history!

The menu plaques attached to the wall are all handwritten by the owner (he even wrote on the camel artwork above!)

Simply amazing. His handwritten work spreads across the entire wall of Ace.

I have come here on my before but I had no idea he had written all of this out so in learning more about it I have come to love Cafe Ace even more.


His love and warmth can be felt throughout the whole room.

And this―this is Cafe Ace's famous seaweed toast! It's made with seaweed, butter and soy sauce.


The ingredients are simple but the flavour of the seaweed complements the butter perfectly. It's super delicious, I want to eat it everyday! And it only costs ¥170.

In the morning you can have it with blend coffee for ¥500 (+¥20 for iced coffee). You even get free refills on the blend coffee up until noon!

American doughnuts, too. You can enjoy these at the small price of ¥230. They are sprinkled with cinnamon sugar and serve with a knob of butter in the ring. The heat of the doughnuts helps the butter to melt so you can lather it all over.

Finally, a photo of the owner himself. Even in the photo I feel like his smile gives his customers strength. Seeing his lively energy gave me energy too.

He holds his valuable feelings close, doing what he loves in the place he loves. I want to keep on seeing his radiating smile.

Information

Cafe Ace
Address: 3-10-6 Kanda, Chiyoda Ward, Tokyo
Opening Hours: Weekdays 7:00-18:00 / Saturday 7:00-14:00
Closed: Sundays & National Holidays
Access: 3-minutes on foot from Kanda Station via the JR Line and Tokyo Metro Ginza Line

Writer: Ema Tanioku
Photographer: Haruka Yamamoto
Design: Yuko Abe (ASOBISYSTEM)

Translation: Joshua Kitosi-Isanga
RELATED ENTRIES
Capy Neko Cafe: Japan's First Cat and Capybara Cafe Opens in Tokyo

Capy Neko Cafe is the newest animal cafe to hit Tokyo. Located in the neighbourhood of Kichijoji, right by the station, customers are able to interact with both cats and capybara at the same time.

Japan is famous for its host of animal cafes, from the ubiquitous cat cafes to more unique ones like the owl cafe. But Capy Neko Cafe stands out from the rest as being the first cafe in Japan to combine cats and capybara.

You might wonder whether it's actually safe to pet a capybara. They may be the largest rodent in the world, but they in fact loved to be pet by people. They are gentle creatures that get on with and can live alongside cats. At the cafe, you can take photos of the capybara who are sure to be chilling on the sofas as well as feed them. The comfy environment also means that they'll feel like your very own pet capybara at home.

▶︎Tawashi (Male)

Tawashi is a sensitive, affectionate, and gentle guy. He loves snacks, and he's sure to flop down if you start petting him on the butt. Part of his daily routine is having an afternoon nap on the sofa together with the cats.

▶︎Dan (Male)

The vice store manager of Capy Neko Cafe. He adores humans. He's the kind of guy who'll probably jump up onto you if you cover your lap with a blanket and sit on the sofa.

▶︎Emma (Female)

Another member with a soft spot for humans, Emma is reserved kitty who lets everybody eat their food first. She's a needy and spoiled girlーif she's on your lap, you're not getting up. She's siblings with Dan.

▶︎Cream (Male)

Cream is everybody's idol. He's unapologetically spoiled and a handsome guy with perfectly round black pupils.

This list is just a small taste of the many cute residents to meet at Capy Neko Cafe. The cafe is also active in finding families for their rescued cats. The number of people who want to own a cat in Japan are looking to rescues now instead of pet shops. At Capy Neko Cafe, you get the best of both worlds: you can meet and interact with a cat and see if they're a good match for you.

If you're interested in visiting Capy Neko Cafe, keep in mind that priority goes to those who have booked in advance. This can be done via their official website, so book first and look forward to kicking back and enjoying a cup of tea, coffee or soft drink before interacting with the cats and capybara!

Information

Capy Neko Cafe

Address: PLATANO Floor 2F, 1-5-10 Kichijōji Minamichō, Musashino, Tokyo

Business Hours: 12:00-18:00

Closed: Wednesdays

Official Website: https://capyneko.cafe/

PEANUTS Cafes and DINERs Are Holding a Joe Cool Fair For a Limited Time Only

PEANUTS Cafes and PEANUTS DINERs in Nakameguro, Minami-machida, Yokohama and Kobe are holding a Joe Cool fair from January 15, 2020.

PEANUTS Cafes and DINERs across Japan have held quite a few Snoopy-themed events based on a number of his disguises. In the past, the master of disguise has made an appearance in PEANUTS Cafes and DINERs as Astronaut Snoopy, Flying Ace Snoopy and Beagle Scout Snoopy. For the fourth and final theme of the series, Snoopy will be taking to the scene as his alter-ego Joe Cool. 

Joe Cool is the guy that everyone yearns for. The cool dude who is always hidden behind his signature jet black sunglasses. Although he's got the cool looks, he doesn't seem to have a knack for attracting girls. 

During the fair, there will be hot drinks decorated with illustrations of Joe Cool and a lineup of fair-limited merchandise.

Joe Cool Black Caramel Au Lait
Eat-In: ¥800 *Comes with an original drink coaster/ Take Away: ¥600 (Prices Before Tax)

The jet black caramel café au lait is topped with creamy milk foam and a dusting of black cocoa in the silhouette of Joe Cool. Enjoy the changing appearance of your drink as you take a sip. Even the label on the take out cup is decorated with a Joe Cool fair logo that you won't be able to resist taking a photo of.

Sold At:

PEANUTS Cafe Nakameguro: Eat-In/Take Away

PEANUTS DINER Yokohama: Eat-In/Take Away

PEANUTS DINER Kobe: Eat-In Only

PEANUTS Cafe Kobe: Take Away Only

*Not available at PEANUTS Cafe Snoopy Museum

Original Joe Cool Eco Tote Bag: ¥1,600 (Before Tax)

The popular Snoopy Eco Tote Bag has had a Joe Cool makeover. It has a simple design and is easy to use. The jet black colour makes it appropriate for anyone and it is large enough to fit an A4-size item inside. You can use it as your main bag or fold it up to store in your main bag so you're always ready for that unplanned shopping trip. The merchandise lineup also includes original-design stickers, keyrings bearing a Joe Cool Snoopy design and a stainless steel mug. 

All fair merchandise is available to purchase from the merchandise area of PEANUTS Cafes and PEANUTS DINERs or the online shop. 

The special Joe Cool menu and merchandise is available for a limited time only – perfect for a special trip!

© 2020 Peanuts Worldwide LLC

Information

Joe Cool Fiar – HI SWEETIE!

Running: January 15, – March 15, 2020

PEANUTS Cafe Nakameguro
Address: 2 Chome-16-7 Aobadai, Meguro City, Tokyo
Official Website:  http://www.peanutscafe.jp/

PEANUTS DINER Yokohama  

Address: MARINE & WALK YOKOHAMA Floor 2, 1 Chome−3−1, Shinko, Naka Ward, Yokohama, Kanagawa

Official Website: http://www.peanutsdiner.jp/

PEANUTS Cafe Kobe

Address: PEANUTS HOTEL Floor 1, 1 Chome-22-26 Nakayamatedori, Chuo Ward, Kobe

Official Website: https://www.peanutshotel.jp/

PEANUTS DINER Kobe
Address: PEANUTS HOTEL Floor 3, 1 Chome-22-26 Nakayamatedori, Chuo Ward, Kobe
Official Website: http://www.peanutsdiner.jp/kobe/

PEANUTS Cafe Snoopy Museum
Address: Minami-machida Grandberry Park Park Life Building, 3 Chome-1-1 Tsuruma, Machida, Tokyo

Official Website: http://www.peanutscafe.jp/snoopymuseum-tokyo/

PEANUTS Cafe Online Shop: https://www.peanutscafe.jp/online/

CHAYA 1899 TOKYO To Open in February Serving Specially Made Tea

With a history of 120 years in managing a number of old hotels and restaurants, the Ryumeikan Group will open a new café that sells Japanese desserts, pastries, tea and coffee called CHAYA 1899 TOKYO. The new café is set to open on February 21, 2020 and will embrace the delicious flavours of matcha, hōjicha and Japanese black tea. 

The café will open on floor 1 of the boutique hotel Hotel 1899 Tokyo. The café interior is wood-themed with touches of black for a casual fusion of tradition and modernity. With a space of 120 square metres, the relaxing environment is spacious enough to seat 38.

The original restaurant opened for business in December 2018. Now, CHAYA 1899 TOKYO specialises in Japanese beverages and intends to live its days as the tea shop that customers can visit as they please for a break from everyday life.

One of the most appealing aspects of the new restaurant has to be the menu. There are 10 different drinks available. Each drink is carefully made with high-quality tea leaves that were carefully selected from all over Japan. The tea varieties include matcha, hōjicha, Japanese black tea made from Japanese tea leaves. 

Rich Matcha Latte: ¥600 (After Tax)

Each cup of tea is carefully made, one by one, by the café's Japanese tea specialist. The rich matcha tea is made using traditional tools such as a bamboo whisk. From this, soy milk or milk is added to make the rich matcha latte. From three to six grams, you can choose the strength of your tea by the gram to create a more personalised matcha latte. 

 Other drinks on the menu include the Hōjicha Latte and the brand new inventions the 'Matcha Soda and 'Japanese Black Tea Soda', which will tempt you their exquisite aromas. 

The café even has a counter especially for the tea making and pouring procedures. The water for each drink is boiled in a traditional kettle by the tea specialist, who carefully regulates the water temperature and controls the brewing time according to the tea leaf. 

Matcha Pan:  ¥600 (After Tax)

As expected, the café also sells delicious sweet treats full of matcha goodness to go with your tea. The fresh green Matcha Pan are full of matcha goodness. They are made from 100% Japanese wheat, Hokkaido butter and milk. The mixture is left to rise at a low temperature over a long period of time. Afterwards, matcha from Shizuoka is added to the mix and then baked into muffins. This original and rare bread was developed with Baba FLAT – a café which sells very popular pastries and coffee in Takadanobaba, Tokyo. 

Craving more matcha? Enjoy both matcha and hōjicha at the same time in the form of a healthy snack: the Omatcha Brownie. The brownies are made from gluten-free rice flour and enjoy a moist texture and rich flavour.

Uji matcha, a high-quality and rich matcha used in tea ceremonies, is also used to make rich matcha ice cream (Koicha Gelato) and matcha cakes called "Sakecha Cakes" which combine tea and Japanese sake or brandy with cakes. The varieties of cake include matcha and Japanese sake, hōjicha and Japanese sake and black tea and brandy.

If you're looking for a unique tea experience, look no further than CHAYA 1899 TOKYO.

Information

CHAYA 1899 TOKYO

Address: 6-4-1 Shinbashi, Minato City, Tokyo

Opening Hours: 11:30 – 21:00 (Last Orders: 20:30)

Opens: February 21, 2020

Official Website: https://1899.jp/hotels/tokyo/

Relaxing Café by Day, Neon-Lit Bar by Night: Enjoy a Drink at Jinbōchō CAMPUS in Tokyo

Hello everyone, this is MOSHI MOSHI friend Banako.

Today I'll be introducing you to an interesting place in Jinbōchō, Tokyo that is a café by day and a café & bar at night.

From 9:00 to 17:00 it's known as COFFEE CAMPUS  and from 18:15 to 22:00 it runs as CAMPUS TOY cafe&bar. It first opened its doors approximately 48 years ago, solely operating as a café. Its current owner is an avid American toy and pop culture-lover who started running the café & bar seven years ago.

To get here, it's just a five-minute walk from exit A2 of Jinbōchō Station. The café is located in a quiet place just one turn off Odori Street.

Check out the menu:

The toast here is really good, so I ordered the Egg on Toast. (¥500)

To my surprise, an exceptionally large and thick slice of toast arrived at my table. The egg was evenly cooked and spread on top. I curiously sunk my knife into the toast to reveal the inside.

The egg dripped beautifully like melted cheese. It tasted wonderful with the freshly toasted slice of bread and was very filling. I was in a good mood after my very first bite.

Once the clock strikes 18:15, the café completely transforms into CAMPUS TOY cafe&bar which has a completely different atmosphere. 

One step into the newly-transformed café & bar and…

The calm undertones of the café were replaced with a cute pop-themed atmosphere illuminated by colourful neon lights. Rather than preparing a drinks menu, owner matz takes orders directly from customers, creating drinks catered to each individual customer based on what flavours and colours they like. 

Waiting to see what kind of drink is going to be brought to you is very exciting. Ordering drinks with friends and taking photos of the outcome is the best way to enjoy your time here. 

There are also lots of good spots to take photos for your Instagram so don't hold back! From time to time, there is a small market here where the owner sells small fantasy-themed items.

 Make sure to check out CAMPUSTOY cafe&bar on Instagram for their latest updates and information on opening hours. Whether you want to enjoy a pop-themed American atmosphere or are simply looking for a relaxing spot to chat, this café is for you. Matz the owner is very friendly and is full of interesting stories that you just got to hear.

Information

COFFEE CAMPUS /CAMPUS TOY cafe&bar

Address: Jinbōchō Mansion Floor 1, 2-10, Jinbōchō, Kanda Ward, Chiyoda, Tokyo

Opening Hours

COFFEE CAMPUS: 9:00 ー 17:00

CAMPUSTOY cafe&bar: 18:15 ー 22:00

* Please be careful to not mix up the opening hours of the café and café and bar.

Closed: Saturdays, Sundays and National Holidays

Access: Approx. 5-minute walk from Jimbocho Subway Station exit A2

CAMPUS TOY cafe&bar Instagram:https://instagram.com/campustoy_matz?igshid=2nblcij8r4b7

Enjoy a Luxurious Teatime Treat in The Characteristic Ginza Café 'Tricolore'

Hello!

This is MOSHI MOSHI Friend Banako. 

Today I'll be introducing you to an old café in Ginza called Tricolore, where you can really feel the culture of Ginza. Tricolore has a rich history dating back to 1936. It is just a three-minute walk from exit A3 of Ginza station just off the main street. 

From the outside, it looks like a gorgeous and luxurious hotel. 

Considering its old, historic background, entering the café through a set of revolving doors was not expected. Once you enter, you will notice the grand showcase full of cakes beautifully arranged before your eyes. The neat pattern of brick walls filled the interior with character. Velvet chairs, sofas and trees created a beautiful atmosphere. 

The smoking seats are located on floor one and floor two, which opens from 11:30, is for non-smoking. The entire interior was beautiful.

I settled at a table and soon ordered the Cake Set for ¥1,520.

From the selection of cakes, I chose the apple pie and for my drink, I ordered an iced cafe au lait. The drink prices are slightly cheaper before 11:30, making it more cost-effective to order a drink separately and not as part of a set. After 11:30, you can pay a little extra to order a different drink. 

The thin and crispy pie pastry was stuffed with apples. Each delicious bite was filled with warmth. The cream was moderately sweet and perfectly balanced out sweet and tangy apple filling.

When you order a cafe au lait, you can choose your ratio of coffee to milk and have it poured for you at your table. Being able to choose the strength of your coffee to this extent is very important to all coffee-lovers. Watching the drink being beautifully poured before your eyes fills you with a sense of luxury.

The waiters and waitresses are always smiling and are very polite when serving customers. This is a very comfy place to enjoy breakfast or lunch. If you are looking for a spot to relax, this is definitely a good shout!

Information

Tricolore Main Shop

Address: 5-9-17 Ginza, Chuo City, Tokyo

Opening Hours: Monday – Friday: 08:00 – 20:30 (Last Orders: 20:00)

Weekends and National Holidays: 08:00 – 21:30 (Last Orders:21:00)

No regular holidays

Phone Number: 03- 3571-1811

Access: 3-minute walk from exit A3 of Toei Subway Ginza Station

Official Website: http://www.tricolore.co.jp/ginza_trico/info/info.html

5 Must-Eat Succulent Strawberry Desserts in Kyoto That Are Simply Kawaii

Winter is here, which means that the season of strawberries has finally fallen upon Japan. Today we are joined by Instagrammer Tiara, who enjoys posting their adventures around Japan's Kansai region to try out all of the sweets and desserts. We are taking a look at must-visit locations in Kyoto for a taste of their tempting strawberry delights.

LITT UP.KYOTO in Gion-Shijō

At LITT UP.KYOTO, their "ichigoame" lets you enjoy strawberries in their original cute form.

They are coated in sweet strawberry candy and served on sticks in cups reminiscent of something from a Japanese festival. Part of their allure is how perfect they are as a tasty treat for walking around with. There's even popping candy attached to the strawberries for an even sweeter textural treat.

▼LITT UP.KYOTO Gion

Address: 533 Gionmachi Minamigawa, Higashiyama Ward, Kyoto

Opening Hours: 10:00-18:00

Official Instagram: https://www.instagram.com/litt_up_kyoto/

Kissa Zou in Imadegawa

The "Kisetsu no Babaroa" (Seasonal Baravois) at Kissa Zou has an springy texture and sits in a sweet and sour strawberry sauce.

I recommend ordering one of the separate elephant cookies to place on top too to make this an even cuter dessert.

▼Kissa Zou

Address: 440-3 Santeicho, Kamigyo, Kyoto

Opening Hours: 9:00-18:00 (Last Orders 17:00)

No Fixed Holidays

Official Instagram: https://www.instagram.com/kissa_zou/

Chounohane in Fushimi

At Chounohane they are serving strawberry barquettes as well as mini versions of them. The dessert itself is of course beautiful, but is made even more so by the antique plate♡

▼Chounohane

Address: 791 Nishishujakucho, Fushimi Ward, Kyoto, Kyoto Prefecture

Opening Hours: [Tues/Sat/Sun] Shop & Cafe 11:00-17:00 / [Fri] Shop Only 11:00-17:00

Official Instagram: https://www.instagram.com/chounohane/

Utanekodo in Kyoto Shiyakusho-mae

Utanekodo was renovated from a 100+ year old building and has its own cat cafe. The cafe space is located on the first floor.

Their "Nyanko Strawberry Milk" speaks for itself, topped with adorable kitty ice cream and delicious with its subtly sweet taste.

▼Utanekodo

Address: 155-4 Tachibanayanagicho, Nakagyo Ward, Kyoto, Kyoto Prefecture

Opening Hours: 13:00-20:00 (Last Orders 19:00)

No Fixed Holidays

Official Website: http://utanekodo.com/

MASHOLA in Kyoto Shiyakusho-mae

Finally we have the "Strawberry Tiramisu Cube Cake" served at MASHOLA, a Korean-style cafe. This cake is made with refreshing homemade tiramisu cream, delightful sponge, and is packed full of sweet and sour strawberries which complement the entire thing.

▼MASHOLA

Address: 1-A MOVIX, 406 Sakuranocho, Nakagyo Ward, Kyoto, Kyoto Prefecture

Opening Hours: 10:00-20:00

Official Website: https://mashola.business.site/

All of these cafes are wonderful, so if you're in Kyoto for the strawberry season, be sure to visit as many as you can.

Tiara has plenty of other recommendations over on their Instagram page, so if you're a sweet tooth looking for something sweet to indulge in around the Kansai area, be sure to give them a follow.

Text & Photos: @happy_pinkrose_tiara

Translation: Joshua Kitosi-Isanga

Irresistible Fruit Sandwich Shop "Futsu ni Fruits" Opens in Osaka

Popular Tokyo fruit sandwich shop "Futsu ni Fruits" has opened a branch in Osaka called "Futsu ni Fruits Tosabori Parlor". With the help of Kansai's expert dessert Instagrammer Tiara, we'll be taking a closer look at the shop's irresistible menu.

Futsu ni Fruits is a sister branch of Omotesando's popular café & bakery "Bread, Espresso &,". Futsu ni Fruits at Tosabori Parlor in Osaka sells takeout sandwiches on floor 1 and has an eat-in café space on floor 2. 

Fruit Sandwich

 The café menu varies according to the time of day. There's a toast menu in the morning which sells toast with various fruit toppings. Futsu ni Fruits' classic Fruit Sandwiches are available from lunchtime and onwards. The rich whipped cream embraces the flavour of the fruit filling perfectly, leaving a refreshing aftertaste. 

The teatime menu is served from 3 pm which is your chance to try the Tosabori Parlor-limited Purin à la mode, parfaits and much more. 

Seasonal Fruits Drink


Purin à la Mode, Strawberry Milk and Coffee Milk

The Tosabori Parlor-limited purin à la mode is a luxurious mountain of delicious fruit and purin. 

If you're curious to try a Japanese fruit sandwich then Futsu ni Fruits is guaranteed to give you an enjoyable experience. 

If you're a dessert-lover in Japan then you just have to check out Tiara's Instagram which is a library of the most delicious desserts in the Kansai region. 

Article Contents and Photos by: @happy_pinkrose_tiara

*The information on the desserts mentioned in this article are subject to change at any time. For the latest updates, please refer to the links provided in this article.

Information

Futsu ni Fruits Tosabori Parlor

Opening Hours: 10:00 – 19:00
(Floor 1 Takeout: 10:00 – 16:00)
(Morning Menu: From 10:00/Lunch Menu: From 12:00/ Teatime Menu From 15:00)

Address:  1 Chome-1-30 Tosabori, Nishi Ward, Osaka

Official Website: https://bread-espresso.jp/

Harajuku's Korilakkuma Cafe: another me in the mirror | Food Review

"Korilakkuma Cafe: another me in the mirror" is set to open in Japan's hub of kawaii culture Harajuku on December 21 where it will run until March 22 next year.

MOSHI MOSHI NIPPON received early access to the cafe, so we went together with Ruki from Spain.

The cafe incorporates "interactive tabletop projection mapping" technology developed by Sony, which allows customers to enjoy their meals while playing together with the characters as they walk around their plates and tables.

So what exactly does this look like…?

Korilakkuma Cafe: another me in the mirror is located along Takeshita Street in Harajuku. Enter Takeshita Street and walk just a little bit to find HARAJUKU AR BOX. The entrance is pictured above.

The cafe operates on a "pair seating" system, making it the perfect spot to go with your best friend or special someone♡

The theme of the cafe is "another me in the mirror," which sees Korilakkuma meeting another Korilakkuma inside of a mirror. When seated at your pair table, you'll notice all of the Korilakkuma artwork adorning the cafe.

When we sat down, the staff came and gave us a dolomite coasterーa gift for all customers who visit the cafe.

When you place the coasters down on the table, that's when the fun begins. Trace your finger around the table to play with Korilakkuma and company.

Here is Ruki having Korilakkuma move around.

When we had finished playing, the appetisers from our course menu arrived. It costs ¥2,500 per person, and you both have to order when ordering this course menu. You can pick from clam chowder or minestrone.

If you thought that was it for the projection mapping, think again! The fun was only just beginning, as a new display came on the table when the plates went down.

Ruki was completely enchanted by the sparkling food. It makes you feel like you're inside of a picture book♡

The salad was Caesar, and the minestrone was packed full of veg and ingredients, making it nice and filling.

The next dish that was brought was the main. You pick one each of a main dish and dessert and share between two people.

We ordered the "Omurice – Let's Draw Together" (in Japanese: 一緒におえかきオムライス). Korilakkuma was wrapped up completely in an omelette blanket. The projection mapping comes on when you set this plate down too.

Korilakkuma draws around the plate, and we got to join in too by decorating Korilakkuma's blanket with drawings of Rilakkuma and Kiiroitori in ketchup.

The mapping helps you with drawing by projecting an outline you can trace. Ruki did hers really well!

As we forked into the omurice we found a cheeseburger underneath! The combination of the juicy cheese hamburger with the soft egg was to die for, and it becomes even more delicious and smooth when you pour over the cream sauce.

Last up was dessert. We got the "Spell-Cast Pancakes" (in Japanese: パンケーキに魔法をかけて). The projection mapping cast a mirror onto the pancakes. Even more animations happen when you wave the brush you're given on the table.

The fluffy pancakes are topped with a hearty serving of cream. You can enjoy them as they are, but they're delicious if you top them with the fruits, iced cream and nuts scattered around the plate too!

Twin Korilakkuma Strawberry Milk – ¥990

Korilakkuma Cafe au Lait – ¥890 (Served Hot Only)

As well as the course menu, there are also special drinks you can order separately which come with another free and exclusive coaster.

Sliding Mirror (Pink or Purple) – ¥1,200 Each

Acrylic Key Ring (4 Designs/Chosen Randomly) – ¥500 Each

Korilakkuma fans can expect to sift through a whole range of cafe-exclusive merchandise too, so be sure to check out what they've got in stock when you visit.

Korilakkuma Cafe: another me in the mirror is Harajuku's hottest new spot where you can enter the kawaii world of Korilakkuma. Pull up a seat and enjoy and interactive meal experience.

©2019 San-X Co., Ltd. All Rights Reserved.

Information

Korilakkuma Cafe: another me in the mirror

Running: December 21, 2019 – March 22, 2020 (Not running December 30, 2019 to January 3, 2020)

Location: HARAJUKU AR BOX -table projection mapping cafe- (4-28-28 Jingumae, Shibuya, Tokyo)

Grand Opening: December 9, 2019 at 16:00

Reservations: Now Open

*This cafe serves course menus for two people to share only

*Drinks ordered separately

Table Projection Mapping Seats: ¥2,500 per person (Before Tax)

*Reservations for two people only
*Course menu charged separately

Official Website: https://korilakkumacafe.jp/

PEANUTS Cafes and Diners Across Japan Release Christmas-Limited Snoopy Courses

If you're a Peanuts fan, you can't miss out on the gorgeous Christmas menu which will served up at the PEANUTS Cafe Nakameguro, PEANUTS DINER Yokohama and PEANUTS DINER Kobe from December 2 – 25. 

Order the Christmas Dinner course for a large angus beef steak drizzled with a sweet and tangy sauce made of berries and raspberry vinegar.

After your dinner enjoy the luxurious Christmas desserts plate of bite-sized treats such as a soft and tender canelé and sweet madeleine. The plate is decorated with a Christmas Snoopy pick where Snoopy's face can be seen peeking through a wreath. 

You don't have to book in advance but we recommend you do. This can be done via the links in the information section below.

Order the Salmon Cheese Gratin Christmas Plate for a luxurious course of mains, salad and dessert all on one tray. The sautéd salmon is the steal of the show as it sits in a bath of creamy stew and is topped with a generous layer of cheese. This is served alongside fluffy bread branded with Christmas designs that will definitely put you in the Christmas spirit. A Snoopy pick replaces the traditional cherry on the sundae that will leave you with a sweet aftertaste after your meal.

The White Hot Chocolate is the perfect way to ward off the cold of winter. Like a white blanket of snow, white chocolate milk fills the cup and is topped with the traditional colours of Christmas. Allow yourself to be soothed by the drink's mild sweetness.

Make the most of your Christmas with Snoopy and friends. 

© 2019 Peanuts Worldwide LLC

Information

Christmas Dinner Course

Price: ¥3,900 (Before Tax) Per Person

Locations: PEANUTS DINER Yokohama and Kobe

Reservations:

PEANUTS DINER Yokohama: http://www.peanutsdiner.jp/christmas_2019

PEANUTS DINER Yokohama and Kobe: http://www.peanutsdiner.jp/christmas_2019_kobe

* Reservations can also be made on the day.

Salmon Cheese Gratin Christmas Plate

Price: ¥2,500 (Before Tax)

Location: PEANUTS Cafe Nakameguro

White Hot Chocolate

Price: ¥800 (Before Tax)

Location: PEANUTS Cafe Nakameguro

PEANUTS Cafe Nakameguro

Address:  2-16-7 Aobadai, Meguro-ku, Tokyo

Official Website: http://www.peanutscafe.jp/

PEANUTS DINER Yokohama

Address: MARINE & WALK YOKOHAMA 2F, 1-3-1 Shinko, Naka Ward, Yokohama, Kanagawa 

Official Website: http://www.peanutsdiner.jp/

PEANUTS DINER Kobe

Address: PEANUTS HOTEL 1F, 1-22-26 Nakayamatedori, Chuo Ward, Kobe, Hyogo

Website: http://www.peanutsdiner.jp/kobe/

KIRBY CAFÉ to Release 15 More Café-Style Arrangements of Kirby Songs on CD

The KIRBY CAFÉ will be releasing its second CD soundtrack called Sound of Kirby Café 2 on December 12. The soundtrack will be available to purchase from the KIRBY CAFÉ and KIRBY CAFÉ THE STORE in Japan.

The KIRBY CAFÉ has only ever been a temporary café that makes an appearance now and again. However, it is finally sticking around for good from December 12. To celebrate, the café has a whole lineup of new songs. 

HAL Laboratory, Inc. is the official sound team behind the Kirby's Dream Land game series They have carefully selected 15 original songs from the game and arranged them specifically for use in the café.

A team of six musicians, some of which are new, got together to create a variety of Kirby song arrangements. From sophisticated yet relaxing cafe-style songs to cute songs which represent the pop colours of the mains and desserts, each song perfectly preserves the catchy features of the original. From the careful song selection, the sound direction was done by Kirby's Dream Land's general director Shinya Kumazaki from HAL Laboratory, Inc.

​The KIRBY CAFÉ and store are also giving away free stickers decorated with the special design on the CD. These stickers are in limited supply and can only be obtained by purchasing the soundtrack from the café or official store. Information on general sales and online sales will be announced in the future. 

Whether you're cosying up on the couch or on the way to work, let the ​KIRBY CAFÉ's official soundtrack create the perfect atmosphere for you. 

© 2019 HAL Laboratory, Inc. /Nintendo

Information

Sound of KIRBY CAFÉ 2

Release Date: December 12, 2019

Price: ¥2,200 (Before Tax)

Contents: 1 CD, Card Jacket, 6-Page Leaflet

Catalog Number: KBCI-00014

Sound of KIRBY CAFÉ 2 Special Website (Japanese Only)

Make Your Own Matcha Drink and Try Black Bean Butter Toast in Nakameguro, Tokyo

If you're looking for a cool café experience in Tokyo then head to Nakameguro for a goldmine of craft beer taprooms, coffee roasters and restaurants. One café to consider adding to your list of must-go places is music café and wine bar epulor. The café has added a number of exquisite and unique items to its menu this November including a matcha drink, black bean paste and butter toast and craft cola.

Take a seat and admire the walls of old records which create a soothing artistic atmosphere while sipping your cup of the café's specialty hand drip coffee or sommelier-selected wine as the music of old records fills the air. When you have finished, feel free to take a gander at the gallery corner to appreciate the cafés art. 

The November menu introduces a high-quality matcha by UK brand Matchæologist®, providing the opportunity to make and enjoy your own matcha drink. From the high-quality rich flavour to the contemporary design of the tea vessel, Matchæologist® lives up to its reputation as artisanal matcha green tea specialists.

Fans of epulor's popular Red Bean Paste and Butter Toast are in for a treat as the café is now serving up the Black Bean Paste and Butter Toast. The bread is a charcoal bread from the bakery Lotus baguette, which uses only natural yeast, Japan-produced wheat and no additives. The binchotan charcoal used to prepare the bread is a traditional charcoal which has been used since the Edo period. The appearance is just as striking as its taste. 

The café has also started to sell Japan's craft cola TOMO COLA. The cola is spiced with flavours from around the world including kola nut, nutmeg, Japanese herbs and Japanese citrus fruits. This natural cola contains no additives so you can indulge in the taste of nature and enjoy a unique flavourful experience of Japan. 

epulor is the perfect spot to enjoy a luxurious moment of relaxation during your busy day while immersing yourself in an artistic and cultural experience. 

Information

epulor

Address: ESCENARIO AOBADAI Floor 1, 1-19-10,Aobadai, Meguro, Tokyo

Opening Hours: 11:00 – 24:00

Closed: Mondays

Website: http://www.epulor.jp/

Experiencing Japan: Dining at Denkiya Hall in Asakusa Wearing a Retro and Antique Kimono

Hi, MOSHI MOSHI NIPPON readers! Banako here again from the MOSHI MOSHI Friends group.

I have a question to ask you all. If you've been to Japan, did you ever dress up in a kimono or yukata to go sightseeing? It's become common to see not only Japanese people, but foreign travellers and tourists clad in traditional Japanese ware snapping photos in the country's historical locations. Dressing up in a kimono and walking the streets really immerses you in that Japanese spirit and transforms your experience entirely.

I visited kesatokyo in Asakusa which rents out kimono that are somewhat different from the norm, got myself a kimono, and took a trip to Denkiya Hall, a long-standing cafe in Asakusa.

Denkiya Hall is located along Senzoku-dori Shopping Street which is a 10-minute walk from the Tsukuba Express side of Asakusa Station. The street is quiet and peaceful since it's away from the hustle and bustle of the station front.

The kimono at kesatokyo are renowned through the town as they give off cute retro-antique vibes with their combination of things like lace necks, head dresses and berets.

You can get some romantic co-ords which you won't find with other kimono by matching with your friend in terms of design and accessories. I headed into the cafe excited with my kimono choice which matches the old-fashioned design of the cafe exterior.

A standout feature of this cafe is that some of the tables have arcade games attached to them. If there's a free seat at one of them, pick your favourite-looking, slot in a coin and start playing! Be sure to ask the staff to switch it on for you beforehand.

While gazing through the nostalgic games, I ordered the cafe's popular omumaki (¥700) and cream soda (¥650) while my friend got hot cakes.

Stuffed and wrapped inside the omelette is a hearty serving of fried noodles. The noodles themselves are on the thicker side and have a rich seasoning like that from the Showa period. You can also pick between different noodles.

The cream soda had deliciously sweet syrup and vanilla ice cream inside it.

Your kimono will match the atmosphere of the cafe really well, so you can take some really great pictures at any time.

Denkiya Hall opened over 100 years ago and incorporates styles from three different historical periods: Meiji, Taisho and Showa, giving it a nostalgic feeling.

Another one of Denkiya Hall's specialities is their boiled adzuki, the perfect treat to warm yourself up as the weather gets colder.

It was fun strolling around Asakusa after our cafe visit, as well as searching for more modern towns like Ginza and Omotesando.

We returned our kimono to kesatokyo at 18:40, right before the final return time. The basic rental plan for one person is ¥6,050 and it even includes hair styling! You can make reservations either via DMs on the store's official Instagram or by telephone. You're certain to get a reply on Instagram so it's recommended going that route. The shop has more details on their plans on their website.

Wearing a beautiful kimono and warming up inside a cafe during wintertime. How does that sound?