BABYMETAL Collaborates On Fashion Designer Yohji Yamamoto's Ground Y Collection
2019 is the year of BABYMETAL, with their latest album METAL GALAXY having dropped in October and making them the highest Japanese group/artist to place on the Billboard Top 200 in the US in 56 years. As they continue knee-deep in their ongoing world tour, you might be wondering what else they have in the pipeline.
Well, we can confirm that for you right here and now: they have teamed up with internationally-lauded Japanese fashion designer Yohji Yamamoto on his revolutionary Ground Y collection which boasts a genderless and ageless style.
Pre-sales of the collection will take place at the new Shibuya PARCO which is set to open on November 22. This will be followed by sales at GINZA SIX, Laforet Harajuku, and the online store THE SHOP YOHJI YAMAMOTO.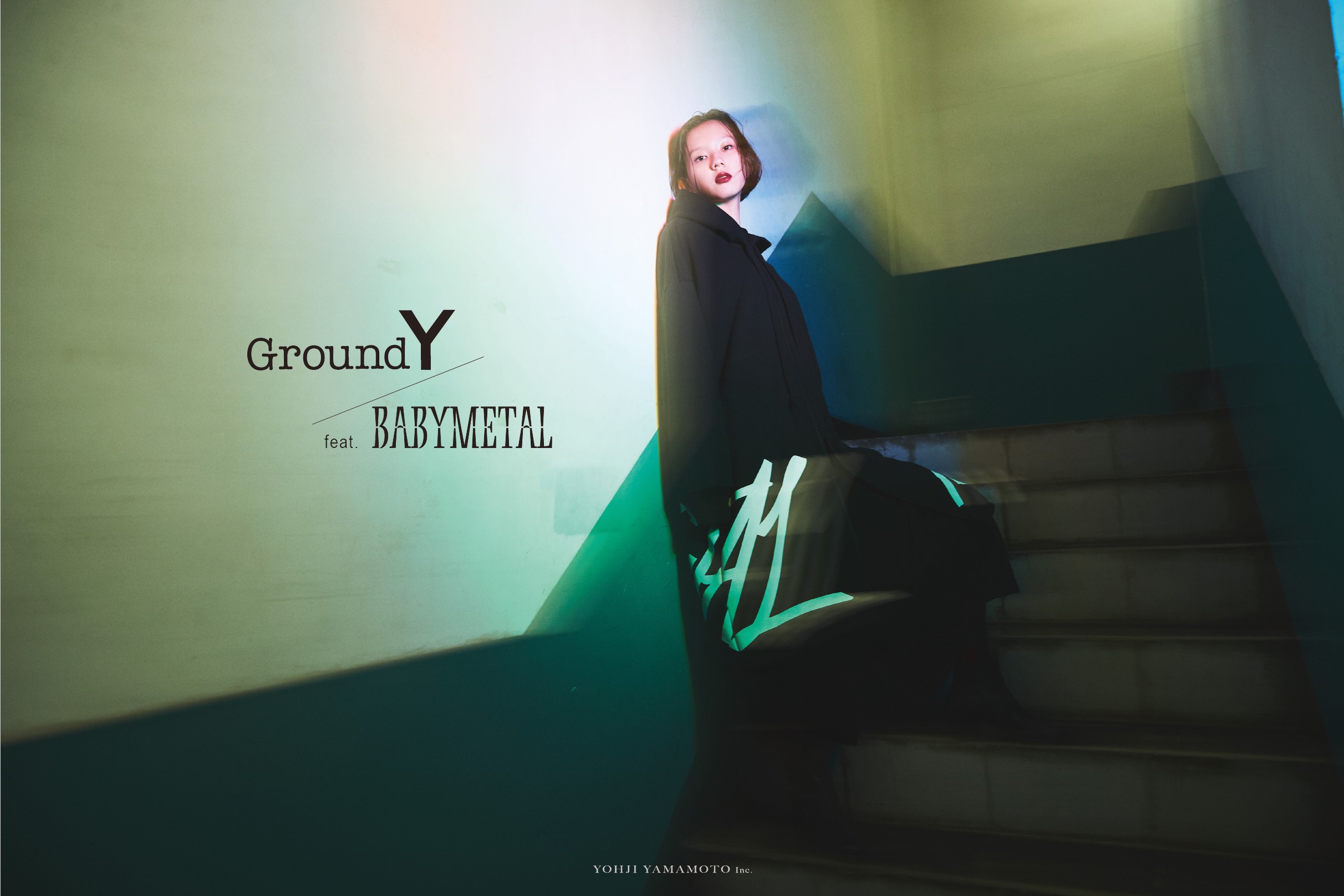 The collection will bring together the unique world of BABYMETALーa band which has won love the world over and has featured as guest acts on many tours of international artistsーand Yohji Yamamoto, a rebel and innovator in the fashion industry whose DNA is woven into the Ground Y line. The inspiration for this jet black collaborative collection is "galaxy," an homage to BABYMETAL's latest record METAL GALAXY.
There are numerous items in the collection, including a jumbo cut and sewn embroidered with both the BMD FOX APPAREL logoーBABYMETAL's official apparel brandーand the Ground Y logo. There's also a big hoodie featuring a 360° print and BABYMETAL's logo, a draped silk satin long shirt, and more.
MASATOSHI YAMASHIRO snapped the photos in this photoshoot, a Tokyo-based photographer who started his career in LA and New York and works with fashion magazines, advertisements, and more.
Information
Ground Y feat.BABYMETAL "GALAXY" Collection
Items: Long Shirt / Shirt Dress / Jumbo Cut & Sewn / Big Cut & Sewn / Big Hoodie / Big Sweater
Prices: Cut & Sewn ¥25,000-¥28,000 / Hoodie ¥35,000 / Sweater ¥38,000 / Shirt Dress ¥110,000-¥120,000 (All prices tax-excluded)
Release Date: November 28, 2019 (Pre-sales bein at Ground T Shibuya PARCO on November 22, 2019)
▼SHOP INFO:
Ground Y GINZA SIX (Floor 4F, 6-10-1 Ginza, Chuo Ward, Tokyo)
Ground Y LAFORET HARAJUKU (Floor 1F, 1-11-6 Jingumae, Shibuya, Tokyo
Ground Y FaSoLa STARS (Narita International Airport 1, Passenger Terminal Central Building Floor 3F, Narita, Chiba)
Ground Y SHIBUYA PARCO (Floor 2F, 15-1 Udagawacho, Tokyo) *Opens November 22, 2019
THE SHOP YOHJI YAMAMOTO: http://theshopyohjiyamamoto.jp/JP/shop/c/c20
RELATED ENTRIES
Shibuya's L'OCCITANE CAFE Reveals Spooky Parfait For Halloween 2020

L'OCCITANE CAFE Shibuya is getting ready for Halloween with the reveal of its sweet potato and apple parfait which will be served from October 21 to 31. The Tokyo-based cafe is centred on the food culture and lifestyle of Provence in southern France.

Sweet Potato and Apple Parfait | ¥1,280 (Tax Included)

The seasonal treat is a mix of purple sweet potato and regular sweet potato, baked apples, apple sherbet, and vanilla ice, all topped off with whipped cream, roasted nuts, and almond tuile biscuits in the shape of ghosts and a pumpkin.

Information

Sweet Potato and Apple Parfait
Serving: October 21, 2020 – October 31, 2020

L'OCCITANE CAFE Shibuya
Address: 2-3-1 Dogenzaka, Shibuya, Tokyo
Opening Hours:
[Sun-Thur] 11:00~22:00 (Last Orders 21:00)
[Fri-Sat] 11:00-23:00 (Last Orders 22:00)
TEL:03-5428-1563
Access: Straight ahead of Shibuya Station's 5th Exit (Inokashira Exit)
L'OCCITANE Japan Official Website: https://jp.loccitane.com/

Tokyo's Cheese Dish Factory Releases New Tart Parfait Mont Blancs

Cheese Dish Factory, a restaurant in Shibuya MODI in Tokyo, released a new seasonal dessert for the autumn season on Monday called the 'Tart Parfait Mont Blanc.' The tasty bite's foundation is an almond tart which is filled and layered with ingredients like a parfait before being topped off with mont blanc cream.


The dessert comes in for delightful variations such as the 'Chestnut & Tiramisu' which tops tiramisu with the flavours of autumn like chestnut ice cream and chestnut cream, and the 'Berry & Berry' which is piled full of strawberry cream and topped off with a strawberry. Sweet-tooths will discover a labyrinth of flavours as they gradually make their way through whichever they decide to order.

Chestnut & Tiramisu (Mascarpone Cheese) | ¥880 (Before Tax)

The tiramisu is made with mascarpone and has on top of it Japanese chestnut and chestnut ice cream. The chestnut cream is arranged like a mont blanc. The inner tiramisu adds a unique touch to make this a mont blanc for the ages.

Berry & Berry (Cream Cheese) | ¥820 (Before Tax)

This tiramisu is made from cream cheese which is topped with strawberry sauce and vanilla ice cream. A parfait mont blanc for the strawberry lover who won't be able to resist the strawberry cream and the crowning fresh strawberry.

Fromage & No-Bake Cheesecake (Parmigiano-Reggiano Cheese) | ¥780 (Before Tax)

A no-bake cheese cake combined with cream cheese ice cream and cream cheese. Inside you'll find fresh white peach. There's also a crispy texture brought by the Parmigiano-Reggiano. A must-try for cheese fanatics.

Matcha & Brown Sugar Syrup Soy Flour (Ricotta Cheese) | ¥780 (Before Tax)

A mountain made from matcha warabimochi, adzuki red bean paste, brown sugar syrup soy flour, and vanilla ice cream. This one's full of Japanese flavours, but also ricotta cheese, making it a Japan x Western fusion.

Information

Cheese Dish Factory Shibuya MODI
Address: Shibuya MODI Floor 9F, 1-21-3 Jinnan, Shibuya-ku, Tokyo

Access: 3-minutes from Shibuya Station
TEL: 03-6416-5179
Business Hours: Lunch 11:00-15:00 / Cafe 15:00-17:00 / DINNER 17:00-23:30
Official Website: http://www.sld-inc.com/cheesedishfactory.html

BABYMETAL Announce 10 Year Anniversary Greatest Hits Album '10 BABYMETAL YEARS'

BABYMETAL revealed on Saturday via their official website and social media pages that they are celebrating their 10th anniversary with the release of a greatest hits album entitled 10 BABYMETAL YEARS on December 23, 2020. The number ten is the focus of the record, which will celebrate ten years of the band with special selections of ten songs spread out across ten different album editions.

There will be a Regular Edition released on CD and vinyl, First Press Limited Edition A which will include a Blu-ray with all 16 of their music videos on it, First Press Limited Edition B which comes in a special vinyl-size CD cover containing ten newly-taken photos of Su-metal and Moametal, and First Press Limited Edition C which includes  Blu-ray featuring 10 LEGEND MOVIES—a special video of ten songs chosen by fans in the 10 LEGEND SONGS TOURNAMENT.

But that's only the beginning of the editions available. If you're a member of the BABYMETAL fan club, THE ONE, then you can get your hands on THE ONE Edition A which includes a karuta battle set (Japanese playing cards). THE ONE EDITION B comes with the 'Chronicle Set' which features a video containing interviews with the band members. Both of these editions come with special packaging.

Then there's the Su-metal Edition, Moametal Edition, and Kobametal Edition, each of which comes with all three different Prophet Cards included in all the other editions mentioned and each with unique serial codes. These three band member editions also contain ten songs chosen respectively by each member of their personal favourite tracks the band has put out.

To wrap it all up, a special X Edition will be release at a different date to the other editions and it will come with a mystery item that "Only The Fox God Knows" which will serve as the final piece of the puzzle to 10 BABYMETAL YEARS. The release date of the X Edition and what exactly it entails has yet to be announced.

The greatest hits album is just the tip of the iceberg for BABYMETAL's 10th anniversary celebrations. If you're a member of THE ONE, you'll gain special access to a video premiere of BABYMETAL's legendary performance at Meguro Rockmaykan, a venue in Tokyo that has a special place in the band's heart as it's the first place where they played their first-ever solo concert. The video premiere is scheduled for this December. Part of the proceeds earned from online tickets will be donated to both Meguro Rockmaykan and BABYMETAL's live crew who have been affected during the pandemic. Online tickets as well as the premiere date and time will be announced at a later date.

A book entitled Bessatsu Kadokawa Souryoku Tokushuu compiling ten years of BABYMETAL will also be released in Japan on October 13, 2020. It contains a long interview with Su-metal and Moametal as well as never-before-heard stories from band producer Kobametal from BABYMETAL's decade-long history, photos taken from live shows, a talk between Demon Kakka and Kobametal, and much more.

2020 is the year of BABYMETAL and the start of the 10th chapter of the Metal Resistance.

Information

10 BABYMETAL YEARS
Release Date: December 23, 2020

・Regular Editions
*First Press copies contain three one of three possible Prophet Cards
①Regular Edition (CD): ¥2,000 (Before Tax) [TFCC-86736]
Regular Edition (Vinyl): ¥5,000 (Before Tax) [TFJC-38045]

・First Press Limited Editions
*First Press copies contain three one of three possible Prophet Cards
②First Press Limited Edition A (CD+Blu-ray): ¥3,800 (Before Tax) [TFCC-86737]
[CD] All 10 Songs
[Blu-ray] All 16 Music Videos
③First Press Limited Edition A (CD+10 Vinyl CD Covers): ¥4,800 (Before Tax) [TFCC-86738]
[CD] All 10 Songs
[Vinyl CD Cover] 10 LEGEND ARTWORKS (Changeable Vinyl Covers)
④First Press Limited Edition A (CD+Blu-ray+Poster): ¥4,000 (Before Tax) [TFCC-86739]
[CD] All 10 Songs
[Blu-ray] 10 LEGEND MOVIES
[Poster] 10 LEGEND SONGS TOURNAMENT

・THE ONE Editions
⑤THE ONE A Edition -Karuta Battle Set: ¥12,000 (Before Tax) [ONEC-0024]
[CD] All 10 Songs
[Battle Cards] 42 Original BABYMETAL Karuta Cards
[Battle CD] KARUTA Battle Fight Track
[Battle Field] KARUTA Battle Field

THE ONE Limited Edition A Order Window
Running: October 10, 2020 at 00:00 (JST) to October 13, 2020 at 12:00 (JST)
*Orders will end on October 13, 2020 at 12:00 (JST), but there may be extra copies available afterwards depending on stock left

⑥THE ONE Limited Edition B – Chronicle Set: ¥24,000 (Before Tax) [ONEC-0026]
[CD] All 10 Songs
[Blu-ray Disc-1] Chronicle of BABYMETAL Interviews
[Blu-ray Disc-2] 10 Best Live Songs
[APOCALYPSE ~10 BABYMETAL YEARS~] 72-page photo book
[Big Flag]

THE ONE Limited Edition B Order Window
Running: October 10, 2020 at 00:00 (JST) to October 22, 2020 at 12:00 (JST)
*Orders will end on October 22, 2020 at 12:00 (JST), but there may be extra copies available afterwards depending on stock left

THE ONE Limited Edition A  & THE ONE B Edition – Where to Buy

THE ONE Limited Edition A – Karuta Battle Set: https://www.asmart.jp/p_90021961
THE ONE Limited Edition B – Chronicle Set: https://www.asmart.jp/p_90021962

・Prophet Editions
*Comes with all three different Prophet Cards and 10 songs chosen by Su-metal, Moametal, and Kobametal respectively
⑦SU-METAL Edition (Prophet Card S)
⑧MOAMETAL Edition (Prophet Card M)
⑨KOBAMETAL Edition (Prophet Card K)

X Edition
⑩X Edition

*Comes with "ONLY THE FOX GOD KNOWS" item. Release date and further details TBA.

10 BABYMETAL YEARS Special Site: https://www.toysfactory.co.jp/artist/babymetal/10babymetalyears
BABYMETAL Official Website: https://www.babymetal.com/en/

BABYMETAL Drop New Fire Music Video For 'BxMxC'

BABYMETAL  dropped a new music video on Thursday for BxMxC, a track included exclusively on the Japan Complete edition of their third studio album METAL GALAXY that was not featured on the international release.

The fire track has been a huge hit at live shows, with the band's first performance of it held during their concert METAL GALAXY WORLD TOUR IN JAPAN EXTRA SHOW LEGEND – METAL GALAXY which was held at Makuhari Messe on January 2020. The crowd went crazy, and have done so for every performance, including overseas where it had not been previously released—but as of Thursday, along with the music video, can now be listened to on Spotify outside Japan.

In BxMxC, Su-Metal shows off her hip-hop side with some sick flows, while Moametal provides her iconic screams, and both to the sound of a brutal beat.

The music video is the band's first to be recorded in a studio since KARATE back in 2016. Check out the full video below.

BABYMETAL -"BxMxC (OFFICIAL)


You can also hear the song live on the band's live album LEGEND – METAL GALAXY [DAY-2]. BxMxC will be released as a solo track on 12-inch vinyl in Japan on December 9, 2020.

This year marks the 10th anniversary since BABYMETAL formed, and they continue to deliver and break new ground in the metal scene.

KIDDYLAND Harajuku to Celebrate Miffy's 65th Anniversary

KIDDYLAND Harajuku, a fun and cheerful shopping centre in Harajuku, Tokyo, has announced that it is celebrating the 65th anniversary of Dick Bruna's popular character Miffy from October 10 to March 19 with a different theme every month. Visitors can expect to get their hands on a range of merchandise, freebies, and more.

CARROT

Running from October 10, 2020

A selection of autumn-coloured and carrot-themed Miffy merchandise will be sold. If you head on up to miffystyle on floor 4F of KIDDYLAND Harajuku right, and spend more than ¥1,000, you'll also receive a special Miffy shopping bag completely free (available now). These are limited in stock though so you'll want to get your paws on them quick!

KIDDYLAND x miffystyle Christmas Fair 2020

Running from November 7, 2020

miffystyle and KIDDYLAND are hosting a Christmas fair this year themed on animals. A special range of merchandise with designs of Dick Bruna's animals will be sold. Customers who spend over ¥1,000 at the fair will also receive a free shopping bag, and if they spend more than ¥2,000 some special pink wrapping paper. These are both limited in stock.

A must-grab at the Christmas Fair


Miffy GOODGLAS | ¥3,900 (Before Tax)

One must-get item at the Christmas fair is the cute double-wall glass made by GOODGLAS. Perfect as a gift to yourself or someone else this Christmas. As you pour your drink into it, Miffy's face will appear.

Enjoy the autumn and winter this year with Miffy in Harajuku.

Illustrations Dick Bruna © copyright Mercis bv,1953-2020 www.miffy.com

Experience Shinjuku's Famous Halloween Event Online at Virtual Shibuya

The Virtual Halloween Committee has announced that it will host an online Halloween event inside Virtual Shibuya as a result of the pandemic and to mitigate crowded streets in Shibuya, a place which becomes a sea of people during the spooky holiday season.

The event, titled Virtual Shibuya au 5G Halloween Fes, will begin on October 26 and run up to Halloween Day. It is being promoted with the hashtag #StayVirtual.


Shibuya 5G Entertainment Project launched its new digital platform "Virtual Shibuya" back in May of this year. Officially recognised by Shibuya City, Virtual Shibuya comes in response to the effects of the novel coronavirus (COVID-19) which has brought tight restrictions to the economy and people's way of life. It will enable people to continue enjoying entertainment from the comfort of their homes by participating in a whole host of virtual events and activities. The project aims to deliver content from Shibuya with live performances from artists, art exhibitions, talks, and more. The use of 5G and the latest cutting edge technology will connect the real Shibuya to a virtual space, combining the realms of the digital and real world.

The Halloween event is inviting a host of Japanese artists and comedians to perform inside the virtual space, which itself will be littered with all things Halloween like Jack-o'-lanterns, bats, and more. Users will also be able to dress their avatars in the appropriate clothing in line with the holiday season of scares. All of this aims to deliver the famous Shibuya Halloween experience that the people of Tokyo are so used to.

Virtual Shibuya au Halloween Fes

Virtual Shibuya is evolving and will be updated for the upcoming Halloween event. Users can look forward to a host of music events and talk events during this age of the 'new normal.'

au 5G Presents Kyary Pamyu Pamyu: Virtual Mini Live

Virtual Shibuya will host its very first virtual live concert to open the Halloween festival. Japanese pop star Kyary Pamyu Pamyu is included in the performance line-up, who will be serving a very special one-night-only Halloween themed show inspired by horror movies. Titled "Kyary Pamyu Pamyu Online Halloween Live 2020 THE FAMILY 10.31," you can find out more about the concert here.

au 5G Presents BiSH: Virtual Live

Japanese idol group BiSH will also be playing a special Halloween show at the event.

au 5G Presents "Everyone's 5G" – Comedy Duo Wagyu Perform

Japanese comedy duo Wagyu will perform live using 5G technology which will render them in high-speed, high quality holograms.


The rest of the line-up and more details about the event will be announced in the coming weeks.

KAWAII MONSTER CAFE HARAJUKU Collaborates With Alice's Fantasy Restaurant For Halloween Fair

KAWAII MONSTER CAFE HARAJUKU is set to collaborate with Tokyo's three branches of Alice's Fantasy Restaurant to serve up a Halloween themed menu. It will be served from September 19 to October 31.

The Halloween season is right around the corner, and the KAWAII MONSTER CAFE is once again joining in with the spooky festivities. This year, the cafe has joined hands with Alice's Fantasy Restaurant to create a collaborative Halloween menu lineup.

Colourful Rainbow Pasta With Halloween Cream | ¥1,400

Colourful pasta served in rich pumpkin sauce and with a variety of different ghost creams.

Singing Alice's Caesar Salad | ¥1,360

Alice's Fantasy Restaurant's popular Caesar salad heads to KAWAII MONSTER CAFE, an assortment of purple carrots, pumpkin, and other tasty delights. Alice is also hidden in the pasta somewhere as a black witch.

Kingpin Choppy & Henchman Humpty Dumpty Curry | ¥1,300

KAWAII MONSTER CAFE's mascot is served wearing a silk hat and comes with his fellow henchman Humpty Dumpty.

Cheshire Cat Splatter Ice Cream | ¥1,100

Soft serve ice cream topped with crunchy cereal, cotton candy, and chocolate, all drizzled in a splattered sweet strawberry sauce.

Customers who post a photo of their foot onto social media with the hashtag #tokyohalloweencollection can enter for a chance to win some Halloween merchandise.

UNIQLO TOKYO Begins Knitwear Focused Exhibition

UNIQLO TOKYO, the global flagship store of UNIQLO, is now holding an exhibition themed on its knitwear at its first floor LifeWear Square area until October 11, 2020. It's a consolidation of everything that goes into wearing the symbolic style of their LifeWear lineup, covering the art, science, and craftsmanship behind the items.

About UNIQLO TOKYO

UNIQLO TOKYO opened back in June this year in Ginza, Tokyo, as the country's biggest store and global flagship store. UNIQLO TOKYO is the embodiment of UNIQLO's "LifeWear," clothing that the company has created to "improve everyone's life."

SCIENCE: 3D knit installations by Rhizomatiks Architecture

Rhizomatiks Architecture have created a range of installations including mannequins centred on knitwear. Customers will be able to see knitwear being made by the machines right before their eyes.

CRAFTSMANSHIP: Tools used in the manufacturing process

See the strict standards and measures taken to carefully craft each and every UNIQLO cashmere sweater, from the processes carried out to the materials and tools used in the manufacturing process, samples, and more.

ART: Styling

See the headpieces created by Shiseido's top hair and makeup artist Tadashi Harada for displaying the knitwear. Each and every one was made with care and attention for the 20 mannequins.

Review: The 30 Year Old Cafe Chatei Hatou in Shibuya

Hi, everyone. It's Banako of MOSHI MOSHI FRIENDS. Today I'm reviewing Chatei Hatou, a long-standing cafe in Shibuya, Tokyo.

Shibuya is a place that bustles with youth culture and fashion. It's also home to many eateries, but there aren't many places around that you can go to to get away from the busy streets for a quiet break.

Chatei Hatou opened in 1989 at Miyamasuzaka Shita in Shibuya, where it has gone unchanged and welcomed customers for the past 30 years. It's very easy to get to, being just a 3-minute stroll from the Hachiko Exit of Shibuya Station.

When opening the door to the cafe and stepping inside, the first thing to jump out at you are the rows of coffee cups lined up along shelves behind the counter.

The coffee cup collection features a selection of works by many different makers. There's even a cup in there valued at ¥200,000!

The antiques littered here and there around the cafe elevate the vibe of the cafe. There's a number of seating areas, including the counter seats as well as tables for two, four, or big groups.

I felt the faint tasty scent of the Japanese pudding calling to me so I went and ordered a pumpkin pudding along with a hot chocolate.


Cafe Chocolat (Hot) ¥950 / Pumpkin Pudding ¥500


The pumpkin pudding was nice and moist and rich in flavour. Nothing short of delicious. It's made even sweeter when eaten together with the fluffy whipped cream―which also elevates the flavour of the pumpkin too.


I was inspired by the cafe owner to go for the cup I chose for my hot chocolate. There is so much variety between the cups; it's fun getting to see rare ones. Be sure to check their Instagram page where they have more detailed write-ups about their coffee cups and coffee varieties.

The cafe has a selection of original coffee blends which they make fresh with the utmost care and consideration. You can buy their coffee beans, take cake away from you, and even order whole cakes, so you can enjoy their delights at home.

Chatei Hatou has stood together with Shibuya these past 30 years. According to the owner, the most important thing about running a cafe is making sure its doors are always open. It's been tough as a result of the pandemic this year, but the cafe is still there as a part of people's lives.

The next time you're in Shibuya, why not enjoy a drink and a sit down at Chatei Hatou?

Information

Chatei Hatou
Address: 1-15-19 Shibuya, Shibuya-ku, Tokyo
Opening Hours: 11:00-23:30 (Last Orders 22:30)
No Fixed Holidays (But may be closed during the New Year Holidays)
Access: 3-minutes on foot from Shibuya Station's Hachiko Exit
Official Instagram: https://instagram.com/hatou_coffee_shibuya?igshid=9ubwybwvpktb
*The cafe is cash-only and has an outdoor smoking area

Writer: Banako
Translator: Joshua Kitosi-Isanga

Harajuku's New Carbonara Restaurant Serves Pasta Japanese Style

A new spaghetti carbonara restaurant by the name of Nama Carbonara opened in Harajuku, Tokyo on September 17, 2020.

The restaurant opened in the same building as Harajuku's popular fresh cream shop MILK and bubble tea shop Mot Tram. The restaurant makes its own fresh flat pasta everyday and uses fresh, rich cream sourced from Hokkaido.

The current menu lineup consists of six dishes, from classic carbonara to Japanese twists. Let's take a look at some of them.

Classic Carbonara | ¥790

Walleye Pollack Roe Japanese Carbonara | ¥1,090

Freshly Grated Cheese & Bacon Carbonara | ¥1,090

Seafood, Avocado & Basil Carbonara | ¥1,190

Discover a brand new world of carbonara like never before at Nama Carbonara in Harajuku.

Information

Nama Carbonara (生カルボナーラ専門店 原宿店)

Grand Opening: September 17, 2020

Address: THE SHARE 1F, 3-25-18 Jingumae, Shibuya, Tokyo

Opening Hours: 11:00-19:00 (Last Orders 18:30)

TEL: 03-5772-8858

Official Website: http://www.opefac.com/

Manga Series Tokyo Revengers Gets Exhibition at Tower Records Shibuya

Tower Records Shibuya will host an exhibition dedicated to the ongoing manga series Tokyo Revengers from September 26 to October 18. The exhibition is being held to promote the release of the 19th volume which hits shelves in Japan on September 17.

Tokyo Revengers is a manga series written and illustrated by Ken Wakui. An anime adaptation is scheduled to broadcast in 2021.

The exhibition will feature a variety of works drawn by Ken Wakui for the series, both black and white as well as coloured illustrations, as well as panels of each character, and more. There will also be an exhibit for the upcoming live-action film.


Tokyo Revengers x TOWER RECORDS OSMO Stamps (22 Designs) | ¥909 Each (Before Tax)

Tokyo Revengers Monochrome Panels | ¥30,000 Each (Before Tax, Includes Shipping)

Fans can also get their hands on a range of exhibition-exclusive merchandise, and from October, the exhibition will sell some Tokyo Revengers x Tower Records collaborative merch. There'll be some signed artwork for sale too.

Character Business Cards (11 Designs)

And for every ¥1,000 spent at the exhibit, fans will receive one of 11 possible character business cards.

Information

Tokyo Revengers Exhibition – Tower Records Shibuya
Running: September 26, 2020 – October 18, 2020

Time: 12:00-15:00 / 16:00-20:00 (Last Entries 19:30)

Location: Tower Records Shibuya Floor 8F SpaceHACHIKAI
Entry: Free (But you must book a place online)

Exhibition Information (Japanese): http://towershibuya.jp/news/2020/09/15/148467

TALENT PROFILE

Anna Yano

Released the song "Shape My Story" produced by kz (livetune) in August 2013. Performed as the vocalist on a single for kz's solo project 'livetune' in January 2014. Both songs were used as theme songs for anime series and received attention in Japan and overseas. In October 2015, she formed a new unit with kz called 'livetune+' and they released their first EP "Sweet Clapper" on May 11, 2016.

Ayumi Seto

Active as a model, especially in fashion magazines. Receives tremendous support for her cute and distinct fashion. In February 2014, she debuted her apparel brand 'Aymmy in the batty girls' where she works as a designer. She was the first Harajuku and Aomoji-kei model to establish an authentic apparel brand. She develops clothing items through her unique fashion sense lens.

Ema Tanioku

"Emaeri" is the nickname for models Ema and Eri Tanioku, who are Aomoji fashion model twins. Ema and Eri Tanioku specialise in twin fashion coordination. Over the years their fanbase has increased due to their cute looks. Ema Tanioku spreads Harajuku culture within Japan as well as overseas and works as a Harajuku Tourism Ambassador. Starting off as a model, Ema has broadened her talent range from fashion magazines to TV, and from playing the lead role in dramas to movies.

Kyary Pamyu Pamyu's Halloween Look Decorates Shiseido Beauty Square in Harajuku

Following her firework-inspired summer promotion look for Shiseido Beauty Square, Japanese pop icon Kyary Pamyu Pamyu has returned to the beauty facility with an all-new Halloween look, first revealed on Friday.


Kyary is serving a dark romantic world in Harajuku this Halloween, with Gothic hair and makeup that delivers us spook fantasy mixed with a bewitching, fairy tail-like sweetness. The look was brought to life thanks to Shiseido's top hair and makeup artist Tadashi Harada.

Kyary Pamyu Pamyu became the ambassador for Shiseido Beauty Square when it opened back in June. The concept of the beauty facility is centred on having people discovering their beauty, having fun, sharing experiences, and learning the latest in the scene

Information

Shiseido Beauty Square
Opened: June 18, 2020

Address: WITH HARAJUKU Floor 1F, 1-14-30 Jingumae, Shibuya, Tokyo

Opening Hours: 11:00-20:00

No Fixed Holidays
TEL: 03-5413-7717

Official Website: https://beautysquare.tokyo/

*Website available in English, Japanese, and Chinese