Make Your Own Matcha Drink and Try Black Bean Butter Toast in Nakameguro, Tokyo
If you're looking for a cool café experience in Tokyo then head to Nakameguro for a goldmine of craft beer taprooms, coffee roasters and restaurants. One café to consider adding to your list of must-go places is music café and wine bar epulor. The café has added a number of exquisite and unique items to its menu this November including a matcha drink, black bean paste and butter toast and craft cola.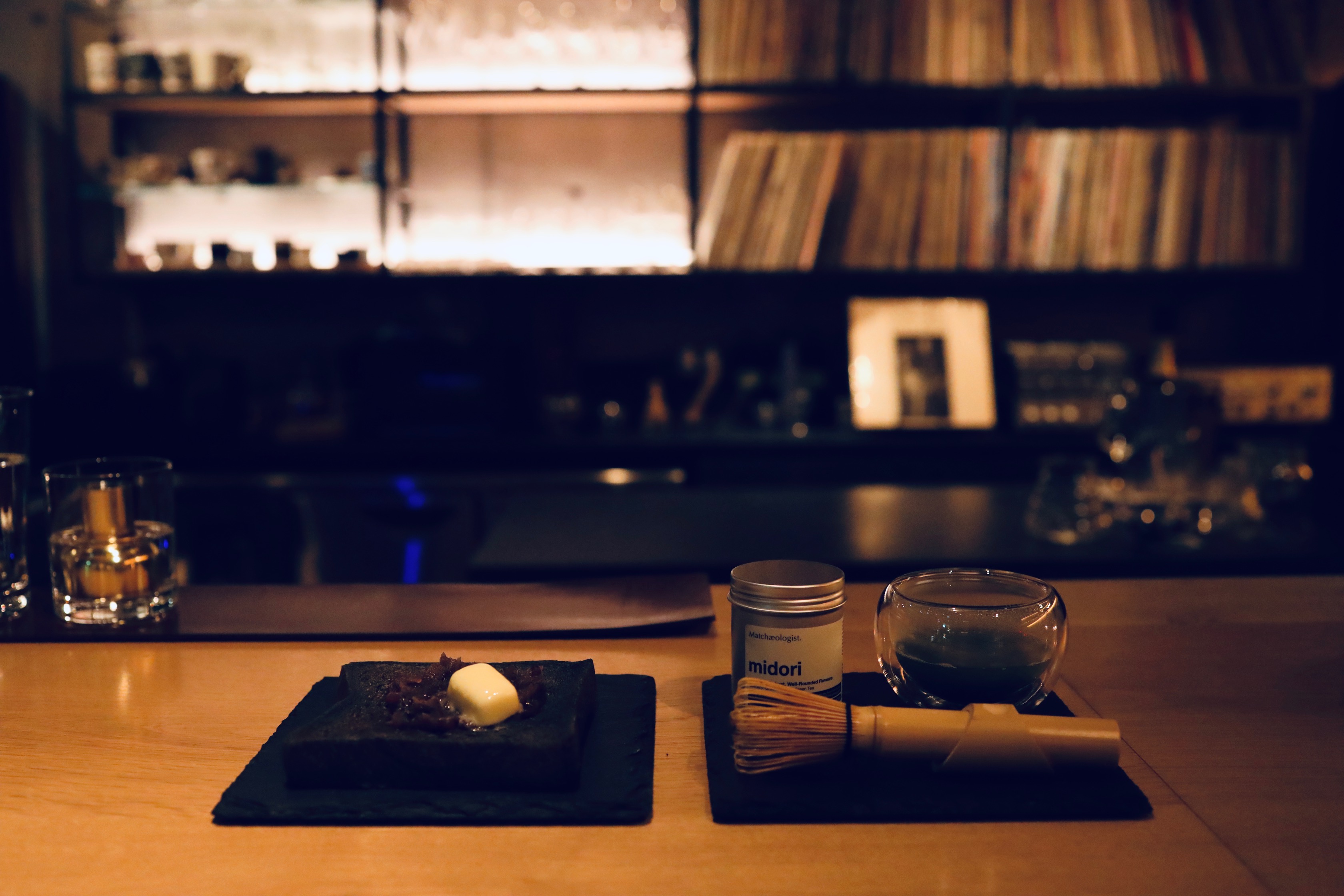 Take a seat and admire the walls of old records which create a soothing artistic atmosphere while sipping your cup of the café's specialty hand drip coffee or sommelier-selected wine as the music of old records fills the air. When you have finished, feel free to take a gander at the gallery corner to appreciate the cafés art. 
The November menu introduces a high-quality matcha by UK brand Matchæologist®, providing the opportunity to make and enjoy your own matcha drink. From the high-quality rich flavour to the contemporary design of the tea vessel, Matchæologist® lives up to its reputation as artisanal matcha green tea specialists.
Fans of epulor's popular Red Bean Paste and Butter Toast are in for a treat as the café is now serving up the Black Bean Paste and Butter Toast. The bread is a charcoal bread from the bakery Lotus baguette, which uses only natural yeast, Japan-produced wheat and no additives. The binchotan charcoal used to prepare the bread is a traditional charcoal which has been used since the Edo period. The appearance is just as striking as its taste.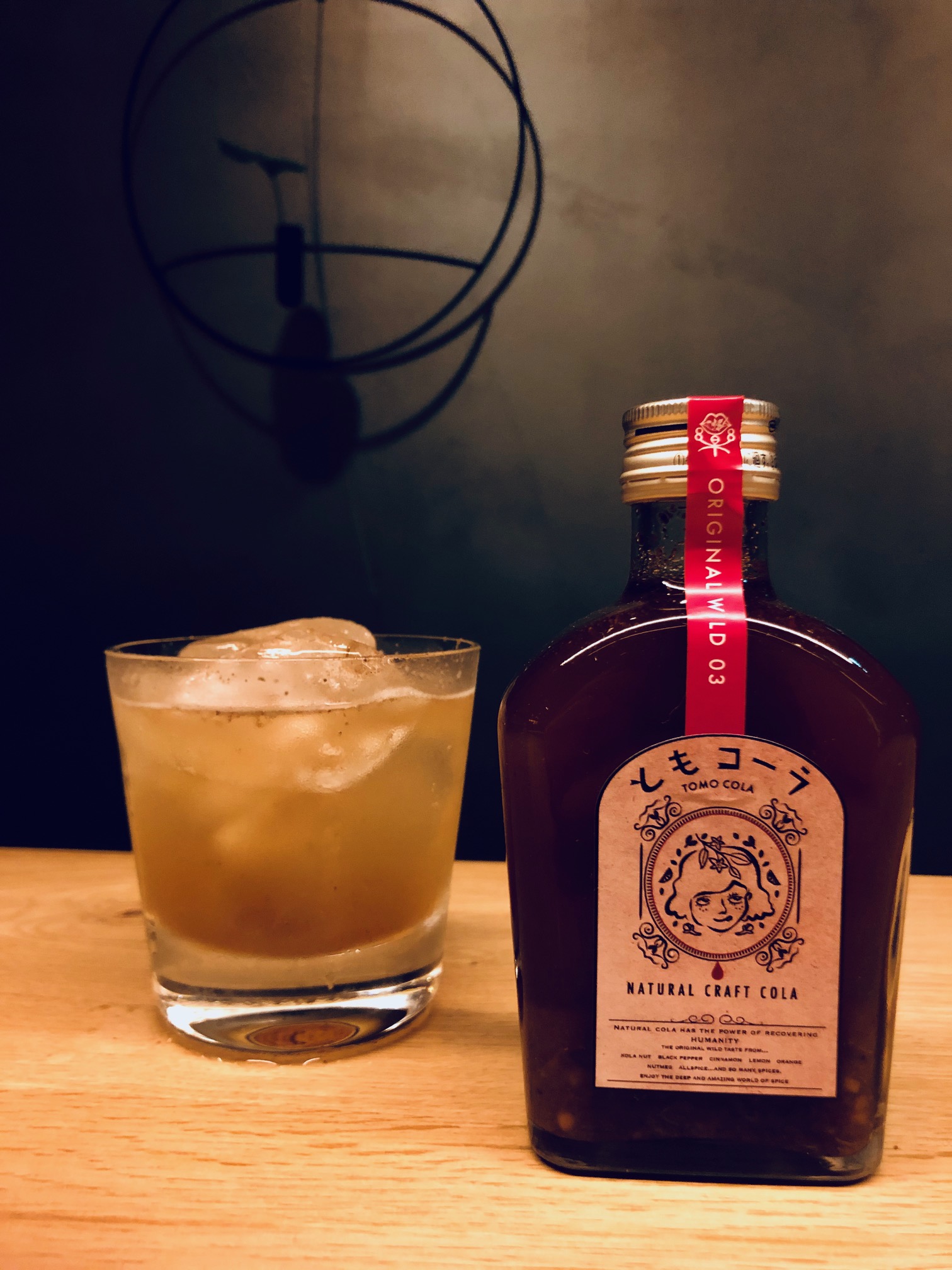 The café has also started to sell Japan's craft cola TOMO COLA. The cola is spiced with flavours from around the world including kola nut, nutmeg, Japanese herbs and Japanese citrus fruits. This natural cola contains no additives so you can indulge in the taste of nature and enjoy a unique flavourful experience of Japan. 
epulor is the perfect spot to enjoy a luxurious moment of relaxation during your busy day while immersing yourself in an artistic and cultural experience. 
Information
epulor
Address: ESCENARIO AOBADAI Floor 1, 1-19-10,Aobadai, Meguro, Tokyo
Opening Hours: 11:00 – 24:00
Closed: Mondays
Website: http://www.epulor.jp/
RECOMMENDED ENTRIES
Omotesando Hills Christmas 2019: Christmas Chocolate Parfait & Other Delicious Desserts

The Omotesando Hills shopping complex recently began rolling out information for its Christmas celebrations for 2019. Omotesando Hills Christmas 2019 is set to run from November 13 to December 25.

Enchanting illuminations will adorn the main building and its atrium, taking on the theme "Christmastime seduced by water magic." Restaurants and eateries will also serve up some limited-time goodies for "CHRISTMAS SWEETS with CHOCOLATE." Christmas shoppers can also look forward to getting their hands on a range of festive items amongst other things.

CHRISTMAS SWEETS with CHOCOLATE

10 restaurants throughout Omotesando Hills will serve up chocolatey Christmas-themed desserts from November 13 to December 25. There's a lot to look out for, including the strawberry-packed parfait, a parfait made with noble rot wine jelly, a vegan tiramisu and more. Let's take a look at a select few of these mouth-watering delights.

Parfait do Noel – ¥1,870 (Tax Included) @ HUGO & VICTOR (Main Building Floor 1F)

This Christmas parfait is lavish with fresh strawberries and adorned with tempting dark chocolate ice cream and chocolate flavoured macaron. It's also layered with a spicy crumble, caramel sauce, and smooth chantilly cream. Your taste buds will be treated to each distinct flavour and texture as you spoon your way through the dessert.

Serving: 11:00-20:30 (Until 19:30 on Sundays)

Noble Rot Wine Parfait – ¥1,980 @ Wine Shop Enoteco & Bar  (Main Building Floor 3F) *15 served per day

Noble rot wine has a distinct rich sweetness like that of honey. This jelly used in this parfait is made with noble rot wine from intenrnationally revered winery Baron Philippe de Rothschild and topped with chocolate ice cream and orange. Pour over the rest of the wine to complete this sophisticated dessert.

Serving: 11:00-21:30 (Until 20:30 on Sundays)

*Contains alcohol

Vegan Tiramisu Chocolate Parfait – ¥1,518 (Tax Included) @ Cosme Kitchen Adaptation (Main Building Floor B2F)

Vegan food has not entered the mainstream in Japan yet but more and more places are catching on. This mascarpone-flavoured vegan tiramisu is made with tofu and nuts. It has a refreshing taste and is sure to fill you up with its mix of tofu gateau chocolate, organic and domestic blueberries, cacao nibs, and organic coffee.

Serving: 11:00-22:00 (Until 21:00 on Sundays)

*Contains alcohol but can be ordered without alcohol

Raw Chocolate & Wine Marriage – ¥1,100 (Tax Included) @ bar à vin PARTAGER (Main Building Floor 3F) *15 served per day

Another one for the adults is this sweet made with rich raw chocolate and red wine, served together with with a fruity wine in a glass. Enjoy the bitterness of the chocolate together with the full-bodied notes of the wine.

Serving: 11:00-22:00 (Until 21:00 on Sundays)

*Contains alcohol

Omotesando Hills Limited-Edition Items

20 stores throughout Omotesando Hills will sell holiday season-inspired items between November 13 and December 25, from bags and purses in Christmas colours to cosmetics and fragrances. Here's a small peek at what's to come. Everything will be limited-edition and available while supplies last.

Bag – ¥53,900 (Tax Included), Wallets – ¥31,900 Each (Tax Included) @ EPOCA UOMO PRIMA (Main Building Floor 2F)

Adorned in Christmas colours are this bag made from soft sheep leather from Turkey and three fold purse. The inside of the bag is made with synthetic leather, and the bag itself is both light and holds plenty.

Millefiori Christmas Gift – ¥12,650 (Tax Included) @ Millefiori (Main Building Floor B2F)

This gorgeous kit is decorated with bright-red preserved flowers and contains high-quality room fragrances from ZONA. The scents include the refreshing "Oxygen" with citrus notes and the "Musk Flower" with elegant floral notes. These are limited in stock with only 5 available for each.

There are countless other sweets and items to get your hands on at Omotesando Hills this Christmas season, so if you're in Tokyo, don't miss out.

Orders Now Open For Japan's Ultimate Mochi Brand 'THE OMOCHI'

dot science launched a new brand on Wednesday called 'THE OMOCHI.' Together with the brand's partner Kasaharamochiーa Miyazaki-based mochi making companyーthey are aiming to update one of Japan's most recognised traditional confections: mochi.

Kasaharamochi make their mochi using an old-fashioned method that is almost extinct which makes use of a kamado BBQ and firewood. They shoot towards making the ultimate mochi.

In the video below, one of the staff members at Kasaharamochi discusses the cooking techniqueーthe oldest method, but the one that creates the most delicious mochi around.

Ingredients are carefully selected and placed carefully into the fire to steam. Kasaharamochi has continuously sought this ancient technique to cook the perfect mochi, a flavour which has been eaten by emperors and the imperial family during celebrations. This mochi has now been dubbed THE OMOCHI.

For the first line-up of the THE OMOCHI brand there will be 5 different types of mochi.

Pickled Egg Yolk & Soy Sauce

Cinnamon Honey Bar Mochi

THE OMOCHI website is also showcasing how best to eat and enjoy mochi as well as what is possible with this sweet treat. The website offers wine pairings, what to eat mochi with, original recipes and more, so be sure to check out the website.

THE OMOCHI Original Recipes: https://theomochi.com/#recipe

Information

THE OMOCHI Line-Up (10 Included)
01. Plain – ¥1,200 (Before Tax)
02. Genmai Rice – ¥1,200 (Before Tax)
03. Shrimp – ¥1,500 (Before Tax)
04. Walnut – ¥1,400 (Before Tax)
05. Soy – ¥1,400 (Before Tax)

THE OMOCHI Official Website: https://theomochi.thebase.in/

Christmas Gifts, Delicious Desserts & More Coming to Tokyo Skytree Town This Holiday Season

The dessert shops and and bakeries on the second floor of Tokyo Solamachiーthe shopping facility at the base of Tokyo Skytreeーare reading themselves for Christmas by baking up a whole range of festive delights for the holiday season, perfect for parties, gifts, or as a little self-indulgence. Let's dive in and take at what's on offer this year.

The perfect cakes for spending Christmas at home

Bonheur du Noel – ¥6,480 @ Ginza BOUL'MICHI (Tower Yard Floor 2F) [Reservations: November 1 – December 13 / Serving: December 21-25] *Tokyo Solamachi exclusive

Macarons are in this year in Japan, so BOUL'MICHI has whipped up the perfect strawberry chocolate cake adorned with colourful macarons and fresh strawberries to give it that Christmas-y look. Only 50 of these precious cakes will be sold, so don't miss out.

Fromage Citron @ – ¥2,970  Ginza Ginger (Tower Yard Floor 2F) [Reservations: November 1 – December 10 / Serving: December 23-25] *Tokyo Solamachi exclusive

This no-bake cheesecake is made with Oceania cheese and layered with an almond base followed by a sumptuously sour lemon cream.

16cm Yule Log – ¥4,104 @ Sweet Heart Tree (Tower Yard Floor 2F) [Reservations: November 1 – December 20 / Serving: December 15-25]

A gourmet yule log made with rich chocolate and packed with fruits and nuts. This sophisticated dessert is one for the adults to enjoy.

Takeout Sweets & Christmas Merchandise

 

Tiny Waffles (Dark Chocolate/White Chocolate) – ¥486 Each @ RL waffle cake (Tower Yard Floor 2F) [Reservations: November 1 – December 23 / Serving: December 20-25]

If you're looking for something a little smaller, perhaps as a Christmas present to friends and family or as a little gift to yourself, then check out these fluffy waffles made with strawberries, chocolate and whipped cream. Simple, but delicious!

Mamegui Towels (Santa Clause/White Christmas/Snowman) – ¥550 Each @ Mamegui (East Yard Floor 4F) [Available From November 1] *Gifts inside sold separately from ¥388

Mamegui are a type of towel used in Japan to wrap gifts in for people. These Christmas versions are perfect for wrapping up small presents for people, like Japanese snacks and candy.

Crispy Cakes (Happy Wreath/Santa/Reindeer) – ¥508 Each @ pon pon×Chris.P (East Yard Floor 2F) [Available From November 15]

These tiny crispy cakes are another great little bite to eat. The cute Santa version is cookie and milk flavoured and has marshmallows as the fluff of his hat.

Tokyo Skytree's THE SKYTREE SHOP Christmas Items

THE SKYTREE SHOP is the official souvenir store of Tokyo Skytree®. This Christmas they are selling a new batch of themed items, including plenty featuring their cute official mascot Sorakara-chan.

TOKYO SKYTREE Premium Chocolates – ¥1,706 @ Tokyo Skytree Floors 345 & 450 [Available From November 7]

This luxurious assortment of Tokyo Skytree-shaped chocolates come in a variety of flavours, including ruby chocolate.

Left: Sorakara-chan Winter Collection S – ¥2,200 / Right: Sorakara-chan Winter Collection Mascot – ¥1,375 @ Tokyo Skytree Floors 1, 5 & 450 [Available From November 7]

You can't leave Tokyo Skytree without a little memento, so why not pick up a cute duffle coat clad Sorakara-chan? Available this winter only.

Sorakara-chan Compact Mirrors – ¥968 @ Tokyo Skytree Floors 1, 5 & 450 [Available From November 7]

Also part of the Sorakara-chan winter collection are these compact mirrors which are filled with glitter that falls like stars or snowflakes depending which one you go for. They are small enough to fit into your pocket or bag making them super convenient.

And that's not allーTokyo Solamachi has countless other goodies, from desserts to souvenirs, to pick up this Christmas too. If you're in Tokyo this winter season and are planning a trip to Tokyo Skytree, be on the lookout.

*All listed prices include tax. Applicable tax rate may vary on certain products in line with Japan's consumption tax increase.
*Products and sale periods subject to change. Products available while supplies last.
*Pictured photos are for illustrative purposes only.

©TOKYO-SKYTREE
RELATED ENTRIES
4 Matcha-tastic Desserts Selling at Convenience Stores in Japan

If you love delicious Japanese desserts and are keen to discover more, you've visited the right website. Today with the help of Instagrammer Yukko, we'll be looking at matcha desserts you can purchase from Japanese convenience stores. 

Matcha Purin Cake Sandwich: ¥324/ Family Mart

Matcha Purin Cake Sandwich: ¥324

This is a fluffy sandwich with a hearty filling of sweet matcha purin, matcha cream, whipped cream and red bean paste. The fluffy cake and light cream create a wonderful balance of textures and enjoy a moderate sweetness. This dessert is sure to leave your stomach fully satisfied.

Dorayaki Pancakes Stuffed with Matcha Cream: ¥300/ 7-Eleven


Dorayaki Pancakes Stuffed with Matcha Cream: ¥300


The delicious aroma of the matcha will entice you before you have even tried it. The refined, rich matcha flavour will spread throughout your mouth and melt beautifully. 

Uji Matcha and Shiratama White Dumpling Parfait:¥300/ 7-Eleven


Uji Matcha and Shiratama White Dumpling Parfait:¥300

This is a luxurious parfait containing Shiratama dango, warabi mochi, matcha whipped cream, dorayaki pancake pieces, plain whipped cream, matcha mousse and matcha starch cakes. Enjoy a variety of textures – perfect for the matchaholic!

Matcha & Sweet Red Beans & Whipped Cream Doyayaki: ¥140/ 7-Eleven

Matcha & Sweet Red Beans & Whipped Cream Doyayaki: ¥140

Sweet red bean paste, matcha sauce, whipped cream and chewy warabi mochi are stuffed between two matcha dorayaki. The matcha sauce is rich and plentiful, creating the perfect matcha-tastic treat.

 If you're on a matcha hunt, how about starting at the convenience store? There are just so many matcha desserts to discover. Mogu Mogu Yukko's Instagram is full of delicious desserts that you can buy from Japanese convenience stores and supermarkets. If you're looking for a sweet treat, make sure to check it out.

 Original Article Contents and Photos By: Mogu Mogu Yukko

*Convenience stores are always updating their products and therefore the desserts mentioned in this article may stop selling at any time. Please check the convenience store's social media or official website for the most up-to-date information. 

PEANUTS Cafes and DINERs Are Holding a Joe Cool Fair For a Limited Time Only

PEANUTS Cafes and PEANUTS DINERs in Nakameguro, Minami-machida, Yokohama and Kobe are holding a Joe Cool fair from January 15, 2020.

PEANUTS Cafes and DINERs across Japan have held quite a few Snoopy-themed events based on a number of his disguises. In the past, the master of disguise has made an appearance in PEANUTS Cafes and DINERs as Astronaut Snoopy, Flying Ace Snoopy and Beagle Scout Snoopy. For the fourth and final theme of the series, Snoopy will be taking to the scene as his alter-ego Joe Cool. 

Joe Cool is the guy that everyone yearns for. The cool dude who is always hidden behind his signature jet black sunglasses. Although he's got the cool looks, he doesn't seem to have a knack for attracting girls. 

During the fair, there will be hot drinks decorated with illustrations of Joe Cool and a lineup of fair-limited merchandise.

Joe Cool Black Caramel Au Lait
Eat-In: ¥800 *Comes with an original drink coaster/ Take Away: ¥600 (Prices Before Tax)

The jet black caramel café au lait is topped with creamy milk foam and a dusting of black cocoa in the silhouette of Joe Cool. Enjoy the changing appearance of your drink as you take a sip. Even the label on the take out cup is decorated with a Joe Cool fair logo that you won't be able to resist taking a photo of.

Sold At:

PEANUTS Cafe Nakameguro: Eat-In/Take Away

PEANUTS DINER Yokohama: Eat-In/Take Away

PEANUTS DINER Kobe: Eat-In Only

PEANUTS Cafe Kobe: Take Away Only

*Not available at PEANUTS Cafe Snoopy Museum

Original Joe Cool Eco Tote Bag: ¥1,600 (Before Tax)

The popular Snoopy Eco Tote Bag has had a Joe Cool makeover. It has a simple design and is easy to use. The jet black colour makes it appropriate for anyone and it is large enough to fit an A4-size item inside. You can use it as your main bag or fold it up to store in your main bag so you're always ready for that unplanned shopping trip. The merchandise lineup also includes original-design stickers, keyrings bearing a Joe Cool Snoopy design and a stainless steel mug. 

All fair merchandise is available to purchase from the merchandise area of PEANUTS Cafes and PEANUTS DINERs or the online shop. 

The special Joe Cool menu and merchandise is available for a limited time only – perfect for a special trip!

© 2020 Peanuts Worldwide LLC

Information

Joe Cool Fiar – HI SWEETIE!

Running: January 15, – March 15, 2020

PEANUTS Cafe Nakameguro
Address: 2 Chome-16-7 Aobadai, Meguro City, Tokyo
Official Website:  http://www.peanutscafe.jp/

PEANUTS DINER Yokohama  

Address: MARINE & WALK YOKOHAMA Floor 2, 1 Chome−3−1, Shinko, Naka Ward, Yokohama, Kanagawa

Official Website: http://www.peanutsdiner.jp/

PEANUTS Cafe Kobe

Address: PEANUTS HOTEL Floor 1, 1 Chome-22-26 Nakayamatedori, Chuo Ward, Kobe

Official Website: https://www.peanutshotel.jp/

PEANUTS DINER Kobe
Address: PEANUTS HOTEL Floor 3, 1 Chome-22-26 Nakayamatedori, Chuo Ward, Kobe
Official Website: http://www.peanutsdiner.jp/kobe/

PEANUTS Cafe Snoopy Museum
Address: Minami-machida Grandberry Park Park Life Building, 3 Chome-1-1 Tsuruma, Machida, Tokyo

Official Website: http://www.peanutscafe.jp/snoopymuseum-tokyo/

PEANUTS Cafe Online Shop: https://www.peanutscafe.jp/online/

CHAYA 1899 TOKYO To Open in February Serving Specially Made Tea

With a history of 120 years in managing a number of old hotels and restaurants, the Ryumeikan Group will open a new café that sells Japanese desserts, pastries, tea and coffee called CHAYA 1899 TOKYO. The new café is set to open on February 21, 2020 and will embrace the delicious flavours of matcha, hōjicha and Japanese black tea. 

The café will open on floor 1 of the boutique hotel Hotel 1899 Tokyo. The café interior is wood-themed with touches of black for a casual fusion of tradition and modernity. With a space of 120 square metres, the relaxing environment is spacious enough to seat 38.

The original restaurant opened for business in December 2018. Now, CHAYA 1899 TOKYO specialises in Japanese beverages and intends to live its days as the tea shop that customers can visit as they please for a break from everyday life.

One of the most appealing aspects of the new restaurant has to be the menu. There are 10 different drinks available. Each drink is carefully made with high-quality tea leaves that were carefully selected from all over Japan. The tea varieties include matcha, hōjicha, Japanese black tea made from Japanese tea leaves. 

Rich Matcha Latte: ¥600 (After Tax)

Each cup of tea is carefully made, one by one, by the café's Japanese tea specialist. The rich matcha tea is made using traditional tools such as a bamboo whisk. From this, soy milk or milk is added to make the rich matcha latte. From three to six grams, you can choose the strength of your tea by the gram to create a more personalised matcha latte. 

 Other drinks on the menu include the Hōjicha Latte and the brand new inventions the 'Matcha Soda and 'Japanese Black Tea Soda', which will tempt you their exquisite aromas. 

The café even has a counter especially for the tea making and pouring procedures. The water for each drink is boiled in a traditional kettle by the tea specialist, who carefully regulates the water temperature and controls the brewing time according to the tea leaf. 

Matcha Pan:  ¥600 (After Tax)

As expected, the café also sells delicious sweet treats full of matcha goodness to go with your tea. The fresh green Matcha Pan are full of matcha goodness. They are made from 100% Japanese wheat, Hokkaido butter and milk. The mixture is left to rise at a low temperature over a long period of time. Afterwards, matcha from Shizuoka is added to the mix and then baked into muffins. This original and rare bread was developed with Baba FLAT – a café which sells very popular pastries and coffee in Takadanobaba, Tokyo. 

Craving more matcha? Enjoy both matcha and hōjicha at the same time in the form of a healthy snack: the Omatcha Brownie. The brownies are made from gluten-free rice flour and enjoy a moist texture and rich flavour.

Uji matcha, a high-quality and rich matcha used in tea ceremonies, is also used to make rich matcha ice cream (Koicha Gelato) and matcha cakes called "Sakecha Cakes" which combine tea and Japanese sake or brandy with cakes. The varieties of cake include matcha and Japanese sake, hōjicha and Japanese sake and black tea and brandy.

If you're looking for a unique tea experience, look no further than CHAYA 1899 TOKYO.

Information

CHAYA 1899 TOKYO

Address: 6-4-1 Shinbashi, Minato City, Tokyo

Opening Hours: 11:30 – 21:00 (Last Orders: 20:30)

Opens: February 21, 2020

Official Website: https://1899.jp/hotels/tokyo/

Matcha Desserts in Sapporo You Just Have To Try

We've previously covered the best spots to try delicious matcha desserts in Kyoto. Now, with the help of expert dessert Instagrammer Kei, we are going to introduce you to some of the most delicious spots to try matcha desserts in Sapporo, Hokkaido.

If you want to discover more delicious cafés, desserts and drinks in Hokkaido, make sure to check out Kei's Instagram (@607keih).

 

KotoniSand, Nishi Ward

Macchan French Toast: ¥1200

 From dinners to desserts, this café serves up lots of meals based on their delicious thick-sliced bread. Bread flavours include plain, matcha and even coffee. You can order to go or enjoy the eat-in-limited menu. This fluffy french toast is soaked in matcha liqueur and is full of flavour even before trying it with the toppings. Take a bite of it with the red bean paste for a flavour adventure. A limited number of these are sold per day so if you want to try it, make sure to get there early. 

▼KotoniSand

Address: 1-1-1 Yamanote 5 Jō, Nishi-ku, Sapporo, Hokkaido

Opening Hours: 11:00-18:00
Closed: Tuesdays
Official Website: https://kotonisand.business.site

Ame no hi to yuki no hi, Minami Ward

Gelato Futatsu: ¥450

Located before Jozankei's onsen hotspot is a café called Ame no hi yuki no hi. It serves delicious pizzas and a variety of gelato flavours depending on the season. Their matcha ice cream is delicious. They even allow you to order two or three flavours at once so you can enjoy a mix and match of combinations. 

▼Ame no hi to yuki no hi

Address: 2-4-1, Jozankeionsennishi, Minami Ward, Sapporo, Hokkaido 

Opening Hours: 10:00-17:30
Closed: Thursdays
Official Website: https://www.amenohitoyukinohi.com

KANON pancakes, Shiroishi Ward

Matcha Tiramisu Pancake: ¥1500

This is a famous pancake shop in Kikusui. Tuck into a stack of fluffy pancakes inside the relaxing and soothing restaurant. The Matcha Tiramisu Pancakes are soaked with liqueur, creating a texture that is softer and moister than their standard pancakes. In addition to the matcha liqueur, the pancake is also dusted with matcha powder for a richer matcha flavour. Finally, they are drizzled with delicious brown sugar syrup and topped with walnuts.

▼KANON pancakes

Address: 5-5-18 Kikusui 3 Jo, Shiroishi Ward, Sapporo,

Opening Hours: 10:00-17:00 (Last Orders: 16:00)
No Regular Holidays
Official Website: https://kanon-pancakes.com

Any cafe, Kita Ward

Matcha Kintoki: ¥1350

This shop uses gluten-free ingredients in their food. This pancake dish is made using unpolished rice powder, three pieces of Turkish delight, red bean paste, rice flour dumplings, and cream made from Hokkaido-produced mascarpone and fresh cream. The cream is full of the bitter and delicious flavour of matcha, making the pancake sweet and very delicious. 

▼Any cafe

Address: 3-2-24 Kita 18 Jonishi, Kita Ward

Opening Hours: 11:00-18:30 (Last Orders: 18:00)
Closed: Tuesdays

Official Instagram: https://www.instagram.com/any_cafe_sapporo/

If you are looking for delicious matcha desserts in Sapporo, let this article help you decide where to go. When your food cravings kick in, make sure to visit Kei's Instagram which is full of the most delicious meals, drinks and desserts in Hokkaido. 

Original Article Contents and Photos by: Kei (@607keih )

Relaxing Café by Day, Neon-Lit Bar by Night: Enjoy a Drink at Jinbōchō CAMPUS in Tokyo

Hello everyone, this is MOSHI MOSHI friend Banako.

Today I'll be introducing you to an interesting place in Jinbōchō, Tokyo that is a café by day and a café & bar at night.

From 9:00 to 17:00 it's known as COFFEE CAMPUS  and from 18:15 to 22:00 it runs as CAMPUS TOY cafe&bar. It first opened its doors approximately 48 years ago, solely operating as a café. Its current owner is an avid American toy and pop culture-lover who started running the café & bar seven years ago.

To get here, it's just a five-minute walk from exit A2 of Jinbōchō Station. The café is located in a quiet place just one turn off Odori Street.

Check out the menu:

The toast here is really good, so I ordered the Egg on Toast. (¥500)

To my surprise, an exceptionally large and thick slice of toast arrived at my table. The egg was evenly cooked and spread on top. I curiously sunk my knife into the toast to reveal the inside.

The egg dripped beautifully like melted cheese. It tasted wonderful with the freshly toasted slice of bread and was very filling. I was in a good mood after my very first bite.

Once the clock strikes 18:15, the café completely transforms into CAMPUS TOY cafe&bar which has a completely different atmosphere. 

One step into the newly-transformed café & bar and…

The calm undertones of the café were replaced with a cute pop-themed atmosphere illuminated by colourful neon lights. Rather than preparing a drinks menu, owner matz takes orders directly from customers, creating drinks catered to each individual customer based on what flavours and colours they like. 

Waiting to see what kind of drink is going to be brought to you is very exciting. Ordering drinks with friends and taking photos of the outcome is the best way to enjoy your time here. 

There are also lots of good spots to take photos for your Instagram so don't hold back! From time to time, there is a small market here where the owner sells small fantasy-themed items.

 Make sure to check out CAMPUSTOY cafe&bar on Instagram for their latest updates and information on opening hours. Whether you want to enjoy a pop-themed American atmosphere or are simply looking for a relaxing spot to chat, this café is for you. Matz the owner is very friendly and is full of interesting stories that you just got to hear.

Information

COFFEE CAMPUS /CAMPUS TOY cafe&bar

Address: Jinbōchō Mansion Floor 1, 2-10, Jinbōchō, Kanda Ward, Chiyoda, Tokyo

Opening Hours

COFFEE CAMPUS: 9:00 ー 17:00

CAMPUSTOY cafe&bar: 18:15 ー 22:00

* Please be careful to not mix up the opening hours of the café and café and bar.

Closed: Saturdays, Sundays and National Holidays

Access: Approx. 5-minute walk from Jimbocho Subway Station exit A2

CAMPUS TOY cafe&bar Instagram:https://instagram.com/campustoy_matz?igshid=2nblcij8r4b7

Enjoy a Luxurious Teatime Treat in The Characteristic Ginza Café 'Tricolore'

Hello!

This is MOSHI MOSHI Friend Banako. 

Today I'll be introducing you to an old café in Ginza called Tricolore, where you can really feel the culture of Ginza. Tricolore has a rich history dating back to 1936. It is just a three-minute walk from exit A3 of Ginza station just off the main street. 

From the outside, it looks like a gorgeous and luxurious hotel. 

Considering its old, historic background, entering the café through a set of revolving doors was not expected. Once you enter, you will notice the grand showcase full of cakes beautifully arranged before your eyes. The neat pattern of brick walls filled the interior with character. Velvet chairs, sofas and trees created a beautiful atmosphere. 

The smoking seats are located on floor one and floor two, which opens from 11:30, is for non-smoking. The entire interior was beautiful.

I settled at a table and soon ordered the Cake Set for ¥1,520.

From the selection of cakes, I chose the apple pie and for my drink, I ordered an iced cafe au lait. The drink prices are slightly cheaper before 11:30, making it more cost-effective to order a drink separately and not as part of a set. After 11:30, you can pay a little extra to order a different drink. 

The thin and crispy pie pastry was stuffed with apples. Each delicious bite was filled with warmth. The cream was moderately sweet and perfectly balanced out sweet and tangy apple filling.

When you order a cafe au lait, you can choose your ratio of coffee to milk and have it poured for you at your table. Being able to choose the strength of your coffee to this extent is very important to all coffee-lovers. Watching the drink being beautifully poured before your eyes fills you with a sense of luxury.

The waiters and waitresses are always smiling and are very polite when serving customers. This is a very comfy place to enjoy breakfast or lunch. If you are looking for a spot to relax, this is definitely a good shout!

Information

Tricolore Main Shop

Address: 5-9-17 Ginza, Chuo City, Tokyo

Opening Hours: Monday – Friday: 08:00 – 20:30 (Last Orders: 20:00)

Weekends and National Holidays: 08:00 – 21:30 (Last Orders:21:00)

No regular holidays

Phone Number: 03- 3571-1811

Access: 3-minute walk from exit A3 of Toei Subway Ginza Station

Official Website: http://www.tricolore.co.jp/ginza_trico/info/info.html

Top Matcha Desserts in Kyoto Perfect for Your Next Instagram Post

 When you think of Kyoto, matcha immediately comes to mind. Today with the help of the Kansai region's expert dessert Instagrammer Tiara, we'll be introducing you to the top matcha dessert shops of the Kansai region. 

Kawatomo, Fushimi 

Matcha Ganache Cake

This matcha ganache cake looks just as good as it tastes. The beautiful smooth matcha coating is delicious and rich. The cake is best enjoyed with a cup of coffee and is the perfect sophisticated treat. 

▼Kawatomo

Address: 792 Nishishujakuchō, Fushimi Ward, Kyoto,

Opening Hours: 11:30-18:00

Closed: Mondays, Tuesdays and Wednesdays

Official Instagram: https://www.instagram.com/chika_ara/

Chasho Shimizu Ippoen Kyoto

A delicious spun sugar decoration rests on top of the melt-in-the-mouth matcha tiramisu parfait. The mascarpone and matcha ice cream is made completely from Hokkaido milk. The balance of flavours and moderate sweetness makes this parfait irresistible. 

▼Chasho Shimizu Ippoen 

Address: 665 Honkawaracho, Higashiyama Ward, Kyoto

Entry:11:00-16:00

Closed: Mondays*

*Open on National Holiday Mondays but closed the following day. Closed during the New Year Period.

Official Website: https://ippoen.co.jp

MATCHA REPUBLIC, Shimogyō Ward

Rock Salt Cheese Bubble Matcha Latte/ Bubble Matcha Latte

This unique drink belongs on Instagram. A cute ink bottle is filled with a mildly sweet matcha drink accented with a hint of salt. You've never tried anything quite like this before.

▼MATCHA REPUBLIC

Address: Floor 1, 721-1 Higashishiokojicho, Shimogyo Ward, Kyoto

Opening Hours: 9:00-21:00

Official Website: https://www.matcha-republic.com

JTRRD cafe KYOTO, Nakagyō 

Uji Matcha Smoothie (Kyoto-Limited)

Pink, red, orange, yellow, purple, green – this Uji matcha smoothie is a rainbow of colours. There are four different designs and you can choose from three varieties of fruit to decorate the inside of your cup. Each smoothie is made of fruit and vegetables, making this a healthy way to indulge in matcha. It is so beautiful you won't want to drink it.

If you're looking for a shop to satisfy your matcha cravings, you can't go wrong with Tiara's recommendations.

Tiara's Instagram never fails to keep us updated on the most delicious and beautiful desserts in the Kansai region so check it out.  

Article Contents and Photos by @happy_pinkrose_tiara

5 Must-Eat Succulent Strawberry Desserts in Kyoto That Are Simply Kawaii

Winter is here, which means that the season of strawberries has finally fallen upon Japan. Today we are joined by Instagrammer Tiara, who enjoys posting their adventures around Japan's Kansai region to try out all of the sweets and desserts. We are taking a look at must-visit locations in Kyoto for a taste of their tempting strawberry delights.

LITT UP.KYOTO in Gion-Shijō

At LITT UP.KYOTO, their "ichigoame" lets you enjoy strawberries in their original cute form.

They are coated in sweet strawberry candy and served on sticks in cups reminiscent of something from a Japanese festival. Part of their allure is how perfect they are as a tasty treat for walking around with. There's even popping candy attached to the strawberries for an even sweeter textural treat.

▼LITT UP.KYOTO Gion

Address: 533 Gionmachi Minamigawa, Higashiyama Ward, Kyoto

Opening Hours: 10:00-18:00

Official Instagram: https://www.instagram.com/litt_up_kyoto/

Kissa Zou in Imadegawa

The "Kisetsu no Babaroa" (Seasonal Baravois) at Kissa Zou has an springy texture and sits in a sweet and sour strawberry sauce.

I recommend ordering one of the separate elephant cookies to place on top too to make this an even cuter dessert.

▼Kissa Zou

Address: 440-3 Santeicho, Kamigyo, Kyoto

Opening Hours: 9:00-18:00 (Last Orders 17:00)

No Fixed Holidays

Official Instagram: https://www.instagram.com/kissa_zou/

Chounohane in Fushimi

At Chounohane they are serving strawberry barquettes as well as mini versions of them. The dessert itself is of course beautiful, but is made even more so by the antique plate♡

▼Chounohane

Address: 791 Nishishujakucho, Fushimi Ward, Kyoto, Kyoto Prefecture

Opening Hours: [Tues/Sat/Sun] Shop & Cafe 11:00-17:00 / [Fri] Shop Only 11:00-17:00

Official Instagram: https://www.instagram.com/chounohane/

Utanekodo in Kyoto Shiyakusho-mae

Utanekodo was renovated from a 100+ year old building and has its own cat cafe. The cafe space is located on the first floor.

Their "Nyanko Strawberry Milk" speaks for itself, topped with adorable kitty ice cream and delicious with its subtly sweet taste.

▼Utanekodo

Address: 155-4 Tachibanayanagicho, Nakagyo Ward, Kyoto, Kyoto Prefecture

Opening Hours: 13:00-20:00 (Last Orders 19:00)

No Fixed Holidays

Official Website: http://utanekodo.com/

MASHOLA in Kyoto Shiyakusho-mae

Finally we have the "Strawberry Tiramisu Cube Cake" served at MASHOLA, a Korean-style cafe. This cake is made with refreshing homemade tiramisu cream, delightful sponge, and is packed full of sweet and sour strawberries which complement the entire thing.

▼MASHOLA

Address: 1-A MOVIX, 406 Sakuranocho, Nakagyo Ward, Kyoto, Kyoto Prefecture

Opening Hours: 10:00-20:00

Official Website: https://mashola.business.site/

All of these cafes are wonderful, so if you're in Kyoto for the strawberry season, be sure to visit as many as you can.

Tiara has plenty of other recommendations over on their Instagram page, so if you're a sweet tooth looking for something sweet to indulge in around the Kansai area, be sure to give them a follow.

Text & Photos: @happy_pinkrose_tiara

Translation: Joshua Kitosi-Isanga

Irresistible Fruit Sandwich Shop "Futsu ni Fruits" Opens in Osaka

Popular Tokyo fruit sandwich shop "Futsu ni Fruits" has opened a branch in Osaka called "Futsu ni Fruits Tosabori Parlor". With the help of Kansai's expert dessert Instagrammer Tiara, we'll be taking a closer look at the shop's irresistible menu.

Futsu ni Fruits is a sister branch of Omotesando's popular café & bakery "Bread, Espresso &,". Futsu ni Fruits at Tosabori Parlor in Osaka sells takeout sandwiches on floor 1 and has an eat-in café space on floor 2. 

Fruit Sandwich

 The café menu varies according to the time of day. There's a toast menu in the morning which sells toast with various fruit toppings. Futsu ni Fruits' classic Fruit Sandwiches are available from lunchtime and onwards. The rich whipped cream embraces the flavour of the fruit filling perfectly, leaving a refreshing aftertaste. 

The teatime menu is served from 3 pm which is your chance to try the Tosabori Parlor-limited Purin à la mode, parfaits and much more. 

Seasonal Fruits Drink


Purin à la Mode, Strawberry Milk and Coffee Milk

The Tosabori Parlor-limited purin à la mode is a luxurious mountain of delicious fruit and purin. 

If you're curious to try a Japanese fruit sandwich then Futsu ni Fruits is guaranteed to give you an enjoyable experience. 

If you're a dessert-lover in Japan then you just have to check out Tiara's Instagram which is a library of the most delicious desserts in the Kansai region. 

Article Contents and Photos by: @happy_pinkrose_tiara

*The information on the desserts mentioned in this article are subject to change at any time. For the latest updates, please refer to the links provided in this article.

Information

Futsu ni Fruits Tosabori Parlor

Opening Hours: 10:00 – 19:00
(Floor 1 Takeout: 10:00 – 16:00)
(Morning Menu: From 10:00/Lunch Menu: From 12:00/ Teatime Menu From 15:00)

Address:  1 Chome-1-30 Tosabori, Nishi Ward, Osaka

Official Website: https://bread-espresso.jp/

Garrett Popcorn's Matcha Truffle Caramel Crisp Flavour Releasing for the New Year

Garrett Popcorn has announced that it will release its popular limited-edition Matcha Truffle Caramel Crisp flavoured popcorn, as well as New Year's popcorn tins with a Year of the Rat design for 2020, from December 26, 2019 in limited quantities.

Matcha Truffle Caramel Crisp / Available: December 26, 2019 – January 9, 2020 *While supplies last

The popular Matcha Truffle Caramel Crisp returns again this year, taking Garrett Popcorn's classic Caramel Crisp™, coating it in white chocolate, and sprinkling over delicious matcha powder to create the ultimate luxury popcorn.

Garrett 2020 ETO Tins / Available: December 26, 2019 – January 9, 2020 *While supplies last

To get popcorn munchers in the festive mood, Garrett Popcorn has also designed these New Year's tins featuring the classic Japanese celebratory colours vermilion and light emerald green. The design is also decorated with plum blossoms and a rat to symbolise the 2020 Year of the Rat from the Chinese zodiac.

Black Truffle / Available: December 27, 2019 – January 5, 2020 *While supplies last (At Garrett Popcorn Shops® in Harajuku/Tokyo Station/Shisui Premium Outlets/Nagoya)

The company has also developed a special new recipe to chime in the New Year: "Black Truffle," a seriously luxurious indulgence. It will be sold for 10 days only when the New year rolls around.

Enjoy a Happy New Year with a bowl of these delicious popcorn flavours from Garrett Popcorn.

Information

Garrett Popcorn Official Website: http://jpgarrettpopcorn.com/

*All items listed in this article are available in limited quantities while supplies last

Harajuku's Korilakkuma Cafe: another me in the mirror | Food Review

"Korilakkuma Cafe: another me in the mirror" is set to open in Japan's hub of kawaii culture Harajuku on December 21 where it will run until March 22 next year.

MOSHI MOSHI NIPPON received early access to the cafe, so we went together with Ruki from Spain.

The cafe incorporates "interactive tabletop projection mapping" technology developed by Sony, which allows customers to enjoy their meals while playing together with the characters as they walk around their plates and tables.

So what exactly does this look like…?

Korilakkuma Cafe: another me in the mirror is located along Takeshita Street in Harajuku. Enter Takeshita Street and walk just a little bit to find HARAJUKU AR BOX. The entrance is pictured above.

The cafe operates on a "pair seating" system, making it the perfect spot to go with your best friend or special someone♡

The theme of the cafe is "another me in the mirror," which sees Korilakkuma meeting another Korilakkuma inside of a mirror. When seated at your pair table, you'll notice all of the Korilakkuma artwork adorning the cafe.

When we sat down, the staff came and gave us a dolomite coasterーa gift for all customers who visit the cafe.

When you place the coasters down on the table, that's when the fun begins. Trace your finger around the table to play with Korilakkuma and company.

Here is Ruki having Korilakkuma move around.

When we had finished playing, the appetisers from our course menu arrived. It costs ¥2,500 per person, and you both have to order when ordering this course menu. You can pick from clam chowder or minestrone.

If you thought that was it for the projection mapping, think again! The fun was only just beginning, as a new display came on the table when the plates went down.

Ruki was completely enchanted by the sparkling food. It makes you feel like you're inside of a picture book♡

The salad was Caesar, and the minestrone was packed full of veg and ingredients, making it nice and filling.

The next dish that was brought was the main. You pick one each of a main dish and dessert and share between two people.

We ordered the "Omurice – Let's Draw Together" (in Japanese: 一緒におえかきオムライス). Korilakkuma was wrapped up completely in an omelette blanket. The projection mapping comes on when you set this plate down too.

Korilakkuma draws around the plate, and we got to join in too by decorating Korilakkuma's blanket with drawings of Rilakkuma and Kiiroitori in ketchup.

The mapping helps you with drawing by projecting an outline you can trace. Ruki did hers really well!

As we forked into the omurice we found a cheeseburger underneath! The combination of the juicy cheese hamburger with the soft egg was to die for, and it becomes even more delicious and smooth when you pour over the cream sauce.

Last up was dessert. We got the "Spell-Cast Pancakes" (in Japanese: パンケーキに魔法をかけて). The projection mapping cast a mirror onto the pancakes. Even more animations happen when you wave the brush you're given on the table.

The fluffy pancakes are topped with a hearty serving of cream. You can enjoy them as they are, but they're delicious if you top them with the fruits, iced cream and nuts scattered around the plate too!

Twin Korilakkuma Strawberry Milk – ¥990

Korilakkuma Cafe au Lait – ¥890 (Served Hot Only)

As well as the course menu, there are also special drinks you can order separately which come with another free and exclusive coaster.

Sliding Mirror (Pink or Purple) – ¥1,200 Each

Acrylic Key Ring (4 Designs/Chosen Randomly) – ¥500 Each

Korilakkuma fans can expect to sift through a whole range of cafe-exclusive merchandise too, so be sure to check out what they've got in stock when you visit.

Korilakkuma Cafe: another me in the mirror is Harajuku's hottest new spot where you can enter the kawaii world of Korilakkuma. Pull up a seat and enjoy and interactive meal experience.

©2019 San-X Co., Ltd. All Rights Reserved.

Information

Korilakkuma Cafe: another me in the mirror

Running: December 21, 2019 – March 22, 2020 (Not running December 30, 2019 to January 3, 2020)

Location: HARAJUKU AR BOX -table projection mapping cafe- (4-28-28 Jingumae, Shibuya, Tokyo)

Grand Opening: December 9, 2019 at 16:00

Reservations: Now Open

*This cafe serves course menus for two people to share only

*Drinks ordered separately

Table Projection Mapping Seats: ¥2,500 per person (Before Tax)

*Reservations for two people only
*Course menu charged separately

Official Website: https://korilakkumacafe.jp/

Kiyomizu Cheese Kobo: Kyoto's Dessert House Releases Matcha Tiramisu and New Cheese Products

Kiyomizu Cheese Kobo opened in Kiyomizu Gojozaka, Kyoto in July this year as the first place in Kyoto to specialise in "bottled cheesecakes." This month, they are releasing four new products to continue the cheese craze right to the end of 2019.

The first is a revamp of their number one most popular soft serve cheese ice cream: the "Chocolate Mont Blanc Cheese Soft." The soft serve ice cream is a mix of refreshingly sweet milk and rich cheese topped with a full-bodied mont blanc-style chocolate—a welcome addition during the winter months when you want to stay in and indulge in some chocolate. The ice cream is finished with crushed chocolate pieces and a crowning raspberry to create a chocolate cake in a cone. You're sure to become a frequent customer after a bite of this.

And for the Christmas season only, between December 18th-25th the shop is also selling another special soft serve that's made to look like a Christmas tree. The cheese soft serve is covered with a sprinkling of Uji matcha powder and adorned with chocolate pearls and stars.

Kiyomizu Cheese Kobo is also releasing hot versions of its "Kiyomizu Cheese Drink" and "Matcha Cheese Tea," the iced versions of which were greatly enjoyed in summer. The Matcha Cheese Tea can also now be ordered with tapioca topping, creating a delicious combination between the expertly crafted rich matcha cheese tea and the chewy and sugary tapioca pearls.

Also released this month is the "Homemade Matcha Tiramisu" when is served in a traditional masu box and served only on the second floor eat-in section. This irresistible delight is made with flavourful mascarpone cheese and bitter Uji matcha from Kyoto to create a dessert that's perfect during a trip or day out in Kyoto. Because of the hard labour that goes into creating this dessert, only 5-10 are served per day, so be sure to arrive early to not miss the opportunity.

Information

Chocolate Mont Blanc Cheese Soft – ¥550 (Before Tax)

Christmas Cheese Soft – ¥400 (Before Tax) *Available December 18-25, 2019 only

Matcha Tapioca Cheese Tea – ¥550 (Before Tax)

Homemade Matcha Tiramisu – ¥540 (Before Tax)

Kiyomizu Cheese Kobo

Address: 569-10 Shiraitochō, Higashiyama Ward, Kyoto, Kyoto Prefecture

Official Website: http://kiyomizu-cheese.com/