Cosy Up in the Snow Huts This Winter at Hoshino Resorts KAI
Hoshino Resorts is once again bringing its kamakura snow huts to two of its KAI hotelsーa brand of hot spring hotels. You'll catch them at Hoshino Resorts KAI Tsugaru and Hoshino Resorts KAI Alps from February 1 to 29 next year.
KAI Tsugaru: Beautiful Koginzashi Stitched Lanterns Light Your Way
Koginzashi is a type of sashiko stitch work famous in the Tsugaru region. Japanese kogin designer Iemasa Yamahata has designed 50 beautiful Kogin lanterns for Hoshino Resorts' KAI Tsugaru hot spring hotel, which is hidden away in the town of Owani in southern Tsugaru, Aomori.
When you arrive at KAI Tsugaru, follow the lanterns along the snow and you'll arrive at the kamakuraーa type of Japanese igloo built in northern Japan for winter festivals. Multiple objects, big and small, have been designed with koginzashi, so guests can enjoy this beautiful art form.
Cosy up inside your secret snow hut and enjoy some tasty chocolate with cute koginzashi designs made by a local Japanese confectionery shop. Order a hot cocktail too made using apples grown in Aomoriーa prefecture famous across the country for its apples. There's a non-alcoholic cocktail option too.
You'll also find an original card game inside the huts created by the KAI Tsugaru staff. It's called "Kogin Awase" and works like the card game Pairs. What could be better than sat warm inside an igloo, eating sweets and drinking while playing a card game?
KAI Alps: Enjoy Life as a Yukinko Snow Child
Turn back into a child and experience young life in the snow country of the Shinano Province (now Nagano Prefecture) with the Shinshū Kamakura Yukinko Experience.
In the harsh cold and knee-deep snow environment of Shinano, people would take anti-snow measures by wearing things like the straw raincoat known as a mino, a traditional winter coat called a hanten, and other things. Guests can do the same and dress up to become a child of the snow, known as a Yukinko. You'll forget about the snow before you even realise it.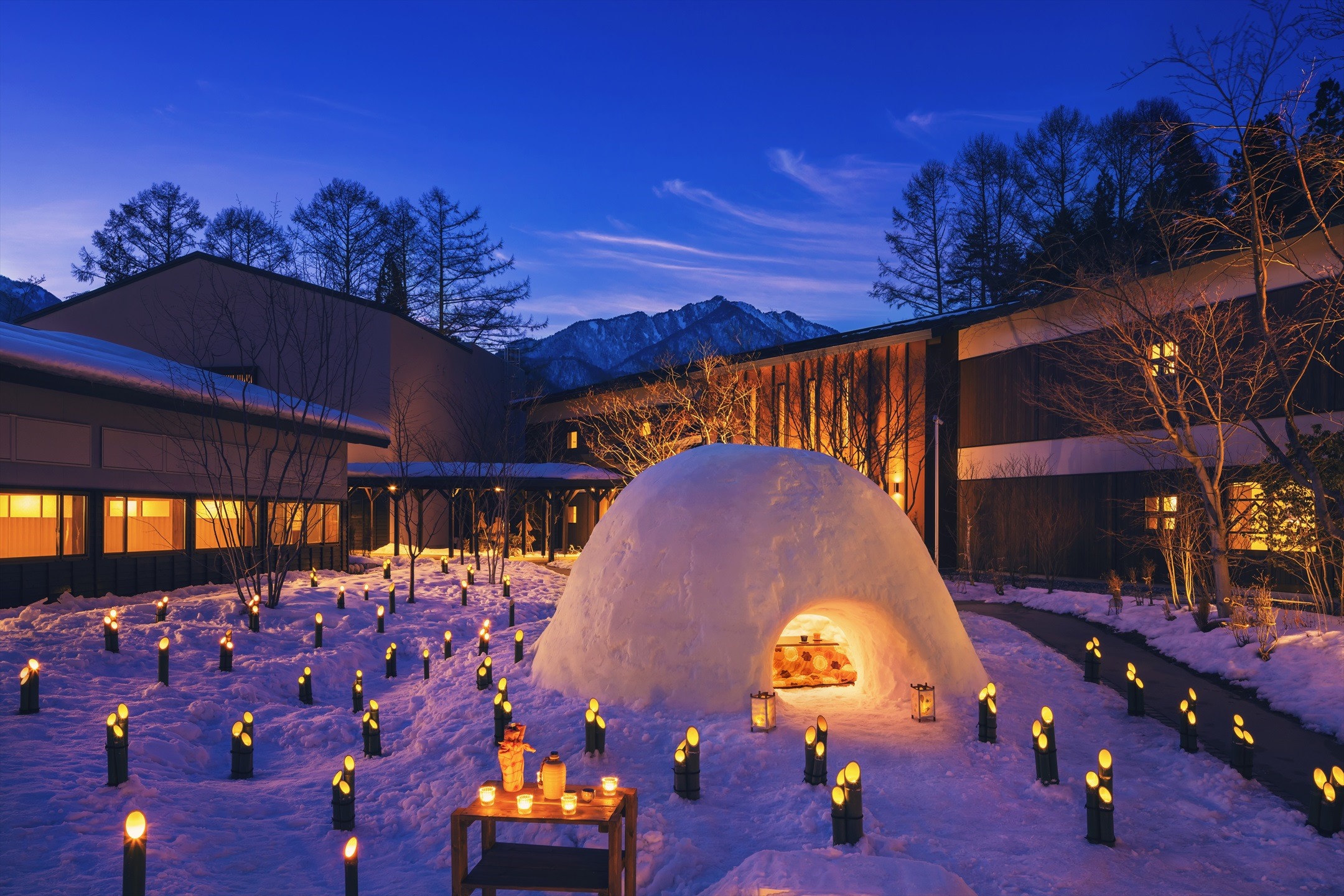 In old Japanese houses, friends and family would gather around an iroriーa sunken fireplace. You'll find these dotted around the public space at KAI Alps too, where you can sit around and enjoy the crackling and warmth of the fire. There will also be hand warmers and shiruko sweet porridge too so you can rest assured you won't go cold.
Experience life in the snow at Hoshino Resorts KAI this winter.
Information
KAI Tsugaru – "Kogin Kamakura"
Running: February 1, 2020 – February 29, 2020 (Subject to change depending on snowfall)
Time: 18:20-18:45/18:50-19:15/19:50-20:15/20:20~20:45
Price: ¥1,500 per person (includes snow hut entry, confections, and 1 drink)
*Alcoholic/non-alcoholic cocktail options available
Reservations: Available from the front desk on the day
*Reservations mandatory
KAI Tsugaru
Address: Kamibotanmori-36-1 Ōwani, Ōwani-machi, Minamitsugaru District, Aomori Prefecture
Website: https://www.hoshinoresorts.com/resortsandhotels/kai/tsugaru.html
KAI Alps – "Shinshū Kamakura Yukinko Experience"
Running: February 1, 2020 – February 29, 2020 (Subject to change depending on snowfall)
Time: Kamakura Light-Up 17:00-21:00 / Yukinko Dress-Up 15:00-21:00 / Winter Stroll Preparations 20:00-21:00
No. of People: 4
Price: Free
Reservations: Not required
KAI Alps
Address: 2884-26 Taira, Ōmachi-shi, Nagano Prefecture
Website: https://www.hoshinoresorts.com/resortsandhotels/kai/alps.html
Hoshino Resorts KAI Official Website: https://www.hoshinoresorts.com/brand/kai/
RECOMMENDED ENTRIES
Autumn in Aichi: Cherry Blossoms and Maples at Obara Shikizakura Matsuri & Korankei Maple Festival

Early November marks the opening of the autumn cherry blossoms in Obaracho, Toyota. By the time mid-November rolls around, close to 10,000 shikizakura cherry blossoms bloom a pale pink until the end of the month.

The Yoshino cherry bears its pink petals in springtime, but the shikizakura blossoms twice a year: first in spring, then in autumn. They are considered one of the most beautiful flowers of autumn, especially when they bloom against the gorgeous and vibrant red maple leaves. The Obara Shikizakura Matsuri began on November 1, and right now, you can witness this spectacle for yourself.

The shikizakura trees planted in Obara have been there since Kansei era (1789-1801). With the helping hand of locals, the trees have become one of Japan's most famous shikizakura spots. They were designated as Chiku (District) Trees in 1978 and can be seen throughout the entire district. Some of the trees are over 100 years old and as such registered as Natural Monuments of Aichi prefecture.

This is a spot we highly recommend visiting when travelling to Aichi.

▼Obara Shikizakura Cherry Blossoms

Peak Blossom Time: From Mid-November

Locations:

441-1 Johei, Obaracho, Toyota, Aichi (Obara Fureai Park)

Senmichi, Toyota, Aichi (Senmi Shikizakura no Sato)

Access: Take the Toyota Oiden Bus bound for Kaminigi (上仁木行き) and get off at Obaraokusa (小原大草) or Kaminigi (上仁木)

Details:  http://www.kankou-obara.toyota.aichi.jp/

▼Obara Shikizakura Matsuri

Running: November 1, 2019 – November 30, 2019

Locations: Senmi Shikizakura no Sato, Obara Fureai Park, and elsewhere in the region

Notes: The Kururin Bus can be boarded for free on weekends and public holidays while the festival is on

Official Website: https://www.aichi-now.jp/spots/detail/132/

The Korankei Maple Festival is also taking place this month where you can witness around 40,000 maple trees bearing their gorgeous autumn foliage.

The trees are being lit up every night for the month of November. Watch the sun set before the illuminations are turned on, creating an enchanting atmosphere with the warm, radiating lights against the night sky.

▼Maple Trees

Peak Blossom Time: From Mid-November

Location:  Iimori Asukecho, Toyota, Aichi

Access: Ride the Meitetsu Mikawa Line to Toyotashi Station, change onto Meitetsu Bus, and alight at Korankei (香嵐渓)

Official Website:  http://asuke.info/korankei/

▼64th Korankei Maple Festival

Running: November 1, 2019 – November 30, 2019

Location: Around Iimori Asukecho, Toyota, Aichi

Light-Up: Sunset to 21:00

Access: 20 minutes from Sarugata Green Road Interchange / 20 minutes from Toyota-Kanpachi Interchange

Official Website: http://asuke.info/event/nov/entry-705.html

Witness two of Japan's most celebrates treesーthe cherry blossom and the mapleーflower together in one place in Aichi.

See the Breathtaking Autumn Foliage of the Former Shizutani School in Okayama

The Former Shizutani School, recognised as the oldest school existing for commoners in Japan, has reached its peak season for autumn foliage. Speficially, for the Chinese pistache tree, which is a symbol of the school.

Shizutani School first opened in 1670 during the Kambun era. In 2015, it was registered as an Educational Heritage Site from Early-Modern Japan. The majority of the site is listed as an Important Cultural Property, including the temple, Shizutani Shrine, as well as the auditorium which is considered a national treasure.

The school's surrounding natural landscape enjoys the blooming of many different flowers throughout the entire year which people flock to see. It's especially famous for autumn, a season during which the enchanting red and yellow hues boas their beautiful blossom.

The three colours reflect from the lacquered flooring of the auditorium, rippling like ocean waves.

The beautiful contrast between the reds and yellows of the pistaches can be enjoyed during autumn-time only. The best time to see them is from now until November 20, so if you're travelling to Okayama, be sure to pay the Former Shizutani School a visit.

Witness the Breathtaking Illuminations and Tokyo City Night Lights at Shinagawa Season Terrace Illumination 2019

Shinagawa Season Terrace Illumination 2019 is set to run from December 1 to 25.

The event will take place at Shinagawa Season Terrace, a towering office building in Tokyo, where the rolling grass lawn will be lit up beautifully with enchanting blue lights. They offer a breathtaking view against the city nightscape of Tokyo's skyscrapers. Last year's event saw nearly 17,000 people in attendance.

2019 marks the 4th run of the event, and this year, the long staircase leading up to the lawn will also be lit up, welcoming visitors to see the illuminations from their first step upon arrival. The lights will flicker in 10 different patterns from the first floor (ground floor) up to the second.

Entry is free, and visitors will be able enjoy an unbroken view of the structural spectacle that is Tokyo Tower too. If you're in Tokyo this December, be sure to mark Shinagawa Season Terrace Illumination 2019 in your calendar for the holiday season.

*Pictured photos are for illustrative purposes only

Information

Shinagawa Season Terrace Illumination 2019

Running: December 1, 2019 – December 25, 2019

Time: 17:00-22:00

Location: Shinagawa Season Terrace (1-2-70 Konan, Minato Ward, Tokyo)

Access: 6 minutes on foot from Shinagawa Station's Konan Exit (JR Line side)

Entry: Free

Event Website: https://sst-am.com/

*The event will take place if there is light rainfall but will be suspended in the case of stormy weather
RELATED ENTRIES
Starbucks Japan Reveals Earl Grey Honey Whip Frappuccino®and 3 New Tea Lattes

Starbucks Coffee Japan is pouring four new beverages into its ongoing winter beverage series starting on December 26: the Earl Grey Honey Whip Frappuccino®, Earl Grey Honey Whip Tea Latte, Chai & Whip Chocolate Tea Latte, and Houjicha Cream Tea Latte.

Fragrant Frappuccino® combining Earl Grey and sweet honey

Earl Grey Honey Whip Frappuccino®: Tall ¥590 (Tall Size Only)
Earl Grey Honey Whip Tea Latte (Hot Only): Short ¥450 / Tall ¥490 / Grande ¥530 / Venti® ¥570

Serving: December 26, 2020 – January 19, 2021

What better way to enjoy the winter season than with a cup of the Starbucks Earl Grey Honey Whip Frappuccino® or Earl Grey Honey Whip Tea Latte, both of which fuse the fragrant and elegant flavour of Earl grey with refreshing milk, sweet honey, and a topped of whipped cream. Both beverages are finished with a snow-dusting of white chocolate flakes.

Tea, tea, tea! Three tea lattes with distinct flavours

Earl Grey Honey Whip Tea Latte (Hot Only): Short ¥450 / Tall ¥490 / Grande ¥530 / Venti® ¥570

Chai & Whip Chocolate Tea Latte (Hot Only): Short ¥450 / Tall ¥490 / Grande ¥530 / Venti® ¥570

Houjicha Cream Tea Latte: Short ¥430 / Tall ¥470 / Grande ¥510 / Venti® ¥550
Serving: December 26, 2020 – January 19, 2021

As well as the Earl Grey Honey Whip Tea Latte, there's the spicy Chai & Whip Chocolate Tea Latte topped with white chocolate and nutmeg as well as the Houjicha Cream Tea Latte which contains houjicha tea, white chocolate syrup, and whipped cream dusted with brown sugar. The mix of tea and milk makes for a harmonious indulgence.

Butterscotch Latte returns for winter

Butterscotch Latte (Hot/Iced): Short ¥420 / Tall ¥460 / Grande ¥500 / Venti® ¥540
Serving: December 26, 2020 – March 16, 2021

Taking inspiration from Starbucks Reserve® Roastery Tokyo, all Starbucks branches in Japan will serve the Butterscotch Latte, using different ingredients from Roastery Tokyo, a combination of rich buttery and caramelly butterscotch sauce, a shot of espresso, and steamed milk.

Winter Travelling in Japan With Hoshino Resorts Promises Cosy Solitude

Hoshino Resorts is offering many ways for guests to enjoy themselves this winter with a range of activities and vistas, whether it be gazing at the starry sky, enjoying a holiday season glamping session, and more—all of which can be done while avoiding the Three C's during the pandemic, meaning you won't have to come into contact with others.

A Wintertime Agriturismo Resort Experience in Tochigi

At Hoshino Resorts RISONARE Nasu, guests can enjoy an authentic, vegetable-packed Italian course dinner, indoor bathing in their own guest rooms in an accommodation surrounded by nature, open-air hot springs to warm up during the winter season, and more. There's also a "Farmer's Lesson" for that true agricultural tourism experience ('agriturismo') so guests can feel at one with nature in Nasu.

▼Hoshino Resorts RISONARE Nasu
Address: 2301 Takakuotsu, Nasu, Nasu District, Tochigi
Running: December 1, 2020 – March 15, 2021

Stargazing On the Ice in Nagano

Guests can lose themselves in the stars while they enjoy a glass of Nagano wine or fondue from Hoshinoya Karuizawa's cafe and bar. One group of two guests can rent the area all to themselves for a romantic and memorable time.

▼HOSHINOYA Karuizawa
Address: 2157-428 Nagakura, Karuizawa, Kitasaku District, Nagano
Running: December 1, 2020 – February 28, 2021

Winter Season Glamping in Yamanashi

HOSHINOYA Fuji is offering a special glamping program this winter where guests get their very own private space to enjoy the outdoors. They can chop their own woods, build their own fires, and more. It's the perfect program to get your body warmed up during the cold winter months.

▼HOSHINOYA Fuji
Address: 1408 Ōishi, Fujikawaguchiko, Minamitsuru District, Yamanashi
Running: December 1, 2020 – March 15, 2021

An Unbeatable Ocean View With Hanami Flower Viewing in Shizuoka

Hoshino Resorts RISONARE Atami is offering a special program where guests can enjoy the earliest bloom of Japan's plum blossoms together with a panoramic ocean view. The hotel's rooftop Sora no Beach Books&Cafe is a cafe designed to look like a beach and serves as the perfect vantage point for this exclusive experience.

▼Hoshino Resorts RISONARE Atami
Address: 2 Chome-13-1 Minaguchicho, Atami, Shizuoka
Running: January 8, 2021 – March 12, 2021

Acquire Knowledge of the Blue Zone in Okinawa

HOSHINOYA Taketomi Island sits on Taketomi Island which is located inside one of the world's four Blue Zones, regions where it's claimed that a higher than usual number of people live longer. There, guests can gain knowledge on how to live a healthy lifestyle. They will spend time moving their bodies as they work out on the farm, learn the secrets to sunbathing and eating nutritional food, and more, all to rebalance the rhythm of their lifestyles.

▼HOSHINOYA Taketomi Island
Address: Taketomi, Yaeyama District, Okinawa
Running: From December 1, 2020 (Not running on select days)

Shizuoka's Strawberry Cafe Ichigo BonBonBERRY ATAMIHOUSE. Releases Winter Menu

Ichigo BonBonBERRY ATAMIHOUSE. is the first cafe to open in Atami specialising exclusively in strawberry desserts. This Christmas, the cafe is serving up a new Christmas cake, winter afternoon tea set, and strawberry milk beverage, all of which hit the menu on Friday (December 4).

Hitorijime Christmas Cake | ¥1,000 (Before Tax) *Comes with drink

A dreamy Christmas cake for one loaded with cream and sweet strawberries. There's a strawberry on top and more in the middle squished between soft sponge.

Winter Afternoon Set | ¥1,200 (Before Tax)

The cafe has turned its popular afternoon tea into a wintertime version for Christmas, served with a mini bavarois in the shape of a strawberry, strawberry ice cream, melty fondant chocolate, and a rum raisin chocolate tiramisu. A delightful combination of sweet, tangy, and rich flavours.

Hot Strawberry Milk | ¥400 (Before Tax)

A hot strawberry milk to feel cosy in the cold winter weather, topped with plenty of cream and a sprinkling of strawberry powder. Enjoy it as it is or mix together for a creamier beverage.

The winter menu is seasonal and so will only be available this wintertime.

Information

Ichigo BonBonBERRY ATAMIHOUSE.
Address: 3-16 Tawarahonchō, Atami, Shizuoka
Opening Hours: 10:00-18:00
Access: 2-minutes from Atami Station (JR Line side)
Official Website: http://www.atami-bonbonberry.com

Golden Island Zipang 2020 Illumination Event Lights Up Matsue in Shimane

The splendid Yuushien Garden in Matsue, Shimane, is now hosting a dazzling winter illumination event titled Kogane no Shima Zipang 2020 (Golden Island Zipang 2020) until January 11, 2021.

Golden Island Zipang 2020

Yuushien Garden is located on the eastern side of Matsue on Daikon Island, a volcanic island in Nakaumi. The garden has been called the most beautiful Japanese-style garden in all of Japan, which makes it the perfect setting for the illumination event. 50 projectors at the garden are using projection mapping to create a flurry of flashy illuminations.

It's a full pixel illumination display coupled with music that's sure to dazzle all who visit. this winter.

Information

Golden Island Zipang 2020 (Japanese: 黄金の島 ジパング 2020)
Event Schedule
Autumn Illuminations: November 14, 2020 – November 30, 2020

Christmas Illuminations: December 1, 2020 – December 27, 2020

New Year Illuminations: January 2, 2021 – January 11, 2021
Event Page: https://www.kankou-matsue.jp/rehappy/feature/illumination

Yuushien Garden
Address: 1260-2 Yatsukachō Hanyū, Matsue, Shimane
Opening Hours:9:00-17:00
Closed: December 30-31
TEL: 0852-76-2255
Official Website: https://www.yuushien.com

Karuizawa Shiraito Falls Midwinter Light Up Arrives For 2020-2021

Shiraito Highland Way has announced that this year's Karuizawa Shiraito Falls Midwinter Light Up will run from December 19, 2020 to February 14, 2021.

The illumination event will take place at Karuizawa Shiraito Falls, a 3-meter tall waterfall that spans 70-meters in length. The lights will add a warmth to the cool evening and glow under a starry night sky.

The event creates a different atmosphere from the summer light-up, allowing visitors to enjoy the enveloping nature in a way that they normally can't and see beauty they may not have noticed in the area before. The waterfall is located in Jōshin'etsu-kōgen National Park, a protected area which means the lights will be set up in a way that's considerate to the park.

If you're in Japan this winter then don't miss out on this year's Karuizawa Shiraito Falls Midwinter Light Up which will be split into three sessions: the Christmas Session, New Year Session, and St. Valentine Session. More details below.

Information

Karuizawa Shiraito Falls Midwinter Light Up
Location: Karuizawa Shiraito Falls
Running: December 19, 2020 – February 14, 2021
・Christmas Session: December 19th-20th, 24th-27th (17:00-19:00)
・New Year Session: January 2nd-3rd,  8th-11th (17:00-19:00)
・St.Valentine Session: February 11th-14th (17:30-19:30)

Access: https://karuizawa-shw.com/access/
*Please see the website for the latest information

*Entry restrictions may be made depending on the number of visitors

Official Website: https://karuizawa-shw.com/

UNIQLO x JW ANDERSON Unveil Their First Ever Holiday Collection For 2020

London-based fashion brand JW ANDERSON is following up its Autumn/Winter collaboration with UNIQLO with the two companies' first ever holiday collection. Centring around the theme "A Cozy Countryside British Cottage," the collection captures the vibe of spending time in a cozy cottage on the outskirts of London.

Traditional and uplifting British prints for a brighter winter

The holiday collection is made up of everything you need for surviving winter: beanies, gloves, socks, and snoods, all decorated with traditional British prints like argyle and jacquard. All the colours match together perfectly so the line-up works perfectly as a set. It features an JW ANDERSON-esque twist and incorporates HEATTECH technology to get you through the cold months.

Limited-edition argyle gift boxes

Gift Box | ¥290 (Small/Medium/Large)

This collection is boxed in an argyle gift box to make for the perfect Christmas packaging.

Stay warm this winter with the soft and cozy new JW ANDERSON x UNIQLO holiday collection, rolling out December 4, 2020.

Japan's First Icefall Open-Air Bath to Open at Hoshino Resorts Oirase Keiryu Hotel in Aomori

Hoshino Resorts Oirase Keiryu Hotel has announced the limited-time opening of its new Hyobaku open-air icefall bath which guests can enjoy this winter from December 18, 2020 to March 22, 2021. The bath overlooks a gorgeous mountain stream, offering an exclusive wintertime view.

Hoshino Resorts Oirase Keiryu Hotel

Hoshino Resorts Oirase Keiryu Hotel stands alone near the the picturesque Oirase Keiryu mountain stream which lets guests immerse themselves in the undisturbed serenity of nature. The hotel lobby features a grand fireplace created by Japanese artist Taro Okamoto.

The Icefall Bath

Icefalls are created when glaciers flow over a steep drop. The 14km Oirase Keiryu mountain stream is made up of 14 waterfalls which give rise to icecalls of various shapes and sizes. When light shines through them they turn a striking ice blue, something only visible during winter. The hotel has been offering the icefall bath service since 2017 to allow guests to see the icefall themselves, in the comfort of a warm bath, when the waterfalls freeze.

The Icefall Created Over Time

The waterfalls begin to freeze in early December which gradually gives rise to the icefall. The harsh cold allows the water to freeze and layer bit by bit overtime which. By mid January, the frozen waterfalls stand 3.5m high and 16cm accross. The icefall is ever-changing as its shape changes depending on the temperature, wind, and light shining through.

Experience an outdoor hot spring experience like never before in Japan during winter at Hoshino Resorts Oirase Keiryu Hotel.

Information

Icefall Bath
Running: December 18, 2020 – March 22, 2021
Times: 6:00-11:30 / 14:30-24:00
Location: Hoshino Resorts Oirase Keiryu Hotel
Address: Tochikubo-231 Okuse, Towada, Aomori

Official Website: https://www.oirase-keiryuu.jp

Sanrio's Little Twin Stars Kiki & Lala to Feature in Special Christmas Event in Shinjuku

Sanrio's beloved character pair Kiki & Lala, also known as the Little Twin Stars, will feature as part of a special winter event titled "TWINKLE COLOR CHRISTMAS" in collaboration with Odakyu Electric Railway. It will take place at Shinjuku Southern Terrace from December 1 to 25, illuminating the area with beautiful Christmas lights.

Kiki & Lala's Twinkling Christmas Tree

Shinjuku Southern Terrace will dazzle visitors with its pink and blue illuminations as will its towering 4-meter tall Christmas Tree which was made in collaboration with the installation art group MIRRORBOWLER. It will be decorated in countless mirror balls which will reflect beautifully both during the day from the sun and at night with Kiki & Lala's illuminations. The tree will also be adorned with numerous Christmas decorations like clouds, moons, and stars—all very reminiscent of Sanrio's pastel-coloured pair.

Kiki & Lala Food & Drink

Kiki & Lala Ruby Chocolate Latte ¥400 (Tax Included) | Kiki & lala Twinkle Crepe ¥600 (Tax Included)

On weekends, as well as from December 19 up to Christmas Day, a food wagon will make an appearance at the event serving Kiki & Lala food and drink like the pink and fruity Ruby Chocolate Latte and fruit-filled Twinkle Crepe.

Limited-Edition Design Clip

Customers who spend over ¥2,000 (tax included) at the wagon will get themselves a free limited-edition design clip.

Cafe Wagon Schedule
Running: December 5th-6th, 12th-13th, 19th-25th, 2020
Opening Hours: 10:00-19:00

AR Kiki & Lala Tree

Those unable to visit Shinjuku this Christmas can access the "TWINKLE COLOR CHRISTMAS AR TREE" digitally This will have Kiki & Lala's Christmas tree appear on your phone when taking photos. You can access it here.

©'76,'20 SANRIO  著作(株)サンリオ

Information

Little Twin Stars x Shinjuku Southern Terrace TWINKLE COLOR CHRISTMAS
Running: December 1, 2020 – December 25, 2020
Tree Light-Up Schedule: December 1 = 17:00-24:00 / December 2-24 = 16:30~24:00 / December 25 = 16:30-21:00
Address: 2-2-1 Yoyogi, Shinjuku, Tokyo
Entry: Free
Official Website: https://www.sanrio.co.jp/news/ts-odakyu-twinkle-color-christmas-20201119/

Starbucks Japan Reveals Matcha x Matcha White Chocolate Frappuccino®

Starbucks Coffee Japan has revealed that its second instalment of its limited-edition holiday season 2020 beverages will be the "Matcha x Matcha White Chocolate" and "Matcha x Matcha White Chocolate Frappuccino®" which customers can order from November 24. A new batch of festive Starbucks merch will also hit Japanese branches on November 30.

A harmonious fusion of matcha and sweet white chocolate

Matcha x Matcha White Chocolate Frappuccino® Tall ¥590 (Tall-size only)

Matcha x Matcha White Chocolate: Short ¥450 / Tall ¥490 / Grande ¥530 / Venti® ¥570 (Hot option only)

Matcha is one of Starbucks Japan's signature flavours and just to happens to have been in the spotlight in last year's holiday season drinks. This year sees marbling mixture of of rich matcha sauce and sweet white chocolate syrup with the Frappuccino®, finished with a squirt of whipped cream, brownie bits, and snowy powdered sugar. The hot version comes as a marriage of matcha and white mocha mixed together with steamed milk to warm the cockles of hearts during the cold months.

New holiday season merchandise

The theme of the second batch of merchandise is "Brilliant Season" which capture the bright and sparkly vibe of winter like with the snowflake-covered stainless steel bottle, a glass mug with beads in it that move around when shaken, a snow globe, and more. The perfect line-up for capturing the holiday season mood during your coffee break.

Starbucks Japan is currently serving the Berry x Berry No-Bake Cheesecake Frappuccino® and Berry x Berry White Mocha holiday season drinks for the holiday season until November 24 when they will be replaced by the Matcha x Matcha White Chocolate and Matcha x Matcha White Chocolate Frappuccino®. It is also serving the Starbucks® Christmas Blend, Gingerbread Latte, and Macadamia Toffee Latte until Christmas Day.

Information

Matcha x Matcha White Chocolate and Matcha

Matcha White Chocolate Frappuccino®

Running: November 1, 2020 – December 25, 2020

Available: Starbucks in Japan
Starbucks Japan Official Website: https://www.starbucks.co.jp/

Hoshino Resorts Tomamu's Ice Village Will Be Open For Winter 2020-2021

Hoshino Resorts Tomamu, Hokkaido's top snow resort where you can stay, has announced that this year's Ice Village will open from December 10, 2020 to March 14, 2021.

Ice Village opens up at Tomamu in wintertime only and has done so every year since 1998. It boasts 3.2 hectares of land and houses 10 enormous igloos to create a little village of ice. At its lowest, the temperature there can drop to -30°C which is what works the magic behind the Ice Village.

Many events around Hokkaido have been cancelled this year as a result of the pandemic, and so Tomamu has decided to remain open to both guests and non-guests while operating under strict countermeasures against COVID-19. This way, people can still enjoy the wonderful winter season of Hokkaido. This year sees the opening of the Ice Milk Cafe and Ice Fruit shop in the Ice Village where they can order a variety of food and drink to take out onto the Ice Terrace. There's even the Ice Hotel and Ice Chapel.

Draw fresh milk from the Ice Milk Cafe

The one-meter tall Ice Milk Bottle lets visitors who order a glass of Ice Milk at the Milk Cafe draw fresh Tomamu Milk which has a distinctly deep flavour during winter. You can also mix the milk on an ice sheet to create gelato.

Ice Milk Cafe

Opening Hours: 17:00-22:00 (Last Orders 21:30)

Enjoy chilled fruits at the Ice Fruit Shop

Visitors can enjoy a range of whole frozen fruits that have been shaved into smaller pieces as well as frozen fruit beverages. They also serve fruits on skewers you can pick which fruit combinations you like to enjoy out on the Ice Terrace.

Ice Fruit Shop
Opening Hours: 17:00-22:00 (Last Orders 21:30)

Enter a magical frozen world at the Ice Terrace

Once you've ordered your takeout drink or dessert, you can go out onto the terrace to sit at the tables and chairs, which are also made of ice, and enjoy the frozen world around you, like the giant snowflakes.

Ice Terrace
Opening Hours: 17:00-22:00

Order a crisp drink at the Ice Bar

The ice bar serves over 50 different alcoholic beverages at the ice counter, with drinks like colourful cocktails served chilled in ice cubes.

Ice Bar

Opening Hours: 17:00-22:00 (Last Orders 21:45)

Dogs are allowed at the Ice Hotel

Everything at the Ice Hotel, from the ceiling to the walls, is made from ice. It's available to one group per day and has its own ice bath and hot springs. Dogs are also allowed and get their own pup igloo.

Running: January 18, 2021 – February 28, 2020
*Reservations required 7 days in advance

The Ice Chapel made entirely of ice

A chapel made entirely of ice which represents "the unbreakable love between two pure souls which shall last forever." From the altar and crucifix, to the wedding aisle and benches, everything is made of ice and snow. Firework displays will take place to congratulate newly-wed couples.

Running: January 18, 2020 – February 14, 2020

Visiting Times: 17:45 / 19:45 / 21:45 (10 minutes each)
Ceremony Times: 14:00 / 17:00 / 19:00 / 21:00

Crafts at the Ice Atelier and shopping at the Ice General Store

Visitors can craft things made from ice at the Ice Atelier as well as buy a selection of ice and snow-themed items like crafts, accessories, mugs, and more at the shop.

Ice Atelier / Ice General Shop
Opening Hours: 17:00-22:00

Kids and adults can have fun at the Ice Slide and Ice Rink

The Ice Slide is the most popular part of the Ice Village where kids and adults alike can slide down and overlook the bustling village. Right next to the slide is the Ice Rink, another bustling spot popular with visitors.

Ice Slide Opening Hours: 17:00-22:00
Ice Rink Opening Hours: 17:00-21:45 (Last Entries 21:30)

Information

Hoshino Resorts Tomamu Ice Village
Running: December 10, 2020 – March 14, 2021
Opening Hours: 17:00-22:00 (Last Entries 21:30)
Official Website: https://www.snowtomamu.jp/special/icevillage/en/
*Dates and content subject to change depending on the weather

Pokémon Illuminations to Light Up Lake Sagami Pleasure Forest This Year

Lake Sagami Pleasure Forest's annual SAGAMIKO ILLUMILLION winter event is set to run from November 14, 2020 to April 4, 2021, and this year, it has been announced that a new Pokémon area will be set up at the event with Pokémon illuminations.

About SAGAMIKO ILLUMILLION

SAGAMIKO ILLUMILLION is an annual winter event held at Lake Sagami Pleasure Forest. About an hour from the main city, the event takes place up a high slope with the 6 million lights becoming one with the surrounding natural environment. The event uses the latest in lighting technology and has gotten bigger and better every year. In 2018, it was chosen as one of Kanto's three biggest illumination events.

Pokémon Illuminations

This year marks the 12th run of SAGAMIKO ILLUMILLION, and this time around it's collaborating with the Pokémon franchise with lots of colourful illuminations set to light up forest and trees. Wild Pokémon illuminations roam everywhere and there are plenty of Pokémon photo spots to take your picture with including Pikachu sleeping in the forest, Charmander taking a nap by an open-air, and more.

Eevee Friends Rainbow Lift

The Rainbow Lift this year features nine colours inspired by Eevee and all of its evolutions. Ride up high with a carpet of colourful lights underneath.

Pokémon Gondola

The Pokémon decoration-wrapped gondola will ride visitors up 420m high. There are 36 different Pokémon gondola designs to see.

Pokémon Street

There are plenty of photo opportunities to be had at the event, from a Pikachu 100,000 volt exhibit to Pikachu napping by a fire and more. Take a picture with your favourite Pokémon.

Pikachu's Forest of Light

Visitors will definitely want to check out the forest too which is filled with Pikachu. Deep in the forest stands a giant, towering Pikachu too. Various Pikachu-related events will also take place including a Pikachu light show, a photo meeting, and more.

・Illumination Show: Tickets
・Photo Meet-Up: To attend, visitors can buy a ticket at the Pleasure Station or visit the site's official Twitter

Coaster (For illustrative purposes only)

Visitors who order from the ILLUMILLION menu at the park's Wild Dining restaurant will receive a Pokémon lunch mat, and if they order a drink one of eight possible coasters. They can also receive a Pokémon eco-bag if they spend over ¥3,000 at Pleasure Station.

©2020 Pokémon. ©1995-2020 Nintendo/Creatures Inc. /GAME FREAK inc.

Pokémon, ポケットモンスター, and ポケモン are registered trademarks of Nintendo, Creatures Inc., and GAME FREAK inc.

Information

SAGAMIKO ILLUMILLION
Address: 1634 Wakayanagi, Midori-ku, Sagamihara, Kanagawa
Running: November 14, 2020 – April 4, 2021

Illumination Times: 16:00-21:00 (Last Entries 20:30)

*Illumination times to begin from 17:00 starting in February

Official Website: https://www.sagamiko-resort.jp/illumillion/

The North Face and ANA Holiday Inn Resort Shinano-omachi Kuroyon to Co-Develop Mountain Resort

The North Face is set to collaborate with ANA Holiday Inn Resort Shinano-omachi Kuroyon, which opened in Nagano's city of Omachi in July, to develop a new mountain resort where guests can enjoy outdoor activities. The first part of the collaboration will see activities offered which have been made under the supervision of athletes contracted to The North Face. The activities will make full use of Omachi's gorgeous natural environment which is surrounded by stunning mountains.

The North Face has had a high affiliation with this region for a long time. The brand created an original uniform for the staff that work along Tateyama Kurobe Alpine Route, a 37km mountain sightseeing route. It also opened the outdoor clothing and equipment shop The North Face Gravity in Hakuba.

ANA Holiday Inn Resort Shinano-omachi Kuroyon, too, embraces the outdoors of this region as it sits embedded within the lush natural landscape of Omachi. It hails as one of Japan's best mountain resorts which offers guests the chance a sojourn amongst nature. One of the brand's concepts is cultivating real human communication which it offers through its hospitable service, aiming to increase the number of smiles to those who visit.

The North Face x ANA Holiday Inn Resort Shinano-omachi Kuroyon

The collaboration will see the two companies coming together to serve up a plethora of outdoor activities throughout the year to encourage more families to spend time outside. The hotel will offer equipment that can be used for the activities, and there'll also be workshops for people to create their own items that can also be used. They will also work to increase sustainability with local businesses and groups in Omachi in an effort to revitalise the local region.

Workation Plan

The hotel is also offering a workation plan for guests to get away from the hustle and bustle of the busy city to work somewhere more quiet and peaceful. The plan takes into account well-being and is a way for people to up their creativity and motivation. Guests can work and relax at the same time with Wi-Fi and electrical outlets available as well as off-work treats like the open-air baths, spa, gym, and more. The hotel will also offer other plans this winter which include snow biking, family skiing, and more.