Cosy Up in the Snow Huts This Winter at Hoshino Resorts KAI
Hoshino Resorts is once again bringing its kamakura snow huts to two of its KAI hotelsーa brand of hot spring hotels. You'll catch them at Hoshino Resorts KAI Tsugaru and Hoshino Resorts KAI Alps from February 1 to 29 next year.
KAI Tsugaru: Beautiful Koginzashi Stitched Lanterns Light Your Way
Koginzashi is a type of sashiko stitch work famous in the Tsugaru region. Japanese kogin designer Iemasa Yamahata has designed 50 beautiful Kogin lanterns for Hoshino Resorts' KAI Tsugaru hot spring hotel, which is hidden away in the town of Owani in southern Tsugaru, Aomori.
When you arrive at KAI Tsugaru, follow the lanterns along the snow and you'll arrive at the kamakuraーa type of Japanese igloo built in northern Japan for winter festivals. Multiple objects, big and small, have been designed with koginzashi, so guests can enjoy this beautiful art form.
Cosy up inside your secret snow hut and enjoy some tasty chocolate with cute koginzashi designs made by a local Japanese confectionery shop. Order a hot cocktail too made using apples grown in Aomoriーa prefecture famous across the country for its apples. There's a non-alcoholic cocktail option too.
You'll also find an original card game inside the huts created by the KAI Tsugaru staff. It's called "Kogin Awase" and works like the card game Pairs. What could be better than sat warm inside an igloo, eating sweets and drinking while playing a card game?
KAI Alps: Enjoy Life as a Yukinko Snow Child
Turn back into a child and experience young life in the snow country of the Shinano Province (now Nagano Prefecture) with the Shinshū Kamakura Yukinko Experience.
In the harsh cold and knee-deep snow environment of Shinano, people would take anti-snow measures by wearing things like the straw raincoat known as a mino, a traditional winter coat called a hanten, and other things. Guests can do the same and dress up to become a child of the snow, known as a Yukinko. You'll forget about the snow before you even realise it.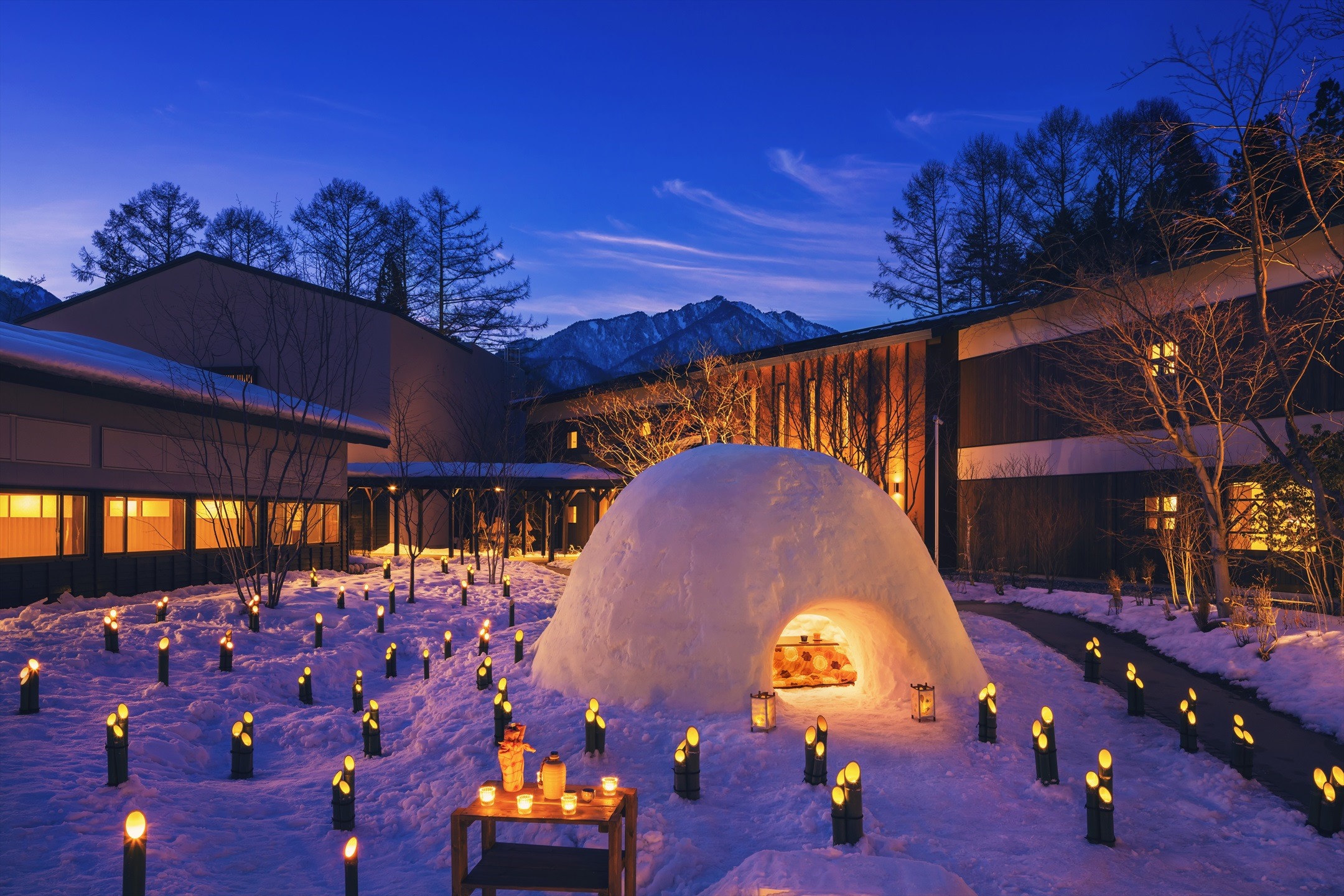 In old Japanese houses, friends and family would gather around an iroriーa sunken fireplace. You'll find these dotted around the public space at KAI Alps too, where you can sit around and enjoy the crackling and warmth of the fire. There will also be hand warmers and shiruko sweet porridge too so you can rest assured you won't go cold.
Experience life in the snow at Hoshino Resorts KAI this winter.
Information
KAI Tsugaru – "Kogin Kamakura"
Running: February 1, 2020 – February 29, 2020 (Subject to change depending on snowfall)
Time: 18:20-18:45/18:50-19:15/19:50-20:15/20:20~20:45
Price: ¥1,500 per person (includes snow hut entry, confections, and 1 drink)
*Alcoholic/non-alcoholic cocktail options available
Reservations: Available from the front desk on the day
*Reservations mandatory
KAI Tsugaru
Address: Kamibotanmori-36-1 Ōwani, Ōwani-machi, Minamitsugaru District, Aomori Prefecture
Website: https://www.hoshinoresorts.com/resortsandhotels/kai/tsugaru.html
KAI Alps – "Shinshū Kamakura Yukinko Experience"
Running: February 1, 2020 – February 29, 2020 (Subject to change depending on snowfall)
Time: Kamakura Light-Up 17:00-21:00 / Yukinko Dress-Up 15:00-21:00 / Winter Stroll Preparations 20:00-21:00
No. of People: 4
Price: Free
Reservations: Not required
KAI Alps
Address: 2884-26 Taira, Ōmachi-shi, Nagano Prefecture
Website: https://www.hoshinoresorts.com/resortsandhotels/kai/alps.html
Hoshino Resorts KAI Official Website: https://www.hoshinoresorts.com/brand/kai/
RECOMMENDED ENTRIES
Autumn in Aichi: Cherry Blossoms and Maples at Obara Shikizakura Matsuri & Korankei Maple Festival

Early November marks the opening of the autumn cherry blossoms in Obaracho, Toyota. By the time mid-November rolls around, close to 10,000 shikizakura cherry blossoms bloom a pale pink until the end of the month.

The Yoshino cherry bears its pink petals in springtime, but the shikizakura blossoms twice a year: first in spring, then in autumn. They are considered one of the most beautiful flowers of autumn, especially when they bloom against the gorgeous and vibrant red maple leaves. The Obara Shikizakura Matsuri began on November 1, and right now, you can witness this spectacle for yourself.

The shikizakura trees planted in Obara have been there since Kansei era (1789-1801). With the helping hand of locals, the trees have become one of Japan's most famous shikizakura spots. They were designated as Chiku (District) Trees in 1978 and can be seen throughout the entire district. Some of the trees are over 100 years old and as such registered as Natural Monuments of Aichi prefecture.

This is a spot we highly recommend visiting when travelling to Aichi.

▼Obara Shikizakura Cherry Blossoms

Peak Blossom Time: From Mid-November

Locations:

441-1 Johei, Obaracho, Toyota, Aichi (Obara Fureai Park)

Senmichi, Toyota, Aichi (Senmi Shikizakura no Sato)

Access: Take the Toyota Oiden Bus bound for Kaminigi (上仁木行き) and get off at Obaraokusa (小原大草) or Kaminigi (上仁木)

Details:  http://www.kankou-obara.toyota.aichi.jp/

▼Obara Shikizakura Matsuri

Running: November 1, 2019 – November 30, 2019

Locations: Senmi Shikizakura no Sato, Obara Fureai Park, and elsewhere in the region

Notes: The Kururin Bus can be boarded for free on weekends and public holidays while the festival is on

Official Website: https://www.aichi-now.jp/spots/detail/132/

The Korankei Maple Festival is also taking place this month where you can witness around 40,000 maple trees bearing their gorgeous autumn foliage.

The trees are being lit up every night for the month of November. Watch the sun set before the illuminations are turned on, creating an enchanting atmosphere with the warm, radiating lights against the night sky.

▼Maple Trees

Peak Blossom Time: From Mid-November

Location:  Iimori Asukecho, Toyota, Aichi

Access: Ride the Meitetsu Mikawa Line to Toyotashi Station, change onto Meitetsu Bus, and alight at Korankei (香嵐渓)

Official Website:  http://asuke.info/korankei/

▼64th Korankei Maple Festival

Running: November 1, 2019 – November 30, 2019

Location: Around Iimori Asukecho, Toyota, Aichi

Light-Up: Sunset to 21:00

Access: 20 minutes from Sarugata Green Road Interchange / 20 minutes from Toyota-Kanpachi Interchange

Official Website: http://asuke.info/event/nov/entry-705.html

Witness two of Japan's most celebrates treesーthe cherry blossom and the mapleーflower together in one place in Aichi.

See the Breathtaking Autumn Foliage of the Former Shizutani School in Okayama

The Former Shizutani School, recognised as the oldest school existing for commoners in Japan, has reached its peak season for autumn foliage. Speficially, for the Chinese pistache tree, which is a symbol of the school.

Shizutani School first opened in 1670 during the Kambun era. In 2015, it was registered as an Educational Heritage Site from Early-Modern Japan. The majority of the site is listed as an Important Cultural Property, including the temple, Shizutani Shrine, as well as the auditorium which is considered a national treasure.

The school's surrounding natural landscape enjoys the blooming of many different flowers throughout the entire year which people flock to see. It's especially famous for autumn, a season during which the enchanting red and yellow hues boas their beautiful blossom.

The three colours reflect from the lacquered flooring of the auditorium, rippling like ocean waves.

The beautiful contrast between the reds and yellows of the pistaches can be enjoyed during autumn-time only. The best time to see them is from now until November 20, so if you're travelling to Okayama, be sure to pay the Former Shizutani School a visit.

Witness the Breathtaking Illuminations and Tokyo City Night Lights at Shinagawa Season Terrace Illumination 2019

Shinagawa Season Terrace Illumination 2019 is set to run from December 1 to 25.

The event will take place at Shinagawa Season Terrace, a towering office building in Tokyo, where the rolling grass lawn will be lit up beautifully with enchanting blue lights. They offer a breathtaking view against the city nightscape of Tokyo's skyscrapers. Last year's event saw nearly 17,000 people in attendance.

2019 marks the 4th run of the event, and this year, the long staircase leading up to the lawn will also be lit up, welcoming visitors to see the illuminations from their first step upon arrival. The lights will flicker in 10 different patterns from the first floor (ground floor) up to the second.

Entry is free, and visitors will be able enjoy an unbroken view of the structural spectacle that is Tokyo Tower too. If you're in Tokyo this December, be sure to mark Shinagawa Season Terrace Illumination 2019 in your calendar for the holiday season.

*Pictured photos are for illustrative purposes only

Information

Shinagawa Season Terrace Illumination 2019

Running: December 1, 2019 – December 25, 2019

Time: 17:00-22:00

Location: Shinagawa Season Terrace (1-2-70 Konan, Minato Ward, Tokyo)

Access: 6 minutes on foot from Shinagawa Station's Konan Exit (JR Line side)

Entry: Free

Event Website: https://sst-am.com/

*The event will take place if there is light rainfall but will be suspended in the case of stormy weather
RELATED ENTRIES
Hoshino Resort Launches Oceanfront Onward Beach Resort Guam

Hoshino Resorts currently operates 56 facilities in Japan and abroad, and the company has just added another gorgeous property to the list. Starting March 30, Hoshino Resorts acquired all shares of the Onward Beach Resort Guam. Going forward, the hotel will undergo extensive renovations and will be relaunched as a Hoshino Resorts branded location. This is the fifth Hoshino property to be located overseas and the second in the United States. 

The Onward Beach Resort Guam is located 10 minutes by car from downtown Tumon. At the hotel, guests can enjoy a quiet stay away from the hustle and bustle of the city, with a private beach and unrivaled views of the sunset. 

 

The resort also boasts one of the largest water parks in Micronesia, where adults and children can enjoy themselves all day long. With plenty of chances to both relax and stay active, this is the perfect location for any travel lover!

Information

Onward Beach Resort Guam

Address: 445 Governor Carlos G. Camacho Rd. Tamuning, Guam 96913

Facilities: Water Park, Restaurants, Shops, etc.

Official Site: https://www.onwardguam.com/hotel/

Hoshino Resort Aomoriya Holds Cherry Blossom Viewing Event Under a Cozy Kotatsu

Hoshino Resort Aomoriya, an inn where visitors are invited to fully enjoy Aomori's culture, will begin its Hanami Kotatsu event from April 1 until May 31, 2022. Guests can enjoy local sake while warming themselves beneath a cozy kotatsu. In the chilly Aomori spring, a kotatsu) will be set up beneath the blooming trees for visitors to comfortably view the cherry blossoms. Hot-water bottles will also be available for rent if guests can a little too cold!

April in Aomori is spring according to the calendar, but it's still quite chilly. Nevertheless, the people of Aomori look forward to flower viewing to overcome the cold winter and enjoy the long-awaited arrival of spring.

Three Fun Additions to Make Cherry Blossom Viewing More Fun

1  A Traditional Umbrella with a Sakura Pattern

Next to each kotatsu is a row of Japanese umbrellas with cherry blossoms painted on them, spreading the pink cherry blossom imagery all around. When opened, the umbrellas are covered with cherry blossoms, making you feel as if you are under the cherry blossoms in full bloom.

2 Choose a Local Sake and Sake Cups for a Flower Viewing Sake Tower

Choose your favorite local sake and three sake cups to make a sake tower! Guests can choose from 10 Aomori sake brands, each with unique aromas and flavors. 

3 Cherry Blossom Patterned Cotton-Filled Hot Water Bottle for Extra Warmth

To keep extra warm beneath the kotatsu, a cotton blanket with a cherry blossom pattern and a hot-water bottle are available for rent. Doesn't it sound heavenly?

Booking.com Reveals 4 Best Lodgings with Outdoor Baths for Snow Viewing

Booking.com Japan has revealed its top four picks for the Japanese accommodations with the best outdoor baths and snow views! 

Zao Kokusai Hotel (Zao Onsen, Yamagata Prefecture)


Located 900 meters above sea level and surrounded by the gorgeous natural beauty of the Zao mountains, this resort has long been renowned for its spectacular view of seasonal scenery. During winter, guests can enjoy a fully spring-fed open-air bath while gazing at the snow-capped mountains. The milky white waters of the Zao Hot Springs have high sulfur content which will improve the texture of your skin. The resort also has a bath large enough to accommodate up to seven people at a time and a private bath for families or lovers. 

Midorinokaze Resort Kitayuzawa (Date, Hokkaido)

The Midorinokaze Resort Kitayuzawa is surrounded by nature and contains one of the largest open-air baths in Japan, along with 20 unique fragrant baths for guests to enjoy. In winter, the surrounding trees seem to glisten with snow, and visitors are sure to find plenty of peace and relaxation while lounging beneath the grey skies. 

Akakura Kanko Hotel (Myoko, Niigata Prefecture)

This highland resort sits on a 1,000-meter peak, offering unmatched views of Niigata Prefecture. The natural hot spring flows from the inside of Mt. Myoko, with healing waters perfect for soaking in during the cold winter months. The large baths are also equipped with a sauna and deck, and those wanting to view the scenery from their room can enjoy guest accommodations with private baths as well!

Satoyama Jujo (Minamiuonuma, Niigata Prefecture)

Winning a design award for its facilities, Satoyama Jujo has a different feel when compared to most hotels and ryokan. Booking.com recommends it for travelers looking for new experiences! In the open-air bath, visitors can relax while enjoying a panoramic view of Mt. Makihata, one of Japan's 100 most famous peaks. Guests can also enjoy the starry skies at night. This is a perfect location for couples!

Each season in Japan offers uniquely beautiful scenery. How would you like to enjoy winter in one of these luxurious baths?

Snow Garden Opens at Ishiuchi Maruyama Ski Resort in Niigata Prefecture

Want something to do at a ski resort but not a fan of skiing? No problem! Ishiuchi Maruyama Ski Resort in Niigata Prefecture has opened the new Snow Garden, a complex filled with cafes and activities held in transparent dome tents and terraces. Visitors can relax in an open space overlooking the gorgeous landscape without breaking a sweat. The Snow Village will be open until March 27, 2022.

Enjoy the panoramic view of the snow-covered Uonuma Plains and Niigata's breathtaking mountains while enjoying a warm beverage and wonderful company. 

Hotel Made Entirely of Ice Opens in Tomamu, Hokkaido

Hoshino Resort Tomamu, one of the largest stay-and-go snow resorts in Hokkaido, will open a hotel made entirely of ice from January 20 until February 28, 2022. The ceiling, walls, and furniture will all be made of ice, and guests can also enjoy an outdoor ice bath! In addition, a new Ice Dinner will be on offer, where visitors can enjoy a beautiful table surrounded by ice overlooking a forest of white birches while staring up at the starry winter sky.

The seamless dome-shaped ice structure is about 8.5 meters in diameter and 3.5 meters high. Sleeping bags will be provided to guests to keep them warm and comfortable until morning.

Visitors can enjoy a hot spring in the open winter air in Shimukappu Village's Scan Portopia Yunosawa Onsen. 

The aforementioned Ice Dinner features three ice-themed dishes and welcomes guests to sit at a table made entirely of ice surrounded by majestic nature.

The appetizer includes iced vegetables like tomatoes, bell peppers, and cauliflower. Each is dipped in a warm garlic sauce, balancing the sweetness of the veggies, which become more sugary when cold. 

The main course, Iceberg Bouillabaisse, is covered with ice. This begins to melt as the soup pot is slowly heated in front of the guests, revealing gorgeous seafood like cod and shrimp. It's a feast for the eyes as well as the tastebuds!

The frozen fruit dessert mixes strawberries and kiwis with hot wine and a touch of cinnamon. Sweet and sour flavors come together to end the night on a high note.

Information

Ice Hotel

Running: January 20 – February 28, 2022
Price: ¥28,000 per person, per night (Includes tax, service charge)
Check-in: 21:40-22:00 / Check-out: 8:00
Capacity: 1 group per day (Minimum 1 guest, maximum 2 guests)
Eligibility: Must be elementary school age or older and staying at Tomamu The Tower or Hoshino Resort RISONARE Tomamu
Reservations: https://www.snowtomamu.jp/summer/
*Must be made at least 1 week in advance.
Official Site:https://www.snowtomamu.jp

Aomori's Be Easy Brewing and UNITED ARROWS Release Collaborative Craft Beer

UNITED ARROWS has released its first craft beer in collaboration with Be Easy Brewing, located in Hirosaki City, Aomori Prefecture. The brew is available at the UNITED ARROWS BOTTLE SHOP, which sells select alcoholic beverages from both Japan and abroad. 'Apple Pie Ala Mode' went on sale starting January 2 at the UA BAR on the first floor of the UNITED ARROWS Harajuku flagship store, H BEAUTY AND YOUTH, and the California General Store. 

Be Easy Brewing offers a selection of unique and constantly changing beers using ingredients found in Aomori like apples, strawberries and Tsugaru rice. From IPAs to wheat ales, the company is always experimenting with different styles. This strange collaboration was born after UNITED ARROWS expressed a fascination with the high quality and incredible taste of Be Easy Brewing's beers.

'Apple Pie Ala Mode' is a Berliner Weisse with a slightly sour taste combining apple juice, cinnamon, and vanilla. 

Information

Apple Pie Ala Mode
Price: ¥770 (Tax Included)
Size: 350ml
ABV: 5.5%
Where to Buy: UA BAR(UNITED ARROWS Bar Harajuku 1F), H BEAUTY AND YOUTH, California General Store

※The UA BAR will serve the beer on draft for a limited time.
※There will be no lottery for in-store sales. The beer will be available to purchase starting January 2, 2022.
※Available while supplies last.

Limited Time Atami Plum Cafe Opens at Risonare Atami Resort

Hoshino Resort Risonare Atami will open the Atami Plum Cafe from January 6 until March 11, 2022. Guests can experience the early arrival of spring beneath the plum blossoms, and at the cafe space on the top floor of the hotel, visitors can feast on a number of plum-inspired dishes. 

The Atami Plum Garden, located near the resort, is one of the most famous places in Japan to see plum blossoms early. The first blossoms usually open up in late November or early December, and this event will get people excited about welcoming the warmer spring months.

A false plum tree will welcome visitors to the cafe, and the ceiling will also be covered in lavender blossoms. The tables, chairs, and garlands are all themed to welcome spring, and the terrace will feature a plum-shaped kotatsu. Guests sitting beneath it can stay warm while gazing out at the vast ocean.

The Plum Gelato Plate features three varieties made with plum pulp, jam, and paste. Why not give it a try?

Plum Gelato Plate: ¥2,000 (Tax Included) *5 available per day

Information

Atami Plum Cafe

Running: January 6 – March 11, 2022
Hours: 10:00-22:00 (Last Order at 21:30)
*Adults Only (12 and up) after 21:00
Free Entry
Capacity: 40 seats 
*Visitors must be staying in the hotel. 

Official Site: https://risonare.com/atami/

BEAMS Starts Campaign to Highlight the Charms of Aomori Prefecture

BEAMS Japan has collaborated with 13 businesses to develop nearly 100 unique products to highlight the wonders of Aomori Prefecture. Under the title 'BEAMS EYE on AOMORI,' these products are now available to purchase from the BEAMS Official Online Store. They will be available at the BEAMS Japan shop in Shinjuku starting January 19, 2022. 

BEAMS EYE on AOMORI Products at a Glance

BEAMS Japan travelled to Aomori to search for inspiration and to learn more about the prefecture famous for its blue skies and apple orchards. The areas rich nature and traditions come to life in this new line of merchandise, so why not enjoy some of these products for yourself?

Information

BEAMS EYE on AOMORI

Running: December 20, 2021 – February 22, 2022
Where to Buy: 
BEAMS Japan (3-32-6 Shinjuku, Shinjuku-ku, Tokyo)
January 19 – February 22, 2022
Hours: 11:00-20:00 *Hours are subject to change. 


BEAMS Official Online Shop
December 20, 2021 – February 22, 2022
https://www.beams.co.jp/tag/211220_BJ_01/

BEAMS Japan Taipei Pop-Up Shop
February 8 – February 22, 2022
Address: Taiwan Eslite Life Nanshi Store 1F, 14 Nanjing West Road, Zhongshan, Taipei


Special Website: https://www.beams.co.jp/special/teamjapan/aomori2/

Video Released of Winter Event at Hoshino Resort's Banta Cafe in Okinawa

Located in wonderfully warm Okinawa, Hoshino Resort is the perfect getaway for those wanting a warmer winter. The Banta Cafe overlooks the ocean, and from December 1, 2021, until January 31, 2022, the cafe is putting on the 'Illumi-Banta: Night Lights by the Sea' event. Of course, Illumi-Banta is a portmanteau of the words 'Illumination' and 'Banta,' but the Okinawan word iyumibanta means 'a cliff overlooking the fish.' The entire location, from the top of the cliff all the way to the sea, will be bathed in otherworldly light. A special menu is available during the event period, serving up food perfect for eating as guests wander by the seaside. A number of Okinawan workshops have also brought local craftsmen to the site to show off their creations.

Okinawa is warm in the winter, and this event has been perfect for those wanting to avoid being chilled to the bone during the holidays. For those unable to attend, the video above was filmed using a drone and shows the incredible heart of this event. Who knew that water could be so blue?

A Fantastic World of Light and Ocean Life

Banta Cafe sits on a cliff above the water, and the waters beneath it hide gorgeous coral reefs. Watch the sea come to life, as the ocean, white sand beach, and rock formations are illuminated. The lights will change colors during the daily light show along with the tides, giving a different impression depending on the time of day. The pavilion on the seaside terrace is also illuminated with motifs inspired by traditional Okinawan textiles.

Playful Plant Shadows

On the large roof deck located at the entrance, large fern and palm leaves have been arranged to welcome guests along with other plants local to Okinawa. Using lights, the shadows from these plants reach massive heights on the 4-meter high Ryukyu limestone walls. This takes shadow puppets to a whole new level!

Enjoy a Lantern-Lit Night Picnic

The night cafe will be selling a special Strolling Soup Set menu, inviting guests to venture out onto the sandy shore with a lantern in hand to enjoy a meal beside the sea. Guests can choose two of the available four soups along with a crispy baguette and herb butter.


Hours: 18:00-20:30 (Last Order)
Price: Strolling Soup Set for Two, ¥2,600

The Night Light Market, a Gathering of Proud Okinawan Artists

On Saturday nights from January 8 to January 29, the Night Light Market will bring various artists and craftsmen from Okinawa to the Hoshino Resort. These artists will be excited to share the culture of Okinawa and will offer a range of products made of locally sourced materials. Guests can even try their hand at local crafts at the indoor Gorogoro Lounge!

Running: Every Saturday Night from January 8 – January 29, 2022

Hours: 18:00-21:00

Information

Illumi-Banta
Running until January 31, 2022
*Running every Thursday during the event period except December 23 and 30. Closed December 17-21. 
Hours: 18:00-22:00 (Last Drink Order at 21:00)

*Event may be canceled in case of inclement weather.
Admission: Free admission with purchase at cafe or grill.

Official Site: https://banta-cafe.com

Boutique Hotel TRUNK to Hold Winter Market with Outdoor Comfort Concept

From December 20 until December 26, 2021, TRUNK, a boutique hotel in Jingumae, Shibuya, will hold the TRUNK Winter Market 2021. The theme of the event will be 'outdoor comfort,' and carrying on last year's tradition, the hotel will deliver content aiming to warm the body and soul during the cold winter season. The public terrace will be decorated with fire pits and lanterns, creating a space where visitors can fully enjoy the cozy atmosphere. The limited-time event will offer workshops, food, and drinks to be enjoyed with family and friends.

The food menu includes 'Chicken and Mushroom Pan Stew,' served in a bread bowl and made with fresh ingredients. Guests can also enjoy a 'Cheddar Cheese Crepe with Homemade Roast Ham,' along with plenty of scrumptious desserts. Perfect for the Christmas season, warm eggnog and mulled wine will be served, and kids will love the organic hot chocolate!

Four different workshops will be set up at tents in the public terrace. Kids Gabbeh Painting will teach kids how to design their own Gabbeh, a traditional small fabric woven by nomads in southwestern Iran. After drawing their design, artisans will weave the Gabbeh, and will send it to your home. The 'Socializing Flower Swag' workshop allows visitors to make swag using dried flowers that were upcycled from fresh flowers that would otherwise be thrown away. These will be silk-screened and wrapped for a great souvenir. Outdoor Candle is a workshop where visitors can create original leather candle holders. 




At Campfire Roast Coffee, guests can roast coffee over an open fire pit. Imagine how good it smells! Afterwards, you can take home your spoils.

There will also be a TRUNK Vintage Store on-site, where hotel staff will sell decorations and furniture no longer needed in the hotel, as well as clothes and other goods. 

McCafe by Barista to Offer Cookies & Cream Frappe for Winter Season

McDonald's Japan locations with McCafe by Barista installations will begin selling the Cookies & Cream Frappe for a limited time starting December 8, 2021. The McCafe by Barista corner employs full-time baristas serving 'authentic cafe coffee.' 

McCafe by Barista invites guests to enjoy high-quality frappuccinos and smoothies and these locations are offering three unique Frappes this winter. Following the Strawberry Creme Brulee Frappe and normal Creme Brulee Frappe released in late November, the Cookies & Cream Frappe will release soon, filled with rich vanilla sweetness!

Cookies & Cream Frappe Medium: ¥470 / Large: ¥540 (Tax Included) 

 

The drink is a rich blend of creamy vanilla made from Madagascar Bourbon vanilla beans, blended with crunchy Oreo cookie bits and topped with whipped cream and chocolate sauce. What's not to love?

Yokohama Red Brick Warehouse to Hold 17th Annual Art & Ice Skating Event ArtRink

Starting in 2005 to add more color to Yokohama's winter season, the ArtRink event held at Yokohama Red Brick Warehouse combines artworks and ice skating for a bright and colorful way to spend a cold day. The 17th annual event will be held from December 4, 2021, until February 20, 2022, and will feature two artists: Moeno Ootsu and unpis, both taking part for the first time. The theme for this year's art is 'Stepping Out in Slippers.' 

Moeno Ootsu

unpis

Message from the Artists

Hello. 

For this event, we've created an everyday space, 'home,' in a very not-everyday space: ArtRink in Yokohama.

Guests should come on an adventure that begins at the front door, then dance on ice through the kitchen, bathroom, bedroom, and more!

You might discover something new among the familiar furnishings and snippets of daily life.

We hope that once you leave ArtRink and return home, you'll try to keep dancing from time to time.

Just have fun. Dance with us!

Whether you're wearing skates, sneakers, or slippers…

Just take a step and have the best possible time this winter.

Information

ArtRink at Yokohama Red Brick Warehouse

Running: December 4, 2021 – February 20, 2022

Location: Yokohama Red Brick Warehouse Event Space

Details: http://akarenga-artrink.yafjp.org/