Frozen 2: Make Your Makeup as Beautiful as Elsa With This Tutorial
Frozen 2 dropped its icy embrace on the world today and Disney fans are more thrilled than ever.
All of the characters in the film have their own charm, but it's Elsa whose beauty has captivated the world over. With the release of the new film and the cold approach of winter, why not try doing your makeup like the queen of Arendelle?
Step ①: Cheeks
Fallen pink snowflakes on those sweet cheeks
Use a blueish-pink blush and apply lower than your cheekbone and on the tip of your nose. Blend in a circular motion to make the blush round. This will create a white, almost transparent glow and will uplift your cheeks.
Step ②: Eyeshadow
Bewitching purple to stand out in a snowy world
Apply a reddish-purple eyeshadow over your eyelidd. A tip is to connect the outline the inner and outer corners of your eyes with a straight line. Then add a bold and shiny purple shadow on top of that across your eyelids. Apply to your lower eyelid too beneath the pupil. If the outline of your eyeshadow has an oblong shape when you open your eye, that's good.
Step ③: Eyeliner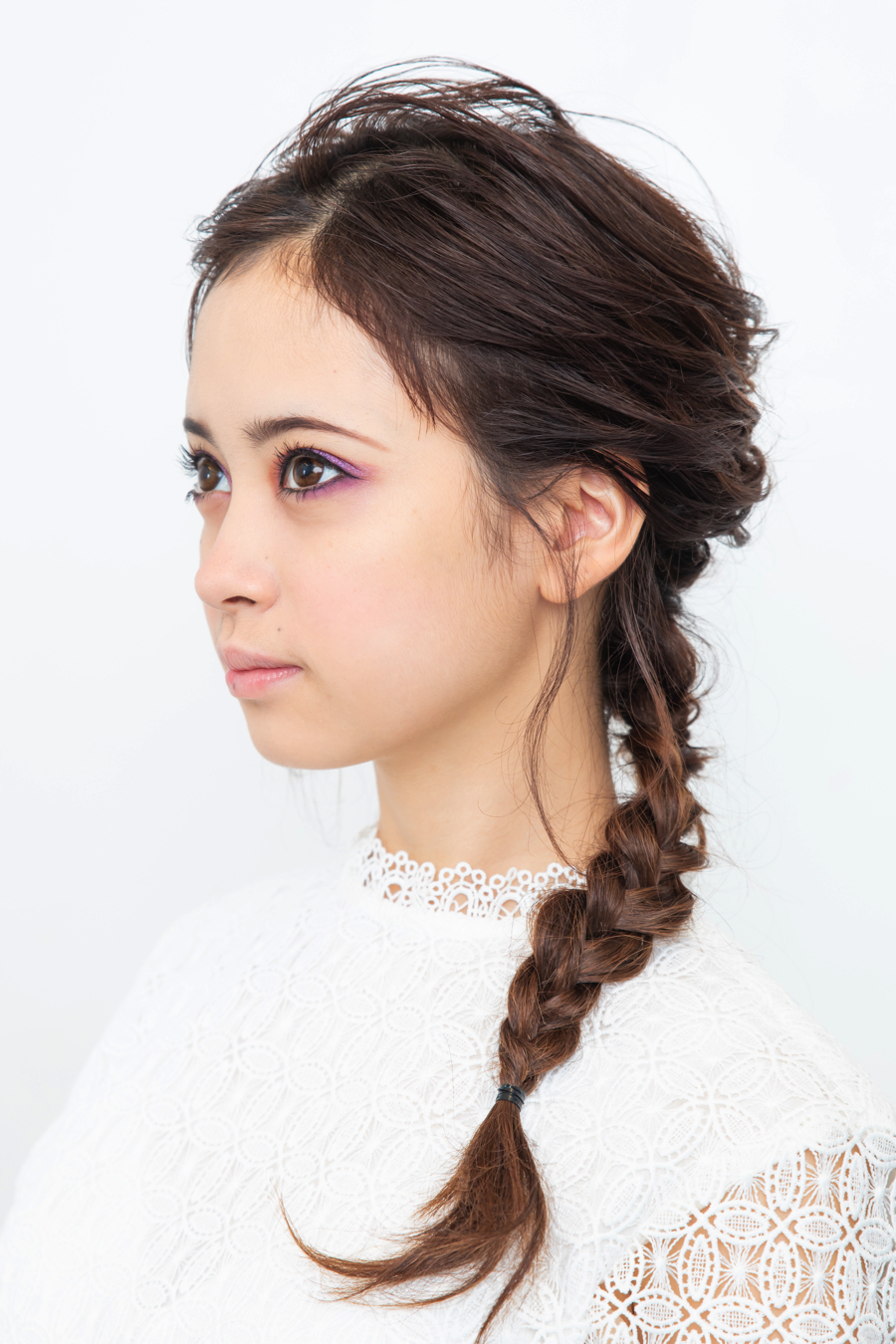 Eyeliner to look like a sophisticated queen
Using a black liquid eyeliner, follow your eyeline from the inner corner to the outer corner of your eye. Extend the outer line a little and make it parallel. For your lower eyelid, use a black pencil to fill between your eyelashes.
Step ④: Lipstick
Pink lips ready to sing
Use a blueish-pink lipstick on your lips, and make sure it's layered on nice and thick to serve that sweet aesthetic.
An elegant queen that can harness the ice and the snow
Elsa has the power to turn anything she touches into ice. If you catch a gaze of her enchanting purple eyeshadowed eyes, your heart is sure to skip a beat. If you follow these four makeup points, you too can easily look like the ice queen herself. A perfect look for dates, parties and get-togethers this winter season.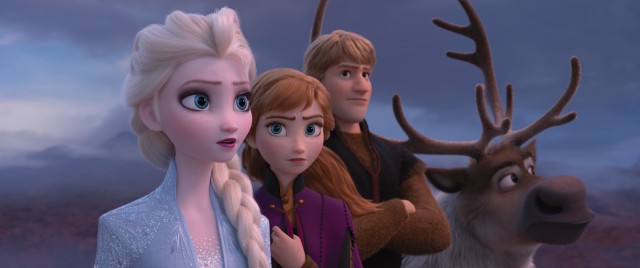 The long-awaited sequel to Disney's blockbuster animated is finally upon us. The first Frozen film touched the entire world with its frosty beauty with both its story and music. Let It Go in particular was a worldwide phenomenon, and was an immense hit in Japan too.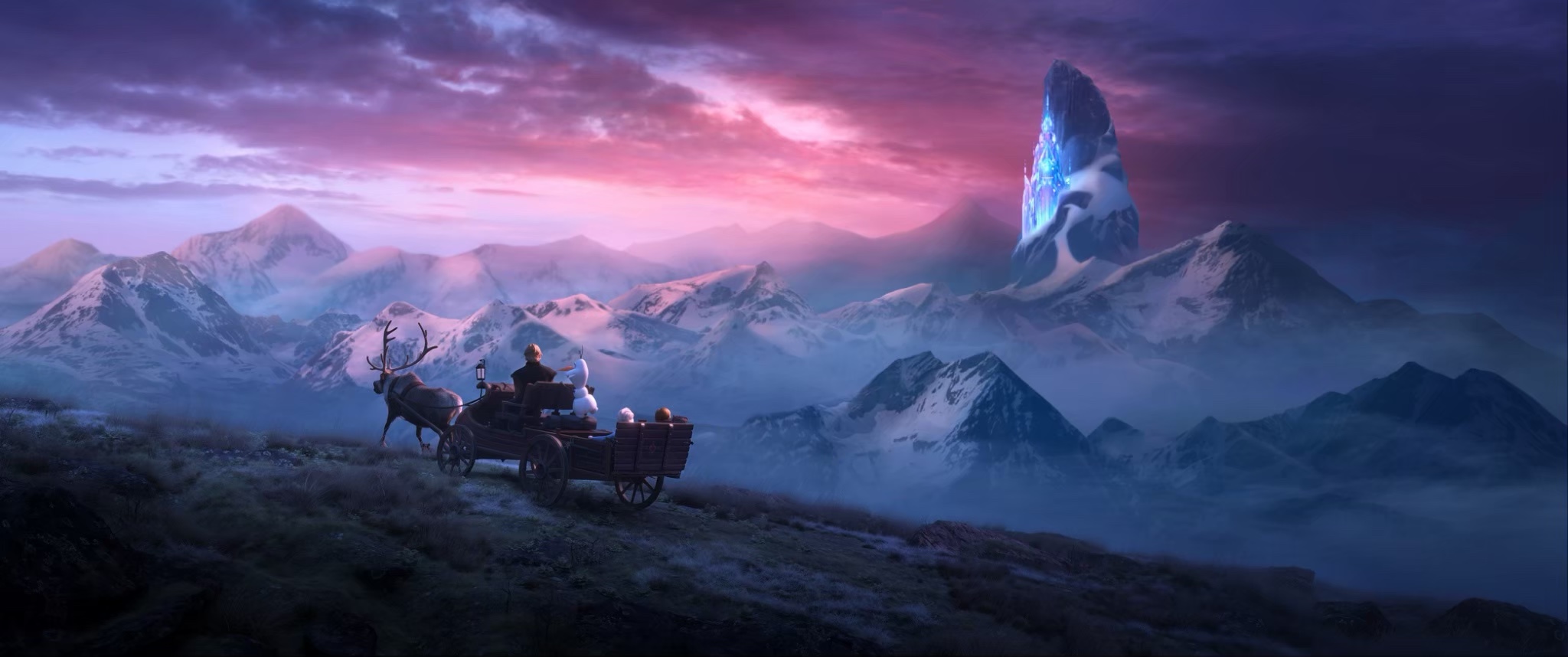 Frozen 2 sees Elsa embark on a dangerous journey with Anna, Kristoff, Olaf and Sven as she discovers why she was born with magical powers, the answer to which is threatening her kingdom.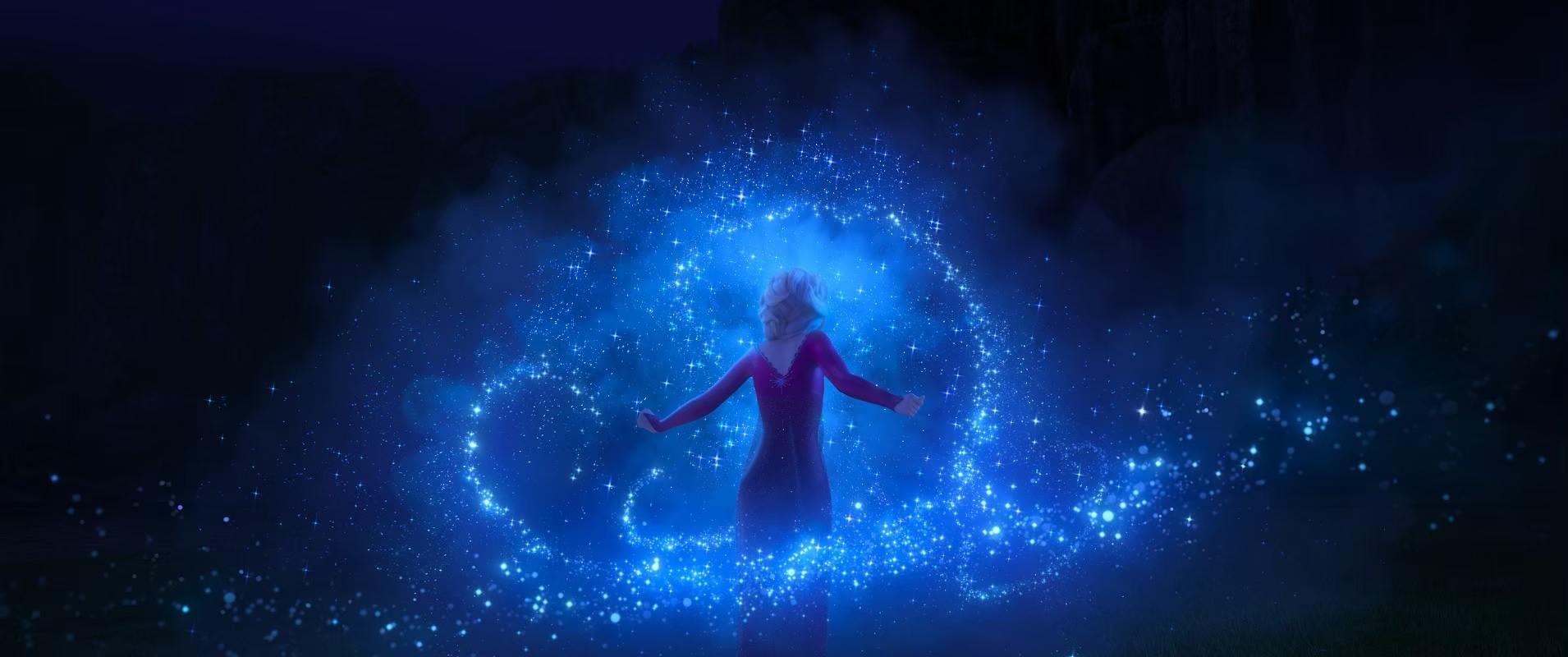 The new film's main theme, Into The Unknown, captures the complex feelings and emotions Elsa holds as she steps forth, with all her anxieties and hopes, into a new world.
Frozen 2 Trailer Japanese Version
The first Frozen film was a widespread global hit and there's no denying that Frozen 2 will follow in its footsteps. Get together with your family, friends or lover to watch it for the best experience.
*All cosmetics used are personal items owned by the stylist
Model: Aiko
Writer: Ai Watanabe
Photographer: Haruka Yamamoto
Makeup: 橋本 裕介
Translator: Joshua Kitosi-Isanga
Information
Frozen 2
Release Date: November 22, 2019
Distributed by: Walt Disney Studios/Motion Pictures
Directors: Chris Buck/Jeniffer Lee
Starring: Idina Menzel (as Elsa), Kristen Bell (as Anna)
Official Website: https://disney.co.uk/movies/frozen-2
RECOMMENDED ENTRIES
New & Exclusive Frozen 2 Merchandise Releasing in Japan This Year

In preparation for the release of Frozen 2ーthe highly-anticipated sequel to Disney's 2013 internationally-acclaimed animated feature film FrozenーWalt Disney Japan has unveiled a whole brand new batch of merchandise which will roll out at Disney Store branches across Japan. From Elsa and Anna dolls clad in their new outfits to other collectables, this line-up is a must-grab for any fan of the globally beloved film.

Tote Bag – ¥3,000 / Doll Set – ¥4,500 / Mug – ¥1,800 / Tissue Box Cover – ¥2,800 / Pouch – ¥1,500 / iPhone X & XS Case – ¥2,300 / Notebook – ¥800 / Ball pointPen Set – ¥1,500 / Key Chain – ¥1,600

Disney Store branches across Japan have a beautiful line-up of Frozen 2-themed original items lined up, all released today (October 4). The merch focuses on Elsa, Anna and Olaf and features designs based on the new film.テ

Items include the snowy Olaf tissue box cover, which while simple adds a kawaii touch to your room, and a set of ballpoint pens with sparkly stones in them which would be perfect to share with a friend. There's also various collectables, like dolls and figures.

Hairi – ¥9,000 / Koushu – ¥2,500 / Snow – ¥9,000

This teddy bear line-up features Japan-original characters from UniBEARsity wearing Elsa, Anna and Olaf costumes. All three will be released at Disney Stores and the online store in japan on November 21.

Hairi and Snow are wearing ribbons, one pieces and shoes, both dressed as Anna and Elsa respectively. All the bears are packaged in a special box. Online pre-orders opened today.

Disney Store Japan is also holding a campaign where if you spend over ¥3,000 (including tax) on all Frozen merchandise, you will receive the above-pictured original acrylic tray.

Frozen 2 will be released worldwide on November 22, 2019.

©Disney

*Select Disney Store branches are not stocking these products. Outlet branches also not participating
*While supplies last
*Product designs, prices, release dates and participating branches subject to change

*All listed prices do not include tax

The Frozen 2 Café is An Open Door to Magical Food, Autumn Adventures and Much More

Frozen 2 will premiere on November 22 in Japan and America at the same time and to celebrate, the Frozen 2 café will open in OH MY CAFE Omotesando, Tokyo from November 15, Osaka and Nagoya from November 16, Hokkaido from November 21, Futakotamagawa from November 29, Fukuoka from December 5 and Kyoto from December 6. Each café will be open for a limited period only. 

We at the MOSHI MOSHI NIPPON team were as excited as Anna was for Coronation Day and so we headed to the Frozen 2 Café in Omotesando as fast as we could. Today we'll be showing you the cafés cool decorations, delicious food and original merchandise. 

Stepping into the café was like entering the autumn world of Frozen 2. A few more steps in and Anna was there to greet us. Seeing the awe-inspiring figure of Anna stood nobly before us made us feel that she has matured since the first Frozen film. Customers are free to stand next to the life-sized Anna and have a photo with her. 

The central area of the café is full of icy decorations and the walls are covered in illustrations of autumn leaves. Wander deeper into the café and you will immediately notice the life-sized Elsa. If you look closely, Elsa doesn't seem to be smiling. Seeing her hardened expression played on our minds. Is the reason for this elaborated in the film?

The food menu consisted of five original dishes and each dish was themed around one character from the film, representing them in a cute way. 

Anna's Impulsive Sandwiches and Tomato Soup: ¥2,390/with Soup Bowl: ¥3,990

Order Anna's special meal and you and your friends will be finishing each other's sandwiches in an instant. The chicken and cheese sandwiches are served alongside a tomato soup which will warm you up right away.

Elsa's Magical Muffin Sandwich and Pasta Soup: ¥2,390/with Soup Bowl: ¥3,990

A muffin sandwich hugs prosciutto and a white omelette. This is accompanied by a mushroom and pasta soup. The dish is decorated with a dusting of snowflakes and Elsa.

Olaf's Fun Snowball-Rolling Meatball Plate: ¥2,190

This plate contains a generous serving of vegetables and meatballs. Seeing Olaf's lively face will instantly put a smile on yours. The blueberry sauce coating the meatballs contributes an interesting flavour to the meal.

Kristoff and Sven: Two Pals on an Adventure Bagel: ¥2,190

Kristoff has been best pals with Sven since he was a child. There's no separating the two – even when they're a meal! You're in for a treat with chunky vegetables and Sven's favourite: a carrot.

Salamander's Surprise Bright Red Tomato Curry: ¥2,190

It seems that café-goers have the opportunity to encounter Frozen 2's new character: a salamander. Pour the curry over the Salamander and something magical happens! The curry is not very spicy so it can be enjoyed by anyone. 

There are four drinks on the drinks menu which are themed on characters and themes from the film. 

Left: Elsa's Refreshing Lemon Smoothie, Centre: Anna's Refreshing Very Berry Tea

Right: Frozen 2 Magical Blue Mallow Tea: ¥990/with Drink Coaster: ¥1,690

While Elsa's smoothie takes on the appearance of her elegant wintery dress, the sweet and tangy berry drink reflects the cute appearance of Anna. If you're curious to discover the taste of Disney magic then order the Frozen 2 Magical Blue Mallow Tea. Add the lemon to the drink and watch what happens. 

Frozen 2 Warm and Frothy Cheesecake Milk Tea: ¥990/with Cup: ¥2,490

All your favourite Frozen characters have united in the form of a heart-and-body-warming milk tea. After just one sip, you won't be able to stop.

You definitely cannot miss out on range the OH MY CAFE-limited original goods. Today we'll be introducing our top picks:

 Frozen 2 Decorations (5 Designs): ¥950

Acrylic Magnets (5 Designs): ¥500

The decoration is sealed in a bag so there is no way of knowing which one you get until you purchase it. Every available design is so cute that you would want to collect them all. 

Picture Book-Style Notebook (3 Designs): ¥950 each

From the style to the cover, this notebook looks just like a picture book. Open it up and you will discover the Frozen 2 characters frolicking together on the right side of the page. 

Crunchy Chocolate (2 Varieties): ¥980 each

This crunchy chocolate comes in a beautiful tin that you will want to keep after finishing the chocolate. Seeing the happy, smiling faces of Anna and Elsa is very reassuring.

Anna and Elsa Cartoon Merchandise

From cushion covers to smartphone cases, there is a large variety of everyday-use merchandise covered with character-like illustrations of Anna and Elsa.

As part of a special promotion event, those who reserve in advance (¥650) will receive a placemat. Customers who spend more than ¥3,000 (before tax) on café limited goods will be presented with a free ballpoint pen, and those who spend more than ¥1,000 (before tax) will receive a shopping bag (first-come, first-served).

These promotion goods are in limited stock so if you are eager to get something, make sure to head to the café as soon as possible. In addition, Olaf fans will be thrilled to know that the special winter-limited event "OLAF in HOLIDAY" will be running from December 20 and will see the release of merchandise and fun events. 

No matter how many times you visit the café, there will always be lots to enjoy and discover. Make sure to stop by for your fill of fantastical Disney magic!

©Disney

Writer:Sayuri Mizuno(MOSHI MOSHI NIPPON)

Information

Frozen 2 OH MY CAFE

■Tokyo: OH MY CAFE TOKYO, Tokyu Plaza Omotesando Harajuku

Running: November 15, 2019 – January 13, 2020

■ Osaka: kawara CAFE&DINING, Shinsaibashi 

Running: November 16, 2020 – January 13, 2020

■Nagoya: kawara CAFE&KITCHEN, Nagoya PARCO

Running: November 16, 2019 – January 19, 2020

■ Hokkaido: Cafe Interlude

Running: November 21, 2019 – January 19, 2020

■Fukuoka: kawara CAFE & DINING KITTE, Hakata 

Running: December 5, 2019 – January 19, 2020

■Tokyo: gelato pique cafe,  Tamagawa Takashimaya S.C.

Running: November 29, 2019 – January 26, 2020

■Kyoto: gelato pique cafe, Kyoto The CUBE

Running: December 6, 2019 – February 2, 2020

 

Frozen 2 OH MY CAFE Official Website: https://snow.ohmycafe.jp/

 

Frozen 2

Release in Japan: November 22

Official Website: https://disney.co.uk/movies/frozen-2
RELATED ENTRIES
NiziU Feature in Commercial for KOSÉ's Makeup Fix Product Make Keep Mist EX

KOSÉ rolled out their new commercial in Japan on April 15 for their makeup fix mist product Make Keep Mist EX. The commercial features Japanese music group NiziU along with their new song I AM.

I AM was written specifically for this commercial, which has the NiziU members performing the "mist dance" showing how to use the product. The commercial emphasises how well the Make Keep Mist EX keeps makeup applied to one's face without worrying about it coming off.

The NiziU members released this comment with regards to the product and commercial: "Applying makeup can be a real pain when wearing a face mask, so we use this all [product]! We'd love for you to do this dance while you apply your Make Keep Mist!"

If you're wondering how the shoot went for this commercial, check out the official story released below. 

The Commercial Shoot

The NiziU members entered the studio dressed in full-pink spring suits. They rolled up to the studio's blue set where they looked super cute and readied themselves for the shoot.

 

The take-away from this commercial is the new Mist Dance which has the nine members lined up beautifully together as they spray the mist on their face simultaneously to the tune of the music. It's reported that it took them a while to get it down perfect at first, but after some practice and looking at the monitor, they were able to create something iconic.

"Do it like RIO!" instructed the shoot's director, which prompted RIO to show the other members how it's done.

 

During their break, the other members complimented MAKO's blonde hair and MAKO's blue tips, and MIIHI stroked RIKU's dango hair while saying "Looky here, ice cream! Looks delicious."

In one part of the dance, the members have to go all out and use their whole bodies. They switch up their formations several times and not once did they bump into each other. The members gave tips to each other too, like MAYUKA suggesting a better position during one formation, and RIMA asking which angle looks more beautiful for a certain move in relation to the camera. The result was an incredible display that was shot in one take, resulting in a round of applause from the studio staff.

Check out the commercial below.

Make Keep Mist EX

The new EX version of Make Keep Mist has stronger holding power to keep makeup smudge-free and looking fresh and beautiful all day. The product is available in a normal size and smaller 'trial' size. A new cool type, Make Keep Mist EX Cool, was released on April 16.

 

Make Keep Mist EX ¥1,320 / Make Keep Mist EX Trial Size ¥880 / Make Keep Mist EX Cool ¥1,320 (Tax Included)

Information

KOSÉ x NiziU Make Keep Mist EX Commercial

Initial Broadcast: April 15, 2021

Product Available: KOSÉ / Maison KOSÉ / Drugstores, online, and elsewhere in Japan

Official Website (English): https://www.kose.co.jp/makekeepmist/eng/

Kaori's Easy Recipe: Learn to Make Baymax Mushi-Pan Steamed Bread

With just a small bit of ingenuity, turn everyday food into something cute using Kaori's Easy Recipe! With a few simple ideas, an ordinary recipe magically transforms into a cute dish.

Today, I'll teach you how to make Baymax mushi-pan steamed bread.

Ingredients

This recipe makes 5 portions

140g strong flour

20g granulated sugar

Pinch of salt

3g dry yeast

3g baking powder

5g vegetable oil

85ml-90ml milk (room temperature)

1

Mix everything together in a food processor. If you don't have a food processor, you can also knead the ingredients well by hand.

2

Ferment at 40℃ for 40 minutes. If you don't have a fermentation machine, leave in a warm environment.

3

Once the dough has doubled in size, divide into five portions and put into separate cups. If using paper cups, rub a little bit of oil inside.

4

Bake in the oven at 40℃ for 20-25 minutes.

5

After baking, steam in a steamer for 12-13 minutes. If you don't have a steamer, put into a frying pan or large pot with a little bit of water and cover.

6

Once cooled, use some nori seaweed to make Baymax's face and you're done!

Kaori Kubota (@kaopan27)

I live in Hokkaido and I love to make character themed foods, desserts and pastries♡

I want to see my family smile, so I enjoy putting in a bit of effort to make character foods and changing food into something cute♡

You can see more of my character foods and character bento boxes on my Instagram page → @kaopan72

Disney's Zootopia Themed Cafe to Open in Tokyo, Osaka, and Nagoya for Film's 5th Anniversary

The Tokyo, Osaka, and Nagoya branches of OH MY CAFE are set to pay host to cafe experiences themed on Disney's Zootopia in celebration of the movie's 5th anniversary which hit last month. The cafes will transform into a Zootopia extravaganza from April 23.

Customers who book a table in advance receive one of six possible lunch mats

The Menu

Vegetable Curry ¥1,890 (Before Tax)

Sandwich Plate ¥1,990 (Before Tax)

Corn Cream Pie ¥1,590 (Before Tax)

Salsa Burger ¥2,390 (Before Tax)

Carrot Doria ¥1,490 (Before Tax)

Acrylic Coasters +¥900 (Before Tax)

Iced Milk ¥990 (Before Tax) / With Mug +¥1,600 (Before Tax)

Iced Coffee ¥690 (Before Tax) / With Mug ¥1,600 (Before Tax)

Iced Drink ¥990 (Before Tax)

Exclusive Merchandise

Movie Stills Series

Acrylic Key Rings

Square Magnet ¥550 (Before Tax) / Acryluc Key Ring ¥650 (Before Tax) / A4 Folder ¥350 (Before Tax)

Mask Cases ¥500 (Before Tax) / Masking Tapes ¥800 (Before Tax)

Tiny Animals Series

Acrylic Charms ¥450 (Before Tax) / Mini Notebook Set ¥850 (Before Tax)

A5 Folder Set ¥800 (Before Tax) / Mini Pouch Set ¥1,800 (Before Tax)

Mini Towels ¥1,000 (Before Tax) / Eco Bag ¥1,850 (Before Tax)

Zootopia fans won't be able to resist the tasty and healthy themed menu featuring Nick Wilde and Judy Hopps, as well as getting their hands on a range of merchandise from stationery to fashion.

©Disney

Information

Zootopia OH MY CAFE

OH MY CAFE TOKYO

Running: April 23, 2021 – June 27, 2021

Address: Tokyu Plaza Omotesando, 4-30-3 Jingumae, Shibuya, Tokyo

OH MY CAFE OSAKA

Running: April 28, 2021 – July 6, 2021

Address: 1-6-1 Shinsaibashisuji, Chuo-ku, Osaka-shi, Osaka

kawara CAFE&KITCHEN

Running: June 2, 2021 – July 13, 2021
Address: Nagoya PARCO, 3-29-1 Sakae, Naka-ku, Nagoya-shi, Aichi

Official Website: https://zoo.ohmycafe.jp/

The New Disney Kyoto Traditional Design Series Combines Disney With Kyoto Craftsmanship

Kyoto City and Japanese company Shintsu are set to release their Disney/Kyoto Traditional Design Series after previously having to postpone the release due to the pandemic. It will be available from April 27 to May 10 and celebrates the skilled, dexterous hands of Kyoto's expert craftsman and their industry which has been passed down for thousands of years. They have innovated to create something brand-new that captures both the craft and culture of Kyoto and the contemporary wonder of Disney.

Comments from the Creators

©Disney

Okazen | Comment

"We have existed inside our town in Kyoto for 200 years. We make a variety of items from garments for maiko apprentice geisha to our own company-originals products. For this Disney/Kyoto Traditional Design Series, we wondered how we could express the world of Disney using the kyoyuzen Kyoto-style method of dyeing. We made something with detailed consideration, looking at all the intricate things in the dyeing process. Our Fantasia furisode long-sleeved kimono features a truly treasured scene which enabled use to incorporate many different methods in order to capture the expression, clothing, and all the stars as much as possible. We believe this piece will suck everyone into Fantasia's world."

©Disney

©Disney

Asahido | Comment

"For producing something for the Disney/Kyoto Traditional Design Series, we asked gave one of our craftsmen free rein to put their own individual self into the work. At the time, they were primarily an illustrator, so we were worried if the judges would overlook them, but the end result was something that looks truly complete and finished. The traditional craftwork of Kiyomizu pottery is a process of hand making and hand drawing each and every little thing. I believe it's this quality that gives the characters warmth and life. I'd love for people to take it in their hands themselves and take their time looking at it in a full 360°."

©Disney

Tsujikura | Comment

Tsujikura is Japan's oldest wagasa Japanese umbrella shop. We've been in Kyoto since 1690. In that small space underneath the washi Japanese paper and bamboo, one enters a rich world where they can feel the four seasons of Japan. Our umbrella for the Disney/Kyoto Traditional Design Series uses a very advanced technique known as kiritsugi, a type of cutting and patching. We displayed Mickey Mouse and Minnie Mouse on handmade washi paper which we dyed. You can feel an affinity with the umbrellas for their simple and minimal designs. Our aim was to incorporate Disney elements into a traditional Japanese umbrella pattern."

Other Featured Works

©Disney

aiba

©DISNEY Based on the"Winnie the Pooh" works by A.A. Milne and E.H. Shepard .

Asahido

©Disney

Kamiya

©Disney

©Disney

EIRAKUYA

©Disney

Okazen

©Disney

Katoriya

©Disney

Kanbayashi Shunsho Honten

©Disney

KYUKYODO

©Disney

Shoyeido

©Disney

Tankosha

©Disney

Tsujikura

©Disney

Nakajima Zougan

©Disney

Nakamura Rosoku

©Disney

Miyawaki Baisen-an

Disney Releases 'Walt Disney Animation Studios Concept Design' Book

Japanese publisher Genkosha released a carefully-curated book of works taken from Disney's archives entitled Walt Disney Animation Studios Concept Design on March 30.

©︎Disney

The book comes as the second in a series of archive tomes that shines a light on the Disney team's artwork. It focuses on the visual development artists and their character designers, background concept art pieces, and more. It's a must-have for Disney fans, containing works from the birth of Mickey Mouse in 1928 to Snow White, Pinocchio, Bambi, Peter Pan, The Lion King, Tangled, and more. The translated version of the book will also contain Frozen 2 and the newest entry to the Disney filmography Raya and the Last Dragon.

Whether you're a fan of Disney or an illustration or concept artist in animation, games, and so on, you won't want to miss out on this special tome.

Disney: Twister-Wonderland Designer Glasses to be Released by Zoff

Japanese eyewear brand Zoff is collaboration with the mobile game Disney: Twisted-Wonderland to release a collection of seven glasses this April on their official website.

Specially-crafted frames based on the Dorms

The collection features seven different glasses each inspired by a different Dormitory of Night Raven College as seen in Disney: Twisted-Wonderland. The temple, for example, features inlet parts based on the seven Dorms, so fans can represent their favourite while looking stylish at the same time. The coupling glasses cases, too, are branded with a simple yet sophisticated design of the Dorm emblems, and each case even comes with a glasses cloth bearing the names of the students.

The frames and cloth designs up close

Heartslabyul Design | ¥11,100 (Tax Included)

Looking head on at the glasses, you can see crowns on either side, while looking from the sides are playing card marks.

Savanaclaw Design | ¥11,100 (Tax Included)

Thick frames with gold combination colouring and claw marks featured on the sides. This glasses are made using laser technology.

Octavinelle Design | ¥11,100 (Tax Included)

The front and temple have an octopus leg design and the inner side part has a shell. The black and purple make for a striking colour fusion.

Scarabia Design | ¥11,100 (Tax Included)

These glasses look basic at first glance, but gleaming on either side are cobra heads wrapping around the front. The golden temple section features delicate metal engraving.

Pomefiore Design | ¥11,100 (Tax Included)

The metal engravings and crowns on the front sides elevate your countenance without going over the top. The curvy temple also serves to make the wearer look even more beautiful.

Ignihyde Design | ¥11,100 (Tax Included)

An iconic mix of black and blue. The blue temple has a transparency to it, and if you're a fan of Ignihyde, you'll be able to spot the motif on the front sides.

Diasomnia Design | ¥11,100 (Tax Included)

The spinning wheel motif gives the temple a three-dimensional feel. A basic but stylish colour choice perfect for work.

Glasses Case

The glasses case bears the Dorm symbols on the front while the inside has the game title logo.

 

Each glasses cloth is different for each Dorm as pictured throughout

Information

Disney: Twisted-Wonderland Zoff Eyewear Collection

Orders: Open Mid April 2021 (Limited Edition)

Delivery: Late October 2021

NiziU Feature in Promotional Commercial for KOSÉ's Make Keep Mist EX

KOSÉ are set to roll out a new commercial in Japan on April 15 for their makeup fix mist product Make Keep Mist EX. The commercial will feature NiziU along with their new song I AM.

The commercial tie-up comes after the huge positive reception NiziU got after their appearance in another KOSÉ commercial that aired in January. The video featured their song Joyful as well as the popular 'eyelash dance.'

Stay tuned for the release of the commercial.

Disney Japan Celebrates 30th Anniversary of Disney Fan Magazine With Special Event

Walt Disney Japan will celebrate both the 30th anniversary of its Disney Fan monthly magazine and the 10th anniversary of its Disney Store original character UniBEARsity with a special event titled "Disney FAN 30th anniversary FAN!FAN!FAN!" which will run at the Shibuya Koen-dori branch of the Disney Store from April 2 and the Shinsaibashi branch from May 14.

©Disney

The event will pay homage to the 30-year history of the much-loved Disney Fan magazine as well as feature a special art exhibition of past front covers. This artwork will be included on new and exclusive merchandise sold at the store. UniBEARsity will also see the spotlight as its history is also covered along with a range of 10th anniversary items.

Disney Fan 30th Anniversary Celebrations: Art Exhibition, History, and Merch

©Disney

The Disney Fan exhibit will include a silhouette of Mickey Mouse made from a collage of old-time magazine covers. It will also feature an exhibit of back numbers, statues and papercrafts made from past magazine covers, commentary on certain issues, and more.

Fans can also get their hands on a collection of merchandise made with exclusive artwork from the magazine covers, from folders and face mask cases to magnets, frames and more – check out an excerpt of what's on offer below.

UniBEARsity: 10th Anniversary Exhibition

©Disney

UniBEARsity is a line-up of Disney teddy bear characters which came to life after Minnie taught Mickey and friends how to sew them. In celebration of its 10th anniversary, a special exhibition will take place including a special feature taken from Disney Fan when it first debuted, as well as a showcase of 89 teddy bears.an original story that bear characters. Check out what merchandise you can get here.

Information

Disney FAN 30th anniversary FAN! FAN! FAN!

Disney Store Shibuya Koen-dori

Running: April 2, 2021 – May 9, 2021

*The first three days of the event (April 2-4) are exclusive to users of the Disney Store app

Address: Humax Pavilion Shibuya Koen-dori, 20-15 Udagawacho, Shibuya, Tokyo

Opening Hours: 11:00-20:00 (Until 17:00 on May 9)

Entry: Free

Disney Store Shinsaibashi

Running: May 14, 2021 – June 20, 2021

Address: 2-1-13 Shinsaibashisuji, Chuo-ku, Osaka-shi, Osaka

Opening Hours: [Weekdays] 10:00-19:00 / [Weekends & Holidays] 11:00-19:00 (Until 17:00 on June 20)

Entry: Free

Event Page: http://shopDisney.jp/store/DisneyFAN30th/

Pixar Japan Announces 'PIXAR! PIXAR! PIXAR!' Event to Take Place in Tokyo

Seibu Ikebukuro will pay host to the upcoming 'PIXAR! PIXAR! PIXAR!' event which will take place from April 8 to 19 in cooperation with Pixar Animation Studios and Walt Disney Japan. Pixar fans can look forward to viewing a special selection of valuable concept art, buying merch, and more.

A Look at Pixar Animation's History

Feel Like You're at Pixar Animation Studios

The event will be a celebration of all things Pixar, from their early animation shorts to their upcoming film Luca. This will include a special area that recreates the real-life Pixar Animation Studios.

Pixar Office Photo Postcards (3 Designs) | ¥220 Each

BnL T-Shirt (One Size Fits All) | ¥3,520

Canvas Panel (29.7cm x 21cm) | ¥3,850

Event-Original Merchandise (Excerpt)

Plates | ¥990 Each

Shopping Bag | ¥880

Pins 8 Designs)

There will also be a trivia quiz to test how much fans know about their favourite films, as well as a special video showcasing the making of the original artwork displayed at the event. Around 200 pieces of merchandise will also be sold.

PIXAR! PIXAR! PIXAR! is a popular annual festival in Japan and a must-visit for any fan of Disney/Pixar.

©DISNEY/PIXAR All rights reserved. No reproduction or republication without written permission.

Information

PIXAR! PIXAR! PIXAR! 2021 First Run

Running: April 8, 2021 – APril 19, 2021

Where: Seibu Gallery at Seibu Ikebukuro Bekkan Floor 2F

Opening Hours: 10:00-20:00

Official Website: https://www.sogo-seibu.jp/ikebukuro/

Sanrio's Cinnamoroll Collaborates With AEON On Merchandise and Product Collection

AEON released a special collection of 18 items in collaboration with popular Sanrio character Cinnamoroll on March 19 at 420 of their AEON and AEON Style branches in Japan.

Cinnamoroll x AEON Line-Up

Cinnamoroll is Sanrio's lovable white pup who took 1st place in the annual Sanrio Character Ranking last year for the third year in a row.

About the Cinnamoroll products

The line-up of products features everyday items from body and skincare items for miscellaneous goods, all featuring AEON-exclusive Cinnamoroll designs. The items are imbued with a message from Cinnamoroll, that we must "Cherish every act of kindness and consideration!" Cinnamoroll wishes to help those people who are working hard everyday by giving them a bit of love through the collection.

A little look at the collection

Steam Cream Omoiyari Heart | ¥1,680 (Before Tax)

A moisturising cream made with organic ingredients, perfect for general skincare, as hand cream, and can even be used on hair.

Pink Hand Gel With Rubber Strap | ¥680 (Before Tax)

Something everyone has with them these days – convenient for when you're out and can't wash your hands. Now you can look cute doing it.

Acne & White Clear Mist Skin Spray | ¥1,500 (Before Tax)

This mist can be sprayed onto acne and can be used for skin whitening. It has a faint citrus smell to it and is gentle on the skin.

Mini Vanity Pouch | ¥2,500 (Before Tax)

An adorable vanity pouch for storing your makeup, skincare items, and other bits and bobs.

Hairband | ¥980 (Before Tax)

A fluffy hairband for when you get out the tub or are enjoying some relaxation time at home.

This is just a small look at a bigger collection – check the link below for the full list.

Lovisia Releases Detective Conan Cosmetic Collection

Japanese cosmetic brand Lovisia has released its New Styley collection in mid-April this year. The collection is based on the popular anime series Detective Conan, also known as Case Closed outside Japan, in promotion of the upcoming film Detective Conan: The Scarlet Bullet.

Detective Conan Eyeshadow – Conan & Kid Gold and Brown | ¥2,200 (Tax Included)

Detective Conan Eyeshadow – Conan & Kid Gold and Brown | ¥2,200 (Tax Included)

Detective Conan Lipsticks – Clear, Coral Pink, Beige Pink, Scarlet Red, Nude Beige | ¥1,320 Each (Tax Included)

Disney's Chip 'n' Dale Celebrate Screen Debut With shopDisney Merchandise Collection

Walt Disney Japan is celebrating the original screen debut of the lovable chipmunk brothers Chip 'n' Dale with a special merchandise collection which will go on pre-sale at select Disney Japan stores and shopDisney on March 19.

Chip 'n' Dale made their screen debut on April 2, 1943 in the 7-minute cartoon Private Pluto. Disney's new merch collection pays homage to the duo with a range of items ranging from plush toys to stationery, products created in collaboration with FOOD TEXTILE—which turns food wastage into dye—as part of Walt Disney Japan's "Healthytainment" initiative, and more.

©Disney

Excerpt of Products

©Disney

©Disney

Plush Toy Key Rings ¥2,750 / iPhone 11 Case ¥3,520 / Ballpoint Pens ¥880 Each / Key Rings ¥1,760 / AirPods Case ¥1,980 / Stereo Earphones ¥3,300 / Notebook ¥660 / Mobile Battery Charger ¥4,400 / Mobile Ring ¥1,760 (Tax included in prices)

FOOD TEXTILE x Disney Store Collaboration

©Disney

Baby Gift Set ¥7,700 / Baby Bib Set ¥5,060 / Tote Bag ¥5,060 / T-Shirt ¥4,620 / Pouch ¥2,090 (Tax included in prices)

The collection includes a set of adorable items for babies decorated with cute illustrations of Chip 'n' Dale. These sets are made in a collaborative project between Disney Store and FOOD TEXTILE. Pre-sales will open on shopDisney on April 2 with general sales to release on April 6. They are made from organic cotton and are dyed with natural colours extracted from food waste such as coffee, cherry blossom, lettuce, and more. This eco-friendly method ensures food waste doesn't stay as waste but is instead reused.