Frozen 2: Make Your Makeup as Beautiful as Elsa With This Tutorial
Frozen 2 dropped its icy embrace on the world today and Disney fans are more thrilled than ever.
All of the characters in the film have their own charm, but it's Elsa whose beauty has captivated the world over. With the release of the new film and the cold approach of winter, why not try doing your makeup like the queen of Arendelle?
Step ①: Cheeks
Fallen pink snowflakes on those sweet cheeks
Use a blueish-pink blush and apply lower than your cheekbone and on the tip of your nose. Blend in a circular motion to make the blush round. This will create a white, almost transparent glow and will uplift your cheeks.
Step ②: Eyeshadow
Bewitching purple to stand out in a snowy world
Apply a reddish-purple eyeshadow over your eyelidd. A tip is to connect the outline the inner and outer corners of your eyes with a straight line. Then add a bold and shiny purple shadow on top of that across your eyelids. Apply to your lower eyelid too beneath the pupil. If the outline of your eyeshadow has an oblong shape when you open your eye, that's good.
Step ③: Eyeliner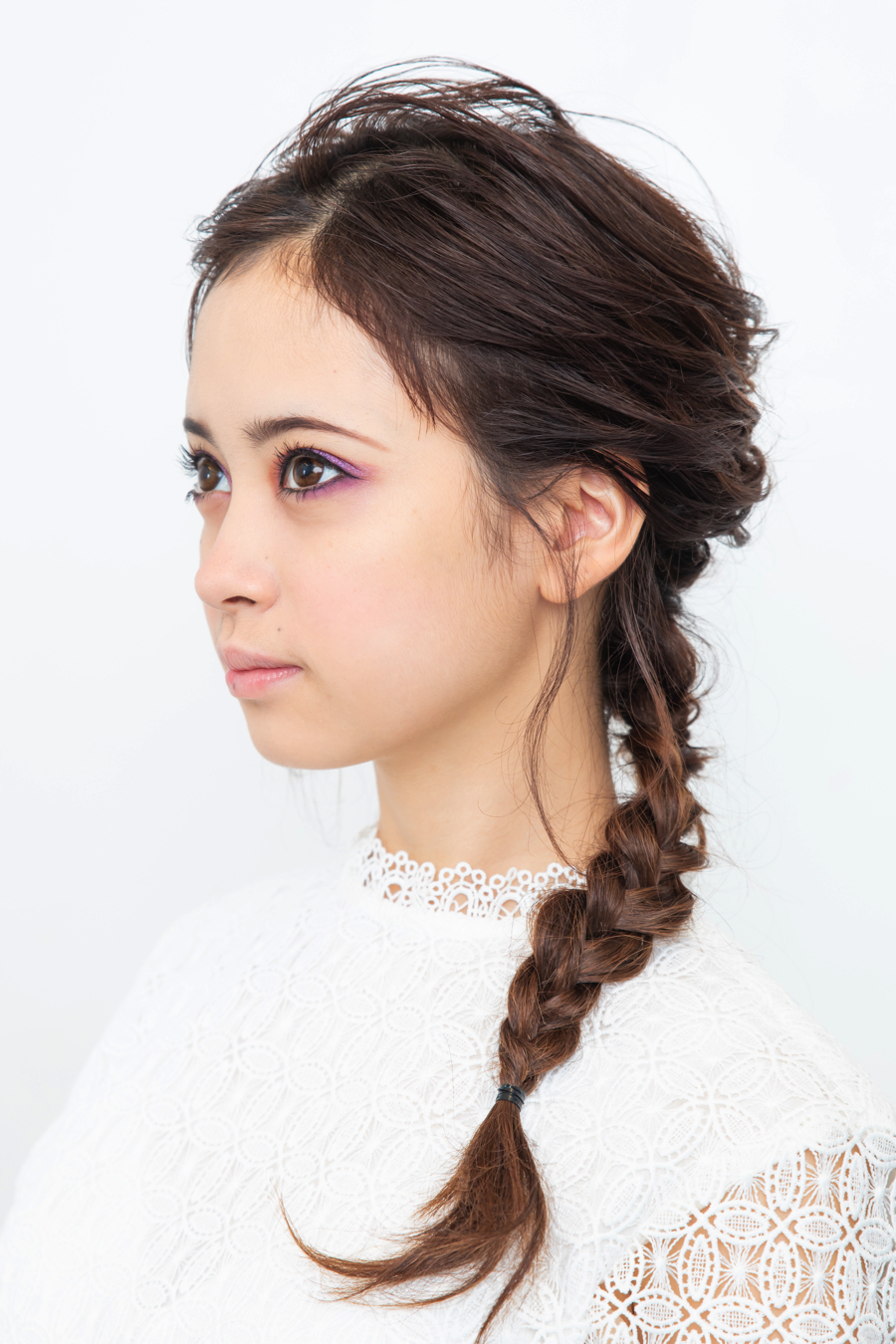 Eyeliner to look like a sophisticated queen
Using a black liquid eyeliner, follow your eyeline from the inner corner to the outer corner of your eye. Extend the outer line a little and make it parallel. For your lower eyelid, use a black pencil to fill between your eyelashes.
Step ④: Lipstick
Pink lips ready to sing
Use a blueish-pink lipstick on your lips, and make sure it's layered on nice and thick to serve that sweet aesthetic.
An elegant queen that can harness the ice and the snow
Elsa has the power to turn anything she touches into ice. If you catch a gaze of her enchanting purple eyeshadowed eyes, your heart is sure to skip a beat. If you follow these four makeup points, you too can easily look like the ice queen herself. A perfect look for dates, parties and get-togethers this winter season.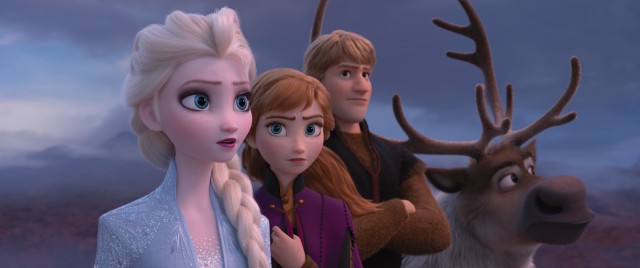 The long-awaited sequel to Disney's blockbuster animated is finally upon us. The first Frozen film touched the entire world with its frosty beauty with both its story and music. Let It Go in particular was a worldwide phenomenon, and was an immense hit in Japan too.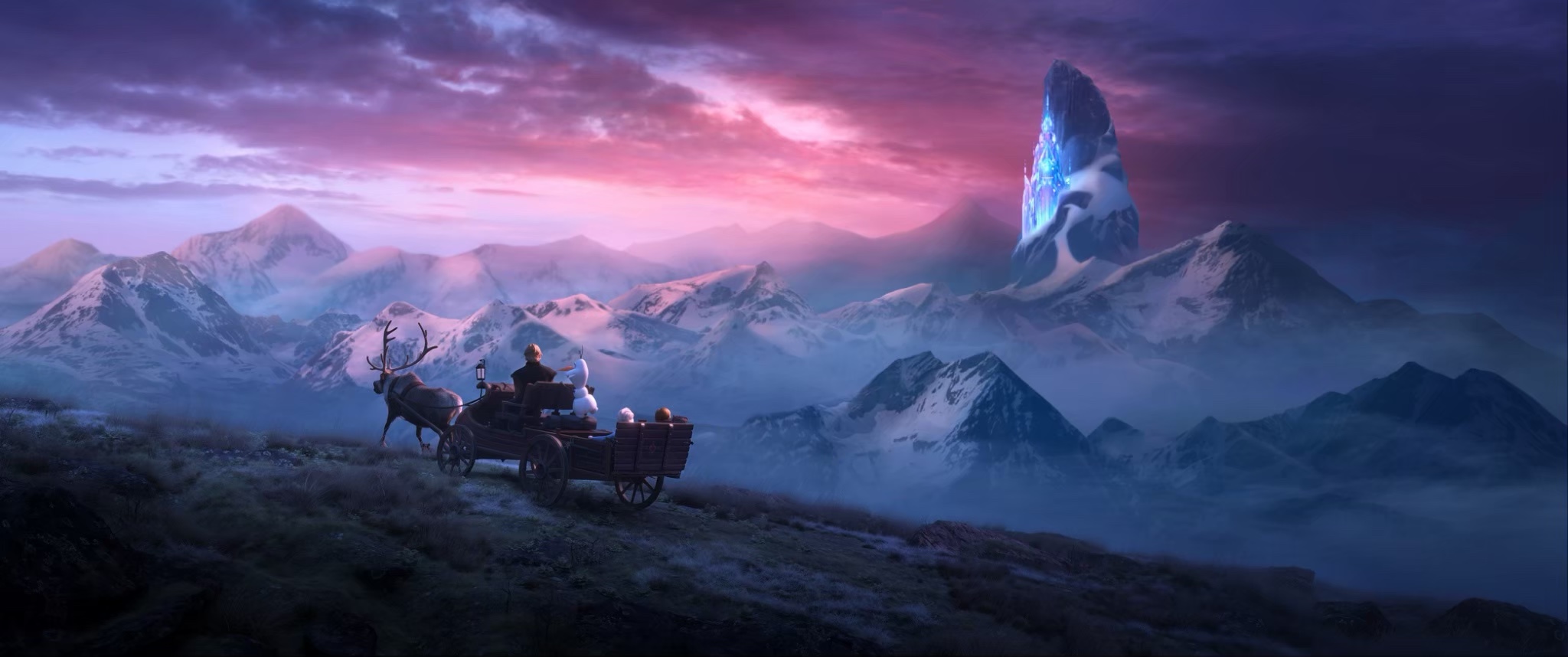 Frozen 2 sees Elsa embark on a dangerous journey with Anna, Kristoff, Olaf and Sven as she discovers why she was born with magical powers, the answer to which is threatening her kingdom.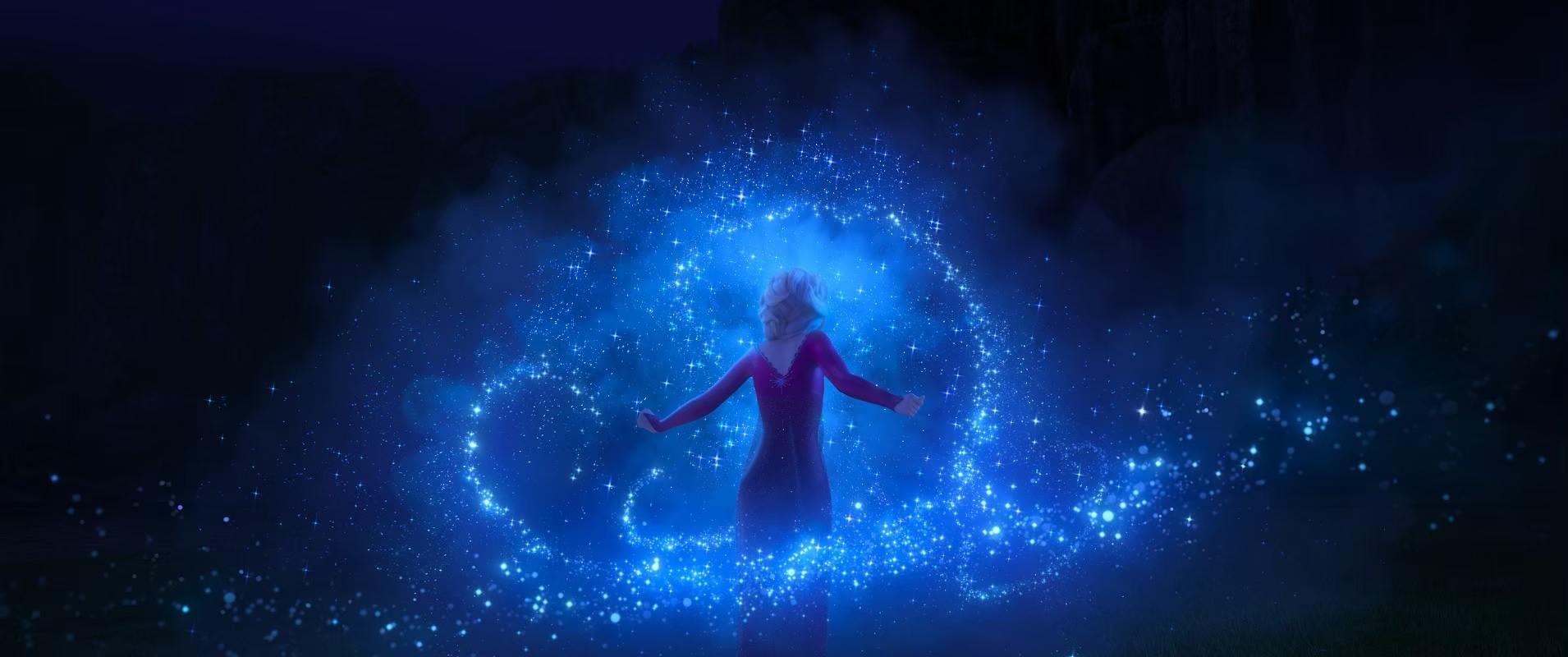 The new film's main theme, Into The Unknown, captures the complex feelings and emotions Elsa holds as she steps forth, with all her anxieties and hopes, into a new world.
Frozen 2 Trailer Japanese Version
The first Frozen film was a widespread global hit and there's no denying that Frozen 2 will follow in its footsteps. Get together with your family, friends or lover to watch it for the best experience.
*All cosmetics used are personal items owned by the stylist
Model: Aiko
Writer: Ai Watanabe
Photographer: Haruka Yamamoto
Makeup: 橋本 裕介
Translator: Joshua Kitosi-Isanga
Information
Frozen 2
Release Date: November 22, 2019
Distributed by: Walt Disney Studios/Motion Pictures
Directors: Chris Buck/Jeniffer Lee
Starring: Idina Menzel (as Elsa), Kristen Bell (as Anna)
Official Website: https://disney.co.uk/movies/frozen-2
RECOMMENDED ENTRIES
New & Exclusive Frozen 2 Merchandise Releasing in Japan This Year

In preparation for the release of Frozen 2ーthe highly-anticipated sequel to Disney's 2013 internationally-acclaimed animated feature film FrozenーWalt Disney Japan has unveiled a whole brand new batch of merchandise which will roll out at Disney Store branches across Japan. From Elsa and Anna dolls clad in their new outfits to other collectables, this line-up is a must-grab for any fan of the globally beloved film.

Tote Bag – ¥3,000 / Doll Set – ¥4,500 / Mug – ¥1,800 / Tissue Box Cover – ¥2,800 / Pouch – ¥1,500 / iPhone X & XS Case – ¥2,300 / Notebook – ¥800 / Ball pointPen Set – ¥1,500 / Key Chain – ¥1,600

Disney Store branches across Japan have a beautiful line-up of Frozen 2-themed original items lined up, all released today (October 4). The merch focuses on Elsa, Anna and Olaf and features designs based on the new film.テ

Items include the snowy Olaf tissue box cover, which while simple adds a kawaii touch to your room, and a set of ballpoint pens with sparkly stones in them which would be perfect to share with a friend. There's also various collectables, like dolls and figures.

Hairi – ¥9,000 / Koushu – ¥2,500 / Snow – ¥9,000

This teddy bear line-up features Japan-original characters from UniBEARsity wearing Elsa, Anna and Olaf costumes. All three will be released at Disney Stores and the online store in japan on November 21.

Hairi and Snow are wearing ribbons, one pieces and shoes, both dressed as Anna and Elsa respectively. All the bears are packaged in a special box. Online pre-orders opened today.

Disney Store Japan is also holding a campaign where if you spend over ¥3,000 (including tax) on all Frozen merchandise, you will receive the above-pictured original acrylic tray.

Frozen 2 will be released worldwide on November 22, 2019.

©Disney

*Select Disney Store branches are not stocking these products. Outlet branches also not participating
*While supplies last
*Product designs, prices, release dates and participating branches subject to change

*All listed prices do not include tax

The Frozen 2 Café is An Open Door to Magical Food, Autumn Adventures and Much More

Frozen 2 will premiere on November 22 in Japan and America at the same time and to celebrate, the Frozen 2 café will open in OH MY CAFE Omotesando, Tokyo from November 15, Osaka and Nagoya from November 16, Hokkaido from November 21, Futakotamagawa from November 29, Fukuoka from December 5 and Kyoto from December 6. Each café will be open for a limited period only. 

We at the MOSHI MOSHI NIPPON team were as excited as Anna was for Coronation Day and so we headed to the Frozen 2 Café in Omotesando as fast as we could. Today we'll be showing you the cafés cool decorations, delicious food and original merchandise. 

Stepping into the café was like entering the autumn world of Frozen 2. A few more steps in and Anna was there to greet us. Seeing the awe-inspiring figure of Anna stood nobly before us made us feel that she has matured since the first Frozen film. Customers are free to stand next to the life-sized Anna and have a photo with her. 

The central area of the café is full of icy decorations and the walls are covered in illustrations of autumn leaves. Wander deeper into the café and you will immediately notice the life-sized Elsa. If you look closely, Elsa doesn't seem to be smiling. Seeing her hardened expression played on our minds. Is the reason for this elaborated in the film?

The food menu consisted of five original dishes and each dish was themed around one character from the film, representing them in a cute way. 

Anna's Impulsive Sandwiches and Tomato Soup: ¥2,390/with Soup Bowl: ¥3,990

Order Anna's special meal and you and your friends will be finishing each other's sandwiches in an instant. The chicken and cheese sandwiches are served alongside a tomato soup which will warm you up right away.

Elsa's Magical Muffin Sandwich and Pasta Soup: ¥2,390/with Soup Bowl: ¥3,990

A muffin sandwich hugs prosciutto and a white omelette. This is accompanied by a mushroom and pasta soup. The dish is decorated with a dusting of snowflakes and Elsa.

Olaf's Fun Snowball-Rolling Meatball Plate: ¥2,190

This plate contains a generous serving of vegetables and meatballs. Seeing Olaf's lively face will instantly put a smile on yours. The blueberry sauce coating the meatballs contributes an interesting flavour to the meal.

Kristoff and Sven: Two Pals on an Adventure Bagel: ¥2,190

Kristoff has been best pals with Sven since he was a child. There's no separating the two – even when they're a meal! You're in for a treat with chunky vegetables and Sven's favourite: a carrot.

Salamander's Surprise Bright Red Tomato Curry: ¥2,190

It seems that café-goers have the opportunity to encounter Frozen 2's new character: a salamander. Pour the curry over the Salamander and something magical happens! The curry is not very spicy so it can be enjoyed by anyone. 

There are four drinks on the drinks menu which are themed on characters and themes from the film. 

Left: Elsa's Refreshing Lemon Smoothie, Centre: Anna's Refreshing Very Berry Tea

Right: Frozen 2 Magical Blue Mallow Tea: ¥990/with Drink Coaster: ¥1,690

While Elsa's smoothie takes on the appearance of her elegant wintery dress, the sweet and tangy berry drink reflects the cute appearance of Anna. If you're curious to discover the taste of Disney magic then order the Frozen 2 Magical Blue Mallow Tea. Add the lemon to the drink and watch what happens. 

Frozen 2 Warm and Frothy Cheesecake Milk Tea: ¥990/with Cup: ¥2,490

All your favourite Frozen characters have united in the form of a heart-and-body-warming milk tea. After just one sip, you won't be able to stop.

You definitely cannot miss out on range the OH MY CAFE-limited original goods. Today we'll be introducing our top picks:

 Frozen 2 Decorations (5 Designs): ¥950

Acrylic Magnets (5 Designs): ¥500

The decoration is sealed in a bag so there is no way of knowing which one you get until you purchase it. Every available design is so cute that you would want to collect them all. 

Picture Book-Style Notebook (3 Designs): ¥950 each

From the style to the cover, this notebook looks just like a picture book. Open it up and you will discover the Frozen 2 characters frolicking together on the right side of the page. 

Crunchy Chocolate (2 Varieties): ¥980 each

This crunchy chocolate comes in a beautiful tin that you will want to keep after finishing the chocolate. Seeing the happy, smiling faces of Anna and Elsa is very reassuring.

Anna and Elsa Cartoon Merchandise

From cushion covers to smartphone cases, there is a large variety of everyday-use merchandise covered with character-like illustrations of Anna and Elsa.

As part of a special promotion event, those who reserve in advance (¥650) will receive a placemat. Customers who spend more than ¥3,000 (before tax) on café limited goods will be presented with a free ballpoint pen, and those who spend more than ¥1,000 (before tax) will receive a shopping bag (first-come, first-served).

These promotion goods are in limited stock so if you are eager to get something, make sure to head to the café as soon as possible. In addition, Olaf fans will be thrilled to know that the special winter-limited event "OLAF in HOLIDAY" will be running from December 20 and will see the release of merchandise and fun events. 

No matter how many times you visit the café, there will always be lots to enjoy and discover. Make sure to stop by for your fill of fantastical Disney magic!

©Disney

Writer:Sayuri Mizuno(MOSHI MOSHI NIPPON)

Information

Frozen 2 OH MY CAFE

■Tokyo: OH MY CAFE TOKYO, Tokyu Plaza Omotesando Harajuku

Running: November 15, 2019 – January 13, 2020

■ Osaka: kawara CAFE&DINING, Shinsaibashi 

Running: November 16, 2020 – January 13, 2020

■Nagoya: kawara CAFE&KITCHEN, Nagoya PARCO

Running: November 16, 2019 – January 19, 2020

■ Hokkaido: Cafe Interlude

Running: November 21, 2019 – January 19, 2020

■Fukuoka: kawara CAFE & DINING KITTE, Hakata 

Running: December 5, 2019 – January 19, 2020

■Tokyo: gelato pique cafe,  Tamagawa Takashimaya S.C.

Running: November 29, 2019 – January 26, 2020

■Kyoto: gelato pique cafe, Kyoto The CUBE

Running: December 6, 2019 – February 2, 2020

 

Frozen 2 OH MY CAFE Official Website: https://snow.ohmycafe.jp/

 

Frozen 2

Release in Japan: November 22

Official Website: https://disney.co.uk/movies/frozen-2
RELATED ENTRIES
NiziU Becomes New Muse For Curl Keep Magic Multitask Mascara

Japanese global girl group NiziU are featuring in the latest promotional material for Curl Keep Magic, a multitask mascara that triples as a primer, top coat, and mascara.

The theme for the promotion is centred on "helping girls' lashes to stay curled for a long period of time during today's day and age where everyone is keeping fit, and to support them as they move to achieve their dreams." In the promotional material, NiziU is serving positive vibes and showcasing the fun of makeup.

The photoshoot

The NiziU members expressed enjoyment for the photoshoot. The set was lively, and the girls were chatting with smiles even when the camera wasn't rolling. There was a real sense of teamwork between the director and cameraman as the girls replicated their requests to perfection. The eight of them hummed along to the music playing in the background and teased each other; there was a real fun vibe to the shoot.

Curl Keep Magic

Curl Keep Magic is a mascara for multitasking that keeps lashes full all day long. It can be used as a primer, top coat, and mascara, and can even be used to add natural curls to lashes without colour. The mascara is a water-type cosmetic that contains a combination of Japanese camellia and squalene which protects the lashes. It uses a clear black colour which has a transparency to it.

When used as a regular mascara, the Curl Keep Magic can elevate the natural look of the eyes for an effortless finish. And by using it as a primer, you can add a different mascara on top that keeps for a long time.

The Curl Keep Magic billboard ad featuring NiziU will roll out at drugstores in Japan from January 16, 2021.

niko and … Launches New Cosmetic Brand tiny tiny

Japanese lifestyle editorial brand 'niko and …' launches its first-ever cosmetic line 'tiny tiny' on November 27, 2020, with only pre-sales now available. Products will hit select niko and … stores in Japan from December 12, 2020.

tiny tiny is looking to get people enjoying makeup everyday in line with the seasons which in turn they hope will have people changing their clothes.

MISSHA Cushion Foundation (PRO-COVER) ¥1,650 | Pouch Highlight ¥638 | Pouch Concealer ¥638


Pouch Eyeshadow ¥638 | Pouch Eyebrow Mascara ¥638

The line-up includes everything from base makeup like foundation and concealer to point makeup like eyeshadow, blush, and lip tint, skincare products such as face masks and hand cream, and more.

Pouch Blush | ¥638


Pouch Lip Gloss ¥638 | Pouch Lip Tint ¥638

The products come in part of a pouch series which is lightweight and stylish. The pouch lids also act conveniently as brushes.

Be sure to check out tiny tiny's minimalist cosmetic line.

Information

tiny tiny
Pre-Sale: November 27, 2020 (Online Only)

Select Stores: December 12, 2020
一部対象店舗発売:2020年12月12日(土)
Buy: niko and … / ZOZOTOWN / .st

Disney Japan to Release New Year's Themed Merchandise This Holiday Season

Walt Disney Japan has announced the release of a new collection of merchandise to celebrate the New Year which will hit Disney Japan stores on December 1, 2020. Pre-sales items will also open at select stores and on ShopDisney on November 27.

The line-up includes a selection of traditional Japanese New Year decorations and more, all with Disney motifs, like daruma dolls, kadomatsu pine decorations, and more.

<Daruma Plush Toy Sets> Mickey Mouse & Minnie Mouse or Chip & Dale – ¥2,750 Each | <Mascot Figure> Donald Duck – ¥2,750 | Shimekazari – ¥2,860 | Kadomatsu – ¥1,980 (All Before Tax)

Welcome the year with good fortune with the red and white Mickey and Minnie or Chip & Dale daruma dolls. They are sure to brighten up any house entrance or room.


Winnie the Pooh Plush (Large) ¥3,300 | Roo or Piglet – ¥1,760 | Eeyore – ¥1,980 (All Before Tax)

The faces of the Hundred Acre Wood arrive dressed in cute cow outfits to represent the Year of the Ox in 2021. Each of them is holding a bottle of milk.


Tsum Tsum Plush Toys  – ¥990 Each (Before Tax)

Disney Japan is also releasing a collection of Tsum Tsum plush toys, each of which is also dressed in cow clothing.


nuiMOs Kimono Plush Toy Set – ¥2,530 Each | Year of the Ox Costumes – ¥1,980 Each | UniBEARsity Plush Toy Costume – ¥3,630 (Before Tax)

nuiMOs and UniBEARsity have created their own New Year's plush toy outfits too in celebration of the Ox.

©Disney
©Disney. Based on the "Winnie the Pooh" works by A.A. Milne and E.H. Shepard.

Information

Release Date: December 1, 2020

Pre-sales: November 27, 2020 at Disney Store Sendai Toei Plaza, Disney Store Shibuya Koen-dori, Disney Store Kyoto Shijo Kawaramachi, Disney Store Shinsaibashi
ShopDisney Official Website: https://shopdisney.disney.co.jp/

Pokémon Cosmetic Series: Ditto Face Mask Gets Added to the Set

Monosense has announced the release of a new Pokémon Gift Set which will hit Lovisia shops and variety stores in Japan as well as online on November 26, 2020.

The Pokémon cosmetic series has been a huge success in Japan since it launched, spanning face masks, hand cream, lip cream, lip gloss, point packs, mirrors, and body gel. The face masks however have proven the most popular, having sold over 600,000 of them (as of June 2020).

Ditto gets added to the series

Pokémon Face Mask Set (Includes 5) | ¥2,150 (Before Tax)

Pokémon Trainers can keep their faces moisturised while out in the wild with this set of five face masks. The collection includes the familiar Pikachu, Mew, Eevee, and Mew masks, and adds an all-new Ditto version. Skin can get pretty dry during the cold autumn and winter months, so these made-in-Japan face masks will keep Trainers' skin moisturised thanks to the collagen, hyaluronic acid, and shea butter in them.

Pokémon Gift Set

Pokémon Gift Set (4 Versions) | ¥1,200 (Before Tax)

The Pokémon Gift Set is a single box containing hand cream as well as a hand towel which comes with an emblem of the Pokémon you decide to choose. The hand cream is made with collagen and hyaluronic acid which keeps hand soft—super effective for throwing all of those Poké Balls. The Pikachu cream is "Pure Soap" scented, Eevee is "Pink Bouquet," Psyduck is "Sweet Peony," and Mew is "Floral Shampoo."

The gift sets come in cute packaging branded in pastel colours. Who will you choose?

Select stores in Japan will bag customers' Pokémon cosmetic products in a limited-edition bag too. The perfect Pika-gift for any lover of Pokémon!

Information

Pokémon Face Mask Set / Pokémon Gift Set
Release Date: November 26, 2020
Available: Variety shops in Japan / Lovisia online website
Product Page:  https://lovisia.jp/pokemon/

SHIRO PERFUME Releases Limited-Edition Holiday 2020 Fragrances

Cosmetic brand SHIRO released two new special editions of its fragrances on November 19 for this year's holiday season.

JUST FOR YOU 50mL | ¥10,500 (Before Tax)

Smell great this holiday season with the honey floral-scented "JUST FOR YOU" and the warm and smokey, wreath and Christmas tree-inspired "HOLIDAY WREATH." Both offer completely different scents while maintaining that holiday season vibe.

HOLIDAY WREATH 50mL | ¥10,500 (Before Tax)

Whether you'll be staying at home this Christmas and still want to feel good, or will be spending it with someone people, set the mood right with a warm and welcoming fragrance.

Information

SHIRO PERFUME JUST FOR YOU
SHIRO PERFUME HOLIDAY WREATH
Released: November 19, 2020
SHIRO Official Website: https://shiro-shiro.jp/

Mickey & Friends Disney Christmas Cupcakes to be Released at Ginza Cozy Corner

Japanese confectionery company Ginza Cozy Corner is teaming up with Disney once again to release a new Christmas collection of cupcakes on December 1.

Colourful Disney treats for the holiday season

This sweet seasonal collection is inspired by Mickey & Friends and contains nine unique cupcakes which depict the characters getting ready for their Christmas party.

Disney Christmas Collection (Contains 9) | ¥2,500 (Before Tax)

Cupcakes include a Santa-hat wearing, chocolate ganache-filled Mickey cream cheese cake, a strawberry jam-filled Minnie mousse cake, a lemon and mint cream-packed, Christmas decoration-adorned Donald tart, a banana and mint cream Pluto tart, an orange cream Goofy chocolate cake, and more.

The cakes are packed in a special Disney Christmas box which is sure to catch the attention of sweet tooths this holiday season, perfect for stay-at-home Christmas parties.

Information

Disney Christmas Collection
Running: December 1, 2020 – December 25, 2020

Ginza Cozy Corner Official Website: https://www.cozycorner.co.jp/

One Piece x Shu Uemura Makeup Collection is a Pirate Girl's Dream

The second instalment of the "Shu Uemura x One Piece Collection" finally launched on November 15. The collection was first announced back in September with the first instalment released on November 1.

The special collection is inspired by the brave and heroic Luffy and the Straw Hat Pirates from One Piece, one of Japan's biggest manga and anime franchises. The second instalment welcomes a new collection of highlighters, makeup brushes, and more for the holiday season.

Shu Uemura x One Piece Collection

Fearless Crew Highlighter Gold Feast / Fearless Crew Highlighter Romance Dawn (¥5,000 Each Before Tax)

Smooth, silky highlight powder to accentuate the face. Colours include shining gold which glistens like pearls and sun-basked peach. These highlighters capture the lively energy of Nami and Robin.

Fearless Crew Premium Brush Set (¥6,500 Before Tax) | Includes: Face Brush, Cheek Brush, Eyeshadow Brush, and Eyebrow Brush

The high quality mini brush set includes a face brush, cheek brush, eyeshadow brush, and eyebrow brush. Their small sizes makes them conveniently portable for the party season. They come in a marine blue bag with the Straw Hat Pirates on the front of it.

Petal 55 Foundation Brush (¥6,000 Before Tax)

A high quality Shu Uemura brush with beautiful form and functionality crafted by the brand's makeup artists. Their foundation brushes are very popular for layering the perfect base makeup.

Wanted Gold Eyelash Curler (¥2,000 Before Tax)

Add some volume to those lashes with this golden pair of curlers equipped with a One Piece skull charm.

©Eiichiro Oda/Shueisha, Toei Animation

Toy Story's Little Green Men and Lots-o' Get Turned Into Confections at Japanese Convenience Stores

Bandai's character-inspired Japanese confectionery series Tabemas has revealed that its next batch of sweet treats will be inspired by the Little Green Men and Lots-o'-Huggin' Bear from the popular Pixar movie franchise Toy Story. The confections will hit 7-Eleven convenience stores in Japan on November 21, 2020.


Tabemas Toy Story | ¥258 Each (Before Tax)

The lovable Little Green Men and Toy Story 3's main antagonist Lots-o have been fully recreated, down to the finest details, into delicious confections. The details are well crafted you can almost hear the aliens chanting "OOOOOH" in unison! The sweets are also made with a dough called "nerikiri" which is used in making traditional Japanese wagashi sweets.

The Little Green Men are matcha flavoured while Lots-o is strawberry flavoured. Both contain Japanese bean paste, and neither use artificial colourings. Their colours comes from the original ingredients. Each sweet is also only 100kcal making is a perfect quick treat.

'Tabemas' is an abbreviation of the Japanese words taberareru masukotto, meaning 'mascots that you can eat.' It is a Japanese confectionery series that combines well-known characters and Japanese sweets made from ingredients like red bean paste, sugar and rice flour.

©Disney/Pixar

Information

Tabemas Toy Story 25th Anniversary – Little Green Man & Lots-o'-Huggin' Bear
Release Date: November 21, 2020
Available: At the chilled sweets section of 7-Eleven convenience stores in Japan

*Available while supplies last

*Stock date may differ from branch to branch

*Select stores not participating

Official Website: https://www.bandai.co.jp/candy/tabemas/toystory/  

Japan's Pixar Bullet Train Project 'GO! WAKU WAKU ADVENTURE with Pixar' Announces New Merchandise

The "GO! WAKU WAKU ADVENTURE with Pixar" project has announced its second batch of original merchandise. Let's take a look at a sample of the line-up.

About GO! WAKU WAKU ADVENTURE with PIXAR

JR Kyushu signed a promotional license agreement with Walt Disney Japan to launch the "GO! WAKU WAKU ADVENTURE with PIXAR" project, which began on September 12, 2020, and sees select shinkansen bullet trains decorated in characters from Pixar's animated filmography.

Original Merchandise – Batch ②

Pixar Torimon | ¥1,512 (Tax Included)

The Hakata Tormin is a popular souvenir confection in Fukuoka Prefecture. This collection features exclusive Pixar packaging.

Pixar Stainless Steel Bottle | ¥3,190 (Tax Included)


Pixar Mobile Battery | ¥4,180 (Tax Included) *Available online only

Two items which are must-haves when travelling are a drink bottle and a mobile battery. The Pixar stainless steel bottle holds 130ml and is perfect for keeping hot drinks during the autumn and winter season.

minimaginationTOWN Toy Story Woody Set | ¥2,480 (Tax Included)


minimaginationTOWN Toy Story Ducky & Bunny Set | ¥3,278 (Tax Included)

Cute Pixar plush toys riding the Pixar bullet train. There's also Buzz and Little Green Men designs!

Pixar Arita Ware Plate (Up design) | ¥3,080 (Tax Included) *Available online only

Little Green Men Hand Towel | ¥2,816 (Tax Included) *Available online only

Two traditional Japanese items with an Arita ware plate inspired by Up as well as hand towels which are available in navy and brown.

Original Merchandise – Batch ②

Release Date: November 13, 2020
Available: Kokura Souvenir Shop, Hakata Souvenir Shop at Hakata Station's Hakata Entrance, Hakata Souvenir Shop Dates, Hakata Souvenir Shop at Hakata Station's Shinkansen area, Oita Souvenir Shop, Kumamoto Souvenir Shop, Nagasaki Souvenir Shop, Kagoshima Souvenir Shop, Miyazaki Souvenir Shop, and elsewhere
Online Shop: https://jrk-kyushutabi.shop/html/page2.html
*Limited in stock so available while supplies last

Instagram campaign to win more original merch

©Disney/Pixar


Prize: Embroidered Pouch With Pin

The WAKU WAKU ADVENTURE Instagram Campaign will run from November 16, 2020 to January 16, 2021 for a chance for 20 people to enter to win an embroidered pouch with a pin. All they need to do is follow the official Instagram page @wakuwakuadventure and post a photo related to the project with the Japanese hashtag #わくわくアドベンチャーキャンペーン.

©Disney/Pixar

Rei Ayanami Wears Red Lipstick in Anime Collaboration With Makeup Brand KATE

Kanebo Cosmetics released a 12-second commercial titled "Rei Ayanami, Her First Lipstick" on its official YouTube channel as well as on the official Twitter and Instagram pages of makeup brand KATE on November 4, 2020.

The commercial was released to promote "KATE Red Nude Rouge (EV)," a new lipstick released in collaboration with Kanebo Cosmetics' makeup brand KATE and the Evangelion franchise. The original voice actress for Rei, Megumi Hayashibara, reprised her role in the animated trailer which was created by illustrator and animator Yoneyama Mai.

About the collaboration

KATE's slogan is "NO MORE RULES" which encourages consumers to pick the colours they want to wear themselves without being tied down by society. This concept has led them to innovate in their makeup products, and is a concept that they believe connects with Rei Ayanami from the Evangelion franchise, which is what led to this collaboration.

Online pre-orders for this limited-edition lipstick opened on November 4. The product itself will launch online next year on February 2, 2021.

Rei Ayanami, Her First Lipstick

KATE Red Rouge (EV)

The vivid red lipstick comes in a palette together with an additional cream rouge colour, a brush, and a mirror.

Join Rei Ayanami in her first lipstick by picking up your own palette by KATE.

©カラー

Kyary Pamyu Pamyu Adorns Shiseido Beauty Square in Harajuku With New Winter Look

Following her Halloween-inspired look for Shiseido Beauty Square, Japanese pop icon Kyary Pamyu Pamyu returns to the beauty facility with a new white and snowy winter look which was unveiled on Monday (November 2).

Shiseido Beauty Square

Kyary Pamyu Pamyu became the ambassador for Shiseido Beauty Square when it opened back in June. The concept of the beauty facility is centred on having people discovering their beauty, having fun, sharing experiences, and learning the latest in the scene

Winter Key Visual

Kyary's winter look for 2020 features a breathtaking headdress inspired by snowy skies, silver flowers, and powdery snow. The look was made in collaboration with top Shiseido hair  and makeup artist Tadashi Harada.

If you're stuck on what makeup to wear for winter, and are in Tokyo this holiday season, be sure to pay a visit to Shieido Beauty Square where you're sure to discover a new you.

Information

Shiseido Beauty Square

Address: WITH HARAJUKU Floor 1F, 1-14-30 Jingumae, Shibuya, Tokyo

Opening Hours: 11:00-20:00

No Fixed Holidays
TEL: 03-5413-7717

Official Website: https://beautysquare.tokyo/

*Website available in English, Japanese, and Chinese

Makanai Cosmetics To Release Adorable Pikachu Hand Cream and Lip Balm for Winter

Kagurazaka, Tokyo-based cosmetics brand Makanai Cosmetics (Makanai Cosume) is set to launch their autumn-themed yuzu citrus and honey series on November 20, 2020. The new series is coming in Pokémon-themed designs to celebrate the grand opening of the new Pokémon centre in Kanazawa on the same day.

The roots of Makanai Cosmetics can be traced to Kanazawa, making it a fitting celebration. The new Pokémon series will be available from cosmetics shops, Makanai Cosmetics Official Online shop, Pokémon centers across Japan and from the official Pokémon Center online shop.

The new yuzu citrus and honey series includes hand creams and lip balms perfect for those who suffer from dry skin and lips during the cold winter months.

Secret Recipe Hand Cream: ¥1,800 (Regular Size, 40g)/¥780 (Mini Size, 10g) *Prices Before Tax

The hand cream is made from a specially crafted recipe and includes a unique beauty ingredient called "KaESS". KaESS was discovered in a gold leaf shop in Kanazawa. It is produced from a natural paste used in the process of making gold leaf. This hand cream is one of Makanai Cosmetic's popular picks during the winter months due to its ability to lock in moisture without leaving a sticky feeling.

Yuzu Citrus and Honey Lip Balm 5g: ¥1,800 (Before Tax)

The lip balm is filled with natural ingredients such as shea butter, sunflower oil and jojoba oil to protect your lips against cold and dry conditions, leaving them softer and fuller. You can even apply the lip balm to other areas of your face and hands that are susceptible to the cold such as the tips of your fingers and below your eyes. The small size makes it easy to carry and store in a small beauty pouch.

An adorable Pikachu can be seen staring at a luscious drop of yuzu citrus on the packaging. The refreshing citrusy smell and adorable Pikachu packaging is sure to warm your heart during the cold winter months.

©2020 Pokémon. ©1995-2020 Nintendo/Creatures Inc. /GAME FREAK inc.
Pokémon, ポケットモンスター, and ポケモン are registered trademarks of Nintendo, Creatures Inc., and GAME FREAK inc.

Information

Secret Recipe Hand Cream (Pokémon Design)
Yuzu Citrus and Honey Lip Balm (Pokémon Design)
Release Date: November 20, 2020

Makanai Cosmetics Official Website: https://makanaicosmetics.co.jp/