Ciao tutti!
While we love our friends, going out can be a financial burden. Especially when you're on a school break and you hate to be home all day.
99 Fresh NY Pizza is a perfect place to enjoy lunch with your friends in Hashimoto.
A cheesy crusty delicious slice of Fresh New York Pizza only costs 99 yen!
Lunch for less than 100 yen. Very wallet friendly.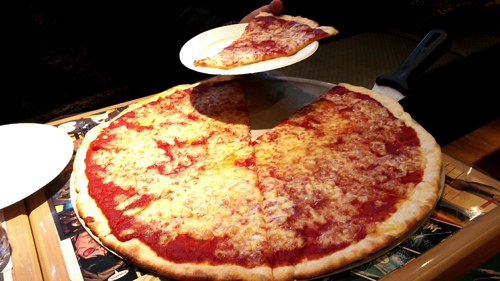 There are antique posters, pictures, and car license plates on the walls to add a pop atmosphere inside the store to create an authentic New York feeling.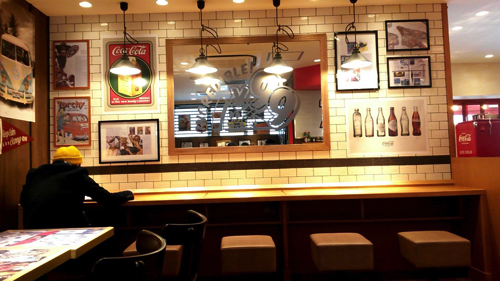 There are both tables and counters to sit and relax with your pizza.
Now you know where to come when you're broke and still want a full stomach!
Information:
Name: 99 Fresh NY Pizza
Address: 1-24 Midoriku Hashimoto 6 cchoume, Kanagawaken Sagamiharashi 252-0143 (2nd floor of Aji-no-Shokusaikan Hashimoto building)
Telephone: 042-703-0217
Open: 10am~20pm
■Writer:Jessica Poluhowich
Instagram:mintbaby
−−−
■Related article:Where All the Matcha Lovers Gather…まっちゃんの旅
■Related article:Come and Try Yummy Soba
RELATED ENTRIES
~Wild Beach~ Enjoy the best resort-filled rooftop bar and BBQ

Summer is almost here and it's time to enjoy the sun, the beach, and the food!

Who would have thought you can enjoy the resort like atmosphere in Shinjuku?

Well, Tokyo Sky Resort Wild Beach (Shinjuku) is the best place to visit when you are tired of the city and feel like relaxing.

Once the elevator door opens, you will enter a completely different zone. The area is filled with white sand, beach beds, and sofa seats, creating a tropical beach resort atmosphere.

The "Beach Café Area" offers a fashionable "French style barbecue" where you can enjoy various kinds of appetizers and drinks. At night the area is lit up with candles and lights, creating a romantic feeling.

At the private wood deck space, you can reserve the whole area and enjoy the recent trend in Japan, "glamping" (glamorous camping). There will be a glamping tent with tables, sofas, and a barbecue space to have a good time with friends and family.  There will also be a personal waitress that will be serving your food and drinks.

Try out the most popular drinks, Mango Sparkling and Peach Sparkling! They are very fruity and easy-drinking for anyone. Even the ice cubes are colored, which makes it very stylish and perfect for Instagram!

Continuing with Instagram, there are several cute photo spots inside the café. There are 3 different areas with wall art of an Angel's wing and there are also swings here that will bring back your childhood memories.

Not only can you come and BBQ with your friends on the weekend, but you can also show up after work on a weekday to refresh and have a nice relaxing time.

Reservation:

Beach Café Area with Parasol and Sofa ¥1000
Beach Café Area with Pergola Bed ¥2000
Wild BBQ ¥4500 (Kids under 10 ¥1500)
Wild BBQ for Girls Night Out ¥3900
Beach BBQ (¥5500) (Kids under 10 ¥2500)
Beach BBQ for Girls Night Out ¥4900
Luxury BBQ ¥7500 (Kids under 10 ¥3500)
Luxury BBQ for Girls Night Out ¥6900
Glamping BBQ ¥15,000 (Kids under 10 ¥5500)
Glamping BBQ for Girls Night Out ¥12,500
You can make any plan into all you can drink set with +¥1500
You must make a reservation if you are planning on going on Fridays or weekends and the reservation must be made a month prior.

There are also free café spaces where you do not need to make any reservations so feel free to come in any time!

The Tokyo Sky Resort Wild Beach (Shinjuku) will be opened until September 30th, 2017!

Writer:Jessica

■Information:

Location: Lumine EST rooftop

Address: 3-38-1, Shinjuku, Shinjuku-ku, Tokyo

Open Hours: 11:00am- 23:00pm

Phone: 070-3884-7290

Related article:Summer: The season of barbeques & beer gardens! Today we're recommending you rooftop terraces in Tokyo! (Part 8)

Related article:Feel like you're at a resort with couples' seats, swing seats and glamping at "Hankyu Top Beer Garden"

A cake shop in Kansai that is popular for its cute cat logo "Chat noir"

Are you a cat or a dog person?

Today I will show you a cake shop in Kansai that is popular for its cute cat logo.

My friend took me to this store because she fell in love with the cats.

Chat noir means "black cats" in French.

As you can see, all of these have a black cat logo somewhere on the cake.

My friend and I were standing in line for about 15 minutes because we had a hard time deciding which one to buy sense they were all super cute!

We were definitely going to buy the cake that was shaped like a cat because their eyes were literally staring at us.

This is the bag they put in and the box with the cakes inside.

The cakes were all in one box, but the staff gave us an extra bag because I was with my friend. The bag was so cute and fancy, I decided to keep it. I mean, who wouldn't keep such a cute bag?!

Another hidden cute gift was this ice pack. It has their logo front and bag. You can also keep/reuse this sense it's cute and clean!

We chose these 3 cakes. The one in the very left is a Tiramisu, the middle one is a cheesecake, and the right one is a chocolate cake.

We tried all 3 of them and my favorite was the cheesecake because it was soft and the sweetness was just right for me. The tiramisu one was a little bitter for me, but it was the perfect bitterness for my friend. My friend's favorite was the chocolate cake because it had a little coffee flavor and it was the cutest out of all the cakes from the store.

What my friend really likes about this store is that it's not so sweet and they have various types of cakes.

There are about 8 Chat noir in Osaka, and 4 of them have a café space, so I recommend you to peek in when you visit Osaka!

■Information

For more information, please visit:http://chat-noir.net/shop.php

−−−

Related article:Catch a momentary glimpse of the "cat pads"♡ "Cat paw-padded socks" will be released.

Related article:New cat items from the FELISSIMO neko section: "Floppy Ears Hair Turban" & "Indoor Cat Socks"

【Nagasaki sweets】Kasutera Ice Cream Sandwich 

Here I am in Nagasaki again!

Today I will be showing you guys a great place to buy Kasutera Ice Cream Sandwich!

Now a specialty of Nagasaki, Kasutera is a popular Japanese sweet sponge cake. The name doesn't sound Japanese because it came from the Portuguese phrase "Pao de Castela". Traditionally, there were only honey flavor, but today there are all sorts of flavors including matcha and chocolate. Kasutera is available to buy in any souvenir shops and cafes in Nagasaki.

I've had so many different flavors of Kasutera, but I never got to try Kasutera Ice, so I visited a store called New York Do. It is a 5 minute walk from Nigiwaibashi Station.

As I entered the store, there were various types of snacks and a big freezer. Inside the freezer there was Kasutera Ice! They had 6 different flavors: Basic, chocolate, strawberry, matcha, biwa, and sweet bean paste. The first one the staff pointed out was the biwa (Ioquat) flavored out so my friend got that. I knew right away that I was getting the matcha flavored one.

As I removed the Kasutera Ice from its wrapper, there was a scoop of matcha flavored ice cream sandwiched between two slices of Kasutera. The staff told us to wait 10 minutes before opening it, but we couldn't wait that we started eating it.

My advice for you is to wait 10 minutes before eating it because the ice cream wasn't melted enough for me to be able to take a bite. It is better to defrost the ice cream by putting it between your hands.

Not surprisingly, the Kasutera Ice was delicious! I think all of the ice cream goes well with the Kasutera because the cake itself tastes like honey.

If you buy just the Kasutera, you can sandwich your own favorite ice cream and make an original Kasutera ice cream!

■Information

Address: Nagasaki ken Furukawa cho 3-17

Phone: 095-822-4875

Open: 10am – 6:30pm, Sundays til 5pm.

−−−

Related article:【Nagasaki Lunch】HIKARI BURGER at Sasebo city

Related article:【NagasakiStroll】Why Not Kyushu? Come and View the Gorgeous 99 Islands

【Nagasaki Lunch】HIKARI BURGER at Sasebo city

Continuing with my Nagasaki tour, the next stop should be Hikari Burger (a.k.a SASEBO BURGER)!!!

Yes, this is what Sasebo City is known for.

Hikari opened in 1950 and is one of the oldest burger restaurants in town.

They are famous for its jumbo size burger. When I mean jumbo, it's really jumbo.

I lived here for 16 years, but I never had the chance to try it so it was actually my first day to order one!

There were all sorts of burgers: Hamburger, Cheese Burger, Bacon Burger, Fish Burger, Jumbo Chicken Burger…etc.

I decided to go with the "Special Burger". I mean, who wouldn't buy something that said "special" on it?!

There are 3 tables outside for people to sit so I waited there. It has a nice little roof to block the sun.

As my number was called, they handed me the huge special burger wrapped in a nice white cover.

The Special Burger contained: huge soft buns with chicken meat, cheese, omelet, bacon, lettuce, tomatoes, and onions.

As you can see from the picture, the egg is standing out so bright~! It was so hard to take my first bite off the burger because it was so tall. It took me 3 bites to actually get to the chicken and egg. I really liked their buns because they didn't have any sesame's and they were super soft and sweet. The combination of the chicken, egg, and the bacon are always the best. As I kept eating, first I thought the sweet flavor was from the buns, but they were actually the sauce. They rearranged the mayonnaise with some kind of spice, that the burgers actually tasted sweet! It took me a long time to finish because I've never had a burger that big in Japan.

If you miss the real American size hamburger, come to Hikari!

■Writer:Jessica

■SNS:@mintbaaby

■Information

Address::〒857-0047 Nagasaki ken, Saseboshi Yaokamachi 1-1

Open::Monday ~ Sunday 10am~20pm

Closed::Wednesday

Phone::0956-25-6685

−−−

Related article:【NagasakiStroll】Why Not Kyushu? Come and View the Gorgeous 99 Islands

Celebrate Meat Day with a Slice of Beefcake at Gyu-Kaku!

Japanese "yakiniku" barbecue restaurant Gyu-Kaku is the perfect place to celebrate "meat day" which takes place on March 29 in honour of the fact that the Japanese for meat is "niku", also a way to pronounce 2-9. Knowing how much their customers love their meat, the store has come up an amusing way to celebrate by building a romantic cake out of slices of raw meat carnivorous diners can enjoy throwing on the barbecue.

The celebration meat cakes have been available as a part of the regular menu at every Gyu-Kaku branch since March 8 retailing for 4980 yen and include some of the best cuts of meat the restaurant has to offer including "Galbi" Korean-style ribs, Wagyu misuji, and special top grade Wagyu Galbi.

【NagasakiStroll】Why Not Kyushu? Come and View the Gorgeous 99 Islands

Tokyo, Kyoto, Nara, Osaka… A majority of tourists would always start and end their Japan trip within these prefectures. These prefectures are very lovely places, but why not come sightseeing in Kyushu! If you want to experience something different from other tourists, Nagasaki would be a great place to visit.

In Kyushu there are many wonderful prefectures like Kumamoto for the castle, Oita for onsens, Fukuoka for ramen, and then comes Nagasaki. Today I will show you one of my favorite places of all in Nagasaki prefecture.

Look at this amazing view, full of green and blue. Can you count how many islands there are in this photo? There are about 17 islands within this picture, but there are actually more than 200 islands!

This place is called 99 Island Pearl Sea Resort (Kujyu-kushima). 99 refers to "many", and there are actually 208 islands.

Pearl Sea Resort offers a fantastic way to enjoy the view of these beautiful islands.

They have a harbor offering sightseeing boats, the elegant boat Pearl Queen, and the colorful vessel, Mirai that will cruise around the islands.

You can enjoy the cruise both below and above decks on the boats. I enjoyed being outside, especially at the top of the deck where I could feel the breeze. We cruised around numerous islands and were able to see oyster rafts for pearl cultivation and ducks that were swimming nearby.

Adult: ¥ 1440

Child: ¥ 700

You can also enjoy various types of marine life found in the local waters at Umikirara Aquarium! Entrance is ¥ 1440 for adults (¥ 720 children).

 

Last but not least, my most favorite spot!

There is a natural land bridge created by blocks of stones by the beach where you can walk across on the days at special low tides. It only happens once or twice every month so if you're lucky, you might be able to walk on the bridge to the mini gate at the end of the land bridge!

■Writer:Jessica

■SNS:mintbaaby / instagram

■Information:

99 Island Pearl Sea Resort

Address: 1008 Saseboshi Kashimaechou Nagasakiken 858-0922

Telephone: 0956-28-4187

Access: 25min by bus from JR Sasebo Station.

WEB:http://www.pearlsea.jp/english/

−−−

■Related article:Scarlett's Kawaii Kyushu Part 1: Beppu

■Related article:Scarlett's Kawaii Kyushu Part 2: Kumamoto

Japanese Winter Snack-Sweet Potato

When it becomes winter in Japan, you will start to see various types of satsumaimo (sweet potato) flavored snacks.

You will also hear music from small trucks that are selling ishi-yaki-imo: "Ishi-ya-ki-imo~….yaki-imo~ yakitate~".

Since the 18th century, ishi-yaki-imo (stone roasted sweet potato) has traditionally been eaten in Japan as a snack.

When my friend and I were adventuring around Asakusa, we found an ishi-yaki-imo store called Amakara Enishi.

The owner gave us a sample of yaki-imo and it was so sweet and soft that there was no way we were going to leave there without buying one.

The price is decided according to the weight of the yaki-imo. It was ¥200 per 100g.

We chose a medium sized one and it was only ¥400. The owner halved it so we could share one.

The yaki-imo was soft and the inside was golden!

Sweet mild flavor made me feel like I was eating caramel…Ofcourse without the chewiness. One of the best yaki-imo I had in my life.Apparently, this yaki-imo would still taste delicious even if it cooled down.

The owner told us that they were on TV last week, so I would recommend you to visit before it gets super crowded!!

Come out and try this sweet sweet potato and enjoy the last few days of winter in Japan!

Writer:Jessica

SNS:@mintbaaby / Instagram

■Information

Webpage: http://www.amakaraenisi.net/home1

Address: 1 Taitouku Asakusa Tokyoto 29-8

Telephone: 03-3810-6327

Open: 8:30am to 19:30pm

The Starbucks Japan Limited Menu (Spring Version)

The worldwide famous coffee shop, Starbucks, has different types of drink menus for each country.

Japan has loads of limited seasonal specials, and now spring (cherry blossom) season is among us!

Starbucks began selling sakura flavored Frappuccino! (FYI sakura is cherry blossom in Japanese).

You have a choice of Frappuccino or latte. Since it's still cold in Japan, people tend to order the latte version, but I decided to go with Frappuccino.

It's very pink even at the top. They decorated the whip cream topping with pink sprinkles and pink crisped rice flakes.

The sakura aroma reaches the nose when I put the straw in my mouth.

I'm having a very hard time to describe what it tastes like, but it tastes very floral. Sakura is very hard to explain, but I guess it kind of tastes like strawberries with fewer flavors.

There were so many rice flakes in the Frappuccino, that it reminded me of eating a sakura flavored crunch bar.

The Sakura Frappuccino will be sold until March 14th.

Now they are giving out coasters with cute cherry blossom designs on it. By accessing the website with the QR code on the coaster, you can take pictures with a special spring starbucks frame!

Let's go to Starbucks!

■Writer:Jessica

■SNS:@mintbaaby

■Information

SAKURA Blossom Cream Frappuccino®

【Tokyo Dinner】We love Avocado♡ Let's go to the Avocafe in Jinbocho

One of my friends is very obsessed with avocadoes so we decided to look for restaurants with avocado dishes.

We decided to go to this café called Avocafe because the name was very catchy, but I couldn't imagine what type of dishes they served there.

It's located in Jinbocho. It's about a 5 minute walk from jimbocho station, but since it was located in a narrow alley, it took us about 10 minutes to find the café.

The entrance was very cute. They were very crafty with multiple posters of avocados.

The menu was very small and it had 6 different dishes. I had a hard time deciding between avocado thai curry or the daily special menu. I didn't want to smell spicy afterwards, so I decided to choose daily special menu.

All the dishes came with a soup and a drink.

The daily special was Avocado with Negitoro and Okura-Tororo. It was very Japanese. As you can see, there was shoyu and wasabi on the side. With those sides, it was similar to sushi.

They had so many sliced avocadoes on the rice. I think they used one whole avocado per dish.

It was an adventure for me because I've never had avocado with rice before. I've never even tried those avocado shrimp sushi they have at sushi-go-rounds.

The rice and avocado combination wasn't bad at all! The wasabi and shoyu made me feel like I was eating sushi, but bigger in size. Now I have to try avocado shrimp sushi…

I would come back here again because I'm actually curious about the avocado curry. What would that look/taste like?

Those who miss eating avocadoes, especially if you're from the western part of the U.S, come enjoy various types of avocado dishes at Avocafe!

■Writer:Jessica

■SNS:mintbaaby

■Information

Avocafe

Address: Tokyoto Chiyodaku Jimbochou 1choume2-9, 101-0051

Phone: 03-5281-6177

Open: Monday~Friday 11:30am~15:00pm, 18:00pm~22:30pm

Weekends: 12:00pm~22:00pm

https://tabelog.com/tokyo/A1310/A131003/13042695/

−−−

■Related article:Enjoy the authentic taste along on the Chuou railroad line

■Related article:【TokyoCafe】At the heart of trendy Omotesando sits the old, unchanged Café Casa. Take a bite into the past and try the must-eat hotcakes!

 

【Tokyo Cafe】 Where all the matcha lovers gather…まっちゃんの旅 Part II

Hello again to all the Matchans!

Today I will be showing you a restaurant that's famous for their matcha fondue.

Japan is so amazing and unique. Who would've thought of starting a matcha fondue restaurant?

The restaurant is called Saryo, and it's about a 7 minute walk from Kagurazaka station.

You can enjoy eating inside or at the open roof terrace seats.

There was already a long line on the day I went, even though it was a weekday.

While waiting, the waitress handed us a menu and a blanket to keep us warm.

I thought they would only have matcha, but there were also regular meals on the menu too.

Of course my friend and I ordered the matcha fondue~!

We were able to order the set menu with drinks, but it was so hard for us to decide which drink to order.  I'm pretty sure the menu offered more than 30 different types of drinks to choose from.

My friend went with the sweet fruit tea, and I ordered the premium matcha latte.

The matcha latte tasted more bitter than I imagined, but it was very delicious.

Then came the matcha fondue!! The fondue sauce is made with matcha and white chocolate and it came with strawberries, shiratama rice balls, jello, ice cream and crackers.

The crunchy crackers and chewy shiratama balls were the best match with the deep bittersweet matcha. I couldn't stop dipping them in the fondue.

It also came with vanilla ice cream, but it melted really fast so I would recommend you to eat that first.

I wanted to try the matcha fondue itself so I started eating it with a spoon. I couldn't stop eating it as you can see…

Kagurazaka was pretty far from my home, but this long train ride still paid off handsomely when I came here!

Matcha hunting to be continued….

■Writer:Jessica

■SNS:@mintbaaby /Instagram

Information:

Name: Saryo

Address: 5-9 Tokyoto Shinjukuku Kagurazaka 162-0825

Telephone: 03-3266-0880

Open: 11:30am~22:00pm

—

■Related article:Where All the Matcha Lovers Gather…まっちゃんの旅

■Related article:Come and Try Yummy Soba

Easily accessible from Shinjuku! Mount Takao (Takaosan), Enjoy the Nature in Tokyo!

How about spending some time in the nature? Takaosan is one of the closest natural recreation areas in Tokyo, and it is only about 50 minutes away from Shinjuku station.

AccsessKeio Railways offer the cheapest and fastest connections to Mount Takao. Takaosanguchi Station, the train's terminal station, is located at the foot of the mountain.

Takaosan is considered a sacred mountain, and has been a center of mountain worship for more than 1000 years. There are several temples and you will have the chance to view monks going through ascetic trainings at Biwa Waterfall.

Takaosan is 599m high and there are 6 different trails you can hike to the summit. It takes about 90 minutes to hike from the base of the mountain to the top. You are able to utilize cable cars and chair lifts that lead halfway up the mountain.

My friends and I decided to take the 6th trail, which is considered to be one of the roughest trails because it has stepping stones and runs along the stream.

After hiking about 5 minutes, you'll see several stone Buddhist images wearing a red hat called a Senshin Shichifukujin.

Then you'll see Biwataki waterfall which requires you to take the left trail branch at the intersection.

After viewing the waterfall, you will enter a slippery narrow trail. It started snowing on the day we hiked so it was even more slippery. Make sure to wear shoes with good trends.

There is a resting place near Daisanbashi Bridge after the narrow trail. Here my friends and I ate some chocolate and granola bars and drank some water. It's very important to keep yourselves hydrated.

After hiking for about 40 minutes the trail ascended the valley. Then there are stepping stones at intervals. It started snowing harder here and the view was beautiful.

After the stepping stones, the trail gets gentle until you reach the stairs. Many people took a rest in this area because there are more than 100 steps.

After the steps, you will reach a wide open road and after hiking for another 10 to 15 minutes you will get to the top!

At the top there is a mini soba and udon restaurant where you can rest and eat.

My friends and I were going to cancel our trip due to the snow, but we were actually glad we went because the view was spectacular. You can always climb the Takaosan on a sunny day, but you won't have that many chances to see the snow covered Takaosan!

■Writer:Jessica Poluhowich

■SNS:@mintbaaby

When someone turns 20 years old in Japan, they are considered to be 成人(Seijin), an "adult". Coming of Age Day is one of the Japanese holidays held every second Monday in January. In Japan, 20 years old is special, like sweet 16 in America.

On this day, a ceremony, 成人式(Seijinshiki) is held in the morning at local city offices to bless, encourage, and congratulate all the young people who have become adults. Every district is a little different, but there are taiko performances, yosakoi dance, and government officials give speeches at the ceremony.

You will see numerous girls wearing gorgeous 振袖(furisode) around the city. Many girls would make an appointment at beauty salons to dress up and to set their hair. Girls wear furisode, a style of kimono with long sleeves, and zori sandals. Wearing furisode symbolizes a fresh start in your life. Men either wear a kimono with hakama, a traditional trouser, or a suit and a tie. 

This was the furisode set and zori sandals I wore to seijinshiki last year. It is quite expensive so many people either rent one, or buy one and reuse it with your siblings. The store lets you choose full set, including furisode, obi, fukuro-obi, obi-jime, bag, hair accessories, and zori sandals.

Today, many people take 前撮り(maedori), a pre-photoshoot for the coming of age ceremony at a studio. You have the opportunity to send your family and relatives the photo or you can even create a mini album to look back on in the future.

This is one of my maedori. The cameraman would hand you various props like the umbrella, hagoita, a bench, etc and they would take millions of photos from different angles. 

After the ceremony, the young adults often go to after parties with their close friends or high school/middle school classmates.

I think it would be a great opportunity to come to Japan in January to see young Japanese people wearing traditional clothes. I would recommend you to visit the big cities like Shibuya, Harajuku, and Shinjuku to take photos, or come and visit when you turn 20 so YOU can wear a furisode! 

■Writer:Jessica Poluhowich

Instagram:mintbaby

−−−

■Related article:Girls Night Out, No クリボッチ(Kuribocchi)!

■Related article:Come and Try Yummy Soba