Starbucks Japan Unveils Santa Boots Chocolate Frappuccino® With Edible Straw
Starbucks Japan has revealed its drink in its line of holiday season beverages for 2019. The Santa Boots Chocolate Frappuccino® will be released at Starbucks branches across Japan on December 4, but will receive an early release at four branches in Shibuya on December 3.
The best moment during Christmastime is when you open a present. This drink is inspired by the candy and gift-stuffed stockings from childhood.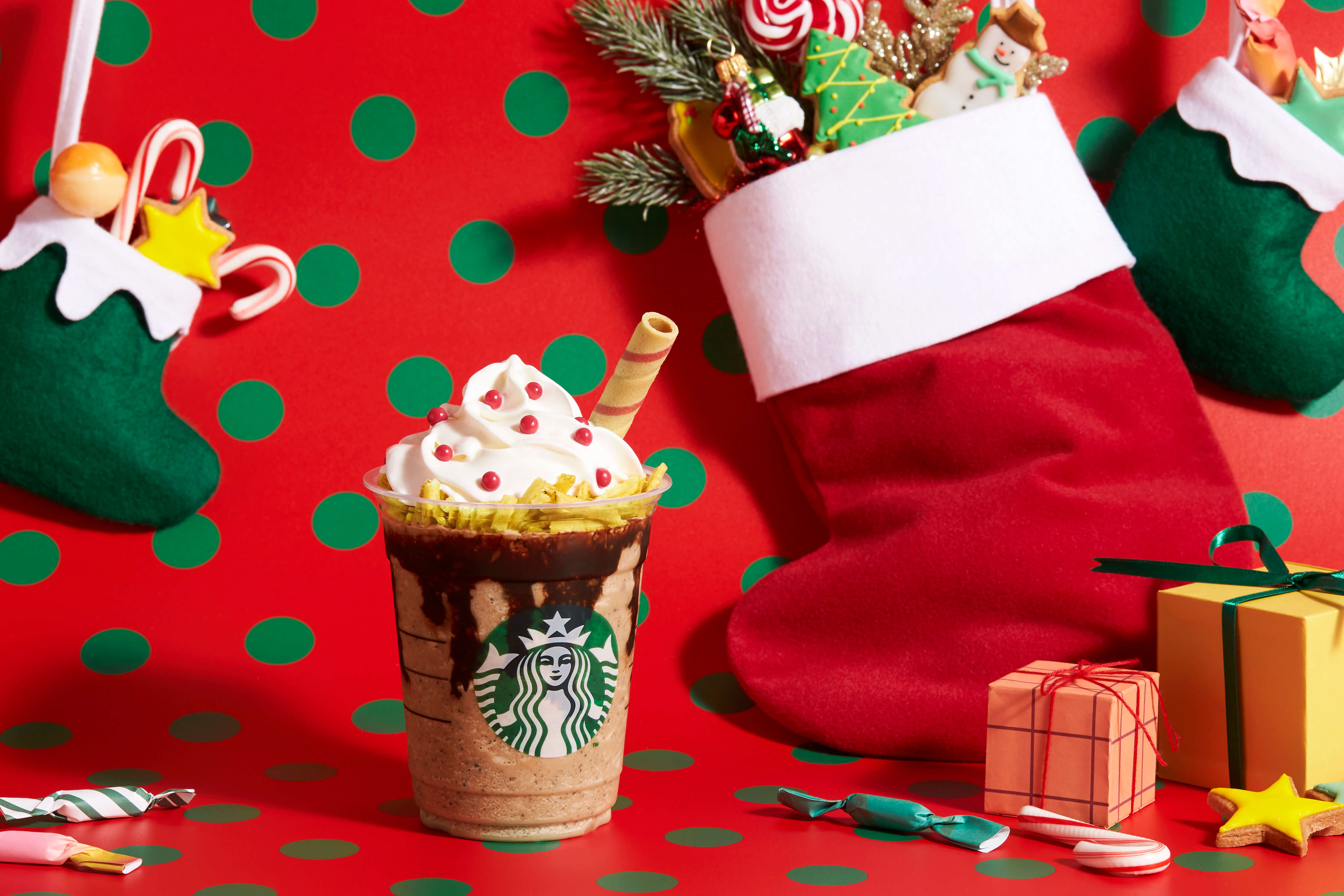 The drink contains everybody's favourite indulging ingredients: chocolate, cookies, and potato chips. The base of the drink is filled with dipping chocolate sauce and crunchy chocolate chips. The potato chips on top add a delicious salty flavour to the sweetness.
The drink is closed off with a squirt of snow-white whipped cream covered in red chocolate balls and an edible cookie straw. Suck up all of those delicious flavours through the straw and then enjoy munching on it afterwards, ensuring nothing goes to waste. A perfect beverage to enjoy this holiday season!
Information
Santa Boots Chocolate Frappuccino®
Price: Tall ¥690 (Before Tax) *Tall size only
Running: December 4, 2019 – December 25, 2019
Available: At most Starbucks branches in Japan
Shibuya Pre-Sale On December 3, 2019
・Starbucks Shibuya cocoti (cocoti SHIBUYA, 1-23-16 Shibuya, Shibuya Ward, Tokyo)
・Starbucks Shibuya MODI (1-21-3 Jinnan, Shibuya, Tokyo)
・Starbucks Shibuya Koen-dori (Shibuya Koen-dori JN Bldg. 1F, 1-7-5 Jinnan, Shibuya, Tokyo)
・Starbucks Shibuya Fire-dori (1-21-10 Jinnan, Shibuya, Tokyo)
Starbucks Coffee Japan Official Website: https://www.starbucks.co.jp/
RECOMMENDED ENTRIES
Starbucks Japan Releases Merry Strawberry Cake Frappuccino

The holiday season has finally hit Starbucks in Japan, and for the first drink in their series of Christmas beverages, they are serving the new Merry Strawberry Cake Frappuccino which is made to look and taste like a strawberry cake. Customers can even customise their drinks with as much free strawberry sauce as they like.

Merry Strawberry Cake Frappuccino – Tall ¥590 w/ Free Strawberry Sauce (*Sauce not available with other drinks)

The drink is built on sponge cake flavoured base, on top of which sits ascending layers of bright-red strawberry sauce, whipped cream, and a sprinkling of freeze-dried strawberries, effectively creating a dessert that you can drink. One sip of this pink delight fills your mouth with the sweet and refreshing taste of fresh fruity strawberries.

We recommend customising yours with non-fat milk or soy milk. If you want to hold back on some of the sweetness, go for the non-fat milk option, and if you want something smoother, get the soy milk. Drizzle over additional strawberry sauce to your liking, and you've got yourself a festive treat for the season!

Information

Merry Strawberry Cake Frappuccino

Released: November 9, 2019

Available: At most Starbucks branches in Japan while supplies last

Official Website: https://www.starbucks.co.jp/

McDonald's Releases Luxuriously Chocolatey Winter Drinks

McDonald's McCafé by Barista serves up delicious coffee around the clock. From November 27, a heart-warming, chocolatey lineup will be arriving in McDonald's restaurants across the country which own a McCafé by Barista. The four new drinks to spice up your winter are: the Premium White Chocolate Frappé, Premium Chocolate Frappé, Premium Hot Chocolate and the Premium Iced Chocolate.


Whether it's a frappé, hot drink or an iced drink, pick your favourite to match your mood.


The Premium White Chocolate Frappé consists of white chocolate sauce and milk mixed with smashed pieces of chocolate. The drink is topped with whipped cream and chocolate sauce made from high-quality couverture chocolate. Finally, two chocolate sticks garnish the drink.White chocolate shavings dust the drink, creating the wonderfully wintery image of snow. Take a sip of this high-quality, Instagram-worthy drink to enjoy the chocolate melt in your mouth. The pieces of chocolate floating in the drink will add a wonderful texture to your experience.

From the left: Premium Iced Chocolate, Premium White Chocolate Frappé, Premium Chocolate Frappé, Premium Hot Chocolate.

 

The Premium Chocolate Frappés, Premium Hot Chocolate and Premium Iced Chocolate drinks are just as luxurious as the Premium White Chocolate Frappé and enjoy the same beautiful toppings.

 

Get in the winter spirit with one of McCafé by Barista's luxurious, winter-limited drinks.  

*The above images are not real and are representations of what the drink will look like. 

Information

Premium White Chocolate Frappé 

Price: ¥490 (M), ¥530 (L) 

Available: November 27 – mid December 2019 (Subject to change)

Premium Chocolate Frappé 

Price: ¥490 (M), ¥530 (L)

Premium Hot Chocolate 

Price: ¥450 (M)

Premium Iced Chocolate 

Price: ¥450 (M)

Available: November 27 – mid January 2020 (Subject to change)

*All prices above are tax included.

*Available to purchase from McDonald's restaurants across Japan which have a McCafé by Barista.

*Find out more information about McDonald's restaurants on their official store locator: http://www.mcdonalds.co.jp/coffee/top.php

*The drinks can only be purchased during McCafé by Barista running times. The running times vary from restaurant to restaurant.

No Chocoholic Can Resist Lindt's New Nutty Caramel Chocolate Drinks

Since being founded in 1845, Lindt has carried its reputation as a Swiss brand of chocolate throughout the centuries, capturing the hearts of chocoholics in over 120 countries across the world. Lindt will be releasing a brand new chocolate drink on December 1, 2019 across Japan. The chocolate drink will be available in hot and cold and is made using an irresistible Gianduia chocolate hazelnut spread.

Both the hot and cold versions of the drink contain Lindt's signature melt-in-the-mouth milk chocolate which is mixed with luxurious hazelnut praline paste. The praline paste is made from roasted hazelnuts fused into delicious caramel. Once the aroma of both roasted hazelnuts and caramel entices you to take a sip, the rich flavour will spread through your mouth and you won't be able to stop.

The drinks are topped with a fluffy chocolate and whipped cream combination and chocolate flakes which add a wonderful texture. The finishing touches on the drink consist of a drizzle of hazelnut praline sauce and a sprinkle of chopped hazelnuts. The wavy water pattern that can be seen decorating the iced chocolate drink can be mixed into the drink and enjoyed. If you're looking for a quick chocolatey refresh, the iced chocolate drink is perfect for you. For those of you who succumb to the winter chills, the hot chocolate drink will warm you up right away.

Once the fragrance of these drinks reaches your nose, no chocoholic will be able to resist.

Information

Lindt Iced Chocolate Drink Gianduia 

Lindt Hot Chocolate Drink Gianduia 

Price: ¥699 (After Tax)

Release: December 1, 2019 (to sell throughout the year)

Purchasable from all Lindt Chocolate Cafés in Japan.

Lindt Japan Official Website: https://www.lindt.jp/
RELATED ENTRIES
Starbucks Japan to Release Koshu Inden Lacquer Coffee Cup Sleeve in Yamanashi

Starbucks Coffee Japan has announced that the 14th entry to their "JIMOTO made SERIES" will be a new 296ml coffee cup which comes with a koshu inden lacquer sleeve. The item will be released exclusively in Yamanashi Prefecture at 8 Starbucks branches.

JIMOTO made Series KOSHU – 296ml Cup With Koshu Inden Sleeve | ¥8,200 (Before Tax)

Inden no Yamamoto

The "JIMOTO made Series" is a collection of unique products by Starbucks Japan that incorporate the local resources and traditional craftsmanship from each region across the country, and as such are sold exclusively at branches in those regions. The line-up showcases the various designs particular to the regions. The series began in December 2015.

The new JIMOTO made Series KOSHU is made in collaboration with Japan's only shop—which is located in Yamanashi—that holds an official title to manufacture koshu inden, a traditional style of leathercraft in which the artisans use lacquer to pain designs on deerskin. The coffee cup sleeve's design incorporates numerous motifs related to Yamanashi Prefecture, such as the Takeda clan crest, the cherry blossoms of Mount Fuji, the Japanese bush warbler, and of course coffee beans as part of the collaboration with Starbucks.

Do you own any of the collectables in the JIMOTO made Series? Be sure to find out if a Starbucks you're visiting while in Japan is part of the series.

Information

Starbucks JIMOTO made Series KOSHU – 296ml Cup With Koshu Inden Sleeve

Japanese Product Name: 甲州印伝スリーブ付カップ 296ml
Released: January 27, 2021

Price: ¥8,200 (Before Tax)

Available: At the following Yamanashi Prefecture branches of Starbucks: Laza Walk, Kofu Wado-dori, Kofu River City, AEON Mall Kofu Showa Floor 1F,  AEON Mall Kofu Showa Floor 3F, Kofu Alps-dori, University of Yamanashi Hospital, Kofu Heiwa-dori
Official Website: https://www.starbucks.co.jp/jimoto/

Starbucks Japan's Valentine's Beverages Are a Loving Chocolatey Treat

Starbucks Coffee Japan is starting Valentine's Day early with a line-up of three chocolatey drinks inspired by the day of love that will begin being served in Japan from January 20, 2021.

The first two drinks to arrive are the Melty Raw Chocolate Frappuccino®︎ and Melty Raw Chocolate Mocha. The third and final drink, the Chocolate On The Chocolate Frappuccino®︎, will hit coffee branches on January 27.

Melty Raw Chocolate Frappuccino®︎ | Tall ¥590 (Tall size only)
Melty Raw Chocolate Mocha | Short ¥450 / Tall ¥490 / Grande ¥530 / Ventii®︎ ¥570

Coffee couples can look forward to sipping on the Melty Raw Chocolate Frappuccino®︎, a rich drink made with velvety fresh cream, smooth chocolate cubes, a drizzle of raw chocolate sauce, and topping of red-coloured chocolates shaped like love hearts. If they're looking for something to keep them snugged up warm and cosy this winter, then the Melty Raw Chocolate Mocha is the one to go for, a twist on the classic caffè mocha that contains chocolate cubes that slowly melt into the drink.

Chocolate On The Chocolate Frappuccino®︎ | Tall ¥620 (Tall size only)

If you're really craving chocolate during Starbucks's Valentine's season, then you'll want to order the Chocolate On The Chocolate Frappuccino®︎, a mountainous drink loaded with three kinds of chocolate. Crushed chocolate biscuit, chocolate cubes, brownie and cake-like chocolates, and more. Mix it all together for a tasty experience that's sure to have you falling in love – whether with the drink or your date!

Classic Chocolate Cake | ¥440


Ruby Chocolate Cake | ¥540

Valentine's Day wouldn't be complete without some delicious desserts. Starbucks has prepared a classic chocolate cake. Simple but tasty and pairs perfectly with a cup of Starbucks Caffè Verona. The ruby chocolate cake is love at first sight, a fruity delight that comes as Starbucks Japan's first dessert to be made with ruby chocolate – the fourth type of chocolate alongside milk, dark, and white.

Information

Starbucks Valentine
Running: January 20, 2021 – February 14, 2021
*Chocolate On The Chocolate Frappuccino®︎ available from January 27

Available: Starbucks Japan (Select branches not participating)

Starbucks Japan Reveals Earl Grey Honey Whip Frappuccino®and 3 New Tea Lattes

Starbucks Coffee Japan is pouring four new beverages into its ongoing winter beverage series starting on December 26: the Earl Grey Honey Whip Frappuccino®, Earl Grey Honey Whip Tea Latte, Chai & Whip Chocolate Tea Latte, and Houjicha Cream Tea Latte.

Fragrant Frappuccino® combining Earl Grey and sweet honey

Earl Grey Honey Whip Frappuccino®: Tall ¥590 (Tall Size Only)
Earl Grey Honey Whip Tea Latte (Hot Only): Short ¥450 / Tall ¥490 / Grande ¥530 / Venti® ¥570

Serving: December 26, 2020 – January 19, 2021

What better way to enjoy the winter season than with a cup of the Starbucks Earl Grey Honey Whip Frappuccino® or Earl Grey Honey Whip Tea Latte, both of which fuse the fragrant and elegant flavour of Earl grey with refreshing milk, sweet honey, and a topped of whipped cream. Both beverages are finished with a snow-dusting of white chocolate flakes.

Tea, tea, tea! Three tea lattes with distinct flavours

Earl Grey Honey Whip Tea Latte (Hot Only): Short ¥450 / Tall ¥490 / Grande ¥530 / Venti® ¥570

Chai & Whip Chocolate Tea Latte (Hot Only): Short ¥450 / Tall ¥490 / Grande ¥530 / Venti® ¥570

Houjicha Cream Tea Latte: Short ¥430 / Tall ¥470 / Grande ¥510 / Venti® ¥550
Serving: December 26, 2020 – January 19, 2021

As well as the Earl Grey Honey Whip Tea Latte, there's the spicy Chai & Whip Chocolate Tea Latte topped with white chocolate and nutmeg as well as the Houjicha Cream Tea Latte which contains houjicha tea, white chocolate syrup, and whipped cream dusted with brown sugar. The mix of tea and milk makes for a harmonious indulgence.

Butterscotch Latte returns for winter

Butterscotch Latte (Hot/Iced): Short ¥420 / Tall ¥460 / Grande ¥500 / Venti® ¥540
Serving: December 26, 2020 – March 16, 2021

Taking inspiration from Starbucks Reserve® Roastery Tokyo, all Starbucks branches in Japan will serve the Butterscotch Latte, using different ingredients from Roastery Tokyo, a combination of rich buttery and caramelly butterscotch sauce, a shot of espresso, and steamed milk.

Shizuoka's Strawberry Cafe Ichigo BonBonBERRY ATAMIHOUSE. Releases Winter Menu

Ichigo BonBonBERRY ATAMIHOUSE. is the first cafe to open in Atami specialising exclusively in strawberry desserts. This Christmas, the cafe is serving up a new Christmas cake, winter afternoon tea set, and strawberry milk beverage, all of which hit the menu on Friday (December 4).

Hitorijime Christmas Cake | ¥1,000 (Before Tax) *Comes with drink

A dreamy Christmas cake for one loaded with cream and sweet strawberries. There's a strawberry on top and more in the middle squished between soft sponge.

Winter Afternoon Set | ¥1,200 (Before Tax)

The cafe has turned its popular afternoon tea into a wintertime version for Christmas, served with a mini bavarois in the shape of a strawberry, strawberry ice cream, melty fondant chocolate, and a rum raisin chocolate tiramisu. A delightful combination of sweet, tangy, and rich flavours.

Hot Strawberry Milk | ¥400 (Before Tax)

A hot strawberry milk to feel cosy in the cold winter weather, topped with plenty of cream and a sprinkling of strawberry powder. Enjoy it as it is or mix together for a creamier beverage.

The winter menu is seasonal and so will only be available this wintertime.

Information

Ichigo BonBonBERRY ATAMIHOUSE.
Address: 3-16 Tawarahonchō, Atami, Shizuoka
Opening Hours: 10:00-18:00
Access: 2-minutes from Atami Station (JR Line side)
Official Website: http://www.atami-bonbonberry.com

Sarutahiko Coffee Releases Pistachio and Mixed Berry Coffee Beverage For Christmas

Sarutahiko Coffee released a Christmas-exclusive seasonal flavour of its popular Jellatte dessert drink on Tuesday (December 1) which it's calling the "Maroron Merry Pudding Jellatte."

Maroron Merry Pudding Jellatte | ¥750 (Before Tax)

The beverage is the second in this year's Christmas themed drinks to be released by Sarutahiko Coffee. It uses a coffee jelly base made from Ethiopian coffee beans and contains layers of mascarpone cheese from Italy, a chocolate sauce made from Cacao Hunters chocolate, milk pudding, four kinds of mixed berry jellies, pistachio milk pudding, milk foam, and to top it all off, chocolate pieces and pistachios.

The pistachio and mascarpone bring a richness to the dessert drink which blends deliciously with the freshness of the berries and full-bodied coffee for a combination that's like a warm and cosy Christmas hug.

Information

Maroron Merry Pudding Jellatte
Serving: December 1, 2020 – December 25, 2020
Available: Sarutahiko Coffee in Japan
Official Website: https://sarutahiko.co

Sanrio's Little Twin Stars Kiki & Lala Light Up Shinjuku With TWINKLE COLOR CHRISTMAS Illumination Event

Sanrio's beloved character pair Kiki & Lala, also known as the Little Twin Stars, are hosting a special winter event titled "TWINKLE COLOR CHRISTMAS" at Shinjuku Southern Terrace from December 1 to 25, illuminating the area with beautiful Christmas lights, as part of their 45th anniversary.

Kiki & Lala's twinkling Christmas tree magical in the daytime and night time

The towering 4-meter tall Christmas Tree is decorated in countless mirror balls which reflect beautifully both during the day from the sun and at night with Kiki & Lala's illuminations. A special light show is also taking place from 16:30 each day with Christmas songs.


Decorated around the tree are Kiki & Lala neon signs and pastel-coloured adornments.

Those unable to visit Shinjuku this Christmas can access the "TWINKLE COLOR CHRISTMAS AR TREE" digitally This will have Kiki & Lala's Christmas tree appear on your phone when taking photos. You can access it here.

Kiki & Lala treats at the Sanrio Cafe Wagon

Limited time menu

45th Anniversary Items

On weekends, as well as from December 19 up to Christmas Day, a food wagon will make an appearance at the event serving Kiki & Lala food and drink like the pink and fruity Ruby Chocolate Latte and fruit-filled Twinkle Crepe.

©'76,'20 SANRIO 著作(株)サンリオ

Information

Little Twin Stars x Shinjuku Southern Terrace TWINKLE COLOR CHRISTMAS
Running: December 1, 2020 – December 25, 2020
Tree Light-Up Schedule: December 1 = 17:00-24:00 / December 2-24 = 16:30~24:00 / December 25 = 16:30-21:00
Address: 2-2-1 Yoyogi, Shinjuku, Tokyo
Entry: Free
Official Website: https://www.sanrio.co.jp/news/ts-odakyu-twinkle-color-christmas-20201119/

Japan's Moomin Cafe Releases Christmas Takeout Food For the 2020 Holiday Season

Moomin Cafe branches around Japan, which are themed on the Swedish fairy-tale Moomin books, released their Christmas menu on November 20.


Moomin Cafe Winter Season Menu | ¥4,800 (Before Tax) *Photo is a portion for 2


The seasonal menu is a very special set containing a burger, chicken, salmon milk soup, raspberry juice (which is adored by the Moomin family), and more, so you can eat heartily like the Moomins this winter.

Souvenir Cup (2 Designs)

Visitors can also order a dessert and choose from two different mugs. Takeout is available at each of the cafes so you enjoy a Moomin Christmas at home.

Table reservations are available via the Moomin Cafe website so customers can ensure they can get booked in during the busy holiday season.

If you're in Japan for Christmas then don't miss out on a visit to the Moomin cafe.

©Moomin Characters TM

Cheese Tea Shop machi machi Showcases Christmas 2020 Beverage

Taiwanese cheese tea shop machi machi is releasing a new drink in Japan this holiday season on December 1: the 'Flurry Strawberry Milk With Crème Brûlée.'

machi machi is an extremely popular cheese tea chain in Taiwan that has been called the 'king of cheese tea' by Taiwanese news outlets. Each and every cup poured is made fresh with tea from Taiwan to which rich cream cheese is added for a salty kick, creating a new kind of dessert drink.

Flurry Strawberry Milk With Crème Brûlée | ¥750 (Before Tax)


The new Christmas beverage being served in Japan uses fresh strawberries which adds a delightful sweetness to the milk. It's topped with crushed Oreos and combined with crème brûlée for a variety of layered flavours. The Oreos add crunch to the dessert drink so that it's a delicious experience down to the last sip.

If you've never had Taiwanese cheese tea, and are in Japan this Christmas, don't miss out on this seasonal drink, available for the whole month of December.

Information

Flurry Strawberry Milk With Crème Brûlée
Serving: December 1, 2020 – December 31, 2020
Available: machi machi stores in Japan
Official Website: https://machimachi.baycrews.co.jp

Karuizawa Shiraito Falls Midwinter Light Up Arrives For 2020-2021

Shiraito Highland Way has announced that this year's Karuizawa Shiraito Falls Midwinter Light Up will run from December 19, 2020 to February 14, 2021.

The illumination event will take place at Karuizawa Shiraito Falls, a 3-meter tall waterfall that spans 70-meters in length. The lights will add a warmth to the cool evening and glow under a starry night sky.

The event creates a different atmosphere from the summer light-up, allowing visitors to enjoy the enveloping nature in a way that they normally can't and see beauty they may not have noticed in the area before. The waterfall is located in Jōshin'etsu-kōgen National Park, a protected area which means the lights will be set up in a way that's considerate to the park.

If you're in Japan this winter then don't miss out on this year's Karuizawa Shiraito Falls Midwinter Light Up which will be split into three sessions: the Christmas Session, New Year Session, and St. Valentine Session. More details below.

Information

Karuizawa Shiraito Falls Midwinter Light Up
Location: Karuizawa Shiraito Falls
Running: December 19, 2020 – February 14, 2021
・Christmas Session: December 19th-20th, 24th-27th (17:00-19:00)
・New Year Session: January 2nd-3rd,  8th-11th (17:00-19:00)
・St.Valentine Session: February 11th-14th (17:30-19:30)

Access: https://karuizawa-shw.com/access/
*Please see the website for the latest information

*Entry restrictions may be made depending on the number of visitors

Official Website: https://karuizawa-shw.com/

Tokyo's Art Aquarium Museum in Nihonbashi Announces Christmas Event

Having only held annual summertime events up to now, Art Aquarium Museum in Nihonbashi, Tokyo, is celebrating Christmas for the first time this year with a series of holiday season festivities.

The Aquarium's first Christmas tree

Art Aquarium Museum will display its very first Christmas tree for the event indoors near the entrance. The tree artwork was created by Hidemoto Kimura using 550 colourful crystals that have been made to look like goldfish. Made from venetian glass, he had them shipped himself from Italy. They are strung in 10 different colours which glow and glisten to create a romantic atmosphere.

Artwork Name: Natale di Pesce D'oro
Running: December 1, 2020 – December 27, 2020
Location: Art Aquarium Museum entrance

Pair tickets for Christmas with alcohol


Pair Ticket (2 People) + 2 Drinks | ¥4,600 (Tax Included)

Those arriving in twos can buy Pair Tickets which come with two alcoholic or non-alcoholic beverages so you can plunge into the magical underwater world of the aquarium while enjoying a drink.

Buy Tickets: https://ticket.artaquarium.jp/en/
Running: November 24, 2020 – December 27, 2020
Validity Period: December 1, 2020 – December 27, 2020
Drinks Menu:

[Alcohol] COEDO Beer / Marihana / Louis Raison Rouge Délice

[Non-Alcoholic] Sanpellegrino Pompelmo / Grapefruit

Christmas menu served up in the lounge and cafe

2-Person Hors d'oeuvre With 2 Drinks | Online Booking ¥4,200, Same-Day ¥5,000 (Tax Included) | Serving: December 18, 2020 – December 25, 2020

The aquarium's lounge restaurant is serving an hors d'oeuvre for pairs of Japanese and western food together with two drinks.

2-Person Christmas Sweets Plate With 2 Drinks | Online Booking ¥3,300, Same-Day ¥3,850 (Tax Included) | Serving: December 1, 2020 – December 27, 2020

The cafe is serving up plate of assorted desserts, perfect for a post-aquarium date.

Christmas Special Cocktail | ¥2,200 (Tax Included) | Serving: December 1, 2020 – December 27, 2020

Both the restaurant and cafe are also serving a seasonal cocktail of chocolate, strawberries, cranberries, and champagne jelly for a sweet and refreshing mix.

Information

Art Aquarium Museum Christmas Event

Address: 1-3 Nihonbashihoncho, Chuo Ward, Tokyo
Opening Hours: 10:00-21:00 (Until 20:00 in December)
No Fixed Holidays
General Admission: Adults (13 and over) ¥2,300 (Tax Included) / After Dark Ticket: Adults (13 and over) ¥2,000 (Tax Included)

*Free for 12 and under
Official Website: https://artaquarium.jp/en/

Jin Akanishi and Ryo Nishikido Feature in Swarovski's Christmas Campaign

Swarovski Japan is launching a Christmas campaign this year in collaboration with Jin Akanishi and Ryo Nishikido's YouTube channel "NO GOOD TV" and fashion magazine ELLE Japon.

Swarovski is an Austrian glass producer founded in 1895 that's celebrating its 125th anniversary this year. The company's Swarovski Crystal Business is known for its craftsmanship and innovation, providing crystal glass, jewellery, and accessories to the people of the world since its inception.

As part of Swarovski Japan's Christmas campaign, it is teaming up with Japanese musicians Jin Akanishi and Ryo Nishikido. This is the first time the company has used male celebrities in its promotions in Japan. Together with the global women's fashion magazine ELLE Japon, the campaign will promote Swarovski products in the run up to Christmas. A six-page feature will be included in January 2021 issue of ELLE Japon of the two musicians promoting Swarovski's jewellery, watches, and more.

Jin Akanishi and Ryo Nishikido posted a 14-minute video on their YouTube channel ("NO GOOD TV – Vol. 21") with behind-the-scenes footage of their ELLE Japon photo shoot as well as other news related to the collaboration with Swarovski.

Exclusive photos of Akanishi and Nishikido which weren't feature in either the magazine or on YouTube were also officially released on Swarovski's official LINE account.

Information

Jin Akanishi and Ryo Nishikido Christmas Campaign Collaboration
Official Website: http://swarovs.ki/vl~D

Starbucks Japan Opens Nishitokyo Branch by 300-Year-Old Camphor Tree

Starbucks Coffee Japan opened a new branch on Thursday (November 25) in Nishitokyo, a western area of Tokyo, next to an ancient 300-year-old camphor tree. The coffee shop opens with a gorgeous wooden interior.

Starbucks Nishitokyo

Starbucks Nishitokyo was built on top of a long-standing cafe called Kusunoki in Musashino, Tokyo that was loved by locals for 40 years before closing down. The Starbucks branch, with its striking warm wooden decor, takes inspiration from an old 300-year-old tree that stands 23-meters tall and 7 meters in circumference. The old round pillars that kept the previous cafe Kusunoki standing have been kept in place and built around, incorporating a tall new triangular roof, lights, and the walls, and more—all as an homage to the old cafe. This way, memories of the beloved can be passed on while making way for a new chapter in history.

Starbucks's wooden decor

Starbucks Shinshu Zenkoji Nakamise-dori branch


Starbucks Shikishima Park branch

Starbucks Nishitokyo comes as the latest Starbucks branch to have entirely wooden decor, something which the company has been incorporating much of in Japan in recent years. The Shinshu Zenkoji Nakamise-dori branch is made using five different types of trees sourced in Nagano Prefecture. The Shikishima Park branch offers an incredible view of the park's flowers and trees, including the cherry blossoms when they bloom in spring.

Starbucks Japan is opening another wooden branch in Spring 2021 at Ise Grand Shrine.

An initiative to use wood grown in Japan

Starbucks Shinjuku Gyoen branch


Starbucks LINKS UMEDA branch

The number of shops and cafes using local wood in Japan is on the rise in response to the issue of using domestic wood from places outside of a local area. Starbucks Shinjuku Gyoen, for example, has walls, a ceiling, and drinks counter made from wood sourced in Tama, Tokyo, while Starbucks LINKS UMEDA has pillars made of wood taken from trees in Umeda, Osaka.

Information

Starbucks Coffee Nishitokyo
Address: 5-19-10 Shinmachi, Nishitokyo, Tokyo
Grand Opening: November 25, 2020
Opening Hours: 7:30-22:30
No Fixed Holidays

Official Website: https://www.starbucks.co.jp/