Instagram Sensation Unicorn Ice Cream Shop Now Selling Christmas Reindeer Ice Cream
Looking for Instagram-worthy ice cream in Japan? You definitely need to check out Asakusa Tsuno Koi. Soon after opening in Tokyo's traditional Asakusa on July 5, 2019, their soft serve unicorn ice cream instantly earned its fame on social media. From November 28 to December 24, the ice cream shop will be releasing a series of Christmas-limited ice creams that are sure to become a hit sensation.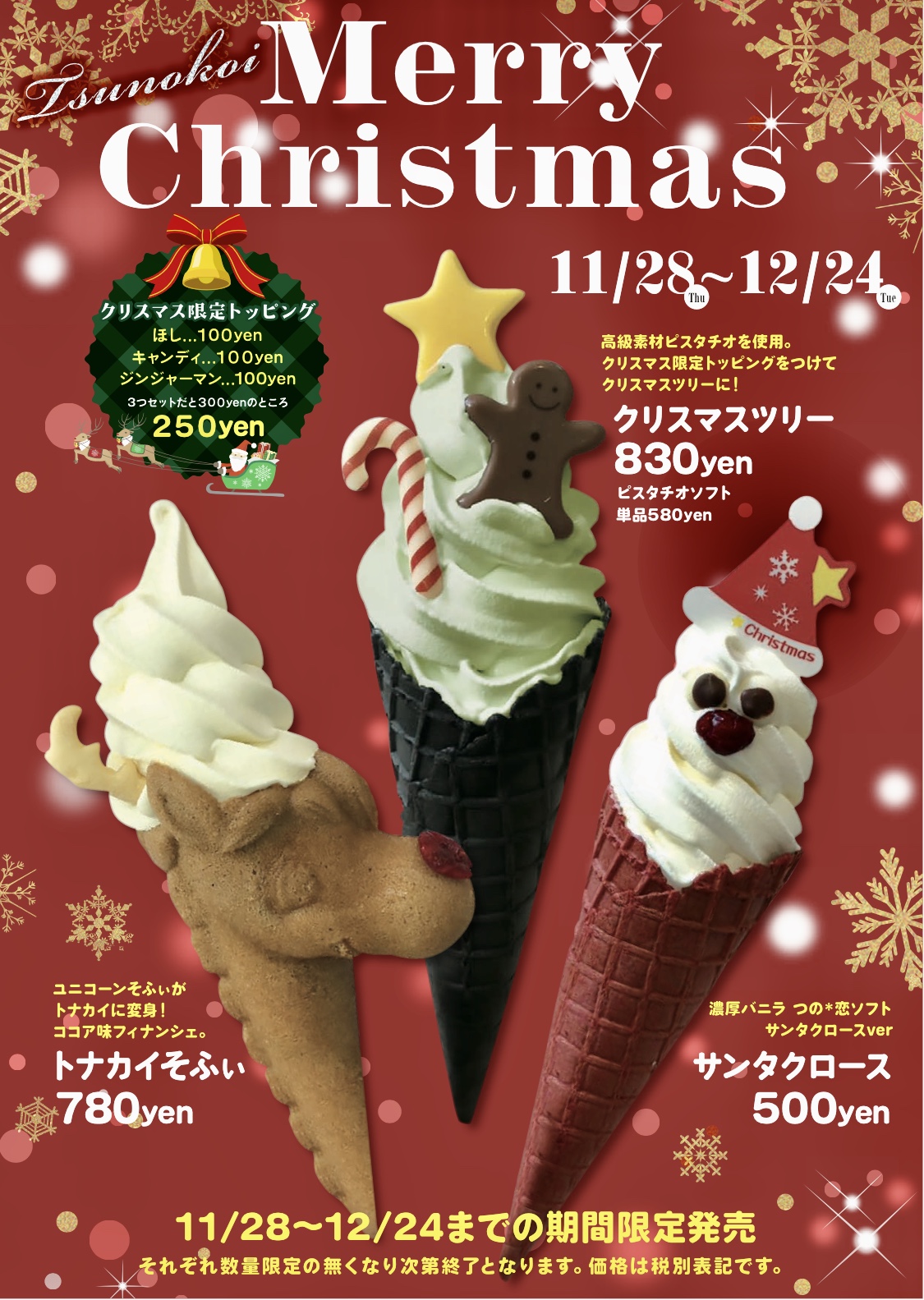 This shop is famous for being the only ice cream shop in the world to make unicorn-shaped cones out of financier cake dough and filling them with a sweet spiral of soft serve ice cream for the unicorn's horn. This Christmas, the shop is introducing Christmas-limited toppings, flowers and wreaths to the decorations menu, making customising your ice cream more fun than ever before. 
* According to research conducted by Asakusa Tsuno Koi. Protected status has been received for America, Korea and Japan. Applications are still being processed in the EU, Singapore and Mongolia.  
For the Reindeer Soft Serve Ice Cream (¥780), each and every single financier cone is baked carefully, but this time in the shape of a reindeer – and it's chocolate flavoured. Filled with soft serve ice cream, this reindeer is too cute to eat. 
The Christmas Tree (¥830) is a soft serve pistachio ice cream made using high-grade pistachos: the reigning queen when it comes to nut varieties. The ice cream is finished with one of Asakusa Tsuno Koi's original Christmas trees. 
The Santa Claus Soft Serve (¥500) is made using Asakusa Tsuno Koi's rich-flavoured vanilla ice cream. Young or old, the moment you set eyes on Santa Claus' face, a smile will automatically appear on yours! 
The Christmas-limited toppings include stars, candy, and gingerbread men (¥100 each). Can't choose? There is set including all three which costs ¥250.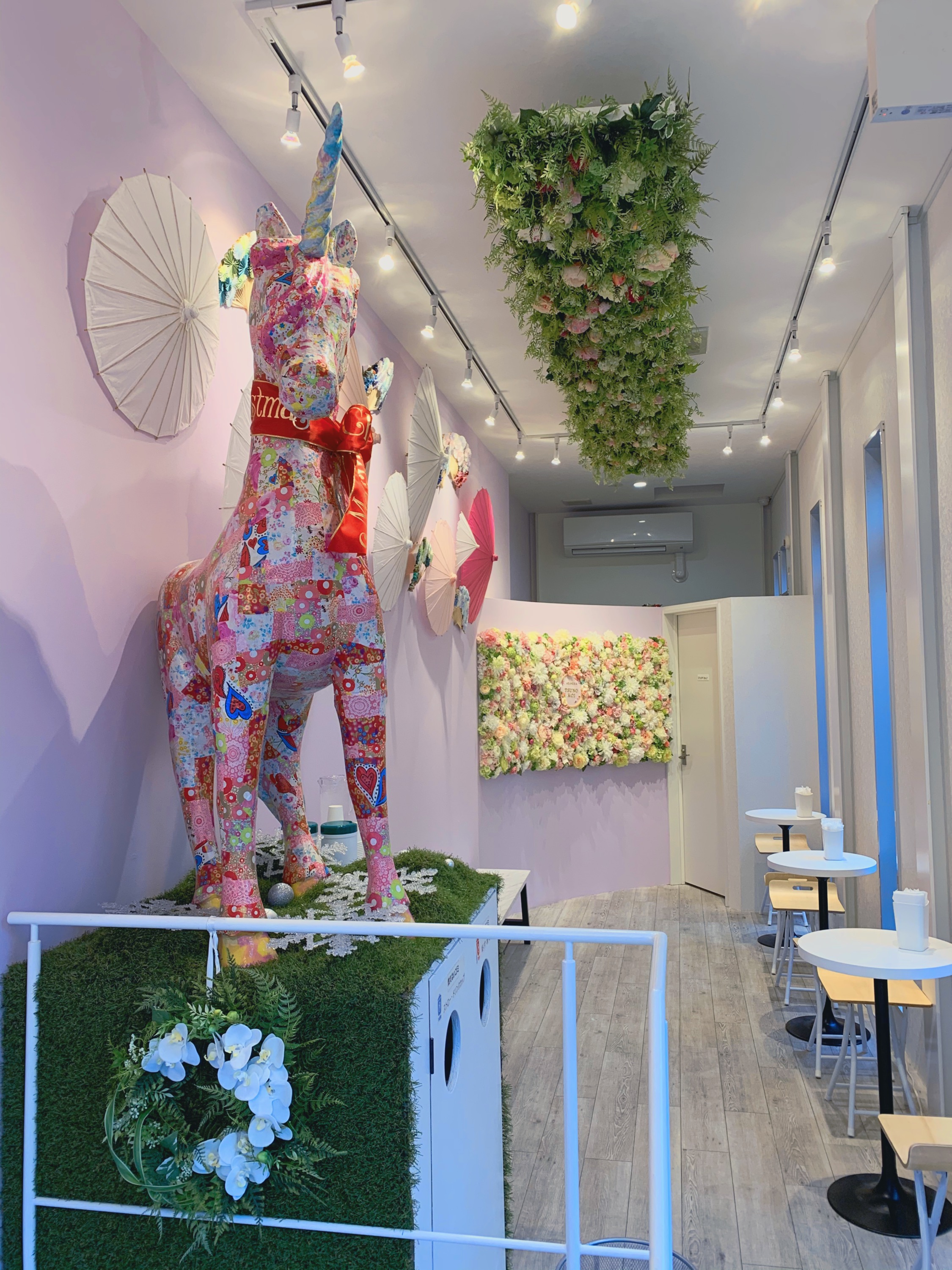 The shop interior is also looking more Christmassy. The interior is a fusion of Asakusa's traditional heritage and the unicorn motif, which is popular in western countries. A colourful flowery background and Asakusa's traditional folding fans and umbrellas perfectly finish the western-Japanese fusion scene, which is currently soaking in fame on Instagram.
Asakusa Tsuno Koi is serving up a totally unique kind of ice cream that has not been spotted anywhere else in the world. The Christmas-limited ice creams are definitely worth the hype. 
* Prices Before Tax
Information
Asakusa Tsuno Koi 
Address: 1- chome-14-7 Asakusa Taito City
Closed: Wednesdays
Opening Hours: 11:00 – 18:00
Website (Japanese Only): http://www.38cogp.com/tsunokoi/
RECOMMENDED ENTRIES
Starbucks Japan's Second Holiday Season Drinks Shine Like Christmas Lights

Follow on from Merry Strawberry Cake Frappuccino®, Starbucks Coffee Japan has announced its second release in its series of holiday season beverages: the Nutty White Chocolate Frappuccino® and the Nutty White Mocha will hit most branches across Japan from November 22.

These two delicious drinks are the perfect holiday season treats, both capturing the moment when Christmas lights and illuminations twinkle. The coffee chain is also releasing its second batch of merchandise too.

The Nutty White Chocolate Frappuccino® is a combination of milky white chocolate and nutty hazelnuts with a sprinkling of roasted walnuts and crunchy shortbread for tantalising texture. It's finished with a squirt of whipped cream which has been topped with chocolates of three different colours and silver dragees to create that Christmas light sparkle. You're sure to feel the Christmas spirit with this order.

If it's a hot drink you desire for warming up during the chilly weather, then you won't be able to resist the Nutty White Mocha, a rich cup of coffee made with white chocolate and hazelnut syrup and a strong shot of espresso. The instant you take a sip from your cup, your taste buds will be treated to the nuttiness of the hazelnuts, and the subsequent milkiness of the white chocolate and full-bodied flavour of the espresso. The whipped cream represents a Christmas tree while the sauce is the ribbons and the dragees are the lights. A true capturing of Christmastime.

*This product uses chocolate that with less than 0.5% cocoa.

"Brilliant Season" is the theme of Starbucks' second batch of Christmas goods this holiday season. We see the return of the snow dome cup from last year as well as a snow dome tumbler, a cutlery set with teaspoons and forks, a journal, clear pouch, and moreーlots that can be used as gifts. There's plenty to plunge you into that Christmas mood as you stroll through the winter-kissed town amongst the warm Christmas lights. There's also a special stainless steel tumbler which changes colour depending on which angle the light touches it, as well as a sparkly holographic mug.

Warm yourself up this winter in Japan by stopping by your nearest Starbucks branch.

Information

Nutty White Chocolate Frappuccino®

Price: Tall ¥590 (Before Tax) (*Tall size only)

Release Date: November 22, 2019 (*Available while supplies last)

Available: At most Starbucks branches in Japan

Nutty White Mocha

Price: Short ¥450 / Tall ¥490 / Grande ¥530 / Venti® ¥570 (All Before Tax)

Running: November 22, 2019 – December 25, 2019

Available: At most Starbucks branches in Japan

2nd Merchandise Batch

Running: November 22, 2019 – December 25, 2019

Available: At most Starbucks branches in Japan at the online store (some products available in-store only) while supplies last

*Prices etc. can be found on the official website

Starbucks Coffee Japan Official Website: https://www.starbucks.co.jp/

No Chocoholic Can Resist Lindt's New Nutty Caramel Chocolate Drinks

Since being founded in 1845, Lindt has carried its reputation as a Swiss brand of chocolate throughout the centuries, capturing the hearts of chocoholics in over 120 countries across the world. Lindt will be releasing a brand new chocolate drink on December 1, 2019 across Japan. The chocolate drink will be available in hot and cold and is made using an irresistible Gianduia chocolate hazelnut spread.

Both the hot and cold versions of the drink contain Lindt's signature melt-in-the-mouth milk chocolate which is mixed with luxurious hazelnut praline paste. The praline paste is made from roasted hazelnuts fused into delicious caramel. Once the aroma of both roasted hazelnuts and caramel entices you to take a sip, the rich flavour will spread through your mouth and you won't be able to stop.

The drinks are topped with a fluffy chocolate and whipped cream combination and chocolate flakes which add a wonderful texture. The finishing touches on the drink consist of a drizzle of hazelnut praline sauce and a sprinkle of chopped hazelnuts. The wavy water pattern that can be seen decorating the iced chocolate drink can be mixed into the drink and enjoyed. If you're looking for a quick chocolatey refresh, the iced chocolate drink is perfect for you. For those of you who succumb to the winter chills, the hot chocolate drink will warm you up right away.

Once the fragrance of these drinks reaches your nose, no chocoholic will be able to resist.

Information

Lindt Iced Chocolate Drink Gianduia 

Lindt Hot Chocolate Drink Gianduia 

Price: ¥699 (After Tax)

Release: December 1, 2019 (to sell throughout the year)

Purchasable from all Lindt Chocolate Cafés in Japan.

Lindt Japan Official Website: https://www.lindt.jp/

Starbucks Japan Releases Merry Strawberry Cake Frappuccino

The holiday season has finally hit Starbucks in Japan, and for the first drink in their series of Christmas beverages, they are serving the new Merry Strawberry Cake Frappuccino which is made to look and taste like a strawberry cake. Customers can even customise their drinks with as much free strawberry sauce as they like.

Merry Strawberry Cake Frappuccino – Tall ¥590 w/ Free Strawberry Sauce (*Sauce not available with other drinks)

The drink is built on sponge cake flavoured base, on top of which sits ascending layers of bright-red strawberry sauce, whipped cream, and a sprinkling of freeze-dried strawberries, effectively creating a dessert that you can drink. One sip of this pink delight fills your mouth with the sweet and refreshing taste of fresh fruity strawberries.

We recommend customising yours with non-fat milk or soy milk. If you want to hold back on some of the sweetness, go for the non-fat milk option, and if you want something smoother, get the soy milk. Drizzle over additional strawberry sauce to your liking, and you've got yourself a festive treat for the season!

Information

Merry Strawberry Cake Frappuccino

Released: November 9, 2019

Available: At most Starbucks branches in Japan while supplies last

Official Website: https://www.starbucks.co.jp/
RELATED ENTRIES
Peanuts Comic Launches 70th Anniversary Birthday Campaign in Japan

Japan's five Peanuts comic-themed cafes are now holding a birthday plan campaign in celebration of the series' 70th anniversary.

Each cafe branch is offering something different

PEANUTS Cafe Nakameguro x WHYTROPHY With Birthday Rosette

PEANUTS DINER Yokohama With Embroidered Striped Pin

PEANUTS DINER Kobe With Embroidered Striped Pin

PEANUTS Cafe Snoopy Museum With Tote Bag

PEANUTS Cafe Nagoya With Tote Bag

Campaign Art

Customers at the cafes will also be randomly selected to stay at the PEANUTS HOTEL and will receive a free sticker as pictured above. All who order the birthday plan and their group will even receive a free present.

(C) 2021 Peanuts Worldwide LLC (短縮形 (C) 2021 Peanuts)

Rich and Divine Matcha Roll Cake Gets Baked by 170 Year Old Japanese Tea Shop

Japanese tea shop and cafe Tsuboichi Seicha Honpo has baked up a brand new matcha roll cake made with high quality matcha leaves specially selected by their own tea experts. If indulgence is your calling, then this cake is the perfect accompaniment with a cup of tea whether it be matcha, Japanese tea, black tea – or any other of your favourite kind of tea.




The cake is a striking black colour, one that is featured in traditional Japan. The soft matcha filling provides an eye-catching contrast to the sponge. It's baked on a high temperature over charcoal and bamboo which serves to deepen the colours even more and elevate the vividness of the green matcha.

Cafe time can now be enjoyed at home with this very special treat.

Tokyo's New Vegan Dessert Shop the vegan marshmallooow Opens in Ginza

Ginza Mitsukoshi is welcoming a limited-time vegan dessert shop by the name of 'the vegan marshmallooow' which is open from April 1 to June 30. This shop is known amongst the vegan community in Japan for its vegan cakes, and due to that positive response, is now opening its first long-term promotional pop-up shop in collaboration with Mitsukoshi Isetan Group.

Online orders opened at Mitsukoshi Isetan on March 27 with a delicious line-up that includes their signature vegan chocolate cake.

A look at just some of the mouth-watering line-up

Chocolate Cake

Their number one most popular order: a gorgeously gluten-free mirror cake made with rich chocolate.

 

<NEW> Whole Fruit Cake

For those who like something a little more fruity and refreshing, this juicy cake is topped with assorted fruits like setoka orange, peach, kiwi, blueberry, strawberry, and more. The gluten-free sponge and soy cream give it a light texture that's also rich.

 

<NEW> Special Chocolate Cake Slice

An exquisite three-layered version of the shop's iconic chocolate make made with plant-based ingredients. Its triple tier is formed harmoniously of sponge, chocolate mousse, and cream. A single serving for a single sweet tooth.

Strawberry Shortcake

Two moist layers of gluten-free strawberry sponge with a soy milk base. Smooth, creamy, light, and delicious.

 

Mont Blanc

This mont blanc is specially made with Japanese chestnuts. The addition of soy cream elevates the nutty flavour throughout. A crunchy tart and fluffy sponge also makes for a textural sensation.

the vegan marshmallooow's vegan cake now available online at Mitsukoshi Isetan

Vegan Chocolate Cake Set (3 Pieces)

Shinjuku's Takano Fruit Parlour Serves Up Strawberry Desserts For the Spring Season

This spring, Takano Fruits Parlour is serving up a special strawberry-themed course menu at its Shinjuku branch starting on April 5. It comes as part of the restaurant's monthly fruit theme where they shine a spotlight on a single fruit each month. This month is strawberries which are adorning everything from appetisers to the main and dessert with a collection of succulent delights.

Spring Strawberry Course | ¥4,400 (Tax Included)

The course includes an apéritif, strawberry soup, beef cooked in a strawberry and demi-glance sauce, fruit salad, a hot dessert, strawberry chiboust, strawberry art palette assortment, a chilled strawberry dessert, and a choice of coffee, tea, or cafe au lait.

Information

Spring Strawberry Course

Running: April 5, 2021 – April 28, 2021 (Weekdays Only)

Where: Takano Fruit Palrour

Address: 3-26-11 Shinjuku, Shinjuku-ku, Tokyo

Time: [Morning Slot] 11:00-13:30 / [Afternoon Slot] 16:30-18:30

TEL: 03-5368-5147

Official Website: https://takano.jp/parlour/

Masaki Suda Appears in New Mister Donut Japan Commercial

Japanese actor and singer Masaki Suda appeared in a new commercial for Mister Donut which hit Japan last week. The name of the commercial translates to "there's always something good inside the box."

On January 27, 2020, Mister Donut celebrated its 50th anniversary. The doughnut chain boasts around 960 stores in Japan. In their latest commercial, they promote the joy of opening a box of their doughnuts when ordering takeout.

Information

Mister Donuts Commercial
Initial Broadcast: March 25, 2021 (Japan)

Japanese Milky Candy Themed Hotel Rooms Open in Collaboration With Hoshino Resorts

Hoshino Resorts has launched a hotel plan at its BEB hotel branches called "Milky Sweet Room Stay." The plan was devised in collaboration with Japanese confectionery brand Fujiya and their popular Milky soft candy. Guests will be able to stay in rooms decorated in all things Milky, an experience that is running from March 26 to June 30.

Milky Sweet Room

Look like Peko-chan, the Milky mascot, with the top and overall set

Find Peko-chan at Hoshino Resorts BEB5 Karuizawa

Make a Milky smoothie on a bicycle at Hoshino Resorts BEB5 Tsuchiura

Milky Sweet Room Stay opening campaign

Guests will be able to enjoy Milky like they never have before in all kinds of deliciously sweet ways. Rooms are adorned with Milky cushions, a doll of Peko-chan who is the face of Milky, Milky wallpaper and decorations, Milky bath products, and of course Milky candy.

At the Karuizawa branch of Hoshino Resorts BEB5, guests must locate Peko-chan in three locations around the area. Those who find all three will win all-you-can-eat French toast covered in Milky sauce. at the Tsuchiura branch, guests can get a set of ingredients to make their own smoothie by pedalling on a bicycle. It takes about 30 seconds for your Milky shake to be ready.

The iconic Milky packaging design is also being revamped in celebration of the brand's 70th anniversary. As part of the celebration, guests can expect t see a line-up of past designs along with some rare ones. Hoshino Resorts is also holding a campaign to promote the room where dix people can win a ¥50,000 voucher for Hoshino Resorts as well as a set of assorted Milky candy.

Cherry Blossom Chocolate and Soda Releases From MAISON CACAO

Japanese aromatic raw chocolate brand MAISON CACAO is launching a new Kamakura-based brand called Shiki to Maison ("Four Seasons & Maison") which will feature chocolates that capture the events and culture found throughout the four seasons in Japan.

The first entries to the series are cherry blossom chocolates which are available from March 26 to April 4, as well as cherry blossom drink which can be enjoyed on March 27 and 28.

 

Aroma Raw Chocolate SAKURA ¥2,200 / Cacao Vinegar Soda SAKURA ¥550 (Before Tax)

Aroma Raw Chocolate SAKURA

Indulge in a box of these luxury cherry blossom chocolates which are made with 100% cacao powder which have a refreshing white chocolate aftertaste. The chocolates are made with cherry blossom as well as a fresh cream laced with salt-pickled cherry blossom. They also include a paste made from liquid drawn from cherry blossom petals. It's a taste of Japanese spring with every bite.

Cacao Vinegar Soda SAKURA

This springtime beverage includes a cacao vinegar made from cacao pulp and is coupled with fragrant cherry blossom. This one is available at the Komachi and Cacao Hanare branches as well as at CHOCOLATE BANK.

Information

Shiki to Maison Sakura Sweets

Japanese Product Name: 四季とメゾン 桜スイーツ

Serving: March 26, 2021 – April 4, 2021

MAISON CACAO Official Website: https://onlineshop.maisoncacao.com/

Häagen-Dazs Releases Matcha Chocolate Cookie and Almond Caramel Cookie Ice Cream

Häagen-Dazs Japan released two new ice cream flavours as part of its Decorations mini cup series on March 23: the Matcha Chocolate Cookie and Almond Caramel Cookie.

The visually-striking Häagen-Dazs Decorations series is a smooth, rich-flavoured ice cream with delicious toppings to compliment the ice cream.

For the third entry to Decorations, Häagen-Dazs welcomes back the Almond Caramel Cookie from 2019 and adds the all-new matcha and chocolate combo Matcha Chocolate Cookie.

Matcha Chocolate Cookie / Almond Caramel Cookie – ¥295 Each (Before Tax)

Even more delicious after stirring

The best way to enjoy Decorations is to first spoon the ice cream as it is to taste the flavours. After that, you'll want to stir it all together to all the flavours and textures fuse, creating a delightful contrast between the soft ice cream and crunchy toppings.

Almond Caramel Cookie

Almond Caramel Cookie takes inspiration from the Florentine biscuit which is a sweet pastry topped with nuts and fruits. The cup contains delicious caramel butterscotch ice cream laced with caramel sauce, all of which is topped off with crumbly sliced almonds and crunchy butter cookie pieces.

Matcha Chocolate Cookie

The Matcha Chocolate Cookie is exactly what it says on the cup: a fragrant matcha ice cream infused with chocolate sauce and topped with sweet chocolate and matcha cookies.

Information

Decorations: Almond Caramel Cookie & Matcha Chocolate Cookie

Released: March 23, 2021

Where: Japan (Supermarkets, convenience stores, department stores, and elsewhere)

Product Page: https://www.haagen-dazs.co.jp/decorations_2021/

Fruits Basket Themed Cafe to Open in Tokyo This Spring

The anime-themed cafe brand OTA★LAB CAFE will open its first permanent cafe, "Cheer fancle cafe," in Awajicho, Tokyo on April 1, 2021. The cafe's first collaboration will be with the hit series Fruits Basket whose manga has sold over 30 million copies worldwide. It will run from April 1 to May 9 and will feature a range of dishes and drinks inspired the series as well as merchandise, new and exclusive artwork drawn by the author Natsuki Takaya, and more.

Original Merchandise

Cheer fancle cafe Original Fruits Basket Pins (30 Designs) | ¥495 (Tax Included)

Cheer fancle cafe Original Fruits Basket Acrylic Stands (15 Designs) | ¥1,430 (Tax Included)

Cheer fancle cafe Original Fruits Basket Mini Acrylic Stands (15 Designs) | ¥1,000 (Tax Included)

Cheer fancle cafe Original Fruits Basket Acrylic Key Rings (15 Designs) | ¥715 (Tax Included)

Cheer fancle cafe Original Fruits Basket Postcard Sets (30 Designs/2 Included) | ¥385 (Tax Included)

Food Menu

Veggie Pasta ¥1,320 (Tax Included) / Omurice ¥1,320 / Egg Sandwich ¥880 (Tax Included)

Niratama Donburi ¥1,100 (Tax Included) / Hamburger ¥1,320 (Tax Included)

Dessert Menu

Strawberry Shortcake ¥990 (Tax Included) / Pancake ¥1,100 (Tax Included)

Coffee Milk Jelly ¥990 (Tax Included) / 3 Dango Set ¥880 (Tax Included)

Limited-Time Drinks Menu ①

Serving: April 1, 2021 – April 20, 2021

Onigiri White Smoothie ¥715 (Tax Included) / Starry Sky Latte ¥715 (Tax Included)

Cassis Berry Soda ¥715 (Tax Included) / Berry Drink ¥715 (Tax Included)

Limited-Time Drinks Menu ②

Serving: April 21, 2021 – May 9, 2021

Orange Soda ¥715 (Tax Included) / Milk Tea ¥715 (Tax Included)

 

Matcha Milk ¥715 (Tax Included) / Blue Soda ¥715 (Tax Included)

Present Campaign

Win one of two possible signed coasters

Three lucky customers who collect all five stamps at Cheer fancle cafe can win one of two possible coasters signed by the author of Fruits Basket.

Arrival Campaign

All customers who go to the cafe will receive one of 15 possible original book covers.

Dining Campaign

For every menu item order, customers will receive one of 32 possible coasters. There are 15 chibi designs, 15 completely original designs drawn by the manga author, and two rare designs.

Spending Campaign

For every ¥2,500 spent at the cafe, customers will receive one of 15 possible postcards.

Additionally, those who follow OTA★LAB CAFE on Twitter and retweet the campaign Tweet that will be posted on March 29 will have the chance to receive a set of all the above campaign items. This is available for five people from March 29 to April 5.

©高屋奈月/白泉社

Japanese Springtime Flowers Bloom a Delicious Menu at TREE by NAKED Yoyogi Park

Spring has arrived at TREE by NAKED Yoyogi Park, a cafe run by NAKED that's located in Yoyogi Park in Shibuya, Tokyo. On Monday, the cafe launched a seasonal menu which incorporates a variety of spring flowers like cherry blossoms, showy's baby breath from Kumamoto, keiou-zakura from Yamagata, and more.

TREE by NAKED Yoyogi Park first opened in July 2017. It's an experience-based art restaurant where customers can enjoy Japan's latest cutting edge technology and next-generation gastronomy. Its popularity has risen rapidly, earning itself a reputation for offering an experience that stimulates all five of the senses, as well as for its photogenic interior decor.

With the pandemic restricting travel in Japan, people are unable to visit places far away across the country, and so the cafe is bringing a little bit of different places around Japan, namely their flowers, in collaboration with JA Kumamoto Uki and JA Yamagata.

Kumamoto is the only place in Japan that grows show's baby breath. They are raised with the prefecture's rich water and soil to blossom beautiful white and pink. These flowers can not only be enjoyed at TREE by NAKED Yoyogi Park as decorations, but customers can actually buy a bouquet of them too. Thanks to the skills of producers, the flowers can be grown out of season over a long period running from December to April, allowing people to enjoy their gorgeous springtime hues even if it's not spring.

Açaí Lemonade – Eat In ¥825 / Takeout ¥810

Cherry Blossom & Strawberry Nicecream – Eat In ¥770 / Takeout ¥756

"Power & Healthly" are the concepts for the lunch and cafe-time menu which includes both food and drink. The cafe's popular homemade açaí lemonade has been turned into a springtime version with fresh cherry blossom petals. There's also a vegan-friendly ice cream made with banana, avocado, soy milk, and a blend of strawberry and cherry blossom. It has a slight salt tang to it.

Vegan Cherry Blossom Latte – Eat In ¥770 / Takeout ¥756

Vegan Avocado & Sprout Sandwich – Eat In ¥1,100 / Takeout ¥1,080

The cafe's popular cherry blossom latte from last year returns with a soy milk base. There's also sandwiches, including a vegan one fried in coconut oil.

Strawberry Mille-Feuille – Eat In ¥1,650

The cafe's strawberry mille-feuille is so popular that they have to make a limited batch each day. It's even been featured on Instagram. With the strawberry season here, customers can enjoy fresh whole strawberries topping their dessert.

The cafe will also be running an evening cafe and bar experience with a range of desserts, food, and alcohol.

Information

Spring Menu

Released: March 15, 2021

Where: TREE by NAKED Yoyogi Park

Address: 1-10-2 Tomigaya, Shibuya, Tokyo

Opening Hours: 11:00-20:00 (EVENING CAFÉ & BAR TIME from 16:00) *Last orders at 19:00

Closed: Tuesdays/Wednesdays

TEL: 03-6804-9038

TREE by NAKED Yoyogi Park Official Website: https://tree.naked.works/yoyogi/

Rurouni Kenshin x Hello Kitty Collaboration Launching to Promote Manga's Upcoming Live-Action Films

In promotion of the forthcoming live-action films Rurouni Kenshin: The Final and Rurouni Kenshin: The Beginning, both of which will be released on April 23 and June 4 respectively this year, the series is rolling out a collaboration with Sanrio's globally-beloved character Hello Kitty on April 14.

Original Merchandise

Rurouni Kenshin x Hello Kitty Plush Toys (2 Designs) | ¥3,850 Each (Tax Included)

Rurouni Kenshin x Hello Kitty Plush Toys (4 Designs) | ¥2,750 Each (Tax Included)

Rurouni Kenshin x Hello Kitty A4 Folder Set | ¥495 (Tax Included)

Rurouni Kenshin x Hello Kitty Bottle | ¥1,540 (Tax Included)

Rurouni Kenshin x Hello Kitty Tote Bag | ¥2,200 (Tax Included)

Rurouni Kenshin x Hello Kitty Ballpoint Pens & Mechanical Pencils (2 Designs) | ¥770 Each (Tax Included)

Rurouni Kenshin x Hello Kitty Hand Towels | ¥1,430 (Tax Included)

Rurouni Kenshin x Hello Kitty Pins (6 Designs) | ¥330 Each (Tax Included)

Rurouni Kenshin x Hello Kitty Acrylic Stands (8 Designs) | ¥715 Each (Tax Included)

Rurouni Kenshin x Hello Kitty Sweets Paradise Collaboration Cafe

Menu Excerpt

Kenshin Hello Kitty Beef Bowl / Battousai Hello Kitty Omurice

Enishi Hello Kitty Orange Crepe / Tomoe Hello Kitty Anmisu / Kaoru Hello Kitty Strawberry Pancake

Acrylic Mascot Key Rings

10 Designs

Plush Toys

This marks the second collaboration between Rurouni Kenshin and Hello Kitty, the first taking place back in 2014 in promotion of Rurouni Kenshin: The Legend Ends. Fans can get their hands on a collection of cute merchandise with Hello Kitty dressed as various characters from the series, as well as tuck into a themed menu which will first be served at Sweets Paradise Ueno ABAB from April 22 before rolling out to six more Sweets Paradise branches in Japan.

©和月伸宏/集英社 ©2020 映画「るろうに剣心 最終章 The Final/The Beginning 」製作委員会

Shiga Prefecture's Nagahama Kurokabe Area Welcomes First Pudding and Curry Bread Shops

The Nagahama Kurokabe area of Shiga in Japan opened two new shops on March 22: Kurokabe Pudding and Omigyu Curry Bread.

High quality food infused with that Nagahama Kurokabe essence

Nagahama is one of the most popular tourist and sightseeing spots in Shiga Prefecture. One area of the city is known as Kurokabe which is home to a bounty of traditional Japanese shops, craftsmen, and old-time roads and buildings. Kurokabe Pudding's image matches the area, which is one of the reasons behind its opening, something that has been two years in the making. Japanese purin, or custard pudding, is a staple dessert across the country, and Kurokabe Pudding comes as the first pudding specialist shop to open in the area.

The same goes for Omigyu Curry Bread which will serve up a variety of delicious curry flavoured breads made with famous Omigyu beef.

Kurokabe Pudding

Kurokabe Glass | ¥500 (Tax Included)

All puddings at Kurokabe Pudding are handmade with high quality ingredients. They are made with domestic milk along with a variety of delicious ingredients such as houjicha and matcha from Uji in Kyoto, vanilla beans, and more. The matcha puddings also include black soybeans from Tamba.

Six puddings are featured on the permanent menu line-up, all of which have designs inspired by the Kurobe Glass Shop.

Omigyu Curry Bread

Curry Bread | ¥450 (Tax Included)

Onions and carrots are added to a fragrant roux for this curry bread which is filled with slices of Omigyu beef and cooked in the oven. The black colour is also based on the Kurokabe Glass Shop.