Instagram Sensation Unicorn Ice Cream Shop Now Selling Christmas Reindeer Ice Cream
Looking for Instagram-worthy ice cream in Japan? You definitely need to check out Asakusa Tsuno Koi. Soon after opening in Tokyo's traditional Asakusa on July 5, 2019, their soft serve unicorn ice cream instantly earned its fame on social media. From November 28 to December 24, the ice cream shop will be releasing a series of Christmas-limited ice creams that are sure to become a hit sensation.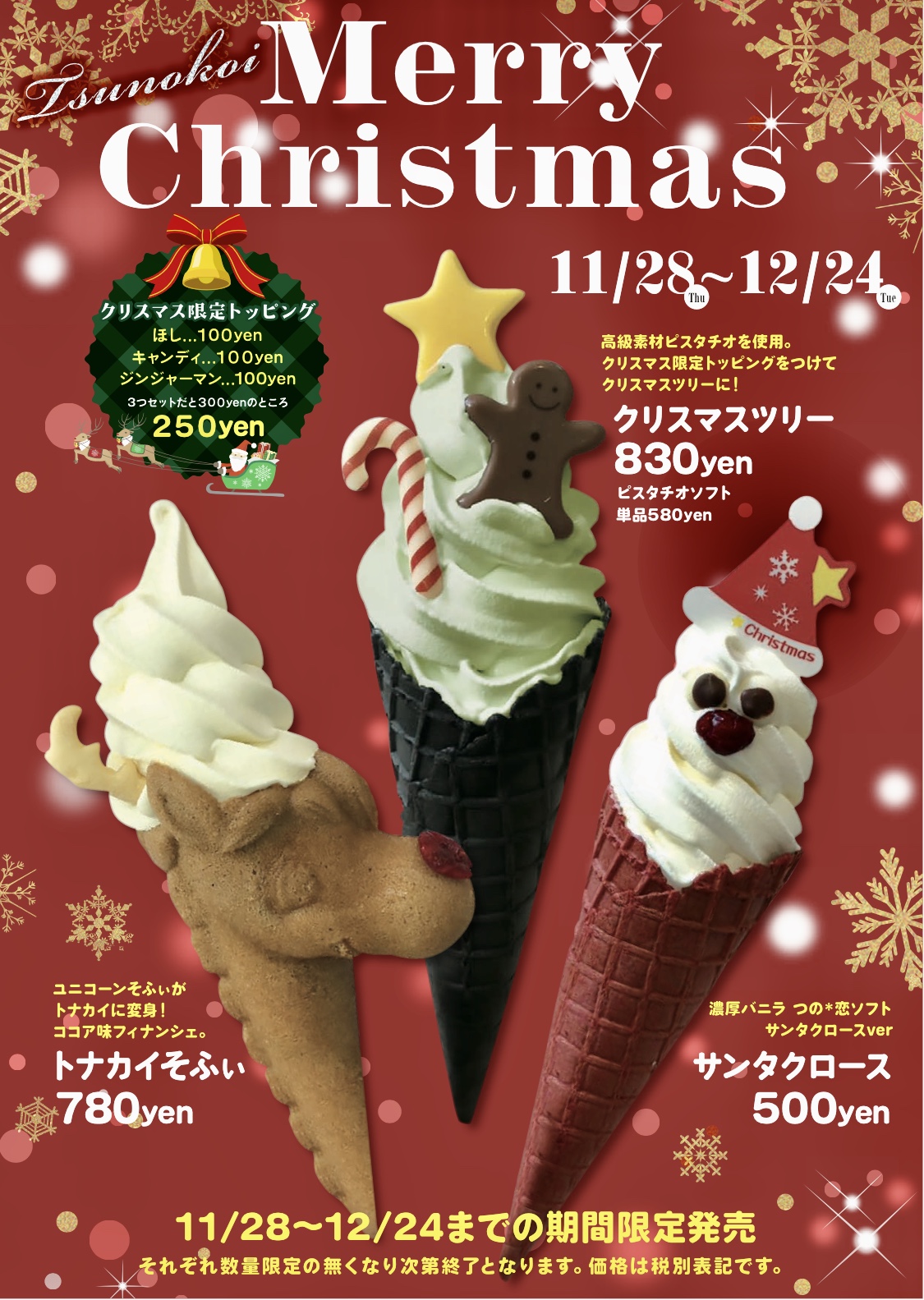 This shop is famous for being the only ice cream shop in the world to make unicorn-shaped cones out of financier cake dough and filling them with a sweet spiral of soft serve ice cream for the unicorn's horn. This Christmas, the shop is introducing Christmas-limited toppings, flowers and wreaths to the decorations menu, making customising your ice cream more fun than ever before. 
* According to research conducted by Asakusa Tsuno Koi. Protected status has been received for America, Korea and Japan. Applications are still being processed in the EU, Singapore and Mongolia.  
For the Reindeer Soft Serve Ice Cream (¥780), each and every single financier cone is baked carefully, but this time in the shape of a reindeer – and it's chocolate flavoured. Filled with soft serve ice cream, this reindeer is too cute to eat. 
The Christmas Tree (¥830) is a soft serve pistachio ice cream made using high-grade pistachos: the reigning queen when it comes to nut varieties. The ice cream is finished with one of Asakusa Tsuno Koi's original Christmas trees. 
The Santa Claus Soft Serve (¥500) is made using Asakusa Tsuno Koi's rich-flavoured vanilla ice cream. Young or old, the moment you set eyes on Santa Claus' face, a smile will automatically appear on yours! 
The Christmas-limited toppings include stars, candy, and gingerbread men (¥100 each). Can't choose? There is set including all three which costs ¥250.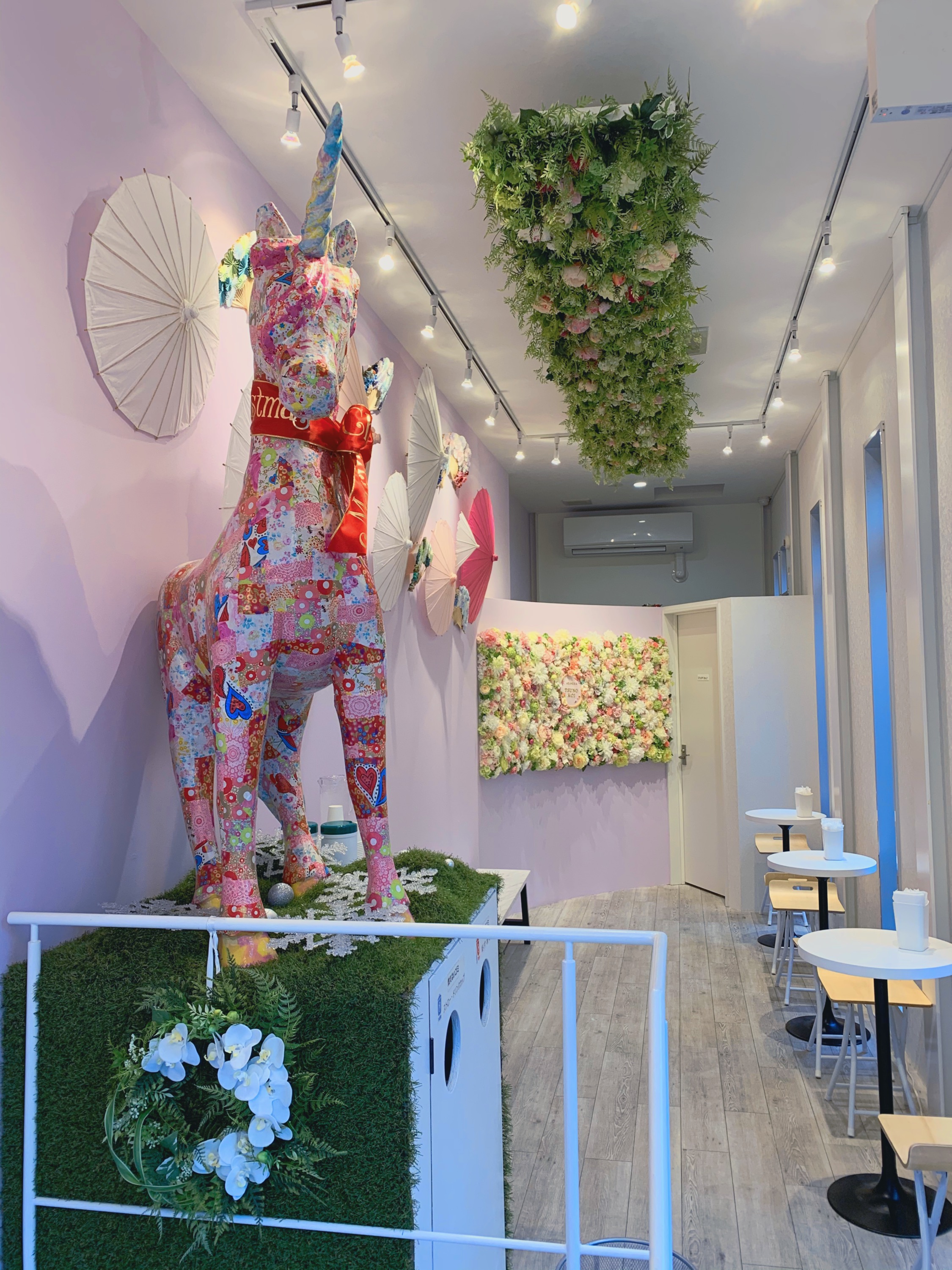 The shop interior is also looking more Christmassy. The interior is a fusion of Asakusa's traditional heritage and the unicorn motif, which is popular in western countries. A colourful flowery background and Asakusa's traditional folding fans and umbrellas perfectly finish the western-Japanese fusion scene, which is currently soaking in fame on Instagram.
Asakusa Tsuno Koi is serving up a totally unique kind of ice cream that has not been spotted anywhere else in the world. The Christmas-limited ice creams are definitely worth the hype. 
* Prices Before Tax
Information
Asakusa Tsuno Koi 
Address: 1- chome-14-7 Asakusa Taito City
Closed: Wednesdays
Opening Hours: 11:00 – 18:00
Website (Japanese Only): http://www.38cogp.com/tsunokoi/
RECOMMENDED ENTRIES
Starbucks Japan's Second Holiday Season Drinks Shine Like Christmas Lights

Follow on from Merry Strawberry Cake Frappuccino®, Starbucks Coffee Japan has announced its second release in its series of holiday season beverages: the Nutty White Chocolate Frappuccino® and the Nutty White Mocha will hit most branches across Japan from November 22.

These two delicious drinks are the perfect holiday season treats, both capturing the moment when Christmas lights and illuminations twinkle. The coffee chain is also releasing its second batch of merchandise too.

The Nutty White Chocolate Frappuccino® is a combination of milky white chocolate and nutty hazelnuts with a sprinkling of roasted walnuts and crunchy shortbread for tantalising texture. It's finished with a squirt of whipped cream which has been topped with chocolates of three different colours and silver dragees to create that Christmas light sparkle. You're sure to feel the Christmas spirit with this order.

If it's a hot drink you desire for warming up during the chilly weather, then you won't be able to resist the Nutty White Mocha, a rich cup of coffee made with white chocolate and hazelnut syrup and a strong shot of espresso. The instant you take a sip from your cup, your taste buds will be treated to the nuttiness of the hazelnuts, and the subsequent milkiness of the white chocolate and full-bodied flavour of the espresso. The whipped cream represents a Christmas tree while the sauce is the ribbons and the dragees are the lights. A true capturing of Christmastime.

*This product uses chocolate that with less than 0.5% cocoa.

"Brilliant Season" is the theme of Starbucks' second batch of Christmas goods this holiday season. We see the return of the snow dome cup from last year as well as a snow dome tumbler, a cutlery set with teaspoons and forks, a journal, clear pouch, and moreーlots that can be used as gifts. There's plenty to plunge you into that Christmas mood as you stroll through the winter-kissed town amongst the warm Christmas lights. There's also a special stainless steel tumbler which changes colour depending on which angle the light touches it, as well as a sparkly holographic mug.

Warm yourself up this winter in Japan by stopping by your nearest Starbucks branch.

Information

Nutty White Chocolate Frappuccino®

Price: Tall ¥590 (Before Tax) (*Tall size only)

Release Date: November 22, 2019 (*Available while supplies last)

Available: At most Starbucks branches in Japan

Nutty White Mocha

Price: Short ¥450 / Tall ¥490 / Grande ¥530 / Venti® ¥570 (All Before Tax)

Running: November 22, 2019 – December 25, 2019

Available: At most Starbucks branches in Japan

2nd Merchandise Batch

Running: November 22, 2019 – December 25, 2019

Available: At most Starbucks branches in Japan at the online store (some products available in-store only) while supplies last

*Prices etc. can be found on the official website

Starbucks Coffee Japan Official Website: https://www.starbucks.co.jp/

No Chocoholic Can Resist Lindt's New Nutty Caramel Chocolate Drinks

Since being founded in 1845, Lindt has carried its reputation as a Swiss brand of chocolate throughout the centuries, capturing the hearts of chocoholics in over 120 countries across the world. Lindt will be releasing a brand new chocolate drink on December 1, 2019 across Japan. The chocolate drink will be available in hot and cold and is made using an irresistible Gianduia chocolate hazelnut spread.

Both the hot and cold versions of the drink contain Lindt's signature melt-in-the-mouth milk chocolate which is mixed with luxurious hazelnut praline paste. The praline paste is made from roasted hazelnuts fused into delicious caramel. Once the aroma of both roasted hazelnuts and caramel entices you to take a sip, the rich flavour will spread through your mouth and you won't be able to stop.

The drinks are topped with a fluffy chocolate and whipped cream combination and chocolate flakes which add a wonderful texture. The finishing touches on the drink consist of a drizzle of hazelnut praline sauce and a sprinkle of chopped hazelnuts. The wavy water pattern that can be seen decorating the iced chocolate drink can be mixed into the drink and enjoyed. If you're looking for a quick chocolatey refresh, the iced chocolate drink is perfect for you. For those of you who succumb to the winter chills, the hot chocolate drink will warm you up right away.

Once the fragrance of these drinks reaches your nose, no chocoholic will be able to resist.

Information

Lindt Iced Chocolate Drink Gianduia 

Lindt Hot Chocolate Drink Gianduia 

Price: ¥699 (After Tax)

Release: December 1, 2019 (to sell throughout the year)

Purchasable from all Lindt Chocolate Cafés in Japan.

Lindt Japan Official Website: https://www.lindt.jp/

Starbucks Japan Releases Merry Strawberry Cake Frappuccino

The holiday season has finally hit Starbucks in Japan, and for the first drink in their series of Christmas beverages, they are serving the new Merry Strawberry Cake Frappuccino which is made to look and taste like a strawberry cake. Customers can even customise their drinks with as much free strawberry sauce as they like.

Merry Strawberry Cake Frappuccino – Tall ¥590 w/ Free Strawberry Sauce (*Sauce not available with other drinks)

The drink is built on sponge cake flavoured base, on top of which sits ascending layers of bright-red strawberry sauce, whipped cream, and a sprinkling of freeze-dried strawberries, effectively creating a dessert that you can drink. One sip of this pink delight fills your mouth with the sweet and refreshing taste of fresh fruity strawberries.

We recommend customising yours with non-fat milk or soy milk. If you want to hold back on some of the sweetness, go for the non-fat milk option, and if you want something smoother, get the soy milk. Drizzle over additional strawberry sauce to your liking, and you've got yourself a festive treat for the season!

Information

Merry Strawberry Cake Frappuccino

Released: November 9, 2019

Available: At most Starbucks branches in Japan while supplies last

Official Website: https://www.starbucks.co.jp/
RELATED ENTRIES
Bandai Candy Releases Second Round of Family-Sized Demon Slayer Tarts

Bandai Candy has begun selling the second round of Demon Slayer-themed tarts! This time, the family-sized treats will feature the taste of two varieties of cheesecake, and will be available at select AEON, AEON Style, MaxValu, and Daiei locations throughout Japan.

Each tart features characters from the popular Demon Slayer anime series with smiles on their faces. With a two-layered structure, customers can enjoy the flavor of baked cheesecake and gelatin cheesecake. Characters included are Tanjiro, Nezuko, Zenitsu, Giyu, Inosuke, Kyojuro, Shinobu, and Kanao.

(C)吾峠呼世晴/集英社・アニプレックス・ufotable

Information

Demon Slayer Big Tart Round Two ~Two Types of Cheesecake~

Price: ¥537 each (Tax Included)

Available Now

Where to Buy: 

AEON / AEON Style (Honshu, Shikoku, Kyushu)

MaxValu (Kanto, Hokuriku, West Japan)

Daiei's Chilled Dessert Corner

※Products only available in limited quantities. 

※Only available at participating stores.

Details: https://www.bandai.co.jp/candy/products/2021/4549660736721000.html 

Alice in Wonderland' Inspired Afternoon Tea Served at Aoyama St. Grace Cathedral for Seven Days Only

For seven days only from January to April 2022, the Aoyama St. Grace Cathedral wedding hall will open its doors to those wanting their fill of Alice in Wonderland-inspired sweets! 'Alice's Tea Party' will be an afternoon tea experience you'll never forget, and reservations are required.

The limited-time-only afternoon tea will feature a variety of adorable sweets that look like they popped out of a picture book, from Berry and Pistachio Bunny Ears Mousse to the Queen's Chandelier Butter Sandwich Cookies decorated like playing cards. Each sweet makes use of seasonal ingredients like strawberries, perfect with chocolate dips, petite tarts, and macaroons.

Information

Sweets Palette Afternoon Tea 'Alice's Tea Party' 

Running:

January 19, 2022
February 2, February 9
March 2, March 9, March 16
April 6 *Reservations Required
Times:

First Seating 12:15-13:45(Open at 12:00)

Second Seating 14:45-16:15(Open at 14:30)
Price: ¥4,500 per person (Tax and Service Charge Included)
Address: Aoyama St. Grace Cathedral Guest House (3-9-14 Kita-Aoyama, Minato-ku, Tokyo)

Access: 3-minute walk from Omotesando Station Exit A1 on Ginza Line / Chiyoda Line / Hanzomon Line
Reservations: https://www.bestbridal.co.jp/guestparty/tokyo/akasaka_aoyama_omotesando/stgrace_aoyama/2022event-10/ 

Peter Pan and Wendy-Inspired Sweets Buffet Comes to Nagoya

The Strings Hotel Yagoto NAGOYA in Aichi Prefecture is holding the 'Strawberry Neverland – Tinkerbell in Love Sweets Buffet' at it's sweets restaurant SCALA Terrace from January 15 until March 31, 2022. These limited-time desserts will use seasonal strawberries and pistachios.

Inspired by Peter Pan, the space will feature cute and refreshing sweets that will make guests think of the adorable fairy Tinkerbell. The 'Tinkerbell in Love – Raspberry Lime Mousse' is covered in the character's fairy dust, and is highly recommended by the restaurants chef patissier. A total of 16 desserts will be available, with some featuring edible flowers and other fantasy-inspired decorations. Those wanting something a little heavier can enjoy slow-cooked Indian Curry and Farfalle Cream Pasta. The space will also feature plenty of photo spots, so be sure to take some pictures with the person you love!

Sheraton Miyako Hotel Osaka to Hold Little Red Riding Hood-Inspired Strawberry Fair

The Sheraton Miyako Hotel Osaka will hold a 'Strawberry Fair' at four of its restaurants starting on January 1, 2022!

Little Red Riding Hood (Mascarpone and Berry Mousse)

Forest Friend (Cream Puff), Friendly Bear Macaroons

Forest Tree Stump (Nuts & Pistachio Cake)

Menu featuring Strawberry Items

Cafe & Gourmet Shop 'Cafe Bell' 

Running: January 15 – February 28, 2022

Sweets

Strawberry Brioche Sandwich / Strawberry Pudding / Strawberry Pistachio / Strawberry Tart / Strawberry Shortcake

Bread

Strawberry Cannelé de Bordeaux / Strawberry & Almond Chocolate Danish / Strawberry and Cream Cheese Flute 

Chinese Restaurant 'Shisen' 

Running: January 6 – February 28, 2022

Strawberry Apricot Tofu / Strawberry Pudding

'Bar eu'

Running: January 1 – February 28, 2022

Strawberry Grasshopper / Strawberry Milk for Adults / Strawberry Mojito

※Menu items subject to change depending on availability.
※Please inform the staff of any food allergies in advance.

Tokyo Gift Palette at Tokyo Station Selling Seasonal Strawberry Sweets

Tokyo Gift Palette, located near the Yaesu North Gate at Tokyo Station, offers a wide selection of unique souvenirs. From December 26, 2021 until January 11, 2022, the location will be holding the Exciting New Year's Fair, with the Strawberry Sweets Fair coming soon after from January 5 until January 25, 2022. 

Konigs-Krone Luxury 'Strawberry Parfait'


Patisserie Ginza Sembikiya 'Strawberry Omelet'


Strawberry Shop by FRANCAIS 'Strawberry Parfait'


*Only available at Tokyo Gift Palette
Tokyo Kaikan 'Reward Parfait ~Strawberry & Chestnut~

Strawberry Shop by FRANCAIS 'Fresh Strawberry Milk Cake'

Oosumi Tamaya 'Strawberry Daifuku'

Oosumi Tamaya 'Chinese New Year Daifuku'

Tokyo Kaikan 'Chocolate & Orange Tart' 

Paq & Mog Terrace 'Calbee and Tokyo Banana Bonito & Kelp Umami Dashi Potato Chips

The New Year's Fair will feature cute cakes and sweets inspired by the Chinese Zodiac, along with traditional Japanese goods. The Strawberry Sweets Fair will see a number of popular goodies on sale, including desserts that won top prizes in the 'Favorite Fruit Survey' conducted by Tokyo Gift Palette on Instagram in June 2021.

Ginza Cozy Corner Launches Limited Edition New Year's Chinese Zodiac Tiger Cake

From December 31, 2021, until January 3, 2022, Ginza Cozy Corner locations nationwide will be selling a limited edition New Year's cake featuring the Tiger from the Chinese Zodiac! 

Chinese Zodiac Tiger Cake

Fortune Cookies (10 pieces)

New Year Madeleines (6 pieces)

New Year's Grab Bag (24 pieces / 40 pieces)

Ginza Cozy Corner began selling a variety of New Year's-themed sweets starting in 2011. Traditionally, families in Japan enjoy a luxurious boxed meal called osechi on New Year's Day, and the company wanted to provide something to satisfy people's sweet tooth afterward! This year is the Year of the Tiger, making this chocolate and banana cake the perfect way to welcome 2022. Shops will also be selling other sweets like fortune cookies and mini Madeleine cakes, so there's something to bring a smile to everyone's face.

Information

Chinese Zodiac Tiger Cake

Available: December 31, 2021 – January 3, 2022

Where to Buy: Cozy Corner Locations Nationwide

Official Site: https://www.cozycorner.co.jp/

Asakusa Hanayashiki and the TV animation Gintama announces Details of the Collaboration Event

The amusement park Asakusa Hanayashiki will hold a collaboration event with the TV anime Gintama titled Gintama Festival from December 20, 2021 to January 16, 2022.

Mission clear bonus acrylic coasters (4 types/randomly distributed).

Original Merchandise (example)

Reward for ordering original food: one original coaster (10 types/randomly distributed).

The lineup for the Gintama Festival includes sales of event-exclusive original merchandise, a riddle solving rally, and collaboration food. In addition, the special ticket, an advance ticket with special offers that will make the event even more enjoyable, will be available for purchase.

Please look forward to this special event that Gintama fans can enjoy to the fullest.

©空知英秋/集英社・テレビ東京・電通・BNP・アニプレックス

Information

Gintama Festival

Running: From December 20 until January 16, 2022.

Closed on January 11 and 12.

Where: Asakusa Hanayashiki.

Opening Hours: 10:00~18:00 (Subject to weather conditions).

*Opening hours for January 10 to 14, 2022: 10:00-17:00.

*Last entry is 30 minutes before closing.

Details: https://hanayashiki-event.com/info/753

Starbucks Reserve® Roastery Tokyo Launches Second Edition of Collaboration Collection with Ron Herman

Starbucks Coffee Japan has launched the second product in its "double the love" collection, the first collaboration with fashion brand Ron Herman, at Starbucks Reserve® Roastery Tokyo.

Castanets (white and navy) ¥2,200 each / Guiro ¥3,960/ Bell ¥4,400

The theme of "double the love" expresses the moment when you and your loved one can feel the love by choosing and giving a gift while thinking of the joy on the face of the recipient. For the second edition, under the theme of "sharing together," a variety of musical instruments made of wood, such as castanets, guiro, and bells, as well as wooden ornaments are available to make your time with family and loved ones more enjoyable.

Ornament heart/star (red, navy, white) ¥1,320 each

Wooden ornaments in the shapes of stars and hearts can be hung on the tree or used as decorations to accentuate your room, adding to the Christmas spirit! As you reflect on this year, spend a happy time with your family and loved ones, thinking of each other and overflowing with love.

With the desire to deliver a heartwarming moment of sharing and caring for each other, the greeting card workshop "Make your gift double of your love" is scheduled to be held online from 10am on December 18 and at RHC Ron Herman Kawasaki on December 19. While drinking coffee, think of the face of the person you are sending a gift to, and spend a moment making a greeting card to express your feelings.

Information

double the love Collation

Stores: Starbucks Reserve Roastery Tokyo (STARBUCKS RESERVE(R) ROASTERY TOKYO), Starbucks Online Store.

*As for the limit on the number of items sold, each person can purchase up to 10 items per product.

 

Special Event 'Make your gift double of your love'

Online Event: December 18, 2021 from 10:00 for 1 hour.

Join Here: rtmp://a.rtmp.youtube.com/live2

Where: RHC Ron Herman Kawasaki

When: December, 19, 2021.

https://ronherman.jp/news/2404

Peanuts Cafe and Peanuts Diner Locations to Offer Special Christmas Menu

Six Peanuts Cafe and Peanuts Diner locations across Japan are currently offering a special Christmas menu inspired by the world of Snoopy until December 25, 2021. 

Christmas Stew Set with Bonuses: ¥3,520 (Tax Included) 

Participating Locations: Peanuts Cafe Nakameguro, Snoopy Museum, Nagoya, Sunny Side Kitchen

Nagameguro:https://www.peanutscafe.jp/product_nakameguro_xmas2021/
Snoopy Museum:https://www.peanutscafe.jp/product_smt_xmas2021/
Nagoya:https://www.peanutscafe.jp/product_nagoya_xmas2021/
Sunny Side Kitchen:https://www.peanutscafe.jp/product_sunnysidekitchen_xmas2021/

Christmas Hamburger Set with Bonuses: ¥3,960 (Tax Included) 

Participating Location:Peanuts Diner Yokohama

Reserve:http://www.peanutsdiner.jp/product_yokohama_xmas2021/

Woodstock's Merry Christmas Plan: ¥4,950 per person (Tax Included)

Participating Location: Peanuts Cafe Nakameguro

Reserve:

https://www.peanutscafe.jp/product_nakameguro_sproom_xmas2021/
*Price per person based on two-person reservation. 

*Reservations can be made up to two days in advance.

Snoopy's I CAN'T WAIT Christmas Parfait: ¥1,430 (Tax Included)

Snowy Christmas Latte ~Cheesecake Flavor~: ¥880 (Tax Included) 

Those who order a special food set will receive a tote bag with an adorable Snoopy and Woodstock design. 

(C) 2021 Peanuts Worldwide LLC (短縮形 (C) 2021 Peanuts)

Information

Snoopy's Christmas Menu

Available: December 10 – December 25, 2021

Participating Locations: Peanuts Cafe Nakameguro, Peanuts Diner Yokohama, Peanuts Diner Kobe, Peanuts Cafe Snoopy Museum, Peanuts Cafe Nagoya, Peanuts Cafe Sunny Side Kitchen

Official Site: http://www.snoopy.co.jp/

Rihga Royal Hotel Kyoto to Hold Strawberry Fair in 2022

From January 4 until April 30, 2022, Rihga Royal Hotel Kyoto will hold a special Strawberry Fair at its cozy lounge.

Those who love strawberries enough to want to drown in them won't want to miss this limited-time event featuring four unique desserts and an afternoon tea set.

Strawberry Parfait 'Drowning Strawberries' 

 

Guests can enjoy pouring warm homemade confiture made from Kyoto strawberries from Uesugi Farm in Yawata City over thin chocolate hidden beneath strawberry ice cream. This is recommended by the patisserie.

'Strawberry Shortcake ~Buried in the Glass~'

 

This limited-edition version of the hotel's strawberry shortcake is filled with white meringue and soft sponge, with cherry brandy flavoring making it light and easy to eat.

'Strawberry Afternoon Tea Set' 

Strawberry Stack Option

The popular 'Afternoon Tea Set' is served in a bamboo box made by Kochousai Kosuga, a bamboo craft manufacturer in Kyoto. This special strawberry version features nine sweet and nine savory items, including strawberry shortcakes and cream puffs. For a limited time until March, guests can add a pile of strawberries to the third tier. Using the special scoop spoon, you'll feel as though you're harvesting strawberries of your own! Be sure to take pictures.

Overflowing Strawberry Gift Box

Although it looks like a present, this dessert is meant to be enjoyed on-site! Overflowing with strawberry mousse, strawberry jelly, and pistachio brulee, raspberry sorbet, and streusel are hidden beneath the white chocolate box. Now that's luxury!

HOLOLIVE x TOKYO SKYTREE TOWN(R)" to Launch Collaborative Cafe and Merchandise.

A limited time event featuring the VTuber group "Hololive" will be held at Tokyo Skytree Town(R) from December 17, 2021 to January 31, 2022. It will feature a variety of special activities, including a riddle-solving event, a photo spot on the Tokyo Skytree(R) Observation Deck, and a pop-up store and concept cafe in the official TV station store, Tree Village.

Concept Cafe

【Christmas Menu】Running: December 17~December 25.

【Winter Manu】Running: December 26~January 31, 2022.

【Member Motif Drink】Running: December 17~January 31, 2022.

Merchandise


The original merchandise limited to the event includes "acrylic stand" and "New Year's Eve udon set" featuring newly drawn illustrations of Sora Tokino and 10 other VTubers from "Hololive" in Christmas costumes and kimonos.



In addition, there will be a lottery to win a "life-size acrylic stand (installed on the watchtower deck)" with a special illustration for the 2nd anniversary. The products will be available at the event from December 17 and online from January 1, 2022.

Don't miss this special Christmas event with Horolive!

Ⓒ 2016 COVER Corp.
ⒸTOKYO-SKYTREE

Egg specialty store TAMAGOYA to launch Strawberry Fair for a limited time in Shizuoka

Shizuoka-based egg specialty store TAMAGOYA is currently running a BERRY BERRY Strawberry Fair for a limited time.

TAMAGO Pudding Parfait

ICHIGP Pudding Parfait


Gigantic ICHIGO Shortcake Parfait

Strawberry-filled Pancakes

The cafe offers pancakes and parfaits made with strawberries from Shizuoka Prefecture. The menu includes the "TAMAGO Pudding Parfait" that looks like a fried egg with fluffy pancakes and pudding as a specialty of egg stores, and the seasonal "ICHIGO Pudding Parfait". The "ICHIGO's Giant Shortcake Parfait," which weighs over 5 kg, is available by reservation only.

Enjoy the harmony of eggs and strawberries to your heart's content.

Information

TAMAGOYA

Address: 1-322, Yasuhisa, Mishima-shi, Shizuoka, 〒411-0815 

Opening Hours: 9:00~17:00/cafe branch 9:30~17:00(L.O15:30)

Official Site: http://izu-tamagoya.com/