Furoshiki-Wrapped Matcha and Strawberry Sandwich Biscuits Released at PRESS BUTTER SAND
PRESS BUTTER SAND released two new sandwich biscuit products on December 13. PRESS BUTTER SAND Kyoto Station will release the Tsutsumi Uji Matcha and PRESS BUTTER SAND Hakata Station the Tsutsumi Amaou Strawberry. Both are limited in stock.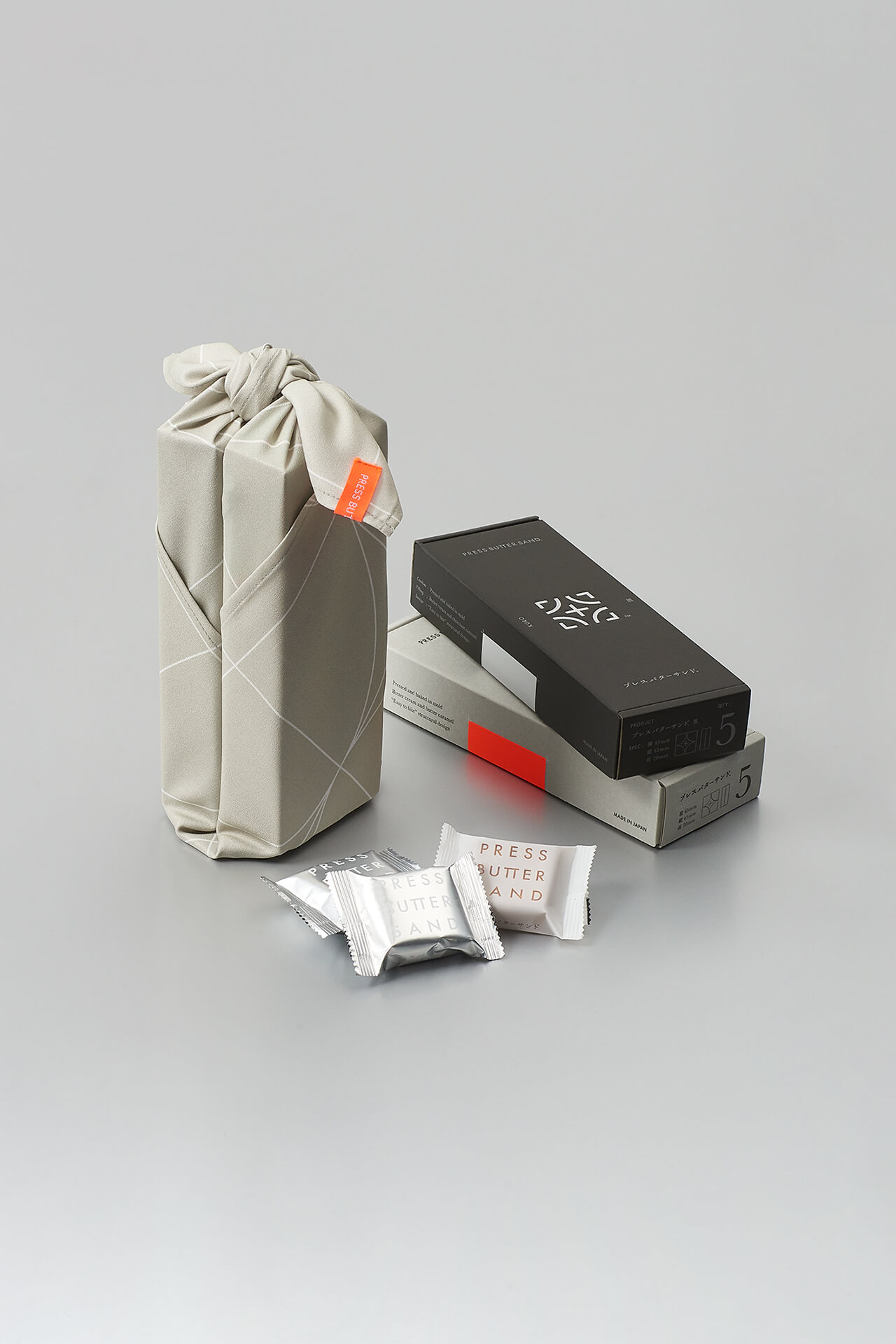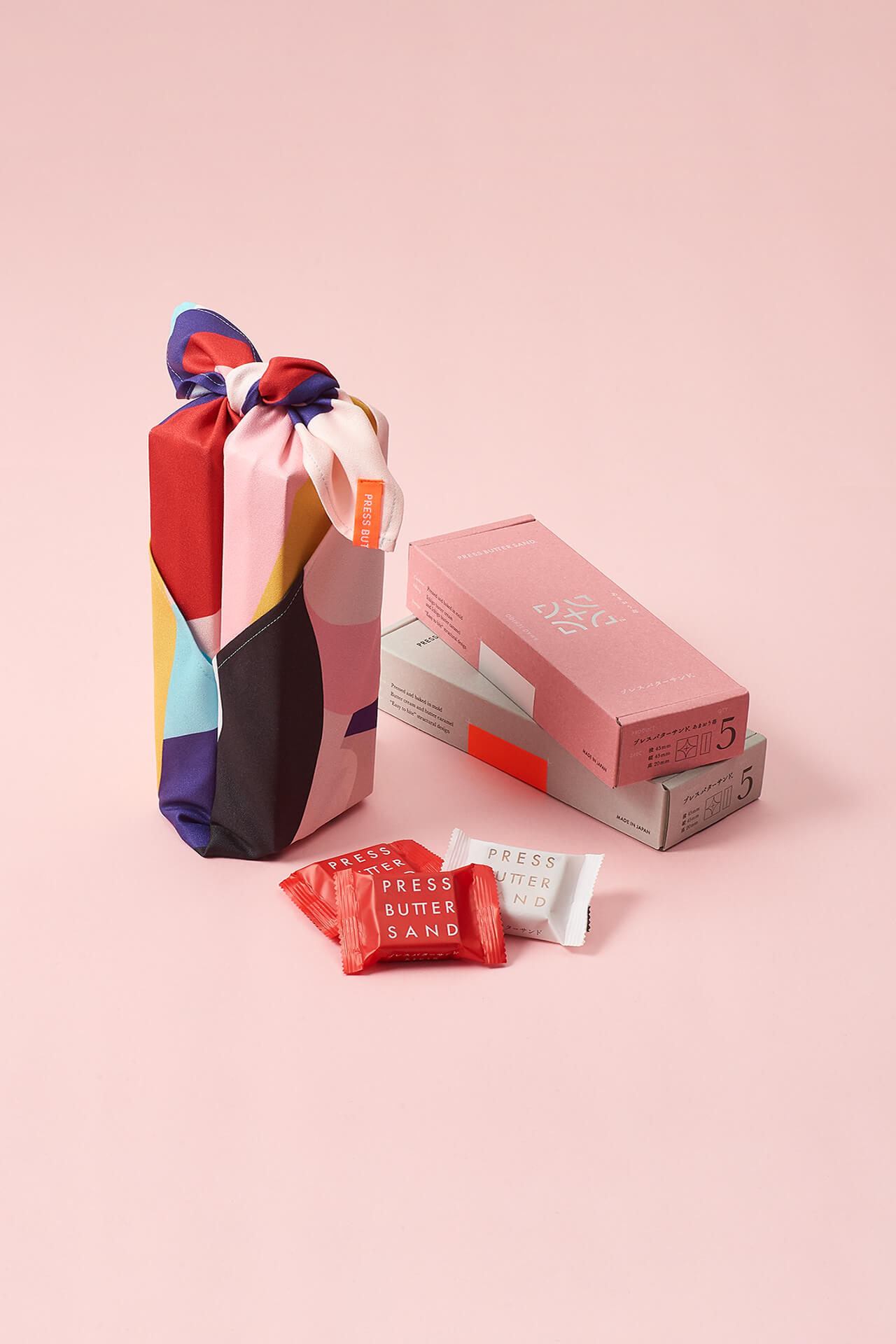 Both boxes of these delicious treats contain five of the store's famous "PRESS BUTTER SAND" sandwich biscuits, and they come gift-wrapped in an original furoshikiーa type of Japanese wrapping cloth. The appearance of both products in their packaging maintain an artisanal aesthetic and capture the vibe of their respective cities.
The furoshiki were designed by Yumiko Kakizaki (BAKE Inc.), the creative director at PRESS BUTTER SAND, and several creators active around Kyoto and Fukuoka. Each design was made to represent the characteristics of Kyoto and Hakata.
Also available is the Tsutsumi Black, a set each of 5 original and black flavoured butter biscuit sandwiches.
PRESS BUTTER SAND boasts over 2.5 million sales a year on average. If you've get to try their scrumptious biscuit sandwiches then don't pass up the opportunity to try these new flavours.
Information
Tsutsumi Uji Matcha (Includes 5 Uji Matcha and 5 Original Biscuit Sandwiches)
Price: ¥3,240
Available: PRESS BUTTER SAND Kyoto Station
Running: December 13, 2019 until stock sells out
Tsutsumi Amaou Strawberry (Includes 5 Amaou Strawberry and 5 Original Biscuit Sandwiches)
Price: ¥3,240
Available: PRESS BUTTER SAND Hakata Station
Running: December 13, 2019 until stock sells out
Official Website: https://buttersand.com
RELATED ENTRIES
Attack on Titan Playing Cards Win Big at the Ani-Monozukuri Awards 2022

At the 5th annual Kyoto Ani-Monozukuri Awards 2022, a collection of Attack on Titan playing cards made in traditional Japanese style took the Gold Prize in the Craft Design category. In Japanese, monozukuri means 'to make something by hand.'

The Kyoto Ani-Monozukuri Awards aims to revitalize business between the anime industry and local companies and organizations. It honors outstanding collaborative products, inviting those with a creative streak to try their luck at designing something uniquely anime-inspired. This year's awards show saw 157 total entries, with one winning the grand prize, seven winning both gold and silver, and six winning bronze.

Charaditional Toys was launched this year, and the company aims to create items for adults who love anime characters. The Gold Award was granted to the company after judges were inspired by the traditional Japanese craftsmanship and high quality shown in the final product. Made by Oishi Tengudo, a company founded in Kyoto in 1800, the cards were made using classic methods. These 48 original playing cards are like nothing fans of Attack on Titan have seen before. 

A second project is scheduled for release in winter 2022, so stay tuned!

©諫山創・講談社/「進撃の巨人」The Final Season製作委員会

Sound! Euphonium Collaboration Cafe Opens at Kyoto's Hotel Keihan

Fans of the Sound! Euphonium anime will want to visit Hotel Keihan Kyoto Grande from September 23 until November 20, 2022! The second-floor restaurant Octava will be holding a special collaboration cafe with the series in conjunction with the Keihan Electric Railway. The project is part of the collaboration between the series and the local railway that began in August, and fans will be able to order food and drink items inspired by their favorite characters.

Collaboration Menu

Kumiko's Omurice

Reina's Pasta with Sweet and Spicy Tomato Sauce

Hazuki's Matcha Ice Cream & Sapphire's Macarons

Mr. Taki's Spicy Curry Pizza

Sound! Tuba-kun's Fruit Cake

Drink Menu

Kumiko's Strawberry Milk

Reina's Butterfly Pea

Hazuki's Blue Soda

Sapphire's Orange Juice

Band President & Vice President's Matcha au Lait

Straw Tags

Bonuses

Bonus for Dining In-store: Lunch Mat

Drink Order Bonus: Coaster (5 varieties, 1 secret)

*Coasters will be given at random.

Life-size Panels

From omurice and pasta to fruit cake and spicy curry pizza, there is certainly a dish perfect for everyone at the cafe. Guests can also enjoy five different types of drinks, and a coaster will be handed out at random for each order. Those dining at the cafe will enjoy their meal on a special lunch mat, and life-size character panels will be perfect for snapping some photos for social media. Music from the series will be played on-site, so come enjoy while you can!

Information

Keihan Electric Railway x Sound! Euphonium 2022

Running: September 23 – November 20, 2022

Lunch: 11:30-14:30 (Last order at 14:00)

Dinner: 17:30-22:00 (Last order at 21:30)

*From 2:30 to 5:30, only items from the take-out drink menu are available.

Reservations Now Open

Reservations: https://bit.ly/3RFPf4i   

Venue: Hotel Keihan Kyoto Grande, 2F Restaurant Octavar
https://www.hotelkeihan.co.jp/kyoto/restaurant/

Taisho Pharmaceuticals has announced a new flavor of Vicks Medicated Drops available only in Japan! The Matcha flavor will be available starting October 1, 2022.

VICKS Medicated Drops are lozenges perfect to relieve sore throats, and in an attempt to make a product for everyone's taste, 14 flavors have been developed so far–five fruit types, three refreshing types, and six sugarless types.

Matcha has become a more popular flavor among both young and old people in recent years, and this Japan-only flavor is sure to be a hit. The active ingredient, CPC, disinfects and sterilizes the mouth, so the next time you feel a cold coming on, try one of these lozenges out.

Kyoto's Itohkyuemon Offering Uji Green Tea Mont Blanc Parfait & Chestnut Sweets Plate for a Limited Time

Uji, Kyoto is known for its tasty matcha. Founded in 1832, Itohkyuemon offers up some of the most delicious green tea sweets in Japan. Starting on September 1, several locations are serving up an Uji Green Tea Mont Blanc Parfait and a tasty Chestnut Sweets Plate!

Uji Green Tea Mont Blanc Parfait and Chestnut Sweets Plate

The Uji Green Tea Mont Blanc Parfait is decorated with a beautiful chestnut skin on top and served with yellow candied chestnuts and baked meringue with a dazzling white color. The inside includes cookie dough, homemade Uji green tea jelly, crunchy agar, two kinds of ice cream, and Uji green tea honey. This autumn-only parfait allows guests to enjoy the taste of Uji green tea while also sampling the delicate flavor of Japanese chestnuts. The Chestnut Sweets Plate offers eight kinds of sweets in one go, including the autumn-only Chestnut Green Tea Roll Cake and Chestnut Green Tea Daifuku, Uji Hojicha Cheesecake, Uji Green Tea & Hojicha Raw Chocolate, Uji Green Tea Mini Parfait, and Uji Green Tea & Chestnut Ice Cream.

Uji Green Tea Mont Blanc Parfait

Chestnut Sweets Plate

Information

Uji Green Tea Mont Blanc Parfait and Chestnut Sweets Plate

■Uji Green Tea Mont Blanc Parfait

Available: September 1 – Early October

Where to Buy: Uji Main Store, JR Uji Station Store, Shijo-dori Store

■Chestnut Sweets Plate

Available: September 1 – Late November

Where to Buy: Uji Main Store, JR Uji Station Store, Shijo-dori Store

Official Site: https://www.itohkyuemon.co.jp/corporate/

HOTEL SHE, KYOTO Invites Guests to Stay in a Gallery for a Limited Time

Art subscription service Casie is collaborating with HOTEL SHE, KYOTO! A special art exhibition titled GALLERY HOTEL SHE, will be held from September 17 until October 16, inviting guests to enjoy the once-in-a-lifetime experience of staying in a gallery overnight!

During the event period, guests of HOTEL SHE, KYOTO will be able to select their favorite piece of artwork from an on-site gallery. The piece will then be hung in their guestroom, and visitors can spend the night appreciating it at their own pace. This is a great way to learn more about art appreciation, and guests can enjoy discussing the art world with their friends and family. 

 

"Although we may view art in museums and other venues, it is rare to have the opportunity to select and display a work of art of our own choice," the project description reads. "Through this unique experience, we aim to provide guests the chance to actively engage with art and inspire them to make art a part of their daily life going forward."

Suntory Museum of Art to Display Art from Chishakuin Temple in Kyoto for the First Time

From November 30, 2022 until January 22, 2023, the Suntory Museum of Art in Tokyo will hold the 'Treasures from the Chishakuin Temple in Kyoto' exhibition.

National Treasure. Maple Tree. Hasegawa Tohaku. (Four of Six Sides) Momoyama Period / 16th Century.

Chishakuin Temple. [On display during the entire exhibition.]





Chishakuin Temple is located in Higashiyama, Kyoto, and is the headquarters of the Chisan School of the Shingon Sect of Buddhism. This originated with Kobo Daishi (774-835), and the sect now has 3,000 temples around Japan. Founded during the Muromachi period (1095-1143) the temple was originally built in Wakayama Prefecture in memory of Toyotomi Hideyoshi's son Sutemaru, but the builds were brought to Kyoto in 1598 on the orders of Tokugawa Ieyasu.

Kobo Daishi Scroll

Muromachi Period, First Year of Bun'an Era (1444)

[On Display from November 30 until December 26, 2022]

Kyoto Prefecture Designated Tangible Cultural Property –  Kogyo Daishi Scroll

Kamakura Period / 13th Century

[On Display from November 30 until December 26, 2022]

National Treasure. Cherry Blossoms. Hasegawa Tohaku. (Four of Five Sides) Momoyama Period / 16th Century.

[On display during the entire exhibition.]


The temple is best known today for its panel paintings and gardens, the latter of which was inspired by tea master Sen-no-Rikyu. Half of the original paintings remain, with some having been lost to fire and some simply being degraded over time. 

National Treasure. Diamond Sutra (Partial) – Zhang Jizhi

Southern Song Dynasty, First Year of Houyuu (1253)

[On display during the entire exhibition]

Important Cultural Property. Mahamayuri Scroll.

Kamakura Period / 14th Century

[On Display from December 28, 2022 until January 22, 2023]

Important Cultural Property. Green Maple and Waterfall. Song Dynasty / 13th Century

[On Display from November 30 until December 26, 2022]

Ladies at Tea. Insho Domoto. 4 sides. Showa 33 (1958)

[On display during the entire exhibition]

This exhibition will mark the first time that many of the paintings are shown simultaneously outside of the temple, including Cherry Blossoms, Maple Tree, and Pine Tree with Autumn Plants. Visitors can also enjoy National Treasures and items from the temple's treasure trove of Buddhist Art. Would you like to come and browse these incredible pieces?

Information

Treasures from the Chishakuin Temple in Kyoto

Running: November 30, 2022 – January 22, 2023
*To preserve the works, items will be switched out during the exhibition period.
*Dates are subject to change. Please check the museum's website for the latest information.

Venue: Suntory Museum of Art, Tokyo Midtown, Galleria 3F
(9-7-4 Akasaka, Minato-ku, Tokyo)
Official Site: suntory.jp/SMA/

Halloween Afternoon Tea with a Ghost Theme Coming to Kyoto for a Limited Time

Art Grace Wedding Hills, a wedding venue in Kyoto, will be offering a ghostly Halloween Afternoon Tea experience in September and October!

Mischievous Ghost Halloween Parfait *Sample Image

Sweets *Sample Image

Savory Dishes *Sample Image

Adorable ghosts and Halloween-inspired sweets made with autumn flavors such as pears, apples, chestnuts, pumpkins, and sweet potatoes will be on the menu. The Mischievous Ghost Halloween Parfait has a refreshing finish with blackcurrant mousse and blood orange jelly. The marshmallows, made to look like ghosts wearing witch hats, are perfect for posting on social media.

 

How would you like to spend a sweet time in Kyoto this Halloween season?

Information

~Trick or Treat~ Halloween Autumn Afternoon Tea

Dates:
September 4, 9, 16, 18, 25, 30
October 2, 7, 14, 15, 16, 21, 23, 30

Times: Seating 1, 13:00-14:30 / Seating 2, 15:15~16:45 (90 minute seatings)
*Must make a reservation a minimum of 15 minutes before seating.
*Only 1 seating on weekdays.

Venue: Kyoto Art Grace Wedding Hills
Details/Reservations: https://www.bestbridal.co.jp/guestparty/kyoto/artgrace_kyoto/2022event-37/


Italian Pop Trio Il Volo to Perform for Charity at Kiyomizu-dera in Kyoto, Film to be Released

Il Volo, an Italian operatic pop trio known for its incredible tenors, will be the first foreign artist to be filmed at Kiyomizu-dera in Kyoto. The concert will be held without an audience and will be filmed, with proceeds going to charity.



The musical trio is known around the world for its mesmerizing harmonies. Their music manages to sound modern while still channeling tradition, making them an excellent choice to perform at the center of Japanese cultural traditions in Kyoto. The group will also perform in Tokyo, Osaka, and Nagoya.

The music video for the group's song Grande Amore, released in 2015, has racked up over 200 million views on YouTube. Loved by fans around the world, Il Volo's music transcends language barriers, and the group is sure to impress on their Japan tour.

Information

Il Volo Japan Tour 2022 Live in Concert

Planning/Invite/Organization: Tate Corporation

In Cooperation with Sony Music Labels Inc., M.T. Studio

Banyan Tree Group Opens Garrya Nijo Castle Kyoto Hotel

Banyan Tree Group, one of the world's leading independent hospitality groups, held the grand opening of Galleria Nijo Castle Kyoto, on Friday, June 17, 2022. This is the first of the group's hotels to open in Japan.

Hotel Exterior

Located south of Nijo Castle, a World Heritage Site, and named after the beautiful winter flower, Galleria Nijo Castle Kyoto is a small, modern, and minimalist luxury hotel that offers simple guests a chance to recharge themselves.

Wellbeing Room


For the grand opening, a new Wellbeing Room has been opened where visitors can experience quiet meditation.

Visitors can stroll through nearby gardens, temples, and shrines, take a tour of Kyoto's many historical sites, or spend time in the Wellbeing Room meditating or practicing yoga to recharge their batteries away from the hustle and bustle of everyday life.

The French Restaurant Singular will also offer up healthy and tasty meals with a focus on local ingredients and producers.


Enjoy a visit to Kyoto in this peaceful space perfect for resting both body and soul.

Next-Generation Town-Walking Project NAKED GARDEN -ONE KYOTO- to Begin this Fall

The creative team at NAKED is teaming up with Kyoto City, Uji City, and Otsu City in Shiga Prefecture for a one-of-a-kind project. This fall, guests will be able to experience NAKED GARDEN -ONE KYOTO, a next-generation town-walking project blending the real world and the Metaverse together. Visitors will be able to experience Kyoto's shrines, temples, and history in a whole new way.

NAKED has been working with the city of Kyoto since 2017, creating new cultural outreach and tourism programs. A number of nighttime events have taken place at Nijo Castle, including 'virtual flower viewing' in the midst of the pandemic. Last year, the DANDELION PROJECT began at Kamigamo Shrine, a World Heritage Site. The project brings guests around the world together virtually to pray for peace. Events have also taken place at Kiyomizu-dera, Heian Shrine, and Ninna-ji.

In 2022, NAKED will collaborate with Kyoto City, Uji City, Otsu City, and their respective tourism associations to create a Metaverse where visitors can enjoy Kyoto not only in the real world but also virtually. Art being experienced by visitors in real life can be reflected in the Metaverse, and experiences in the Metaverse can be enjoyed in a way that is unique to real events. As hard to describe as it may be, more details will be available on the NAKED GARDEN website when it opens this summer. 

Information

NAKED GARDEN -ONE KYOTO-

Coming Fall 2022

NAKED, INC. Official Site: https://naked.co.jp

Rhythm Game BlackStar ~Theater Starless~ Gets Collaborative Event at Toei Kyoto Studio Park

Toei Kyoto Studio Park will be holding a special collaboration with the rhythm game BlackStar ~Theater Starless~ for a limited time, from June 4 until July 10, 2022.

Goods Lineup

Newly-drawn Illustrations

Mini Characters

The Theater Starless Uzumaki Branch will be open inside the park during the event period. 26 themed cast members will even be greeting guests! 


A stamp rally will be taking place along the Keifuku Randen Tram Line and during the event, a special train featuring a newly-drawn illustration of the five main characters and 26 mini-characters will be running through the streets of Kyoto!

Limited tickets will be sold for a number of collaborative events being held in the park, so be sure to grab yours while you can!

©DOUNUTS

Information

BlackStar ~Theater Starless~ in Uzumaki

Running: June 4 – July 10, 2022

Venues: Toei Kyoto Studio Park, Arashiyama Station, etc.
Official Site: https://blackstar-uzumasa.jp/
Official Twitter: @Blackstar_uzms

Kyoto Sweets Shop Otabe Rereleases Demon Slayer: Kimetsu no Yaiba Snacks with New Designs

Otabe, one of the most popular sweets souvenir shops in Kyoto, Otabe, is known for its delicious matcha and mini-desserts. Starting May 12, the company has released nine uniquely packaged sweets inspired by Demon Slayer: Kimetsu no Yaiba. The limited-edition packaging will feature popular characters from the series. Previously, the company released matcha cakes for the crossover–this time, fans can enjoy choco-an flavor!

Demon Slayer: Kimetsu no Yaiba Choco-an

Demon Slayer: Kimetsu no Yaiba Matcha

Demon Slayer: Kimetsu no Yaiba Otabe (with Original Sticker)

Original Sticker: 15 varieties, 1 given at random

Focusing on the hashira from the series, fans will want to be on the lookout for their favorite character. These sweets can be bought at select stations in the Kyoto and Osaka area, major Kyoto tourist attractions, and online. In addition, matcha flavored treats will also be on sale featuring Tanjiro Kamado, Nezuko Kamado, Zenitsu Agatsuma, Hashibira Inosuke, Kagaya Ubuyashiki, and Muzan Kibutsuji.



©吾峠呼世晴/集英社・アニプレックス・ufotable

Information

Demon Slayer: Kimetsu no Yaiba Choco-an
Release Date: May 12, 2022
Price: ¥432 (Tax Included)
Where to Buy: Train station in Kyoto & Osaka area, Major Kyoto tourist attractions, online.
Details: http://www.otabe.kyoto.jp/kimetsunoyaiba/