Love At First Sip: Starbucks Japan To Release Valentine's 2020 Drink Series 'CHOCOLATE with'
Starbucks Japan has developed a new Valentine's drink series called 'CHOCOLATE with' to celebrate Valentine's Day 2020. Some drinks in this romantic series include the Chocolate with Almond Praline Frappuccino® and the White Chocolate with Latte®. The series will be launched on January 17, 2020 in most Starbucks cafés across Japan.
The 'CHOCOLATE with' series aims to spark a sense of anticipation for the next delicious flavour to fill the gap and hopes to tempt more people to surrender to the delicious flavour of chocolate. This fun series aims to be loved by all genders and all ages across Japan.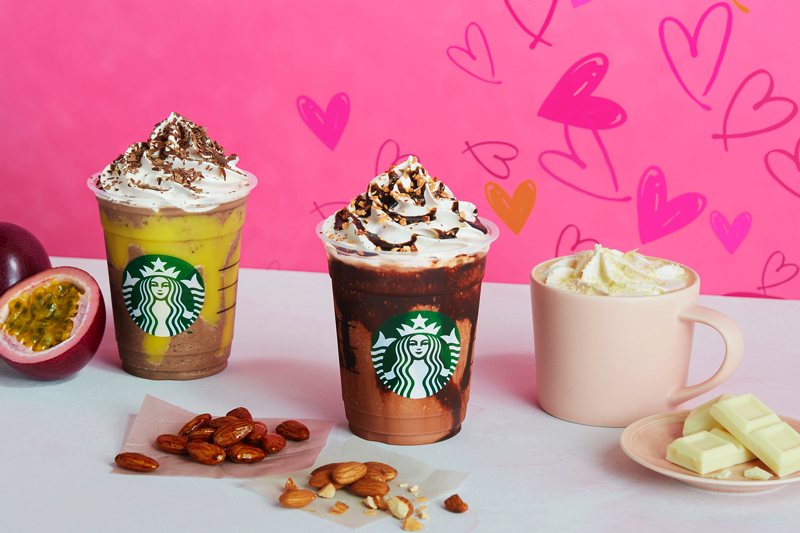 Left: CHOCOLATE with Passion Fruit Frappuccino®: Tall ¥590 *(Only available in Tall)
Middle: CHOCOLATE with Almond Praline Frappuccino®: Tall ¥590 *(Only available in Tall)
Right: White CHOCOLATE with Latte: Short ¥450, Tall ¥490, Grande ¥530, Venti® ¥570
The CHOCOLATE with Passion Fruit Frappuccino® is a chocolate-flavoured drink with refreshing yellow streaks of passion fruit sauce, chocolate chips and shaved chocolate for the topping. This Frappuccino® enjoys both a fruity flavour as well as comforting chocolate. *Contains less than 5% passion fruit juice.
The CHOCOLATE with Almond Praline Frappuccino® is made by mixing chocolate sauce with caramel and coffee for a creamy and deep base flavour. Crunchy and fragrant candied almonds and chocolate sauce top the drink, providing a very chocolatey experience perfect for any chocoholic.
The elegant and sweet White CHOCOLATE with Latte contains creamy and smooth couverture chocolate white flakes, espresso and warm milk, combined for a strong and relaxing flavour.
Right: CHOCOLATE Mousse with Latte (Hot): Short ¥390 Tall ¥430 Grande ¥470 Venti® ¥510
Left: CHOCOLATE Mousse with Drip Coffee (Hot): Short ¥340 Tall ¥380 Grande ¥420
These 'CHOCOLATE Mousse with' drinks are perfect for drip coffee and Starbucks latte fans. These Valentine's season-limited drinks are customisable so you can enjoy the delicious flavour of chocolate mousse in the form of a new Valentine's drink. The smooth chocolate mousse is light and melts in your mouth. By adding the drip coffee, the flavours merge together for a brand new and exciting flavour experience.
CHOCOLATE with Milk Tea Frappuccino®Tall ¥590 *(Only available in Tall)
On January 31, the CHOCOLATE with Milk Tea Frappuccino® with its delicious aroma, chocolatey flavour and fun textures will make its debut. The tea is made from a blend of several different kinds of tea. Milk and milk tea powder is added to enhance the flavour and then blended with white mocha syrup and chocolate chips. This is the perfect chance to enjoy chocolate and milk tea in one drink.
This year, Starbucks will also be selling Valentine's merchandise. This year's theme colours are pink and navy. A range of cute yet fancy designs decorate Starbucks' classic flasks and mugs and is bound to deliver a heart-warming experience with every sip. There are also pink Starbucks cards decorated with hearts and love letter-themed message card sets in the series. If you're looking for a causal-style gift for someone special, how about something from the Starbucks Valentines series rather than traditional chocolates?
Come try a drink from the CHOCOLATE with series for a new and exciting chocolate drink experience.
Information
Starbucks Japan CHOCOLATE with Drink Series
CHOCOLATE with Passion Fruit Frappuccino®
 CHOCOLATE with Almond Praline Frappuccino®  
White CHOCOLATE with Latte 
CHOCOLATE Mousse with Latte
CHOCOLATE Mousse with Drip Coffee
Selling: January 17 – February 14, 2020
CHOCOLATE with Milk Tea Frappuccino®
Selling: January 31 – March 31, 2020
*Available while stocks last
Available At: Most Starbucks cafés across Japan
Starbucks Japan Official Website: https://www.starbucks.co.jp
RELATED ENTRIES
Aromatic Kamakura Raw Chocolate Brand to Open New Branch in Nagoya

MAISON CACAO, the company behind the aromatic raw chocolate brand of the same name, will open a store on floor B1F of JR Nagoya Takashimaya on March 3, 2021. It will be the brand's first permanent shop in Japan's Tokai region.

The company held a special Valentine's event from late January to Valentine's Day where MAISON CACAO made the second most sales. They also enjoyed other sold out products, and showcased some exclusive indulgences like the gold leaf-adorned "Aroma Raw Chocolate ARMOUR" and "Aroma Raw Chocolate STRAWBERRY" as well as the all-new "Cacao Butterland."

The Nagoya Line-Up

Aroma Raw Chocolate AMOUR | ¥6,000 (Before Tax)

Exclusive to this new Nagoya branch of MAISON CACAO, these "AMOUR" chocolates are all handmade using techniques that have been passed down through the company. The dark chocolates are wrapped in luxurious gold leaf and have a fruity, sweet, and bitter combination. One box contains a generous serving of 16.

Cacao Butterland | ¥2,000 (Before Tax)

MAISON CACAO uses cacao beans from Columbia to bake its menu. These gooey treats are made with cacao butter and chocolate caramel with a double layering of dark and white chocolate. A rich and filling serving of six comes in a box.

 

Aroma Raw Chocolate STRAWBERRY | ¥2,200 (Before Tax)

Also a Nagoya-exclusive, these strawberry variants are made with intensely sweet JApanese amaou strawberries white combine with the fragrance cacao butter and white chocolate for a refreshing taste. You get 16 in a single box.

But Wait, There's More…

Raw Chocolate Butter Cake | ¥3,500

A cake made with velvety chocolate butter cream packed with roasted nuts, raisins, and caramel chips.

Rich Raw Chocolate Tart STRAWBERRY | ¥2,000

Yet another exclusive to Nagoya, these crunchy tarts are lathered in amaou strawberry chocolate and filled with runny and fruity amaou strawberry cream. A box comes with three included.

Other Popular Goodies Available While Supplies Last

Aroma Raw Chocolate MAISON (Grape) | ¥2,400 (Before Tax)

Babka | ¥2100

Raw Gateau Chocolate | ¥2500 (Before Tax) 

Information

MAISON CACAO

Grand Opening: March 3, 2021

Location: JR Nagoya Takashimaya Floor B1F

Address: 1-1-4 Meieki, Nakamura-ku, Nagoya-shi, Aichi

Opening Hours: 10:00-20:00

MAISON CACAO Official Website: https://maisoncacao.com/

Art and Chocolate Melt Together in Chocola Meets Crowdfunder

A new chocolate brand by the name of Chocola Meets has been cooked up in Japan that prioritises bean to bar chocolate made from fairtrade cocoa beans. The brand's USP however lies in its collaboration with artists who pen work for the chocolate's packaging.

16 art pieces created by 4 artists for the craft chocolate packaging

Chocola Meets will begin selling its tasty chocolate collection from mid-March, but for those who can't wait, the brand launched a crowdfunding campaign on February 15 via CAMPFIRE which offers pre-sales.

 

Chocola Meets prides itself on its collaborative business model which provides support to participating artists by giving them a cut of sales. This includes the money made for the crowfunder as well as the proceeds made from chocolate sales.

Sasabe (Chocola Meets, Operations Officer) | Comment

"The concept for Chocola Meets is, 'Meet My Like: Experience What it Feels Like to Find Your Likes.' This is something we value and is the reason why Chocola Meets exists. The reason behind our collaborative business model of Art x Craft Chocolate, something which hasn't been done before, is to continuously offer that very concept – one which holds irreplaceable value. And in order to do that, we needed something that allows the artists to continue living comfortably. So we're giving proceeds from the chocolate to the artists which gives them an incentive to create."

The CAMPFIRE crowdfunder offers pre-sales of the chocolates at a discounted price. There are other benefits too, like framed art by the artists, coupons, and more.

Chocola Meets successfully met their Crowdfunding goal, having raised ¥430,700 of the pledged ¥300,000 (as of February 16, 2021).

Fruit and Sake Infused Chocolates by Lotte to Release in Japan

Japanese confectionery company Lotte is releasing two new chocolates on March 23 that are infused with sweet and tangy fruits and sake: the "Torotto Strawberry Liqueur Chocolate" and "Torotto Citrus Liqueur Chocolate."

The Line-Up

Torotto Strawberry Liqueur Chocolate | ¥200 (Before Tax)

This melt-in-the-mouth milk chocolate delight is laced with a sweet strawberry liqueur filling that's sure to please the taste buds of all who love combination of chocolate and alcohol.

Torotto Citrus Liqueur Chocolate | ¥200 (Before Tax)

This one is also wrapped in velvety milk chocolate but its filling is replaced with a citrus fruit liqueur, lending a fresh, flavourful finish.

These chocolates are the perfect combination of sweet and sour fruits and Japanese sake for the coming spring season.

Little Twin Stars Doughnuts at Floresta Celebrate White Day

Floresta Nature Doughnuts, a doughnut cafe in Japan that hand-makes doughnuts using organic ingredients, is celebrating White Day this year by releasing two doughnuts based on the Little Twin Stars which will be served from March 1 to 14.

The Little Twin Stars, also known as Kiki & Lala, are two of the most popular characters by Sanrio, the company known for such iconic faces as Hello Kitty.

Kiki & Lala Doughnuts | ¥450 (Before Tax)

Kiki & Lala are twins who were born on the Star of Compassion. The doughnuts capture the cute duo atop fluffy pink clouds made from strawberry and white chocolate.

The doughnuts are made without any additives or colouring. The ring part of the doughnut is coated in a strawberry chocolate made from organic strawberry powder for a sweet and sour kick.

 

Celebrate White Day this year, the sequel to Valentine's Day in Japan, with the Little Twin Stars.

©'21 SANRIO CO., LTD. APPROVAL NO. L615092

Love Cheese On Valentine's Day in Apple, Basil, and Cacao Nib Flavours

For Valentine's Day 2021, Ginza Wakana released its new "ABC CHEESE" on Monday (February 28) in the line-up of its Ginza Cheese series of miso-tsuke miso-preserved and sakekasu-tsuke sake lees-preserved products.

ABC CHEESE (Box of 3: Apple/Basil/Cacao Nib) | ¥1,620 (Tax Included)

Ginza Wakana first opened its doors back in 1958 in Ginza, Tokyo. It's a store specialising in tsukemono which are foods in Japan, often vegetables, that are preserved in a variety of ingredients. This includes pickling in salt, brine, rice bran, and more. Its focus is to promote the wonder and enjoyment of deep flavours that tsukemono bring to the palette. Tsukemono are rooted in traditional Japanese food culture, and so Ginza Wakana have made it their mission to pass down its tradition.

Wanting to bring something new to the table, Ginza Wakana has developed a new collection of cheeses. The ABC CHEESE collection gets its name after its flavours: Apple, Basil, and Cacao Nibs. It has cheese preserved in miso and sake lees, resulting in a unique flavour combination that mixes Japanese and Western tastes. The triple serving of cheeses is packaged in a stylish gift box for Valentine's Day, making for a very different kind of present for loved ones that they're sure to savour—especially if they're cheese fanatics.

Information

ABC CHEESE by Ginza Wakana
Running: February 8, 2021 – March 15, 2021
Where: Ginza Wakana Online Shop / Ginza Wakana Nihonbashi Mitsukoshi / Ginza Wakana Isetan Shinjuku / Ginza Wakana Daimaru Tokyo / Ginza Wakana Shibuya Tokyu / Ginza Wakana Atre Kichijoji / Ginza Wakana ecute Omiya / Ginza Wakana Nagoya Mitsukoshi Sakae / Ginza Wakana Matsuzakaya Nagoya / … and elsewhere
Online Shop: https://www.ginzawakana.com/

Harajuku Whips Up Oita Prefecture's Jazz Youkan Sweet Adzuki Bean Block

The Jazz Youkan is a cute confection made from sweet adzuki red bean paste and made to look like a little piano. It's made in Japan's Oita Prefecture, but Tokyo residents can now enjoy this sweet treat at HARAJU Cross JAPAN MASTERY COLLECTION_est which is located on Floor B1F of WITH HARAJUKU, a shopping complex in front of Harajuku Station. It is being sold until February 14 in three flavours: Chocolat, Matcha Chocolat, and Classic.

The Jazz Youkan

The Jazz Youkan is a confectionery made by Jazz to Youkan Yufuin CREEKS, a shop in Yufu, Oita. It's part of their concert series of sweets and pairs well with a cup of coffee or glass of wine.

Line-Up (Prices Include Tax)

Chocolat | ¥2,646

The seasonal winter Chocolat is made with sweet white bean paste, couverture chocolate, dried cherries, fig, and raisins. All the chocolates in this series are individually handmade by the shop's chocolatiers, and this time, the classic Chocolat variant has been made even more delicious. It's smooth, moist, and rich without being too sweet. Best enjoyed with coffee or wine.

Matcha Chocolat | ¥2,646

If you love matcha then this is the treat for you. It's different from the normal Chocolat version of this sweet as it's made without dried fruits. Instead, it contains large-grained adzuki beans for an irresistible texture.

Classic | ¥2,160

The Classic version is made with brown sugar from Okinawa and adzuki beans and contains dried figs soaked in wine. Another perfect pairing with coffee or wine, and the piano face shows the work of true Japanese artistry.

©冬季限定 ジャズ羊羹 chocolat

Information

Jazz Youkan
Order Window: January 16, 2021 – February 14, 2021
Orders: TEL: 03- 6384-5815 / E-mail: shop_est@japanmasterycollection.jp
Sales Window: February 7, 2021 – February 14, 2021
Where: HARAJU Cross JAPAN MASTERY COLLECTION_est
Address: 1-14-30 Jingumae, Shibuya, Tokyo
Opening Hours: 12:00-18:00
Jazz to Youkan Yufuin CREEKS Official Website: http://www.jazz-youkan.com/

Enjoy a Valentine's Day Bath at Ofuro Cafe no Yu Hakuju in Saitama

Ofuro Cafe Hakuju no Yu is holding a special Valentine's Day event for lovers which will run from February 6 to 14.

Though the bath house is split between male and female, couples can write messages of love to their special someone on a heart-shaped plaque made from Japanese cypress wood. The plaques were made in collaboration with the local business Kanezawa.

Choko Sweet Sake Shake | ¥630 (Before Tax)

For the Valentine's event, the bath house is also serving up a special shake beverage made with chocolate and sweet sake. The polyphenol in chocolate is said to be good for health and beauty, making it a perfect choice for a day of luxury at Ofuro Cafe Hakuju no Yu.

Guys who visit the bath house on Valentine's Day itself will also receive free Valentine's chocolate.

Information

Valentine's Bath
Running: February 6, 2021 – February 14, 2021
Venue: Ofuro Cafe Hakuju no Yu
Address: 337-1 Wataruse, Kamikawa, Kodama District, Saitama
TEL: 0274-52-3771
Official Website: https://ofurocafe-hakujyu.com/

■About Ofuro Cafe

Ofuro Cafe is a chain of hot spring brands made for long stay periods. It offers a variety of free services such as coffee, magazines, comics, massage chairs, PC rental, and more. The experience created is like being invited to a friend's house to kick bck and relax. There are three branches in Saitama including Ofuro Cafe Utatane, Ofuro Cafe Hakuju no Yu, and Ofuro Cafe Bivouac, as well as one branch in Mie, Ofuro Cafe Yumoriza. It also has three franchise branches: Ofuro Cafe Bijinyu in Shizuoka, Ofuro Cafe Biwakoza in Shiga, and Ofuro CafeSeiyukan in Hokkaido. "おふろcafe(R)" is a registered trademark of ONSENDOJO INC.

■ONSENDOJO INC.
Founded in March 2011. Manages hot spring facilities including the Ofuro Cafe brand as well as resort facilities, consultation services, and supporting regional businesses.
http://onsendojo.com/

Valentine's Day Gift Ideas: Japan Releases Whole Melon Cake

Japanese online cake store Cake.jp released its new "Valentine's Whole Melon Cake" on Monday (February 1).

Valentine's Whole Melon Cake | ¥10,000 (Tax Included)

The Whole Melon Cake is a popular dessert on Cake.jp, but this month, it arrives in a chocolate flavour for Valentine's Day. As the name suggests, the cake uses an entire muskmelon which when sliced into reveals a chocolate, melon, and raspberry filled sponge cake.

If you're stuck for ideas on Valentine's Day, this is sure to offer some inspiration.

Information

Valentine's Whole Melon Cake

Japanese Product Name: バレンタイン限定 まるごとメロンケーキ
Released: February 1, 2021
Buy Here (Japan): https://cake.jp/item/3392939/

Japan's First Earl Grey Shop Makes Appearance at Chocolate Mode 2021 Event in Saitama

&EARL GREY, the first shop in Japan to sell exclusively earl grey products, is appearing at the Chocolate Mode 2021 event at Isetan Urawa in Saitama which is taking place until February 14. Visitors can look forward to tucking into a sweet selection of delicious earl grey flavoured ice creams.

Double Chocolate Gelato & Macaron: Chocolate & Continental Earl Grey / Chocolate & Sunshine Earl Grey / Chocolate & Exotic Earl Grey – ¥605 Each (Tax Included)

Earl Grey Rich Milk Tea Gelato: Butterfly Pea & Earl Grey / Pistachio & Matcha / Mango Passion & Jasmine / Mixed Berries & Rooibos / Peche de Vigne & Honeybush Lavender – Single ¥495, Double ¥550, Triple ¥605 (Before Tax)

&EARL GREY has prepared a sweet line-up of rich ice creams made using high quality tea leaves from Japan, China, Sri Lanka, South Africa, and elsewhere. And for Valentine's Day, some of the ice cream options have been topped with cute macarons.

Perfectly Pink Sanrio Valentine's Day Collection Heads to Maison de FLEUR

For Maison de FLEUR's annual "PINK MANIA" Valentine's season event, it is teaming up with Sanrio to release a positively-kawaii pink collection of bags at its stores in Japan on February 11. The line-up also made a pre-release on the online shop STRIPE CLUB last week.

PINK MANIA x Sanrio Characters Collection: Azato Melody / Azato My Sweet Piano / Azato Cinnamoroll / Azato Bonbonribbon / Azato Pochacco

PINK MANIA Double Ribbon Tote Bag | ¥5,290 (Before Tax)

PINK MANIA Side Pocket S Tote Bag | ¥5,290 (Before Tax)

PINK MANIA Side Pocket M Tote Bag | ¥5,990 (Before Tax)

PINK MANIA Ribbon Pouch | ¥3,590 (Before Tax)

PINK MANIA Pouch | ¥3,590 (Before Tax)

PINK MANIA Face Mask Case Pouch | ¥3,590 (Before Tax)

Interior design of each bag and pouch

PINK MANIA is an event held by Maison de FLEUR every year around Valentine's Day where select items turn all pink. This year's line-up includes some of the brand's iconic tote bags and pouches as well as some new entries. Familiar faces from Sanrio include My Melody, My Sweet Piano, Bonbonribbon, Pochacco, and Cinnamoroll.

Go pink and kawaii this Valentine's Day with this year's PINK MANIA collection.

Hear Eve and suis From Yorushika's New Song in Ghana's Special Animation

A special animation was released by Japanese confectionery company Lotte on Monday (February 1) as a commercial for their Ghana chocolate. The video, entitled "Ghana Gift," features a collaboration with Japanese music artists Eve and suis from Yorushika.

Eve x suis from Yorushika's New Song "Heikousen" Features in 'Gift' Animation

The animation was directed by Nobutaka Yoda and written by Genki Kawamura, with character design by Kiyotaka Oshiyama. With the pandemic, it has become difficult to see loved ones and friends and many of us are unable to express our feelings to these special people in our lives directly. Lotte created the animation to promote the gift of giving this Valentine's Day as a way of conveying ties to loved ones. The animation is 30 seconds long but a 4-minute version will be released in the near future.

The Animation's Story

The story follows two children, a high schooler and middle schooler, who are neighbours. Both of them throw paper planes to each other with messages written on them to go shopping, make chocolate, and hang out. But the day before Valentine's Day, we find out the girl has to move away, but before she does, she gives the boy chocolate. The two of them were always together, but they never expressed their love for each other.

The 30-second version can be viewed on YouTube and the official website.

Ghana Gift Twitter Campaign


Ghana launched a retweet campaign on Twitter on Monday where 130 lucky people can win a selection of prizes. Check out the details below.

Campaign – How to Join

1. Follow Ghana on Twitter @ghana-recipe
2. Retweet the daily campaign Tweet

Prizes
A-Tier Prize: Heikousan Limited Edition CD + 5 Ghana Milk Chocolates (30 People)
B-Tier Prize: 2 each of Ghana Milk, Ghana Black, Ghana White, Roast Milk, and Ghana Pink Chocolate (100 People)

Running: February 1, 2021 – February 14, 2021

*Winners will be DM'd on Twitter. Shipping in Japan only from mid March 2021.

Experience Valentine's Day in Augmented Reality With NAKED SWEETS GIFT

NAKED, INC. is collaborating with Tobu Department Store to offer a very different Valentine's Day for people this year. It has introduced a special Valentine's version of its "NAKED SWEETS GIFT" service for the mobile which lets users enjoy treats and desserts in AR.

The item needed to experience this AR service will be given to those who spend over ¥5,000 (tax included) at the Valentine's event "Chocolate Marche" taking place at Tobu Department Store in Ikebukuro, Tokyo between January 30 and February 16. They are available on a first-come, first-served basis.

A delicious world of desserts before your very eyes

The NAKED SWEETS GIFT service is meant as a gift on celebratory days like birthdays and commemorative days, bringing colourful treats to life on your smartphone in the form of 3D visuals to the sound of music.

When customers scan the heart-shaped message card on their smartphone, the Valentine's Day version of NAKED SWEETS GIFT will launch. It's a little something extra to a regular Valentine's card and is sure to bring about smiles to your special someone.