Make Authentic Matcha at Home With the New Ippukubox Set
TAKAHASHI KOGEI has launched a new matcha making set called the Ippukubox which comes with everything you need to make authentic Japanese matcha.
For many of us, our time indoors has increased. When taking a break from remote work we head to the kitchen to make ourselves a drink. We've all had those moments when we're torn between making coffee, black tea, herbal tea, and so on. In those undecided moments, why not try making a cup of matcha instead?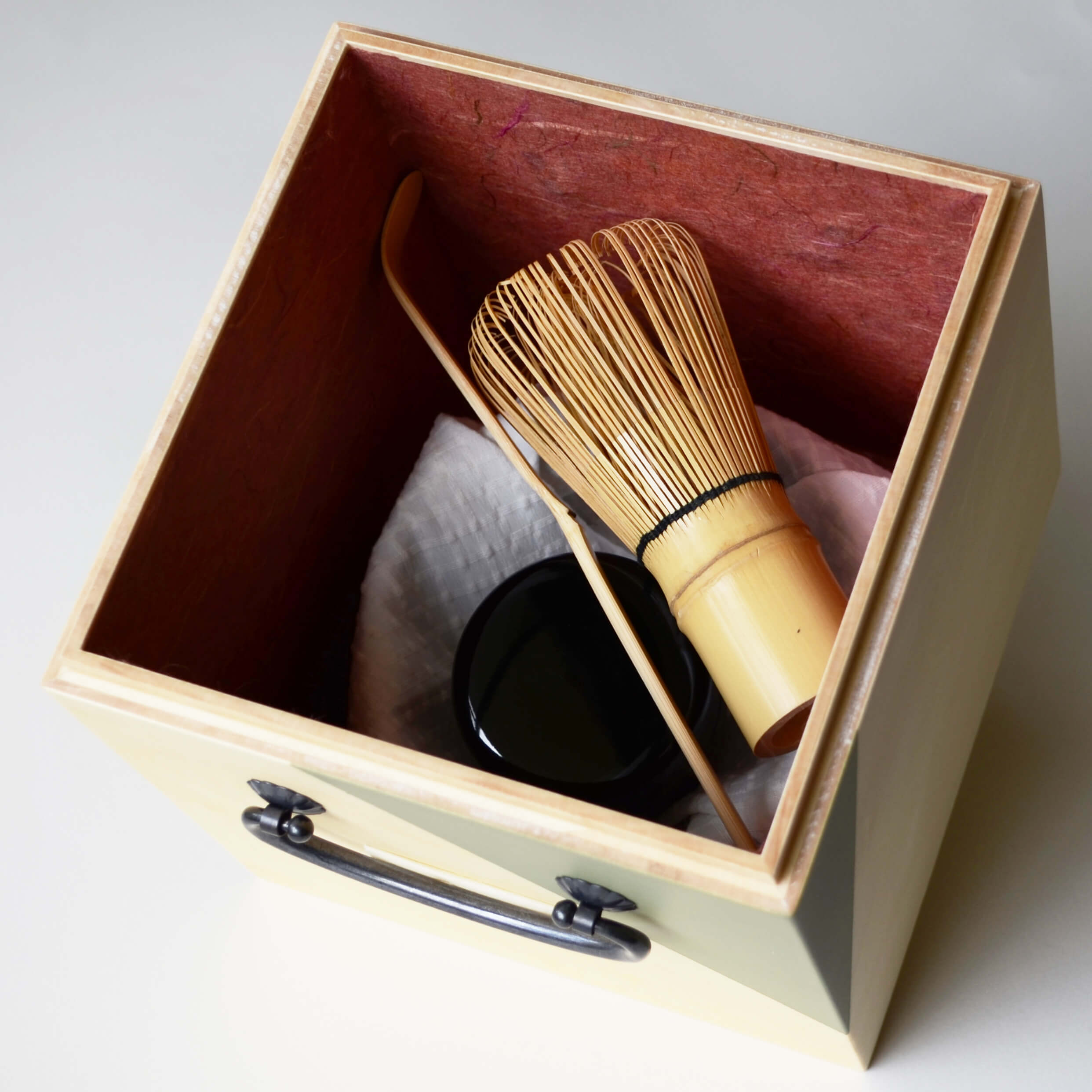 The Ippukubox is a 15cm box which comes with all the necessary gear for making mathca: a chawan cup, chasen tea whisk, chashaku teaspoon, and a natsume tea caddy for preserving your matcha.
The inside of the box is lined with Echizen paper from Fukui Prefecture which not only makes it look beautiful, but protects your matcha tools from becoming damaged as a result of rubbing together.
Generally in Japan, when you think about making matcha, the traditional tea ceremony springs to mind which follows strict rules when it comes to making the drink. But the Ippukubox is made for personal use, and so you can add as much or as little matcha or hot water as you like, and practice making it even if you don't know the proper techniques. You can even add hot milk to make a matcha latte and enjoy a tasty treat with it.
The chawan teacup is Echizen ware from Fukui and was made specially for the Ippukubox. Its cute size makes it fit perfectly in the palm of your hand, but it's also spacious enough for using the whisk.
The outside design of the box is also made in such a way that it fits seamlessly into modern living and dining spaces. Each wooden box is handcrafted individually and is layered in a matte coating to protect the wood.
*This chawan teacup is different to the one included in the set
The lid of the box can even be used as a tray as pictured above to fit your drink and snack.
Information
Ippukubox
Release Date: May 15, 2020
Price: ¥13,000 (Before Tax)
Official Website: https://o-takahashikogei.com
*Please note that the Ippukubox does not come with matcha or snacks.
RELATED ENTRIES
Famous Oil Blotting Paper Brand's Yojiya Café Reforms Three Popular Parfait Flavors

The Yojiya Café, opened by the Yojiya brand famous for its Aburatorigami, or facial oil blotting paper, will be renewing its menu from September 13. The popular face parfait, which features the logo alongside a Kyoto woman with a mole, comes in three flavors available – Kinako, Matcha, and Milk Tea. Each parfait comes with a sauce, so you can adjust the taste as you eat.

 

Kinako Parfait: ¥1,200 (Tax Incl.)

Matcha Parfait: ¥1,200 (Tax Incl.)

Milk Tea Parfait: ¥1,200 (Tax Incl.)

The Yojiya Café is currently open in two locations, Gion and Sagano Arashiyama, offering a relaxing space to rest between shopping and sightseeing.

The café has renewed their iconic Kinako Parfait, which combines Japanese Kinako and Western Maple Syrup, along with the Matcha Parfait, which is packed full of matcha ice cream, jelly, and cookies. The Milk Tea Parfait is made with a rich Japanese Tea and Earl Gray ice cream.

Take a trip to Yojiya and find out which parfait is your favorite!

Information

Yojiya Café – Parfait Renewal

Release Date: 14 September 2021

Availability:

Yojiya Café Gion

Address: Izawa Building 2F, 266 Gionmachi Kitagawa, Higashiyama-ku, Kyoto

Opening Hours:

Weekdays 11:00 ~ 17:00 (LO16:30)

Weekends/Holidays: 10:00 ~ 18:00 (LO17:30)

YOJIYA CAFE Sagano Arashiyama

Opening Hours:

Weekdays 11:00 ~ 17:00 (LO16:30)

Weekends/Holidays: 10:00 ~ 18:00 (LO17:30)

Address: 2 Tateishicho, Sagatenryuji, Ukyo-Ku, Kyoto

Official Site: https://www.yojiya.co.jp/

McCafe by Barista® Offering New Kuromitsu Uji Matcha Frappe

In Japan, McDonalds McCafe by Barista will be releasing the new Kuromitsu Uji Matcha Frappe beginning September 1. The sweet autumn drink will only be available for a limited time.

McCafe by Barista has been popular with customers looking for sweet beverages, such as Frappes and smoothies. The Uji Matcha Frappe was added to the regular product lineup in June 2021, and features a mellow matcha flavor. With this release, kuromitsu, or Japanese black sugar syrup, has been added to enhance the drink's flavor.

Kuromitsu Uji Matcha Frappe: ¥490 (M), ¥560 (L)

 

The Kuromitsu Uji Matcha Frappe is made with powdered Uji Matcha tea from Kyoto, mixed with milk and topped with Kuromitsu jelly, known for its gentle sweetness and rich flavor. Brown sugar from Okinawa Prefecture along with whipped cream is added on top.

Uji Matcha Frappe: ¥440 (M), ¥490 (L)

The regularly available Uji Matcha Frappe is made with Uji Matcha powder from Kyoto, milk, and fluffy whipped cream. Dark green matcha powder and pure white whipped cream gives the beverage a gorgeous appearance, along with a truly Japanese flavor.

These are two drinks not to miss if you're in Japan!

Long-Standing Kyoto Tea Wholesaler Yamamasa Koyamaen Opens Cafe in Tokyo

TZEN, a company dedicated to promoting traditional Japanese culture around the world, has teamed up with Yamamasa Koyamaen, a tea wholesaler in business since the Edo period, to open a new matcha cafe in Tokyo!

ATELIER MATCHA, a quick walk from Ningyocho station, is harnessing the concept of 'the third wave of matcha,' serving up premium matcha in a cozy atmosphere. 

MATCHA Cookies & Cream Shake: ¥748 (Tax Included) 

MATCHA with Warabimochi and Red Bean Topping: ¥748 (Tax Included)

MATCHA Jelly Cider: ¥660 (Tax Included)

MATCHA Granola and Yogurt Latte: ¥715 (Tax Included)

MATCHA Cotton Candy Milkshake: ¥748 (Tax Included)

MATCHA Affogato: ¥660 (Tax Included)

MATCHA Shot (Espresso Style): ¥220 (Tax Included) / MATCHA Water: ¥275 (Tax Included) / MATCHA Green Tea: ¥330 (Tax Included)

Supreme MATCHA Terrine: ¥660 (Tax Included)

(This is a partial menu, all prices are for those dining in.)

Matcha is becoming popular around the world. ATELIER MATCHA was created to offer customers a unique experience which showcases the true taste and culture of this beloved tea grown in Japan. 

Yamamasa Koyamaen is a Kyoto institution, cultivating and grinding matcha tea leaves for 160 years. Over 1,000 tea retailers, department stores, domestic and international trading companies and hotels stock their high-grade matcha, gyokuro, sencha, and other specialty teas, making them one of the most recognized and respected names in this traditional Japanese art. The company even prefers to call themselves a 'studio' rather than a 'factory', using the 800-year history of tea cultivation in Uji, Kyoto as a starting point to create their masterpieces. 

ATELIER MATCHA is Yamamasa Koyamaen's first cafe, and also the company's first experience selling directly to consumers. 

Blending the highest-grade matcha with locally made sweets, the cafe hopes customers will enjoy these original creations while surrounded by the relaxing aroma of tea. 

The matcha used in the cafe includes signature Yamamasa Koyamaen blends, including Ogurayama and Tennozan, both varieties often used in tea ceremonies. For a limited time, the cafe is offering a single-origin blend with one rare variety of matcha, as well as a beverage made with tencha, which are the leaves used to make matcha before being ground down in a stone mortar. Visitors can also enjoy gyokuro and hojicha teas, made from carefully selected leaves. 

Pulling recipes from Yamamasa Koyamaen's book 'Kyoto Uji-Koyamaen: Simple Matcha Drinks to Enjoy at Home,' the menu features refreshing drinks blending the traditional with the modern, with unexpected combinations of soda, fruit and yogurt. Seasonal drinks will also be making an appearance, including shaved ice in summer and chocolate drinks in winter. 

The name MATCHA SHOT packs a punch, using matcha instead of espresso for a needed pick-me-up. MATCHA WATER, a refreshing cup of watered-down tea, offers a way to fully enjoy the fullness and more hidden flavors of this popular Japanese tea. 

As expected, ATELIER MATCHA also has a sweets menu set to impress: these sweet treats feature only the best, created with the top 0.03% of total national matcha production. This insanely high-quality matcha is a part of Yamamasa Koyamaen's ultimate matcha experience project, titled "ALL FOR ONE," which provides these rare leaves to some of the country's top professionals in various fields. 

At opening, only limited qualities of the Supreme MATCHA Terrine, made by well-known pâtissier Toshi Yoroizuka, will be available. 

These authentic matcha creations are perfect for a hot summer's day, or as a gift for a friend. When in Tokyo, don't miss it!

Information

ATELIER MATCHA 

Address: 1-5-8 Nihonbashi Ningyocho, Chuo Ward, Tokyo 103-0013, Japan

Access: 30-second walk from Ningyocho Station/5-minute walk from Suitengumae Station

Open Date: August 2, 8:00

Hours of Operation: 8:00-19:00 (Last order 18:30)

Closed on Tuesdays (Open daily throughout August) 

Phone Number: 03-3667-7277

Official Site: https://ateliermatcha.com/

Starbucks Japan Reveals Peach and Pineapple Frappuccinos

Starbucks Coffee Japan is releasing its new summery GO Pineapple Frappuccino® and GO Peach Frappuccino® at all branches on August 4.

Starbucks Japan's first pineapple beverage, plump and sweet

Left: GO Pineapple Frappuccino® | Right: GO Peach Frappuccino® | Tall ¥680 (Takeaway), Tall ¥693 (Have-In)

The two fruity drinks arrive in time for the height of Japanese summer this August. This also marks the first time Starbucks Japan is serving up a pineapple Frappuccino®. The GO Pineapple Frappuccino® is loaded with ripe and fresh pineapple pieces along with a pineapple puree and pineapple sauce. When you've sipped about half the cup, mix in the whipped cream to transform the drink into smooth and milky heaven.

The GO Peach Frappuccino® is also loaded with its titular fruit, making it so refreshing it's like eating a whole juicy peach. Enjoy a combination of fresh peach pieces, puree, and sauce, one which maintains the rich original flavour of this summer-classic fruit.

Reusable Coffee Cup With Changeable Coloured Lids (437ml) | ¥385 (Tax Included)

August 2nd will mark 25 years since Starbucks arrived in Japan, bringing to the country a culture of walking around with your coffee in hand. This summer, the coffee chain is also releasing a new collection of seasonal tumblers, as well a new reusable coffee cup which you can swap out with different coloured lids. While the new beverages are on sale, if you buy one of them together with a reusable cup, you can get a free size upgrade on your Frappuccino®.

Information

GO Pineapple Frappuccino®

GO Peach Frappuccino®

Running: August 4, 2021 – September 21, 2021

Official Website: https://www.starbucks.co.jp/

Sumikko Gurashi Bubble Tea Released by XIE XIE PEARL

Bubble tea shop XIE XIE PEARL is collaborating with San-X and their popular corner-dwelling characters Sumikko Gurashi with a line-up of drinks and merch until August 23.

Fruit is the theme of the collaboration which arrives in a line-up of colourful beverages served in limited-time cups. Each character's drink is loaded with toppings.

Shirokuma's Peach Milk | ¥756 (Tax Included)

Neko's Jewel Berry Lemonade | ¥756 (Tax Included)

Tonkatsu's Caramel Banana Milk | ¥756 (Tax Included)

Penguin's Jewel Mint Lemonade | ¥756 (Tax Included)

Original collab goods

Large Stickers | 4 Designs | ¥330 (Tax Included)

Mini Tote Bag | ¥990(Tax Included)

Mirrors | 5 Designs | ¥550 (Tax Included)

Re-release of previous collab merch

Free novelty stickers and pouch

If you order one of the collab drinks you'll receive a free sticker, and if you order all four drinks, you get an original Sumikko Gurashi pouch. All you need is your receipt to show at the register.

©︎2021 San-X Co., Ltd. All Rights Reserved.

Information

XIE XIE PEARL x Sumikko Gurashi

Running: July 22, 2021 – August 23, 2021

Official Website: https://www.krg-inc.com


New Cocktail Menu Gets Served at KYOTO YURA HOTEL MGallery

KYOTO YURA HOTEL MGallery is now serving a new cocktail and afternoon tea menu in collaboration with Perrier Promotion.

KYOTO YURA HOTEL MGallery is a hotel group based in Paris, France which operates over 5,000 hotels and resorts in 110 countries worldwide. Together with the mineral water brand Perrier, the two companies launched the 'Perrier Promotion with KYOTO YURA HOTEL MGallery' on July 21 which includes a special cocktail and afternoon tea line-up being served up at Lounge & Bar 1867.

Perrier x MURAKAMI Tote Bag

Perrier Cacao & Orange Asian Fizz Mocktail | ¥1,300 (Tax Included)

Perrier Umami & Ryokucha Green Tea Sour Mocktail | ¥1,300 (Tax Included)

Perrier Citrus Iced Tea Mocktail | ¥1,300 (Tax Included)

Perrier Evening Iced Coffee Cocktail | ¥1,700 (Tax Included)

Perrier Flower & Fruit Afternoon Cocktail | ¥1,700 (Tax Included)

Perrier Promotion with KYOTO YURA HOTEL MGallery is an all-day special event taking place at the hotel. At both the hotel entrance, as well as Lounge & Bar 1867, an artwork collaboration by Takashi Murakami and Perrier is being displayed for the duration of the event, adding a colourful vibe to the spaces.

The drinks line-up includes three mocktails which are available on the free flow drinks menu when ordering the hotel's popular afternoon tea. The afternoon tea set was conceived by pastry chef Jennie Chiu and is packed full of summer fruits like passion fruit and mango.

During the collaboration, the first 200 people to order either the afternoon tea set or high tea set will also receive a free novelty tote bag featuring the Takashi Murakami's characters Kaikai and Kiki.

In the evenings, the Perrier Pop-Up Bar are serving two alcoholic cocktails alongside the mocktails.

Showa Summer Dessert Drinks Get Served Up at AWESOME STORE & CAFE IKEBUKURO in Tokyo

AWESOME STORE & CAFE IKEBUKURO is now serving up two new summer-exclusive dessert drinks inspired by the Japanese Showa era. The 'Imitation Gold' and 'Blue Light Awesome' are both available now until September 26.


Imitation Gold: ¥467 (Tax Included) / Blue Light Awesome: ¥467 (Tax Included) *both served in plastic cups (see below)

The Imitation Gold's flavour is reminiscent of an energy drink. It's topped with vanilla ice cream and colourful gummies. The Blue Light Awesome is a Blue Hawaiian syrup-infused pineapple juice topped with vanilla ice cream and a cherry. Both of these cute dessert drinks are the perfect refreshments for the summer.

Those who buy both drinks will also receive an original black straw to make the drinks even more Instagrammable. These are available while supplies last.

Some other popular must-tries

Other classics on the menu to try include soft and chewy bagels, coffees, and more.

Chocolate High | ¥396 (Tax Included)


Ebi Avocado | ¥396 (Tax Included)


Fuwa Toro Bacon Omelette | ¥396 (Tax Included)


AWESOME Organic Coffee (Hot/Iced) | From ¥217 (Tax Included)

Information

AWESOME STORE & CAFE IKEBUKURO
Opening Hours: 10:00-21:00 (Currently operating on reduced hours – closes at 20:00)
TEL: 03-5944-9754
Address: Q Plaza IKEBUKURO 1F, 1-30-3 Higashi-Ikebukuro, Toshima-ku, Tokyo
Official Website: https://www.awesomestore.jp/store/pages/cafe.aspx

McDonald's Japan Releases Strawberry and Banana Frappes at McCafe by Barista®

McDonald's Japan released its new Strawberry & Condensed Milk Frappe and Banana Caramel Frappe beverages at McCafe by Barista® branches up and down the country on July 14. The fruity frappes and the perfect choice for the hot summer season.

Strawberry & Condensed Milk Frappe | Regular: ¥490


The strawberry frappe is made with a sweet and tangy strawberry sauce that has fresh strawberry pieces in it as well as juice taken from amaou strawberries grown in Fukuoka which are known for their fresh and sweet taste. Added to the cup is rich condensed milk along with a squirt of whipped cream for a milky and velvety finish.

Banana Caramel Frappe | Regular: ¥490


The banana frappe is filled with a banana puree sauce, banana syrup, and a crème brûlée syrup. It's topped with smooth whipped cream and a drizzle of caramel sauce. The banana and caramel make for a delicious combination.

Matcha Republic Takes Kyoto's Uji Matcha to Tokyo For the First Time

Uji-based matcha tea shop Matcha Republic is taking their menu to Tokyo for the first time with a pop-up shop inside Shibuya Hikarie which will run from July 15-28.

Matcha Ink Hikarie Exclusive Version Premium Matcha Latte | ¥681 (Tax Included)

Original Clear Shopping Bag

Matcha Republic's ink bottle matcha lattes are super popular on Japanese social media. For their Tokyo pop-up shop, their premium matcha latte arrives in an exclusive design. The dirnk is made from only the best picked matcha leaves to make a smooth, milky beverage. The bottle is also sold in an original shopping bag.

Matcha Panna Cotta Hikarie Exclusive Version | ¥681 (Tax Included)

The brand's popular panna cotta set also arrives in a Hikarie exclusive design. The delicious dessert is made with fragrant Uji matcha.

PREMIUM GOLDEN UJI MATCHA CASTELLA | ¥2,381 (Tax Included)

Matcha Republic's moist matcha castella is sprinkled delicately with gold leaf, creating a luxurious dessert.

Information

Matcha Kyowakoku

Location: Shibuya Hikarie ShinQs B2 Food Stage

Running: July 15, 2021 – July 28, 2021

Opening Hours: 11:00-20:00

Official Website: https://www.matcha-republic.com

Uji Matcha and White Peach Shaved Ice Gets Served at Nihonbashi E-Chaya in Tokyo For Summer

Eitaro Sohonpo Co. Ltd. has released two new seasonal shaved ice desserts at Nihonbashi E-Chaya in Tokyo for summertime.

Uji Matcha Yamamotoyama x Eitaro | ¥660

Made with Uji matcha from Yamamotoyama and honey from Eirato, this shaved ice is topped with adzuki beans from Hokkaido. A refreshing delight for the hot Japanese summer that's not overly sweet.

Peach & Cream Cheese | ¥660

This flavour is made with lots of white peach puree from Yamanashi along with fresh peach pieces and Eitaro's honey. It's finished with cream cheese from Hokkaido and peach fluffy cream. Another perfect pick for cooling down this summer.

Information

Nihonbashi E-Chaya

Address: Eitaro Bldg. 1F, 1-2-5 Nihonbashi, Chuo-ku, Tokyo

Opening Hours: [Mon-Fri] 8:00-16:00 / [Sat] 10:00-16:30

Closed: Sundays/Public Holidays

Official Website: https://www.eitaro.com/

*These desserts are eat-in only

NiziU Debut New Song 'Super Summer' in Coca-Cola Commercial

As part of Coca-Cola System's 'Coca-Cola Summer Campaign,' the drinks giant is releasing a new summer entry to their Kono Shunkan ga, Watashi (Me in This Moment) TV commercial series on June 28, promoting the start of a new summer. The commercial features the members of Japanese music group NiziU enjoying the hot weather and includes their new song Super Summer which doesn't have a release date yet.

NiziU'z shoot for the commercial

On set, NiziU arrived with smiles and said to the staff, 'We look forward to working with you!' This shoot took place by the sea. The scene begins on the beach, and because the members were so engaged in the shoot, they didn't notice the wave rolling up to them, making them scream out 'Cold!' when it hit their feet. When they're running along the beach, all the members showed how each of them runs in their own unique way. There's also a scene when they're flying a kite, and when they were filming it, a bee appeared out of nowhere. The shoot was full of smiles from start to end, and it shows in the final cut.

NiziU | Interview

How did the shoot go on this 'New Summer Start' commercial, and what were some fun moments?


―RIKU
"We had fun being our normal, natural selves, and I think it shows in the commercial. I experienced at lot of first-time things in this one, so it was a lot of fun."

―RIO
"Drinking Coca-Cola by the beach makes tastes super good! I enjoyed how refreshed I felt after it took the heat away."

―RIMA
"I was able to enjoy feeling summer nice and early with the other members and some Coca-Cola!"

All of you are your normal, natural selves in this commercial. How did you find doing the activities together?


―AYAKA
"Everyone took the coke dropping way too seriously, it was a little scary <laughs>, but I enjoyed how natural we were!"

― MIIHI
"It'd been a while since I flew a kite and the other stuff, so I was hypnotised. It was fun, so I'd love to go to a lodging house with everyone if we get time and do it all again! <laughs>"

 ―MAYA
"It was my first time flying a kite. You need to be able to run a lot to keep it up high, so I was running around all over the place <laughs>."



What parts of the commercial would you want people to look out for?


―MAKO
'New Summer Start' was the theme, so we showed us enjoying the summer in the moment, so I hope people look out for that! I'd also love for it to encourage people to try something new!"

―NINA
"You get to see all of us looking natural in this commercial, so I definitely want people to check that out!"

―MAYUKA
"I personally think the part where we're all enjoying drinking Coca-Cola at the beach is a must-see part."

 

With the core message of the commercial mind, is there anything you too want to try doing this summer?


―MAKO
"Going to the beach with everyone!"

―MAYUKA
"You're here now, aren't you? <laughs>"

―ALL MEMBERS
<Laughs>

―MAKO
"We're here! <laughs> But I want to come here in our free time too! <laughs>"

 ―RIKU
"I want to try dares! A lot of the members aren't good with them, so I want to go and have fun doing that with everyone! <laughs>"

―MAYUKA
"I want to eat a big shaved ice with everyone!"

―RIKU
"We're gonna get brain freeze! <laughs>"

 ―MAYUKA
"It'll make a good memory though!"

―ALL MEMBERS
"For sure! Sounds fun!"

 ―AYAKA
"I want to try making a watermelon dessert!"

―MAKO
"I love that! You're the best, AYAKA! <laughs>"

―NINA
"I love ice cream, so I wanna try making some myself to enjoy with everyone!"

―RIO
"I'm bad at swimming, so I want to learn to swim this summer!"

 ―MAYA
"I want to go to a summer camp with all the members, with a BBQ and campfire, and to try out new things together!"

―MIIHI
"I really love summer festivals, so I want to eat something at home with someone you can only get at summer festivals, like whole pickled cucumbers!"

―RIMA
"Summer means nagashi somen noodles, so I really want those!"

―MAKO
"Shall we go get some bamboo then? <laughs>"

―RIKU
"Let's all get some together! <laughs>"


As part of the Coca-Cola Summer Challenge, NiziU had a go at the summer Coke mix challenge in a video which shows you how to best into Coke in summer.

Yojiya Matcha Cosmetic Blotting Paper Releasing This Summer

Kyoto-based cosmetic brand Yojiya is set to release its seasonal summer matcha cosmetic blotting paper online on July 1. Pre-orders opened on Monday along with a present campaign that's running until the release date.

Matcha Oil Blotting Paper

Free limited-edition slim clear bottle for the first 50 people who spend over ¥8,000

Exclusive pre-order set

Yojiya's oil blotting paper is a popular product. Every summer, they release it in special limited-time scents, with this year seeing the paper infused with Uji matcha leaves.

Information

Yojiya Oil Blotting Paper Matcha

Release Date: July 1, 2021 (Online Exclusive)

Pre-Orders: June 21, 2021

Buy Online: https://www.yojiyacosme.com/

Present Campaign

Running: June 21, 2021 – June 30, 2021

Requirements: Spend over ¥8,000

Stock: 50