SHIRO to Release New Clay Hand Soap Made From Naturally Derived Clay
Japanese cosmetic brand SHIRO is releasing two new "Clay Hand Soaps" along with three new "Aroma Oils" on May 21, 2020.
The Clay Hand Soap comes in two scents, "White Lily" and "White Tea," both of which leave your hands feeling clean, refreshed, and moisturised thanks to the naturally-derived clay it is made from. The clay used is obtained from the volcanic ash from the Shirasu-Daichi volcanic plateau of Kagoshima Prefecture. It lightly scrubs any dirt and excess sebum from your hands, ensuring they are nice and clean. The soap is also made with aloe which keeps your hands super smooth.
White Lily has a sophisticated floral scent to it while White Tea smells like fresh citrus and greenery.
About the ingredients
・Clay (Volcanic Ash) [Scrubs] | Origin: Kagoshima Prefecture
Since the clay is naturally-derived, the scrub has big firm pieces in it, so even if you wash your hands lightly all of that dirt and excess sebum is removed, leaving your hands smooth.
・Aloe [Moisturises] | Origin: Makinohara, Shizuoka Prefecture
The organic aloe used is grown in-house with the utmost care, with every rich drop squeezed into the soap.
The new aroma oils come in conjunction with the brand's revamp and are perfect for relaxing in your room, while at work, before―basically whenever you need it. There are three scents: "Soap" which has a refreshing soap smell, "White Lily" which has a sophisticated floral smell, and "White Tea" which leaves you feeling relaxed.
Treat yourself to some relaxation time with these new oils and keep your hands clean with some hand soap made from clay!
Clay Hand Soap
(3 Including 2 New Scents) 145ml: ¥2,000 Each (Before Tax)
Available: SHIRO Online Store / All SHIRO branches
*Please note that all physical SHIRO stores in Japan are temporarily closed
Aroma Oil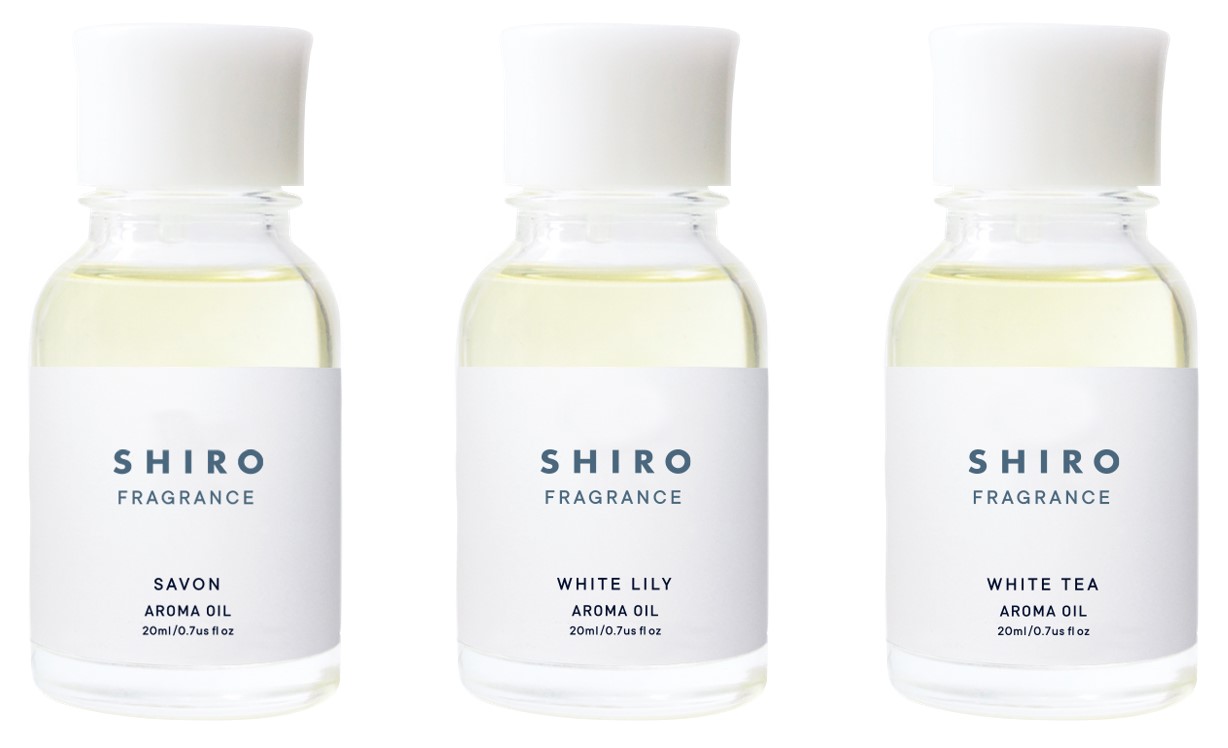 (3 Scents) 20mml: ¥2,200 Each (Before Tax)
Available: SHIRO Online Store / SHIRO Sunagawa / SHIRO Sapporo Stellar Palace / SHIRO Omotesando / SHIRO Jiyugaoka / NEWoMan Shinjuku (SHIRO+) / SHIRO Maru Building / SHIRO Namba Parks /SHIRO Fukuoka PARCO
*Please note that all physical SHIRO stores in Japan are temporarily closed
RELATED ENTRIES
SHIRO Unveils 'Holiday Favourite Coffret' Christmas Cosmetic Items

Japanese cosmetic brand SHIRO will release a new set of limited-edition cosmetic items, including the "Holiday Favourite Coffret" and "Flaxseed Nail Polish," this Christmas. Pre-orders open on October 29 with the collection set to drop on November 12.


Holiday Favourite Coffret | ¥13,500 (Before Tax)

Holiday Favourite Coffret is a collection of popular SHIRO cosmetics boxed in limited-edition fragrances which are available this Christmas only. The collection was created with the idea in mind that your heart will light up and a smile will form on your face the moment you open the box.

The "Calendula Eyeshadow Liquid" arrives in two colours. It's made with pot marigold which has high moisturising properties. Both colours add to the excitement of the holiday season with a lustrous glow around the eyes. Since it's a liquid-type eye shadow, it makes it easier to moisturise around your eyes during the dry winter season.

The "Essential Lip Oil," imbued with a relaxing yuzu, gives you nice, moisturised lips. It comes with two limited-edition different scents: "Holy Fig Eau de Parfum" and "Aroma Wood." The former has a warm fragrance inspired by Christmas trees and wreaths with notes of sweet fig, green, wood, and flowers. The latter combines fig and Japanese cypress. Cypress wood from the district of Tosa in Kochi is used.

Flaxseed Nail Polish (4 Colours) | ¥2,400 Each (Before Tax)

SHIRO are also releasing four limited-edition flaxseed nail polishes which can be used both on their own, providing beautiful colour, or layered. Each colour takes inspiration from the holiday season, like snow-covered fir trees or warm Christmas lights. The gold logo and white caps are also limited-edition.

Items in this collection will be sold in a limited-edition gift box too decorated in Christmas colours like green, gold, and white.

Information

SHIRO HOLIDAY COLLECTION 2020
Pre-Orders: October 29, 2020 via SHIRO's online store

Release Date: November 12, 2020
Official Website: https://shiro-shiro.jp/

SHIRO Reveals New Plant Based Fabric Softener

Japanese cosmetic brand SHIRO has announced that it will release a new concentrated version of its fabric softener from its popular fragrance series on November 26, 2020.

With more of us spending time at home in the current pandemic, how we choose to use the things we own has changed, as has how we choose to spend our time. SHIRO has gotten behind this idea by announcing the release of a new easy-to-use concentrated edition of its fabric softener for people to live a comfortable life. The product faintly scents clothes and freshens rooms for people to enjoy all day.

Fabric Softener (500ml) | ¥2,500 (Before Tax)


Fabric Softener (1,000ml) | ¥4,900 (Before Tax)

The new 500ml concentrated softener offers 20 washes rather than the 7 of the standard version, while the big size 1,000ml has 40 washes in it instead of the usual 15.。

The fabric softeners are made using plant-derived ingredients which are kind to the skin and preserve the water absorbency of materials like linen. By keeping the surface of the material soft, it also reduces the possibility of static shocks, as well as makes it harder for things like dust and pollen to stick to the fabric.

Both sizes come in one of three faint scents: "Savon" which has a fresh soap smell, "White Lily" which has refreshing clean fragrance, and the sophisticated and relaxing "White Tea."

SHIRO Makeup Collection 2020 Autumn/Winter Launches September 10

Japanese cosmetic brand has revealed that the SHIRO MAKEUP COLLECTION AW 2020 will launch in Japan on September 10, featuring delicate colour tones and using ingredients that SHIRO is known for like ginger and pot marigold which are kind to the skin.

Pot Marigold Liquid Eyeshadow

Pot Marigold Liquid Eyeshadow – 4 Colours

The liquid eyeshadow keeps the skin around your eyes moisturised while adding a delicate sheen to them, creating a beautiful contrast and natural beauty. In times when everyone needs to be wearing face masks, a coat of this eyeliner is sure to leave an impression.

Gagome Kelp Mascara

Gagome Kelp Mascara – 3 New Colours (Includes 1 Limited Edition)

Gagome kelp is known for its moisturising power. Add yuzu to that for a fresh citrus scent, and you've got a mascara that cares for your eyelashes while making you look beautiful. These three new colours also contain pearl powder.

Ginger Lipstick Glow

Ginger Lipstick Glow – 3 New Colours

Incorporating ginger ensures your lips stay moist, and the three new colours introduced add a glossy shine to plump them out.

Ginger Lipstick Colour Primer

Ginger Lipstick Colour Primer

The new Ginger Lipstick Colour Primer cares for your lips and is acts as a foundation for your lipstick.

Modern Japonisme Beauty Products and Fragrances Arrive at SABON's Shinjuku Pop-Up Store

Japanese beauty company SABON opened its first ever pop-up shop on Wednesday on the first floor of Isetan Shinjuku in the makeup and promotion section. The shop will run until June 23, 2020.


Items on show include classic SABON products as well as their "TOKYO CELEBRATION" line-up, a collection of "modern Japonisme" items made in collaboration with millennial generation Japanese calligrapher MAMI. The fragrance of this special collection is "Clear Citrus Green" which combines notes of sparkling lemon, fresh verdure, transparent jasmine, and dreay orange blossom.

The collection is first on pre-sale at the Isetan Shinjuku pop-up store until June 23. After that, it will go on limited sales at SABON stores across Japan and SABON's online store on June 25.

Additionally, customers who spend over ¥8,000 (tax included) on the TOKYO CELEBRATION collection have the chance to receive the above-pictured fan. These are available while supplies last.

Information

Pop-Up Shop
Location: Isetan Shinjuku (1st Floor Makeup/Promotion)
Running: June 10, 2020 – June 23, 2020

Line-Up: SABON Products / TOKYO CELEBRATION Collection

Prices: ¥1,300-¥18,500 (Before Tax)

Official Website: https://www.sabon.co.jp

Cute Japanese Design Face Cream Tins Releasing by Sonotas and STEAMCREAM

Sonotas is teaming up with Japanese facial cream brand STEAMCREAM to release two new tins of moisturising cream in collaboration with Edo Kiriko cut glass brand Hanasho and hand towel brand Todoya Shouten. The tins will be released on June 10, 2020 in limited quantities.

Since STEAMCREAM was established, it has collaborated with many different artists and businesses, both old and new, Japanese and overseas, for them to create artwork for their makeup packaging.

Hanasho's Kiriko Mouyou hand towel design

Established 70 years ago, Hanasho is a company that manufactures Edo Kiriko cut glass. The brand's high level of artistry and skill has led their products to be used as gifts to state guests to Japan, and event at the G8 Hokkaido Toyako Summit. The company also sells hand towels that combines Hanasho's unique ideas with cut glass designs. These designs are then cut and patched together by Todoya Shouten.

KIRIKO MONYOU (75g): ¥1,680 (Before Tax) *Limited edition

This design, which combines Hansho's original pattern ideas spliced together by Todoya Shouten, is being used for a tin from STEAMCREAM. The tins elicit the beauty of Japanese tradition and artisan skill.


KINGYO NO MAI (75g): ¥1,680 (Before Tax)

A previous design from Todoya Shouten is also being re-released in limited quantities. This one has a Japanese summertime feel to it.

These tins are a representation of traditional Japanese craftsmanship and make for a great souvenir from Japan.

Information

KIRIKO MONYOU

Release Date: June 10, 2020

Major Retailers: STEAMCREAM online store / STEAMCREAM shop / Japanese department stores / Select variety shops in Japan
*The KIRIKO MONYOU design is available at STEAMCREAM's online store and in-store, including the IKSPIARI branch

Official Website: https://brand.steamcream.com/

Pokémon Cosmetic Series: New Face Masks Keep Pokémon Trainer's Skin Moisturised

Monosense is set to release the third collection of face masks in the popular Pokémon Cosmetic Series on June 19, 2020.

The Pokemon cosmetic series has been a huge success in Japan since it launched, spanning face masks, hand cream, lip cream, lip gloss, point packs, mirrors, and body gel. The face masks however have proven the most popular, having sold over 600,000 of them. Now, Pokémon Trainers can look forward to the third collection in an all new 2020 version.

Until now, the face masks themselves have had an entire print of a single Pokémon face on them. This time, however, they have a new design with many of that Pokémon on them, along with colours that remind one of that Pokémon.

Skin can get pretty dry when summer rolls around, so these made-in-Japan face masks will keep Trainers' skin moisturised thanks to the collagen, hyaluronic acid, and shea butter in them.

There are four Pokémon to choose from: Pikachu, Eevee, Psyduck, and Mew. Who will you choose?

Kirby Face Masks Take Care Of Your Skin While at Home

Japanese cosmetic brand Lovisia has shipped over 1.1 million products, including the super popular Pokémon Cosmetic Series which we have covered in detail.

Now, to celebrate the 28th anniversary of HAL Laboratory and Nintendo's video game Kirby's Dream Land this year, Lovisia has revealed its new "Kirby's Dram Land Face Masks" which will go on sale at variety shops, online sites like Tokyu Hands and Village Vanguard, and elsewhere in Japan on June 19, 2020.

"Pink Lush" is the concept behind the cute pink-coloured masks. The masks themselves are like the characters from the game. Lovisia previously released eye shadow, lipstick, and a mirror as part of the same series in April which proved popular amongst fans.




There are three designs in total: Kirby, Waddle Dee, and Meta Knight, all of which are Instagram-worthy and great as a treat to yourself or a gift to friends.

The masks are made in Japan, and contain collagen, hyaluronic acid, and shea butter, all for their moisturising effects. Each has a soap scent, which will leave your skin smelling fresh and looking cute and soft. The perfect accompaniment to enjoy at home right now.

©Nintendo / HAL Laboratory, Inc. KB20-P2210

Organic Lifestyle Brand 'N organic' to Open First Direct Store in Yurakucho

Organic lifestyle brand "N organic" is set to open its first ever direct store on the first floor of Yurakucho Marui in Tokyo on June 11, 2020.

N organic's concept is to live a rich, organic life. Since the brand launched in August 2017, the shop's products have been sold exclusively online. However, due to demand from customers for more one to one communication, the brand decided to open its first store. They will be serving tips on how to live life richly at their first brand in Yurakucho Marui.

The store is equipped with Sony's BeautyExplorer™, a skin analysis system which enables informed choices from advanced skin analysis. The data chart from the analysis can be accessed by logging into the shop's official website too so customers can receive support regarding their skin at home too.

One of the ways N organic promotes a rich, fulfilling lifestyle is by being positive and proactive about eco-living. The shop has a collect system in place so you can take beauty and cosmetic bottles and vessels in, and that goes for items from other brands too. The floor, sink, and other places are also made from recycled marble which itself is made from used N organic lotion and serum bottles.

Information

N organic Yurakucho Marui
Address: Yurakucho Marui (Floor 1F), 2-7-1 Yurakucho, Chiyoda Ward, Tokyo
Grand Opening: June 11, 2020 from 11:00am (JST)
Products: N organic Series / N organic Vie Series

Official Website: https://n-organic.com/

Loosen Up Your Mind and Body With SHIRO's New Fragrance Bath Oils

SHIRO is releasing three new bath oils as part of its Fragrance series which serve to loosen up your mind and body. The oils are the perfect accompaniment to a relaxing bath time and protect against dryness during Japan's rainy season, keeping skin nice and moisturised.

Bath Oils: ¥3,800 (Before Tax)

There are three fragrances to choose from: "Soap" which envelops you in fresh fruits, "White Lily" which has a sophisticated floral scent, and the refreshing and relaxing "White Tea."

The oils are mixed with sunflower oil and unrefined shea butter from Ghana to leave your skin feeling completely smooth and moisturised after your bath. If you're looking for some simple yet effective body care, then you can't go wrong by winding down from the stress of the day with these oils.

Information

Bath Oils

Release Date: June 11, 2020

Available: SHIRO Online Store / SHIRO branches in Japan

SHIRO Official Website: https://shiro-shiro.jp/

Fragrance Body Care Brand 'SWATi' Opens Overseas Shipping

Japanese fragrance body care brand SWATi has announced that it is opening a full overseas shipping service.

SWATi was established back in 1998 as a handmade candle brand with candle designs such as ice creams, parfaits, and other pop motifs. In 2018, it launched the fragrance body care brand "MARBLE label" which was exclusive to Japan and aimed at busy workers to offer them some luxury during their jam-packed, tiring days. It has since become a hugely popular brand with female customers in Japan with its authentic scent and texture as a result of the ingredients used, all of which originate in Japan.

The brand is now set to roll out across ASEAN states in stores and online shops. There is also now a SWATi overseas page on Buyee.

The website is available in English, Japanese, Chinese (Traditional/Simplified), Indonesian, Thai, Korean, Spanish, Germany, Russian, and more. Overseas payments are completed via PayPal, Alipay, credit cards, and other methods. Additionally, queries from buyers on Buyee can send their questions from nine different languages.

Set some time aside for yourself during your busy work day to enjoy some luxurious time with SWATi's body care range.

Tokyo's New Skin Care Concept Shop SKINCARE LOUNGE BY ORBIS to Open in Omotesando

SKINCARE LOUNGE BY ORBIS is the debut concept shop by Japanese beauty company ORBIS, and it's set to open in Omotesando this summer. The shop's teaser website opened on May 13 where information on its conception, special content, interviews with the company's partners, and more will roll out in the run up to the grand opening.

ORBIS established themselves in 1984, and in 1987 launched their mail-order service. Since then, their mission has been to "create a world filled with people who are true to themselves, think positively, and lead lives of beauty." They believe in the beauty each of us has inside them and want to unlock its full potential.

SKINCARE LOUNGE BY ORBIS aims to have people learning about their own skin and to unlock its full potential. "Feel," "Learn," and "Take" are the keywords of the concept shop.

The shop's creative directors are Hisato Ogata, who is a designer and innovator at takram, and Momo Kudo of Tokyo-based architecture and interior design studio MMA Inc. They are also supported by George Amano of GEORGE CREATIVE COMPANY.

SKINCARE LOUNGE BY ORBIS has two floors. On the first floor, customers are free to test various products as well as learn about the correct way to look after their skin. The second floor offers skincare treatments, workshops, and various private events. You must be a member on the shop's official app and book in advance for the second floor services.

If you're strolling around the Harajuku and Omotesando area this summer, pop into SKINCARE LOUNGE BY ORBIS and learn all there is to know about proper skin care.

Information

SKINCARE LOUNGE BY ORBIS

Address: 5-7-1 Minamiaoyama, Minato Ward, Tokyo
LOUNGE: 10:00 AM-8:00 PM
JUICE BAR: 8:00 AM-8:00 PM
*Please note that the shop is subject to temporary closure

Official Website: http://www.orbis.co.jp/skincarelounge/

Make Bath Time Even More Special With the New Hair and Body Series From ORBIS

ORBIS released its new "RELEASE By Touch" series of hair and body products on April 23, 2020.

Since the company's establishment, ORBIS has striven to bring out the full potential of the skin's power. Its brand message is "making comfort beautiful." Their Touch series invites people to love their hair and body by touching and caring for it, leading them to a relaxing, comfortable time.

RELEASE By Touch Shampoo / RELEASE By Touch Conditioner – ¥1,300 (Before Tax)

The hair care items in the new RELEASE By Touch series includes shampoo and conditioner that gently cares for both the hair and scalp.

RELEASE By Touch Body Shampoo – ¥1,000 / RELEASE By Touch Body Wash Glove – ¥1,200 (Before Tax)

Lather your skin and body in thick bubbles and enjoy some body care time.

RELEASE By Touch Bath Towel

When you're done, wrap yourself in a fluffy towel and feel refreshed after your luxurious bath.

If you're looking for some personal relaxing bath time then you can't go wrong with the new RELEASE By Touch series from ORBIS.

Information

RELEASE By Touch Series

Release Date: April 23, 2020

Available: At ORBIS stores in Japan and online

Official Website: https://www.orbis.co.jp/