Garrett Popcorn Releases its Richest Matcha Flavour in Japan
Chicago-based gourmet popcorn brand Garrett Popcorn Shops® is releasing its strongest matcha flavour to date alongside a new striped tin in Japan on June 1. Both are limited edition products and will be available while supplies last.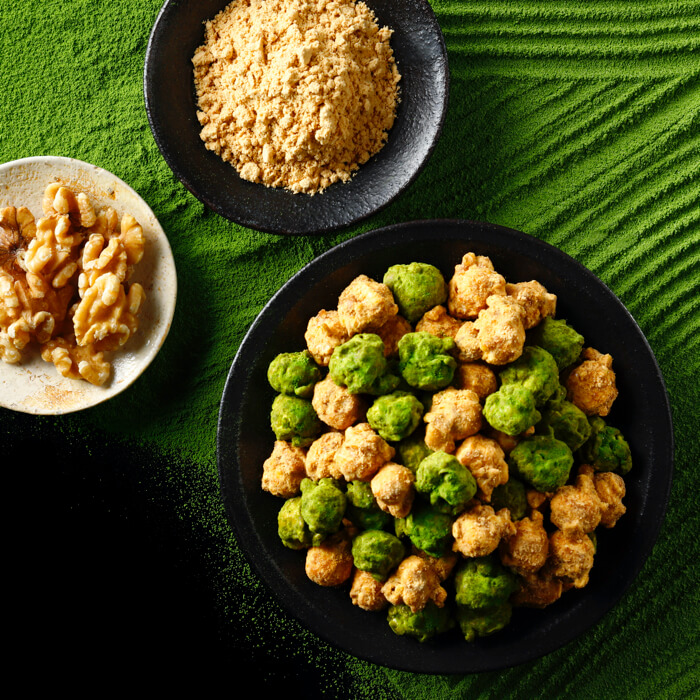 Named "Koi Matcha Kinako Kurumi" (Rich Matcha Soy Flour Walnut), the new matcha flavour is 40% stronger than the Matcha Caramel Crisp™ and blends together soybean flour and walnut for an aromatic crunch combination. The matcha holds a pleasant bitter flavour while the soybean flour is subtly sweet and gives off a rich, delightful smell.
The new tin takes Garret Popcorn's iconic striped design and throws in multiple colours and patterns for vivid effect. Combined with the new matcha flavour, it makes for the perfect home theatre accompaniment while you watch a movie.
Information
Koi Matcha Kinako Kurumi (Japanese Name: 濃抹茶きなこくるみ)
Available: Garret Popcorn Shops® branches in Japan (see below)
*Daily limited stock. Available while supplies last.
Running
Harajuku: June 1, 2020 – July 16, 2020
Shisui Premium Outlets: June 5, 2020 – July 16, 2020
Nagoya: Now until July 16, 2020名古屋店:発売中~7月16日(木)
LaLaport Expo City: June 1, 2020 – July 16, 2020
Prices/Sizes
Small: ¥620 / Medium ¥1,100 / Large ¥1,720 / Jumbo ¥3,450 / Quarter Tin ¥4,175 / 1 Gallon Tin ¥4,400 / 2 Gallon Tin ¥8,400
*Jumbo and 2 Gallon Tin sizes exclusive to the Shisui Premium Outlets and LaLaport Expo City branches of Garret Popcorn Shops®.
Official Website: http://jpgarrettpopcorn.com/
RELATED ENTRIES
Tokyo's Craft Chocolate Shop nel Releases Cacao Kintoki Shaved Ice Desserts

nel craft chocolate tokyo, a craft chocolate shop located in Nihonbashihamacho, Tokyo, released two chocolate shaved ice desserts last Wednesday for the hot summer season. The desserts are also being sold at Saryo Tsukikage, a restaurant inside the hot spring ryokan Yuen Bettei Daita in Setagaya.


Left: Cacao Kintoki | Right: White Cacao Kintoki

Cacao kintoki is a type of shaved ice made with specially-selected cacao beans from Vietnam. It uses a 'bean to bar' method where the shaved ice is made from scratch, roasting the beans fresh to create the dessert.

The two new treats at nel use a chocolate base and add cacao pulp to the mix, adding a natural fruity flavour derived from the bean. Each is also served with a special cacao sauce for extra flavour. The white cacao version is made by combining with in-house white chocolate. It also comes with an Okinawan passion fruit and cacao pulp sauce, resulting in a sour kick and refreshing taste.

Saryo Tsukikage

The open-air baths at Yuen Bettei Daita

A special matcha version of this shaved ice can also be enjoyed while bathing in the open-air baths at Yuen Bettei Daita. It's made with nel's homemade white chocolate as well as dark chocolate, cacao pulp, and specially-selected yame matcha from Shimokita Chaen Ōyama, a cafe in Setagaya.

Hydrangea Matcha Parfait Gets Served For Spring at Kyoto Tea Shop

Japanese Uji tea shop Itohkyuemon broughr back its seasonal Hydrangea Parfait to the menu at three of its stores last Monday.

Hydrangea Parfait

Hydrangea Tea Party

Kyoto's city of Uji, where Itohkyuemon's main branch is based, is home to Mimuroto Temple which is famous for its hydrangea flowers. The temple always bustles during the springtime rainy season. It's around this time that people can be waiting up to 3 hours for a seat at Itohkyuemon. Their Hydrangea Parfait is their most popular parfait, never failing to create a buzz on Japanese social media. It contains hydrangea-flavoured mashed sweet potato, hydrangea jelly, leaf-shaped matcha cookies, blueberries, and more, all capturing the swaying hydrangeas during the downpour of the rainy season. They are limited in stock and are not re-added to the menu until the following year once they run out.

Customers can order the parfait on its own, with a cup of tea, or with both tea and warabimochi. The tea set and tea party versions come with a free hydrangea coaster.

Deliciously Luxurious Matcha Shaved Ice to be Served in Shinjuku This Summer

This summer, Southern Tower Dining and Lounge South Court—both of which are located inside Odakyu Hotel Century Southern Tower—are serving up a fluffy matcha shaved ice dessert called Wa -Nagomi- from June 1 to September 30.

Southern Tower's Famous Fluffy Light Snowfall Wa -Nagomi- Shaved Ice | Eat In ¥1,470, Takeout ¥700

The matcha-flavoured shaved ice has a texture as light and fluffy as snow. As you spoon through the dessert your taste buds are met with a range of delicious tastes and textures like the Japanese rice flour confection known as gyuhi, winter melon syrup, black soybean flour ice cream, and cream.

The dessert can also be ordered for takeout. The black soy bean flour ice cream adds a crunchy cereal-like texture to the soft shaved ice, and with the takeout option, there's also chocolate-coated wheat bran and brown sugar syrup.

Information

Wa -Nagomi-

Japanese Name: 和 -なごみ-

Serving: June 1, 2021 – September 30, 2021

Where: Southern Tower Dining / Lounge South Court (Odakyu Hotel Century Southern Tower Floor 20F)

Address: 2-2-1 Yoyogi, Shibuya, Tokyo

Opening Hours:

[Southern Tower Dining] 11:30-16:00 (Last Orders 15:00) / 17:30-22:00 (Last Orders 21:00)

[Lounge South Court] 10:00-23:30 (Last Orders 22:30)

Southern Dining Official Website: https://www.southerntower.co.jp/restaurant_lounge/st_dining/bar_lunch/

Mister Donut Japan Releases 2nd limited- edition Gion Tsujiri Matcha Doughnuts

Mister Donut Japan released its new tasty collection of limited-edition doughnuts in collaboration with Gion Tsujiri, the famous tea shop in Kyoto from April 9. 

The Line Up

Fluffy Uji Matcha Mochi with Black Honey 

Fluffy Uji Matcha Mochi with Soybean Whipped Cream 

Fluffy Uji Matcha with Azuki Red Beans Mochi 

Pon de Double Uji Matcha

Pon de Double Uji Matcha with Black Honey Mochi

Pon de Double Uji Matcha with Soybean Whipped Cream and Azuki Red Beans 

Uji Matcha Chocolate, Azuki Red Beans and Rice Cake Balls Pie

Special Edition: Mister Donut Voucher Card with Masaki Sudaミ

The 1st edition of collection released on March 12 with the theme of colouration 

that enhances the colour of matcha. The new edition launching this time was developed with the theme of Japanese ingredients such as black honey that brings harmony with matcha.  "Fluffy Uji Matcha" series consist of 3 flavours made of luxurious Kyoto Uji Matcha with fluffy donut which marks its first appearance of this year. "Fluffy Uji Matcha with Black Honey" is a glossy doughnut coated with matcha chocolate with black honey filling. A wide variety of doughnut featuring 7 combinations of matcha and Japanese ingredients are unbearably delicious and unmissable. 

Mister Donut holds a promotional campaign in collaboration with the Japanese movie God of Kinema starring Masaki Suda, current image model of the brand. 

During the campaign, follow Mister Donut's official Twitter account and upload pictures of the collection with hashtag  "#ミスドでつや抹茶" and 428 lucky customers can win a voucher worth ¥500 with exclusive design features Masaki Suda.  Additionally, 67 lucky customers who have also participated in the 1st edition of Mister Donut ×Gion Tsujiri collection campaign previously can receive a voucher worth ¥2,000. 

Enjoy popular limited-edition doughnuts with Gion Tsujiri until your heart's content. 

Rich and Divine Matcha Roll Cake Gets Baked by 170 Year Old Japanese Tea Shop

Japanese tea shop and cafe Tsuboichi Seicha Honpo has baked up a brand new matcha roll cake made with high quality matcha leaves specially selected by their own tea experts. If indulgence is your calling, then this cake is the perfect accompaniment with a cup of tea whether it be matcha, Japanese tea, black tea – or any other of your favourite kind of tea.




The cake is a striking black colour, one that is featured in traditional Japan. The soft matcha filling provides an eye-catching contrast to the sponge. It's baked on a high temperature over charcoal and bamboo which serves to deepen the colours even more and elevate the vividness of the green matcha.

Cafe time can now be enjoyed at home with this very special treat.

Matcha and Latte Cookies and Drinks Released by Yojiya

Kyoto makeup brand Yojiya is now selling its own collection of snacks and drinks which it released via its website last week.

Yojiya Matcha Sandwich Cookies | ¥1,400 (Tax Included)

Yojiya Cafe Latte Chocolate Cookies | ¥1,350 (Tax Included)

Yojiya Matcha Milk | ¥950 (Tax Included)

Yojiya's snack line-up is made with the idea of being able to enjoy high-quality food products at home. Their collection includes crunchy matcha and cafe latte cookies along with matcha milk, the latter of which is made with famous Uji matcha from Uji, Kyoto. Perfect for a tea/coffee break or as a souvenir.


Häagen-Dazs Releases Matcha Chocolate Cookie and Almond Caramel Cookie Ice Cream

Häagen-Dazs Japan released two new ice cream flavours as part of its Decorations mini cup series on March 23: the Matcha Chocolate Cookie and Almond Caramel Cookie.

The visually-striking Häagen-Dazs Decorations series is a smooth, rich-flavoured ice cream with delicious toppings to compliment the ice cream.

For the third entry to Decorations, Häagen-Dazs welcomes back the Almond Caramel Cookie from 2019 and adds the all-new matcha and chocolate combo Matcha Chocolate Cookie.

Matcha Chocolate Cookie / Almond Caramel Cookie – ¥295 Each (Before Tax)

Even more delicious after stirring

The best way to enjoy Decorations is to first spoon the ice cream as it is to taste the flavours. After that, you'll want to stir it all together to all the flavours and textures fuse, creating a delightful contrast between the soft ice cream and crunchy toppings.

Almond Caramel Cookie

Almond Caramel Cookie takes inspiration from the Florentine biscuit which is a sweet pastry topped with nuts and fruits. The cup contains delicious caramel butterscotch ice cream laced with caramel sauce, all of which is topped off with crumbly sliced almonds and crunchy butter cookie pieces.

Matcha Chocolate Cookie

The Matcha Chocolate Cookie is exactly what it says on the cup: a fragrant matcha ice cream infused with chocolate sauce and topped with sweet chocolate and matcha cookies.

Information

Decorations: Almond Caramel Cookie & Matcha Chocolate Cookie

Released: March 23, 2021

Where: Japan (Supermarkets, convenience stores, department stores, and elsewhere)

Product Page: https://www.haagen-dazs.co.jp/decorations_2021/

Mister Donut Japan Releases Limited-Edition Cherry Blossom and Matcha Doughnuts

Mister Donut Japan released a tasty collection of limited-edition doughnuts in collaboration with Japan's famous tea shop Gion Tsujiri on Friday (March 12).

Sakura Mochi Doughnut With Cherry Blossom Bean Paste

Sakura Mochi Doughnut With Uji Matcha Chocolate

Sakura Mochi Doughnut With Uji Matcha Whipped Cream

Warabimochi With Cherry Blossom Bean Paste & Uji Matcha Whipped Cream

Warabimochi With Uji Matcha Whipped Cream

The doughnuts are a springtime mix and match of cherry blossom and matcha, the latter of which comes from Gion Tsujiri who have chosen the first picks of Uji matcha leaves for the collaboration. Pick between classic doughnuts as well as warabimochi-style ones glazed with lots of sweet treats.

Information

misdo meets Gion Tsujiri – 1st Doughnut Collection: Blossoming Matcha

Serving: March 12, 2021 – Mid April 2021

Official Website: https://www.misterdonut.jp

Ayataka, a brand of iced green tea produced by Coca-Cola, has announced the release of its new Ayataka Cafe Matcha Latte which will hit stores across Japan on March 22. Ayataka Cafe is a new beverage series made in collaboration with the Uji-based cafe Kanbayashi Shunsho Honten and speciality coffee shop Sarutahiko Coffee.

The matcha latte is the first entry to the Ayataka Cafe series and is made using specially-selected matcha from Japan. Ayataka is using larger tea leaves than it usually does with its matcha products for this series to create a delicious latte that's combined with Japanese milk. The drink is produced using the same methods that Coca-Cola uses to create a truly luxurious and authentic matcha drink.

Ayataka Cafe Matcha Latte is bottled in a 440ml PET bottle, which is about in the middle of a small and regular drink, and features a refined design.

Harajuku Whips Up Oita Prefecture's Jazz Youkan Sweet Adzuki Bean Block

The Jazz Youkan is a cute confection made from sweet adzuki red bean paste and made to look like a little piano. It's made in Japan's Oita Prefecture, but Tokyo residents can now enjoy this sweet treat at HARAJU Cross JAPAN MASTERY COLLECTION_est which is located on Floor B1F of WITH HARAJUKU, a shopping complex in front of Harajuku Station. It is being sold until February 14 in three flavours: Chocolat, Matcha Chocolat, and Classic.

The Jazz Youkan

The Jazz Youkan is a confectionery made by Jazz to Youkan Yufuin CREEKS, a shop in Yufu, Oita. It's part of their concert series of sweets and pairs well with a cup of coffee or glass of wine.

Line-Up (Prices Include Tax)

Chocolat | ¥2,646

The seasonal winter Chocolat is made with sweet white bean paste, couverture chocolate, dried cherries, fig, and raisins. All the chocolates in this series are individually handmade by the shop's chocolatiers, and this time, the classic Chocolat variant has been made even more delicious. It's smooth, moist, and rich without being too sweet. Best enjoyed with coffee or wine.

Matcha Chocolat | ¥2,646

If you love matcha then this is the treat for you. It's different from the normal Chocolat version of this sweet as it's made without dried fruits. Instead, it contains large-grained adzuki beans for an irresistible texture.

Classic | ¥2,160

The Classic version is made with brown sugar from Okinawa and adzuki beans and contains dried figs soaked in wine. Another perfect pairing with coffee or wine, and the piano face shows the work of true Japanese artistry.

©冬季限定 ジャズ羊羹 chocolat

Information

Jazz Youkan
Order Window: January 16, 2021 – February 14, 2021
Orders: TEL: 03- 6384-5815 / E-mail: shop_est@japanmasterycollection.jp
Sales Window: February 7, 2021 – February 14, 2021
Where: HARAJU Cross JAPAN MASTERY COLLECTION_est
Address: 1-14-30 Jingumae, Shibuya, Tokyo
Opening Hours: 12:00-18:00
Jazz to Youkan Yufuin CREEKS Official Website: http://www.jazz-youkan.com/

Nana's Green Tea x Häagen-Dazs Release Chocolate Matcha Glass Dessert

Nana's Green Tea is serving up a brand-new dessert in collaboration with Häagen-Dazs for Valentine's Day at 77 branches in Japan. The dessert was released on January 6 and will be available up to February 14.

Matcha Chocolate Glass with Häagen-Dazs | ¥880 (Before Tax)

The dessert is a tempting sight to behold – not only is it delicious but visually appealing to the eye too, and layered with various textures so that every bite is a surprise.

The dessert is made with Häagen-Dazs' "Sweet Chocolate" ice cream coupled with Nana's Green Tea's own original matcha ice cream, soft and crunchy meringue sticks, crumbled cookies, white chocolate whipped cream, and matcha chiffon cake. Sat at the bottom waiting to be discovered is a sweet strawberry sauce for a tangy kick.

Information

Nana's Green Tea – Matcha Chocolate Glass With Häagen-Dazs
Serving: January 6, 2021 – February 14, 2021
Price: ¥880 (Before Tax)
Available: 77 Nana's Green Tea branches in Japan (Excluding DiverCity Tokyo Plaza, Tokyo Dome, and Iias Okinawa Toyosaki)
Official Website: http://www.nanasgreentea.com/

Matcha and Strawberry Parfaits Whipped Up at Saryo FUKUCHA in Kyoto

Saryo FUKUCHA in Kyoto is now serving up a very special selection of succulent strawberry and matcha parfaits until May 30, 2021. These exquisite delights will see only 10 made of each per day.

Saryo FUKUCHA is a cafe that was opened by FUKUJUEN in Kyoto Station in April 2019. This year, they have brought back their extremely popular strawberry and matcha parfaits : the Konome, Konoha, and Konoka. They have also introduced a new addition to the line-up: the Strawberry & Matcha Milk Parfait. Also on the menu is a strawberry matcha latte.

Matcha & Strawberry Parfaits


Konome | ¥1,350


Konoha | ¥1,450


Konoka | ¥1,550


Strawberry Matcha Milk Parfait | ¥800


Strawberry Matcha Latte | ¥650

Discover the taste of Japanese tea in a new way with Saryo FUKUCHA's matcha and strawberry parfaits and latte.

Information

Saryo FUKUCHA
Address: 901 Higashi Shiokojicho, Karasumadori Shiokoji Sagaru,, Shimogyo-Ku Kyoto Station Bldg. 2F, Kyoto 600-8216 Kyoto Prefecture
Opening Hours: 8:30-21:00 (Last Orders 20:30)
*The cafe is currently running on reduced opening hours as of December 25, 2020 due to COVID-19. Hours are now 08:30-19:00 (Last Orders 18:30) on weekdays and 08:30-20:00 (Last Orders 19:30) on weekends. Times are subject to change.
TEL: 075-744-0552

Official Website: https://fukucha-fukujuen.com/