Grapes For Wine Now Being Picked at Shiojiri Station's Platforms
Shiojiri is a city in central Nagano with a population of 67,000 (as of April 2020). As a tourist destination, it's a place that goes under the radar, but it's actually home to the best quality grapes for wine in Japan, and also boasts 17 wineries (as of April 2020).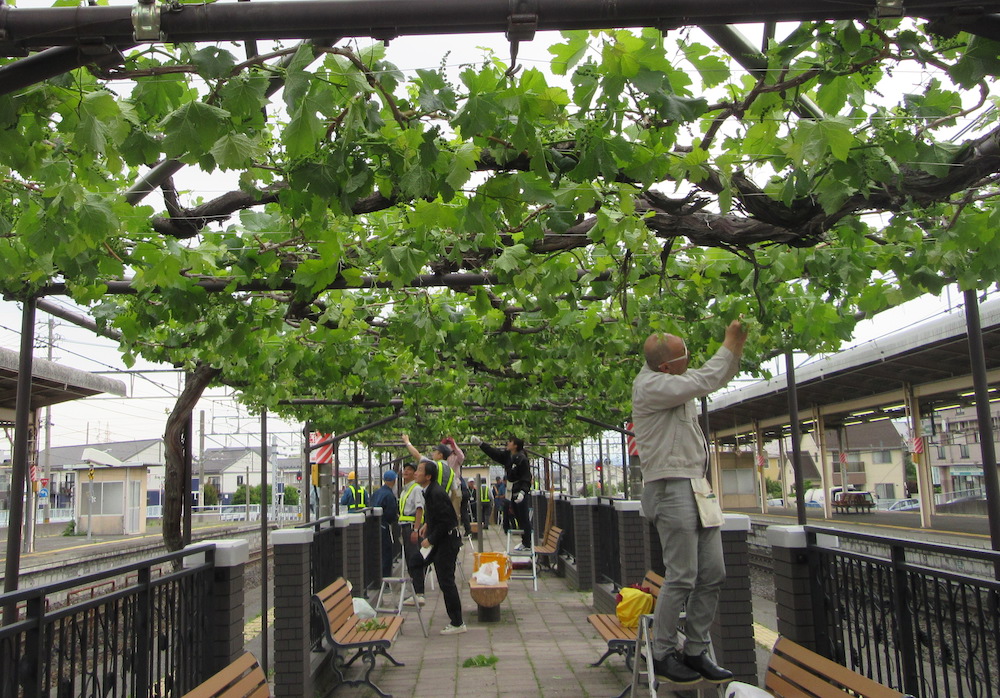 Shiojiri is a place with many tourist attractions, such as the historical town of Narai-juku whose streets still echo the Edo Period, Kiso-Hirasawa lacquerware, the Hiraide ruins which are one of Japan's three biggest ruins, Takabotchiyama which has become known for appearing in anime and Japanese drama series in recent years, the local dish "sanzokuyaki" (large fried chicken), and more.
In 1988, the city of Shiojiri began growing grapes at Shiojiri Station to promote the city's grapes and wine. It has gone on to become famous as the only station in Japan with grape production. They grow Merlot and Niagara grapes.
The station encourages volunteers to help pick the grapes. The first picks of this year's season began on May 29, and the efforts are being posted about on the city's official social media accounts and website. The Merlot wine made from the grapes picked in August last year is also ready and will be posted about soon too.
Information
Shiojiri Station
Platforms 3 & 4
Shiojiri Tourism Association Official Website: https://tokimeguri.jp/
RELATED ENTRIES
The North Face and ANA Holiday Inn Resort Shinano-omachi Kuroyon to Co-Develop Mountain Resort

The North Face is set to collaborate with ANA Holiday Inn Resort Shinano-omachi Kuroyon, which opened in Nagano's city of Omachi in July, to develop a new mountain resort where guests can enjoy outdoor activities. The first part of the collaboration will see activities offered which have been made under the supervision of athletes contracted to The North Face. The activities will make full use of Omachi's gorgeous natural environment which is surrounded by stunning mountains.

The North Face has had a high affiliation with this region for a long time. The brand created an original uniform for the staff that work along Tateyama Kurobe Alpine Route, a 37km mountain sightseeing route. It also opened the outdoor clothing and equipment shop The North Face Gravity in Hakuba.

ANA Holiday Inn Resort Shinano-omachi Kuroyon, too, embraces the outdoors of this region as it sits embedded within the lush natural landscape of Omachi. It hails as one of Japan's best mountain resorts which offers guests the chance a sojourn amongst nature. One of the brand's concepts is cultivating real human communication which it offers through its hospitable service, aiming to increase the number of smiles to those who visit.

The North Face x ANA Holiday Inn Resort Shinano-omachi Kuroyon

The collaboration will see the two companies coming together to serve up a plethora of outdoor activities throughout the year to encourage more families to spend time outside. The hotel will offer equipment that can be used for the activities, and there'll also be workshops for people to create their own items that can also be used. They will also work to increase sustainability with local businesses and groups in Omachi in an effort to revitalise the local region.

Workation Plan

The hotel is also offering a workation plan for guests to get away from the hustle and bustle of the busy city to work somewhere more quiet and peaceful. The plan takes into account well-being and is a way for people to up their creativity and motivation. Guests can work and relax at the same time with Wi-Fi and electrical outlets available as well as off-work treats like the open-air baths, spa, gym, and more. The hotel will also offer other plans this winter which include snow biking, family skiing, and more.

The Best Place to Gaze On Japan's Night Sky: Sky Paradise Sea of Clouds Harbor in Nagano

This autumn, the Star Village Association in Achi, Nagano is hosting the special limited-time event "Sky Paradise Sea of Clouds Harbour" from October 25 to November 23 which offers one of the best views of Japan's starry sky and the sea of clouds of the far-off southern alps.

The site is located at Ropeway Heavens Sonohara in Fujimidai Highland, surrounded by the bountiful nature of Nagano Prefecture. The 15-minute gondola ride is 2,500 meters long and takes you up to the observation deck 1,600m above sea level. Your prize is a view of the sea of clouds which stretches to the distant southern alps of Japan – truly is a sky paradise.

The other prize is the starry night sky. This spot placed first in the Ministry of the Environment's list of the best places to see Japan's night sky. From here, one can watch the sky of twinkling lights change to warm morning light. During October, the trees and verdure below are dyed in the colours of autumn, and when November rolls around you can spot the snow-capped peaks of the southern alps.

Information

Sky Paradise Sea of Clouds Harbor (Japanese Name: 天空の楽園 雲海Harbor)

Running: October 25, 2020 – November 23, 2020

Gondola: Ascension 5:30-7:00 / Descent until 16:30

Observation Deck Lift Operating Times: 5:45-16:00

Location: Ropeway Heavens Sonohara in Fujimidai Highland

Address: 3731-4 Chisato, Achi, Shimoina-gun, Nagano

Price: Adults ¥3,600 / Children ¥1,800 / Infants – Free

Official Website: http://sva.jp

Ra Casta Natural Healing Garden: Heal Your Mind, Body and Soul in Nagano While Staying Safe From COVID-19

Ra Casta Natural Healing Garden in Omachi, Nagano, is open for business throughout Japan's Obon season and is taking mandatory bookings to ensure visitors' protection from COVID-19 while following precautions against the Three Cs as laid out by the World Health Organization—crowded places, close-contact settings, and confined and enclosed spaces.

Ra Casta Natural Healing Garden is exactly what it says on the tin. It's a place that embraces beauty and healing while incorporating La CASTA's brand concept of "the life force of plants and healing." Guests are invited to use all five of their senses to relish the natural wonder of the garden, with its abundance of plants and trees and natural waterfall which flows from the northern alps.

The garden has its own "Healing Cafe" too which is an open-style cafe, allowing diners to enjoy the gift of nature throughout the seasons while enjoying a drink or dessert. A must-try during summer is their "Herb Cordial Lime & Lemongrass," a refreshing herb soda that enjoy the sour citrus flavour of lime and the taste of lemongrass. There's also the "Chamomile Milk" gelato ice cream.

The garden also has its own aromatherapy workshop inside the La CASTA Factory where visitors can make their own blends of oils using different products and scents.

What better way to de-stress during these turbulent times than getting close with nature in a safe, protected environment?

Information

Ra Casta Natural Healing Garden
Address: 9729-2 Tokiwa, Omachi, Nagano
Opening Hours: 10:00-17:00 (Until 16:00 in October and November)
Closed: Wednesdays

Official site: http://www.alpenrose.co.jp/garden

Miffy Creator Dick Bruna Gets Themed Wine Bar 'Dick Bruna TABLE' in Kobe

The new wine bar Dick Bruna TABLE is set to open in Kobe, Japan on July 17, 2020 at 11:00am (JST) where customers can enjoy various wines from around the world. Reservations are already open for both the bar and cafe tables, and if you book by July 16, you'll get an original coaster.

Dick Bruna TABLE KOBE is themed around the popular children's author and graphic designer Dick Bruna (1927-2017) who is known for his popular character Miffy. This will be the first bar of its kind centred on Bruna.

The bar has 4 floors which include a takeout counter, merchandise shop, cafe, wine bar, and event space. Dick Bruna TABLE will also be opening an online store for merchandise in the near future. It's a must-visit for any fan of Miffy and Dick Bruna's works.

Information

Dick Bruna TABLE
Address: 3-1-1 Sannomiyacho, Chuo-ku, Kobe
Opening Hours:
[Weekdays] 11:00-15:00 (Last Orders 14:00) / 17:00-23:00 (Last Orders 22:00)
[Saturdays] 11:00-23:00 (Last Orders 22:00)
[Sundays/Public Holidays] 11:00-21:00 (Last Orders 20:00)

Official Website: https://dickbrunatable.com/

Tateshina Bamboo Grass Garden Opens 20,000m² Sasarikyu Garden For Free

Tateshina Bamboo Grass Garden has is opening the Sasarikyu area of its gardens for free from June 5 to October 31 this year. The area spans almost 20,000m² and is home to an arbour and over 120 varieties of bamboo grass.

Opening the gardens in June means that visitors will get to see the bamboo grass at its most beautiful. Tateshina Bamboo Grass Garden wants more people to enjoy the gorgeous scenery, and so decided to make it a free experience for visitors.

It's an opportunity to see the vivid green leaves of the bamboo free which, on a clear day, glistens brightly at the shine of the early summer sun. On a rainy day during the rainy season, it offers a completely different spectacle: the twinkle of the leaves as a result of the dew. In addition to the bamboo grass, rows of hydrangeas also blossom in the garden at the start of summer, and in autumn, the area takes on gorgeous red and yellow hues.

Another charm of Sasarikyu is the tea ceremony arbour that sits amongst the verdure. This arbour, which was designed by Japanese architect Kiyoshi Yasui, continues the tradition of sukiya style of building known as sukiya-zukuri which was first established in Kyoto.

Sasarikyu

The Tateshina Plateau sits enveloped by the Yatsugatake, a collection of towering inactive volcanoes. In this expanse lies Sasarikyu, a botanical garden of kuma bamboo grass with over 120 varieties from both Japan and overseas. It is the only bamboo grass garden of its kind in the world and aims to contribute to the region's culture by drawing out the unknown when it comes to bamboo grass.

Bamboo grass area (13,200m²)

Sasarikyu is not just a botanical garden. It is also home to the world's largest tsukubai basin called Zuigetsusen, as well as an azekura-zukuri style statue of the god of wealth, Hashiri Daigoku. It also has Jōmonka, a style of building from the middle of the Jōmon period in Japanese history which has bamboo grass-thatched roofs.

Sukiya Arbour Garden Area (6,600m²)

The sukiya arbour was designed by Kiyoshi Yasui who helped carry out major renovations to the Katsura Imperial Villa, as well as helped dismantle and reconstruct two national treasures of Japan: the Joan and Taian tea houses.

Another highlight of the gardens is an area where medicinal herbs area grown. The herbs there are ones mostly seen in Nagano Prefecture. It not only serves as an area with specimens of such herbs, but also offers gorgeous scenery too when the flowers bloom through the seasons.

Information

Sasarikyu Free Opening

Running: June 5, 2020 – October 31, 2020 (Subject to change depending on season and weather)

Address: 1017-11400 Tamakawa Azaharayama, Chino, Nagano (Japanese Address: 場所:笹離宮 長野県茅野市玉川字原山11400番地1017)

Opening Hours: 10:00-17:00 (Last Entries 16:00)

Closed: Tuesday/Wednesday/Thursday

Access:

①15 minutes by car from Suwa-minami Interchange

②30 minutes by car from Suwa Interchange

③20 minutes by car from Chino Station

Official Website: https://tateshina-sasa.com/sasarikyu/

Travel Virtually to Japan's City of Komoro in Nagano to See Cherry Blossoms, Soak in the Onsen & More

Komoro Tourism Bureau has developed the new "Komoro Tourism Channel" using Voicy, a news and media site which reports spoken information online. The channel focuses on the latest information with regards to tourism in Komoro, and focuses on the city's many different hot springs.

About Komoro

Komoro is a city in Nagano Prefecture. Komoro Castle is home to Kaikoen Park, which was chosen as the 100 best cherry blossom spots in Japan. The city also boasts a wide variety of onsen (hot springs) which offer amazing views and numerous different bathing experiences. Komoro Tourism Channel covers all of this and more.

Komoro is about 2-hours by car via the Nerima Interchange on Kan-etsu Expressway. It's also accessible from Tokyo via car. You can also reach it in around 24 minutes from Karuizawa Station via Shinano Railway.

Delivering the sounds of the relaxing onsen from Komoro

Komoro has eight water sources which provide water to its hot springs. The city sits 1,400 meters above sea level, from which each of its hot springs offer breathtaking views. The podcast on the hot springs, which is in Japanese, lets you feel like you're experiencing them from your very own home. More podcasts on Komoro are planned to be released in the future, and QR codes will be implemented are various hotels and tourist facilities in Komoro which when scanned will offer voice guides to those places.

Komoro Tourism Channel: https://voicy.jp/channel/1074

The Komoro Tourism Bureau is coming up with measures to continue promoting the city during the ongoing coronavirus pandemic. As well as Komoro Tourism Channel, it is also releasing information on its website, Twitter page, and elsewhere.

Kaikoen Park at Komoro Castle

Kaikoen Park at Komoro Castle is a tourist hot spot in Komoro. The castle itself was chosen as one of Japan's 100 most famous castle sites. It is also famous for the castle itself being situated lower than the town around the castle. Kaikoen Park was selected as one of Japan's 100 best cherry blossom spots, where around 500 trees bloom Yoshino cherries, shidare-zakura, higan-zakura, and more through April every year. The "Komoro-yae-beni-share" tree is an endemic species of cherry tree to Komoro and has a deep pink colour. The park also has towering stone walls and is home to the the front castle gate.

Komoro Castle Official Website (Japanese): https://www.komoro-tour.jp/castle/

Komoro Castle Official Website (English): https://www.komoro-tour.jp/lg_en/

Starbucks to Open New Branch Along Nakamise Street in Nagano Near Zenkoji Temple

Starbucks Coffee Japan is set to open a new branch in Japan on March 26, 2020. It will open along Nakamise-dori, a street that leads to Nagano's famous Zenkoji Temple.

It will open as the Kōshin'etsu region's first Starbucks Regional Landmark Storeーa Starbucks branch unique to Japan that's built as a symbol of that area which promotes that region's culture to customers. They enable coffee-loving visitors to discover or rediscover the wonder of a region's history, culture, craftsmanship, and industry, while building a connection with the region through those discoveries. The branches incorporate various local design elements into them.

The new branch, called Starbucks Coffee Shinshu Zenkoji Nakamise-dori, neighbours the Niou Gate of Zenkoji Temple. It's a place where you can sit down with a delicious cup of coffee and relax while feeling the history of the place. The coffee shop's design and decor also takes inspiration from local history and culture, their concept behind "Busy and Quiet, Light and Dark." It's situated a little away from the hustle and bustle of Nakamise-dori, and houses two spacious floors.

The sliding doors and skylight let in a soft light which also casts shadows in places, mimicking the beauty of shade found in a Japanese-style house. The ceiling and walls at the entrance are made from Japanese red pine, while the bar uses five different types of wood from Nagano Prefecture like hornbeam and katsura. The stone lanterns which were in the original building have been put at the entrance, and the great beams on the second floor have been left as they are. All of this preserves the feeling of the local region while small Starbucks touches are added here and there, resulting in a unique Starbucks experience.

Information

Starbucks Coffee Shinshu Zenkoji Nakamise-dori

Grand Opening: March 26, 2020

Address: 483 Motoyoshicho, Nagano, Nagano Prefecture

Opening Hours: 7:00-21:00

No Fixed Holidays

Starbucks Japan Official Website: https://www.starbucks.co.jp/

SHISHI-IWA HOUSE in Nagano Prefecture Makes Travel + Leisure Magazine's "2020 It List"

SHISHI-IWA HOUSE, a "boutique resort" located in Karuizawa, Nagano, has made it into the "2020 It List" of American travel magazine Travel + Leisure.

Travel + Leisure is a New York-based travel magazine. "The Best New Hotels in the World (The It List)" shines a light on hotels around the world that have newly-opened or have been renovated that year.

The "2020 It List" has placed 72 establishments around the world in its ranking. Ten of these are located in Asia, with two being in Japan: SHISHI-IWA HOUSE and Aman Kyoto.

SHISHI-IWA HOUSE opened in February 2019. Described as a boutique resort, this hotel was built by internationally-acclaimed Japanese architect Shigeru Ban who won the 34th Pritzker Architecture Prize in 2014ーthe most prestigious award in modern architecture. The unique hideaway blends together nature and architecture, and is built in such a way as to strengthen the bonds between people.

The resort accommodation has two floors, and a unique structure which makes it look curved. It has ten individual rooms and three terraces. All the rooms enjoy a breathtaking view of the gardens which enjoy gorgeous scenery all year around. It's home to over 250 trees, including cherry blossoms, maples, and evergreens. You can also see Mount Asuma from all rooms.

Planning a trip to Nagano? Why not book to stay at this little hideaway?

SHISHI-IWA HOUSE in Nagano Prefecture Makes Travel + Leisure Magazine's "2020 It List"

SHISHI-IWA HOUSE, a "boutique resort" located in Karuizawa, Nagano, has made it into the "2020 It List" of American travel magazine Travel + Leisure.

Travel + Leisure is a New York-based travel magazine. "The Best New Hotels in the World (The It List)" shines a light on hotels around the world that have newly-opened or have been renovated that year.

The "2020 It List" has placed 72 establishments around the world in its ranking. Ten of these are located in Asia, with two being in Japan: SHISHI-IWA HOUSE and Aman Kyoto.

SHISHI-IWA HOUSE opened in February 2019. Described as a boutique resort, this hotel was built by internationally-acclaimed Japanese architect Shigeru Ban who won the 34th Pritzker Architecture Prize in 2014ーthe most prestigious award in modern architecture. The unique hideaway blends together nature and architecture, and is built in such a way as to strengthen the bonds between people.

The resort accommodation has two floors, and a unique structure which makes it look curved. It has ten individual rooms and three terraces. All the rooms enjoy a breathtaking view of the gardens which enjoy gorgeous scenery all year around. It's home to over 250 trees, including cherry blossoms, maples, and evergreens. You can also see Mount Asuma from all rooms.

Planning a trip to Nagano? Why not book to stay at this little hideaway?

Sai Sai Jaran Jaran #8: SILENT SIREN's Ainyan Becomes a Wine Connoisseur at Fukagawa Winery Tokyo in Monzennakacho

Sai Sai Jaran Jaran is a featured series here on MOSHI MOSHI NIPPON from the members of the all-female band SILEN SIREN (aka Sai Sai) who visit various hot spots in Japan and experience different things, the Sai Sai way.

Band bassist Ainyan enjoys a beer or cocktail, but she wants to step into the world of wine, so we will join her on her journey today as she goes to learn all about wine from the very basics.

It's a clear sky today. Great weather for going for a drink during the day, am I right?

We visited Fukagawa Winery Tokyo in Monzennakacho, an area located in Shitamachi, Tokyo. We were looking forward to going there because it offers the full wine experience, allowing visitors to see wine brewing up close to learn all about it.

This experience is offered twice a day on weekends and national holidays at 14:00 and 16:00.

Fukagawa Winery Tokyo opened in Tokyo in 2016 as a winery where the ordinary person could go and see wine being made to fully understand its process. It has expanded its circulation in recent years and is now able to take in grapes from across Japan, including Tokyo, to craft many different wines.

On the day we visited we saw the staff bottling up the wine. On average, the winery ships out around 30,000 bottles a year.

The corks have illustrations of "Wine Man" on them, a character created by Fukagawa Winery Tokyo. Ainyan was fairly fond of him!

Time to see how the winery works!

When you step inside, the scent of grapes is the first thing to hit your senses.

The one in charge of Fukagawa Winery Tokyo is Kousuke Ueno, who was kind of enough to show us around. He taught us the process of wine making, as well as what types of grapes and tools they use.

"This machine separates the grapes and stalks using the propellers. This method has been used for 150 years," explained Ueno.

There are periods when visitors can observe this machine being used to separate the grapes. It takes place between mid-August to November, so follow Fukagawa Winery Tokyo's social media for announcements and details.

"Wow! It smells so good!" said Ainyan. We got to see a bucket where Cabernet Sauvignon was being made. They put in whole grapes with the skin on and add natural yeast for the fermentation process. The sweet smell of the grapes fills the air and makes you want to have a glass.

Now for what Ainyan has been waiting for: taste-testing time! She learned everything about the wine making process, so it was time to taste and compare some different wines.

The winery allows taste-testing until 17:00. You can try 3 types for ¥700. And of course, if there's one you tried that you really liked, you can buy it there and then. So sip, scrutinise, and select!

"Please try this one first. It is wine, but it's like a lemon sour," explained Ueno, recommending that Ainyan first try the Yamanashi  Delaware Sparkling.

Soak up all the notes of the drink by having a good smell first before taking a small sip. "Smells really good. This sourness really is like a lemon sour! I wonder why?" said Ainyan.

This wine uses premature grapes which gives the wine a sour taste. The sourness of this wine can play the part of lemons, so it's best paired with fried foods or meals with chicken in them.

The second drink was the Yamagata Delaware Muroka. It's an unfiltered wine made from completely ripened Yamagata Delaware grapes.

Unfiltered means that the filtration process to take out visible solids and such is not used. This gives it a slightly cloudy appearance and an exquisite taste that's somewhere between wine and juice.

Left: Unfiltered Yamagata Delaware / Right: Filtered Yamagata Delaware

For the third glass, Ainyan ordered the filtered Yamagata Delaware to test the difference between it and the unfiltered version.

"The filtered one has a good balance of flavours and is refreshing. The unfiltered one has a smooth juiciness to it. They're both delicious, but I like the unfiltered one more!" said Ainyan.

Her fourth glass was an unfiltered red wine: the East Bay Assemblage Red B.

The grapes used are a combination from Hokkaido, Nagano, and Aomori. It really is an assemblage!

"The red wine has such a different taste and colour depending on the type too! This dark red wine is close to what I usually drink!" said Ainyan with a happy smile.

At the end of the session, Ainyan had tried 10 wines and bought two bottles! She was delighted with her experience, saying: "I was surprised how different each and every one of the wines I tried at Fukagawa Winery Tokyo were. I think I'm getting hooked on the appeal of unfiltered, natural wines."

With Christmas and New Year around the corner, now is the season to indulge in wine. If you're in Tokyo this December, pay a visit to Fukagawa Winery Tokyo for a full wine experience.

Writer:Yuki Yokoo

Photographer:Kayo Sekiguchi

SILENT SIREN

SILENT SIREN is a four-member all-female band consisting of vocalist & guitarist Sumire "Suu" Yoshida, drummer Hinako "Hinanchu" Umemura, bassist Aina "Ainyan" Yamauchi, keyboardist Yukako "Yukarun" Kurosaka.

The band made their major debut in November 2012 with their single Sweet Pop! The band is known to fans by their nickname "Sai Sai." They are especially popular with middle school girls in Harajuku and have over 540,000 follows on their official LINE account.

In 2015, they performed their first solo concert at Nippon Budokan, making them the fastest Japanese all-female band in history to perform there after their major debut. In 2016, they performed a headline show at Yokohama Arena, and embarked on a world tour consisting of 6 shows in 5 countries.

At the end of 2016, they changed label to Universal Music and revamped their band logo and how they write their band name. In 2017, they wrapped up their 5th anniversary tour with their first two-day concert series at Nippon Budokan.

In 2018, they embarked on their biggest Japan tour to date "Tenkaippin presents SILENT SIREN LIVE TOUR 2018 ~"Girls will be Bears" TOUR~ consisting of 33 shows. They also performed at big music festivals and at countless events, as well as performed their annual New Year's solo concert at Yokohama Cultural Gymnasium.

In 2019, they began celebrations of 7 years since their debut and 10 years as a band. They released their final album of the Heisei era and 6th album in total 31313 on March 13 ,2019 and promoted it on their tour SILEN SIREN LIVE TOUR 2019 "31313" ~Sai Sai 10th Anniversary~ supported by Tenkaippin. They also performed at numerous summer festivals and events.

On December 30, 2019, they will performed their annual New Year's concert "SILENT SIREN Nenmatsu Special Live 2019 HERO" at Yokohama Cultural Gymnasium.

In 2020, they will celebrate 10 years since forming the band with a show at Yamanakako Communication Plaza Kirara on September 20, 2020.

SILENT SIREN Official Website: https://silent-siren.com/

Information

Fukagawa Winery Tokyo

TEL: 03-5809-8058

Address: Takahata Bldg. 1F, 1-4-10 Furuishiba, Koto Ward, Tokyo

Opening Hours: Weekdays 15:00-22:00 / Weekends & Public Holidays 12:00-22:00

Closed: Tuesdays

Winery Observations: Weekends & Public Holidays at 14:00 and 16:00 for 20 minutes each. Must book in advance.

Official Website: https://www.fukagawine.tokyo/

Cosy Up in the Snow Huts This Winter at Hoshino Resorts KAI

Hoshino Resorts is once again bringing its kamakura snow huts to two of its KAI hotelsーa brand of hot spring hotels. You'll catch them at Hoshino Resorts KAI Tsugaru and Hoshino Resorts KAI Alps from February 1 to 29 next year.

KAI Tsugaru: Beautiful Koginzashi Stitched Lanterns Light Your Way

Koginzashi is a type of sashiko stitch work famous in the Tsugaru region. Japanese kogin designer Iemasa Yamahata has designed 50 beautiful Kogin lanterns for Hoshino Resorts' KAI Tsugaru hot spring hotel, which is hidden away in the town of Owani in southern Tsugaru, Aomori.

When you arrive at KAI Tsugaru, follow the lanterns along the snow and you'll arrive at the kamakuraーa type of Japanese igloo built in northern Japan for winter festivals. Multiple objects, big and small, have been designed with koginzashi, so guests can enjoy this beautiful art form.

Cosy up inside your secret snow hut and enjoy some tasty chocolate with cute koginzashi designs made by a local Japanese confectionery shop. Order a hot cocktail too made using apples grown in Aomoriーa prefecture famous across the country for its apples. There's a non-alcoholic cocktail option too.

You'll also find an original card game inside the huts created by the KAI Tsugaru staff. It's called "Kogin Awase" and works like the card game Pairs. What could be better than sat warm inside an igloo, eating sweets and drinking while playing a card game?

KAI Alps: Enjoy Life as a Yukinko Snow Child

Turn back into a child and experience young life in the snow country of the Shinano Province (now Nagano Prefecture) with the Shinshū Kamakura Yukinko Experience.

In the harsh cold and knee-deep snow environment of Shinano, people would take anti-snow measures by wearing things like the straw raincoat known as a mino, a traditional winter coat called a hanten, and other things. Guests can do the same and dress up to become a child of the snow, known as a Yukinko. You'll forget about the snow before you even realise it.

In old Japanese houses, friends and family would gather around an iroriーa sunken fireplace. You'll find these dotted around the public space at KAI Alps too, where you can sit around and enjoy the crackling and warmth of the fire. There will also be hand warmers and shiruko sweet porridge too so you can rest assured you won't go cold.

Experience life in the snow at Hoshino Resorts KAI this winter.

Information

KAI Tsugaru – "Kogin Kamakura"

Running: February 1, 2020 – February 29, 2020 (Subject to change depending on snowfall)

Time: 18:20-18:45/18:50-19:15/19:50-20:15/20:20~20:45

Price: ¥1,500 per person (includes snow hut entry, confections, and 1 drink)

*Alcoholic/non-alcoholic cocktail options available

Reservations: Available from the front desk on the day

*Reservations mandatory

KAI Tsugaru

Address: Kamibotanmori-36-1 Ōwani, Ōwani-machi, Minamitsugaru District, Aomori Prefecture

Website: https://www.hoshinoresorts.com/resortsandhotels/kai/tsugaru.html

KAI Alps – "Shinshū Kamakura Yukinko Experience"

Running: February 1, 2020 – February 29, 2020 (Subject to change depending on snowfall)

Time: Kamakura Light-Up 17:00-21:00 / Yukinko Dress-Up 15:00-21:00 / Winter Stroll Preparations 20:00-21:00

No. of People: 4

Price: Free

Reservations: Not required

KAI Alps

Address: 2884-26 Taira, Ōmachi-shi, Nagano Prefecture

Website: https://www.hoshinoresorts.com/resortsandhotels/kai/alps.html

Hoshino Resorts KAI Official Website: https://www.hoshinoresorts.com/brand/kai/

Enjoy Pirate-Themed Food, Cocktails, Desserts And More at DisneySea This Summer

Tokyo DisneySea launched their special event called Disney Pirates Summer which will run until September 1. The event includes the launch of 16 colourful pirate-themed menus. 

We headed straight to Mediterranean restaurant Cafe Portofino to fill ourselves up on the delicious menu. Cafe Portofino is the nearest restaurant to the entrance of DisneySea. Once you find the Mediterranean Harbor, you will find it on the right. 

 Special set: ¥ 1,880 ① Potatoes and Roast Beef Salad ②Linguine topped with Olive and Caper Tomato Sauce and served with Battered Yellowfin Sole Fish ③ Lychee Pudding with Lemon Jelly topped with Mixed Fruit ④ A choice of Soft Drink ⑤ Pay an extra ¥310 for an alcoholic drink. 

I ordered the special set which is surprisingly big but definitely enough to satisfy the hungry pirates, who are always boasting about their enormous appetite. 

I started with the potato and roast beef salad, which was dressed in balsamic vinegar. The taste was so refreshing which is just what you want during the summer. The rosemary-flavoured potatoes were soft and a perfect match with the beetroot.   

The linguine was chewy and springy and the capers produced a mildly tangy flavour. I am not usually a big fan of olives, but these were very delicious. The battered fish was crispy and not oily, which is suitable for children and adults. 

Just looking at the lychee pudding with lemon jelly is enough to make you feel refreshed. It is packed with fruit and takes on the image of a pirate's treasure chest that is full of colourful rubies. This is the perfect way to clean your palate. 

Ordering the special set allows you to choose a soft drink. If you pay an extra ¥310, you can change this drink into an alcoholic drink. 

Sparkling Cocktail ( Rum and Mango Sherbet) On its own: ¥680

This cocktail takes on the image of a pile of pirate treasure. Mango sherbet sits on top of the cocktail like nuggets of precious gold. The base of the cocktail is rum and peach and the refreshing alcoholic flavour of the rum is moderately sweet, spreading instantaneously through your mouth on your first sip. The solid texture of the mango makes the cocktail even more enjoyable, so please mix it thoroughly before devouring. 

The bakery next to Cafe Portofino called Mamma Biscotti's Bakery is selling desserts which come with souvenirs that you can take home with you.

Mango Jelly and Orange Mousse with Souvenir Mug: ¥800

Jelly, mousse and meringue whip is layered in the mug. This refreshing dessert not only looks pretty, but is also made up of a range of fun textures for you to enjoy. 

You can take the souvenir mug back home with you. Its design features Mickey Mouse and friends dressed as pirates. 

Coffee Roll Cake with Souvenir Plate: ¥800

This is the perfect dessert for adults because it is slightly bitter. The layers of sponge, cream and bitter coffee makes for a range of delicious flavours. This plate's design also features Mickey Mouse, who has dressed up as a pirate for the event. This would be perfect to take home with you to remember your trip!

DisneySea is the perfect place to cool down this summer and create many wonderful memories, so please do pay a visit. 

©️Disney