Feast Your Eyes On These PAC-MAN Watches From Timex
PAC-MAN turned 40 years old on May 22, 2020. To commemorate the 40th anniversary of one of the most recognisable video game characters, UENI TRADING, the sole Japanese distributor of American watchmakers Timex, released three new Timex 80 x Pacman watches on July 30, 2020. The watches are available in select stores and online stores in Japan.
This collaboration previously took place in November 2019 where the watches were a hug success amongst American fans. The watches have now arrived in Japan in the year of PAC-MAN's 40th anniversary.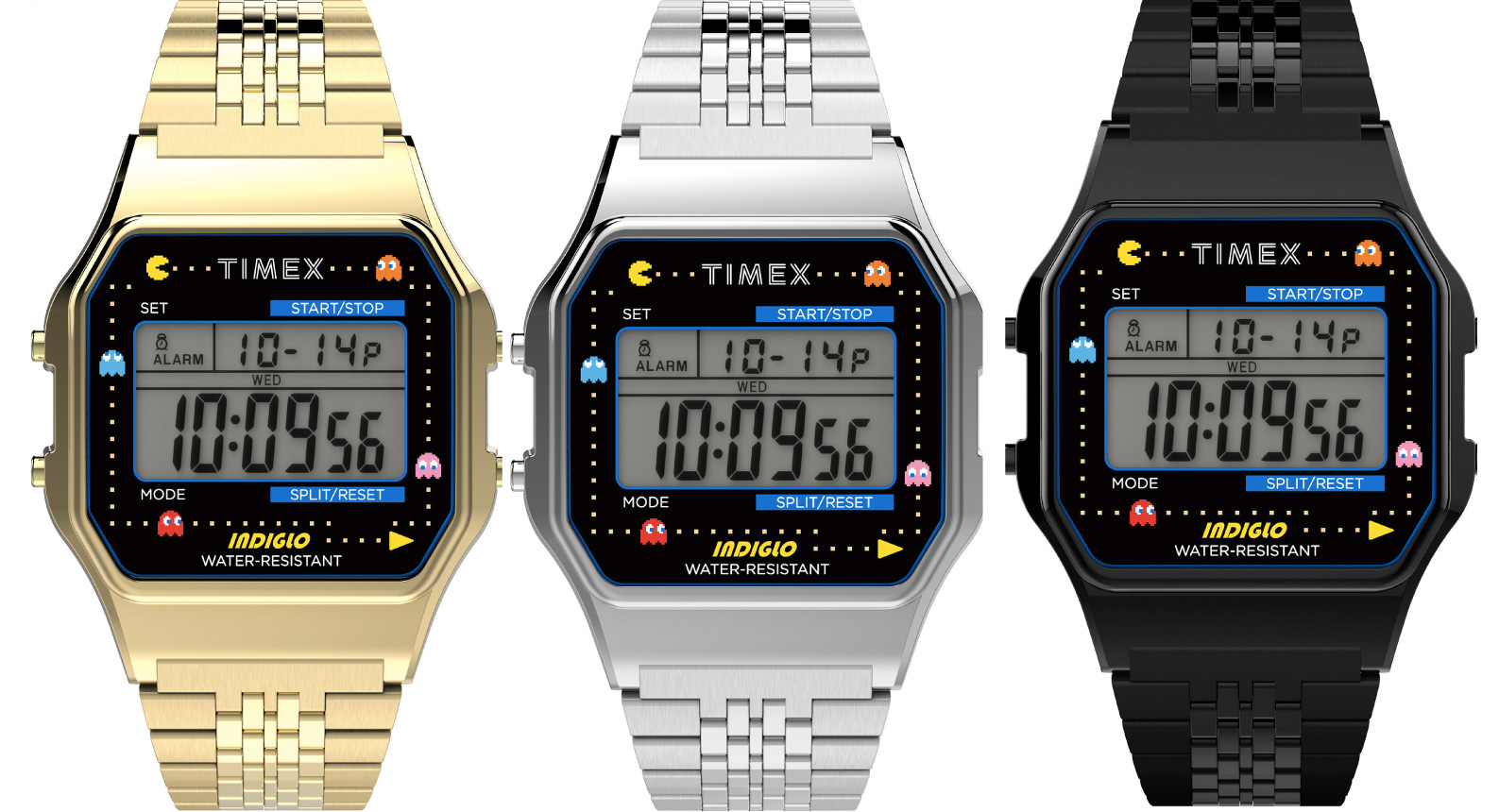 Timex 80 x PAC-MAN Watches: ¥11,000 (Before Tax)
TW2U32000 | TW2U31900| TW2U32100
The watches are an arrangement of Timex's "Classic Digital" which capture that retro 80's design of PAC-MAN.
The LCD, back of the case, and bracelet all feature iconic PAC-MAN motifs. The alarm sound of the watches are also the PAC-MAN game sound. The watches feature all the typical functions like a stopwatch, calendar, and alarm, but with a PAC-MAN flair. They're also equipped with the Timex INDIGLO® night light which Timex first introduced back in 1992.
The watches will be available to purchase in Japan on the official online stores of Timex and ontime move as well as in-store at ontime Shibuya LOFT and ontime Umeda LOFT.
*Available online at Timex from July 30. General sales will begin on August 4.
Pop-up stores will also open at ontime Shibuya LOFT and ontime Umeda LOFT where you can get your hands on an original PAC-MAN sticker, play the original game, and more.
Information
Timex 80 x PAC-MAN Watch
Timex Online Store: https://www.timexwatch.jp/
ontime move Online Store: https://www.ontime-move.watch/news/5736/
ontime Shibuya LOFT
Address: Shibuya LOFT 1F, 21-1 Udagawacho, Shibuya, Tokyo
Opening Hours: 10:00-21:00
TEL: 03-5458-3076
ontime Umeda LOFT
Address: Umeda LOFT 1F, 16-7 Chayamachi, Kita-ku, Osaka-shi, Osaka Prefecture
Opening Hours: 11:00-21:00
TEL: 06-6359-3205
RELATED ENTRIES
Casio Reveals New BABY-G Pikachu Watch in Collaboration With Pokémon

Japanese electronics giant Casio has announced its second collaboration with The Pokémon Company to release a Pikachu design watch as part of its BABY-G shock-resistant line of wristwatches. The Pikachu BA-110PKC watch will drop worldwide via G-SHOCK's official website on February 5, 2021.

The watch comes as part of BABY-G's 25th anniversary celebrations as Pikachu is number 025 in the Pokédex. It features classic Generation I inspired artwork of Pokémon's leading mascot.

BA-110PKC | ¥19,800 (Tax Included)

Casio describes the watch: "This second collaboration is an analog-digital watch with an outdoor theme, representing the active image of the BABY-G brand. The entire BA-110PKC band showcases a camouflage pattern and female Pikachu with a heart-shaped tail. The Pikachu design is infused with subtle details like the silhouette of the pink tail on the strap keeper and the Pikachu image etched on the case back. The hour and minute hands also evoke the face of Pikachu, a playful touch that will delight the wearer whenever they check the time."

The watch is boxed with a Poké Ball inside which Trainers will find their trusty new Pikachu watch companion.

© 2021 Pokémon. ©1995-2021 Nintendo/Creatures Inc./GAME FREAK inc.
Pokémon, ポケットモンスター, and ポケモン are registered trademarks of Nintendo, Creatures Inc., and GAME FREAK inc.

Limited-Edition Emerald Blue Sailor Moon Eternal Wristwatch Released in Japan

Citizen Watch brand wicca released a new emerald green wristwatch to commemorate the release of the new anime film Sailor Moon Eternal. The item was released exclusively on PREMICO's online shop in Japan on January 6, 2021, with a limited stock of just 3,000.

Wicca x Sailor Moon Eternal Special Collab Watch | ¥29,800 (Before Tax)

The watch features intricate nods to the film such as a crescent moon at the 12-o'-clock mark with a rhinestone, Pegasus and white wings on the bottom half, an emerald blue round face, the Crystal Carillon on the 6-o'-clock mark, and more.

The mesh strap is pink and gold to complete the a beautiful and feminine appearance. And since only 3,000 have been made, each watch also has its own Edition Number engraved into it. The watches are packaged in special gold leaf box with a Swarovski® crystal on it.

©武内直子・PNP/劇場版「美少女戦士セーラームーンEternal」製作委員会

Swarovski® is a registered trademark of SwarovskiAG.

Doraemon Design Wristwatch Releases For Manga Character's 50th Anniversary

Customisable watch brand UNDONE released a new collection of wristwatches in Japan on Tuesday (December 15).

Special Doraemon 50th Anniversary Series

The celebratory line-up commemorates Doraemon's 50th anniversary and includes limited quantity models, customisable made-to-order models, and more, each with references to the beloved series.

50TH ANNIVERSARY

50TH ANNIVERSARY (Limited to 150 models) | ¥39,600 (Tax Included)

The '50TH ANNIVERSARY' model features an illustration of Doraemon as seen in the early days of the manga series.

The early artwork of Doraemon is nothing short of adorable

Back of wristwatch features vintage style design

FRIENDSHIP

FRIENDSHIP (Limited to 150 models) | ¥39,600 (Tax Included)

Best friends Nobita and Doraemon come together for this special design.


Spot Doraemon's tiny bell at 12-o'clock

Doraemon and Nobita on the back side

The watch has simple white dials, and it has a function where it lights up at night to reveal Doraemon and Nobita. The design captures the beauty of the pair's everlasting friendship.

THE BELL

THE BELL (Customisable Model) | ¥29,700 (Tax Included)

This cute watch just screams Doraemon's design with its colouring and his iconic bell in the centre.


The bell turns as the hands go around

Doraemons everywhere on the back side

This watch is customisable with various different designs. If you look closely at the 50-minute mark you'll see a red dot representing Doraemon's tail. It's also a nod to his 50th anniversary.

©Fujiko-Pro APPROVAL NO.S611617

Cute and Colourful PAC-MAN Merchandise Drops in Collaboration With ART BABY GIRL

New York-based artist ART BABY GIRL designed a new collection of girly PAC-MAN merchandise which were released exclusively at PLAZA and MINiPLA stores in Japan on Wednesday (December 16).

Clockwise From Left: Flat Pouch (Small) ¥1,595 | Round Pouch ¥1,540 | Potato Chips Pouch ¥1,815 | Flat Pouch (Medium) ¥1,760 | Chocolate Bar Pouch ¥1,870 (All Tax Inclusive)

PAC-MAN was released 40 years ago in 1980. He and the Ghosts have gotten a cute pop makeover with a selection of food-inspired items, since the yellow muncher loves to eat.

PAC-MAN x ART BABY GIRL Eco Bags ¥1,925 Each (Tax Included)

These eco bags come with an additional Ghost pouch and are handy for a quick pop to the store or supermarket.

PAC-MAN is a cultural icon created in Japan that is recognisable the world over. Don't miss out on this line-up of super cute merch by ART BABY GIRL.

PAC-MAN™&©BANDAI NAMCO Entertainment Inc.
Art Baby Girl for PAC-MAN

Seiko to Drop New Pokémon Watch Collection | MOSHI MOSHI NIPPON

Seiko is teaming up with Pokémon to release four limited-edition watches on December 11, 2020. Each model will be available to buy from Seiko in Japan.

Pikachu Icon Design Model SCXP175 | ¥30,800 (Tax Included)

The Pikachu Icon Design Model SCXP175 features a modern design with a yellow dial and black Pikachu silhouette. Pikachu's tail is used as the watch hands, underneath which is a nod to Pikachu's effectiveness as a lighting-type Pokémon against water-types. The watch has a leather strap with Pikachu's paw prints running down it.

Pikachu Green Model SCXP177 | ¥30,800 (Tax Included)

The Pikachu Green Model SCXP177 features a green dial inspired by Pikachu running through Viridian Forest. The second hand also has Pikachu's tail and the leather strap has Pikachu's paw prints.

Eevee Model SCXP179 | ¥30,800 (Tax Included)

The cute Eevee Model SCXP179 has coloured dots for the hours which represent Eevee's nine different evolutions. The leather strap has Eevee's paw prints.

Mewtwo Model SCXP181 | ¥30,800 (Tax Included)

The Mewtwo Model SCXP181 is purple to represent the Psychic-type Legendary Pokémon Mewtwo. The leather strap reads "Pokémon" on it.

There are three different underside designs featuring a closed Poké Ball, an open Poké Ball, and a closed Great Ball.


Each watch comes in a special box and with an additional nylon strap, which you can swap out with the leather one, as well as a Poké Ball design cloth.

©Nintendo・Creatures・GAME FREAK・TV Tokyo・ShoPro・JR Kikaku ©Pokémon

Sebastian Masuda x PAC-MAN Collaboration Celebrates Game's 40th Anniversary With Merchandise and Art Installation

Bandai Entertainment is celebrating 40 years of PAC-MAN with a new collaboration with Sebastian Masuda, the artist and art director at the forefront of "kawaii" culture in Japan.

PAC-MAN x Sebastian Masuda: Pop Culture Taken to the Next Level

BANDAI NAMCO Entertainment is a Japanese multinational video game developer and publisher whose motto is "More Fun For Everyone." This summer, the company is dropping a new face into the ghost and fruit-filled maze of their iconic 80's video game character PAC-MAC. That person is none other than Sebastian Masuda.

The scope of Masuda's influence is unrivalled. His touch can be seen all across Japanese kawaii culture, ranging from his work on Kyary Pamyu Pamyu's viral hit music video PONPONPON which skyrocketed her career, to Harajuku's famous concept restaurant KAWAII MONSTER CAFE, the Miracle Gift Parade at Sanrio Puroland, as well as countless work on TV, commercials, advertisements, characters, stage, concerts, and more. He is a leader when it comes to pop culture, and so it is fitting that he follows alongside PAC-MAN into this labyrinth of a collaboration.

Primal Pop (PAC-MAN Mix)

In celebration of PACMAN's 40th anniversary, Sebasian Masuda created a giant art piece entitled Primal Pop (PAC-MAN Mix) which is made up from a mix of historical PAC-MAN merchandise and children's toys which aims to have the people who see it return the excitement they felt as a child.

The art installation has been placed at the entrance of the BANDAI NAMCO Future Laboratory located inside the BANDAI NAMCO Group office building. It stands 2.9 meters high and 2.6 meters across. As of now, it is only available to see by staff and associates, but you can see a video of it being made below.

Sebasian Masuda's "Primal Pop (Pac-Man Mix)" | Behind The Scenes


Sebastian Masuda x PAC-MAN Merchandise

PAC-MAN Special Art by Sebastian Masuda Official T-Shirt (Black) | ¥4,000 (Before Tax) | Sizes: Small, Medium, Large


PAC-MAN Special Art by Sebastian Masuda Official Sticker | ¥500 (Before Tax)

A special collection of merchandise themed on Primal Pop (PAC-MAN Mix) was also released on BANDAI NAMCO's online store Asobi Store on August 12 so that everyone can enjoy the collaboration. There are plans for overseas releases too.

PAC-MAN: A Game Love the World Over

PAC-MAN was first released in 1980 and has since become a symbol of pop and gaming culture around the world. With the outbreak of COVID-19, BANDAI NAMCO Studios made PAC-MAN Championship Edition 2 free to play on PlayStation®4 , Xbox One, and Steam® between April 24 and May 10 as a way to put a smile of people's faces while celebrating a game that has become so rooted in pop culture.

PAC-MAN™&©BANDAI NAMCO Entertainment Inc.

Information

PAC-MAN Official Website: https://www.pacman.com/en/
*PlayStation and PS4 are registered trademarks of Sony Interactive Entertainment Inc.
*Xbox and Xbox One are trademarks and registered trademarks of Microsoft Corporation and associated companies.。
*Steam and the Steam logo are trademarks and registered trademarks of Valve Corporation.

Tell the Time With the Kawaii New Hello Kitty KAORU Wristwatches

Japanese watchmakers MARUZEKI released a new collection of Hello Kitty wristwatches as part of their KAORU model series on June 27, 2020.

KAORU x Hello Kitty Sweets Collaboration: ¥4,180 (Tax Included)

MARUZEKI's "KAORU" watches are inspired by aromatherapy, implementing a world-first concept that lets the wearer enjoy their favourite fragrances on the go. Designed and created with Japan's state-of-the-art materials and technology, the Hello Kitty collection of 3 watches come with vanilla, strawberry, and coconut scents.

The 'Vanilla White' fragrance is like a waft of sweet candy. It's a popular scent seen in products, and uses a mix of aroma oils and perfumes to create the uplifting fragrance. The watch face has an illustration of Hello Kitty enjoying a cup of tea.


'Strawberry Pink' is inspired by strawberry milk and strawberry shakes. They recommend this one if you're wanting a change of pace. This clock face has Hello Kitty enjoying some apple pie and talking on the phone.


'Coconut Mint Green' is a relaxing blend of coconut and passion fruit. Hello Kitty is dressed adorably as a mother making an apple pie for this design.


The watches are packaged in special boxes with a cute pop-up Hello Kitty inside like that of a picture book. This itself serves as kawaii decoration, and makes for a great gift to someone (or yourself!)

One Piece and Dragon Ball Z Design Watches Released by G-SHOCK

CASIO G-SHOCK has announced a collaboration with the popular anime series One Piece and Dragon Ball Z, with watch designs for each show releasing in July and August respectively.

GA-110JOP: ¥26,400 (Tax Included)

The GA-110JOP One Piece watch uses the popular GA-110 model G-SHOCK which has a distinct big case. It's covered in a black base colour and features an illustration of Luffy strong and grown up. At 9-o'clock is a motif of Luffy's straw hat, while at 3-o'clock is the word "WANTED." Additionally, when the hour and minute hands both strike 2-o'clock and 4-o'clock, they combine with slanted golden lines to create the "X" shape that Luffy has on his chest.

The back cover features the "G-SHOCK x One Piece" logo.

GA-110JDB: ¥26,400 (Tax Included)

Like the One Piece watch, the Dragon Ball Z one also uses the GA-110 model and is coloured in that iconic DBZ orange. The design is inspired by Goku going through training to become stronger. The lettering and logo is gold for accent. At 9-o'clock is the Four-Star Dragon Ball while at 3-o'clock is the letter "Z."

On the back cover of this one it features the Dragon Ball Z logo.

Both watch designs will for sure be appreciated by fans for their detailed designs and references.

Information

GA-110JOP
Release Date: July 2020

GA-110JDB
Release Date: August 2020

Seiko Watches to Open 2 New Stores in WITH HARAJUKU

Seiko Watch Corporation has announced that it's opening two new shops simultaneously inside WITH HARAJUKU in Tokyo's hub for fashion and culture Harajuku on June 17, 2020: Seiko Boutique WITH HARAJUKU and Seiko Prospex Boutique WITH HARAJUKU.

Seiko launched its "Seiko Boutique" chain of stores in 2004 which are situated in major cities around the world and offer the full experience of the Seiko brand. It currently has around 80 branches worldwide. Seiko also opened its newest "Seiko Prospex Boutique" branch in Ginza last year, making it the third branch in the world.

At Seiko Boutique, customers can enjoy looking through the brand's many watch varieties, such as Grand Seiko which offers leading watch functionality and a sophisticated design, Seiko Astron which hails as the first GPS solar watch, the popular casual Seiko 5 Sports watches, and more.

From Left: SNE537PC / SNE533PC / SNE535PC

From Left: SRPD35KC / SRPD31KC / SRPD33KC

To commemorate the opening of the two new shops in WITH HARAJUKU, Seiko will sell a limited 10 number of watches each from 6 models that are currently unavailable in Japan.

Information

Seiko Boutique WITH HARAJUKU / Seiko Prospex Boutique WITH HARAJUKU
Grand Opening: June 17, 2020

Address: WITH HARAJUKU 1F, 1-14-30 Jingumae, Shibuya, Tokyo

Opening Hours: 11:00-20:00 (Until 19:00 on June 17)

No Fixed Holidays
TEL: 03-6271-5061

Official Website: https://www.seikowatches.com/jp-ja

Naomi Osaka Dons Citizen Watch For 2019 French Open

Citizen Watch has announced that pro tennis player and ambassador for the company Naomi Osaka will wear a new model of watch for the 2019 French Open.

Osaka became an ambassador for Citizen in August 2018 and went on to win a Grand Slam at the 2018 US Open and 2019 Australian Open all while donning the brand's Eco-Drive 1 model watch. This was the first watch to be released with the Eco-Drive mark.

For the 2019 French Open she will wear the new Citizen Eco-Drive Bluetooth W410, an analogue wristwatch that can link to one's smartphone via Bluetooth. Osaka will wear a black and green model. The watch is light and so is comfortable to wear while playing and is also encased in Citizen's Super Titanium™, a hardening technology that increases the durability of the watch and resistance to wear and tear. The watch is also stylish and unisex.

Information

Citizen Eco-Drive Bluetooth W410

Stock No.: BZ4005-03E

Price: ¥80,000 (Before Tax)

Website (Japanese): https://citizen.jp/about/ambassador.html

2019 French Open

Running: May 26, 2019 – June 9, 2019

Location: Stade Roland Garros, Paris

Naomi Osaka Wins 2019 Australia Open Wearing Citizen Watch

Naomi Osaka, professional tennis player and ambassador for Citizen, won the 2019 Australian Open in Melbourne while stylishly wearing a Citizen watch.

Citizen is a watch manufacturer that develops its products from the parts to the finished piece. Established in 1918, the company has gone on to create a multitude of watches for the international market using the latest technology such as the solar-powered Eco Drive.

Eco Drive Bluetooth BZ4006-01E: ¥75,000 (Before Tax) – Releasing March 7, 2019

The watch that Naomi Osaka donned during her victory is the above-pictured Eco Drive 1 model. This analogue wristwatch has Bluetooth technology that can link to smartphones. It's comfortable, light and encased in Citizen's Super Titanium and finished with an eye-catching orange.

Its functions include call, message and social media notifications, an alarm, time sync, world time and more.

As brand ambassador for Citizen, Naomi Osaka shares the same spirit as the company: "Better Starts Now," which it describes as encapsulating "the belief that no matter who you are and what you do, it is always possible to make something better — and now is the time to start doing it."

Only 1,000 of this limited edition watch will be sold, so if you're interested be sure to check it out!

Travel the world with this Hello Kitty-themed "BABY-G" watch!

Travel the world with Hello Kitty with the new "BABY-G" collaboration anti-shock watch for women. Two collaboration models of the watch (BGA-190KT) will be released for sale from Friday 9th March.

Using the BGA-190 model as a base, this collaboration model can display the time in two different cities at the same time.

The Hello Kitty world traveller design will capture the hearts of many females who love travelling.

The minute hand of the watch is decorated with a Hello Kitty red ribbon motif and the band is decorated with a passport immigration stamp.

The band has very flexible usage and is bound to stimulate your lust for travel.

To commemorate the collaboration, an original Pilot Hello Kitty design will be incorporated into the design for the back of the watch and on the special packaging. The special packaging is decorated to look like a trunk – an essential must-bring for your travels! This special model comes with all this and still more!

Celebrating their launch of the new watch model, collaboration couple BABY-G and Hello Kitty have opened a special edition site! The site includes a special movie so please check it out!

■Information

Release date: Friday 9th March 2018

Price: ¥18,500 + tax

Purchasable from:

Selected Casio watch specialist stores and volume retailers
Selected Sanrio official shops/ the online shop

Special edition site: http://baby-g.jp/hellokitty/