Sanrio Harmonyland Announces 'Happy Halloween' Event For October 2020
Harmonyland, a theme park centred on Sanrio's cast of characters, has announced that this year it is holding a Halloween themed event titled "Happy Halloween" which will run from October 11 to 31.
Meet the characters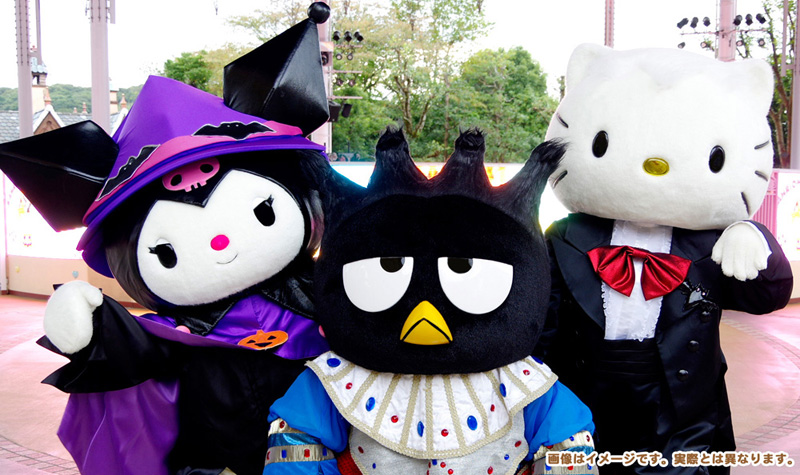 A greeting event will take place twice a day where guests can have photos taken next to the Sanrio characters who will be dressed in their best Halloween outfits. For the afternoon greeting, the characters will dance too.
Photo opportunities
There will be many photo opportunities around the park at a variety of Hello Kitty, My Melody, Kuromi, and other character decorations. Shops inside the park will also be decorated in all things spooky.
Hello Kitty's Castle transforms into Halloween mode
Hello Kitty Castle will feature Halloween themed decor to greet guests who enter. Hello Kitty will also change into a spooky ghost costume at 10:00, 12:00, and 14:30 each day of the event.
Halloween character merchandise
Sanrio fans can get their hands on a selection of Halloween themed character merch.
Limited-time character events
Sanrio character 'Wish Me Mell' will also have her own birthday party between September 20 and 23 where she will be out to greet guests. After each greeting, 100 people will be given a special free thank you card on a first-come, first-served basis.
Pin Badge Set ¥990 / Acrylic Key Ring Set ¥1,540 / Strawberry Milk Pudding ¥500 / Pancakes ¥600 / Smile Set ¥1,200
This year marks the 15th anniversary of Kuromi, as well as My Melody's 45th anniversary, and so both will be performing mini live concerts between September 25 to October 31. After each show 100 people will be given a Kuromi anniversary card on a first-come, first-served basis.

Pin Badge Set / Kuromi Black Curry ¥1,380
©'76,'79,'88,'89,'91,'93,'96,'98,'99,'01,'05,'10,'12,'13,'17,'20 SANRIO  S/D・G
*The information in this article is correct as of September 2, 2020. Please note that information related to the event is subject to change.
RELATED ENTRIES
Yokohama Bay Sheraton Hotel & Towers Offers Halloween Menu to Enjoy in Lounge and at Home

Yokohama Bay Sheraton Hotel & Towers have announced a Halloween themed menu using seasonal Autumn ingredients. The 'Sweets Parade~ Halloween~' buffet will be held on the second floor of the Seawind lounge on Thursdays and Fridays between October 7 and October 29. In addition, a Halloween version of the popular take-out 'Home de Afternoon Tea' will be available in their basement floor pastry shop Dorer for a limited time between October 1 and October 31.

Lounge 'Sea Window' Sweets Parade ~Halloween~

'Purple Potato Mont Blanc' with Okinawan purple potatoes.

'Shiro-An Yokan' with skulls (front) Mousse Chocolate Marron (back right)

Caramel Coffee (left) / Matcha Anmitsu (right)

'Orange and Strawberry Jelly' with vivid graduation coloring (center)

Pumpkin Tart (front) / Eyeball 'Vanilla Cassis'

Pastry Shop Dorer 'Home de Afternoon Tea ~Halloween~'


Smoked Salmon Salad

Chestnut Rice with Pumpkin


Pumpkin Soup

Assorted Fruits

Five variations of Ronnefeldt Tea / Alain Milliat Strawberry Jam

Lounge 'Sea Window' is back with another charming 'Sweets Parade ~Halloween~'  sweets menu. The menu boasts a lineup of photogenic Halloween sweets, including a glossy 'Purple Potato Mont Blanc' made using Okinawan purple potatoes, a peering eyeball 'Vanilla Cassis,' a pumpkin and almond cream 'Pumpkin Tart,' and a jack-o-lantern themed gradient 'Orange and Strawberry Jelly.' 

There is also a selection of luxurious light meals, each featuring seasonal ingredients, that will offer you a taste of the hotel, including  the pumpkin-filled 'Chestnut Rice' and 'Pumpkin Soup', and the 'Chestnut Danish.'

For the first time, pastry shop Dorer will be offering a 'Home de Afternoon Tea ~Halloween~' experience, allowing customers to enjoy Halloween sweets from the comfort of their own home. The cute box is filled with a variety of fun sweets and savory snacks such as a 'Purple Potato Mont Blanc,' 'Monster Macarons,' a skull-covered 'Fig Tart' and 'Shining Grape Petit Cream Puffs.' The afternoon tea set makes the perfect gift to any loved ones!

You can visit the lounge and experience a luxurious time at the adult-aimed sweets buffet, gazing through the atrium during the long Autumn evenings, or you can enjoy the colorful afternoon tea set from the comfort of your own living room! 

 

Why not experience a special Halloween in your preferred setting?

Maison de Fleur Launches Eighth Anniversary Collaboration with Sanrio's Wish Me Mell

Japanese accessories brand Maison de FLEUR is celebrating eight years with another collaboration, this time with Sanrio's bunny character Mell. A number of special items are now available to preorder on the STRIPE CLUB e-commerce site until October 3, 2021. 

Double Ribbon Tote Bag: ¥5,819 (Tax Included) 

Side Pocket Tote Bag: ¥5,819 (Tax Included) 

Mini Pouch: ¥3,949 (Tax Included) 

Face Pouch: ¥3,949 (Tax Included)

Drawstring Pouch: ¥4,389 (Tax Included) 

Lining Design

The character Mell is also celebrating an anniversary, turning ten this year. Items went on presale on September 20, which also happens to be the little rabbit's birthday. The character was designed by Miyuki Okumura, more famously known as the designer of Cinnamoroll. 

These pink bags and pouches feature a classy salmon pink color, and the adorable inner lining is sure to make any Sanrio fan smile, showing Mell and her friends from Merci Hills surrounded by balloons. The canvas material makes these perfect for everyday use. 

Look closely at Mell's bunny ears to see the Maison de FLEUR logo! Will you be grabbing any of these items?


ⓒ'21 SANRIO APPR.NO.L629405

THE STRINGS Omotesando Introduces New 'Violet Halloween Afternoon Tea'

THE STRINGS Omotesando will be offering a new and limited 'Violet Halloween Afternoon Tea' at the 'Cafe & Dining ZelkovA' 1F between October 5 and October 31 2021.

 

The Halloween themed afternoon tea offers a selection of cute sweets, including black monster themed Maritozzo and purple taro Mont Blanc cream puffs topped with witch hats.

The cool Autumnal menu is made up of sweet and savory violet snacks, with purple potatoes, cassis, blueberries and more. You'll find yourself able to taste the season, with the rich fig cheesecake and sweet chestnut scones.

Enjoy bottomless drinks with a selection of 16 herbal and flavored teas, coffees and lattes. You can even enjoy a cup of tea from TWG, a luxury brand from Singapore.

This adult-aimed afternoon tea is full of luxurious ingredients, such as parfait-like organic vegetables and salmon micuy, roasted Angus beef, and violet desserts. Spend your afternoon relaxing on the French and Italian crafted sofas while you take a break from the hustle and bustle of the city.

 

  

Why not spend an elegant Autumn afternoon enjoying a luxurious afternoon tea, watching out over the iconic zelkova-lined streets of Omotesando?

The Jellyfish Kaleidoscope Tunnel Transforms for Halloween at 'HALLOWEEN in Sumida Aquarium' Event

Between October 1 and 31 2021, Sumida Aquarium will be hosting the 'HALLOWEEN in Sumida Aquarium' event, where you can enjoy an exciting Halloween alongside the Jellyfish. 

 

A workshop will be held at the event, teaching guests all about the floaty, mysterious and ghost-like jellyfish.

The aquarium's famous 50m 'Kaleidoscope Tunnel,' which is formed of 5,000 mirrors, will be transformed into a Halloween wonderland for the 'Jellyfish and Halloween' event. Eight aquariums are embedded into the walls, with colorful background panels which feature Halloween motifs such as witches and pumpkins. The jellyfish look just like festive ghosts!

Moon Jellyfish Aquarium in the Kaleidoscope Tunnel 

Each aquarium introduces seven mysterious facts about jellyfish – For example, did you know that jellyfish have no heart, and have tons of eyes?

The mysterious tunnel wall is covered in images of cute jellyfish that transform into ghosts and jack-o-lanterns, while Halloween themed music plays in the background.

A jellyfish comparison workshop


A jellyfish comparison workshop will also be held at the aquarium's Aqua Academy. Young children can participate in the workshop which explains the visual differences between different types of jellyfish, while crafting a cute jellyfish mobile under staff supervision.

Spend this Halloween at the incredible Sumida Aquarium!

KRISPY KREME Reveals Limited Halloween Donuts

KRISPY KREME DONUTS Japan has unveiled its screamingly delicious new Halloween themed donut selection, the "KRISPY KREME SKREMES!," which will be available nationwide between October 1 and October 31 2021.

Halloween Jack Caramel & Custard

Blood Strawberry Skull

Halloween Dozen (12 pieces)

Halloween Half-Dozen (6 pieces)

Halloween Box (3 pieces)

 

Mini Box (20 pieces)

 

Mini Half-Box (10 pieces)

Mini Mini-Box (3 pieces) 

This year's KKDJ Halloween selection will include a new skull donut alongside the ever-popular Jack. In addition, in the lead up to Halloween, Jack and the Skull's expressions will become increasingly scarier between the 25 and 31st! Don't miss out on these ever-changing designs.

 

First in the lineup is the 'Halloween Jack Caramel & Custard,' a pumpkin and caramel flavored Jack-o-Lantern which returns every Halloween. The 'Blood Strawberry Skull,' released this year, featured a monster with a milky white chocolate face, with sweet white and bitter dark chocolate eyes. In addition, you can order 'Halloween Sprinkles' for a colorful Halloween aesthetic, and 'Spider Chocolate Custard" which will turn your custard into a spider web shape!

 

The 'Halloween Dozen' and 'Halloween Half-Dozen,' which feature four types of Halloween donut, and the famous 'Original Glazed®' will be served in limited edition Halloween themed boxes for the season. The 'Mini-box' donuts have even transformed into tiny monsters! Be sure to check out these colorful and exciting new sweets.

Information

KRISPY KREME SKREMES!

Availability: October 1 ~ October 31 2021

Participating Stores: KRISPY KREME DONUTS Stores Nationwide 

Official Site: https://krispykreme.jp/ 

Hotel W Osaka x PIERRE HERMÉ PARIS Unveil Limited Halloween Dessert Menu

Opening in March 2021, Japan's first luxury lifestyle Hotel W Osaka works with PIERRE HERMÉ PARIS to produce the 'MIXup' Art & Pastry Bar, which has unveiled a new Halloween themed dessert course and  à la carte cake, available from September 15.

Pumpkin & Choux Cream / Ghost Montblanc / Frankenstein Cheesecake

Rock'n'Roll

Osaka is said to be the birthplace of Japanese cuisine, and in a similar vein,  this unique  'MIXup' dessert course serves 'CHEEKY' sweets which are finished one-by-one in front of the customer. The counter-style serving has proven popular since it began in May of this year, known for the playful presentation and customer participation.

This Autumn, the menu has been transformed into the 'TRICKY CHEEKY HALLOWEEN' course, with eight playful new desserts available to try. The desserts feature well-known Halloween monsters, and incorporate the taste of Autumn with pumpkin, chestnut, and pear, among other seasonal flavors.

The take-out Halloween sweets lineup includes a matcha and red bean Frankenstein Cheesecake, a spooky Ghost Montblanc, jack-o-lantern shaped Pumpkin Choux Creams, and more. A limited Halloween variation of the bar's iconic rose and raspberry Rock'n'Roll cake is also available! The recipe and baking techniques are based on the methods of PIERRE HERMÉ PARIS, with arrangements by The W Osaka.

Try out some scarily tasty sweets this Halloween with The W Osaka and PIERRE HERMÉ PARIS!

Hyatt Centric Kanazawa Reveals Halloween Inspired Menu for October

All-day restaurant FIVE – Grill & Lounge, located within the Hyatt Centric Kanazawa hotel, will begin serving up a selection of Halloween-inspired treats beginning October 1, including cake sets, parfaits, muffins, and various lunch and dinner items.

Guests will also be able to enjoy some mischievous cocktails and mocktails inspired by witches and ghosts!

Halloween Cake Set 

Black Sesame Pudding

Mummy Macaron

Ghostly Mousse

Pumpkin Ice Cream Sandwich

Coffin Tart

Monster Cream Puff

Halloween Parfait Set

Halloween Dinner/Lunch Course

Halloween Muffin Box

Halloween Cocktails 

Spooky Night

Hallo-Wine Sangria

I sWitch (Mocktail)

The Halloween Cake Set is filled with ghoulish treats, each one displaying incredible attention to detail. In the Halloween Parfait Set, guests can enjoy a tower of different sweets, including black currant and chocolate. Themed with creepy eyeball decorations throughout, it offers a variety of overlapping textures and tastes guests will want to savor until the last bite.

 

When thinking of Halloween, the colors orange and purple instantly come to mind. For the Halloween Dinner/Lunch Course, the menu's creators went with a more dark theme, envisioning a ghost appearing at any moment. The entire restaurant will be decorated in black and gray, creating a truly haunting dining experience.

Don't miss out on the Halloween Muffin Box, a set of mini-muffins made with fresh autumn ingredients, and offering a much cuter feel. Quantities are limited!

The gin-based Spooky Night cocktail is refreshing, with a bold blue color and red-rim on the glass, sure to turn your mouth bright crimson. Hallo-Wine Sangria, house-made with autumn fruits, has a unique design, with a skeleton rising from the glass! For those wanting a mocktail, the I sWitch asks guests to pour the accompanying red syrup over the cotton candy, changing both the appearance and flavor of the drink as if by witchcraft!

Which of these treats would you be after?

RIHGA Royal Hotel Osaka to Offer Extremely Limited Halloween Accommodations

The RIHGA Royal Hotel Osaka has announced a spectacularly limited Halloween accommodation plan, titled 'A Terrifying Banquet in the Mysterious Lord's Castle.' Only one lucky person per day can book the decorated room, which features in-room meals and more treats to discover. Reservations are open through October 28, and the room will be available from September 10 until October 31.

'A Terrifying Banquet' Dining Table

Living Room

Skeletons in hotel uniform, ready to greet guests in the front room

This spooky setup will be held in the Fontainebleau suite, themed as a French palace. Guests will enjoy a western dinner course in the comfort (or discomfort) of the room. Decorated with black cats, ever-watchful owls and skeletons, guests can also look forward to taking plenty of photos at a designated photo spot on the sofa.

As the COVID-19 pandemic continues to keep people in their homes, the hotel created this room as a way to experience a new kind of cozy Halloween getaway. Visitors will enjoy plenty of other perks, including free parking, soft drink coupons, and breakfast the following morning.

Would you be able to sleep in this room filled with skeletons and specters?

Information

Special Halloween Room: 'A Terrifying Banquet in the Mysterious Lord's Castle'

Reservations Open: September 1 – October 28, 2021

Room Available: September 10 – October 31, 2021

*Reservations accepted until 8:00AM, 3 days in advance.

Official Site: https://www.rihga.co.jp/osaka/stay/plan/halloween2021

New Halloween Sweets Collection Arrives at Tokyo's Q-pot CAFE.

Halloween is arriving early at Omotesando's popular Q-pot CAFE. A collection of sweet, scary, grotesquely-adorable sweets are now available for a limited time. Each cake set and macaron set are made to order.

Q-pot CAFE. Three Cake Set: ¥2,030 (Tax Included)

This collection of three unique cakes includes the stomach-turning brain cake, and the much more palatable eye-patch ghost cake. Guests can also enjoy the popular cookie tiramisu.

Halloween Limited Edition ~Eye-Patch Ghost Cake~

As you dig into this fluffy dessert, enjoy the flavor of chopped almonds and feuillantine, wrapped in gyuhi, a type of Japanese traditional confectionery. The pistachio and berry sauce blends into the vanilla mousse, and is sure to appeal to any fan of sweets.

Halloween Limited Edition ~Brain Cake~

This frightening dessert is made with strawberry and other red berry jellies, milk mousse, Genoise, and savory almonds. Dissecting it won't be easy, but the taste is well worth it.

~Cookie Tiramisu~

Mascarpone mousse with chocolate sponge dipped in espresso, topped with bittersweet coffee-flavored ganache cream with caramelized hazelnuts…what more could you want?

Q-pot CAFE. Halloween Macaron Set (3 pumpkin/3 apple cinnamon): ¥2,430 (Tax Included) *Also available at the cafe individually for ¥360 (Tax Included)

Jack-o-Lantern macaroons and spooky eyeball macaroons are available for takeout for a limited time only! Order at the cafe, the online shop, or through Uber Eats.

~Jack-o-Lantern Macaroon~

Full of the rich, sweet taste of pumpkin, these will put you in the mood for the Halloween season.

~Eyeball Macaron~

These scary snacks are filled with apple jelly, cinnamon, and spicy ganache cream.

Do these sweets put you in the Halloween spirit?

Adorable Halloween Dessert Buffet to be Served at Conrad Osaka

Hotel Conrad and Sebastian Masuda, known worldwide for his 'kawaii' works, are collaborating for the second year for a scrumptious Halloween event. Titled OWNER OF A COLORFUL HEART Halloween Sweets Buffet, the tasty treats will be available starting September 2. The buffet was held in Tokyo last year, but is moving to Osaka for 2021.

Guests can enjoy a variety of colorful Halloween sweets, created by Executive Pastry Chef Jimmy Boulet and supervised by Sebastian Masuda!

「OWNER OF A COLORFUL HEART」Halloween Sweets Buffet

Sweet Potato Mille-feuille

Orange Cupcake with Cassis Chantilly Cream

Spider Mousse Cake

Caramel and Persimmon Bellini

Crash the Halloween

Colorful Palette

Galaxy

Daisy Celebration

Halloween Caterpillar

Playful Macaroon

Blueberry Mousse and Fig Compote with Sesame Pralines

Black Cardamom Chocolate and Pear

Colorful Curries & Stews

The buffet tables are decorated with dark purple tones and welcome guests with Bouley's playful collection of sweets. His iconic mille-feuille uses ample amounts of cream and purple yams, with a chocolate spider web on top. The spider mousse cake, with its gentle shortcake-like texture and unusual combination of coffee and mango, is sure to surprise. Each treat uses autumn ingredients, and will surely have guests enjoying Halloween to the fullest.

Though the sweets buffet is sure to be filling enough, Conrad Osaka also serves a variety of savory items. For this event, five different colorful curries and stews from India, Thailand, and Hungary will be available. Along with naan bread, diners can sample Udon, French baguettes, rice crackers, waffles, and countless other goodies.

Anyone who comes to the event dressed in Halloween attire can post a photo with the hashtag #ownerofacolorfullheart on Instagram to receive a free glass of sparkling wine. A photo booth will also be on site, and guests can take pictures with some of Sebastian Masuda's most popular works.

Which goodies would you be picking up from the buffet?

Namco and Sanrio Team Up for Collaborative Halloween Campaign

BANDAI NAMCO AMUSEMENT has announced Namco de Halloween 2021 -Skulls Festival!- coming September 10. The campaign will take place at over 200 Namco amusement centers nationwide, and at the online crane game site Torumo. Those participating can snag some spooky and super adorable Sanrio goodies!

Namco Limited Edition Prizes

Sanrio Characters Big Plushies

Cinnamoroll / My Melody / Kuromi (In stock second week of September)

Sanrio Characters Skull Festival! Plushies

Pom Pom Pudding / Cinnamoroll / Pochacco / My Melody / Kuromi (In stock second week of September)

Sanrio Characters Skull Festival! Cushions

All characters (Back side: Blue) / My Melody & Kuromi (Back side: Pink) / Cinnamoroll, Pom Pom Pudding & Pochacco (Back side: Orange) (In stock second week of September)

Sanrio Characters Jiangshi Night Plushies 2021

Pom Pom Pudding / Cinnamoroll / Pochacco / My Melody / Kuromi (In stock second week of September)

Sanrio Characters Spooky Night 2021 Plushies

Pom Pom Pudding / Cinnamoroll / Pochacco / Hello Kitty / My Melody / Kuromi (In stock third week of September)

Sanrio Characters Dreamy Dark Halloween 2021 Plushies

Pom Pom Pudding / Cinnamoroll / My Melody / Kuromi (In stock fourth week of September)

Sanrio Characters Exciting Halloween 2021 Plushies

Pom Pom Pudding / Cinnamoroll / Hello Kitty / My Melody / Kuromi (In stock first week of October) 

Use the Namco Point App to get one limited-edition shopping bag each day. 

Exclusive Presents

Clear cards

Colorful bag

During the Torumo gift campaign, 100 winners will be randomly selected to win a special Halloween blanket. 

The prizes available during the campaign were designed for the event. Also, limited-edition plushies to appear in the past have returned in brand new colors! Those who use the Namco Point App and place ¥500 into one of the crane machines will receive one of five clear cards and a colorful bag. (Not available using Torumo.)

© 2021 SANRIO CO., LTD. APPROVAL NO. S620926

Sanrio 60th Anniversary Event Reveals Collaboration Cafe Menu

One of the most popular franchises to come out of Japan is celebrating a massive milestone! The Sanrio Exhibition: 60 Years of Kawaii Culture in Japan will be held on the 52nd floor of the Roppongi Hills Mori Tower starting September 17. The event will feature over 800 unique character products, the largest number in Sanrio history, and will allow guests to experience the charm and wonder of one of the most well-known parts of Japan's 'kawaii' culture.

Special light effects have been added to the 'Godfather of Kawaii' Masuda Sebastian's unique entrance art, titled "Unforgettable Tower." Singer and actor Aoi Shouta acts as the audio guide for the exhibition.

Comment from Aoi Shouta / Audio Guide

"I'm excited to experience the history of Sanrio together with you as the audio guide for the exhibition. I'm also incredibly honored to be a part of this project, since I've been a fan of Sanrio for as long as I can remember. Please enjoy this time with your favorite characters!"

Comment from Sebastian Masuda / Designer of the "Unforgettable Tower" 

"Sanrio characters and goods exist in a far corner of everyone's memories. For a long time, this was specifically a Japanese feeling. Now, it's true of people all over the world. Memory is an odd thing. It can be fuzzy, and difficult to capture. However, sometimes the nostalgia and feelings remain, and I've captured this strange balance in the 'Unforgettable Tower.' The Sanrio exhibition is a journey to undertake along with your own memories. I invite you to let your thoughts wander as you gaze at this work of art, and pass through the entrance gate of the exhibition."

Collaboration Menu & Photo Spot

Left: My Melody Curry with Winter Vegetables and Pork Cutlet: ¥1,580 / Middle: Pochakko's Pumpkin Stew: ¥1,520 / Right: Hello Kitty's Whole Apple Waffle: ¥1,380

Left: Pochacco's Hot Strawberry Milk: ¥1,050 / Middle: Pom Pom Pudding in a Pudding Shake: ¥1,080 / Right: Cinnamoroll's Balloon Trip: ¥1,100

The restaurant and cafe THE SUN AND MOON is located on the same floor as the exhibition, so be sure to get these delicious treats when you visit!

Left: Halloween, September 17 – October 31 / Middle: Christmas, November 1 – December 20 / Right: Anniversary, December 27 – January 10

Seasonal afternoon tea will be available during each special event period.

Restaurant Photo Spot Image

*画像はイメージです
© 2021 SANRIO CO., LTD. APPROVAL NO. SP610376

The walls of this red retro restaurant are covered with images of popular characters, making it the perfect place to snap some commemorative photos. Each photo spot will change depending on the holiday season, so don't miss the Halloween, Christmas, and Anniversary backgrounds!

Original Merchandise

Left: Square Acrylic Keychain: ¥1,210 (4 designs) / Middle: Triple Acrylic Keychain: ¥1,210 (4 designs) / Right: Bag: ¥1,650 (4 designs)

Guests can grab over 100 original items, with both modern and vintage designs.