One Piece x Shu Uemura Collaborate On Colourful New Makeup Collection
Japanese makeup artist brand Shu Uemura's highly-anticipated holiday collection is here. The "Shu Uemura x One Piece Collection" will launch in two parts: the first on November 1 and the second on November 15.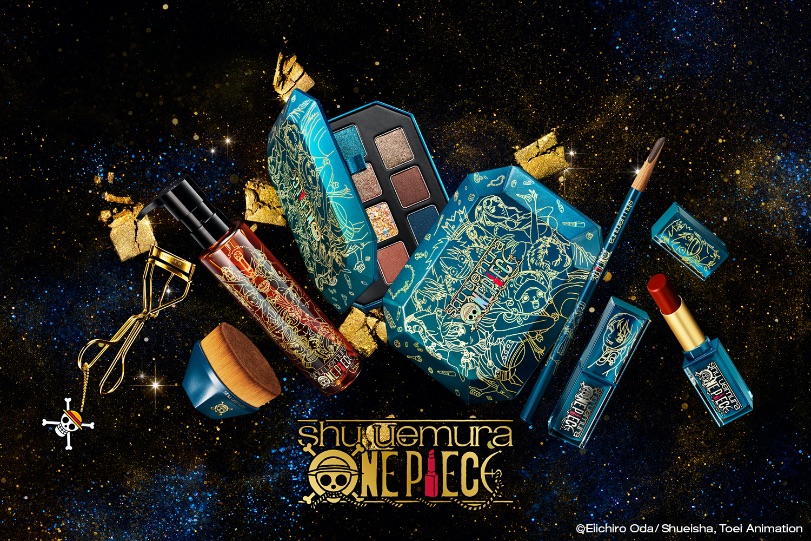 The special collection is inspired by the brave and heroic Luffy and the Straw Hat Pirates from One Piece, one of Japan's biggest manga and anime franchises.
The first part of the collection launching on November 1 welcomes Shu Uemura's popular vivid eyeshadows and iconic lipsticks from the Rouge Unlimited collection while the second part is made up of a variety of face colours, accessories, and more, made specially for the holiday season. Pre-orders for both parts will launch via Shu Uemura's website and select online stores in Japan on October 15, 2020.
Shu Uemura x One Piece Collection
Bright colours and textures inspired by the marine blue ocean, the beaming sun, and treasure—all elements that scream the adventures of One Piece. Shu Uemura invites people to join Luffy on that adventure with this new collection.
Part One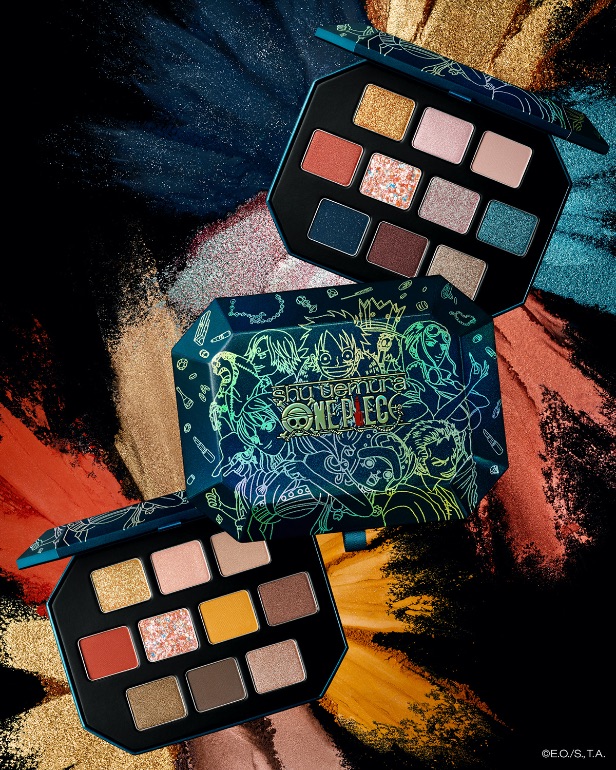 Wanted Treasure Box Eye Palette Grand Line / Wanted Treasure Box Eye Palette Thousand Sunny | ¥8,500 Each (Before Tax)
The Wanted Treasure Box Eye Palette Grand Line comes in a treasure chest-like eye palette case and boasts ten gorgeous colours, which includes numerous new colours and textures like Crushed Stone, Deep Matte, Antique Metal, and Warm Pearl. Inspired by the Grand Line ocean current in One Piece.
Rouge Unlimited Amplified / Rouge Unlimited Amplified Matte / Rouge Unlimited Matte / Rouge Unlimited Amplified Lacquer Shine | ¥3,300 Each (Before Tax) *Includes 9 colours
Each colour is based on one of the special moves performed by characters in One Piece. The colour arrangement is diverse, ranging from colours to make a statement to more casual ones. Wield the power of the Straw Hats wherever you go.
Part Two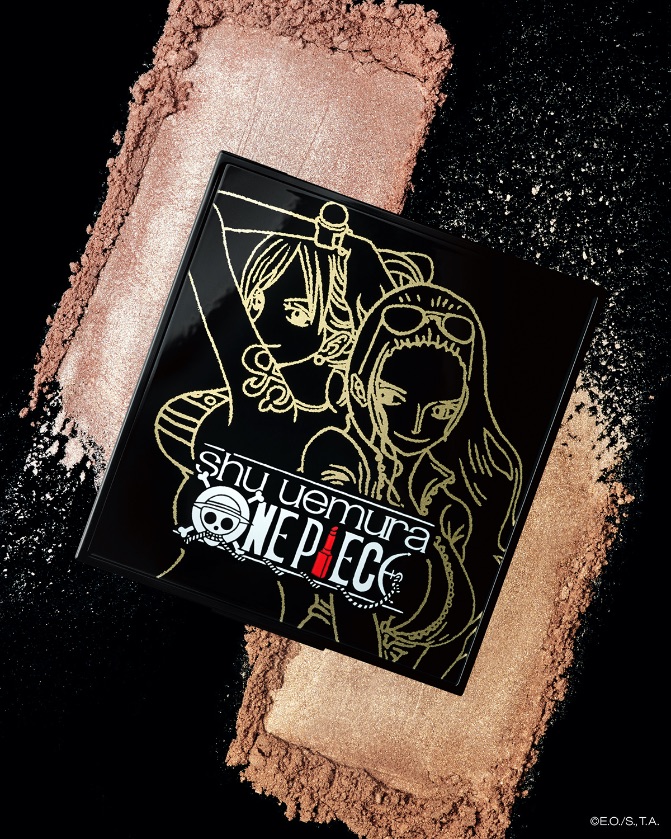 Fearless Crew High Rider Gold First / Fearless Crew High Rider Romance Dawn | ¥5,000 (Before Tax)
Smooth, silky highlight powder to accentuate the face. Colours include shining gold which glistens like pearls and sun-basked peach.
Fearless Crew Premium Brush Set | ¥6,500 (Before Tax)
The high quality mini brush set includes a face brush, cheek brush, eyeshadow brush, and eyebrow brush.
©Eiichiro Oda/Shueisha, Toei Animation
RELATED ENTRIES
Kirby Glittery Highlight Powder by CreerBeaute Released in Japan

Premium Bandai, the official online shop for Bandai products, opened pre-orders for its new called 'Kirby & Warp Star Shiny Powder' highlight powder from its own cosmetic brand CreerBeaute on October 22.'

Kirby & Warp Star Shiny Powder | ¥5,060 (Tax Included)

This compact highlight powder design takes inspiration from the popular Kirby video game series with the titular character riding on a shiny Warp Star.

The Warp Star is coloured golden to give it a high quality feel and has small stars decorated around it, as does the mirror inside to add a bit of fun when putting on makeup. Kirby himself is also grabbing on adorably to the Warp Star.

The powder comes in two colours which are formed to create an image of Kirby to greet you upon opening the lid: Kirby pink and milky blue. Use to highlight your cheekbones and tip of your nose.

The colours can be used separately or combined, and both powders contain malic acid and hyaluronic acid for beautifying and moisturising.

The powder is now available for pre-order on Premium Bandai, so don't miss out.

ⓒNintendo / HAL Laboratory, Inc. KB20-P2515

SHIRO Unveils 'Holiday Favourite Coffret' Christmas Cosmetic Items

Japanese cosmetic brand SHIRO will release a new set of limited-edition cosmetic items, including the "Holiday Favourite Coffret" and "Flaxseed Nail Polish," this Christmas. Pre-orders open on October 29 with the collection set to drop on November 12.


Holiday Favourite Coffret | ¥13,500 (Before Tax)

Holiday Favourite Coffret is a collection of popular SHIRO cosmetics boxed in limited-edition fragrances which are available this Christmas only. The collection was created with the idea in mind that your heart will light up and a smile will form on your face the moment you open the box.

The "Calendula Eyeshadow Liquid" arrives in two colours. It's made with pot marigold which has high moisturising properties. Both colours add to the excitement of the holiday season with a lustrous glow around the eyes. Since it's a liquid-type eye shadow, it makes it easier to moisturise around your eyes during the dry winter season.

The "Essential Lip Oil," imbued with a relaxing yuzu, gives you nice, moisturised lips. It comes with two limited-edition different scents: "Holy Fig Eau de Parfum" and "Aroma Wood." The former has a warm fragrance inspired by Christmas trees and wreaths with notes of sweet fig, green, wood, and flowers. The latter combines fig and Japanese cypress. Cypress wood from the district of Tosa in Kochi is used.

Flaxseed Nail Polish (4 Colours) | ¥2,400 Each (Before Tax)

SHIRO are also releasing four limited-edition flaxseed nail polishes which can be used both on their own, providing beautiful colour, or layered. Each colour takes inspiration from the holiday season, like snow-covered fir trees or warm Christmas lights. The gold logo and white caps are also limited-edition.

Items in this collection will be sold in a limited-edition gift box too decorated in Christmas colours like green, gold, and white.

Information

SHIRO HOLIDAY COLLECTION 2020
Pre-Orders: October 29, 2020 via SHIRO's online store

Release Date: November 12, 2020
Official Website: https://shiro-shiro.jp/

Haruka Ayase, Chloë Grace Moretz & Leah Dou Feature in SK-II Holiday Season Commercial

Global skincare brand SK-II launched three 'Street Art Limited Edition' versions of their Facial Treatment Essence on October 21, 2020 and released a commercial to promote them.

SK-II is a Japanese cosmetics brand which launched 40 years ago. Since its establishment, it has been enjoyed by women the world over for its range of high quality skin care products, including Pitera™, the brand's award-winning facial treatment essence. This same essence is being released once again in three limited-edition versions featuring street art packaging.

The promotional video for the item stars Japanese actress Haruka Ayase, American actress Chloë Grace Moretz, and Chinese singer-songwriter Leah Dou. The video was directed by Grammy-nominated director Andrew Thomas Huang who has directed music video for such talent as Bjork and Thomas Yorke. The three stars in the video each sing Fantasy by Mariah Carey in their respective languages: Japanese, English, and Chinese.

Facial Treatment Essence Street Art Limited Edition (Red/Yellow/White) | ¥22,000 Each (Before Tax)

The packaging designs for the limited-edition product feature a combination of the Japanese furoshiki wrapping cloth style and street art.

Turn Into a Magical Girl With Ojamajo Doremi's Apprentice Witch Tap Blusher Balls

CreerBeaute, a cosmetic brand managed by Bandai, launched pre-orders for their new Ojamajo Doremi themed Pirika Pirilala Apprentice Tap blusher balls via the online store Premium Bandai on Wednesday.

Pirika Pirilala Apprentice Tap Colour Ball Cheek | ¥4,620 (Tax Included)

The blusher ball set is based on the Apprentice Tap used in the Ojamajo Doremi anime series which the characters use to transform into a witch. It comes after the success of the Pirika Pirilala Magical Ball Face Powder sold in 2016 which was also inspired by the same Apprentice Witch item.

The blusher balls come in three different shades of pink to add a natural blush to your cheeks, leaving a cute and healthy impression. The balls also contain squalene, a natural organic compound that moisturises.

The case design features the same colours as well as the music note seen on the Apprentice Witch Taps, so you too can look and feel like a magical girl.

©Toei Animation

Information

Pirika Pirilala Apprentice Tap Colour Ball Cheek
Pre-Orders: October 7, 2020

Shipping: March 2021

Sanrio Releases 2020 Autumn and Winter Cosmetic Series

Sanrio has released a colourful new line-up of heart-focused cosmetic items—lip cream, hand cream, and lip tint—for the autumn and winter season. The packaging features everyone's favourite Sanrio characters such as Hello Kitty, My Melody, Little Twin Stars, and many more. Additionally, they have released cute heart marks for people to put on their face.

Heart Marks (3 Designs) | ¥1,430 Each (Tax Included)

Use the heart-shaped sponge to dip into the cheek cream and stamp a cute heart on your face.

Hand Cream (10 Designs) | ¥605 Each (Tax Included)

Keep your hands moist during the colder seasons. There are five different scents to choose from.

Lipstick (9 Designs) | |715 Each (Tax Included)

Heart-shaped scented lipstick, each capped off with an adorable character from Sanrio's roster.

Lip Tint (6 Designs) | ¥770 (Tax Included)

Tint your lips and keep them moisturised at the same time. Pick from red, coral pink, or pink.

Other items in the line-up include hand cream and mini towel sets, lip cream and hand cream sets, and more. Autumn and winter's chilly months can be beaten with a little self-care, so be sure to check this collection out.

©'76, '85, '89, '93, '96, '01, '05, '20 SANRIO
©'15,'20 SANRIO S/F・G

Information

Available: Sanrio stores in Japan and select department stores stocking Sanrio Products

Sanrio Online Shop: https://shop.sanrio.co.jp/

Kawaii Kirby's Dream Land Hand Cream Releases This September

Japanese cosmetic brand Lovisia is releasing three new hand creams with adorable Kirby packaging this autumn. The creams will begin rolling out on Lovisia's official website, variety shops, and select Lawson stores in Japan at the end of September.

Pink Lush

Kirby's Dream Land Hand Cream | ¥800 (Before Tax)

"Pink Lush" is the concept attached to the hand cream line-up, which is coloured a cute Kirby pink. There are three different designs: one with Kirby on a flower bed and wearing a flower crown, another with Kirby and Waddle Dee blowing bubbles, and another with Kirby inhaling assorted fruits.

Stay moisturised with Kirby throughout autumn and winter

Made in Japan, the hand creams contain collagen and hyaluronic acid, so your hands won't be all sticky after applying the cream. Having hand cream is a must during these times when we all need to keep our hands washed, so why not do it in style with this pink line-up?

Three fragrances to choose from

Each cream also has its own combination of scents so your hands are left smelling great too.

01 Floral Shower

Inspired by the smell of flower beds, the base fragrances include musk, amber, and sandal wood. The middle notes are jasmine, lily of the valley, and rose, while the top notes are pear and leaf greens.

02 Pure Fruity

This fruity hand cream has musk, amber, and cedarwood for the base and jasmine, rose and honeysuckle for the middle notes. It's toped with pear and apple.

03 Fresh Soap Bubbles

The final hand cream also has musk, amber, and cedarwood for its base notes. The middle notes are jasmine, rose, and magnet, and the top notes fresh lemon and green apple.

©Nintendo / HAL Laboratory, Inc. KB20-P2209

Information

Kirby's Dream Land Hand Creams

Release Date: Late September 2020

Available: Lovisia, Lawson, variety shops in Japan

Official Website: https://lovisia.jp/kirby/

One Piece Reveals Second Collaboration With Sports Brand Kappa

Itanlian-based sports brand Kappa is set to collaborate with One Piece for the second time on September 18.

The new collection features a range of attire combining Kappa's iconic style with illustrations of familiar faces from the popular anime series.

Hoodies | ¥9,800 Each (Before Tax)

T-Shirts | ¥5,900 Each (Before Tax)

The lineup includes three hoodies and t-shirts which feature a special graphic designed exclusively for this collection which combines Kappa's logo with the illustration drawn for the "One Piece Log Collection" DVD collection that released as part of One Piece's 10th anniversary.

The Kappa x One Piece tags that come on pieces in the collection can also be used as bookmarks.

The second collaboration will roll out from September 18, 2020 at Kappa stores in Japan, Kappa's official online store, and the One Piece Mugiwara store.

LUSH Harajuku Revamps With New 'Slow Bath' Concept

The Harajuku branch of UK cosmetics retailer reopened after a revamp on Friday with its all-new 'Slow Bath' concept. The branch first opened to the people of Tokyo in November 2018.


Since opening, LUSH Harajuku has delivered a LUSH-esque bath product lineup experience, since Japan is known for being a nation of bath lovers. That is now being taken to the next level with the Slow Bath revamp which will stock a wide variety of items for self care and indulgence.

Throw away the needless and make way for mind and body reconnection

LUSH Harajuku is a place that helps you discover new ways to design your daily routine, with face masks to refresh your skin, products to care for your hair, scents for your well-deserved bath time, and more.

Well-being is also a big part of the brand, teaching you to be kind to yourself while you're working everyday, and to look after your mind and body. LUSH Harajuku stocks not only bath bombs and bubble bars, but a selection of items to use while you're in the bath too for some much-needed self care.

Naked items are environmentally friendly

About 60% of LUSH's products are sold 'naked' without packaging in order to reduce on waste in the environment. This also lets the essential oils and natural smells of the products seep throughout and outside the doors of their stores, beckoning people with the pleasant fragrances.

LUSH's "Lush Labs" app also has a function called "Lush Lens." This lets customers scan any naked item which brings up information about that particular item such as what ingredients are used, as well as videos on how to use products and bath bombs fizzing.

If you're ever in Harajuku, be sure to stop by LUSH.

Information

LUSH Harajuku

Address: 1-13-11 Jingumae, Shibuya, Tokyo

Opening Hours: [Weekdays] 12:00-20:00 / [Weekends] 11:00-20:00

Official Website: https://jn.lush.com/  

Kyary Pamyu Pamyu Launches New Fragrance Brand 'Nostalgia Syndrome'

A new fragrance brand produced by Kyary Pamyu Pamyu was released on September 12, 2020, and is available to purchase via the brand's official website.

The brand was backed by a crowdfunding campaign in February 2020 for Kyary who wanted to turn her favourite scent, fragrant olive, into a fragrance. The music artist highlighted how it's a difficult scent to get your hands on. "There are so many people that like the smell of fragrant olive, so why is it so rare?" Kyary worked with fragrance experts to create a scent that smells like fully bloomed fragrant olive.

Nostalgic Syndrome Osmanthus – Eau de Toilette | ¥8,250 (Tax Included)

Nostalgic Syndrome Osmanthus – Body Cream | ¥5,500 (Tax Included)

The first goal of the crowdfunding campaign was to fund the perfume and the second body cream which Kyary overwhelming support for, leading to it becoming a reality.

Nostalgic Syndrome Osmanthus – Hand Cream | ¥1,870 (Tax Included)

Nostalgic Syndrome Osmanthus – Aroma Diffuser | ¥7,150 (Tax Included)

The success of the crowdfunding campaign led to the establishment of Nostalgic Syndrome and subsequently its first series, Osmanthus, which includes not only the perfume and body cream but hand cream, hair oil, aroma diffuser, and home & fabric spray too.

To celebrate the launch of Nostalgia Syndrome, the first 300 people who spend over ¥10,000 on products will receive an original eco bag. More details can be found on the brand's official website.

Kyary Pamyu Pamyu | Comment

"I've always loved fragrances. Before every live performance I do I like to calm myself with my favourites. Fragrances help me to relax no matter the time, I really feel like they're something that have saved me. So, for all the people working hard day to day, and for those with stresses piled up right now, I want them to take a deep breath with this scent of fully bloomed fragrant olive. It would make me happy if this fragrance can create a relaxing space for you."

"It's all thanks to everyone's support that I was able to launch the Nostalgia Syndrome brand. I'm filled with gratitude. Thank you so much, and I hope you continue to support [the brand]."

Kiko Mizuhara and Takumi Kitamura Model For Rouge Dior Lipstick

American-Japanese model, actress, and designer Kiko Mizuhara and Japanese actor and model Takumi Kitamura have featured in a new promotion for the internationally-iconic Rouge Dior lipstick in three different looks inspired by the streets of Paris such as Champs-Élysées and Saint-Germain-des-Prés.

Saint-Germain-des-Prés Look

Inspired by the art-led administrative quarter of Saint-Germain-des-Prés, this look fuses trends and tradition.

Kiko is donning the Rouge Dior 665 Rêvée which has a classic pink-beige accent. And to emphasise the natural gloss and beauty of her lips, she's wearing the Dior Addict Lip Glow Oil 001 Pink.


Takumi has also contoured with the Dior Addict Lip Glow Oil 001 Pink tinted lip balm which brings out his natural complexion and imbues his lips with a natural beauty.

Champs-Élysées Look

Champs-Élysées is where the best fashionistas gather, and this look serves that cool Parisienne vibe. Kiko is using the Dior Addict Lip Glow Oil 001 Pink as a base which she has layered with the iconic Rouge Dior 999.

Avenue Montaigne Look

Feminine looks overflowing with natural beauty inspired by Avenue Montaigne where Monsieur Dior opened his first boutique.

Kiko is wearing the Dior Addict Lip Maximizer 001 Pink and has added the lovely Rouge Dior 458 Paris. She's ready to hit the town.

Takumi is also donning the Dior Addict Lip Maximizer 001 Pink, Dior's number one lip care primer, to care for his lips, elicit their natural beauty, and heighten their gloss and volume.

SUQQU's New Liquid Lipstick Collection to Enhance Lips This Autumn

"Comfortable, yet also dramatic" is the vibe SUQQU is bringing to their new Liquid Lipstick Collection which will be released on September 4, 2020.


The lipsticks will be available in two different finishes: COMFORT LIP FLUID FOG and COMFORT LIP FLUID GLOW, both of which provide fresh colours for the lips while enhancing their look.

Amazingly light and locks in colours

The lipsticks have an impossibly light spread thanks to the oils that SUQQU use in their formula, which has a mousse-like texture that helps at to the lightness and allows the shade to spread effortlessly and evenly across the lips. You also don't have to worry about any stickiness when wearing your chosen shade.

Long-lasting, guaranteed adhesion

The formula of the new SUQQU Liquid Lipsticks actually contains the same film material used in mascara. This means that the colour is guaranteed to stay on your lips over a long period of time.

COMFORT LIP FLUID FOG – 7 New Shades

Made with a higher ratio of film than the GLOW line for additional creasing prevention.

Colour Variations

The Shades (From the Left)

01. AZUKIAME: Dull red that nods towards autumn and winter and works with all skin tones.

02. MAIBENI: A light and refreshing fruity red with a perfect balance of blue and red.

03. WATAICHIGO: Chic rose whose dullness has a grown-up vibe to it.

04. HANASHIMO: Sophisticated pink beige that can be worn both formally and casually.

05. OUJYUKUKA: An adult orange amber that contrasts against the skin like a ripe fruit.

06 KINUZOME: Snow beige with a hint of white.

07 HOUJIIRO: Warm brown that has warmth and depth that blends well with the skin.

COMFORT LIP FLUID GLOW – 7 New Shades

Contains more oil than the FOG finish, for a more moisturized, glowing look.

Colour Variations

The Shades (From the Left)

01. AKATSUMUGI: A bewitching primary red with just a single coat.

02. MUSUBISHU: Soft and warm fig red reminiscent of figs.

03. HANAIKADA: Sweet and gentle pure coral that leaves a pure impression.

04. IROGURE: Chic ochre brown that makes anyone look smart and sophisticated.

05. YUUHI: Refreshing and glossy dewy orange.

06. FUJISHIZUKU: Purple aquatic berry that enhances your adult luster.

07. HANAGUMORI: Greyish purple with a dull mode.

Information

COMFORT LIP FLUID GLOW FOG

Release Date: September 4, 2020

Colours: 7 new colours

Price: ¥5,000 (Before Tax)

COMFORT LIP FLUID GLOW

Release Date: September 4, 2020

Colours: 7 new colours

Price: ¥5,000 (Before Tax)

Product Page: https://www.suqqu.com/en/product/comfort-lip-fluid/

ONE PIECE LINE Messenger App Stamp Proceeds Donated to Japan's Front Line Health Care Workers

Johnny's Smile Up ! Project was set up by Johnny's Group to contribute towards society and aid in relief activities. In the past, it has helped organise relief activities following such disasters as the Great Hanshin-Awaji Earthquake, and Great Eastern Japan Earthquake.

Japanese messaging app LINE supports the project's work, and so has teamed up with it and Eiichiro Oda, Takuya Kimura, and Kazuya Kamenashi to create ONE PIECE themed 'donation stamps' which will be available on LINE from August 27 to November 26.

LINE sells donation stamps every year, with the proceeds going towards providing relief during disasters as well as for children around the world. Since April this year, LINE has supported and cooperated with Johnny's Smile Up ! Project, and in June released their first collaborative stamps together which were based on the Japanese boy band Kanjani Eight. The two companies are coming together once again to develop ONE PIECE stamps in collaboration with Japanese publisher Shueisha, the creator of ONE PIECE Eiichiro Oda, and singers and actors Takuya Kimura and Kazuya Kamenashi, both of whom are close friends with Oda.

The full stamp set includes 24 stamps for just ¥250 or 100 LINE coins, all of which were sketched and/or conceived by Eiichiro Oda, Takuya Kimura, and Kazuya Kamenashi.

Eiichiro Oda | Comment

"Illustration is a place where one's personality comes out. Kimura and Kamenashi don't normally draw pictures, so there was some silliness, but the atmosphere and intention was still 'Smile Up'! I had fun with them both, and I'm thankful for the size of their hearts. Be sure to try out the stamps!"

Takuya Kimura | Comment

"I am truly honoured to have received Eiichiro Oda-sensei's approval for the Smile Up ! Project. A lot of the words that are encouraging me these days can be found in ONE PIECE, and I was able to pick out my personal favourites! Definitely take a look!"

Kazuya Kamenashi | Comment

"I am beyond honoured to have been given the chance to participate as a fellow 'ONE PIECE x Smile Up ! Stamp' partner. Truth be told, drawing isn't my forte, but I put my heart into it and had a wonderful time. It was like a dream, a lot of fun. Make sure you all use the stamps!

Johnny's Smile Up ! Project will use the proceeds for the stamps to support front line health care workers in Japan.

*Comments translated from Japanese by MMN

©Johnny&Associates.