One Piece x Shu Uemura Collaborate On Colourful New Makeup Collection
Japanese makeup artist brand Shu Uemura's highly-anticipated holiday collection is here. The "Shu Uemura x One Piece Collection" will launch in two parts: the first on November 1 and the second on November 15.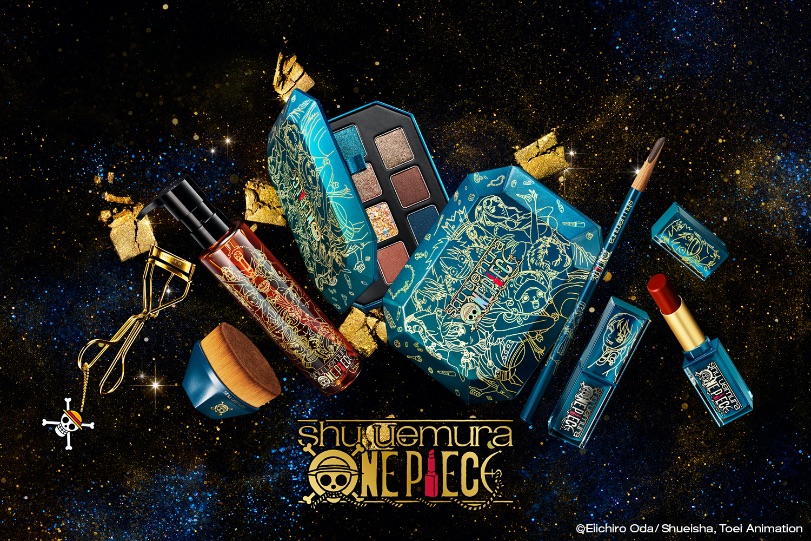 The special collection is inspired by the brave and heroic Luffy and the Straw Hat Pirates from One Piece, one of Japan's biggest manga and anime franchises.
The first part of the collection launching on November 1 welcomes Shu Uemura's popular vivid eyeshadows and iconic lipsticks from the Rouge Unlimited collection while the second part is made up of a variety of face colours, accessories, and more, made specially for the holiday season. Pre-orders for both parts will launch via Shu Uemura's website and select online stores in Japan on October 15, 2020.
Shu Uemura x One Piece Collection
Bright colours and textures inspired by the marine blue ocean, the beaming sun, and treasure—all elements that scream the adventures of One Piece. Shu Uemura invites people to join Luffy on that adventure with this new collection.
Part One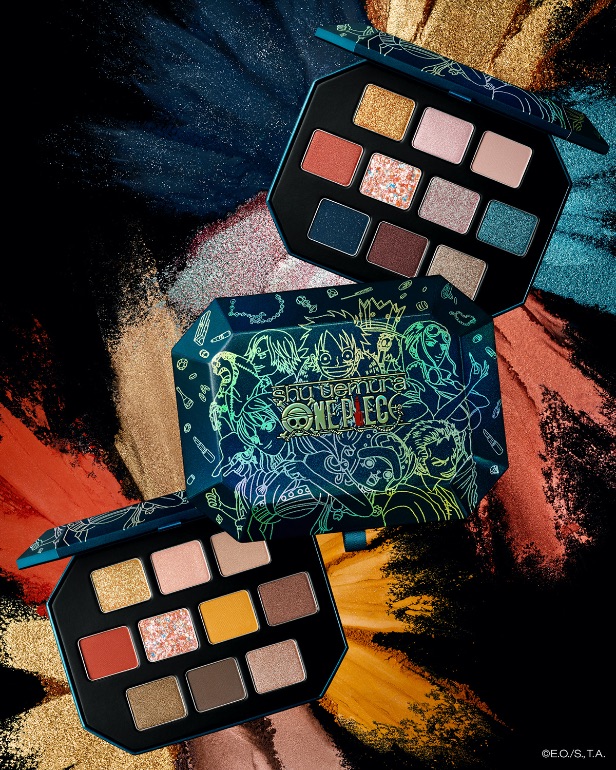 Wanted Treasure Box Eye Palette Grand Line / Wanted Treasure Box Eye Palette Thousand Sunny | ¥8,500 Each (Before Tax)
The Wanted Treasure Box Eye Palette Grand Line comes in a treasure chest-like eye palette case and boasts ten gorgeous colours, which includes numerous new colours and textures like Crushed Stone, Deep Matte, Antique Metal, and Warm Pearl. Inspired by the Grand Line ocean current in One Piece.
Rouge Unlimited Amplified / Rouge Unlimited Amplified Matte / Rouge Unlimited Matte / Rouge Unlimited Amplified Lacquer Shine | ¥3,300 Each (Before Tax) *Includes 9 colours
Each colour is based on one of the special moves performed by characters in One Piece. The colour arrangement is diverse, ranging from colours to make a statement to more casual ones. Wield the power of the Straw Hats wherever you go.
Part Two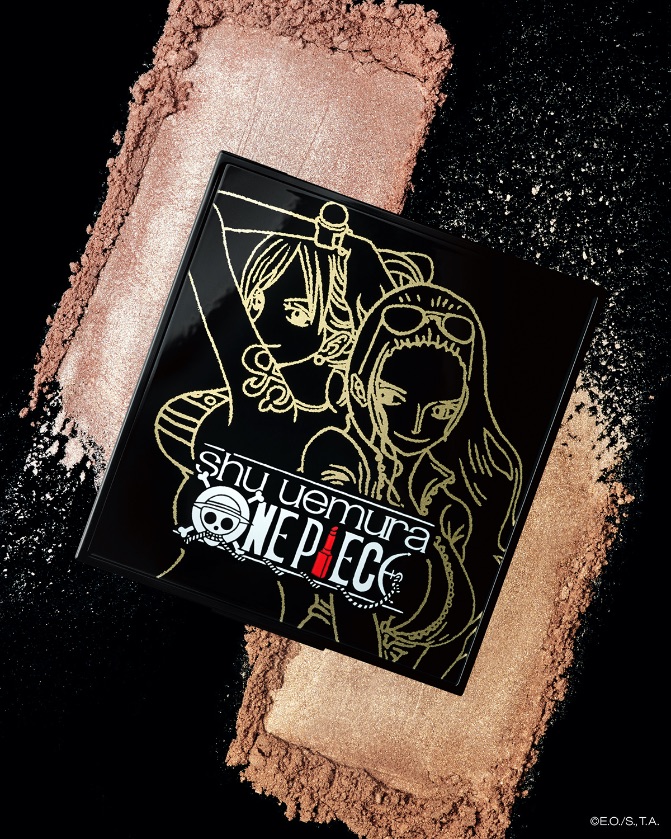 Fearless Crew High Rider Gold First / Fearless Crew High Rider Romance Dawn | ¥5,000 (Before Tax)
Smooth, silky highlight powder to accentuate the face. Colours include shining gold which glistens like pearls and sun-basked peach.
Fearless Crew Premium Brush Set | ¥6,500 (Before Tax)
The high quality mini brush set includes a face brush, cheek brush, eyeshadow brush, and eyebrow brush.
©Eiichiro Oda/Shueisha, Toei Animation
RELATED ENTRIES
ONE PIECE FILM RED Inspires Collaboration Event with Raku Spa

From August 18 until September 19, 20 Gokurakuyu and Raku Spa locations will hold a special collaboration to celebrate the release of ONE PIECE FILM RED. 

Goods

Menu

During the event, a new bath will be available each weekend. Guests can enjoy fragrant baths inspired by Luffy, Zoro, Nami, Usopp, Sanji, Shanks, and Uta. Check the website to see which baths will be available at which locations!

Those visiting can find some new merchandise featuring exclusive illustrations made for the campaign and a tasty menu inspired by One Piece characters, so don't miss it!

Netflix Reveals One Piece Live-Action Series Set Details and Concept Art

During the Netflix Geeked Week livestream, more details about the Hollywood live-action One Piece adaptation were revealed to a sea of anxious fans.

Along with six new cast members, fans caught a glimpse of the fantastic sets being used for the series and a greeting from the showrunners Steven Maeda and Matt Owens, along with the actor playing Luffy, Iñaki Godoy.


The new cast members include Alexander Maniatis as Klahadore, Steven Ward as Mihawk, Craig Fairbrass as Chef Zeff, Langley Kirkwood as Captain Morgan, Celeste Loots as Kaya, and Chioma Umeala as Nojiko.

 

A One Piece live-action project had been discussed before, finally coming to fruition after original creator Eiichiro Oda and other members of Shonen Jump staff were convinced that it could be done well. As announced by a number of cast members on social media, the project began filming recently in South Africa.

Behind-the-Scenes Time-lapse Footage

"We get to go to work every day and walk on these massive sets and see these characters come to life," Maeda said. 

"Oda's world is so unique. Seeing all of this stuff in person, being able to reach out and touch it, has just been such an experience," Owens continued.

Eiichiro Oda's manga series has become one of the best-selling manga series in history. Originally published in Weekly Shonen Jump in 1997, the series recently celebrated its 100th volume and will celebrate 1,000 anime episodes in the coming weeks. With over 490 million copies in circulation, Luffy's adventure is beloved by manga fans around the world.

On August 6, the newest One Piece film, ONE PIECE FILM RED, will be released in theaters in Japan.

This live-action adaptation is highly-anticipated by longtime fans around the world. Stay tuned for more news to come!


Netflixシリーズ「ONE PIECE」全世界独占配信
©尾田栄一郎/集英社

One Piece Summer 2022 Event to Open at Universal Studios Japan

From July 1 until October 2, 2022, fans of the long-running series One Piece won't want to miss taking a trip to Universal Studios Japan! This year's event promises to be extra special as fans celebrate the 25th anniversary of the manga series and the 15th anniversary of the One Piece Premier Show, the annual event at USJ. A special menu featuring tasty treats inspired by the series will be available alongside unique merchandise only available on-site. 

This summer's limited menu and goods lineup are each inspired by a music festival. The event itself will draw inspiration from the film One Piece Film Red, scheduled to release on August 6, 2022.

The Discovery Restaurant in the Jurassic Park-themed area of Universal Studios Japan will be transformed into the One Piece Summer Banquet Restaurant during the event period, featuring a selection of tasty dishes inspired by each main character. This year, menu items inspired by Robin and Jinbe will be available for the first time.

Plenty of original merchandise will be on sale, with one specific item serving as a highlight of the new collection: the 15th-anniversary book. This tome includes details and images from each of the past One Piece Premier Shows and is a must-have for any fan. It also includes a message from the original series author Eiichiro Oda. 

One 'music festival' themed item is the Festival Towel. Playing a major role in the 2022 version of the One Piece Premier Show, the item is decorated with a limited edition 15th-anniversary design. Guests can also grab a collectible bracelet and salted candy in a unique soda can-inspired package. Of course, it wouldn't be a One Piece event without some straw hats for sale!

This year's menu includes everything from Nami's Orange Frappe to Frankie's Super American Hot Dog. Each of these tasty dishes will be perfect for posting on social media! Next to the Lost World Restaurant, guests can enjoy some additional goodies from the One Piece Food Cart including Sanji's Pork Ribs and Sanji's Peach and Lemon Frozen Smoothie, perfect for beating the heat.

Everyone, young and old, is invited to immerse themselves in the world of One Piece during this special celebration.

© 尾田栄一郎/集英社・フジテレビ・東映アニメーション

Shueisha's Haruman!! 2022 Festival Celebrates Manga this Spring

Shueisha is currently offering a ton of manga for free as part of Haruman!! 2022. The campaign is running until May 15 at participating locations and tons of digital manga series are available for download.

©Shueisha

During Haruman!! 2022, users can read over 305 digital titles for free. This year's theme is 'Manga Festival,' and manga fans can find both recent and classic titles. Why not catch up on some manga history while you can?

A collaboration with the popular VTuber agency Hololive is also underway. One of the group's manga-loving members will be chosen each day to serve as Editor-in-Chief of an original manga magazine.

Popular authors are also commemorating the occasion with new illustrations. Eleven artists from Shueisha's manga department have drawn popular VTubers, and these awesome images are available exclusively on the Haruman!! website.

Stream Date: April 23, 2022

Participants: Shueisha x Hololive Traveling Editorial Department

Streaming Channel: https://www.youtube.com/channel/UCJFZiqLMntJufDCHc6bQixg

©Shueisha

In collaboration with puzzle game creators RIDDLER, 'The Search for the Great Manga King's Treasure' will be held. Pulling inspiration from One Piece, which is currently celebrating 25 years of serialization, fans will have to find clues to solve a massive mystery.

Find your new favorite manga series during Haruman!! 2022.

Information

Haruman!! 2022

Running: April 11 – May 15, 2022

Official Site: https://haruman.jp

Shu Uemura Announces Spring/Summer Collection Featuring Limited Edition Colors

Japanese makeup brand Shu Uemura launched its new 2022 Spring/Summer Collection on April 22, 2022 in limited quantities. Kabuki actor Ichikawa Somegoro VIII, who became a Shu Uemura brand ambassador in March 2022, is seen in new visuals for the collection.

Collection


Limited Edition Eyeshadow Palette


Nude Punk Eye Palette (5 limited edition colors / 1 existing color)


Lilac Rebel Eye Palette (3 limited edition colors / 3 existing colors)

Lipstick Unlimited Kinu Satin

Tailored Nude, Limited Edition Color (Star Shade)

Auburn Tulle

Lipstick Unlimited Kinu Cream

Taupe Couture (Star Shade)

Sienna Silk

Ultim8∞ Sublime Beauty Cleansing Oil

Hard Formula Hard 9 Seal Brown

Petal 55 Foundation Brush

The Shu Uemura philosophy is that makeup is "fashion for the face." From makeup that hides blemishes to makeup that helps people express themselves, every piece is important.


In 1968, Shu Uemura introduced 'Mode Makeup,' with the idea that just as there are patterns in clothing, there should be patterns in makeup as well. He proposed free expression using makeup and inspired people to be more fearless with their makeup application. Try expressing yourself more in 2022!

Makeup Brand Integrate Begins Selling Ojamajo Doremi Inspired Items for a Limited Time

Shiseido's makeup brand Integrate will launch three products inspired by the anime series Ojamajo Doremi on April 21, 2022 in limited quantities! Each will come in packaging designed in collaboration with Toei Animation. Fans can grab the Integrate Pro Finish Foundation Special Set D, the Integrate Pro Finish Liquid Special Set D, and the Integrate Nuance Eyebrow Mascara D while supplies last.

Those in their 20s and 30s remember Ojamajo Doremi fondly as a series they watched during their childhood. The series followed three elementary school girls–Doremi, Hazuki, and Aiko–as they become witch apprentices.

For the collaboration, a special set of two popular foundations and three limited-edition colors of eyebrow mascara will be available while supplies last. The character illustrations on the packaging were created exclusively for this release, so fans won't want to miss it!

To celebrate the release, a Twitter and Instagram campaign is currently underway, and fans who take a test on the official Integrate website will be able to see which character is most like them and which makeup would suit them best. 

©東映アニメーション

Information

Integrate Pro Finish Foundation Special Set D

Integrate Pro Finish Liquid Special Set D

Integrate Nuance Eyebrow Mascara D

Launch: Limited Quantities Available April 21, 2022

Integrate Official Site: https://www.shiseido.co.jp/ie/

Cosmetics Brand Lovisia Unveils 15 Detective Conan Themed Hand Creams

Cosmetics brand Lovisia has unveiled 15 hand creams inspired by the Detective Conan anime series. Those purchasing three or more bottles at the Lovisia online store will receive a special Detective Conan drawstring bag while supplies last!

Fans can grab a hand cream decorated with their favorite character. Not only are these extremely cute, but they include four moisturizing ingredients perfect for keeping skin soft. The characters Detective Takagi and Detective Sato from the recent film Detective Conan: The Bride of Halloween are included in the lineup, with other familiar faces like Jinpei Matsuda and Hiromitsu Morofushi also appearing.

The new hand creams have a refreshing and clean scent, containing moisturizing Vaseline, shea butter, ceramide, and argan oil to prevent dry skin during any season.

The package designs feature a new retro theme, with the concept of "New Styley Collection." Each image blends nostalgia with a fun pop of color. Which character would you like to see each time you want to moisturize? 

Information

Lovisia Detective Conan Hand Cream
Where to Buy: Lovisia Online Shop, Sundry Shops
Release Date: April 15, 2022

Custom Shirt Brand Original Stitch Announces One Piece Collection

Custom shirt brand Original Stitch has opened orders for a selection of new One Piece-inspired apparel! This is the first time the brand is teaming up with the beloved manga, and fans will want to get their hands on some of these unbelievable designs that pay homage to the long-running series.

LOOK BOOK

Patterns at a Glance

The new collection features completely original designs based on the motifs of popular One Piece characters, including Luffy's iconic Straw Hat. Each shirt is made-to-order, and customers can choose any fabric and size they like. The lineup also includes bandanas and masks!

 


A total of 30 different designs are available to choose from, with many inspired by the East Blue Saga, the first part of the series. Patterns can also be combined–for instance, the shirt's pockets and collar can have their own unique designs. 

Original Stitch has collaborated with some of Japan's most beloved properties in the past, with Pokemon Shirts becoming a phenomenon worldwide. A special Look Book is available for the new One Piece collection, so flip through and find a pattern that best represents you!

Information

One Piece Shirts Powered by Original Stitch

Release Date: March 16, 2022

How to Order: https://originalstitch.com/jp/onepiece
Available in: Japan, America, Canada, Taiwan, Hong Kong, Singapore, Malaysia, Philippines, India, Indonesia, U.K., Spain, Germany, Italy, France, Australia, etc. (Over 40 countries) 

POP UP STORE
Now Open
Mugiwara Store: Shibuya, Ikebukuro, Abeno, Umeda, Nagoya, Fukuoka, Kumamoto
Official Site: https://www.mugiwara-store.com/

Live-action Netflix ONE PIECE Adaptation Announces Peter Gadiot as Shanks

The highly-anticipated One Piece live-action series is coming to Netflix around the world in the near future!

The main cast was announced last year, and the actors portraying Koby, Alvida, Helmeppo, Buggy, Arlong, and Garp have also been revealed. Yesterday, it was announced that Peter Gadiot would be playing the role of Red-Haired Shanks, the man who inspired Luffy to become the King of the Pirates.

____________________________________
Luffy

"Someday, I'll find a crew as incredible as this one!! I'll find the greatest treasure in the world! I'll become the King of the Pirates!"

Shanks

"Is that so? So, you're going to surpass us, huh…in that case, I'll leave you with my hat. Be sure to give it back one day, after you've become a fine pirate."
(From ONE PIECE Volume 1)
____________________________________

A legendary and powerful pirate in the Grand Line, being the captain of the Red-Haired Pirates and one of the Four Emperors in the second half of the Grand Line. He is Luffy's childhood hero and a former member of Gol D. Roger's Crew. He has a soft and friendly nature with a deep-seated passion and inner strength, and will always protect his friends. 

Peter Gadiot has appeared in a number of popular television series, from Yellowjackets to Queen of the South.

A One Piece live-action project had been kicked around before but has finally come to fruition after Oda and other members of Shonen Jump staff were convinced that it could be done well. Do you think the adaptation will be done well?

Netflix Series 'ONE PIECE' – To be Streamed Worldwide

©尾田栄一郎/集英社

Information

Netflix Original Drama Series 'ONE PIECE'

Netflix: www.netflix.com

Kabuki Actor Somegoro Ichikawa VIII Becomes Brand Ambassador for Shu Uemura Japan

Shu Uemura Japan has announced that Kabuki actor Somegoro Ichikawa VIII will be the brand ambassador for its popular cleansing oil and other cosmetic items.

Shu Uemura products are all crafted in Japan and the brand exemplifies the Japanese spirit of perfection, care, and tradition. This advanced technology and cutting-edge design philosophy is a perfect match for Somegoro Ichikawa, who is incredibly passionate about Japanese artistry through his work in kabuki theater. This collaboration is bringing kabuki, a 400-year-old art form, to the mainstream, infusing it with modernity.

Comment from Somegoro Ichikawa


"I'm honored to have been chosen to serve as an ambassador for Shu Uemura Cleansing Oil, which I personally use on a regular basis. What can we do to pass on Kabuki and other Japanese traditions to future generations? I feel a strong connection between my own ideas and challenges and those of the Shu Uemura brand." 

Jill Stuart Beauty Reveals Limited-Edition Cherry Blossom Spring Collection

Jill Stuart Beauty has launched a limited spring collection, 'Crystal Bloom Sakura Bouquet.' These items, inspired by beautiful double-layered cherry blossoms, are now available for purchase both in-store and online!

Jill Stuart Crystal Bloom Sakura Bouquet Eau de Parfum

Jill Stuart Crystal Bloom Sakura Bouquet Perfumed Hand Cream

Jill Stuart Sakura Bouquet Bloom Mixed Blush Compact

21 – Rosy Cherry Blossom

Jill Stuart Sakura Bouquet Lipstick – Lip Jewel Gemmy Satin / Jill Stuart Sakura Bouquet Lipstick Case

106 – Cherry Waltz

107 – Fluttering Petals

Jill Stuart Sakura Bouquet My Lips 01 – Fluffy Cherry

Cherry blossoms are a symbol of spring and continue to entrance people each year. Sakura in full bloom have the power to bring people together, and this spring, Jill Stuart hopes that this fragrance and beauty collection can do the same.

30 New Pokémon Hand Creams from Lovisia are Now Available

The Lovisia Pokémon Gift Cosmetics Series, which has sold a total of more than 1.4 million units, launched a new product, Pokémon Hand Cream and now available for sale at the Lovisia Online Shop, some of the Pokémon Centers, and variety stores nationwide.

The new "Pokémon Hand Cream" features the largest-ever number of 30 Pokémon in a variety of designs with four types of moisturizing ingredients that make it perfect for the coming season.

The Pokémon hand creams have been introduced as Pokémon gift cosmetics since 2018, with a maximum of six different Pokémon each year, but there were many requests for other Pokémon hand creams, so for the 2021 edition, 30 different Pokémon hand creams were produced. The lineup includes Pikachu and Kabigon, which have been part of the series for a long time, as well as new Pokémon that are appearing in the series for the first time, making it a perfect gift for yourself or your friends.

The colors have been reformulated from the previous trend-conscious design colors. The background colors are designed to represent each Pokémon's type.

The Pokémon hand cream is formulated with Vaseline, shea butter, ceramide, and argan oil. The hand cream has a refreshing soap scent and is smooth to use, yet moisturizing. It can be used to care for areas of concern and fingertips to prevent rough and dry skin due to the increased number of hand washing and sanitizing. It will surely help you take care of your hands and fingers while enjoying Pokémon with children!

To celebrate the release of the product, those who purchase more than three can get a special Pokémon Multi Pouch designed by Lovisia while supplies last. Specially designed pouches of Pikachu and Pocchama are perfect for your cosmetic and small items.

Pokémon cosmetics are the must-have hand cream for the coming season!