Ashikaga Flower Park Turns On the Lights For 'The Garden of Illuminated Flowers'
Ashikaga Flower Park in Ashikaga, Tochigi, has announced an illumination event for the autumn and winter seasons called "The Garden of Illuminated Flowers ~Flower Fantasy 2020~" which will run from October 17, 2020 to February 7, 2021.
The annual event is being held a week later than usual in order to implement the necessary precautions against COVID-19 and to ensure visitors are divided from one another so that they can enjoy the event as always safely. Masks will need to be worn and visitors must sanitise their hands as well as have their temperature checked with the on-site thermal camera before entering the park.
Held for the 19th time this year, the event was ranked among the Top 3 biggest light-up events in Japan in 2017 alongside Sapporo White Illuminations and Huis Ten Bosch Illuminations. It was also ranked top by night view critics in Japan as best the illumination event for four consecutive years.
So, why is this event adored so much?

The Miraculous Great Wisteria
Due to COVID-19, people were unable to enjoy the blossoming wisteria during this year's spring season, but now they can be enjoyed in autumn and winter in the form of illuminations.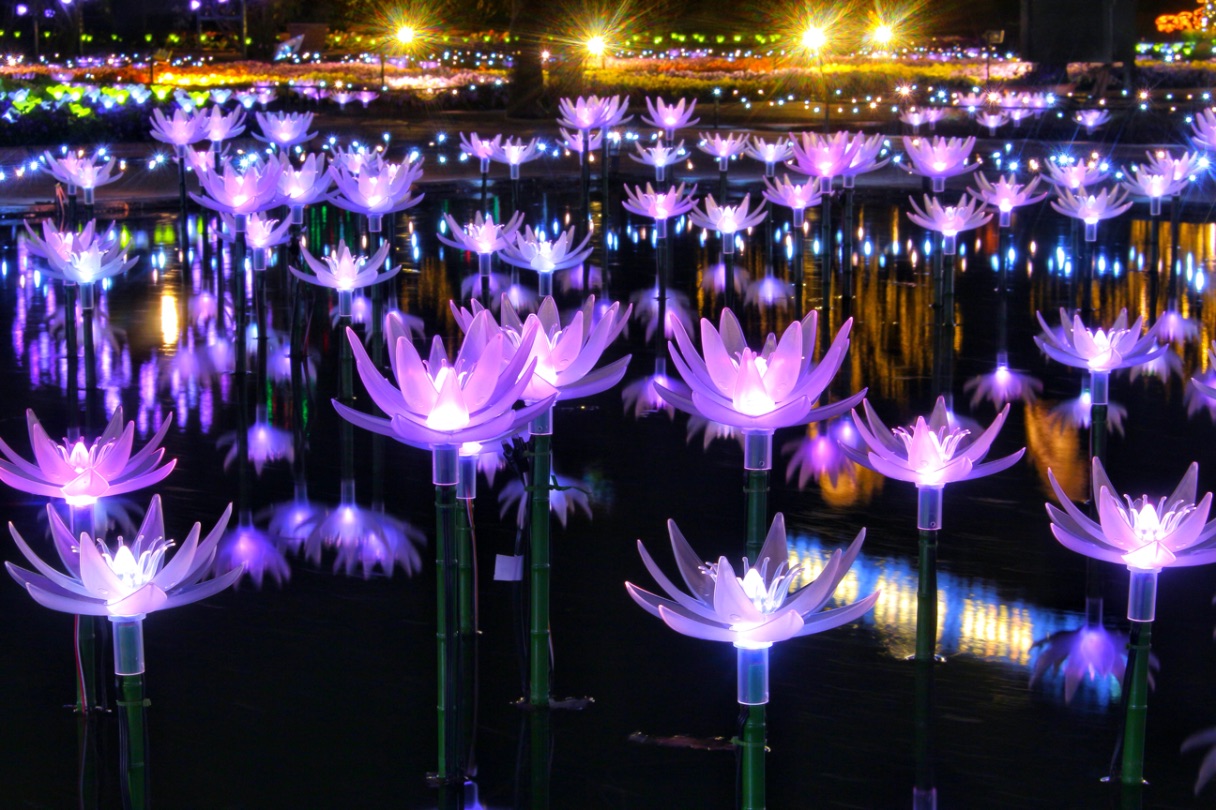 Illuminated Water Lilies
Water lilies are enjoyed from summer through autumn. These water lily lights by the waterside are like little individual flower spirits.
Illuminated Rose Garden
A panoramic spectacle of vivid red rose lights. A special blue light-up will also take place to give gratitude to frontline workers who will be busy this season.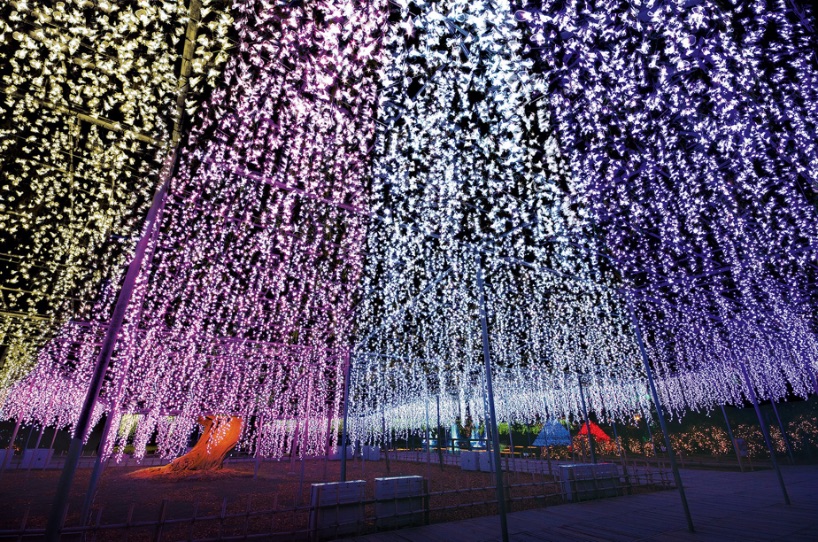 A Flower Story of Illuminated Wisteria
The multicoloured wisteria that bloom from mid-April to mid-May at the park are also being represented as dazzling illuminations which will reflect off the water surface to create a magical atmosphere.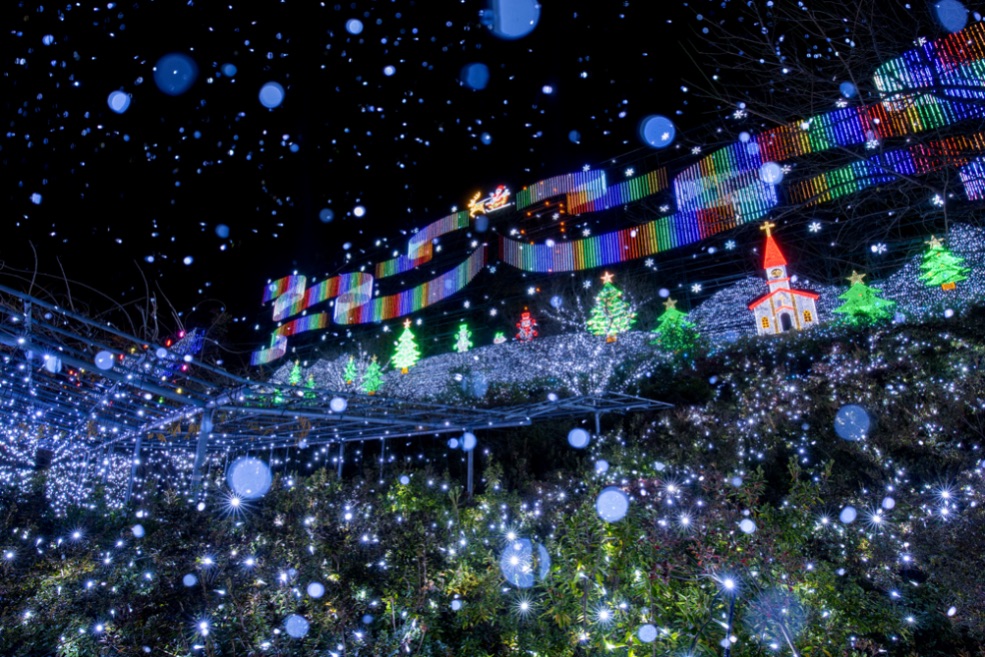 Snow World
Santa Claus will be at the park from late November to late December to hand out presents to children.
Enter a romantic world of Japanese illuminations at Ashikaga Flower Park.
RELATED ENTRIES
Izu, the Setting for Laid-Back Camp, Now Offering Travel Plans

JR Tokai Tours has released a new travel plan for fans of Laid-Back Camp Season 2, which aired from January to March 2021. The tour will take place in the Izu area, which was heavily featured in episodes 10, 11, and 12. Guests can enjoy a travel plan with single lodging and original goods starting May 23 until June 29, 2022.

Original Stickers

 

The slice-of-life series Laid-Back Camp is currently serialized in COMIC FUZ.

 

Set in Yamanashi and Shizuoka Prefectures, Laid-Back Camp is a relaxing series following a group of high school girls going camping and enjoying their daily lives. The series is based on the author Afro's personal experiences and interviews, and since serialization in 2015, the series has attracted fans from around the world. The original comic has sold over 7 million copies. In 2018, the first anime series premiered, inspiring a spin-off Room Camp in 2020 and a second season in 2021.


Four years after it was announced in 2018, a Laid-Back Camp animated film will arrive in theaters this summer.

EMOCAL, a Project to Support Japanese Regions, Releases Music Using Local Sound Samples

The EMOCAL project aims to support small-town areas of Japan. As a new initiative in the project, specific soundscapes only found in certain areas of the country have been combined with music to create some unique tracks. A selection of musical artists have collaborated with the project to bring these songs to life!


EMOCAL was created by ZOWA's original label, CatchyStuck. The project supports local regions and communities by using ASMR soundscape videos recorded in each region to convey their particular charms to all of Japan. The sounds recorded in each place are considered to be very valuable and are intended to serve two purposes: to bring tourism back after the pandemic and to provide fans of ASMR a way to experience these areas from afar.



Check out each of these unique ambient tracks created by four up-and-coming musicians! Each song is available on viviON's ASMR platform ZOWA and on Spotify.

Ube, Yamaguchi Prefecture / Ikkyuu x Hige Driver, I Love Ikkyuu

Beard Driver created this ambient track with sounds recorded inside of Ikkyuu, a ramen shop.

ZOWA: https://zowa.app/play/20019
Spotify: https://open.spotify.com/track/1RP4RcpJwMrFzoYQbnfDYm?si=f1f1e816adb14db0


Odawara, Kanagawa Prefecture / Miyuki no Hama x Powerless, Seiren

Powerless created this track, inspired by the sounds of waves crashing at Miyuki no Hama, a seaside recreation area 20 minutes from Odawara Station.

ZOWA: https://zowa.app/play/20016
Spotify: https://open.spotify.com/track/5DkQ9FeM7jQBacUf7Nbuxc?si=c7d771e73ddd44b6

Shizuoka, Shizuoka Prefecture / Wasabi Field x baker, On the silent hill

Utogi in Shizuoka city is surrounded by incredible nature. Known as the birthplace of wasabi cultivation, baker used sounds recorded in the area to create this ambient track.

ZOWA: https://zowa.app/play/20017
Spotify: https://open.spotify.com/track/0oIU4x7MjVKmpouRwEPaXZ?si=04dcb805cea540b7

Ibusuki, Kagoshima Prefecture / Cape Tara x SeA0, Akushu

Cape Tara is a popular spot featuring an 800-meter-long sandbar at low tide. The sounds captured here were used by artist SeA0, and this track is sure to make you miss the water.

ZOWA: https://zowa.app/play/20018
Spotify: https://open.spotify.com/track/1Utz5j0oB4GmSDOMVdUcXU?si=eafa1949b3ea44d0

Rose Garden ~Spring Rose Festival~ Opens at Ashikaga Flower Park in Tochigi

Starting May 9, Ashikaga Flower Park is celebrating spring with the Rose Garden ~Spring Rose Festival~ event. Since April, the Fujinohana Monogatari Ofuji Festival has been drawing guests to the park to see the symbolic wisteria. As the weather warms up, the rose festival will be held at the same time as the Great Wisteria Festival 2022, which is scheduled to end on May 22. 

Guests can enjoy the rainbow-colored world of wisteria and roses, which are at their best until the middle of May. From now until May 15, visitors can also see the flowers lit up each night.

Come visit Ashikaga Flower Park and enjoy 2,500 roses from 500 different varieties!

Information

Rose Garden ~Spring Rose Festival~

Dates & Hours: 

May 9 – May 15 / 8:00-20:30 (Includes Night Illuminations)

May 16 ~ / 9:00-18:00

Official Site: https://www.ashikaga.co.jp/

Fujinohana Monogatari Ofuji Festival 2022 Opens at Ashikaga Flower Park in Tochigi

The Fujinohana Monogatari Ofuji Festival 2022 in Tochigi began slightly ahead of schedule on April 16, 2022.

After temperatures rose to higher than normal over the past few weeks, Ashikaga Flower Park's symbolic wisteria bloomed earlier than expected. If the high temperatures persist, the blooming process will speed up considerably, with some flower clusters growing up to 10cm in a single day.

The park is one of Japan's top destinations for wisteria, boasting 350 trees that typically bloom from mid-April to mid-May. The stunning flowers, which dangle from wooden trellises, come in many colors including violet, blue, pink, white, and yellow. Each color tends to bloom at different times: pink first, followed by purple, white, and then yellow wisteria. CNN praised the massive wisteria tree as looking similar to the "tree of souls in the film Avatar," and the park was the only place in Japan selected as one of the '10 Global Dream Destinations' in 2014.

Information

Fujinohana Monogatari Ofuji Festival 2022

Running: April 16 – May 22, 2022

*Illuminations: April 20 – May 15, 2022
Times: 

April 16 – April 19  9:00-18:00

April 20 – April 22  8:00-20:30

April 23 – May 8    7:00-21:00

May 9 – May 15    8:00-20:30

May 16 – May 22  9:00-18:00

 

*Dates and hours are subject to change depending on blooming conditions.

*Click on the link below to see the current flower status.

UNDER WATER SPACE in Yokohama Illuminated in Cherry Blossom Colors for Spring

UNDER WATER SPACE, a limited-time aquarium space event located at Yokohama World Porters, is lighting up a portion of the event space in gorgeous cherry blossom colors until April 10, 2022 to coincide with the 2022 cherry blossom season!

The pink-lit space and swimming fish give an entirely new feel to the UNDER WATER SPACE event. You won't want to miss experiencing this magical spring illumination! 

Information

Hanami Illumination

Running: April 1 – April 10, 2022

Aquarium Space Travel 'UNDER WATER SPACE'

Running until January 15, 2023

Hours: 10:30-21:00 (Last entry at 20:00)

Address: Yokohama World Porters 4F (2-2-1 Shinko, Naka-ku, Yokohama)
Tickets / Official Site: http://uws-yokohama.jp

Banyan Tree Rooftop Bar Opens on Japan's Southernmost Island

The Banyan Tree Rooftop Bar, located at Hoshino Resort Risonare Kohamajima on Japan's southernmost island, is holding a special stargazing event until April 20, 2022. Visitors can enjoy a cocktail as they gaze at the countless twinkling stars overhead.

Kohama Island is located within the Yaeyama Islands. With a warm climate, it's comfortable to spend long hours outside, even at night. Kohamajima was also the first island in Japan to be protected by the IDA (International Darkness Association), meaning that no bright manmade lights can interfere with stargazing. Visitors can see 84 of 88 constellations! 

Enjoy a Boundless Starry Sky

The Banyan Tree Terrace will bring guests together to feel the sea breeze and taste colorful mojitos as they enjoy the pleasant weather. Why not spend a relaxing time in a fantastic space lit with faintly glowing candles as you stargaze?

Taste Colorful Mojitos

A limited number of colorful mojitos will be available at a bar counter set up on the terrace for this event only. You can also enjoy Okinawan original mojitos with made with Okinawa lime, brown sugar instead of sugar, non-alcoholic mojitos for children, and tropical fruit mojitos with pineapple and passion fruit.

Munch on Snacks Perfect to Pair with Cocktails

Guests can also enjoy a snack set with salty nuts perfect for enjoying with alcohol!

Information

Banyan Tree Rooftop Bar

Open: March 1 – April 20, 2022
Hours: 19:00-20:00
Location: Banyan Tree Terrace

Official Site: https://risonare.com/kohamajima/

Lake Biwa Canal's Cherry Blossoms to Come to Life During Spring Illumination 2022 Event

Lake Biwa Canal, one of the best places to see cherry blossoms in Shiga, will be completely illuminated each night from March 25 until April 10! The nearby Onjo-ji Temple will also be lit up during the duration of the event.

Lake Biwa, Otsu Spring Illumination – Cherry Blossoms on the Lake Biwa Canal

The Lake Biwa Canal carries water from the biggest lake in Japan to Kyoto and was built during the Meiji era using the best civil engineering technology of the time. Both sides of the bank are lined with almost 200 cherry trees, making it one of the most beautiful cherry blossom viewing spots with a spectacular view leading to Onjo-ji Temple.

Onjo-ji Spring Illumination 2022

Over 600 lights will be set up around the temple grounds to illuminate the cherry blossoms. The national treasures and designated cultural properties will be completely open to the public for nighttime viewing.


Information

Lake Biwa, Otsu Spring Illumination – Cherry Blossoms on the Lake Biwa Canal

Running: March 25 – April 10 (Dates may change depending on when cherry blossoms bloom)
Hours: 18:00 – 21:30
Location: Lake Biwa Canal
Sponsored by the Lake Biwako Otsu Tourism Association

Onjo-ji Spring Illumination 2022

Running: March 25 – April 10
Hours: 18:00 – 21:30 (Last Entry at 21:00)
Location: Onji-ji Temple
Admission: Adults ¥1,000 / Children ¥500
*Public transportation is recommended due to heavy congestion on surrounding roads during the event period.

HIBIYA BLOSSOM 2022 to Welcome Spring with Tokyo Midtown Hibiya Illumination

Tokyo Midtown Hibiya will hold HIBIYA BLOSSOM 2022 from March 25 until April 17, coloring the streets with luminescent spring flowers!

Massive floral decorations will be erected as part of the Hibiya Blossom Garden, and each will feature lights and music from classic films to bring the feeling of spring to the streets of Tokyo.

Running: March 25 – April 17, 2022
Light-up Hours: 18:00-23:00 (Special performances held every 10 minutes)
Location: Hibiya Step Plaza, Hibiya Step Plaza Grand Staircase

A selection of local stores will also participate in the Hibiya Blossom Flower Wagon project, which will take place on Sundays in April only.

As part of the Hibiya Blossom Gourmet project starting March 18, certain shops are also offering some tasty springtime treats. 

Kyary Pamyu Pamyu Collaborates with Popular Shimane Manju for LOCAL POWER JAPAN Project

Celebrating the 10th anniversary of her major label debut, Kyary Pamyu Pamyu is staying active in 2022. In conjunction with the nationwide tour, the "LOCAL POWER JAPAN Project" was launched to energize Japan through the appeal of regional towns and cities, and has been attracting major attention. Kyary's tour made it to Shimane on March 12, and the details of her next collaboration have been revealed!


Kyary will be teaming up with Nakaura Foods and their delicious local delicacy Dojou Sukui Manju. Known as the representative treat of the San'in region, the name is a reference to the mask worn during local performances of the Yasugibushi folk song. The steamed buns were developed by Nakaura Foods in 1967 and have been loved by locals ever since. In the 2000s, the company began experimenting with new flavors by teaming up with other local creators.

 

The company's logo is being reimagined for the project, inspired by Kyary Pamyu Pamyu's 2013 Furisodeshon music video. 

The name of the popular product has also been changed to Kyary Sukui Manju! Each box has a pop design and would make a perfect souvenir for Kyary fans.

A collaborative T-shirt is also on sale featuring the new logo and the singer's 10th-anniversary logo. A special LINE collaboration is also underway, and 50 people who order the new Kyary-themed treats from the official Nakaura Foods online store will be entered to win a shirt!

Information

Dojou Sukui Manju (Shimane) x LOCAL POWER JAPAN Project
Sales Period: March 12 – April 8, 2022
Where to Buy:
Nakaura Foods Official Online Store
https://www.sanin-nakaura.jp/products/detail/1269
Nakaura Foods Stores in Matsue, Shimane Prefecture and Sakaiminato, Tottori Prefecture 


Collaboration T-shirt
Where to Purchase: LOCAL POWER JAPAN Project Online Shop
Available until March 25 at 23:59
https://store-localpowerjapan.com/




Commemorative Kyary Sukui Manju T-shirt Gift Campaign
Application Period: April 8, 2022
How to Enter: 

Add Nakaura Foods as a friend on LINE and get the campaign keyword. 

Enter the keyword when purchasing Kyary Sukui Manju from the Nakaura Foods online store.

50 winners will be selected by drawing to receive a special collaborative T-shirt!




 

Official Site:https://localpowerjapan.com

Booking.com Reveals 4 Best Lodgings with Outdoor Baths for Snow Viewing

Booking.com Japan has revealed its top four picks for the Japanese accommodations with the best outdoor baths and snow views! 

Zao Kokusai Hotel (Zao Onsen, Yamagata Prefecture)


Located 900 meters above sea level and surrounded by the gorgeous natural beauty of the Zao mountains, this resort has long been renowned for its spectacular view of seasonal scenery. During winter, guests can enjoy a fully spring-fed open-air bath while gazing at the snow-capped mountains. The milky white waters of the Zao Hot Springs have high sulfur content which will improve the texture of your skin. The resort also has a bath large enough to accommodate up to seven people at a time and a private bath for families or lovers. 

Midorinokaze Resort Kitayuzawa (Date, Hokkaido)

The Midorinokaze Resort Kitayuzawa is surrounded by nature and contains one of the largest open-air baths in Japan, along with 20 unique fragrant baths for guests to enjoy. In winter, the surrounding trees seem to glisten with snow, and visitors are sure to find plenty of peace and relaxation while lounging beneath the grey skies. 

Akakura Kanko Hotel (Myoko, Niigata Prefecture)

This highland resort sits on a 1,000-meter peak, offering unmatched views of Niigata Prefecture. The natural hot spring flows from the inside of Mt. Myoko, with healing waters perfect for soaking in during the cold winter months. The large baths are also equipped with a sauna and deck, and those wanting to view the scenery from their room can enjoy guest accommodations with private baths as well!

Satoyama Jujo (Minamiuonuma, Niigata Prefecture)

Winning a design award for its facilities, Satoyama Jujo has a different feel when compared to most hotels and ryokan. Booking.com recommends it for travelers looking for new experiences! In the open-air bath, visitors can relax while enjoying a panoramic view of Mt. Makihata, one of Japan's 100 most famous peaks. Guests can also enjoy the starry skies at night. This is a perfect location for couples!

Each season in Japan offers uniquely beautiful scenery. How would you like to enjoy winter in one of these luxurious baths?

Three Japanese Tourism Instagram Accounts to Follow for Travel Inspiration

The pandemic has changed our lives forever. People have spent the last two years missing travel as they spend more and more time at home, and while many are ready to travel again, it can be difficult to know if it's the right time to return to normalcy. To make the situation a little easier, many local tourism associations in Japan are posting images on Instagram to inspire people to give traveling another try. These three Instagram accounts are our personal favorites, and once Japan opens to tourists again, you won't want to miss visiting these areas!

[Official Kumamoto Tourism Association] Motto, motto, Kumamoto!

Discover the charms of Kumamoto on this local Instagram account featuring photos from four unique local photographers. Many will know the area as the home of the character Kumamon. The images capture the daily lives of Kumamoto residents and include local food and gorgeous scenery. The postings also include the location of the photo and comments from the photographers, making things feel more personal. 

[Official Hokkaido Tourism Association] GoodDay Hokkaido

Hokkaido is an area rich in gourmet seafood and dairy, but its spectacular landscapes are reason enough to visit. GoodDay Hokkaido shows off both the common and uncommon elements of Hokkaido life, often introducing little-known areas. Each photo is vividly colored, and followers can see different seasons at every time of day as they scroll through the feed. See the best images from Japan's northernmost island each and every day on your smartphone!

[Ome / Okutama] Umetama

Umetama is an account that introduces places of interest in Ome and Okutama, two of Tokyo's most scenic towns. Each can be reached in about an hour by train from Shinjuku Station. Visitors can enjoy a gorgeous day trip from the Tokyo center, with the area featuring plenty of campsites and hiking trails. There are tons of stargazing spots, and visitors are often surprised that such incredible nature is so close to Japan's hectic capital. Those with kids will find plenty to do here, so start taking notes while you scroll through the Umetama page!

More and more young people are finding the appeal of Ome and Okutama, and the area has become the perfect relaxation spot for those seeking refuge from their busy lives. In addition, the craft beer bar Ome Beer, located near Ome Station, sells local alcohol, including Okutama's popular craft beer 'Vertere.' See the lesser-known side of Tokyo on this picturesque account. 

Remember how wonderful it is to travel? Hopefully, Japan opens for tourism again soon, and you can visit all of these gorgeous locales.

NAKED FLOWERS 2022 Cherry Blossom Exhibition to be Held at Nijo Castle in Kyoto

NAKED will open a new Cherry Blossom-inspired outdoor light-up event at Nijo Castle from March 18 until April 17, 2022!

The NAKED FLOWER interactive art exhibition has been held at Nijo Castle since 2018. In autumn, the leaves change color, and in spring, the cherry blossoms blooming at night around the castle combined with NAKED's art experience create a breaktasking experience like no other. 

This year, in addition to the projection mapping on the Karamon Gate, the largest-ever projection mapping of cherry blossoms will cover the entire 140-meter-long stone wall on the east side of the inner moat. Also, for the first time ever, the exhibition will add special effects that can only be seen in rainy weather. 

 

Information

NAKED FLOWERS 2022 Cherry Blossom Event at Nijo Castle
Location: Nijo Castle Imperial Villa
Running: March 18 – April 17, 2022
Hours: 18:00-21:00 (Grounds close at 22:00)
Official Site: https://flowers.naked.works/nijojo/