Starbucks Japan Reveals Gingerbread Latte For the 2020 Holiday Season
Starbucks Coffee Japan is set to launch the Starbucks holiday season on November 1 with a selection of special drinks and products. The theme this year is "a Special Holiday with Starbucks Classics."
With less than two months to go before Christmas, the coffee chain is set to release a variety of seasonal beverages including the Starbucks® Christmas Blend, Gingerbread Latte, and Macadamia Toffee Latte. It will also release the first range of holiday season merchandise on November 6.
Hot and cosy drinks for the holiday season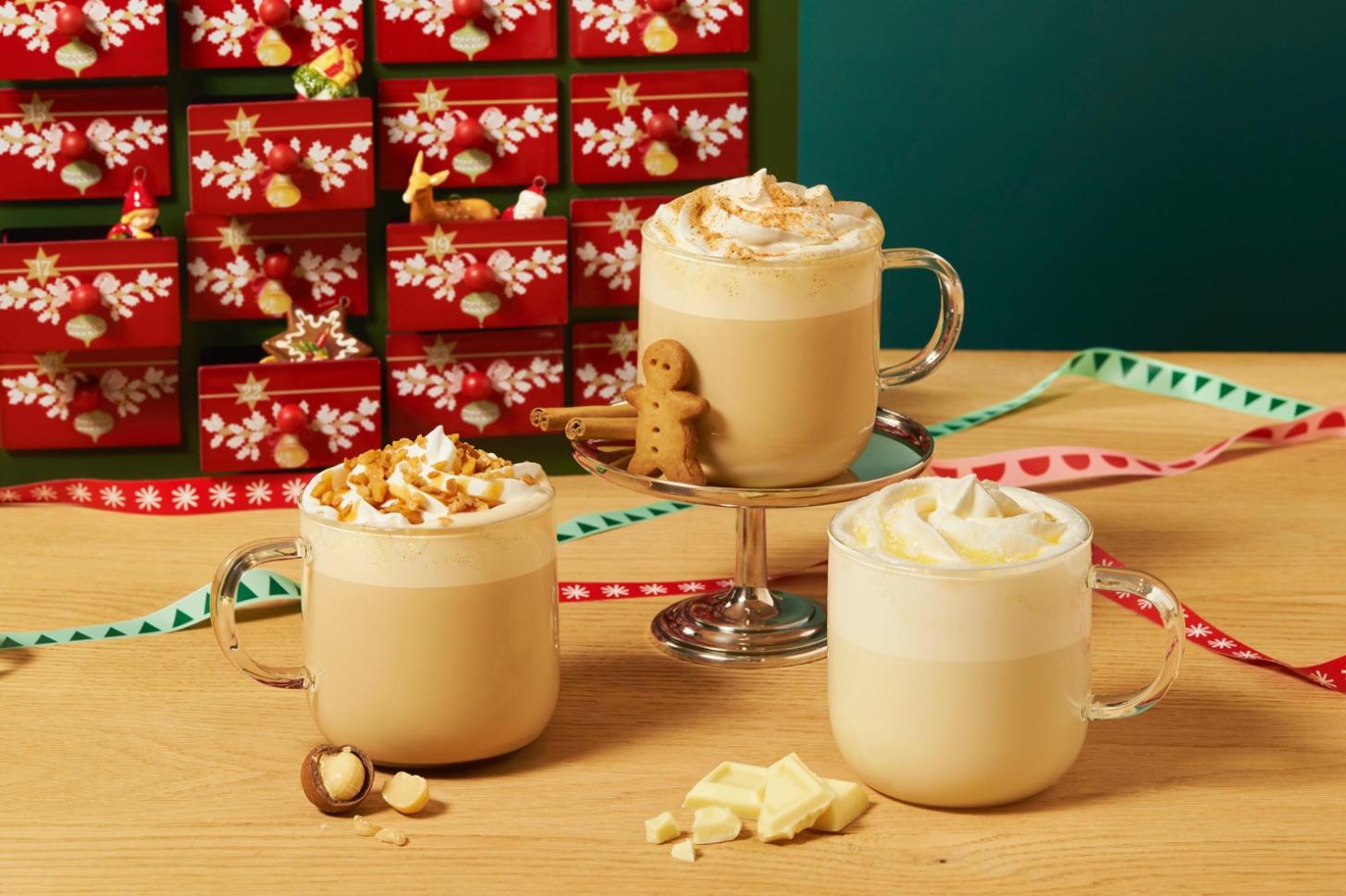 Macadamia Toffee Latte: Short ¥440 | Tall ¥480 | Grande ¥520 | Venti ® ¥560
Gingerbread Latte: Short ¥420 | Tall ¥460 | Grande ¥500 | Venti ® ¥540
Winter White Chocolate: Short ¥400 | Tall ¥440 | Grande ¥480 | Venti ® ¥520
The spicy Gingerbread Latte is a must-have on the menu during the holiday season at Starbucks, one that latte lovers look forward to every year. And this year, coffee consumers in Japan have two new drinks to look forward to: the Macadamia Toffee Latte which is a crunchy combination of macadamia nuts and sweet toffee, and the snowy powdered sugar-topped Winter White Chocolate.
Starbucks® Christmas Blend and Cranberry Bliss Bar Pairing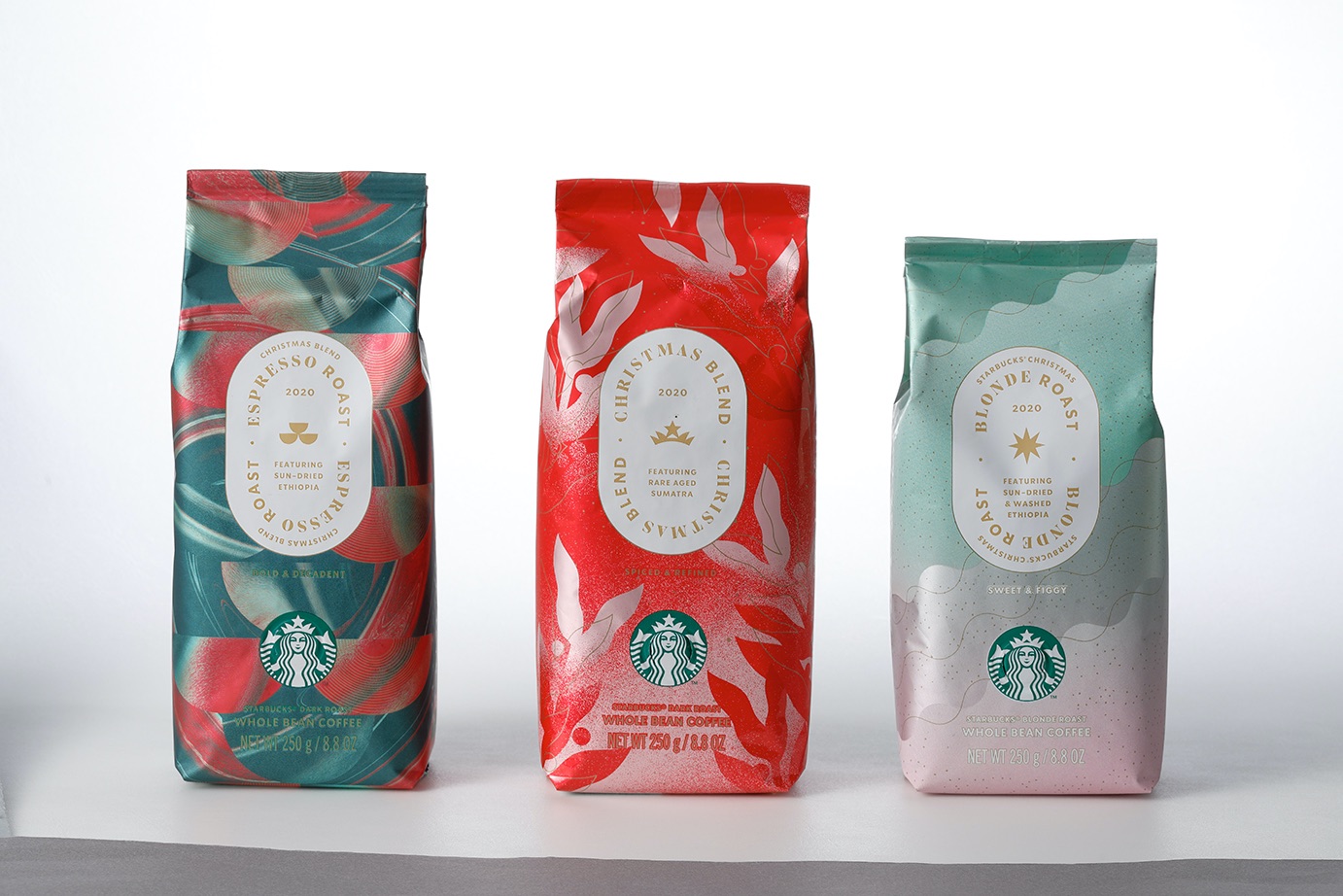 From Left: Starbucks® Christmas Blend Espresso Roast | Starbucks® Christmas Blend | Starbucks® Christmas Blonde Roast – ¥1,520 Each (Before Tax)
A cup of Starbucks's Christmas Blend fills you with that cosy nostalgic feeling of the season. This year's recipe at Starbucks Japan is inspired by the one first sold in 1984 which has a rich, deep blend. It's a coffee combination of dark roast Sumatran, Papua New Guinean, Columbian, and Guatemalan coffee beans. There's also some aged Sumatra coffee in there to elevate the flavour.
Each cup is a complex mix that brings to mind herbs and spices, and hidden within all that a subtle sweetness.
Cranberry Bliss Bar | ¥270 (Before Tax)
Starbucks Japan is bringing back its signature Cranberry Bliss Bar dessert for the holiday season and pairing it with the Christmas Blend. The cake has orange in it which brings a tangy but fresh kick that matches heavenly with the spicy notes.
The First Merchandise Batch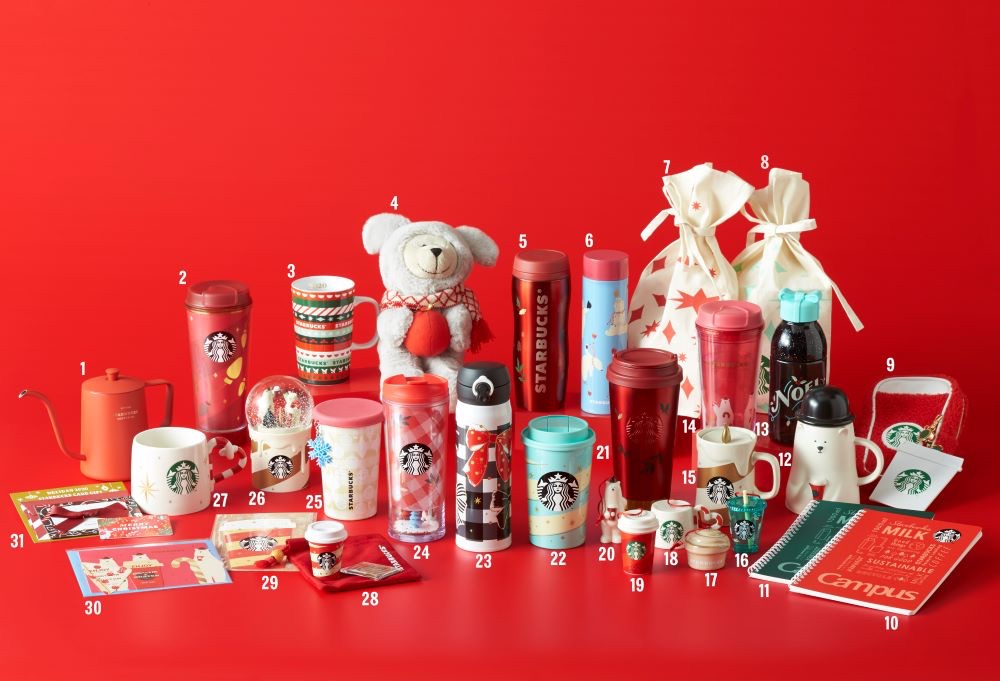 The first batch of holiday season merchandise to drop at Starbucks Japan incorporates Christmas motifs like ribbons, candy canes, and reds and white colouring. The line-up includes a stainless steel bottle with a gingham checked pattern and gold dots to a stainless TOGO cup with a classic design reminiscent of a candy cane, notebooks, and more.
The holiday season is shaping up to be another cosy welcoming again this year at Starbucks Japan.
Information
Starbucks Japan Holiday Season 2020
Running: November 1, 2020 – December 25, 2020
Merchandise Batch 1: November 6, 2020 – December 25, 2020
Starbucks Japan Official Website: https://www.starbucks.co.jp/
RELATED ENTRIES
Eggs'n Things Popular Halloween Menu Returns for Limited Time

EGGS'N THINGS JAPAN have announced that between October 15 and October 31, their most popular Halloween item ever – the 2018 Halloween Trick Pancakes – will be returning to Eggs'n Things and Eggs'n Things Coffee stores nationwide. 

 

 

The black pancake batter is kneaded with cocoa and is topped with subtly sweet pumpkin cream shaped in a cute spider pattern, finished with a swirl of purple taro whipped cream. Eggs'n Things have even hidden a colorful, popping trick inside the pancake. 

 

Have some fun this Halloween at Eggs' Things!

Information

Halloween Trick Pancake

Cost: ¥1,730 (Tax Incl.)

Availability: October 15 ~ October 31 2021 

Participating Stores: Eggs'n Things, Eggs'n Things Coffee stores nationwide 

※This item is not available to take out.

Kurobe Gorge Trekking Tour Offers Breathtaking Two-Day Trolley Journey

The Kurobe Gorge Trolley in Toyama will offer a special two-day journey through the fall foliage on October 29 and November 1, 2021. 

Atobiki Bridge

Okukane Bridge

Promenade

Babadani Jigoku

On the day of the tour, guests will enjoy a leisurely journey through nature as a Kurobe Gorge tour guide explains the features of the surrounding environment. 

Applause Square Nagoya to Offer Autumn Dinner with Birthstone-inspired Sweets

Wedding venue Applause Square Nagoya will be opening a limited-time restaurant for eight days only during October and will offer some of the most artful desserts you've ever seen. The wedding hall is not normally open to the public, so this will be an opportunity to see this incredible mansion up close while savoring some unique fall flavors. 

Jewel Art Topaz Parfait, made with Rum Raisin and Iced Chestnut Mont Blanc with Orange Parfait, and three Chocolate Bonbons

Six hors-d'oeuvres, each a vibrant and unique color

Sea Bream Vapeur with Eggplant and Chips that resemble Autumn Leaves, paired with Hot consommé soup scented with sherry and served in front of guests

Roasted Chita Pork with Tomato Chutney Sauce and Ginger, covered with Brown Mushrooms


Each of the six hors d'oeuvres were inspired by birthstones. Following are a number of luxurious meat and fish dishes, followed by a rich and abundant parfait filled with autumn flavors.

Patisserie Antenor in Kobe Releases Limited-Time Halloween Cakes

Antenor, a beloved patisserie located in Kobe, began selling limited-time Halloween-themed cakes on October 1, 2021. The exciting lineup will have guests ready for the scariest day of the year, offering sweets made with purple sweet potato, Mont Blanc, and pumpkin. 

Halloween Petit Four – Available from October 16 until October 31

Pumpkin Mont Blanc – Available from October 1 until October 31

Halloween Cheesecake – Available from October 1 until October 31

Gateau Chocolat Classic Cake – Available from October 1 until October 31

Halloween Assortment (M) – Available from September 1 until October 31

The Halloween Assortment (M) includes three types of popular cookies and is available now ahead of the October holiday. It would make a perfect gift, so snag one of these festive boxes before they're gone!

Halloween Sweets Buffet Coming to Haneda Excel Hotel Tokyu for Two Days Only

Moshi Moshi Nippon has delivered news on tons of Halloween treats this holiday season, but can there ever really be enough? Haneda Excel Hotel Tokyo has announced a special two-day-only Halloween Sweets Buffet on October 30 and 31 at the location's Flyer's Table restaurant on the second floor. 

Pumpkin Cheese Tart

Ghost Mousse

Black Cream Puff

 

Guests can enjoy a variety of spooky treats all incorporating fall flavors like chestnut, pumpkin, sweet potato, pear, and apple. Offerings include the Pumpkin Cheese Tart, a mildly-sweet cheese tart made with sour cream, cottage cheese, and cream cheese, and topped with pumpkin cream; the Ghost Mousse, a chestnut mousse made to look like a ghoul; and the Black Cream Puff, made with black cocoa and a cassis cream filling. 

 

At the demonstration corner, guests can see the Sweet Potato Mont Blanc being made. Those wanting something besides sweets can enjoy a selection of sandwiches decorated in Halloween style!

'Shiseido Parlour Ginza Salon de Cafe' Reveals Limited Autumn Dessert Menu

The 'Shiseido Parlour Ginza Salon de Cafe' has announced that between October 1 and October 31 2021, customers can enjoy a limited edition Autumnal sweets menu. This year their menu includes the Jersey milk 'Japanese Chestnut Mont Blanc Parfait from Kyushu' and the 'Shine Grape Fruit Sandwich.' There will also be two special additions to the menu to celebrate the 96th Azuma Odori.

Japanese Chestnut Mont Blanc Parfait from Kyushu using Jersey Milk: ¥2,500 (Tax Incl.)


 

Strawberry Parfait using "Koihime" strawberries from Nagano's Hatake Kobo: ¥2,100 (Tax Incl.)

 

Weekday / Limited Quantity Products

Shiseido Parlour Story: ¥2,600 (Tax Incl.) (Drink Incl.)


Shine Grape Fruit Sandwich with grapes from Iizuka Orchard: ¥1,700 (Tax Incl.)

Shinbashi Color Ice Cream Soda: ¥1,150 (Tax Incl.)


The Japanese Chestnut Mont Blanc Parfait is made using Jersey milk ice cream, chestnut cream, and fresh cream, along with the "Koihime" Fruit Sandwich, made using Kashu "Koihime" Strawberries are available on both the regular and limited Shiseido Parlour Ginza menus. Meanwhile, the luxurious Shiseido Parlour Story and the seasonal Shine Grape Fruit Sandwich, filled with various Autumnal fruits and centred around the grape, are only served on weekdays and holidays in limited quantities.

In the late Meiji Era, Shinbashi geisha were often seen wearing blue and green kimonos, with the color combination being coined Shinbashiiro (Shinbashi Color.) The elegant and retro Shinbashi Color Ice Cream Soda recreates the iconic look using green apple syrup, lemon, and ginger ale, topped with a traditional vanilla ice cream.

 

 

 Immerse yourself in the season with a feast of Fall sweets in Ginza.

Information

Shiseido Parlour Ginza Salon de Cafe

Address: Tokyo Ginza Shiseido Building 3F, 8-8-3, Ginza, Chuo-ku, Tokyo

Opening Hours:

Tuesday to Saturday:  11:00 ~ 21:00 (L.O. 20:30)

Sunday, public holidays: 11:00 ~ 20:00 (L.O.19:30)

Closures: Mondays (excluding public holidays), New Year 

KEYUCA Celebrates Halloween with Limited-Edition Autumn Sweets

Dolce Felice and Keyuca Sweets, two sweets brands produced by lifestyle shop KEYUCA, have come together to sell some new treats inspired by the autumn season, along with the Halloween vibe. The autumn-inspired sweets will be on sale starting October 1 at participating shops and online, while the Halloween sweets will be sold for three days only, from October 29 to 31. Preorders are open now. These delicious delicacies will be filled with fall ingredients, including Hokkaido-grown Ebisu pumpkin cream and chestnut. 

Limited-Time Halloween Sweets

Petit Halloween Pound Cake, 2 pieces

On sale: October 1 – October 31 *While supplies last. 

Monster Shortcake / On sale: October 29 – October 31

*Available to preorder at all stores starting October 1

Monster Eclaire / On sale: October 29 – October 31

*Available to preorder at all stores starting October 1

Monster Mont Blanc / On sale: October 29 – October 31

*Available to preorder at all stores starting October 1

Limited-Time Autumn Sweets

Ebisu Pumpkin Eclaire

Chestnut Mont Blanc Shortcake

Various limited-edition treats signify the coming of Halloween, with monster, black cat, and jack-o-lantern motifs. How would you like to bring home some of these ghoulish delights?

2021 Halloween Sweets Collection Coming Soon to Cerulean Tower Tokyu Hotel

The pastry shop at Cerulean Tower Tokyu Hotel will start selling an absolutely gorgeous selection of Halloween sweets starting October 1, 2021. 

Purple Sweet Potato Mont-Blanc (S, pictured left and right): ¥630 (Tax Included) / (M, pictured center): ¥2,700 (Tax Included)

Chatnoir: ¥745 (Tax Included) 

Pumpkin Pudding: ¥626 (Tax Included) 





The sweets included in this year's lineup are meant to bring some joy to those who have struggled during the past year of lockdown, and those who might not be able to attend their favorite seasonal events this year. In this lineup of three beautifully decorated treats, guests can bring the spirit of Halloween home. Which of these would you want to add some spooky flair to your kitchen?

Starry Night Bonfire Event in Nikko Invites Guests to Relax Under the Full Moon

Nikko-Yumoto, a hot spring hotel located near the picturesque Nikko National Park, will hold a limited-time event starting October 6. On select nights in October and November, guests are invited to sit around a bonfire and enjoy the full moon, new moon, and meteor showers while learning about astrology!

Harvested throughout the autumn months, Natsuotome strawberries grown in nearby Senjogahara are used to make a hot fruit wine to enjoy while gazing at the night sky. A warm drink will be perfect for cold nights in Oku-Nikko, located over 1,500 meters above sea level. In October, the night temperature can be as low as 40 degrees Fahrenheit! For those not wanting something alcoholic, feel free to enjoy some tasty hot cocoa. 

What's the first thing you think of when you see a bonfire? Roasting marshmallows, of course! During the event, a bag of magical powder will be tossed into the fire, turning the flames into different colors. Don't worry–the powder itself contains no harmful substances and is safe for both humans and the environment. 

Information

Starry Night Bonfire

Dates: October 6, October 9, October 20, October 21, November 5, November 18, November 19 / 19:30-20:30

Fee: Free *The event may be canceled in the case of inclement weather. 

Official Site: https://www.qkamura.or.jp/nikko/activity/

New Specialty Shop in Shinjuku Selling Edible Jewels for a Limited Time

Mahou no Kohakutou, a shop specializing in sweets that look exactly like sparkling jewels, will be open for a limited time from October 1 to October 10, 2021, inside the Shinjuku Marui Main Building. These unique treats are actual amber candy, but it's hard to want to eat something that looks so expensive. 

Each piece is cut by hand

Pieces from the Magical Vial Series

Finished amber candy

Amber candy before the drying process

Amber sugar is often appropriately called rock candy due to its mineral-like appearance. Despite their hard appearance, these treats have a much more complex texture than you'd think, crunchy on the outside but chewy on the inside. It takes about one week to crystallize each piece to get the right texture, and chefs must constantly keep an eye on the process by turning the sweets when needed and adjusting the humidity. 

Rather than using a machine or mold, each of these jewels is formed by hand, one by one. This means each one is completely different!

All coloring is accomplished with natural food-derived dye, and the sweets contain no synthetic coloring or flavoring. All it takes is a few simple ingredients to create something scrumptious! 

Grand Front Osaka to Feature Disney Princess Christmas Tree

Starting November 11, Grand Front Osaka, home to over 260 different shops and restaurants, will host the 'Grand Wish Christmas 2021: Disney Ultimate Princess Celebration ~Sparkling Moments~' event! This global celebration pays special attention to the Disney Princess's qualities of courage and kindness, and guests are welcome to take part in the festivities until Christmas Day. 

An 11-meter high Christmas tree will feature motifs of popular Disney Princesses dancing atop a music box, while nearby photo spots will invite families to create some magical memories to last a lifetime. A digital stamp rally will take place throughout the facilities, while a limited-time pop-up shop will sell a variety of Disney goods. 

The song Starting Now -A New Me- will act as the theme song for the event, with a daily light show sure to infuse guest's hearts with joy and inspiration in this holiday season. 

(C)Disney 

(C)Disney/Pixar 

(C)2021 Disney and its related  entities

Information

Grand Wish Christmas 2021

Disney Ultimate Princess Celebration ~Sparkling Moments~

Running: November 11 – December 25, 2021 

Address: Grand Front Osaka North Building, South Building, Umekita Plaza, etc. 

Official Site: https://www.grandfront-osaka.jp/

Disney Princess Digital Stamp Rally

Running: November 11 – December 25, 2021 

Address: Grand Front Osaka 

Disney Princess Pop-Up Shop

Running: November 11 – December 25, 2021 

Address: South Building 4F Pop Up Space

 

Villain-Themed Halloween Sweets Buffet Opens for One Day Only in Saitama

The Omiya ART GRACE Wedding Chateau in Saitama will hold an all-you-can-eat Halloween buffet on October 31, 2021. Guests can enjoy as many villain-themed treats as they like, all prepared and decorated by the skilled on-site wedding patissier.

In addition to sweets–like the sorcerer's macaroon, pirate pudding, and cold-hearted chocolate mint ice cream–guests can also treat themselves to all-you-can-eat savory meals, including pirate's seafood pizza and devil black curry. A photo spot will also be available in the main dining room, which will be entirely decorated for the occasion. This is the perfect event for a girl's night out or for families with children, so be sure to make your reservation now!

Information

Mischievous Villains Dessert Time ~Art Grace of Terror~

Open: October 31, 2021, *Reservations required. 

First Seating: 11:00-12:30   Second Seating: 13:15-14:45

Address: Omiya ART GRACE Wedding Chateau/Guest House (1-816-7 Uetake-cho, Kita-ku, Saitama)

Access: 9-minute walk from JR Toro Station

Phone: 048-614-0811

Reservations: https://www.bestbridal.co.jp/guestparty/saitama/artgrace_chateaux_omiya/2021event-73/