Sailor Moon Handbags and Accessories Released in Collaboration With Samantha Thavasa
Samantha Thavasa Japan Limited launched a new collection of merchandise last Friday (November 6) in collaboration with the Sailor Moon franchise to promote the upcoming two-part Sailor Moon Eternal anime film which will be released on January 8, 2021 and February 11, 2021 respectively.
The collection features an original line-up of bags, purses, and accessories created by Samantha Thavasa Group. They were released at SAMANTHAVEGA, Samantha Thavasa Petit Choice, and Samantha Tiara respectively.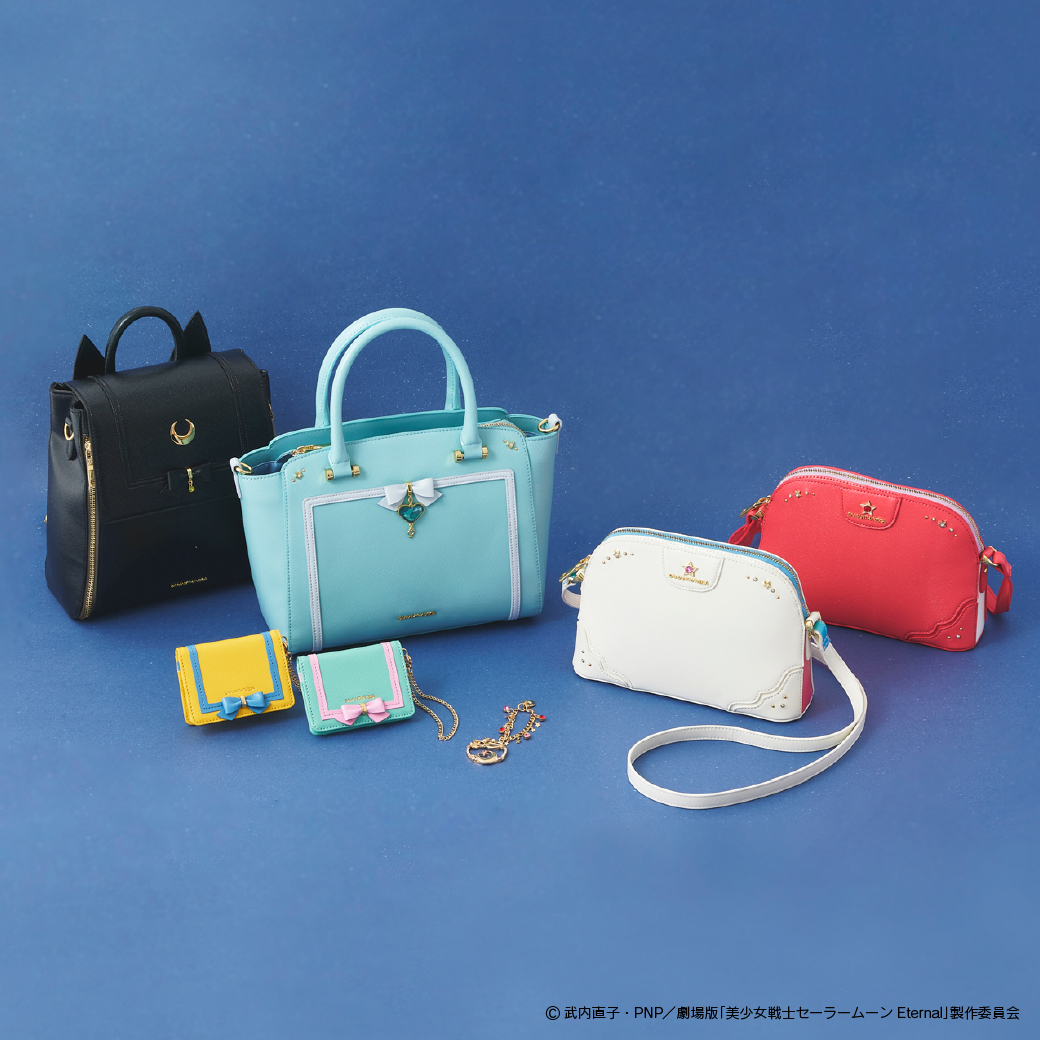 Each of the bags by SAMANTHAVEGA are nods to each of the Sailors' costumes with their colouring, ribbons, and more. And they're not just for show either – they are practical and functional handbags.

Samantha Thavasa Petit Choice has crafted a handful of delicate and fashionable purses for keeping your coins safe.

And from Samantha Tiara is a collection of breathtakingly beautiful accessories including necklaces and a ring, all of which when bought are packaged in a gorgeous box inspired by Super Sailor Moon's outfit.
The brands have also created a separate series of items based on Super Sailor Moon.

From SAMANTHAVEGA is a collection of stylish bags and a pass case each of which have glitter on them.

There's also the eye-catching pink leather purses by Samantha Thavasa Petit Choice which are based on the Climax Moon Compact from the anime and manga series.

Samantha Tiara has also created even more accessories and jewellery including two different rings and necklaces.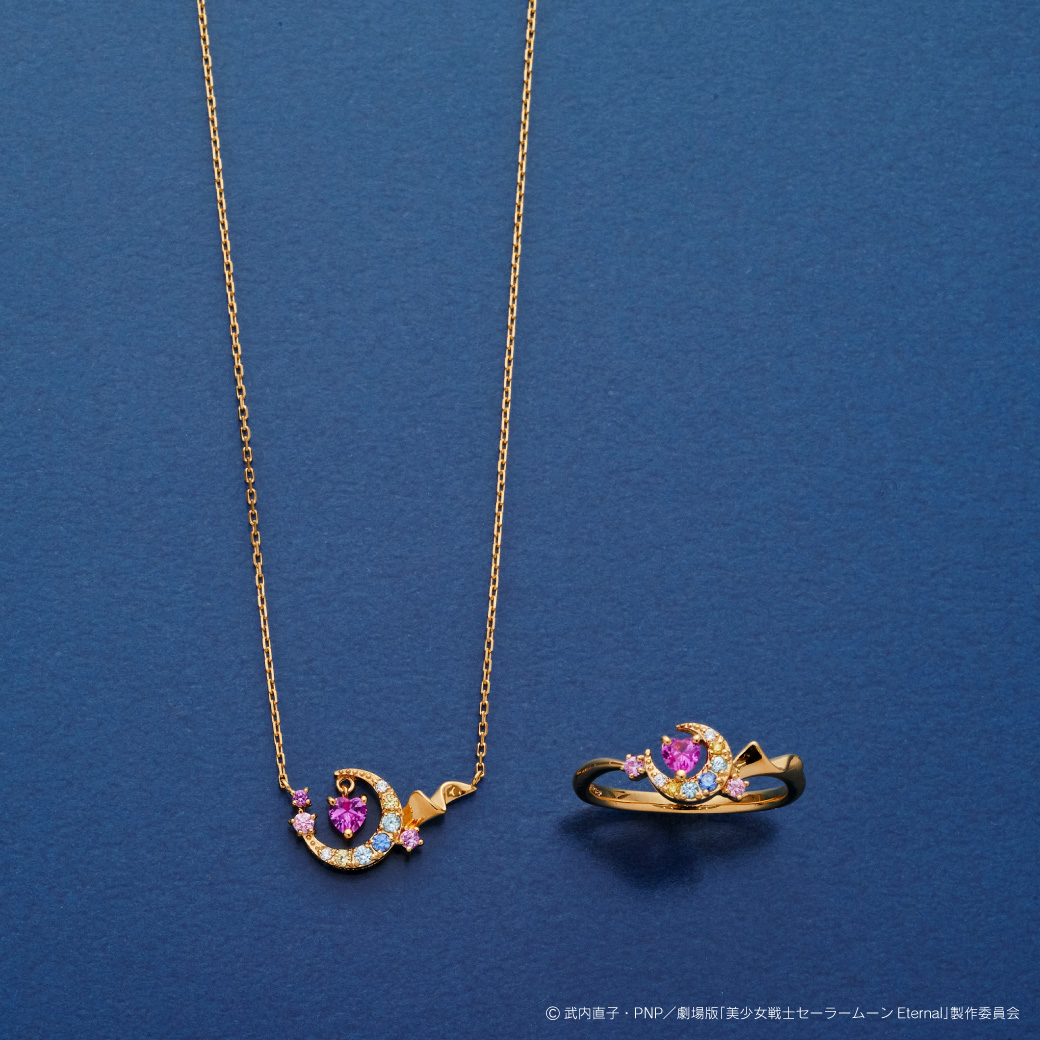 The necklace and ring pictured above will be available to purchase online only in Japan from November 20.
A Sailor Moon pop-up store is now open inside Samantha Thavasa Omotesando GATES until November 17 where you can get your hands on some of these items. There's also a special photo spot for taking pictures and giant LED displays promoting Sailor Moon Eternal.
Information
Samantha Thavasa x Sailor Moon Eternal
Release Date: November 6, 202
*サマンサタバサ公式オンラインショップは11時~順次発売
Sailor Moon Pop-Up Store
Location: Samantha Thavasa Omotesando GATES
Address: 6-5-6 Jingumae, Shibuya, Tokyo
Opening Hours: 11:00-20:00
TEL: 03-3400-2258
Special Site: https://online.samantha.co.jp/layout/feature/20sailormoon.html
RELATED ENTRIES
Chibi Maruko-chan Meets Miffy in Cute Merchandise Collaboration

The beloved Chibi Maruko-chan from the manga of the same name is joining hands (or paws) with the Dutch children's book character Miffy at the upcoming Maruko Meets Miffy fair that will be held at 16 branches of Miffy Style and 19 branches of KIDDYLAND in Japan for the whole month of May.

The creator and author of Miffy, Dick Bruna, was actually a friend of Momoko Sakura, the creator and author of Maruko-chan. They first met in 1999 when Sakura visited Dick Bruna's atrium in Utrecht for an interview on her book Fujisan. 20 years later, their works come together at this special event that pays homage to their meeting and works.

Over 100 pieces of merchandise will be sold at the event, from stationery to gadgets, plush toys, and more. The exclusive cute artwork designed for the event is also sure to make fans feel warm and fluffy inside.

A small look at just some of the items on sale

<Clockwise> Socks ¥418 / Small Clear Case ¥748 / Memo Pad ¥495 / Mirror ¥1,485 / Blue Key Ring ¥528 / Yellow Key Ring ¥528/ Flat Pouch ¥1,320

<Clockwise> Square Glass Phone Case ¥3,168 / Plushie ¥3,850 / Wireless Charger ¥3,278 / Mechanical Pencil & Two-Colour Ballpoint Pen ¥550 / AirPods Pro ¥2,178 / Mascot Key Ring ¥1,980 / 4000mAh Lithium Ion Polymer ¥4,378

<Clockwise> Mug ¥1,650 / 5.5 Inch Plate ¥1,100 / 8.5 Inch Plate ¥1,760 / Bowl ¥1,210

Get a free bonus item

Fans who spend over ¥2,000 (tax included) on any of the Maruko Meets Miffy merchandise will receive this free mini notebook too!

Sustainable Fashion Week Event to Take Place at Earth Day Tokyo 2021

Earth Day Tokyo 2021 is set to run from April 17 to April 25 both online and offline. Messages of eco-friendliness, organic products, sustainability, ethics, and inclusiveness will be at the core of various events held as part of the festival and it will bring together environmental NPOs, charities, and locals.

As part of this year's Earth Day Tokyo, sustainability and fashion are set to interweave with the SUSTAINABLE FASHION WEEK 2020+1 event which is running on April 24 and 25.

With less than nine years to go until the world must achieve the 17 Sustainable Development Goals (SDGs), Earth Day Tokyo believes individuals need to be doing more to change their lifestyles and the way they do certain things. Fashion is an area that enrichens people's lives—but it's also one that can call for environmental action by changing our consumption habits.


SUSTAINABLE FASHION WEEK 2020+1 will bring together various teams and organisations to hold booths and talk sessions online and offline where people can learn about these issues. It's a collaboration between Fashion Revolution Japan, the Japanese branch of the global Fashion Revolution campaign to reform the fashion industry by enabling a greater transparency in the fashion supply chain amongst other problems. Fashion Revolution Week takes place every year on April 24, the same date as the 2013 Dhaka garment factory collapse where 1,134 people died and more than 2,500 people were injured.

The main visual for SUSTAINABLE FASHION WEEK 2020+1 features Japanese singer and artist KOM_I who is best known as a member of the Japanese music group WEDNESDAY CAMPANELA. It was created by HYPE FREE WATER, an artist collective headed by KOM_I and art director Minori Murata. KOM_I will participate in a planned talk program at MIYASHITA PARK on April 24 and 25.


A Message From KOM_I

"HYPE FREE WATER will be taking part in Sustainable Fashion Week at Earth Day this year. Our organisation focuses on the future of water. We want to be able to wear something beautiful without having to make sacrifices like selling out the future or destroying the environment. I'm looking forward to new people getting involved with us as this discussion takes off."

Information

Earth Day Tokyo 2021

Running: April 17, 2021 – April 18, 2021

Earth Day Tokyo Official Website: https://www.earthday-tokyo.org

SUSTAINABLE FASHION WEEK 2020+1

Running: April 17, 2021 to April 25, 2021

Time: 11:30-18:00
Where: Shibuya Miyashita Park / RAYARD MIYASHITA PARK

Address: 1-26-5 Shibuya, Shibuya-ku, Tokyo

Fashion Revolution Japan: https://www.fashionrevolution.org/asia/japan/

JIMOTOTE Tote Bag Releases Releases Tokyo Tama Collection

JIMOTO is a company in Japan whose products and concept is designed around returning to your home or a place you love. Their tote bag brand, JIMOTOTE, is now introducing Tama design bags centred on the Tama area of Tokyo on their official website and at shops around Tama on April 16. They will also be sold at a pop-up shop in as well as at Nonowa Kunitachi from April 16 to 18.

JIMOTO stands for jibun ni modoru tokoro, which is Japanese for that concept of returning to your local region – to your roots. The JIMOTOTE brand started in 2015 with bags design around Hokkaido before introducing Kyushu and Shonan. Tama comes as the fourth entry to the series and includes Kunitahci, Tachikawa, Kichijoji, Chofu, and Hachioji.

SNIDEL x PUMA Collaborate on Clothing Collection

Japanese women's fashion brand SNIDEL released a new collection of clothing in collaboration with PUMA on April 16.

SNIDEL x PUMA Crew Neck Sweater | ¥8,800 (Tax Included)

SNIDEL x PUMA Sneakers | ¥11,000 (Tax Included)

SNIDEL x PUMA Jacquard Dress | ¥9,900 (Tax Included)

The collection features light sporty and streetwear colours and materials with feminine details added to every piece for a laid-back and stylish look.

Earth Day Tokyo 2021 to Promote Sustainability, Eco-Friendliness, and an Organic Lifestyle at Yoyogi Park

This year's Earth Day Tokyo will take place at Yoyogi Park from April 17-18 where messages of eco-friendliness, organic products, sustainability, ethics, and inclusiveness will be at the core of various events held as part of the festival.

This year marks Earth Day Tokyo's 20th run as part of the global Earth Day initiative and brings together environmental NPOs, charities, and locals. Due to COVID-19, in-person events will only take place on April 17 and 18 but the festival will run online from April 17 to 25.

Earth Day Tokyo 2021 Concert

Concerts will take place across the two-day Yoyogi Park festival. Many musicians and guests have committed themselves to the future of the planet at the Earth Day Tokyo's concerts, with past line-ups including Japan's King of Rock Kiyoshiro Imawano, UA, BONNIE PINK, and more.

This year will see performances from Itou Seikou ITP, Kenichi Nagira, yae, scoobie do, Taiji Sato, Nozomi Nobody, hachi_Aigoz, tico moon, Rokuta Yanagiya, and Ichido Ryutei.

Market area

Every single product at the market booths has a story, and visitors will be able to hear about them from the makers in-person as they shop. And the items sold at the market will be different each day, stocking something to add a little environmental consideration into our lives.

C. W. Nicol's "Nicol's Forest Kitchen" sausages help plant forests

The late Welsh-born Japanese writer, actor, and singer-songwriter C. W. Nicol was the Executive Committee Chairman for Earth Day Tokyo from 2000 until his passing last year. He also launched Nicol's Forest Kitchen in 2011 which has been a regular at Earth Day Tokyo to help protect Japan's forests. The food stall will make an appearance this year too.

C. W. Nicol began to wonder how he could help raise people's interest in forests as well as help revitalise forests that had been destroyed. Nicol's Forest Kitchen project was his answer: to spread awareness through food, and in doing so, the project could help build up forests.

Visitors separate garbage themselves with the help of volunteers

At the Eco Station, volunteer staff will help direct visitors in separating garbage properly, raising awareness on the proper procedures which they can take away home with them.

Information

Earth Day Tokyo 2021 @ Yoyogi Park

Running: April 17, 2021 – April 18, 2021

Time: 10:00-17:30

Where: Yoyogi Park

Entry: Free

Earth Day Tokyo Official Website: https://www.earthday-tokyo.org

Retro Street Fighter Clothing Collection Releases in Collaboration With HUF

Fashion brand HUF, which was established in San Francisco back in 2002, has released a new Street Fighter Collection featuring vintage, 8-bit designs.

 The collection is sure to be a nostalgia fest for fans of Capcom's iconic series, with designs featuring characters, stages, and more from Street Fighter in the form of shirts, tees, socks, hats, fleeces, and accessories.

The two resort shirts feature the background art of memorable stages from the games as well as Blanka's Electric Thunder and more. There's also a skateboard deck series for collectors which include references to the bonus stages.

A special HUF X hoodie featuring a Street Fighter arcade machine has also been added to the line-up amongst other must-grabs.

Little Glee Monster and Other Japanese Artists Announced For Tokyu Musix Challenge

Tokyu Musix Challenge is set to take place at Bunkamura Orchard Hall this year on March 7 at 18:00.

2020 saw the cancellation of music events across the world, with Japan being no exception. Shibuya, Tokyo's hub of countless live music venues and halls, was particularly affected by the effects of the pandemic. But the energy and power that music artists hold is one they can offer to brighten up peoples' time during today's times. That's where Tokyu Musix Challenge comes in, a new kind of music festival that will bring together a multitude of genres, and where better for it to be held than the cultural melting pot that is Shibuya.

This year will be the first run of the festival, where a collaboration between classical music and contemporary pop music will clash at Bunkamura Orchard Hall. The Tokyo Philharmonic Orchestra, which is recognised as Japan's oldest symphony orchestra, will play alongside acts such as Little Glee Monster, Ai Higuchi, Win Morisaki, Meimi Tamura, Kayoko Yoshizawa, ROTH BART BARON, and more. And the line-up is set to grow as more performers will be announced in the lead up to the event.

Comments from the Artists

Little Glee Monster

"We are really looking forward to feeling the fresh breeze of our music colliding with the grand scale of an orchestra. We'll be sure to play our part so that we don't lose to the overwhelming performance of everyone in the Tokyo Philharmonic Orchestra, but also so that our music complements theirs. We hope that everyone can have a good time and feel good from the strength that music has."

Ai Higuchi

"In 2020, we may have all lived kind of complicit with so many options in front of us leading down different paths. A certain friend might have gone to a drinking party, another might not have seen their lover for a long time. What choices do we make? We become darker depending on our choices. In Shibuya, a city that continues to change, I will sing my unchanged songs."

Win Morisaki

"Over this past year, the respect I have for the position I'm in where I can express myself has really sunk in. I'm so happy I've been able to get involved with this challenge. And getting to sing with an orchestra, it's magnificent. I'm so excited about what's to come."

Meimi Tamura

"I can't contain my excitement at a genre collaboration between classic, which is the foundation of music, and pop which is strongly tied to Shibuya. I think I'm going to start feeling tense at getting to perform alongside everyone in the Tokyo Philharmonic Orchestra and singers of all different kinds of music. We don't have a lot of freedom today during the pandemic, but I will work my hardest so that I can deliver love through music from the city of Shibuya."

Kayoko Yoshizawa

"My chest roars and having the opportunity to perform along side Japan's oldest and longest-running Tokyo Philharmonic Orchestra at the legendary Orchard Hall. It's my first time experiencing singing with an orchestra, so I'm looking forward to seeing how the songs will be structured, and how my voice will sound, when we do it."

Jujutsu Kaisen Collaborates With Bakauke Rice Crackers

Japanese snack company Befco, which is known for a range of different products like Bakauke, Hoshi Tabeyo, Seto Shio, and more, is collaborating with the anime series Jujutsu Kaisen on its Bakauke rice cracker snacks. The items went on pre-sale at select convenience stores on April 12 and will roll out elsewhere on April 19.

Jujutsu Kaisen x Bakauke Soy Sauce Flavour | ¥120 (Before Tax)           

Following the success of the first collaboration in February, Befco is coming together with Jujutsu Kaisen again with all-new packaging for the soy sauce flavour of its bite-sized Bakauke senbei rice crackers.

Each bag also comes with one of the five stickers pictured above.

©芥見下々/集英社・呪術廻戦製作委員会

Information

Jujutsu Kaisen x Bakauke

Pre-Sale: April 12, 2021 / General Sale: April 19, 2021

Befco Official Website: https://www.befco.jp/

TETRIS® Gummy Candy Releases in Japan

Japanese candy company UHA Mikakuto has collaborated with the video game TETRIS® to launch pre-sales on their new Tsumu Gummy TETRIS® which hit shelves on Monday (April 12) in Japan.

Tsumu Gummy TETRIS® | ¥370 (Before Tax)

The colourful gummies arrive in seven different forms, shaped and coloured like the blocks in TETRIS®, meaning you can stack them as well as eat them. They are an assortment of green grape, red grape, orange, and strawberry flavours, and one pack weighs in at 180g.

Tetris ® & © 1985~2021 Tetris Holding.

Solve Mysterious in Tokyo While Walking Around Asakusa in This New IRL Game

Japanese IRL mystery game production company Haregake is launching a new game in collaboration with Cosmos Hotel Management who are known for managing the apartment hotel chain MIMARU. MIMARU Tokyo Asakusa STATION, a new branch, is set to open on April 22.

This game will take place around Asakusa in Tokyo and can be played by couples, families, and groups. The event is being carried out with all necessary COVID-19 safety measures in place and aims to get people learning more about the wonders of Asakusa with a game that incorporates elements of the district's traditional buildings, culture, and more. It's a chance to sightsee around one of Tokyo's most iconic areas while solving puzzles at the same time.

The game kit can be bought at the vending machine inside MIMARU Tokyo Asakusa STATION when it opens later this month. It includes the story, which you can read below, and everything you need to get yourself started. There's also no time limit, so players can take as long as they like while they enjoy the sights.

The Game's Story

"I want you to find the treasure of Asakusa for me."

So says the request that finds its ways to you – you, who are a detective.



A certain wealthy individual once resided in Asakusa.

He left a letter behind, and now this letter is in your hands.

"This map – perhaps it shows the location of this treasure."

Will you be able to locate the treasure resting in Asakusa?

Head on out and solve the mystery as you walk around the district.

Information

Asakusa Detective Game: The Secrets of the Millionaire's Forgotten Letter

Japanese Game Name: 浅草街歩き探偵録〜富豪の残した手紙の秘密〜

Start Date: April 22, 2021 (Not a limited-time event, will be held permanently)開

Start Point: MIMARU Tokyo Asakusa Station

Address: 2-20-4 Kaminarimon, Taito-ku, Tokyo, 111-0034

Official Website: https://nazotoki.mimaruhotels.com/

KEEN x Murasaki Sports Collaborate on Footwear Release

Murasaki Sports and outdoor/footwear brand KEEN released a new limited-edition model of KEEN's NEWPORT H²O shoes, the NEWPORTのH2, on April 10.

KEEN x Murasaki Sports Limited Edition "NEWPORT H2"

The designer for the alternative models is GRINDLODGE garage project who have captured the gorgeous ocean with the sun and trees reflected on the water surface on them. This design is created using the company's grinder tool which makes each and every pair of shoes unique. The footwear is equipped with KEEN's Newport H2 technology so they can be worn both in and out of the water.



Murasaki Sports is donating 10% of the proceeds made from these limited-edition models to Umi Sakura to help keep Japan's oceans clean. Additionally, Umi Sakura, Murasaki Sports, and KEEN will begin rolling out their two-month #ACTIONFORCHANGE campaign this month in the run up to World Oceans Day which begins on June 8, 2021.


Murasaki Sports aims to teach more people engaged in sports such as surfing about importance preserving the environment through this campaign and footwear release. The brand is one supported by the youth of Japan, so the campaign hopes to pass down these messages of sustainability to young people.

Information

KEEN x Murasaki Sports Limited Edition Newport H2

Released: April 10, 2021 (Limited Edition)

Where: Murasaki Sports

Online Store: https://bit.ly/3cJmKAR

#ACTIONFORCHANGE Instagram Campaign

Running: April 5, 2021 – June 30, 2021

Present for Participating: Special tongs that can be used for picking up trash, camping, and more

How to Participate

・Method A: Post a photo of you in action

Take a photo of you that captures making the ocean beautiful and post on Instagram with the hashtag #アクションフォーチェンジ and/or #ACTIONFORCHANGE and tag Umi Sakura @umisakura_official

・Method B: Repost the official campaign posts

Repost the posts on Umi Sakura @umisakura_official, KEEN @keen_japan, and Murasaki Sports' @murasakisports_official, that have the hashtag #アクションフォーチェンジ on them along with the hashtag #アクションフォーチェンジ and tag Umi Sakura in your post.


*Winners will receive a DM from Umi Sakura's official Twitter account (@umisakura_official)

Umi Sakura: https://umisakura.com/

Harajuku's Pompompurin Maid Café to Open on April 14

Akihabara's premiere maid café chain "@home café" announced last month the opening of a permanent maid café themed on Sanrio's popular character Pompompurin. The café is set to open along Harajuku's famous Takeshita Street on April 14, 2021.

 © 2021 SANRIO CO., LTD.  APPROVAL NO. S620028

@home café has collaborated with many of Sanrio's popular characters in the past at its Akihabara-based café branches such as Hello Kitty, My Melody, Cinnamoroll, and of course Pompompurin, but this time the collaboration is flying out of Akiba and straight into the heart of Japanese pop culture: Harajuku.

This new Pompompurin Café is themed on Pompompurin throwing a party for everyone—that's you and your friends. It's a place for Purin to deliver happiness to all who visit in the form of cute and tasty food.

Of course, the @home café maids will also be present, and all wearing original maid uniforms coloured like Pompompurin.

A little look at some things on the menu

The Food

Soufflé Omurice | ¥1,450

Butter Chicken Curry | ¥1,300

The Desserts

Pompompurin Pudding | ¥700

Chocolate Banana Mountain Waffle | ¥1,200

The Drinks

Custard Pudding Latte | ¥850

Muffin's Caffe Mocha | ¥850

Take a commemorative photo

For just ¥550, you can take a chekki photo at the café. It comes with café-original stickers and paper. For an extra ¥300, you can take a photo with one of the maids.

Pompompurin Birthday Party

 

April 16 is Pompompurin's birthday, so on that day the café will have a special dessert prepared (which you can see below) along with novelties for customers, new decorations, and more.

Pompompurin's Birthday Dessert

Special Birthday Parfait | ¥1,700 | Serving: April 14, 2021 – April 30, 2021

Birthday Novelty

To commemorate Pompompurin's birthday and the opening of the café, all visitors will receive the pin below for free.

Pompompurin will visit the café

On the evening on April 16, Pompompurin will visit the cafe for his birthday to celebrate with everyone. Details and bookings can be found here in Japanese.

Information

Pompompurin Cafe x @home cafe

Grand Opening: April 14, 2021

Where: CUTE CUBE HARAJUKU Floor 3F, 1-7-1 Jingumae, Shibuya, Tokyo

Opening Hours: [Weekdays] 11:00-22:00 / [Weekends] 10:00-22:00

No Fixed Holidays

Pompompurin Cafe Official Website: https://pompompurincafe.com/

@home Official Website: http://www.cafe-athome.com/