Attack on Titan The Final Season's Episode 1 Outline Officially Teased in Japan
Episode 1 of the upcoming highly-anticipated final season of Attack on Titan is set to air on December 6, 2020. The outline for this first episode has been officially teased by the staff which we have translated below.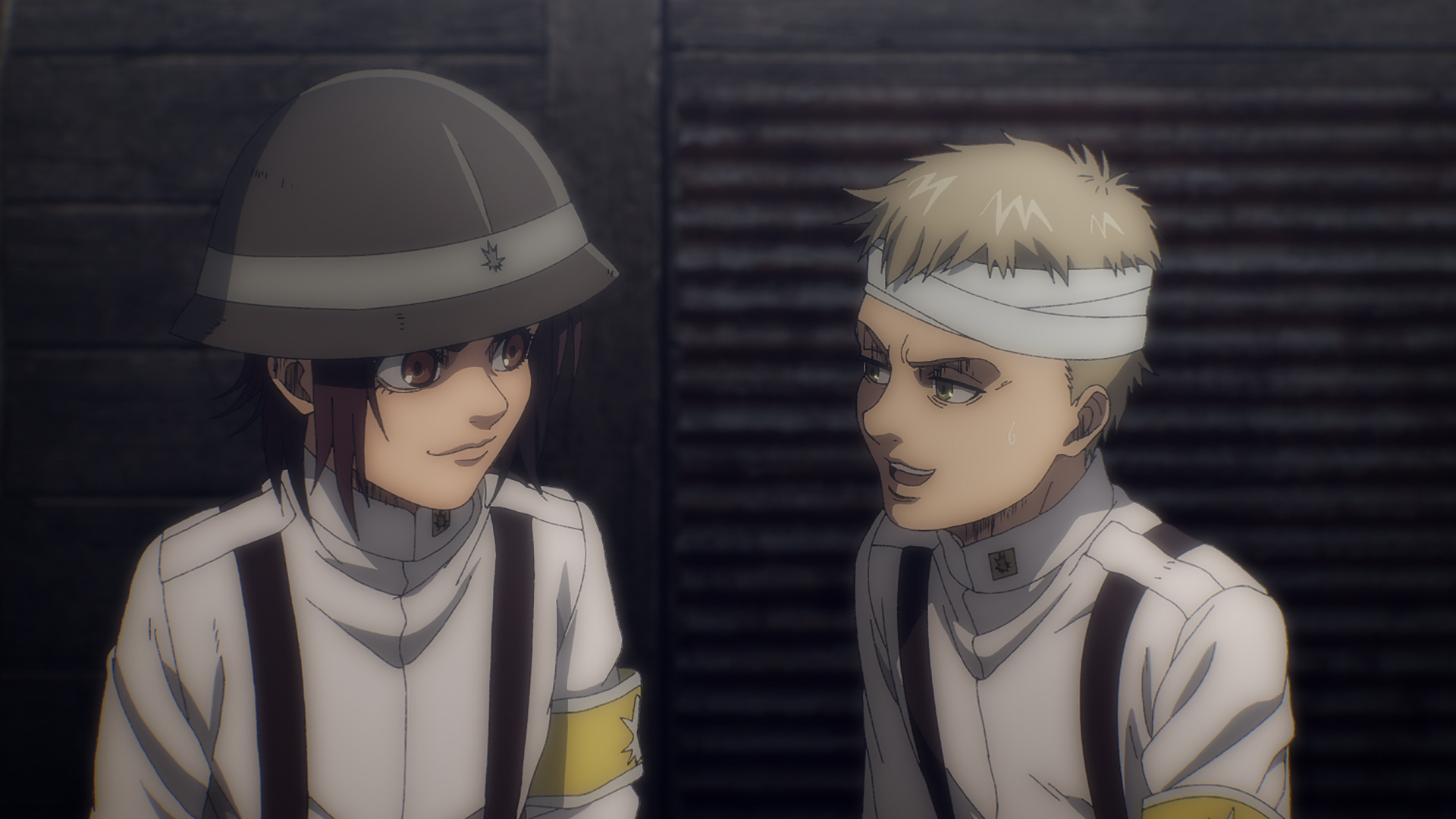 Attack on Titan The Final Season – Episode 1 Outline
The title of the episode is Umi no Mukougawa (The Other Side of the Ocean). A great battle has begun between humanity and the Titans. Just how much time has passed? On the other side of the ocean, where Eren Jaeger has arrived, the war continues with no end in sight. Who are they fighting, and what are they fighting for? A single soldier prepares himself to throw himself into the front lines.
A 15-minute digest video in Japanese was also uploaded to Pony Canyon's official YouTube channel which summarises the first three seasons of the anime series for those who need a refresher.
Attack on Titan 15-Minute Digest Video

To promote The Final Season, a special live broadcast will air on Pony Canyon's YouTube page which will feature appearances by Eren, Mikasa, and Armins' voice actors Yuki Kaji, Yui Ishikawa, and Marina Inoue respectively.
The original Survey Corps members will come together to discuss their anticipations before the anime airs the following day.
The Final Season is almost here. Are you ready?
©Hajime Isayama・Kodansha / Attack on Titan The Final Season Production Committee

RELATED ENTRIES
Attack on Titan Manga Collection and Merchandise Releases in Japan

The online Japanese bookstore Rakuten Books is celebrating the release of Attack on Titan's final manga volume with eight new listings that will slash their way onto the website on October 15, 2021. Orders will be open for a limited time between June 9 and July 31.

The Attack on Titan manga series began serialisation in Kodansha's Bessatsu Shōnen Magazine in September 2009. The final volume was released on April 9, 2021, concluding Hajime Isayama's internationally-acclaimed story.

The Merch Collection

Volume 34 Book Cover | ¥880 (Tax Included)

A paper book cover featuring all of the major characters from the series.

Manga Collection Box A (Volumes 1-12) | ¥2,750 (Tax Included)

The first 12 volumes of the series packed in a box featuring Eren, Mikasa, Armin, Levi, and the Colossal Titan.

Manga Collection Box B (Volumes 13-22) | ¥2,750 (Tax Included)

The box for volumes 13-22 features major characters from the Survey Corps.

Manga Collection Box C (Volumes 23-34 | ¥2,750 (Tax Included)

The final box packing volumes 23-34 has all of the main characters as children.

Backpack | ¥6,600 (Tax Included)

Carry Mikasa and your stuff wherever you go with this backpack.

A4 Folder Set A (Includes 2) | ¥990 (Tax Included)

Two A4-size folders with designs taken from the front covers of volume 29 and 30.

A4 Folder Set B (Includes 2) | ¥990 (Tax Included)

Two A4-size folders with designs taken from the front covers of volume 31 and 32.

A4 Folder Set B (Includes C) | ¥990 (Tax Included)

Two A4-size folders with designs taken from the front covers of volume 33 and 34.

Japan Celebrates Eren Jaeger's Birthday With a 1-Month Party Schedule

Japanese video streaming service GYAO! is now running a one-month celebration of Eren Jaeger's birthday, the popular character from the hit anime series Attack on Titan, until April 30.

A video of Yūki Kaji, the voice actor for Eren, was released to promote the celebration.

Top 10 Eren Jaeger scenes

The anime team at GYAO! have picked out their 10 favourite action scenes featuring Eren which are rolling out over on the streaming service until April 12.

Stream The Final Season's 16 episodes for free

Users on GYAO! can also watch episodes 1-16 of Attack on Titan The Final Season for free until April 5.

Luxury Attack on Titan Rings Feature Eren and Levi Designs

Japanese character jewellery brand U-TREASURE has released two solitaire rings based on the fan-favourite Attack on Titan characters Eren and Levi. The rings are available to purchase at the U-TREASURE Concept Store in Ikebukuro and on their official website until April 13.

Attack on Titan Solitaire Levi & Eren Rings: Silver – ¥16,500 Each (Tax Included) / Platinum 950 – ¥297,000 Each (Tax Included)

Eren Solitare Ring Name Engraving

Eren Solitaire Ring garnet stone inspired by Eren's basement key

Eren Solitaire Ring on show

Levi Solitare Ring Name Engraving

Levi Solitare Ring green garnet stone inspired by Levi's teacup

Levi Solitare Ring on show

©諫山創・講談社/「進撃の巨人」The Final Season製作委員会

Information

Attack on Titan Solitaire Rings

Order Window: March 16, 2021

Available: U-TREASURE Concept Store Ikebukuro / U-TREASURE Online Shop

Attack on Titan Attempts to Break Guinness World Record For Largest Comic

In the run up to the climactic conclusion of the internationally-acclaimed manga series Attack on Titan, Kodansha is attempting to break the Guinness World Record for the "Largest Comic Book Published."

Kodansha released photos of its comic which features the first two chapters of the manga's first volume. It's 6-7 times largest than a regular tankо̄bon manga book publication. On Saturday (March 6), the publishing company released 100 limited-edition volumes which are available for purchase on a first-come, first-served basis. The comic will obtain the record once all 100 volumes have been sold.

The current record holder is Turma da Mônica which was created by Mauricio de Sousa Produções and is published by Panini Brasil. It has held the record since August 2018.

Information

Attack on Titan Giant Comic

Released: March 6, 2021

Shipping: From May 2021

Volumes: 100 (First-Come, First-Served)

Price: ¥150,000 (Before Tax)

Buy Here: https://kodanshaonlinestore.jp/

Attack on Titan's Eren and Levi Get Hot and Sweaty Together in the Spa in New Merch Drop

Hot spring chain Gokurakuya is set to host a collaborative event with the TV anime series Attack on Titan on Friday (March 5). It will take place at 32 of the chain's RAKU SPA venues in promotion of the anime series' final season.

Check out the promotional videos released for the collaboration.

 

 

Hand Towels: Entry Price + Sauna Set | ¥770 (Tax Included)

Merch Line-Up

Acrylic Stands | ¥1,980 Each (Tax Included)

Folders | ¥550 (Tax Included)

Online Shop Exclusives

Tapestry | ¥5,808 (Tax Included)

A1 Posters | ¥1,848 Each (Tax Included) / A2 Posters | ¥1,518 Each (Tax Included)

First-Come, First-Served Free Postcards

Photo Spots

Take a photo against a backdrop of Eren and Levi

Take a photo against a backdrop of Hange

Dishes, drinks, and desserts are also being served until April 11, 2021. Check out the menu below.

Eren's Bandage Parfait | ¥1,188 (Tax Included)

Mikasa's Red Tomato Ramen | ¥1,408 (Tax Included)

Armin's Mushroom Porcini Omurice | ¥1,848 (Tax Included)

Levi's Triple Hamburgers | ¥3,278 (Tax Included)

Survey Corps Seafood Squid Ink Pasta | ¥1,848 (Tax Included)

Eren's Strawberry Soda Float / Mikasa's Lychee Soda Float / Armin's Mikan Soda Float / Levi's Grape Soda Float / Hange's Purple Soda Float | ¥715 Each (Tax Included)

Coasters (12 Designs)

Outfit Rentals

Eren Shirt – ¥330 (Tax Included)

Colossal Titan Suit – ¥330 (Tax Included) *Limited to one person per day, first-come first-served

Birthday Plan

To celebrate Eren's birthday, the hot springs will also be serving up a special cake limited-time cake and setting up a backdrop for people to take photos with. These will be available from March 24 to April 2.

Eren's Chocolate & Raspberry Birthday Cake | ¥1,958 (Tax Included)

Photo Spot

Backdrop

(C)諫山創・講談社/「進撃の巨人」The Final Season製作委員会

Attack on Titan The Final Season's Ending Theme 'Shogeki' Music Video Released

J-pop singer Yuko Ando released her new single Shogeki on February 3, 2021 along with a music video of the title track. The song serves as the ending theme for the ongoing anime series Attack on Titan The Final Season which you can catch on Crunchyroll.

The music video was directed by Tomoyuki Kawakami and captures feelings of sorrow, anger, pain, and peace, themes which tie in with the anime series. Check it out below.

Yuko Ando's new single contains three tracks including Shogeki, Nontitle, and Hanaichimonme. You can catch the full single on music streaming and download servies including Spotify.

©諫山創・講談社/「進撃の巨人」The Final Season製作委員会

Attack on Titan to Conclude in Bessatsu Shōnen Magazine This April

The 33rd volume of the global hit manga series Attack on Titan was released on January 8, 2021, with the 34th and final volume to hit shelves on June 9. The final chapter will debut in the May 2021 issue of Bessatsu Shōnen Magazine which will be released in Japan on April 9. The internationally-celebrated series will finally come to an end after 11-and-a-half years since its debut in September 2009.

Hajime Isayama (Attack on Titan, Author) | Comment

"I've been saying the series will end in 3 years for the past 8 years, but now it really is coming to an end. It's been a really long time, but I hope you'll join me right up until the end. By no means is it the fault of being delayed by the editorial team, but rather me these last years continuing to wonder when to end it. I'm sorry for that, but the end is finally here. I will work hard to the very end to ensure that you are all glad you have read the series up to now."

Information

Attack on Titan
Final Chapter: April 9, 2021 in the May 2021 issue of Bessatsu Shōnen Magazin
Final Volume: Volume 34 on June 9, 2021
Official Website: https://shonenmagazine.com/bmaga 

Attack on Titan The Final Season Episode 1 Becomes The Most Viewed Episode in The Anime's History

In December, NHK General TV started broadcasting Attack on Titan The Final Season, capturing the hearts of fans worldwide.

The Final Season contains 60 episodes and episode 1 ranked in at 1st place on MyAnimeList – an online forum that is popular among anime fans from around the world. The episode has also been recorded to be the most-watched episode in the history of Attack on Titan. Anime fans from around the world also rated the anime at the very top end of the grading scale with an overall average of 9.06/10.

French entertainment and online anime streaming company Wakanim was also trending at number one on Twitter because of the anime. In comparison to the 1st episode of season 3, The Final Season had 14 times more views, getting it off to an overwhelming start.

In just 17 days of uploading the official creditless anime opening Boku no Sensou by Shinsei Kamattechan on YouTube, it was viewed more than 12 million times. 40 percent of the views were from Japan whereas the majority were from America, Indonesia, Taiwan, France and other foreign countries. The comment section was also overflowing with love towards the anime from fans from around the world.

Attack on Titan The Final Season Creditless Opening


The whole world just can't get enough of Attack on Titan The Final Season. Don't miss out on this global sensation!

©Hajime Isayama, Kodansha Ltd., Attack on Titan The Final Season Production Committee


Information

Attack on Titan The Final Season
NHK General TV every Sunday from 24:10
*The broadcasting schedule is subject to change at any time.
The Final Season Official Website: https://shingeki.tv/final/

Attack on Titan The Final Season Escape Game Announced at TOKYO MYSTERY CIRCUS

SCRAP has announced the release of a new escape game at TOKYO MYSTERY CIRCUS, Japan's biggest puzzle-themed theme park, in promotion of the final season of Attack on Titan which is now airing. Set to begin on February 25, 2021, the escape game is titled "Escape Game x Attack on Titan The Final Season: Escape From the 5 Titans."


This marks the fifth Attack on Titan themed escape game to be held. Players will become a member of the Survey Corps and worked with Levi, Mikasa, and other characters to face off against five Titans. The immersive story will have players feeling like they are really in the world of the anime series.

The key to this escape game is the map provided to players which they must used together with other items to assemble a diorama map of Marley. They will then use their completed diorama to their advantage in order to escape.

The escape game is a celebration and mark of Attack on Titan's final season and a must-experience for fans in Japan.

©SCRAP
©諫山創・講談社/「進撃の巨人」The Final Season製作委員会」

Information

Escape Game x Attack on Titan The Final Season: Escape From the 5 Titans
Location: TOKYO MYSTERY CIRCUS
Running: Febrauary 25, 2021 – April 25, 2021

Nazo Complex Nagoya
March 25, 2021 – April 25, 2021
June 30, 2021 – July 25, 2021

Osaka Himitsukichi Of Scrap
May 13, 2021 – June 27, 2021

Ajito Of Scrap Sapporo
July 2, 2021 – August 1, 2021

Ajito Of Scrap Sendai
April 29, 2021 – June 13, 2021

Ajito Of Scrap Okayama
April 29, 2021 – May 30, 2021

Nishitetsu Hall Fukuoka
April 29, 2021 – May 5, 2021

Event Website: https://realdgame.jp/shingeki_2021/

Attack on Titan The Final Season's Opening Theme Performed by Shinsei Kamattechan

The final season of Attack on Titan is finally here, with the first episode having aired in Japan on Sunday (December 6). The anime's opening theme Boku no Sensō ('My War') is performed by Shinsei Kamattechan who also performed the season two ending theme Yūgure no Tori. The final season's ending theme Shōgeki is performed by Yūko Andō.

Attack on Titan The Final Season – Creditless Opening


The opening theme Boku no Sensō is a chaotic banger fitting for the highly-anticipated finale of Attack on Titan. The TV-size version of the track will be released on digital music platforms in Japan on December 8. It is unconfirmed whether it will be available outside Japan, so be sure to check.

Hajime Isayama (Attack on Titan author) | Comment

"I'm over the moon for Shinsei Kamattechan to be doing the opening theme, I'm a huge fan of them. They have so many songs where the more I listen to them the more obsessed I become. 'Boku no Sensō' is just that. The scope of their imagination in that song is clear to see. I feel sacred* listening to this track too. I love the song, it's packed with imagination."

*Translator's Note: The name of the band is Shinsei Kamattechan, with shinsei meaning 'sacred' in Japanese.

Noko (Shinsei Kamattechan, Lead Vocalist) | Comment

"Attack on Titan and Shinsei Kamattechan both come from a similar place in that we're grand in our scale. We performed the season two ending theme 'Yūgure no Tori' before, and like with that, we've been able to bring that scale to 'Boku no Sensō' too. We wanted to make something new as a band. We've always composed at home, but our imaginations really ran this time around. We're proud of what we've been able to create with this song. And we're grateful to all of the [anime] staff, not to mention [Hajime] Isayama. Japanese lyrics are included in the full version of the song, so I hope you look forward to hearing the full version. You'll get the entirety of what the song's about."

©諫山創・講談社/「進撃の巨人」The Final Season製作委員会

Attack on Titan The Final Season Themed Cafe to Open in Ikebukuro

Two branches of Animate Cafe, Animate Cafe Ikebukuro 3 and Animated Cafe Nagoya 2, are set to collaborate with Attack on Titan from November 25 in promotion of the anime's upcoming final season which will begin airing on December 7. This marks Animate Cafe's fourth collaboration with the anime.

Menu

Animate Cafe held a poll amongst customers who dined at the previous Attack on Titan collaboration cafes to find out what the most popular dishes were. These have been chosen to go on the menu for this collaboration.

5 Years Colossal Hamburger & Mother's Handmade Stew | ¥1,000


Eren Meringue & Bertholdt Tart | ¥750


Hange's Experiment Drink | ¥600


Eren's Death Wish Drink | ¥600

New additions to the menu include Hange's Experiment Drink and Eren's Death Wish Drink.


The Final Season Special Rose Cake | ¥750


Gorgeous Champagne Jelly | ¥600

Original merchandise


Big Acrylic Stands (4 Designs) | ¥1,600


Trading Pins (A Group: 6 Designs/B Group: 7 Designs/C Group: 4 Designs) | ¥400 Each


Print Cookies | ¥1,000 Each (Comes with 1 illustration card)

©️Hajime Isayama・Kodansha / Attack on Titan The Final Season Production Committee

Information

Animate Cafe x Attack on Titan The Final Season
Running: November 25, 2020 – December 14, 2020

Locations: Animate Cafe Ikebukuro 3 / Animated Cafe Nagoya

*On November 25, November 27, and weekends, customers must sign up to dine at the cafes – those who sign up will be selected randomly. On all other days, it's free-entry where you don't have to book, but keep in mind that the cafe may still be busy on these days.
Official Website:  https://cafe.animate.co.jp/event/shingeki2011/

Attack on Titan Unveils Additional Voice Cast Members as The Final Season Draws Near

Attack on Titan The Final Season is set to premiere on NHK General TV on December 6, 2020 at 12:10am. The characters and cast members of the Marley warriors who will face-off against Eren and friends have been unveiled.

Warrior cadets Falco Grice and Gabi Braun will be voiced by Natsuki Hanae and Ayane Sakura respectively. Udo will be voiced by Ayumu Murase, Zofia by Yūmi Kawashima, Colt Grice by Masaya Matsukaze, Pieck by Manami Numakura, and Porco Galliard by Toshiki Masuda.

The anime is set to be streamed on a number of services. You can check the full list of available services on Attack on Titan The Final Season's Official Website.*

*Japanese only

'Attack on Titan The Final Season' Trailer

Fans just can't miss the intense face-off between Eren and friends and the Marley warriors. There's not much longer to wait now.

©Hajime Isayama, Kodansha Ltd./Attack on Titan Production Committee

Information

Attack on Titan The Final Season
NHK General TV NHK from December 6, 2020 at 12:10am

*Broadcasting dates and times are subject to change

'The Final Season' Official Website: https://shingeki.tv/final/