Evangelion x Q-pot Reveal New Accessory Collection Featuring Designs From the Anime Series
Q-pot., a Japanese accessory brand which makes jewellery that looks like real sweets and desserts, has announced a second accessory collaboration with the Evangelion series titled "2nd Melty Impact" which will hit Q-pot. stores, select Evangelion stores, and the IKSPIARI pop-up shop on January 20, 2021.
Evangelion x Q-pot. Accessory Collection
A.T. Field Gummy Candy Necklace | ¥10,500 (Before Tax)
The delicious-looking Gummy Candy Necklace inspired by the Absolute Terror Field, the protective barrier that Angels and Evangelions can create to protect themselves. The reverse side of the necklace pedestal also features an engraving of the Tree of Life.
Red Sea & Blue Sea Metal Rings | ¥9,000 Each
Two rings representing the blue sea and red sea, the former being before the Second Impact when the world was teeming with life and the latter after the Second Impact when life is destroyed.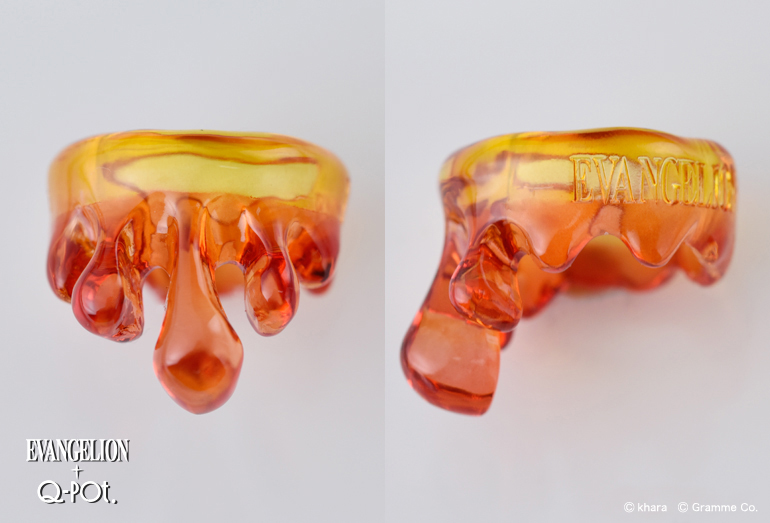 L.C.L. Metal Rings | ¥9,000 Each
These rings are based on LCL, the amber-coloured liquid which enables the piloting of an Evangelion Unit. In the series we see the Entry Plug of an Eva Unit flooded with this translucent liquid.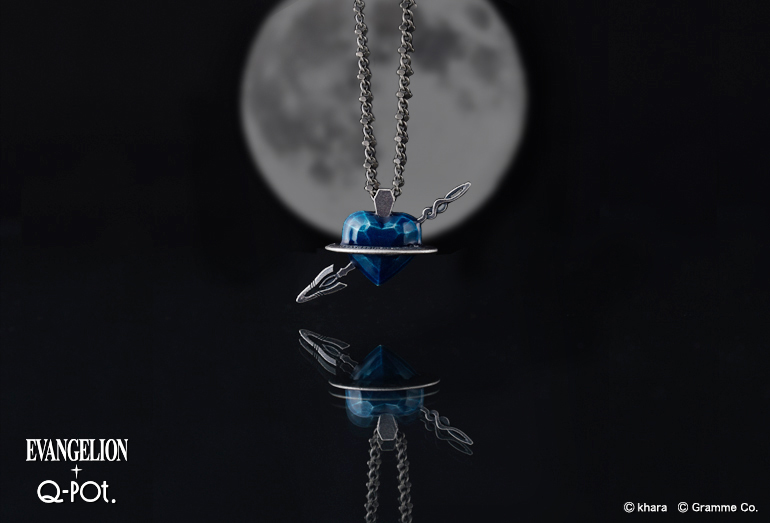 Cassius's Fork Necklace | ¥16,000
Inspired by the Spear of Cassius that the mysterious boy Kaworu retrieves when he's piloting Mark.06. The spear is fitted as a necklace through a heart which is embedded between an Angel-like halo.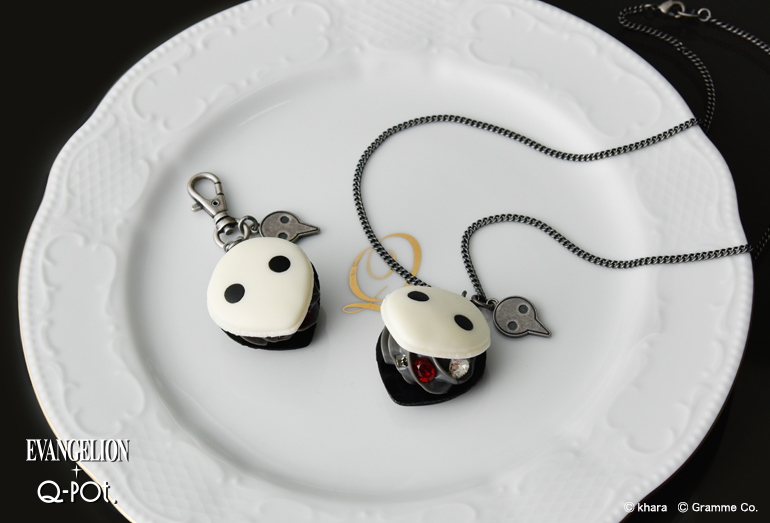 The 4th Angel's Macaron Necklace ¥9,000 / Bag Charm ¥8,000
A necklace and bag charm made to look like sweet macarons. The design is based on the 4th Angel with white faces and a black body. Inside is a bright-red Swarovski crystal to represent the Angel's Core.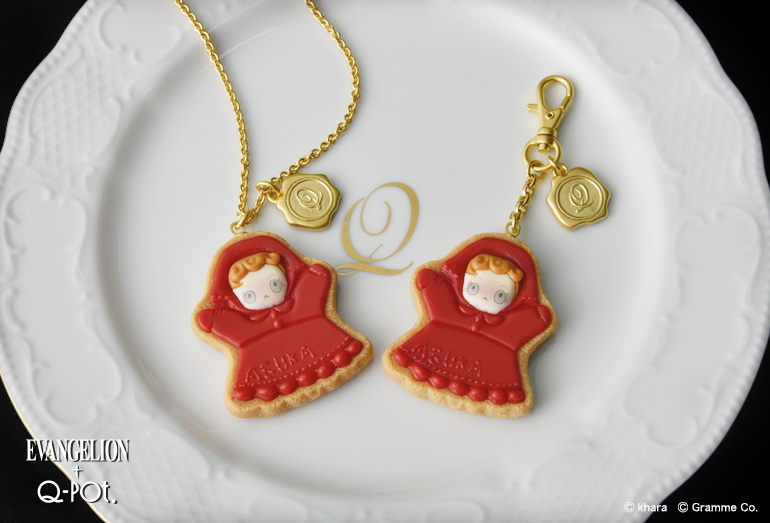 Asuka's Puppet Sugar Cookie Necklace ¥9,500 / Bag Charm ¥8,000
A necklace and bag charm inspired b the cute hand puppet of Asuka Langley, the pilot of Unit-02. Made to look like a sugar cookie, the accessories capture the bright-red outfit and blue eyes of the adorable puppet. It looks like it's just come freshly baked out of the oven.
Each of these accessories arrives packaged in an original tin featuring the Evangelion x Q-pot. logos. The A.T. Field Gummy Candy, 4th Angel Macaron, and Asuka's Hand Puppet also feature unique serial numbers.
Other Merchandise
The collaborative collection also feature a selection of original merchandise too.
Asuka's Puppet Pop Socket | ¥2,200
Melty Impact Mug | ¥2,800
Evangelion x Q-pot. 1st Collaboration Restock
The popular macaron and Melty Melt series from Q-pots.'s first collaboration with Evangelion is also being restocked at select Q-pot. stores.
1st Collaboration Restock – Macaron Series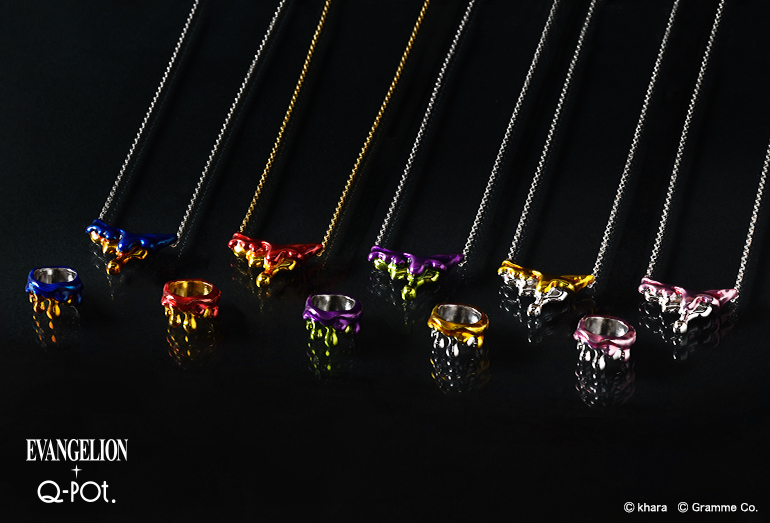 1st Collaboration Restock – Melty Melt Series
Evangelion x Q-pot. Novelty
Fans who spend over ¥30,000 on any of these items at Q-pot. stores or the IKSPIRIA pop-up shop will receive a set of 6 postcards featuring designs of each Eva pilot.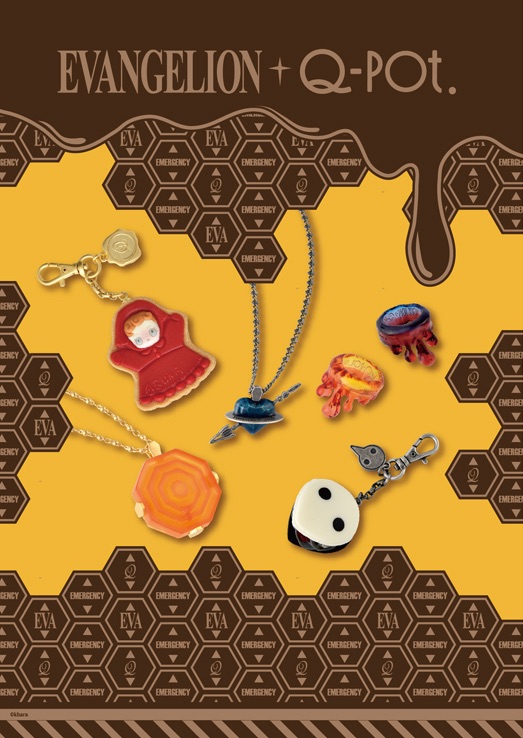 RELATED ENTRIES
Rei Ayanami Wears Red Lipstick in Second Collaboration With Makeup Brand KATE

Global makeup brand KATE released its second animated video in collaboration with the anime series Neon Genesis Evangelion on Tuesday (February 2) to promote its "KATE Red Nude Rouge (EV)" lipstick.

"Rei Ayanami, Her First Lipstick, And the Results"

Rei dons the vibrant red lipstick in the commercial.

"No more rules, this is a red for me and red only," is what KATE expresses in the promotional video.

The person Rei was waiting for finally arrives, and she smiles, showing off the beautiful rouge tint on her lips.

KATE Red Nude Rouge (EV) is a limited-edition online-exclusive in 4 designs

How to

KATE released the first Rei Ayanami commercial in November last year. In it, the original voice actress for Rei, Megumi Hayashibara, reprised her role in the animated trailer which was created by illustrator and animator Yoneyama Mai. It exploded on Japanese social media, resulting in this sequel.

KATE's slogan is "NO MORE RULES" which encourages consumers to pick the colours they want to wear themselves without being tied down by society. This concept has led them to innovate in their makeup products, and is a concept that they believe connects with Rei Ayanami from the Evangelion franchise, which is what led to this collaboration.

©カラー

Evangelion Business Shirts, Ties, and Accessories Released in Japan

Haruyama Trading, a company in Japan that supports the health of businesspersons, has teamed up with the popular Evangelion anime franchise to release a collection of business dresswear at Harumaya, P.S.FA, and Foel stores in Japan.

i-Shirt (9 Designs)

Necktie (10 Designs)

Tie Clips (7 Designs)

Cuffs (3 Designs)

The i-Shirts is equipped with a stretchy material that means no ironing is required after washing it, so you can don your shirt after it's dried and head straight on out. It also fast-drying, has an antimicrobial and deodorant finishing, stain resistant, and breathable, making it a stress free experience and a shirt that can be worn in all seasons.

The collection also features a line-up of 10 different neckties that are simple to the untrained eye but a nod towards the Evangelion series for fans with their character-inspired colour palette and other designs that reference NERV, WILLE, Evangelion Unit-01, and so on. There's also tie clips and cuffs too so you can kit yourself out with a look that is nerdy on the inside while looking professional on the outside.

ANNA SUI x Evangelion Merchandise Collaboration Promotes New Anime Film

To promote the upcoming release of the new anime film Evangelion: 3.0+1.0 Thrice Upon a Time, Evangelion teamed up with fashion brand ANNA SUI to open orders for a collection of 12 new items on Wednesday (January 13) on Bandai's official shopping website Premium Bandai.

Excerpt of merch line-up

The line-up combines iconic symbols of ANNA SUI, like butterflies and roses, with motifs from Evangelion like Unit-01. It's a special, must-grab collection for fans of the anime series and brand.

(C)カラー

Evangelion: 3.0+1.0 Thrice Upon a Time Nail Decals Included in VOCE Magazine

Japanese beauty magazine VOCE is collaborating with the upcoming anime film Evangelion: 3.0+1.0 Thrice Upon a Time to include a selection of cute and colourful exclusive nail decals in its March 2021 issue.

Chibi Evangelion nail decals

The decals feature designs and references that are sure to be instantly recognisable to fans of the Evangelion franchise. The character decals in particular are extra adorable as they come in chibi form. And these decals don't have to be used just for nails either: you can stick them on your phone, computer or laptop, notebook – anywhere!

The collection is exclusive to the March 2021 issue of VOCE which will release in Japan on January 22, 2021.

Rebuild of Evangelion Film Series Heads to Amazon Prime Video

Amazon Japan released the first entries to the Rebuild of Evangelion anime film series Evangelion: 1.0 You Are (Not) Alone, Evangelion: 2.0 You Can (Not) Advance, and Evangelion: 3.0 You Can (Not) Redo on Amazon Prime Video on Friday (December 18). These are currently only available on the Japanese website (as of the posting of this article).

Rebuild of Evangelion is an animated film series that retells the original events of the Neon Genesis Evangelion series, the latter of which is available to watch on Netflix which the platform describes as "Fifteen years after the Second Impact, Shinji Ikari joins his father's group NERV as one of several teenage mecha pilots fighting the monstrous Angels."

The fourth and final entry to the film series Evangelion: 3.0+1.0 Thrice Upon a Time will be released in Japan on January 23, 2021, concluding the story.

©カラー

Information

Amazon Prime Video Japan

Evangelion: 1.0 You Are (Not) Alone

Evangelion: 2.0 You Can (Not) Advance

Evangelion: 3.0 You Can (Not) Redo

Released on Amazon Prime Video: December 18, 2020

Neon Genesis Evangelion to Collaborate With Mt. Rainier Caffe Latte On Limited-Edition Coffee Cups

The popular chilled coffee beverage Mt.RAINIER Caffè Latte is teaming up with the popular anime series Neon Genesis Evangelion to release limited-edition coffee cup designs from December 15, 2020.。

Mt.RAINIER launched in February 1993 as a pioneering brand of chilled coffee in a cup. Since then, the company has introduced countless flavours which retain the authentic quality of a drink you would sip on in a cafè.

Neon Genesis Evangelion is a mecha anime series that was first broadcast in 1995. The latest entry to its film franchise, Evangelion: 3.0+1.0 Thrice Upon a Time, will be released on January 23, 2021. The franchise's collaboration with Mt.RAINIER serves as promotion for the highly-anticipated film.

The collaborative coffee cup designs will feature on three different beverages: the Mt.RAINIER Caffè Latte, Mt.RAINIER Caffè Latte Espresso, and Mt.RAINIER Caffè Latte Non-Sugar, all of which have two designs each for a total of six possible designs.

Mt.RAINIER is hosting a special campaign over on its Japanese website where 1,995 Evangelion fans can win some exclusive merchandise.

Information

Mt.RAINIER x Evangelion
Release Date: December 15, 2020

Available: Convenience stores in Japan
Mt.RAINIER Official Website: https://www.mtrainier.jp/

Evangelion: 3.0+1.0 Thrice Upon a Time Announces First Collaboration With SAMANTHAVEGA

In promotion of the upcoming anime film Evangelion: 3.0+1.0 Thrice Upon a Time, which is set for release in Japan on February 23, 2021, SAMANTHAVEGA has announced its first-ever collaboration with the Evangelion franchise. Full details are scheduled to be revealed in December.

SAMANTHAVEGA is a Japanese brand that promotes Tokyo-eseque Japanese pop culture with the themes "cute//mode."

The main visual released for the collaboration features singer, model, and actress Airi Suzuki who also produces bags at SAMANTHAVEGA.

Stay tuned for more information on the upcoming winter collaboration.

Rei Ayanami Wears Red Lipstick in Anime Collaboration With Makeup Brand KATE

Kanebo Cosmetics released a 12-second commercial titled "Rei Ayanami, Her First Lipstick" on its official YouTube channel as well as on the official Twitter and Instagram pages of makeup brand KATE on November 4, 2020.

The commercial was released to promote "KATE Red Nude Rouge (EV)," a new lipstick released in collaboration with Kanebo Cosmetics' makeup brand KATE and the Evangelion franchise. The original voice actress for Rei, Megumi Hayashibara, reprised her role in the animated trailer which was created by illustrator and animator Yoneyama Mai.

About the collaboration

KATE's slogan is "NO MORE RULES" which encourages consumers to pick the colours they want to wear themselves without being tied down by society. This concept has led them to innovate in their makeup products, and is a concept that they believe connects with Rei Ayanami from the Evangelion franchise, which is what led to this collaboration.

Online pre-orders for this limited-edition lipstick opened on November 4. The product itself will launch online next year on February 2, 2021.

Rei Ayanami, Her First Lipstick

KATE Red Rouge (EV)

The vivid red lipstick comes in a palette together with an additional cream rouge colour, a brush, and a mirror.

Join Rei Ayanami in her first lipstick by picking up your own palette by KATE.

©カラー

Harry Potter Accessories Released in Collaboration With Q-pot.

Japanese accessory brand Q-pot. has signed a partnership with Warner Bros. Consumer Products to release a special collection of accessories in collaboration with the Harry Potter film franchise which will celebrate the 20th anniversary of the first movie in the series, Harry Potter and the Philosopher's Stone, next year.


Q-pot. are delivering a sweet collaboration this winter with an accessory line-up that embraces yummy sweets and chocolate and Harry Potter.

Q-pot. is known for its fantastical accessory collaborations, having teamed up with the likes of Sailor Moon, Aladdin, Zootopia, and other franchises in the past, making it the perfect candidate to adorn consumers with the magical world of Harry Potter. Each and every one of the items in this collection are hand-made by artisans in Japan who have worked tirelessly to craft accessories with the finest of details.

Sorting Hat Necklace – ¥13,000 (Before Tax)

A necklace inspired by the famous Sorting Hat of Hogwarts which is responsible for sorting new students into one of four Houses: Gryffindor, Hufflepuff, Ravenclaw, and Slytherin. Having that hat on your head has got to be the most anxiety-inducing situation ever. This chocolatey necklace has a unique function that shows you which House you will be put into.

Sorcerer's Stone Gummi Candy Necklace – ¥10,500 / Bag Charm – ¥9,000 (Before Tax)

The iconic Philosopher's Stone, also known as the Sorcerer's Stone, is what Professor Quirrell is helping Voldemort to obtain in order to restore his body. Both the necklace and bag charm are made to look like beautiful and vibrant sweet and sour gummies.

Chocolate Frog Cake Necklace – ¥11,000 / Bag Charm ¥9,500 (Before Tax)

The Chocolate Frog is first seen aboard the Hogwarts Express when Harry and Ron meet for the first time and Harry orders the entire trolley of sweets.

Melting Chocolate Frog Ring (Size 11) – ¥11,000 / Piercing (One Ear) – ¥7,000 / Earring (One Ear) – ¥7,000 (Before Tax)

Also inspired by the same Chocolate Frog which both Harry and Ron don't actually get to try eating as it hops out of the train window. The ring, piercing, and earring is an homage to that scene.

Golden Snitch Macaron Necklace – ¥10,000 / Bag Charm – ¥8,500 (Before Tax)

The elusive Golden Snitch is what every Seeker on their Quidditch team wishes to catch at Hogwarts. The Golden Snitch necklace and bag charm are shaped like macarons with whipped cream between them and topped with golden feathers.

Gryffindor, Hufflepuff, Slytherin, and Ravenclaw Macaron Necklaces – ¥9,000 / Bag Charms – ¥8,000 (Before Tax)


A selection of macaron necklaces and bag charms for each respective House at Hogwarts. The accessories are coloured like the uniforms of students at Hogwarts and made to look like tea flavoured, cream-filled macarons.

Dark Mark Necklace – ¥10,000 / Bracelet – ¥12,000 / Piercing (One Ear) – ¥6,000 (Before Tax)


The Dark mark is of course the symbol of Voldemort and his Death Eaters, featuring a giant skull with a serpent protruding from its mouth. The necklace, bracelet, and piercing are must-grabs for fans of the Dark Lord and the terrifying Eaters.

Don't miss out on this magic-imbued collection by Q-pot. Orders for the collection will open on October 30, 2020

Information

Harry Potter x Q-pot Collaboration
Orders: Open October 30, 2020
Available: Q-pot. stores in Japan and Q-pot.'s online shop
Order Window: October 30, 2020 – November 15, 2020
Official Website: http://www.q-pot.jp/
*Available while supplies last

Aladdin Inspired Jewellery Collection by Q-pot. Looks Like Real Chocolate

Q-pot. have added Jafar from the Disney film Aladdin to the "Disney Villains" collection of their "Disney Story Dreamed by Q-pot." line of jewellery and accessory products. The items are available for a limited time from September 12 to 30 at Q-pot. stores in Japan and the brand's online shop.

Aladdin is an internationally-celebrated love story about the titular street urchin and Princess Jasmine. It has many memorable characters, including Genie who Aladdin summons from a magic lamp, as well as the iconic Jafar, the film's main antagonist who adds spice to the story. It is this Disney villain that Q-pot. has taken inspiration from for their popular accessory range which is made to look like sweets.

Jafar/Snake Chocolate

Necklace ¥10,500 (Before Tax) | Bag Charm ¥9,500 (Before Tax)

Chocolate is an addictive indulgence for many people, and so it makes the perfect inspiration for the Jafar jewellery, as the villain is known for the skilful manipulation of his Snake Staff. The red jewel in the middle is like a sweetly boiled cherry. It comes as either a necklace of charm for your bag.

Jafar Snake Ring (Japanese Ring Size 12) ¥13,000 (Before Tax)

Information

Disney Villains -Jafar ‐

Available: September 12, 2020 – September 30, 2020

Delivery/Collection: From Early December 2020

Sold At: Q-pot. ONLINE SHOP / Q-pot. Omotesando / Q-pot. Tokyo Skytree Town Solamachi / Q-pot. Takashimaya Shinjuku / Q-pot. LUCUA osaka

Product Page: http://www.Q-pot.jp/news/2020/09/1306.html

Gothic Halloween Afternoon Tea Spookily Served Up at Q-pot CAFE. in Tokyo

Halloween is creeping its way early to Q-pot CAFE. in Omotesando, Tokyo, as the cafe announces its "Mad Sweets" themed Halloween menu for 2020. The Gothic-inspired menu will be served from September 9 to October 31 and will be centred on "Sister Obake-chan," a cute and original ghost nun character conceived by the cafe.

Mad Sweets Sister Obake-chan Plate with Drink | ¥2,060 (Tax Included)

Sister Obake-chan is made from sweet and fluffy vanilla mousse and is filled with a sweet and sour berry sauce. Next to her is a cookie gravestone, pumpkin macaron, and a bone meringue.

Mad Sweets Bone & Ribbon Drinks | ¥750 (Tax Included)

There are both hot and iced variants of the Bone & Ribbon drinks. The hot version is a hot chocolate made with black cocoa-laced cream and topped with a crossbone meringue. The iced drink has a cuter appearance mixing pink and white colours together. It's a strawberry shake topped with a cute ribbon meringue.

Happy Halloween Afternoon Tea Set | ¥2,400 Per Person (Tax Included) | *The photo is a serving for 2 people

Q-pot CAFE. is will also serve an afternoon tea set this Halloween with plenty of tasty themed sweet and savoury bites.

The top level of the afternoon tea is plated with strawberry jelly topped with an assortment of berries and a bone-shaped meringue, tombstone-topped blackcurrant mousse, and bat velvet cupcakes. Q-pot CAFE.'s popular jack-o'-lantern macarons also make a return this Halloween.

The bottom level is served with hearty croissant sandwiches filled with duck pastrami and mushroom omelette, pumpkin potage, and skewered olives, tomatoes, and pickles.

Q-pot CAFE. is a must-visit for a Halloween experience in Tokyo this year.

Information

Q-pot CAFE. 2020 Halloween Limited Menu
Location: Q-pot CAFE. Omotesando

Running: September 9, 2020 – October 31, 2020

Opening Hours: 11:00-19:00 (Last Orders 18:30)
1F Cafe: 11:00-19:50
2F/3F Shop: 12:00-20:00

Official Website: https://www.q-pot.jp

Disney's Zootopia Accessory Collection to be Released by Q-pot.

Q-pot. is releasing a new Zootopia themed collection on August 1, 2020 as part of its Disney-inspired accessory line "Disney Story Dreamed by Q-pot."

Zootopia is an animated film released by Disney in 2016 which takes place in the titular city where anthropomorphic animals coexist. Q-pot. has created a unique collection in the brand's style which combines the worlds of Nick Wilde and Judy Hopps, the two main characters of the film who form an unlikely duo.

Judy Carrot Cake & Carrot Recorder

Homemade Carrot Cake – Necklace: ¥11,000, Bag Charm ¥9,000 | Carrot Recorder – Piercing, Earring (1 Piece) ¥5,000 (Before Tax)

The necklace and bag charm feature a cute cut of Judy's face in the style of a frosting-loaded cake, and are attached with the carrot recorder pen from the movie which brings her and Nick together. The carrot recorder pen also comes as an earring and piercing.

Nick Carrot Cake & Pawpsicle


Homemade Carrot Cake – Necklace: ¥11,000, Bag Charm ¥9,000 | Ice Candy – Piercing, Earring (1 Piece) ¥5,000 (Before Tax)

Nick's accessories are attached with detailed recreations of the pawpsicles made by him in the movie.

Police Badge Cookie


Police Badge Cookie – Badge, Brooch – ¥6,500 (Before Tax)

Once you're fixed on your Judy and Nick carrot cake accessories, don't forget your police badge either!

The items in this collection are a must-have for any fan of Zootopia.

Information

Zootopia Collection
Release Date: August 1, 2020 at 12:00pm (JST)
Buy: Q-pot. ONLINE SHOP 
*On August 1 and 2, two items max per person

Q-pot. Stores
Order Window: August 1, 2020 – August 16, 2020
Participating Stores: Omotesando / Tokyo Skytree Town Solamachi / Takashimaya / LUCUA Osaka / Q-pot. ONLINE SHOP

Delivery Window: Early November 2020

Official Website: https://www.q-pot.jp/news/2020/07/1285.html