Fuji-Q Highland's Gaspard and Lisa Town Begins Spring Season Strawberry Festival
Strawberry lovers, listen up. If you're looking to indulge in strawberry-flavoured desserts all day long, then this fruity festival will have your mouth watering. The Gaspard and Lisa themed town at Fuji-Q Highland in Yamanashi is now holding its annual Strawberry Festa event which is running until May 5.
There are so many tasty treats to enjoy at this year's event, from cakes and pastries, desserts and drinks—all made with plump and fresh strawberries—that you can enjoy eating while walking around the themed town. One must-try is the Strawberry Pavlova which is made with a meringue that's crunchy on the outside and soft in the middle and is adorned with fresh cream and, of course, strawberries. It's a hearty serving but is actually a light and refreshing eat.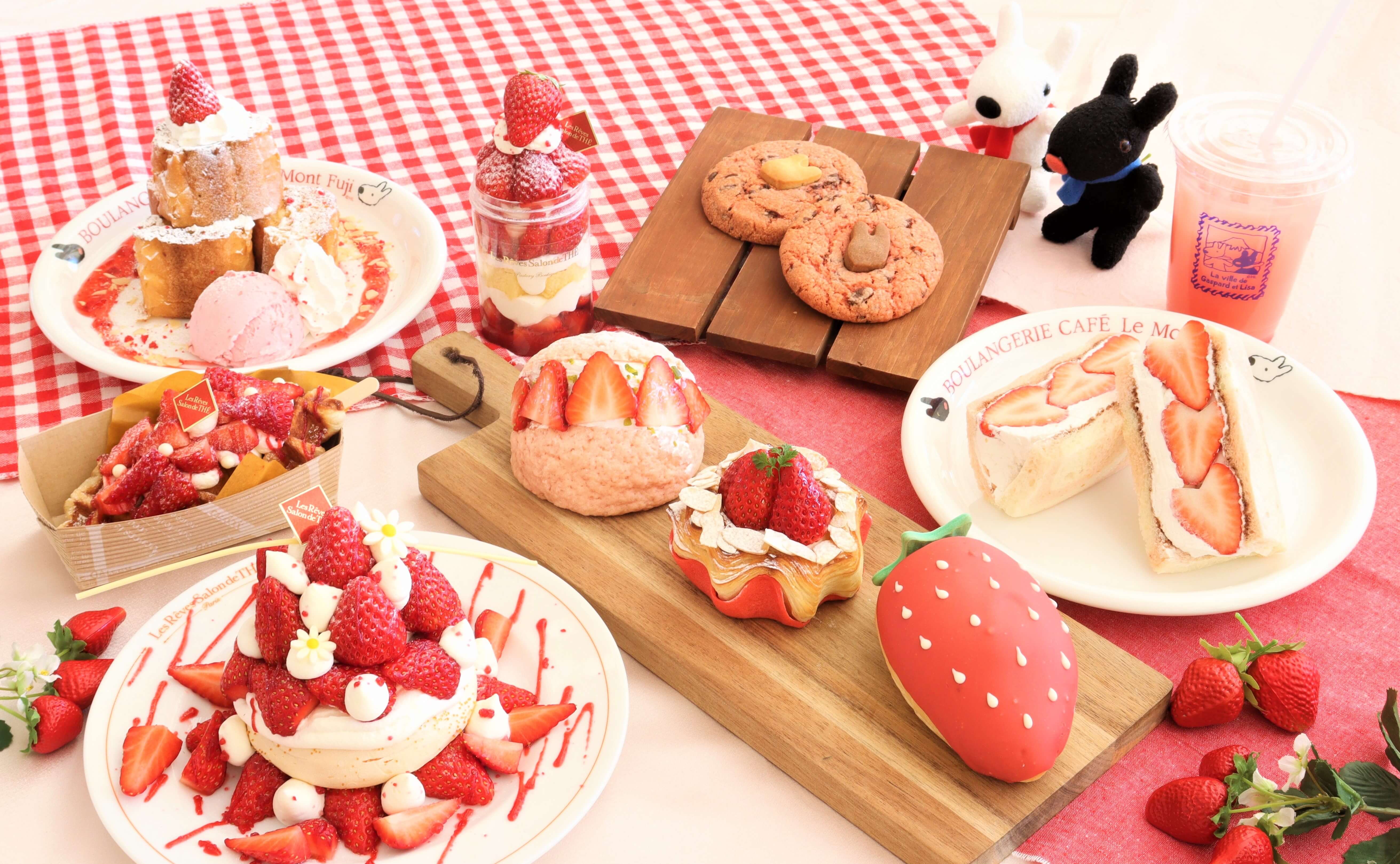 Strawberry Afternoon Tea Set at Les Rêves Salon de thé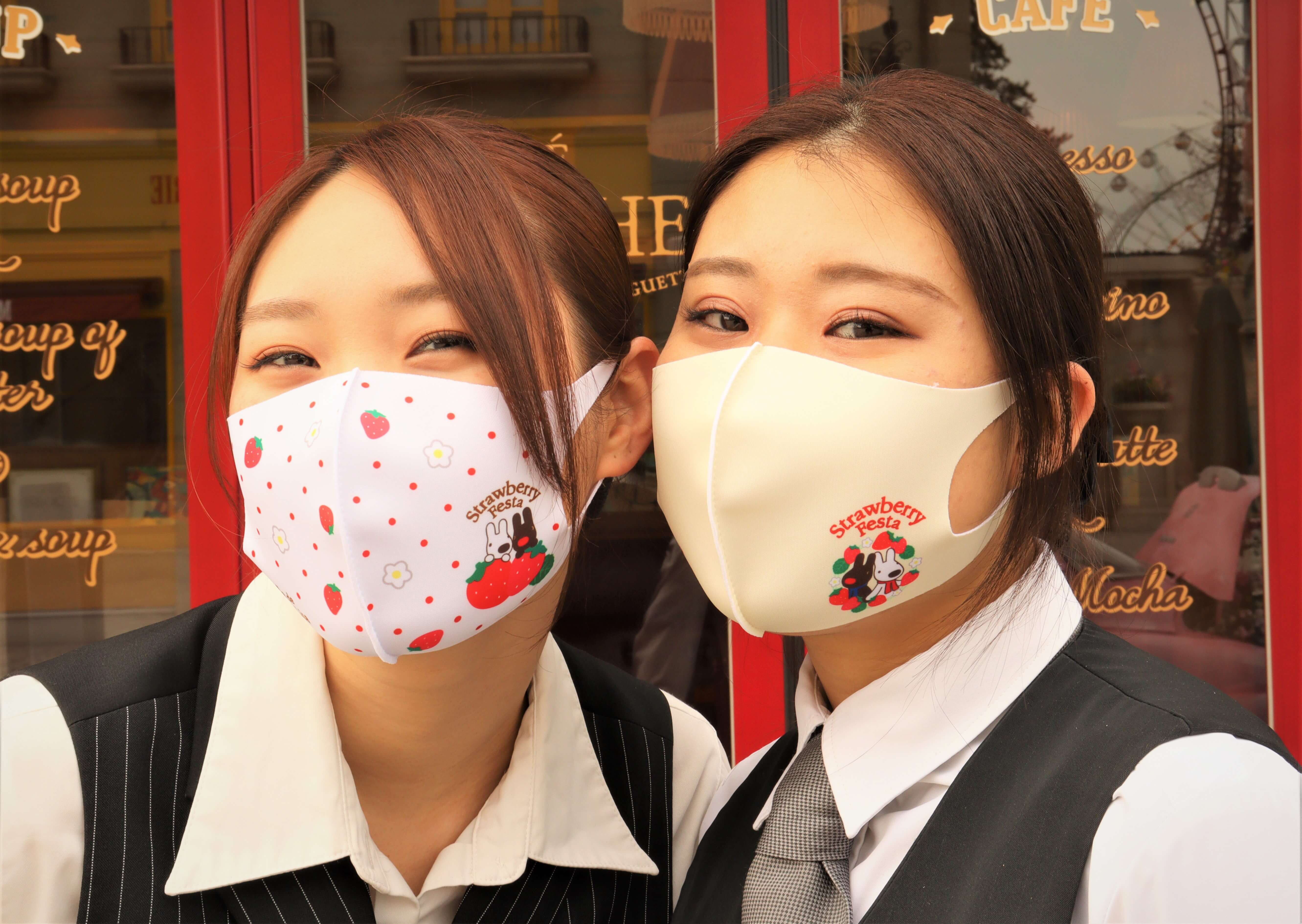 Strawberry Festa exclusive face masks
Guests at the park who spend over ¥3,000 in a single transaction at any shop in the town will receive a free original face mask.
Hotel guest rooms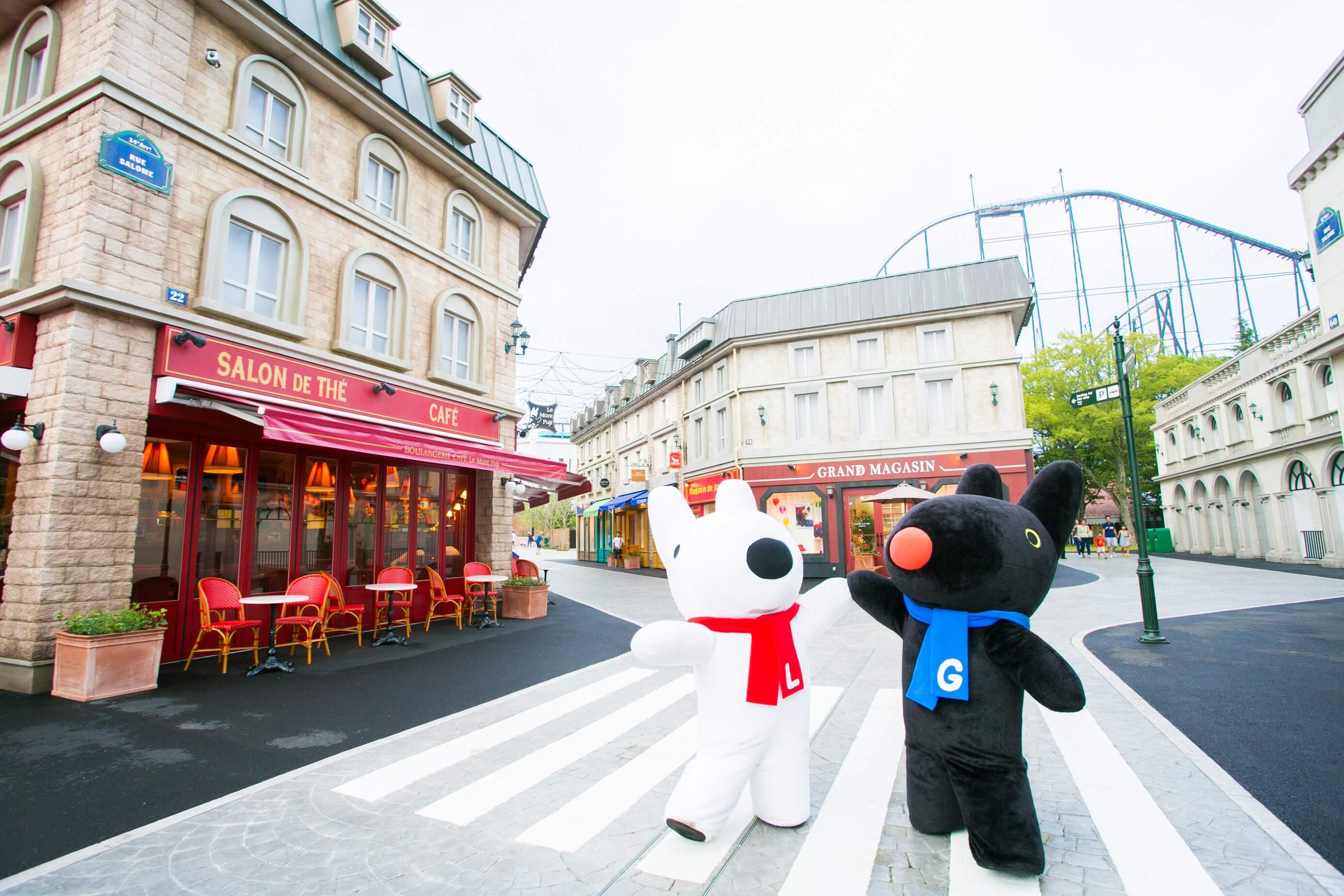 Meet Gaspard and Lisa in-person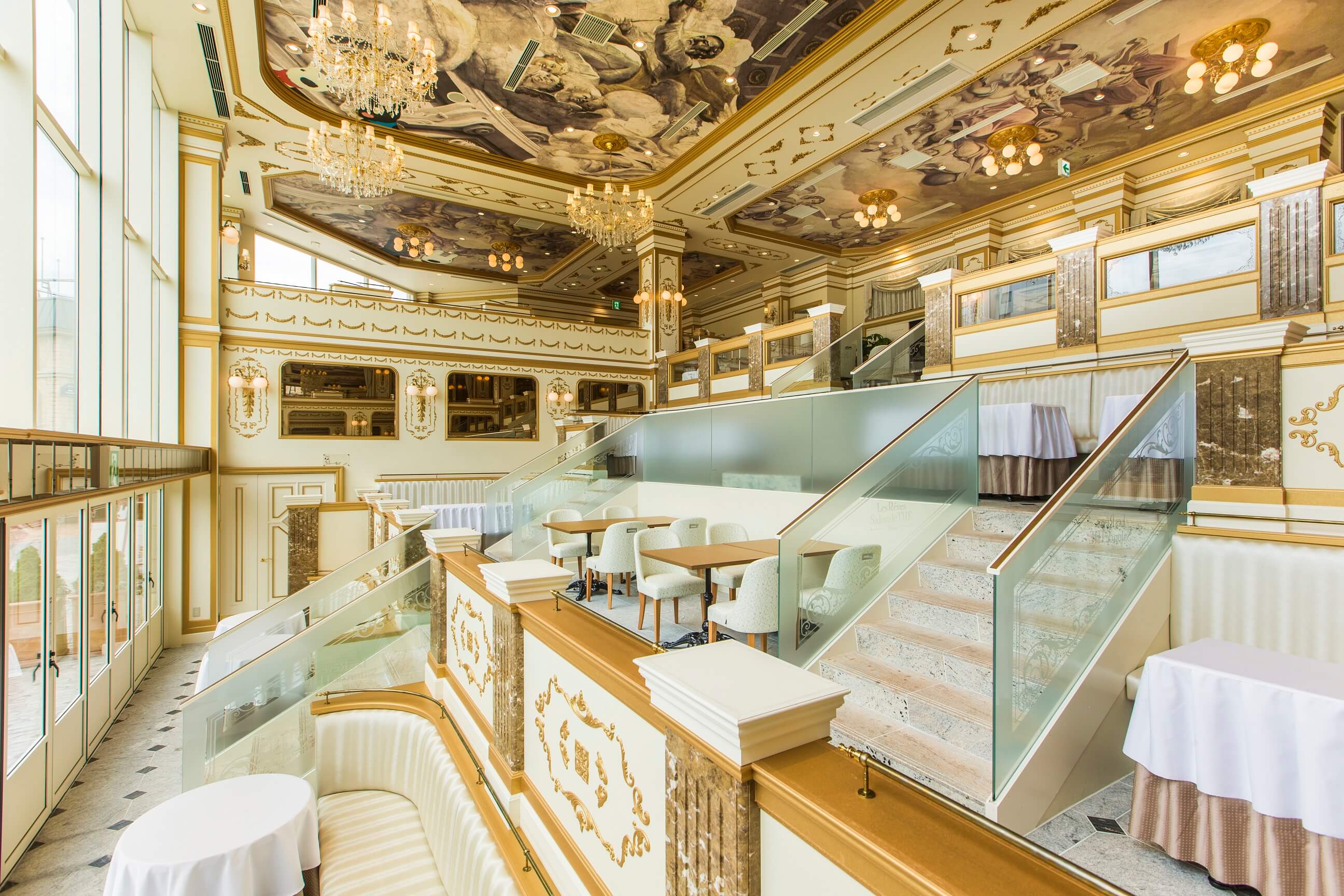 Les Rêves Salon de thé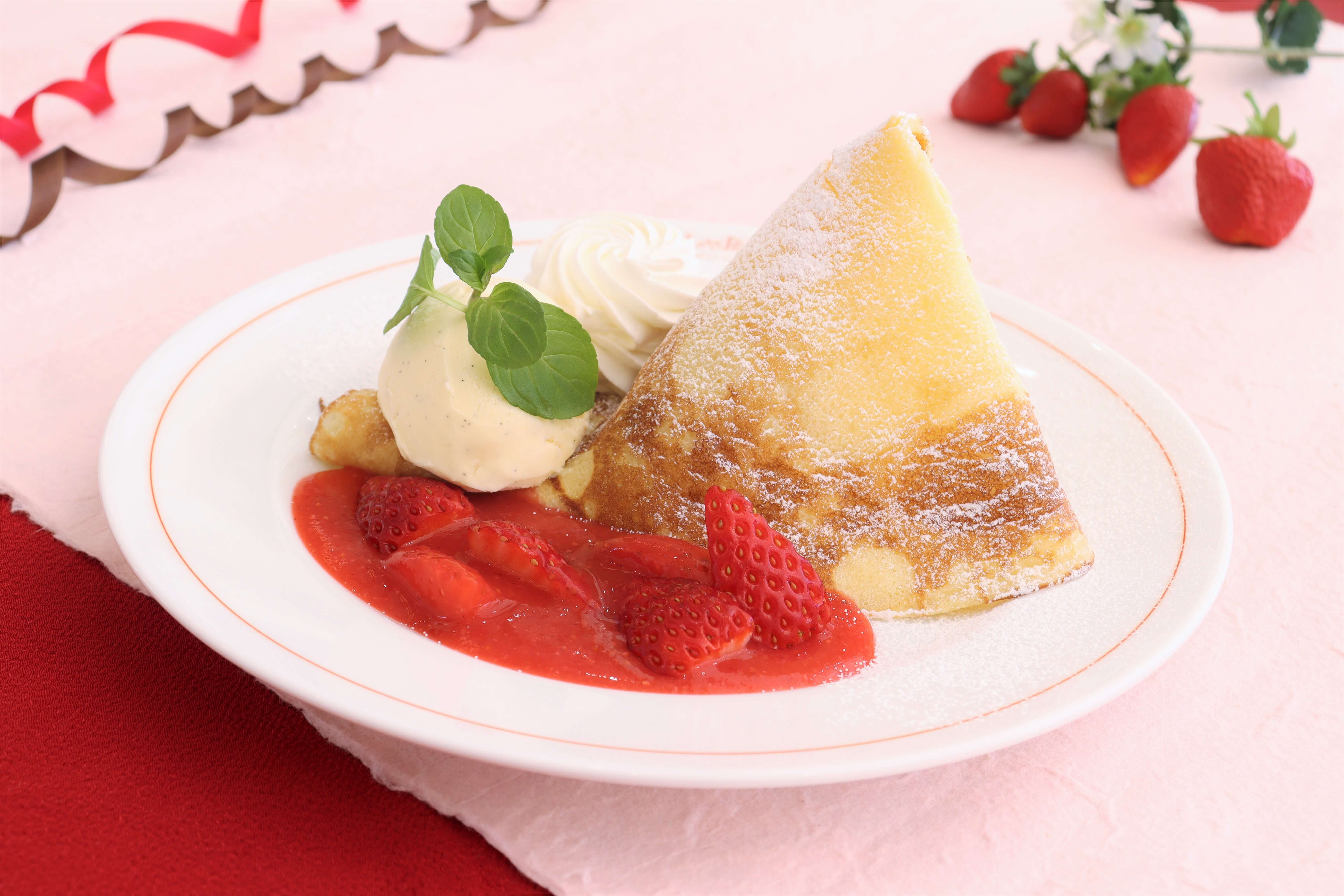 Strawberry Crepe recipe showcase
For those unable to travel due to restrictions, the town has also posted an online video showing how you can makes a strawberry crepe at home.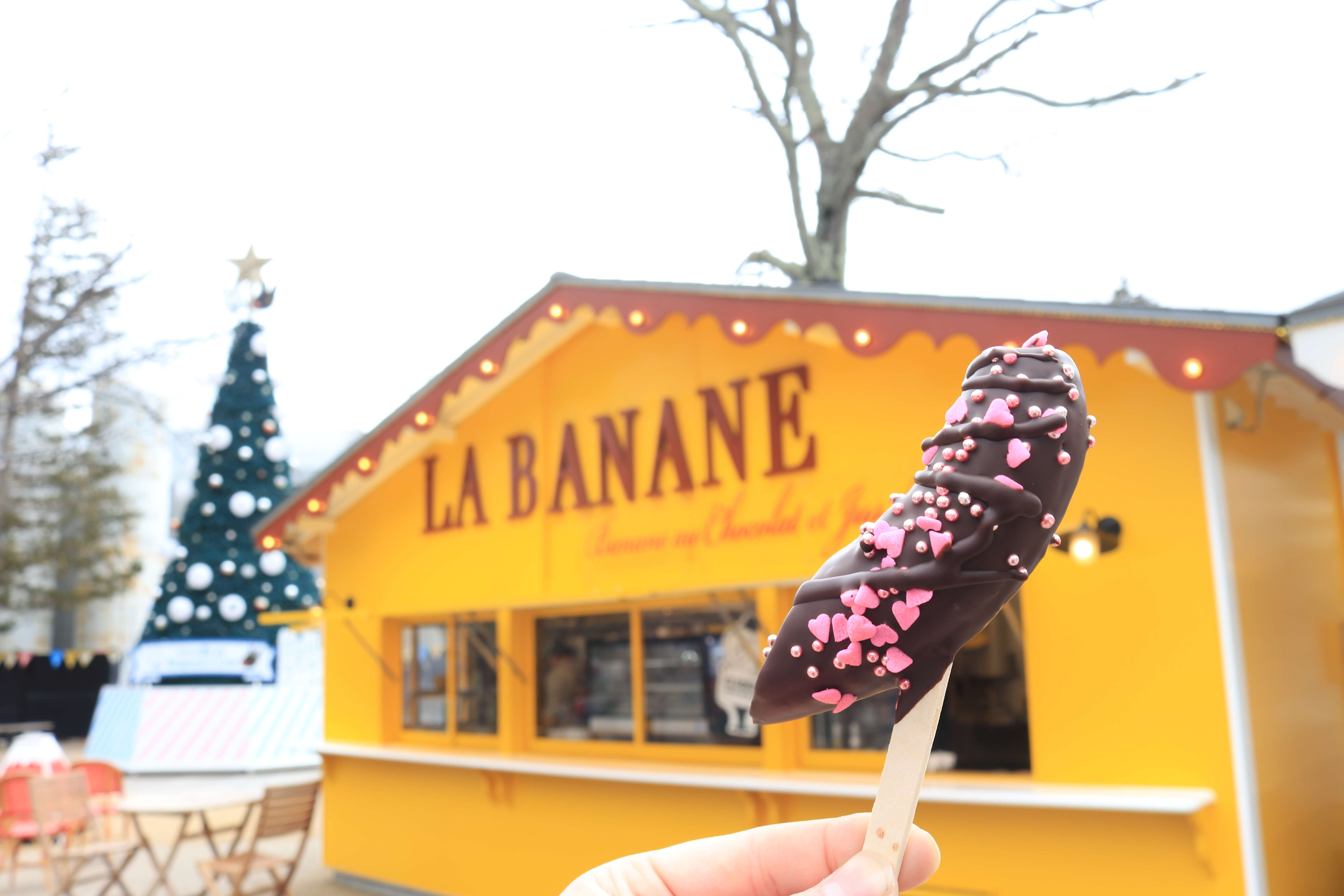 Chocolate bananas at LA BANANE
A variety of new shops have also opened at Fuji-Q Highland, including Strawberry Fetish which is Japan's first shop specialising in strawberry hard candy, as well as LA BANANE where you can enjoy chocolate bananas and other treats.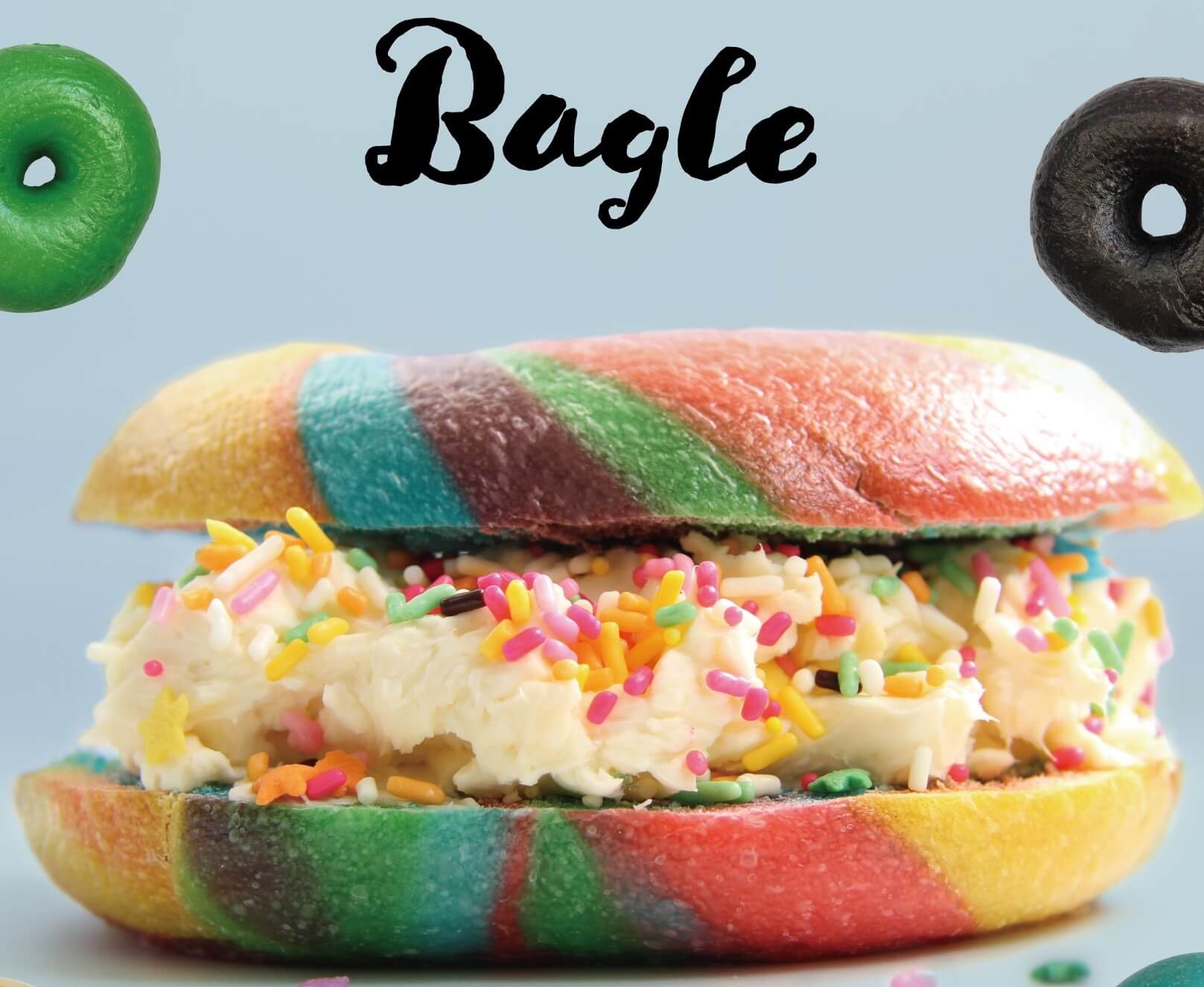 Colourful bagels at BONBON BAGLE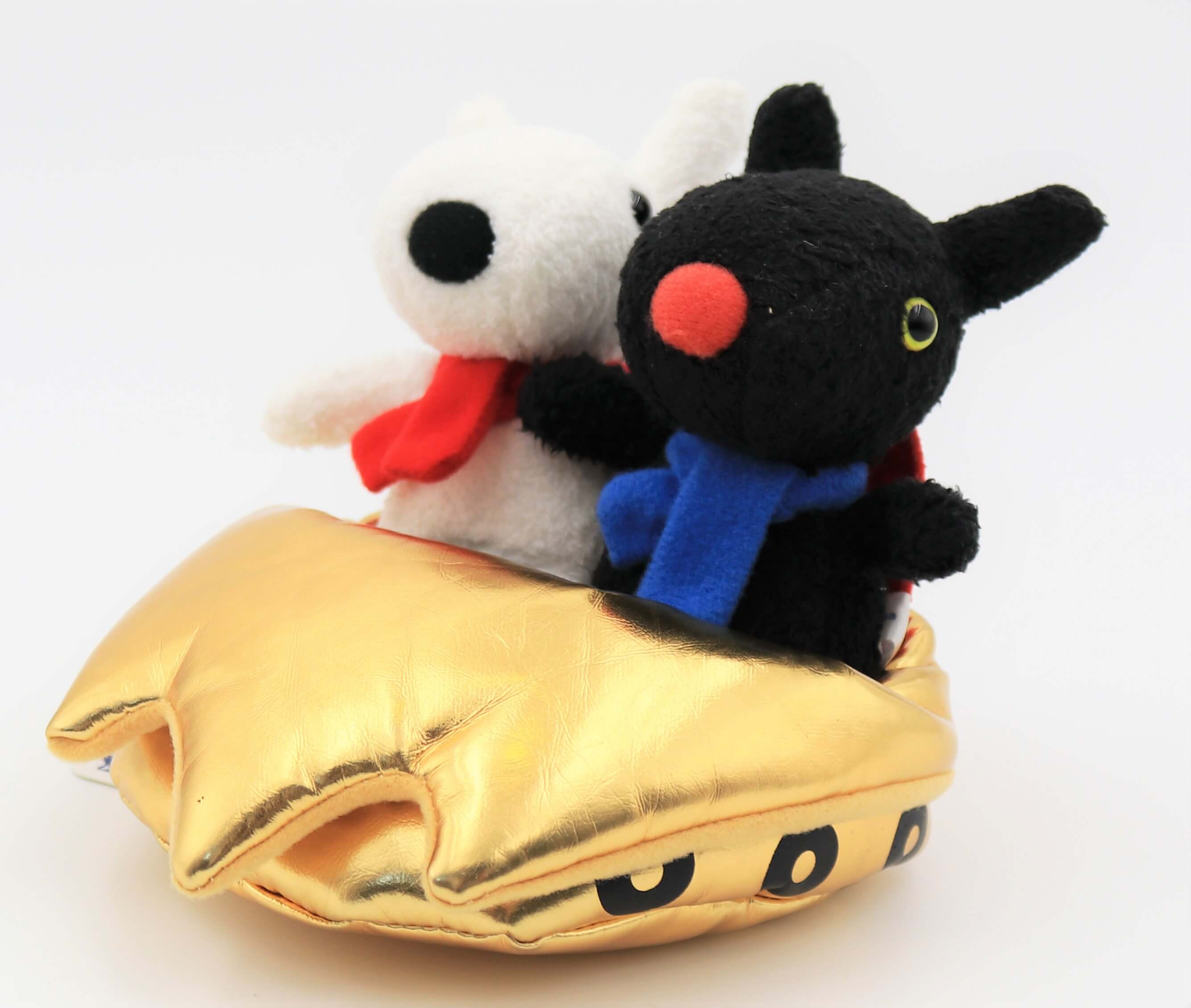 Gaspard and Lisa Town original merchandise
RELATED ENTRIES
Gaspard and Lisa Themed Menu to be Served in Tokyo

The popular French characters Gaspard and Lisa are getting their own themed menu at Le Cafe la Boutique du Joel Robuchon in Tokyo. The menu will be served from April 24 to May 9 and takes inspiration from Anne Gutman and Georg Hallensleben's children's book series.

Gaspard and Lisa One Plate & Cocktail Set | ¥3,300 (Tax Included)

Non-Alcoholic Strawberry & Lychee Cocktail | ¥990 (Tax Included)

Strawberry Galette (With Coffee or Tea) | ¥2,420 (Tax Included)

Coasters

Pouch

The first 500 customers who order something from the menu will receive a free coaster, and those who spend over ¥5,000 will get a special pouch.

Enter the charming world of Gaspard and Lisa with this cute themed menu.

(C) 2021 Anne Gutman & Georg Hallensleben / Hachette Livre

Information

Le Cafe la Boutique du Joel Robuchon x Gaspard and Lisa

Running: April 24, 2021 – May 9, 2021

Where: Le Cafe la Boutique du Joel Robuchon (Nihonbashi Takashimaya S.C. Floor 2F)

Opening Hours: 10:30-19:30 (Last Orders 18:30)

Reservations: 03-5255-6933

Official Website: https://www.robuchon.jp/

Shinjuku's Takano Fruit Parlour Serves Up Strawberry Desserts For the Spring Season

This spring, Takano Fruits Parlour is serving up a special strawberry-themed course menu at its Shinjuku branch starting on April 5. It comes as part of the restaurant's monthly fruit theme where they shine a spotlight on a single fruit each month. This month is strawberries which are adorning everything from appetisers to the main and dessert with a collection of succulent delights.

Spring Strawberry Course | ¥4,400 (Tax Included)

The course includes an apéritif, strawberry soup, beef cooked in a strawberry and demi-glance sauce, fruit salad, a hot dessert, strawberry chiboust, strawberry art palette assortment, a chilled strawberry dessert, and a choice of coffee, tea, or cafe au lait.

Information

Spring Strawberry Course

Running: April 5, 2021 – April 28, 2021 (Weekdays Only)

Where: Takano Fruit Palrour

Address: 3-26-11 Shinjuku, Shinjuku-ku, Tokyo

Time: [Morning Slot] 11:00-13:30 / [Afternoon Slot] 16:30-18:30

TEL: 03-5368-5147

Official Website: https://takano.jp/parlour/

Scrumptious Strawberry Mont Blanc Served Up This Spring in Japan

Japanese mont blanc specialists Seishibori Mont Blanc Senmonten released a brand new strawberry flavoured mont blanc on Thursday (March 11).

Seishibori Mont Blanc Senmonten runs two separate locations: a takeout stand and a dessert cafe. It first launched in October 2020 to huge success and is looking to expand by setting up branches in Fuji, Hamamatsu, Chiba, Nagoya, and eventually the rest of Japan in the future.

A seasonal treat made with fresh strawberries

Since it first opened its doors to the public, Seishibori Mont Blanc Senmonten continues to see long lines of customers awaiting their indulgent mont blancs. Their new strawberry version uses a specially-made chestnut cream that's made with two types of chestnuts: one from Italy with a strong aroma and another from Kumamoto Prefecture which is known for its subtle sweetness and has also been called the "King of Chestnuts." Added to this is fresh strawberry for a refreshing kick in the mix. Spooning into the mont blanc, one will find a crunchy homemade meringue which provides texture to the silky fresh cream as well as the strawberry and chestnut creams. The fresh Japanese strawberry added on top finishes it all off for a harmony of flavours.

Strawberry Mont Blanc: Eat & Walk ¥980 / Takeout ¥900 / Eat-In ¥1,800

The dessert is available from March 11 until the seasonal strawberry stock runs out.

Seishibori Mont Blanc: Eat & Walk ¥900 / Takeout ¥700 / Eat-In Regular ¥1,650 / Eat-In Small ¥1,210

The shop's mont blancs are a delicate formation of chestnut cream measuring just 1mm in diameter. This delicate process, which is conducted in front of customers, has been recorded and put on Japanese social media many times. The process involves using an antique press as pictured above.

A blend of Italian and Japanese chestnuts for a rich, high-quality cream

The cream that's a blend of Japanese and Italian chestnuts was developed after much trial and error. The result was the same delicately crafted 1mm melt-in-the-mouth experience which combines perfectly with the crunchy meringue, fresh cream, and ice cream. If you order it for takeout, the meringue is also coated in white chocolate.

Kubota Sake and Strawberry Infused Dessert and Drink Released by DEAN & DELUCA

The Marunouchi branch of DEAN & DELICA is collaborating with lifestyle company Welcome and Asahi Shuzo Brewing to release a drink and dessert made with Kubota Junmai Daiginjo sake and strawberries.

Junmai Daiginjo White Chocolate | ¥572 (Tax Included)

A rich, sweet beverage made with 45% cacao white chocolate, milk, strawberry compote, yuzu citrus, Kubota Junmai Daiginjo, and a topping of sprinkled chocolate.

Junmai Daiginjo Gelato Affogato

A luxurious dessert that combines a perfect balance of sweet, acidic, and bitter flavours with a yuzu-scented gelato made with Junmai Daiginjo and milk, a drizzle of strawberry sauce, and a shot of espresso.

Kubota Junmai Daiginjo is a crisp and dry Japanese sake known for its vivid collection of fruity notes. It can be enjoyed chilled to bring out the fragrances as well as at low temperatures.

Information

SAKE & DOLCE

Available: From March 8, 2021 while supplies last

Where: DEAN & DELUCA Cafe Marunouchi

Official Website: https://www.deandeluca.co.jp

Dean & DeLuca Releases Strawberry Desserts and Drinks For Spring 2021

The fresh juice season is back for spring at Dean & DeLuca cafes in Japan this year where they have a very special selection of drinks and desserts lined up for customers as well as an exclusive tumbler.

Creamy Italian maritozzi

Indulge in a tempting maritozzi this spring season which has a fluffy brioche bun stuffed loaded with fresh cream stuffed with sweet strawberries. This famous Italian delicacy is usually enjoyed in the morning but the addition of milky cream and tangy strawberries makes it a perfect dessert.

Every bite treats the taste buds to a combination of buttery brioche, melt-in-the-mouth cream, and a choice of either fresh cream and strawberries or fromage blanc and sweet and sour apricot jam.

Left: Maritozzi Strawberry ¥410 / Right: Maritozzi Apricot Jam & Fromage Blanc Cream ¥367

Serving: From March 1, 2021 while supplies last

Participating Market Branches: Shinagawa/Yurakucho/Shinjuku/Ebisu/Hiroo/Yaesu/atré Kawasaki/CIAL Tsurumi/Yokohama/Nagoya/Osaka

Participating Cafe Branches: All

A taste of spring with fresh strawberry juice

This year, Dean & DeLuca are serving up the "Strawberry & Fruit Tomato" smoothie which is made with freshly-picked whole strawberries and tomatoes. Tomatoes are generally seen as a summer vegetable, but the most delicious time to enjoy tomatoes grown in Japan is the spring season just like strawberries. The strawberries and tomatoes take on plenty of sugar content during the winter season which brings a rich sweetness best enjoyed right now.

 

The juice is prepared fresh for every order, with whole fruits put into a mixer and then served.

Left: Strawberry Juice ¥583 / Right: Strawberry & Fruit Tomato ¥605

Serving: From March 1, 2021 while supplies last

Participating Market Branches: Roppongi/Shinagawa/Yurakucho/Shinjuku/Ebisu/Hiroo/Yaesu/atré Kawasaki/CIAL Tsurumi/Yokohama/Nagoya/Osaka/AMU Plaza Hakata

Participating Cafe Branches: All

Spring-exclusive Strawberry Apple Pie

Japanese apple pie chain GRANNY SMITH APPLE PIE & COFFEE is also providing a seasonal strawberry and apple pie filled with in-house custard.

 

GRANNY SMITH APPLE PIE & COFFEE's Strawberry Apple | ¥648

 

Serving: March 2, 2021 – April 30, 2021

Participating Cafe Branches: All (Except Yurakucho LUMINE STREET)

Enjoy spring with a spring-coloured tumbler

Dean & DeLuca's popular tumblers return in seasonal colours and fitted with an airtight screw cap. They're available in "Tokyo Pink" and "Charcoal Grey" colours.

 

Tumblers: ¥3,080 Each

Released: From March 1, 2021

Participating Cafe Branches: All

*Cafe-exclusive, not available for purchase online

Milky Strawberry Sandwich Biscuits by Sugar Butter Tree Arrive Ahead of Spring

Sugar Butter Tree, a shop by Grapestone that specialises in cereal sweets, released its new Strawberry Chocolate Sandwich at all branches of Sugar Butter Tree on February 15.

A Limited-Time Treat Made With Seasonal Japanese Strawberries

This strawberry-loaded biscuit is sold by Sugar Butter Tree every year. It's made with only the best picked springtime strawberries to create a delicious chocolatey snack. If you love strawberries, then this is a treat for you.

Sugar Butter Tree Strawberry Chocolate Sandwich: Pack of 5 – ¥648 / Pack of 8 – ¥1,080 / Pack of 12 – ¥1,620 (Tax Included)

Milky, melt-in-the-mouth strawberry goodness

The chocolate 'sandwich' contains crunchy milk cream with a delicious sugar butter scent. This is wrapped in a strawberry chocolate coating, making for a mix of sweet and tangy.

Looks cute on the table served with tea

The design theme for the biscuit is "strawberry teatime." Its pastel colour makes for a cute serving snack served with a cup of tea.

Information

Sugar Butter Tree's Strawberry Chocolate Sandwich

Available: February 15, 2021 – Mid May 2021 (While supplies last)

Where: Sugar Butter Tree (Tokyo/JR Nagoya Takashimaya/Hankyu Umeda/Hakata Hankyu) + Gin no Budou (Daimaru Tokyo/Seibu Ikebukuro/Lazona Kawasaki)

Also Available Online: https://www.paqtomog.com

Sugar Butter Tree Official Website: https://www.sugarbuttertree.jp/

Succulent Strawberry Tarts Get Baked Up at Andrew's Eggtart This Spring

Japan's egg tart chain Andrew's Eggtart is baking up some special handmade strawberry tarts this spring made with fresh strawberries farmed in Japan.

Spring Strawberry | ¥380 (Before Tax)

The tarts are triple-layered with a strawberry compote, strawberry cream, and an in-house original custard cream. Each tart is finished with fresh cuts of succulent strawberry to finish, adding a fruity flavour to the sweet treat.

Information

Spring Strawberry

Order Window: March 3, 2021 – May 31, 2021

Participating Branches: Dotonbori / Osaka Namba Station / JR Tsuruhashi / AEON Mall Osaka Dome City / Nagoya Meitetsu / Kagoshima Tenmonkan

*Available while supplies last

Andrew's Eggtart Official Website: https://www.eggtart.jp

Sweet Strawberry Desserts Get Baked Up at Kobe-Sanda Premium Outlets

Kobe-Sanda Premium Outlets, an outdoor shopping centre in Hyogo, is having a strawberry-loaded time with a selection of desserts made with strawberries harvested in Sanda as well as a market themed on strawberries. The event is taking place from February 12 to March 21.

The line-up doesn't shy away from strawberries in anyway, with the sweet and succulent red gems being used for crepes, pancakes, pizzas, drinks, and more.

The Sandai Ichigo Marche arrives for the first time at Kobe-Sanda Premium Outlets where visitors can buy whole bunches of strawberries of different types directly from the harvesters. It is being held on February 13 and 14 and March 13 and 14. And you can't have a strawberry festival in Japan without enjoying a strawberry daifuku either, kindly provided by the old-time Sanda-based confectionery store Matsuedo.

Sanda Strawberry Menu (Prices Include Tax)

The menu features a line-up of desserts made with numerous strawberry varieties gathered in Sanda, such as the akihime and benihoppe. Each is made by different participating shops.

Tana Forno

Sanda Benihoppe Chocolate S'mores Pizza – ¥748 / Strawberry Squash – Single ¥550, Set ¥495

The dessert pizza is a perfect combination of benihoppe strawberry and chocolate.

Delifrance

Kobe-Sanda Strawberry Anpan – ¥300

Moist sweet bread with low-sugar coarse sweet bean paste, whipped cream, and strawberries.

Canvas

Sanda Strawberry Mixed Berry Crepe – ¥649

A triple whammy of strawberries, blueberries, and raspberries decorate this crepe.

Kua'aina

Strawberry Pancake Brûlée – ¥930

A pancake brûlée loaded with strawberries.

Crazy Crepes

Sanda Strawberry Crazy Ichigo – ¥750

Enjoy the natural flavours of the strawberries as they are without any additions like chocolate.

Sandai Ichigo Marche

At the Sandai Ichigo Marche, visitors can buy strawberries, vegetables, strawberry daifuku, and more. It's a celebration of all things Sanda.

Running: February 13, 2021 / February 14, 2021 / March 13, 2021 / March 14, 2021
Time: 11:00-15:00 (While supplies last)
Location: Garden Court (Will move under the galleria in front of the food gallery if it rains)

Enjoy the delicious taste of seasonal strawberries grown in the lush environment of the Rokkō Mountains.

Information

Sandai Ichigo
Running: February 12, 2021 – March 21, 2021
Location: Kobe-Sanda Premium Outlets
Address: 7-3 Kozudai, Kita-ku, Kobe, Hyogo
Closed: February 18, 2021 (3rd Thursday of February each year)
TEL: 078-983-3450
Kobe-Sanda Premium Outlets Official Website: https://www.premiumoutlets.co.jp/kobesanda/

Visit Mount Fuji to Eat Bread That Looks Just Like Japan's Tallest Mountain

FUJISAN SHOKUPAN is a sandwich bread shop located in Fujikawaguchiko―a resort town in the northern foothills of Mount Fuji―in Yamanashi Prefecture. The shop is now offering online half price deliveries in Japan on four types of its popular breads until January 2021.


FUJISAN SHOKUPAN's website offer a range of products all of which are shipped across Japan in cooling packaging to keep everything fresh.


FUJISAN SHOKUPAN | ¥800 (Before Tax)

Perhaps the most famous item on their menu is that which goes by the same name as the shop itself. FUJI SHOKUPAN is a light blue and white sandwich bread which captures the form and appearance of Mount Fuji. Each sweet loaf is made with natural spring water from Fuji as well as Kyoho grape juice from Yamanashi before being baked with the utmost care.

If you get the chance to visit the area around Mount Fuji, or plan on climbing the mountain itself, be sure to mark the occasion by picking up a slice of FUJISAN SHOKUPAN.

Information

FUJISAN SHOKUPAN

Address: 3462-11 Funatsu, Fujikawaguchiko, Minamitsuru District, Yamanashi
Opening Hours: 11:00-18:00
Closed: Thursdays
Official Website: https://fuji3shokupan-2han.com/

Fuji-Q Highland's Hidden Leaf Village Theme Park Area Adds New Photo Spots

Fuji-Q Highland, an amusement park in Yamanashi, Japan, added new photo spots to its popular Naruto x Boruto Fuji Hidden Leaf Village area on Friday (December 4).

The new spots

New statues of Jiraiya, Tsunade, Gaara, and Itachi have been placed around the park, making the perfect for a photo opportunity and to make guests feel even more like they're in the world of Naruto.

A new Gaara-inspired ramen dish

¥1,180 (Tax Included)

The area is home to Ramen Ichiraku which is inspired by the ramen bar seen in the Naruto series. There, they have cooked up a new ramen dish inspired by Gaara which comes with a boiled egg with the kanji for 'love' (愛) that's written on the character's forehead.

Naruto themed hotel rooms at Highland Resort Hotel & Spa

Fuji-Q Highland's official hotel, Highland Resort Hotel & Spa, has its own special Naruto-themed rooms with references to shinobi and the Hidden Leaf Village dotted everywhere. A new batch of amenities are also set to roll out for guests from February 1, 2021 which will include yukata that dress you like Naruto and Sasuke, face towels with Naruto and Sasuke on them during their final battle, and more.

If you've always wanted to feel like you're in the world of Naruto, look no further than Fuji-Q Highland.

ⓒ岸本斉史 スコット/集英社・テレビ東京・ぴえろ

Information

Fuji-Q Highland Naruto x Boruto Hidden Leaf Village
Opening Hours: 10:00-17:00
Closed: [2020] December 10th / [2021] January 7th, 14th, 21st, 28th
Official Website: https://www.fujiq.jp/

Shinobi Japanese Ninja Suite Room NARUTO
Capacity: 4 People (¥6,000 for each additional person up to 6 people)
Book: https://www.highlandresort.co.jp/
*Booking comes with amenities

Fuji-Q Highland Begins Christmas Event at Gaspard and Lisa Town

Christmas cheer is here at Fuji-Q Highland, the popular amusement park in Yamanashi, where a special Christmas event is taking place at Gaspard and Lisa Town in the park.

Christmas gift set with original tote bag

Hot Coffee Set | ¥2,000 (Tax Included)

Up until Christmas Day, the Gaspard and Lisa Town shop is selling a special hot coffee set to warm visitors this holiday season which comes with coffee, cookies, and a coffee cup sleeve.


The set comes in a festive tote bag with Gaspard and Lisa celebrating Christmas 2020 around a Christmas tree.

Hot Coffee Set Contents
①Drip Coffee (Gaspard or Lisa version)
②5 Fujiyama Cookies
③Sleeve (Gaspard or Lisa version)
*Tote bags are available while supplies las

Treats for Christmastime

Gaspard and Lisa Christmas Jar Sweets | ¥500 (Tax Included)

At the Les Rêves Salon de thé tea salon, visitors can pick up a jar dessert which contains a sweet and sour tart topped with Gaspard and Lisa shaped cookies. Cafe Brioche is also selling a selection of freshly-made Christmas pastries.

When visitors spend over ¥2,000 in a single transaction at shops in the town they will receive a limited-edition Gaspard and Lisa Christmas coaster.

Send Christmas post to the Gaspard and Lisa creators

When buying something in the town, customers will be handed a Christmas card that they can send a message in to post in the town's Christmas postbox. The post will be sent to wife and husband Anne Gutman and Georg Hallensleben, the creators of Gaspard and Lisa, in Paris, France. Up on the second floor of the town's shop are also drawings and messages by the two creators delivered for this year's Christmas event.

Post Collection: November 14, 2020 – December 13, 2020

Location: Gaspard and Lisa Town Shop

*1 card per transaction, available while supplies last

Meet Gaspard and Lisa

Gaspard and Lisa donning Christmas cloaks will make an appearance on Christmas cloaks to light up the Towatomo Tree. Visitors can also enjoy a soup with a cute Gaspard or Lisa sleeve.

Date: December 25, 2020
Time: From 16:30
Location: Gasprd and Lisa Town's Towatomo Tree
Prices:
Soup Only – ¥300 (Tax Included)

Soup & Sleeve – ¥720 (Tax Included)

Wine bottle shaped chocolate

~Le Premier~Le chocolate au vin | ¥2,980 (Tax Included)

The bakers at Highland Resort Hotel & Spa have crafted a new wine bottle-shaped chocolate for the Christmas event. Its sweetness makes it perfect for pairing with wine.

Available: Les Rêves Salon de thé in Gaspard and Lisa Town

©2020 Hachette Livre

Information

Gaspard and Lisa Town Christmas
Running: November 14, 2020 – December 25, 2020

Location: Fuji-Q Highland

Address: 5–6-1 Shinnishihara, Fujiyoshida, Yamanashi

Opening Hours: 9:00-17:00

Closed: December 3 / December 10

Official Website: https://www.fujiq.jp/en/

Directions to the park: https://www.fujiq.jp/en/access/

Fujikawaguchiko Autumn Leaves Festival 2020 Begins This November

The Fujikawaguchiko Tourism Association will host this year's Fujikawaguchiko Autumn Leaves Festival, which will be the 22nd run, to help support the tourism industry in the northern region of Fuji which has seen a great impact as a result of the COVID-19 pandemic.

With much less people travelling to Japan during the pandemic, and the virus having continued for a long time, the Fujikawaguchiko Tourism Association is instead focusing on travellers within the country by hosting various events that can be enjoyed at Fujikawaguchiko.

All the necessary precautions will be taken at this year's festival, including taking people's temperature upon arrival, the mandatory wearing of face masks, alcohol gel being available at the site, and more. This will protects not only the locals but sightseers too, and so cooperation is being asked of everyone visiting.

At this year's festival, visitors can look forward to the popular Momiji Tunnel of maple trees which will be lit up at sunset until 10:00pm. The beautiful autumn colours can be enjoyed with Mount Fuji in the background. There will also be food, souvenirs, and a variety of activities to be enjoyed.

The Momiji Tunnel is an absolute must-see for anyone visiting Yamanashi during autumn and is nothing less than Instagram-worthy.

Information

22nd Fujikawaguchiko Autumn Leaves Festival
Location: Around Lake Kawaguchi
Running: November 7, 2020 – November 29, 2020

Opening Hours: 9:00-19:00 (Light up is from sunset to 22:00)
Access: 25 mins from Kawaguchiko Station by bus (nearest bus stop: Itchiku Kubota Art Museum Stop)
Entry: Free

*Please observe social distancing and government guidelines in relation to COVID-19.

*Fujikawaguchiko is a World Heritage Site and recognised as a place of natural beauty. Please take your trash home with you.