Hokkaido's New Hotel Boasts a Famous Hot Spring and Overlooks the Tsugaru Straits
Core Global Management is set to open the all-new Yunokawa Onsen Umi to Akari Hewitt Resort on July 1, 2021. In line with its opening, Japanese calligrapher Shoko Kanazawa has been put in charge of designing the hotel's name logo.
The sea and sky meet in the Infinity Onsen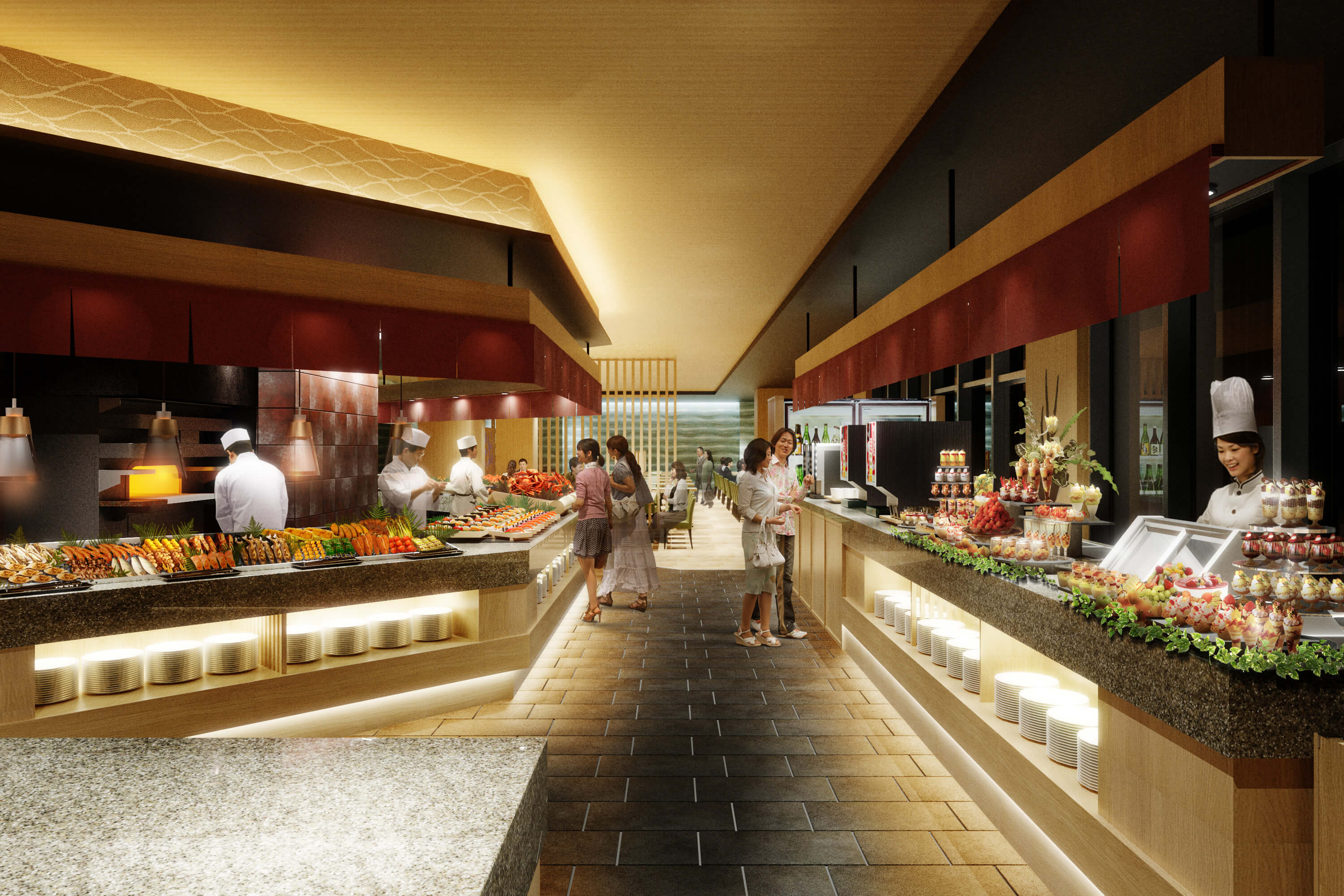 Tsukifune: the buffet restaurant
Enjoy Japanese-style food at Kumonami
Tatami baths
Fires prepared by the staff everyday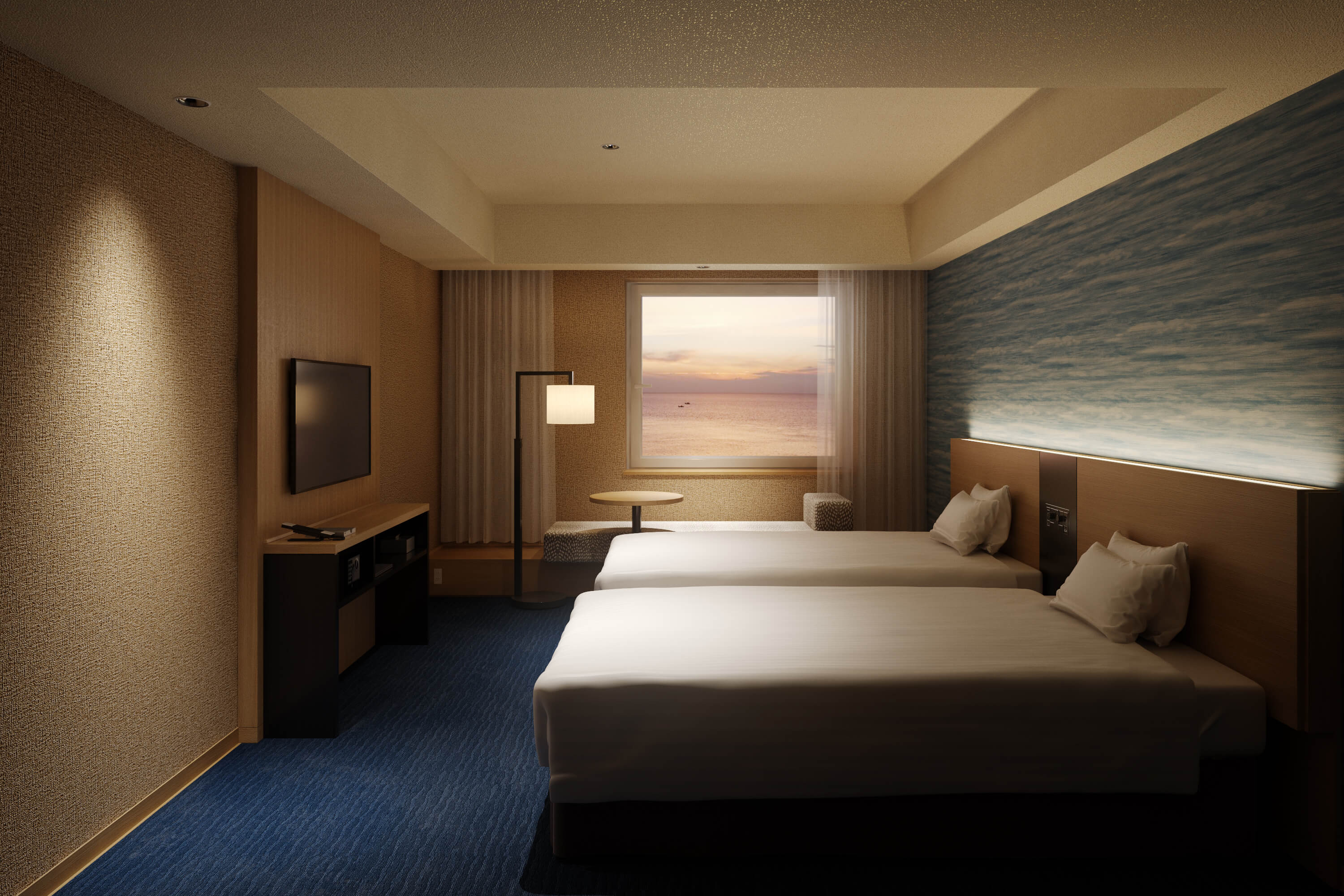 A look inside the guest rooms
A look inside the guest rooms
Yunokawa Onsen is one of the three major hot spring resorts in Hokkaido. During the Edo period, Matsumae Chikatsumaru, who later became the lord of the Matsumae domain, and Enomoto Takeharu, the president of the former Tokugawa shogunate, are said to have bathed in this very hot spring. Yunokawa Onsen Umi to Akari Hewitt Resort is a chance to enjoy the good old days of Hakodate Yunokawa.
The rooftop offers an unbroken view of the incredible Tsugaru Straits. Guests can also enjoy a tranquil moment at the historic hot spring with a cup of Hakodate's local sake and dango in hand underneath a moonlit sky while surrounded by the lights of fishing fires. There's also a chance for both kids and adults to take a dip in a tatami bath – something you don't really see in Japan.
Information
Yunokawa Onsen Umi to Akari Hewitt Resort
Address: 3-9-20 Yunokawacho, Hakodate, Hokkaido 042-0932, Japan
Access: 5-minutes by car from Hakodate Airport
Official Website: http://hewitt-resort.com/hakodate-yunokawa/
RELATED ENTRIES
'It's My Color! ~Rouge Red Room~' Concept Room Allows Guests to Surround Themselves with Red

Strings Hotel Nagoya will open a new concept room from January 15 until April 14, 2022. Those who love the color red won't want to miss it!

'It's My Color' is a room completely dedicated to a person's favorite shade. Imagine dressing up in red and spending time taking photographs in this completely red room. It's perfect for Valentine's Day!

While the room may be red for now, the color may change in the future. Guests can also enjoy a special strawberry afternoon tea set in their room during this event period.

Oriental Hotel Universal City, the Official Hotel of Universal Studios Japan, Holds Grand Opening

After a soft opening in July 2021, the Oriental Hotel Universal City has spent the last six months remodeling its entrance, lobby, restaurant, and guest rooms. The property has now officially held its grand opening and will be welcoming guests in 2022. 

Hotel Exterior

Guest Room

Restaurant Interior

Restaurant Interior

Huge Hamburgers

Croffle Eggs Benedict

Guest rooms feature earthy color tones and are spacious and functional, with beds provided by popular brand Simmons, promising a good night's sleep. A variety of room types are available, including double rooms, twin rooms, triple rooms, and connecting rooms, allowing for a flexible stay depending on the number of guests. Until March 31, 2022, the hotel is offering the 'New Room Stay Plan,' a long-stay luxury holiday plan that allows guests to stay up to 23 hours on departure day to enjoy shopping and other leisure activities.

The hotel's restaurant has been reimagined with a buffet concept and welcomes guests with high ceilings and large windows for a refreshing morning experience. The interior is accented with a green wall to conjure images of nature, and the breakfast menu is based on the concept of 'Charge from Nature,' offering a wide variety of dishes to help visitors recharge both body and mind.  

オリエンタルホテル ユニバーサル・シティはユニバーサル・スタジオ・ジャパンのオフィシャルホテルです
Universal elements and all related indicia TM & © 2021 Universal Studios. All rights reserved.
CR21-2553
 

Wakura Onsen in Ishikawa Prefecture to Hold Special Illumination, Luxurious Tea Time

The Wakura Onsen Tourist Association is sponsoring a new project to illuminate Seirinji Temple, a nationally registered cultural property. Along with this light show, guests can enjoy a luxurious tea time starting on January 8, 2022. This year, the pavilion and garden will be lit up again, and the entrance will be decorated with traditional local paper lanterns. 

The historic property was built in 1909 as a resting place for Emperor Taisho. Only two such buildings exist in Japan: one in Hamada City, Shimane Prefecture, and the other at Wakura Onsen. Both were registered as Tangible Cultural Properties of Japan in 2017. 

 

Last year, the area was photographed for posters and pamphlets as part of the 'Japanese Beauty Hokuriku' campaign organized by JR East, JR West, and the Central JR Railway.

Each Saturday evening through February 26, guests will be invited to enjoy a different kind of atmosphere while enjoying a very fancy tea time. The program has been very well received by visitors, so it shouldn't be missed!


The light-up of the temple and garden, with its slowly changing colors, will transport guests to another world. The entrance to Seirinji Temple will be redecorated and lit up, and a pathway of lights will be created from the gate to the entrance of the pavilion using paper lanterns.

Information

Seirinji Temple Illuminations & Luxury Tea Time

Running: Saturdays from January 8 – February 26, 2022 

First Seating: 17:00  

Second Seating: 18:00

Address: Seirinji Temple, Wakura Onsen (61 Wakuramachi, Nanao, Ishikawa)

*Available for guests of Wakura Onsen

Official Site: https://www.wakura.or.jp

Shiroikoibito Park in Sapporo to Hold Chocolate Factory of Light and Love Illumination Event

Shiroikoibito Park in Sapporo will hold a special illumination event from December 27, 2021 until March 14, 2022! The 'Chocolate Factory of Light and Love' is perfect for couples to visit during these cooler months. 

A popular event each year, the Shiroikoibito Park Illumination was cancelled last year due to the pandemic. As this event is held inside, it offers some shelter from the cold as guests wander through the 85-meter-long course. An escape game will also be held for the first time at the location, and will involve two participants attempting to solve riddles based on 'love' and 'chocolate.' The room is decorated with luxurious antique items imported from England.

Escape Game! Escape from the Chocolate Laboratory

Running: January 7 – March 14, 2022

Hours: 10:00-16:00

Reservations Available at Ticket Counter

Location: Study Base – Cacao Pod

Chocolate Take-Out

Available: February 11 – February 14, 2022 / March 12 – March 14, 2022

Hours: 10:00 until sold out

Price: ¥500 (Tax Included)

Location: Tudor House 1F Special Event Space

Dessert Set (with Drink): ¥1,700 (Tax Included)

Very Cocoa Set (with Drink: ¥1,700 (Tax Included)

Chocolate & Berries: ¥800 (Tax Included)

One-sided Love Hot Cocoa: ¥550 (Tax Included)


Beef Stew with Hokkaido Beef (served with bread or rice): ¥1,380 (Tax Included)


Chocolate Baumkuchen: ¥1,512 (Tax Included)
Where to Buy: Piccadilly Shop
On sale January 15, 2022 (Valentine's Day Exclusive)

Select Chocolates: ¥648 (Tax Included)
Where to Buy: Piccadilly Shop
On sale January 15, 2022



Inspired by the novel 'Charlie and the Chocolate Factory,' Shiroikoibito Park was opened to bring people together with sweets. How could guests not be happy in such a magical place?

Information

Shiroikoibito Park ~Chocolate Factory of Light and Love~

Running: December 27, 2021 – March 14, 2022

Ticket Office Open: 10:00-16:30 *Tickets available until 16:00

Official Site: https://www.shiroikoibitopark.jp/

Kyary Pamyu Pamyu Explores Tomakomai, Hokkaido in New Tour Video

Kyary Pamyu Pamyu is introducing potential travelers to the charms of Tomakomai, Hokkaido in a new two-part tourism video on her YouTube channel. 

In the new videos, fans can see Kyary in a new light very unlike her onstage persona. Along with her tour guides, she travels for two days around this gorgeous city on Japan's northernmost island.
The first video begins with her visit to a Red Eagles Hokkaido hockey game, quickly followed by tons of outdoor activities like canoeing and horseback riding. The singer enjoys plenty of local dishes and captures some spectacular views of Lake Utonai. 


Who is the one who invited Kyary to Tomakomai anyway? Fans will have to watch to find out. Whether living in Japan or dreaming about visiting someday, these videos are sure to inspire a future trip.

Boutique Hotel TRUNK to Hold Winter Market with Outdoor Comfort Concept

From December 20 until December 26, 2021, TRUNK, a boutique hotel in Jingumae, Shibuya, will hold the TRUNK Winter Market 2021. The theme of the event will be 'outdoor comfort,' and carrying on last year's tradition, the hotel will deliver content aiming to warm the body and soul during the cold winter season. The public terrace will be decorated with fire pits and lanterns, creating a space where visitors can fully enjoy the cozy atmosphere. The limited-time event will offer workshops, food, and drinks to be enjoyed with family and friends.

The food menu includes 'Chicken and Mushroom Pan Stew,' served in a bread bowl and made with fresh ingredients. Guests can also enjoy a 'Cheddar Cheese Crepe with Homemade Roast Ham,' along with plenty of scrumptious desserts. Perfect for the Christmas season, warm eggnog and mulled wine will be served, and kids will love the organic hot chocolate!

Four different workshops will be set up at tents in the public terrace. Kids Gabbeh Painting will teach kids how to design their own Gabbeh, a traditional small fabric woven by nomads in southwestern Iran. After drawing their design, artisans will weave the Gabbeh, and will send it to your home. The 'Socializing Flower Swag' workshop allows visitors to make swag using dried flowers that were upcycled from fresh flowers that would otherwise be thrown away. These will be silk-screened and wrapped for a great souvenir. Outdoor Candle is a workshop where visitors can create original leather candle holders. 




At Campfire Roast Coffee, guests can roast coffee over an open fire pit. Imagine how good it smells! Afterwards, you can take home your spoils.

There will also be a TRUNK Vintage Store on-site, where hotel staff will sell decorations and furniture no longer needed in the hotel, as well as clothes and other goods. 

Nagoya Tokyu Hotel's Newly Upgraded Sylvanian Families Room is Now Available

Nagoya Tokyu Hotel has launched its second plan in collaboration with the Sylvanian Families.

This plan allows you to enjoy the world of the Sylvanian Families, a series of dollhouse toys that have been loved by many fans since their launch in 1985. Following on from the first plan, which was very popular, the new plan allows guests to enjoy the hotel's original fruit sandwiches with Sylvanian Families characters imprinted on them at breakfast, as well as the opportunity to dress the dolls in a custom dress that can be freely decorated with lace and accessories to create your own Sylvanian Families.


In this plan, the space with sofas and tables in the room has been converted into a kids' space with play mats so that even small children can play safely. The kids' space is filled with houses and buildings from the "Sylvanian Families" series that kids can actually touch and play with, such as the "Big House with a Red Roof (Classic Color)," the "Doki Doki Tree House in the Forest", and the "Dreamy Amusement Park in the Castle", as well as the chocolate-covered rabbit girl "Flare" and many other friends. There will also be a red and white polka-dot dress (size 110 only) that kids can try on to match with "Flare".


The number of adult fans who enjoy taking pictures of cute Sylvanian Families scenes and posting them on social media is also increasing very quickly. Let's enjoy the world of "Sylvanian Families" to the fullest!

© EPOCH

Information

Family Plan with Kids Space to Play with Sylvanian Families

Runnning: Until February 28, 2022.
Room: Superior Twin Room

Reservation/Contact: 052-251-5922

Sailor Moon Store to Open at Paseo in Sapporo, Hokkaido for Limited Time Only

Kiddy Land will be holding the "Sailor Moon store -petit-" at Paseo, a shopping center connected directly to Sapporo Station in Hokkaido, for a limited time only from December 17 to March 27, 2022.

Sailor Moon store -petit- is a traveling branch of Sailor Moon Store, which gathers all the products of Sailor Moon series. During the period, there will be rewards for purchasing the products, so take this opportunity to visit the Sailor Moon Store.


© Naoko Takeuchi
© 武内直子・PNP/劇場版「美少女戦士セーラームーンEternal」製作委員会
© 武内直子・PNP・東映アニメーション

Hokkaido's OMO7 Asahikawa Resort Opens Animal Sauna

Hoshino Resorts OMO7 Asahikawa has announced a new 'Animal Sauna,' inviting guests to spend time with cute animals to heal the body and soul. The sauna will be open from March 1 to May 31, 2022. 

Fans of Gashapon capsule toys know that animal sauna figures are popular among sauna enthusiasts. These figures are only about four centimeters big, but during this sauna event, they will be life-sized and placed within the sauna space! These massive figures were made with the help of Bandai. 

Sauna hats protect guests' heads and hair from the heat, and sauna ponchos prevent guests from getting too cold after emerging from the space. Now, these hats feature cute animal ears, and the sauna mats are covered in animal prints as well. These will also be available to rent or buy! 

The lounge space will also be transformed, and a drink bar with animal-themed glasses will help guests to rehydrate after time in the sauna. Yes, the lounge space also features life-sized animals, perfect for nature lovers. 

Gashapon figures will be available to purchase on the first floor, so be sure to grab one as a souvenir! 

ⒸBANDAI

Information

Animal Sauna

Running: March 1 – May 31, 2022

Hours: 15:30-24:00 (Last entry 23:30)

*Only Available to Hotel Guests

Admission: Free

Official Site: https://omo-hotels.com/asahikawa/

Hoshinoya Karuizawa Unveils Special Anniversary Plan on the Ice

Each Hoshinoya location has its own unique theme, and all offer an extraordinary experience. Hoshinoya Karuizawa, a resort in Nagano Prefecture, has opened reservations for the Starry Winter Anniversary Plan, allowing couples to celebrate their love away from the hustle and bustle of the city beneath the dazzling winter sky. The staff at the resort will assist couples in celebrating the special day at various locations around the resort, and a custom-made photo tour will also be included!

Surrounded by rich nature at the foot of Mt. Asama, Karuizawa reaches low temperatures in winter, creating beautiful scenery dotted with icy trees and snow glistening in the sunlight. This plan is perfect for those who want to escape the stresses of the current pandemic. 

A Special Seat on the Ice

The Karuizawa Wild Bird Sanctuary is located directly beside Hoshinoya Karuizawa and houses the Kera Pond at the entrance. Used as an outdoor skating rink during the winter months, a large two-person seating area is erected on the ice which can only be reserved for couples. Lovebirds can enjoy champagne, dried fruits, and cheese as they gaze up at the starry sky. 

Guest Rooms Decorated for the Celebration

With rooms offering spectacular nature views, couples can enjoy herbal tea, sweets, and flower arrangements only included in this special plan. The flowers may be taken home, and the sweets include florentines made with miso, a specialty of the Shinshu area. They are said to be 'sweets that bring happiness,' and may be the key to many more happy years together!

Custom-Made Photo Tour

The landscape around the resort pays homage to traditional Japanese landscaping and includes terraced rice paddies, rivers, and unique vegetation. The custom-made photo tour is a private tour limited to one group, in which couples stroll around the grounds with a photographer to take photos at these spectacular locations. These will be made into an album with the Hoshinoya Karuizawa logo. 

Hotel MIMARU Offering Christmas Room in Collaboration with Awesome Store

Lifestyle shop Awesome Store is collaborating with the MIMARU hotel chain to create a secluded and supremely cozy Christmas Room. The special room will only be available from December 1 until December 25, 2021. Each spacious room features a kitchen and is decorated with plenty of holiday goodness, making it the best place to spend the Christmas season with family and friends. 

Original tableware from Awesome Store will be left in each room, so guests can easily throw a Christmas party by having food delivered or grabbing takeout. There's no need to decorate, as the space will be completely overrun by ornaments and garlands. How would you like to spend Christmas here? 

Information

Awesome Store Christmas Room

Available: December 1 – December 25, 2021

Participating Hotels:
MIMARU Tokyo Akasaka

MIMARU Tokyo Nihombashi Suitengumae

MIMARU Tokyo Ueno Okachimachi

MIMARU Tokyo Ueno Inaricho

Reservations/Official Site: https://mimaruhotels.com/

OMO7 Asahikawa Resort in Hokkaido Offers Polar Bear Valentine's Day Girls' Party Package

Not a fan of Valentine's Day? Want to get away from all the in-your-face romance and just have a good time with your gal pals? OMO7 Asahikawa by Hoshino Resort in Hokkaido is offering a limited-time polar bear-themed Valentine's Day Girls' Party package for all of February 2022. The single polar bear room, opened in November 2020, will be transformed into its Valentine's Day version. 

Valentine's Day has been popular in Japan for many years and is a day when women give gifts to men to express their feelings. However, in recent years, it has also become a less romantic event for some–people are buying chocolate for themselves, or giving candies to friends. The polar bear room is perfect for girlfriends who just want to relax and have a good time. Why a polar bear? The Asahikawa Zoo is nearby and is an incredibly popular attraction.

The Polar Bear Valentine Room, Only Available for One Party per Day

Decorated from top to bottom in cute bears, guests can also wear matching polar bear loungewear, perfect for those Instagram shots. This will be a girls' gathering you'll never forget!

Polar Bear-inspired Snacks for the Perfect Girls' Night

When girls get together, they just love to chat. But talking so much can make you hungry, so plenty of snacks will be waiting in the guest room! If you're not in the snacking mood, they also make wonderful souvenirs. 

Polar Bear Desserts, A Must-Have in Asahikawa

The area around OMO7 Asahikawa is lined with stylish cafes where you can take a break from your daily life. After enjoying the Valentine's Room, head out into the nearby neighborhood to Fukuyoshi Cafe for some polar bear sweets. The treats are included with the price of the room, so there's no reason to miss it!