Hokkaido's New Hotel Boasts a Famous Hot Spring and Overlooks the Tsugaru Straits
Core Global Management is set to open the all-new Yunokawa Onsen Umi to Akari Hewitt Resort on July 1, 2021. In line with its opening, Japanese calligrapher Shoko Kanazawa has been put in charge of designing the hotel's name logo.
The sea and sky meet in the Infinity Onsen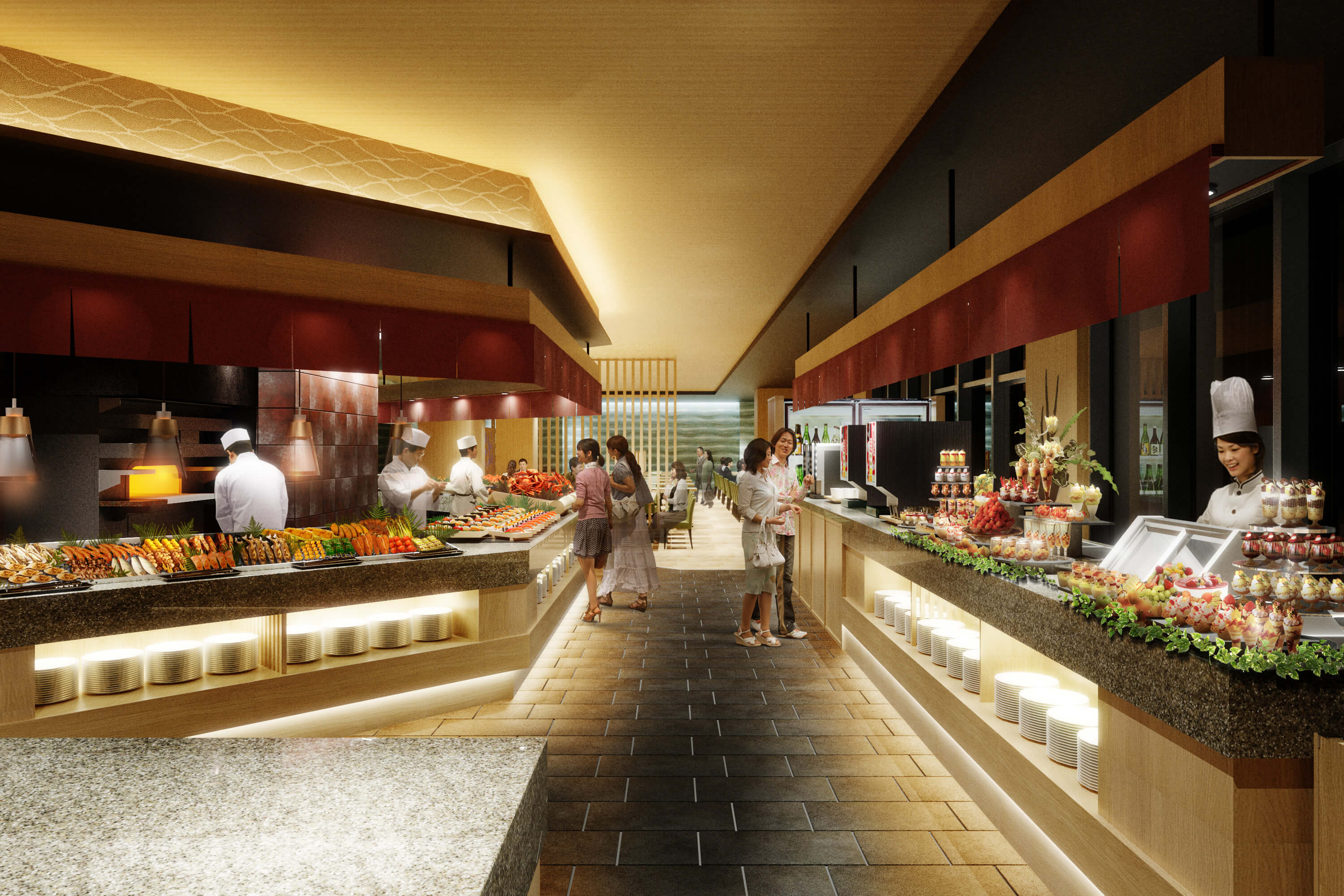 Tsukifune: the buffet restaurant
Enjoy Japanese-style food at Kumonami
Tatami baths
Fires prepared by the staff everyday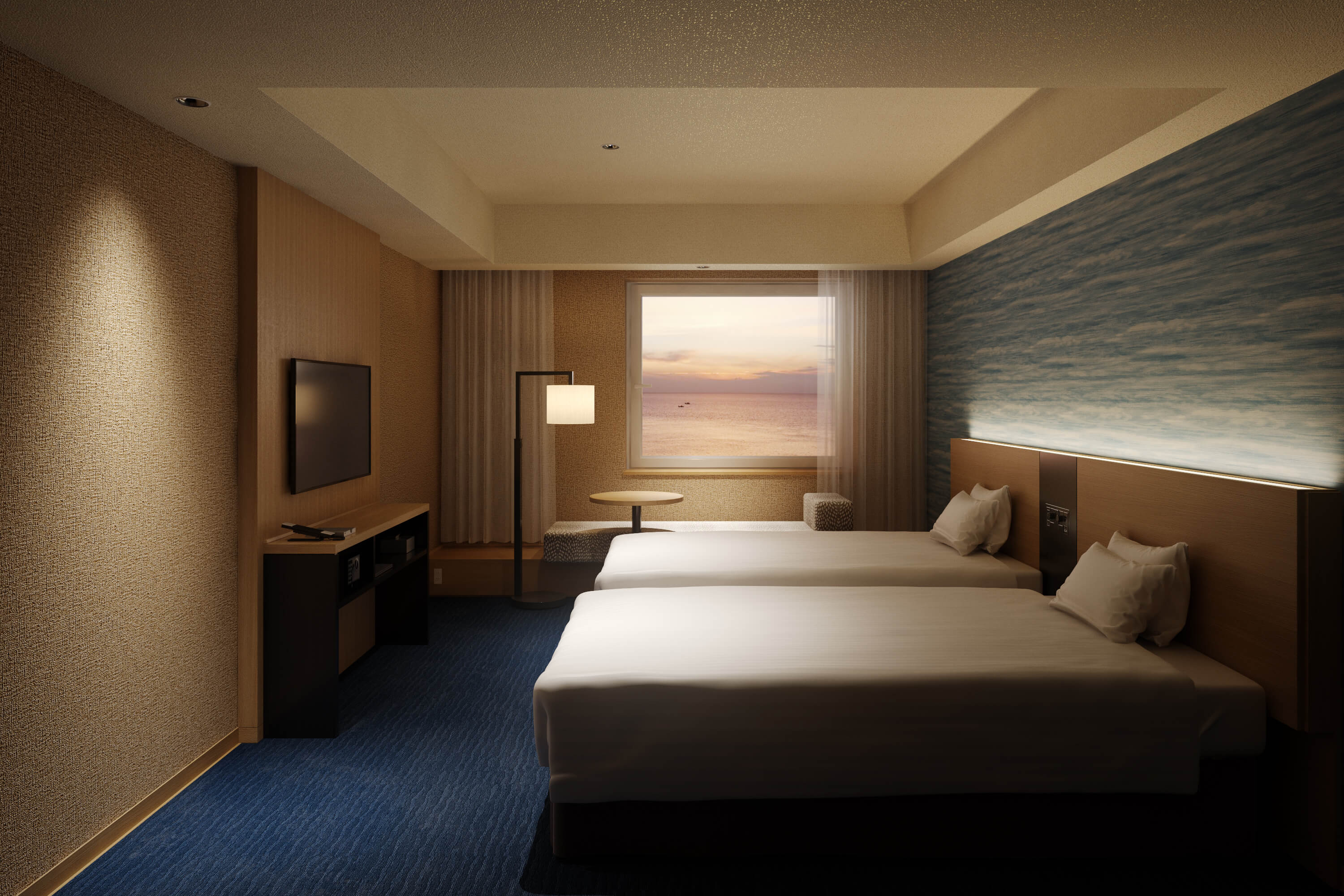 A look inside the guest rooms
A look inside the guest rooms
Yunokawa Onsen is one of the three major hot spring resorts in Hokkaido. During the Edo period, Matsumae Chikatsumaru, who later became the lord of the Matsumae domain, and Enomoto Takeharu, the president of the former Tokugawa shogunate, are said to have bathed in this very hot spring. Yunokawa Onsen Umi to Akari Hewitt Resort is a chance to enjoy the good old days of Hakodate Yunokawa.
The rooftop offers an unbroken view of the incredible Tsugaru Straits. Guests can also enjoy a tranquil moment at the historic hot spring with a cup of Hakodate's local sake and dango in hand underneath a moonlit sky while surrounded by the lights of fishing fires. There's also a chance for both kids and adults to take a dip in a tatami bath – something you don't really see in Japan.
Information
Yunokawa Onsen Umi to Akari Hewitt Resort
Address: 3-9-20 Yunokawacho, Hakodate, Hokkaido 042-0932, Japan
Access: 5-minutes by car from Hakodate Airport
Official Website: http://hewitt-resort.com/hakodate-yunokawa/
RELATED ENTRIES
Anime 'The Vampire Dies in No Time' Inspires Concept Room in Shin-Yokohama

Shin Yokohama Prince Hotel will be offering a special room and collaboration menu inspired by the popular anime series The Vampire Dies in No Time from September 22 until November 30, 2022. Reservations will open on the hotel's official website starting September 12 at 1:00 PM. 

The Vampire Dies in No Time follows the hilarious adventures of the vampire Draluc and the vampire hunter Ronaldo. Set in the city of Shin-Yokohama, it makes sense that this collaboration would be taking place!

Original Goods

Collaboration Menu

Guests and fans of the series will be able to enjoy a fully-decorated room and collaboration menu inspired by characters from the popular anime series.

The concept room, located on an upper floor overlooking the Shin-Yokohama cityscape, is decorated with illustrations of Draluc, Ronaldo, and other characters. The guest-only goods feature newly-drawn illustrations. 

Sweets plates and drinks will be served at the restaurant on the top floor of the hotel. Guests can enjoy desserts shaped like Ronaldo's red hat and Draluc's ashes, so don't miss it!

©盆ノ木至(秋田書店)/製作委員会すぐ死ぬ

Information

Shin-Yokohama Prince Hotel x The Vampire Dies in No Time
Available: September 22 – November 30, 2022

Collaboration Menu

Available: September 22 – November 30, 2022
Venue: Top of Yokohama Bar & Lounge (42F)
Hours: Weekdays 4:00-7:00 PM / Weekends & Holidays 2:00-5:00 PM
Reservations Open: September 12, 1:00 PM
https://www.princehotels.co.jp/shinyokohama/plan/contents/94

HOTEL SHE, KYOTO Invites Guests to Stay in a Gallery for a Limited Time

Art subscription service Casie is collaborating with HOTEL SHE, KYOTO! A special art exhibition titled GALLERY HOTEL SHE, will be held from September 17 until October 16, inviting guests to enjoy the once-in-a-lifetime experience of staying in a gallery overnight!

During the event period, guests of HOTEL SHE, KYOTO will be able to select their favorite piece of artwork from an on-site gallery. The piece will then be hung in their guestroom, and visitors can spend the night appreciating it at their own pace. This is a great way to learn more about art appreciation, and guests can enjoy discussing the art world with their friends and family. 

 

"Although we may view art in museums and other venues, it is rare to have the opportunity to select and display a work of art of our own choice," the project description reads. "Through this unique experience, we aim to provide guests the chance to actively engage with art and inspire them to make art a part of their daily life going forward."

Tomakomai Mirai Fest 2022 Announces Second Round of Performers, Additional Details

New performers and events have been announced ahead of the start of Tomakomai Mirai Fest 2022 in Tomakomai, Hokkaido on September 17 and 18. The event will be held in one of the most gorgeous towns on the island and excitement is building!

The purpose of this event is to promote the appeal of the Tomakomai region, not only to those living in Japan but to those living abroad. In addition to music, the event will also feature art, food, technology, and more content that can be enjoyed by kids, families, and people of all ages and genders.

Tomakomai Civic Hall, Large Hall

Incredible live performances will be held in a futuristic setting. Along with Awesome City Club, Kyary Pamyu Pamyu, and Little Glee Monster, guests can look forward to seeing HY, Wednesday Campanella, Taichi Mukai, and Atarashii Gakko!

Tomakomai Civic Hall, Parking Lot

DJ performances and food trucks will welcome guests to the futuristic area, and the illuminations are sure to impress!

Kirakira Park

An AR system accessible by smartphone will allow guests to take pictures of the Tomakomai Mirai Fest logo for a surprise. During the daytime, a food truck area will provide visitors with different types of gourmet offerings and a stage will showcase local dancers and musicians from Tomakomai. A family-friendly picnic area will allow guests to relax and enjoy good food and live music.

At night, in addition to impressive illuminations and a live stage showcasing Hokkaido's best talent, an island bar will amplify the mood.

O-machi/Nishiki-machi

During the daytime, a gourmet area will feature Tomakomai's famous curry ramen, local craft beer, craft spices, and more. At night, visitors can enjoy restaurants in the O-machi and Nishiki-machi areas while still enjoying the vibe of the event.

And More!

A stamp rally will be held during the event, and guests finding stamps at each location will be eligible to win fantastic prizes. A bus service is also planned.

More performers and details will be announced soon, so stay tuned!

Information

Tomakomai Mirai Fest 2022

Dates: September 17 and 18, 2022

Tomakomai Civic Hall, Large Hall (Admission Fee Required)

September 17 / Doors Open 16:30, Event Starts 17:30

September 18 / Doors Open 14:30, Event Starts 15:30

Tomakomai Civic Hall, Parking Lot / Kirakira Park / O-machi, Nishiki-machi (Free Entry)

September 17: Open at 12:00

September 18: Open at 11:00

*May be earlier or later depending on the venue. Detailed event times will be announced at a later date.

Locations: Tomakomai Civic Hall, Large Hall / Parking Lot / Kirakira Park / Around Omachi, Nishikimachi

Ticket Agency: Ticket Pia

[1-day or 2-day Tickets Available]
Official 2nd Advance Ticket Lottery: July 28, 12:00 – August 7, 23:59

https://w.pia.jp/t/tomakomaimiraifest22/

Official Site: http://miraifest-tomakomai.jp/

Toshio Suzuki Studio Ghibli Exhibition Inspires Limited-Time Hotel Suite

The Grand Prince Hotel Takanawa in Tokyo will offer a special suite inspired by the upcoming Toshio Suzuki Studio Ghibli Exhibition from July 1 until August 31, 2022. This will include tickets to the exhibition, which will take place at Warehouse Terrada in Shinagawa from July 1 until September 7. 

Toshio Suzuki, a producer at Studio Ghibli, has worked with both Hayao Miyazaki and Isao Takahata on a number of beloved masterpieces. The exhibition will feature a large bookshelf housing 8,800 of Suzuki's publications and favorite tomes. Many of these were published before Suzuki joined Studio Ghibli, and guests are invited to see how the producer was inspired to join the legendary studio after working as an editor at a manga magazine. To commemorate the exhibition's opening, this special suite is filled with books written by Suzuki along with other books that visitors may enjoy during their relaxing stay. 

In the suite, guests will find a list of 106 books that influenced Suzuki the most. This list will be available to take home. Visitors will also find reproductions of Suzuki's calligraphy. 

©TS ©Studio Ghibli

Tomakomai Mirai Fest 2022 to be Held in September

On September 17 and September 18, the Tomakomai Urban Renewal Project Committee will hold Tomakomai Mirai Fest 2022, inviting guests to celebrate the area around Tomakomai in Hokkaido. 

The purpose of this event is to promote the appeal of the Tomakomai region, not only to those living in Japan but to those living abroad. In addition to music, the event will also feature art, food, technology, and more content that can be enjoyed by kids, families, and people of all ages and genders.

The main venue of the event will be the Tomakomai Civic Hall. Musical acts announced so far include Awesome City Club, Kyary Pamyu Pamyu, and Little Glee Monster.

In the Tomakomai Civic Hall parking lot and the nearby Kirakira Park, guests can enjoy free DJ performances, mini-concerts, art and technology installations, food trucks, picnic areas, and more. In addition, the Nishikimachi and Omachi areas will be decorated with digital art, and food and beverages will be available.

Advanced 2-Day tickets are available now on Ticket Pia by lottery. More performers and additional content will be announced soon, so keep an eye on social media and the official website.

Information

Tomakomai Mirai Fest 2022

Dates: September 17 and 18, 2022

Venue: Tomakomai Civic Hall, Large Hall

Hours: 

September 17 / Doors Open 16:30, Event Starts 17:30

September 18 / Doors Open 14:30, Event Starts 15:30

*More detailed event times and locations will be announced at a later date.
Locations: Tomakomai Civic Hall, Large Hall / Parking Lot / Kirakira Park / Around Omachi, Nishikimachi

Tickets: https://w.pia.jp/t/tomakomaimiraifest22/

Official Site: http://miraifest-tomakomai.jp/

Banyan Tree Group Opens Garrya Nijo Castle Kyoto Hotel

Banyan Tree Group, one of the world's leading independent hospitality groups, held the grand opening of Galleria Nijo Castle Kyoto, on Friday, June 17, 2022. This is the first of the group's hotels to open in Japan.

Hotel Exterior

Located south of Nijo Castle, a World Heritage Site, and named after the beautiful winter flower, Galleria Nijo Castle Kyoto is a small, modern, and minimalist luxury hotel that offers simple guests a chance to recharge themselves.

Wellbeing Room


For the grand opening, a new Wellbeing Room has been opened where visitors can experience quiet meditation.

Visitors can stroll through nearby gardens, temples, and shrines, take a tour of Kyoto's many historical sites, or spend time in the Wellbeing Room meditating or practicing yoga to recharge their batteries away from the hustle and bustle of everyday life.

The French Restaurant Singular will also offer up healthy and tasty meals with a focus on local ingredients and producers.


Enjoy a visit to Kyoto in this peaceful space perfect for resting both body and soul.

Hokkaido Information Base the Lodge to Open in 2023, Invites Guests to Learn More about the Area's Unique Attractions

Hokkaido Ballpark F Village, a commercial space coming in 2023 and located on the south side of ES CON Field Hokkaido, will feature a unique attraction. Visitors to Hokkaido won't want to miss checking out THE LODGE, an information center focusing on unique experiences and attractions that can only be found on Japan's northernmost island.

THE LODGE will be located in the center of F Village, connecting the ES CON Field to the waterfront area. Guests will be able to get valuable tips about local attractions and one-of-a-kind experiences.

In addition to a showroom where visitors can discover the charms of neighboring areas, the building will also serve as a tourism hub where tenants can enjoy outdoor activities and workshops. The location hopes to create a larger sense of community, and guests are encouraged to learn more about each unique and distinct area of Hokkaido. 

 

Materials unique to Hokkaido (Hokkaido larch, local cedar wood, Ebetsu bricks) were used to create the space, and the roof was made to reflect the local mountain range. The creators are excited to welcome guests to this warm and inviting space next year!

Buffet Inspired by 'Moominvalley Turns Jungle' to be Held for the First Time at Keio Plaza Hotel Hachioji

From June 1 until August 31, Keio Plaza Hotel Hachioji is inviting guests to travel to the adorable world of Moomin by partaking in two tasty buffet events at the Le Clair Restaurant on the second floor. In Moomin's home country of Finland, people start enjoying the summer following the solstice in June. The theme of this project is 'Moominvalley Turns Jungle,' inspiring the hotel's chefs to create a spectacular original menu. A tasty lunch buffet will be held Tuesday through Friday during the event period, while a sweets buffet will take place on weekends and holidays. The restaurant's interior will be decorated with artwork from Tove Jansson's 1956 comic Moominville Turns Jungle.

The Moomin Lunch Buffet is titled 'Jungle Party in Moominville,' and will depict a fun summer lunch get-together in the titular character's home village. The lineup of foods includes smoked salmon canapes, marinated herring, and sardine sandwiches, all typical of Scandinavian cuisine. Plenty of spiced dishes and veggies will be available, the latter looking like they came from Moominmamma's garden. August 9 is Moomin Day, and the chefs will be preparing some extra goodies for each guest on that day only.

The Moomin Sweets Buffet will feature adorable desserts created by expert pâtissiers and will be inspired by Moomin and his friends enjoying the summer. From red velvet cake made to look like Little My's dress to chocolate mousse in the style of Moominpappa's Silk Hat, fans of the series will want to snap plenty of pictures before they dig in! Tons of sweets will include popular Scandinavian ingredients like red currants, raspberries, and blueberries. The welcome plate, limited to one per person, will change monthly, with a Tropical Parfait coming in July and an Edible Jungle coming in August. Light meals will also be available to compliment the sweets.

The Sweets Buffet will also include a special table plan limited to three per day, using plates and mugs included in the Moomin by Arabia 2022 Summer collection. Guests participating in this plan can order a special non-alcoholic cocktail created by the restaurant's bartender and made with rose-colored ice inspired by Moominmamma's love for flowers.

Information

Moomin x Keio Plaza Hotel Hachioji

 

Moomin Lunch Buffet ~Jungle Party in Moominvalley~

Running: June 1 – August 31, 2022 [Tuesday-Friday only]
Location: Le Clair Restaurant, 2F
Hours: 11:30-15:30 (2-hour seating) *Last order 30 minutes before reservation ends.

Moomin Sweets Buffet ~Moominvalley Turns Jungle Fun Summer Time~
Running: June 4 – August 28, 2022 [Weekends and Holidays only]
Location: Le Clair Restaurant, 2F
Hours: [1] 11:30-13:00 [2] 12:00-13:30 [3] 14:30-16:00 [4] 15:00-16:30

Buffet Bonuses: https://www.fujibi.or.jp

Advanced Reservations begin on May 17, 14:00 for hotel email subscribers, LINE Friends only
Standard reservations begin May 19 at 10:00
Details/Reservations: https://www.keioplaza.co.jp/hachioji/event/moomin/

Moomin by Arabia Product Information:
https://www.arabiajapan.jp/products/list.php?category_id=61
Sekiguchi Product Information: https://www.sekiguchi.co.jp/collection/

NAKED's Popular Night Walk Returns to Illuminate Jozankei Onsen in Hokkaido

The JOZANKEI NATURE LUMINARIE -WATER LIGHT VALLEY- event is coming back in 2022! The event, which shows off the natural beauty of Jozankei's rivers, valleys, and forests, from June to October. Guests can enjoy an illuminated walk along the Toyohira River in the Jozankei area of Hokkaido and wander across the picturesque Futami Suspension Bridge. 

 

This year, the park area at the entrance to the event has been redesigned with new lights. A 2.5-meter-high blue dome will welcome guests with an image of water, and the trees and wisteria trellises will be decorated with twinkling golden lights.

Welcome Light Lake *Image from 2021

River Road

Forest Water Ripple

Nature Projection

Futami Valley

Visitors will encounter a variety of unique light art as they stroll through the rich nature of Jozankei guided by the elusive kappa, known to be the guardian Gods of the region. As visitors approach, the river begins to glow while flowers bloom in this interactive art experience. By using projection mapping across the Futami Suspension Bridge and an all-encompassing light show within the canyon, the event hopes to remind visitors that nature is important and worth preserving. 

How would you like to spend your summer deep in the illuminated nature of Hokkaido?

Information

JOZANKEI NATURE LUMINARIE – WATER LIGHT VALLEY

Address: Jozankei Futami Park – Futami Suspension Bridge
(Jozankei Onsen Nishi 4-chome, Minami-ku, Sapporo, Hokkaido)

Running: June 1 – October 23, 2022
Hours:
June – August: 19:00-21:00
September – October: 18:00-21:00

*Tickets available for guests of Jozankei Onsen only
Official Site: https://jozankei.jp/jozankei-nature-luminarie

Conrad Tokyo Hotel to Offer Peach Afternoon Tea in Collaboration with Luxury Brand Wedgwood

Starting July 1, guests visiting the five-star Conrad Tokyo hotel can enjoy a new peach-filled afternoon tea menu for a limited time. Designed in collaboration with the British luxury brand Wedgwood, the lineup includes both savory and sweet items perfect for summer. The afternoon tea will be available on the 28th floor at the aptly named Twenty Eight Bar and Lounge.

In collaboration with Wedgwood, a 260-year-old porcelain and fine china brand used by the British royal family, this special service will feature an afternoon tea plate with a tempting array of sweets. The plate itself is from Wedgwood's world-renowned Gio collection and features a honeycomb pattern embossed on fine bone china. The contrast between the modern setting, the classic and refined shape of the white tableware, and the beautiful pink treats will come together to create the most memorable summer moment imaginable.

Coconut & Earl Grey Panna Cotta / Rose Jelly / Peach Compote

Wine and Peach Gelatin / Vanilla Mousse

White Peach Mousse / Raspberry Gelatin

White Peach and Soy Milk Sandwich

Apricot Tart / Peach Cream

Peach Soup / Lobster Consomme Jelly

White Peach and Chicken Mousse Tart

Pork Rillettes and Peach Slider

Highlights from the sweets menu include coconut & Earl Grey Panna cotta served with rose jelly and peach compote, peach gelatin infused with red wine and vanilla mousse, and a delectable white peach and soy milk sandwich. For those with less of a sweet tooth, the afternoon tea service also offers delectable dishes like a white peach and chicken mousse tart, a pork rillettes and peach slider, and more. Guests can also enjoy a selection of scones in either plain or coconut, each served with clotted cream and either peach or guava jam. Over 20 beverages will be on offer, including Wedgwood teas.

Rilakkuma 20th Anniversary Tour to Visit Hokkaido

Everyone's favorite lazy bear Rilakkuma is turning 20! To commemorate this big event, Sanrio is holding a special tour that will travel around Japan. From July 13 until August 31, events will pop up in three cities in Hokkaido–Sapporo, Obihiro, and Hakodate.

Merchandise

Rilakkuma & Todok Collaboration Cotton Gloves

The environmentally-friendly event will offer locally designed products made from recycled materials. A special Hokkaido Ocean Cleanup will also be held with a group in Sapporo, and those participating in the event will receive a limited edition pair of cotton gloves.


Prior to the start of the event, the official Twitter account of the Rilakkuma tour (@rk_ensembletour) is running a limited-time campaign until May 29. 10 lucky people will win a magnet sticker not available for sale! To enter, just follow the account and retweet the tagged Tweet.

Information

Anniversary Tour ~Let's Share the Leisurely SDGs Together~

Sapporo Venue

Running: July 13 – July 25, 2022

Venue: Daimaru Sapporo 7F

Address: 4-Chome-7, Kita 5-Jonishi, Chuo-ku, Sapporo

Obihiro Venue

Running: July 29 – August 9, 2022

Venue: FUJIMARU 6F Event Space

Address: 8-Chome-1 Nishi 2 Jominami, Obihiro

Hakodate Venue

Running: August 13 – August 31, 2022

Venue: Kanemori Yobutsu Red Brick Warehouse Event Space

Address: 14-12 Suehirocho, Hakodate
Contact/Details: 

Cut-off Date: June 5, 2022
https://mybottle-eco.com/action/cleanup/

Hokkaido Ocean Cleanup
Date: June 15, June 18 / 10:00-11:00 (Reception open at 9:30~)
Location: 51 seashores around Hokkaido

Participation Fee: Free

Event: https://www.san-x.co.jp/rilakkuma/ensembletour/
Hokkaido Special Site: https://www.san-x.co.jp/rilakkuma/ensembletour/hokkaido.html

Extensive Demon Slayer: Kimetsu no Yaiba Exhibition to Open at Sapporo Factory in Hokkaido

An exhibition focusing on the Mugen Train and Entertainment District Arcs of Demon Slayer: Kimetsu no Yaiba will open at Sapporo Factory in Hokkaido from July 15 until August 7, 2022.

Fans of the series won't want to miss this huge showing of Demon Slayer materials, including a video exhibit showing off some of the best fight scenes from the film and anime series on a massive screen. 

Stay tuned for more details!

©吾峠呼世晴/集英社・アニプレックス・ufotable

Information

Demon Slayer: Kimetsu no Yaiba – Mugen Train Arc / Entertainment District Arc

Running: July 15 – August 7, 2022

Hours: 10:00-19:30 *Closing at 17:00 on August 7
*Admission permitted until one hour before closing time.

Venue: Sapporo Factory 3-jo 3F 

Official Site: http://www.stv.jp/