Cinnamoroll's Warm & Fluffy Dessert Party to Grace Hilton Osaka This Summer
Hilton Osaka's second floor restaurant Folk Kitchen has announced a collaboration with Sanrio to serve up Cinnamoroll's Warm & Fluffy Dessert Party, a food menu themed on Sanrio's popular character Cinnamoroll who took home the number one spot in the 2020 Sanrio Character Ranking. He was born up on a cloud in the sky, and that's where guests are invited to dine with him: on his dessert wonderland, featuring around 25 dreamy-cute items, atop a fluffy cloud. The restaurant will take on special decorations for the menu's duration, and guests might even spot some other familiar Sanrio faces too like Hello Kitty, My Melody, and more.
Raindrop & Dance Yogurt Ring Cake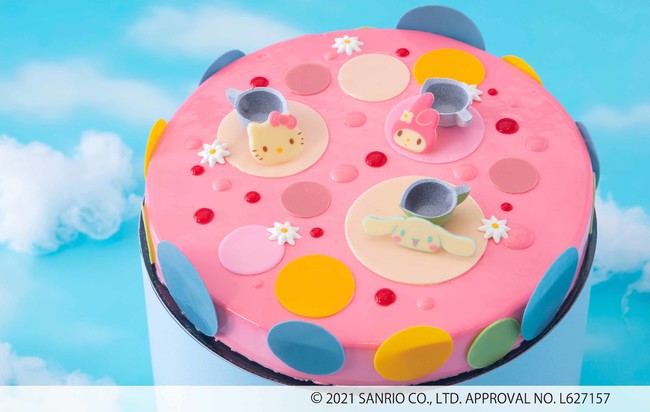 Kuru Kuru Coffee Cup Peach Mousse
Warm & Fluffy Cloud Mousse
Cafe Cinnamoron Cream-Loaded Pastries /Brown Sugar Chocolate Flower Tarts
Marshmallow Truffle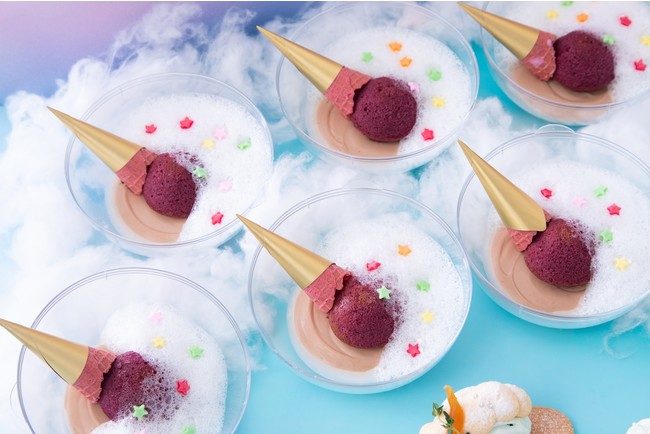 I Dropped My Ice Cream – Chocolate Mousse & Blackcurrant Cake
This is Hilton Osaka's third summer dessert buffet in a row held in collaboration with Sanrio's characters. Focusing on the greatly loved Cinnamoroll, whose fandom is mostly made up of those in their teens and 20's, guests can look forward to tucking into a deliciously kawaii menu. The restaurant's pastry chef Hyaku, also known as the wizard of smell and texture, recommends the 'Raindrop & Dance Yogurt Ring Cake' which is made with a fruity mango cream that melts into a creamy sour mousse. The raindrops are represented by chocolate, and the fluffy cloud is actually crunchy meringue. The dessert captures the bright and sparkly world of Cinnamoroll.
The 'Kuru Kuru Coffee Cup Peach Mousse' is loaded with peach compote and vanilla mousse for an exquisite balance of flavours. It's topped off with Sanrio characters made of chocolate.
The 'Warm & Fluffy Cloud Mousse' has a gorgeous pink gradation. Inside the honey mousse is a refreshing layering of sudachi citrus jelly, fresh orange, and pistachio biscuit.
There's also the 'Cafe Cinnamoron Cream-Loaded Pastries' and 'Brown Sugar Chocolate Flower Tarts' which capture the cuteness of Cinnamoroll.
There's also a refreshing dessert-in-a-glass for cooling down over the summer: the 'Marshmallow Truffle' which is inspired by unicorns. It has alternating layers of raspberry and lychee cream which when mixed create all-new delights for your taste buds.
Another fun item on the menu is the 'I Dropped My Ice Cream – Chocolate Mousse & Blackcurrant Cake.' Now that's a mouthful! The ice cream cake is steeped in elderflower foam which goes amazingly well with the chocolate mousse. Other bites include the hibiscus-scented 'Almond Panna Cotta White Peach Compote' and the 'Rainbow Agar-Agar' among other things.
Cinnamoroll's Warm & Fluffy Dessert Wonderland – Sanrio Characters Collaboration Afternoon Tea Set
There's even a special afternoon tea set served in a cute little jewellery box!
There are many kawaii moments to be had in Japan, and this is one of many!
Information
Cinnamoroll's Warm & Fluffy Dessert Wonderland – Sanrio Characters Collaboration Tea Party
Japanese Name: シナモロールのふわもこスイーツワンダーランド ~サンリオキャラクターズ コラボティーパーティー~
Running: June 4, 2021 – September 12, 2021
Where: Folk Kitchen (Hilton Osaka Floor 2F)
Serving Times: Everyday 15:00-16:30
Price: [Weekdays] ¥4,900 Per Person / [Weekends] ¥5,300 Per Person
Afternoon Tea Set
Running: June 4, 2021 – September 12, 2021
Where: MYPLACE Cafe & Bar (Hilton Osaka Floor 1F)
Serving Times: 12:00 until daily limited stock runs out
Price: ¥4,500 Per Person
Official Website: https://osaka.hiltonjapan.co.jp/plans/restaurants/sweets/folkkitchen-2106
RELATED ENTRIES
Grab a Takeout Hydrangea Parfait at Itohkyuemon in Kyoto

Itohkyuemon, one of Kyoto's most famous green tea shops which established in the latter part of the Edo Period, is now serving a takeout hydrangea parfait at its main branch in Uji, Kyoto.

Uji, the city where Itohkyuemon is based, is home to Mimuroto Temple which is famous for its hydrangea. The temple bustles with sightseers and tourists during Japan's rainy season who flock to gaze upon the gorgeous flowers. The tea shop's limited-time hydrangea parfait was first released in 2013 and has gone to become their most popular seasonal parfait every year. So that lots of people can continue to enjoy the popular dessert, Itohkyuemon is offering the parfait as a takeout option so customers don't have to eat indoors.

The parfait is made with matcha and hydrangea mashed sweet potato and hydrangea-coloured crushed jelly, and is topped with leaf-shaped matcha cookies, blueberries, and other colourful treats that bring to mind Uji's rainy season.

Hello Kitty Promotes Messages of Protecting the Earth and the SDGs in Short Movie

A section of Deloitte Tohmatsu Group and FC Imabari's educational book Watashi, Chikyu (Me, Earth) has been turned into a short movie featuring Hello Kitty. Released on YouTube on Wednesday, the video is aimed at elementary school children to educate them on the Sustainable Development Goals (SDGs), a global initiative to create a sustainable future.

The 9-minute video takes Hello Kitty on a journey through earth's life from 4.6 billion years ago, animal life on the planet, and the drastic changes that have come about from human activity.

At the end of the video, Hello Kitty has a message for kids: "I wanted to be in this so I can learn about what I can do for our future. I would love for this to get lots of people thinking about what they themselves can do, even if it ends up only being one person."

Krispy Kreme Releases Summer Edition Doughnuts For a Limited Time Only

Krispy Kreme Doughnuts Japan is releasing two new doughnuts themed popular seals in the aquarium and a floating ring from June 23 until July 22. 

Seal Custard

Watermelon Slim Ring 

Seal Custard is a seal motif donut. The surface of the fluffy dough coated with white chocolate and filled with custard cream using Hokkaido milk and vanilla beans. The charm point is a mouth drawn with milky and rich white chocolate on the face drawn with bitter chocolate. The charm point is a mouth drawn with a bitter chocolate on a face coated with milky and rich white chocolate.

Watermelon Slim Ring is a ring donut coated with white chocolate motif a large floating ring with a red pattern drawn with a juicy watermelon glaze. The colorful contrast of red and white gives you a summer-like breeze and sweetness. 

Why don't you try the adorable donuts that are perfect for the summer?

Information

Seal Custard /Watermelon Slim Ring 

Running: June 23, 2021- July 22, 2021
Available: Krispy Kreme Doughnuts Japan

Official Site:https://krispykreme.jp/

Painfully Kawaii Sanrio Figures Feature the Characters Sleeping Peacefully

Takara Tomy Arts is rolling out a new sleepy collection of Sanrio character figures at capsule toy machines in Japan this month.

The adorably dozing collection

Pochacco

Tuxedosam & Hello Kitty

The line-up includes Hello Kitty, Kerokerokeroppi, Pochacco, Badtz-Maru, and Tuxedosam with their heads leaning to the right, perhaps exhausted from being cute all day long. This is the first line-up in a series of these figures. And if you line more than one up together, it looks like they're sleeping on each others' shoulders.

©2021 SANRIO CO.,LTD. APPROVAL NO. S620286

Demon Slayer: Kimetsu no Yaiba Turns Into Confections at Japanese Convenience Stores

Bandai's character-inspired Japanese confectionery series Tabemas released a new collection of traditional Japanese wagashi confections and tarts inspired by the Demon Slayer: Kimetsu no Yaiba anime series at Lawson convenience stores across Japan on June 15.

Tabemas Demon Slayer

'Tabemas' is an abbreviation of the Japanese words taberareru masukotto, meaning 'mascots that you can eat.' It is a Japanese confectionery series that combines well-known characters and Japanese sweets made from ingredients like red bean paste, sugar and rice flour.

Their line-up of three confections are based on Tanjiro, Nezuko, and Zenitsu from the series, each of which captures their charm points in terms of colour and design. Tanjiro is chocolate flavoured, Nezuko is strawberry, and Zenitsu is custard.





Tabemas Demon Slayer: Kimetsu no Yaiba 2021 | ¥285 Each (Tax Included)

Demon Slayer Tarts

Tabemas has also baked up some no-baked cheesecake tarts featuring designs of Tanjiro, Nezuko, Zenitsu, Inosuke, Tomioka, Kyojuro, and Shinobu.


Demon Slayer: Kimetsu no Yaiba Tarts | ¥249 Each (Tax Included)

©︎ 吾峠呼世晴/集英社・アニプレックス・ufotable

Information

Tabemas Demon Slayer: Kimetsu no Yaiba 2021

Released: June 15, 2021

Available: At the chilled sweets section of Lawson convenience stores in Japan

*Natural Lawson and Lawson Store 100 stores not participating

Kokonoe Honpo Tamazawa, a wagashi Japanese traditional confectionery maker that has been around since 1675, released its new emoji-themed 'EMOCHI' collection as part of the WA!GASHI Project on Wednesday, a day which also happened to be Wagashi Day.

EMOCHI | Pick Your Own Set of 3 | ¥1,512 (Tax Included)

EMOCHI | Recommended Set of 3 – A | ¥1,512 (Tax Included)

EMOCHI | Recommended Set of B – A | ¥1,512 (Tax Included)

EMOCHI | Recommended Set of 3 – C | ¥1,512 (Tax Included)

EMOCHI | Full Set of 10 | ¥3,996 (Tax Included)

Kokonoe Honpo Tamazawa is a 346-year-old confectionery company based in Sendai, renowned for their wagashi-making skills and original techniques while they use to constantly innovate on their sweets. This new collection of sweets with a smile features emoji in three flavours: white bean paste, yuzu bean paste, and miso bean paste.


The collection links how emoji are used to communicate feelings through text in the form of texts and emails like how wagashi, or traditional Japanese sweets, are often used to express gratitude as part of Japan's culture of gift-giving.



There are 10 emoji to pick from, perfect for giving as a gift to someone to send a message or as a treat for yourself, and each comes with one of eight message cards.

Sanrio Releases Hello Sweet Days Dress-Up App in the US, Canada, and South Korea

Digital content enterprise Cocone has made Sanrio's popular character dress-up game Hello Sweet Days available in the US, Canada, and South Korea. The app hit the overseas countries on June 10, allowing for fans outside Japan to enjoy dressing their avatars up like their favourite Sanrio characters.

Hello Sweet Days first launched in Japan back in August 2017 and has since amassed over 2 million downloads. It rolled out to Taiwan, Hong Kong, and Macao in 2020, and now an English version has finally been made available. There are plans to release the app to even more countries in the future.

Pre-registration opened early in South Korea on May 24 when it garnered 60,000 advance sign-ups. Those who registered early even received K-pop idol-style fashion items. Since releasing last Thursday, it is now being used by over 300,000 fans in South Korea.

Head on over to the App Store or Google Play and enjoy Hello Sweet Days in English now!

© 2021 SANRIO CO., LTD. TOKYO, JAPAN Ⓗ. APPROVAL NO. S620438 ©cocone corp.

Sanrio Characters' Collab Café extends opening period

Sanrio Characters' Collab Café has extended the opening period of the cafe at Narita International Airport passenger terminal 2 until July 30. The café serves a menu of food and drink collaborated with Sanrio's beloved characters Cinnamoroll, Hello Kitty and My Melody.

Additional Menu: Cinnamoroll's Fluffy Egg Pancake

Cinnamoroll's Fluffy Egg Pancake is on sale for a limited quantity from June 19 to celebrate Cinnamoroll's 1st place at 2021 Sanrio Character Ranking. The pancake represents the fluffy clouds in the sky. Additionally, the 2nd edition of visit campaign limited to weekdays has been launched from June 14.  2 original coasters will be given for each menu item ordered for a limited quantity so don't miss out! 

© 2021 SANRIO CO., LTD. APPROVAL NO.627430

Information

Sanrio Characters' Collab Café
Running:April 14, 2021 – July 30, 2021
Place:Narita Anime Deck/ Narita International Airport passenger terminal 2, main building 2nd floor
Opening:10:00~16:00(Food L.O.15:30)
Official Site:https://www.animedeck.jp/ja/narita/

Benzaiten Daifuku Opens New Fruit Confectionery Store Inside GINZA SIX

Benzaiten opened its first store in 2019 and since then has opened over 50 branches up and down Japan. The confectionery brand, which specialises in fruit-filled daifuki, has now opened a new store inside Tokyo's luxury shopping centre GINZA SIX.

Yellow Papaya | ¥950 (Tax Included)

Tayo no Tamago Red Mango | ¥1,500 (Tax Included)


Fig | ¥1,000 (Tax Included)


Kiwi | ¥650 (Tax Included)

Benzaiten has over 10 types of fresh seasonal fruits ordered in from the market every day to make their daifuku with, most of which use the entire fruit. They are very particular about the mochi used to make the daifuku to ensure the original delicious flavour of the fruit is maintained and maximises. They use two layers of high quality white bean paste and habutai to hand-prepare the daifuku every day.

Information

Benzaiten GINZA SIX
Address: GINZA SIX (Floor B2F), 6-10-1 Ginza, Chuo-ku, Tokyo
TEL: 03-6804-3382
Opening Hours: 11:00-19:00

Official Website: https://benzaiten-daifuku.jp/

Butter no Itoko x Samantha Thavasa Open Second Store Together at Tokyo Skytree

Butter no Itoko and Samantha Thavasa opened their second collaborative store branch in the desserts area of Tokyo Skytree Solamachi last Tuesday.

Butter no Itoko is a Nasa-based confectionery company co-developed by Chus and Shinrinno Bokujo, a company specialising in milk from Jersey cattle. It opened a store in collaboration with Samantha Thavasa last year at Haneda Airport Terminal 2.

Samantha Thavasa Exclusive Butter no Itoko Salted Caramel

Banana Smoothie

Solamachi Exclusive Samantha Thavasa x Butter no Itoko Eco Bag

The new store will sell a whole range of tasty treats including the salted caramel Butter no Itoko which was first released at the Haneda Airport branch, Shinrinno Bokujo's soft service ice cream, updated 90 Banana Smoothies, and more. There's also a limited-edition complete box of milk, chocolate, red bean paste butter, and salted caramel Butter no Itoko youc na get your hands on which were first released in April.

If you spend over ¥3,000 on desserts at the new store, you can also get your hands on the exclusive eco bag. These are available on a first-come, first-served purchase.

Information

Butter no Itoko x Samantha Thavasa Tokyo Skytree Town Solamachi

Grand Opening: 10:00-22:00 (currently operating on reduced hours at 10:00-20:00)
Address: Tokyo Skytree Town Solamachi Floor 1F East Yard 9, 1-1-2 Oshiage, Sumida, Tokyo, 131-0045, Japan
Samantha Global: https://samantha-global.com/

Butter no Itoko Official Website: https://butternoitoko.com/

Yoshikitty Wins 1st Place in 4 Countries in 2021 Sanrio Character Ranking

Sanrio announced the winners of the 2021 Sanrio Character Ranking last week. While Cinnamoroll came in 1st place overall, Yoshikitty has captured the hearts of fans outside Japan by placing No. 1 in Italy, Germany, France, and Thailand. He ranked 11th overall. The character is inspired by Japanese musician and X Japan member Yoshiki.



Every year, Sanrio also partners with TANITA, an electronics company centred on health, on Sanrio-themed pedometers as part of the Sanrio Character Ranking. For the second year in a row, the Yoshikitty pedometer received the highest number of advance sales. To celebrate this achievement, Yoshikitty was also presented with the TANITA Award.

YOSHIKI met with Yoshikitty in LA during an online event for the announcement to express his gratitude to fans.

Congratulations, Yoshikitty!

Sanrio Announces Kawaii Musical 'From Hello Kitty'

Sanrio has announced that their popular cast of characters are set to perform at an attraction-style musical titled From Hello Kitty which will run at the IHI Stage Around Tokyo on from July 26 to September 26.

All of the familiar faces from Sanrio's character roster, including Hello Kitty, Dear Daniel, Cinnamoroll, Pompompurin, My Melody, and the Little Twin stars—all of whom ranked high on this year's Sanrio Character Ranking—will make an appearance alongside notable Japanese actors Shota Takasaki, Dai Gotou, and Kodai Miyagi.

The musical is a historical lookback at 60 years of Sanrio and a delivery of their core message: to help everyone in the world get along. A special edition of the 'Miracle Gift Parade' held at Sanrio Puroland will also take place with an original story.

The art direction of the stage performance is being done by Sebastian Masuda, the music composed by music producer Hyadain, and the choreography created by Yukio Ueshima who has worked on countless Broadway musicals including a theatrical adaptation of the popular sports manga series The Prince of Tennis.



The musical is taking place at IHI Stage Around Tokyo, a unique theatre with 360-degrees rotating audience seats surrounded by movable huge screens and stages. The audience seats that are placed on a huge circular platform slowly rotates to each stage set as the story moves on, without waiting for set changes. Visitors will also be able to take photos with different Sanrio characters each day.

IHI Stage Around Tokyo is produced by TBS Television, Inc., Imagine Nation B.V., and The John Gore Organization Inc.