Mobile Suit Gundam Coffee Bottle Keeps Your Caffeine Kick Nice and Hot
Japanese lifestyle brand CB JAPAN has released its new Gundam Coffee Bottle online at Village Vanguard.
Gundam Coffee Bottle | ¥3,850 Each (Tax Included)
Available in Zeon Green and Zeon Red, the bottles are designed specifically for coffee.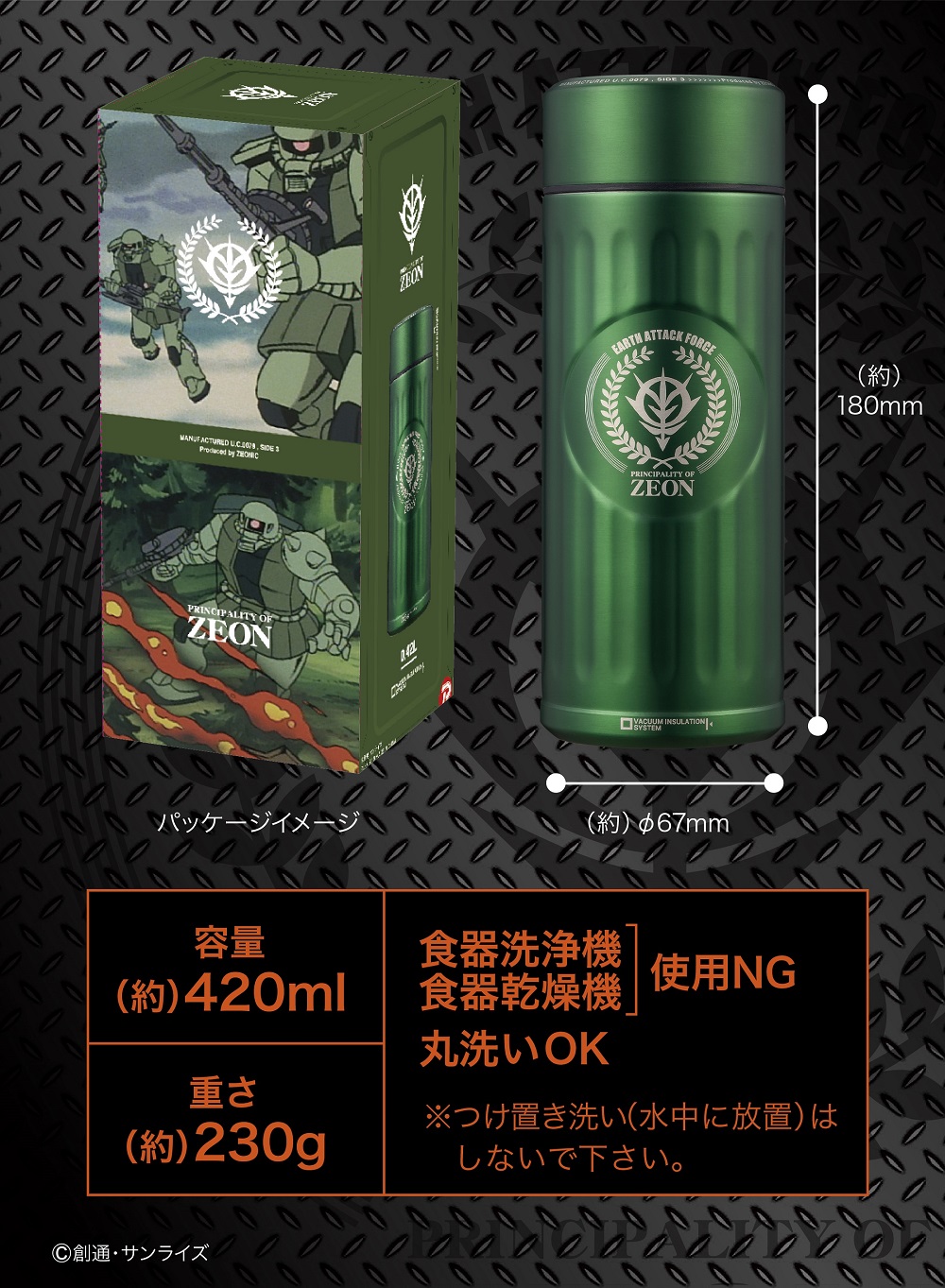 The bottles are marked with the Principality of Zeon emblem using a laser which gives it a high quality look and shimmer.
Keep your coffee freshly brewed with the new Gundam Coffee Bottle.
RELATED ENTRIES
Coffee from Around Japan to be Featured at the Yokohama Coffee Festival

Yokohama Coffee Festival is coming back for the first time in three years! The event will bring together the best coffee from around Japan, showing off the personality and individuality of each shop. The festival was created to build bridges between shops and customers and to spread coffee culture in Yokohama. Coffee fans should head to Yokohama Park on October 23, 2022. 

Coffee tickets–four cups for ¥1,000–will be available to purchase on the day of the event, allowing visitors to compare different shops. From those who are just starting to enjoy coffee to those who are coffee fanatics, this event will allow everyone to enjoy coffee to the max! Be sure to chat with the charming baristas as you explore the festival!

Information

Yokohama Coffee Festival

Date: October 23, 11:00-17:30

Venue: Yokohama Park

MAN WITH A MISSION Releases Music Video for 'GUNDAM Iron Blooded Orphans Special Edition' Theme Song

Rock band MAN WITH A MISSION is getting ready to release a new album, Break and Cross the Walls II, on May 25. Ahead of this exciting date, the group has revealed the music video for Blaze on YouTube!

Blaze has been featured as the opening theme for Mobile Suit GUNDAM Iron Blooded Orphans Special Edition, the nine-episode digest edition of the 2015-2017 anime series, since April. The clip is packed with the anime's memorable scenes, so be sure to check it out! 

The theme song is also available on all popular music streaming sites.

Blaze – MAN WITH A MISSION (GUNDAM Iron Blooded Orphans Special Edition Anime Music Video)
https://youtu.be/rTamYmhLOaw

MAN WITH A MISSION will start a nationwide tour, MAN WITH A MISSION Presents Break and Cross the Walls Tour 2022, on June 16.

Sony Park Mini, an Experimental Pop-up Space, Opens in Ginza, Tokyo

Sony Park Mini, a tiny experimental art space in Ginza, is going to hold fans over until Ginza Sony Park opens in 2024. 

Sony Park Mini is located in a small 3.5 square meter space on B1F of the Nishiginza parking lot adjacent to Ginza Sony Park, which is currently under construction. The concept of the space is to "hold events that highlight local artists."

More than 30 experimental programs will be held throughout the year highlighting unique creators and artists from all backgrounds including music, film, art, food, fashion, and shopping. Depending on which programs are popular, the project may extend to other cities. 

The first event, 'Ayatake Exaki presents None Session,' will run from March 23 until April 5, 2022, and will feature the musician and his piano.

Program Schedule
1: March 23 – April 5, 2022 / Ayatake Ezaki (Musical Artist)
2: April 6 – April 19, 2022 / Takuro Tamayama (Contemporary Artist)
3: April 20 – May 2, 2022 / Chiaki Kadota (Painter)
4: May 3 – May 16, 2022 / Neo Sora (Film Director), Aiko Masubuchi (Film Curator)
*The period of these events is subject to change. Any changes will be announced on Sony Park Mini social media accounts.

The Nishiginza Parking Lot Coffee shop, located inside Sony Park Mini, will offer a lineup of drinks made from carefully selected coffee beans. Vegan donuts and cookies made with natural ingredients will also be available.

Information

Sony Park Mini

Address: Nichiginza Parking Lot B1F (5-3-1 Ginza, Chuo-ku, Tokyo)

Hours: 11:00-19:00 / Nishiginza Parking Lot Coffee 8:00-18:00

Official Site: https://www.sonypark.com/mini 

Mobile Suit Gundam 00 Collaborates with GiRLS by PEACH JOHN for Apparel Collection

Japanese lingerie brand PEACH JOHN has begun selling a new collaboration with the popular anime series Mobile Suit Gundam 00. These items are available at select PEACH JOHN stores and online, and consists of two lingerie sets, loungewear, and a reusable bag. Those wanting to buy these pieces in-store will need to go to the Shibuya, Shinjuku Sanchome, or Osaka locations.

Peasy001 / Peasy Panties

Mobile Suit Gundam 00 Bra Set (No Wires)

Oversized PJ Set

Haro Reusable Bag

Many popular emblems and logos from the popular series appear on these pieces. The Peasy001 set features a non-wired bra top that is extremely comfortable, with fabric made of glossy stretch satin. 

The soft and warm pajamas are available in pastel tones matching the image colors of the main characters, and all are available in loose sizes to make them extra cozy. 

The reuseable bag is large enough to hold A3-sized items, and is made of a light and durable polyester fabric with the beloved character Haro printed all over it. It also includes a storage pouch which can be used as a coin purse or small accessory case.

Earthenware Pot Shaped Like Char's Z'Gok from Mobile Suit Gundam Released

Premium Bandai is now accepting orders for a new Earthware Pot resembling Char's Z'Gok from the anime series Mobile Suit Gundam. This is perfect for cooking up some stew this winter season!

Char's Z'Gok Earthenware Pot: ¥7,480 (Tax Included) *Shipping and Handling not included

The pot is large enough to make food for 1-2 people and is designed to look like Char's Z'Gok from the "ascending from underwater" scene in the Battle of Jaburo. The pot's steam vent is the Mobile Suit's missile launch port!

This product is available to purchase at GUNDAM Cafe locations around Japan and online at the Premium Bandai store. Items ordered online will ship in December. 

©創通・サンライズ

Information

Char's Z'Gok Earthenware Pot

Dimensions: W210 x D187 x H126mm

Materials: Pot, Heat-resistant Ceramic / Lid, Porcelain

Made in Japan

Where to Buy: Bandai Namco's Premium Bandai Website (https://p-bandai.jp) /

GUNDAM Cafe's Nationwide

*Now available to order, items will ship in December. 

Product Details: https://p-bandai.jp/item/item-1000167119/

Gundam World Contrast Touring Event Starts at Nagoya PARCO

Nagoya PARCO will host the Gundam World Contrast event from December 24, 2021 until January 16, 2022. The event will feature a deep-dive of Mobile Suit Gundam and Mobile Suit Gundam SEED from various perspectives and will show the contrasts between the two popular series. The event will then travel nationwide after finishing in Nagoya.

Plastic Model for Advanced Ticket Holders

Bonus: Gundam World Contrast Limited Design Special Promo Card

Story Wall

Special Photo Spot

Exhibition of Katsumi Kawaguchi's Contrast Diorama

Conceptual Exhibitions

Limited-Edition Merchandise

Only at Gundam World Contrast

MG 1/100 RX-78-2 Gundam Ver 3.0 (Event Exclusive)

1/100 Aile Strike Gundam Ver.RM (Event Exclusive)

ENTRY GRADE 1/144 Strike Gundam (Event Presale)

Clear Folder (Set of 2, Gundam World Contrast Exclusive)

Pop Socket (Gundam World Contrast Exclusive)

Acrylic Stand (10 varieties, Gundam World Contrast Exclusive)

Choco Crunch (Gundam World Contrast Exclusive)

Mug (Gundam World Contrast Exclusive)

Visitors can enjoy the exhibition corner, which shows the history of both works including famous scenes and the emotional growth of the main characters. The merchandise corner will feature a number of goods only available at the event including Gunpla. Fans of the franchise shouldn't miss this, as visitors will get a promo card to use for Bandai's latest arcade card game Mobile Suit Gundam Arsenal Base, scheduled to release in spring 2021.

©創通・サンライズ

'UCC CAFE@HOME' Release Coffee to Match Doraemon & Dorami's Favorite Snacks

UCC Ueshima Coffee is currently developing the Food with Coffee themed 'UCC CAFE@HOME' selection, pairing snacks with a perfectly matching coffee. Doraemon is the latest to appear in the CAFE@HOME series in the new collaboration, designed by Sanrio. The new series features coffee and gifts based on the Doraemon characters' favorite snacks and was released on September 3, Doraemon's birthday.

CAFE@HOME Doraemon Series

UCC CAFE@HOME DORAEMON Dorayaki Suited Coffee VP10g: ¥281 (Tax Incl.)

UCC CAFE@HOME DORAMI Melon Pan Suited Coffee VP10g: ¥281 (Tax Incl.)




UCC CAFE@HOME NOBITA Caffeine-free Coffee VP10g: ¥281 (Tax Incl.)

Gifts

UCC CAFE@HOME Doraemon Secret Gadget Print 6-piece Set: ¥1,901 (Tax Incl.)


UCC CAFE@HOME Doraemon Open Lot Printed 6-piece Set: ¥1,685 (Tax Incl.)

Goods

Doraemon Mug (Dorayaki): ¥1,540 (Tax Incl.)

Doraemon Cotton Handkerchief (Yellow) ¥990 (Tax Incl.)

Present Campaign Freebie: Original Coaster

CAFE@HOME, main product and cafe brand of UCC Group's COFFEE STYLE UCC, are releasing a lineup of Doraemon themed coffees, each to be drank with the characters' favorite snacks: One to go with Doraemons beloved Dorayaki, one for Dorami's preferred Melon Pan, and a caffeine-free blend for the sleep-loving Nobita.

UCC has been researching coffee and food combinations for many years, using taste sensors to analyze both the coffee and food before diagnosing the comparability rating between each product. The company has patented their 'Food Matching System' technology, which has now been used to find out which coffee would be best suited to Doraemon's Dorayaki.

 

An in store campaign has been announced to celebrate the release of CAFE@HOME's Doraemon series, starting on September 3. During the campaign, customers who spend over ¥3,000 on CAFE@HOME's Doraemon series will receive a free coaster. The coasters are only available in store and are limited in quantity.

 

Taste the world of Doraemon for yourself with UCC CAFE@HOME's special coffee technology!

 

Key Coffee and THE SHOP TK Collaborate for the Second Time

Classic Japanese coffee chain Key Coffee has teamed up with fashion brand THE SHOP TK for the second time. New merchandise is now available at THE SHOP TK locations nationwide!

Coffee Shop Photo T-shirts 

Key Motif Embroidery

Jet Brew

Jet Brew Tops, perfect for autumn weather

The two first collaborated in March 2009, releasing items under the theme of 'life with coffee.' The merchandise was incredibly well-received, and this new collaboration has a curious new theme: junkissa, or coffee shops which don't serve alcohol. These establishments have been popular with young people in recent years.

The photo T-shirts in the collection feature images taken by photographer Toshiaki Kitaoka. Each photo was taken in carefully selected coffee shops, picked by Rina Namba, a director of the Tokyo Coffee Shop Research Institute. These include Coffee House Rouen, Koushuya, COFFEE SHOP Galant, and Cafe Crown. Each of these have a classic Showa feel, so if you get the chance, definitely check them out for that retro-Japan feel.

The sustainable material is made from post-brewed coffee powder, and is perfect for cool autumn weather. As with the first collection, the left sleeve is embroidered with the symbolic Key Coffee logo.

Grab some of these pieces for the coffee drinker in your life!

SarutaHiko Coffee Releases Collaboration Bag with PORTER for 10th Anniversary

SarutaHiko Coffee have announced that as part of their 10th anniversary celebrations, their fifth celebratory project will be a collaboration with iconic Japanese bag brand PORTER. The bag will be available to preorder on the SarutaHiko Coffee webshop fromAugust 28, 2021. The collaboration bag features a mouton badge that has been dyed using SarutaHiko coffee.

PORTER x SarutaHiko Coffee 'Coffee Bean Shoulder Bag (Bourbon) and Bean Mouton Badge: ¥22,000 (Tax Included)

PORTER x SarutaHiko Coffee 2-way Tote Bag S & Bean Mouton Badge: ¥28,600 (Tax Included)

PORTER x SarutaHiko Coffee 2-way Tote Bag L & Bean Mouton Badge: ¥33,000 (Tax Included)

The unique coffee bean shaped shoulder bag is the perfect size to fit your smartphone, keys, and other small necessities. The product is named after the Bourbon coffee bean, a bean famous for its high quality, calling back to the previous SarutaHiko Coffee collaboration. The 2-way tote bag features the SarutaHiko Coffee and PORTER logo on both sides, so you can swap it around to suit your mood. The bag also has pockets conveniently placed on both the inside and the outside. The L-size tote is suited to daily use, perfect for school and work as it can fit A4 documents and laptops, with a pocket on the side to fit a water bottle or umbrella.

The conveniently sized S-size bag is perfect for neighbourhood shopping trips or short outings.

The bag is dyed a deep coffee brown and has been crafted in a handy unisex design. All collaboration bags come with a removable Bean Mouton badge. The badge is made using mouton that has been dyed using the same beans that are used in SarutaHiko Coffee's

espresso.

 

These collaboration items would make the perfect gift to any coffee-loving friend!

Information

PORTER x SarutaHiko Coffee

Pre Order Start Date: August 28, 2021

Where to preorder: SarutaHiko Coffee Online Shop, SarutaHiko Coffee Taiwan

Online Shop: https://shop.sarutahiko.co/

Key Coffee Releases Limited Edition 1920's Blend

Key Coffee has recreated its coffee from 1920's when the cafe chain first opened. Named the Yokohama 1920 Founding Blend, the coffee was released on July 20 and will be available at their 54 branches up and down Japan until August 24, the same date when the coffee shop first opened.

Yokohama 1920 Founding Blend

A picture of Key Coffee's Yokohama branch in 1936 when it was known as Kimura Coffee

Retro Showa-style espresso con panna

Milk Brûlée

Yokohama 1920 Founding Blend recreates the same flavour of coffee that the cafe served in 1920 when it first opened in Yokohama, an area bustling with restaurants serving both Asian and Western cuisine. It uses Brazilian coffee beans at its base, a type which was circulated a lot at the time. It has a distinct sweet fragrance and goes well with milk and sugar.

Back them, coffee was a commodity yearned for by the people of Japan. After releasing their hit coffee syrup in 1921, Key Coffee began serving coffee in a way that was simple, tasty, and accessible to everyone such as drip coffee and their Noi coffee-making series. In the 1930's their products began to line the shelves of department stores as they began to develop as a spearhead for the emergence of coffee culture in Japan. They also began selling TOARCO TORAJA in 1978, a highly-regarded premium coffee. Today, the chain continues to be a hub for coffee lovers, and is creating new coffees and techniques.

Japan has been a boom in junkissa in recent years, a classic cafe which blends the atmosphere of the Meiji and Showa periods. Key Coffee is showcasing two coffees on their recipe page which capture this flair including an espresso con panna and milk brûlée.

NO COFFEE x JARUJARU Release Special Collaborative Fashion Collection

JApanese comedy duo JARUJARU has paired up with Fukuoka-based coffee shop NO COFFEE to release a clothing and accessory collection branded with the name 'NO JARUJARU.'

NO JARUJARU T-Shirt | ¥4,620 (Tax Included)

NO JARUJARU Mask | ¥1,760 (Tax Included)

NO JARUJARU Sticker | ¥660 (Tax Included)

NO JARUJARU Key Chain JARUJARU TOWER 2021 ver. G&F | ¥1,210 (Tax Included)

Comments


Goto (JARUJARU)


"We had actually planned to collaborative with NO COFFEE back in 2020 for our live show, but it unfortunately had to be cancelled, so we weren't able to. But now our prayers have finally been answered and we get to collaborate! NO JARUJARU replaces 'COFFEE' with our name. Like coffee, we want to become comedians that are a close part of everyone's lives."


Fukutoku (JARUJARU)


"NO JARUJARU!? It's actually a wonderful piece of copy, don't you think! We want to give you even more JARU, so much you'll be saying NO JARUJARU!"


NO JARUJARU launched on June 19, the same day as the comedy duo performed their 'JARUJARU TOWER 2021' live show in Fukuoka. The collection is available at the JARUJARU MRKET online shop. NO COFFEE has collaborated with multiple brands before but this is their first time teaming up with comedians.



JARUJARU MARKET will roll out even more products in the near future, with NO JARUJARU arriving as the first release. JARUJARU's official YouTube channel 'JARUJARU TOWER' has over 600 million views, and they even have an English subtitled channel called 'JARUJARU OVERSEAS.' The duo are only continuing to expand.



Sarutahiko Coffee x BE@RBRICK Limited-Edition Bear Figure Releases

Sarutahiko Coffee reached its 10-year milestone on June 8. To celebrate, the Japanese coffee chain launched a 10 year anniversary promotion on the same day.

The coffee giant released its 10th Anniversary Mocha No.1 Blend and 10th Anniversary Mocha No.1 Superior Java Blend for its first rollout of the promotion. For its second release, Sarutahiko is teaming up with MEDICOM TOY's popular BE@RBRICK figure series to release an original model at its Ebisu and The Bridge Harajuku Station branches as well as its online store.

The palm-sized figure is coloured Sarutahiko's iconic blue colour and features a brown logo on its chest. It's a simple but cute design and is a perfect gift to coffee lovers.

Information

BE@RBRICK x Sarutahiko Coffee Figure

Released: June 8, 2021

Price: ¥1,800 (Tax Included) *Max. 2 per person

Available: Sarutahiko Coffee Ebisu / Sarutahiko Coffee The Bridge Harajuku Station / Sarutahiko Coffee Online Shop

Sarutahiko Coffee Online Shop: https://shop.sarutahiko.co

Sarutahiko Coffee Official Website: https://shop.sarutahiko.co/
*Available while supplies last