Experience Early Morning Japanese Sword Training On Tokyo Skyscraper
HOSHINOYA Tokyo, a ryokan in Tokyo, introduced a new experience for guests last Tuesday which invites them for some early morning kenjutsu sword training atop a 160-meter tall building to refresh the mind and body. This Japanese swordsmanship practice teaches not only the large movements, but the breathing techniques used too. It requires the full use of the entire body coupled with lung-stimulating controlled breathing. Since the practice takes place on a towering site, your vision is unobscured, allowing you to see afar while bathing in the morning rays. You can also spot many famous Tokyo buildings too including Tokyo Skytree and Tokyo Tower.
The area surrounding Otemachi where HOSHINOYA Tokyo is located is mostly made up of office buildings and business skyscrapers in the modern day, but it was formerly home to the daimyo's main Tokyo mansion where samurais resided during the Edo Period. During the Bakumatsu at the end of the Edo Period, there was an establishment called Edo Sandai Dojo where swordsmen went to train. The town flourished as a site for honing your skills with a sword. HOSHINOYA Tokyo's sword training experience is a nod back to that time and a chance for people to get their bodies moving in a safe environment during sedentary COVID-19 times.
Early Morning Practice in the Sky
1. An original practice created by HOSHINOYA Tokyo that combines swordsmanship and deep breathing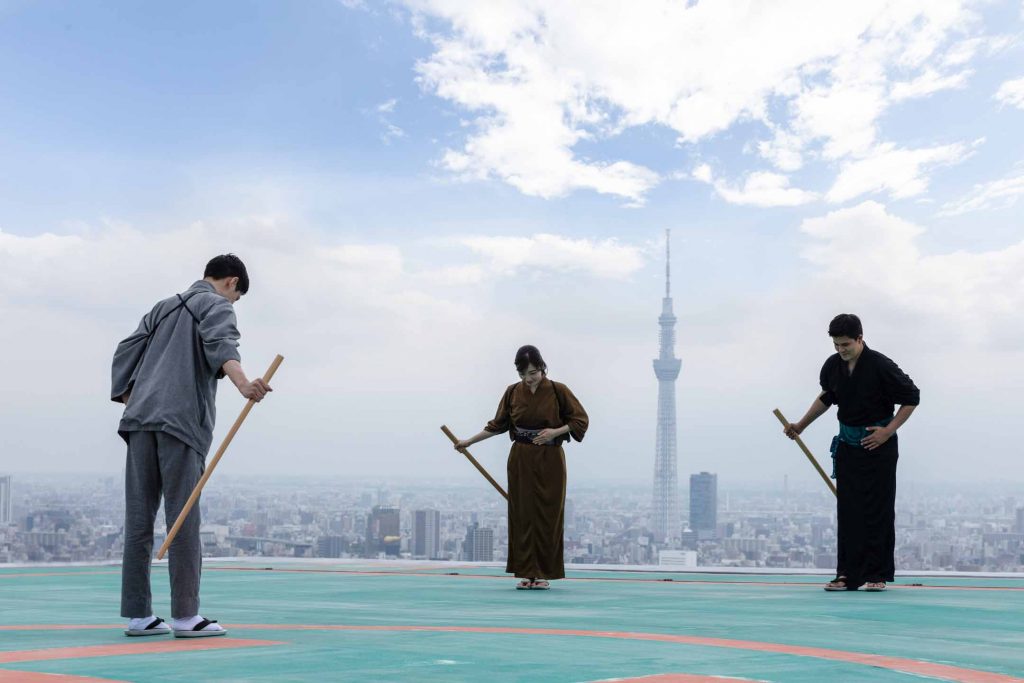 Participants will be taught by a master of Hokushin Ittō-ryū, a form of ko-ryū old-school sword fighting. They will begin by learning how to hold and operate a bokutō wooden sword as well as foot movements before the proper practice begins. They will learn about being conscious of the tanden, the point below the navel that's a focus point for internal medatitive techniques, as well as sword techniques such as makkōgiri which is a large slice with the sword from top to bottom, dōgiri which is cutting horizontally, kesagiri which is a diagonal slash, and more. All of this is not only to teach sword fighting, but take relieve tension and stress too by utilising the whole body.
2. Soak up the sights of the cityscape basked in the morning light
The practice takes place on a helicopter landing pad atop an enormous skyscraper. From the building, you can see Akihabra, Shinjuku, Ikebukuro, and many other areas and districts of modern day Tokyo which serves as an interesting combination while practicing a traditional Japanese art.
Information
Early Morning Practice in the Sky
Plan Title in Japanese: 天空朝稽古
Running: From June 1, 2021 all year
Times: 6:45-7:45
Price: Free
Booking: Please book the day before at HOSHINO Tokyo's reception by 21:00
Capacity: 6
Requirements: Must be a guest staying at HOSHINOYA Tokyo
Official Website: https://hoshinoya.com/

*Please note the activity schedule is subject to alteration or cancellation depending on weather conditions
RELATED ENTRIES
Long-Standing Kyoto Tea Wholesaler Yamamasa Koyamaen Opens Cafe in Tokyo

TZEN, a company dedicated to promoting traditional Japanese culture around the world, has teamed up with Yamamasa Koyamaen, a tea wholesaler in business since the Edo period, to open a new matcha cafe in Tokyo!

ATELIER MATCHA, a quick walk from Ningyocho station, is harnessing the concept of 'the third wave of matcha,' serving up premium matcha in a cozy atmosphere. 

MATCHA Cookies & Cream Shake: ¥748 (Tax Included) 

MATCHA with Warabimochi and Red Bean Topping: ¥748 (Tax Included)

MATCHA Jelly Cider: ¥660 (Tax Included)

MATCHA Granola and Yogurt Latte: ¥715 (Tax Included)

MATCHA Cotton Candy Milkshake: ¥748 (Tax Included)

MATCHA Affogato: ¥660 (Tax Included)

MATCHA Shot (Espresso Style): ¥220 (Tax Included) / MATCHA Water: ¥275 (Tax Included) / MATCHA Green Tea: ¥330 (Tax Included)

Supreme MATCHA Terrine: ¥660 (Tax Included)

(This is a partial menu, all prices are for those dining in.)

Matcha is becoming popular around the world. ATELIER MATCHA was created to offer customers a unique experience which showcases the true taste and culture of this beloved tea grown in Japan. 

Yamamasa Koyamaen is a Kyoto institution, cultivating and grinding matcha tea leaves for 160 years. Over 1,000 tea retailers, department stores, domestic and international trading companies and hotels stock their high-grade matcha, gyokuro, sencha, and other specialty teas, making them one of the most recognized and respected names in this traditional Japanese art. The company even prefers to call themselves a 'studio' rather than a 'factory', using the 800-year history of tea cultivation in Uji, Kyoto as a starting point to create their masterpieces. 

ATELIER MATCHA is Yamamasa Koyamaen's first cafe, and also the company's first experience selling directly to consumers. 

Blending the highest-grade matcha with locally made sweets, the cafe hopes customers will enjoy these original creations while surrounded by the relaxing aroma of tea. 

The matcha used in the cafe includes signature Yamamasa Koyamaen blends, including Ogurayama and Tennozan, both varieties often used in tea ceremonies. For a limited time, the cafe is offering a single-origin blend with one rare variety of matcha, as well as a beverage made with tencha, which are the leaves used to make matcha before being ground down in a stone mortar. Visitors can also enjoy gyokuro and hojicha teas, made from carefully selected leaves. 

Pulling recipes from Yamamasa Koyamaen's book 'Kyoto Uji-Koyamaen: Simple Matcha Drinks to Enjoy at Home,' the menu features refreshing drinks blending the traditional with the modern, with unexpected combinations of soda, fruit and yogurt. Seasonal drinks will also be making an appearance, including shaved ice in summer and chocolate drinks in winter. 

The name MATCHA SHOT packs a punch, using matcha instead of espresso for a needed pick-me-up. MATCHA WATER, a refreshing cup of watered-down tea, offers a way to fully enjoy the fullness and more hidden flavors of this popular Japanese tea. 

As expected, ATELIER MATCHA also has a sweets menu set to impress: these sweet treats feature only the best, created with the top 0.03% of total national matcha production. This insanely high-quality matcha is a part of Yamamasa Koyamaen's ultimate matcha experience project, titled "ALL FOR ONE," which provides these rare leaves to some of the country's top professionals in various fields. 

At opening, only limited qualities of the Supreme MATCHA Terrine, made by well-known pâtissier Toshi Yoroizuka, will be available. 

These authentic matcha creations are perfect for a hot summer's day, or as a gift for a friend. When in Tokyo, don't miss it!

Information

ATELIER MATCHA 

Address: 1-5-8 Nihonbashi Ningyocho, Chuo Ward, Tokyo 103-0013, Japan

Access: 30-second walk from Ningyocho Station/5-minute walk from Suitengumae Station

Open Date: August 2, 8:00

Hours of Operation: 8:00-19:00 (Last order 18:30)

Closed on Tuesdays (Open daily throughout August) 

Phone Number: 03-3667-7277

Official Site: https://ateliermatcha.com/

Winnie the Pooh POP UP SHOP Opens at First Avenue Tokyo Station

As a fitting celebration of Honey Day (August 3), popular toy and character shop Kiddyland has opened a limited-edition Winnie the Pooh POP UP SHOP within Ichiban Plaza at First Avenue Tokyo Station. The festive locale will be open until August 12. 

Coinciding with the start of the event, 28 other shops around the country will also begin selling new Winnie the Pooh products featuring Kiddyland's original design. This includes 10 Disney Avenue locations, as well as 18 Kiddyland shops around Japan. 

After spending time picking up some adorable new merch, guests can also take pictures at the new Winnie the Pooh photo spot!





Beginning July 30, visitors spending over ¥3,000 will get the Heffalump can badge free of charge. (Item not for individual sale.)

After August 3, visitors spending over ¥3,000 will get the PJ Pooh can badge! (Item not for individual sale.)

Those spending ¥2,000 or more on Heffalump merch will receive two Winnie the Pooh stickers. (Stickers not for sale.)

Spend ¥3,000 or more (tax included) at participating Disney Avenue stores to receive a limited Pooh's Nightmare badge. (Not for individual sale.)

The Heffalump plush, which went on presale July 30, is now available at 31 stores for ¥3,300 (Tax included.)

Original Design Merch

Beginning July 30, these goods are only available at the Harajuku, Osaka Umeda, and Tokyo Station Disney Avenue locations, as well as the First Avenue Tokyo Station Ichiban Plaza shop.

A5-size Mini Towel, 8 Designs: ¥660 each (Tax Included)

Acrylic Keychains, 8 Designs: ¥924 each (Tax Included)

8月1日(日)~ ディズニー・アベニュー10店舗/東京駅一番街いちばんプラザ限定

Candy Keychains, 2 Designs: ¥660 each (Tax Included)

T-Shirts, 3 designs: ¥3,190 each (Tax Included)

Tissue Pouch: ¥1,980 (Tax Included)

Mesh Pouch, 2 Designs: ¥2,090 (Tax Included)

Money Pouch: ¥1,100 (Tax Included)

Round Drawstring Pouch: ¥1,100 (Tax Included)

Flat Pouch: ¥1,100 (Tax Included)

IC Card Holder: ¥2,420 (Tax Included)

Pouch Set: ¥2,200 (Tax Included)

Tote Bag: ¥3,080 (Tax Included)

Mini Reusable Shopping Bag: ¥1,540 (Tax Included)


Reusable Shopping Bag: ¥1,815 (Tax Included)

When you think of honey, you think of Winnie the Pooh. Released last year to massive popularity, these original designs featuring our favorite bear in cozy pajamas alongside the fuzzy Heffalump are sure to bring a smile to anyone's face. Those who preordered the Heffalump plush will get a few special perks!

This original collection is full of goods as sweet as honey, so try to collect them all!

©Disney. Based on the "Winnie the Pooh" works by A.A.Milne and E.H.shepard.

Kageki Shojo!! Anime Series Gets Event at Tokyo's Amusement Park Asakusa Hanayashiki

Asakusa Hanayashiki, an amusement park in Tokyo, has announced a summer event in collaboration with the ongoing anime series Kageki Shojo!! which will take place from August 21 to September 12.

Cute original artwork illustrated for the event

Take part in the stamp rally

Original Ticket Folder (With Pseudo Ticket)

Original merchandise

Bromides: ¥550 (Tax Included)

Acrylic Figure: ¥500 (Tax Included) / Acrylic Figures: ¥880 Each (Tax Included)

Acrylic Keyrings | ¥770 Each (Tax Included)

Pins: ¥300 Each (Tax Included)

Receive a free postcard when you order a drink or dessert

Receive a free coaster when ordering a drink

Receive an original tote bag when buying a special ticket

Kageki Shojo!! is a manga series by Kumiko Saiki. The anime adaptation began airing on July 4. A collection of cute original illustrations of 22 characters from the series have been drawn for the event which will be dotted around the park. Fans can also take part in a themed stamp rally, enjoy food inspired by the series, buy merchandise, and more.

Japanese Music Artists to Perform at Crocs Japan x atmos pink's Summer Festival

Casual footwear brand Crocs Japan and sneaker select shop atmos pink are set to host a summer pop-up event titled 'Atokuro Natsumatsuri' at atmos pink's flagship store in Harajuku as well as online from July 31 to August 9.

atmos is one of the leading sneaker brands in Japan, while Crocs is a staple of summertime footwear. Together, the two brands are set to deliver an array of summer season content with classic Japanese summer stalls, creating your own custom Crocs Jibbitz™, and more. Additionally, everyone who attends the event and buys something will enter for a chance to win some limited-edition merhandise.

Starting on August 2, a line-up of Japanese artists will perform live on YouTube for the event, with names such as FAKY, Yurufuwa Gang, ELLE TERESA, CHAMELEON LIME WHOOPIEPIE, Atarashii Gakko no Leaders, and more.

Information

Atokuro Natsumatsuri
Running: July 31, 2021 – August 9, 2021

Location: atmos pink Flagship Shop Harajuku

Address: 6-5-3 Jingumae, Shibuya, Tokyo

Opening Hours: 11:00-20:00

Live Schedule​
August 2 @ 21:00 – FAKY

August 4 @ 21:00 – Yurufuwa Gang
August 6 @ 21:00 – ELLE TERESA
August 8 @ 21:00 – CHAMELEON LIME WHOOPIEPIE, Atarashii Gakkou no Leaders

atmos pink channel: https://www.youtube.com/channel/UCkSEEsKnBrGz0bP9XLDkSGw

atmos pink Official Website: https://www.atmos-pink.com/

Shibuya PARCO's Dwiky KA Exhibition Collaborates With Japanese Brands and Artists

PARCO opened the Dwiky KA Exhibition at its Shibuya branch on Friday where it's set to run until August 9. Dwiky KA is an Indonesian artist who has collaborated with many music artists and apparel brands.

Dwiky KA x HYSTERIC GLAMOUR

Dwiky KA x BiSH

Dwiky KA x Kosuke Kawamura

Dwiky KA x Kosuke Kawamura

Dwiky KA x Tappei

Robot exhibit

As part of the exhibition, a line-up of merchandise and original items is being sold, including collaborations with brands Hysteric Glamour and balansa x YAGI, artists Kosuke Kawamura and Yappei, and idol punk band BiSH.

Information

YAGIBOY & GALLERY X presents Dwiky KA exhibition "LABRAX"
Running: July 30, 2021 – August 9, 2021

Location: GALLERY X

Address: Shibuya PARCO Floor B1F, Udagawacho, Shibuya, Tokyo
Opening Hours: 11:00-20:00
Price: ¥500 (Tax Included)
Official Website: https://art.parco.jp

Life Lessons with Uramichi Oniisan Anime Themed Cafe to Open in Ikebukuro

Animate Cafe Stand Hareza Ikebukuro has announced a collaboration with the ongoing TV anime series Life Lessons with Uramichi Oniisan which will see the cafe served up a themed menu, sell exclusive merchandise, and decorate the interior with original illustrations from August 25 to September 27.

Animate Cafe exclusive illustrations

Animate Cafe exclusive chibi illustrations

Collab Menu (Excerpt)

Parfait | ¥700 (Tax Included)

Latte | ¥600 (Tax Included)

Soda | ¥650 (Tax Included)

Original Merchandise

Big Acrylic Stand Keyrings | 3 Designs | ¥1,600 Each (Tax Included)

Cookies | ¥1,000 (Tax Included)

Acrylic Stand Keyrings | 6 Designs | ¥700 (Tax Included)

Rubber Keyrings | 10 Designs | ¥700 Each (Tax Included)

Life Lessons with Uramichi Oniisan is a dark comedy manga series by Gaku Kuze that's been serialised in Comic POOL since 2017. An anime adaptation began airing on July 6, 2021.

(C)久世岳・一迅社/「うらみちお兄さん」製作委員会

Tokyo's The Art of DC – The Dawn of Super Heroes Exhibition and What to Look Out For

The Art of DC – The Dawn of Super Heroes opened at Tokyo City View in Roppongi Hills Tower last month where it's set to run until September 5.

The exhibition shines a spotlight on DC's Superheroes and Supervillains, such as Superman, Batman, and Joker, with over 400 exhibit items from comics to original documents and more on display. Let's take a closer look at just some of the things for DC fans to enjoy.

World-first exhibits of film costumes

In the Suicide Squad area, the actual costume worn by Margot Robbie when she played Harley Quinn in the film is on show. The costumes worn by Bloodsport and Peacemaker in the upcoming film The Suicide Squad are also being displayed.

See the Dark Knight's Batpod

The real Batpod used in The Dark Knight Trilogy stands in its full 3.7 meter long glory against a backdrop of night-time Gotham City.

A collection of masks worn by Heath Ledger's Joker

The mask and outfit worn by Heath Ledger as the Joker is also being showcased. He won the Academy Award for Best Supporting Actor for his role as the character in The Dark Knight. This one's a must-see for fans of the legendary character.

Harley Quinn & Joker afternoon tea

Harley Quinn & Joker Afternoon Tea | ¥5,000 (Tax Included)

Head to THE SUN & THE MOON restaurant to enjoy an afternoon tea inspired by Harley Quinn and Joker.

Superman Sky-High Drink | ¥1,400 (Tax Included)

The Clown Prince of Crime | ¥1,400 (Tax Included)

There's also a menu of mocktails to enjoy which are inspired by the characters of the DC universe.

DC Menu

Running: Until September 5, 2021

Location: THE SUN & THE MOON (Restaurant)

Opening Hours: 11:00-22:00

Official Website: http://thesun-themoon.com/

All DC characters and elements © & ™DC Comics. WB SHIELD: ™& © WBEI (s21)

Information

The Art of DC – The Dawn of Super Heroes

Running: June 25, 2021 – September 5, 2021

Location: Tokyo City View (Roppongi Hills Mori Tower Floor 52F)

Opening Hours: 10:00-22:00 (Last Entries 21:00)

Official Website: https://tcv-taod.roppongihills.com

First Official Chiikawa Shops Open at KIDDYLAND Harajuku and Osaka Umeda

KIDDYLAND has announced the opening of the first official shops themed on the popular character Chiikawa. Named Chiikawa Land, the two stores will open at the Harajuku and Osaka Umeda branches of KIDDYLAND on August 7.

Chiikawa is a popular character first revealed by Japanese illustrator Nagano on Twitter. In December 2020, the official online store Chiikawa Market opened, and Nagano released a book compiling the manga panels they drew and posted on Twitter. With over 550,000 follows on Twitter, Chiikawa has become extremely popular, with even themed cafes and an exhibition, Chiikawa's Forest, having taken place.

Now Chiikawa get its own official shops at KIDDYLAND with merchandise featuring new and exclusive artwork drawn by Nagano and more.

Get your paws on exclusive merch at Chiikawa Land

Smartphone Stickers | 3 Designs | ¥385 Each (Tax Included)

Acrylic Stands | 3 Designs | ¥770 Each (Tax Included)

Pins | 3 Designs | ¥330 Each (Tax Included)

Acrylic Keyrings | 3 Designs | ¥660 Each (Tax Included)

Large Hand Towels | 2 Designs | ¥770 Each (Tax Included)

Mug | ¥1,650 (Tax Included)

T-Shirts | 3 Designs | ¥3,080 Each (Tax Included)

Positively adorable frames for pre-order

Chiikawa Art Frame – Clouds | ¥16,500 (Tax Included)

Chiikawa Art Frame – Faces | ¥16,500 (Tax Included)

Chiikawa Art Frame – Ramen | ¥16,500 (Tax Included)

Buyer bonuses

For every ¥1,100 spent in a single transaction, receive one of three possible Umaibo corn sticks.

For every ¥3,300-¥5,499 spent in a single transaction, receive an exclusive hologram pin.

Spend over ¥5,500 to receive a random special gift: one of four possible lunch boxes or one of five plush pins.

Chiikawa Land shopping bag

Snap a photo at one of the photo spots

Get a stamp at both KIDDYLAND branches

 

©nagano

Art For Social Change Project Launches in Japan Using Waste to Create Art

Innovation Design launched its new 'Art For Social Change' project at haishop in Shibuya Scramble Square on July 21 which sees artwork made from waste.

According to Japan's Ministry of the Environment, 42.74 million tonnes of garbage has been thrown out since 2019. That's the equivalent of around 115 Tokyo Domes, or 918g of waste per person everyday. The waste cannot be exported, and so real action is required to reduce the amount of waste create on the island country of Japan, especially when thinking 20 years down the road.

That's where haishop comes in. Using caps from detergent, which are actually no longer sold, as well as plastic caps and other materials resulting from waste, it will create a new identity for waste together with consumers in the form of art. Art For Social Change aims to send a message to society to make real transformations in the world through the medium of art.

It's easy to imagine what happens when creating a product up to its completion, but considering what happens to it after it's been used is a lot more difficult. Every year, the available capacity at final disposal sites decreases more and more. The important topic at hand is getting everyone in Japan to really treasure the products they buy, to conceive ideas on how to prolong longevity of the things that people purchase, and construct a new society centred on recycling and reusing. And this isn't just a Japan problem – it's a global one. That's the message which Art For Social Change carries.

 

The only conditions on participating with the project is that you agree with its goal and that you use materials on sale at haishop. Everyone is invited regardless of age or gender.

The artworks in action


4th year students from Nitobe Bunka Elementary & Junior High School used waste materials to create 'souvenir' theme products which the children are helping to sell at the shop. The proceeds go back to the school itself while helping teach children about new ways of reusing and recycling.

Souvenirs created by the students of Nitobe Bunka Elementary & Junior High School

Mascara bottles made using caps from detergent bottles

Love Live! Nijigasaki High School Idol Club x Oedo Onsen Monogatari Event Announced

The Tokyo-based bathhouse Oedo Onsen Monogatari is set to collaborate with the anime series Love Live! Nijigasaki High School Idol Club with a special event titled 'Tokimeki Onsen Monogatari' from July 30 to September 5. This will mark the site's final collaboration with an anime series as the bathhouse is closing on September 5.


For the collaboration, panels and decorations featuring original artwork of the Nijigaku members is featured around the bathhouse. There's also a special photospot featuring a backdrop of a scene taken the anime's second episode.

A lottery draw will take place where you can pay ¥550 for a chance to win a cushion, illustrated print, or bromide. There are also 10 collab drinks as well as three pasta dishes to pick from. Fans can also get their hands on exclusive merch such as keyrings, tees, tapestries, and more.

HMV Record Shop Shibuya Commemorates 7th Anniversary With Special Edition Vinyls

HMV Record Shop Shibuya is celebrating its 7th anniversary by releasing 14 special edition vinyl records. The Tokyo-based record shop opened in August 2014.

<7 Inch> Makafushigi Adventure! / Romantic Ageru yo: ¥2,200 | <7 Inch> TV Manga Dragon Ball Hits Collection LP: ¥4,400 | <7 Inch> Dragon Ball Z CHA-LA HEADCHA-LA / Detekoi Tobikiri Zenkai Power!: ¥2,200

Hubert Laws, Eloise Laws "Family" ¥2,090 | HIROSHI FUJIWARA& K.U.D.O. PRESENTS "Michael Jackson/Jackson 5 Remixes" LP ¥3,850 | Manami Kakudo – "oar" LP ¥3,850 | Takumi Moriya Trio "Waiting in Vain feat. Ernest Ranglin/Burnin and Lootin" ¥2,420 | TOSHIO MATSUURA GROUP – "PINA" ¥2,530

MAYER HAWTHORNE "Rare Change/Only You" ¥1,980 | DJ KAWASAKI "ONE WORLD" LP ¥4,180 | FROMM "Aliens (with Kim Feel) / Hold Me Like It's Forever (with Car, the garden) ¥1,980 | CHEEZE – "LOSER/Today's Mood" ¥1,980 | Choi Jungyoon "Dance With Me Baby/Delete You" ¥1,980

LEARNERS "TEENAGE KICKS" (2nd Press/Different Cover) | 400 Copies | ¥1,650

TONDABAYASHI RAN Design LUCKY7 GIRL T-Shirt (White/Grey) | ¥3,080 Each

TONDABAYASHI RAN Design LUCKY7 GIRL Slip Mat | ¥2,200

HMV Record Shop Shibuya is located in Udagawacho, an area of Shibuya that was known as the holy ground of vinyl records in the 90's. Since opening on August 2, 2014, the store has enjoy many customers for its collection of second-hand records, special editions, vinyl-related merchandise, and more.

In celebration of seven years since its grand opening, HMV Record Shop Shibuya has released 14 titles such as three records commemorating the 35th anniversary of the Dragon Ball anime series, limited-edition exclusives, and more. The records will also roll out at other HMV Record Shop branches as well as HMV&BOOKS Online from July 28.

A collection of merchandise has also been released for the celebration with designs by Tokyo-based artist TONDABAYASHI RAN such as tees and a slip mat. A sale for second-hand vinyls also began at the Shibuya branch on July 22.

POKÉMON COLORS Exhibition Opens at Matsuya Ginza

Matsuya Ginza opened its POKÉMON COLORS exhibition on July 22 which is set to run until August 11. The event is a kaleidoscope of bright colours and shapes of Pokémon and Pokémon motifs, with four activities and one installation to enjoy, as well as 160 original pieces of merchandise for fans to buy.

Logo mark

Art Deli Key Visual | ¥4,400

Pikachu Design Pouches – Assorted Pokémon Design Pouches | Small: ¥1,650 Each, Large ¥3,300 Each

Get your hands on a range of vivid and stylish Pokémon items, take photos at the many different photo spots dotted around the event, and learn the latest news about the Pokémon franchise.

Indigo dye art piece

Dangling from the first floor atrium is a 20-meter Pokémon art piece made by the dye group BUAISOU who used the traditional Japanese art of indigo dyeing to create it.

©2021 Pokémon. ©1995-2021 Nintendo/Creatures Inc./GAME FREAK inc.
ポケットモンスター・ポケモン・Pokémonは任天堂・クリーチャーズ・ゲームフリークの登録商標です。

Information

POKÉMON COLORS

Running: July 22, 2021 – August 11, 2021

Location: Matsuya Ginza – Floor 8F

Opening Hours: 10:00-20:00

Official Website: https://pokemon-colors.com/