Sebastian Masuda and Felissimo Release Kawaii Multicoloured Miwa Soumen Noodles
Felissimo and Sebastian Masuda's cute and happy KAWAII COMPANY project released a new collection of multicoloured soumen noodles at Senjutei Somen Chaya on July 11 which are available for a limited time until August 31. The colours of the noodles are naturally-derived.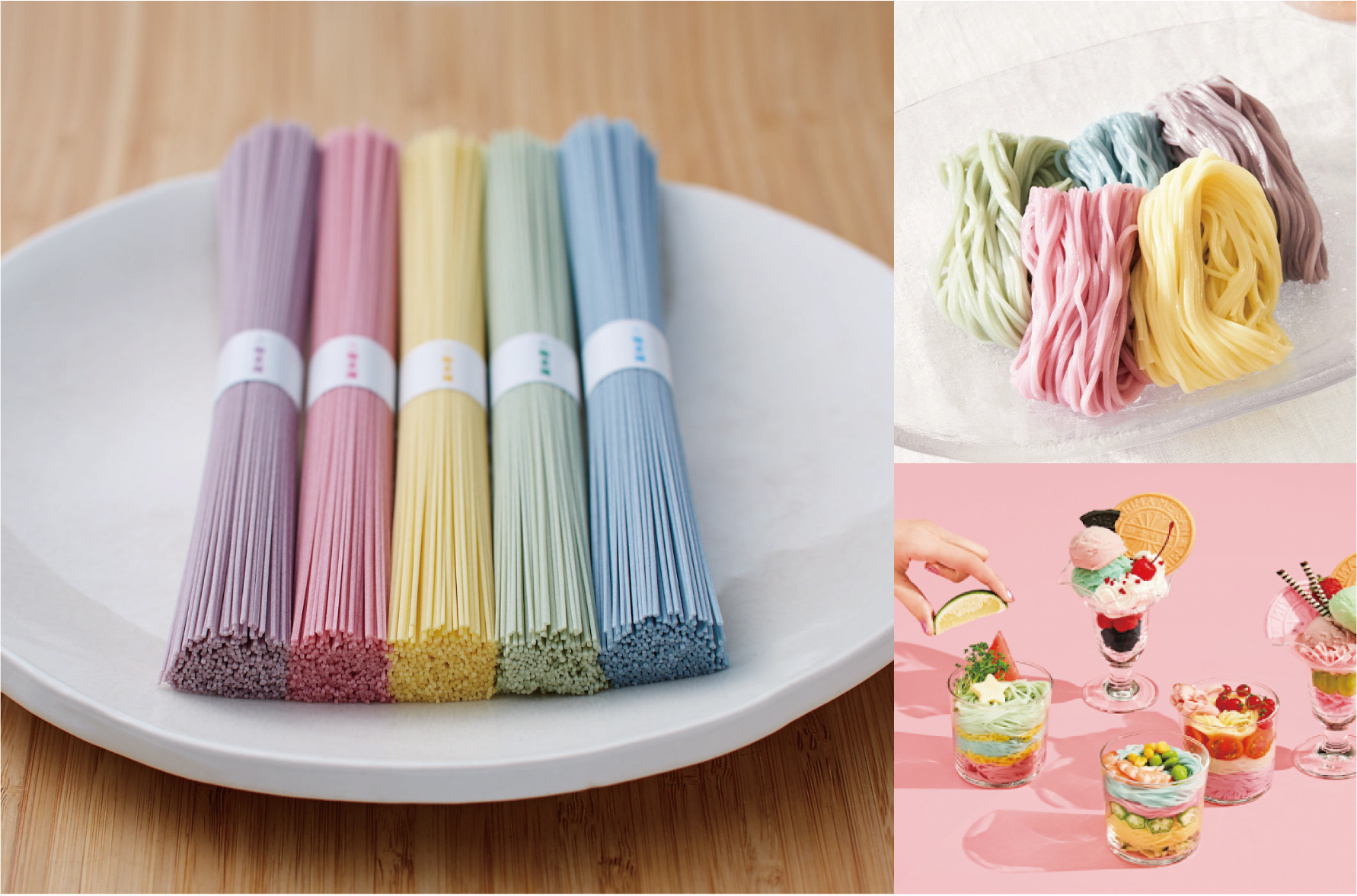 KAWAII COMPANY 5 Kawaii Soumen Noodles | 1 Set = ¥2,420 (Tax Included)
Digital Catalogue
The cute Miwa soumen noodles are made by Ikeri, a long-standing shop that was established in Nara over 170 years ago. Each noodle colour signifies a different colour: Japanese purple sweet potato, plum, kabosu citrus, beefsteak, and plain. The noodles are packaged in a wooden box featuring KAWAII COMPANY's key visual designed by Sebastian Masuda along with golf leaf.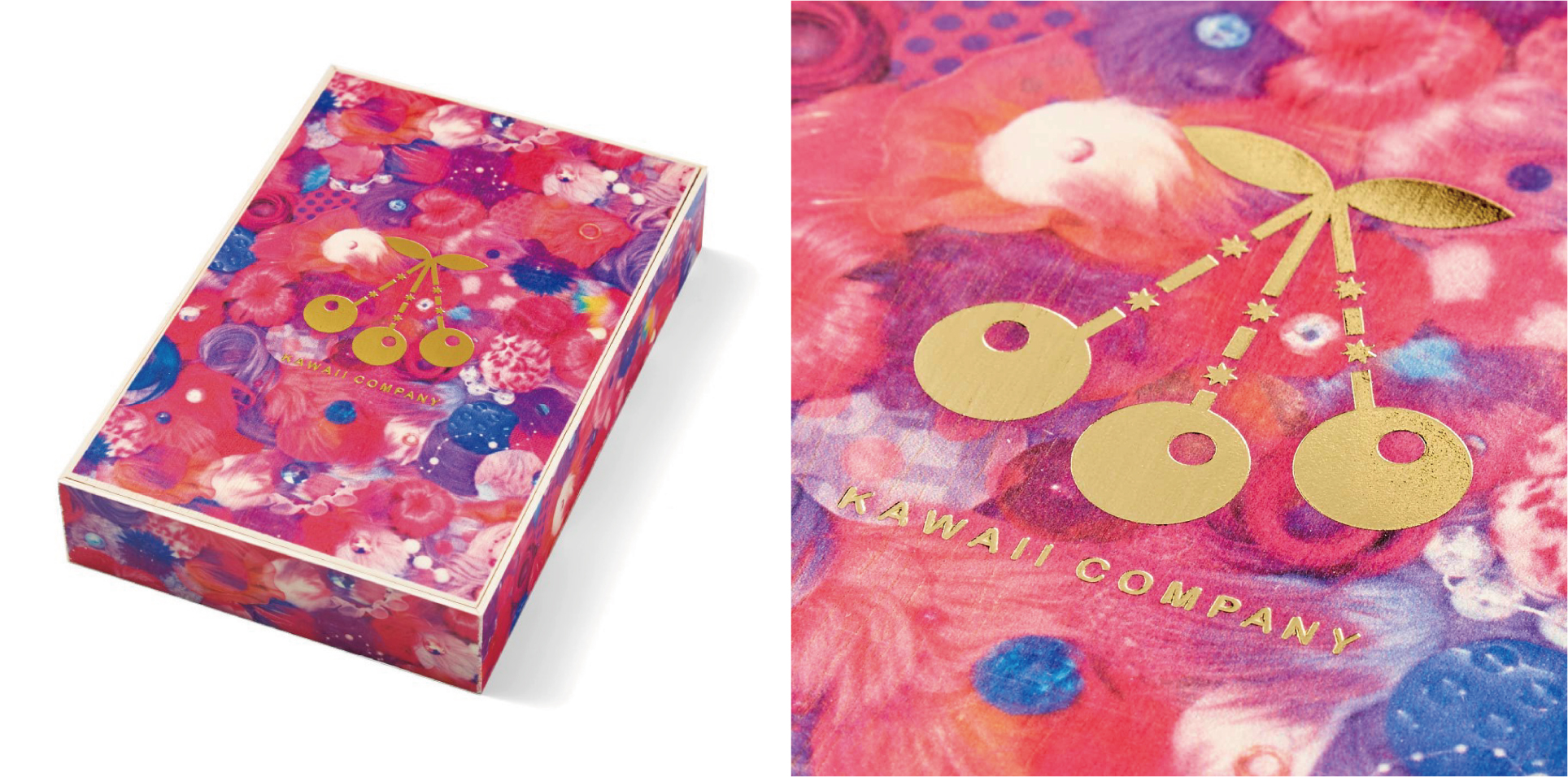 The noodles aren't designed just to look cute – they are authentic in flavour and in how they are made with traditional Japanese techniques.
RELATED ENTRIES
Sebastian Masuda to Unveil Hands-On Live Performance Work

From September 30 until October 2, 2022, artist Sebastian Masuda will present a hands-on live performance work titled Polychromatic Skin – Minitsukeru, nugisuteru at kagoo in Kitakagaya, Osaka. 

Masuda, who currently resides in New York, is returning to Japan temporarily to prevent this colorful and experimental participatory live performance, inspired by the street style of the 90s. The title of the artwork is pulled from the artist's intention to break through and liberate people's unconscious stereotypes that stand in the way of gender freedom. This work is the second in a series following Polychromatic Skin -Gender Tower- and Polychromatic Skin -Gender Wall- to be exhibited at Roppongi Art Night 2022.

The theme of this art piece is 'wearing something by taking it off.' Audience members will participate in the live performance by wearing masks, tops, and bottoms based on the idea of androgyny, or the body of a human before it is divided into male or female. 

Upon entering the art space, guests will be surrounded by live music consisting of drums and violins and visuals, while being invited to act accordingly to create their own art. Each session lasts 60 minutes, and participation in the live performance must be reserved in advance. Tickets to view the works without participating in the performance will be sold at the venue on the day of the event.

The performance will take place at kagoo, a former warehouse space in Kitakagaya, an artistic area of Osaka. A free area at the entrance will feature a pop-up store filled with Sebastian Masuda's art, along with items from 6%DOKIDOKI, a popular Harajuku apparel brand celebrating its 27th anniversary in 2022.

<Comment from Sebastian Masuda>

"In Brooklyn, New York in 2018, I wandered off to go to the restroom at a club. The male and female signs on the restroom doors had been smashed together, and the sign only said 'non-gender.' Bewildered by the unexpected instructions, I opened the door with the usual color and found a completely different sight than I was expecting. Shocked to realize that there were stereotypes hiding unconsciously within me, I returned to the club floor to find the space is as fun as ever. Since then, I've wondered if there is a way to break the stereotypes I have. I can't stop thinking about it. 

Is breaking down the walls the only shortcut?
The right answer is inside all of us.
Sometimes, to see the truth, you just need to put something on.
Cast off the self by taking it off."

Japanese Painter Uemura Shoen and Others to be Featured at Shohaku Art Museum in Nara

Shohaku Art Museum in Nara will be exhibiting works by Uemura Shoen, Shoko, and Atsushi from September 6 until November 27. This will include sketches and rare works by these classical Japanese artists, many of which will be shown for the first time in two years.

Hanagatami. Uemura Shoen, 1915

Hanagatami (Rough Sketch) Uemura Shoen, 1915

Yang Guifei. Uemura Shoen, 1922

Tsudumi no Oto. Uemura Shoen, 1940

Flowers and Birds of the Four Seasons. Atsushi Uemura, 2010. 

 

The museum has a large number of valuable materials in its collection, including drafts, miniatures, and drawings by Shoen and Shoko. Even the drafts by Shoen are meticulously crafted, down to each and every crease in the kimonos. By viewing the original sketches with the final paintings, guests can feel the emotion that went into them. The exhibition also provides a glimpse of how Shoko and Atsushi deepened their understanding of their subjects through sketching. Fans of Japanese artwork shouldn't miss this valuable exhibition!

Information

Shohaku Art Museum Collection 2022: Uemura Shoen, Shoko, and Atsushi

Running: September 6 – November 27, 2022
Venue: Shohaku Art Museum

Hours: 10:00-17:00 (Last Entry at 16:00)

Official Site: https://www.kintetsu-g-hd.co.jp/culture/shohaku/

Felissimo's Cat Club Collaborates with f winery for Special Event

Felissimo's small-scale urban winery f winery is teaming up with Cat Club! From August 11 until September 25, guests can enjoy three original wines, chocolates, bread, and other unique merchandise featuring everyone's favorite kitties. This is the first collaboration between the portside winery and the popular cat collection.

Collaboration Products

Brown-and-White Sailor Cat (Cabernet Sauvignon & Merlot)


Tuxedo Sailor Cat (Sauvignon Blanc)


Grey Tabby Passenger Cat (Japanese Muscat Berry A)

Orange and Bitter Chocolate / Coffee and Bitter Chocolate / Matcha Chocolate

Collab Menu


Chocolate Plate with Wine (Example)


Blue Sky White Wine Jelly / Morning Sunrise Orange Jelly / Evening Sunset Red Wine Jelly

Chocolate Latte / Tea Latte / Tea Soda

The collaborative menu with Cat Club Parlor includes a wine set and a lineup of non-alcoholic drinks that everyone can enjoy. The original label wines will be available on the Felissimo website starting August 18, and one percent of the proceeds will be donated to the company's foundation supporting dogs and cats and helping them to find foster homes, as well to prevent cat overpopulation. 

Be sure to check out these adorable products–they'll make great gifts!

Kawaii King Sebastian Masuda to Hold 'COLORS FOR PEACE' Charity Art Exhibition in New York City

Sebastian Masuda, known as the "father of kawaii," moved to New York City in 2022 to be more active in the Big Apple while continuing his activities in Tokyo.

 

His first event since moving to the city will be the COLORS FOR PEACE charity art exhibition, which will be held at the Mizuma & Kips gallery on Manhattan's Lower East Side from July 29 until July 31. A portion of all proceeds from the sale of artwork and donations collected will be donated to the Ukrainian National Women's League of America, a human rights organization supporting those whose lives have been impacted by war.

Masuda wanted people to think about peace, which is the theme for the COLORS FOR PEACE exhibition. The showing will feature artwork in four primary colors–blue, yellow, green, and pink.

Along with original paintings and lithographs, the exhibition will also feature a bed installation where guests can freely relax. Visitors will be able to think about the people whose peaceful daily lives are threatened by the ongoing war, and will be able to support them through art.

An opening reception for the event will be held on the evening of July 29, and reservations are open now. More information will be announced on Masuda's social media accounts, including when the artist himself will appear.

Comment from Sebastian Masuda

"COLORS FOR PEACE is an event with a very straightforward theme, and that is for guests to think about peace. Close your eyes. Imagine it. Understand it. Understand how wonderful it is that you can sleep in your own bed at home tonight. We all know how comfortable it is to be able to sleep in our own bed, with our own sheets that have our own scent.

Through my activities over the years, I've come to realize that the 'kawaii' movement is one of the best ways to inspire peace. It helps us to understand each other, and the bright and vibrant colors make people happy, both in Japan and around the world. I hope that the COLORS FOR PEACE venue will be filled with many smiling faces and that it will transcend race, religion, age, gender, and all other borders."

Felissimo Releases Parakeet-Shaped Marshmallows to Support Small Bird Conservation Efforts

Felissimo's 'Little Bird Club' has unveiled a new collection of mini Japanese-style marshmallows! These tasty treats, flavored with chocolate and Anko (red bean paste) are available to order online. 

Mini Japanese-style Parakeet Marshmallows Round 2 (Chocolate Anko)

Mini Japanese-style Parakeet Marshmallows Round 2 (Chocolate Anko)

These adorable sweets were a smash hit during their first release, and this new collection features a variety of colorful parakeets certain to delight bird lovers. Its cute packaging makes it a perfect gift, and there's no doubt that these sweets will be a hit on social media. A portion of the sales will be donated to the Felissimo Little Bird Fund, which supports bird conservation activities.

Felissimo's KAWAII COMPANY to Sell Colorful Miwa Soumen Noodles for a Limited Time

In late 2020, Felissimo teamed up with the 'King of Kawaii' Sebastian Masuda to create KAWAII COMPANY, a project selling adorable original items. The company is now teaming up with Ikeri, a long-running Miwa Soumen shop in Nara, to create some colorful noodles to enjoy this summer. Five colors will be available, and these noodles can be purchased online until September 30, 2022. 

The Kawaii Soumen box includes five scents and flavors of noodle–purple sweet potato, plum, Kabosu, Blue Beefsteak Plant, and plain. The adorable box is also reusable!

Ikeri has been selling soumen in Nara for over 170 years. This new collaboration aims to introduce more 'kawaii' into traditional pieces of Japanese culture. Ikeri's thin soumen noodles are made by hand one by one and shine like jewels when boiled.

Customers are welcome to try different arrangements with these gorgeous noodles. These are the perfect summer gift for adults who love tasty food, tradition, and appearance! The wooden box is handmade by craftsmen in Nara Prefecture.

How would you like to not only eat these tasty noodles but post them all over social media?

Kyary Pamyu Pamyu Collaborates with Nara's Kakinohasushi Hompo Tanaka for LOCAL POWER JAPAN Project

In April, Kyary Pamyu Pamyu made a big splash around the world when she performed at Coachella, one of the largest music festivals in the United States. 

The second half of the singer's 10th anniversary nationwide tour 31-show has begun, gaining even more momentum following the announcement of a solo concert at Nippon Budokan in October. In conjunction with the nationwide tour, the LOCAL POWER JAPAN Project was launched to energize Japan through the appeal of regional towns and cities. As with past concert locations, a new collaboration has been announced following Kyary's June 5 performance in Nara.




During the late Meiji period, persimmon leaf-wrapped sushi became a local delicacy during the summer months in Nara after the delicacies began popping up at a shopping district near JR Gojo Station. In 1973, Kakinohasushi Hompo Tanaka officially opened its doors, selling this delicacy for dine-in or carry-out. Kyary has collaborated with this famous local treat, transforming the shop's logo into a new version inspired by the singer's 2014 song Kira Kira Killer. The jacket art originally featured Kyary with a collection of bizarre hairstyles, but these have been turned into persimmon leaves for the collab.

During the collaboration period, fans were able to buy specially-branded packages of Kirakira Persimmon Leaf-wrapped Sushi. While the leaves themselves aren't edible, they act to preserve the sushi for days without refrigeration. This version contains mackerel and vinegar-soaked rice. The sushi was sold in limited quantities at Nara Centennial Hall, the venue of Kyary's June 5 concert.

A collaborative T-shirt is also on sale featuring the new logo and the singer's 10th-anniversary logo. The shirt is available on the LOCAL POWER JAPAN Project website for two weeks only starting June 3. Support Japanese businesses and pick one up while you can!

Tea Ceremony Brand Saron Launches Customizable Matcha Shaved Ice for a Limited Time

Nara-based tea ceremony brand Saron is serving up a tasty treat perfect for the warm weather! White shaved ice with dark matcha topping is now available until mid-September, and guests are invited to adjust the taste by altering the amount of tea added.

Lately, Nara has been experiencing a major shaved ice boom. Inspired by Himuro Shrine, known for housing a guardian deity of ice, the city introduces plenty of created recipes for the summer treats each year. The tea ceremony brand Saron was founded by Nakagawa Masashichi Shouten, in business since the Edo period–so it's safe to say that the company knows what they're talking about!

Guests can enjoy shaved ice made from pure Yamato ice, which is frozen for 72 hours, gently shaved, and topped with Nara's Kasiya sweet bean paste, shiratama, agar, and condensed milk that has been boiled for four hours. 

To finish off this luxurious dish, guests can add koicha, a thick matcha tea with concentrated flavor and incredible sweetness and depth. Polished twice as much as typical matcha, this is a taste you'll never forget.

Why not come enjoy this traditional Japanese sweet this summer?

Information

Saron – White Shaved Ice with Dark Matcha Topping

Available: May 11 – mid-September

Where to Buy: Saron Nara (31-1 Ganriincho, Nara)

Official Site: https://salon-tea.jp/

Stationery Fair Opens at Tsutaya Books Nara

A popular stationery event held last year is back! The pop-up space on the first floor of Tsutaya Books Nara has been filled to the brim with unique stationery items from a number of creators. Guests can grab these inspiring items from March 15 until April 17, 2022.

echos

Visitors can use a variety of printing techniques like letterpress and foil stamping at echos. Connect with your loved ones through printing and design, and show your creativity!

These nostalgic yet new paper products pull from Showa-era illustrators to give an authentic antique feel. 

Osoblanco

This general store and gallery is located in Nanba, Osaka. The shop mainly deals in original handmade goods, antique European tools, and merchandise by illustrator makomo. Both store owners are stationary lovers, and they have recently begun offering a wide selection of paper products of all genres and styles.

Otome Printing

Otome Printing makes paper goods by printing each sheet of paper one color at a time on a letterpress! The handmade printing gives each sheet a one-of-a-kind feel by virtue of the indentation of the printing plate, ink blurring, and crooked prints. The lineup includes postcards, letterheads, pouch bags, and gift bags decorated with these unique prints.

Printing Studio Tan

Printing Studio Tan has been making Nara-inspired letterpressed pieces since it opened its doors. The symbol for 'tan' refers to the color of red earth, symbolizing the values of ancient Nara, once the central city of Japan. The company's products feature ancient patterns associated with classic Japanese culture. 

Kei Printing

Kei Printing, with a factory in Kobe, offers delicate items with incredible attention to detail. With the goal of designing 'memorable printed materials,' customers are sure to find items that will help them to express themselves. 

Yonagadou

With a storefront located in Tenmabashi, Osaka, Yonagadou also has a small gallery in the back featuring items from both Japan and abroad. The shop offers a wide variety of small items, from Taisho and Showa-inspired paper goods, handkerchiefs, and more. 

This year, paper lovers will find an array of products using letterpress printing. Many items were also inspired by Nara, so travel lovers will also be thrilled!

Felissimo Nekobu Teams Up with Akihabara Nagomido for Limited Time Cat-themed Cafe

Romantic Taisho-style cafe Akihabara Nagomido and Felissimo's Nekobe, a company that loves all things to do with cats, are teaming up for a collaboration cafe! Open until March 20, guests will be greeted at the door by an original cat illustration by Arisa Shimoda, a popular illustrator for Nekobe. Enjoy a special photo spot and a collaboration coffee shop menu complete with cat-themed dishes. Exclusive merchandise will be on sale at the goods corner and online, and 1% of all proceeds will be donated to a charity finding forever homes for cats and dogs. 

Collaboration Menu

Swordfish Tuna Steak Cutlet

Catwalk Tiramisu

Hide and Seek with Fluffy Cream! Mini Cat Parfait

Flying Fish?! Kitty Soda

Cafe Latte with Cat Design

Yoshino-chan's Anmitsu with Marshmallows

Akihabara Nagomido Limited-Edition Collaboration Merchandise

Chocolate Rusk

Sweets in Tin

Sugar Cats

Japanese-style Marshmallow

Yoshino-chan, a tortoiseshell cat wearing a lovely kimono against a backdrop of Taisho-era stained glass, was created by Arisa Shimoda, a well-known illustrator.

Which of these dishes would you order?

Information

Akihabara Nagomido x Nekobu Parlor
Running until March 20, 2022
Open 24 Hours

Food Available from 11:00 – 20:00 (Last Food Order at 19:00 / Last Drink Order at 19:30) *Seating limited to 90 minutes when busy.
Address: Akihabara Nagomido, Sakai Suehiro Building B1F (6-14-2, Sotokanda, Chiyoda-ku, Tokyo)
Official Site: https://nagomi-cafe.com/

The Museum of Japanese Art Yamato Bunkakan Opens Japanese Ceramics Exhibition

From January 5 until February 13, 2022, the Museum of Japanese Art Yamato Bunkakan in Nara will feature a large exhibition of Japanese pottery, spanning from the Jomon period to the present day. 

Important Cultural Property – Painted Platter (Imari Ware) / Yamato Bunkakan Collection

Celadon Porcelain Vase – By Soubei Kinkouzan (Taisho Period) / Privately Owned

The exhibition will feature both potteries from the museum's collection and those held by private individuals. The history of pottery in Japan began in the Jomon period around 14,500 BCE, and this earthenware eventually evolved into Sue ware, formed on a potter's wheel. The Nara period saw the emergence of glazed ceramics. During the Momoyama period (1573-1603), the world of pottery was revitalized with the popularity of the tea ceremony. During the Edo period (1603-1868), porcelain was first successfully fired in Arita, and these pieces became popular throughout Japan. Painting on ceramics also became popular during this period, and although pottery saw less popularity after the Meiji Restoration, it has since evolved in different ways with more modern technology. 

Information

Japanese Pottery: From the Jomon Period to Today

Running: January 5 – February 13, 2022

*Closed on Mondays (Open on January 10, closed on January 11)

Hours: 10:00-17:00 (Last Entry at 16:00)

Admission:

General: ¥630 / High School, College Students: ¥420 / Elementary, Middle School Students: Free

Official Site: https://www.kintetsu-g-hd.co.jp/culture/yamato/

TSUTAYA Nara Location Opens HAPPA STAND Fair to Highlight Traditional Japanese Tea Culture

From December 21, 2021 until February 13, 2022, TSUTAYA Nara will hold the HAPPA STAND Fair to coincide with the traditional holiday season. This special location will highlight traditional Japanese teacups under the concept of 'Be Classic, Not Old.' Enjoying traditional tea doesn't have to be old school–it can be chic and fit into a modern lifestyle as well.

HAPPA STAND is located on a corner in Mino, Gifu Prefecture, surrounded by classic Japanese homes. This area is an important traditional building preservation district and aims to blend the chic with the classic to attract visitors and show off local artisans and food.

The creator of this event previously lived abroad, and after experiencing 'fake Japanese food culture,' he decided to return to Japan to find a way to highlight the reality of Japanese cuisine. HAPPA STAND was initially begun in 2018.

The stylish store was renovated from an old house built over 150 years ago, and is filled with delicious tea grown in Uji, Kyoto, and local Mino ware ceramics. For those thinking of enjoying a taste of authentic Japan, this won't be a place to miss.