Sebastian Masuda and Felissimo Release Kawaii Multicoloured Miwa Soumen Noodles
Felissimo and Sebastian Masuda's cute and happy KAWAII COMPANY project released a new collection of multicoloured soumen noodles at Senjutei Somen Chaya on July 11 which are available for a limited time until August 31. The colours of the noodles are naturally-derived.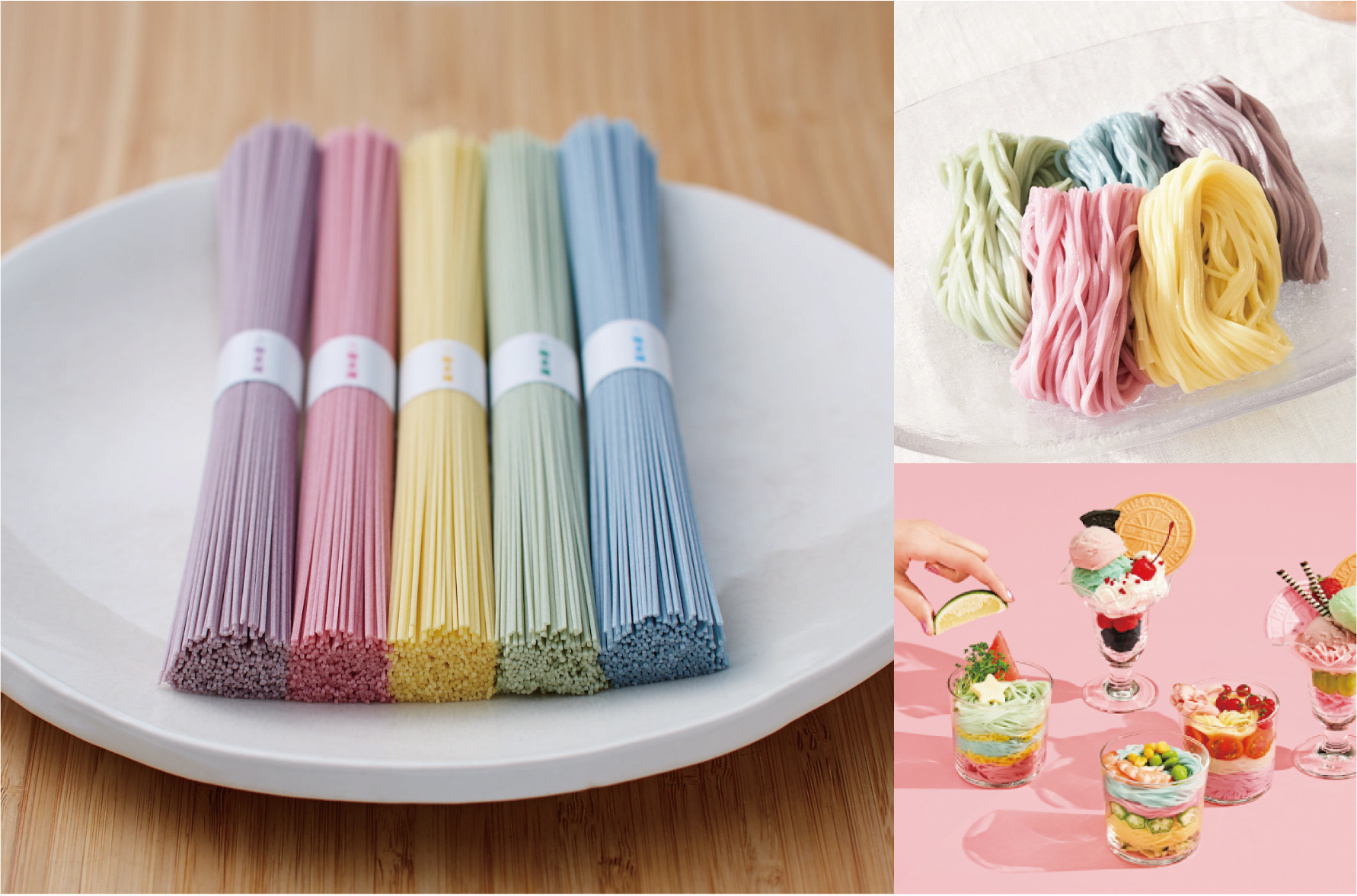 KAWAII COMPANY 5 Kawaii Soumen Noodles | 1 Set = ¥2,420 (Tax Included)
Digital Catalogue
The cute Miwa soumen noodles are made by Ikeri, a long-standing shop that was established in Nara over 170 years ago. Each noodle colour signifies a different colour: Japanese purple sweet potato, plum, kabosu citrus, beefsteak, and plain. The noodles are packaged in a wooden box featuring KAWAII COMPANY's key visual designed by Sebastian Masuda along with golf leaf.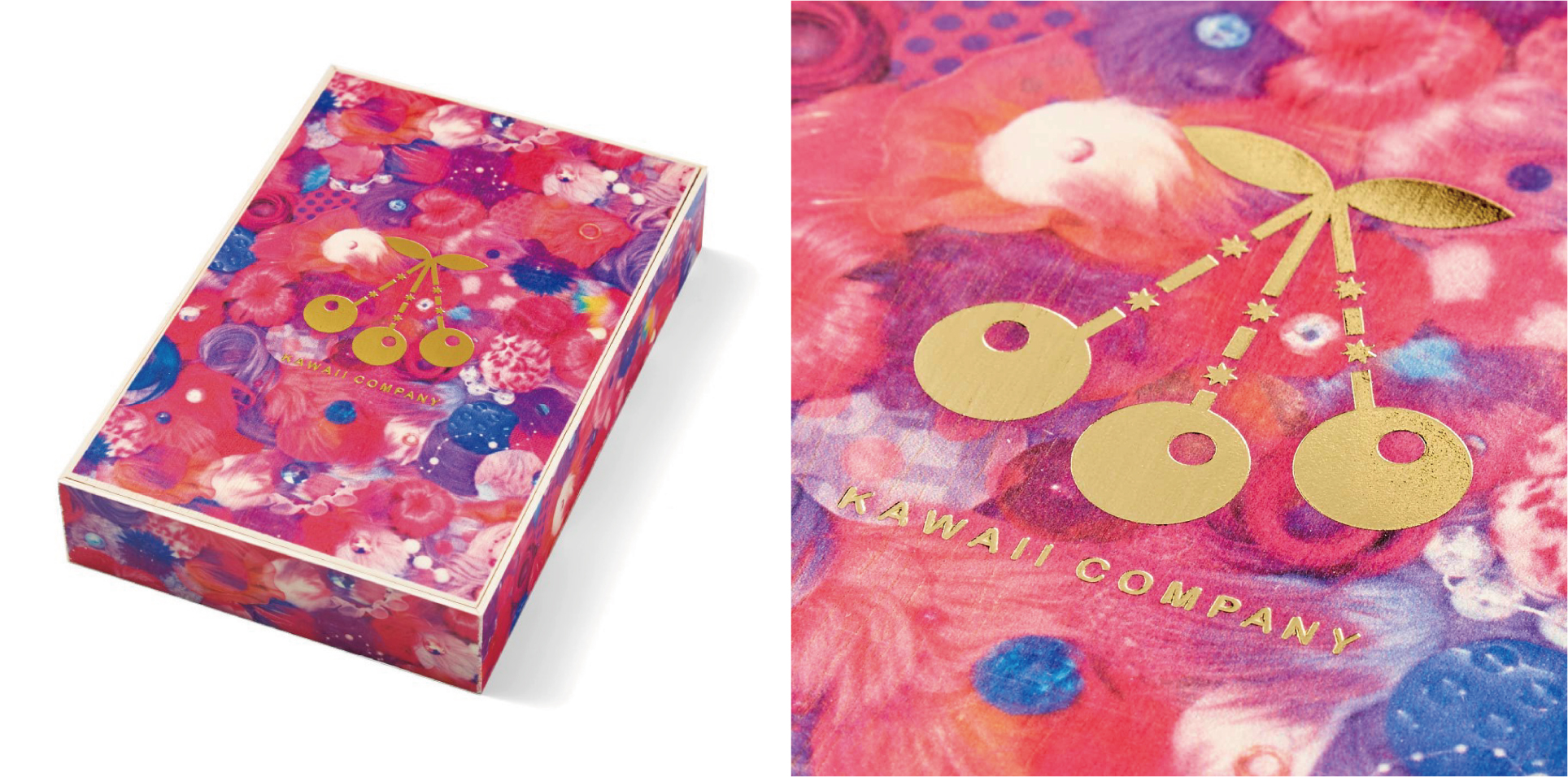 The noodles aren't designed just to look cute – they are authentic in flavour and in how they are made with traditional Japanese techniques.
RELATED ENTRIES
Godfather of Kawaii Sebastian Masuda Celebrates 30 Years in Showbiz with Pop-Up Shop at Roppongi Hills

Sebastian Masuda is a powerhouse of all things cute. From starting the popular Harajuku-based brand 6%DOKIDOKI in 1995 to creating the now-legendary music video for Kyary Pamyu Pamyu's PONPONPON, Masuda is now celebrating 30 years in the industry. An exhibition of the artist's works will be shown in an upcoming exhibition in both Tokyo and Osaka from Fall 2021 until 2022. Prior to that, a Sebastian Masuda pop-up shop is coming to Roppongi Hills and Shibuya PARCO starting this month!

From September 23 until October 17, the art goods brand Sebastian Masuda ART will hold a pop-up shop within the Mori Art Museum Shop on the third floor of Roppongi Hills West Walk. In addition to the latest art goods, including the brand-new 'Inner Voyage' series, a number of Masuda's colorful art pieces will be on display, with some being for sale. 

When visiting Roppongi Hills, don't forget to head up to the 52nd floor for the 60th Anniversary Sanrio Exhibition: The Beginning of Kawaii, running from September 17 until January 10, 2022. Sebastian Masuda's work 'Unforgettable Tower' will be on display when entering the event, while the Tokyo City View store will be selling some of the artist's products! Basically, both the 3rd and 52nd floors will be nothing but kawaii. 

Mori Art Museum Shop

Stickers: ¥550 – ¥2,860 (Tax Included)

 Inner Voyage T-Shirt: ¥7,480 (Tax Included)

Microcosmos -Tattoo Pink & Me-   

Sebastian Masuda & 6%DOKIDOKI 1995→2021

Mesh Top:  ¥10,450 (Tax Included)

Long Sleeve T-Shirt: ¥8,250 (Tax Included)

DOKI DOKI Earrings: ¥4,290 (Tax Included) / Logo Plate Necklace: ¥7,590 (Tax Included) / 6% Logo Pochette: ¥6,050 (Tax Included)

Charm Pouch – Kawaii Company: ¥2,860 (Tax Included) / Sebastian Masuda STUDIO COLOR PALETTE: ¥4,400 – ¥2,860 (Tax Included) Felissimo

The Sebastian Masuda & 6%DOKIDOKI 1995→2021 event will be held from September 17 to October 3 at Hobonichi CultureN, located inside Shibuya PARCO. Guests will be able to look back at the 26-year history of the 6%DOKIDOKI brand. 

2021, much like 2020, has lost a lot of it's brightness due to the ongoing pandemic. Why not surround yourself with some kawaii goods to raise your spirits? 

Information

Sebastian Masuda Pop Up Store

Running: September 23 – October 17, 2021

Address: Mori Art Museum Shop (Roppongi Hills West Walk 3F,  6-10-1, Roppongi, Minato-ku, Tokyo)

Details: https://art-view.roppongihills.com/jp/shop/

Sebastian Masuda & 6%DOKIDOKI 1995→2021

Running: September 17 – October 3, 2021

Address: Hobonichi CultureN (Shibuya PARCO 4F, 15-1 Udagawa-cho, Shibuya-ku, Tokyo)

'Masuda Sebastian and 6%DOKIDOKI 1995→2021' Limited Shop to Open in Shibuya PARCO

The 'Sebastian Masuda and 6%DOKIDOKI' limited shop will be opening in the Shibuya PARCO 4F 'Hobonichi Karucha-n' section between September 17 and October 3 2021 to mark 26 years since the opening of Harajuku store 6%DOKIDOKI.

The brand formerly opened a store in Shibuya PARCO Quattro in 1998 and held a pop-up store in 2011. Now, for the first time in 10 years, 6%DOKIDOKI is coming back to Shibuya PARCO, selling the latest fashion items while reprinted posters featuring designs from the 90's will be available for pre-sale.

The shop will also exhibit photographs from the store opening and pages from old catalogs, along with product design artwork. This exhibition will allow you to experience the colorful and powerful evolution of "Kawaii" from the 90's to the current day.

Experience "Sebastian Masuda and 6% DOKIDOKI", the leader of KAWAII culture, at the "Almost Nichi Karchan", a cultural information center that introduces Tokyo's recommendations such as exhibitions, movies, plays, and music.

Learn more about KAWAII culture leaders 'Sebastian Masuda and 6%DOKIDOKI' at the Hobonichi Karucha-n, a cultural information center that introduces Tokyo's recommended exhibitions, movies, plays, and music.

 

Comment from Sebastian Masuda

"In 1995 I was 25, and could have never imagined that my future would turn out this way. However, even though 26 years have passed, the shop is still a place that combines fashion, culture, and art. Do you have enough colorful pieces these days? Whether it's your first time visiting or you've been with us for a long time, I hope that you will check out the exhibition."

An interview with Sebastian Masuda will also be released at 11:00 on September 17 on the 'Hobonichi Itoi Newspaper' website, so look forward to it!

Information

Masuda Sebastian & 6%DOKIDOKI 1995→2021

Duration: September 17 ~ October 3 between 11:00 ~ 20:00

Location: Shibuya 4F Hobonichi Karucha-n

Address: :15-1, Udagawa-chō, Shibuyal

Entry Fee: Free

Official Site: https://www.1101.com/n/s/parco_sebastian/

 

Adorable Halloween Dessert Buffet to be Served at Conrad Osaka

Hotel Conrad and Sebastian Masuda, known worldwide for his 'kawaii' works, are collaborating for the second year for a scrumptious Halloween event. Titled OWNER OF A COLORFUL HEART Halloween Sweets Buffet, the tasty treats will be available starting September 2. The buffet was held in Tokyo last year, but is moving to Osaka for 2021.

Guests can enjoy a variety of colorful Halloween sweets, created by Executive Pastry Chef Jimmy Boulet and supervised by Sebastian Masuda!

「OWNER OF A COLORFUL HEART」Halloween Sweets Buffet

Sweet Potato Mille-feuille

Orange Cupcake with Cassis Chantilly Cream

Spider Mousse Cake

Caramel and Persimmon Bellini

Crash the Halloween

Colorful Palette

Galaxy

Daisy Celebration

Halloween Caterpillar

Playful Macaroon

Blueberry Mousse and Fig Compote with Sesame Pralines

Black Cardamom Chocolate and Pear

Colorful Curries & Stews

The buffet tables are decorated with dark purple tones and welcome guests with Bouley's playful collection of sweets. His iconic mille-feuille uses ample amounts of cream and purple yams, with a chocolate spider web on top. The spider mousse cake, with its gentle shortcake-like texture and unusual combination of coffee and mango, is sure to surprise. Each treat uses autumn ingredients, and will surely have guests enjoying Halloween to the fullest.

Though the sweets buffet is sure to be filling enough, Conrad Osaka also serves a variety of savory items. For this event, five different colorful curries and stews from India, Thailand, and Hungary will be available. Along with naan bread, diners can sample Udon, French baguettes, rice crackers, waffles, and countless other goodies.

Anyone who comes to the event dressed in Halloween attire can post a photo with the hashtag #ownerofacolorfullheart on Instagram to receive a free glass of sparkling wine. A photo booth will also be on site, and guests can take pictures with some of Sebastian Masuda's most popular works.

Which goodies would you be picking up from the buffet?

Sanrio 60th Anniversary Event Reveals Collaboration Cafe Menu

One of the most popular franchises to come out of Japan is celebrating a massive milestone! The Sanrio Exhibition: 60 Years of Kawaii Culture in Japan will be held on the 52nd floor of the Roppongi Hills Mori Tower starting September 17. The event will feature over 800 unique character products, the largest number in Sanrio history, and will allow guests to experience the charm and wonder of one of the most well-known parts of Japan's 'kawaii' culture.

Special light effects have been added to the 'Godfather of Kawaii' Masuda Sebastian's unique entrance art, titled "Unforgettable Tower." Singer and actor Aoi Shouta acts as the audio guide for the exhibition.

Comment from Aoi Shouta / Audio Guide

"I'm excited to experience the history of Sanrio together with you as the audio guide for the exhibition. I'm also incredibly honored to be a part of this project, since I've been a fan of Sanrio for as long as I can remember. Please enjoy this time with your favorite characters!"

Comment from Sebastian Masuda / Designer of the "Unforgettable Tower" 

"Sanrio characters and goods exist in a far corner of everyone's memories. For a long time, this was specifically a Japanese feeling. Now, it's true of people all over the world. Memory is an odd thing. It can be fuzzy, and difficult to capture. However, sometimes the nostalgia and feelings remain, and I've captured this strange balance in the 'Unforgettable Tower.' The Sanrio exhibition is a journey to undertake along with your own memories. I invite you to let your thoughts wander as you gaze at this work of art, and pass through the entrance gate of the exhibition."

Collaboration Menu & Photo Spot

Left: My Melody Curry with Winter Vegetables and Pork Cutlet: ¥1,580 / Middle: Pochakko's Pumpkin Stew: ¥1,520 / Right: Hello Kitty's Whole Apple Waffle: ¥1,380

Left: Pochacco's Hot Strawberry Milk: ¥1,050 / Middle: Pom Pom Pudding in a Pudding Shake: ¥1,080 / Right: Cinnamoroll's Balloon Trip: ¥1,100

The restaurant and cafe THE SUN AND MOON is located on the same floor as the exhibition, so be sure to get these delicious treats when you visit!

Left: Halloween, September 17 – October 31 / Middle: Christmas, November 1 – December 20 / Right: Anniversary, December 27 – January 10

Seasonal afternoon tea will be available during each special event period.

Restaurant Photo Spot Image

*画像はイメージです
© 2021 SANRIO CO., LTD. APPROVAL NO. SP610376

The walls of this red retro restaurant are covered with images of popular characters, making it the perfect place to snap some commemorative photos. Each photo spot will change depending on the holiday season, so don't miss the Halloween, Christmas, and Anniversary backgrounds!

Original Merchandise

Left: Square Acrylic Keychain: ¥1,210 (4 designs) / Middle: Triple Acrylic Keychain: ¥1,210 (4 designs) / Right: Bag: ¥1,650 (4 designs)

Guests can grab over 100 original items, with both modern and vintage designs.

Sanrio Set to Debut the Cutest Musical in the World, From Hello Kitty

Are you ready to see the cutest show on Earth? Starting August 24, the From Hello Kitty musical will bring a collection of the most popular Sanrio characters to the IHI Stage Around Tokyo to perform a musical like no other. From Hello Kitty, Dear Daniel and Cinnamoroll to Pom Pom Pudding, My Melody and Little Twin Stars, it's a full roster of adorable talent! Did we mention that the theater rotates 360 degrees? 

Created to celebrate 60 years of Sanrio, the musical's message is simple and wholesome: let's bring the world together and all get along. The show will give the audience an insight into the character's thoughts and histories like never before, and will feature a special version of the popular Sanrio Puroland Miracle Gift Parade, with a new story that can only be seen in this performance. 

Sebastian Masuda will serve as the production's art director, and will no doubt bring a unique brand of cuteness to the stage performance. Music producer Hyadain will be bringing plenty of pop and dance numbers, and anime fans may recognize his works: he provided tracks for shows like Nichijou and Bakuman! 

The production will be directed by Yukio Ueshima, known for his work on The Prince of Tennis musicals, based on the incredibly popular sports manga of the same name. He has also worked on over 200 other stage shows, including a number of Japanese Broadway adaptations. 

The IHI Stage Around Tokyo is the only theater in Asia capable of rotating 360 degrees. The circular auditorium can seat over 1,300 spectators, and is surrounded by a stage and massive screen, providing a one-of-a-kind experience that can't be found anywhere else. For those ultra-Sanrio fans, a limited number of meet and greet events will be taking place daily, giving you the chance to take pictures with your favorite characters!

We could all use some cheering up after the events of the past year. If you can make it, be sure to check out the loveable stage performance on Earth before it closes on September 26, 2021!

Information

Sanrio Kawaii Musical From Hello Kitty

Run Dates: August 24, 2021 – September 26, 2021
Closed on Mondays (Closed Tuesday if Monday is a national holiday.)
Venue Address: IHI Stage Around Tokyo, 6-4-25 Toyosu, Koto Ward, Tokyo
Official Site: https://www.tbs.co.jp/stagearound/fromhellokitty/

60th Anniversary Sanrio Exhibition: The Beginning of Kawaii to Open at Roppongi Hills

From Hello Kitty to Pompompurin, Cinnamoroll, My Melody, and more – Sanrio's internationally adored cast of characters can be universally agreed to be representatives of Japan culture of 'kawaii.' In celebration of Sanrio's 60th anniversary, the company have announced an exhibition centred on the beginning of kawaii culture. The event will take place at TOKYO CITY VIEW from September 17, 2021 to January 10, 2022.

60th Anniversary Sanrio Exhibition: The Beginning of Kawaii recently finished up at the Matsuzakaya Art Gallery in Nagoya on June 12 and is set to move to Ōita Prefectural Art Museum where it will run from July 10 to September 5 before heading to TOKYO CITY VIEW. This exhibition will not only look back over Sanrio's 60-year history, but will also dive into how Japan's culture of 'kawaii' came about. Fans of Sanrio and Japan's kawaii can expect product and design showcases, in-depth explanations, and more.

Sebastian Masuda's iconic artwork is the centrepiece of the exhibition

Entrance exhibit in the daytime

At the entrance of the venue is the Unforgettable Tower, a symbolic art piece by Sebastian Masuda created exclusively for this exhibition which towers 6 meters tall. It's made up of countless plushies of Sanrio characters such as Hello Kitty.

Entrance exhibit in the evening


The kawaii installation stands gorgeously against the cityscape of Tokyo which makes for an Instagrammable photo in the evenings when the city is lit up. The piece, as its name suggests, hopes to create unforgettable memories. The exhibition is set to run through Halloween, Christmas, and New Year, so visitors are sure to make some memorable ones.


© 2021 SANRIO CO., LTD. APPROVAL NO. SP610376

Shouta Aoi's voice as the tour guide

Having lent his voice to other Sanrio events, including at Sanrio Puroland and in collaboration with the Little Twin Stars, the Japanese singer, actor, and voice actor Shouta Aoi has recorded announcements for the exhibition which will be played to guide people around the event.

A themed menu created for the Tokyo exhibition

From Left: Anniversary Afternoon Tea / Hello Kitty Daisuki Fried Apple Mille-Feuille / Cinnamoroll's Balloon Trip

© 2021 SANRIO CO., LTD. APPROVAL NO. SP610376

THE SUN & THE MOON, a cafe and restaurant fusion on the same floor of the exhibition, will serve up food, desserts, and non-alcoholic cocktails inspired by the Sanrio characters. Special seasonal afternoon tea sets will also be sold on Halloween, Christmas, and more too.

Dates
Restaurant: September 17, 2021 – January 10, 2022

Cafe: December 15, 2021 – January 10, 2021

*Closed December 21-26

The main exhibition

The exhibition will be split into six zones with 10 different themes. Over 800 products, documents, and materials related to Sanrio will be presented, many of which will shine a spotlight on some of their most famous characters out of their roster of 400, such as Hello Kitty and My Melody, and other characters that might not be known to those outside Japan such as best friends Patty & Jimmy. It's a chance to walk through the history of Sanrio and Japan's culture of kawaii.

© 2021 SANRIO CO., LTD. APPROVAL NO. SP610376

© 2021 SANRIO CO., LTD. APPROVAL NO. SP610376

© 2021 SANRIO CO., LTD. APPROVAL NO. SP610376

One of the six zones will look into secrets of Sanrio through the globally-beloved kawaii icon Hello Kitty. Another will display outfits such as the Hello Kitty dress worn by Lady Gaga.

Original merchandise

A small peek at just some of the items available

© 2021 SANRIO CO., LTD. APPROVAL NO. SP610376

Sanrio fans can also get their hands on a collection of merchandise with designs ranging from the exhibition's main visual to classic designs. There will be over 100 items to sift through.

Tickets for the exhibition will be available from August 1. A limited number of special tickets that include free merch will also be released.

© 2021 SANRIO CO., LTD. APPROVAL NO. SP610376

Information

60th Anniversary Sanrio Exhibition: The Beginning of Kawaii

Running: September 17, 2021 – January 10, 2022

Where: TOKYO CITY VIEW (Roppongi Hills Mori Tower Floor 52F)

Address: 6-10-1 Roppongi, Minato-ku, Toky0

Price: TBA

60th Anniversary Sanrio Exhibition: The Beginning of Kawaii Official Website: https://sanriocharactermuseum.com/

Japanese Artist Aki Kondo Opens Exhibition in Nara

NARA TSUTAYA STORE is set to host an exhibition in promotion of Japanese artist Aki Kondo's new artbook Koko ni Aru Shiawase (The Happiness Here) which is running from July 1-15.

Front cover of Aki Kondo's artbook Koko ni Aru Shiawase

Koko ni Aru Shiawase "A Hundred Flowers" Special Edition

Examples of drawings at the exhibit

Koko ni Aru Shiawase hit the shelves in March of this year as Aki Kondo's first artbook release. Her colourful, imaginative, and humorous works have captured the hearts of many. But her works also touch on the deeper topic of her view on life and death, having experienced the suffering wrought by the Great East Japan Earthquake as well as knowing loss.



Her new artbook focuses on her paintings of flowers as well as themes of fleeting life and our relationships with others. Everything from the book's design to the works shown, the printing, and so on were crafted with the utmost care to capture the full essence of Aki Kondo and to create a book the owner will always want by their side.

6%DOKIDOKI Celebrates 25th Anniversary With Pullip Doll Collaboration

Sebastian Masuda founded Harajuku's famous fashion brand 6%DOKIDOKI back in 1995. Last year marked the brand's 25th anniversary, and in continuation of the celebration, 6%DOKIDOKI is collaborating with the popular doll brand Pullip on an exclusive model.

The dolls are made to order, and the order window will open at Pullip and 6%DOKIDOKI's online shop on July 1 before going on sale in mid September. Those outside Japan will be pleased to know that 6%DOKIDOKI ships overseas. The brand has many fans outside Japan, especially those with an interest in Harajuku. COVID-19 has rendered travel Japan difficult, so this collaboration is a way of 6%DOKIDOKI also serves as a way of giving Harajuku, 'kawaii' culture, and J-fashion enthusiasts their kick.

Pullip/DOKI DOKI

The exclusive doll model in full

The upper body, hair, and makeup up close

Pullip dolls are known for their large heads and for having lots of movable parts. The eyes can move left and right as well as wink, allowing owners to pose their dolls with a variety of expressions. The concept of the Pullip/DOKI DOKI collaboration focuses on how despite language barriers between countries, colour is universal. It gives us power, especially when dressing up.

6%DOKIDOKI has and continues to make people happy with their colourful line-up. Their doll is another step towards that goal.

©Cheonsang cheonha.All Rights Reserved. Ⓒ6%DOKIDOKI

Information

Pullip/DOKI DOKI
Price: ¥25,850 (Tax Included)

Ages: 15+

Set: Includes doll, hair accessory, shoes, bag, doll stand, and profile card

Size: 31cm

Made in China

*Photos are of a product still in development so subject to design changes without notice

Colourful Dessert Buffet 'OWNER OF A COLORFUL HEART' to be Served at Conrad Osaka

Conrad Osaka is set to serve a very special rainbow-coloured dessert buffet called 'OWNER OF A COLORFUL HEART' at its Atmos Dining restaurant in collaboration with Japanese artist Sebastian Masuda, who is known for his iconic work in Japan's culture of 'kawaii,' from June 4 to August 31.

OWNER OF A COLORFUL HEART Peach Dessert Buffet

The colourful line-up aims to bring light and strength to people during these dark times. It says that if we were to shine a light on our hearts, the hidden colours of our hearts would illuminate for all to see. We are all owners of a colourful heart. The beautiful and mouth-watering dessert table conceived by Masuda was made after he had discussions with Jimmy Boulay, executive chef at Atmos Dining, who helped bring this peach-filled sweet treat bounty to life.

The picturesque buffet is made so colourful thanks to a range of natural ingredients such as paprika, turmeric, coconut, rose, and more. The 'Colourful Heart Tarts,' which look like baby peaches, are fluffy and made sweet with peach and vanilla. The 'Sunshine in the Dark' is bright yellow like sunshine and contains peach and vanilla caramel cream. The 'Peach Prism Cupcakes' glisten vividly, and the 'Daisy Celebration' is a wonderful mix of almonds, rose mousse, and peach compote. Below is a small peek at just some of the goodies on this summertime feast.

Menu Sneak Peek


Marble Marble Mousse

Colourful Heart Tarts

Sunshine in the Dark

Peach Prism Cupcakes

Spring Garden

Daisy Celebration

Playful Macarons

The restaurant also has a photo booth where you can take photos together with some of Sebastian Masuda's most iconic works. There's also merchandise from the artist's own brand Sebastian Masuda ART. And that's not all – a special hotel plan at Conrad Osaka is also available where guests can stay in rooms decorated in Masuda's art. The plan comes with the dessert buffet attached. There are just three rooms a night with this plan for the duration of the buffet.

Bonus Item

Win a free glass of sparkling wine by posting a photo of yourself with a heart in the picture at the buffet with the hashtag #ownerofacolorfulheart.

If you're in Osaka this summer, show that you're also the owner of a colourful heart at this very special dessert buffet.

Information

OWNER OF A COLORFUL HEART Peach Dessert Buffet

Running: June 4, 2021 – August 31, 2021

Times: [Mon-Thur] 15:00-17:00 / [Fri-Sun & Holidays] 14:30-18:00

Price: Adults ¥6,200 / Children ¥3,100

*Prices will change to ¥6,800 and ¥3,400 respectively for Obon from August 7 to 16

Venue: Atmos Dining (Conrad Osaka Floor 40F)

Address: 3-2-4 Nakanoshima, Kita-ku, Osaka-shi, Osaka

Reservations: Online / Telephone (06-6222-0111 )

Official Website: https://conrad-osaka.hiltonjapan.co.jp/restaurants/conrad-sweets/summer2021

Felissimo's Summer 2021 Hair Turbans Are Made Using Traditional Japanese Banshu-Ori Weaving

As part of Felissimo's "Japanese Craftsman Project," the fashion retailer released a new collection of jacquard hair turbans in collaboration with POLS, a textile brand based in Nishiwaki, Hyogo.

Green x Brown – Pink x Brown – Light Grey x Orange – Sky Blue x Yellow | ¥4,800 Each (Before Tax)

The hair turbans are made using a traditional Japanese weaving technique called banshu-ori whereby threads are dyed before they are woven, allowing for items to maintain their colour for much longer.

POLS is a textile company that uses a jacquard loom to create designs brimming with originality. The hair turban collection features colours that aren't over the top so can be enjoyed by anyone and everyone. They are also a great item for doing your hair and makeup while working remotely and add a little something to your look if you're in a situation when you need to wear a mask.

Embroidered Eco Bag Fair Opens at TSUTAYA BOOKS in Nara

Nara TSUTAYA BOOKS opened the Ball & Chain Fair on May 11, stocking a wide selection of thick embroidered polyester eco shopping bags.

Ball & Chain is a shopping bag brand focused on spreading happiness and energy to the world through its products and designs. Its stylish eco bags are high quality and made to be long-lasting with fun and colourful designs that make you want to take it out when shopping. The bags are made from thick polyester so are waterproof and durable.

The Ball & Chain Fair features the brand's signature RED LABEL bags and welcomes the all-new BLUE LABEL models. Help protect the environment by picking up your very own eco bag.

Japan's Biggest Goldfish Museum Reopens After Refurbishments

The Kingyo Museum, which stands in Nara as the biggest goldfish aquarium and museum in Japan, reopened on April 27 after undergoing refurbishments.

AQUA oasis, an aquatic display and power spot

JAPANESE AQUARIUM DISCO

JAPONE Lane

Goldfish have been tied to Japanese culture since the beginning of the 16th century during the Muromachi Period when they were imported from China. The city of Yamatokoriyama in Nara Prefecture is the oldest location in Japan that has been raising goldfishes.

Due to COVID-19, many summer festivals and events where goldfish would be present have been cancelled up and down the country. That's where Kingyo Museum's renovations come in as a way to bring in tourists and sightseers. The museum has expanded to almost double its previous size to bring in new areas that utilise projection mapping and art, such as the AQUA oasis and the JAPANESE AQUARIUM DISCO which has brought in Japan's first die-cut fish tanks. Visitors can enjoy 38 of Japan' most prominent goldfish species, from familiar faces to rarer kinds.

Information

Kingyo Museum

Reopened: April 27, 2021

Opening Hours: 10:00-18:00 (Last Entries 17:30)

Official Website: https://kingyomuseum.com/