Blue Bottle Coffee Opens New Cafe Inside SHIROIYA HOTEL in Gunma
Initially announced in July of this year, Blue Bottle Coffee Japan will open their newest shop on the premises of the SHIROIYA HOTEL in Maebashi, Gunma Prefecture on September 17, 2021. The new shop is part of a recent initiative to revitalize the city, and make Maebashi an inspiring art and culture destination.
Shiroiya Cafe Limited Menu
Blue Bottle Coffee x Nakamata Fuwafuwa Wanuki Coffee Cream & Anko
Shiroiya Cafe Limited Item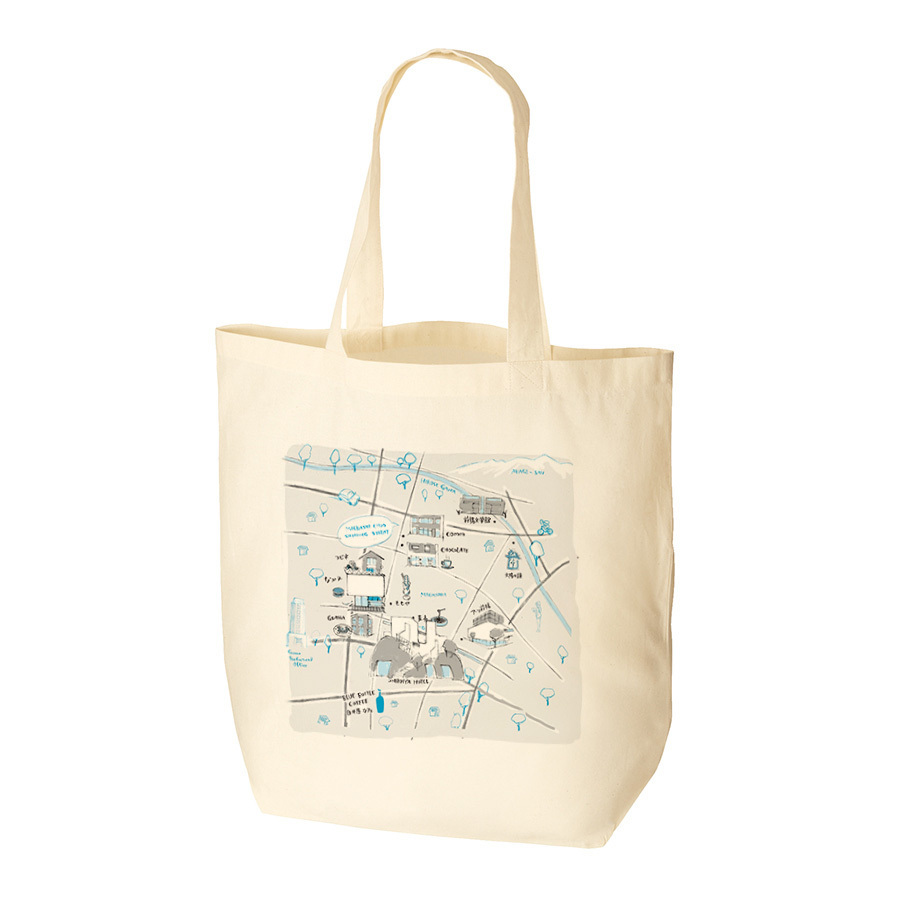 Blue Bottle Coffee x Nakamata Maebashi City Tote Bag (Limited quantities available)
SHIROIYA the PÂTISSERIE×BLUE BOTTLE COFFEE 

Grapefruit and Coffee Tart
Maebashi was once a large manufacturer of silk, and was crucial to Japan's modernization. In 2016, a number of creative minds from both Japan and abroad gathered in the city with the goal of revitalizing the town center. With that in mind, they first renovated the 300-year-old Shiroiya Ryokan, opening the SHIROIYA HOTEL in December 2020. Blue Bottle Coffee was a perfect fit for the project, with a continued goal of fostering community and using their proceeds to help develop towns and cities.
Blue Bottle Coffee Shiroiya Cafe as designed by Keiji Ashizawa Design, also responsible for designing cafes in Minatomirai and Shibuya. Keeping with a comfortable theme, the cafe is designed to let in ample amounts of light. Historic bricks from Maebashi were a key material used in the flooring. Both the SHIROIYA HOTEL and the new Blue Bottle Cafe feature art pieces by Yoshio Shirakawa, an artist from the area.
The Blue Bottle Coffee x Nakamata Fluffy Wanuki Coffee Cream & Anko is only available at the Shiroiya Cafe, and is a collaboration with Wamukashi Nakamata, a confectionary shop in town. A special Maebashi-themed tote bag will also be on sale in limited quantities.
To commemorate the opening of the Shiroiya Cafe, the PÂTISSERIE, located inside the hotel, will serve a limited-time Grapefruit and Coffee Tart.
Would you like to visit Maebashi on your next trip to Japan?
Information
Blue Bottle Coffee Shiroiya Cafe
Opening Date: September 17, 2021
Address: SHIROIYA HOTEL, 2-2-15 Honmachi, Maebashi, Gunma
Hours: 8:00-19:00 (Opens at 10:00 on opening day.)
Official Site: https://store.bluebottlecoffee.jp/
RELATED ENTRIES
Yunohana Onsen Resort Reveals Contemporary Art-Inspired Guest Rooms

Sumiya Kihoan, a cozy inn at Yunohana Onsen in Kameoka City in Kyoto, opened a unique new guest room on April 28, 2022. The room's concept is "where guests can stay in the middle of contemporary art," and was inspired by the works of internationally-acclaimed contemporary artist Yukinori Yanagi. The new room, created as part of the Art Room Project, has been named 'Kofuu.'

The Icarus Corridor Connecting Heaven and Earth

Heavenly Bath Welcoming a Rainbow at Dusk

In-Ground Bath Featuring Oribe Glazed Ceramic

Concept Drawing of the Art Room Project by Yukinori Yanagi


The new room includes an open-air bath where guests can be transported into the world of Yanagi's contemporary art while gazing at the gorgeous Kyoto landscape. Upon entering the inn, guests are greeted by a long corridor leading to the bedrooms, dining room, and two creative open-air baths. The space was created in collaboration with Yanagi and local artists and craftsmen, such as potter Ishii Naoto, obi craftsman Yamaguchi Genbei X, plasterer Kusumi Akira, and Japanese paper craftsman Hatano Wakaru. A delicious menu is prepared by chef Hosoi Kunihiko.

Kanahei's Small Animals Inspires Hotel Room at Hotel New Otani Tokyo

Hotel New Otani Tokyo will offer special collaboration rooms inspired by illustrator Kanahei's characters Piske & Usagi from May 1, 2022 to April 30, 2023.

Original Cushion / Acrylic Stand

The room is completely decorated with brand new illustrations of Piske and Usagi made exclusively for the collaboration. A total of five original amenities will be included with each room plan, including an original cushion and acrylic stand. Come surround yourself with complete cuteness!

Oakwood Hotel Oike Kyoto Reveals Room Plan with UNDERSON UNDERSON Washi Underwear

The lifestyle brand UNDERSON UNDERSON is all about making skin healthier by using washi paper. The unique brand has teamed up with Oakwood Hotel Oike Kyoto, known for its traditional washi decorations, for a special accommodation plan! Booking a room will get you a fancy new pair of underpants and some other popular items. The plan began on April 11, 2022, and will continue through the end of the year.

UNDERSON UNDERSON Underwear

UNDERSON UNDERSON Stretchy Washi Mask

john masters organics × UNDERSON UNDERSON Mask & Air Refreshener

The plan wants to allow visitors to enjoy their stay in Kyoto while experiencing traditional Japanese washi paper with both their eyes and their skin. The walls of the Oakwood Hotel Oike Kyoto feature artwork and furnishings with Japanese flare and have been upgraded to include HAMADAWASHI's Tosa washi paper. This material has been used in the restoration of cultural heritage sites such as Nijo Castle and Ginkaku-ji Temple. Tosa washi can also be found on the partitions at Cafe O and on the walls of the coworking space!


To celebrate the collaboration, UNDERSON UNDERSON will be giving away underwear and other items made of its iconic WASHIFABRIC.


While this may sound like a strange collab, how would you like to give this underwear a try?

Information

Oakwood Hotel Oike Kyoto
UNDERSON UNDERSON Underwear Collaboration Room Plan
Available: April 11 – December 31, 2022
Reservations / Official Site: https://oakwood.jp/kyoto-oike/

W Osaka Reveals Special Menu Inspired by Fashion Duo AMIAYA

Luxury hotel W Osaka will be offering 'ICHIGO AFTERNOON TEA – Dressed up for Spring,' a special menu inspired by the fashion duo AMIAYA, from April 1 until May 31, 2022. The menu items will be available at the Living Room area on the hotel's third floor.

W Osaka Fashion Ambassador AMIAYA

ICHIGO AFTERNOON TEA – Dressed up for Spring

LIVING ROOM

The event will utilize some of the popular strawberry dishes currently popular at the hotel, but will also include some raspberries and orange sweets. Some dishes will be decorated with flower petals, inspired by the vivid fashion of W Osaka's fashion ambassador AMIAYA. The twins have attracted worldwide attention as models and DJs, and they celebrated their first anniversary on March 16. 

Savory options include a Quiche with Sakura Shrimp and Spring Cabbage and Caramelized Onion and Chevre Cheese plate. Guests can enjoy a total of 12 items prepared by the W Osaka chef team, all displayed on a beautiful afternoon tea stand. Each menu comes with a welcome drink and free refills for tea and coffee.

The Royal Park Hotel Iconic Kyoto to Offer Immersive Meditation Rooms

The pandemic has caused problems for people all over the world. Mental health has taken a beating over the last few years, and in order to help people take back control of their mental wellness, The Royal Park Hotel Iconic Kyoto will begin offering immersive meditation rooms for guests only! These rooms will allow guests to enjoy a soothing private space and will be available starting April 1, 2022.

Blank meditation 

tea mediation 

The Medicha meditation rooms consist of two spaces: 'blank,' where guests are surrounded by mist, and 'tea,' where guests will immerse themselves in beautiful water patterns. An original program shown on in-room televisions at the hotel will also instruct guests in the art of meditation. 

In 'Blank Meditation,' guests will stand in a cool mist and immerse themselves in layers of diverse sounds and shifting colors of light. This will help quiet the mind and create a 'blank slate' mentally. 

The 'Tea Meditation' room invites visitors to spend time with themselves while getting lost in shimmering water patterns in a dimly lit space as they carefully brew their own tea. Two types of tea are on offer, each with distinct aromas and flavors.


 

Hotel New Otani Tokyo to Hold Fourth Collaboration with Paul & Joe

From April 1 until June 30, 2022, Hotel New Otani Tokyo will hold its fourth collaboration with the Paris-born fashion brand Paul & Joe! One specially designed room will be available per day. The brand is extremely popular with women in their 20s and 30s, and those wanting to reserve a room will want to act quickly, as the previous collab room was booked up almost immediately!

The pink and ivory interior is dotted with chrysanthemums and images of Gipsy and Nounette, the iconic cats of brand designer Sophie. Everything from the couch cushions to the hairbrush is completely inspired by Paul & Joe.

Items Only Available in the Paul & Joe Room


4th Collaboration Cosmetics

Limited Edition Pajama and Slipper Set with Room Plan

The fourth cosmetic collection has been sourced from the Les Vacances series, a collection made to take on summer vacation. The lineup includes a body primer sunscreen made to moisturize and protect and an 'After Sun Oil' with a floral citrus scent perfect for use after outdoor lounging.

A special Les Vacances-themed spa bag will also be available for guests to take home. Enjoy taking it to the pool, to the spa, or simply while taking a stroll around the hotel. 

Guests can also take home a sample of the brand's Protecting Foundation Primer, a makeup base that has taken home a number of Best Cosmetics Awards. Selected skincare samples, such as lotions and oils, will also be included in the room package. 

One of the collaboration plans will also allow guests to take home an exclusive pair of pajamas and slippers decorated with an adorable cat design. 

*Guests cannot choose the pajama color or slipper pattern.
*The design of pajamas and slippers is subject to change without notice.

INN THE PARK Fukuoka Allows Guests to Spend the Night in a Public Park

INN THE PARK Fukuoka is the first place in Kyushu where you can spend the night overnight in a public park! No, you won't be sleeping on a bench or on the ground–this is way fancier. This is the second such location, with the first opening in Shizuoka in 2017. 

Spherical Tent

Glamping

Cabin

Suite

Restaurant

The new facility will be located in Uminonakamichi Seaside Park in Higashi-ku, Fukuoka City. The park is about 6km from east to west and includes a zoo, outdoor swimming pool, aquarium, outdoor theater, and more. Guests can overlook Hakata Bay while enjoying these many fun outdoor activities and delightful accommodations! 

How about staying here on your next trip to Japan?

St. Regis Hotel Osaka Offering Updated Strawberry Afternoon Tea Menu

The St. Regis Hotel Osaka's current strawberry-themed afternoon tea set has been updated as of March 7, 2022!

The Fifth Avenue Collection, a strawberry afternoon tea set inspired by the hottest trends in New York fashion, is now available at the St. Regis Bar. The St. Regis New York Hotel was founded in 1904, and is located on 5th Avenue, one of the most famous shopping streets in the world. This new afternoon tea set features a gorgeous three-tiered array of colorful savory and sweet dishes inspired by the many fashion items that line the shop windows of the NYC street.

The Spring Collection features brand new items, including six sweet items, four savory items, two scones, and three pass-around glass desserts. 

 

The legs extending from the Strawberry Heels glass dessert give a nod to the classiest scenery in New York, while the Strawberry & Mango Shortcake adds a vibrant touch of yellow, popular on the runway this season.





The desserts include lime and strawberry macaroons and plenty of chocolate for cocoa lovers. Those wanting something savory can enjoy meat-filled crepes and the spring vegetable and smoked salmon rolls. This bright and colorful set is sure to brighten up anyone's mood!


Information

Strawberry Afternoon Tea 'Fifth Avenue Spring Collection'

Available: March 7 until May
Location: The St. Regis Bar, 12F
Reservations/Official Site: https://www.stregisbar.stregisosaka.com/

Booking.com Reveals 4 Best Lodgings with Outdoor Baths for Snow Viewing

Booking.com Japan has revealed its top four picks for the Japanese accommodations with the best outdoor baths and snow views! 

Zao Kokusai Hotel (Zao Onsen, Yamagata Prefecture)


Located 900 meters above sea level and surrounded by the gorgeous natural beauty of the Zao mountains, this resort has long been renowned for its spectacular view of seasonal scenery. During winter, guests can enjoy a fully spring-fed open-air bath while gazing at the snow-capped mountains. The milky white waters of the Zao Hot Springs have high sulfur content which will improve the texture of your skin. The resort also has a bath large enough to accommodate up to seven people at a time and a private bath for families or lovers. 

Midorinokaze Resort Kitayuzawa (Date, Hokkaido)

The Midorinokaze Resort Kitayuzawa is surrounded by nature and contains one of the largest open-air baths in Japan, along with 20 unique fragrant baths for guests to enjoy. In winter, the surrounding trees seem to glisten with snow, and visitors are sure to find plenty of peace and relaxation while lounging beneath the grey skies. 

Akakura Kanko Hotel (Myoko, Niigata Prefecture)

This highland resort sits on a 1,000-meter peak, offering unmatched views of Niigata Prefecture. The natural hot spring flows from the inside of Mt. Myoko, with healing waters perfect for soaking in during the cold winter months. The large baths are also equipped with a sauna and deck, and those wanting to view the scenery from their room can enjoy guest accommodations with private baths as well!

Satoyama Jujo (Minamiuonuma, Niigata Prefecture)

Winning a design award for its facilities, Satoyama Jujo has a different feel when compared to most hotels and ryokan. Booking.com recommends it for travelers looking for new experiences! In the open-air bath, visitors can relax while enjoying a panoramic view of Mt. Makihata, one of Japan's 100 most famous peaks. Guests can also enjoy the starry skies at night. This is a perfect location for couples!

Each season in Japan offers uniquely beautiful scenery. How would you like to enjoy winter in one of these luxurious baths?

Kyoto Tower Hotel Annex Collaborates with Fullmetal Alchemist on New Exhibition, Themed Room

Kyoto Tower Hotel Annex is now offering a limited-time plan in collaboration with the beloved anime and manga series Fullmetal Alchemist. In addition, an exhibition is underway commemorating 20 years of Ed and Al's story at Hirakata Park in Hirakata, Osaka through June 26, 2022. Two unique rooms are available during the event period!

Guest Room (Ed & Al Version)

Guest Room (Roy & Riza Version)

Guest Bonuses

Original Cushion / Original Throw Blanket / Original Motel Keychain
 

In addition to life-sized character panels, the walls of the room are decorated with illustrations in full color, and the cushions and throw blankets also feature characters from the series. The hotel will also offer a lineup of not-for-sale original merchandise unique to the project exclusively for guests to take home.


TAVOLA TAVOLA by ZILLION Opens at InterContinental Tokyo Bay, Spring Course Now Available

On February 25, TAVOLA TAVOLA by ZILLION opened at Hotel InterContinental Tokyo Bay. The restaurant offers courses featuring seasonal ingredients while each round table is decorated to suit a certain theme.

'Tavola' means 'table' in Italian, with the restaurant's concept being to enjoy Italian cuisine with friends around a large round table. Three entertainment options will be available to create the best possible memories for guests.

Large Round Table Decorated with Cherry Blossoms

Dinner Course

Hors d'oeuvres

Pasta

Fish Main Course

Risotto

The first theme is 'cherry blossoms,' which is fitting for the soon-to-be spring season. Artful flowers are arranged in the center of each table to set the scene, and guests will enjoy a blend of authentic Italian cuisine and Japanese style. The main course features grilled Spanish mackerel and a cherry blossom-colored cream sauce, as well as an Italian veal filet and prosciutto. At the end of the meal, guests will enjoy a risotto made with seasonal strawberries and a cherry and berry ice cake!

Sheraton Grande Tokyo Bay Hotel Cafe Toastina Offering Strawberry Sweets for a Limited Time

Cafe Toastina, located inside the Sheraton Grande Tokyo Bay Hotel in Chiba Prefecture, is now offering delicious and very photogenic strawberry sweets and baked goods until March 31, 2022! There are tons of different ways to enjoy the event: the Sheraton Sweets Box is filled with mini-sweets and is available to take with you, and the Friday Sweets Buffet will allow guests to enjoy as many treats as they can! A cute photo wall covered in strawberries will also serve as the perfect photo spot, so visit while you can.

Strawberry Champagne Mousse

Strawberry Mille-feuille

Strawberry Paris-Brest

Strawberry Milk France / Danish with Strawberry & Mascarpone Cream

Sheraton Sweets Box

Information

Strawberry Sweets & Bakery
Running: February 15 – March 31, 2022
Location: Cafe Toastina (Hotel 2F) 10:00-23:00

Friday Sweets Buffet
Running: Fridays from February 18 – March 25, 2022

Details/Reservations: https://toastina.sheratontokyobay.com/