Okinawa's Hotel Nikko Alivia Announces Season 3 of Monogatari Kaiseki Menu
SAWA, a restaurant featuring both Japanese and traditional Ryukyu cuisine, will begin the third season of its delicious and artful Monogatari Kaiseki menu starting October 1, 2021. Each season featured a selection of dishes inspired by original stories created by the head chef, and with the new installment, guests will also be supporting the reconstruction of Shuri Castle which suffered damage after a 2019 fire. The restaurant is located at Okinawa's Hotel Nikko Alivia, and the meal will be available until October 31. 
Monogatari Kaiseki: Appetizer 'Beneath the Moonlit Night'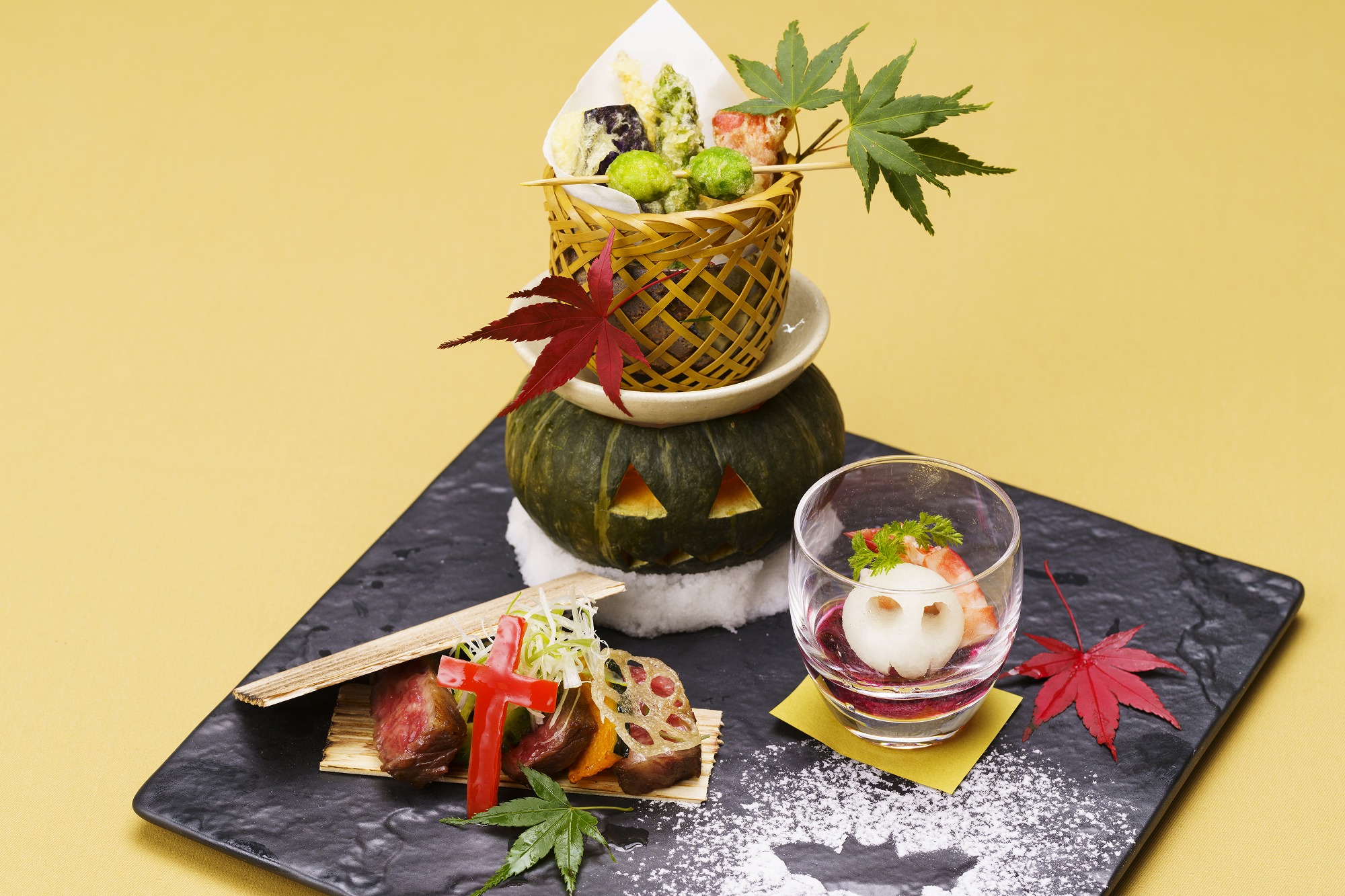 Monogatari Kaiseki: Grilled Items 'Vampire's Dinner' 
Monogatari Kaiseki: Dessert 'Pumpkin Ghost/Tidings of Autumn' 
In this imagining, a collection of ghosts and spirits gather at the Shuri Castle Festival on Halloween to compete in a cooking competition, and guests are invited to judge each dish. A drink pairing set will also be available. 
5% of all sales will be donated to the Okinawa Prefecture Shuri Castle Fire Restoration and Recover Fundraiser, to help rebuild the historical site. 
Information
Monogatari Kaiseki Halloween Story – Shurijo Festival –
Available: October 1 – October 31, 2021
Hours: 18:00-21:30 (Last order at 21:00) 
Address: SAWA Restaurant at Hotel Nikko Alivila
*Limited to 10 per day.
Reservation Line: 098-989-9021
Official Site: https://www.alivila.co.jp
RELATED ENTRIES
New Sake '&Soda' Made Exclusively to be Mixed with Soda Water

Shiragiku Sake Brewery will release a special sake made exclusively to mix with soda water on October 1, 2022. The beverage will be available in Okayama Prefecture.

The company's interest in creating a new sake culture led them to develop &Soda, a delicious sake made to be mixed with soda. This may be helpful for those who don't know much about sake, or who may feel intimidated by the many different types. Being able to mix it with soda will make sake drinking feel more casual. 

Sake Made Exclusively for Mixing with Soda Water, '&Soda'

"Many people may like to mix sake with soda water or drink it on the rocks. By doing this, however, a nice sake may lose its flavor, and the drinker might be wasting a nice sake for the sake of a more easy-drinking beverage. &Soda was made exclusively to be mixed. Using Asahi Rice, a specialty in Okayama Prefecture, and water from the brewery, we've created a sake that has the proper aroma and sweetness. These characteristics will come through even after being mixed! The alcohol content has been increased to 18 percent, and the package will make the product easy to find and understand," a statement from the brewery reads.

For more information on how to enjoy &Soda, please see the special website below!

Information

Sake Made Exclusively for Mixing with Soda Water, '&Soda'

Release Date: October 1, 2022

Official Site: http://www.andsoda.jp/

Japan's Largest Sake Event TOKYO SAKE FESTIVAL to be Held in Shinjuku in October

Japan's largest sake event, TOKYO SAKE FESTIVAL 2022, will run from October 4 until October 6 at the Shinjuku Sumitomo Building's Triangle Square.

The event's aim is to make sake more mainstream around the world, with the first festival taking place in 2020. Tokyo Sake Festival blends sake with entertainment, showing off the very best of Japanese culture to those who may be new to craft sake. For the third year, former NMB48 member Yui Takano will serve as ambassador. Takano is known for leaving her idol career to manage the sake specialty store Yui Sake Shop. 

Tokyo Sake Festival 2022 is bringing together forty carefully selected sake breweries from around Japan, including Inoue Seikichi, winner of the Champion Sake award at IWC 2022. Tonoike Sake Brewery, winner of Kura Master 2022's President's Award, will also be in attendance. The full lineup can be found on the official website.

Popular influencers and artists from Raphael to BOYS AND MEN and Ukon Takafuji will take the stage during the event, so be sure to swing by if you're a fan of Japanese spirits!

Information

TOKYO SAKE FESTIVAL 2022

Dates: 

October 4: Part 1 13:30-16:30 / Part 2 18:00-21:00
October 5: Part 1 13:30-16:30 / Part 2 18:00-21:00
October 6: 16:00-19:00
Venue: Shinjuku Sumitomo Building Triangle Square
(2-6-1 Nishishinjuku, Shinjuku-ku, Tokyo)

Buy Tickets/Details: https://tokyosakefestival.bitfan.id/

Teppanyaki and Yakiniku Restaurant Honten Yamashina Opens in Ginza

On July 18, the upscale teppanyaki and yakiniku restaurant Honten Yamashina opened a new location in Ginza! The hybrid restaurant has taken over the entire top floor of GINZA PLACE, which is directly connected to Ginza Station. Overlooking the Ginza 4-chome intersection, it's a gorgeous place to enjoy some authentic Japanese cuisine. 

Honten Yamashina mainly uses fully-matured Omi beef, the highest grade available among Shiga Prefecture's top-tier beef, from Okazaki Farm. The cows are allowed to fatten for a considerable amount of time and live stress-free lives for over 40 months. Less than 1% of all Wagyu cattle are shipped after 24 months of age, and this delectable meat is characterized by its sharp taste and fattiness. 

Luxurious Wagyu and Sea Urchin Sushi

Early Summer Plate to Enjoy with Seasonal Flowers

Selected Extra-thick Beef Tongue Steak Made with Refined Attention to Detail

Grilled Spiny Lobster Made on a Charcoal Grill

The Playful Yamashina Wagyu Slider

Melt-in-your-mouth Sweet Amala Tomato (Vegetable of the Day)

Hand-selected Omi Beef Steak

Truffle Omurice

Japanese-style Teppanyaki

Guests can enjoy authentic Japanese teppanyaki cuisine with a modern twist. While sitting at the contour, visitors will enjoy a live performance by Taku Osada, a teppanyaki chef with over 20 years of experience.  

The wide variety of meat can be enjoyed in a number of different ways, whether it be raw, grilled, stewed, or properly cooked. From tongue and rump to filet and sirloin, you won't leave hungry. Visitors can also enjoy seafood and seasonal Japanese vegetables along with their meat, and the flowers and leaves that adorn each plate will change depending on the time of year.

In addition to rare teppanyaki dishes like skirt steak and 3cm-thick beef tongue, Honten Yamashina also offers some playful dishes such as sliders. As the temperature differs on different parts of the steel cooking plate, each item can be cooked to a temperature that maximizes its specific flavor. Honten Yamashina also has a massive cellar housin over 1,000 bottles of wine and hard-to-find spirits. 

Japanese-style Yakiniku

For those looking for a more private experience, guests can enjoy yakiniku in a completely separate room. Each private room has a grill that will cook meat to the perfect temperature, and only at Honten Yamashina can you enjoy fully-matured Omi beef. The signature cutlet sandwich is made with chateaubriand cooked at a low temperature and deep-fried in a thin batter, then served on crispy bread with a soft, fluffy interior.

Teppanyaki and yakiniku are typically thought of as meat-based dishes, but the restaurant can accommodate vegetarian guests if contacted in advance. 

When Japan opens up to tourism, will you be visiting this incredible restaurant in the heart of Tokyo?

Kyary Pamyu Pamyu Collaborates with Okinawa's Okashi Goten for LOCAL POWER JAPAN Project

Kyary Pamyu Pamyu inspired music lovers around the world in April when she performed at Coachella, one of the largest music festivals on Earth. The second half of the singer's 10th anniversary nationwide tour 31-show has begun, and in conjunction with this special event, the LOCAL POWER JAPAN Project was launched to energize Japan through the appeal of regional towns and cities. As with past concert locations, a new collaboration has been announced ahead of Kyary's June 23 performance in Okinawa, where the artist held an additional show. 

In Okinawa, Kyary is teaming up with the popular souvenir shop Okashi Goten, known for its Beni-imo (purple sweet potato) tarts. The shop itself looks similar to Shuri Castle from the outside, and as guests enter, they're surrounded by products made exclusively from Okinawan ingredients. This collaboration pays homage to where it all began, with the special logo inspired by Kyary Pamyu Pamyu's 2011 debut mini-labum Moshi Moshi Harajuku. 

Fans will be able to buy a special box of these tasty tarts, with the outside stamped with 'Moshi Moshi Beni-imo Tart' and a drawing of Kyary inspired by the cover of her 2011 album. 

 

This item is now available at all shops offering Okashi Goten products and at the Okashi Goten online store.

A collaborative T-shirt is also on sale featuring the new logo and the singer's 10th-anniversary logo. The shirt is available on the LOCAL POWER JAPAN Project website for two weeks only starting July 22.

Information

Okashi Goten (Okinawa) x LOCAL POWER JAPAN PROJECT – Moshi Moshi Sweet Potato Tart

Price: ¥756 (Tax Included)
Available: July 23 – August 31, 2022 *Dates may vary at certain stores.
Where to Buy: Okashi Goten locations, online store
(Available while supplies last.)
Official Online Store:  https://www.okashigoten.com/

Collaboration T-shirt
Price: ¥3,300 (Tax Included)
Where to Buy:
LOCAL POWER JAPAN Project Online Shop
https://store-localpowerjapan.com/
Available: July 22 – August 4, 2022

Official Site: https://localpowerjapan.com

Long-Established Sake Brewery in Yamagata Prefecture Helps Create SAKE COLA

Aiming to create a new kind of drinking culture, Aika in Gunma Prefecture has started preorders for SAKE COLA, a new cola liquor, on the crowdfunding site Makuake. 

People love cola for its strong carbonation, sweetness, and distinctive spicy flavor. SAKE COLA has a complex, multi-layered aroma and refreshing sweetness offering a unique taste that no one has tasted before.

In creating SAKE COLA, the company attempted to keep the authentic sweetness of sake. To this end, they decided to work with Rokkasen, a long-established sake brewery in Yamagata. 

Rokkasen's authentic rice-based shochu Goujoppari is brewed in the cold like sake and distilled like a ginjo sake. It has a beautiful citrus aroma and tastes similar in sweetness despite having zero sugar.

 

Using Goujoppari as a base, malted rice is used to produce a mild, natural sweetness, and the spices added to the drink meld with the citrus scent to create a flavor defying imagination.

The flavor and aroma of SAKE COLA spread in the mouth, with the spices and herbs lingering on the tongue. The spices were mixed by Hayashi Oki, who studied in Alsace, France before working as a pastry chef at one of Tokyo's top patisseries. 

Mace, the key spice, is characterized by its sweet and somewhat pungent aroma. It's used to recreate the caramelized taste that is found in most cola.

 

Along with that, tonka beans, containing the natural sweeteners Vanillin and Coumarin, were blended into the mix to create a soft, lingering flavor. Customers are sure to enjoy it from the first sip to the last.




SAKE COLA can be enjoyed at any time. It's perfect for enjoying as an aperitif, and it can also be enjoyed with a meal, like beer or wine. 

 

Like whiskey, it can also be enjoyed while relaxing after a meal. At Christmas time, it can be added to warm red wine or served as an affogato with ice cream and a splash of liqueur. How would you like to try this unique creation?

Anime Series Chibi Maruko-chan Inspires New Sake from Hatsukame Brewery in Shizuoka

Last year, Hatsukame Sake Brewery, a staple in Shizuoka Prefecture, released a collaborative special edition sake featuring Papa Hiroshi from the anime series Chibi Maruko-chan. The collab makes sense, as the anime series takes place in Shizuoka Prefecture. Bottles sold out incredibly fast, so it's no wonder that the brewery has now opened orders for the 2022 batch! The special products will be available on June 4, just in time for Father's Day. Customers can choose from the Junmai Ginjo or Junmai Daiginjo varieties.

Junmai Ginjo Papa Hiroshi Vintage 2022

Junmai Daiginjo Papa Hiroshi Vintage 2022

The Junmai Ginjo Papa Hiroshi Vintage 2022 was made with water, rice, and yeast from Shizuoka, where the series takes place. With a refreshing aroma and a gentle sweetness derived from the Homarefuji rice, the flavor is sure to arouse your palate!


The original label featured on the bottle shows Papa Hiroshi enjoying local sake with tuna sashimi from Shizuoka with Mt. Fuji in the background. All bottles will come with a paper box featuring a similar design. The turtle on the label is the symbol of Hatsukame Brewing! It's recommended that customers drink their sake with local tuna–it's the perfect combination.

The Daiginjo variety is made from rare Aiyama rice, known as the 'Diamond of Sake Rice.' Polished and carefully prepared by hand, the aroma of the sake is reminiscent of tropical fruits. The final product has a rich sweetness.

Last year's label showed Papa Hiroshi in a Kimono watching the first sunrise over Mt. Fuji. Be sure to grab a bottle to experience the taste of Shizuoka! Only 223 bottles will be available, so be quick!

©さくらプロダクション/日本アニメーション ©Hatsukame Sake Brewery Co., Ltd. ©Nexus Co., Ltd.

Information

Junmai Daiginjo Papa Hiroshi Vintage 2022

Now available to order
Release Date: June 4, 2022 *After the release date, orders will be shipped within 3 weeks from the order date.
Where to Buy: Saketsunagi Online Shop https://saketsunagi.base.shop

 

Limited Edition Sake Released Alongside NFT Art to Share the Value of Japanese Spirits with the World

Two incredible new Junmai Daiginjo bottles, the highest-quality sake, have been released in limited quantities. Hitou ASCENDING and Touka ILLUMINATING were made by sustainable means and incorporate NFT art to share the process of sake creation with the world.

 

While sake companies keep traditional Japanese production methods alive, some are seeking to solve problems in the sake industry by turning to current technology, like the blockchain and NFTs. In this age of convenience and automation, this particular sake maker is aiming to show the true value and authenticity of Japanese craftsmanship to the rest of the world. 

Certain types of sake can only be made and enjoyed at certain times of the year, as they are not suitable for storage at room temperature and can only be consumed for a brief period to get the best taste. Many sake fans around the world might not be aware of this, so the new NFT collaboration aims to educate!

 

The bottles contain unique ukiyo-e NFT art prints of a dragon and phoenix on the bottle, respectively. Those who purchase a bottle will also find the year of production and bottle number etched onto the glass with lacquer. Be sure to keep the bottle even after the delicious sake is gone!

Story

Rice / Tobe Rice
In Tokamachi, Niigata Prefecture, farmers have been cultivating this unique brand of Koshihikari rice without the help of pesticides or fertilizers for over two decades. The rice is called the best in all of Japan, and one-third of its yield is used to make sake.

Water / Pure Groundwater

The Japan Median Tectonic Line, also known as the 'Dragon's Vein,' is a massive fault line that is home to numerous sacred sites, including  Suwa Grand Shrine, Toyokawa Inari Shrine, Tenkawa Benzaiten Shrine, Ise Grand Shrine, and the Koyasan Mountain. The groundwater found here is some of the purest found in Japan and flows from the Bungui Pass in Ina, Nagano Prefecture. The pass has been featured in many publications as one of the most famous power spots in Japan.

Brewing / Ono Brewery

While dealing with some of the harshest winter weather in Japan, the brewery has continued to create sake the old-fashioned way–with human hands. For the creation of these two bottles, the brewers took on the challenge of making a very small amount of sake, something they had never done before. Based on the concept of "making the most of the environment," the rice was prepared in a special room with no air conditioning under the watchful eye of the master brewer.

Bottle Art/ Ukiyo-e Artist, Shun
The art displayed on the bottle is printed in a unique way, allowing it to be put on display separately. The Japanese-style art is perfect for the collaboration and was inspired by one specific hope: that a new path will open to those who work hard after the many difficulties and troubles caused by the pandemic.

Bottle Making / Maruyoshi Kosaka Wood & Urushi Works


The circular label symbolizes the moon (water) and the sun (fire), each representing a world where different values are not only accepted but welcomed. Hand-painted and made with pure platinum and gold leaf by the talented craftsman at Maruyoshi Kosaka Wood & Urushi Works in Shiojiri, Nagano, these advanced painting techniques are sure to impress.

Each Bottle Features the Brewing Year, Number Printed in Lacquer

Marked with a unique serial number, all proceeds from the sales of these special sakes will be used to maintain and promote sustainable agriculture, support sake brewers, and bring traditional Japanese craftsmanship to the world.

Information

Junmai Daiginjo – 'Hitou ASCENDING,' 'Touka ILLUMINATING'

Limited Quantity
Official Site: https://hitoutouka.com/

Contemporary Artist Kohei Arikawa to Collaborate with The Ritz-Carlton, Okinawa

The Ritz-Carlton, Okinawa will feature the works of contemporary artist Kohei Arikawa from March 15 until March 31, 2022. 'Matthew's Favorite Pancakes' will be held at The Lobby Lounge at the hotel. 

The original pancakes, created in collaboration with the artist, will be served in limited quantities each day as part of the hotel's anniversary plan, which marks its 10th anniversary in May of this year. The collaboration is inspired by one of Arikawa's best-known series 'BEST FRIENDS – Matthew.' Each pancake feature apples sauteed in caramel and custard cream sandwiched between layers of fluffy dough. The toppings also include Italian meringue, whipped cream, and chocolate. Why not add maple syrup too?

The Ritz-Carlton, Okinawa plans to continue to collaborate with the artist in the future. As part of the company's Community Footprint initiative, more than a dozen of his works will be on display. Proceeds will fund an orphanage in Nago, Okinawa.

Information

Matthew's Favorite Pancake

Running: March 15 – March 31, 2022

Location: The Ritz-Carlton Okinawa / The Lobby Lounge

*Limited to 20 dishes per day.

Official Site:https://www.marriott.co.jp/

NAKED FLOWERS 2022 Cherry Blossom Event Comes to Nijo Castle, Proceeds Support Kyoto's Sister City Kiev

NAKED will open a new cherry blossom-inspired outdoor light-up event at Nijo Castle in Kyoto from March 18 until April 17, 2022!

This will be the first time that NAKED FLOWERS will come to Nijo Castle. Along with projection mapping on the Karamon Gate, the largest-ever projection mapping of cherry blossoms will cover the entire 140-meter-long stone wall on the east side of the inner moat.

The event will also invite guests to participate in the 'Your Cherry Blossom' test, which will tell you what variety of cherry blossom matches your personality. Holding the NAKED Distanced Lanterns, visitors can wander the grounds with illuminated cherry blossoms at their feet. In the garden area, when the lanterns are held over a certain spot, their colors will change!

The DANDELION PROJECT will also be a part of the event. Inspired by the idea of world peace and hopes to help transcend barriers and connect people in an increasingly divided world. This networked initiative wants to bring this change about by planting (or installing) dandelion-inspired art around the world, while it invites people visiting these dandelion exhibits to send their prayers for peace as a digital flower in real-time. 

 

A tree-planting fund will be raising money on-site, with some of the proceeds being donated to the Executive Community of the 50th Anniversary of the Kyoto-Kiev Sister City Association to help support the city of Kiev.

Information

NAKED FLOWERS 2022 Sakura Event at Nijo Castle World Heritage Site
Location: Nijo Castle Imperial Villa
Running: March 18 – April 17, 2022
Hours: 18:00-21:00 (Grounds close at 22:00)

Tickets / Official Site: https://flowers.naked.works/nijojo/

Projection-Mapping Event at Okazaki Castle in Aichi Prefecture Captured on Video

Okazaki Castle in Aichi Prefecture is one of the most beloved historical spots in Japan. The fourth-largest castle in the country and the birthplace of Tokugawa Ieyasu, the spot was illuminated by an impressive projection mapping event in early January. Now, thanks to a new video of the show, people around the world can experience it for themselves!


During the event, incredible images of the city's cultural assets and artworks were shone on the gate, including those by Reizi Tamechika. The region's popular Mikawa Fireworks made appearances as well, along with more modern digital art. The 16.4-meter wide and 11-meter high gate to the castle was also covered in brilliant lights!


Video Recording of Event

In 1959, Okazaki Castle's tower was reconstructed, and in 2006, the location was selected as one of the 100 best castles in Japan. Each floor inside the castle has a different theme, and the location's history is introduced through a collection of exhibits and a diorama theater. Guests can enjoy a panoramic view of the city from the observation room on the 5th floor


The creators of the event hope that visitors and viewers from around the world can experience Japanese culture, art, and tradition through digital entertainment.

Information

Okazaki Castle Main Gate Projection Mapping

Dates: January 8 – January 10
Address: Okazaki Castle in Okazaki Park (561-1 Kosei-cho, Okazaki City)
Official Site: https://www.hitohata.jp


Matsumoto Castle Illumination Grand Finale Being Held for a Limited Time

The Matsumoto City Illumination 2021-2022 event will continue to run until the end of this month! Due to the popularity of the Matsumoto Castle Winter Illuminations, the Grand Finale will be held for seven days only from February 22 until February 28. Guests will enjoy eight different performances during this period!

Matsumoto City Illumination 2021-2022

Present

Past

Future

Christmas

New Year's

Ice Carving Festival

Valentine's Day

In addition to the past, present, and future effects, visitors will also be treated to four special seasonal effects: Christmas, New Year's, Valentine's Day, and an Ice Carving Festival-inspired illumination.

For the Christmas performance, Matsumoto Castle is lit up like a Christmas tree, with the lights flickering to the sound of bells. Fireworks light up the structure for the New Year, ice crystals dance for the Ice Carving Festival, and the color pink drenches the castle for Valentine's Day. Which effect do you like the most?

Information

Matsumoto City Illumination 2021-2022

Running until February 28, 2022
Location: Matsumoto Castle, Matsumoto Castle Gardens, Daimyomachi Street, Sensai Bridge
Free Admission
Official Site: http://matsumotoillumi.jp


Video Released of Winter Event at Hoshino Resort's Banta Cafe in Okinawa

Located in wonderfully warm Okinawa, Hoshino Resort is the perfect getaway for those wanting a warmer winter. The Banta Cafe overlooks the ocean, and from December 1, 2021, until January 31, 2022, the cafe is putting on the 'Illumi-Banta: Night Lights by the Sea' event. Of course, Illumi-Banta is a portmanteau of the words 'Illumination' and 'Banta,' but the Okinawan word iyumibanta means 'a cliff overlooking the fish.' The entire location, from the top of the cliff all the way to the sea, will be bathed in otherworldly light. A special menu is available during the event period, serving up food perfect for eating as guests wander by the seaside. A number of Okinawan workshops have also brought local craftsmen to the site to show off their creations.

Okinawa is warm in the winter, and this event has been perfect for those wanting to avoid being chilled to the bone during the holidays. For those unable to attend, the video above was filmed using a drone and shows the incredible heart of this event. Who knew that water could be so blue?

A Fantastic World of Light and Ocean Life

Banta Cafe sits on a cliff above the water, and the waters beneath it hide gorgeous coral reefs. Watch the sea come to life, as the ocean, white sand beach, and rock formations are illuminated. The lights will change colors during the daily light show along with the tides, giving a different impression depending on the time of day. The pavilion on the seaside terrace is also illuminated with motifs inspired by traditional Okinawan textiles.

Playful Plant Shadows

On the large roof deck located at the entrance, large fern and palm leaves have been arranged to welcome guests along with other plants local to Okinawa. Using lights, the shadows from these plants reach massive heights on the 4-meter high Ryukyu limestone walls. This takes shadow puppets to a whole new level!

Enjoy a Lantern-Lit Night Picnic

The night cafe will be selling a special Strolling Soup Set menu, inviting guests to venture out onto the sandy shore with a lantern in hand to enjoy a meal beside the sea. Guests can choose two of the available four soups along with a crispy baguette and herb butter.


Hours: 18:00-20:30 (Last Order)
Price: Strolling Soup Set for Two, ¥2,600

The Night Light Market, a Gathering of Proud Okinawan Artists

On Saturday nights from January 8 to January 29, the Night Light Market will bring various artists and craftsmen from Okinawa to the Hoshino Resort. These artists will be excited to share the culture of Okinawa and will offer a range of products made of locally sourced materials. Guests can even try their hand at local crafts at the indoor Gorogoro Lounge!

Running: Every Saturday Night from January 8 – January 29, 2022

Hours: 18:00-21:00

Information

Illumi-Banta
Running until January 31, 2022
*Running every Thursday during the event period except December 23 and 30. Closed December 17-21. 
Hours: 18:00-22:00 (Last Drink Order at 21:00)

*Event may be canceled in case of inclement weather.
Admission: Free admission with purchase at cafe or grill.

Official Site: https://banta-cafe.com