Nijo Castle Light-Up Event Streaming Tickets Now Available
One of seventeen Historic Monuments of Ancient Kyoto is currently being illuminated in a sea of otherworldly lights. Nijo Castle in Kyoto is the location for the One to Ten: Evening Party, using projection mapping to bring out the beauty of this magnificent locale. For those who can't visit in person, an event on December 7 is inviting people to watch the lights online, including the illumination of the Karamon Gate and the Ninomaru Garden. Tickets for the online event go on sale on December 3, 2021.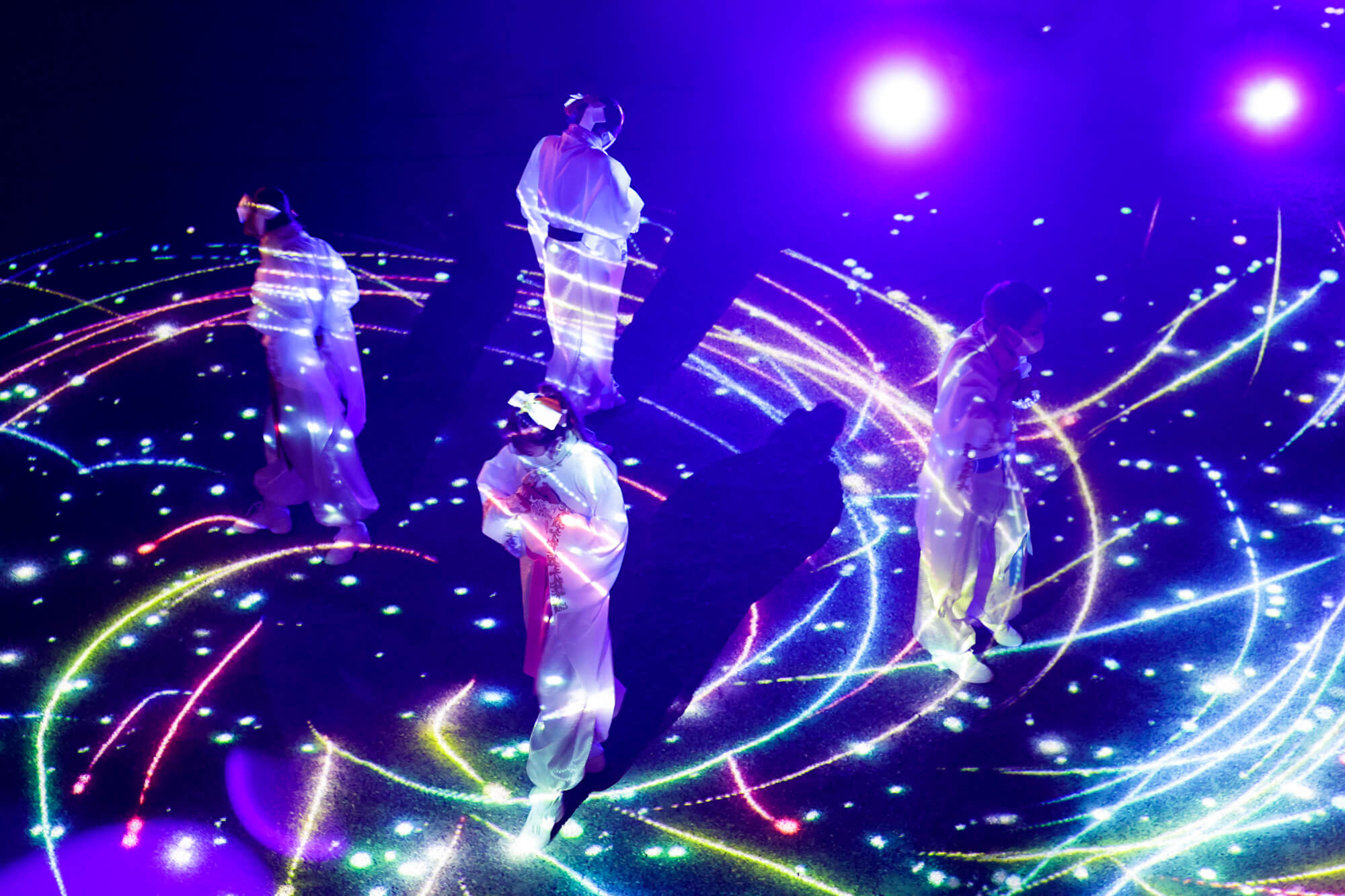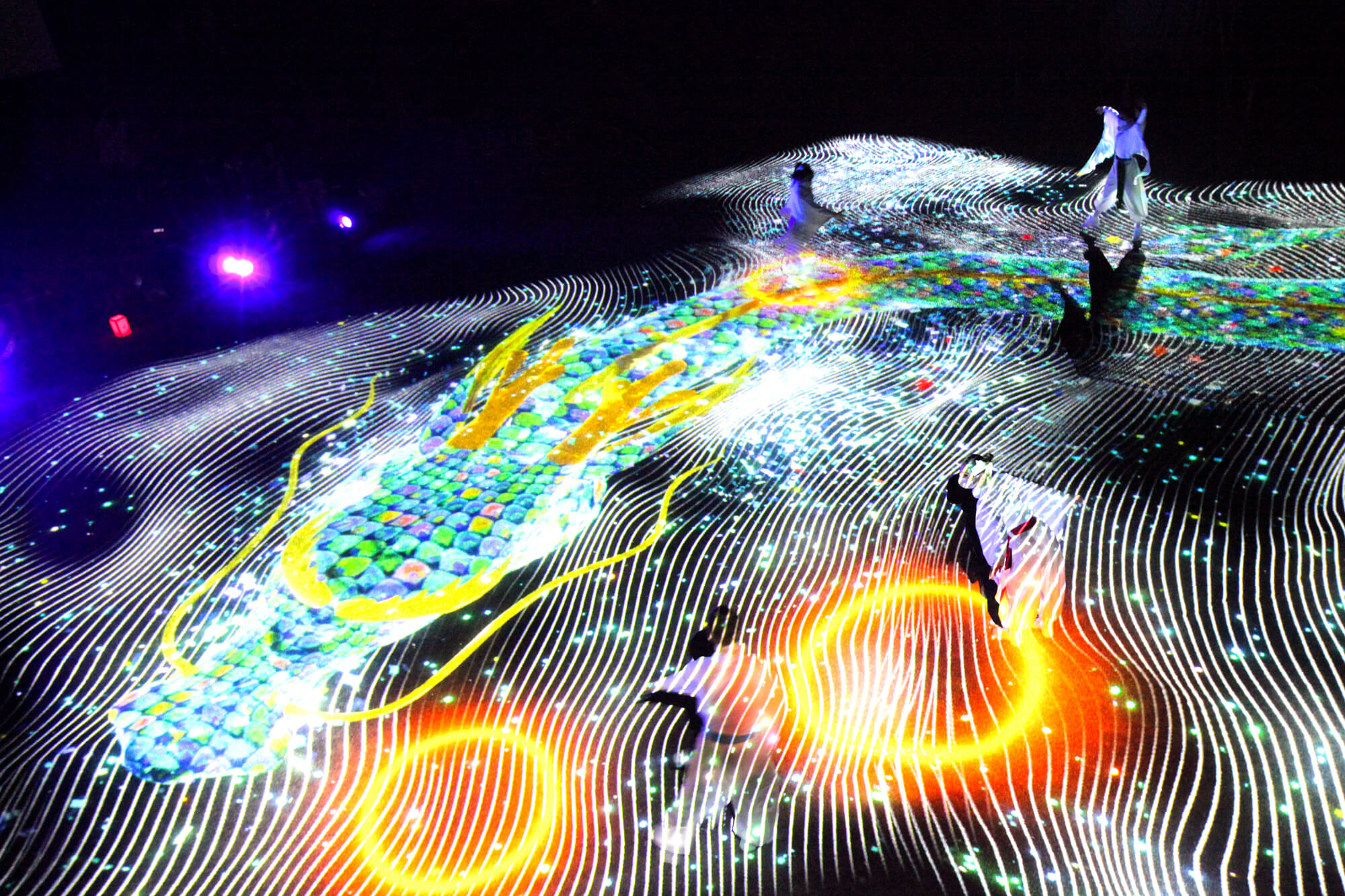 To capture the feeling of being on-site and to convey the incredible atmosphere, a camera will guide viewers along the normal route through the castle grounds with audio commentary. The popular 'Special Performance,' which only allows a limited number of people each day due to space constraints, will be available to view in its entirety during the stream. 
The live event will air on December 7 at 10:00 PM JST, and will be archived until December 26 at midnight. Tickets to watch are available from December 3 until December 26. 
Information
One to Ten: Evening Party at Nijo Castle
Running: November 5 – December 12, 2021 *Closed December 8
Hours: 18:00-21:20 (Grounds close at 22:00)
*The event may be canceled due to inclement weather. Content may be changed at the discretion of the organizer.
Official Site: https://yakai.1-10.com/nijojo/
RELATED ENTRIES
Weston Miyako Hotel Kyoto and Okuratouen Release Strawberry & Blue Rose Afternoon Tea

From February 1 until February 28, 2022, visitors to the Weston Miyako Hotel Kyoto can enjoy a leisurely Strawberry & Blue Rose Afternoon Tea courtesy of a new partnership with Okuratouen. 

Top Row

Middle Row

Bottom Row

Okura Pottery is known for its exquisite Blue Rose tableware which features heavily in this collaboration. 


The menu features the special Blue Rose Macaroon with its distinctive high-quality taste along with a variety of sweets and savory dishes surrounded by strawberries and roses. Guests can enjoy this three-tiered selection of goodies from 12:00-16:00 during the event period at the hotel's Mayfair Tea Lounge. 

Information

Strawberry & Blue Rose Afternoon Tea

Running: February 1 – February 28, 2022

Address: Weston Miyako Hotel Kyoto 2F, Mayfair Tea Lounge

Hours: 12:00-16:00 (2-hour block) *Reservations required by previous day at 17:00

NAKED Illuminated Matsushima Palace, Near One of the 'Three Views of Japan'

Creative company NAKED is now providing incredible projection mapping across Matsushima Palace, located close to the many tiny islands of Matsushima, known as one of the 'Three Views of Japan.' 

The light show completely envelops the Retsuru Tower, the symbol of the property, along with the gardens around the palace. Guests can expect a once-in-a-lifetime experience as they wander the grounds at night. 

Matsushima has a long history, with many unique geographical highlights developing thousands of years ago. Many poets have written poems about the area since the Heian period (794-1185). The projection mapping show will highlight the past, present, and future of the area, inviting guests on a trip through time and space.

NAKED Creates Projection Mapping Show with Students from Osaka University

Creative company NAKED has teamed up with students from Osaka University of Arts and Kintetsu Real Estate for a new projection mapping show at the Abeno Harukas Observatory, Harukas 300. The work is available now through February 27, 2022. 

The artwork is found on the 58th floor 'Twin Tower,' and serves as a hands-on presentation to foster students' creativity. The theme for the project is 'Towards the Future, a Journey of Hope,' and it is intended to send a ray of hope from one of Japan's tallest buildings to the whole country. Hope is sorely needed after two long years of the pandemic.

Those participating in this years class, which started in 2021, learned about the impact creativity can have on the world, as they also created plans, concepts, and storyboards for a projection mapping project. Now, their work has come to fruition.

In the hopes that more people will be able to see the new artwork, the projection mapping piece will be left up during another event being held at Harukas 300 focusing on the theme of 'connection.' Hopefully, this art will positively impact those who have had a difficult time over the past few years. 

Tokyo Revengers Collaboration Event to be Held at Toei Kyoto Studio Park

Toei Kyoto Studio Park will hold a special collaboration event with Tokyo Revengers from December 25, 2021 until February 13, 2022. Exclusive illustrations of the main cast will appear around the park, and a stamp rally will be set up around the entire city of Kyoto. Collaborative merchandise and food will also be available during the event period. 

Walking Rally

Photo Spot #1

Photo Spot #2

Target Shooting Game Prizes


First Prize: Background Panel (6 varieties)
Second Prize: Acrylic Coaster (6 varieties)
Third Prize: Sticker (12 varieties, random)

Collaboration Menu


Coaster (Random)

Baji and Chifuyu's' Yakisoba (Includes a Baji or Chifuku Card): ¥800 (Tax Included)


Takemichi and HIna's Parfait: ¥950 (Tax Included) 

Tokyo Revengers Meetup Drink (Coffee Float): ¥700 (Tax Included)

Collaboration Merchandise

Business Card Style Cards (Featuring Original Illustrations, Life-size)

Business Card Style Cards (Featuring Original Illustrations, Mini)

Stamp Rally Special Postcard

Special Gift: Towel with Purchase of Ticket to Toei Kyoto Studio Park

STORY


Manjiro Sano announces a meetup in Kyoto, but Mikey and  takemichi have their own agenda. After a number of hijinks, can visitors solve the slapstick happenings going on around Kyoto?

Ⓒ和久井健・講談社/アニメ「東京リベンジャーズ」製作委員会

Information

Tokyo Revengers Tokyo Meetup ~I Wanna Eat Dorayaki~

Running: December 25, 2021 – February 13, 2022

Location: Toei Kyoto Studio Park

Stamp Locations: 

Movie Village Padios 2F Event Exhibition Hall / Animate Kyoto / Kyoto Tower Observatory (Free area on 11F) / Sanjo Station on Keihan Electric Railway / Shugakuin Station on Eizan Electric Railway / Arashiyama Station on Randen Railway

Event Details: https://www.toei-eigamura.com/tokyo-revengers/

Official Site: https://www.toei-eigamura.com/

Rihga Royal Hotel Kyoto to Hold Strawberry Fair in 2022

From January 4 until April 30, 2022, Rihga Royal Hotel Kyoto will hold a special Strawberry Fair at its cozy lounge.

Those who love strawberries enough to want to drown in them won't want to miss this limited-time event featuring four unique desserts and an afternoon tea set.

Strawberry Parfait 'Drowning Strawberries' 

 

Guests can enjoy pouring warm homemade confiture made from Kyoto strawberries from Uesugi Farm in Yawata City over thin chocolate hidden beneath strawberry ice cream. This is recommended by the patisserie.

'Strawberry Shortcake ~Buried in the Glass~'

 

This limited-edition version of the hotel's strawberry shortcake is filled with white meringue and soft sponge, with cherry brandy flavoring making it light and easy to eat.

'Strawberry Afternoon Tea Set' 

Strawberry Stack Option

The popular 'Afternoon Tea Set' is served in a bamboo box made by Kochousai Kosuga, a bamboo craft manufacturer in Kyoto. This special strawberry version features nine sweet and nine savory items, including strawberry shortcakes and cream puffs. For a limited time until March, guests can add a pile of strawberries to the third tier. Using the special scoop spoon, you'll feel as though you're harvesting strawberries of your own! Be sure to take pictures.

Overflowing Strawberry Gift Box

Although it looks like a present, this dessert is meant to be enjoyed on-site! Overflowing with strawberry mousse, strawberry jelly, and pistachio brulee, raspberry sorbet, and streusel are hidden beneath the white chocolate box. Now that's luxury!

Hitohata Flower and Digital Art Festival Held in Aichi Prefecture

Digital communication company Hitohata will be holding a special Flower and Digital Art Festival at the Ito Family Historic Residence in Nagoya, Aichi Prefecture from December 16 to December 19, 2021. T

he location is a recognized cultural property, and the event will feature projection mapping and flower arrangements. The location is usually closed to the public, so this is an amazing opportunity to see a piece of Japanese history up close!

The Ito family was a part of the Kawai Ito family, a merchant family during the Edo Period. The house consists of the main house, tatami rooms, and storehouses. This gives a glimpse into how people lived hundreds of years ago. The main house was completed around 1722. 

Information

Flower x Projection Mapping at Flower and Digital Art Festival

Running: December 16 – December 19, 2021 from 10:00-17:00 (Last entry at 16:30)

Address: Ito Family Historic Residence (1-36-12 Nagono, Nishi-ku, Nagoya)

Advance Reservations: http://discovernagoyatours.com/1149.html

Official Site: https://www.hitohata.jp

Adorable Hamster-shaped Cakes from Kyoto Now on Sale

Aoki Koetsudo, a 129-year-old confectionery shop in Kyoto, and 2:00, a Kyoto-based company specializing in unique products, have come together to create some incredibly cute hamster-shaped cakes. These pastries are called monaka, and feature azuki bean jam filling sandwiched between two crisp wafers made from mochi. Each set includes 6 wafers, six helpings of bean jam, and a bag of nuts, so customers can enjoy creating the pastries themselves! 

How to Enjoy Hamster Monaka

Fill the Hamster-shaped monaka with as much azuki jam as you like. 

Cover the monaka with the wafer and add one of the nuts provided. 

Paint the eyes and ears with chocolate to give each pastry some personality!

NAKED to Open Immersive Night Experience at Heian Jingu in Kyoto

Creative company NAKED has released the details of an upcoming immersive night experience at Kyoto's Heian Jingu, one of the most well-known temples in Japan. The event will take place from December 15 until December 30, and will fill the temple grounds with colorful lights and new experiences as the new year approaches. The first of these Yoru Mo-de experiences took place at Toyokawa Inari, and the event attracted over 20,000 people in its 10-day run. 

Given the state of the world and the current pandemic, NAKED has found a way to attract people to a new kind of night worship that provides a safe and secure way to visit shrines and temples. By using their projection mapping technology and art installations to highlight the beauty of these Japanese locales, guests can experience something truly special in the midst of these difficult times. 

The popular NAKED Flower Cleansing, which broadcasts realistic flower projections into guests' hands, will have a Heian Jingu update for the event. Guests will also be able to hold the NAKED Distanced Lanterns, which will illumate the ground as people explore the grounds. Sounds and light will combine to create an entirely new world, and visitors will also be shown the history of Heian Jingu through a new projection mapping show. NAKED's DANDELION PROJECT will also be installed at the site, inviting visitors to send wishes of love and peace to other installations around the world. 

Selected Works

The Illuminated Outenmon Gate, an Important Cultural Property

NAKED Flower Cleansing

NAKED Distanced Lanterns

Illuminated Grounds -Echoes of Light-

Projection Mapping –Hanamusubi–

Taiheikaku -Corridor of Light-

DANDELION PROJECT Heian Jingu

13th Kyoto Historica International Film Festival to Screen All 5 Rurouni Kenshin Films

The 13th Kyoto Historica International Film Festival has announced its screening lineup and will be held both in-person and online. In addition to all five live-action Rurouni Kenshin films being screened, five carefully-selected historical films from around the world have been chosen from over 200 applicants. These will be screened at the Japanese event and can only be seen during the festival. 

Italian film Inferno, produced in 1911 and shown at Il Cinema Ritrovato in Bologna in 2021, will make its Japanese premiere along with a piano accompaniment. Oshuraga: Land of Souls will also be screened in commemoration of the fifth anniversary of the Kyoto-Quebec Friendship and Collaboration Agreement. 

41 films will also be available to stream on the MIRAIL streaming service, with tickets going on sale on January 22, 2022. 

Information

13th Kyoto Historica International Film Festival

Running: January 22 – January 30, 2022

Theater Screenings

Location: The Museum of Kyoto 3F Film Theater

Pre-order Tickets Starting December 25, 2021 at Ticket Pia

*Advance Tickets are available for Historica Special only. All other tickets will be sold at the door.

Watch Online

Available on MIRAIL Video Streaming Service

How to Watch: Purchase tickets from MIRAIL on or after January 22, 2022

Official Site: https://historica-kyoto.com/ 

Canada Goose×CONCEPTS×BAPE® Release Collaboration Collection

Long-time partners CONCEPTS and BAPE® have launched collaboration collection which is now available at Canada Goose Sendagaya branch and Ron Herman Kyoto 'Canada Goose' shop in shop.

Line-up

CROFTON HOODY 

CHILLIWACK BOMBER 

EXPEDITION PARKA 

KNIT TOQUE 

DOWN SCARF 

DOWN BLANKET

The collection includes 6 pieces inspired by the heritage of Canada Goose featuring the iconic BAPE® ABE Camo and Snow Camo to take streetwear to the next level.

DANDELION PROJECT Comes to Kosho-ji Temple in Uji, Kyoto for Limited Time

NAKED'S DANDELION PROJECT has popped up at seven different locations around Kyoto, including the famous Kiyomizu-dera and Heian Shrine. From December 3 until December 5, the participatory art project for peace will come to Kosho-ji Temple at nighttime. 

Kosho-ji Temple is famous for its autumn foliage and is designated as a place of scenic beauty by Kyoto prefecture. The gently sloping path from the front gate along the Uji River to the temple gate is called Kotozaka, because the flowing freshwater sounds like a Koto, the national instrument of Japan. The event will include a nighttime viewing of the temple along with lights around the grounds and gardens. The Uji Light Path will line the streets of the town with lanterns based on The Tale of Genji. 

NAKED's popular attractions–the NAKED Distanced Lanterns and NAKED Flower Cleansing–will also be available to participate in during the event.

Information

DANDELION PROJECT in Uji, Kyoto

Address: Kosho-ji Temple (27 Yamada, Uji, Kyoto)

Running: December 3 – December 5, 2021 

Hours: 17:30-20:00 (Last Entry at 19:00)

Admission: ¥1,000

Official Site: https://naked.co.jp

DANDELION PROJECT Celebrating Autumn at Kumamoto Castle for a Limited Time

Creative company NAKED is bringing their popular DANDELION PROJECT to Kumamoto Castle from November 19 until December 5, 2021, just in time to celebrate the Autumn Festival Castle Lighting event! 

The DANDELION PROJECT is inspired by the idea of world peace and hopes to help transcend barriers and connect people in an increasingly divided world. This networked initiative wants to bring this change about by planting (or installing) dandelion-inspired art around the world, while it invites people visiting these dandelion exhibits to send their prayers for peace as a digital flower in real-time. 

To celebrate the recent restoration of Kumamoto Castle's tower, the DANDELION PROJECT will ask visitors to give their prays for peace and safety as they enjoy the autumn lights. After the 2016 Kumamoto earthquake, the castle has slowly recovered, and this is the final step. Currently, DANDELION installations are popping up around Japan and internationally, with locations in Tokyo Tower, Saga Prefectural Exhibition Hall, and plenty of other places.

NAKED's popular attractions–the NAKED Distanced Lanterns and NAKED Flower Cleansing–will also be available to participate in during the event. Each is perfect for social distancing, and each will get a special Kumamoto Castle version. Interactive projection mapping will cause flowers to bloom beneath visitors' feet as they explore. After the event period, the works will be moved to Josaien, where they can be enjoyed until January 15, 2022. 

Information

DANDELION @ Kumamoto Castle Autumn Festival Castle Lighting

Address: Kumamoto Castle (1-1 Honmaru, Chuo-ku, Kumamoto)

AR: Kumamoto Castle (Special Walkway)

DANDELION: Ninomaru Plaza

NAKED Distanced Lanterns and NAKED Flower Cleansing: Ninomaru Plaza

Running: November 19, 2021 – December 5, 2021

DANDELION PROJECT/NAKED Distanced Lanterns/NAKED Flower Cleansing

Permanent Installation to Start November 19, 2021

AR 'KUMAMOTO CASTLE FANTASY OF LIGHTS' 

Running: Daily from 17:00-21:00 (Last Entry at 20:30)

Admission to Ninomaru Plaza: Free

Admission to Kumamoto Castle: Adults ¥800, Children ¥300

*Visitors will need to download the NAKED INC PLAY! smartphone app.