「Tokyo Disneyland®」and 「Tokyo Disney Sea®」together have recorded 700 million visitors since its opening!
「Tokyo Disneyland」and 「Tokyo Disney Sea」together have recorded 700 million visitors since its opening.
The lucky 700 millionth visitor pasted through the gate of Tokyo Disneyland at 10:25 a.m. This record was reached 34 years and 108 days after the opening of Tokyo Disneyland on April 15th.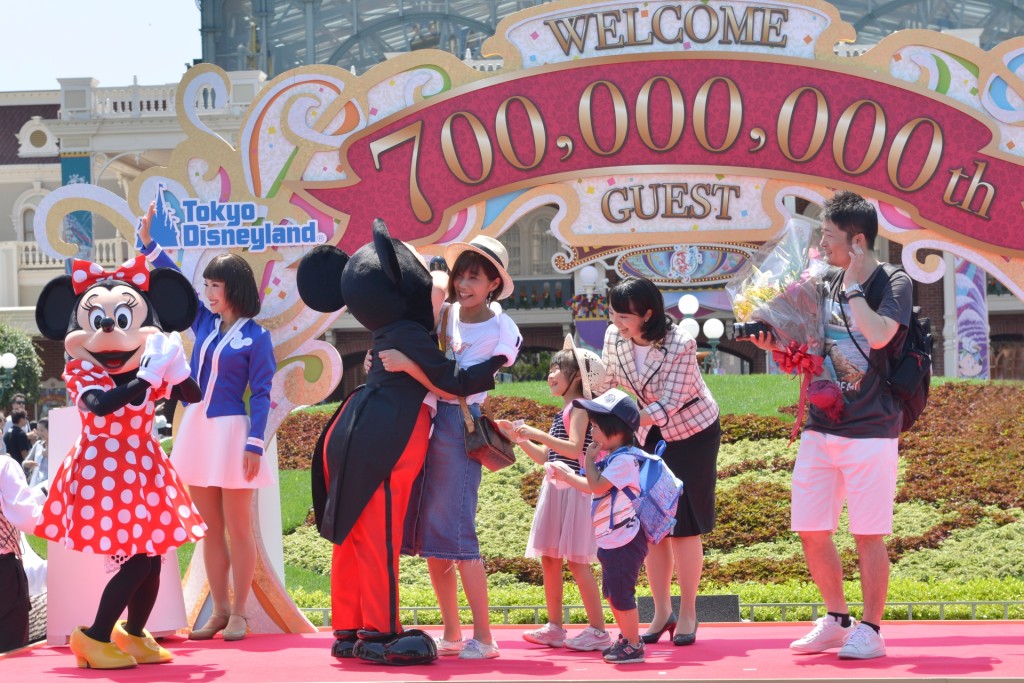 The lucky 700 millionth visitor was Sae Tanaka. She came with her husband and children.
Ms. Tanaka was given a bouquet of flowers to her surprise. She was palled up on stage and was introduced to the audience as 700 millionth visitor. Mickey Mouse and Minnie Mouse also came to celebrate.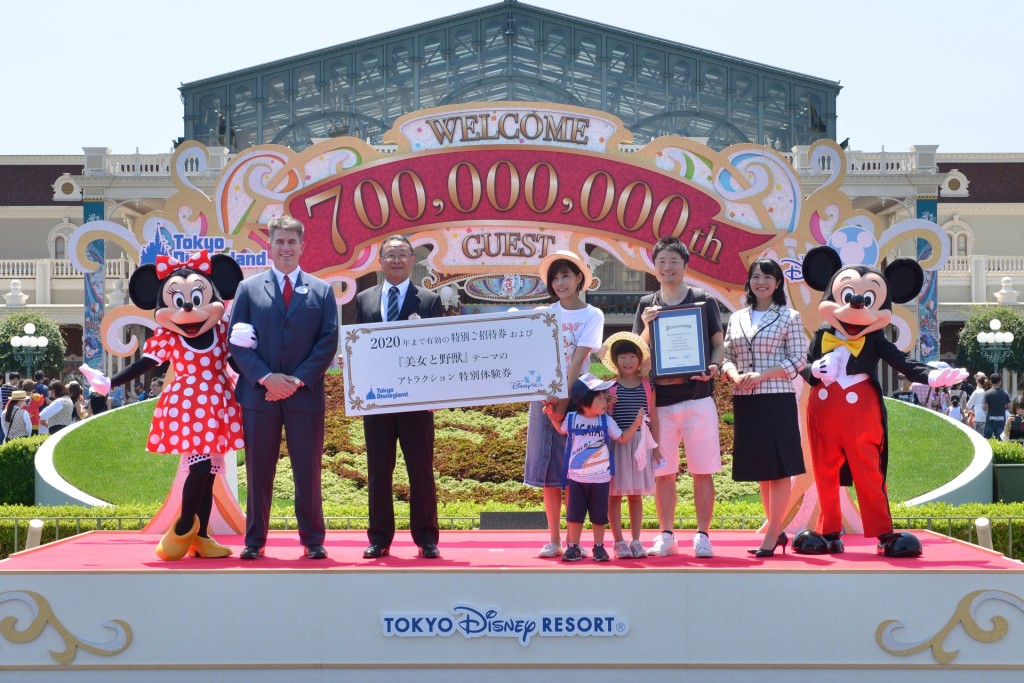 And she received official certificate and a special ticket for the "Beauty and the Beast" attraction which will open in 2020.
A new attraction called "Nemo & Friends Sea Rider" has been opened since May.
Disney Resort has lots more fun so keep your eyes on Tokyo Disney Resort's new development!
Related article:Dress Up as Your Favourite Disney Character and Join in the "Disney Halloween Fun and Run" at Tokyo Disneyland!
Related article:Let's find Nemo and his friends hiding in Tokyo Disney Sea® using a smartphone! "Finding Nemo & Friends" start!
RELATED ENTRIES
Tokyo Disney Resort Gives a Peek at its New Year's Merchandise

Tokyo Disney Resort is set to celebrate the coming new year with a string of events that will run from January 1 to 5 next year. In anticipation of the forthcoming celebrations, it has given guests a special snippet into a new range of Disney official New Year's merchandise which will be released ahead of 2020 on December 2, 2019 at Tokyo Disneyland and Tokyo DisneySea.

Win Wonderful Prizes With the New 'Tin of Dreams'

Tin of Dreams – ¥2,020

For the first time ever, Tokyo Disney Resort is bringing out its new 'Tin of Dreams' filled with a lucky assortment of goodies to bring happiness and love to the new year. These golden tins include an original and New Year's-exclusive towel and card. The soft towel has embroidered on it Mickey and Minnie as Japanese 'daruma' which is a traditional Japanese doll that symbolises good luck.

Each tin also has a ticket inside which will have a different kind of dream written on it from small to special. Depending on which dream you get, you'll receive one of the following prizes:

・Special Dream: One night in the Special Room on the Standard Floor at the Disney Ambassador® Hotel. The date of the stay is January 30, 2020 – January 31, 2020. The room type or date cannot be changed.

・Big Dream: Ticket to exchange for Tokyo Disney Resort park merchandise

・Middle Dream: Ticket to exchange for popcorn (Regular box)

・Small Dream: Original seal (with Mickey Mouse daruma design)

*Exchange tickets can be used at select locations around the park and are valid until March 31, 2020

Penmanship Set & Daruma Memo Pad

Penmanship Set – ¥12,000

Get your hands on this special penmanship set for writing your New Year's cards and letters to people. It comes with a brush and ink.

Daruma Memo Pad – ¥20,000

This memo pad features a special design which reveals a daruma Mickey and Minnie once you've used all the sticky notes. This means you don't have to throw the pad itself awayーit can be used as an ornament! *This is available to purchase on the Tokyo Disney Resort app only.

New Year's Goods Aplenty

New Year's Pine Decoration – ¥1,900

Figure (Dream Daruma w/ New Year's Message) – ¥800

Osenbei – ¥1,600

There are countless other celebratory items to grab this year at Tokyo Disney Resort too, including a pine decoration (which is indispensable during the New Year in Japan), a figure containing a New Year's message in it, snacks, and more.。

What are your dreams for 2020? Set them in stone by celebrating at Tokyo Disney Resort.

*Photos are for illustrative purposes only

©Disney

Information

Tokyo Disney Resort New Year's Merchandise

Available: Grand Emporium at Tokyo Disneyland® / Emporio at Tokyo DisneySea®

Official Website: https://www.tokyodisneyresort.jp/en/index.html

*Product designs and prices subject to change without notice

*Products available while supplies last

Tokyo Disneyland & DisneySea Release Winter Clothing Collection

Tokyo Disney Resort dropped its new "White x White" collection of warm and fluffy clothing for the winter season yesterday (October 18). The 16 item line-up incorporates different materials perfect for the cold weather, like sheep boa, corduroy, knitwear, and more.

Mittens – ¥2,500

These cute mittens are fitted with bonbons inspired by Mickey Mouse's ears.

Since these are mittens, you can take your fingers out if you need them to check your phone!

Hat – ¥2,900

The hat is made from sheep boa and corduroy and the ear parts can be worn up or down. When worn up, both sides reveal a Mickey Mouse hand design.

Earmuffs – ¥2,400

The collection also includes earmuffs and a tote bag made from fur, a corduroy Minnie Mouse headband, and other snow-white items fitting for wintertime.

Women's Coat – ¥11,800 (Medium/Large)

Women's Jacket – ¥9,800 (Medium/Large)

Both the coat and jacket will go on sale on November 1. They are both made from sheep boa and have cute Mickey Mouse quilting on the front.

Stay warm this winter with Tokyo Disney Resort's White x White collection.

*Product designs and prices subject to change without notice

*Available while supplies last

©️Disney

Tokyo Disney Resort to Release Frozen 2 Goods that Will Melt Your Heart

Disney's Frozen is thawing back to life with the release of Frozen 2 which will premiere on November 22, 2019. To celebrate, Tokyo Disneyland and DisneySea are gearing up with the release of approximately 30 kinds of exclusive merchandise which will be released on October 18. These are definitely worth melting for. 

Plush Toy Hand Warmer: ¥2,900

Kid's Cape: ¥3,900

The cold bothering you? Now you can let it go. Your kids will be prepared to embark on any winter adventure while staying stylish and warm with this magnificent Elsa and Anna-themed cape. Your sidekick Olaf has also come to life in the form of a Plush Toy Hand Warmer and is the perfect companion to keep your hands warm this season.

Drink Bottle: ¥2,700

Lip Balm: ¥900

There is also a big lineup of goods aimed at adults. The lineup consists of drink bottles, lip balms and much more. These items are perfect for everyday use no matter what season it is.  

Pancake Sandwich (Potato Salad and Corned Beef) with a souvenir pouch: ¥1,300 

Disneyland will also be serving up a delicious pancake fit for a princess which comes with a souvenir pouch. This Olaf Pancake Sandwich will be sold from October 18, 2019 to January 8, 2020. Two fluffy and sweet pancakes sandwich a potato salad and corned beef filling. The sweet and salty flavour will leave you and your friends finishing each other's sandwiches!

There will also be a photo spot located on the wall of the Cinderella Castle (Tomorrowland) where you can get a photo with your favourite Frozen characters. Make sure you plunge into the world of the film and join Elsa, Anna, Olaf, Kristoff and Sven for a special photo.

*Please check the special edition website to find out more about the availability dates of the photo spot. 

Special Cake Set: ¥2,000 

The Disney Ambassador Hotel's Hyperion Lounge will be selling a Special Cake Set and Special Drink from November 1 to December 19. The Special Cake Set consists of a lemon and cherry cheese tart. Can you spot the sugar paper Anna and Elsa on the plate? Eat the tart together with the lemon meringue for a refreshing flavour. 

Special Drink: ¥1,300

The Special Drink is an autumn-themed Maple Syrup Iced Tea which perfectly depicts the autumn scenes of the film.

Tokyo Disney Resort® is giving you a first-time-in-forever-opportunity to experience the world of the film and is definitely worth checking out.

©Disney

Minnie Mouse Takes Over Tokyo Disneyland for 'Very Very Minnie!' Event in 2020

The all-new Minnie's Style Studio is set to open in Tokyo Disneyland on April 15, 2020 as a character greeting location where you can meet the Disney cast. In the run up to its opening, Minnie Mouse is hosting a 70-day kawaii-packed event entitled "Very Very Minnie!" which will run at the park from January 10 to March 19 next year.

There's so much to look forward to at the event. The "It's Very Minnie!" show will take place at the Showbase amphitheatre where Minnie and her fellow Disney comrades will look back at past events and dress up in various costumes they've worn up to now, along with music, serving lots of different styles such as Latin, romance and club. For the finale, the Disney characters will step out in all-new costumes inspired by Minnie. They will also dance along to a new theme song.

There will be a mini parade titled "Very Minnie Remix" packed full of Minnie references. The parade will make a stop in 6 areas around the park, with the characters and cast dressed in new costumes, inviting guests into the world of Minnie Mouse. Depending on the day you see the parade and what location from, you can expect to see something different every time, meaning you can enjoy the parade multiple times.

There will of course be plenty of cute Minnie-themed food and merchandise to enjoy too. Merch will feature Minnie's iconic polka dot design.

Special Set – ¥990 @ Huey, Dewey and Louie's Good Time Cafe

Sparkling Tapioca Drink (Strawberry Yogurt) – ¥450 @ Huey, Dewey and Louie's Good Time Cafe

Minnie has a cute line-up for food and drink across various cafes and restaurants in the park. The "Mickey Mouse Pizza" now on sale at the Huey, Dewey and Louie's Good Time Cafe will be transformed into a Minnie Mouse Pizza for a limited time. There's also the tapioca drinks, filled with tapioca pearls so it looks like Minnie's polka dots.

Special Set – ¥2,800 @ Eastside Cafe

Blue Bayou Course – ¥5,200 @ Blue Bayou Restaurant

Eastside Cafe is also getting in on the action, serving up a cute pasta dish with pink sauce and a ribbon, as is the Blue Bayou Restaurant where you can dine on a Minnie Mouse-inspired course.

The park will be decorated in all things "Very Very Minnie!" and they will change throughout the duration of the event. Be sure to find all the photo spots too for Minnie, Mickey, Donald and Goofy too.。

Enter the dreamy world of Minnie Mouse next year with "Very Very Minnie!"

Jump Into the World Of Pixar with Tokyo DisneySea's Pixar Playtime Event Coming Winter 2020

Tokyo DisneySea has announced that it will hold a special event next year titled "Pixar Playtime" from January 10 to March 19. The event will plunge guests into the world of Disney•Pixar animated films.

The exciting "Pixar Playtime Pals" stage show is returning again for Pixar Playtime 2020. Guests will be invited to join in with familiar faces from the Pixar character cast for the show, which will take place at Mediterranean Harbor. Bo Peep from Toy Story 4 will make her first-ever appearance. At the end of the show, an entire band of characters will take to the stage for a grand finale with colourful balloons and decorations.

Head over to American Waterfront to catch the one and only Lightning McQueen from the Cars film series who will be rolling his way to greet the crowd. Guests are encouraged to join in with the Lightning McQueen Victory Lap where they will parade around the New York area along to jubilant music.

There will also be a Ratatouille stall where you can have fun cooking together with Remy.

Special Set – ¥1,980 @ Horizon Bay Restaurant

Horizon Bay Restaurant is serving up around 20 exciting dishes based on the Pixar cast, including an ocean-themed hamburger inspired by Finding Nemo and a roll cake based on the lovable Dory.

Special Set – ¥1,980 @ Vulcania Restaurant

If you love Monsters Inc., then you'll want to dine at Vulcania Restaurant where you can get your teeth into a custard-filled Mike Wazowski steamed bun.

Lots-o'-Cookie Sandwiches – ¥400 Each @ Liberty Landing Diner

There are countless Pixar-inspired foods, drinks and desserts to look forward to at this year's Pixar Playtime, and that includes plenty of never before seen options.

Scattered around all areas of the park you will find instantly-recognisable Disney•Pixar decorations, including the iconic Pixar Ball, as well as photo spots based on the Finding Nemo, The Incredibles and Coco film series'.

Decorations Forky from Toy Story 4 will also be making an appearance around the park.

If it's merchandise you want, you have over 100 items to choose from, such as the Pixar ball-themed smartphone case, headband and jumper; the Lightning McQueen Victory Lap series including the plush toy, flag, sun visor and more; and plenty of other exciting goodies.

Disney Hotels will will be offering special Tokyo Disney Resort® Vacation Packages which includes accommodation and access to the Pixar Playtime shows and food menus. There will also be lots of special events taking place as part of the festival, including at Tokyo DisneySea Hotel MiraCosta and up and down the Disney Resort Line.

Tokyo Disney Resort to Unlock A Whole New World in 2020: New Area, New Attractions, New Adventures

Tokyo Disney Resort will be telling the guards to open up the gates to an enormous number of brand new attractions, events and much more all at once on April 15, 2020. Over the course of the year, there will be so many exciting events and programs all over the resort that you will be wanting to waltz into Disney Resort® every day. This is the perfect chance to experience your perfect Happily Ever After. 

In short, Alongside the numerous seasonal programs and events, Tokyo Disneyland will be expanding Fantasyland. A new area will be built inside it called New Fantasyland, which is dedicated to the Disney film Beauty and the Beast. There will even be a new attraction called 'Enchanted Tale of Beauty and the Beast', an indoor theatre called 'Fantasyland Forest Theatre', and much more. Along with the new Fantasyland developments, Tomorrowland will be home to the new ride 'The Happy Ride with Baymax' and Toontown is getting an attraction called Minnie's Style Studio. 

New Disneyland Attractions to Open on April 15, 2020

New Attraction: Enchanted Tale of Beauty and the Beast

There will be a brand new large-scale attraction dedicated to the Disney classic Beauty and the Beast. Enter the picturesque village of medieval France where Belle resides. Embark on a journey through the film in a dancing teacup and become part of famous scenes as the nostalgic movie music embraces you. You will want this beautiful moment to last forever.

 New Indoor Theatre: Fantasyland Forest Theatre

This is the first ever full-scale indoor theatre to ever be built at Disneyland and it will reside in Fantasyland. The theme of the theatre is travelling the wonderful world of music with your favourite Disney characters. The live performances to take place on the stage will be undoubtedly dynamic and intense. 

Minnie Mouse Meet and Greet Facility: Minnie's Style Studio

For the first time in forever, Tokyo Disneyland is setting up a greeting facility for Minnie Mouse to greet guests. Head to Toontown to meet fashion designer Minnie Mouse in her beautiful costumes. Make sure to get a picture with her! 

*Toontown, where Minnie's Style Studio is located, will be presented by Kodansha Ltd.

The Happy Ride with Baymax

If you're a fan of Big Hero 6 then this ride is for you. Your favourite personal medical healthcare companion Baymax will pull you along on a thrilling and rather unpredictable journey. 

* The Happy Ride with Baymax is presented by Daihatsu Motor Co., Ltd.

Seasonal Events

Tokyo DisneySea 'Disney Easter' Special Event

March 27- June 12, 2020

Tokyo DisneySea has some incredibly exciting news: The Usapiyo chicks are due to hatch in time for Easter! These mysterious chicks with bunny ears are sure to have your heart hopping with happiness. They will be taking part in a show held at the Mediterranean Harbor. The Usapiyo will be joining Mickey Mouse and the gang to celebrate spring and fill your heart with excitement and fun. 

 

Tokyo Disneyland Special Program: 'Happy Fair with Baymax'

June 4 – November 1, 2020

This program will take place in Tomorrowland and will see the park filled with decorations, photo spots, merchandise and menu items themed on Big Hero 6. Your excitement levels are bound to inflate dramatically!

These are just a few exciting events that 2020 holds in store. Be Prepared for some fun!

*All images in this article are illustrations. 

©Disney

Disney Ambassador®️ Hotel Now Serving Adorable Cake & Drink For Halloween

Disney Halloween 2019 is in full force at both Tokyo Disneyland and Tokyo DisneySea where "ghosts" are this year's theme. The spooky festivities are set to continue until October 31.

Disney Ambassador®️ Hotel is also getting in on the Halloween action, with a bone-chilling food and drinks line-up at the Hyperion Lounge.

Disney Halloween Cake Set – ¥1,700 (Available until October 31, 2019)

The eye-catching blueberry mont blanc is served with either tea or coffee. The sweet and sourness of the blueberry combined with the cream cheese is spot on.

It's also filled with blueberry jam for even more of a blueberry kick. Mix together with the powdered mango for extra flavour.

This cake set is serve from 12:00-22:00, but there is a limited number of servings per day so be sure to get in there quick!

Disney Halloween Special Drink – ¥1,300 (Available until October 31, 2019)

The Instagram-worthy drink is serving autumn vibes with its chestnut syrup and orange colour. It's also topped with whipped cream and a cute chocolate bat. The drink has a refreshing mix of range juice and grape juice which balance deliciously with the purple sweet potato whipped cream and sweet syrup. There's also grape jelly hidden underneath the cream.

This is also served from 12:00-22:00, and gets you an original coaster. These are limited in availability.

©️Disney

Dress Up in Tokyo Disneyland's Spooky Outfits and Enjoy Disney Halloween 2019

It's only been a week since Halloween begun at Tokyo Disney Resort, and already guests are loving it. "Ghosts" are in the spotlight this year at Tokyo Disneyland, and they are serving up a spooky and ghostly time this year all the way up to October 31.

Tokyo Disneyland Halloween Gear

Since it's Halloween, and you've made the effort to travel to Tokyo Disneyland, why not dress up too with one of the park's many pieces of Halloween costume items?

Mickey Mouse Ear Hat – ¥2,000

The classic Mickey Mouse ear hat has taken on a Halloween theme for the event, wrapped in ripped bandages and spiderweb.

Poncho – ¥3,900 (Sizes S~LL) *Kid's size is ¥3,300

Mickey has also turned into a white ghost but it doesn't seem too spooky―friendly, actually―as he enjoys his drink and churro for the design of this poncho. It seems like he just wants to get in on the fun too.

Cap – ¥2,800 / Parker – ¥4,900

Transform into a black cat too with one of the many clothing items too, serving a completely different aura to the ear hats.

Spooky Boo! Parade

Once you're all dressed up, it's time to go and watch the Spooky Boo! Parade where the Disney cast and an army of ghosts invite guests into the Halloween festivities. Multiple stories will take place across the parade at once, so no matter which part of the parade you are watching, there'll be plenty to enjoy. The parade takes place twice a day.

Decorations

Be sure to check out the decorations in front of Cinderella's Castle while watching the parade, featuring the Disney cast dressed in their Halloween costumes.

You'll find ghosts hidden all around the park. Be on the lookout and see how many you can spot!

Special Menu

Wipe away your fatigue from walking around the park with one of the many special Halloween items on the menu at restaurants and cafes across Tokyo Disneyland.

Popcorn Soda & Doughnut – ¥600 @ Boiler Room Bites and elsewhere

The scrumptious popcorn coupled with the pumpkin flavoured doughnut make for a delightfully delicious combination. This is sure to whet your appetite right away.

Short Rib Cone – ¥500 @ The Gazebo

The cone is filled with ashed purple sweet potato and, short rib, and cheese sauce. A perfect little bite to walk around and eat while in the park when you're feeling peckish.

Special Set – ¥1,050 @ Sweetheart Cafe

Arriving with a cute Jack Skellington bun is this potato salad and tomato beef-filled burger. When you unwrap the packaging and place the burger on top like in the photo, it looks like Sally is gazing lovingly at Jack♡

Nighttime Decorations

When night falls, Main Street at World Bazaar will light up with projecting mapping and Halloween music will play, creating an exciting Halloween nighttime experience. Fireworks will also launch into the night sky and be Halloween-themed too.

Join the ghosts this year at Tokyo Disneyland for an exciting Halloween Party!

Duffy and Friends' Delightful Autumn Woods Event Takes Place Alongside Disney Halloween at Tokyo DisneySea

Tokyo Disney Resort has finally begun its 2019 Halloween festivities, but there's one more event happening this autumn which is just as worthy your time: Delightful Autumn Woods, themed entirely on Duffy and Friends.

The Cape Code area of the park has already welcomed the harvest season, with Duffy and Friends motifs being spotted throughout, as well as a line-up of exclusive merchandise, themed menu items, and more. We've picked out some of our favourites from the food and merch line-up to show you♡

Must-Buy Special Merchandise

Plush Toy Badges – ¥2,000 Each

Duffy and his pals have dressed up in various cute outfits for these plush toys, from a squirrel costume to an owl cape and more. These characters are adorable already but are even more so dressed in fall clothes!

Plush Toy – ¥2,900

These plush toys can be worn around your arm or used for wrapping up curtains. The straps are velcro and so can fit on both kids and adults arms.

Postcards – ¥450

Send someone important to you a postcard this autumn with one of these cute postcards featuring Duffy and Friends enjoying their time in the red and yellow-leaved woods.

Special Autumn Menu

At Cape Cod Cook-Off, a counter-service restaurant at Tokyo DisneySea, you can get your hands on a special menu line-up for the duration of the event which also comes with souvenirs. Your delicious desserts are served on and in crockery you can take home.

Milk Chocolate & Milk Purin w/ Souvenir Cup – ¥900 @ Cape Cod Cook-Off

This double-layered chocolate mousse and milk pudding is topped with raspberry sauce which gives a sweet punch to the soft pudding. It comes together with a cute Delightful Autumn Woods mug which you can take home as a souvenir.

Purple Sweet Potato Mont Blanc w/ Souvenir Plate @ Cape Cod Cook-Off

Thick with purple sweet potato cream, this mont blanc comes with a cute Duffy and Friends plate. Sweet potato is an autumn flavour so this one's a must-try.

Souvenir Lunch Case – ¥1,200 @ Cape Cod Cook-Off

You can also order a lunch set which comes with its own lunch bag that you can take home. The hamburger is seasoned with burger sauce and topped with cheese. It comes with fries and a drink too.

If you're visiting Tokyo Disney Resort for Disney Halloween 2019, be sure to pop over to Tokyo DisneySea to catch Duffy and Friends too!

Tokyo DisneySea's New Halloween Show is a Thrilling Must-See

Disney Halloween 2019 has finally begun, and this year, Tokyo DisneySea is serving guests a dark and mysterious Halloween experience to keep them on edge. The festivities will run all the way up to October 31.

We visited the park to see Festival of Mystique, an all-new colourful and flamboyant show introduced this year. Here's our report.

The show began with music chiming in at Porto Paradiso in Mediterranean Harbor upon which trickled out lines of costumed friends of the sea. The beautifully dressed ladies at the front then spoke of a Halloween festival that was once held at the port, and their intention to resurrect it.

Out came a merrymaking Mickey mouse and Disney cast aboard a ship, clad in cute outfits the likes of which have never been seen before at the park.

Donald Duck, Goofy, Chip and Dale all got off the boat and headed towards the ladies, almost as if charmed by the allure of their beautiful and bewitching singing voices. This was followed by a sudden whimper by Pluto as he looked on towards Mickey. "Pluto, you've got to be a good boy! We've put a lot of effort into this Halloween," Mickey said to him. When he said this he began to think that something strange was going on with the festival―like something was going to happen…

The singing and dancing ladies went on to teach the onlooking guests a few dance moves to get involved with the show. Everybody danced together with Mickey as the leader.

It wasn't long however before the mood and tone of the music took an uncomfortable turn…

Before we realised it, Mickey had been locked inside a cage! But he was dancing and having fun literally just seconds before―what happened?!

Luckily, Minnie Mouse comes to the rescue to save Mickey and bring the fun Halloween festivity back. She takes the lead and dances with the guests this time.

So what happened to the Disney characters, and what was their fate? We don't want to spoil the ending, so you'll have to see it for yourself this fall!

©️Disney

Duffy and Friends Sweet Dreams Merchandise to be Sold at Tokyo DisneySea

When you think about Duffy and Friends you think cute and fluffy, and that no matter what you just want to jump in and cuddle up to them. Tokyo DisneySea® agrees and so has announced that it will begin selling a range of bedtime merchandise with the theme "Duffy's Sweet Dreams" from October 8.

Plush Toys – ¥4,000 Each

Pyjamas (Women's M/L Sizes) – ¥5,200        Hand Cream Set – ¥2,800

Duffy and Friends look like they are having the most wonderful dreams in this cute collection. The plush toys live up to those fluffy expectations and are waiting to be hugged by you under their warm blankets. There's also pyjamas, hand cream and other items for you to enjoy an equally peaceful sleep this coming autumn.

There are also some items which you can wear when visiting the park or when popping out.

Caps – ¥3,600 Each

Parkers (Women's S/M/L/LL Sizes) – ¥5,400 Each

Mittons – ¥2,000 Each

Shoulder Bags – ¥3,600 Each

Co-ordinate your cut Duffy and Friends fashion with the ear-tipped caps and shoulder bags. Couple that with the mittons and a parker to ensure you stay warm. It would be a lot of fun to dress up with friends too with these items. The time for outings and pleasure trips is about to begin, so take Duffy and Friends along for the ride with you.

©Disney

*Photos are for illustrative purposes only

Tokyo DisneySea's Dark Halloween Festivities For 2019 Begin

Disney Halloween 2019 has finally begun! The Tokyo DisneySea fun is set to run until October 31 where it will provide guests with a dark and mysterious Halloween experience that will keep you on edge… like something's about to happen, but you're not sure what.

Tokyo DisneySea's decor takes on a more grown-up bewitching look compared to Tokyo Disneyland's cute decorations.

Hung throughout the park you will find decorative banners featuring illustrations of Disney characters dressed in their spooky garments. This year, Mickey, Minnie and the rest of the cast invite guests into a truly bewitching wonderland.


If you pop over to American Waterfront you'll find some great photo opportunities, like the Minnie Mouse and Daisy Duck statues waiting to welcome you at the entrance, clad in hauntingly beautiful attire and stood next to night-black pumpkins and dried flowers.


You'll find the rest of the costumed characters further in too. Be sure to get photos with everyone!

Chicken & Vegetable Steamed Bun – ¥600 @ Nautilus Galley / Teriyaki Chicken Rubber Ring Steamed Bun – ¥600 @ Seaside Snacks

Nothing has been left out from the Halloween spell this year, even the food menu and drinks which arrive in festive colours like black and purple like this bandage-wrapped mummy steamed bun and rubber ring steamed bun.

Inside the mummy is a delicious concoction of chicken, cabbage, and other veg.

The rubber ring steamed bun is the perfect snack to munch on as you walk around the park. It's filled with rich teriyaki chicken wrapped in a striking purple dough.

All of the food is packaged in cute packaging too―don't throw it away straight away and check out which illustration you got!

Assorted Sweets – ¥430 @ Gondolier Snacks and elsewhere

Check out these bite-sized confections, from a mini baumkuchen cake on a lollipop stick to strawberry cheesecake and purple sweet potato cream mochi. The chewy mochi Mickey can only be described as kawaii♡

Grape Tapioca Tea – ¥500 @ Mamma Biscotti's Bakery

Sparkling Black Tea Tapioca Drink – ¥450 @ Hudson River Harvest

Tokyo Disneyland's tapioca drinks are really popular in summer, and for Halloween they've arrived with all-new flavours, exclusive to the Disney Halloween event.

There's lots to see and experience at this year's Disney Halloween. Be sure to look everywhere, even in shop windows. And if you're eager to see more of the food and drinks available at both parks then click here.