TENQOO Restaurant at Hotel Metropolitan Marunouchi Offering Strawberry Parfait Lunch for a Limited Time
Hotel Metropolitan Marunouchi's restaurant TENQOO, located on the 27th floor, is now offering a weekday-only lunch set with a scrumptious strawberry parfait until March 31, 2022.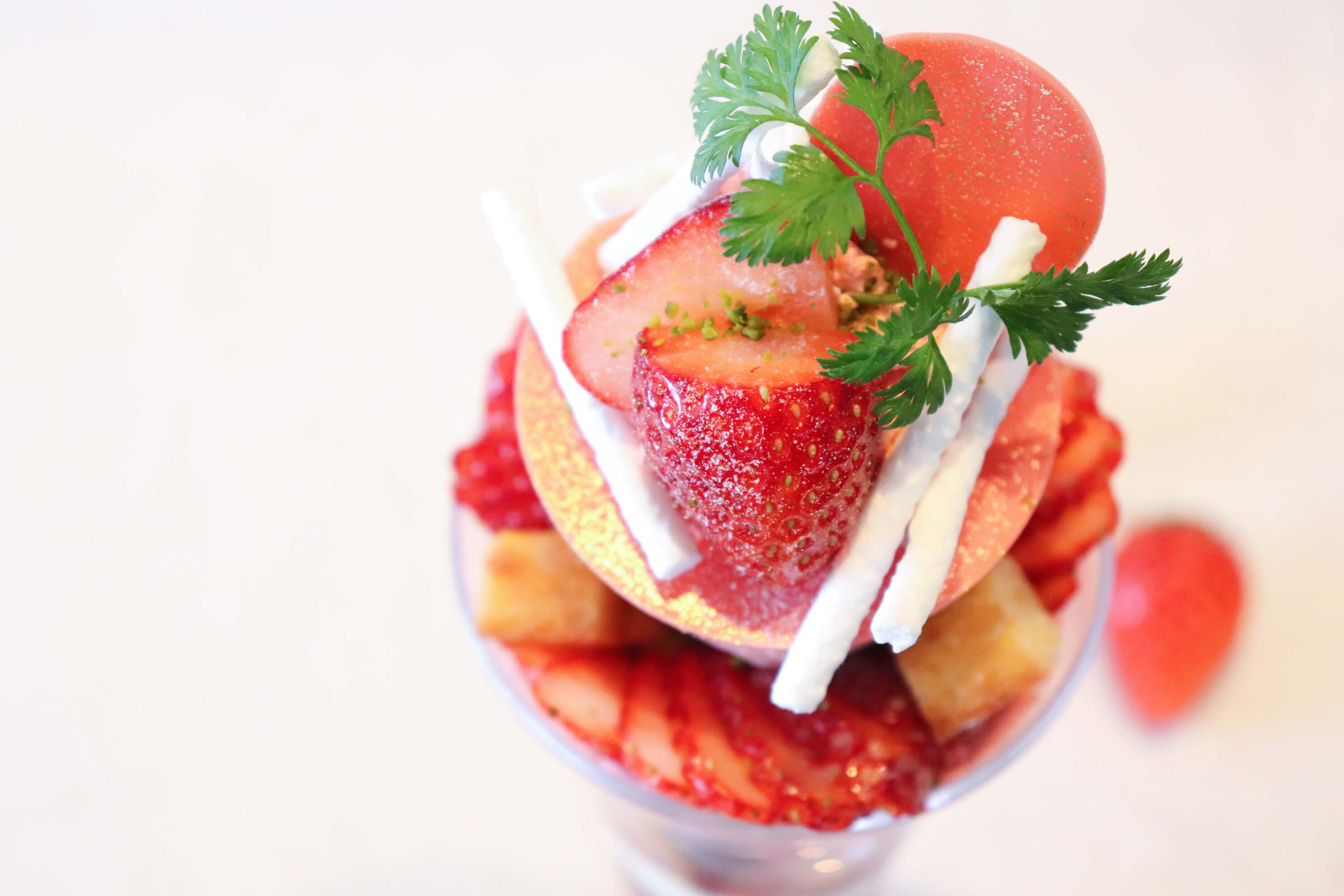 Tochitome Strawberry Parfait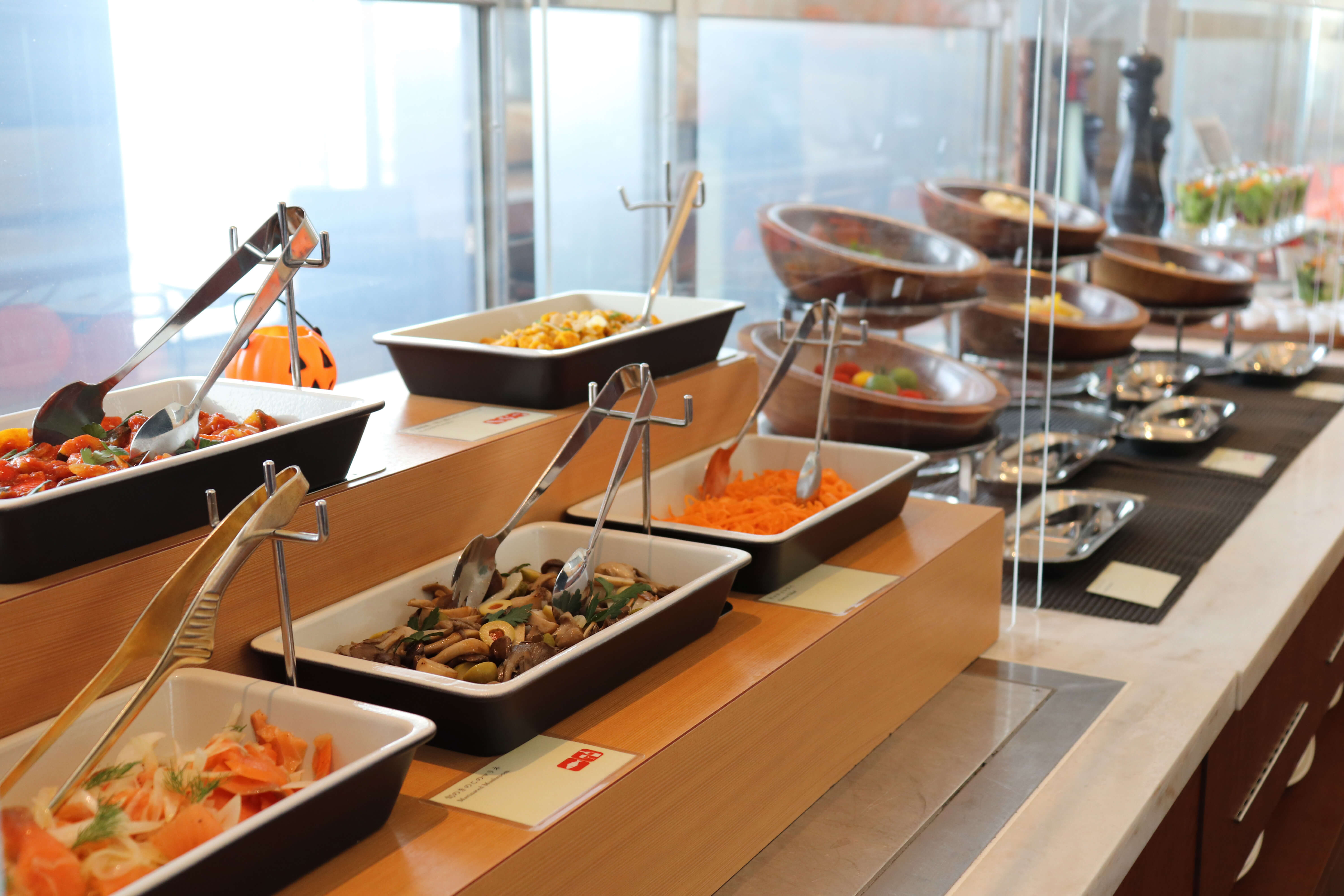 Appetizer & Salad Buffet
Dining & Bar TENQOO
The strawberry parfait, made with strawberries from Tochigi Prefecture, was designed to be a light and refreshing dessert. Guests can also enjoy the buffet-style appetizer and salad buffet along with a lineup of pasta.
Strawberries from Tochigi Prefecture were selected for their juiciness and balance of sweetness and acidity. With high sugar content, they pair wonderfully with jellies and cream. Complete with jasmine jelly and blancmange, this will be a lunch to remember.
RELATED ENTRIES
Hoshinoya Tokyo to Offer New Year's Kabuki Plan Inspired by Edo Period Theater Teahouse

Hoshinoya Tokyo, a traditional ryokan in Otemachi, has announced the New Year's Kabuki Plan, a two-day, one-night stay from January 5 until January 7, 2023. During the Edo Period, citizens enjoyed watching Kabuki plays during the New Year's holidays, often sipping tea at connected teahouses. This event will invite visitors to experience what this was like, complete with traditional food and decorations.

Watching Kabuki was a chic way for those in Edo to ring in the new year. Theater teahouses were also a popular gathering place–along with arranging tickets, the teahouses offered plot notes, tea, sweets, boxed lunches, snacks, and other drinks.*

*Hiroshi Fujita, Yoshihide Tomizawa (2012) / The Updated Kabuki Dictionary, Kashiwa Shobo

Relax Before Enjoying Tea and a Play

Guests are invited to relax in the Ochanoma (Living Room) Lounge, decorated to look like a traditional teahouse with fans, ukiyo-e prints, and formal curtains. Hanabiramochi, or rice cakes with flower petals, will be served with green tea. These rice cakes are said to date back to the New Year's tradition of eating hard foods like daikon and rice cakes in the hopes of prolonging one's life. Characterized by its curious burdock root aroma, the cakes are sweetened with white miso bean paste. 

Enjoy a Post-Viewing Mont Blanc Shaped like Soba with Sweet Dessert Wine

At theater teahouses in the Edo period, sake, snacks, and desserts were served one after another. During this special event, a menu inspired by this practice and prepared by Hoshinoya Tokyo Executive Chef Noriyuki Hamada will be served! Soba noodles were often served after a play in the past. Inspired by this tradition, Mont Blanc made with chestnut paste and sponge cake will be served up to look like this popular dish. Paired with a dessert wine aged in oak barrels, the sweet will be served in a traditional lacquerware basket. In addition, the dish will be paired with Wasabi Pralines, Shichimi Meringue, and Ginger Pate de Fruits. 

Take a Rickshaw to the Kabuki-za Theater

Guests will be taken on an Edo-style tour on their way to the Kabuki-za Theater. Passing through the Nihonbashi area, the first stop will be the Fukutoku Shrine. It's said that Hidetada Tokugawa paid a visit to and praised the shrine on New Year's Day in 1614. The next shrine on the docket, Hodo Inari Jinja, was enshrined in Edo Castle during the Edo period to protect the heir to the Tokugawa family. It's said that the shrine provides blessings for child rearing, matchmaking, and business prosperity. 

This tour will provide a more elegant way to explore Tokyo as guests enjoy exposition from their chauffeur. To make the rickshaw ride even more enjoyable, guests can rent kimonos for an extra charge.

Would you like to take a step back in time this New Year?

Information

New Year's Kabuki Plan

Running: January 5 – January 7, 2023

Capacity: 1 couple per day (1-2 people)

Price: ¥110,000 per person, ¥180,000 for 2 people (Including Tax & Service charge, excluding accommodation charge)

*Reservation required at least 14 days in advance

**Exclusive experience for Hoshinoya Tokyo guests

Japanese-Style Strawberry Afternoon Tea Arrives at Hoshinoya Tokyo

Hoshinoya Tokyo, a Japanese-style inn in Otemachi, Tokyo, will offer a strawberry-filled afternoon tea set from January 7 until May 31, 2023.

Fragrant Strawberry Afternoon Tea

The Fragrant Strawberry Afternoon Tea is a modern-day expression of the traditional Japanese tea ceremony. A major part of Edo culture, guests can enjoy small dishes, sweets, and more. All 10 dishes are made with seasonal strawberries and fermented foods. Visitors can enjoy a plethora of unique textures and flavors, from a French cake with four layers of strawberry sauce to a strawberry confiture in dough kneaded with amazake.

Enjoy Unique Pairings

Dim sum, sweets, and dried goods will each be served with a proper pairing. The oshizushi is paired with a sparkling sake that perfectly matches the seasonal ingredients, and accompanying the main sweets is original coffee brewed in a French press. This coffee was developed exclusively for the afternoon tea set by the specialty coffee shop Sarutahiko Coffee. 

Original Box

Since ancient times, the fuchidaka has been used as a sweets dish to accompany stronger tea. This afternoon tea will be served in an eye-catching original decorated stacked box decorated with jewel beetles. Come enjoy this elegant treat with a loved one to celebrate the new year!

Information

Fragrant Strawberry Afternoon Tea

Available: January 7 – May 31, 2023
Available after 14:00
Capacity: 1 couple (2 people) per day
Price: ¥12,000 per person (Includes tax and service charge) *Doesn't include hotel charges
Venue: Hoshinuya Tokyo 2F Tatami Room
Reservations: Required at least 3 days in advance (https://hoshinoya.com/tokyo/)

Limited Time Shinbashi-iro Parfait Available at Shiseido Parlour

The special Shinbashi-iro Parfait will be available from October 1 until October 31 at Shiseido Parlour Nihonbashi, Yokohama Takashimaya, Yokohama Sogo, Shiseido Parlour Nagoya, and Salon de Cafe Lazona Kawasaki Plaza.

Shibashi-iro is a bright greenish-blue color that is known to be traditionally Japanese. It was named after the color of kimono worn by Shinbashi geisha, who were known to be at the forefront of fashion during the late Meiji period.  In 1902, at the soda fountain–later renamed Shiseido Parlour–many Shinbashi geisha would take a break to enjoy some tasty soda water. This parfait was designed to conjure images of these chic and glamorous ladies. 

The Chic and Stylish Shinbashi-iro

Shibashi-iro is a greenish-blue color that is traditionally Japanese. The name was derived from the color of kimono worn by Shinbashi geisha between 1868 and 1912. 

The parfait is made with traditional vanilla ice cream, green apple filling, and blue jelly with decorative flourishes. Why not come enjoy this unique treat? 

Information

Shiseido Parlour's Limited Time Shinbashi-iro Parfait

Available: October 1 – October 31, 2022

Where to Buy: Shiseido Parlour Nihonbashi, Yokohama Takashimaya, Yokohama Sogo, Nagoya, Salon de Cafe Lazona Kawasaki Plaza

Official Site: https://parlour.shiseido.co.jp/

Kyoto's Itohkyuemon Offering Uji Green Tea Mont Blanc Parfait & Chestnut Sweets Plate for a Limited Time

Uji, Kyoto is known for its tasty matcha. Founded in 1832, Itohkyuemon offers up some of the most delicious green tea sweets in Japan. Starting on September 1, several locations are serving up an Uji Green Tea Mont Blanc Parfait and a tasty Chestnut Sweets Plate!

Uji Green Tea Mont Blanc Parfait and Chestnut Sweets Plate

The Uji Green Tea Mont Blanc Parfait is decorated with a beautiful chestnut skin on top and served with yellow candied chestnuts and baked meringue with a dazzling white color. The inside includes cookie dough, homemade Uji green tea jelly, crunchy agar, two kinds of ice cream, and Uji green tea honey. This autumn-only parfait allows guests to enjoy the taste of Uji green tea while also sampling the delicate flavor of Japanese chestnuts. The Chestnut Sweets Plate offers eight kinds of sweets in one go, including the autumn-only Chestnut Green Tea Roll Cake and Chestnut Green Tea Daifuku, Uji Hojicha Cheesecake, Uji Green Tea & Hojicha Raw Chocolate, Uji Green Tea Mini Parfait, and Uji Green Tea & Chestnut Ice Cream.

Uji Green Tea Mont Blanc Parfait

Chestnut Sweets Plate

Information

Uji Green Tea Mont Blanc Parfait and Chestnut Sweets Plate

■Uji Green Tea Mont Blanc Parfait

Available: September 1 – Early October

Where to Buy: Uji Main Store, JR Uji Station Store, Shijo-dori Store

■Chestnut Sweets Plate

Available: September 1 – Late November

Where to Buy: Uji Main Store, JR Uji Station Store, Shijo-dori Store

Official Site: https://www.itohkyuemon.co.jp/corporate/

Anime 'The Vampire Dies in No Time' Inspires Concept Room in Shin-Yokohama

Shin Yokohama Prince Hotel will be offering a special room and collaboration menu inspired by the popular anime series The Vampire Dies in No Time from September 22 until November 30, 2022. Reservations will open on the hotel's official website starting September 12 at 1:00 PM. 

The Vampire Dies in No Time follows the hilarious adventures of the vampire Draluc and the vampire hunter Ronaldo. Set in the city of Shin-Yokohama, it makes sense that this collaboration would be taking place!

Original Goods

Collaboration Menu

Guests and fans of the series will be able to enjoy a fully-decorated room and collaboration menu inspired by characters from the popular anime series.

The concept room, located on an upper floor overlooking the Shin-Yokohama cityscape, is decorated with illustrations of Draluc, Ronaldo, and other characters. The guest-only goods feature newly-drawn illustrations. 

Sweets plates and drinks will be served at the restaurant on the top floor of the hotel. Guests can enjoy desserts shaped like Ronaldo's red hat and Draluc's ashes, so don't miss it!

©盆ノ木至(秋田書店)/製作委員会すぐ死ぬ

Information

Shin-Yokohama Prince Hotel x The Vampire Dies in No Time
Available: September 22 – November 30, 2022

Collaboration Menu

Available: September 22 – November 30, 2022
Venue: Top of Yokohama Bar & Lounge (42F)
Hours: Weekdays 4:00-7:00 PM / Weekends & Holidays 2:00-5:00 PM
Reservations Open: September 12, 1:00 PM
https://www.princehotels.co.jp/shinyokohama/plan/contents/94

HOTEL SHE, KYOTO Invites Guests to Stay in a Gallery for a Limited Time

Art subscription service Casie is collaborating with HOTEL SHE, KYOTO! A special art exhibition titled GALLERY HOTEL SHE, will be held from September 17 until October 16, inviting guests to enjoy the once-in-a-lifetime experience of staying in a gallery overnight!

During the event period, guests of HOTEL SHE, KYOTO will be able to select their favorite piece of artwork from an on-site gallery. The piece will then be hung in their guestroom, and visitors can spend the night appreciating it at their own pace. This is a great way to learn more about art appreciation, and guests can enjoy discussing the art world with their friends and family. 

 

"Although we may view art in museums and other venues, it is rare to have the opportunity to select and display a work of art of our own choice," the project description reads. "Through this unique experience, we aim to provide guests the chance to actively engage with art and inspire them to make art a part of their daily life going forward."

Toshio Suzuki Studio Ghibli Exhibition Inspires Limited-Time Hotel Suite

The Grand Prince Hotel Takanawa in Tokyo will offer a special suite inspired by the upcoming Toshio Suzuki Studio Ghibli Exhibition from July 1 until August 31, 2022. This will include tickets to the exhibition, which will take place at Warehouse Terrada in Shinagawa from July 1 until September 7. 

Toshio Suzuki, a producer at Studio Ghibli, has worked with both Hayao Miyazaki and Isao Takahata on a number of beloved masterpieces. The exhibition will feature a large bookshelf housing 8,800 of Suzuki's publications and favorite tomes. Many of these were published before Suzuki joined Studio Ghibli, and guests are invited to see how the producer was inspired to join the legendary studio after working as an editor at a manga magazine. To commemorate the exhibition's opening, this special suite is filled with books written by Suzuki along with other books that visitors may enjoy during their relaxing stay. 

In the suite, guests will find a list of 106 books that influenced Suzuki the most. This list will be available to take home. Visitors will also find reproductions of Suzuki's calligraphy. 

©TS ©Studio Ghibli

Banyan Tree Group Opens Garrya Nijo Castle Kyoto Hotel

Banyan Tree Group, one of the world's leading independent hospitality groups, held the grand opening of Galleria Nijo Castle Kyoto, on Friday, June 17, 2022. This is the first of the group's hotels to open in Japan.

Hotel Exterior

Located south of Nijo Castle, a World Heritage Site, and named after the beautiful winter flower, Galleria Nijo Castle Kyoto is a small, modern, and minimalist luxury hotel that offers simple guests a chance to recharge themselves.

Wellbeing Room


For the grand opening, a new Wellbeing Room has been opened where visitors can experience quiet meditation.

Visitors can stroll through nearby gardens, temples, and shrines, take a tour of Kyoto's many historical sites, or spend time in the Wellbeing Room meditating or practicing yoga to recharge their batteries away from the hustle and bustle of everyday life.

The French Restaurant Singular will also offer up healthy and tasty meals with a focus on local ingredients and producers.


Enjoy a visit to Kyoto in this peaceful space perfect for resting both body and soul.

TOOTH TOOTH TOKYO in Ebisu Releases New Evening Parfait for Adults

TOOTH TOOTH TOKYO, a French bistro located in Ebisu, will offer three unique parfaits perfect for adult palates starting June 1, 2022 for a limited time.

These three sweet treats are perfect for an after-meal snack or a reward for a hard day's work. As delicious as they may be, they're also delightful to look at, each made with care and filled with seasonal fruits. An evening at TOOTH TOOTH TOKYO will be a luxurious and colorful experience this summer.

White Peach Fromage Parfait with Honey Tuile: ¥2,000 (Tax Included)
The melt-in-your-mouth parfait includes sweet peach covered with Earl Grey tea leaves, homemade apricot pound cake, lemon mousse, and a crispy honey tuile for a touch of luxury.

Parfait Exotica ~Mango Quenelle and Coconut Blancmange & Pistachio: ¥1,900 (Tax Included)
This mango treat with a dollop of coconut blancmange is made extra delicious with a pairing of pistachio ice cream. Dried pineapple and lotus flowers garnish this mature summer dessert. Enjoy the rum-soaked dried fruits!

Caramelized Figs & Red Wine Spiced Chocolat: ¥1,600 (Tax Included)
Juicy caramelized figs doused with spiced sangria make up the heart of this dish. The Belgian chocolate ice cream is served with a light cheese tuile, an accent with just the right amount of texture and saltiness.

Information

TOOTH TOOTH TOKYO

Venue: Tre di Casa Ebisu 1F/B1 (3-17-12 Higashi Shibuya-ku, Tokyo)
Hours:

Monday-Thursday, Saturday: Lunch 11:30-15:00 / Cafe & Dinner 15:00-23:30 (Last Order at 22:30)

Sunday: Lunch 11:30-15:00 / Cafe & Dinner 15:00-23:00 (Last Order at 22:00)

Friday: Lunch 11:30-15:00 / Cafe & Dinner 15:00-28:00 (Last Order 23:30)
*Closed from 15:00-16:00 

Official Site: http://www.toothtooth.com/restaurant/tooth-tokyo/

Buffet Inspired by 'Moominvalley Turns Jungle' to be Held for the First Time at Keio Plaza Hotel Hachioji

From June 1 until August 31, Keio Plaza Hotel Hachioji is inviting guests to travel to the adorable world of Moomin by partaking in two tasty buffet events at the Le Clair Restaurant on the second floor. In Moomin's home country of Finland, people start enjoying the summer following the solstice in June. The theme of this project is 'Moominvalley Turns Jungle,' inspiring the hotel's chefs to create a spectacular original menu. A tasty lunch buffet will be held Tuesday through Friday during the event period, while a sweets buffet will take place on weekends and holidays. The restaurant's interior will be decorated with artwork from Tove Jansson's 1956 comic Moominville Turns Jungle.

The Moomin Lunch Buffet is titled 'Jungle Party in Moominville,' and will depict a fun summer lunch get-together in the titular character's home village. The lineup of foods includes smoked salmon canapes, marinated herring, and sardine sandwiches, all typical of Scandinavian cuisine. Plenty of spiced dishes and veggies will be available, the latter looking like they came from Moominmamma's garden. August 9 is Moomin Day, and the chefs will be preparing some extra goodies for each guest on that day only.

The Moomin Sweets Buffet will feature adorable desserts created by expert pâtissiers and will be inspired by Moomin and his friends enjoying the summer. From red velvet cake made to look like Little My's dress to chocolate mousse in the style of Moominpappa's Silk Hat, fans of the series will want to snap plenty of pictures before they dig in! Tons of sweets will include popular Scandinavian ingredients like red currants, raspberries, and blueberries. The welcome plate, limited to one per person, will change monthly, with a Tropical Parfait coming in July and an Edible Jungle coming in August. Light meals will also be available to compliment the sweets.

The Sweets Buffet will also include a special table plan limited to three per day, using plates and mugs included in the Moomin by Arabia 2022 Summer collection. Guests participating in this plan can order a special non-alcoholic cocktail created by the restaurant's bartender and made with rose-colored ice inspired by Moominmamma's love for flowers.

Information

Moomin x Keio Plaza Hotel Hachioji

 

Moomin Lunch Buffet ~Jungle Party in Moominvalley~

Running: June 1 – August 31, 2022 [Tuesday-Friday only]
Location: Le Clair Restaurant, 2F
Hours: 11:30-15:30 (2-hour seating) *Last order 30 minutes before reservation ends.

Moomin Sweets Buffet ~Moominvalley Turns Jungle Fun Summer Time~
Running: June 4 – August 28, 2022 [Weekends and Holidays only]
Location: Le Clair Restaurant, 2F
Hours: [1] 11:30-13:00 [2] 12:00-13:30 [3] 14:30-16:00 [4] 15:00-16:30

Buffet Bonuses: https://www.fujibi.or.jp

Advanced Reservations begin on May 17, 14:00 for hotel email subscribers, LINE Friends only
Standard reservations begin May 19 at 10:00
Details/Reservations: https://www.keioplaza.co.jp/hachioji/event/moomin/

Moomin by Arabia Product Information:
https://www.arabiajapan.jp/products/list.php?category_id=61
Sekiguchi Product Information: https://www.sekiguchi.co.jp/collection/

Conrad Tokyo Hotel to Offer Peach Afternoon Tea in Collaboration with Luxury Brand Wedgwood

Starting July 1, guests visiting the five-star Conrad Tokyo hotel can enjoy a new peach-filled afternoon tea menu for a limited time. Designed in collaboration with the British luxury brand Wedgwood, the lineup includes both savory and sweet items perfect for summer. The afternoon tea will be available on the 28th floor at the aptly named Twenty Eight Bar and Lounge.

In collaboration with Wedgwood, a 260-year-old porcelain and fine china brand used by the British royal family, this special service will feature an afternoon tea plate with a tempting array of sweets. The plate itself is from Wedgwood's world-renowned Gio collection and features a honeycomb pattern embossed on fine bone china. The contrast between the modern setting, the classic and refined shape of the white tableware, and the beautiful pink treats will come together to create the most memorable summer moment imaginable.

Coconut & Earl Grey Panna Cotta / Rose Jelly / Peach Compote

Wine and Peach Gelatin / Vanilla Mousse

White Peach Mousse / Raspberry Gelatin

White Peach and Soy Milk Sandwich

Apricot Tart / Peach Cream

Peach Soup / Lobster Consomme Jelly

White Peach and Chicken Mousse Tart

Pork Rillettes and Peach Slider

Highlights from the sweets menu include coconut & Earl Grey Panna cotta served with rose jelly and peach compote, peach gelatin infused with red wine and vanilla mousse, and a delectable white peach and soy milk sandwich. For those with less of a sweet tooth, the afternoon tea service also offers delectable dishes like a white peach and chicken mousse tart, a pork rillettes and peach slider, and more. Guests can also enjoy a selection of scones in either plain or coconut, each served with clotted cream and either peach or guava jam. Over 20 beverages will be on offer, including Wedgwood teas.

Yunohana Onsen Resort Reveals Contemporary Art-Inspired Guest Rooms

Sumiya Kihoan, a cozy inn at Yunohana Onsen in Kameoka City in Kyoto, opened a unique new guest room on April 28, 2022. The room's concept is "where guests can stay in the middle of contemporary art," and was inspired by the works of internationally-acclaimed contemporary artist Yukinori Yanagi. The new room, created as part of the Art Room Project, has been named 'Kofuu.'

The Icarus Corridor Connecting Heaven and Earth

Heavenly Bath Welcoming a Rainbow at Dusk

In-Ground Bath Featuring Oribe Glazed Ceramic

Concept Drawing of the Art Room Project by Yukinori Yanagi


The new room includes an open-air bath where guests can be transported into the world of Yanagi's contemporary art while gazing at the gorgeous Kyoto landscape. Upon entering the inn, guests are greeted by a long corridor leading to the bedrooms, dining room, and two creative open-air baths. The space was created in collaboration with Yanagi and local artists and craftsmen, such as potter Ishii Naoto, obi craftsman Yamaguchi Genbei X, plasterer Kusumi Akira, and Japanese paper craftsman Hatano Wakaru. A delicious menu is prepared by chef Hosoi Kunihiko.