Anime Series Chibi Maruko-chan Inspires New Sake from Hatsukame Brewery in Shizuoka
Last year, Hatsukame Sake Brewery, a staple in Shizuoka Prefecture, released a collaborative special edition sake featuring Papa Hiroshi from the anime series Chibi Maruko-chan. The collab makes sense, as the anime series takes place in Shizuoka Prefecture. Bottles sold out incredibly fast, so it's no wonder that the brewery has now opened orders for the 2022 batch! The special products will be available on June 4, just in time for Father's Day. Customers can choose from the Junmai Ginjo or Junmai Daiginjo varieties.
Junmai Ginjo Papa Hiroshi Vintage 2022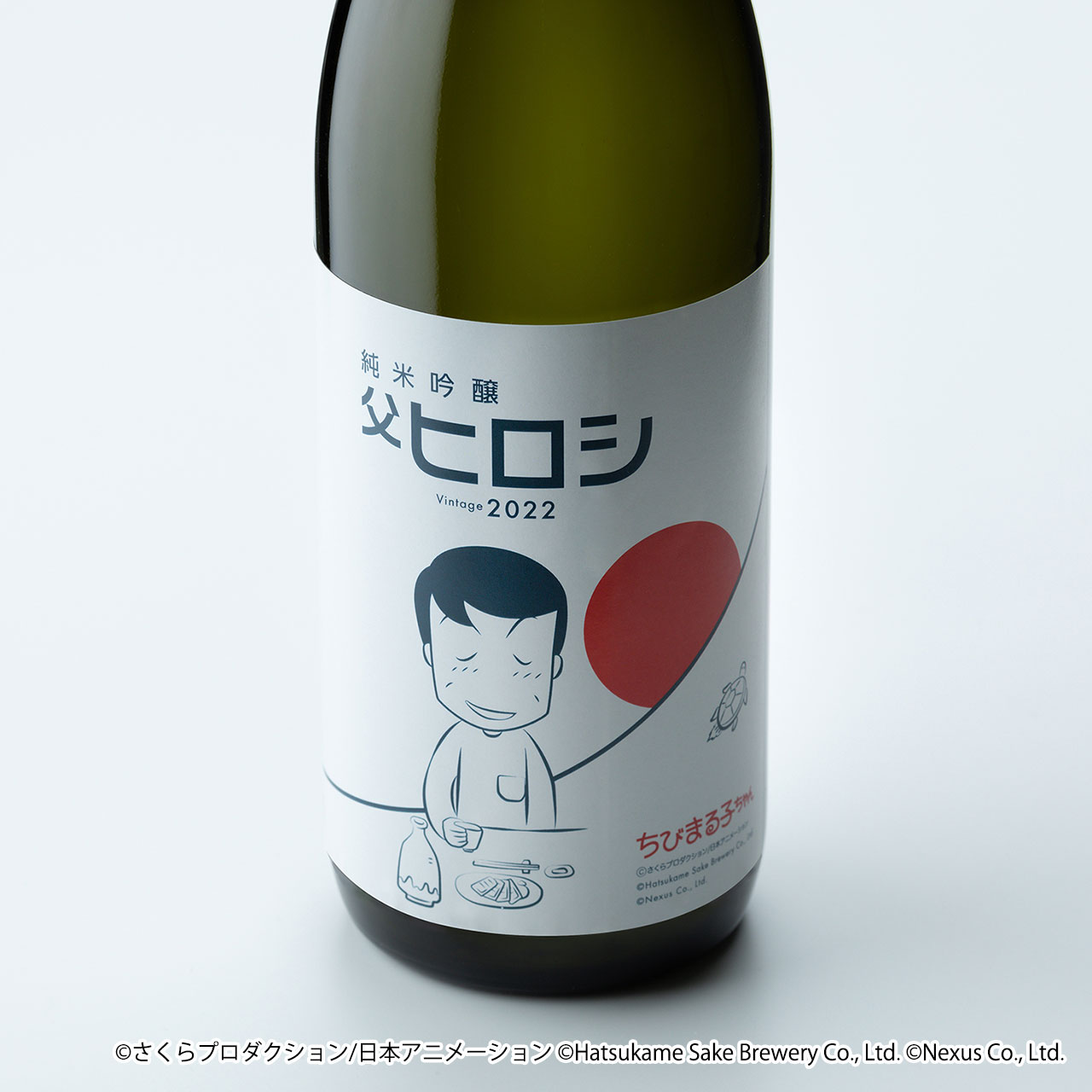 Junmai Daiginjo Papa Hiroshi Vintage 2022
The Junmai Ginjo Papa Hiroshi Vintage 2022 was made with water, rice, and yeast from Shizuoka, where the series takes place. With a refreshing aroma and a gentle sweetness derived from the Homarefuji rice, the flavor is sure to arouse your palate!

The original label featured on the bottle shows Papa Hiroshi enjoying local sake with tuna sashimi from Shizuoka with Mt. Fuji in the background. All bottles will come with a paper box featuring a similar design. The turtle on the label is the symbol of Hatsukame Brewing! It's recommended that customers drink their sake with local tuna–it's the perfect combination.
The Daiginjo variety is made from rare Aiyama rice, known as the 'Diamond of Sake Rice.' Polished and carefully prepared by hand, the aroma of the sake is reminiscent of tropical fruits. The final product has a rich sweetness.
Last year's label showed Papa Hiroshi in a Kimono watching the first sunrise over Mt. Fuji. Be sure to grab a bottle to experience the taste of Shizuoka! Only 223 bottles will be available, so be quick!
©さくらプロダクション/日本アニメーション ©Hatsukame Sake Brewery Co., Ltd. ©Nexus Co., Ltd.
Information
Junmai Daiginjo Papa Hiroshi Vintage 2022
Now available to order
Release Date: June 4, 2022 *After the release date, orders will be shipped within 3 weeks from the order date.
Where to Buy: Saketsunagi Online Shop https://saketsunagi.base.shop
RELATED ENTRIES
Popular Unko Museum to Open First Pop-Up in Shizuoka with a Stunning Mt. Fuji View

The poop-themed Unko Museum is heading to Shizuoka for the first time! Guests will be able to visit the unique exhibition from July 15 until September 25, 2022.

The Unko Museum has previously popped up in Yokohama, Tokyo, Shanghai, Fukuoka, Hiroshima, and even online. In Shizuoka, it will be held inside S-Pulse Dream Plaza, a spectacular venue with a view of Mt. Fuji. The educational museum features tons of poo-themed attractions, from the poop-spurting Unko Volcano to a game area. 

The museum first opened in 2019 and made news around the world. Since the flagship location opened in Tokyo, over 800,000 visitors have come to openings around the world.

While it may seem like a strange way to spend a day, would you like to come and experience this museum for yourself?

Information

Unko Museum Shizuoka

Address: S-Pulse Dream Plaza, 3F Special Event Space (13-15 Irifunecho, Shimizu-ku, Shizuoka)

Running: July 15 – September 25, 2022
Hours: 10:00-18:00 (Last entry at 17:30) *Open 13:00-18:00 on weekdays in September (Last entry at 17:30)
Open Daily
Details: https://www.sut-tv.com/event/exhibit/shizuo/

Limited Edition Sake Released Alongside NFT Art to Share the Value of Japanese Spirits with the World

Two incredible new Junmai Daiginjo bottles, the highest-quality sake, have been released in limited quantities. Hitou ASCENDING and Touka ILLUMINATING were made by sustainable means and incorporate NFT art to share the process of sake creation with the world.

 

While sake companies keep traditional Japanese production methods alive, some are seeking to solve problems in the sake industry by turning to current technology, like the blockchain and NFTs. In this age of convenience and automation, this particular sake maker is aiming to show the true value and authenticity of Japanese craftsmanship to the rest of the world. 

Certain types of sake can only be made and enjoyed at certain times of the year, as they are not suitable for storage at room temperature and can only be consumed for a brief period to get the best taste. Many sake fans around the world might not be aware of this, so the new NFT collaboration aims to educate!

 

The bottles contain unique ukiyo-e NFT art prints of a dragon and phoenix on the bottle, respectively. Those who purchase a bottle will also find the year of production and bottle number etched onto the glass with lacquer. Be sure to keep the bottle even after the delicious sake is gone!

Story

Rice / Tobe Rice
In Tokamachi, Niigata Prefecture, farmers have been cultivating this unique brand of Koshihikari rice without the help of pesticides or fertilizers for over two decades. The rice is called the best in all of Japan, and one-third of its yield is used to make sake.

Water / Pure Groundwater

The Japan Median Tectonic Line, also known as the 'Dragon's Vein,' is a massive fault line that is home to numerous sacred sites, including  Suwa Grand Shrine, Toyokawa Inari Shrine, Tenkawa Benzaiten Shrine, Ise Grand Shrine, and the Koyasan Mountain. The groundwater found here is some of the purest found in Japan and flows from the Bungui Pass in Ina, Nagano Prefecture. The pass has been featured in many publications as one of the most famous power spots in Japan.

Brewing / Ono Brewery

While dealing with some of the harshest winter weather in Japan, the brewery has continued to create sake the old-fashioned way–with human hands. For the creation of these two bottles, the brewers took on the challenge of making a very small amount of sake, something they had never done before. Based on the concept of "making the most of the environment," the rice was prepared in a special room with no air conditioning under the watchful eye of the master brewer.

Bottle Art/ Ukiyo-e Artist, Shun
The art displayed on the bottle is printed in a unique way, allowing it to be put on display separately. The Japanese-style art is perfect for the collaboration and was inspired by one specific hope: that a new path will open to those who work hard after the many difficulties and troubles caused by the pandemic.

Bottle Making / Maruyoshi Kosaka Wood & Urushi Works


The circular label symbolizes the moon (water) and the sun (fire), each representing a world where different values are not only accepted but welcomed. Hand-painted and made with pure platinum and gold leaf by the talented craftsman at Maruyoshi Kosaka Wood & Urushi Works in Shiojiri, Nagano, these advanced painting techniques are sure to impress.

Each Bottle Features the Brewing Year, Number Printed in Lacquer

Marked with a unique serial number, all proceeds from the sales of these special sakes will be used to maintain and promote sustainable agriculture, support sake brewers, and bring traditional Japanese craftsmanship to the world.

Information

Junmai Daiginjo – 'Hitou ASCENDING,' 'Touka ILLUMINATING'

Limited Quantity
Official Site: https://hitoutouka.com/

Pui Pui Molcar Inspires Pop-up Shop at Shizuoka PARCO

Shizuoka PARCO will open a pop-up shop inspired by the popular stop-motion series Pui Pui Molcar from March 30 until April 10! The shop has opened at seven PARCO locations nationwide so far, attracting over 45,000 fans.

Pui Pui Molcar aired for 12 episodes from January to March 2021. The series was directed by Tomoki Misato, and has attracted a worldwide fandom with its cute and fuzzy characters.

Extra-large Photo Spot

Merchandise

Pins (21 varieties)

Acrylic Keychain

Mini Canvas

Diorama Acrylic Stand

Blanket

Acrylic Signboard Stands



The venue will feature an oversized photo spot where visitors can take commemorative photos in a full-size Molcar, as well as a collection of commemorative merchandise featuring illustrations drawn exclusively for the shop. Since the first pop-up shop opened at Shibuya PARCO in July 2021, it has traveled to Urawa, Nagoya, Fukuoka, Sendai, Hiroshima, and Shinsaibashi. Why not check it out?


Information

Pui Pui Molcar Town Pop-up Shop
Running: March 30 – April 10, 2022 (10:00-20:00)

Address: Shizuoka PARCO 2F Event Space (6-7 Koyamachi, Aoi-ku, Shizuoka)
Official Site: https://shizuoka.parco.jp/


Hat Brand CA4LA Releases Chibi Maruko-chan 35th Anniversary Collaboration

To celebrate the 35th anniversary of the Chibi Maruko-chan series, the upscale hat brand CA4LA is releasing six collaboration items on March 18, 2022. 

Each Chibi Maruko-chan item highlights the unique and girly worldview of the series' main character, and all are decorated with the 35th-anniversary logo. 

Chibi Maruko-chan x CA4LA Bucket Hat: ¥8,800
Chibi Maruko-chan x CA4LA KIDS Bucket Hat: ¥8,250

These colorful new bucket hats are sure to attract attention, and kids' sizes are also available! 

Chibi Maruko-chan x CA4LA Beret: ¥9,900
Chibi Maruko-chan x CA4LA Bucket Hat: ¥9,900
Chibi Maruko-chan x CA4LA Marine Cap: ¥9,900

Each Chibi Maruko beret, bucket hat, and marine cap is made using high-quality materials with textures perfect for spring. 

Chibi Maruko-chan x CA4LA Hat: ¥19,800

One special limited-order item inspired by Maruko's hat in the series is only available to purchase on the CA4LA online store.

Information

Chibi Maruko-chan x CA4LA
Available: March 18, 2022
Where to Buy: CA4LA Locations Nationwide (excluding outlets), the CA4LA Online Shop, ZOZOTOWN

Special Collaboration Website: https://www.ca4la.com/special/chibimaruko/

*Certain special hats are only available at the web store and not at ZOZOTOWN or brick and mortar locations.
*Order deadline is March 27. Products are scheduled to be shipped in early June.
*Orders may end early depending on volume.

Chibi Maruko-chan 35th Anniversary Pop-up Shop Coming to First Avenue Tokyo Station

To commemorate the 35th anniversary of Chibi Maruko-chan, the Momoko Sakura Pop-up Shop will open from March 18 to March 31, 2022, at Ichiban Plaza on Tokyo Character Street in the First Avenue Tokyo Station mall.

The Chibi Maruko-chan manga series began in 1986, and was serialized in the popular shojo manga magazine Ribon until 2018. Written by Momoko Sakura, it tells the everyday life of the third-grade troublemaker Maruko and her family. The series is set in the Irie district in Shimizu, now a part of Shizuoka City, where Momoko Sakura was born.


 

About 40 never-before-seen items will be available at the shop with new illustrations by Momoko Sakura. From stationary to accessories, fans of the series shouldn't miss it!

Information

Momoko Sakura Pop-up Shop

Running: March 18 – March 31, 2022
Address: First Avenue Tokyo Station, Tokyo Character Street B1, Ichiban Plaza (1-9-1 Marunouchi, Chiyoda-ku, Tokyo)
Official Site: https://www.tokyoeki-1bangai.co.jp

Laid-Back Camp Starts Third Stamp Rally in Izu, Shizuoka Prefecture

Shizuoka Prefefcture is once again collaborating with popular anime series Laid-Back Camp for a special stamp rally. Two courses will be open from January 21 until March 21, 2022, and will take guests on a journey throughout the most gorgeous localities in the region.

This stamp rally is the third in a series of Laid-Back Camp and Shizuoka Prefecture stamp rallys held since November 2021. 

Those who finish the rally will be presented with a special clear folder featuring an exclusive illustration made for this event, so get traveling! 

(C) あfろ・芳文社/野外活動委員会

Information

Laid-Back Camp x Shizuoka Prefecture

Stamp Rally (Izu West Coast Course, Izu East Coast Course)

Running: January 21 – March 21, 2022

Location (Stamp Rally Points): Listed Below

Participation Fee: Free

Official Site: https://yurucamp-shizuoka.com/

Izu West Coast Course: 7 locations in total

・Numazu City   

Seaside Inn Oosekan

Nishiuraenashi, Numazu, Shizuoka

・Izu City  

Darumayama Kogen Rest House

Osawa, Izu City

・Izu City  

Amagi Wasabi no Sato

Yugashima, Izu City

・ Izunokuni City 

Roadside Station Izu-no-Heso

195-2 Takyo, Izunokuni City

・Nishiizu 

Koganesuto

3566-7 Ugusu, Nishiizu

・Nishiizu

Dogashima Shokudo

2045-3 Nishina, Nishiizu

・Numazu City   

Roadside Station Kurura Heda

1294-3 Heda, Numazu

Izu East Coast Course: 6 locations in total

・Ito City

Mt. Omuro 

1317-5 Futo, Ito

・Ito City   

1317-13 Izu Shaboten Zoo

Futo, Ito

・Ito City  

Hiroi Liquor Store

1298-9 Yawatano, Ito

・Higashiizu

Hosono Plateau Tree House Village

3150 Higashiizu, Kamo District

・Kawazu  

Izu Orange Center

1266-31 Midaka, Kawazu

・Shimoda

Shimoda City Tourist Information Center

Sotogaoka, Shimoda

OJAGA DESIGN Releases Chibi Maruko-chan and Cojicoji Daruma Keychains

Leather brand OJAGA DESIGN will release a line of Daruma keychains inspired by the popular series Chibi Maruko-chan! Maruko and Cojicoji keychains are now available for preorder at the brand's online store.

OJAGA DESIGN features goods made in Japan, with each piece dyed, cut, and hand-sewn at a workshop in Tachikawa City, Tokyo.

These new keychains show the popular characters as Daruma, symbols of good luck in Japan. 


These lucky items come in six colors total, with Maruko available in red, white, or yellow, and Cojicoji available in red, white, or black. They can be used not only as a normal keychain, but as a bag charm or luggage tag!


©さくらプロダクション/日本アニメーション
© さくらももこ

Information

Chibi Maruko-chan and Cojicoji Daruma

Types: Maruko (Red/White/Yellow) / Cojicoji (Red, White, Black)

Price: ¥4,950 each (Tax Included)

Release Date: December 24, 2021

Preorders & Details: https://hkds.tokyo/marukocojicojiojaga

Japanese traditional confectionery brand OKOSHIYA TOKYO opens in Marunouchi Building

Japanese traditional confectionery Okoshiya Tokyo, a brand specializing in okoshi (rice cake), opened in the Marunouchi Building on December 15, 2021.

OKOSHIYA TOKYO is a brand specializing in okoshi, operated by a small Japanese confectionery manufacturer in downtown Tokyo which is celebrating its 60th anniversary. OKOSHIYA TOKYO opened in Tokyo's Marunouchi Building as a store where customers can directly purchase the long-established okoshi, which has been sold only through the online store.

OKOSHIYA Maple Almond(60g)

aun 18 pieces (6 types x 3 pieces)

OKOSHIYA TOKYO's crispy okoshi is a new texture that can be eaten easily. The sweetness is kept low so that you can enjoy the natural flavor of the ingredients. It has a nostalgic and comforting taste.

Marunouchi (3 types x 3pieces) *Marunouchi Building Limited Edition

There are many theories about the origin of the word "okoshi", but it comes from the word "koshi", which means "to rise", and has been eaten as a confectionery for good luck. It can be used as a "friendship blessing" for friends who meet again after a long absence, a "cheering blessing" for those who are working hard towards their dreams and goals, a "love blessing" for a beloved partner, or to " bring good fortune" to newlyweds who are starting a new chapter in their lives. Let's convey not only the delicious taste but also your feelings to your loved ones through OKOSHIYA TOKYO's okoshi.

Information

OKOSHIYA TOKYO

Where: B1 1-4-2 Marunouhi, Chiyodaku, Tokyo, Maru Biliding B1F

Access: One-minute walk from Marunouchi South Exit of JR Tokyo Station, directly connected to Tokyo Station on the Marunouchi Line.

Opening Hours: Weekdays/Saturday 11:00~21:00 /Sunday/Bank Holiday 11:00~20:00

Official site: https://okoshiya.official.ec/

Adorable Hamster-shaped Cakes from Kyoto Now on Sale

Aoki Koetsudo, a 129-year-old confectionery shop in Kyoto, and 2:00, a Kyoto-based company specializing in unique products, have come together to create some incredibly cute hamster-shaped cakes. These pastries are called monaka, and feature azuki bean jam filling sandwiched between two crisp wafers made from mochi. Each set includes 6 wafers, six helpings of bean jam, and a bag of nuts, so customers can enjoy creating the pastries themselves! 

How to Enjoy Hamster Monaka

Fill the Hamster-shaped monaka with as much azuki jam as you like. 

Cover the monaka with the wafer and add one of the nuts provided. 

Paint the eyes and ears with chocolate to give each pastry some personality!

Egg specialty store TAMAGOYA to launch Strawberry Fair for a limited time in Shizuoka

Shizuoka-based egg specialty store TAMAGOYA is currently running a BERRY BERRY Strawberry Fair for a limited time.

TAMAGO Pudding Parfait

ICHIGP Pudding Parfait


Gigantic ICHIGO Shortcake Parfait

Strawberry-filled Pancakes

The cafe offers pancakes and parfaits made with strawberries from Shizuoka Prefecture. The menu includes the "TAMAGO Pudding Parfait" that looks like a fried egg with fluffy pancakes and pudding as a specialty of egg stores, and the seasonal "ICHIGO Pudding Parfait". The "ICHIGO's Giant Shortcake Parfait," which weighs over 5 kg, is available by reservation only.

Enjoy the harmony of eggs and strawberries to your heart's content.

Information

TAMAGOYA

Address: 1-322, Yasuhisa, Mishima-shi, Shizuoka, 〒411-0815 

Opening Hours: 9:00~17:00/cafe branch 9:30~17:00(L.O15:30)

Official Site: http://izu-tamagoya.com/

Gyoza Festival 2021 Opens at Nagoya PARCO

Pan-fried dumplings, or gyoza, can be found all over Japan from fine restaurants to convenience stores. They're cheap, easy to consume, and incredibly tasty. Those able to make it to Nagoya PARCO by December 26 can experience this year's Gyoza Festival, bringing together some of the best examples of creative and mouthwatering gyoza in the country. 

A number of participating restaurants within Nagoya PARCO have developed unique gyoza-centric menus, including Kimchi Gyoza from Yansando, Chicken Wing Gyoza with spicy tartar sauce from Kyoto Shijo Kuon, and Spicy Gyoza from ANDY CURRY, participating in the event for the first time. Yummy Hawaiian Barbeque is also offering nine new menu items only found at Nagoya PARCO, including Gyoza Pie. 

Participating Shops

Yansando Ueno Honten

ANDY CURRY

Nagoya Chicken Noodle Shop

Longhu Patio

Kyoto Shijo Kuon

FUJIYAMA55 RAMEN STAND​

Okuyama Yasuzou Himonoterasu

Yummy Hawaiian Barbeque

Information

Gyoza Festival 2021

Running: November 26 – December 26, 2021

Location: Nagoya PARCO West Building 7F

Official Site: http://www.parco.co.jp

Chibi Maruko-chan Celebrates 35 Years With Christmas Event at Minato Mirai

Popular anime and manga series Chibi Maruko-chan is turning 35 this year, and to celebrate, everyone's favorite mischievous schoolgirl is teaming up with Yokohama Landmark Tower for a Christmas celebration! The Landmark Christmas 2021 Happiness Holidays ~Enjoy a Grown-Up Christmas with Maruko~ will be held from November 11 until December 25, 2021. 

Stamp Rally Bonus

Original Sticker

Original Wallpaper

500 lucky winners will receive a limited-edition original tote bag!

Collaboration Menu & Merchandise

BUSINESS LEATHER FACTORY

Sky Cafe (located in the Sky Garden on the 69th floor of Yokohama Landmark Tower)

CHOCOLABO (Landmark Plaza 1F)

Flora Restaurant & Banquet Hall

Chibi Maruko-chan x Yokohama Royal Park Hotel Special Course

Chibi Maruko-chan x Yokohama Royal Park Hotel Kids Menu

Coffret Delicatessen & Lounge

Noguchi's Favorite Salad with Cod and Salmon Roe, served with Maruko Croutons

Tama-chan's Favorite Melon Caprese

The Chibi Maruko-chan manga series began in 1986, and was serialized in the popular shojo manga magazine Ribon until 2018. Written by Momoko Sakura, it tells the everyday life of the third-grade troublemaker Maruko and her family. The series is set in the Irie district in Shimizu, now a part of Shizuoka City, where Momoko Sakura was born. 

A number of heartwarming Maruko-themed decorations and exhibits will be set up around the Landmark Tower, with collaboration merchandise available at a pop-up shop and food available at specific restaurants during the event period. A stamp rally will also ask guests to go on a quest to find Maruko and her friends, and by collecting all of the stamps digitally, guests will receive a coupon for free admission for one adult to the Sky Garden observation floor (69F), along with an original Maruko-chan sticker. 500 winners will be selected by lottery to receive a limited-edition tote bag, and participating in the rally will get you an original wallpaper. 

Information

Chibi Maruko-chan x Minato Mirai Strolling Stamp Rally at Landmark Plaza / MARK IS Minato Mirai

Running: November 11 – December 25, 2021

Location: Landmark Plaza, MARK IS Minato Mirai

Installations: 

Landmark Plaza: In front of the see-through elevators on BF2, beside Cafe Mauka Meadows on 2F, beside Kyoto Kaiseki Minokichi on 4F

MARK IS Minato Mirai: B4F Eki-mae Plaza, 5F Event Space

Hours: 11:00-12:00

Chibi Maruko-chan Collaboration Menu/Merchandise

Running: November 26 – December 25, 2021

Location: Yokohama Landmark Tower, MARK IS Minato Mirai, Yokohama Royal Park Hotel

Flora Restaurant & Banquet Hall

Running: November 26 – December 25, 2021

Location: B1

Hours: 11:30-14:00 (Last Order)

Coffret Delicatessen & Lounge

Running: November 26 – December 25, 2021

Location: 1F

Hours: 11:00-20:00