From Harajuku to the world! Chasing the bright future of a rising star, FRUITS ZIPPER
FRUITS ZIPPER is a group quickly rising to stardom, debuted from "KAWAII LAB." KAWAII LAB is a new project to introduce Japanese idol culture from "Harajuku", a fashion town where various cultures and personalities gather, to the world. Members of the group include Amane Tsukihashi, Suzuka Chinzei, Yui Sakurai, Runa Nakagawa, Manaka Mana, Karen Matsumoto, and Noel Hayase.
Even before their debut, the group garnered attention for their breathtaking visuals. Their performances are so powerful, you would never expect such refined skill from such an adorable aesthetic, which is known to captivate the hearts of their fans. The group is produced by Misa Kimura, a model and TV personality who is also the general producer of "KAWAII LAB. She will utilize her experience and creativity as the leader of the idol group "Musubizm" to introduce idol culture to the world.
Expressing FRUITS ZIPPER's world through collaborations with creators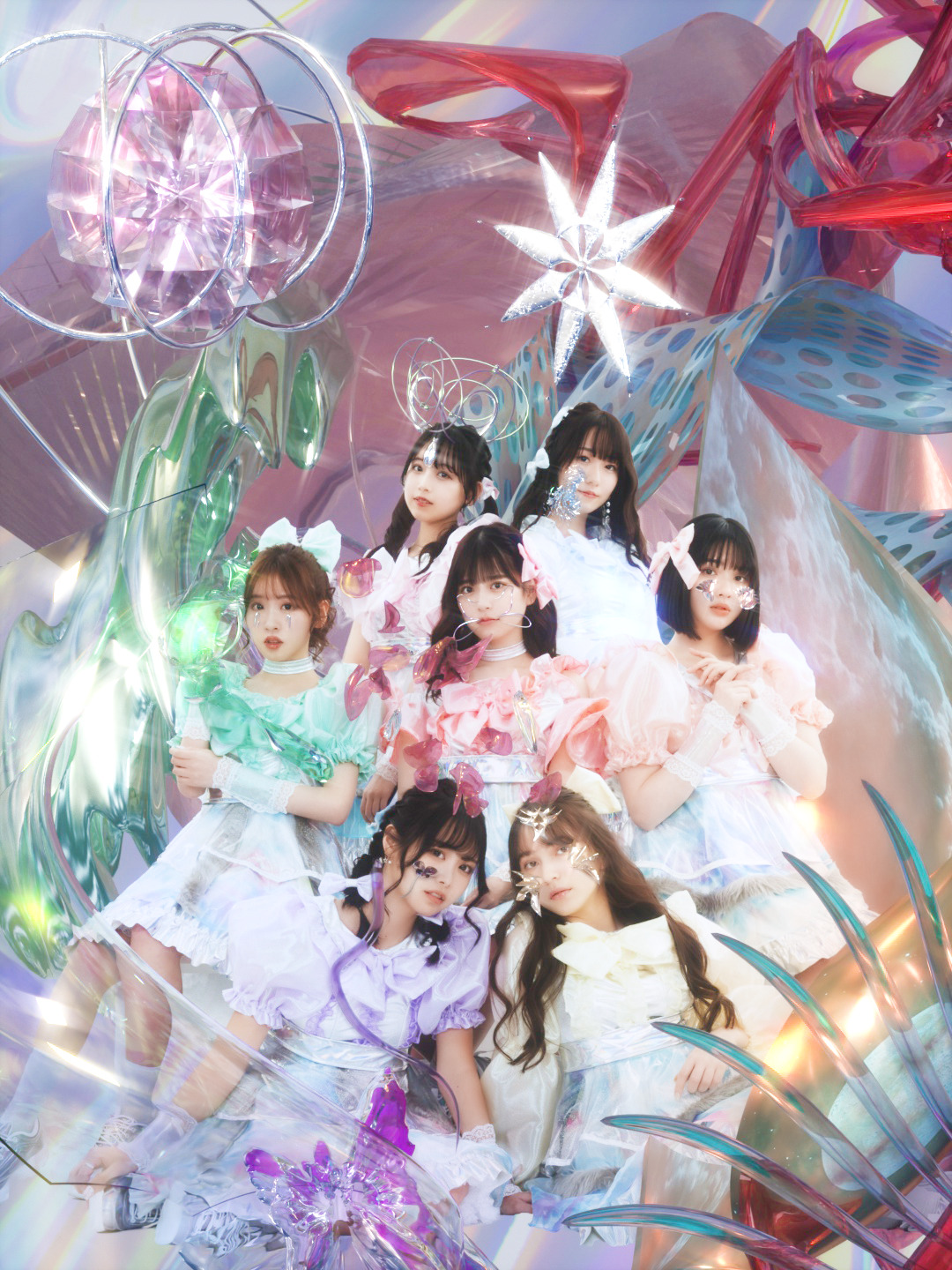 Furthermore, even before their debut, the group drew a lot of attention because of their collaborations with many different renowned creators. Among the collaborations includes the artist photos created by video director/art director/3DCG artist YUKARI. She uses a cutting-edge trend of CG-moving techniques, in addition to still-images. The mysterious colors of bright light that embraces the girls are definitely eye-catching.
Catchy and cute choreography of FRUITS ZIPPER
Followed by the debut song "Kimino Akaruimiraiwo Oikakete," a song with a positive message for the future, "Watashino Ichiban Kawaiitokoro," with its cute choreography and lyrics, won the hearts of people and was selected as one of the "TikTok Hot Songs in Japan" and charted on the Billboard. More than 13,000 videos using "Watashino Ichiban Kawaiitokoro" have been posted on TikTok with the hashtag "#わたしの一番かわいいところ (Watashino Ichiban Kawaiitokoro)." The long-awaited third single "Kanpeki Syugide☆", which was released on May 20, is an energetic tune created by music producer Manaka Suzuki.
Performances that reach into people's hearts and minds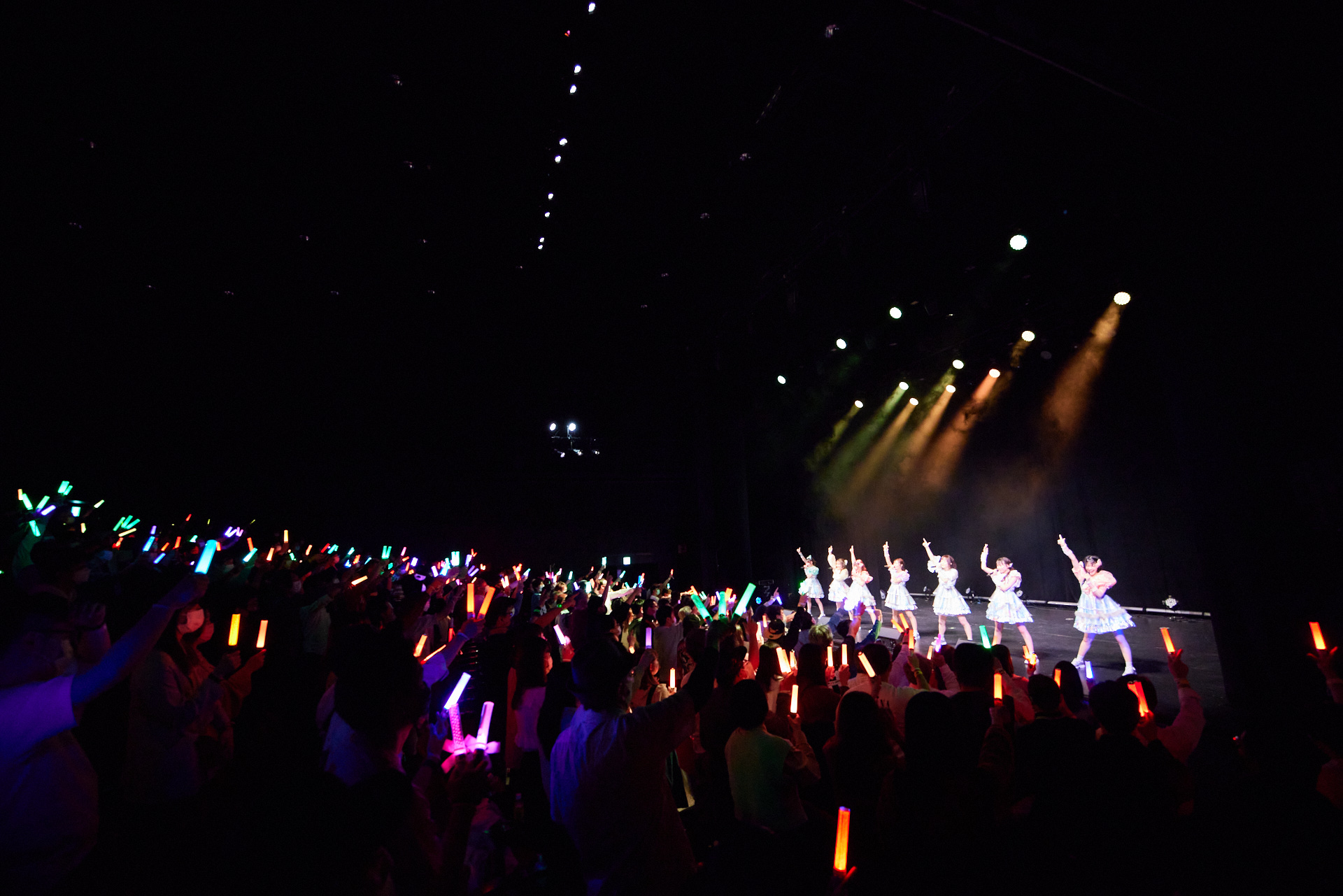 A pop-culture event presented by Asobisystem "ASOBE!!," was held at Spotify O-EAST on May 26th. In addition to FRUITS ZIPPER, fellow Asobisystem members Atarashii Gakko! and IDOLATER, who is also a member of "KAWAII LAB.", performed at the event. Many other remarkable idol groups also took part in the event, enlivening the venue.
Alongside their regular performances, they are scheduled to participate in a number of events, including the "LEADING PALETTE! and "HYPE IDOL! vol. 20" at Nihonbashi Mitsui Hall both June 12th. Make sure to come and see their live performance, it's sure to steal your heart!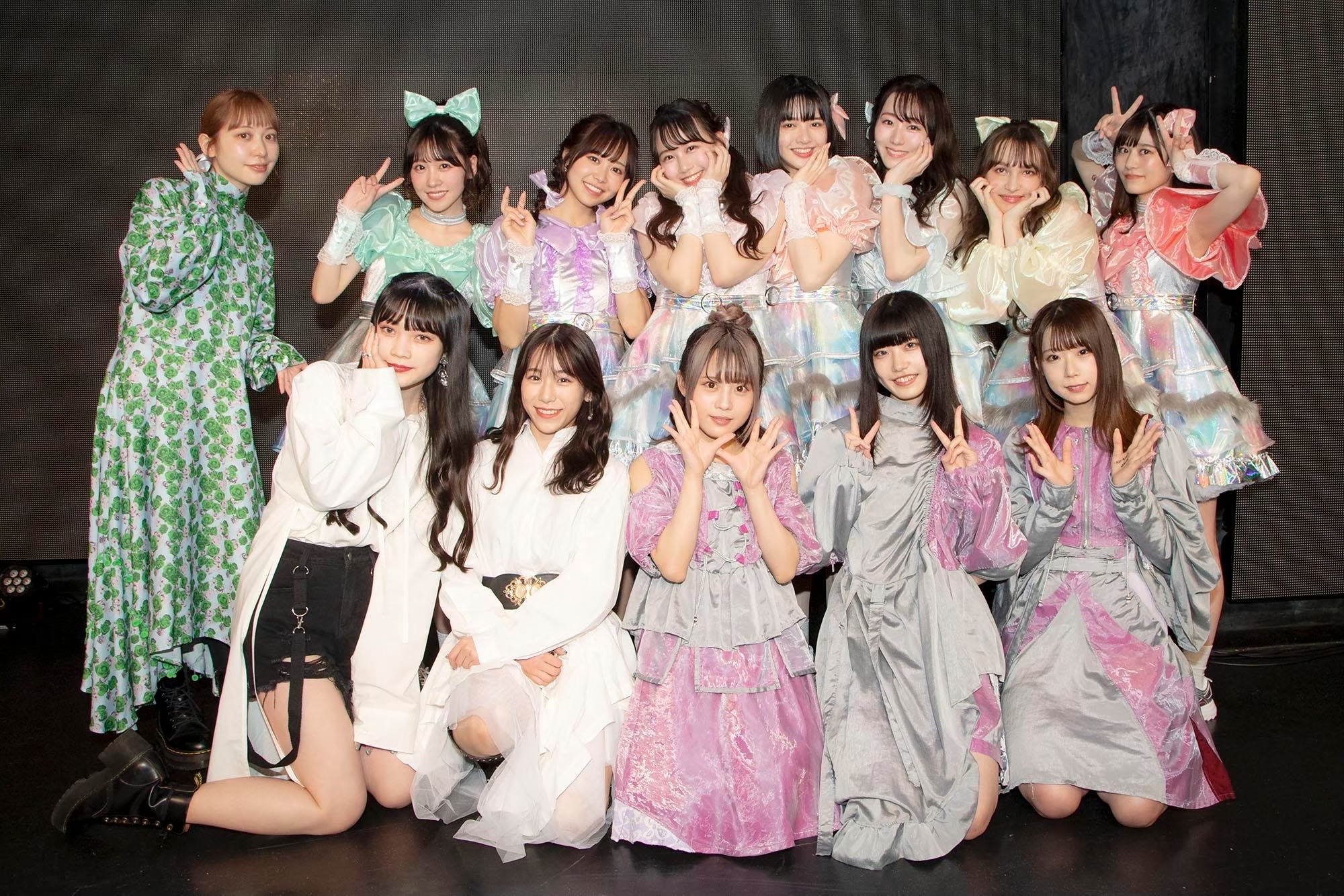 Additionally, KAWAII LAB. will be serialized on "Moshi Moshi Nippon," a website that provides the latest news of Japan to the world. The articles will be published in hopes of sharing the charm of IDOLATER and FRUITS ZIPPER with people not only in Japan, but also around the world. Details will be announced soon. Stay tuned for more from KAWAII LAB.!
RELATED ENTRIES
KAWAII LAB. Report #3: Introducing Two New Members of IDOLATER–a Long-Haired Model and a Gambler who Sings Too Well

KAWAII LAB. is a project spearheaded by ASOBISYSTEM with the aim of introducing the world to popular Japanese idol culture. Announced at the group's solo concert 'New IDOLATER' on April 24, Fuuka Oishi and Ririka Satsuki joined the lineup consisting of Ayu Okuda, Kurumi Tsukishiro, and Yukino Fushiki.

Today, we're introducing the two newest members–Fuuka Oishi and Ririka Satsuki.

Fuuka Oishi

▼Social Media Accounts

Twitter https://twitter.com/idolater_fuka

Instagram https://www.instagram.com/idolater_fuka/

▼Birthday

July 25, 1999

▼Height

163cm

▼Blood Type

B

▼Birthplace

Chiba Prefecture

▼Favorite Foods

Cheesecake, High Cocoa Chocolate (86~95%), Beef Tongue, Skirt Steak, Yakitori (Gizzards, Gristle)

▼Favorite Musical Artists

SEKAI NO OWARI, SKY PEACE

▼Favorite Manga/Anime/TV Shows/Radio Shows

One Piece, Naruto, Kotaro Lives Alone

▼Best Way to Spend a Day Off

Netflix、YouTube、Hanging out at a cafe

▼Favorite Phrase

Different Strokes for Different Folks! Everyone is different and everyone's great. 

▼Places She'd Like to Visit

Wherever I can see the beautiful ocean!

Korea, France

▼Favorite Part of Herself

The fact that I laugh a lot–and everything else!

▼Color

Light Blue

Born in 1999. With her characteristic long black hair and dainty yet listless atmosphere,
she's a model who has been attracting attention from all sides. Supported by creators and
having appeared as a model for fashion brands, she has also starred in TV commercials and in music videos. 

I Want to Die – Centimillimental

Although she has no experience singing or dancing, Fuuka brings her natural cheerfulness
to the group.

Ririka Satsuki

▼Social Media Accounts

Twitter https://twitter.com/idolater_ririka

Instagram https://www.instagram.com/idolater_ririka/

▼Birthday

August 17, 2000

▼Height

158cm

▼Blood Type

AB

▼Birthplace

Fukuoka Prefecture

▼Favorite Foods

Ramen, Gingko, Gyoza

▼Favorite Musical Artists

Avril Lavigne

Lady Gaga

Namie Amuro

▼Favorite Manga/Anime/TV Shows/Radio Shows

Tokyo Revengers, Attack on Titan, Demon Slayer: Kimetsu no Yaiba, Haikyu!!

▼Favorite Way to Spend a Day Off

Sleep, go to the movies alone, play slot machines (Juggler machines are my favorite!)

▼Favorite Phrases

・There is always light beyond the clouds.

・Stick to your guns. 

▼Places She'd Like to Visit

Hokkaido, Guam, Dubai, London

▼Favorite Part of Herself

Opening my big mouth, my smile.

▼Goal for the Year

Performing live at Zepp!

▼Color

Yellow

With a powerful and husky voice, Ririka previously appeared on TV Tokyo's 'The Karaoke
Battle U-18 Utauma Koshien.' In 2019, she appeared on AbemaTV's 'Koisuru Shuumatsu
Homestay' and became incredibly popular with middle and high school students. Recently,
she appeared on Nippon TV's 'Monomane Grand Prix,' and is active in a number of other
activities. 

Ririka Satsuki's strength lies in her singing ability. 

Be sure to check out her song covers on TikTok!

https://www.tiktok.com/@satsuki_ririka

Ririka also enjoys gambling, preferring the Juggler line of slot machines. She'd like to keep
it up in the future, if she's able. 


Her powerful, husky voice has created a kind of chemical reaction in IDOLATER. 

Stay tuned for the next installment of the IDOLATER series!

Next week's KAWAII LAB report will focus on FRUITS ZIPPER. 

KAWAII LAB. Report #2: FRUITS ZIPPER Group Interview ①

FRUITS ZIPPER, a new idol group from ASOBISYSTEM, has a simple concept: "From Harajuku to the World." Ready to transmit what they call 'NEW KAWAII' from Harajuku, an area known for fashion and individuality, to their soon-to-be global fanbase, the group consists of seven members: Amane Tsukiashi, Suzuka Chinzei, Yui Sakurai, Luna Nakagawa, Mana Manaka, Karen Matsumoto, and Noel Hayase.

Three members of FRUITS ZIPPER sat down with us for an interview. 

"Could you introduce yourself?" 

–Noel Hayase

"Hi, everyone! I'm the youngest member of FRUITS ZIPPER, Noel Hayase, and I'm 18 years old. I'm half-German and half-Japanese, but I attended an international school, so I'm pretty good at languages. I speak Japanese, English, German, and a little French! I like to play games, watch videos, and just hang out with friends, but I also love dancing and moving my body. I also like to work with technology, and edit my own videos and songs." 

–Suzuka Chinzei

"Everyone reading this on Moshi Moshi Nippon, it's nice to meet you! 

My name is Suzuka Chinzei, but you can call me Osuzu!

I spend about ⅓ of my waking hours thinking about food, especially gyoza 🥟and fried tofu. I'd prefer my gyoza with a thin skin and filled with veggies. I'm a big fan of pairing alcohol with my food too!

I grew up in Nishinomiya in Hyogo Prefecture. Fans of the anime series The Melancholy of
Haruhi Suzumiya will be familiar with the town–I used to do the dance from that show all the
time. I've loved dancing since I was a kid. My mom told me that once when I was young, I
started dancing to the song Kawaii Kakurenbo, but I was crying because I didn't WANT to dance–I just couldn't help it. I guess I just want to dance on a cellular level. 

I started appearing on NHK Educational TV's Tensai Terebi-kun MAX when I was in 5th grade.
Since then, I've started appearing on different variety shows, and I'm currently working on
Nyanchuu! Uchuu! Housou Chu-! and German for Travel. 

–Mana Manaka

"Nice to meet everyone!

I'm Mana Manaka–nicknamed Manafy–and my member color in FRUITS ZIPPER is light blue!

Previously, I worked at KAWAII MONSTER CAFE HARAJUKU, and I did my best to transmit 'KAWAII' from Harajuku to the world❤️

This is my first time working as an idol, but I'm going to work hard to embody the idea of 'KAWAII' and to create the 'NEW KAWAII' that FRUITS ZIPPER has to offer through music, dance, and by sharing Japanese idol culture!"

"A question for Mana–what is KAWAII MONSTER CAFE HARAJUKU?"


–Mana Manaka

"KAWAII MONSTER CAFE HARAJUKU is part-restaurant, part-entertainment venue, part-art installation. It was directed by Sebastian Masuda, the 'king of kawaii,' and guests can order really unique and colorful dishes in an amazing space designed to look like the inside of a monster's belly!"

"Nice to meet you! Here's a question from readers: why did you decide to become an idol?"

–Noel Hayase

"Since I was a kid, I've always wanted to be center stage. When I saw an artist performing live, I started to think "wow, I'd love to see what they're seeing," so I decided to pursue a career in the music industry. Thanks to some of the connections I've made over the years, I'm now able to pursue the idol life! I'm glad that I chose this path because I love being on stage with the other members of FRUITS ZIPPER."

–Suzuka Chinzei

"I decided I wanted to be an idol a long time ago when I ended my time on Tensai Terebi-kun MAX. Right after, I was photographed in a school uniform for Shueisha's Aoharu Magazine. The problem was that I was already in my mid-teens at that point. I thought it was too late to become an idol, so I just put those feelings away.

After that, I had so many different opportunities to appear in different plays and variety shows, but there was always this nagging feeling in my chest. It's hard to describe, but I just felt like something was missing. 

During that period of stress and confusion, there was a lot of discussion about my joining ASOBISYSTEM. When I looked at their website, I saw that they were recruiting members for a new idol group. I started freaking out, and my mom–who was standing next to me at the time–
said that I should talk with them about it. I went to the person in charge and asked them about what it would take to be an idol. I realized, in that moment, that I didn't want to go the rest of my life without trying it out. Now I can say that I made the right decision, I guess. (laugh)

–Mana Manaka

"Harris, the content director of KAWAII MONSTER CAFE and the current manager of FRUITS ZIPPER, contacted me out of the blue and asked if I was interested in idols. When he brought up the subject, I followed my gut. I instantly knew it would be fun, so I decided to just take a leap of faith!" 

"Moving on, tell us about what you've worked on the hardest up until this point in your life."

–Noel Hayase

"When I was a student, I tried to balance my studies with my performing arts activities. I had done a little modeling work before I started working as an idol, but once I joined FRUITS ZIPPER I got incredibly busy. My final exams coincided with my prep period and my idol debut! Once I
overcame all of that and successfully graduated, I felt so much stronger. (laugh)

–Suzuka Chinzei

"In my teens, I wanted to find a balance between being 'normal' and being 'special.' 

From a young age, I had been working in a space where I was surrounded by adults. I think that made me feel special, compared to my peers. 

But living in that world was difficult as well. There were so many things that I felt I was missing out on–things that I felt I couldn't catch up to. 

One day, I was riding the bullet train alone. I lived in Hyogo Prefecture, but I commuted to Tokyo at least three days a week. When I passed by Nagoya, I suddenly got really sick with a fever, and my parents rushed me to the hospital. 

I remember wondering how adults dealt with things like that. There were so many days that I would call my mom from Yamagata as a fifth-grader, crying my eyes out.

The world of entertainment is so vastly different from the real world, and I desperately wanted a sense of normalcy. I needed that comfort. I'm not sure what the definition of 'normal' is, but I
guess I didn't want anyone to take away that innocent childishness from me. Looking back, I worked so incredibly hard to protect it."

–Mana Manaka

"During my time as a poster girl for KAWAII MONSTER CAFE HARAJUKU, I worked hard to create a space that people could enjoy. I wanted everyone to leave satisfied and smiling and I wanted them to come back again. Looking back on those days, every day was so happy and the space was just so welcoming. I don't think that the KAWAII MONSTER CAFE could have been successful without the team members who worked so hard to create the best possible experience. Every moment was heaven." 

"Thanks for sharing. FRUITS ZIPPER's concept is "From Harajuku to the World." If you end up
going abroad, what would you like to do?" 

–Noel Hayase

"I'd love to do a special concert in each of the countries I've been to. Each concert would be created for each country–we'd wear unique costumes and have unique sets. At the same time, I feel like we can bring Japanese idol culture to the world by staying true to ourselves. I can dream. I want to do something really spectacular!"

–Suzuka Chinzei

"Right now, I'm working on an educational program called German for Travel. I've learned so many phrases, so I'd like to try them out in real life–things like ordering a meal and explaining my thoughts about the food to the waiter. I do a cute dance on the show too, so I'd like to do that with the waiter too! I'm still a little too nervous to try it alone, so I'd ask our half-German member Noel Hayase–who speaks 3.5 languages!–to be next to me the whole time. 

I'd also like to lay down in the middle of the Sedona desert and see a UFO!"

–Mana Manaka

"I want us to appear in a major festival! 

After that, I'd love to represent Japan on the world stage at something like Japan Parade or Japan Expo. I want to spread Japanese idol culture to the world through 'KAWAII,' something that's so universally loved! 

Personally, I love musicals and theme parks, so I'm hoping to travel a lot in the future." 

"Last question. What is the most important thing about being an idol to you?"

–Noel Hayase

"Being an idol means always having a goal. It's more fun and more useful to keep thinking about where I want to go and how I want to be. If I were to take part in idol activities without a goal, I'd lose sight of why I'm doing what I'm doing. I started down this path because I had a goal in mind, and I intend to keep doing so."

–Suzuka Chinzei

"I think the most important thing is to make everyone happy and to increase the Earth's
vibrations! Human beings can't be happy-go-lucky every day–we all have our own problems and negative feelings. But I hope that our music, our videos, and our live performances can support everyone during those difficult times. 

I also think that 'fun' is something that spreads from person to person. When I'm performing
live, I'm truly enjoying myself from the bottom of my heart. The other members can sense
those honest feelings, and they carry them home to their families, to their friends at school, and maybe to their grandparents who they haven't seen in a while. That sense of 'fun' is contagious–it lets us connect with people. I want everyone to have fun more than anything. Maybe we can make the entire world happy, in time. (laugh)

–Mana Manaka

"FRUITS ZIPPER wants to give everyone strength and happiness through our activities. Above all else, I value always being energetic and positive, and I always want to have fun!" 

"Thank you so much for chatting with us. Is there anything you'd like to say before we
conclude?"

–Noel Hayase

"It's only been a short time since I debuted and I have zero experience as an idol, so there's a
ton that I don't know. Even still, I have a dream that I want to achieve and I will do my best to achieve it. Because I want to show everyone my dream, I'll do my best to make it come true
with energy and a smile. I hope you'll come along with us and support us as much as you can!"

–Suzuka Chinzei

"FRUITS ZIPPER will keep spreading 'NEW KAWAII' around the world in all kinds of ways!

I hope that we can awaken the 'NEW KAWAII' that's been inside of you all along!" 

–Mana Manaka

"We're just getting started, but we're going full speed ahead! I can't wait until we can travel and meet fans around the world. Through Japanese idol culture and our 'NEW KAWAII,' we hope to
connect the world and bring happiness to everyone we meet!

From Harajuku to the world!!!"

KAWAII LAB. Report #1: IDOLATER Welcomes Two New Members

KAWAII LAB. is a project spearheaded by ASOBISYSTEM with the aim of introducing the world to popular Japanese idol culture. The idol group IDOLATER was born from this idea, and in April, the girls welcomed two new members, transforming it into a fresh new 5-member group. Announced at the group's solo concert 'New IDOLATER' on April 24, Fuuka Oishi and Ririka Satsuki joined the lineup consisting of Ayu Okuda, Kurumi Tsukishiro, and Yukino Fushiki.

A typical idol group is peppy and filled with energy, but IDOLATER is doing things a little differently. What is their appeal? How do they want to shake things up? 

A Group Formed by Finalists from ASOBISYSTEM's First National Audition

IDOLATER debuted in April 2019. In the spring of 2018, ASOBISYSTEM, the management company behind Kyary Pamyu Pamyu and a number of other popular talents, announced its first large-scale nationwide audition, ASOBISYSTEM THE AUDITION 2018. IDOLATER's history began with five audition finalists–Fushiki, Okuda, Tsukishiro, and two others. The catchphrase for the audition was fitting for the group: "Seeking the next generation of talents to shape Japanese pop culture and share it with the world."

IDOLATER Welcomes Solo Singer Ririka Satsuki & Model Fuuka Oishi

Following the departure of two members and intense restrictions imposed on the group's activities due to the pandemic, IDOLATER continued to operate with only three members. Although they didn't manage to get a ton of media coverage or appeal in large-scale events, the group continued to pull in new fans and gain recognition in the idol community. After a while, Fuuka Oishi and Ririka Satsuki joined the group, giving a much-needed boost to IDOLATER's activities and energy.

Ririka Satsuki is a solo artist based in Fukuoka with an incredible husky voice. Fuuka Oishi has previously worked as a model and is popular with creators for her sweet yet listless atmosphere. Despite their incredible confidence, this is the first time either has worked as an idol!

IDOLATER and the Concept of 'Idols' 

The word 'idol' can conjure plenty of images to mind, but what does the word mean to the members of IDOLATER?

The group's music blends together elements of city pop, future funk, and house, while still keeping true to traditional J-pop roots. The familiarity of their music makes it easy to approach, and Yukino Fushiki's powerful voice alongside Ririka Satsuki's melodies shower fans with some of the best vocals in the idol world. 

The group's choreography is provided by YU-KA, formerly of TEMPURA KIDZ. Her experience as both a dancer and an idol makes her an asset, and her refreshing moves are a highlight of each IDOLATER show.

A former pattern maker for a Japanese fashion brand designed the group's costumes. 

If this sounds like the idol group for you, come and check out an IDOLATER event to see the girl's incredible appeal for yourself.

On June 19, IDOLATER will hold their second regular performance, 'Camel,' at Ebisu CreATO. (The title of the show was chosen because it sounded fun, not for any other specific reason.)

Stay tuned for the next report, where we'll delve a little deeper into the life of each member of IDOLATER!

Rina Sawayama's Releases Live Footage of New Song 'This Hell' Performed at Radio 1's Big Weekend 2022

Niigata-born singer-songwriter Rina Sawayama recently announced that she would be releasing her long-awaited new album Hold The Girl in September 2022. The artist, based in London, recently performed at BBC Radio 1's Big Weekend 2022, a popular U.K. music festival. Her new track, This Hell, was met with massive fanfare, and those who missed her performance in person can now watch it on YouTube!

This Hell – Rina Sawayama (Big Weekend 2022): https://youtu.be/42iGscAMjTo 

 

Along with the live performance footage, Sawayama has also revealed a lyric video for This Hell. The video is what fans would expect, harnessing the artist's incredible creativity.

This Hell – Rina Sawayama (Official Lyric Video): https://youtu.be/yZKThkBA42M

 

Rina is scheduled to perform at SUMMER SONIC 2022, which will be held in Tokyo on August 20 and Osaka on August 21.

 

The song This Hell is the first to be released under a new partnership between Rina Sawayama's Dirty Hit label and Universal Music Japan.

[LIVE REPORT] Atarashii Gakko! Performs at Zepp DiverCity

On May 20, the indescribably unique four-member dance and vocal group Atarashii Gakko! performed Zepp DiverCity in Tokyo! Given their performance at such a well-known venue, the name of their solo concert was fittingly 'Wha–?! Graduating from Obscurity ~AG! FRIDAY AFTER SCHOOL~.'

The group signed with American multi-media company 88rising in January 2021. The label is attempting to introduce more unique Asian music to the US, and it doesn't get much more unique than Atarashii Gakko! The girls have over 3.8 million TikTok followers, and their April single WOO! GO! was released as a tie-in with NIKE Juku, amassing praise from audiences worldwide.

 

As fans of the band have come to expect, the concert began with the sound of chimes, leading into the first song, Toumei Boy. Followed by an intense dance performance, fans were captivated by the show, which was performed overseas last month to an audience of 25,000 fans. Following the song Final Humanity, a bizarre video began playing, leading into the fan-favorite CANDY from the group's EP SNACKTIME. For the first time in the group's solo performance history, backup dancers joined them during the track Night Before the Exam.

Starting with Otona Blue, the members appeared clad in colorful decorations, making it seem as if they were singing on TV. The girls have an unprecedented stage presence that has helped them catapult their career forward, from obscurity to performing one of the most well-known venues in Tokyo. Happy Hormones shoed a cuter side to the girls, offering fans a glimpse beyond their usual hardcore dance moves. The audience joined in, waving their hands from side to side and flashing peace signs.

The Italian disco tune Fantastico began with slow-motion movements and added limbo dancing into the choreography, giving the members a chance to show off their comedic skills. Anyone who follows them on social media is well aware of how hilarious they can be!

 

Suddenly, a man dressed as a construction site security guard emerged on stage, performing an impressive rendition of the robot. This man turned out to be DJ Morley Robertson, who joined the girls in Intergalactic, starting with the members calling out "We are Bestie Girls!" As Atarashii Gakko! danced to this classic Beastie Boys tune, Robertson addressed the audience, shouting "The night is just getting started!" 

Pineapple Kryptonite shows off the girl's dancing skills, but the Pineapple Kryptonite REMIX treated fans to an acrobatic performance that brought the energy in the venue to the max.

Member MIZYU spoke to the audience about the choreography in WOO! GO!, the girl's newest track, calling on them to join in. The members also performed the Spanish version of Free Your Mind, cementing their place as one of Japan's most global acts. Towards the end of the live show, the members hugged and showed the audience how close they are as friends, bringing everyone to tears.

 

The Zepp DiverCity concert was a whirlwind of excitement and energy. Those in the audience could see how Atarashii Gakko! has improved since their debut, and everyone is excited to see how much higher they can soar going forward. 

The archived video of the performance is officially available until May 29 at 23:59. Check out a comment from the group immediately after the concert below!

Comment from Atarashii Gakko!

"This was the best live performance we've ever done! With our past shows, the four of us have designed everything ourselves. This time we had a lot of other people involved, and we could really feel the love from both the staff and the audience. During the show, I felt like I was having a conversation with the audience without words. I could see everyone's faces from the beginning to the end, and it made me so happy. Each day, we interact with so many fans through social media, but being on stage in front of them is so different. We can feel how much they love us and we can really be ourselves. Just before the show started, we reminded ourselves to just have FUN! That's why this became our best concert ever. I hope we can share all of this love and happiness on an even bigger stage next time!"

HARAJUKU App Launches Collaboration with Love Live! Super Star!! at Famous Takeshita-dori

From May 20 until June 5, 2022, AppBank is bringing fans of Love Live! Superstar!! a special treat in collaboration with the HARAJUKU app! By launching the app at a check-in spot in Harajuku, users can win a limited-edition Love Live! toy at random, such as acrylic keychains or pins.

App Splash Page

HARAJUKU Map

Random Toy Screen

For those winning a toy, the item can be picked up in front of the CUTE CUBE HARAJUKU Love Live! Superstar!! Wall Panel or at YURINAN Harajuku Takeshita-dori Yu-rin An. In celebration of the event, CUTE CUBE HARAJUKU will be featuring Love Live wall panels during this period, so be sure to go get some great pictures!

Fendi and Harajuku Omotesando Keyaki-kai Collaborate on #FendiTsunaguOmotesando Art Project

Italian luxury fashion brand Fendi has teamed up with Harajuku Omotesando Keyaki-kai on a new street art project! 'TSUNAGU – Omotesando Street Art Project' was unveiled on April 29, 2022.

 

The project, which aims to improve the city's scenery and share positive messages, is on display in Omotesando, a popular area with young people. The canvas is the formal site of the Oriental Bazaar, an iconic part of Omotesando for over four decades. Under the theme of 'hope,' three young artists will be displaying their artwork in a massive temporary enclosure on the site. Hopefully, Japan really will open tourism soon so that guests from around the world can enjoy these inspiring pieces!

The first piece of art was unveiled on April 29 and was drawn by Dai Tamura, a young Japanese artist who has attracted worldwide attention after becoming an illustrator for the NBA. The dynamic and powerful compositions vividly depict endangered animals and plants alongside delicate flowers to symbolize hope for the futures of these beautiful creatures. 



Be sure to keep an eye out for the next installation coming soon!

Information

TSUNAGU – Omotesando Street Art Project

Location: Oriental Bazaar Former Site

Address: 5-9-13 Jingumae, Shibuya-ku, Tokyo

Official Site: http://www.fendi.com

Idol Group FRUITS ZIPPER Announces First Solo Concert

FRUITS ZIPPER, a new idol group from ASOBISYSTEM, has a simple concept: "From Harajuku to the World." On May 3, the girls held a free solo concert titled "Find my Cutest Part," attracting tons of new fans and lighting up social media.

Tickets for the group's first concert on April 10 at Shirokane-Takanawa SELENE b2 sold out instantly, and the girls have been looking for a way to give back to their incredibly passionate fans. Sadly, the April 10 performance was postponed after the members and staff tested positive for COVID, so the content was changed and admission was free!



During the show, FRUITS ZIPPER announced that their introductory live show will now be held on July 16 at the same venue. The girls also announced that their first solo concert will be taking place on September 12 at Ebisu LIQUIDROOM.

Stay tuned to see what FRUITS ZIPPER does next!

KAWAII LAB. Group IDOLATER Adds Two New Members, First Live Video with Five Members Unveiled

IDOLATER is now a five-member group after adding two fresh faces! The idol group is part of KAWAII LAB., a project aiming to introduce the world to popular Japanese idol culture. Announced at the group's solo concert 'New IDOLATER' on April 24, Fuuka Oishi and Ririka Satsuki have joined the current lineup, Ayu Okuda, Kurumi Tsukishiro, and Yukino Fushiki. 

IDOLATER was formed after becoming finalists in the ASOBISYSTEM THE AUDITION 2018 competition, and the girls are known for exploring the boundary of music, fashion, and other unique aspects of culture through an idol perspective. 

Ririka Satsuki is a solo artist based in Fukuoka with an incredible husky voice. Fuuka Oishi has previously worked as a model and is popular with creators for her sweet yet listless atmosphere. This is the first time either has worked as a model. 

Check out the group's first performance as five members below!

Swipin' Flickin' – IDOLATER  (Live at Ebisu CreAto, April 24, 2022)

IDOLATER will also begin holding regular concerts at Ebisu CreAto starting in May 2022.


Comments from New Members

Fuuka Oishi

My name is Fuuka Oishi, and I've just joined IDOLATER.

When it comes to singing and dancing, I'm very inexperienced, but with the help of the other members, I'll practice hard each and every day!

The first time I stood on stage, it really hit me–I'm becoming an idol. When I saw the fan's kind faces in the audience, my nervousness turned into fun!

IDOLATER will continue to grow and evolve into something great, so I hope you'll keep an eye on us!

Although I've just started my life as an idol, I have big dreams. I'll do my best to make it to Budokan!

I'll do my best as a member of IDOLATER, a group I love so much.

Please support me!

Ririka Satsuki

I'm Ririka Satsuki, a new member of IDOLATER.

I used to be a solo singer, and this is my first time as an idol. I'm really nervous but also incredibly excited about what the future will bring. The other members are always making me laugh and giving me the strength to do my best. 

If there's one goal that drives me more than anything, it's my dream of performing at Budokan. 

We want our fans to come along too!!!!

I'll do my best, so please continue to support me!

Information

IDOLATER

Upcoming Regular Performances

IDOLATER Performance Vol. 1 "A Certain Woman"

May 22, 2022

Doors Open 14:30 / Show Starts 15:00

Venue: Ebisu CreAto

Ticket Sales

Livepocket: https://t.livepocket.jp/e/idlt0522

Lottery for Priority Tickets: April 25, 19:00 – April 28, 23:59

Announcement of Winners: April 29 

Advance Sales Period: April 30, 20:00 – May 21, 23:59

Idol Group Shiritsu Ebisu Chugaku to Open One-Day 'Ebisen Cafe' in Omotesando

The popular idol group Shuritsu Ebisu Chugaku will open a one-day-only cafe in Omotesando on May 1, 2022! The location will open in conjunction with CookpadTV, which hosts the popular show 'Shiritsu Ebisu Culinary Institute.'

The members of Shiritsu Ebisu Chugaku are passionate about cooking, making this the perfect project. Since October 2021, the girls have streamed their cooking stories and ideas on CookpadLive, and now, they're ready to put their hearts and souls into each and every item on this cafe menu. Visitors will also be able to purchase original merchandise on-site and see some of the member's costumes! 


Reservations for the cookpadLive Ebisen cafe are required, and the lottery for reservations is open now. Some of the menu items and original goods offered at the cafe are also available for purchase on cookpadLive's official E-commerce site, so don't worry if you aren't able to attend in person on May 1!

The cookpadLive Ebisen Cafe will feature a special lunch time, dinner time, and cafe time. The nine members of Shiritsu Ebisu Chugaku will appear in three teams for each session.

MOSHI MOSHI ROOMS HARAJUKU Announces 'My Ty Rooms Harajuku' Collaboration

ASOBISYSTEM, a company aiming to broadcast Japanese pop culture from Harajuku to the rest of the world, has teamed up with Rokuyon Corporation for a special collaboration! Rokuyon manages unique private accommodations throughout Shibuya in Tokyo, and with help from Meteor APAC, the Japanese distributor of Ty's beloved Beanie Baby stuffed animals, a new collaboration room will be available to book for a limited time only.

MOSHI MOSHI ROOMS HARAJUKU, a home-sharing facility produced by ASOBISYSTEM, is offering a Ty-inspired room from April 23 until May 22, 2022. The room looks more like an art gallery than a guest house and was designed by Ty's content director Harris.

Children can enjoy a number of Ty amenities, while adults will enjoy taking home a Ty A3-sized tote bag to remember their unique visit. Those taking the tote bag will be able to fill it with all the Ty stuffed animals they want for only ¥1,650 (Tax Included)!

A social networking campaign exclusively for guests will also be underway soon! Those posting with the hashtag #moshimoshirooms and #ty will receive one free Ty plush toy!

Information

My Ty Rooms HARAJUKU

Available: April 23 – May 22, 2022

Address: MOSHI MOSHI ROOMS HARAJUKU (2-18-7 Jingumae, Shibuya-ku, Tokyo)

Access: 8-minute walk from Meijijingu-mae Harajuku Station on the Tokyo Metro Chiyoda Line/Fukutoshin Line

Reservations: https://www.airbnb.com/rooms/47207073 

xxxHOLiC Exhibition Opens at WITH HARAJUKU HALL to Mark Upcoming Live-action Film

A special xxxHOLiC exhibition will open at WITH HARAJUKU HALL in Shibuya on April 29, 2022! The event is being held to celebrate the release of the live-action xxxHOLiC film on the same day. 

Written and illustrated by the manga group CLAMP, xxxHOLiC ran from 2003 until 2017 in Weekly Young Magazine and Bessatsu Shonen Magazine. The series has been a best-seller, with over 14 million copies in circulation, and has been adapted into an anime series, anime film, and live-action television series. An all-male stage play aired in Tokyo in September 2021. The upcoming xxxHOLiC film is the first live-action film adaptation by photographer Mika Ninagawa. This exhibit will include behind-the-scenes footage and images along with a puzzle-solving game!

Exhibition

©2022映画「ホリック」製作委員会 ©CLAMP・ShigatsuTsuitachi CO.,LTD./講談社

Exhibition Hall 

©2022映画「ホリック」表裏世界没入展実行委員会©CLAMP・ShigatsuTsuitachi CO.,LTD./講談社 Photo by Mika Ninagawa

Guests will be able to see stills, costumes, props, and artwork from the upcoming film, as well as a 'visit to the wish-granting shop!' Take some pictures at an incredibly detailed photo spot, and check out images of the film's incredible cast. xxxHOLiC will star Ryunosuke Kamiki, Kou Shibasaki, Tina Tamashiro, Daoko, Serena Motola, and many more beloved stars.

*Hokuto Matsumura, who plays Shizuka Doumeki, will not be featured in the exhibition.

xxxHOLiC Puzzle Solving Game 'The Mysterious and Curious Tale' 

Get ready for a completely original new mystery game! Players will transform into the characters of xxxHOLiC to solve a mystery assigned to Yuko Ichihara and Kimihiro Watanuki. What's the real cost of making a wish? 

©2022映画「ホリック」製作委員会 ©CLAMP・ShigatsuTsuitachi CO.,LTD./講談社

Information

xxxHOLiC Behind the Scenes Exhibition Supported by WITH HARAJUKU

Address: WITH HARAJUKU HALL (1-14-30 Jingumae, Shinjuku-ku, Tokyo)
Access: 1-minute walk from Harajuku Station on the JR Yamanote Line, a 1-minute walk from Meijijingumae Station on the Tokyo Metro Chiyoda Line/Fukutoshin Line

Running: April 29 – May 15, 2022

Hours: 10:00-16:30 (Last entry at 16:00) *Open 10:00-19:00 from May 9 – May 13 (Last entry at 18:30)

xxxHOLiC Puzzle Solving Game 'The Mysterious and Curious Tale': 17:30-19:30 (Area closes at 20:00) *Open 20:00-22:00 from May 9 – May 13

Official Site: https://xxxholic-movie-event.com