From Harajuku to the world! Chasing the bright future of a rising star, FRUITS ZIPPER
FRUITS ZIPPER is a group quickly rising to stardom, debuted from "KAWAII LAB." KAWAII LAB is a new project to introduce Japanese idol culture from "Harajuku", a fashion town where various cultures and personalities gather, to the world. Members of the group include Amane Tsukihashi, Suzuka Chinzei, Yui Sakurai, Runa Nakagawa, Manaka Mana, Karen Matsumoto, and Noel Hayase.
Even before their debut, the group garnered attention for their breathtaking visuals. Their performances are so powerful, you would never expect such refined skill from such an adorable aesthetic, which is known to captivate the hearts of their fans. The group is produced by Misa Kimura, a model and TV personality who is also the general producer of "KAWAII LAB. She will utilize her experience and creativity as the leader of the idol group "Musubizm" to introduce idol culture to the world.
Expressing FRUITS ZIPPER's world through collaborations with creators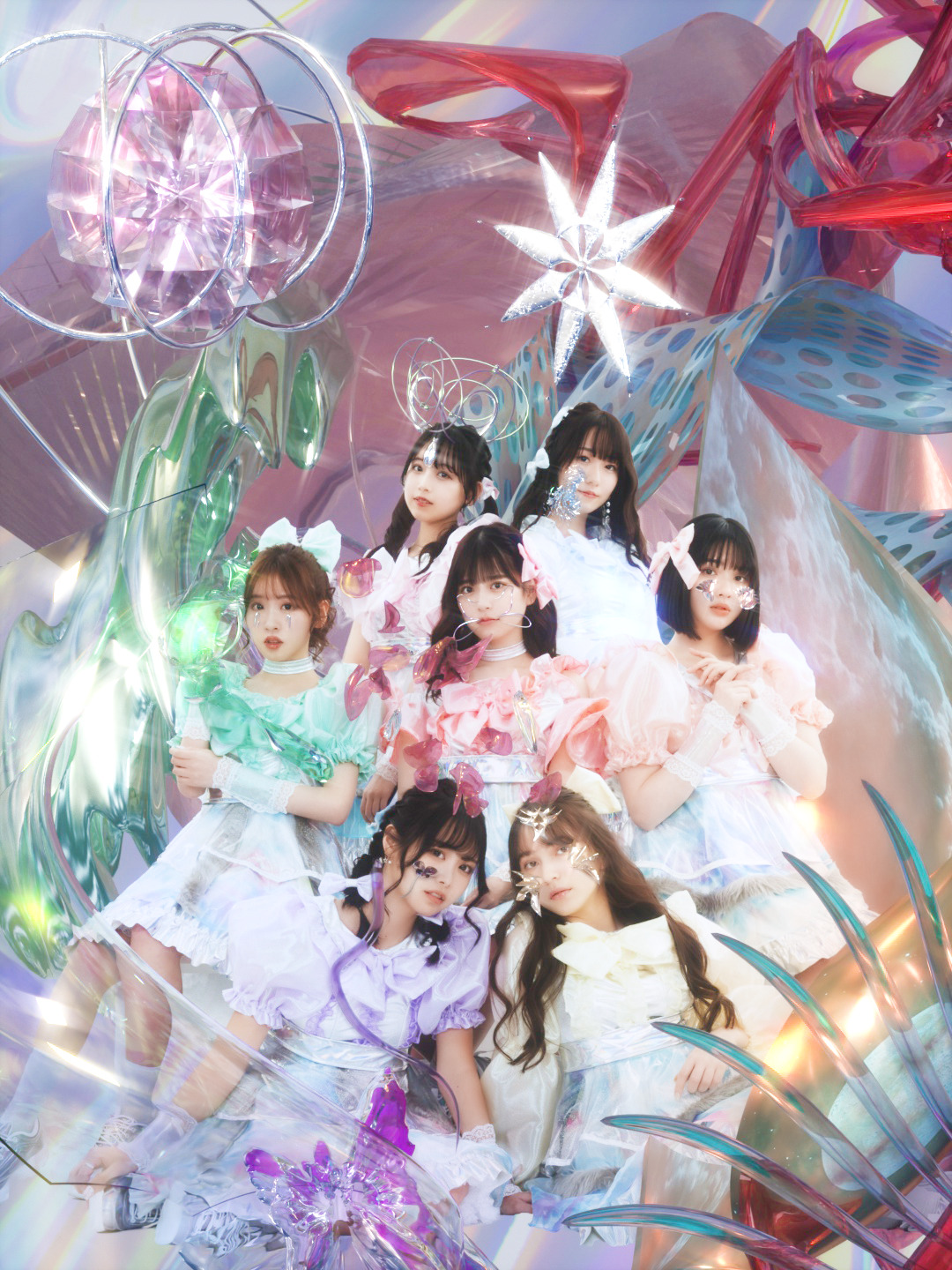 Furthermore, even before their debut, the group drew a lot of attention because of their collaborations with many different renowned creators. Among the collaborations includes the artist photos created by video director/art director/3DCG artist YUKARI. She uses a cutting-edge trend of CG-moving techniques, in addition to still-images. The mysterious colors of bright light that embraces the girls are definitely eye-catching.
Catchy and cute choreography of FRUITS ZIPPER
Followed by the debut song "Kimino Akaruimiraiwo Oikakete," a song with a positive message for the future, "Watashino Ichiban Kawaiitokoro," with its cute choreography and lyrics, won the hearts of people and was selected as one of the "TikTok Hot Songs in Japan" and charted on the Billboard. More than 13,000 videos using "Watashino Ichiban Kawaiitokoro" have been posted on TikTok with the hashtag "#わたしの一番かわいいところ (Watashino Ichiban Kawaiitokoro)." The long-awaited third single "Kanpeki Syugide☆", which was released on May 20, is an energetic tune created by music producer Manaka Suzuki.
Performances that reach into people's hearts and minds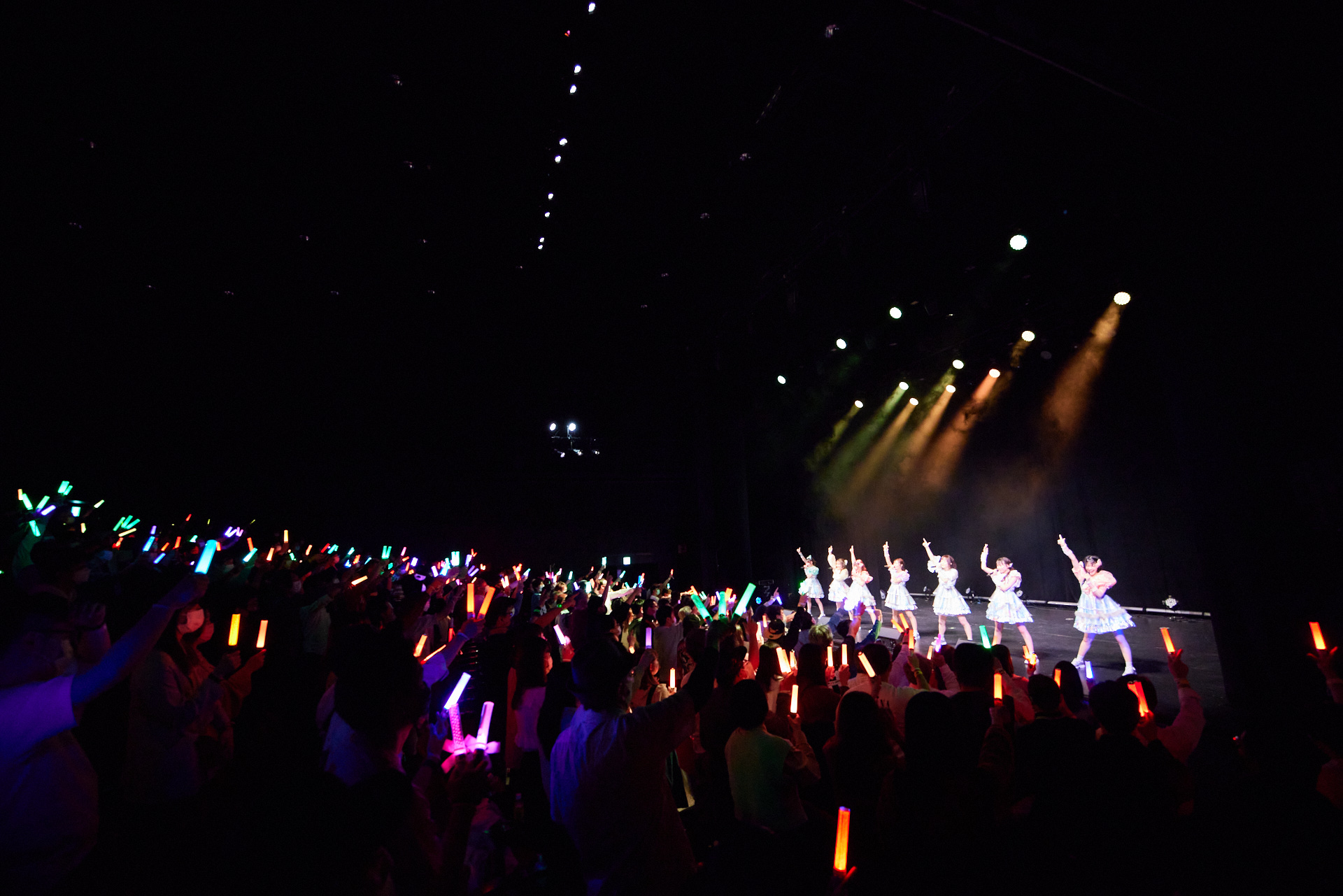 A pop-culture event presented by Asobisystem "ASOBE!!," was held at Spotify O-EAST on May 26th. In addition to FRUITS ZIPPER, fellow Asobisystem members Atarashii Gakko! and IDOLATER, who is also a member of "KAWAII LAB.", performed at the event. Many other remarkable idol groups also took part in the event, enlivening the venue.
Alongside their regular performances, they are scheduled to participate in a number of events, including the "LEADING PALETTE! and "HYPE IDOL! vol. 20" at Nihonbashi Mitsui Hall both June 12th. Make sure to come and see their live performance, it's sure to steal your heart!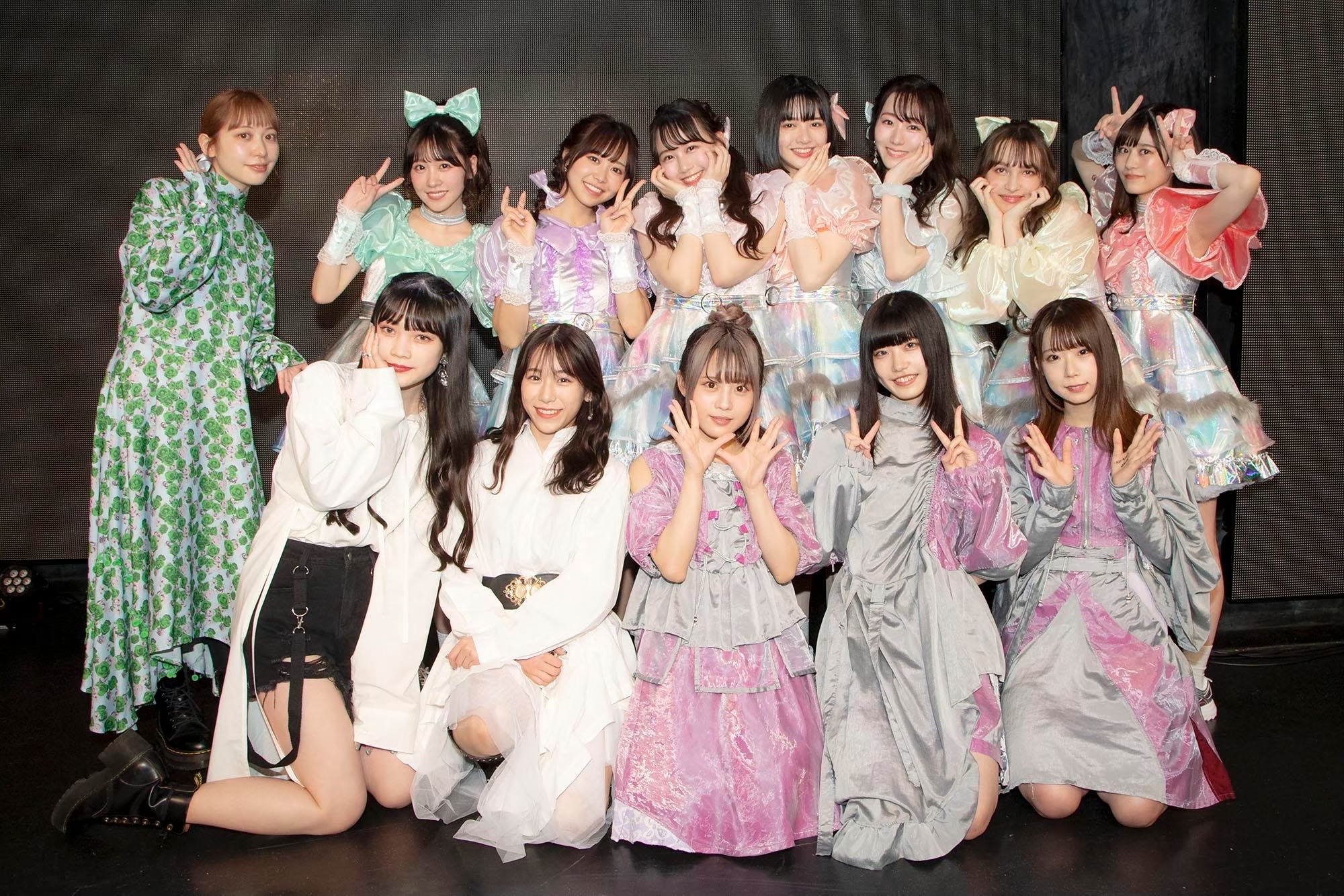 Additionally, KAWAII LAB. will be serialized on "Moshi Moshi Nippon," a website that provides the latest news of Japan to the world. The articles will be published in hopes of sharing the charm of IDOLATER and FRUITS ZIPPER with people not only in Japan, but also around the world. Details will be announced soon. Stay tuned for more from KAWAII LAB.!
RELATED ENTRIES
Interview Series Vol.3: What Does 'Kawaii' Mean to You?

"Japan is such an interesting country, where so many cultures blend and evolve."

Moshi Moshi Nippon is dedicated to sharing Japanese pop culture with audiences around the world. Recently, we launched a new interview series with foreign influencers active in Japan, and for the third edition, we're chatting with Zhu Zhu! A popular influencer with over 2 million followers on Weibo, Zhu Zhu claims that since coming to Japan, her fashion has become 'softer.' We sat down to ask her what kind of Kawaii she's found in Japan.

Q. Why did you first come to Japan?

"In 2013, I moved to Japan with my family because Beijing's air pollution had become really bad. It's already been nine years!"

Zhu Zhu when she first came to Japan

Q. When you first arrived in Japan, what surprised you?

"When I first came to Japan, what really surprised me was the wide use of the word 'kawaii.' It's so interesting that literally anything can be called kawaii. Sure, it makes sense to call girls, animals, or clothes cute, but in Japan, people call things cute that people in other countries would never refer to in that way. I mean, I think calling things 'cute' when you mean 'good' is something really commonplace here. (laugh)" 

Q. Tell us what you find the most Kawaii in Japan!

"There are so many cute things in Japan, but I think that the sweets take the cake. I was surprised by how small they are unlike in other countries. And there are so many kinds! Cakes, baked goods, wagashi, they're all so incredibly kawaii!"

Q. How did your encounter with Kawaii culture in Japan change you?

"Since I first came into contact with the Japanese version of kawaii, I think my style has become softer. When I was overseas, I typically just worse really simple outfits and makeup, but now, I'm always conscious of looking girly and cute."

Q.In Japan, what are you interested in right now? Where do you want to visit in the future?

"I recently read an article about Yufuin Floral Village, which is England-inspired. It looks so cute and I really want to go!"

Q. Do you have anything to say to our readers who want to visit Japan in the future?

"Japan is such an interesting country, where so many cultures blend and evolve. No matter how many times you visit, you can always find something new. Please visit!"

Zhu Zhu Profile

An influencer from China with 2 million followers on Weibo. Nicknamed "Big Cousin" on social media, she has been a favorite of many Japanese brands for years. Since moving to Japan, Zhu Zhu has actively shared fashion, beauty, travel, and food posts on social media. In addition to appearing on TV and in magazines, she has collaborated with a number of major Japanese apparel and cosmetics companies. 

Popular EC Brand SHEIN Opens First Permanent Brick and Mortar Store in Harajuku

The global online fashion brand SHEIN has become wildly popular, shipping goods to over 150 countries. The world's first permanent brick-and-mortar SHEIN store will open in Harajuku, Tokyo on November 13, 2022, displaying popular styles and items perfect for the Japanese market. All items on display will be available for purchase on the official SHEIN app simply by scanning the QR code on the tag. While items won't be available to purchase in-store, the location will be a place where curious customers can try things on and explore new trends. The store has two floors and carries women's and men's wear, as well as kids' wear, pet goods, and accessories. In addition to standard fitting rooms, there will also be a photo booth and SHEIN gacha machine!

This summer, the brand held its first pop-up event in Japan, traveling to five cities over two days. In October 2022, the three-month-long SHEIN POPUP OSAKA event invited customers could try on clothes and discover new styles.

 "SHEIN TOKYO is planning to hold a number of events to make the SHEIN brand more familiar to new customers. Please visit us and enjoy perusing our reasonably priced but high-quality items," an official comment reads. 

Information

SHEIN TOKYO

Open: November 13, 2022

Address: b-town Building C, 1, 2F (4-25-9 Jingumae, Shibuya-ku, Tokyo)

Hours: 11:00-19:00 (Closed during New Year's holiday)

Official Website: https://jp.shein.com

An Interview with Seidenba Saku: "Kawaii Is Something You Define Yourself."

Moshi Moshi Nippon is dedicated to sharing Japanese pop culture with audiences around the world. Recently, we launched a new interview series with foreign influencers active in Japan, and for the second edition, we're chatting with Seidenba Saku. The face of the music group DiAN, she's a multi-talented pop artist, writer, and designer. We asked the Beijing and Tokyo-based artist about what she thinks about Kawaii culture in Japan.

-Photo1

Q. Why did you first come to Japan?

"When I was in middle school, my favorite English teacher taught me some Japanese. After that, I started to get into Japanese literature and manga, and I was really influenced by a Shuji Terayama play in high school. Japanese content started to become a part of my daily life, and I started to get curious about the country itself. I wanted to see the place where all of these amazing things were created with my own eyes. Now I've been in Japan for almost ten years!"

-Photo2

Q. When you first arrived in Japan, what surprised you?

"I thought that people who dressed really eccentrically would be difficult to 

approach. I had no idea what kinds of lives they led, and I was nervous about 

talking to them. After coming to Japan, I realized how nice they were! 

They work so hard, I was incredibly impressed!"

Q. What do you think about Kawaii culture in Japan?

Kawaiiといえば、日本の音楽はすごくカワイイと思います!パフォーマンスの現場、制作スタンスを問わず、音楽そのものに対する熱い思いが伝わってきます。音楽は人生にどう向き合うかを教えてくれると言っても良いと思います。そのくらい、日本の音楽には影響を受けました。

-Photo3

Q. How did your encounter with Kawaii culture in Japan change you?

"My first real exposure to Kawaii culture was in middle school. I bought a ton of Japanese magazines like KERA and Gothic&Lolita Bible, and reading those made me realize that I could be who I wanted to be and dress how I wanted to dress. I could express myself as much as I wanted to. Kawaii is something you define yourself." 

-Photo 4

Q.In Japan, what are you interested in right now? Where do you want to visit in the future?

"A friend and coworker of mine in the art world recently told me that Toyama is the "Venice of Japan," and that it's totally different when compared to any other Japanese city. I'd like to visit, so I can see a totally unique side of Japan!"

-Photo 5

Q.Do you have anything to say to our readers who want to visit Japan in the future?

"Trust your instincts and go find your own version of Kawaii!"

PROFILE 

Seidenba Saku

Born in Beijing, Seidenba Saku is the vocalist and art director of DiAN, a three-member music group with sound producer A-bee and composer immi. She is also a writer, designer, director, and graphic artist, having worked with a number of companies in the past. Based in both Beijing and Tokyo, she continues to attract attention from audiences and industries around the world.

VTuber Idol Group UNI Mello Releases Digital Single 'YOUTOPIA'

The virtual idol group UNI MELLO released its first original song, Find out SHANGRI-LA, in September. On October 26, the members released a second digital single titled YOUTUPIA on all major streaming services.

 

UNI Mello consists of seven members: Kaede, Sekai, You, Amane, Tomoka, Shirafuji, and Shun. Each has a unique hobby and skillset, and the members have continued to grow over the past six months. On the UNI Mello YouTube channel, the members have continuously posted singing videos, as well as daily streams. 

 

YOUTOPIA tells the story of a normal day that becomes special when you're with the one you love. It's a love song filled with gratitude and joy, perfect for when your day needs a pick-me-up. The First Fan Meeting event will be held on November 27, so fans of UNI Mello will want to keep an eye out for more details.

 

Be sure to keep an eye on what UNI Mello does next by following the group on social media and on YouTube!

ASOBISYSTEM Begins Auditions for New Idols Aiming for Global Popularity

A leader in the world of Japanese pop culture, ASOBISYSTEM has announced a new idol audition under the KAWAII LAB project, launched in February to introduce Japan's popular idol culture to the world.

Those looking to apply will need to meet a few requirements. The project is searching for females between 10 and 22 years old who are not only good singers and dancers but also have unique personalities and charm. Whether an applicant has never set foot on stage before or has been an idol for years, anyone is welcome to apply. 

Those who pass the audition are scheduled to debut in 2023, either as part of a new idol group, as solo artists, or as VTubers, all with the aim of global expansion.

Applications will be accepted until November 13. If you've always wanted to become an idol, now's your chance!

KAWAII LAB. AUDITION 2022

Application Period: October 14 – November 13, 2022

How to Apply: Submit an application through the official LINE channel

Applicant Requirements:
・Female, age 10-22
・Some experience is preferred, but newcomers welcome to apply

・Must be able to take lessons and perform live in Tokyo

・If you are currently under contract with another firm or label, please apply after obtaining proper permission from your firm or label.

Perks: The office will cover the costs of all activities (lessons, costumes, recording time, transportation, lodging, etc.)

Application Procedure: After adding the official audition LINE account as a friend from the official website, please send us the following information: a photo (one full-body and one close-up), and a 30-second self-introduction video explaining why you should be chosen.

KAWAII LAB. Affiliated Artists

FRUITS ZIPPER

Under the concept of 'from Harajuku to the world,' FRUITS ZIPPER shares what they call 'NEW KAWAII' from Harajuku, an area known for fashion and individuality, to their soon-to-be global fanbase.

Twitter:https://twitter.com/fruits_zipper
Instagram:https://instagram.com/fruits_zipper
YouTube:https://www.youtube.com/channel/UCW8Q9LBGGBgK6a-u0C0h95A
TikTok:https://vt.tiktok.com/ZSen7dJAT/

IDOLATERThis CULTURE HOLIC  group explores the boundaries of music, fashion, and other unique aspects of popular culture through a unique idol perspective.

Official HP:https://note.com/idolater
Twitter:https://twitter.com/Official_IDLT
Instagram:https://www.instagram.com/idolater_official/
YouTube:https://www.youtube.com/IDOLATER

Popular Character Coji-Coji Inspires First Baby Brand COJI-COJI BABY

Momoko Sakura's popular series Chibi Maruko-chan is filled with beloved characters, and Coji-Coji has remained a fan favorite for decades. Starting in October 2022, fans will be able to grab goods from the new COJI-COJI BABY brand. 

The made-for-babies merchandise line will feature new artwork. The first theme is 'outer space,' and little ones will love the pastel colors and playful illustrations. A promo video has also been posted to the official Coji-Coji YouTube channel.

About COJI-COJI BABY

"A snooze on the moon…

From childhood to the faraway future, 

Coji-Coji is always cozy-cozy.

Such a valuable life.

Grow together with your baby.

Snuggle up with your family. 

Be there to relax with those you love. 

Spend irreplaceable time together.

After all of these desires and thoughts came together,

COJI-COJI BABY was born."

Product Release Information

Sales of COJI-COJI BABY products began on October 12, 2022 on the official Eightex Japan online store.

Coji-Coji Costume Romper: ¥9,900

COJI-COJI BABY Fair Now Open!

Starting on October 15, the COJI-COJI BABY Fair is being held at Kiddy Land Harajuku and Kiddy Land Osaka Umeda.

During the event period, those who purchase over ¥4,000 (including tax) on COJI-COJI BABY products will receive an original mini shikishi. This is a perfect frame for your baby's handprint or footprint!

Information

COJI-COJI BABY

Official Online Store: https://eightex.com/pages/cojicoji

COJI-COJI BABY Fair

Running: October 15, 2022 ~

Venue: Kiddy Land Harajuku, Kiddy Land Osaka Umeda

*Bonus goods are only available while supplies last

*COJI-COJI BABY products will be available starting October 15. 

COJI-COJI BABY Promo Video: https://youtu.be/QyGTaz8geT0

Interview: What Type of 'Kawaii' Did This Popular Foreign Influencer Find in Japan?

"Kawaii is marshmallow-flavored medicine for the soul."

Moshi Moshi Nippon is dedicated to sharing Japanese pop culture with audiences around the world, and today, we're featuring a foreign influencer living and working in Japan! This time, we interviewed Etsuna, a popular influencer from China, discussing how Yume Kawaii fashion brings her comfort and the many types of 'kawaii' she's found during her time in Japan. 

Q. What brought you to Japan?

"After graduating with a major in animation, I was working at a university in Shanghai as a teacher, but I decided to enroll in Tama Art University's graduate program to study for my master's degree. That's when I came to Japan, and I've been here for 15 years!"

Q. When you first came to Japan, what surprised you? Was anything different than what you had imagined? 

"Everyone wore such bold makeup, and that really surprised me! When I first came to Japan 15 years ago, I think the gyaru trend was still big, and a lot of girls had that strong Harajuku style and big personalities. Heavy eye makeup and blush was the big thing. I thought everyone was getting ready to film for a TV show." 

Q. What do you think of when you heard the word 'kawaii' in Japan?

"MOSHI MOSHI ROOMS, character cafes, and Yume Kawaii fashion…they are all so unique and so adorable! Those things are what I think of when I hear the word 'kawaii.'"

Q. Did finding Japanese kawaii culture change you in any way?

"Before I experienced kawaii culture, I was a teacher, so I wore a lot of black, white, and gray every day. But after encountering kawaii style for the first time, I started experimenting with different kawaii subcultures, like the Mori Girl trend back in the mid-2000s. Eventually, I fell in love with Yume Kawaii (Dreamy Kawaii) fashion, which is filled with pastels and a fantasy-like aesthetic. I've been dressing in that particular style for about ten years now. To me, kawaii is like marshmallow-flavored medicine for the soul. It's very healing." 

Q. When it comes to Japan, what interests you now? Where would you like to visit in the future?

"Today, it feels like Japanese fashion is becoming more and more simple, and the Harajuku kawaii trend is starting to disappear. Is that because people don't like standing out in that over-the-top way? Do they feel embarrassed if they dress differently than most people? I've met a lot of people who love Yume Kawaii fashion, but they might not have the courage to wear it themselves. That's why I'm currently researching how to bring Yume Kawaii to AR. If I can bring it to the virtual world in a way that blends with the real world, I can create a brand-new experience for everyone. Using mobile AR technology, people will be able to transform their everyday clothes into something with more Yume Kawaii style!"

Etsuna's Original Yume Kawaii AR Filter

Q. Please give a few words to those living abroad who are interested in visiting Japan!

If you really want to experience Japanese kawaii culture, stay at MOSHI MOSHI ROOMS in Harajuku! There are so many fashionable people in Tokyo too, and if you hang out near Harajuku Laforet on the weekend, you'll see people taking plenty of pictures. Come have a special trip to Japan and surround yourself with all things kawaii! Have fun!" 

Information

PROFILE

Etsuna

Born in China, Etsuna is a graduate of Tama Art University in Tokyo. In addition to sharing kawaii culture on her social media accounts, she founded her independent brand 'Etsuna otsukA' in 2011, which has been featured in a number of magazines. Her Weibo video channel TokyoGoGo, featuring uploads edited by Etsuna herself, has become incredibly popular. She is currently active as a designer and TV personality, mainly in Japan and China. 

Idol Group Cho Tokimeki Sendenbu to Perform Ending Theme for Shadowverse Flame Anime Series

On November 9, 2022, idol group Cho Tokimeki Sendenbu will release their new single STAR, which will be used as the ending theme for the anime series Shadowverse Flame. The second series to be inspired by Cygame's card-battling game Shadowverse, Shadowverse Flame follows Light Tenryu, a Shadowverse newbie, as he and his friends fight card battles and level up. Produced by ZEXCS and directed by Keiichiro Kawaguchi, the series began broadcasting Saturdays at 10:00 AM this April. 

 

The ending theme, STAR, is a cheery song meant to encourage listeners to chase after their dreams. On October 22, the idol group Cho Tokimeki Sendenbu will hold its largest solo concert ever at Makuhari Messe. 

In a surprise video posted on Cho Tokimeki Sendenbu's social media, the girls announced that they would perform the ending song. All of the members seem overjoyed to be performing a song for an anime series, something they've never done before. Aki Suda is so happy, she starts crying tears of joy.

 

STAR is available to stream now, and fans will be able to purchase a limited-edition disc version at the mu-mo shop. This special release will include the STAR music video, the making of the song, and live footage from the group's concert held in May 2022.

Special 'Roots of Kawaii' Exhibition Marking Rune Naito's 90th Birthday to Open in October

A special exhibition commemorating the 90th birthday of Rune Naito will be held at the Hanshin department store in Osaka from October 19 until October 31. Titled 'Roots of Kawaii,' the event will look back at the life of the esteemed artist, illustrator, writer, and designer. Known for his illustrations of large-headed baby-faced girls, he first became interested in art after discovering the works of Jun'ichi Nakahara, joining Nakahara's company after graduating high school. In 1959, Naito got his big break, designing the cover of the girls' magazine Junior Soleil. Following this, Naito would become active as an illustrator for a number of magazines, and from the 1960s on, he began other activities, even producing a line of commercial goods from glassware to stickers. 

The exhibition's theme is 'Life's fantastic dreams,' and over 300 items will be on display, including rare original drawings, goods, personal sketches, and more. The event will be held in celebration of Rune Naito's birthday on November 20, and will also feature a special shop. Admission is ¥1,000 for adults, ¥700 for high school and college students, and free for junior high school students and younger. Discounts are available by preordering tickets. For details and tickets, check out the official website.

Information

Rune Naito's 90th Birthday Exhibition

Running: October 19 – October 31, 2022
Venue: Hanshin Department Store, Umeda Main Store 8F
(1-13-13 Umeda, Kita-ku, Osaka)

Details/Tickets: https://www.naitou-rune.jp

YouTuber Idol Group UNI Mello to Release First Original Song

In March 2022, UNI MELLO, a virtual YouTuber idol group, made its debut. A joint venture by Pony Canyon and Hello, the group will release its first original song Find out SHANGRI-LA on streaming services on September 28, 2022.

 

UNI Mello consists of seven members: Kaede, Sekai, You, Amane, Tomoka, Shirafuji, and Shun. Each has a unique hobby and skillset, and the members have continued to grow over the past six months. On the UNI Mello YouTube channel, the members have continuously posted singing videos, as well as daily streams. The group's first original song was announced at the September 18th event Uni Mello's First Offline Meeting, and the audience was beyond thrilled.

 

Find out SHANGRI-LA is a song filled with the member's dreams and hopes, and listeners are sure to want to embark on a new journey. The track is filled with solo parts, allowing each member to shine, as well as harmonies highlighting the cohesiveness of the seven members.

More original music is planned to be released in the future, so look forward to it!

(C)UNI Mello

Old-School Burger Shop Jennifer Seven Opens Location in Harajuku, Tokyo

LDFS Co. Ltd., which operates six cafes and brands in Tokyo, has opened a new location! The company currently operates THE GREAT BURGER, a gourmet burger shop in Harajuku, The Little BAKERY Tokyo, and GOOD TOWN DONUTS. Now, they've brought the old-school burger store Jennifer Seven to Harajuku!


Jennifer Seven is a combination general store and burger store that sells apparel, kitchen items, and groceries. While it may seem like a general store with a coffee stand at first glance, the back door opens to reveal a secret burger shop! The innovative location will serve simple burgers, not the hearty and massive gourmet burgers available next door at THE GREAT BURGER.

General stores are found in rural America and carry a wide range of daily necessities, much like a yorozu-ya in Japan. Jennifer Seven sells original apparel, sundries, and goods with a vintage flare, as well as tableware and other items from the U.S. In addition, guests can find unique food items like handmade jellies and jams, fresh fruits and local veggies, natural wines, small gifts, and plenty more.

 

The drive-thru coffee stand attached to the store sells GOOD TOWN COFFEE, and Chinese-American steamed buns are also available at the Harajuku location!

Each classic burger will come with simple and tasty ingredients, including the beef patty, ketchup, mustard, original burger sauce, pickles, and onions. The restaurant's simple interior features white and vintage wood with blue-grayish green accents and was designed by the owner himself, inspired by diners and school cafeterias in rural America.

Come enjoy a classic burger at this secret burger joint!

Information

Jennifer Seven

Location: Jennifer Seven

J-cube C Building 1F (6-12-6 Jingumae, Shibuya-ku, Tokyo)

NFT Digital Idol Project 'Project B-idol' Announces First Artist Collaboration

05.September.2022 | MUSIC

The digital NFT idol project 'Project B-idol' has announced its first collaboration with an artist! As the first release, the song Lumière is now available as an NFT. Produced by INIMI, a team of musical artists attracting worldwide attention, the catchy number was released on September 1, 2022.

A number of unique tracks made by both well-known artists and newcomers to music are available on the NFT Marketplace 'PlayMining NFT Premier.' Each member of Azure Melodies sang this new track, and those who purchase the song will be permitted to vote on how the group progresses.

Don't miss out on this musical NFT, available in limited quantities on PlayMining NFT Premier!