Super Nintendo World at Universal Studios Japan Reveals First Winter Decorations
Universal Studios Japan is holding its NO LIMIT! Christmas event from November 11, 2022 until January 9, 2023. 
During this period, the new Super Nintendo World area will be decorated with winter decorations for the first time since it opened. The area's entrance is bringing the holiday cheer with Mario and Luigi snowmen, perfect for using as a photo spot. Upon entering the area, visitors will find a Christmas tree decorated with familiar Nintendo items along with wreaths and garlands.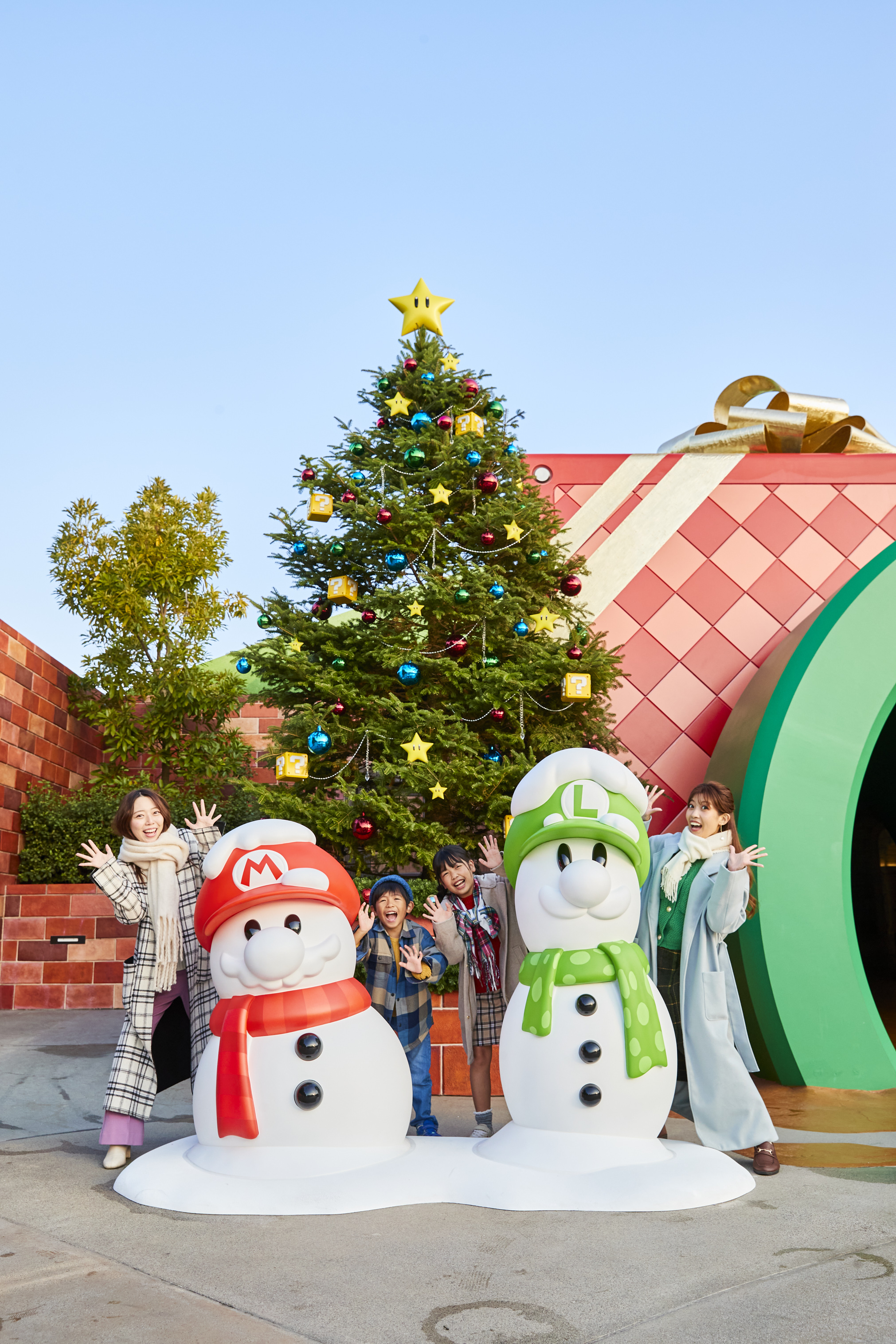 Fans won't want to miss visiting during this special season, as special menu items and merchandise will be available for a limited time. This is a winter experience you won't find anywhere else!
During the NO LIMIT! Christmas event, Minions and other popular characters will appear around the park in Christmas costumes. Two special Minions meet and greet sessions will be held as well! Come spend the holidays with your favorite characters dressed as Santa, reindeer, trees, angels, and more!
 WIZARDING WORLD and all related trademarks, characters, names, and indicia are © & ™ Warner Bros. Entertainment Inc. Publishing Rights © JKR. (s22)
Minions and all related elements and indicia TM & © 2022 Universal Studios. All rights reserved.
© Nintendo
TM & © Universal Studios & Amblin Entertainment
TM & © Universal Studios. All rights reserved.
RELATED ENTRIES
Universal Studios Japan Announces NO LIMIT! Christmas Event

From November 11, 2022 until January 9, 2023, Universal Studios will hold its NO LIMIT! Christmas event!

Christmas is associated with romance for many in Japan, but this year, USJ wants to give visitors a new way to celebrate this special winter holiday. Under the theme of a 'Red Hot Christmas,' this super-energetic event is sure to be the most exciting Christmas event on the scene this year.

This year, the Crystal Christmas tree will make its return this year after a 3-year hiatus. The tree broke the Guinness World Record for nine consecutive years from 2011 to 2019 for the World's Most Illuminated Tree. In 2019, the tree had 591,850 lights and also received Guinness certification for the World's Largest Christmas Snowflake Ornament.

The Super Nintendo World area will be decorated for winter for the first time in 2022, while Minions and other popular characters will appear in special Christmas costumes. Limited-time food and merchandise will be available as well. 

 

An Exciting Christmas Experience for All Five Senses! The NO LIMIT! Crystal Tree

NO LIMIT! Crystal Tree

This year, the Crystal Christmas tree will make its return after a 3-year hiatus with a totally new look! Guests will be bathed in colorful lights and visitors won't want to miss taking a photo with this magnificent sight. 

*On October 28, 2019, the tree won the Guinness World Record for Most Lights on an Artificial Christmas Tree with 591,840. 

The Spectacle of Lights, Complete with Heart-Pounding Music

NO LIMIT ! Christmas

During the event period, the Spectacle of Lights will be held in Gramercy Park. 

The entire area around the Crystal Tree will be completely transformed, and the space will feature projection mapping and countless lights. The blend of Christmas music fused with the magical lights will create a moment you'll never forget.

Super Nintendo World to be Decorated for Winter!

Super Nintendo World's Winter Decorations

Super Nintendo World, the newest area in the park, will feature winter decorations for the first time in 2022. At the entrance to the area, Super Star Plaza, guests will be greeted with a giant gift box and Mario and Luigi-themed snowmen. 

Guests will find wreaths and garland decorating Peach's Castle, along with another Christmas tree decorated with iconic Nintendo characters and items. 

Limited Time Greetings and Stage Shows

Limited-Time Special Greeting & Stage Shows

Guests won't want to miss meeting their favorite characters while they're dressed in holiday outfits! A special meet and greet will be held for children and adults to join the Minions for a special winter celebration. 

Hello Kitty's Christmas Happiness with the Happiness Brass Band

Hello Kitty's Christmas Happiness with the Happiness Brass Band

Hello Kitty and the Happiness Brass Band will perform Christmas music multiple times a day, so families are invited to sing and dance along while getting into the Christmas spirit! You won't want to miss Hello Kitty in her special winter wardrobe.

The Peacock Theater's Popular Universal Party–Reimagined for Christmas!

In 2022, Universal Studios Japan will introduce Universal Party ~ The Showtime & Taste of Christmas. This dinner show requires a separate ticket and will offer some incredible entertainment and menu items. The experience will be held at the Peacock Theater on select days during December 2022.

*A Studio Pass or Annual Pass is required to enter the park. 

WIZARDING WORLD and all related trademarks, characters, names, and indicia are © & ™ Warner Bros. Entertainment Inc. Publishing Rights © JKR. (s22)

Minions and all related elements and indicia TM & © 2022 Universal Studios. All rights reserved.

© Nintendo

TM & © 2022 Sesame Workshop

© 2022 Peanuts Worldwide LLC 

© 2022 SANRIO CO., LTD. APPROVAL NO. EJ2091601

TM & © Universal Studios & Amblin Entertainment

TM & © Universal Studios. All rights reserved.

Jujutsu Kaisen Inspires First Theater Show Attraction at Universal Studios Japan

The popular series Jujutsu Kaisen is getting its first theater show at Universal Studios Japan! Jujutsu Kaisen: The Real 4-D will open at the theme park on September 16, 2022 for a limited time only. For the first collab between the park and the globally-popular series, fans will be able to experience the ultra-realistic world of Jujutsu Kaisen through 3D imagery and special effects. 

Jujutsu Kaisen: The Real 4-D

The 4D ride will tell an entirely new story, allowing guests to experience a fight between the main cast and Cursed Spirits. Yuji Itadori and friends are fighting to prevent a conspiracy targeting the opening of a Jujutsu High School in Osaka. This will also mark the first time that characters from the series will appear in 3D. Along with Yuji, fans will be able to see Megumi Fushirugo, Nobara Kugisaki, Aoi Toudou, and Satoru Gojo in an entirely new way. Along with engaging graphics, fans can expect to experience seat vibrations, water splashes, and more. 

Jujutsu Kaisen x Hollywood Dream – The Ride ~Kaikai Kitan~

Along with the 4-D theater show, Hollywood Dream – The Ride will be transformed for the collaboration. The theme song for Jujutsu Kaisen, Kaikai Kitan by Eve, will be played on the ride for a limited time, from September 16, 2022 until January 18, 2023. The track is incredibly popular, and the opening for the series has been watched over 250 million times on YouTube. Listening to it on a roller coaster will be an entirely new experience and one that you can only experience at Universal Studios Japan!

Additionally, there will be Jujutsu Kaisen-themed food and merchandise available during the crossover event. More information will be announced in the future.

WIZARDING WORLD and all related trademarks, characters, names, and indicia are © & ™ WBEI. Publishing Rights © JKR. (s22)
Minions and all related elements and indicia TM & © 2022 Universal Studios. All rights reserved.TM & © Universal Studios & Amblin Entertainment
Universal Studios Japan TM & © Universal Studios. All rights reserved.
© Nintendo
©芥見下々/集英社・呪術廻戦製作委員会

Jujutsu Kaisen Attraction to Open at Universal Studios Japan for a Limited Time

Universal Studios Japan has announced that it will be opening a selection of Jujutsu Kaisen attractions for a limited time starting September 16, 2022. The anime series has been a global smash hit since it premiered. 

The original Jujutsu Kaisen manga series has sold over 65 million copies worldwide, and the recent Jujutsu Kaisen 0 film grossed over ¥13.7 billion at the domestic box office.

Attractions will focus on the theme of "curses," though there are no details as of yet as to what they will be or involve. Jujutsu Kaisen follows the story of Yuji Itadori, who becomes the host of a powerful curse named Ryomen Sukuna in order to protect his friends. Yuji then joins the Tokyo Prefectural Jujutsu High School to train and become a sorcerer so that he can avoid an execution, as well as to help others fight against Cursed Spirits. Guests will be able to immerse themselves in the series' world, and we're excited to find out more details about what attractions will be coming to USJ this fall. 

WIZARDING WORLD and all related trademarks, characters, names, and indicia are © & ™ WBEI. Publishing Rights © JKR. (s22)
Minions and all related elements and indicia TM & © 2022 Universal Studios. All rights reserved.TM & © Universal Studios & Amblin Entertainment
Universal Studios Japan TM & © Universal Studios. All rights reserved.
© Nintendo
©芥見下々/集英社・呪術廻戦製作委員会

Information

Universal Studios Japan x Jujutsu Kaisen

Open for a Limited Time Only

Opening September 16, 2022

Official Site: http://www.usj.co.jp/

Japanese Artist VERDY Releases Minions Collaboration Collection

To commemorate the upcoming film Minions: The Rise of Gru, a new apparel collection has been unveiled! The new items were made by VERDY, the artist behind popular projects like Girls Don't Cry and Wasted Youth, both of which have been noticed by celebrities overseas. Prior to the collection's launch online on July 1, fans can buy items from the limited-edition collection at Universal Studios in Los Angeles starting June 17 and at Universal Studios Japan starting June 24. 

VERDY is an incredibly popular artist who has garnered attention around the world, and his products are often seen with celebrities and big names in Japan and abroad. He has collaborated with a number of top brands in the past.

Collection

The first collaboration between the two, Minions x Vick, was released in 2020 to huge popularity, selling out within one minute of release. This second collaboration was created to satisfy huge fan demand, offering up tons of items featuring Otto, a Minion who will appear in the new film, and VERDY's signature character Vick. Fans can purchase T-shirts, hoodies, long sleeve shirts, hats, keychains, skateboards, and more. 

This is the only time you'll be able to snag these unique items, so don't miss out!

WIZARDING WORLD and all related trademarks, characters, names, and indicia are © & ™ WBEI. Publishing Rights © JKR. (s22)
Minions and all related elements and indicia TM & © 2022 Universal Studios. All rights reserved.TM & © Universal Studios & Amblin Entertainment
Universal Studios Japan TM & © Universal Studios. All rights reserved.
© Nintendo

Information

Minions x VERDY

Where to Buy: Universal Studios Japan, Studio Style

Available: June 24 – June 30, 2022
*Items only available while supplies last.
Available Online starting July 1

Available at Universal Studios Hollywood starting June 17

One Piece Summer 2022 Event to Open at Universal Studios Japan

From July 1 until October 2, 2022, fans of the long-running series One Piece won't want to miss taking a trip to Universal Studios Japan! This year's event promises to be extra special as fans celebrate the 25th anniversary of the manga series and the 15th anniversary of the One Piece Premier Show, the annual event at USJ. A special menu featuring tasty treats inspired by the series will be available alongside unique merchandise only available on-site. 

This summer's limited menu and goods lineup are each inspired by a music festival. The event itself will draw inspiration from the film One Piece Film Red, scheduled to release on August 6, 2022.

The Discovery Restaurant in the Jurassic Park-themed area of Universal Studios Japan will be transformed into the One Piece Summer Banquet Restaurant during the event period, featuring a selection of tasty dishes inspired by each main character. This year, menu items inspired by Robin and Jinbe will be available for the first time.

Plenty of original merchandise will be on sale, with one specific item serving as a highlight of the new collection: the 15th-anniversary book. This tome includes details and images from each of the past One Piece Premier Shows and is a must-have for any fan. It also includes a message from the original series author Eiichiro Oda. 

One 'music festival' themed item is the Festival Towel. Playing a major role in the 2022 version of the One Piece Premier Show, the item is decorated with a limited edition 15th-anniversary design. Guests can also grab a collectible bracelet and salted candy in a unique soda can-inspired package. Of course, it wouldn't be a One Piece event without some straw hats for sale!

This year's menu includes everything from Nami's Orange Frappe to Frankie's Super American Hot Dog. Each of these tasty dishes will be perfect for posting on social media! Next to the Lost World Restaurant, guests can enjoy some additional goodies from the One Piece Food Cart including Sanji's Pork Ribs and Sanji's Peach and Lemon Frozen Smoothie, perfect for beating the heat.

Everyone, young and old, is invited to immerse themselves in the world of One Piece during this special celebration.

© 尾田栄一郎/集英社・フジテレビ・東映アニメーション

Universal Cool Japan 2022 Unveils Anime and Game-Inspired Food Menus and Merchandise

Universal Studios has revealed new menu and merchandise details for its Cool Japan 2022 event to be held from March 4 to August 28, 2022. Five globally-beloved anime and game series will be featured at the park this year including Sailor Moon and Attack on Titan.

Attack on Titan

Food

Levi Popcorn Bucket

Syringe Pen

Cushion

 

At the Studio Stars Restaurant, guests can find menu items inspired by the characters Eren and Levi, a dessert with a gentle sweetness inspired by Mikasa's red scarf, and much more. The park's famous popcorn bucket will feature Levi for a limited time, with the treat inside flavored by the character's favorite tea. The new lineup of merchandise includes a ballpoint pen resembling a syringe, an extremely important item in the series. A stuffed animal showing Levi taking down a titan is also a must-buy for fans.

Detective Conan

Food

Ribbon Hair Clip / Miniature Car

Printed Cookie Set

 

Fans of the ace detective can enjoy a sandwich shaped like Conan's bowtie, perfect for posting on social media. A number of new items will be for sale at Universal during the event, with the printed cookie tins serving as a perfect souvenir. 

HUNTER×HUNTER

Food

Mizumishiki Glass / Muffler Towel

Headphone Pouch / Card Case

Immerse yourself in all things Hunter x Hunter as you explore the Cool Japan 2022 event. A stylish headphone pouch and a hilarious towel are just a few items you'll be able to buy exclusively at the park. 

Sailor Moon

Food

Universal Heart Compact

Ribbon Hair Clip

 

The Sailor Moon area features menu items inspired by Tuxedo Mask and Sailor Moon, a cake in the shape of Sailor Chibi Moon's heart compact, colorful desserts symbolizing the five inner Sailor Soldiers and drinks for one of each of the four outer Senshi. The full lineup of goods includes bag charms, face towels, and ribbon hair clips too cute for girls to resist!

Monster Hunter

Roasted Meat

Poogie Churritos

Recovery Potion Bottle

Figure

Get ready to embark on your own adventure with a potion bottle and huge slab of meat, perfect for keeping your energy up! Fans of Monster Hunter will find plenty to love here, with a collaborative figure perfect for completing any fan's shelf.

Which area would you be most excited to visit?

©諫山創・講談社/「進撃の巨人」The Final Season製作委員会 
原作/青山剛昌「名探偵コナン」(小学館「週刊少年サンデー」連載中)
© 2022 青山剛昌/名探偵コナン製作委員会
©P98-22 ©V・N・M
©Naoko Takeuchi
©武内直子・PNP・東映アニメーション
©CAPCOM CO., LTD. ALL RIGHTS RESERVED.
書・紫舟
WIZARDING WORLD and all related trademarks, characters, names, and indicia are © & ™ WBEI. Publishing Rights © JKR. (s22)
Minions and all related elements and indicia TM & © 2022 Universal Studios. All rights reserved.TM & © Universal Studios & Amblin Entertainment
Universal Studios Japan TM & © Universal Studios. All rights reserved.
© Nintendo

Information

Universal Cool Japan 2022

Running: March 4 – August 28, 2022

Official Site: http://www.usj.co.jp/

Universal Studios Japan to Open 'Hunter x Hunter: The Real 4-D' Attraction for a Limited Time

The popular series Hunter x Hunter is getting its first 4-D attraction at Universal Studios Japan for a limited time starting this March!

The new attraction will be part of the 'Universal Cool Japan 2022' event, set to bring together five of Japan's leading entertainment brands. It will be open from March 4 until August 28, 2022, and will pull fans into the world of Hunter x Hunter with high-quality 3D images, vibrations, water splashes, and other special effects to make it feel as though you've joined Gon and Hisoka on their adventures!

Are you ready to immerse yourself in the world of Hunter x Hunter?

©P98-22 ©V・N・M 
TM & © Universal Studios. All rights reserved.

WIZARDING WORLD and all related trademarks, characters, names, and indicia are © & ™ Warner Bros. Entertainment Inc. Publishing Rights © JKR. (s21)

Minions and all related elements and indicia TM & © 2021 Universal Studios. All rights reserved.

TM & © Universal Studios & Amblin Entertainment

Universal Studios Japan TM & © Universal Studios. All rights reserved.

© Nintendo

Information

Hunter x  Hunter: The Real 4-D

Running: March 4 – August 28, 2022

Location: Universal Studios Japan's 4-D Theater

Official Site:https://www.usj.co.jp/web/ja/jp

Oriental Hotel Universal City, the Official Hotel of Universal Studios Japan, Holds Grand Opening

After a soft opening in July 2021, the Oriental Hotel Universal City has spent the last six months remodeling its entrance, lobby, restaurant, and guest rooms. The property has now officially held its grand opening and will be welcoming guests in 2022. 

Hotel Exterior

Guest Room

Restaurant Interior

Restaurant Interior

Huge Hamburgers

Croffle Eggs Benedict

Guest rooms feature earthy color tones and are spacious and functional, with beds provided by popular brand Simmons, promising a good night's sleep. A variety of room types are available, including double rooms, twin rooms, triple rooms, and connecting rooms, allowing for a flexible stay depending on the number of guests. Until March 31, 2022, the hotel is offering the 'New Room Stay Plan,' a long-stay luxury holiday plan that allows guests to stay up to 23 hours on departure day to enjoy shopping and other leisure activities.

The hotel's restaurant has been reimagined with a buffet concept and welcomes guests with high ceilings and large windows for a refreshing morning experience. The interior is accented with a green wall to conjure images of nature, and the breakfast menu is based on the concept of 'Charge from Nature,' offering a wide variety of dishes to help visitors recharge both body and mind.  

オリエンタルホテル ユニバーサル・シティはユニバーサル・スタジオ・ジャパンのオフィシャルホテルです
Universal elements and all related indicia TM & © 2021 Universal Studios. All rights reserved.
CR21-2553
 

Detective Conan World to Open at Universal Cool Japan in 2022

Universal Studios Japan has a number of anime and manga-themed attractions as a part of its Cool Japan initiative. In 2022, a limited-time Detective Conan World will appear at the park from March 4 until August 28. 

The 100th volume of the Detective Conan manga series was released in October 2021, and over 250 million copies of the comic have been sold worldwide. Detective Conan: The Bride of Halloween was announced on December 1, and will open in theaters on April 15, 2022.

How would you like to visit the park next year?

©2022 青山剛昌/名探偵コナン製作委員会
©SCRAP All rights reserved.
TM & © Universal Studios. All rights reserved.

WIZARDING WORLD and all related trademarks, characters, names, and indicia are © & ™ Warner Bros. Entertainment Inc. Publishing Rights © JKR. (s21)
Minions and all related elements and indicia TM & © 2021 Universal Studios. All rights reserved.
TM & © Universal Studios & Amblin Entertainment
Universal Studios Japan TM & © Universal Studios. All rights reserved.
© Nintendo

Information

Detective Conan World at Universal Cool Japan

Running: March 4 – August 28, 2022

*The Detective Conan Mystery Restaurant will be open from March 4 – June 5, 2022.

Official Site: http://www.usj.co.jp/

Universal Studios Japan Announces Collaboration with Hunter x Hunter

Universal Studios Japan is constantly collaborating with anime, manga, and game series as part of its Universal Cool Japan initiative. In March 2022, the incredibly popular series Hunter x Hunter will appear in a special attraction at the Osaka theme park. 

The Hunter x Hunter manga series, penned by Yoshihiro Togashi, tells the story of Gon, a young boy who discovers that his missing father is actually a world-renowned Hunter, a professional who specializes in fantastical quests and pursuits. Gon then aims to become the world's best Hunter. The series has sold over 79 million copies worldwide and has become one of Shueisha's best-selling manga series since its release in 1998. 

This new collaborative attraction will bring the world of Hunter x Hunter to live in an incredibly 'ultra-realistic' way. Stay tuned for more information on the new attraction!

©P98-22 ©V・N・M 
TM & © Universal Studios. All rights reserved.

WIZARDING WORLD and all related trademarks, characters, names, and indicia are © & ™ Warner Bros. Entertainment Inc. Publishing Rights © JKR. (s21)
Minions and all related elements and indicia TM & © 2021 Universal Studios. All rights reserved.
TM & © Universal Studios & Amblin Entertainment
Universal Studios Japan TM & © Universal Studios. All rights reserved.
© Nintendo

Information

Universal Studios Japan 'Universal Cool Japan 2022' x HUNTERxHUNTER

Opening March 4, 2022

Official Site: http://www.usj.co.jp/

Universal Studios Japan Celebrates 20th Anniversary with Special Christmas Event

Prior to the event's commencement on November 26, Universal Studios Japan released a press preview to highlight this year's Christmas event, including images of the first Christmas tree in two years since the pandemic began. This year's theme is 'NO LIMIT!' and will also celebrate the park's 20th year of operation. 

The popular stage show NO LIMIT! will feature a special Christmas theme, with popular park characters like Elmo, Snoopy, Hello Kitty, and others clad in holiday costumes. The collaboration with popular girl's band NiziU has been a major hit so far and will feature their original song FESTA! The goal of the event is to kick off a year filled with smiles. 

The 20th Anniversary NO LIMIT! Christmas tree stands at the center of Gramercy Park, offering guests an excellent view from all sides. Be sure to snap a photo with your friends and loved ones to start 2022 off right!

WIZARDING WORLD and all related trademarks, characters, names, and indicia are © & ™ Warner Bros. Entertainment Inc. Publishing Rights © JKR. (s21)
Minions and all related elements and indicia TM & © 2021 Universal Studios. All rights reserved.
© Nintendo
TM & © 2021 Sesame Workshop
© 2021 Peanuts Worldwide LLC
© 2021 SANRIO CO., LTD. APPROVAL NO.  EJ1111901
TM & © Universal Studios & Amblin Entertainment
©吾峠呼世晴/集英社・アニプレックス・ufotable
© Sony Music Labels Inc./JYP Entertainment.
TM & © Universal Studios. All rights reserved.

Universal Studios Japan 20th Anniversary Christmas Event Opening November 26

The past two years have been difficult, with events being canceled and people having to spend more time inside. Universal Studios Japan is celebrating its 20th anniversary with a new Christmas event, hoping to bring back guests' smiles and offer a place to make new holiday memories. The event will run from November 26, 2021, until January 10, 2022. 

NO LIMIT! ~Happy Christmas!~

#USJ Amazing AR (Christmas ver.)

Winter Exclusive Food and Merchandise

Super Nintendo World

Demon Slayer: Kimetsu no Yaiba

The park will decorate Gramercy Park, found in the heart of the New York section, with a massive Christmas tree, the first to be erected in two years. Featuring different decorations than years past, the tree will be clad in 20th-anniversary colors and adornments and will be the perfect place to take a photo! Plenty of Christmastime entertainment and lights will illuminate the park, giving visitors plenty of hope for the upcoming new year. 

The singing show 'Power of Pop – Christmas Edition' will be held at Mel's stage, and guests can hear popular Christmas tunes sung live. The popular Super Nintendo World area of the park will be welcoming winter for the first time since its opening, with a new lineup of food and merchandise. 

A Demon Slayer: Kimestu no Yaiba collaboration event will also be going on until February 13, 2022. In addition, the Demon Slayer XR ride, the series' first VR roller coaster, themed restaurants featuring character meet-and-greets will also be open, as well as shops selling original Demon Slayer merchandise. 

For the park's 20th anniversary, the popular stage show NO LIMIT! will feature a special Christmas theme, with popular park characters clad in holiday costumes. The collaboration with popular girl's band NiziU has been a major hit so far and will feature their original song FESTA. This new revival is sure to have visitors dancing to the music!

A new Christmas-exclusive AR filter has been added to the park's official Instagram, so don't miss your chance to use it during your visit!

WIZARDING WORLD and all related trademarks, characters, names, and indicia are © & ™ Warner Bros. Entertainment Inc. Publishing Rights © JKR. (s21)
Minions and all related elements and indicia TM & © 2021 Universal Studios. All rights reserved.
© Nintendo
TM & © 2021 Sesame Workshop
© 2021 Peanuts Worldwide LLC
© 2021 SANRIO CO., LTD. APPROVAL NO.  EJ1102001
TM & © Universal Studios & Amblin Entertainment
©吾峠呼世晴/集英社・アニプレックス・ufotable
© Sony Music Labels Inc./JYP Entertainment.
TM & © Universal Studios. All rights reserved.

Information

Universal Studios Japan Christmas Program

Running: November 26, 2021 – January 10, 2022

NO LIMIT! ~Happy Christmas!~

Location: Gramercy Park

*Performances held 3 times a day until January 10, 2022. (Times will depend on date.) 

Official Site: http://www.usj.co.jp/