Atarashii Gakou no Leaders release music video for new single "Kimi wa Ina '17"
Atarashii Gakkou no Leaders are the 4-member dance performance unit who are making a name for themselves in the world of music at events and festivals throughout Japan. The official music video for their forthcoming second single Kimi wa Ina '17, set to hit shelves on October 25th, was just released on YouTube.
The song is themed around something which everybody must have experienced in their school days – that act of "betrayal" during a marathon run (being left behind!). The video stays faithful to that idea and presents it as a story tied together with a marathon and some seriously avant-garde dancing. The members of Atarashii Gakkou no Leaders show us their incredibly impressive moves in this must-see video. The "YouTube version" of the music video is different from the full version – it's a special rendition that contains plenty of dance scenes.
【Atarashii Gakkou no Leaders – "Kimi wa Ina '17" Music Video (YouTube ver.)】
Additionally, both release events titled "Mada Mumei Desu Kedo, Nani ka?" as well as bonuses for purchasers of the new single have been announced.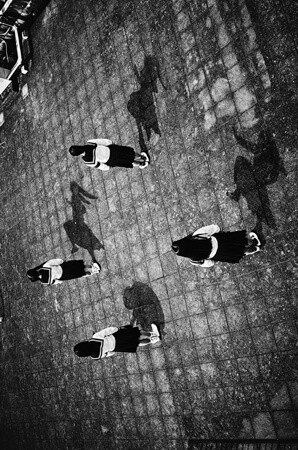 There will be mini performances, signings and original logo stickers handed out at the events. Also, if you buy the single at the Shibuya chain of Village Vanguard, you will receive an original sticker signed personally by Nameko Shinsan, who wrote the lyrics for "SNS 24-Ji," a song included on the single. These stickers are limited in quantity, so make sure to get on them quick!
For full details regarding the release events for Atarashii Gakkou no Leaders, be sure to check their official homepage! Don't miss out on the mini live shows, sign events and more.
■Information
2nd Single – "Kimi wa Ina '17"
On Sale: October 25, 2017
Price: ¥1,200 (tax excl.)
Tracklist:
1. Kimi wa Ina '17 (Lyrics: Atarashii Gakkou no Leader / Composer: H ZETT M)
2. SNS 24-Ji (Lyrics: Nameko Shinsan / Composer: H ZETT M)
"Kimi wa Ina '17" Music Video (YouTube ver.): https://youtu.be/z3mx6o3aK18
Official Homepage: http://leaders.asobisystem.com/
RELATED ENTRIES
ATARASHII GAKKO! Named as Ambassadors for NIKE Gamma Force

Nike's Gamma Force line, a modern interpretation of classic 80s sneakers, will be available at ABC-MART and ABC-Mart Online. To celebrate the launch, a new visual and collaborative video featuring the members of ATARASHII GAKKO! have been released.

In the video, the girls are seen performing a flashy dance while wearing shoes from the Gamma Force line. The featured song, SUKI LIEwas featured on the group's new EP ICHIJIKIKOKU and in standard ATARASHII GAKKO! style, the members express themselves freely while holding absolutely nothing back.

Information

ATARASHII GAKKO! x Gamma Force Bonus Campaign
Those who purchase shoes from the Gamma Force line at ABC-MART stores or online will receive original stickers featuring ATARASHII GAKKO! One sheet will include special edition stickers, including key visuals and illustrations of the members wearing Gamma Force and their signature socks.

Special Site
https://www.abc-mart.net/shop/e/e1000650w/

*One sticker sheet per purchase will be available while supplies last
*Bonus campaign begins May 11 both in stores and online
*The campaign will end once all stickers are gone

Atarashii Gakko! to Perform at 88Rising's Head in the Clouds Music Festival in LA for Second Consecutive Year

After performing at the Head in the Clouds music festival last November, four-member vocal-dance group Atarashii Gakko! has been invited to perform again in 2022! The festival, organized by 88Rising, will take place in Pasadena, CA on August 20 and 21. 

Last January, Atarashii Gakko! debuted globally as a part of 88Rising, a label promoting Asian music and culture throughout the American music scene. During Coachella 2022, Utada Hikaru performed on the 88Rising stage!


At last year's Head in the Clouds festival, Atarashii Gakko! performed for an audience of 25,000. Even though most of the audience didn't speak Japanese, they didn't hesitate to cheer and jump along with the music! The group has released a number of catchy new tracks since last year's festival, so fans should look forward to some crazy new content on stage in 2022.


On May 24, Atarashii Gakko! released Pineapple Kryptonite (Yohji Igarashi Remix). The catchy new track made an appearance at the group's recent solo concert at Zepp DiverCity on May 20.

Keep an eye on Atarashii Gakko! as they continue to take over the world!

Atarashii Gakko! Profile


A four-member dance-vocal unit known for the member's individuality and freedom. 

The group's full name is 'Atarashii Gakko no Leaders (New School Leaders).'

Each of their explosive live performances has been choreographed by the members themselves. Their powerful dance moves are hotter than daikon radish in oden, and the group made its world debut in 2021 as a part of 88Rising, a music label promoting Asian acts and culture to the world. 

Atarashii Gakko! has over 3.9 million TikTok followers to date. 

As they continue to grow their fanbase, the incredibly talented girls have received a number of offers to expand their activities.

Concert Photo: codyburkhardt

Atarashii Gakko! and PARCO Culture Festival P.O.N.D. Release Special Collab Video

In 2021, the four-member girl group Atarashii Gakko! joined 88rising, a U.S.-based label helping to promote Asian music globally. Since then, they have continued to attract worldwide attention with their unique sound and eccentric choreography. Now, to promote P.O.N.D., a 10-day culture festival at Shibuya PARCO, the two have come together for a special collaborative video!

ATARASHII GAKKO! × P.O.N.D. – Pineapple Kryptonite (SHIBUYA SHORT VER.)





Produced by Money Mark, known as the best sound producer and melody maker in the alternative music world and working with the Beastie Boys for nearly 20 years, Pineapple Kryptonite has been a smash hit. Though the original music video was filmed in California, this version shows the girls fighting off a monster attacking Shibuya PARCO. The video was directed by up-and-coming filmmaker Oudai Kojima. 

The video is currently available on YouTube, and will also be popping up on screens across Shibuya during the cultural festival!

Comment from the Members

"We walked around PARCO so many times our feet ached, and we shouted so loudly at the giant monster our throats were sore! The best part was messing with the avocados, gummies, and dry ice in the lab scene. 

Be sure to check out the video we made with Shibuya PARCO!"

Information

P.O.N.D. ~Encounter an Unknown World at PARCO~

Running: October 8 – October 17, 2021

Location: Shibuya PARCO (PARCO MUSEUM TOKYO, GALLERY X)

Atarashii Gakko! X P.O.N.D.

Pineapple Kryptonite (SHIBUYA SHORT VER.)

Girl Group Atarashii Gakko! Releases Music Video for Pineapple Kryptonite

28.September.2021 | MUSIC

The four members of Atarashii Gakko constantly generate buzz on the web for their wacky dance moves, crazy personalities, and hilarious TikTok uploads. The group has over 3 million followers on the app, and with their new track Pineapple Kryptonite streaming now, more fans are sure to flock to the ASOBISYSTEM gang. Also affiliated with 88rising, a U.S.-based label helping to promote Asian music globally, the official 88rising YouTube channel has now uploaded the music video for this catchy track. 

Pineapple Kryptonite was produced by Money Mark, known as the best sound producer and melody maker in the alternative music world, having worked with the Beastie Boys for nearly 20 years. The song was created in Los Angeles, and with its addictive pop sound, it's perfect for a new TikTok dance challenge. 

The blockbuster music video depicts the girls fighting against invading aliens in the vast deserts of California. As to be expected, their choreography is on point, and the members attempted their own stunts for the first time. 

Pineapple Kryptonite Music Video 

The group will continue to promote their activities to an international audience, so be sure to keep an eye out for where they'll appear next!

Japanese Music Artists to Perform at Crocs Japan x atmos pink's Summer Festival

Casual footwear brand Crocs Japan and sneaker select shop atmos pink are set to host a summer pop-up event titled 'Atokuro Natsumatsuri' at atmos pink's flagship store in Harajuku as well as online from July 31 to August 9.

atmos is one of the leading sneaker brands in Japan, while Crocs is a staple of summertime footwear. Together, the two brands are set to deliver an array of summer season content with classic Japanese summer stalls, creating your own custom Crocs Jibbitz™, and more. Additionally, everyone who attends the event and buys something will enter for a chance to win some limited-edition merhandise.

Starting on August 2, a line-up of Japanese artists will perform live on YouTube for the event, with names such as FAKY, Yurufuwa Gang, ELLE TERESA, CHAMELEON LIME WHOOPIEPIE, Atarashii Gakko no Leaders, and more.

Information

Atokuro Natsumatsuri
Running: July 31, 2021 – August 9, 2021

Location: atmos pink Flagship Shop Harajuku

Address: 6-5-3 Jingumae, Shibuya, Tokyo

Opening Hours: 11:00-20:00

Live Schedule​
August 2 @ 21:00 – FAKY

August 4 @ 21:00 – Yurufuwa Gang
August 6 @ 21:00 – ELLE TERESA
August 8 @ 21:00 – CHAMELEON LIME WHOOPIEPIE, Atarashii Gakkou no Leaders

atmos pink channel: https://www.youtube.com/channel/UCkSEEsKnBrGz0bP9XLDkSGw

atmos pink Official Website: https://www.atmos-pink.com/

Atarashii Gakkou no Leaders a.k.a ATARASHII GAKKO! Release New Song 'FREAKS' Warren Hue

Japanese dance and vocal unit Atarashii Gakkou no Leaders a.k.a ATARASHII GAKKO! released their new song FREAKS featuring Jakartan rapper Warren Hue on Tuesday (March 2). The track is available on all major music streaming and download platforms.

Atarashii Gakkou no Leaders joined 88rising in January to make their international debut under their official new overseas name ATARASHII GAKKO! in January. This saw the release of their first international track NAINAINAI.

FREAKS was produced by American house producer Claude VonStroke. It fuses house, pop, jazz, hip-hop, and rock with the MIZYU, SUZUKA, KANON, and RIN's punk energy which is an expression of Japanese youth and youth culture.

Information

New Digital Single "FREAKS" – ATARASHII GAKKO! & Warren Hue

Released: March 2, 2021 (On all major music download and streaming services)

<Profiles>

Atarashii Gakkou no Leaders a.k.a ATARASHII GAKKO!

Atarashii Gakkou no Leaders a.k.a ATARASHII GAKKO! are the self-appointed "representatives of Japan's youth." They are a four-member group focused on live performances—wholly unique performances they wield as their weapon, fusing their unrivalled dance and singing ability with comical skits within their songs. In 2018, they played at ROCK IN JAPAN and Summer Sonic. They were also hugely active in 2019. Despite the dark times wrought by 2020 they stayed positive which led them to signing a contract with 88rising in 2021. They boast over 660,000 followers on TikTok, and their army of fans around the world continues to grow.

Warren Hue

Warren Hue is an 18-year-old rapper and singer from Jakarta, Indonesia. He is a spearhead of Asia's next-generation hip-hop, writing tracks spanning from gentle love songs to hard rap. His inspiration is rooted in fellow hip-hop icons, video games, fashion, and Asian culture which he laces through a combination of his unique music style and art.

88rising

88rising is an American multi-media company founded by Sean Miyashiro in 2015. Described by Miyashiro as a "hybrid management, record label, video production, and marketing company," 88rising became a big name in the US in just three years, focusing on signing Asian American and Asian artists such as Rich Brian, Joji, Higher Brothers, Niki, Jackson Wang, and more.

ATARASHII GAKKO! English Website: https://atarashiigakko.com/

Atarashii Gakkou no Leaders Official Homepage: http://leaders.asobisystem.com/

Atarashii Gakkou no Leaders Debut Internationally in US as ATARASHII GAKKO! With New Song 'NAINAINAI'

Japanese girl group Atarashii Gakkou no Leaders made their overseas debut on Wednesday with the release of their new song NAINAINAI. The track was released under 88rising with the band using the new name 'ATARASHII GAKKO!' for international releases.

88rising is an American multi-media company founded by Sean Miyashiro in 2015. Described by Miyashiro as a "hybrid management, record label, video production, and marketing company," 88rising became a big name in the US in just three years, focusing on signing Asian American and Asian artists like Joji and NIKI.

The music label announced in November last year that it had signed a contract with ATARASHII GAKKO! to release music outside of Japan. Their partnership began with ATARASHII GAKKO! releasing a web series called Seishun Academy on 88rising's official YouTube page. The first episode was released in November and has garnered 1.6 million views (as of January 22, 2021). The latest episode, Seishun Academy 103: Japan Train Travel, dropped this year on January 6.

ATARASHII GAKKO! – NAINAINAI (Official Video)


ATARASHII GAKKO! performed their new song NAINAINAI at 88rising's international online music festival, ."DOUBLE HAPPINESS Global Holiday Festival," which is available to watch on 88rising's YouTube page.

ATARASHII GAKKO! has lots in store for the world to look forward to so stay tuned.

Atarashii Gakko no Leaders Make International Debut From 88rising

88rising is an American multi-media company founded by Sean Miyashiro in 2015. Described by Miyashiro as a "hybrid management, record label, video production, and marketing company," 88rising became a big name in the US in just three years, focusing on signing Asian American and Asian artists like Joji and NIKI.

88rising is now welcoming a new name to the list: the four-member dance and vocal unit Atarashii Gakko no Leaders of ASOBISYSTEM, who will sign a contract to make their international debut in January 2021. They will serve positive and youthful Japanese energy under the name ATARASHII GAKKO!.

ATARASHII GAKKO! will perform at DOUBLE HAPPINESS Global Holiday Festival, a free global online music festival spearheaded by Dumbfoundead that's set to stream for free via Eastern Standard Time on December 2, US Time (December 3 in Japan).

Atarashii Gakkou no Leaders Recruiting Fans to Support Production of Music Video

Atarashii Gakkou no Leaders is a four-member dance performance unit living strongly and brimming with a sense of individuality and freedom.


The pop group are beginning their very own project from February 14th to March 29th on the joint-development and experience-based platform WIZY. The project is titled Mumei Desu Kedo Nani ka? no Seishin de, Kakure Meikyoku "Piloti" no MV Seisaku Ouen Project!

The project will see the members produce a video for their first-ever partsong Piloti from their album Mae Nara wa Nai while being supported by fans. It will be shown via WIZY.

Comment Video

▼Comment from Atarashii Gakkou no Leaders
Hello, everyone. We are Atarashii Gakkou no Leaders.

To make our first full album and our first solo concert exciting, we thought we'd like to make a music video for a hidden song on our album, "Piloti"! Your support, co-operation and participation is required in this WIZY project. By participating, we'll be able to complete the "Piloti" music video and make our album and solo concert a success. Please get involved!


Fans that support the project will receive a wide selection of Atarashii Gakkou no Leaders bonuses, including your name being featured in the end credits of the music video, an exclusive early viewing of the music video, a limited-edition Piloti t-shirt associated with the song, a portrait of you drawn by the members, a dance performed specially for you – the list goes on. There are also limited special priority tickets available for their first solo concert on April 21st.


Each item in this project is introduced on the official project page accompanied with hand drawn illustrations by the members. Be sure to check out their comment video and become a Atarashii Gakkou no Leaders supporter!

■Information
Mumei Desu Kedo Nani ka? no Seishin de, Kakure Meikyoku "Piloti" no MV Seisaku Ouen Project!
Running: From February 14th at 17:00 to March 29th at 23:59
Project Website: https://wizy.jp/project/78/

First Solo Concert: "Mumei Desu Kedo One Man ~Yuumei ni Nanka Naritakunai. Naritai Kedo.~"
Date: April 21, 2018
Venue: Shibuya WWW
"WIZY" First-Come First-Served Early Tickets: Available February 14th @ 17:00 – March 29th @ 23:59
http://recochoku.com/wizy/hamidashi/
*Other early tickets available from February 20th at 10:00

Atarashii Gakkou no Leaders to make their major debut with new single "Dokubana" produced by H ZETT M!

The young people of today define themselves by the term "Hamidashi," meaning that they abide by the rules but make known their individuality and freedom. Atarashii Gakkou no Leaders are a 4-member dance performance unit that are popular among the youth, a group whose live performances showcase powerful dance routines to their songs. In a unique tie-up, Atarashii Gakkou no Leaders are to make their major debut under Victor Entertainment with the release of their first single "Dokubana" on June 6th.

The producer of the song is none other than the piano prodigy H ZETT M, the band master of the famous H ZETTRIO and whose music was used at the closing ceremony of the 2016 Summer Olympics in Rio. Commenting on the track, H ZETT M says, "The girls are keen and sharp, so I kept that in mind when creating the song and gave it a feeling of speed that embodies the 'now.'" The new song is different from anything they have done to date. The first track on the single, "Dokubana," is a piano rock tune that sounds a little like something from the Showa era. The second track, "Wakaranai," has a city pop feel and tells of the fleeing nature of sudden love. These songs are overflowing with that "individuality," and are in line with their "avant-garde" and "unique" dancing. It's the birth of a new Atarashii Gakkou no Leaders.

In addition, the title track "Dokubana" has been selected to be the theme song for the TV Asahi Friday night drama "Joshuu Seven." The drama begins on Friday April 21st, so if you're in Japan be sure to check it out.

The group will also be performing for "Nico Nico Chou Kaigi Chou Ongaku Matsuri 2017" on Saturday April 29th where they will most likely perform just the one song – "Dokubana" – so don't miss out.

■Information

Major Debut Single "Dokubana"

On Sale: June 7th Price: ¥1,200 + tax (P/No. VICL-37286)

01: Dokubana

02: Wakaranai

http://leaders.asobisystem.com/

−−−

Related Article: MOSHI MOSHI NIPPON FESTIVAL: DAY 2 after report