【TRAVEL Q&A】A Guide to Dining at Restaurants in Japan – Chopsticks, Sushi, Drinking & More
When eating at a restaurant in Japan, it's important to be aware of Japanese dining etiquette before, during and after your meal. Here are 5 rules you should try to learn if you eat out in Japan.
1: Should I take off my shoes at restaurants in Japan?
If the restaurant has tatami booths, don't forget to take off your shoes. Some Japanese-style restaurants, such as izakaya, will ask you to take your shoes off at the entrance. In restaurants like these, there will be a shoe box where you can store your shoes in. You can lock it with a key, so keep it safe as you'll need it to retrieve your shoes when you leave the restaurant!
2: How should I sit when I eat at traditional Japanese-style restaurants?
The number of traditional restaurants in Japan is decreasing nowadays, but you should sit seiza style if you find that the restaurant does not have seats. This is a traditional form of sitting in Japan where you must kneel, keep your back straight and rest your buttocks on your ankles. It might be painful to sit in this position, so if it becomes uncomfortable then spread your legs out. The restaurant staff will generally be understanding.
3: I can't use chopsticks! What should I do?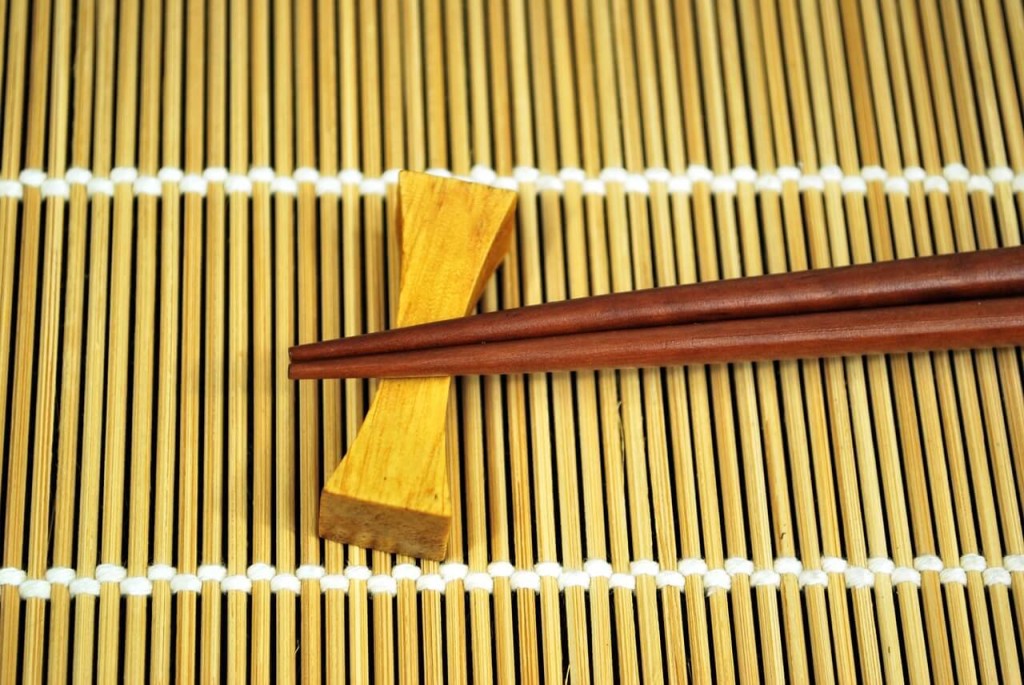 Most restaurants can provide knives, forks and spoons so you don't need to worry if you can't use chopsticks. But it's generally better to use them when eating Japanese dishes.
Keep in mind the following:
– Observe other people using chopsticks if you're unsure how to use them. It might take a while to get used to it but you'll get the hang of it!
– Your chopsticks should be placed on a hashioki, or "chopstick rest," when you are not using them. If the restaurant does not have a hashioki, then you can make your own chopstick rest with the paper packaging your chopsticks come in.
– It is impolite for two or more people to pick up the same piece of food at the same time.
 – Never stick your chopsticks vertically into your rice. This is because that's the way bowls of rice are given as an offering to a deceased person at funerals.
As a side note, when eating a dish that can be shared among people, you should use the opposite side the chopsticks you have been using to eat. It is considered unhygienic and unwelcoming to take food directly with the side you have eaten with.
4: What rules should I remember when participating in a drinking party?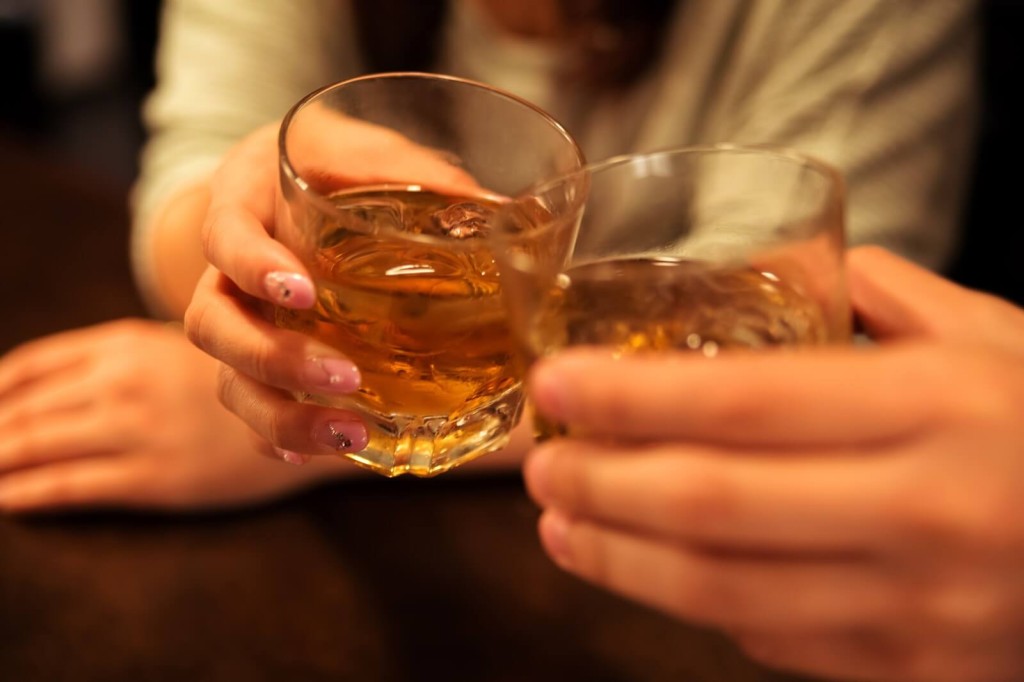 Japanese people tend to value the group rather than the individual. So, here's a question! Which of the following responses is correct?
– Drink the beverage you ordered immediately upon receiving it.
– Wait until everyone else gets his/her drink before drinking.
Those of you who answered "2" might have a Japanese mind! It is common in Japan to wait until everybody else gets their drink before drinking. You can eat your meal when it is brought to you since they become cold easily but for drinks, you must wait. Take a sip after saying "kanpai!" (cheers!) with everybody!
5: How should I eat sushi?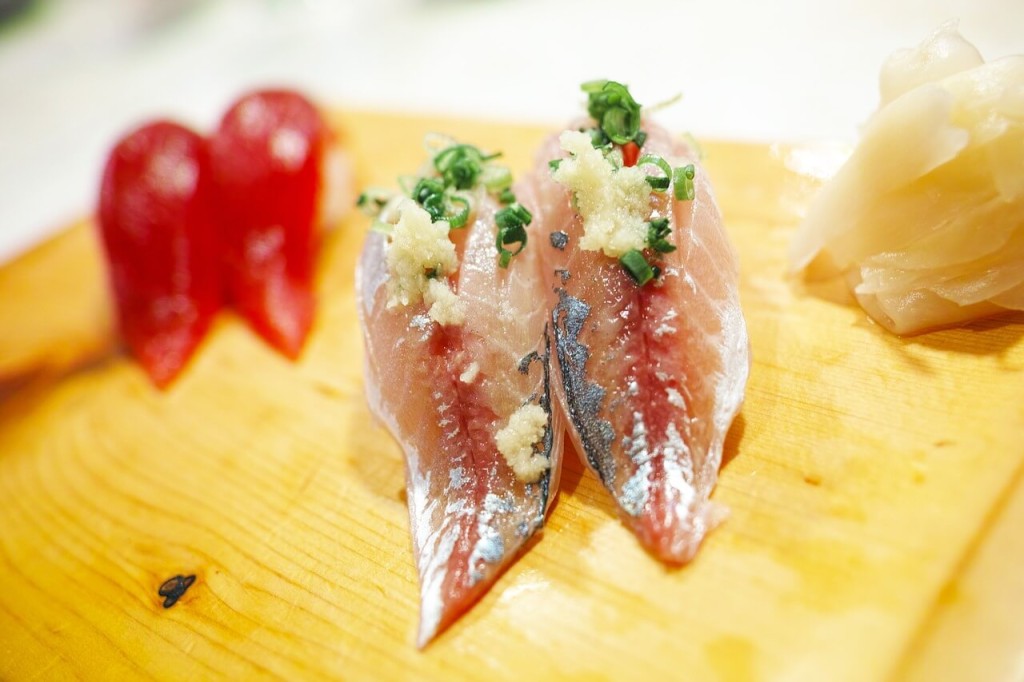 There are some rules you should know when you eat sushi, one of Japan's most traditional foods. Below are the procedures for how to eat sushi.
Makizushi (sushi rolled with seaweed)
– Pick up the seaweed roll with your fingers.
– Dip the rice into soy sauce
– Eat gari (ginger) after eating sushi. Some people eat sushi and gari together but it is better to eat them separately. The reason you should eat gari is because gari will make your mouth fresh so that you can enjoy the flavor of next sushi that you eat.
Nigirizushi (usual sushi)(vinegary rice topped with raw or cooked fish)
– Turn the sushi horizontally using your chopsticks
– Pick up the sushi with your fingers and dip the fish into soy sauce. (Don't dip it too long into the soy sauce! If you do this, you can't enjoy the fresh and sophisticated flavor of sushi).
– If you want an even more authentic sushi experience, place the sushi on your tongue so that the fish part is laid flat across it. You'll be able to enjoy the flavour even more.
6: How should I eat Japanese noodles?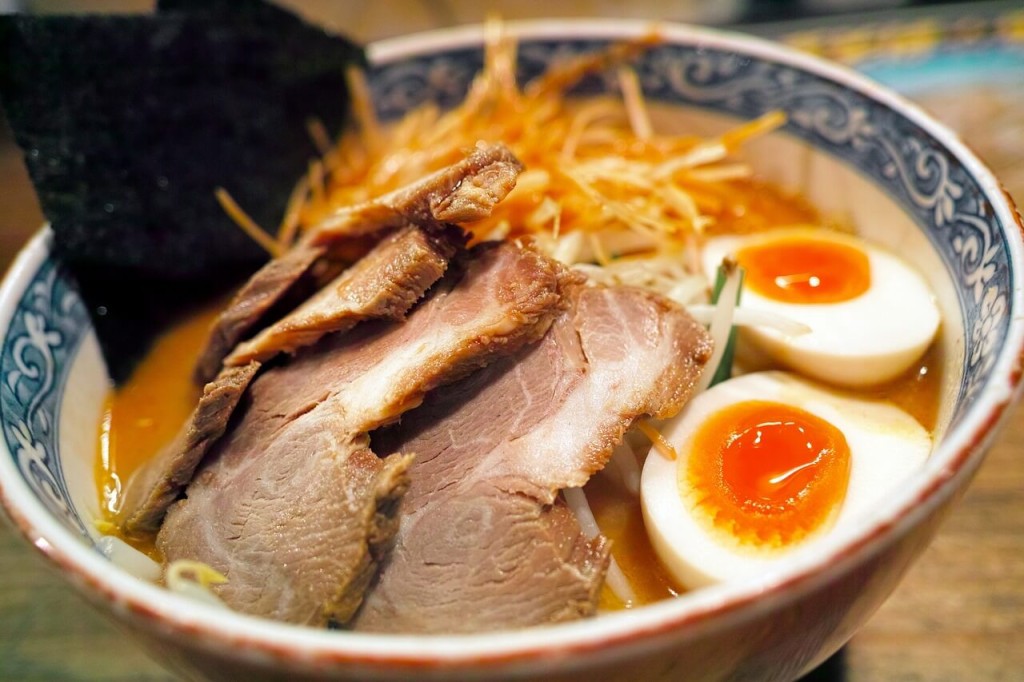 Do you like ramen? Did you know that it's OK to slurp when eating Japanese noodles? It's not rude if you make slurping noises in Japan when eating them. The sound actually shows that you're enjoying your meal. Some people even say that the food is even more delicious when slurped. You can slurp soba and udon noodles, but slurping pasta is considered rude.
Was our guide helpful?
MMN will continue to answer questions related to Japan and Japanese culture. If you have any questions about Japan, then be sure to hit us up on our Facebook page!
RELATED ENTRIES
Travel Q&A: Where Can I Buy Cheap, Standard Souvenirs in Tokyo?

Tokyo has to be one of the most fun cities for finding souvenirs. But you might be left spoilt for choice wondering where to go. So we've compiled a list of shops where you can buy great Japanese souvenirs at a low price all situated in easy-to-find locations

These shops aren't just used by foreign tourists, they're used by Japanese people too, so you can rest assured you'll be getting good quality items at a good price!

1.Matsumotokiyoshi

You'll find this drug store easily with its trademark yellow sign. They sell high quality Japanese cosmetics, medical supplies, daily necessities and more priced lower than their regular prices elsewhere. Most of the time you'll be able to spot this shop surrounding the major stations in Tokyo. It's a very popular shopping spot, with Japanese people young and old going there daily. Get your hands on popular cosmetics by Shiseido for a low price or stock up on medicines amongst many other things.

2.Don Quijote

There's no one in Japan that doesn't know about this discount store. It's so popular there's over 30 branches in Tokyo alone. They sell pretty much anything you can thick of from snacks, food and drinks to clothes, cosplay toys, merchandise, daily necessities and much more. You'll get lost in the maze of shelves all of which overflow with different items. If you're looking for something a little different for a souvenir, then look nowhere else.

We even made an article on popular souvenirs in Don Quijote which you can read here.

3.Tokyu Hands

If you're seeking out kawaii stationery you can't find outside of Japan as well as other convenient Japanese everyday use items then Tokyu Hands is the place to go. They have branches in Tokyo, Shibuya, Ginza, Shinjuku and elsewhere, making it a great place to stop by when you're shopping or sightseeing. They stock a lot of products but it's not like a discount store such as Don Quijote where everything is scattered around, so you can feel more relaxed as you search for a souvenir.

4.LOFT

Like Tokyu Hands, LOFT stocks a lot of different products. Japanese people use this shop often for birthday presents for friends and family. There's over 25 branches in Tokyo including Shibuya and Shinjuku making it another easy place to get to. They also have lots of Japan-made kawaii stationery which makes it a very popular spot amongst foreign tourists.

5.Yodobashi Camera

If it's electronics you want, then no place is better than Yodobashi Camera. This huge chain sells all kinds of high tech Japanese equipment from PCs to cameras and other electronic items.

6.KIDDY LAND

Japanese merchandise for characters like Hello Kitty and My Melody is very popular overseas too. KIDDY LAND sells a huge range of character goods including plenty that cannot be found overseas. There's 8 branches in Tokyo including Harajuku, so if you're a lover of iconic Japanese characters then you're going to love this place.

Make use of our list and find the perfect souvenirs for yourself, your family and your friends!

Travel Q&A: Best Ways to Enjoy Summertime in Japan

Japan is noted for is distinct season changes. Every time a new season rolls in, people change their outfit colours, and stores sell products related to the season.

Summertime in Japan runs through July and August. We've compiled a list of things you should get involved in during the summer season when you arrive in the land of the rising sun.

Natsumatsuri

The natsumatsuri, or 'summer festival' is an important part of the summer experience in Japan. Throughout July and August many exciting festivals take place up and down the country. Most take place annually and are a time to celebrate shrine deities, the four seasons, and history. There are even festivals that take place across several days.

Summer festivals mean the yatai start rolling out, or food stalls, where they sell freshly made hot takoyaki, sweet desserts and more. Buying something from a yatai and strolling around while eating is one of the best parts of a Japanese summer festival. It's also fun to see the food being prepared on hot iron plates right in front of you.

There are other yatai beside food carts too. There's lots of game stalls where you can try scooping a goldfish or have a hand at yo-yo fishing. For these two games you use a poi which has a thin piece of paper attached, or a fish hook, to try and catch your own gold fish or water balloon respectively. Whatever you can scoop up you get to take home. These games are enjoyed by both kids and adults alike.

Summer festivals are held all around the country and all have their own unique charms, so make sure to look up if the city or town you're visiting is holding any. It's an opportunity to experience a Japanese tradition, so if you're going to Japan in summer then don't miss out.

Firework Festivals

During firework festivals people dress up in yukata and go to watch the sky light up beautifully with their friends, families or lovers. These are another special part of Japanese summers. Firework festivals are held all around Japan and each have their own unique themes and captivating fireworks. Feel part of the fun by getting yourself a yukata and heading to one!

Beer Gardens

You can't have a summer without a cold refreshing beer! When you think of places to drink in Japan, izakaya tend to be the standard option, but why don't you try something a little different? Beer gardens in Japan are often held on rooftops during the summer where people drink and eat great food with friends and family.

MMN

Shaved Ice

Kakigori, or 'shaved ice' is a summer pastime in Japan which sees ice shaven thinly and topped with sweet syrup or honey. They're the perfect combatant to the hot weather. More recently you often see shaved ice in Japan topped with fruit, and the number of strange and unique flavours has been on the rise.

We hope you enjoyed our list. Be sure to make use of it and have the best summer in Japan!

【TRAVEL Q&A】Enjoy Japanese firework festivals to the max with this must-know info!

From July to August, firework festivals spring up all over Japan. Firework festivals are one of the things that are heavily associated with Japanese summers. This article is here to provide useful information so you can make the most out of them. We'll also provides ome tips on what to bring!

Things you should know about firework festivals in Japan

Toilets

The toilets surrounding the venue are usually congested – for males and females, so it's best to go before getting there. If you make it to the venue and need to go, make sure you go before the display begins so you don't miss anything!

Finding a good spot

For any fireworks event, it's best to get there between one and two hours early so you can nab a good spot!

IC Card charging/ Purchasing travel tickets

After the event, the train stations closest to the event are always going to be crowded with people, so before setting off for the festival, make sure your IC card is fully charged, or that you already have all your tickets for the journey there and back.

What to bring

What should you bring to fully enjoy a pleasant evening of fireworks?

1.  Leisure sheet

You can purchase tickets for special seating to enjoy the show, but many decide to sit on the ground by reserving a spot with a leisure sheet. To ensure your clothes don't get dirty, make sure you bring this sheet with you! We recommend buying one in advance from a 100 yen shop. It is possible to get these from a convenience store, but they may sell out on the day of the fireworks event so it's best to get one in advance.

2. Wear long sleeves!

It is usually very humid on a typical Japanese summer's day, but depending on the weather and the location, it can get rather chilly at night. There's also a possibility that ash and remnants from the explosions above your head can fall from the sky and onto you. That is why we recommend long-sleeved clothing. You could also wear a Yukata or bring a blanket.

3. Bring insect repellant and itch relief medicine

At firework festivals, many insects lurk in the grass upon which you are sat or near water. Make sure you have your creams and medicines at the ready to prevent a mosquito attack and to soothe the aftermath. You can also purchase these at drugstores or convenience stores near train stations.

4. Food and alcohol

Indulging in food and alcohol whilst watching a fireworks display is one of the finest experiences you will ever have. Usually, there are food carts and stalls selling food and drinks that were prepared specifically for the occasion. We would recommend that you have a taste of these, however, they will be crowded. For those of you who hate queuing, it is best to buy your snacks and drinks in advance. Be aware that supermarkets and convenience stores close to the event will also be crowded.

So, what do you think? If you're well prepared then you can really make the most out of your night – get to it! ♡

If you have any questions about Japan, send us a message on Facebook!https://www.facebook.com/msmsnippon/

Travel Q&A: 10 Rules & On-the-House Services at Japanese Restaurants

Restaurants in Japan have a very different list of rules, on-the-house services and etiquette standards compared to other countries. If you enter a restaurant when in Japan without knowing some of these things you might make a mistake!

We've put together a list of 10 important points to learn before dining out in Japan.

 

1.Don't give tips

The fact that you don't need to give tips as restaurants in Japan can be bewildering to some foreign tourists. In Japan, there's normally no service charge, unless it's a high-end restaurant, in which case it's possible that a service charge will be added. If you force a tip on the staff, they will get told off by their superiors later, so keep that in mind.

2.Watch out for 'Otooshi'

Otooshi, also known as tsukidashi, are small appetizers served at bars and establishments that sell alcohol, particularly izakaya. They will be served event if you didn't order them, and you can be charged for them. There are numerous reasons they give for serving ootoshi, such as 'proof that we have taken your first order' and 'something to eat while you wait for the first food to come out.' Lots of tourists not accustomed to this practice have felt cheated.

3.Water is free

When you sit down at a restaurant in Japan, you'll be served water. Many tourists are surprised at the fact that cold water is served all year round the majority of the time in Japan. There are also establishments that serve free hot green tea instead of water.

4.The unexpected things are expensive (or cheap)

It's not rare for things like delivery pizza or Korean pork belly BBQ, which are extremely cheap and common foods in other countries, to be expensive in Japan. On the other hand, you can eat Japanese foods like sushi, tempura and ramen at a very cheap price.

5.You order alcohol first at an izakaya

It's not a set rule, but generally when you go to an izakaya, ordering a drink gives you plenty of time to read through the menu. Beer is often ordered before anything else. There's even a set phrase for it, toriaezu biiru ('[I'll have] beer for now'). Try saying it in Japanese when you're at an izakaya.

6.All-you-can services

Restaurants in Japan often have all-you-can-eat and all-you-can-drink services. If you pay a set price, you can eat or drink as much as you like. Many places offer this service, including, but not limited to, izakaya, yakiniku restaurants, and sushi bars. We recommend this to people who want to pay a little to get a lot!

7.Oshibori are free

Oshibori, or moistened towels, are given for free at Japanese restaurants. They are wet towels used to wipe your hands and face before a meal. Depending on the restaurant, you may be given a cold or hot towel. Staff at izakaya will also hand them to you. A lot of tourists praise this service as high quality.

8.Rules and menus are different at fast food restaurants

International restaurant chains like McDonald's and Subway are of course in Japan too. If you're a tourist bored of Japanese food, you'll probably want to eat something familiar like fast food. In those times, you'll be baffled by the differences between a fast food joint in your own country and in Japan. For example, in the case of McDonald's, the Japanese large-sized drinks are smaller than the medium-sized drinks in the US. There's also no self-service. Instead, the staff will pour the drink for you.

9.You cannot take food into restaurants (though there are exceptions)

One rule that puzzles a lot of people from Asia that come to Japan is the rule that states you cannot enter a place with food or drink. However, select establishments, such as food courts in large shopping malls, will permit you to do so. Be sure to do some research beforehand.

 

10.Take your shoes off on tatami

At izakaya and traditional Japanese restaurants, they implement customary Japanese style seating and tatami flooring. If you're dining at a place with tatami mats, you must take your shoes off before stepping on it. The table seats and tatami are split into different areas even if it's the same restaurant, so even if it's OK to wear your shoes at table seats, you'll need to take off your shoes when using tatami in most cases.

Did you learn something new? Sit alongside the locals when you come to Japan and enjoy some delicious Japanese cuisine!

If you have any questions you want answering about Japan, then please be sure to get in touch with us on the MOSHI MOSHI NIPPON Facebook page!

【TRAVEL Q&A】From Shinjuku to Hakone Hot Spring via Odakyu "Romancecar" Line!

Hakone, Kanagawa is one of the most popular "onsen" (hot spring) towns in Japan. The area is popular among both Japanese people and tourists from foreign countries since it is close to Tokyo and has many sightseeing spots such as Ahinoko (lake), Owakudani (valley) and Hakone Chokoku no Mori Museum.

There are several ways to go to Hakone but I recommend using the "Odakyu Romancecar" (limited express train) run by Odakyu Dentestu which departs from Tokyo. It takes about an hour and 40 minutes and you can go to Hakone direct. In this article, I will inform you of how to ride on the "Odakyu Romancecar" to go to Hakone.

1: How to ride Odakyu Romancecar?

Let's get tickets first. The tickets you must buy are "Joshaken (normal fare)" and "tokkyuken (limited express surcharge)." The "Joshaken" is an Odakyu Dentetsu limited ticket and the fare differs according to the station that you will get off at. "Tokkyuken" is a ticket you must buy when riding on a limited express train which means you must buy this ticket in addition to the "joshaken." There are three ways to buy these tickets.

1) Making a reservation/purchasing the ticket via the Internet

2) Making a reservation/purchasing the ticket at a ticket counter/ticket vending machine

3) Making a reservation on the telephone.

Making a reservation by telephone is not recommendable for those of you from foreign countries since English-speaking staff are not available.

2: How to but a ticket via the Internet?

Using e-Romancecar is recommended when using the Internet to buy a ticket. As a matter of course, you can use a credit card on this web site. You can ride the Romancecar by just by handing out the printed sheet or showing the screen of your smart phone to the staff at the ticket counter. If you are planning to just make a reservation (not paying the fare) on the web site, you must pay the fare by using the ticket vending machine or at the ticket counter before getting on the Romancecar. It is recommended that you buy your ticket beforehand if the date that you are going to Hakone is decided.

3: How to buy a ticket/make a reservation via the ticket counter at the station?

The ticket counter is normally open from 6:30 to 21:00. The ticket vending machines can be used any time (except for when the trains are not running) but credit cards cannot be used. You can purchase tickets for up to 8 persons at once using the vending machine. So, those of you who are planning to go to Hakone with a group of more than 9 people you must purchase your tickets at the ticket counter.

4: Let's get on to the Romancecar!

Now let's learn how to get on a Romancecar. There are several types of Romancecars available – MES (Type 6000), VSE (Type 50000), EXE (Type 30000) and LSE (Type 7000). The fares for all types are the same. You can eat a limited-"bento" (box lunch) if you make a reservation 3 days (AM) before you ride the Romancecar.

Why not experience a ride on the "Romancecar" and enjoy the hot springs in Hakone. Wishing you a pleasant trip! MMN will introduce to you many kinds of "Q&As in Japan."

If you have any questions, feel free to send a message to MOSHI MOSHI NIPPON's FB account!

Travel Q&A: What's The Cheapest Way to Get to Central Tokyo From Narita Airport?

Airports in Japan are typically quite a distance from the heart of Tokyo metropolis. There are various ways of getting to the center of the capital including by train, bus and taxi.

But which is the cheapest?

We compared various methods of transportation, taking into account their prices and time taken to get to central Tokyo. Let's take a look.


1: By Train
JR Narita Express (N'EX) – 54 minutes
Narita Airport→Tokyo Station (¥1,320〜¥3,020)
The JR Narita Express, also known as N'EX, conveniently connects Narita International Airport with major urban areas in Tokyo including Tokyo Station, Shinjuku, Shibuya and Yokohama. All seats are reserved, but if you purchase a ticket to ride in the Ordinary Cars (not the first class Green Cars), you can ride at a cheap price.

Website: http://www.jreast.co.jp/e/nex/ (Japanese, English, Chinese, Korean)

Keisei Skyliner – 40 minutes
Narita airport→Nippori Station (¥2,465)
To board the Keisei Skyliner, purchase a ticket from the ticket office or automatic ticket machine by the ticket gates at Narita International Airport. All seats are reserved, so you are guaranteed a seat. From Nippori Station, you can board the Yamanote Line and head to central Tokyo, Ueno, Ikebukuro, Shinjuku and other major urban areas in the city.

Website: http://www.keisei.co.jp/keisei/tetudou/skyliner/ (Japanese, English, Chinese, Korean)

Limited Express via Keisei Main Line – 1 hour 16 minutes
Narita Airport→Nippori Station (¥1,025)
This method of transportation takes the longest amount of time, but it's also the cheapest. There are no station changes on the way. Before you reach Nippori Station you will stop at Oshiage Station, where you could get off to stop by Tokyo Skytree and Asakusa.

For other routes, visit the Narita Airport website below where you can search how to get from Narita Airport to  your destination.
http://access.narita-airport.jp/en/index.html (Japanese, English, Chinese, Korean)

2: By Taxi (¥29,050 approx.)
Narita Airport→Tokyo Station – 2 hours 34 minutes approx.
Compared to other methods, the price of commuting via taxi is expensive, but you don't have to worry about having to buy a ticket and there are also no waiting times. You can also stop off somewhere you like on the way and enjoy yourself until you reach your hotel or accommodation.




3: By Limousine Bus (¥2,800)
Narita Airport Terminal 2→Tokyo Station Yaesu Central Exit – 1 hour 35 minutes approx.
The limousine buses arrive every 20 minutes or so at Tokyo Station and Narita Airport. You can book a seat in advance or on the day. The bus also goes through many popular tourist spots such as Ginza, Shibuya and Asakusa. It takes longer than the train, but you'll arrive at your destination without worry of getting lost or getting off at the wrong stop.

Website: http://www.limousinebus.co.jp/route/index.html (Japanese, English, Chinese, Korean)


Was this information helpful? If you're commuting from Narita Airport, then be sure to use it as reference.

MOSHI MOSHI NIPPON will continue to answer frequently asked questions about Japan. If you have any questions about Japan, then be sure to send us a message via the official MOSHI MOSHI NIPPON Facebook page!
https://www.facebook.com/msmsnippon/

Japan Q&A: Get the most from your Tokyo sightseeing with a 1-Day Travel Pass

When you're in Tokyo, the main method of transportation for getting around the city's 23 wards is via the subway – specifically, via JR, Tokyo Metro and Toei Subway. Each of these services offer their own affordable 1-day travel tickets that can be used across all lines, making them a useful tool to have. Let's take a look at some of the questions regarding 1-day passes.

5 Must-Haves For Tokyo Sightseeing!

To make the most of your Tokyo trip, we recommend one of the following five 1-day passes for efficient travelling. You and board and get off as many times as you like, so there's no need to worry about extra fees – you can tour all of the sightseeing spots at your own leisure.

JR East Japan – Tokyo Metropolitan District Pass ("Tokunai Pass")

The "Tokyo Metropolitan District Pass" is a day ticket that allows unlimited rides on local and rapid JR East trains around the 23 special wards of Tokyo. You are free to sit in any seats excluding reserved seating, and can even board the shinkansen within the designated area. The Tokyo Metropolitan District Pass can be purchased inside JR East Japan stations, ticket windows, the Travel Service Center (View Plaza), and travel agencies. It's ¥750 for adults and ¥370 for children.

Tokyo Metro 24-hour Ticket

This ticket enables unlimited rides on all Tokyo Metro lines. Costing just ¥600 for adults and ¥300 for children, tickets can be bought in advance or on the day at ticket vendors located in all stations. Not only can you visit Tokyo's 23 special wards, but the ticket also covers the commuting distance of Saitama and Chiba too, making it convenient for amusement and business. With this in hand, you can travel to any of the major areas.

Toei One-Day Pass ("Toei Marugoto Kippu")

A Toei One-Day Pass gives you unlimited access to the Toei Subway, Toei buses, Toei Streetcar (Toden), and Nippori-Toneri Liner. It's ¥700 for adult and ¥350 for children. An additional fee is required for night buses to make up the difference – ¥210 for adults (¥206 with IC Card) and ¥100 for children (¥103 with IC Card). Tickets can be bought in advance or on the day at a ticket vendor located inside all stations.

Common One-Day Ticket for Toei Subway and Tokyo Metro

The Common One-Day Ticket allows unlimited use of the Toei Subway and Tokyo Metro Subway Lines for an entire day. It costs ¥900 for adults and ¥450 for children. Tickets are available to purchase from automatic ticket vending machines at all Toei Subway and Tokyo Metro Subway stations, as well as Narita Airport and Haneda Airport. This ticket allows free travel from Narita Airport and Haneda Airport to Tokyo's 23 special wards and the commuting distance of Saitama and Chiba. This one's a real bargain!

As well as the Toei Subway, Toei buses, Toei Streetcar (Toden), Nippori-Toneri Liner, and all Tokyo Metro lines, the Tokyo 1-Day Ticket can also be used on the JR Lines around Tokyo. You can ride and get off at all the major locations in Tokyo for one whole day. At just ¥1,590 for adults and ¥800 for children, this ticket is very affordable. Available at automatic ticket machines at all stations. We recommend this one for people looking to travel across a wide distance.

Tokyo Sightseeing With Private Railways? Take These 2 With You!

Private railway free passes are a super handy tool to have if you're heading somewhere JR and subway tickets don't cover. They're convenient for access from the inner city to the Shitamachi areas, and are pefect for exploring those hidden, tucked-away gems.

Tokyo Exploratory Ticket (Tokyo Tansaku Kippu)

Not only does this ticket give discounts on round-trip ticket fares from Keio Line, Inokashira Line, Tobu Isesaki Line and Tsukuba Express to the inner city, it also offers unlimited rides with Toei all day. That includes Toei buses,  Toei Streetcars (Toden), Nippori-Toneri Liner, and of course the Toei Subway. If you hold a Tokyo Exploratory Ticket, you can also receive discounts and gifts from facilities along each Toei line. These services are located at all manned stations on all lines. Please be aware that prices and the system changes depending on which station you purchase the ticket from.

This ticket comes as a set: a round-trip ticket from all stations on the Keikyū Main Line to Shinagawa, and unlimited rides with Toei. If you hold a Tokyo 1DAY Kippu, prepare to receive discounts and gifts at popular facilities and spots around Tokyo. This ticket can be purchased at all stations on the Keikyū Main Line barring Sengakuji Station and costs ¥900 from Shinagawa, ¥1,130 from Yokohama, and ¥1,700 from Yokosuka-Chūō.

 

Was this article helpful? Be sure to get the most out of your Tokyo trip by getting the right ticket for you.

MMN will continue to answer your questions about Japan in our "Japan Q&A" series. If you have any questions regarding Japan, then please be sure to get in touch with us on Facebook♪

【Travel Q&A】Step-By-Step Guide to Praying Etiquette at Japanese Shrines & Temples

Visiting shrines and temples is one of the must-do activities when visiting Japan to really experience the traditional culture. But did you know there are certain rules to follow when praying at a shrine? But do not worry, it's actually quite simple. We will walk you through the process step by step so you know exactly what to do when you arrive at a shrine or temple during your trip to Japan.

1:Shrines? Temples? What's the difference?

First of all, let's clear up the difference between a shrine and a temple. Temples came from countries such as China and India to spread Buddhism. They are places to worship Buddha and are installed with statues of Buddha. Buddhist monks live to spread the teachings of Buddhism. Inside the temples are bhikkhu (monks), bhikkhuni (female monks), temple masters and more who enshrine the image of Buddha.

Related article:【Tokyo Stroll】Strolling around Asakusa for half of the day finding the stereo typical sightseeing spots and new spots.

On the other hand, shrines originated from primitive, scared altars such as "iwakura" (sacred rocks) and other places where the gods are said to live – places where people cannot enter. They were temporarily erected during special occasions. Shrines that you see today were not originally a permanent structure. Their origin is different from those of temples that came from abroad. Shrines originated in Japan and their history there goes back further than Buddhism, making them much different from temples.

Related article:Visit Temples and Shrines, and Collect Goshu-in!

2:So, how do I pray?

There are several steps to follow when praying at a temple or shrine in Japan. These steps may also differ from temple to shrine, so be sure to check properly before starting.

Shrines & Temples

Praying:

The general starting point is to throw some money into the offertory box. Most people throw in a ¥5 coin. This is because "5 yen" in Japanese is pronounced "go-en," which is a homophone with the word for "good luck" (ご縁).

Bell:

If there's a bell positioned above the offertory box, then be sure to ring it by shaking it back and forth. This is done to call the gods to the shrine.

Can I take photos:

Many places will not allow you to take photos. Be sure to check thoroughly whether there is a warning sign or not. Even if you see people taking photos, make sure to check for yourself.

Related article:【Tokyo Stroll 】A power spot at the heart of Tokyo? Half a day at Meiji Shrine!

Shrines & Temples

"Temizuya"

The first thing you'll find when arriving at a shrine and many temples is the "temizuya" (water purification basin). This is where you wash your hands and rinse your mouth to cleanse yourself before praying.

There are several steps to follow:

1) Hold the ladle with your right hand and wash your left hand – then do the opposite.

2) Take the ladle with your right hand and scoop some water. Pour the water into your left hand and rinse your mouth with it. Make sure to never bring the ladle to your mouth. Spit the water next to the fountain, never directly back into it.

3) With the ladle still in your right hand, rinse your left hand one last time. Done.

Praying at a shrine – bowing and clapping

Come before the shrine, perform a light bow and ring the bell.
Toss your money into the offertory box.
Perform 2 deeper bows (30°-45° angle), bring your hands to the front of your chest, pray, then clap twice.
Finally, bow deeply one last time, and you're done!

Temples

Praying at a temple – bowing

Perform a light bow, throw your money into the offertory box and ring the bell.
Bring your hands to the front of your chest, pray, and perform a final light bow.

What's the best way to tell if you've come to a shrine or temple, I hear you asking? If you passed under a "tori" on your way in, you're at a shrine. They're usually red and look like big gates with two main pillars. If you passed under a "sanmon," you're at a temple. These are often complete with a roof and look like mini-temples in their own right. The praying process at shrines and temples are much different so be sure to check where you are first!

Temples

Incense

Some temples have an incense holder stationed outside, where you can purchase your own bundle of "osenko" (incense) to burn. If you're lighting your own incense, be sure to put out the fire by hand and never blow it out. But before you do, make sure you wave some of that incense smoke onto you as it's said to have healing powers! If there's a weak part of your body, too, then be sure to try it out.

3:What's a "Goshuin"?

Goshuin

The must-do popular thing right now is collecting "goshuin" (red seal stamps). These stamps are given at shrines and temples to show that you have visited those places. In addition to the shrines' and temples' unique seals, specially trained writers will write the name of the shrine or temple, the date at which you visited and sometimes other information, all in calligraphic writing. One of the reasons for the goshuin popularity is for the artistry behind it all as the penmanship and designs are different depending on which place you visit. Whether you visit the same place twice or just the date is being written for you, each and every goshuin entry has its own unique characteristics and feeling put into the characters depending on the person writing for you, meaning your entry will be the only one of its kind in the world. You will require a goshuin stamp book to receive a stamp entry. They are sold at many of the popular shrines and temples.

We have an article about collecting cute goshuin on the MOSHI MOSHI NIPPON website so be sure to check it out!

Related Article: 【Tokyo Stroll】 Lost in a world of shrine arches and lucky sand! Head to Anamori Inari Shrine near Haneda airport!

Was our guide useful? We hope you use it for reference when visiting shrines and temples in Japan.

MMN will continue to answer questions related to Japan and Japanese culture. If you have any questions about Japan then be sure to hit us up on our Facebook page!

【TRAVEL Q&A】What is Hatsumode? Q&A regarding Japanese year's end and New Year's holiday customs

The year's end and New Year's holiday of 2017/2018 for most people will be from the 29th of December to the 3rd of January. In this article, I will introduce to you some year's end/new year's holiday customs in Japan.

What do you have to be aware of when traveling during the year's end/New Year's holiday?

Many stores and facilities are closed during this season. Make sure to check out the websites of the places that you want to visit beforehand.

What is hatsumode?

"Hatsumode" is a New Year's custom where people visit shrines and temples to wish for a good year. After offering prayers at temples/shrines, many people buy paper fortunes or amulets. To offer a prayer, visit shrines or temples. Each shrine/temple is considered to have different "powers" such as prosperity in business and success in academic learning so make sure to check out which shrine/temple suits your wishes. It is also fun to buy food/goods at stalls and it is recommended to eat some food like yakitori (grilled chicken), yakisoba (stir-fried noodles) and cotton candy. Don't forget to wear warm clothes when visiting a shrine/temple.

Detailed information RE how to offer a prayer:https://www.moshimoshi-nippon.jp/68492

Some customs during New Year's holidays

There are some traditional decoration items for the New Year's holidays.

・Kadomatsu

Kadomatsu is a New Year's decoration made of bamboo and pine tree branches and it is often decorated at the entrance of the house. Kadomatsu is thought to be an earmark decoration at the entrance of a house so that the Gods can come to one's house directly.

 

・Kagamimochi

Many Japanese believe that the Gods visit one's house on New Year's Day and kagamimochi is an item to welcome the gods. It is said that kagamimochi should be prepared before the 28th of December. The Gods will come to your house when the sun rises on the New Year's Day so make sure to prepare it before the 28th. Kagamimochi must continue to be decorated until the 11th of January.

Shinkansen bullet trains are very cworded!

Since many Japanese people meet with their family members during New Year's holidays, shinkansen bullet trains can become very crowded. Therefore, it is recommended that you make a reservation in good time.

What are hatsuuri and fukubukuro?

The word "hatsuuri" means the first sales in the New Year. Many stores sell fukubukuros (lucky bags with random products). By purchasing such a bag  one can try their luck. Usually, you cannot see what is inside the fukubukuro but some fukubukuros includes expensive items which means you have a chance to buy something expensive at a very low price.

What do Japanese people eat during year's end and during the New Year's holidays?

・Toshikoshi Soba (buckwheat noodles)

"Toshikoshi soba" is a food which Japanese people eat on New Year's Eve for good luck. The origin of this custom is unknown, but some people say this custom has the meaning of "severing bad luck by eating easy to break buckwheat noodles" or "wishing for longevity by eating long noodles." You can eat these buckwheat noodles warm as in "kakesoba" or cold as in "zarusoba." However, make sure to finish your noodle dish before New Year's Eve ends because it is said that eating toshikoshi soba after crossing over into the New Year brings bad luck.

 

・Osechi

Osechi is a multitiered box filled with food which brings good luck. Each food/ingredient brings a different kind of luck such as a rich harvest, perpetual youth and longevity and prosperity of descendants.

・Ozoni

Ozoni is a shoyu/miso flavored soup with mochi (rice cakes) inside. The shape of the mochi and ingredients differ depending on the house or the local area.

How did you like this introduction to New Years customs? Let's have a wonderful trip during this coming holiday season.

Travel Q&A: Japanese Sento Bath Houses & 6 Recommended Ones in Tokyo

Sento have a different atmosphere compared to Onsen, or "hot springs" in Japan, and we're here to explain what exactly that is.

1: What's a "Sento"?

Sento are public baths located in the towns and cities of Japan whereas the Onsen is a spa where people can relax. One of the big differences between Onsen and Sento is the water. Onsen use hot water from hot spring sources and so the water contains natural ingredients. Sento on the other hand use tap water heated using a gas boiler or firewood. Sento also usually come as an old and traditional-styled electric bath or an outdoor-style bath. They are generally cheaper than Onsen.

2: What should I be aware of in a Sento?

Sento are used by people of all ages, so it is also called a "public bath." There are some important rules to be aware of when using them.

The first thing is getting naked. You must first take off all your clothes before entering the bathroom. This is a basic rule in Japan. You can take a washcloth with you to both hide your private parts and to wash with. Before you soak in the bath, you must first wash and rinse your body. And remember to never put your washcloth in the bath, and of course that also means you cannot wash your clothes in the Sento. Use the basin a chair to clean yourself and then return them put to their original place for the next person to use. When you enter the dressing room after bathing, you need to wipe your body with your washcloth so as to prevent getting the dressing room floor from becoming wet.

3: How much is the entrance fee to a Sento?

Sento prices are fixed everywhere. Those ages 12+ pay ¥460, 6-12 pay  ¥180 and under 6's pay ¥80.

4: I need more information!

If you want to know more information about Sentos, you should check out the Tokyo Sento Association website here: http://www.1010.or.jp

You can also check out the rules of using Onsen here: http://www.moshimoshi-nippon.jp/ja/70040

5: What are some recommended Sentos in Tokyo?

Let's take a look at 6 different Sento in Tokyo.

Yuya Wagokoro Yoshinoyu (Suginami Ward, Tokyo)

✨ゆ家和ごころ 吉の湯✨
Twitterデビューを飾るのは

大好評中のよもぎ湯💖
\\\\٩( 'ω' )و ////

大きなお風呂でゆっくり
天然ハーブの香りを
お楽しみ下さい♨️ pic.twitter.com/pr8B2YgYKM

— ゆ家和ごころ♡吉の湯 (@yoshinoyu1010) 2017年7月13日


This Sento has a modern, fashionable and traditional Japanese "wa" style. There are both inside and outside baths as well as a sauna available to use in both the women and men's bath for an additional fee. In the outside bath, there are carbonated springs, tubo-yu, and a cold water bath. Tubo-yu has a good effect on your skin and is great for stiff shoulders and and lower back pains.

Shimizuyu (Minami-Aoyama, Tokyo)

This is a very fashionable Sento. Its guests are often fashionable young people and business people. All water in this here is soft water and has a high concentration of carbonated springs. Silk baths are available too. They serve draft beer, Belgian beer, ice cream and snacks. They also sell towels, lotions and underwear so you can go there practically empty-handed.

Tenjinyu (Shimbamba Station, Tokyo)


This Sento was renewed in 2009 and designed by specialised designers. It is a space where you can feel comfortable and calm with its warm interior decorations and lighting. The most popular bath is the "Kuroyu" which uses hot water pumped up from 100 meters underground. Ingredients from the Paleozoic era are melted in the water. That plus a multitude of minerals makes it good for making your skin look beautiful. Experts say that the water is one of the 3 most densest Japan.

Minatoyu (Hatchobori, Tokyo)

The bathroom uses dark stones and tiles, so it has a luxurious feeling and calm atmosphere. Just above the bathtub is a colonnade making the atmosphere is very open. The water in the bathtub uses soft water. There's an electric bath, a silk bath and 2 kinds of saunas.

Isshinyu (Shin-koiwa Station, Tokyo)


The highlight of this Sento is the lovely tile picture on the bathroom wall. In the women's bathroom there is a mosaic tile depicting animals carrying a Japanese shrine known as a "mikoshi." It was originally designed to make the children there feel happy. There are two big bathtubs: the circular bathtub is a bubble bath, and the square bathtub has water pillows (like a water bed!).

Saitoyu (Nippori Station, Tokyo)

This Sento has bath water that has a good effect on skin making it popular with female customers. There are beer servers in the Sento, so you can enjoy sipping a refreshing beer after taking a bath. There are five different baths including a high concentration artificial carbonated spring bath, a water bath, an electric bath, a high temperature bath, and an outside bath.

How did you like our Q&A about Sento? A visit to a Sento is a must if you really want to "soak in" Japanese culture!

【TRAVEL Q&A】 What are Suica and PASMO? Q&As regarding transport IC cards

1: What is a transport IC card?

Transport IC cards are IC cards which you can use to pay for your fare in mass transit including trains. You can make a payment just by placing the card on the reader of the ticket collector (the part which is lighted up in blue). You can choose either pre-paid cards or cards where the fare is deducted from your bank account. The types of IC cards differ depending on the area but the most common IC cards/electric money systems are "Suica" and "PASMO." Since the system of using transit IC cards was established, users of the mass transit can ride on trains and buses with a single IC card.

2: Where can I buy a Suica or PASMO?

Suica cards can be bought at multi-functional vending machines at JR Higashi Nihon Stations and "Midori no Madoguchi" (ticket-selling counters). You can charge 1,000 yen, 2,000 yen, 3,000 yen, 4,000 yen, 5,000 yen and 10,000 yen at once. A 500 yen deposit must be made at first and this sum will be returned when the card is returned. PASOMO cards can be bought at companies which sell PASMO cards located at train stations/bus stations. It can be bought at vending machines or commuter ticket selling counters too. A 500 yen deposit must be made at first and this sum will be returned when the card is returned. The deposit can be received at the counter of each station and business offices.

PASMO operators should take a look at the URL below:https://www.pasmo.co.jp/area/transport/

3: Where can I use Suica and PASMO?

The cards can be used on trains and busses throughout Japan. These cards can be used as electric money at convenience stores and shops inside stations.

4: How can I charge the card?

Let us discribe the method of charging a PASMO card by looking at the photos.

Suica cards can be charged in the same way.

・Insert your PASMO into a vending machine which allows for PASMO (please note that there are some vending machines that sell tickets only).

・ Press the PASMO button.

・Choose the amount you want to charge and insert the cash.

・ Receive the PASMO. Press the issuance button if you need a receipt.

5: The balance is short and I can't get out of the ticket collector! What should I do?

In such a case, you can charge your card by using machines such as fare adjustment machines inside the station. The balance will be displayed after you place the card on the ticket collector.

How did you like our Suica and PASMO explanation? Let's move around smoothly using these IC card systems.

MMN will upload more Q&As regarding Japan. If you have any question about Japan, please contact us at (MOSHI MOSHI NIPPON FB)♪

【TRAVEL Q&A】Where can I buy cigarettes in Japan? Q&As regarding cigarettes

Below are the rules and information RE: cigarettes in Japan.

1:Are Japanese cigarettes expensive?

The price of ordinary cigarettes in Japan is about 30% of cigarettes in the U.S. The cheapest cigarettes in Japan are around 200 yen and the most expensive ones are around 480 yen.

2:Where can I buy cigarettes?

They can be bought at super markets and convenience stores. Also, you can by cigarettes using vending machines. However, you need a special card called "Taspo" and identification in order to use a cigarette vending machines.

3: What is the age limit for smoking in Japan?

People older than 20 years old can smoke cigarettes in Japan. Make sure to carry a photo included identification such as passport since some stores will want to confirm your age before selling you cigarettes.

4:Where can I smoke cigarettes?

I'm sure that there are a lot of foreign people who think they can smoke anywhere. But some districts in Japan prohibit smoke while walking. However, ever since this law was established, the number of smoking spaces has increased and almost all the stations in Japan have smoking spaces near the ticket gates so don't worry! Also, you can find many smoking spaces inside shopping malls, and beside convenience stores and vending machines.

Was our Q&A article helpful? Make sure to abide by the rules noted above when you smoke in Japan.

MMN will continue answering your questions, so if you have anything you want to ask or need more information on something then just drop us a message on the MOSHI MOSHI NIPPON Facebook page and we will be happy to help! https://www.facebook.com/msmsnippon/