"Shin-Edo Single Rooms" to be offered at Hotel New Otani. Let's experience a traditional Japanese bath
Since 2017 October 14th Hotel New Otani is offering its guests redecorated rooms with a new concept, that is the "Shin-Edo Single Room." Anticipating a great increase in the number of foreigners visiting Japan up to the year of the Tokyo Olympics in 2020, and to meet the needs of such foreigners who want to experience true Japanese hospitality, Hotel New Otani has redecorated rooms with the theme of "traditional Edo culture." These rooms will also be equipped with state of the art technology that Japan can be very proud of.
The Japanese Garden inside the Hotel New Otani grounds has been ranked at No. 6th in TripAdvisor's top 20 list of "Best Free Attractions in Japan" following "Katsurarikyu" in Kyoto which ranked in at 5th place. In addition, this same garden was also selected at as one of the "Top 10 'oasis' sites in Tokyo."
With a history of more than 400 years, the garden had been the property of various samurai lords such as, Kiyomasa Kato's compound, Ii family's compound and Fushimi Court.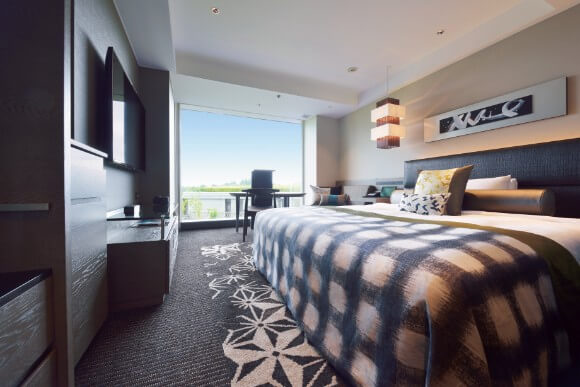 The 10-acre garden is known to be a power spot where a spring wells up and it features antique stone lanterns which convey the tradition and heritage of this garden. In addition, the tea ceremony house, "Waraku-an" is also located in the garden. This tea ceremony house was built by Kimura Seibei to hold a tea ceremony to commemorate the Crown Prince's (present Emperor) returning from his attendance at Queen Elizabeth's coronation ceremony.
The night time lighting of the garden has been undertaken by Motoko Ishii, a leading Japanese lighting designer. She designed the lighting of the garden to express Japan's spirit of hospitality and the garden can be enjoyed from the guest rooms. She comments on this project as follows, "I wanted to express the lighting culture of Japan. To do this I took particular attention to the various graduations of light and shadow, and I have designed the lighting so that it is changed by season. I wanted the foreign guests of the hotel to feel the history of Japanese garden culture."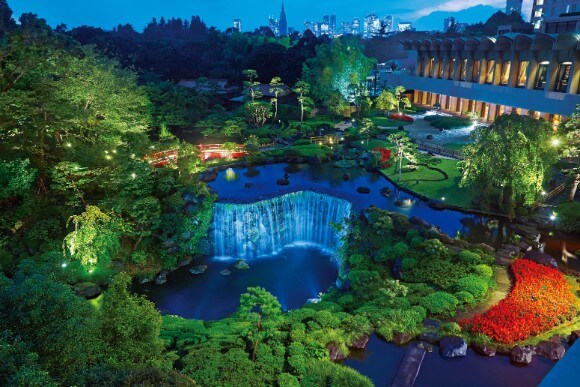 For foreign visitors to Japan, of course visiting tourist sites, going shopping and eating Japanese cuisine is very popular but another favorite is visiting a spa or having a traditional Japanese bath.
One of the Japanese bath experiences and food experiences is the one glass of alcohol after taking a bath.
Chilled sake selected by the hotel sommelier – or a premium non-alcoholic beverage – is offered as a complimentary amenity exclusively in this room type. The selected sake is called "Jinmai Ginjyo Hakkaisan." This sake is a highly acclaimed sake getting 94 points out of 100 points in the Ultimate Beverage Challenge 2017 held in the US.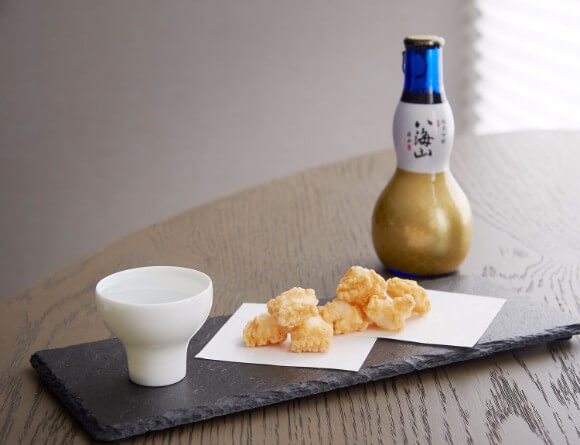 The Japanese have pursued perfection from a limited space from long ago like a Sado and Bonsai arts.
"Shin-Edo Single Room" is advocated as a concept that the fact that the space alone is not proportional to the richness and convenience, that the necessary space is available in a limited space, and convenience brings true comfort.
These redecorated rooms are equipped with the necessary elements for a pleasant stay, strategically laid out in its 26 square meter space. Exclusive amenities, along with the Japanesque theme, offer a stay enriched with tradition, comfort, and technology.
It was designed by a Japanese designer living in Kyoto, who depicted old Japanese patterns and lanterns.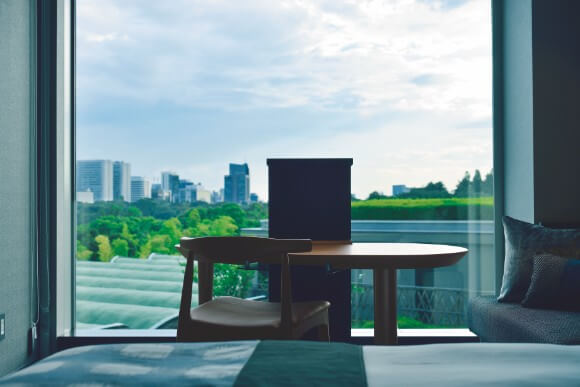 Why not experience a traditional Japanese bath at Japanese historical building?
■Information
 "Shin-Edo Single Room"
Starting from: October 14th, 2017
Rooms: 26 rooms
Price: 1 day stay, 1 room ¥45,344(tax and service fee included)
TEL: 03-3234-5678
※Please book a room from following website:
http://www.newotani.co.jp/tokyo/stay/room/main/me26/index.html
Hotel New Otani – Tokyo
Address: 4-1 Kiyoi-cho, Chiyoda, Tokyo
TEL:03-3265-1111
RELATED ENTRIES
NIPPONIA HOTEL Ozu Castle Stay: Ehime Prefecture's New Tenshu Hotel

Value Management, a company in Japan which carries out work in bringing new life to historical Japanese buildings, hotels, restaurants, and more, is opening a new hotel in Ehime Prefecutre called NIPPONIA HOTEL Ozu Castle Stay on July 23, 2020. The hotel will be the first in Japan where guests can stay inside wooden tenshu, which are traditionally the highest towers in a Japanese castle.

The city of Ozu is home to many examples of historical architecture, from its central castle town to Ozu Castle itself and more. It has become a location for tourism which focuses on historical houses and buildings. That's where NIPPONIA HOTEL Ozu Castle Stay comes in. The surrounding townhouses have been renovated so that both the town and castle make up the entirety of the hotel complex.

Ozu Castle is a symbol of Ozu and was built by Tōdō Takatora and Wakisaka Yasuharu. It is officially recognised as an Important Cultural Property of Japan. Its tenshu were demolished during the Meiji Period, but thanks to the existence of pictures and models, they were rebuilt for the first time ever after the war in 2004. NIPPONIA HOTEL Ozu Castle Stay is the first facility in Japan to offer a castle stay experience like this, so it's a must-include on anyone's bucket list when visiting Japan.

Information

NIPPONIA HOTEL Ozu Castle Stay

Address: 382 Ozu, Ozu-shi, Ehime Prefecture

Price: From ¥1 million per night. One group per night. 30 groups per year (subject to change).

Official Website: https://www.vmg.co.jp/

Hotel New Otani Tokyo to Open Night Pool & Stay Plan

Hotel New Otani Tokyo is launching its "Night Pool & Stay" hotel plan on July 1, 2020 which gives guests exclusive access to the night pool during their stay.

Hotel New Otani Tokyo's night pool was first opened in 1998 with the concept of building a luxury pool that you won't get sunburned in. Over 20 years on, the pool continues to beckon people during summertime for its unique pool experience under the moonlight and hotel lights and music produced by Japanese DJs who are popular in the country's club scene. This year's "Night Pool & Stay" plan will open with all of the necessary measures in place against COVID-19, with thorough cleaning and bacteria elimination at the top of the hotel's list to ensure safety for its guests.

Check-in to the hotel's "Night Pool & Stay" plan opens at 17:00. Guests don't have to worry about using the locker room – they can get ready in their rooms before heading to the Garden Pool. After a luxurious dip in the pool, guests can retire to their sophisticated rooms, whether standard or suite, for some relaxation time. Check-out is 10:00, so they can enjoy their rooms throughout the early morning.

Located next to the Garden Pool is OUTRIGGER, a poolside restaurant open during the summer only that you can enter in your swimsuit. The restaurant serves popular dishes served at Hotel New Otani as well as Garden Pool exclusives. Tuck into a soybean hamburger, fresh green salad, nutritional smoothies, and more.

Information

Night Pool & Stay
Running: July 18, 2020 – September 5, 2020 (Not open Sundays except August 9 and 16)

Hotel Otani Club Members: Open June 30, 2020 at 10:00am

General Guests: Open July 1, 2020 from 10:00am

Bookings/Enquiries: 03-3234-5678 (10:00-18:00)

Official Website: https://www.newotani.co.jp/tokyo/stay/plan/night-poolstay/

Kyoto's New Hotel Mitsui Garden Hotel Kyoto Kawaramachi Jokyoji Fuses With a Temple

Mitsui Garden Hotel Kyoto Kawaramachi Jokyoji, a new hotel by major real estate developer Mitsui Fudosan and Mitsui Fudosan Hotel Management, opened bookings for the new hotel last Friday. The hotel is set to officially open on September 28, 2020.

The hotel was developed to integrate into Jokyoji, a temple in Kyoto with a history spanning over 500 years. Even in Japan, where it is common for temples to undergo reconstruction, this is a rare project. The hotel aims to be a model case for breathing new life into temples.

The hotel is just a 1-minute walk from Kyoto-Kawaramachi Station and within walking distance from the bustling retail area of Shijō Kawaramachi, the Hanamachi district Ponto-chō, and Kyoto's geisha district Gion. Guests are wrapped in the serene atmosphere of Jokyoji Temple where they can enjoy its historically maintained art, get involved in morning activities, and more.

Entrance Lobby

Mitsui Garden Hotel Kyoto Kawaramachi Jokyoji's design concept is "Hotel Temple." Nikken Space Design crafted the hotel's interior design, which makes use of Jokyoji Temple's preserved wood, gold leaf-covered folding screens and other features, while adding a modern white and black colour scheme throughout, giving a sense of comfort and high quality. From the lobby, guests can glimpse the main area of the temple and feel one with it.

Spacious rooms and baths

  

Guest rooms, even the standard room types, are a spacious 24m². All rooms can accommodate 2+ people, and there are even triple rooms which can house 3 people. Every room also comes with separate toilets and showers. Up on the second floor are the baths where guests can wind down after a day of travelling and sightseeing.

Restaurant

The 2nd floor restaurant, Sanga Ono Kyoto Jokyoji, was developed by ONO GROUP which has built many restaurants in Fukuoka Prefecture. This is the company's first restaurant to be built outside Fukuoka. Guests can enjoy delicious Japanese rice, Kyoto vegetables, tai-chazuke (green tea poured over sea bream), Kyoto-style grilled fish, and more. The restaurant will also serve Japanese buckwheat noodles overseen by Akamachaya Asago, a restaurant listed in the Michelin Guide.

Experience Jokyoji Temple

Jokyoji Temple was founded in 1171 by Taira no Shigemori. In 1591, the temple was moved to Teramachi-dori where it has stayed to this day. When the hotel opens its doors, it will offer various activities to guests. Those who take part in the morning activity will receive a goshuin stamp from the chief priest.

Experience a hotel and a temple like never before as both are fused together at Mitsui Garden Hotel Kyoto Kawaramachi Jokyoji.

FUNATSURU Kyoto Kamogawa Resort Opens Rooftop 'KAMOGAWA Tenku Terrace'

FUNATSURU Kyoto Kamogawa Resort, the administrative building of VMG HOTELS & UNIQUE VENUES, has opened its 4th floor rooftop terrace 'KAMOGAWA Tenku Terrace' for a limited time. It will remain open until August 31, 2020.

VMG HOTELS & UNIQUE VENUES uses historical buildings to open new brands, like hotels and unique venues, while offering historical and cultural experiences of the buildings' local areas.

FUNATSURU Kyoto Kamogawa Resort originally opened as a traditional inn priding itself on its cuisine back in 1870. It was renovated and reopened as FUNATSURU Kyoto Kamogawa Resort in 2008. Its historical and artistic value has been highly acclaimed as a time-honoured work of architecture and was registered as a tangible cultural property of architecture by Japan's Agency for Cultural Affairs. It has banquet and ceremony spaces, and in the summer you can enjoy its restaurant on the riverbed. The building is also used for parties and wedding ceremonies.

Like all businesses, FUNATSURU Kyoto Kamogawa Resort too has suffered at the hands of the COVID-19 pandemic, but the facility wants people to enjoy the summer nighttime skies of Kyoto and so while observing the necessary coronavirus precautions it has opened its rooftop terrace which can be used as a bar.

Information

KAMOGAWA Tenku Terrace
Running: June 6, 2020 – August 31, 2020 (Closed Tuesdays & rainy days)
Opening Hours: 20:00-Midnight (Last Orders 23:00)
Price: Table Charge ¥1,000 per person (includes tax and service charge)

Official Website: https://www.funatsuru.com/restaurant/news/#new_01

KAIKA TOKYO by THE SHARE HOTELS: Asakusa's New Artist Lounge and Hotel Fusion

KAIKA TOKYO by THE SHARE HOTELS is set to open on July 15, 2020 as the 8th branch of THE SHARE HOTELS, a chain of renovated hotels which aim to find and share new beauty of the local area.

KAIKA TOKYO is renovated from a 7-floor 1966 warehouse building and is comprised of an artist lounge and a hotel. It aims to become a new hub for contemporary art in Japan.

The name "KAIKA" is derived from several Japanese words, all of which are read as kaika: "開架" which means open-access i.e. giving open access to the warehouse, "開化" which means enlightenment i.e. to spread and make known Japan's art culture, and "開花" which means blossom, i.e. to bring out the talent of future artists.

Sumida is a city popular amongst local and foreign tourists for its many art and cultural facilities. It is a promoter of art and culture in many ways, and KAIKA Tokyo aims to be a part of that process. One way in which it will do this will be with the new "KAIKA TOKYO AWARD." The judge for awarding the prize is Yūji Akimoto—the director of and lecturer at Tokyo University of the Arts—and Japanese artist Noritaka Tatehana. The prize itself will be having your art piece displayed inside KAIKA TOKYO. To commemorate the grand opening, an exhibition by Noritaka Tatehana himself entitled FORM AND COLOR will be displayed until August 16, 2020.

The downstairs lounge which is accessible to guests will include the art storage area as well as the KAIKA TOKYO AWARD winning pieces. There are also appliances and amenities for guests to freely use too, like kettles, microwaves, plates, cutlery, washing machine, and a vending machine.

Rooms have a relaxed vibe to them thanks to the colours and materials used. There are 73 rooms in total split across 10 different types which can cater to 2, 4, and even 6 people.

The 1st floor bar lounge is open to non-guests during the evenings where they sell Japanese tea cocktails, coffee, Japanese finger food, and more. The coffee served uses single-origin beans from a local cafe in Sumida, Tokyo. The bar is open 19:00 to midnight, with last orders ringing in at 23:30.

Information

KAIKA Tokyo by THE SHARE HOTELS
Grand Opening: July 15, 2020
Address: 2-16-5 Honjo Sumida Ward, Tokyo
Access: 8-minutes on foot from Asakusa Station / 9-minutes on foot from Honjo-Azumabashi Station / 9-minutes on foot from Kuramae Station

Official Website: https://www.thesharehotels.com/kaika/

Nazuna Kyoto Tsubaki: A Luxury Ryokan Renovated From a Traditional Townhouse Alleyway

Nazuna Kyoto Tsubaki St. is a new inn that recently opened in Kyoto which is made up of 23 machiya (townhouses) and two restaurants. It was co-developed by Nazuna and Kiraku and offers an accommodation experience like no other.

Nazuna Kyoto Tsubaki St. is renovated from an entire 110-year-old L-shaped alleyway of machiya spanning 1,400 square meters. The reception building sits on an unassuming streetand  serves as both an entrance to welcome guests, as well as a passage from the outside world into Tsubaki St. On the other side, guests are greeted by a world reminiscent of the historical geisha districts of Kyoto known as Hanamachi. In the evening, guests can experience the luster of Tsubaki St. as the Japanese paper lanterns and paper lamps illuminate the stone-cobbled path.

All guest rooms enjoy private semi open-air baths

All 23 guest rooms are named and decorated based on the elements of nature that have long been enjoyed in the ancient city of Kyoto: TAKE (bamboo), MIZU (water), IWA (stone), HANA (flower), and HA (leaf). And since each guest room is its own building, guests can enjoy the entire space to themselves. There is also a large open area between the reception and guest rooms to reduce the chance of running into other guests, offering a more private experience.

Chisao Shigemori's modern rock garden greets guests at the reception

The first floor of the reception building features a rock garden created by landscape architect Chisao Shigemori which fuses the traditional and the modern. His grandfather was Mirei Shigemori, a famous Japanese landscape architect who is known for having designed the Tofukuji Hojo Temple gardens in Kyoto, amongst other projects. Chisao himself has produced numerous works both inside and outside Japan, such as at Matsuo-Taisha Shrine.

The reception building's second floor is a lounge space where guests can enjoy tea and confections made by d:matcha after checking in. It's a chance to try Kyoto's famous Uji matcha. At nighttime, this are is free for people to use where they can enjoy friendly soft drinks and alcohol.

Unforgettable food at two different restaurants

Behind a secret door located somewhere inside Tsubaki is "q," a six-seated chef's table produced by Hiroshi Sasaki, who is the owner of the Michelin three-star restaurant Gion Sasaki, and TOROMO PRODUCE. A roster of chefs will rotate for service, with Hiroshi Sasaki in the line-up. The restaurant will open officially on July 2, 2020 and is now taking enquiries via mail@toromi.co.jp. Group and family bookings are available. The restaurant will serve special courses the likes of which cannot be experienced anywhere else.

The other restaurant, "Wagyu Ryotei bungo" will serve courses made with specially-selected high quality Japanese wagyu beef. There are counter seats as well as 7 private and semi-private rooms which house 2-8 people.

Information

Nazuna Kyoto Tsubaki St.
Address: 838 Bomoncho, Shimogyo-ku Kyoto 600-8388
TEL: 075-748-0402

NEARBY STATIONS & AIRPORTS
5 minutes on foot from Omiya Station (Hankyu Kyoto Line) and Shijo-Omiya Station (Keifuku Arashiyama Line)
10 minutes by taxi from Kyoto Station

Official Website: https://www.nazuna.co/property/nazuna-kyoto-tsubaki-st/

Hilton Osaka Serves Up Hello Kitty and My Melody Themed Summer Buffet

The Folk Kitchen on the 2nd floor of Hilton Osaka is set to serve up the "Summer Sweets Buffet Festival ~Hello Kitty & My Melody Collaboration Tea Party~" from June 19, 2020 to September 13, 2020. The menu is made up of 25 colourful and summery desserts, as well as 7 vegan desserts made without any eggs, milk or animal products.

The buffet is a step up from last year's "Fashionable Hello Kitty Dessert Buffet" which we covered.


This year's summer buffet tea party combo is a sweet amalgamation of finger licking and lip smacking flavours. In the middle of the "Ice Cream Cup Cheesecake" is a moist baked cheesecake topped with cream cheese—and all of this hugged by a crunchy cone.

Then there's the "Lollipop Mousse Green Apple," a vivid green iced candy with a fresh apple mousse filled with apple jam for a mix of sweet and sour flavours. The "Vegan Melon Cream Soda Jelly" is a melon flavoured jelly topped with a cream made from fizzy lime foam. If you're wanting cake, then there's the fluffy "Pineapple Chiffon Cake" topped with lots of cream.


The "Pudding à la Mode" is topped with a chocolate My Melody picture, of which there are several designs.

The vegans too have their fair share of refreshing summertime bites to enjoy too, like the "Vegan Peach Bellini" which uses agar-agar instead of gelatin. It's a delightful combination of muscat grape jelly and peach jam. The "Vegan Chocolate Chip Cupcakes" have a fresh kick to them thanks to the fruity pineapple and soy milk combo. Other delights include the "Soy Milk Cream Fruit Bun," "Vegan Piña Colada Panna Cotta," and more.

The buffet also includes 5 savoury food dishes too like cold corn soup, curry, salad, and more.

On the 1st floor cafe and bar MYPLACE of Hilton Osaka, customers can order the above-pictured Hello Kitty & My Melody afternoon tea which is served in a jewellery box-like set.

Information

Summer Sweets Buffet Festival ~Hello Kitty & My Melody Collaboration Tea Party~
Location: Folk Kitchen (Hilton Osaka Floor 2F)
Running: June 19, 2020 – September 13, 2020

Time: 15:00-16:30

Prices
[Weekdays] ¥3,950 per person / ¥1,950 for those ages 4-11 years
[Weekends/Holidays] ¥4,250 per person / ¥2,100 for those ages 4-11 years
*Comes with drink of choice from tea, coffee, hot chocolate, and others

*Listed prices do not include 10% consumption tax or service charge

Official site:https://www.hiltonosaka.com/plans/restaurants/sweets/folkkitchen_2006

Summer Sweets Buffet Festival ~Hello Kitty & My Melody Afternoon Tea Set~
Location: MYPLACE (Hilton Osaka Floor 1F)
Running: June 19, 2020 – September 13, 2020
Time: From 12:00 until it sells out (limited quantity per day)

Price: ¥3,500 per person

*Comes with drink of choice from tea or coffee

*Listed prices do not include 10% consumption tax or service charge

Reservations: 06-6347-7111

Photos are for illustrative purposes only. Menu line-up and opening hours subject to change.

Hilton Osaka Official Website: https://www.hiltonosaka.com/

Fufu Nara: The First Luxury Hotel Set to Open in Nara Park is Designed by Kengo Kuma

Fufu Nara is set to be the first luxury hotel to open inside Nara Park on June 5, 2020. Designed by industry-leading Japanese architect Kengo Kuma, the hotel promises a unique dining experience with food served using herbal medicines that can only be tasted here, and guest rooms that are covered in art made by Nara-based artists who use traditional techniques. Both the dining and accommodation experiences aim to immerse guests in the culture of Nara.

Witness the handiwork of Nara's artists

Nara is a city steeped with beautiful history and culture. This has been captured by the artists who have collaborated with Fufu Nara in the form of paintings, crafts, entrance decorations, and more. A stay at Fufu Nara is an opportunity to witness first hand the deep traditions and techniques of Nara's art world.

There are 30 rooms in total which are split into five different types. For example, one room type is designed around the old Japanese style of sitting on the floor. Inks and woods are used in the room to enhance that feeling that you're in Nara, and the colour tones too are chosen to bring to mind the ancient city.

Fufu Nara's dining concept

Nara Prefecture is closely tied to herbal medicines. Herbal medicine came about in the year 611 during the monarch of Empress Suiko. It is written in the Nihon Shoki that the use of herbal medicine had already been adopted by the time Prince Shōtoku was serving under the Empress. Many different traditional herbal medicines are still used in Nara today, including Angelica root, shakuyaku peonies, fennel, and so on. Traditional herbal medicines have become popular again in the prefecture in recent years.

The food prepared at Nara Fufu makes use of ingredients grown and produced in Nara, from vegetables to herbs and beyond. Breakfast, lunch, and dinner all incorporate Japanese and Chinese herbal ingredients.

Spa by sisley

The hotel also has a spa made in collaboration with French luxury skin care brand Sisley. There, guests can enjoy Fufu Nara's medicated baths.

Information

Fufu Nara
Address: 1184-1 Takabatakecho, Nara, Nara Prefecture
Grand Opening: June 5, 2020
Price: From ¥77,000 (for 1 night and 2 meals for 2 guests in 1 room) *Tax and service charge included; spa charged separately
TEL: 0557-52-6606
Official Website: https://fufunara.jp

THIRD ishigakijima: Okinawa's New Island Hopping Hotel to Open in July

Due to concerns surrounding the novel coronavirus (COVID-19), Star Resort had to postpone the opening of THIRD ishigakijima, a new hotel in Okinawa originally scheduled to open in April 2020. However, it has been confirmed that the hotel's new grand opening date is July 31, 2020.

Ishigaki is an island in Okinawa which faces Ishigaki Port Ritoh Terminal, a port that connects Okinawa to remote islands like Taketomi Island and Iriomote Island. Many tourists and sightseers flock to Ishigaki to hop to all the different islands it connects to.

The new THIRD ishigakijima hotel is a perfect choices for groups of travellers, with its room that can accommodate over 3 guests. As well as hotel food, drinks and alcohol, THIRD ishigakijima also offers various activities to guests like shisha, fitness, and more. The hotel is all-inclusive, something which isn't offered that much on Ishigaki.

The hotel also benefits from a self check-in system accessed using a QR code. Rooms are also accessed using a facial recognition system, making THIRD ishigakijima a tech-savvy experience.

The hotel is adopting guidelines from the government on operating hotels during the novel coronavirus (COVID-19) pandemic to protect its staff, guests, and local islanders.

Information

THIRD ishigakijima
Address: 4-7 Misakicho, Ishigaki, Okinawa
Guest Rooms: 28 (21 Loft Rooms/3 Suite Rooms/3 Twin Rooms)
Facilities: Cafe & Lounge, Book Lounge, Rooftop, Fitness
No Car Park
Access: 30-minutes on foot from Ritoh Terminal / 30-minutes by car or bus from Painushima Ishigaki Airport

Official Website: https://hotelthird.com/

COVID-19: https://hotelthird.com/antivirus/

Naruto Themed Hotel Room Opens at GRAND CHARIOT Hokutoshichisei 135° in Japan

GRAND CHARIOT Hokutoshichisei 135°, a hotel and glamping facility located in Awaji, Hyogo, opened its new Naruto-themed room on June 1, 2020.

The room, called "Hokage no Bessou" (Hokage's Villa), is renovated from one of the resort's buildings, and aims to plunge guests into the world of ninjas.

The room takes inspiration from the Hidden Leaf Village and its characters, with references to the series and recreated scenes littered throughout. It also offers exclusive amenities for guests to enjoy.

Guests who stay in the Naruto room will receive a free ticket to the popular "Naruto & Boruto Shinobi Zato" attraction at the anime theme park Nijigen no Mori on Awaji Island where the hotel is located.

ⒸMasashi Kishimoto Scott / Shuiehsa・TV Tokyo・Pierrot

Information

Naruto Collaboration Room "Hokage no Bessou"

Grand Opening: June 1, 2020

Time: Check In 15:00-18:30 / Check Out 11:00

Capacity: 5 people

Price: From ¥93,000 (Before Tax/Service Charge Charged Separately)

Official Website: https://awaji-grandchariot.com/

Experience Kyoto Culture in Arashiyama With HOSHINOYA Kyoto's New Hotel Plan

HOSHINOYA Kyoto has introduced a new hotel plan in an attempt to bring a little luxury into people's lives and lift their spirit during this stressful time. The plan will have people going to Arashiyama to experience a bit of Kyoto culture and hospitality to lift their mood.

You will board a small boat located at the port near the hotel entrance and be taken to your private room. During your sail, you will be able to soak in the gorgeous sights of nature all around. Check-in is being carried out in guest rooms, meaning you won't have to come into contact with other guests.

You have arrived at your room. HOSHINOYA Kyoto is located in Arashiyama which was formerly a holiday home destination for the Heian aristocrats. There are 25 rooms inside the garden, all of which look out onto the Ōi River. When you slide the window open, you can feel the gentle wind sweep through the valleys. Guest room walls are plastered with beautiful traditional kyokarakami wallpaper and fitted with HOSHINOYA Kyoto-original tatami sofas. Each and every part of the rooms are imbued with Kyoto culture. The rooms are not only comfortable and provide you with everything you need, but also offer a luxurious stay.

Inside your room, there are sutras which can be used for sutra copying, known as sakyou in Japanese, as well as equipment for making matcha to enjoy your own private tea ceremony without having to worry about the tradition's strict rooms. It's your very own private Kyoto cultural experience without having to worry about other people.

Dinner can be enjoyed in the main dining hall or in your room. The dining hall is fitted with semi-private booths where you can enjoy a seasonal Arashiyama 9 course kaiseki-ryori dinner with rice, vegetables, a special bento assortment, and more. For breakfast you can enjoy a morning hot pot which uses a special dashi stock packed full of seasonal veggies.

There are also activities to enjoy Kyoto's breathtaking green outdoors. Mosquito nets made from Japanese red cedar are provided under which you can take part in a stretch routine which uses breathing techniques and meditation.

Outdoor activities are severely restricted right now as a result of COVID-19, but HOSHINOYA Kyoto has made it so you don't have to do much moving around at all while still enjoying the fruits of nature.

Information

Kyoto Culture in Arashiyama (Japanese Hotel Plan Name: 奥嵐山で京文化に触れる久しぶりの優雅な一日)

Prices

From ¥50,100 per night (Includes dinner/2 people 1 room/service charge and tax not included)
From ¥50,100 per night (Includes dinner and breakfast in dining hall/2 people 1 room/service charge and tax not included)

Booking: https://hoshinoya.com/kyoto/

Japan Coronavirus: Room for Rescue Project Provides Free Accommodation to Foreigners Who Can't Get Home

With flights cancelled around the world, it is becoming increasingly harder for foreigners to return home from Japan, resulting in them being forced to change their plans, extend their stay, and live every day in stress and uncertainty. To lend a helping hand to foreign travellers in this stressful time, three accommodation companies Slacktide Co., Ltd, Shared Value Co.,Ltd. and Life Bonds, LLC, who manage Kaname Inn Tatemachi, Sakura Cross Hotel and BONDS HOUSE respectively, have launched a joint accommodation project called "Room for Rescue" which provides free accommodation to international visitors who cannot return home as a result of the current travel restrictions.

This collaborative project was launched to ensure that foreign travellers don't feel like their trip to Japan was a bad experience, which could be a reason to avoid visiting Japan again in the future and heavily impact the tourism industry.

Tokyo:BONDS HOUSE

Tokyo:Sakura Cross Hotel

Kanazawa: KANAME INN

Currently, three accommodations in Tokyo and one in Kanazawa have opened their doors to stranded foreigners.

Room for Rescue: Request a Room

https://kaname-inn.com/room-for-rescue/

To apply for a room, you need a valid visa and a cancelled flight ticket which meets Room for Rescue's criteria. For more information, please refer to the application page. The Room for Rescue project is also looking for more accommodations to join the fight against coronavirus and open their doors to stranded foreigners. If you own an accommodation in Japan and want to help foreign travellers, please apply using the link below.

Become Part of Room for Rescue (for accommodation owners)
https://kaname-inn.com/room-for-rescue/contact/


If you are an individual who wants to support this project, please consider donating via their crowdfunding page mentioned in the information section below.