"Shin-Edo Single Rooms" to be offered at Hotel New Otani. Let's experience a traditional Japanese bath
Since 2017 October 14th Hotel New Otani is offering its guests redecorated rooms with a new concept, that is the "Shin-Edo Single Room." Anticipating a great increase in the number of foreigners visiting Japan up to the year of the Tokyo Olympics in 2020, and to meet the needs of such foreigners who want to experience true Japanese hospitality, Hotel New Otani has redecorated rooms with the theme of "traditional Edo culture." These rooms will also be equipped with state of the art technology that Japan can be very proud of.
The Japanese Garden inside the Hotel New Otani grounds has been ranked at No. 6th in TripAdvisor's top 20 list of "Best Free Attractions in Japan" following "Katsurarikyu" in Kyoto which ranked in at 5th place. In addition, this same garden was also selected at as one of the "Top 10 'oasis' sites in Tokyo."
With a history of more than 400 years, the garden had been the property of various samurai lords such as, Kiyomasa Kato's compound, Ii family's compound and Fushimi Court.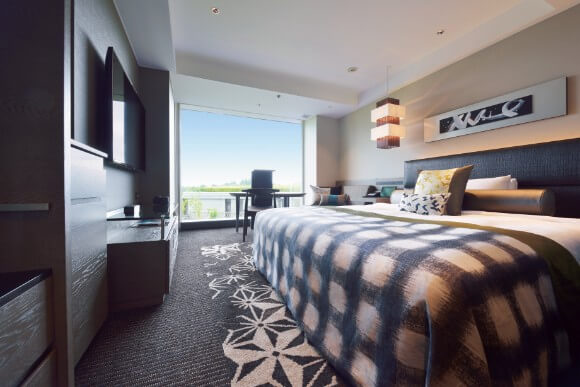 The 10-acre garden is known to be a power spot where a spring wells up and it features antique stone lanterns which convey the tradition and heritage of this garden. In addition, the tea ceremony house, "Waraku-an" is also located in the garden. This tea ceremony house was built by Kimura Seibei to hold a tea ceremony to commemorate the Crown Prince's (present Emperor) returning from his attendance at Queen Elizabeth's coronation ceremony.
The night time lighting of the garden has been undertaken by Motoko Ishii, a leading Japanese lighting designer. She designed the lighting of the garden to express Japan's spirit of hospitality and the garden can be enjoyed from the guest rooms. She comments on this project as follows, "I wanted to express the lighting culture of Japan. To do this I took particular attention to the various graduations of light and shadow, and I have designed the lighting so that it is changed by season. I wanted the foreign guests of the hotel to feel the history of Japanese garden culture."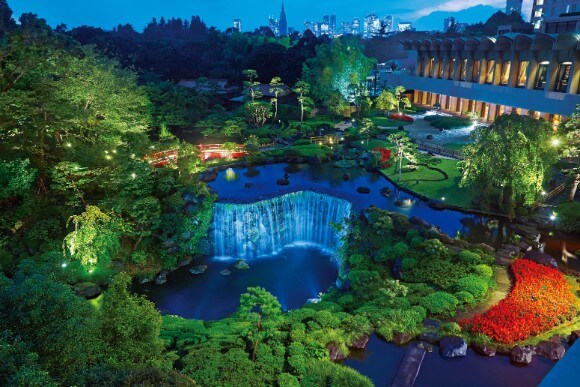 For foreign visitors to Japan, of course visiting tourist sites, going shopping and eating Japanese cuisine is very popular but another favorite is visiting a spa or having a traditional Japanese bath.
One of the Japanese bath experiences and food experiences is the one glass of alcohol after taking a bath.
Chilled sake selected by the hotel sommelier – or a premium non-alcoholic beverage – is offered as a complimentary amenity exclusively in this room type. The selected sake is called "Jinmai Ginjyo Hakkaisan." This sake is a highly acclaimed sake getting 94 points out of 100 points in the Ultimate Beverage Challenge 2017 held in the US.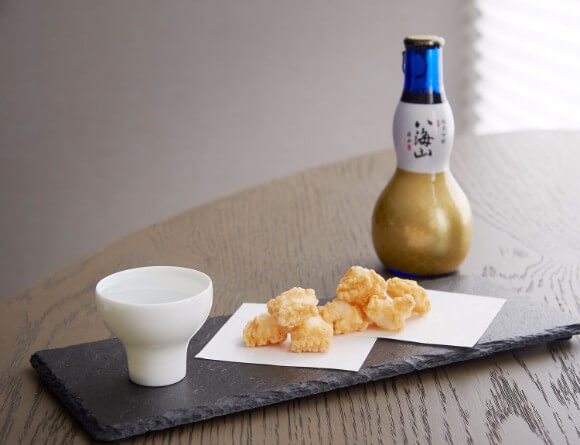 The Japanese have pursued perfection from a limited space from long ago like a Sado and Bonsai arts.
"Shin-Edo Single Room" is advocated as a concept that the fact that the space alone is not proportional to the richness and convenience, that the necessary space is available in a limited space, and convenience brings true comfort.
These redecorated rooms are equipped with the necessary elements for a pleasant stay, strategically laid out in its 26 square meter space. Exclusive amenities, along with the Japanesque theme, offer a stay enriched with tradition, comfort, and technology.
It was designed by a Japanese designer living in Kyoto, who depicted old Japanese patterns and lanterns.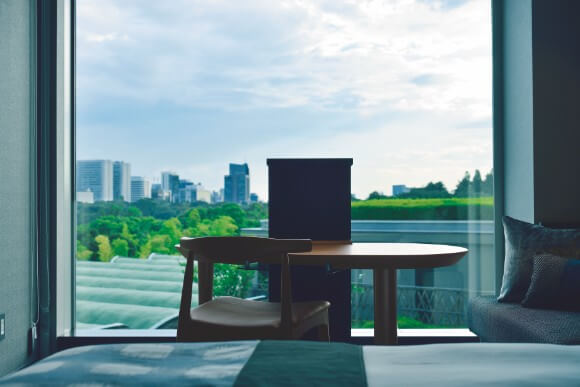 Why not experience a traditional Japanese bath at Japanese historical building?
■Information
 "Shin-Edo Single Room"
Starting from: October 14th, 2017
Rooms: 26 rooms
Price: 1 day stay, 1 room ¥45,344(tax and service fee included)
TEL: 03-3234-5678
※Please book a room from following website:
http://www.newotani.co.jp/tokyo/stay/room/main/me26/index.html
Hotel New Otani – Tokyo
Address: 4-1 Kiyoi-cho, Chiyoda, Tokyo
TEL:03-3265-1111