The event titled, "Kagurazaka Machibutai / Oedomeguri 2017" which mixes traditional & modern styles will be held!
"Kagurazaka Machibutai / Oedo Meguri 2017" will be held in Kagurazaka, an area where traditional styles and modern styles merge, on the 11th of November (Sat.) <eve> and the 12th (Sun.) <actual festival).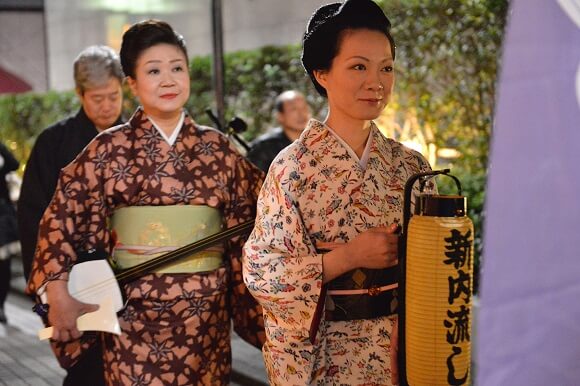 Kagurazaka is an area where the cut-out map of the Edo Period and the map of Heisei Period overlap. Many places in Tokyo changed into a modern city but Kagurazaka is a mysterious place where you can feel the history of the Edo Period. The area is popular among various generations as a town where the culture of Edo/Tokyo and sophisticated atmosphere of Paris are merged.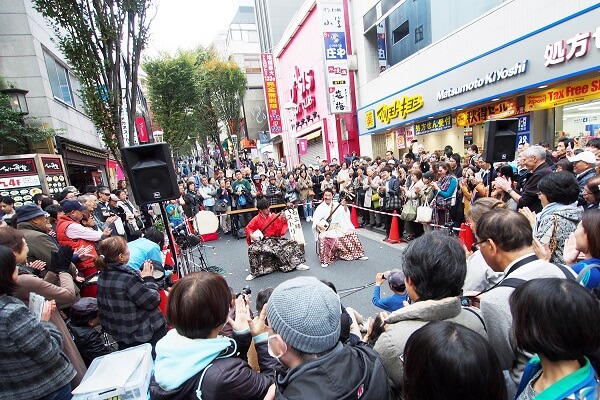 In this event, many top artists related to traditional arts who have some kind of connection with Kagurazaka will gather with the help of the citizens of Kagurazaka.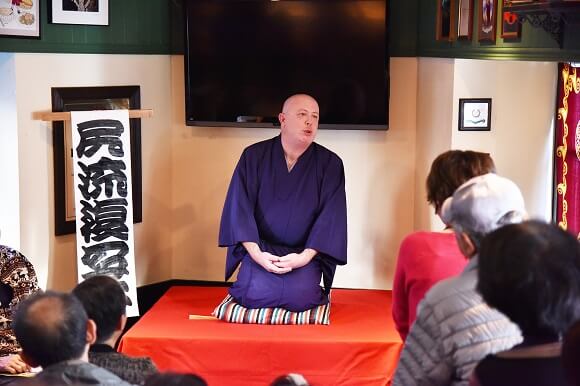 Many events which you can experience traditional arts such as "Shinuchi Nagashi" where people play music while walking, mini lives of traditional artists are held at preppy restaurants, cafes and live houses and "ozashiki asobi" (games with geisha) will be held.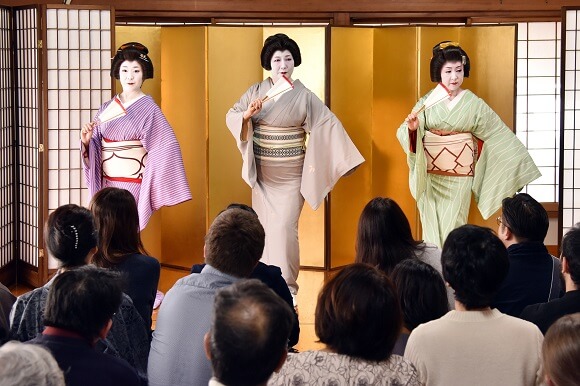 The two-day event is a festival where you can experience Japanese traditional arts in Kagurazaka, a historical town where persons from different generations and foreigners who are not familiar with traditional arts can enjoy these arts.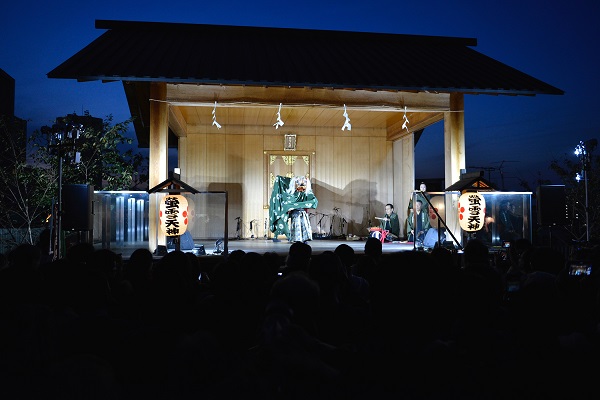 Why not have an awesome weekend at Kagurazaka, a town which has the atmosphere of the Edo Period and Paris?
■Information
"Kagurazaka Machibutai / Oedo Meguri 2017"
Date: Eve / 2017,11,11 (Sat.) 15:00 to 19:40
Festival / 2017,11,12 (Sun.) 11:30 to 18:00
※The events might be canceled depending on weather conditions
Venue: Kagurazaka area (Bishamonten Zenkoku Temple, Akagi Shrine, Tokyo Kagurazaka Cooperation / streets in Kagurazaka / historical spots in Kagurazaka
Fee: free (some places require a fee or reservations)
Official website:http://kaguramachi.jp/
RELATED ENTRIES
Indulge In The Best Melon Experience At Japan's First Melon Factory Antenna Shop

Tsugaru, Aomori is known for its delicious melons. On July 7, Japan's first melon factory called Melon to Roman will open its first ever antenna shop in Kagurazaka, Tokyo. Here, a range of delicious melon-themed desserts and drinks will be developed for customers to try out Aomori melon treats.

Recently, melons are becoming less and less popular in Japan. As a result, Melon to Roman was established to spread the love of melons countrywide.

The melon factory uses 10,400 tonnes of melons each year, meaning that Tsugaru alone creates 70% of Aomori's melon produce. The melon desserts at the antenna shop are made from Tsugaru's special melons. The aim of the antenna shop is to make Tsugaru more famous.

Melon Fruit Sandwich

A melon fruit sandwich is definitely a rare sight. The Melon Fruit Sandwich is made by filling raisin bread with melon pieces. Adults are bound to love its rich flavour. 

Melon Shaved Ice with Fluffy Mousse

The Melon Shaved Ice with Fluffy Mousse consists of fluffy shaved ice made from the juice of the melon. This is topped with a generous serving of foam made out of 100% melon juice.

Luxury Melon Parfait

The melon parfait is the masterpiece of the menu. It is made of three luxurious layers of fresh melon.

The antenna shop provides a number of ways to experience Aomori's melons with all your senses. Witness calligraphy written by original melon ink, listen to the stories of the journey of these melons, touch the drinks coasters that will make you feel like you are touching a melon, and sample different flavours of melon from the food and drinks tasting menus to immerse your sense of taste and smell in the world of melons. There has never been an antenna shop quite like this before. There will also be a video called "The Girl And The Melon" that will be shown at the antenna shop. Some adults might find this video quite emotional.

Immerse yourself fully in the miraculous world of melons and learn about a whole new perspective on melons.

Information

Location: 3-6-92, Kagurazaka, Shinjuku, Tokyo

Grand Opening: July 7, 2019  (11:30 ー 17:30)

Closed: Mondays, Tuesdays & New Year's period

Official Website: melon-roman.com

* Open from July 1

New Lifestyle Store AKOMEYA TOKYO in la kagū Opens in Kagurazaka

The new flagship store of AKOMEYA TOKYO named AKOMEYA TOKYO in la kagū opened its doors to the people of the capital in Kagurazaka on March 30, 2019.

The store stocks a diverse selection of items from rice and foodstuff to cooking tools, beauty care products, items to live a more luxurious life, and more. Rice is one of the main highlights of AKOMEYA TOKYO in la kagū whose core concept is "Spreading Happiness With One Bowl Of Freshly Cooked Rice."

Around 20 varieties of carefully selected rices from around Japan have been selected for selling in addition to the perfect condiments and ingredients to go with it, dashi and more―all of which made for great gifts. Customers are invited to select their own quantity of polished rice to take home.

Customers can look forward to a huge dining space serving up an incredible food experience expected of a flagship store.

The company has also opened up their very first cafe establishment in the store called AKOMEYA Chaya which serves up drinks previously only available at their Ginza branch.

A separate cafe called Shiratama Salon Shinsaburou is also open in the store. It is managed by Shiratama Shinsaburou, a shop from Kumamoto with a history spanning over 380 years.

We mustn't forget the products on offer either.

Bean Barrel (300ml) – ¥2,500 (Before Tax)

This barrel of beans comes in a barrel branded with the store's name. The packaging encompasses traditional Japanese culture.

AKOMEYA Dashi Yaki Ago (8g x 5 Bags) – ¥480 (Before Tax)

This dashi is made from grilled dried flying fish and serves to elevate the flavours in your cooking even more. The fish comes from the city of Hirado near Nagasaki and has a unique taste.

Kaya Seichi Fukin – ¥500 (Before Tax)

A dish cloth that feels softer in your hands the more you use it. They are hand made in Nara Prefecture.

A selection of limited-edition products to celebrate the store opening are also available to purchase too.

Ofukuwake Box (Stock: 200) – ¥3,000 (Before Tax)

Shiratama Salon Ofukuwake Box (Stock: 80) – ¥3,000 (Before Tax)

In line with the store's opening AKOMEYA TOKYO have also updated their official online store. Be sure to pay both the site and store a visit.

Information

AKOMEYA TOKYO in la kagu

Address: 67 Yaraicho, Shinjuku Tokyo (In front of Kagurazaka Station's 2nd Exit―"Yaraicho Exit"―via the Tozai Line)住所:東京都新宿区矢来町67 東西線神楽坂駅 2番出口(矢来口)正面

Grand Opening: March 30, 2019

AKOMEYA TOKYO Official Online Shop: https://www.akomeya.jp/shop/default.aspx

Craftsmen unite! Come check out these Edo period glass crafts at Tokyu Plaza, Ginza!

For a three-day period from Friday 15th to Sunday 17th March 2019, There will be an event to celebrate a traditional Japanese glass craft called "Kiriko". The event will be held at Tokyu Plaza, Ginza in the Kiriko Lounge. Kiriko is glass craft that was manufactured from the end of the Edo period to the beginning of the Meiji period of Japanese history.

The exhibition will feature many creative Edo Kiriko crafts and a lineup of crafts made in the past five years. This new generation of Kiriko crafts will take to the stage at Ginza for all to see!

From 13:00 on each day of the event, there will be a gallery talk that explains the story of the crafts, particularly focussing on a selected prize-worthy craft. There is also a chance to get involved with Kiriko craft-making. To take part, check out Fujimaki select shop's official website as the website is currently accepting reservations.

From works and goods to taking part, come learn the different aspects of Edo Kiriko crafts at this event in Ginza!

Information

■Information

Edo Kiriko Exhibition

江戸切子新作展

Event period:Friday 15th ー Sunday 17th March 2019

Location:Kiriko Lounge, Tokyu Plaza, Ginza 

Tokyu Plaza, Ginza

Address:5-2-1, Ginza, Chuo Ward, Tokyo 

Opening times:11:00 ー 21:00

https://ginza.tokyu-plaza.com/

'Biology of Metal: Metal Craftsmanship in Tsubame-Sanjo' Event to Take Place at Japan House London

The Tsubame-Sanjo Factory Festival will take place from October 4 to 7 this year. The festival first began in 2013 and this will be its sixth run. It is an event inviting the public into the factories of the Tsubame-Sanjo area of Japan to experience the art of product making.

Japan House London is teaming up with the festival at this year's London Design Festival taking place in England's capital in September 2018. That collaborative project is titled "BIOLOGY OF METAL: METAL CRAFTSMANSHIP IN TSUBAME-SANJO" and it will run at Japan House London from September 6 to October 28.

©Tsubame-Sanjo Factory Festival Committee

This is the first showcasing of its kind in the UK of Japan's most prestigious artisans of product making expertise.

©Tsubame-Sanjo Factory Festival Committee

Guests will have the opportunity through insight to discover how this craftsmanship, art and small industry is embedded in history.

©Tsubame-Sanjo Factory Festival Committee

It will also show how it has incorporated and advanced new technologies in order to adapt to a changing society.

There will be workshops at the event as well as products for sale in 'The Shop' in Japan House London. If you're in the UK then this is a fantastic opportunity to be up close and learn about traditional Japanese craftsmanship.

■Information

BIOLOGY OF METAL: METAL CRAFTSMANSHIP IN TSUBAME-SANJO

Running: September 6, 2018 – October 28, 2018

Time: 10:00am-8:00pm (12:00pm-6:00pm on Sundays)

Price: Free

Location: Japan House London (101-111 Kensington High St, Kensington, London W8 5SA)

Access: 1-minute on foot from High Street Kensington Station

Japan House London Website: https://www.japanhouse.jp

Tsubame-Sanjo Factory

Full details for the Tsubame-Sanjo Factory Festival can be found below. It will be held from October 4 to 7 in Tsubame, Niigata Prefecture
http://how-pr.co.jp/pressrelease/tsubamesanjo_oct2018.pdf (Japanese)

Traditional Japanese Crafts Brand UMEBOSI to Release Edo Kiriko Glasses

UMEBOSI is an original brand by tool shop WISE・WISE tools that seeks to breathe life into traditional Japanese craftwork in today's modern age. The second line of products in the brand series to be released makes use of traditional Edo Kiriko cut glass and it will arrive in October 2018.

Interest in products made in Japan has been deepening in recent years in both Japan and overseas. However, there is still discussion there being a lack of successors in inheriting traditional methods, and the topic of spreading its use still remains.

KIGI was been appointed to help tackle these issues, an art director who receives tremendous support from the young generation in Japan. The project was started to promote these creative crafts to more people in a new light. The first line of products was announced in October 2015. The most popular amongst them was the Edo Kiriko glass series. Five new designs from that range have now been released.

UMEBOSI Edo Kiriko Glasses – 5 New Designs

These usuhari glasses are made using a traditional Edo Kiriko method called hana kiriko. The five designs include a tree leaf and acorn, a horse, a dragonfly, a chrysanthemum, and a dandelion. They have also brought back the rabbit and cherry designs from the 2015 line.

These glasses are a fusion of traditional craft and modern skill. Why not get your hands on one?

■Information

UMEBOSI Edo Kiriko Glasses – 5 New Designs

Shop: WISE・WISE tools

Address: 3F Galleria, Tokyo Midtown, 9-7-4 Akasaka, Minato Ward, Tokyo

TEL: 03-5647-8355

Website: http://wisewisetools.com

*The photos taken are of products still in development. Actual product may differ slightly.

5 Must-Wear Yukata for Japanese Summer 2018

Yukata are a traditional type of Japanese clothing originally used before and after entering a steam bath. Today, they are used as summer dress when going to events such as summer festivals and firework festivals.

They come in many different colours and designs. Here's a list of ones we recommend for summer 2018.

Sailor Moon Yukata

These Sailor Moon themed yukata have been made in collaboration with Kyoto Marubeni. Choose from five yukata sets inspired by each sailor as well a range of other chic and modern yukata. They have all the accessories you need to including obi and folding fans so you can enjoy the full dress-up experience. How about becoming a sailor this summer?

Full Details: https://www.moshimoshi-nippon.jp/88541

Yukata Fukubukuro

Kyoto based traditional Japanese clothing brand KIMONOMACHI are selling yukata fukubukuro, or 'lucky bags.' There are several lucky bags to choose from, including one containing a single yukata, a 2-set which includes a yukata and obi, and 4, 5 and 6-sets which include that plus accessories. Part of the reason for the popularity of these bags is that you can pick from four sizes: Small (S), Free, (F), Tall (TL), and 2L. Choose from a variety of kawaii infused yukata!

Full Details: https://www.moshimoshi-nippon.jp/108656

Disney Princess Yukata

Disney have released a range of yukata and accessories at five of their stores and online. The Ariel and Rapunzel are original designs that were specially illustrated for these yukata. No matter which you choose, all of them embrace the characters' stories down to the tiniest of details. Pick one of these yukata and become a Disney princess this summer!

Full Details: https://www.moshimoshi-nippon.jp/113122

Tokyo 2020 Emblem Yukata

Summer 2018 marks two years until the Tokyo Olympics. Gear yourself up for the excitement this summer with these official Tokyo 2020 yukata, jinbei and accessories. Cloisonne design yukata with the Tokyo 2020 emblem on them were released on July 3, and the above indigo design will be available from early August. Both are stylish and come in a gentleman's version and a lady's version.

SCANDINAVIAN PATTERN COLLECTION

This collection is a Northern Europe design project developed by Andfika for children. There are yukata for girls and jinbei for both boys and girls. The collection incorporates designs from three designers in Sweden and Finland. The clothes are a unique mix of Northern Europe designs and traditional Japan clothing.

Did you like this list? There's a lot of variation when it comes to yukata, so be sure to pick the right one for yourself this summer in Japan.

iPhone Cases Made from Traditional Japanese Material & Cowhide on Sale July 20

TSUMUGI, a brand selling high quality products, has announced it will release a new line of iPhone cases on July 20 made using Nishijin-ori gold brocade.

It's said there are currently 300 billion smartphone cases on the market, and the designs and number of stores stocking them continues to increase. Because there are so many, TSUMUGI wanted to make a case that's much more meaningful, and so have gone down the route of traditional Japanese fabrics to promote them to the people of the world.

TSUMUGI Nishijin-ori x Cowhide iPhone Case

The case not only uses Nishinjin-ori, a traditional textile from the district of Nishijin in Kyoto, but also cowhide to add accent to the design. It's made to be used daily like any other case and has that traditional Japanese charm to it that will be enjoyed by the increasing number of foreign tourists to Japan.

TSUMUGI plans to continue making smartphone cases and accessories using other traditional Japanese fabrics too, so stay tuned for future updates.

Experience Japanese Culture at Kagurazaka Summer Festival 2018

Kagurazaka Natsumatsuri, or the Kagurazaka Summer Festival, will take place at the Kagurazaka Frasco Gallery from July 27 to August 1. The event is aimed at foreign tourists in Japan and offers a chance to experience Japanese culture.

The Japanese National Tourism Organization (JNTO) revealed a record high number of inbound foreigners to Japan in 2017, standing at 28,691,000 (+19.3% from 2016). Furthermore, according to the Consumption Trend Survey for Foreigners Visiting Japan carried out by the Japan Tourism Agency, the main purpose for 24.8% of foreigners' visiting Japan that year was to experience 'Traditional/Modern Japanese Culture' and 'Nature/Scenery Sightseeing.' These statistics were particularly high for those coming from Europe and America.

However, for 'Experience Japanese History/Culture,' 'Nature Tours, Experience in Farming/Fishing Village,' 'Spectator Sport (Sumo, Soccer etc.)' and 'Seasons (Cherry Blossoms, Autumn Leaves, Winter etc.)' there was an average different of 9.5 points between people who were able to do these things and people who weren't able to (and would like to next time). This means that the present situation is there is a demand for outfitting more experience-based opportunities for foreign visitors coming to Japan.

SAMURAI MEETUPS is a non-profit organization who is planning the Kagurazaka Summer Festival. Since October 2014, the organization has held and managed over 150 experience-based traditional cultural events which 4,000 people from 36 countries have participated in. They have also offered support to the municipality in Narita in creating content for inbound foreigners and in terms of marketing and promotion.

For this event, they are renting out Frasco, a famous art gallery in Kagurazaka, where they will create a space to give foreigners a chance to get up close and involved with Japanese culture. They will serve sushi, udon, sake and coffee as well as teach calligraphy, decorate paper lanterns, sell small Japanese accessories and postcards, and much more. It will be packed full of Japanese culture. Additionally, by promoting tourist information related to Kagurazaka, the organization aims to use the opportunity to spread Japanese culture and local charms to the people of the world. They will also prepare content for the locals to enjoy to so they can create the opportunity for international exchange.

Experience what Japanese culture has to offer by getting to know the locals at Kagurazaka Natsumatsuri 2018!

■Information

Kagurazaka Natsumatsuri 2018

Address: Kagurazaka Frasco (6-16 Kagurazaka, Shinjuku, Tokyo)

Date: July 27, 2018 – August 1, 2018

Time: 11am-10pm

Official Homepage: https://sai-kagurazaka-event.storeinfo.jp

Sanuki Udon & Edomae Sushi Reception Party

Address: Kagurazaka Frasco (6-16 Kagurazaka, Shinjuku, Tokyo)

Date: July 29, 2018

Time: Slot 1 – 5pm-7pm / Slot 2 – 7:30pm-9:30pm

Price: ¥3,500 (Includes: Edomae sushi and udon, and the chance to see an udon performance)

No. of People: 25 people per slot. First-come, first-served.

Sign-Up Page: https://saikagurazakaevent.wixsite.com/reception

Edo Cat Cafe Combines the Worlds of Ukiyo-e and Cats

An Edo-style cat café will bring to life the world of ukiyo-e with real cats you can play with. The Edo Cat Cafe will run from June 15 to August 31 this year at the event space outside the West Entrance at JR Ryogoku Station.

The concept behind this event is: "A rumour between the residents of an Edo 'nagaya' and cats. Travellers from across the country catch sound of the rumour and come to get a glimpse."

The nagaya was a type of living quarters in the Edo period made like a row of houses. The cat café building is made to look like one of these. Ukiyo-e paintings and models will decorate inside and bring to life the street and atmosphere of the Edo period. There will also be entrances, streets and staircases for cats to use. You'll be able to enjoy a unique experience and take photos while playing with cats in what will really feel just like the world of Edo.

There will be several zones inside building, including the cat tea room, cat 'red light district,' cat bath, cat nagaya, and cat plaza. Each area will be furnished with ukiyo-e that fit the scene, bringing to life the world of Edo. As well as being able to take photos with the cats anywhere inside the café, you'll also have the chance to learn about the deep relationship between the people of Edo and cats through the commentaries of each ukiyo-e piece. There'll even be a merchandise corner to purchase original goods related to cats.

But it doesn't stop there. There will also be a chance to enjoy Edo's food culture at -Ryogoku- Edo NOREN, join in a campaign being held in collaboration with Sumida Hokusai Museum, and more. Part of the proceedings made at the café will go towards tackling the problem of homeless cats. Cat-loving artists are also set to cooperate in the event and they will produce original ema plaques.

If you're also a cat-lover then don't miss out on this unique Edo and cat café mashup!

■Information

Edo Cat Cafe

Location; Ryogoku Station West Exit Event Space (Sumida-ku, Tokyo)

Date: June 15, 2018―August 31, 2018

Time: 11:00-20:00 (Last Entries 19:00)

Access: 1-minute on foot from West Exit of Ryogoku Station via the JR Sobu Line

*Event subject to date changes in case of natural disasters or other unpredictable causes.

*Please refrain from picking up the cats, speaking in a loud voice, chasing cats and other such behaviour.

Entry Price (60 Minutes / Tax Included)

*Same-day tickets. Prices in brackets denote tickets bought in advance.

Adults: ¥1,500 (¥1,000)

High School / Junior High School Students: ¥1,200 (¥800)

Extension: ¥500 per 20 minutes

Advance Tickets Sales Window: May 10, 2018―June 14, 2018

*It is advised you do not enter the café if you are allergic to cats.

*Those at elementary school age and below are not permitted entry.

*Please do not use flash on your cameras.

*Please do not take food or drink into the café.

*Please do not take your pets in with you.

Lawson Tickets (Sold at all Lawson stores and Mini Stop Loppi in Japan)

http://l-tike.com/edonekochaya

Official Event Website

For foreigners! An experience-based plan where you can play with Geisha girls will be available

"Takanawa Hanakoro" will offer a lodging plan named "GEISHA ~Japan Bucket List~" where you can play with Geisha girls and enjoy shabu shabu (meat pot) and tea ceremony dishes in a 100 square meter sized room from the 16th of April 2018 (Mon.) to the 31st of March 2019 (Sun.)

Many tourists who come to Japan want to learn about Japanese culture and therefore this Japanese style lodging facility which was opened in November of 2016 decided to offer a plan where the visitors can play with the Geisha girls of Nihonbashi Yoshicho and enjoy "shabu shabu" and tea ceremony dishes.

<Playing with Geishas>

You can play with the Geisha girls from Nihonbashi Yoshicho
You can ring the bell in the Japanese garden with Geisha girls.

<Experiencing Japanese culture>

You can drink a cup of tea in the tea room located inside the Japanese garden.
You can compare several kinds of Japanese sakes
You can enjoy eating "shabu shabu"in your own room.

Let's enjoy a wonderful time at "Takanawa Hanakoro!"

■Information

「GEISHA~Japan Bucket List~」
Period:2018/04/16 (Mon.) to 2019/03/31 (Sun.)

Venue: Takanawa Hanakoro (Grand Prince Hotel Takanawa)

Address: 〒108-8612, 3-13-1, Takanawa, Minatoku, Tokyo

Fee: 176,200 yen per person (two persons per one room). The fee includes the

services, contents noted below and tax. (tax is not included in the lodging fee) ※reservation must be made 12 days in advance.

Access: 5 minutes on foot from Shinkanse/JR Line/Keikyu Line Shinagawa Station (Takanawa Exit/Entrance)(3 minutes on foot from The Prince Sakura Tower Tokyo), 3 minutes on foot from Toei Chikatetsu Asakusa Line Takanawadai Station (5

minutes

on foot from The Prince Sakura Tower Tokyo), 11 minutes by train from Keikyu

Line Haneda Airport Station

TEL:03-3447-1111(9:30A.M.~6:30P.M.)

Sushi izakaya "Sugidama" flagship store opens in Kagurazaka!

Sushi izakaya Sugidama Flagship store "Sushi, Sake, Sakana Sugidama Kagurazaka" has now opened!

"Sushi, Sake, Sakana Sugidama Kagurazaka" is a new line of business of Sushiro Group. Along with freshness and flavour, a lot of care has been taken for the presentation of the sushi which go perfectly with Japanese sake.

As the name implies, it is also possible to enjoy some side dishes with your drink rather than sushi.

Taking things a step forward, there is the "Kiwamizushi" luxury menu.  You can also choose your favourite sushi and enjoy an assortment with the "Odozushi" menu. All sushi dishes on these two menus are ¥299+ tax. Besides this, you can also order items from the food menu that cost ¥399 and ¥499.

You can order alcoholic drinks for the reasonable price of ¥299. There are usually 15 varieties of Japanese sake available in half portions of 90ml – perfect for tasting and comparing!

You can also enjoy set meals and rice dishes during lunch!

Enjoy the flavours of Japanese food to your heart's content at Sushi, Sake, Sakana Sugidama Kagurazaka!

■Information

Sushi, Sake, Sakana Sugidama Kagurazaka

Address: Awatani Building 1st floor, 4-2, Kagurazaka, Shinjuku, Tokyo

Opening hours:

Monday — Friday 11:30 — 14:30/17:00 — 23:30

Weekends & national holidays: 11:30 — 23:30 ※ No regular closing hours

No regular closing days

"Maikohan Bar" where you can chat with "maikos" (Japanese traditional female entertainers) will open inside Kyoto Brighton Hotel.

Kyoto Brighton Hotel will hold an event where you can chat with "maikos" from Gokagai, Kamishichiken and Miyagawacho in Kyoto at the lounge bar located in the center of the Atrium Lobby on the premium Fridays of November 2017, January and March 2018.

 

The "maikos" will tell you about their skills, rules they must keep and what they are doing in their daily lives. You can take photos with them and enjoy a rewarding time with food and drinks.

 

The event was held last year and gained much popularity. This year's event will be held on the 27th of October. Many tourists from both home and abroad commented "I'm from Tokyo, and this was the best experience to learn about the culture of Kyoto," "I reside in Kyoto but it was a very rare experience for me." and "It was nice to spend such a lovely time with maikos in this hotel."

 

Kyoto Brighton Hotel is in the middle of a quiet residential area surrounded by Sado Sanzen Family's resident, temples/shrines and a historical university. It is near Kyoto Gosho (5 minutes on foot) so is very convenient to stay at this hotel. The area has many good old stores such as Japanese dessert stores, shoyu stores, miso stores and sake stores.

Don't miss this rare chance to chat with maikos.

■Information

Date: 2017,11,24 (Fri.) / 2018,1,26 (Fri.) / 3,30 (Fri.)

Time; (2 sections) 18:00~, 19:00~

Content: You can enjoy eating at any restaurant after spending time with maikos at the Lounge Bar "Cour au midi."

Meal plan: Terrace restaurant "Felie," Kyoto's tea ceremony dishes "Hotaru," teppanyaki "Ban"

Chinese cuisine (Hanama)

Fees: you can choose the menu (13,000 yen, 15,000 yen, 18,000 yen, 23,000 yen – per person) you like at each restaurant noted above.

※Meals and Maikohan Bar time (including d'oeuvre plates and a drink)

※Either the 13,000 yen course or 15,000 yen course can be chosen at the terrace restaurant "Felie."

※ "Lounge Plan" (including Maikohan Bar time, d'oeuvre plates and a drink) where you can use the lounge only, can be selected (5,000 yen).

※All the fees noted above include tax

※Reservation/contact: TEL:075-441-4318 (Lounge Bar "Cour au midi.")

Kyoto Brighton Hotel

Address: Nakadachiuri, Shinmachidori, Kamigoyku, Kyoto

TEL:075-441-4411