Six recommended souvenir stores in Asakusa!
Asakusa is known as one of the most popular sightseeing spots in Japan and it is popular among both Japanese people and foreigners.
In this article, I will introduce to you MOSHI MOSHI NIPPON's recommended souvenir shops in Asakusa.
"Curry Land" is a dreamy theme park for those of who love curry. 
 The curry vending machine installed in front of the store will welcome you when you visit the store.
If you are not sure of which curry to choose, ask the owner of the store Mr. Inomata or his wife. They have tested all the products sold in the store so you can get a precise explanation about each curry's ingredients and taste.
Detailed information:http://www.moshimoshi-nippon.jp/54706
■Information
Curry Land
Address: 101, Ito building, 2-24-7, Nishiasakusa, Taitoku, Tokyo
Business hours: 11:00 to 19:00
Holiday: Tuesday
One of the most famous chopstick stores in Nakamise Street "Morita"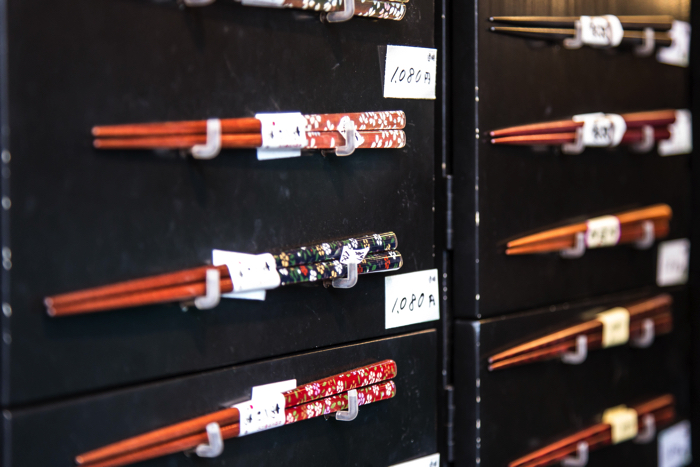 One of the most famous chopstick stores in Nakamise Street "Morita" sells many kinds of original chopsticks from reasonable chopsticks to high-quality chopsticks.
Chopsticks are a tool which represents the culture of Japan. They also sell chopstick rests and they are suitable to be purchased as a souvenir since they are small!
Detailed information:http://www.moshimoshi-nippon.jp/37215
■Information
Asakusano Ohashiyasan Morita
Address: 1-30-1, Asakusa, Taitoku, Tokyo
Business hours: 10:00 to 18:00
Holiday: no holiday
"Kamaasa Shoten" where cooking tools such as pots, knifes and frypans are sold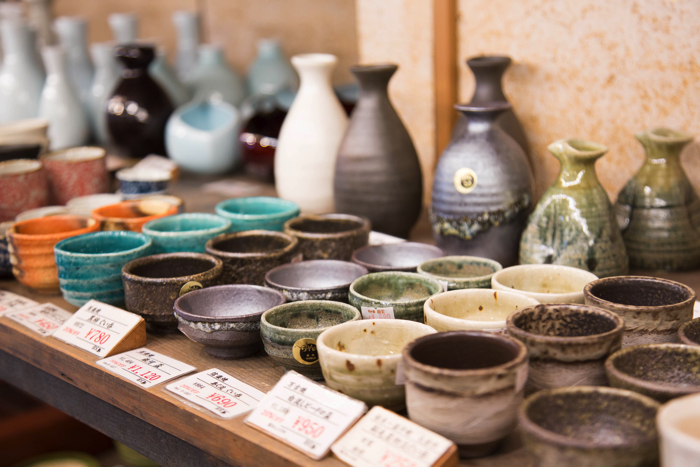 The knifes sold in this store are created by artisans and they are so beautiful that it will make you sigh.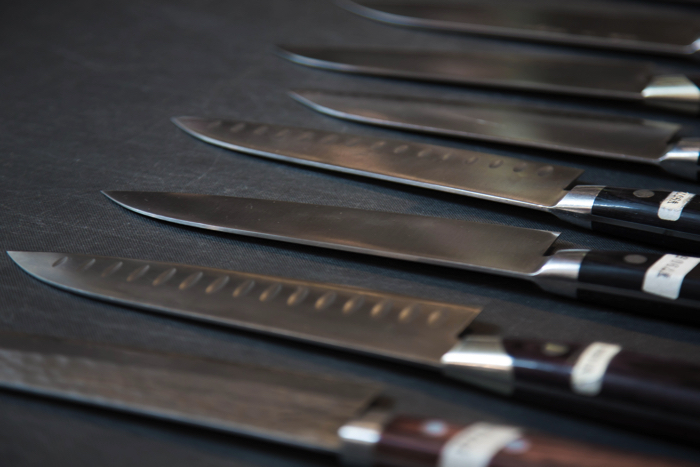 They hold a workshop of teach how to sharpen knifes irregularly and this means that they are running their business with a sincere effort.
Detailed information:http://www.moshimoshi-nippon.jp/41748
◼︎Information
Kamaasa Shoten (cooking tool floor)
Address: 2-24-1, Matsugaya, Taitoku, Tokyo
Kamaasa Shoten (knife floor)
Address: 2-23-9, Matsugaya, Taitoku, Tokyo
Business hours: 10:00 to 17:30
Holiday: no holiday (except year's end and New Year's Day)
"Fujiya," a store which sells dyed traditional facecloths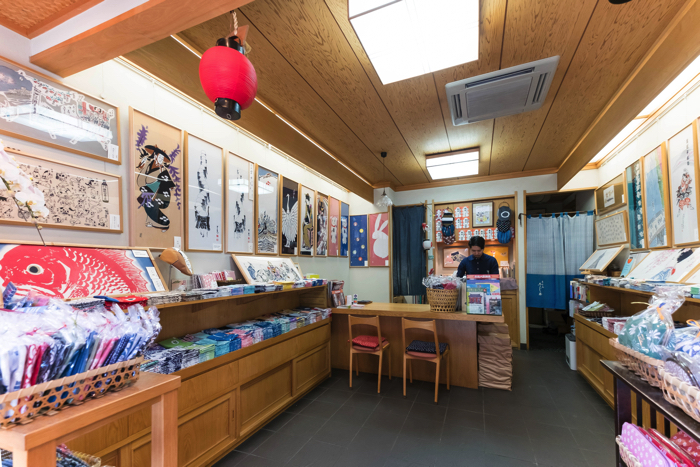 The store is a facecloth shop which has been running their business for 65 years. The store sells lots of Chusenzome (traditional dying method) facecloths that are suitable to be framed up on the wall, not just using them as a handkerchief or towel. You can also use them as a "furoshiki" (Japanese wrapping cloth) or a bandanna.
The facecloths sold in this store are all handmade. Why don't you find your favorite item when you visit Asakusa?
Detailed information:http://www.moshimoshi-nippon.jp/37215
■Information
Somee Tenugui no Fujiya
Address: 2-215, Asakusa, Taitoku, Tokyo
Business hours: 10:00 to 18:00
Holiday: Thursday
 "Tengoku," a café that sells cute original goods
"Tengoku" is a café that sells famous pancakes and they also sell original goods such as cups and saucers. Why don't you visit the café and buy their original goods as a souvenir?
Detailed information:http://www.moshimoshi-nippon.jp/31615
■Information
Coffee Tengoku
Address: 1-41-9, Asakusa, Taitoku, Tokyo
 "Waizumiya" which sells cat-shaped photogenic Japanese crackers
It is an established Japanese cracker shop which has three shops in Asakusa.
You can find many kinds of Japanese crackers inside the store.
The most popular cat-shaped Japanese cracker is created based on the cat they own called "Norichan."
◼︎Information
Waizumiya main store
Address: 〒111-0035, 1-14, Asakusa, Taitoku, Tokyo
Business hours: 10:30 to 19:30
Holiday: Thursday
TEL:03-3841-5501
How was our recommendation of souvenir stores? Please refer to this article if you are not sure of which store to visit in Asakusa.
Have a nice trip!
RELATED ENTRIES
mūya: Tokyo's New Cafe Opening by 'Bread, Espresso &' Serving Fluffy Mū Bread

Bread, Espresso & is a cafe chain with 17 branches in Japan, including Omotesando. The company is set to open an entirely new cafeーspecialising in Bread, Espresso &'s popular mū breadーcalled mūya on April 17, 2020 in Asakusa Mizumachi.

Bread, Espresso &: https://www.moshimoshi-nippon.jp/254815

Mizumachi is a new shopping centre also opening on April 17, 2020. It's near Solamachi in Tokyo Skytree Town, and sits betwixt Kaminarimon and Tokyo Skytree.

mū

Mū is an original bread recipe baked up by Bread, Espresso & that's made with lots of butter, giving it a rich taste. The word means "soft" in French. When you break a piece off the fluffy loaf, that rich buttery smell fills your nose.

inside the cafe

The mū loaf is a cube shape, and the interior of the shop has cube designs all over it.

Customers sit at tables with chairs that stack up like cubes – a unique and original design.

French toast

Mū is the main dish at mūya, which can be served as it is, as a sandwich, as French toast, or even in a parfait.

When you're passing through Asakusa, be sure to pop into mūya to try the famous mū bread of Bread, Espresso &.

Information

mūya

Address: 1-2-12 Mukojima, Sumida City, Tokyo 131-0033
Opening Hours: 8:00-20:00
No Fixed Holidays

TEL: 03-6240-4880
Homepage: http://www.bread-espresso.jp/

Japanese Tea Crepe Cafe OCHABA Opens Second Branch in Asakusa

OCHABA opened its first branch in Shinjuku in March last year as the first cafe in Japan specialising in Japanese milk tea. The cafe has announced that it will open its second branch in Asakusa on February 22, 2020. The new cafe will introduce a new item to the menu: crepes. The chewy wraps are made with matcha and Japanese tea and filled with mascarpone and fresh cream.

Plain Tiramisu – ¥600


Kogashi Houjicha Puree – ¥650

Strawberry Daifuku – ¥730

The cafe will also serve OCHABA's famous Japanese milk tea topped up with warabimochi, made using carefully-selected tea leaves from Maruzen Tea, a Shizuoka-based tea company with a history spanning more than 70 years.

If you love Japanese tea, you'll love OCHABA's desserts made using all different kinds of teas.

Information

OCHABA Asakusa

Address: Asakusa Orange Street, 1-39-14 Asakusa, Taito Ward, Tokyo

Opening Hours: 11:00-19:00

Official Website: https://ochaba.net

Asakusa's New Conveyor Belt Sushi Chain Kura Sushi Offers a Traditional Japanese Space

Muten Kura Sushi opened the first of its its all-new chain of "global flagship" sushi restaurants in Asakusa BOX on January 22.

This kaitenzushi restaurant, or "conveyor belt sushi," aims to promote Japanese culture. It wants people, both Japanese and foreign, to rediscover the wonders of kaitezsushi, and what better place to open its first branch than Asakusaーone of the biggest tourist hot spots in Tokyo?

The restaurant's design and decor takes on a more traditional approach, drawing inspiration of Japan's Edo period with classic ukiyo-e paintings and paper lanterns adorning the walls, amongst many other things. This classic image of Japan has found its way to the dining space itself too, with flat tables made from plain wood and chairs topped with tatami. This gives it that air of grace and beauty which is typically associated with traditional Japanese culture, as well as a relaxed atmosphere.

The logo used on the restaurant's paper lanterns, crockery, staff uniform and elsewhere was designed by Japanese art director and creative director Kashiwa Sato. It was created for the brand to be used on all future branches, including all Japanese restaurants and those planned for the US and Taiwan.

The restaurant even has several Japanese festival games for customers to play, like target practice and ring toss. They can win coupons that can be used in the restaurant, and kids can win toys too.

Some of the staff can speak foreign languages too, and tablets that you order food from are available in 4 languages.

Staff also carry a "Langogo Genesis," a speech translation machine, to allow for smooth customer service. It's connected to an AI language server which can speak and translate quickly in 104 languages.

This global flagship restaurant also has a self check-in and payment system. Using touch screen, customers will be shown their seats automatically. The AI also adds up how many plates you have used by scanning their QR codes, and this is used to determine how much you need to pay. This means you needn't wait for someone to bring the bill, you just head straight to the till.

There's also a smartphone app (called スマホでくら) which you can use to book a table and makes for easy checking in when you arrive at the restaurant.

Head to Kura in Asakusa, Tokyo to enjoy Japan's longtime affordable and delicious fast food: sushi.

Information

Kura Sushi Asakusa ROX

Address: Asakusa ROX Floor 4F, 1-25-15, Asakusa, Taito Ward, Tokyo)

Opening Hours:

January 22-26 @ 12:00-21:00 (Last Orders 20:30)

From January 27 @ 11:00-23:00 (Last Orders 22:30)

Official Website (English): http://www.kura-corpo.co.jp/en/

7 Lucky Foods and Items From Tokyo Station To Push You Towards Success

You've studied as much as you can for your exams and prepared as much as you can for that mid-term presentation but the nerves are still getting to you. How about some lucky items to help you succeed? As the exam season is approaching, Tokyo Station's shopping centre GRANSTA is holding a fair from January 13 to February 14, selling a variety of lucky items and foods to fill you with the courage and strength you need to calm your nerves and boost your confidence.

 Katsu Sandwiches

As "katsu" also means "win", a crunchy and juicy "winning" sandwich is the perfect way to boost your confidence and energy levels.

Kinokuniya Katsu Sandwiches (3 Sandwiches): ¥430 (After Tax)/KINOKUNIYA Entrée GRANSTA Marunouchi Floor B1 (Outside ticket barriers)


A crunchy katsu sandwich with a thick slice of juicy Japanese pork – This popular katsu sandwich will provide you with the stamina you need to do that presentation.

Katsu Fillet Sandwich (4 Sandwiches): ¥880 (After Tax) / Nagoya Meibutsu Misokatsu Yabaton: GRANSTA Floor B1 (Inside ticket barriers)


A soft southern Kyushu katsu meat fillet drizzled with Yabaton's special sauce. Enjoy the juicy flavour with every bite. 

Egg and Shrimp Katsu Sandwich (1 Full Sandwich): ¥388 (After Tax) /Kyo no Gohan Wasai no Kuni: GRANSTA Marunouchi Floor B1 (Outside ticket barriers)


This pack includes a tender shrimp sandwich and a rich-flavoured egg sandwich. (Limited number sold per day)

Sangenton Katsu Sandwich Eat-In: ¥396, Take Away: ¥388 (After Tax)/ BOULANGERIE ASANOYA, GRANSTA Floor 1 (Inside Ticket Barriers)


The Sangenton Katsu Sandwich is a hearty meal that consists of pork of three origins. This is perfect to fuel up on energy before your big moment. (Limit of 40 sold per day)

Chestnut-Flavoured Talisman of Victory

Silver Bell Pancake Sandwich: ¥378 Each (After Tax)/ Colombin GRANSTA Floor B1 (Inside ticket barriers)

Chestnut-based foods as a victory treat date back to the end of the 15th century during the Warring States period of Japanese history. In this pancake sandwich, two fluffy pancakes hug a filling of delicious cream and chestnuts, creating the perfect victory snack. *Sold from January 13 – February 14, 2020

Lucky Iyokan Mikan Vinegar

Lucky Iyokan Mikan Vinegar (1:5 Dilution, 150ml): ¥1,296/ Drinking Vinegar expre・su Tokyo GRANSTA Floor B1 (Inside ticket barriers)

This mikan orange-flavored drinking vinegar is made from Iyokan mikan oranges, which is said to bring luck. "Iyokan" also means "good premonition", which is sure to provide both an energy and confidence boost. *Limited sales: From January 13, 2020 while stocks last.

Lucky Pentagonal Chopsticks Set

Lucky Pentagonal Chopsticks Set: ¥3,300/ Nihonbo GRANSTA Floor B1 (Inside Ticket Barriers)


These lucky pentagonal (gokaku) chopsticks are a play on words with the word "gokaku", which also means success. They are pentagonal right to the tip, making it easy to grip your food. This is the perfect present for your friend who is going to take an exam. Limited Selling Period: Until the beginning of March.

Tokyo Station GRANSTA is full of lucky items and foods to help you and your friends prepare for success.

Information

GRANSTA

Location: JR Tokyo Station Floor B1/1 (Inside Ticket Barriers)

Address: 1-9-1, Marunouchi, Chiyoda-ku, Tokyo

Opening Hours: 08:00 – 22:00 (Open until 21:00 on Sundays and the last days of consecutive holidays)

GRANSTAMARUNOUCHI

Location: JR Tokyo Station Floor B1/1 (Outside Ticket Barriers)

Address: 1-9-1, Marunouchi, Chiyoda-ku, Tokyo

Opening Hours: 10:00 – 22:00 (Open until 21:00 on Sundays and the last days of consecutive holidays)

*Opening hours of some shops may vary

Official Website: https://www.tokyoinfo.com/shop/mall/gransta/

8 Delicious Breakfasts to Enjoy in Tokyo's Traditional District Asakusa

Asakusa is one of the most touristic spots in Tokyo and enjoys its traditional temples as much as its modern scene. If you're up early with a day of sightseeing and shopping ahead, starting your day with a good breakfast is the best way to make the most of it. To help out, we've got a list of eight recommendations for breakfast in Asakusa which includes both Japanese and western-style foods – bon appetit!

Pelican Cafe 

Pelican Cafe runs the old bakery called Pan no Pelican which was established in 1942. This delicious menu is not available anywhere else. The scrumptious breakfast menu includes five different meals to choose from. The picture above shows the Ham Katsu Sandwich – a filling breakfast sandwich containing a thick slice of Asakusa ham.

Pelican Cafe 

Address: Floor 1, 3-9-11, Kotobuki, Tokyo

Opening Hours: 

Breakfast: 9:00 – 11:00

Regular Menu: 11:00- 17:00 (Last Orders)

Closed: Sundays, National Holidays

Closed for summer holidays and the New Year's Period

Official Website: https://pelicancafe.jp/index.html

February café

We've previously visited February café for their scrumptious french toast and now we're back for seconds. You can order the breakfast bread set (Asa Pan Set) from 8:10 am to 11:00 am. The bread used for the set is actually Pelican no Pan bread. This is ideal for those of you who want to enjoy breakfast near Kappabashi.

February café

Address:1-7-8 Kaminarimon, Taito, Tokyo 

Opening Hours: 8:10-19:00 (Last Orders: 18:30)

No Regular Holidays

Official Website: http://www016.upp.so-net.ne.jp/February-Cafe/

Coffee Lodge Akaishi

Coffee Lodge Akaishi is located behind Asakusa Kannon and is open from 9:00 am to 4:00 am. This place is loved by everybody from tourists to locals. Their top dish is their Ebi Sando – a sandwich that contains battered shrimp, tartar sauce, cabbage and sauce. The old traditional-style interior provides the perfect relaxing atmosphere to catch your breath between sightseeing and shopping. 

Coffee Lodge Akaishi

Address: 3-8-4 Asakusa, Taito, Tokyo

Opening Hours: 

Tuesday to Saturday: 09:00 – 04:00/ Sundays and National Holidays: 09:00 – 01:00

Closed: Mondays

Tabelog: https://tabelog.com/tokyo/A1311/A131102/13058004/

Misojyu

Misojyu's popular breakfast set includes miso soup, one onigiri, a delicious half-boiled egg, and pickled vegetables. Misojyu is committed to using organic vegetables in their miso soups for healthy and balanced meals so this is the perfect way to start your day. 

Misojyu (Miso Soup Shop)

Address: 1-7-5 Asakusa, Taito, Tokyo

Opening Hours: 

Breakfast: 8:30 – 10:00

Regular Menu: 10:00 – 19:00

No Regular Holidays

Official Website: https://misojyu.jp/

SUKE6 DINER

SUKE6 DINER serves up delicious brunches from the morning and homemade sausages and smoked fish dishes in the evening. The breakfast menu is available from 8:00 am to 11:00 am and serves up homemade granola and bread freshly baked on the third floor of the diner. You can also enjoy their scrumptious sandwiches which are topped with meat and vegetables.

SUKE6 DINER

Address: Ayumi Building Floor 1-2, 1-11-1, Hanakawado, Taito, Tokyo

Opening Hours: 

Tuesday – Friday: 8:00-22:00

Lunch:10:00 – 17:00

Weekends and National Holidays: 8:00 – 21:00

Closed: Mondays

Official Website: http://suke6diner.com/

SaboAsaichi

If you're near Inarichō then pop into Sabö Asaichi for a delicious breakfast, shokupan or Okara bread that is made from bean curd lees. Toppings include red bean paste and butter, honey and butter and red bean paste and cream cheese. Besides bread, you can also add an onigiri and miso soup to your meal so you can enjoy both a western-style and Japanese-style breakfast in one go.

SaboAsaichi

Address: 6-1-15, Higashiueno, Taito, Tokyo

Opening Hours: 8:00 – 20:00 

Closed: Sundays and Mondays

Official Twitter: https://twitter.com/saboasaichi

SUKEMASA COFFEE

If you're looking for a good latte or espresso to start your day then SUKEMASA COFFEE got your back. A unique feature of the café is that the staff are all dressed in kimonos. The picture above shows the café's Red Bean Paste and Butter Dog. A rich filling of red bean paste and butter is sandwiched inside crispy bread.

SUKEMASA COFFEE

Address: Kimizuka Bldg. 102, 2-29-2, Asakusa, Taito, Tokyo

Opening Hours: 8:00 – 19:00

Closed: Tuesdays

Official Website: https://sukemasa.tokyo/

MIMOSA

MIMOSA's morning menu sees toast, sandwiches and the best of Asakusa's delicious breakfasts. The star of the show is the Big Hotcake (¥720 After Tax) which is a five-layer pancake topped with Calpis butter and a side of whipped cream. You'll want to savour the nostalgic flavour forever. If you cannot finish your meal, you can take it away with you.

MIMOSA

Address: 4-28-6 Asakusa, Taito City, Tokyo

Opening Hours: 8:00 – 17:00

Closed: Mondays

Tabelog: https://tabelog.com/tokyo/A1311/A131102/13088749/

 If you're an early bird in Asakusa, treat yourself to a hearty western or Japanese breakfast at one of these cafés and you'll be sure to have a fantastic day. 

*The cafés and restaurants may update their opening hours and menus at any time so please check their official websites and social media for the most accurate information.

Furoshiki-Wrapped Matcha and Strawberry Sandwich Biscuits Released at PRESS BUTTER SAND

PRESS BUTTER SAND released two new sandwich biscuit products on December 13. PRESS BUTTER SAND Kyoto Station will release the Tsutsumi Uji Matcha and PRESS BUTTER SAND Hakata Station the Tsutsumi Amaou Strawberry. Both are limited in stock.

Both boxes of these delicious treats contain five of the store's famous "PRESS BUTTER SAND" sandwich biscuits, and they come gift-wrapped in an original furoshikiーa type of Japanese wrapping cloth. The appearance of both products in their packaging maintain an artisanal aesthetic and capture the vibe of their respective cities.

The furoshiki were designed by Yumiko Kakizaki (BAKE Inc.), the creative director at PRESS BUTTER SAND, and several creators active around Kyoto and Fukuoka. Each design was made to represent the characteristics of Kyoto and Hakata.

Also available is the Tsutsumi Black, a set each of 5 original and black flavoured butter biscuit sandwiches.

PRESS BUTTER SAND boasts over 2.5 million sales a year on average. If you've get to try their scrumptious biscuit sandwiches then don't pass up the opportunity to try these new flavours.

Information

Tsutsumi Uji Matcha (Includes 5 Uji Matcha and 5 Original Biscuit Sandwiches)

Price: ¥3,240

Available: PRESS BUTTER SAND Kyoto Station

Running: December 13, 2019 until stock sells out

Tsutsumi Amaou Strawberry (Includes 5 Amaou Strawberry and 5 Original Biscuit Sandwiches)

Price: ¥3,240

Available: PRESS BUTTER SAND Hakata Station

Running: December 13, 2019 until stock sells out

Official Website: https://buttersand.com

WASHOKU: Asakusa's Newest Restaurant For Experiencing Japanese-Style Cuisine

Asakusaーone of the hottest spots in Tokyo for sightseeing, ever-bustling with Japanese and foreign tourists and travellers alike. This ancient district is famous not only for its sights, like Sensō-ji (the oldest temple in Tokyo) and the Nakamise-dōri shopping street leading up to it, but for its bountiful offering of gourmet restaurants.

Today, we're taking a look at Taikenkei Dining -WASHOKU-, a restaurant which opened in Asakusa on November 19 this year. If you're looking for the full package when it comes to experiencing Japanese food culture, WASHOKU has customers covered. Not only do they serve food, like traditional Kyoto obanzai, but they offer cultural experience plans too where you can learn to make sushi or dress up in a kimono and walk the old streets of Asakusa.

WASHOKU's concept when it comes to both lunch and dinner centres around enjoying Japanese-style food that is colourful. And that rings tantalisingly true with their kaleidoscopic obanzai, which is formed of 12 vivid bite-sized delights. Obanzai is a traditional style of Japanese cuisine that comes from Kyoto, made up of mostly seafood and vegetables. The obanzai served at WASHOKU was conceived under the guidance of nutritionists, and so is packed full of healthy nutrients for the body. Not only that, the ingredients selected are all domestic to Japan, and are of a very high quality.


The obanzai I ate included fried beni haruka sweet potato which is sourced from Ishida Farmsーa sweet potato growerーin Katori, Chiba. It had a moist texture and rich sweetness. When I sank my teeth into it, I was flushed with feelings of the fall season.

Other foods in the assortment included sashimi, scallop and yuzu, saikyo-yaki Kyoto-style grilled fish, and more. Each mouthful of the selection offered its own distinct and unique flavours.

The obanzai is served with miso soup too with which you get to choose a miso ball from a variety of flavours to put into your bowl. I went for the sesame seed miso ball.

The miso ball is made from miso paste and various ingredients. Once placed into the hot water, it melts and turns into miso soup. The sweet light-brown miso was perfect for warming up my chilly self.

Dinner also features a dessert menu, as well as courses with an all-you-can-drink option, so I recommend these options for people who want to relax and take their time with their dining experience.

As I mentioned earlier, WASHOKU also offers a variety of experience-based plans. This includes a sushi class where you can learn to make your own hand-rolled sushi.

There are two types of "temari" hand rolled sushi you can make: the regular type, which makes use of tuna, salmon and other classic sushi toppings, and the high quality type, which uses more high-end ingredients like uni sea urchin eggs, caviar, gold leaf, and more. And for foreign customers, the restaurant has prepared a handout detailing the history of Asakusa and recipes, as well as souvenirs for them to take home.

The MMN team of course had to have a go at making our own sushi, but it proved quite difficult. You have to get the right amount of sushi rice to roll, then actually roll it perfectly into a ball before topping with your ingredients. But the sushi I made was actually really delicious! To attend this class you have to book in advance, so if you've never tried making your own sushi before or have an need some guidance, then we can't recommend it enough.

As well as food-related experiences, WASHOKU provides customers with three different plans to experience Japanese culture. The first of these is the rickshaw ride, where you board a rickshaw pulled by a runner and are taken around the various sites of Asakusa. The 'Excursion Around Asakusa Course' takes you to the most popular spots around Kaminarimon, while the 'Sky Tree Course' takes you all the way to the Sumida River, and you also get to see Tokyo Skytree and various other attractions in Asakusa.

The Edo Kiriko plan gives you the opportunity to cut your own Japanese glass to drink from. You can drink from your glass if you reserve the plan with lunch or dinner.

Finally, you can rent a kimono. Select your favourite from the shop and have a professional dresser get you readyーwith both your kimono and your hair. After you're dolled up, you can take a stroll around Asakusa to get a real feel for Japanese culture.

All three of these plans are just ¥3,500 per person, and all require reservations which you can book online.

So, if you're looking for a taste of Japanese food and culture, why not take a trip to WASHOKU when visiting Asakusa for an all-in-one experience?

Information

Taikenkei Dining -WASHOKU-

Address: 2113 Kaminarimon Bldg. Floors 5F-6F, 2 Kaminarimon, Taito Ward, Tokyo

Opening Hours: Lunch 11:00-15:00 / Dinner 15:00-17:00

No Fixed Holidays

Access: 1-minute on foot from Exit 4 of Asakusa Station via the Tokyo Metro Ginza Line / 2-minutes on foot from Exit A3 of Asakusa Station via the Toei Asakusa Line

Official Website (English): https://washoku.site/en/

Top 10 Most Popular Souvenirs to Pick Up at Tokyo Station's HANAGATAYA Store | 2019 Edition

HANAGATAYA is a souvenir variety shop that opened in Tokyo Station's central passage back in July. After over 5 months of sales, the store has revealed its Top 10 most popular products based on sales.

The line-up features a selection of HANAGATAYA exclusives, as well as products from elsewhere which have received pre-sales at HANAGATAYA. You will be spoilt for choice with this selection, all of which are perfect for ringing in the New Year when travelling back home. Let's take a look.

1st Place

Banana Custard Cream – Tokyo 2020 Olympic Emblem Design (Tokyo 2020 Official Licensed Product) – Contains 8 – ¥1,134 (Tax Included)

Officially licensed by the Tokyo 2020 Olympics, these chewy cakes are made from domestic Japanese rice, and are filled with deliciously creamy banana custard.

2nd Place

Tokyo Banana Butter Madeleine (Tokyo Banana World) – Contains 4 – ¥560 Tax Included)

Exclusive to HANAGATAYA come these all-new butter madeleine's created by famous confectionery company Tokyo Banana. These baked treats feature a buttery fragrance and taste, and are made with a banana confiture and finished with fresh lemon.

*Exclusive to HANAGATAYA GRANSTA Tokyo Central Street

3rd Place

Toro One Press Chocolate Chick (Tokyo Hiyoko) – Contains 3 – ¥648 (Tax Included)

This year marks 107 since the company Hiyoko was established. The "Toro One Press Chocolate Chick" is a new confection from them: an adorable skyward-looking chick made up of three chocolate layersーeach with their own distinct flavour. At the heart of the chick is a moist chocolate paste.

*Exclusive to Tokyo Station

4th Place

Cheese Wich – Contains 5 – ¥594 (Tax Included)

These light and refreshing cheese cookies, called Cheese Wiches, are filled with a chocolate-coated melted cheese sauce. Three layers means an enjoyable amalgamation of flavours and textures.

*Exclusive to Tokyo Station

5th Place

Chocolate Chestnut Eggs (Ginza Tamaya) – Contains 4 – ¥800 (Tax Included)

"Goma Tamago" is a popular bite-sized egg-shaped confection. This chestnut flavour was created for HANAGATAYA, a mix of dark chocolate and vanilla flavoured chestnut paste.

*Exclusive to Tokyo Station

6th Place

Strawberry Cookie Sandwich (Berry UP!) – Contains 8 – ¥1,296 (Tax Included)

Berry UP! is a cute confectionery brand which creates baked strawberry sweets. Keeping with that theme, they have created a crunchy quintuple-layered cookie sandwich filled with sweet and sour strawberry chocolate.

7th Place

Shinjuku Curry Ebi (Shinjuku Nakamuraya) – Contains 6 – ¥600 (Tax Included)

If you're looking for something more savoury, then this one's for you: Shinjuku Nakamuraya's light, fluffy and melt-in-the-mouth ebi, coated in curry spices. One nibble is enough to get you instantly hooked.

8th Place

Strawberry Polvorón (Berry UP!) – Contains 6 – ¥1,296 (Tax Included)

Another entry from Berry UP!, these polvorón shortbreads are made from lots of fresh strawberries mixed with condensed milk and mascarpone, creating a subtle sweetness that's enough to have your mouth watering.

9th Place

BLUE MELTIN SAND (Tokyo Campanella) – Contains 8 – ¥1,200 (Tax Included)

What if herbal tea and cookies became its own snack? That's what Tokyo Campanella asked too, and so make it a reality. Their BLUE MELTIN SANDs are cat's tongue cookies stuffed with a herbal tea sauce that has a natural blue colour.

10th Place

Premium Cacao Full Sablé (Mary Chocolate) – Contains 18 – ¥1,350 (Tax Included)

Finally, we have a premium edition of chocolate company Mary Chocolate's Cacao Full Sablés. This one's for the adults, a sophisticated combination of bittersweet chocolate and berries.

*Exclusive to HANAGATAYA GRANSTA Tokyo Central Street

Did you enjoy this list? Which one takes your fancy the most? Whether as a souvenir for the folks back home, or as a treat to yourself to celebrate 2020, if you're in Tokyo this year then be sure to give HANAGATAYA a visit.

Instagram Sensation Unicorn Ice Cream Shop Now Selling Christmas Reindeer Ice Cream

Looking for Instagram-worthy ice cream in Japan? You definitely need to check out Asakusa Tsuno Koi. Soon after opening in Tokyo's traditional Asakusa on July 5, 2019, their soft serve unicorn ice cream instantly earned its fame on social media. From November 28 to December 24, the ice cream shop will be releasing a series of Christmas-limited ice creams that are sure to become a hit sensation.

This shop is famous for being the only ice cream shop in the world to make unicorn-shaped cones out of financier cake dough and filling them with a sweet spiral of soft serve ice cream for the unicorn's horn. This Christmas, the shop is introducing Christmas-limited toppings, flowers and wreaths to the decorations menu, making customising your ice cream more fun than ever before. 

* According to research conducted by Asakusa Tsuno Koi. Protected status has been received for America, Korea and Japan. Applications are still being processed in the EU, Singapore and Mongolia.  

For the Reindeer Soft Serve Ice Cream (¥780), each and every single financier cone is baked carefully, but this time in the shape of a reindeer – and it's chocolate flavoured. Filled with soft serve ice cream, this reindeer is too cute to eat. 

The Christmas Tree (¥830) is a soft serve pistachio ice cream made using high-grade pistachos: the reigning queen when it comes to nut varieties. The ice cream is finished with one of Asakusa Tsuno Koi's original Christmas trees. 

The Santa Claus Soft Serve (¥500) is made using Asakusa Tsuno Koi's rich-flavoured vanilla ice cream. Young or old, the moment you set eyes on Santa Claus' face, a smile will automatically appear on yours! 

The Christmas-limited toppings include stars, candy, and gingerbread men (¥100 each). Can't choose? There is set including all three which costs ¥250.

The shop interior is also looking more Christmassy. The interior is a fusion of Asakusa's traditional heritage and the unicorn motif, which is popular in western countries. A colourful flowery background and Asakusa's traditional folding fans and umbrellas perfectly finish the western-Japanese fusion scene, which is currently soaking in fame on Instagram.

Asakusa Tsuno Koi is serving up a totally unique kind of ice cream that has not been spotted anywhere else in the world. The Christmas-limited ice creams are definitely worth the hype. 

 

* Prices Before Tax

Information

Asakusa Tsuno Koi 

Address: 1- chome-14-7 Asakusa Taito City

Closed: Wednesdays

Opening Hours: 11:00 – 18:00

Website (Japanese Only): http://www.38cogp.com/tsunokoi/

Tokyo Station's Top 10 Edible Winter Souvenirs as Chosen by Station Staff

There is just a month and a half left of 2019, with Christmas, the winter holidays and New Year celebrations right around the corner.

Tokyo Station City has compiled a list of must-grab food-related souvenirs and gifts at Tokyo Station. If you've ever visited Tokyo Station, you'll know that you can be spoilt for choice from the amount of goodies you can get your hands on. The list is based on the votes of 305 station staff members working at Tokyo Station who have voted on their Top 10 most recommend souvenirs to pick up this winter.

The staff members went around the shopping area and taste-tested different edible souvenirs across an 8-day period. Their early thoughts as they went down the list were how delicious or unique things were, but they soon began to take it more seriously to consider things like price, how easy an item was to carry and transport, and what certain people might like in particular.

If you're travelling to or from Tokyo Station during the holiday season, be sure to bookmark this list so you know what to buy for on the flight back home!

1st Place

Rakumadoka @ Terra Saison (GRANSTA) – 5 Set ¥1,080 (Tax Included) / 8 Set ¥1,728 (Tax Included)

This cheesecake is like a cream cheese-stuffed souffle-like sandwich. Branded with the words "Gin no Suzu" (a place in Tokyo Station) and "Tokyo," this seasonal product is exclusive to Tokyo Station. In December last year, they sold over 1,500 in a day.

2nd Place


Mount Baum Kuchen @ Nenrinya (Meihinkan) – ¥1,080 (Tax Included)

With its French bread texture, this delightful treat has a fragrant scent, is moist, and is simply delicious. It has a rich buttery taste and is baked slowly to perfection.

3rd Place

Shinjuku Curry Arare Ebi @ HANAGATAYA (GRANSTA) – 6 Set ¥600 (Tax Included)

This rich curry snack is made by Shinjuku Nakamuraya, and has a light melt-in-the-mouth texture with spicy curry seasoning and shrimp flavour. The shrimp flavour comes from a mix of shrimp powder and shrimp oil. The mix of curry powder and spices gives it a really authentic curry taste.

4th Place

Tokyo Vegetable Rice Crackers @ nomono (GRANSTA Marunouchi) – 12 Set ¥950 (Tax Included) / 18 Set ¥1,598 (Tax Included)

An assortment of rice crackers with three different flavours: great burdock, onion, and pumpkin. They have a set of 18 too which is perfect for handing out to lots of people.

5th Place

Maple Pie Sandwich @ The Maple Mania (GRANSTA) – 8 Set ¥1,944 (Tax Included)

Coated in caramel, this crunchy pie is made with a cream laced with maple sugar. Exclusive to Tokyo Station, the packaging design for this dessert is made with souvenirs in mind as it's made so it's easy to carry and take around with you.

6th Place

Kuzumochi @ Funabashiya Koyomi (ecute Tokyo) – 24 Cut (Serves 1-1.5) ¥790 (tax Included) / 36 Cut (Serves 2-3) ¥895 (Tax Included) / 48 Cut (Serves 4-5) ¥1,200 (Tax Included)

Funabashiya's kuzumochi is made with wheat starch that is fermented over a 450 day period before being cooked. It claims to be "the only fermented Japanese wagashi confection." Since it is fermented over such a long period of time, it takes on a unique flavour and elasticity.

7th Place

Cheddar Cheese Pie Sandwich @ Tokyo Milk Cheese Factory (ecute Keiyo Street) – 6 Pack ¥1,620 (Tax Included)

A crunchy pie filled with an addictive cheddar cheese cream. Exclusive to ecute Keiyo Street.

8th Place (Joint)

Premium Cacao Full Shortbread @ HANAGATAYA (GRANSTA) 8 Set ¥648 (Tax Included) / 18 Set ¥1,350 (Tax Included) / 27 Set ¥2,052 (Tax Included)

This is a premium edition of the store's Cacao Full Shortbread, made using the methods used to make the chocolate brand Merry Chocolate. The crunchy texture and full-bodied flavour of the cacao has been left as it is, while a few things have been added to make it a little more luxurious: French sour cream butter, strawberries, and raspberries.

8th Place (Joint)

Yaoki Senbei @ Mankaso (Meihinkan) – 16 Set ¥1,080 (Tax Included)

These plump senbei rice crackers are made with 100% domestic rice and come in six different delicious flavours: agodashi soy sauce, salted, shrimp, seaweed, plum and coarse sugar, and chirimen pepper.

10th Place

Tartlette Neuf @ le billet (ecute Tokyo) – 6 Pack ¥1,728 (Tax Included) / 9 Pack ¥2,592 (Tax Included)

la billet make their own tarts, and this assortment comes in a variety of flavours. Exclusive to Tokyo Station. A great option as a gift for meeting a business in Japan.

Which of these looks most tempting to you? Let us know on Twitter or Facebook!

Japanese Souvenir Diary: Tokyo Strawberry Whipped Langue-de-chat

You're going on holiday to another country, but there's someone special back at home that can't go with you. What's the best way to make them feel like they haven't been left out completely? Souvenirs, of course! Picking out the perfect souvenir for the right person or people, whether friends or family, is a lot of fun as you consider what each person might like and appreciate.

We've condensed that thrill of souvenir searching into an article series. We will showcase products that the MOSHI MOSHI NIPPON editorial team have actually tried and recommend as souvenirs.

Tokyo Ichigo Whipped Langue-de-chat (Includes 6) – ¥650 (Tax Included)

Today, we will take a look at Tokyo Strawberry Whipped Langue-de-chat. This whipped chocolate cat tongue biscuit is nothing short of delicious. It's a fact.

And the cute packaging makes it even better, both the box and individual packs when you open it up.

And since they are individually packaged, you can share them amongst multiple people.

Whipped chocolate is sandwiched between the cat tongue biscuits.

Time to try one.

The biscuit itself has a buttery, exquisite flavour. Though they're stuffed with whipped chocolate, the chocolate itself is light on the belly. You get those sweet and sour notes from the strawberry too.

The combination of the lightly baked and delicate biscuits with the soft texture and subtle taste of the whipped chocolate is to die for. Your taste buds are tantalised by a flurry of strawberry.

I showed the 6 pack of biscuits, but they also sell a 12 pack (¥1,080) and 18 pack (¥1,620) too, so cater it to how many you need to share out (or enjoy to yourself!) They have a best before date of 30 days too, so don't have to worry if there's still some time left before you return home.

If you love strawberries, you won't be able to rest the Tokyo Strawberry Whipped Langue-de-chat. Be sure to check them out if you're looking for a Japanese souvenir from Tokyo.

Writer: Sayuri Mizuno (MOSHI MOSHI NIPPON Editorial Team)

Translator: Joshua Kitosi-Isanga

Information

Tokyo Strawberry Whipped Langue-de-chat

Available: At major stations in the Kanto region of Japan, department stores in Japan, and elsewhere

Best Before: 30 Days

Official Website: http://www.oraikan.jp/ih.html

Experiencing Japan: Dining at Denkiya Hall in Asakusa Wearing a Retro and Antique Kimono

Hi, MOSHI MOSHI NIPPON readers! Banako here again from the MOSHI MOSHI Friends group.

I have a question to ask you all. If you've been to Japan, did you ever dress up in a kimono or yukata to go sightseeing? It's become common to see not only Japanese people, but foreign travellers and tourists clad in traditional Japanese ware snapping photos in the country's historical locations. Dressing up in a kimono and walking the streets really immerses you in that Japanese spirit and transforms your experience entirely.

I visited kesatokyo in Asakusa which rents out kimono that are somewhat different from the norm, got myself a kimono, and took a trip to Denkiya Hall, a long-standing cafe in Asakusa.

Denkiya Hall is located along Senzoku-dori Shopping Street which is a 10-minute walk from the Tsukuba Express side of Asakusa Station. The street is quiet and peaceful since it's away from the hustle and bustle of the station front.

The kimono at kesatokyo are renowned through the town as they give off cute retro-antique vibes with their combination of things like lace necks, head dresses and berets.

You can get some romantic co-ords which you won't find with other kimono by matching with your friend in terms of design and accessories. I headed into the cafe excited with my kimono choice which matches the old-fashioned design of the cafe exterior.

A standout feature of this cafe is that some of the tables have arcade games attached to them. If there's a free seat at one of them, pick your favourite-looking, slot in a coin and start playing! Be sure to ask the staff to switch it on for you beforehand.

While gazing through the nostalgic games, I ordered the cafe's popular omumaki (¥700) and cream soda (¥650) while my friend got hot cakes.

Stuffed and wrapped inside the omelette is a hearty serving of fried noodles. The noodles themselves are on the thicker side and have a rich seasoning like that from the Showa period. You can also pick between different noodles.

The cream soda had deliciously sweet syrup and vanilla ice cream inside it.

Your kimono will match the atmosphere of the cafe really well, so you can take some really great pictures at any time.

Denkiya Hall opened over 100 years ago and incorporates styles from three different historical periods: Meiji, Taisho and Showa, giving it a nostalgic feeling.

Another one of Denkiya Hall's specialities is their boiled adzuki, the perfect treat to warm yourself up as the weather gets colder.

It was fun strolling around Asakusa after our cafe visit, as well as searching for more modern towns like Ginza and Omotesando.

We returned our kimono to kesatokyo at 18:40, right before the final return time. The basic rental plan for one person is ¥6,050 and it even includes hair styling! You can make reservations either via DMs on the store's official Instagram or by telephone. You're certain to get a reply on Instagram so it's recommended going that route. The shop has more details on their plans on their website.

Wearing a beautiful kimono and warming up inside a cafe during wintertime. How does that sound?