【Tokyo Cafe】Visit the café that has an original menu which gives you great impact volume 4 Asakusa "Tengoku"
When I was walking in the town, I heard the conversation that made me a little scared.
"I'm heading to the "Tengoku(heaven)" first." The guy who looks like about seventy years old said. He was walking really cheerfully. I was curious about him, and decided to chase after him, then he entered the café called "Tengoku(heaven)."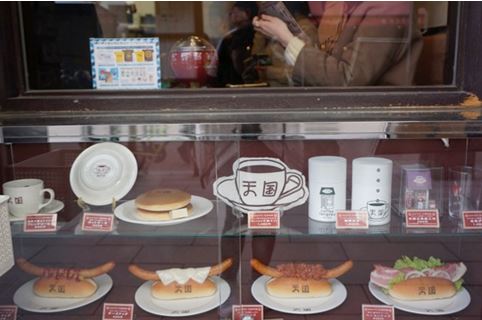 The heaven's door was a small glassed door. There were lovely retro plastic food figures decorated in the entrance. Asakusa which is considered to be the town that has a lot of good places to eat is one of the most popular sightseeing spots in Tokyo. This little and warm appearance café is an oasis for many tourists who try to take breaks from walking in this town.
Inside the "Tengoku," you can smell something sweet. The feast of this paradise is a special pancake which has a burnt in mark of "Tengoku." (550yen)
They start mixing the ingredients after getting an order, and cook on copper sheets. It tastes crunchy on the outside, and fluffy inside. When I put butter and maple syrup, the flavor of the milk gets stronger. The owner, Rumi Ueno was particular about this orthodox pancake. The taste of this pancake really made me relieve and reminds me of my mom who made pancake for snack when I was little.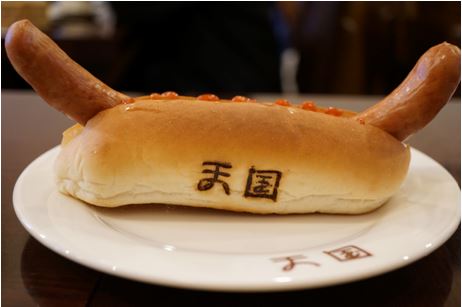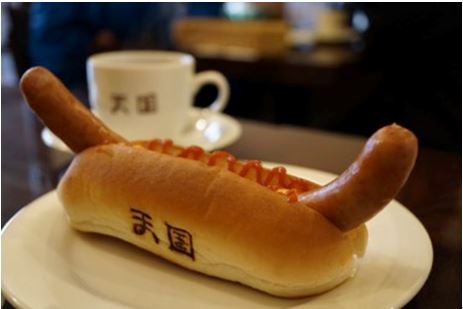 "Tengoku's special hotdog" appeared on my table with great impact. The sausage sticking out from the hotdog bun is about 25 centimeters long!
when you bite it, the juice spreads in your mouth with the bun. The crunchy texture's of sausage really goes with moist bread. There are four toppings that you can choose from. This nostalgic and addictive taste plain hotdog made me want to get another one to take for strolling in this town.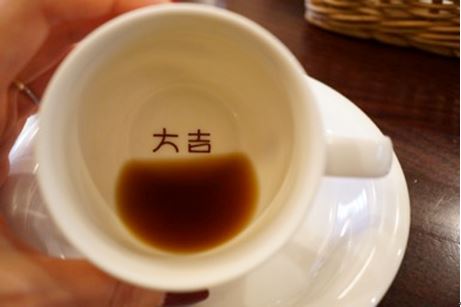 You can have good luck if you drink up the coffee which comes with the set menu.
There are two characters saying good fortune in the bottom of coffee cup. If you get disappointed by drawing bad luck on your oracle at Sensouji temple, you will be saved by this good surprise. This very detailed hospitality is exactly like you are in heaven.
If you are in trouble not knowing what to get for souvenir, you should get the original merchandise that you only can get in here!
"I've been to heaven five times this month." "What about you? How many times you've been to heaven?" People were talking something like that with Edo dialect. The café where people having this funny conversations is like a "gourmet's nirvana" which is totally different world from the hustle and bustle sightseeing place.
■Coffee Tengoku
Address: 1-41-9 Asakusa, Taito-ku, Tokyo
https://tabelog.com/tokyo/A1311/A131102/13025425/
Yuriko Ueki(Writer)
■Related article:【TokyoCafe】Visit the café which has an original menu that will give you great impact volume 3.
■Related article:【TokyoCafe】Visit the café which has original menu that give you great impact 2