MOSHI FES DAY 2: "MOSHI POP" Ignites the Souls of J-Pop Culture Lovers
Japan's pop culture all in one place, that's "MOSHI MOSHI NIPPON FESTIVAL 2015 in TOKYO" (aka MOSHI FES) for you – now onto Day 2! As we continued to feel the vibrant atmosphere of day 1 in our bones, the second day invited various artists from an even wider spectrum that represented the colorful playground brimming with Japanese pop culture.
The opening kicked off with models strutting away to melodies concocted by the shakuhachi (Japanese end-blown flute) and the shamisen (a three-stringed musical instrument). Twirling their red wagasas (traditional Japanese umbrella) while sporting t-shirts with flamboyant ukiyo-e prints, the foreign crowd had no other choice but be entranced by their dazzling performance.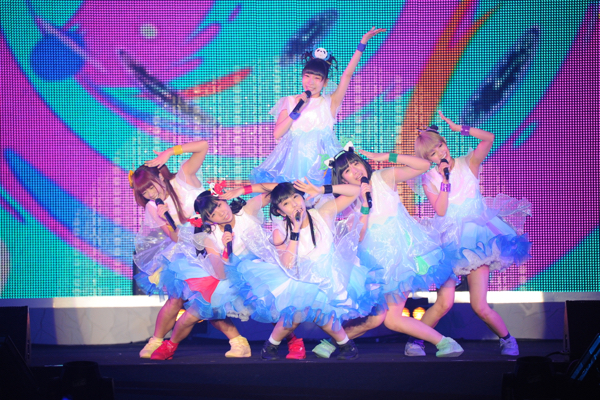 The first act that made the crowd go wild on the main "MOSHI MOSHI STAGE" was five-girl-unit, Dempagumi.inc. With their outfits perfectly in tune with the light blue extracted from the MOSHI FES logo, the girls called out "Let's go Nippon!" and started off with their first track, amazing the crowd as they worked their moves whilst maneuvering their colored ribbons.
Completely taken aback by the number of foreigners in the crowd, the members engaged with the audience by asking, "where are you from?" keeping a close distance between themselves and their fans.
Meanwhile, the "NIPPON STAGE" kicked off with the seven-member unit, best known for being Thursday regulars at Akihabara's live house, MAP, until the day of its closing: Up Up Girls (Kari). Entering the stage boasting introductions in a variety of different languages ranging from "Ni hao," "anyong haseyo," to "bonjour," they dazzled the audience with their fiery dance routine to their rhythmic beats.
The artist next on stage were the 10-member idol unit, Niji no Conquistador. The girls claimed that the FES was "so hot, way too hot" as they set foot to the stage, while the crowd raged in delight to finally be graced with their presence. With their debut album just released, they performed three songs in total including their esteemed "Triangle Dreamer."
Although there was a slight downpour, that didn't serve as a reason to stop the crowd from feeding themselves with the exciting, colorful, and delightfully unpredictable J-pop culture. In the MATSURI (traditional Japanese festival) area, families gathered to write Japanese calligraphy, and students enjoyed a cork-shooting game where they shot down toys/items to the energetic beats from the DJ turning it up on the MATSURI stage…(to be continued)
Meanwhile at NIPPON STAGE, it was time for Cheeky Parade to perform. Their energetic performance raised the voltage of the audience even more! The nine-girl-group also brought up the delightful news and got fans excited by announcing a joint show with TEMPURA KIDZ. They will be performing with the Harajuku-based performance group on a regular basis, starting next month!
Around the same time, Harajuku-based girl band Silent Siren was rocking the crowd at MOSHI MOSHI STAGE. "Hands up!" Main vocalist Sumire Yoshida shouted, and fans proved the sense of unity by putting their hands up in the air.
For the Marukome and ASOBISYSTEM audition, seven finalists were invited to the stage. It was a memorable moment and we could feel the tension in the air. In front of anxious-looking fellow participants, Asahi Shimoda was awarded the first prize, and won the chance to appear in mer magazine as well as one year's worth of miso soup.
Sebastian Masuda' The Show was created in collaboration with KAWAII MONSTER CAFÉ, which is a newly opened café in the heart of Harajuku. Along with the upbeat tunes selected by Sebastion, a number of kawaii monsters walked down the runway and fascinated the audience with the Sebastian world.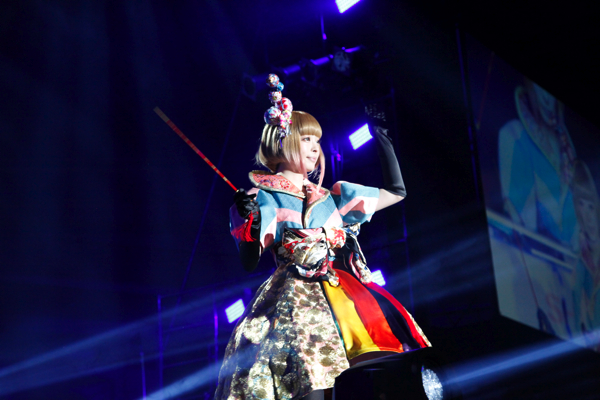 The SHARP AQUOS 4K show was joined by a surprise guest – Kyary Pamyu Pamyu! After revealing more details on her upcoming single titled Kanzen Keitai, she talked about the SHARP AQUOS 4K TV ad where she plays 17 instruments in an orchestra.
9nine showed off their gorgeous outfits with beautiful glitter detailing, while Kameleo sang three songs, Dame Otoko, Devil-Kun and Banzai \(・∀・)/Music!, along with three sexy, rabbit-headed dancers.
Moshifes Day 2 was approaching to its end but the crowd was still going wild!
Natsume Mito came on the MOSHI MOSHI STAGE with a white guitar, and performed two songs; Maegami Kirisugita and Watashi wo Fes ni Tsuretette. The singer was very energetic on stage and kept jumping through the performance. At one time, she had a handheld fan with two kanji letters that read Maegami (meaning the bang and the god), adding a playful twist to her set.
The booth area was packed throughout the day, offering all kinds of interactive and fun activities. From free karaoke to cosplay goods to J-pop culture booths, each booth offered freebies and services for many trend-conscious girls! Fans also got a chance to mingle with their favourite models through a number of games and workshops – Rinko Murata played Mario Card with fans and Saki Shibata gave a Korean lesson while Culumi Nakada taught fans how to embroider.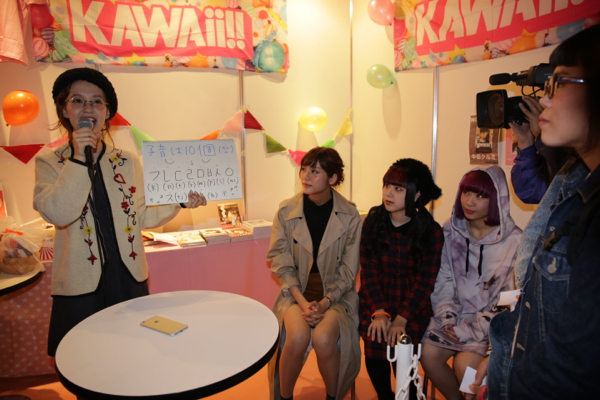 Then, it was time for a runway show featuring models such as Shiho Takechi, Rina Tanaka, Fumiko Aoyama and Ayumi Seto. Fans screamed at the top of their lungs with excitement when models appeared and waved hands to them.
Golden Bomber, the closing act for MOSHI MOSHI STAGE, came on stage with a casual hello in front of the excited crowd. fans screamed even louder when they saw Kyan Yutaka with a Natsume Mito-inspired short wig and Utahiroba Jun wearing a sailor moon bikini. Darvish Kenji's comedy skit prompted laughter when he teased fans by blowing his skirt up and showing his sexy black underwear.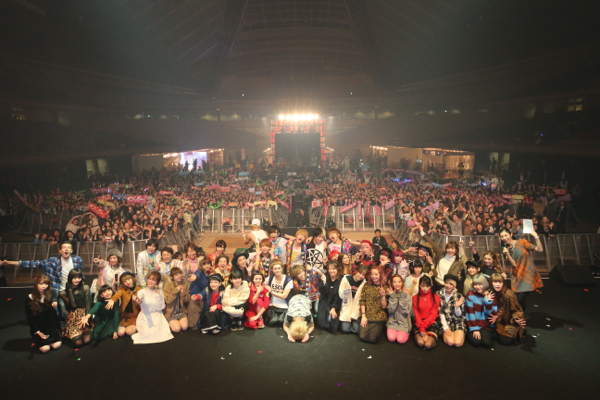 For the finale show, participating artists and models once again came back on stage. MCs and fans shouted MOSHI MOSHI NIPPON together, and wrapped up this fun-filled day!
Today is the last day of MOSHI MOSHI NIPPON FESTIVAL 2015 in TOKYO! Day 3 is already going wild with an onslaught of sought-after artists such as Kyary Pamyu Pamyu, CAPSULE, m-flo, WORLD ORDER and Suiyoubi no Campanella.
Come check out the latest and edgiest J-pop culture trends at Tokyo Metropolitan Gymnasium now!
—
◼︎ MOSHI MOSHI NIPPON FESTIVAL 2015 IN TOKYO
Date: Nov. 6 (Fri) – 8 (Sun)
Venue: Tokyo Metropolitan Gymnasium
Performing acts: Kyary Pamyu Pamyu, WORLD ORDER, Dempagumi.inc, m-flo, CAPSULE, and more!
*FOREIGN PASSPORT HOLDERS MAY ENTER FOR FREE BY SHOWING THEIR PASSPORTS*
Register here ▶︎ https://moshimoshi-nippon.futureartist.net/?lang=en
RELATED ENTRIES
MMN Festival 2018: Report by Scarlet, a Japan-loving Brit

This year was a new challenge for the MOSHI MOSHI NIPPON FESTIVAL- the first time the event was held over four different locations around the Shibuya and Harajuku area! The stylish La Foret department store, the famous music hotspot Tower Records, the bustling shopping square Shibuya Cast and finally the traditional tranquillity of Onden Shrine. All the best of Japanese pop-culture – held within just a short distance of each other! Here were some of the highlights.

FASHION

Fashion at MOSHI MOSHI NIPPON FESTIVAL 2018 set the bar high! The Harajuku Kawaii Market area in particular brought together a wide variety of styles in two days of the latest Kawaii trends. Bright, colourful fashion as well as toned down, natural fashion was displayed at booths and on stage by famous models.

Tobidase! Picture Book Show ~Storytime With Natsume Mito~

Bulldog Tanei to Kieta Hoshi (BUNKEIDO Co., LTD.) is a really famous picture book in Japan, loved by children and adults alike for its moving story. It has a very distinct art style and colour scheme – the perfect ingredients for a fashion show! Singer and presenter Natsume Mito produced the show herself – everything from the concept to shopping for the clothes in vintage shops.

When asked on stage why she chose this book in particular she answered – "The drawings are cute so easy to match fashion to. But I also thought it would be nice to use a moving story to make people smile by watching this fashion show". Everyone who attended could write their wishes on star shaped paper and stick it on the night sky wall outside the event – just like in the picture book.

My Navi Baito Fashion Awards

Gas station workers and barmaids are not necessarily the jobs that come to mind when you think of Kawaii fashion – but the My Navi Baito Challenge Awards are here to change that stereotype! The competition showcased at MOSHI MOSHI NIPPON FESTIVAL was for fashion students with the challenge of creating cute "baito" outfits – "baito" means part time work in Japanese.

Popular models showed off the outfits on stage. Model Yano Anna commented that her moving van worker outfit was really cute with lots of lace but also very practical with big pockets, and that if the outfit was this cute, she would definitely like to do this part time work! The students, who only had one month to complete the project, were also interviewed on the key points of the outfits and any difficulties they faced. The winner was decided by audience vote over the two days.

A Lecture on Being Photogenic

In recent times social media presence is really important for models, for building their fan base and giving fans a look into their everyday lives. Many came to get tips from top models giving this panel on creating "Instagrammable" photos – which covered every topic from fashion to cosmetics to photos of food.

Rikako Ōya from popular idol group Babyraids Japan explained that she takes some of her photos on a film camera to bring out the bright colours of her clothes. She also likes taking artistic photos, such as where she used the light of Tokyo Tower reflected on her face for a very expressive, serious photo. Ellie likes to capture the beauty of nature and tradition in her outfit photos by posing at lakes and shrines. Ema on the other hand focuses on capturing the charm of cafes around Japan. She does this by framing the table to look stylish and simple but with something surprising, such as a beer or a brightly coloured blue soda. Her key tip was to always use natural light rather than filters.

Yuna's aim is to show dog owners in Tokyo cute and fun places to go through her Instagram. There were a lot of "awws" from the audience in reaction to her photos of her dog swimming! Yuri's photos focused more on cosmetics and beauty. One of Yuri's most popular photos is of her nails in a Jacuzzi, where the bubbles really bring out the colours. Another signature photo she takes is a zoomed in part of her face, such as her eyes and nose, which she then posts on Instagram. It was a fun and educational panel!

TRADITIONAL

One of the four locations was Onden Shrine – tucked away behind the streets between Harajuku and Shibuya. The Bon Odori was a stunning masterpiece that was not to be missed.

A procession of beautiful colours, striking makeup and the highest shoes I've ever seen! The wave of contrasting kimono down the path to the shrine to graceful traditional music, was combined with fast pop beats to give the show a modern twist.

Even DJ character Shimockey was happily dancing along to the music and getting everyone involved! When the performance was over the audience could even learn a special Bon Odori taught by the performers, a mash up between traditional flowing dance moves and energetic j-pop.

 

Fortune Telling

Fortune Telling is a tradition in Japan that dates back to the Edo period, and recently has become trendy and modern. For example, fortune teller celebrity Chamereon Takeda has over 50,000 followers on her official LINE account, and fortunes regularly appears on television and in magazines. I have always been fascinated to try tarot cards so I had my fortune told by Yuushi Kusunagi, who is also a voice actor and MC! While tarot cards are a very traditional method, he also used computer software to input my answers for part of the fortune telling. It was a really interesting experience!

YUMENOYA Kimono Salon

In a traditional x kawaii mashup, YUMENOYA Kimono Salon had a booth at SHIBUYA CAST, a market area with food, robots and even a foot spa! The kimonos are all distinctly very beautiful in kawaii colours – this is because the kimono most suited to Harajuku fashion are handpicked from rooting through hundreds at markets. You can even see some are adjusted with added colours and lace. If you think the background looks familiar, the colourful shoji (sliding paper) door is actually designed by Sebastian Masuda, the genius behind the designs of Kyary Pamyu Pamyu's music videos! If you're interested in trying this out, YUMENOYA has a permanent store on the 1st floor of MOSHI MOSHI BOX in Harajuku!

 

Tower Records Stage – CY8ER

The hugely famous music location for locals and tourists alike, Tower Records hosted three stages and many different acts across the weekend. I decided to check out the performance of idol group CY8ER, who have gained huge traction abroad for their bass heavy tunes and energetic performances. Many members were also already influential figures in the idol world before joining the group, and member Rinahamu is actually also the producer! Their musical genre is commonly described as Future Bass, a subgenre of EDM. It was definitely a performance to dance and chant along to, and I had a lot of fun alongside the other fans.

 

Harajuku Kawaii Market Stage – AmaDan and MAGiC BOYS

The Harajuku Kawaii Market stage hosted two very cool boy groups over the weekend. Sugary sweet Amato Danshi are themed completely around sweets, with some of their famous tunes being "Choux Cream" and "Chocolate". During the bridge in one of their songs, they even gave out sweets to everyone in the audience before rushing back on stage! You could even buy sweets they recommend at a booth in SHIBUYA CAST.

MAGiC BOYS are possibly the youngest hip hop rapping group I have ever seen, the youngest member being only 13 years old and a DJ! "Ore no Kami ha Kuro" is a song that revolves around the stereotype that dying your hair in Japan gives you a rebellious image, but they think the hair you were born with is more cool. Their performance was not only energetic but also theatrical, they really put on a show!

After all of that, how will MOSHI MOSHI NIPPON FESTIVAL top it next year? We will have to wait and see! Thanks for reading!

MMN Festival 2018: Review of Airbnb Tours Held by Popular Japanese Models

MOSHI MOSHI NIPPON FESTIVAL 2018 in SHIBUYA was held across the weekend of March 24 and 25 and promoted Japanese culture to the world from Shibuya. The event ended with huge success.

One of the popular aspects of the event were the original tours held in collaboration with Airbnb. Three models who performed on stage at the festival's Harajuku Kawaii Market, presented by Mynavi Baito, became guides and took attendees on their own original tours.

Let's review each of the tours so you can get a feel for walking the streets of Harajuku and participating in workshops with the models!

Guide: Yuri Suganuma – Getting Involved in a Workshop with Yuri Suganuma

Yuri 'Yurippa' Suganuma worked as a guide at the Swag Workshop. She learned how to make a 'swag' from Asami Char Tanabe, a popular type of wall decoration similar to a wreath.

What colours shall we go with?" "Aah, that's cute!" Yurippa and those who got involved in the workshop were back and forth with each other having fun.

At the end of the workshop, everyone held their swag for a photo. It was a special workshop for those involved, who also posted their photos on social media.

Guide: Saki Shibata – Shibatabi

Saki 'Shibasaki' Shibata held a tour on both days of the festival called 'Shibatabi,' a play on her nickname where 'tabi' means a 'trip' or to travel.

On the 24th, Shibasaki took part in the CHACO workshop, something she had always been interested in. Everyone made matching piercings and earrings together before eating some lunch later on.

Originally, the group were scheduled to go to Cat Street for some shopping, but the weather was too good, and the cherry blossoms were in full bloom. So, they had a change of plan and instead made a trip to Yoyogi Park. They spent hanami strolling through the park.

To wrap up, they walked back to their starting point of SHIBUYA CAST, ending the first day of Shibatabi.

On the 25th, Shibatabi began with dressing up in kimono! Each person in the group had their kimono fitted in succession, and when everyone had theirs on they departed for Onden Shrine. There, they admired the booths such as the target practice game and glimpsed the performances on stage. To commemorate the day, they received a goushuin, before heading to their next destination SHANTi. This is Shibasaki's favourite curry soup restaurant. Everyone enjoyed eating curry together before heading back to SHIBUYA CAST and scattering

Shibatabi was like hanging out as friends with Shibasaki. She plans to hold it again every now and then, so be sure to keep up to date with her social media or check the MOSHI MOSHI NIPPON website and our social media too.

Guide: Ayumi Seto – Aymmy in the batty girls Tour

Model and designer Ayumi Seto gave a tour of 'Aymmy in the batty girls.' The first half of the tour centered around a workshop. Everyone created their own original mugs using Aymmy designs.

 The tickets for this tour were like golden tickets as there were only 5 available. Those lucky few who obtained one were a little nervous in front of Ayumi.

Following the workshop was a trip to the Aymmy in the batty girls store, where everyone was given tips and trucks for co-ords and styling with this year's spring and summer items.

If you were one of the people who was able to spend a wonderful day on one of these exclusive tours: how did you find it?

MOSHI MOSHI NIPPON will be teaming up with Airbnb again to hold future tours the way we know how. If you want the chance to get involved with one, then be sure to stay up to date via our website and social media.

MMN Festival 2018: Experience-Based Booths Packed with Japanese Charm

MOSHI MOSHI NIPPON FESTIVAL 2018 in SHIBUYA was held across the weekend of March 24 and 25 and promoted Japanese culture to the world from Shibuya. The event ended with huge success.

One of the many things attendees enjoyed were the 'experienced-based booths.' From traditional Japan to the country's culture of kawaii, let's take a look at the line-up of booths that were packed with Japanese charm.

Harajuku Kawaii Market presented by Mynavi baito: Kawaii Culture at Laforet Museum

Japan's culture of kawaii gathered together at Laforet Museum for MMN Festival 2018. Many of the booths were popular including the accessory booths, DIY booths, and photo spots where people could go for a simple image change by putting on a wig.

Mynavi Baito

Mynavi Baito held a questionnaire for attendees regarding part time jobs. They asked questions like "Do you think your part-time work outfit is cute?" and other kinds of questions you'd only hear at MMN Festival. Those who answered were gifted an original memo pad. Mynavi also presented their Challenge Award onstage in relation to the questionnaire where fashion students were made to develop their own cute part-time work outfits. The students who made the outfits as well as the popular models put on an exciting performance.

DIY: Herbarium & Swag

Asami "Char" Tnabe was invited to host a workshop on how to make "herbariums" with colourful dried flowers and a bottle, and "swags" which are wall decorations made from plants and flowers. It cost just ¥1,500.

DIY: CHACO Hydrangea Accessories

Popular flower accessory shop CHACO held their own workshop. For ¥1,000 people made their own earrings and piercings from hydrangeas, perfect for spring and summer.

DIY: Mug Workshop

Apparel brand "Aymmy in the batty girls" led a ¥1,500 workshop where people got involved in making a kawaii mug with the brand logo and designs with spring and summer items. Aymmy designer Ayumi Seto also joined in the workshop where she showed how to make a cute mug while talking with fans.

 

Fortune Telling

Six fortune-tellers active in the media took shifts in fours. Just ¥500 got people an expert 10-minute reading. Lots of people turned up to this booth.

Big Harajuku Debut

Popular hair dye brand FRESHLIGHT hosted their popular campaign for people to make their big Harajuku debut (#原宿デビュー大作戦). They changed up their image with colourful wigs and took photos in the kawaii pink photo booth. Prizes will be sent at a later date to those who joined in the hashtag campaign by posting on social media. The models who performed on stage also stopped by this booth where they were posting plenty of 'kawaii' online.

Kawaii Darts

This game challenged people to throw darts onto a map of Japan. Local specialties unique to specific regions were given out depending on which parts of Japan were hit, such as kakeru miso from Nagano and cabbage cider from Gunma.

 Kawaii Basket

To win, people had to shoot a ball into a kawaii goal that looked just like a floral headband. Kawaii products from around Japan like accessories and cosmetics were given out depending on how many goals were scored.

OH!江戸ポップ -oh,EDO POP!!-(DODYCO)

People handmade marshmallow fondants, a photogenic dessert that originates from the US. They decorated it with flowers they cut themselves and other bits and bobs to make a castle and street, giving the Edo Period a taste of contemporary Harajuku. Timeless pop Edo desserts were brought to life at the festival.

Clarence Lee Design ~111-HAWAII PROJECT~

Japan's first collaborative project between a Hawaiian design company that combines Japanese ukiyo-e with Hawaiian motifs and a Japanese enterprise. Thanks to the success of crowdfunding, this project will bring about an array of apparel items fusing Japan and Hawaii, such as aloha shirts with traditional ukiyo-e prints.

Hawaiianjewelry -Aquabelle-

Hawaiian jewellery brand Aquabelle prepared a photobooth inspired by Hawaii's sandy beaches where people could feel like they were in Hawaii from Harajuku, with white sand and hibiscus in the frame!

Hikari TV Dream

At the promotional booth for crowdfunding service Hikari TV Dream, people enjoyed making their own wooden keyholder with the same wood used in the creation of Okawa Kumiko, a brand of furniture from Okawa in Fukuoka that has been designated as 'an art form to leave behind for the future.' Hikari TV's main character Hikari Kaesaru also made an appearance to excite everyone.

NOTO HI BAKARA

Those who rolled up to this booth enjoyed a game of jenga made up of hinoki building blocks. Hinoki building blocks don't generate bacteria even if a child licks them. The wood acts as an antibacterial and pesticide. The prize included NOTO HI BAKARA 'essential water' made with hinoki extract.

Cute Tanuki Don't Have It Easy Either

Ponkichi is the tanuki who came down from the mountain and just wants to kill, kill, kill humans from the manga series Kawaii Tanuki mo Raku Janai (Hakusensha). The popular foul-mouthed tanuki had his own photo spots where people took photos while hearing abuse from Ponkichi. They also made their own bad-mouth pin badges for free from 12 varieties.

Yuzawaya

Yuzawaya held a workshop to make popular herbarium piercings as well as resin piercings and earrings. The herbariums combined flowers and oil. Each class lasted 30 minutes and was a hit with people every time. Many people enjoyed making this original accessory.

Tokyo Flea Market

A flea market was held which sold personal items of the stage performers including Natsume Mito, Ayumi Seto, Rinko Murata, Yuru Suganuma, and more. The line-up included items the performers had worn in magazines and on their social media.

Don Quijote Perfume Cosmetics

The Don Quijote booth sold around 30 different brands of perfume. The staff working there were scent experts and offered advice on recommended perfumes like it was a perfume bar. Normally when you buy their perfume you have to pay a fee to get your name inscribed on the bottle, but they offered the service for free at the festival. "D Ting Eau de Toilette" by Akemi Darenogare also made its first Japan appearance.

MOSHI MOSHI NIPPON Market: Experiencing Japan's Unique Culture for Free

Various aspects of Japanese culture were presented at SHIBUYA CAST. From food to art, sightseeing and moe, everything was enjoyed by Japanese people and foreigners alike.

Delivering Satoyama Spring #tamura

A promoter of local specialities from and sightseeing in Tamura in Fukushima Prefecture. They sell Youchuu Gumi, (¥400) or larva gummies, named after the popular sightseeing spot Kabutomushi Shizen Kansatsu-en. They are shaped like the real thing – the body is Calpis flavoured while the centre is filled with purple blueberry sauce, creating a strange taste. They also sold strawberries, a noted product from Tamura.

Don Quijote – Souvenir Candy

Don Quijote is a super souvenir shop, and at the festival they stocked lots and lots of confections that screamed 'Tokyo,' including some of the most popular snacks and common snacks, chocolates, as well as the Tokyo strawberry chocolate daifuku, a defining souvenir of the city.

Katsukonmi

This booth managed by Keihan Sangyo handled Katsukonmi, a flavourful powdered dashi made bountifully with carefully selected ingredients such as katsuo tuna, mackerel and konbu. People were able to taste test dash stocks that used Katsukonmi. They also have a future line-up planned of new products with plenty of dietary fibres perfect for dieting.

 

Kyo Baum

Kyo Baum has stores in Gion, Shimizu and elsewhere and specialises in Uji matcha and soy milk flavoured Baumkuchen. Lotteries were held 3 times each day to win tickets for Kyo Baum, which are the perfect eating-and-walking snack, original masu boxes, and more. There was a huge line for the lottery before it began. The matcha and sugar fondant offers a crunchy texture at room temperature, and a completely different delicious experience when melted.

MOSHI MOSHI Kimono Salon

People had the opportunity to try on kimono with a Harajuku-style spin – lots of colours, eye-catching designs, studs and more. It was free to put on yourself and take a selfie, or ¥1,000 for the staff to help you put it on and take a picture. It cost ¥4,000 to rent the kimono for as long as the booth was open. There were lots of girls enjoying the MMN Festival experience by strolling around Onden Shrine dressed in kimono!

HARAJUKU EXPERIENCE

Official Harajuku sightseeing tours were held for foreign travellers by Airbnb. "Hidden Fashion Street Tour" enabled people to enjoy Harajuku fashion, "History Tour" detailed the history of Harajuku, "KAWAII×Food Tour" combined kawaii culture with cuisine, and the "Official Tour" took people around the various MMN Festival areas. The tours were mostly aimed at foreign travellers, but lots of fans turned up at the same time as the tours to see Saki Shibata and the other models working as tour guides.

PERFORMANCE SPACE

Creator MIOCHIN held a live painting session called Mio's World where she illustrated from her colourful pop perspective. This was her first ever live painting. She completed the piece across two days using permanent markers and POSCA markers while interacting with fans.

Maebashi "Kusatsu" Support Booth

A booth promoting the city of Maebashi in Gunma Prefecture, people had the opportunity to enjoy a footbath experience in the image of Kusatsu Onsen – a famous Japanese hot spring resort in Kusatsu – right in the middle of Shibuya. People lined up one by one to rest their tired feet. It became the resting place of the festival. There was also an introduction to professional football club Thespakusatsu Gunma supported by Maebashi city, as well as fliers handed out for Susono.

SHIBUYA FASHION FESTIVAL

SHIBUYA FASHION FESTIVAL.13 was held on March 24th. A lottery was held to win special benefits that could be used at participating stores.

 

Amato Café

Amato Danshi, the six-member idol unit centred around sweets, worked at their very own café. One of their recommended chocolates was the DEL'IMMO Bon Bons which came with a kabedon (¥1,800). The kabedon is a popular way of expressing love in Japanese media, such as anime, where one person hits (don) the wall (kabe) with one hand and pins someone against it. After receiving a kabedon from the group's members, customers were fed chocolate. What a heart-throbbing menu!

Maidreamin

The number one maid café group Maidreamin set up shop at the festival. For the special "SAKURA Float" (¥1,100 w/ omajinai), the main maids gave cute instructions to power up the item. It was quintessentially 'moe' and 'kawaii' made with cherry blossom syrup and cherry blossom ice cream. Customers also dressed up in maid outfits and original merchandise was sold. It was a sight to behold seeing customers experiencing maid culture for the first time and really getting into the fun of it, from girls to entire families.

MUSIO, Your Curious New Friend

Musio is your robot friend who came from the future. Equipped with state-of-the-art AI, Musio is able to do things like have natural conversations and express emotions. Everyone chatted with him and had their fortunes told.

The festival took place in 5 areas, and because there was plenty to be enjoyed for free, we saw many people having fun stopping by each location throughout the day.

5 areas, 5 themes. That was MOSHI MOSHI NIPPON FESTIVAL 2018 in SHIBUYA. This year was a huge change from last year. How did you find it? Did you have fun?

MOSHI MOSHI NIPPON will continue to promote Japan's multilayered culture to the world through our website, at events and elsewhere. We post the latest information about events on our website, so don't forget to stay up to date!

MMN Festival 2018 Report: Idol Stage at Tower Records Shibuya Rooftop SKY GARDEN

MOSHI MOSHI NIPPON FESTIVAL 2018 in SHIBUYA delivered Japanese culture to the world from Shibuya. The event saw 16,000 people attend across the two-day period to experience a new kind of Japanese festival.

This report will cover the Featuring Japanese new music "MOSHI MOSHI MUSIC FESTIVAL" event that took place at SKY GARDEN on the rooftop of Tower Records Shibuya, a place which which has built a history of music in Shibuya.

Idols are one aspect of Japanese culture that Japan can boast to the world. The event showcased a line-up of idols groups that MOSHI MOSHI NIPPON (MMN) want to introduce to the world. Let's take a look at the idol stage which was packed full of Japanese 'kawaii'!

Kicking off the performances on Day One was two-member idol unit C-Style from the city of Kisarazu. They left a strong impact on the crowd dressed in red and blue sailor outfits and donning sunglasses.

Next was another two-member unit, Kus Kus. Their perfectly coordinated choreography captivated the audience as they danced to the tune of easy-listening electro pop.

Wyenra were the third act. If you were to divide shadows and sunshine they are a group who certainly bring the 'shadow,' wrapping the crowd with the dark side of springtime weather.

The fourth group were dancing rock idols QUEENS. Wyenra debuted this year on February 10th while QUEENS debuted on January 31st. You would never know these groups had formed so recently with their magnificent performances.

As the sun started setting on SKY GARDEN, Jewel☆Neige stepped onto stage wearing dazzlingly beautiful white and silver outfits. The audience made a huge display of their excitement with the group's unshakable performance.

Act number six was 5-member group CY8ER. There was a sense of mutual elation with everyone gathered in the crowd with the group's Japanese-esque-incorporated future bass songs with easy choreography that even first-timers seeing the group could copy.

The seventh group on stage was Nankini! Unfortunately, one member was unable to make it, but the remaining two put on a thrilling performance with everything they had. If you wanted to see them three of them together then be sure to check out another one of their events.

The final idol group of Day One was Yamakatsu whose fired up performance also had the people in the crowd psyched and singing as they wrapped up the day with the right amount of exhilaration.

The top batters for Day Two were C-Style once again. For the second day the members wore special green happi coats which had the Japanese character 'mo' (も) on the back.

Following them was NEO JAPONISM who made their debut in December 2017. Their 'neo' sound had the crowd pumped. Their outfits had a mode taste to them and incorporated a traditional Japanese style which looked pretty even on an outdoor stage.

Act three was Yamakatsu who also performed on Day One. They put on a galvanizing performance to even more people this time. And although they didn't perform it on this day, people are looking forward to their new single distopia set to hit shelves on April 17th.

Next was The Dance for Philosophy for which over 400 people turned up to the roof. The group wowed the packed venue with their funk numbers and outstanding vocal abilities.

PPP!PiXiON were next to grace the stage. Despite one member graduating from the group leaving them with four members, there was some serious support from the fans as each of them put on an energetic performance.

Sakidori Hasshinkyoku who went on stage as the sixth act began their performance with their song Karimen Destiny which was released in February. They wrapped up their setlist with their staple track Gimirepa and brought much excitement to the floor.

Following them was APPARE! Harajuku who are tied to the same studio as Sakidori Hasshinkyoku. Their setlist also inevitably livened the atmosphere, and their final song Harajuku Sunny Day had the crowd so pumped as if the building was going to fall down.

As night turned and the rooftop turned to black, the progressive sound and singing abilities of the four members from sora tob sakana established their style as unique – even in the idol world.

Pulling the curtains shut on Day Two was idol group Lovely Doll. The performance from the seven members was the kind of performance you'd expect from such a seasoned group. They finished up Day Two with Calendar Girl which was voted as the number one most popular song amongst fans.

MOSHI MOSHI NIPPON FESTIVAL in SHIBUYA 2018

MMN Festival 2018 Report: Onden Shrine – Bon Odori and an Array of Ennichi Food

MOSHI MOSHI NIPPON FESTIVAL 2018 in SHIBUYA promoted Japanese culture to the world from Shibuya. Over the course of two days, MMN delivered a new kind of Japanese festival to 16,000 people.


In this article, we report on Onden Shrine – one of the four areas of the festival – where the gods of Harajuku are enshrined. Let's take a look at the line-up of performances for the stage area as well as the variety of booths!

Stage


Mio Ooyama was in charge of presenting the on-stage performances and, with her bilingual skills, introduced each performer to the audience.

Satsumasendai Odoridaiko opened the stage with a team made up entirely of women who struck their drums like thunder. Dressed in traditional outfits, the traditional sound of their drums rippled through across the event.

The members of maid café group Maidreamin put on a full-force idol performance, captivating the crowd with their catchy music and kawaii dance moves!

Next on stage was kendama performer EASY, who is also active overseas too. His skilful performance with his kendama – a toy enjoyed by both children and adults – garnered him huge rounds of applause.

Then it was character DJ time, which all the kids had been waiting for! Shimockey of Shimo-Kitazawa and Coroton of Gunma Prefecture were there to entertain. They both sang and danced together with the children! Shimockey and Coroton were also very popular outside DJ time too.

Last on stage was Ukon Takafuji of YUMENOYA for the Japanese dance show. At the end, all the performers, attendees and venue staff joined in with Bon Odori dancing! Everyone got involved from children to adults, overseas tourists and the character DJs.

Ennichi Area


The Ennichi area was filled with food and games, as well as MOSHI MOSHI NIPPON style workshop booths. There was a diverse line-up of booths enjoyed by kids, grown-ups and foreigners too.

Harajuku Rainbow Cotton Candy


The colourful cotton candy store from Takeshita Street in Harajuku TOTTI CANDY FACTORY served up a special event-only menu. They sold a numer of things, including TOTTI Rainbow (¥800) which was a combination of 5 flavours: plain (white), strawberry (red), carbonated (blue), and lemon (yellow). Cotton candy is a common treat sold at shrine food stalls, but TOTTI give a Harajuku spin to it. People carrying cotton candy around Onden Shrine really decorated the area.

Amezaiku


The amezaiku booth was very well received last year too. Not only could to purchase some amezaiku candy, you could also make your own amezaiku rabbit, bear and more together with the teacher.

Mizuhiki


Mizuhiki artist Kaori Funaki was invited to hold a workshop for people to create 'mizuhiki' which are special cords that tie envelopes used for monetary gifts. There was also individual mizuhiki related merchandise on sale, such as chopstick rests.

Kendama


Global Kendamas Network was established to help spread the use of kendama, a popular sport originating from Japan that has given rise to pros around the world. Kendama performer EASY performed on stage, kendama for pros were sold, and people tried out kendama themselves.

Onden Shrine Omamori


Omamori and other items are sold at Onden Shrine. The god of beauty is enshrined at Onden Shrine, so the small, round omamori charm for "Beauty" (¥500) was very popular amongst girls. With foreign tourists, the omamori for "Victory" was popular.

Learn Shrine Etiquette


As part of the Harajuku tours by Airbnb which began and finished at SHIBUYA CAST, people were taught the proper manners and etiquette to praying at Japanese shrines, including about torii gates, temizuya, hishaku, and the main shrine building. Foreign tourists with an interest in Japanese culture were happy to get involved.


People were also able to participate in a formal sanpai and learned about 'tamagushi houten' – humbly presenting a tamagushi, a type of Shinto offering.

Frisbee Strike Out

At this booth, people had to throw a frisbee 6 times. When they got 1 line of bingo they picked one item they liked, and when they got 2 lines they picked two. Even if people didn't get bingo, awards were still handed out to participants. The line-up included regional Japanese specialties such as "Soy Sauce Mochi" from Oita Prefecture and staple souvenir from Fukushima Prefecture "Brown Sugar Manju".

Target Practice Game


The target practice game is common at Ennichi, but this was a special MMN Festival version. People had 5 shots per turn, and depending on how many targets they shot down, the number of prizes would change. Those who couldn't land a shot weren't left out however and were gifted low calorie chocolate. Prizes included tins of oden, tom yum flavoured okaki, and more.

Did you enjoy the events at Onden Shrine? We took elements from traditional Japanese matsuri festivals and put a MOSHI MOSHI NIPPON spin on them. During the Onden Shrine events, we were able to receive cooperation from local people and those associated with the shrine prior to the festival until the end of the festival.

MOSHI MOSHI NIPPON would like to continue holding even more events in the future where locals and those visiting Shibuya and Harajuku can have fun together.

MMN Festival 2018 Report: Natsume Mito Helps Children Paint Day Care Center for Happy Wall Project

On March 24th for MOSHI MOSHI NIPPON FESTIVAL 2018 in SHIBUYA, Japanese paint company ROOMBLOOM held the Happy Wall Project which they have been doing since 2014, an activity that contributes to society.

The Happy Wall Project is a volunteer project based on the idea of enrichening one's life even more through painting. The first run was held at Hiratsuka Children's Center and has since made its way to 21 educational facilities and welfare institutions across Japan.

With backing from Shibuya City and the Shibuya Tourism Association, ASOBISYSTEM, who produce the MOSHI MOSHI NIPPON FESTIVAL, held the Happy Wall Project as a workshop for children at Mirai∞LABO KIDS, a daycare facility located on Cat Street in Ura-Harajuku, to promote the growth and prosperity of Shibuya and Harajuku.

On the day, enrolled students and graduates of Mirai∞LABO KIDS worked with children with Down's syndrome and autism who are members of the painting group atelier A as well as people associated with Nippon Paint Holdings to create a picture book amongst other arty things. Natsume Mito also received approval to get involved.

The project they worked on was painting 3 of the walls at Mirai∞LABO KIDS. They didn't use monochromatic colours for the biggest wall – they painted a circus tent. This is the symbol of the institution. Circus members have an unbroken fighting spirit. They challenge themselves to things other people don't. These are all indispensable elements children must possess. There's a hope in the center to one day give birth to someone who will go on to work in the circus after leaving.

Natsume Mito spoke with the children to decide on what paints to use for the colour scheme of the circus tent. Instead of strong, darker colours, they decided to go with lighter pastel colours so that the children can feel calm. It was quite a challenge however as there were 189 paints to choose from. For the circus tent they chose "Birthday Present" pink, "ALOHA!" light blue, and "Grass Hopper" green. For the sides of the wall they used "Little Kiss" cherry blossom colour. The colour names were all unique and exciting.

The smaller children began painting first. There were children who had fun using their hands instead of paint brushes to put hand prints on the wall. Smaller details and parts of the painting that were higher up were left to the older children. People of all ages worked together and helped each other out, and after about an hour, the paint project was completed.

When it came to snack time to wait for the paint to dry, Natsume Mito played hide and seek with the kids. A sense of connectedness through working together rang through the room. It was a warm atmosphere, and the laughing never stopped.

After tearing off the masking tape the painting was complete. The adult guardians who watched over the work applauded everyone for their admirable efforts.

The daycare center was now bright thanks to the paint job. And a picture of a new circus tent was now in the room. The children will likely never forget about the place they helped decorate.

▼Check out this video which captures footage from the day.

■Information

MOSHI MOSHI NIPPON FESTIVAL 2018 in SHIBUYA

Locations: SHIBUYA CAST. / Tower Records Shibuya / Laforet Museum Harajuku / Onden Shrine

Dates: Saturday 24 March – Sunday 25 March

Time: 11:00-21:00 *Times differ at each area

Official Event Website:https://fes18.moshimoshi-nippon.jp/

MMN Festival 2018 in Shibuya: Laforet Museum Harajuku – Day 1 Report

MOSHI MOSHI NIPPON FESTIVAL 2018 in SHIBUYA is currently being held across Saturday March 24 and Sunday March 25, serving Japanese culture to the world from Shibuya. Day one ended with huge success. Laforet Museum Harajuku, one of the four areas of the festival, was home to the Harajuku Kawaii Market take place, an event themed on the concept of "Find Japanese Kawaii♡". The market was lined with a whole host of booths where people got up close with Japanese fashion, beauty, fortune-telling, DIY and more. But that's not all.

The stage was graced by models heavily active in Harajuku-style fashion magazines, popular social media influencers, and others, all of whom shook the house.

Kicking off the stage performances was none other than Amato Danshi, a six-member male idol group whose concept centres around sweets and candy. "We want to spread the greatness of sweets even more!" They sure weren't lying with those words, as the guys surprised the audience by gifting everyone sweets during their set. Things got really exciting during their high-tempo track Shu Cream ("Cream Puffs") as the crowd joined in with the group members in some seriously energetic dancing!

With excitement still rippling through the room, "Mynavi Baito presents Challenge Award" was next on stage. Nine fashion students were split into teams of three who were challenged to create cute part-time work outfits to promote to the world. Yuri Suganuma, Mei Nagasawa and Anna Yano stepped out onto stage and presented the outfits by wearing them. Team 95 created an izakaya outfit, Team Hikari produced a Gas Station uniform, and Team Twinkle served up moving-company couture.

The audience were made to vote for a winner with a raise of hands. The winners of the Challenge Award were Team Twinkle and their mover outfit! They went away with a cash prize of ¥100,000. Tears were even seen from the team upon hearing the announcement. It was a moving stage event – you could see their passion and how hard they had all worked.

Natsume Mito put on her fashion show where the tender and slightly mysterious world of Tomonori Taniguchi's picture book Bulldog Tantei to Kieta Hoshi (BUNKEI Co., LTD.) was brought to life with performances from Japanese models Akari Abe, Manaka Arai, Alice Ikeda, Anna Kawamura, Aino Kuribayashi, Saki Shibata, Yuri Suganuma, Ema Tanioku, Eri Tanioku, Chie Tsuji, Rinko Murata and Una while Natsume Mito read the book aloud.

Natsume wore a smile of joy on her face when the fashion show came to an end. She announced, "It was a challenge to bring to life and convey something that you imagine in your head. I want to go on to create the opportunity to produce more picture book stage shows!"

Natsume Mito show after report

The first slot of performances came to a close and led into slot two. Youtuber Megane and models Yoshiaki and Michi were invited as guests for a talk session. They showed lots of private photos while giving backstory to each of them. They also blurted out frank insights into each of the pictures which had people in stiches.

In a talk show with popular illustrator Fusedy and Koseki Ren, the two of them gave their cherished opinions of the topic of romance. It was very much a talk between two people who have known each other for 4 years. They were on the same wavelength. It was a girl-talk which showed no sign of stopping as they chatted with plenty of "I know, right!" and "Tell me about it!" moments as Ren empathised with the contents of Fusedy's book.


Next on stage was none other than Rilakkuma! To realise Shibuya's recent appointment as a city for international tourism and culture, an inauguration ceremony was held on stage to name Rilakkuma an official Shibuya Tourism Ambassador!

Seeing that had people sighing in adoration with accompanying exclamations of "kawaii."

With three more stage events wrapped up, it was time to move on to slot three. The first of the performances was the "Fashion & Hair Dye Talk Session with Ren Koseki, Hikari Shibata, Yuri Suganuma, Ayumi Seto and MIZUKI (KORD)" presented by FRESHLIGHT. Popular models Ren Koseki and Ayumi Steo, as well as popular stylist MIZUKI (KORD), chatted about their experiences with dyeing their hair, recommended hair colours for spring, and more.

that when it comes to spring, it's all about warm colours. When you want to shake things up a bit for going out during spring break, why not go for an easy and comfortable image change with hair dyes from FRESHLIGHT?

Fortune-teller Chamereon Takeda read Mei Nagasawa – who loves spirituality and going to shrines – for romance and work in her "Love Compatibility Rankings: Zodiac Signs" session. Chamereon Takeda used western astrology and tarot readings for Mei, who was interested in her marriage partner. She was told "Your luck will increase for both romance and work starting this autumn. It will be a time where you form a bond with someone you need, and break away with someone you don't."

In the second half of the show, Chamereon Takeda also announced the rankings for love compatibility for each zodiac sign. Coming in 1st place was the Taurus! The scene of people devouring the demonstration was a sight to behold – as if people really wanted to hear their destinies.

The final act of day one was a talk session with Saki Shibata, Ayaka Segawa, and Rei Maruyama. The three of them work as a model, artist & nurse, and performer respectively. Their open and honest discussion focuses on their careers. The conversation got pretty lively as expected from three friends!

That's it for day one at Harajuku Kawaii Market. Look forward to the performances on stage on day two!

MOSHI MOSHI MUSIC FESTIVAL CUTUP STUDIO after report

Harajuku Kawaii Market Afterreport DAY2

■Information

MOSHI MOSHI NIPPON FESTIVAL 2018 in SHIBUYA

Locations: SHIBUYA CAST. / Tower Records Shibuya / Laforet Museum Harajuku / Onden Shrine

Dates: Saturday 24 March – Sunday 25 March

Time: 11:00-21:00 *Times differ at each area

Official Event Website:https://fes18.moshimoshi-nippon.jp/ja/

MMN Festival 2018 Report: Natsume Mito Produces and Performs First Show "Tobidase! Picture Book Show 〜Storytime With Natsume Mito〜"

MOSHI MOSHI FESTIVAL 2018 in SHIBUYA was held in Shibuya and Harajuku on March 24th and 25th. On Saturday March 24th, model and artist Natsume Mito held her first ever fashion show Tobidase! Picture Book Show ~Storytime With Natsume Mito~ at Laforet Museum Harajuku.

 

Natsume Mito fully produced the fashion show which was themed on Bulldog Tanei to Kieta Hoshi (BUNKEIDO Co., LTD.), a picture book by Tomonori Taniguchi. The story is as follows. The stars have disappeared from the sky. During this time, a letter arrives for the bulldog detective requesting he search for the lost stars. He accepts and heads out to find them. He's able to locate them, but why did they disappear, and who sent the letter…? This exciting story is full of heart and can be enjoyed by kids and adults alike.

 

Natsume Mito read the story aloud while a cast of Japanese models brought the world of the book to life through fashion. Models that performed included Yuri Suganuma, Ema Tanioku, Eri Tanioku, Aino Kuribayashi, Chie Tsuji, Abe Akari, Saki Shibata, Rinko Murata, Manaka Arai, Alice Ikeda, Una, and Anna Kawamura. Natsume Mito styled the outfits in the image of everything from the bulldog detective to the animals, moon and stars. The models were immersed in their roles and walked and posed as directed.

Bulldog Detective (Eri Tanitoku) & Gorilla (Rinko Murata)

 

Bulldog Detective (Ema Tanioku) & Owl (Una)

Bulldog Detective (Ema Tanioku) & Starfish (Saki Shibata)

Bulldog Detective (Eri Tanioku) & Stars (Yuri Suganuma, Chie Tsuji, Aino Kuribayashi, Akari Abe, Rinko Murata, Manaka Arai)

At the end of the show, the models that performed spoke with the stage presenter Rei Maruyama and gave their thoughts on this first ever fashion show.

Anna Kawamura (Tortoise): Beret – Caorinomori / Hairband attached to hat, Brooch – Barairo no boushi / Bootsu – gREEN DOT / other personal items UNA (Owl): Innerwear, Jacket, Fringe Skirt – Barrack Room / Tulle Skirt – Gaijin / Hat, Choker – MARTE / other personal items Yuri Suganuma (Star): Neckband – SPINNS / Lace Pants – gREEN DOT / other personal items Chie Tsuji (Star): One Piece, Shoes – daidai / Camisole One Piece – Barrack Room / Necklace – CA4LA Bridal / other personal items Ema Tanioku (Bulldog): Shoes – daidai / other personal items

 

Eri Tanioku (Bulldog): Jacket, Shoes – HUG / Blouse, Hat – SPINNS / other personal items Alice Ikeda (Moon): Belt – HUG / Pumps – gREEN DOT / other personal items Manaka Arai (Star): One Piece – MARTE / Hair Accessory – CA4LA Bridal / Pumps – Gaijin / other personal items Rinko Murata (Star): Lace Gown – Barrack Room / Shoes – RANDA / other personal items Saki Shibata (Starfish): One Piece – gREEN DOT / Neckband, Pumps – Gaijin / Hair Accessory – CA4LA Bridal Aino Kuribayashi (Star): One Piece – Gaijin / Lace Top – gREEN DOT / Hat – Barairo no boushi / Hairband attached to hat – Caorinomori / Sandals – RANDA

Natsume Mito Comment:

"I went and produced a show that combined a picture book with fashion. This was my first time doing this, so I was worried perhaps due to my own self-satisfaction. I was finally able to feel relief after hearing claps from people who came to watch (laughs). Thank you so very much to everybody who came! And to all the models who performed too. I'm happy that the outfits I put together went perfectly with everyone. I can see once again how difficult it was to convey what was in my head to the staff too. It was a very good learning experience. I want to try creating another stage show that conveys the wonder of loving picture books together and the fun of fashion!"

Tobidase! Picture Book Show ~Storytime With Natsume Mito~ wrapped up with much success. Look forward to the many things Natsume Mito will challenge herself to next!

Outfit Co-Operation: Gaijin / CA4LA / Caorinomori / gREEN DOT / SPINNS / daidai / HUG / Barairo no boushi / Barrack Room / MARTE / RANDA

MMN Festival 2018 Report: MOSHI MOSHI MUSIC FESTIVAL & Up-and-Coming Artists at Tower Records

The MOSHI MOSHI NIPPON Project has one goal: to promote Japanese pop culture to the people of the world. On March 24th and 25th, MOSHI MOSHI NIPPON FESTIVAL 2018 in SHIBUYA was held, delivering Japan's popular culture to the world from the Shibuya and Harajuku area.

There were several places this year's festival took place. One of those locations was Tower Records Shibuya, where we held a music event titled "Featuring Japanese New Music: MOSHI MOSHI MUSIC FESTIVAL." Here, music artists with huge influence in the scene, as well as music media companies who have hooked up with new talent, came together as curators to deliver a fantastic showcase of promising artists. The event took place at the CUTUP STUDIO on B1F of Tower Records Shibuya.

Day One at the CUPUP STUDIO saw many performers. This included MANON, a hopeful new artist signed to ASOBISYSTEM, as well as three other artists recommended by music media company Spincoaster: SIRUP, Mizuki Ohira with Kobayashi Utena, and The Wisely Brothers.

Recognised R&B artist SIRUP warmed and spellbound the room with his sugary vocals and mellow, infectious beats.

Mizuki Ohira rocked the steelpans while Kobayashi Utena played the marimba, giving rise to an exotic musical co-performance. Three-piece female band The Wisely Brothers sent forth new-age girl power with their heavy garage rock. They also spoke about there being so much manga in Japan as one of the things they like about the country.

The second half of the event was graced by an MC battle produced by WREP, a hip-hop radio channel, hosted by Zeebra and Hachi Moji. Four spectators from the audience were appointed as team leaders and had to create teams from the 12 battle MCs present at the show.

The 4 teams battled it out in a tournament for the title of best MC. MCs that participated in the battle included MC Seishain, MC Matsushima, MC MIRI, Kizal, SAM, SHO GEN, Datemegiri, TKdakurobuchi, NiLL Nico, 8×8=49, FRANKEN, and Yuma.

Team SHO GEN, TKdakurobuchi & NiLL Nico and Team MC Matsushima, MC Seishain & SAM came out victorious. At the end of the battle, the chief members of the teams SAM and TKdakurobuchi clashed in a final battle with SAM taking the crown. The winning team took home a cash prize with the hip-hop fans in the crowd in a flurry of excitement. This marked the end of the first day.

For Day Two, Natalie Music worked as curators for the live stage event "Live Natalie meets MOSHI MOSHI NIPPON." MISMOPE were the first on stage with their spacey performance, followed by Nemuri Haru, who left a huge impact with her mad mix of poetry and rap.

Monari Wakita fitted in nine songs in 30 minutes, demonstrating her multi-layered musicianship. The packed-out CUTUP STUDIO also got involved with some fiery call & response.

Atarashii Gakkou no Leaders wowed the audience with their infectious outlook and sharp, nimble dancing. During their song Saishuu Jinrui, which is the lead song taken from their first major album Mae Narawanai released on March 21st, they demonstrated their acrobatic bodies to the tune of a lively piano.

Five-member band Luby Sparks, who are recognised in the British alternative rock scene, also announced their new vocalist Erika for the first time.

The last performer of the day was SHE IS SUMMER, who performed a string of popular hits such as Machiawase wa Kimi no Iru Shinsen and Tobikiri no Oshare Shite Wakarebanashi wo. The two-day festival came to a close with MICO's energetic, jumpy performance.

16,000 People Attend MOSHI MOSHI NIPPON FESTIVAL 2018 in SHIBUYA!

MOSHI MOSHI NIPPON FESTIVAL 2018 in SHIBUYA promoted Japanese culture to people of the world from Shibuya on March 24th and 25th. The weekend event ended with huge success.

There were 5 main areas where the festival took place this year. Let's break them down one by one and see what happened.

Tower Records Shibuya CUTUP STUDIO / MOSHI MOSHI MUSIC FESTIVAL

A music event titled Featuring Japanese new music "MOSHI MOSHI MUSIC FESTIVAL" took place. Down in the B1F CUTUP STUDIO at Tower Records Shibuya, influential artists and the music media, who had previously hooked up with many promising artists, became official curators to provide a line-up of artists.

On Day 1, MANON served as the opening act to the first half of the event, followed by the three artists recommended by music media company "Spincoaster" – SIRUP, Mizuki Ohira with Kobayashi Utena, and The Wisely Brothers. It was a thrilling string of performances as expected from Spincoaster, who showcase fresh music from both inside and outside Japan.

In the second half we saw the MC battle produced by WREP, a hip-hop radio channel, under Zeebra and Hachi Moji. 4 teams battled it out in a tournament for the title of best MC, with MC Matsushima, MC Seishain and SAM taking the crown. Winners received a cash prize, wrapping up the first day of the event.

On Day 2, Natalie Music worked as curators for the live stage event "Live Natalie meets MOSHI MOSHI NIPPON." MISMOPE, Nemuri Haru, Monari Wakita, Atarashii Gakkou no Leaders, Luby Sparks, and SHE IS SUMMER took to the stage. Each of them offered a different genre as up-and-coming artists and sang the two-day festival into a close.

Tower Records Shibuya SKY GARDEN / MOSHI MOSHI MUSIC FESTIVAL

Up on the rooftop of Tower Records Shibuya, the Sky Garden, a selection of groups from the idol genre, a unique part of Japanese pop culture, performed on stage as artists that MOSHI MOSHI NIPPON wanted to show to the world.

On March 24th, a total of eight idol groups performed including Yamakatsu and CY8ER, and on March 25th nine performed, such as Lucky Doll and The Dance for Philosophy, all of who enthralled the idol fans gathered at the venue.

Laforet Museum Harajuku / Harajuku Kawaii Market presented by Mynavi Baito

The Harajuku Kawaii Market was presented by Mynavi Baito at Laforet Museum Harajuku and centered on the theme of "Find Japan's Kawaii♡".

There was a whole collection of booths from fashion to beauty, fortune-telling, DIY and more, as well as appearances from models active in Japanese fashion magazines, artists, and a popular Youtuber.

Performers Rei Maruyama and Yuri Suganuma hosted the stage. The two of them are friends and so had a good, natural flow in directing the stage.

Talk sessions were held around fashion, cosmetics, how to be photogenic and more and saw the likes of Saki Shibata, Rinko Murata, Megane, Noah Satou, Ayaka Segawa, and Rikako Ōya from Babyraids Japan.

Mynavi Baito also presented their Challenge Award themed on fashion where school students were tasked with designing the cutest part-time work outfit to show to the world. Japanese models stepped out onto stage wearing each of the costumes.

Artist, model and actress Natsume Mito produced her first ever show for the event – a fashion show themed on a picture book. Rilakkuma attended too for his inauguration ceremony to be appointed as a Shibuya Tourism Ambassador. He handed out maps to people at the event.

MAGiC BOYZ and Amato Danshi performed live at the market with their catchy music and electrifying dance moves.

The booth area bustled with people who attended DIY workshops for making accessories and pin badges, the fortune-telling area, hair styling booth and more. Japan's kawaii was delivered across two days through the on-stage performances and many booths.

SHIBUYA CAST / MOSHI MOSHI NIPPON MARKET

A market was held at SHIBUYA CAST called "Enjoy Hanami Early in Shibuya." It was dotted with an array of food booths where people enjoyed strawberries from the city of Tamura in Fukushima Prefecture, the popular Kyoto souvenir "Tokyo Baum," and Japan's dashi stock. There were performances, people tried on kimono, there was a footbath and more. This area was particularly popular with overseas visitors.

Official tours were held called "HARAJUKU EXPERIENCE" with SHIBUYA CAST as the start and finish point. They were very well received. Aimed at foreigners, the tours took them around the fascinating areas of Shibuya and Harajuku.

It was just in time for the cherry blossoms at SHIBUYA CAST which were in full bloom this weekend, making the event even more brilliant.

 

RE THINK CAFÉ SHIBUYA / MOSHI MOSHI CAFÉ

The MOSHI MOSHI CAFÉ opened at RETHINK CAFE SHIBUYA with the concept of "Clean & Hungry."

A campaign was held for people to receive free sweets from areas around Japan by taking a photo of food they ordered from the café and posting it online with the specified hashtag.

Lots of people posted their food on social media and were able to enjoy free sweets from regions across Japan that are hard to get your hands on in Tokyo. The café served up the individual charms of regions in the country.

Onden Shrine / MOSHI MOSHI ENNICHI

Onden Shrine is where the local gods of Harajuku are enshrined. An Ennichi event was held for the festival titled "Tie Links With the Gods of Harajuku."

Harajuku-style rainbow coloured cotton candy, cute amezaiku and other treats were sold as food for Ennichi, and there was a booth for foreigners to learn Japanese shrine etiquette.

Bilingual staff lectured on the manners and etiquette to teach the proper way of praying at shrines in Japan.

Traditional Japanese performance opened the stage with taiko drums and Awa Odori. There were also character DJs, a display by pro kendama performer EASY and many other things for kids and adults alike to enjoy. At the end of the day was a large Bon Odori dance which the performers, attendees and staff joined in with.

16,000 people attended this year's MOSHI MOSHI NIPPON Festival across the two days. Just like last year, many foreigners attended the event, but this year the variety of content at the festival was upped, the number of families increased, and we saw lots of children getting involved in the booths. MOSHI MOSHI NIPPON promoted Japanese culture to even more people this year, not just with those in attendance, but event to people on the street who were given sampling bags.

Further reports of the event for each area of the festival will be posted on the MMN website in the coming days. Stay tuned and don't forget to check the official event page: https://fes18.moshimoshi-nippon.jp/index.html

MMN will continue to deliver Japanese popular to the world through our website and official events. On our website, we post interviews with Japanese artists active both in Japan and overseas, spots to visit and food to try in Japan as recommended by popular models, fashion trends in Japan, and much, much more. We provide information from a unique perspective, so be sure to check us out.

■Information

MOSHI MOSHI NIPPON FESTIVAL 2018 in SHIBUYA

Date: March 24, 2018 – March 25, 2018

Time: 11:00-21:00

<Performance Line-up>

MOSHI MOSHI MUSIC FESTIVAL

Location: Tower Records Shibuya B1F CUTUP STUDIO / Tower Records Shibuya Rooftop

・Opening Act: MANON

・Spincoaster Stage: Mizuki Ohira with Kobayashi Utena / SIRUP / The Wisery Brothers

・WREP BATTLEFIELD presents Batotsuku (19:00 START)

MC: Zeebra/八文字

DJ: YANATAKE

MC BATTLE: MC BATTLE: MC Seishain / MC Matsushima / MC MIRI / Kizal / SAM / SHO GEN / Datemegiri / TKdakurobuchi / NiLL Nico / 8×8=49 / FRANKEN / Yuma

・Live Natalie meets MOSHI MOSHI NIPPON: Atarashii Gakkou no Leaders / SHE IS SUMMER / Nemuri Haru / MISMOPE / Luby Sparks / Monari Wakita

・MOSHI MOSHI IDOL SPECIAL: APPARE! Harajuku / Wyenra / QUEENS / Kus Kus / CY7ER / Sakadori Hasshinkyoku / C-Style / Jewel☆Neige / sora tob sakana / Nankini! / NEO JAPONISM / PPP!PiXiON / The Dance for Philosophy / Lucky Doll / Yamakatsu

Harajuku Kawaii Market presented by Mynavi Baito

Location: Laforet Museum Harajuku

MC: Yuri Suganuma / Rei Maruyama

Akari Abe / Amato Danshi / Manaka Arai / Alice Ikeda / Ellie / Rikako Ōya (Babyraids Japan) / Anna Kawamura / Chamereon Takeda / Aino Kuribayashi / Ren Koseki / Noah Satou / Saki Shibata / Hikari Shibata / Ayaka Segawa / Ema Tanioku / Eri Tanioku / Chie Tsuji / Mei Nagasawa / Fusedy / MAGiC BOYZ / Michi / Natsume Mito / Rinko Murata / Megane / Anna Yano/ Yuna Yabe / Yutaro / Una/ Yoshiaki / Rilakkuma (Shibuya Tourism Ambassador)

MOSHI MOSHI ENNICHI

Location: Onden Shrine

MC: Mio Ooyama

EASY / Coroton / Satsumasendai Odoridaiko / Shimockey / TAKARABUNE / Maidreamin / YUMENOYA Ukon Takafuji Japanese Dance Show & Bon Odori

MOSHI MOSHI NIPPON MARKET

Location: SHIBUYA CAST

MIOCHIN

<Organizer> MOSHI MOSHI NIPPON Executive Committee

<Support> Shibuya City / Shibuya City Tourism Association

<Co-Operation> TOKYU CORPORATION / SHIBUYA CAST. / Tower Records Japan Inc. / Laforet HARAJUKU / Religious Corportation Onden Shrine / Jnnovations, Inc.

<Sponsors>

Mynavi Baito / NIPPON PAINT HOLDINGS CO.,LTD / Bijuu co.,ltd. / KitKat Chocolatory / Amato Danshi / Maidreamin / Don Quijote Co., Ltd. / HAPPINET CORPORTATION / POKKA SAPPORO Food & Beverage Ltd. / KAGAMOKU CO.,Ltd / DIDYCO / FUSOSHA / Aqua Belle / Keihen Sangyo / Clarence Lee Design & Associates / Henkel Japan Ltd. / Yuzawaya

<Content Partners> Gurunavi, Inc. / Airbnb Inc. / Natalie / Spincoaster / WREP / SHIBUYA FASHION FESTIVAL / Japan Promotion

Official Event Website: https://fes18.moshimoshi-nippon.jp/index.html

MMN Website: http://www.moshimoshi-nippon.jp (Japanese, English, Chinese)

Additional Information! Maidreamin, Kendama Performers, TOTTI CANDY FACTORY to Participate & Character DJ Festival Will be Held

The MOSHI MOSHI NIPPON Executive Committee will hold the country's biggest inbound event for promoting Japanese pop culture to the world, "MOSHI MOSHI NIPPON FESTIVAL 2018 in SHIBUYA," across the areas of Shibuya and Harajuku on Saturday March 24 and Sunday March 25. New artists have been added to the event line-up as well as their performing dates. Registration for the event is also now open. Those who register for the festival will receive an original bag as thanks.

Register Here: https://mmnf2018.peatix.com

This year's MOSHI MOSHI NIPPON FESTIVAL will take place in four main locations. Here are the artists who will perform as well as the content and activities to be held at each location.

In this article, we will take a detailed look at the stage performances and booths you can expect to see at Onden Shrine.

EASY – The Kendama Performer

EASY is a professional kendama ("sword and ball"Japanese toy) performer who is performing throughout the world. Don't miss this chance to enjoy his breathtaking kentama performance!

Maidreamin

The popular cast members of the maid café, "Maidreamin" will gather at Onden Shrine! They will grab ojou-sama (ladies) and goshujin-samas' (masters) hearts with their songs and dance performances.

Detailed information:https://www.moshimoshi-nippon.jp/ja/98007

TOTTI CANDY FACTORY

TOTTY CANDY is popular for its giant rainbow-colored cotton candy. Cotton candy is eaten by many people as an Ennichi (hopping day) food. This cotton candy named TOTTY CANDY has the essence of Harajuku-style!

Character DJ Festival

 

DJs disguised as popular characters will perform on-stage at Onden Shrine and will grab audience's hearts with their tunes and fantastic performances. DJs – Shimockey and coroton and many more.

DJ/Shimockey and coroton

<Free Entry to MOSHI MOSHI NIPPON FESTIVAL 2018 in SHIBUYA>

Register for free entry to this year's festival!

To register, place visit the Peatix website below and follow the instructions. Upon completing your registration, you will receive a QR Code from Peatix that you must take with you and present at each area on the day of the event.

Click here to register.

*Upon registering, you will be signed up as a MOSHI MOSHI NIPPON Member where you will receive newsletters and other information. You will also be signed up to Omotenashi Platform.

Those that register for the event in advance will receive an original bag as thanks. There are 1,500 bags available on a first-come, first-served basis. You will find in them one of either popular products from KitKat Chocolatory: the "KitKat Chocolatory Moleson" (¥500) or the "KitKat Chocolatory Moleson Matcha" (¥500). Bear in mind that stocks are limited, so don't forget to sign up early!

■Information

MOSHI MOSHI NIPPON FESTIVAL 2018 in SHIBUYA

Venue: LAFORET MUSEUM HARAJUKU, SHIBUYA CAST, TOWER RECORDS Shibuya, Onden Shrine

Date: 03/24 (Sat.), 25 (Sun.)

Time: 11:00 to 21:00 ※the opening hours differ depending on the venue

Official site:https://fes18.moshimoshi-nippon.jp/ja/

Pre-register (free):http://mmnf2018.peatix.com

ASOBISYSTEM and Airbnb Join Up to Bring Models as Tour Guides to MMN Festival 2018

ASOBISYSTEM Co., Ltd and Airbnb Japan, Inc. have joined up to promote the expansion of the appeal of Japan's multilayered culture and regional communities. Firstly, to further interest in Harajuku's unique culture, the two companies are offering numerous experience-based services.

ASOBISYSTEM is centered around promoting more "fun" (asobi) to today's age. They focus on Harajuku culture, something distinctive of Japan. In doing so they have supported and helped grow the culture that is born on the streets of Harajuku including fashion, music and lifestyle. In the beginning, it was just in Japan, but since then they have continued to be active in promoting Harajuku culture worldwide. Harajuku is a town steeped in fascination, and ASOBISYSTEM are focused on it becoming a melting pot cultural area recognised by the people of the world.

Airbnb was established in 2008. They have interacted with a multitude of regional communities and offer a unique travel experience that enables people to connect with the culture of their place of destination. Airbnb aims to realise a world where you can travel to live life.

The first plan of action for ASOBISYSTEM and Airbnb is offering official tours with popular models who will serve as tour guides for MOSHI MOSHI NIPPON FESTIVAL 2018 in SHIBUYA which will take place on March 24 and March 25! There are 3 models who will work as tour guides: Saki Shibata, Ayumi Seto and Yuri Suganuma. To experience each of their special tours you must book in advance, so be sure to check them out ASAP.

Full details: https://www.moshimoshi-nippon.jp/ja/96761

Experience the ever-growing culture of Harajuku with Airbnb.

■Information

MOSHI MOSHI NIPPON FESTIVAL 2018 in SHIBUYA

Locations: SHIBUYA CAST. / Tower Records Shibuya / Laforet Museum Harajuku / Onden Shrine

Dates: Saturday 24 March – Sunday 25 March

Time: 11:00-21:00 *Times differ at each area

Official Event Website: https://fes18.moshimoshi-nippon.jp/ja/

Free Pre-Registration: http://mmnf2018.peatix.com