Sento have a different atmosphere compared to Onsen, or "hot springs" in Japan, and we're here to explain what exactly that is.
1: What's a "Sento"?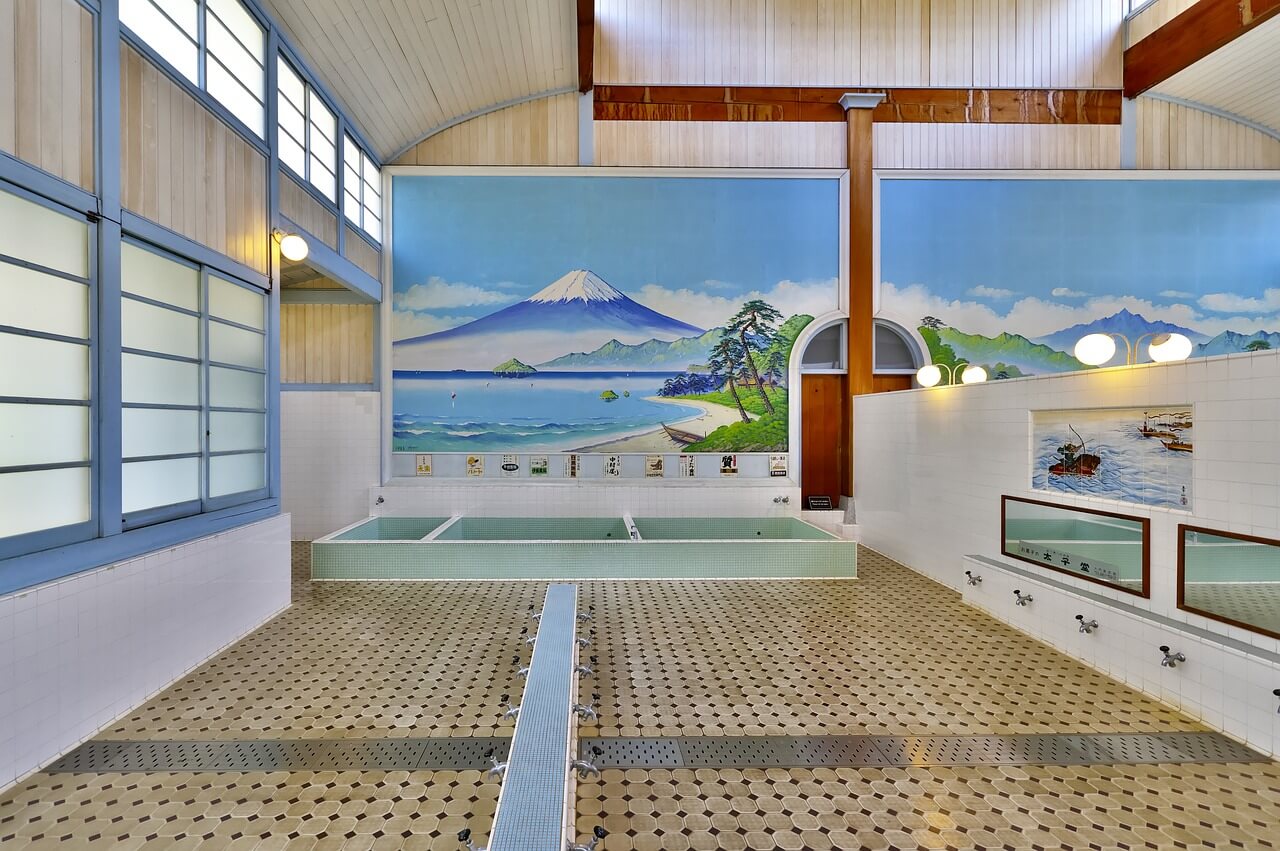 Sento are public baths located in the towns and cities of Japan whereas the Onsen is a spa where people can relax. One of the big differences between Onsen and Sento is the water. Onsen use hot water from hot spring sources and so the water contains natural ingredients. Sento on the other hand use tap water heated using a gas boiler or firewood. Sento also usually come as an old and traditional-styled electric bath or an outdoor-style bath. They are generally cheaper than Onsen.
2: What should I be aware of in a Sento?
Sento are used by people of all ages, so it is also called a "public bath." There are some important rules to be aware of when using them.
The first thing is getting naked. You must first take off all your clothes before entering the bathroom. This is a basic rule in Japan. You can take a washcloth with you to both hide your private parts and to wash with. Before you soak in the bath, you must first wash and rinse your body. And remember to never put your washcloth in the bath, and of course that also means you cannot wash your clothes in the Sento. Use the basin a chair to clean yourself and then return them put to their original place for the next person to use. When you enter the dressing room after bathing, you need to wipe your body with your washcloth so as to prevent getting the dressing room floor from becoming wet.
3: How much is the entrance fee to a Sento?
Sento prices are fixed everywhere. Those ages 12+ pay ¥460, 6-12 pay  ¥180 and under 6's pay ¥80.
4: I need more information!
If you want to know more information about Sentos, you should check out the Tokyo Sento Association website here: http://www.1010.or.jp
You can also check out the rules of using Onsen here: http://www.moshimoshi-nippon.jp/ja/70040
5: What are some recommended Sentos in Tokyo?
Let's take a look at 6 different Sento in Tokyo.
Yuya Wagokoro Yoshinoyu (Suginami Ward, Tokyo)
✨ゆ家和ごころ 吉の湯✨
Twitterデビューを飾るのは

大好評中のよもぎ湯💖
\\\\٩( 'ω' )و ////

大きなお風呂でゆっくり
天然ハーブの香りを
お楽しみ下さい♨️ pic.twitter.com/pr8B2YgYKM

— ゆ家和ごころ♡吉の湯 (@yoshinoyu1010) 2017年7月13日

This Sento has a modern, fashionable and traditional Japanese "wa" style. There are both inside and outside baths as well as a sauna available to use in both the women and men's bath for an additional fee. In the outside bath, there are carbonated springs, tubo-yu, and a cold water bath. Tubo-yu has a good effect on your skin and is great for stiff shoulders and and lower back pains.
Shimizuyu (Minami-Aoyama, Tokyo)
This is a very fashionable Sento. Its guests are often fashionable young people and business people. All water in this here is soft water and has a high concentration of carbonated springs. Silk baths are available too. They serve draft beer, Belgian beer, ice cream and snacks. They also sell towels, lotions and underwear so you can go there practically empty-handed.
Tenjinyu (Shimbamba Station, Tokyo)

This Sento was renewed in 2009 and designed by specialised designers. It is a space where you can feel comfortable and calm with its warm interior decorations and lighting. The most popular bath is the "Kuroyu" which uses hot water pumped up from 100 meters underground. Ingredients from the Paleozoic era are melted in the water. That plus a multitude of minerals makes it good for making your skin look beautiful. Experts say that the water is one of the 3 most densest Japan.
Minatoyu (Hatchobori, Tokyo)
The bathroom uses dark stones and tiles, so it has a luxurious feeling and calm atmosphere. Just above the bathtub is a colonnade making the atmosphere is very open. The water in the bathtub uses soft water. There's an electric bath, a silk bath and 2 kinds of saunas.
Isshinyu (Shin-koiwa Station, Tokyo)

The highlight of this Sento is the lovely tile picture on the bathroom wall. In the women's bathroom there is a mosaic tile depicting animals carrying a Japanese shrine known as a "mikoshi." It was originally designed to make the children there feel happy. There are two big bathtubs: the circular bathtub is a bubble bath, and the square bathtub has water pillows (like a water bed!).
Saitoyu (Nippori Station, Tokyo)
This Sento has bath water that has a good effect on skin making it popular with female customers. There are beer servers in the Sento, so you can enjoy sipping a refreshing beer after taking a bath. There are five different baths including a high concentration artificial carbonated spring bath, a water bath, an electric bath, a high temperature bath, and an outside bath.
How did you like our Q&A about Sento? A visit to a Sento is a must if you really want to "soak in" Japanese culture!