Travel Q&A: Japanese Sento Bath Houses & 6 Recommended Ones in Tokyo
Sento have a different atmosphere compared to Onsen, or "hot springs" in Japan, and we're here to explain what exactly that is.
1: What's a "Sento"?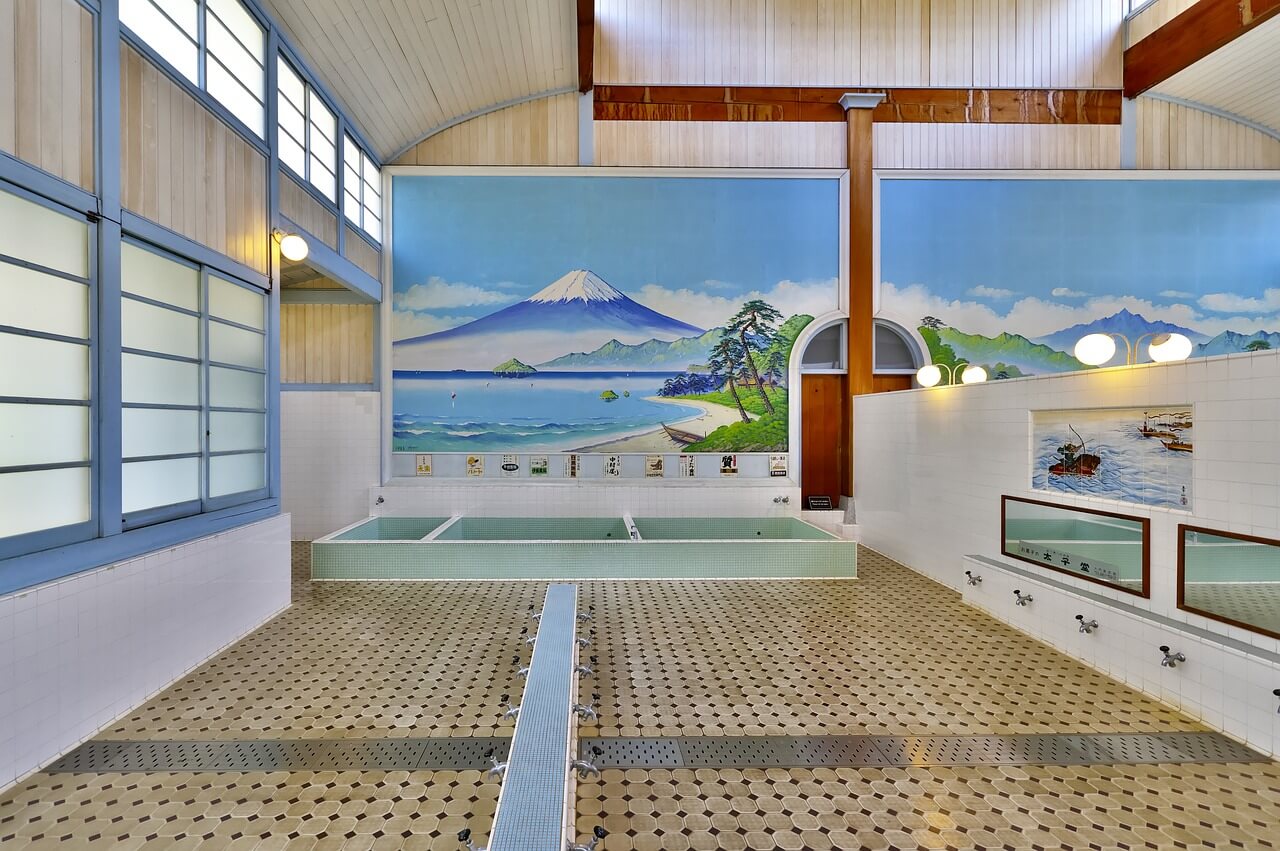 Sento are public baths located in the towns and cities of Japan whereas the Onsen is a spa where people can relax. One of the big differences between Onsen and Sento is the water. Onsen use hot water from hot spring sources and so the water contains natural ingredients. Sento on the other hand use tap water heated using a gas boiler or firewood. Sento also usually come as an old and traditional-styled electric bath or an outdoor-style bath. They are generally cheaper than Onsen.
2: What should I be aware of in a Sento?
Sento are used by people of all ages, so it is also called a "public bath." There are some important rules to be aware of when using them.
The first thing is getting naked. You must first take off all your clothes before entering the bathroom. This is a basic rule in Japan. You can take a washcloth with you to both hide your private parts and to wash with. Before you soak in the bath, you must first wash and rinse your body. And remember to never put your washcloth in the bath, and of course that also means you cannot wash your clothes in the Sento. Use the basin a chair to clean yourself and then return them put to their original place for the next person to use. When you enter the dressing room after bathing, you need to wipe your body with your washcloth so as to prevent getting the dressing room floor from becoming wet.
3: How much is the entrance fee to a Sento?
Sento prices are fixed everywhere. Those ages 12+ pay ¥460, 6-12 pay  ¥180 and under 6's pay ¥80.
4: I need more information!
If you want to know more information about Sentos, you should check out the Tokyo Sento Association website here: http://www.1010.or.jp
You can also check out the rules of using Onsen here: http://www.moshimoshi-nippon.jp/ja/70040
5: What are some recommended Sentos in Tokyo?
Let's take a look at 6 different Sento in Tokyo.
Yuya Wagokoro Yoshinoyu (Suginami Ward, Tokyo)
✨ゆ家和ごころ 吉の湯✨
Twitterデビューを飾るのは

大好評中のよもぎ湯💖
\\\\٩( 'ω' )و ////

大きなお風呂でゆっくり
天然ハーブの香りを
お楽しみ下さい♨️ pic.twitter.com/pr8B2YgYKM

— ゆ家和ごころ♡吉の湯 (@yoshinoyu1010) 2017年7月13日

This Sento has a modern, fashionable and traditional Japanese "wa" style. There are both inside and outside baths as well as a sauna available to use in both the women and men's bath for an additional fee. In the outside bath, there are carbonated springs, tubo-yu, and a cold water bath. Tubo-yu has a good effect on your skin and is great for stiff shoulders and and lower back pains.
Shimizuyu (Minami-Aoyama, Tokyo)
This is a very fashionable Sento. Its guests are often fashionable young people and business people. All water in this here is soft water and has a high concentration of carbonated springs. Silk baths are available too. They serve draft beer, Belgian beer, ice cream and snacks. They also sell towels, lotions and underwear so you can go there practically empty-handed.
Tenjinyu (Shimbamba Station, Tokyo)

This Sento was renewed in 2009 and designed by specialised designers. It is a space where you can feel comfortable and calm with its warm interior decorations and lighting. The most popular bath is the "Kuroyu" which uses hot water pumped up from 100 meters underground. Ingredients from the Paleozoic era are melted in the water. That plus a multitude of minerals makes it good for making your skin look beautiful. Experts say that the water is one of the 3 most densest Japan.
Minatoyu (Hatchobori, Tokyo)
The bathroom uses dark stones and tiles, so it has a luxurious feeling and calm atmosphere. Just above the bathtub is a colonnade making the atmosphere is very open. The water in the bathtub uses soft water. There's an electric bath, a silk bath and 2 kinds of saunas.
Isshinyu (Shin-koiwa Station, Tokyo)

The highlight of this Sento is the lovely tile picture on the bathroom wall. In the women's bathroom there is a mosaic tile depicting animals carrying a Japanese shrine known as a "mikoshi." It was originally designed to make the children there feel happy. There are two big bathtubs: the circular bathtub is a bubble bath, and the square bathtub has water pillows (like a water bed!).
Saitoyu (Nippori Station, Tokyo)
This Sento has bath water that has a good effect on skin making it popular with female customers. There are beer servers in the Sento, so you can enjoy sipping a refreshing beer after taking a bath. There are five different baths including a high concentration artificial carbonated spring bath, a water bath, an electric bath, a high temperature bath, and an outside bath.
How did you like our Q&A about Sento? A visit to a Sento is a must if you really want to "soak in" Japanese culture!
RELATED ENTRIES
Sauna-loving "Sauna Manager' Starts New Apparel Brand 'Saunatte Iiyone!'

'Saunatte Iiyone!' is a new street x sauna apparel brand from the mysterious Sauna-ryman (sauna + salaryman) Sauna Manager (@sauna_bucho37), a Tokyo-based Instagrammer who really loves saunas!

Sunglasses Bag Logo Long-sleeved T-shirt

Logo Towel

The manager checks out locations nationwide in search of the perfect sauna, conveying the charms of saunas each day through their Instagram. Their sensational and fun new brand fuses street with the sauna, conveying the owners knowledge and love for the experience. The first items include a long-sleeved t-shirt and towels featuring the brand logo.

They will continue to produce new sauna goods while paying careful attention to fabric and details, so be sure to keep an eye on them!

Information

Saunatte Iiyone

Release Date: September 18 at Noon

Purchase Location: Online Store

Official Site: https://saunaiiyone.com 

Poo-shaped Rainbow Bath Bombs Now Available

Rainbombs, a collection of bath bombs that release rainbows when added to the tub, has a curious new product–the Rainbomb Mini Poop, now available to order online. Why a poo motif, we're not sure, but they're adorable regardless of the questionable subject matter. 

When added to the bath, three colors will spray from the base, like others in the Rainbombs collection. The bombs come in either Grape or Peach scents. (Thank goodness.)

Grape

With the scent of juicy grapes, this purple bath bomb exudes a strange sweetness with it's big eyes. 

Peach

This pink poop gives off a fresh peach scent, sure to relax you after a long day. 

Check out how the rainbow appears here:

What do you think? Are poop-shaped bath bombs something you'd try? 

BEAMS to Sell Limited-Time Goods Based on Post-Sauna Drink Mix Oropo

Ryusenji no Yu is a chain of bath facilities throughout Japan, offering saunas, bedrock baths, and artificial hot springs. Saunas are surprisingly popular throughout the country, and recently, a beverage called Oropo has been called the perfect drink to enjoy after sitting in the heat. A mixture of the vitamin drink Oronamin C and sports drink Pocari Sweat, it's a perfect blend to refuel after all that sweating. 

The Nagoya Moriyama location will begin selling Oropo-branded goods by BEAMS starting September 16!

Merchandise sold in the odd collaboration will include mugs featuring markings to help mix the perfect amount of Oronamin C and Pocari Sweat to make the ultimate Oropo. T-shirts with pop-up store character Oropo-kun are already the talk of social media. Those who purchase a certain amount of goods will be given a bonus sticker. 

As expected, Oropo will be served during the campaign, along with Oropo Shaved Ice, created by the queen of shaved ice Asako Harada!

Information

Ryusenji no Yu x BEAMS

On sale until September 26, 2021

Where to Buy: Ryusenji no Yu – Nagoya Moriyama Location

Official Site:https://www.ryusenjinoyu.com/

Kumagaya City, Saitama Bath Cafe Hareniwa no Yu Opens After Rebranding

Cafe BIVOUAC, located in Kumagaya, Saitama Prefecture, will reopen Bath Cafe Hareniwa no Yu on September 18, 21, after a full rebranding.

The space aims to be 'a garden that clears a guest's body and mind.' Visitors can enjoy a full bath and sauna, freshly-picked vegetables at the Haruniwa Dining Room, and a lush green lounge in which to relax and unwind.

The Haruniwa Dining Room, run by The Farm, a resort in Chiba Prefecture, offers healthy dishes filled with fresh local vegetables from Kumagaya with carefully-selected main ingredients.

In addition, a collaboration with fashion brand 'niko and…' will also begin upon reopening, offering the perfect comfy clothes to wear while enjoying the property.  The lineup  includes an original bath bag and sauna hat, each sold exclusively at Hareniwa no Yu.

Information

Bath Cafe Hareniwa no Yu (Cafe BIVOUAC)

Open: September 18, 2021

Address: 939 Kubojima, Kumagaya-shi, Saitama

Phone: 048-533-2614

Official Site: https://ofurocafe-bivouac.com/

BEAMS Announces Virtual Sento Bath Experience at Virtual Market 6

BEAMS is set to have its own booth at Virtual Market 6 (Vket6) which will be hosted by HIKKY from August 14-28. At the BEAMS booth, they will be showcasing must-visit sento bathhouses. Vket is one of the biggest virtual events in the world, and uses Web to VR technology so you don't need a VR headset, meaning people can access it simply by connecting via mobile, PC, or other smart device. This will be BEAMS' second attendance at the event, and shop staff will appear inside as avatars.

Inside BEAMS 'Recommended Sento 2021' Booth at Vket 6

Inside BEAMS 'Recommended Sento 2021' Booth at Vket 6

Vket-chan wearing the free towel you get at the BEAMS booth

BEAMS is taking their ongoing 'Recommended Sento 2021' project, which is running at Kotobukiyu in Ueno, Tokyo, until September, to the virtual realm in a collaboration with COW BRAND SOAP. As well as collaboration merch, players can use Vket-chan's 3D avatar and combine it with the free towel to bathe in the bath as her.

The virtual space is decorated with sento pictures illustrated by manga artist and calligrapher Mari Yamazaki. Users can also launch fireworks, and there are various Japanese summer-themed attractions.

The official Vket merchandise will be available on the Merch by Amazon service and can be shipped to Japan, the US, UK, France, Germany, Italy, and Spain.

Meiji Marble Chocolate Themed Hotel Room Opens at The Royal Park Hotel Kyoto Umekoji

In celebration of Meiji's popular Marble chocolate, The Royal Park Hotel Kyoto Umekoji is collaborating with the confectionery brand to offer a Marble themed hotel room for guests. The room opened on July 27.

Showa retro-style posters, telephone, and other decorations

Meiji's colourful Marble chocolate was first released in 1961. It turned 60-years-old in February of this year, meaning it has continued to be enjoyed by three generations. Grandparents have passed them onto mothers and fathers, and them to their own children. Now the whole family can celebrate the chocolate in a themed hotel room in Kyoto.


Named the Marble Room, the hotel room is decorated in seven colours just like the chocolates themselves. This includes seven individual pillows on the sofa, balloons, wall decorations, and more. There's even a crane game inside the room where guests can obtain some chocolates for free.

Also inside the room are Showa retro-style posters and a telephone, and guests can watch all of the old Marble commercials on the television which have aired these past 60 years. Guests also receive a free smartphone ring, eco bag, pouch, and other little freebies as part of the plan.

Miyako Hotel Kyoto Hachijo Launches Sento Bath Hotel Plan

Miyako Hotel Kyoto Hachijo launched a new hotel plan on July 26 which includes a ticket to bathhouses around Kyoto, a bath amenity set, a hotel-original sento t-shirt, and more.

Available until March 30, 2022, the plan was conceived as a way for tourists to enjoy the ordinary, everyday Kyoto in a way that's different from people's usual tourist and sightseeing experiences in the city. Kyoto continues to be a hub for sento bath culture.

Hinode-yu, a bathhouse in Minami Ward, Kyoto

Hotel-original tees are available as part of the plan

Receive a bath amenity set and bathhouse ticket

Kyoto is home to around 100 unique sento bathhouses where people can enjoy a relaxing soak in a giant public bath while chatting. It's a huge part of Kyoto culture and one which is seeing a steady increase in popularity again with the younger generation.

If you're staying in Kyoto this year or planning a trip early next year, don't miss out on this limited-time hotel plan.

Love Live! Nijigasaki High School Idol Club x Oedo Onsen Monogatari Event Announced

The Tokyo-based bathhouse Oedo Onsen Monogatari is set to collaborate with the anime series Love Live! Nijigasaki High School Idol Club with a special event titled 'Tokimeki Onsen Monogatari' from July 30 to September 5. This will mark the site's final collaboration with an anime series as the bathhouse is closing on September 5.


For the collaboration, panels and decorations featuring original artwork of the Nijigaku members is featured around the bathhouse. There's also a special photospot featuring a backdrop of a scene taken the anime's second episode.

A lottery draw will take place where you can pay ¥550 for a chance to win a cushion, illustrated print, or bromide. There are also 10 collab drinks as well as three pasta dishes to pick from. Fans can also get their hands on exclusive merch such as keyrings, tees, tapestries, and more.

Satoyama Jujo THE HOUSE IZUMI: Rent Out a Renovated Japanese House in Niigata

Japanese design company Jiyujin launched its new Satoyama Jujo THE HOUSE chain of accommodations this month which offer a single group of guests a one-night stay in an entire house.

The first branch to open is IZUMI which features a fully-renovated Japanese-style house located in the city of Uonuma in Niigata. A gorgeous outlook is offered from the house with an unbroken view of lush forests, rice fields, and Mt. Makihata, which is listed as one of the '100 Famous Japanese Mountains.'

A breathtaking view awaits guests from the open-air bath

The spacious living room

Fully renovated from a 150-year-old private house, the building is supported by beautiful wooden beams and columns, and in the middle the oe, a sunken hearth. This, along with the beams and sashigamoi joints, are made from keyaki Japanese zelkova which is an elm-like tree. This species of tree is rare even in a tree-covered region such as Uonuma. The lumber used for this house was cut, preserved, and dried out for a number of decades before being processed into building material for the house. The heart in the middle of the living room is reminiscent of a time when large families would gather around one and serves to recreate that lifestyle.

The Nishiyama region is known for is production of delicious rice. IZUMI in fact looks out over Kabanosawa, a special and important place of rice production in Nishiyama. This vantage point also gives guests an opportunity to appreciate the hot and cold temperatures of the daytime and evening, the rivers, the shape of the land, and the earth the city sits on. The drastic change in temperatures in the day and night are especially noteworthy as this, along with the basin between the mountains, gives rise to a sea of clouds.

IZUMI sits on a hill that overlooks the rice paddies, making it a perfect location for spotting the sea of clouds. Minamiuonuma's sea of clouds has over a 70% chances of appearing in the autumn and spring seasons.

The number one reason why Japan's old, long-standing, and precious private houses are demolished is due to the cold getting in and it being too dark inside. Even those who want to see them preserved for tradition, including those who live in them already, would rather live in a modern home. That's why Jiyujin has begun a renovation project instead of a demolition one. By refurbishing the houses, the ancient framework can be fixed up and preserved while a range of contemporary amenities are incorporate to fit with modern lifestyles. The Satoyama Jujo accommodations are built so they can be used for over 100 years.

For dinner, there are three options for guests. The first is a dinner at SANABURI which earned itself a Michelin star in Michelin Guide Niigata 2020. The second is a meal at a restaurant that earned the status of Bib Gourmand in the same guide. The third is to prepare your own meal in the house. There are plenty of shops around the station nearby where you can buy local ingredients.

After a delicious meal, guests can take a soak in the open-air tub and enjoy gazing out across the fields and the beautiful mountains which stand almost 2,000 meters high.

Information

Satoyama Jujo THE HOUSE IZUMI

Japanese Name: 里山十帖 THE HOUSE IZUMI

Address: 671-1, Amanosawa, Minamiuonuma, Niigata, 〒949-6433, Japan

Official Website: Opening early July 2021

Access: 7-minutes by car from Jōetsu International Skiing Ground Station (JR Joetsu Line) / 16-minutes by car from Shiozawa-Ishiuchi IC

Chiba's New Sento Bathhouse Collaborates With BEAMS in the Run Up to Spring 2022 Opening

Next spring will Oakland Group open the new sento bathhouse Ryusenji no Yu Spa Metsä Okata. The bathhouse is has teamed up with Japanese fashion brand BEAMS and released a collection of original items at Ryusenji no Yu's online store on June 28.

Original Items

Mesh Tote Bags: ¥2,970 Each (Tax Included)

Mesh Satchels: ¥2,420 Each (Tax Included) / Mesh Pouches: ¥1,980 Each (Tax Included)

Salt Pillow: ¥2,970 (Tax Included) / Salt Eye Mask ¥3,300 (Tax Included)

Shower Sandals: ¥2,200 Each (Tax Included)

Towels: ¥1,980 Each (Tax Included)

Socks: ¥1,980 Each (Tax Included)

Acrylic Keyrings: ¥1,540 Each (Tax Included)

Dakimakura Hugging Pillow: ¥3,850 (Tax Included)

T-Shirts: ¥2,970 Each (Tax Included)

Pins: ¥300 Each (Tax Included)

Water Bottles: ¥1,650 Each (Tax Included)

The merchandise line-up was overseen by Kazuyoshi Minamimagoe, Executive Director at BEAMS. It includes durable mesh bags, shower sandals, and other must-have items when enjoying a day at the spa. There's also a t-shirt collection illustrated by Kao Okata, a hugging pillow, salt eye mask and pillow which are said to cool you down after a hot bath, face towels, socks made in collaboration with the old-time brand GLEN CLYDE, and more.

BEAMS has held many projects and been active in creating know-how solutions for other brands and businesses at their select shops. In 2019, they created a Business Production Team which enabled them to expand their business reach by developing products, content, promotional material, and so on. Their work doesn't stop at the products featured in this article – they also create work uniforms, interior design, create signs for facilities, produce e-commerce sites, and much more.

Information

Ryusenji no Yu Spa Metsä Okata x BEAMS Original Items
Released: June 28, 2021
Buy exclusively at Ryusenji no Yu: https://www.ryusenjinoyu.shop
*Not sold at BEAMS

Tokyo's Jujo-yu Public Bathhouse Receives Full Cafe Renovation

Juyo-yu is a public bathhouse in Jujo, Tokyo, and remains the only one in the area. Since last year, Yutonamisha, a company specialising in the succession of bathhouses, has offered management support to Juyo-yu and has held various projects in an effort to protect the bathhouse as an important part of the town. Part of that has been to completely renovate the cafe at Juyo-ju to help it escape from closing down.

Juyo-yu's cafe space was first built in 1985 as a means to "provide customers with even more healing." It's rare for a bathhouse in Japan to have its own coffee shop, making the cafe at Juyo-yu one of its greatest strengths and features. At present, however, it is not a very well-known cafe, and it suffers from various interior design problems such as it being difficult to enter and being hardly functional – problems actually highlighted by customers themselves. By undergoing renovation, and functioning as a proper cafe, it will increase the appeal of Juyo-yu and therefore its profits. It has now transformed into a comfortable, impactful space.

The name of the new cafe is Kissa Shinkai (Cafe Deep Sea). Gorgeous, blissful decor runs from the baths to the cafe , with the tiles used in the women's bath also used for the cafe's interior design. Shinkai also has a brand new menu with the kind of food and drink people would love to enjoy after a hot bath, such as cream soda, coffee, cake, and more.

Information

Public Bathhouse Juyo-yu (銭湯・十條湯)

Crowdfunding: June 19, 2021 – July 18, 2021

Crowdfunder Page: https://camp-fire.jp/projects/view/434569

Address: 1-14-2 Jujonakahara, Kita-ku, Tokyo, 114-0031, Japan
TEL: 03-3900-4600
Opening Hours: [Mon-Sat] 15:00-23:00 (Closed Fridays) / [Sun] 8:00-12:00, 15:500-23:00

*Cafe is running on reduced hours, closing at 20:00. Currently being renovated so the cafe is closed.

Official Twitter: https://twitter.com/jujoyu_1010?s=11 (@jujoyu_1010)

KYARY PAMYU PAMYU meets IMABARI: A Visit to the Historical Sea Route

Imabari is a city in Ehime Prefecture that faces the Seto Inland Sea. Since olden times, it has flourished as an important location for marine traffic. It's home to a bounty of recognised national treasures and historical heritage sights, and is also famous for its production of citrus fruits such as mikan. Japanese pop star, model, and icon Kyary Pamyu Pamyu took a trip to this ancient city to discover its wonder and beauty.

A Visit to the Historical Sea Route

Oyamazumi Shrine

A 'power spot' revered by prominent people

Oyamazumi Shrine has been revered by prominent figures throughout history as a place dedicated to the god of the mountain, god of the ocean, and the god of war. It's home to numerous Important Cultural Properties which are available for viewing by the public such as the armour worn by the military commander Minamoto no Yoshitsune when the Minamoto clan won the Genpei War (1180-1185), armour worn by women, and more. The shrine is also a notable power spot for the ancient tree that has stood there for 2,600 years and is now recognised as a natural monument of Japan. Power spots are places in Japan where the spiritually-inclined draw energy from.

Information

Oyamazumi Shrine

Address: 3327 Omishimacho Miyaura, Imabari, Ehime 794-1393, Japan

TEL: 0897-82-0032

Opening Hours: Sunrise to 17:00

National Treasure Building: 8:30-17:00 (Last Entries 16:30)

Official Website: https://oomishimagu.jp/

Kurushima Kaikyo Service Area

Lip-smacking food aplenty

If you're one for great views, then the Kurushima Kaikyo service area is a must-visit, offering a panoramic look at the Kurushima Strait of the Seto Inland Sea. The service area is very well know particularly for the Jaguchi Mikan Juice, something of a city legend in Ehime where you can enjoy fresh mikan juice straight from a tap. You can also tuck a rice bowl dish made with tachiuo hairtail caught in the Seto Inland Sea that's made to look like Kurushima Kaikyō Bridge, or try Imabari's soul food dish: the Imabari Yakibuta Tamago Meshi, a pork, egg, and rice bowl. Don't pass up the chance to snap a photo at the designated photo spot with the Seto Inland Sea in the back either like Kyary above.

Information

Kurushima Kaikyo Service Area

Address: 3-9-68 Ohamacho, Imabari, Ehime, 794-0002, Japan

Food Court: [Weekdays] 8:00-21:00 / [Weekends & Holidays] 7:00-22:00

Shops: [Weekdays] 8:00-21:00 / [Weekends & Holidays] 7:00-22:00

Outside Shopping Area & Cafes: [Weekdays] 9:00-17:00 / [Weekends & Holidays] 9:00-18:00

Official Website: https://www.jb-highway.co.jp/sapa/kurushima.php

Murakami Suigun Museum

Dedicated to the Imabari heroes who protected the ocean




Murakami Suigun Museum is dedicated to kaizoku—pirates, or lords of the sea—something which conjures to mind villainy or bad guys, but the Murakami pirates were also considered heroes who helped maintain order and protect the sea during the Sengoku warring period of Japan. The museum features many displays of Murakami family treasures including the battle surcoat which the pirate leader wore over his armour, proudly bearing the Murakami family crest. Visitors can wear replicas of this coat, which Kyary tired herself: "Now I'm sorta like a military commander too," she said.

Information 

Murakami Suigun Museum

Address: 1285 Miyakubocho Miyakubo, Imabari, Ehime 794-2203, Japan
TEL: 0897-74-1065

Opening Hours: 9:00-17:00

Closed: Mondays (or Tuesday if the Monday falls on a public holiday) / New Year Holidays (Dec 29-Jan 3)

Official Website: https://www.city.imabari.ehime.jp/museum/suigun/

Roadside Station Yoshiumi Iki-iki-kan

A bundle of fun and entertainment in one place

Roll on up to Roadside Station Yoshiumi Iki-iki-kan to enjoy a shichirin BBQ feast with fresh seafood caught in the Seto Inland Sea while gazing out across Kurushima Kaikyo. This building complex serves as a resting spot and is also the perfect place to purchase local souvenirs including Ehime specialty products. It's also famous for its offering the chance to board a boat to ride around Kurushima Kaikyo, renting out bicycles, and more. You'll also be able to meet Koro-chan, a popular fish who has lived there for 30 years.

Information

Roadside Station Yoshiumi Iki-iki-kan

Address: 4520-2 Yoshiumichomyo, Imabari, Ehime 794-2114, Japan

TEL: 0897-84-3710

Opening Hours: 9:00-17:00

Restaurant: 10:00-16:00 (Last Orders 15:00)

Closed: New Year's Day (and certain days in winter)

Official Website: http://www.imabari-shimanami.jp/ikiiki/

Dolphin Farm Shimanami

Meet the cute and friendly dolphins

Dolphin Farm Shimanami, which is connected to Hakata Beach, is the best and biggest place in Japan to interact with dolphins. Visitors can get close to them and the dolphins will show off their tricks and skills. There's even a car camping area you can stay at.

Information

Dolphin Farm Shimanami

Address: 1673 Hakatacho Kanoura, Imabari, Ehime 794-2302, Japan

TEL: 0897-72-8787

Opening Hours: 9:00-17:00

Closed: On days with bad weath

Official Website: https://www.df-shimanami.com/

Hakata Beach

A white sandy beach rolling out 200-meters 

Hakata Beach is located at the base of Oshima Bridge in Hakata. The beach is famous for its salt which is best tried on their popular sweet-tasting sea salt ice cream.

Information

Hakata Beach

Address: 1668-1 Hakatacho Kanoura, Imabari, Ehime 794-2302, Japan

Sea Bathing: Early July – Late August

Official Website: https://www.city.imabari.ehime.jp/kanko/spot/?a=198

Imabari Towels

High quality towels woven with tradition and technique

Imabari is the biggest producer of towels in Japan. Even their white towels alone have countless types you can choose from, allowing you to pick which level of softness and comfort you want. The iconic brand logo is also impactful, capturing the quality, production, and enthusiasm that the makes have for the product. Kyary herself uses them all the time!

Information 

Imabari Towel

Official Website: https://www.imabaritowel.jp/

Sunrise Itoyama

Need a bike?

Sunrise Itoyama, located in the Imabari Central Cycling Terminal, is a rental bicycle service that has bikes and helmets for everyone's needs. Rent out a bike and ride the Shimanami Sea Route which connects Ehime and Hiroshima with a series of bridges that hop across the islands of the Seto Inland Sea.

Information 

Sunrise Itoyama

Address: 2-8-1 Sunabacho, Imabari, Ehime 794-0001, Japan

TEL: 0898-41-3196

Rent-a-Cycle Details: https://www.sunrise-itoyama.jp/archives/rentacycle/

Official Website: https://www.sunrise-itoyama.jp/

Marutomi

The famous restaurant known to every local

If you want the real experience of Imabari's yakitori soul food, you should visit Marutomi, a yakitori eatery. Imabari yakitori is different from the usual Japanese yakitori as it doesn't come skewered. Instead, the chicken is cut into small pieces and fried that way. One of the most popular ways to have it is with the skin on so the outside is crunchy and the inside succulent. It goes perfect with a cup of sake too.

Information 

Marutomi

2-3-6 Katayama, Imabari, Ehime 794-0063, Japan

TEL: 0898-23-2740

Opening Hours: 17:30-22:00

Closed: Wednesdays

Official Website: https://maru-marutomi.jp/

Imabari Castle

A castle by the sea

Imabari Castle, built by the daimyo Tōdō Takatora, is known famously as one of Japan's three "Castles on the Sea" and was also listed in Japan's Top 100 Castles. When it was first constructed, boats could enter the moat from the ocean. It's a site that breathes the prosperity that Imabari has enjoyed as a significant location for maritime traffic, the same Imabari that the Murakami pirates sought to protect. Head on up to the top of the castle to stand on the observation deck and gaze at an unbroken view of the city.

Information

Imabari Castle

Address: 3-1-3 Toricho, Imabari, Ehime, 794-0036, Japan

TEL: 0898-31-9233

Opening Hours: 9:00-17:00

Closed: December 29 – December 31

Official Website: https://www.city.imabari.ehime.jp/museum/imabarijo/

Kirosan Observatory Park

A breathtaking spectacle to remember

Kirosan Observatory Park is officially recognised by Setonaikai National Park. Standing atop the observation deck fills the eyes with wonder as they gaze upon a panoramic stretch of Imabari, the Seto Inland Sea, and Kurushima Kaikyo all at once. Kyary wrapped up her time in Imabari here as the sunset coloured the sky and sea in warm evening hues.

Information 

Kirosan Observatory Park

Address: 487-4 Yoshiumicho Minamiura, Imabari, Ehime 794-2115, Japan

No Fixed Holidays

Open 24-hours a day

Official Website: https://www.city.imabari.ehime.jp/kanko/spot/?a=182

Imabari Tourism Information: https://www.city.imabari.ehime.jp/kanko/

We hope you enjoyed joining Kyary on her adventures across Imabari, and perhaps she even got you a little curious in wanting to visit the city yourself. It's a treasure trove filled with vistas by the sea, in nature, and in the city itself with its Important Cultural Properties. Food is also a big part of travel for many people, so you can rest assured that your belly will be satisfied in Imabari as you try their speciality mikan, fresh seafood fished in the Seto Inland Sea, and more.