Using the camera app, "SNOW" you can create unique photos which look just like instant camera photos
The camera app, SNOW is known for its cute and fun processing features. For fashion conscience girls, the creating of instant camera-like photos using SNOW is gaining popularity. Here, we will explain what kind of processes are possible with SNOW.
First, start up SNOW and choose your selfie filter. Choose one of the camera icons from the icons enclosed in the red box. Next, choose the filter of your choice. For this example, we have chosen the Andriod version of SNOW.Try using the 3 filters enclosed in the blue box, starting from the one on the left.
For an iPhone use the camera filter.
Here is the first filter. It creates a faint-looking photo. The photo has a transient-feel to it.
The second filter creates a more austere-feeling image. This filter is recommended for taking cool landscape photos.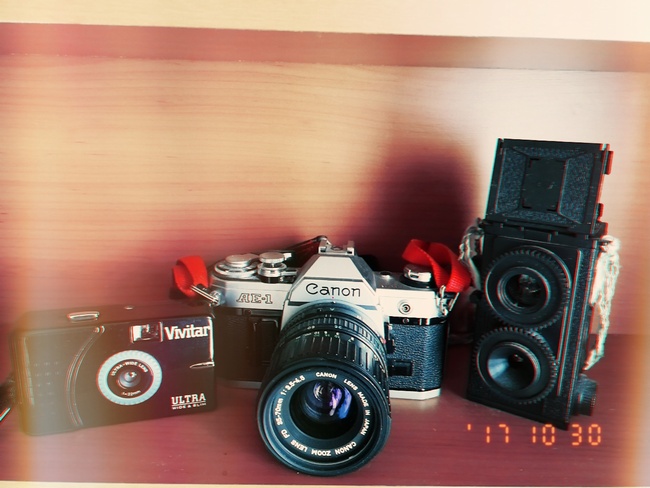 The last filter creates a photo where the center of the photo is clear and focused but the surroundings are a bit blurred. This makes for a retro-looking photo. Orange colors are highlighted so it is just right for taking café food items. For all filters the date appears automatically in the right corner of the photo so when you use a smartphone it is recommended that you take a photo with your smartphone on its side.
Another filter that is highly recommended is this one.
Choose the "collage" icon from the icons enclosed in the red box. Next, choose the filter of your choice from the filters enclosed in the blue box.
When you take a photo using this filter it looks similar to the frame of a film camera. It makes for a very unique photo, one you will want to upload on your SNS.
Better than having to carry a bulky film camera, why not just use SNOW to get a similar quality photo. If you get bored with the same style photos, why not try using SNOW and create film camera style photos.
Source:HARAJUKU KAWAII STYLE
RECOMMENDED ENTRIES
Experience Japanese Culture #4 – Searching for a Film Camera in Shinjuku's Used Camera Shops

This is Yuri 'Yurippa' Suganuma's featured article series in which she takes us on her adventures to cultivate new hobbies.

Yurippa has been interested in photography for some time now, but she's been unsure which camera she should buy. So, she decided to head to some used camera stores,  Lucky Camera Shop andChuko Camera Box in Shinjuku to find the perfect camera that best suits her. Was she able to find the right one…? Let's find out!

The first place Yurippa stopped by was Lucky Camera Shop. It's located next to Isetan Shinjuku and has a kind of foreign, non-Japanese air to it. When Yurippa saw the eye-catching red exterior of the shop, it was loved at first sight. In any case, time to head in!

The store is lined with cameras made in lots of different countries including Japan, Germany and the US. Lucky Camera Shop puts a lot of effort into stocking foreign-made cameras and mechanical cameras with everything built in. They have a varied line-up, including famous Leica cameras.

The Leica parts were all expensive – the bodies and lenses were both over ¥100,000 ($915)!

Yurippa was shown a camera she was interested in from inside the showcase. The left was a single-lens reflex Olympus OM-1 and the right was a Barnack Leica. 35mm films are all the rage right now, and these were some of the first models to use them. Both are at a nice, compact size.

Yurippa was blown away looking through the viewfinder of the Olympus OM-1. 'You can see things easily, so much so that everything looks even more beautiful through the viewfinder!' she said.

Next, Yurippa also tried the Barnack Leica. It's a valuable camera that has you feeling a little nervous touching it. She said surprised at how quiet the shutter was, to which the shop assistant explained, "This is a different single-lens reflex to that of the OM-1. There's no mirror inside so the shutter is quiet." Yurippa learned much about how cameras are put together differently, as well as the diverse number of types available.

■Information

Lucky Camera Shop

Address: Gomeikan Bldg. 1F, 3-3-9 Shinjuku, Shinjuku-ku, Tokyo

TEL: 03-3354-7898

Opening Hours: 10:00-20:00

Access: 5-minutes on foot from JR Shinjuku Station / 1-minute on foot from Shinjuku Sanchome Station

Website: http://lucky-camera.com/

The next shop Yurippa headed to was Chuko Camera Box. It's a used camera store located along Shinjuku Electric Street (Shinjuku Denki-gai). The showcase is crowded with cameras, and the shop has an atmosphere to it like a secret hideout.

"It'd be great to have a camera that's small and easy to use. One that I can take out and snap a photo with straight away. That'd definitely be fun!" said Yurippa while looking in earnest for a camera.

She continued to search with these keywords in mind, focusing on auto-focus film compact cameras. And then, she found it. In her hands was the Genba Kantoku from Konica. You can snap a photo just by pressing the shutter. It has auto-focus, flash and auto-load. "It's a little big, but it's affordable and seems easy to use!"

Chuko Camera Box is famous for its friendly store clerk and regular customers. Yurippa learned that the Genba Kantoku was formerly used for recording at construction sites. It's durable and can get wet or be dropped and has an excellent lens. She's finally made her purchase!

■Information

Chuko Camera Box

Address: 1-13-7 Nishi-Shinjuku, Shinjuku, Tokyo

Tel: 03-5339-2701

Opening Hours: 10:00-20:30

Access: 2-minutes on foot from Shinjuku Station

Website: http://camerabox.web.fc2.com

Yurippa loaded her Genba Kantoku right away with 35mm film. Simply take out the film tip and close it on its back. Film cameras can seem tricky, but there are easy-to-use ones like this too!

Yurippa was hugely satisfied finally getting her hands on her long-sought film camera. In the second part of this article, she will develop and print the photos that she has taken with her Genba Kantoku at a photo shop.

How about getting yourself your own film camera and to start up photography yourself?

<Profile>

Model: Yuri Suganuma @yurippa93

Yuri Suganuma is a model with a high fashion sense that has been picked up by various magazines. She receives much love and support from girls of the same generation as her to whom she is known by her nickname "Yurippa." She has a huge influence across her social media. Recently, she has stepped into other fields outside of modelling, such as appearing in TV shoots and in music videos. She is skilled in make-up and involved in the development of cosmetics.

Photographer & Writer: Haruka Yamamoto

Translator: Joshua Kitosi-Isanga

Explore the photogenic interior of purikura specialist shop "moreru mignon" in Shibuya!

"A world of cute photos in one shop" – this is the main concept of "moreru mignon"; a shop where you can enjoy good quality services such as the photo sticker printing machine. A moreru mignon has just opened on the 7th floor of SHIBUYA 109!

 

Sweets artist KUNIKA produced the interior design of the shop. Just some of the main focuses of the store include the enormous cake sofa, the large dome canopy, the cute sweets bathroom, and much more! This peculiar world of sweets portrays "a country of confectionary".

Moreru mignon's opening commemoration campaign was launched on Saturday 9th September and is still ongoing! Now you can get your hands on some photogenic lollipop candy or ANNA SUI makeup product samples (foundation and puff set).

Let's take a walk around moreru mignon ♡

<Chocolate makeup space>

You can even borrow hair straighteners here!

<Sweets bathroom>

Get in the tub and take a picture!

<Sweets Photo Studio>

Enter the space of the magic mirror, which produces a scenery that repeats over and over again with a fantastical effect just like a kaleidoscope.

<Donuts area>

Minty green donuts all around!
Sit on one or peak through the hole – there are so many poses you can make for the perfect picture!

▼ A comment from KUNIKA

A dreamy wonderland of sweets – I wanted to make it a reality! This world is packed to the brim, including a large castle cake sofa, a chocolate makeup room, large donuts and parfait, and so much more! From the floor to the ceiling, the room is filled with colour. This is a world that nobody has ever seen before. Let go of reality and enter a new dimension.

Spin around 360 degrees – everywhere you look is a perfect spot to take a photo! My top recommendation is the large cake sofa because of its large impact. Please take a seat and take a picture! In addition, there are so many mirrors everywhere – from the walls to the ceiling. Taking a picture of a reflection makes for a very interesting experience! From one photo point, there are an endless number of ways to take a picture. I want everyone to experiment with a range of angles and make their own unique photos!

A picture of this place would make for an amazing Facebook, Twitter or Instagram post! Make sure yous nap some purikura photos and commemorate!

■Information

moreru mignon
Opens:Saturday 9th September 2017
Address:SHIBUYA 109 7th floor, 2-29-1, Dogenzaka, Shibuya, Tokyo
Opening hours:10:00 ~ 21:00
HP:https://www.shibuya109.jp

Moreru mignon opening commemoration campaign:
Campaign period:Saturday 9th 〜 Sunday 10th September 2017 ※ Once the stock of presents has been depleted, they will no longer be handed out.
[Present contents and terms and conditions]        
1. Lolipop Candy:Only one lollipop will be given to each person who visits moreru mignon.
2. ANA SUI makeup samples:One sample per play on the puri photo machine.

Best 7 photo taking spot in Harajuku to take a photogenic picture in Tokyo sightseeing

The Harajuku city where fashionable people come from all over the world is known as the source of fashion in Tokyo. It is the best spot for visiting that you can enjoy shopping around this area, and visit the famous sightseeing spot called Meiji-Jingu which is close to Harajuku train station.

Since this town is known as a source of fashion, there are many kinds of "Kawaii" photo taking spots. If you have chance to visit Harajuku, you should visit following 7 places and take pictures.

1 Entrance of Takeshita Street

After you go through the Takeshita gate in Harajuku station, you can get to the entrance of Takeshita Street. When you look up the gate of the entrance, you can see the LED screen sign said "TAKESHITA STREET" decorated with cute balloons. These balloons changes depending on the season, and this LED screen sometimes shows videos of people walking on this street. You definitely want to take a picture of this entrance to commemorate this occasion.

If you walk about 360 meters, there are a lot of cheap cloth stores for teenagers. Other than that, there are the stores that you can take purikura (photo booth that prints out cards and stickers of the resulting photographs), colorful cotton candy store, shopping malls such as ALTA and CUTECUBE. This street is filled with the all kinds of Harajuku pop cultures.

2 CUTECUBE

If you walk about 5 minutes from the entrance of Takeshita Street, you can get to the commercial facility called "CUTECUBE." There are fashion store called "SPINNS" which is very popular among young kids in Japan and cafés that is collaborated with some popular cartoon characters inside this facility. The thing that is standing in the central of this facility is the monument of Sebastian Masuda. This object which piles up colorful blocks and cubes is very outstanding and unique. There is also similar octopus object that has a lot of colorful blocks on the third floor.

3 MOSHI MOSHI BOX Harajuku Tourist information center

When you go through the Takeshita Street and cross the Meiji Street, you can see the vivid blue building in front of you. This is Harajuku tourist information center as known as MOSHI MOSHI BOX. Other than giving information for tourist, there are an exchange counter, free karaoke machines, the stores that sells Japanese souvenir stuff. The building itself is good for taking pictures with, but the art work called "Colorful Rebellion -WORLD TIME CLOCK-" which was made by Sebastian Masuda standing outside of this building is also good photo taking spot. This world clock which decorated with colorful toys and ribbons are representing Japanese Kawaii cultures to the world.

4 MOSHI MOSHI KIMONO Salons

At the "MOSHI MOSHI Kimono salon" on the second floor of MOSHI MOSHI BOX building, you can not only experience wearing kimono, but also you can go out with wearing kimono. There are Harajuku style unique kimonos which have laces and frills, and they have Japanese traditional kimonos too.

If you are interested in Japanese Kawaii cultures, you should visit this MOSHI MOSHI kimono salon and find your favorite styles of kimono coordinate.

5 KAWAII MONSTER Café

You go straight after you left the MOSHI MOSHI BOX, there is building called "YM Square." The new café called "KAWAII MONSTER Café" on the fourth floor of this building is much talked about.

When the elevator's door opens, it looks like you are in theme park. The waitress wearing cute and fashionable dress welcomes you, and after you go inside, you can see each pieces of furniture's that are decorated with cute stuffs. There is merry-go-round in the center of this café, and you can take pictures with that. This café makes you feel like you are in the world of picture books.

Don't miss the worth photo takings foods that they change every month.

6 Harajuku

When you go opposite way after leaving KAWAII MONSTER Café, there you can see the monument says "Harajuku" in Chinese characters. This is putting up in front of cloths store called "GALLARIE." It is good for showing people that you came to Harajuku. This popular store among young people has clothes that have been selected from outside of the country.

7 Illuminations in Omotesando

When you go straight with the GALLARIE to your back, you could see the Zelkova tree-lined in the street. They put up light-ups in every winter on this street.

This place is one of the most popular illumination spot that attaches about fifty millions LED light bulb on these trees.

The light-up starts Thursday December 1st to ends December 25th from sunset to 10:00PM. The light-up on the bushes ends on Wednesday January 4th.

Even though Harajuku is known as the place for young people, there are a lot of place that older people can enjoy visiting. Harajuku is a good place that you can enjoy in any occasion such as traveling with your family, dating, or shopping with your friends.

■Related article:7 city illuminations to visit in Japan this Christmas
RELATED ENTRIES
The Crayon-Shin Chan Nohara Family Get Appointed as Official Restoration Supporters of Kumamoto

In an effort to help support of the restoration efforts in Kumamoto after the 2016 earthquake devastated the prefecture, the Nohara family from the popular manga and anime series Crayon Shin-chan have been appointed official Kumamoto Restoration Supporters. This begins with a PR campaign to help promote tourism in Kumamoto's city of Aso. To celebrate, Shin-chan himself visited the Kumamoto Prefectural Government on July 15.

Shin-chan's mother, Misae, was born and raised in Aso, Kumamoto, while himself and his father Hiroshi were both born in Akira Prefecture. Shin-chan considers Aso his second home, and all of this the reason behind the family's appointment as supporters. The manga series has raised money for Kumamoto numerous times in the past, including for the Crayon Shin-chan 25th Anniversary Exhibition which saw money raised for charity products donated towards relief efforts of the earthquake disaster. This year, the series joins hands with the prefecture once more.

The 2021 summer campaign is being carried with the slogan "I'm fine! ASO." The Nohara family will serve as PR characters to spread the word about Aso. This will include a digital stamp rally that will have people travelling around the prefecture on their smartphones. The app will be released in August, followed by campaign posters, pamphlets, and other promotional material rolling out.

When Shin-chan visited the local government office for his appointment as a supporter, he played the Nintendo Switch game Crayon Shin-chan: Ora to Hakase no Natsuyasumi – Owaranai Nanokakan no Tabi with officials, which also released on the same day. In the game you can visit lots of spots around Kumamoto such as Kumamoto Station, Kusasenri Observatory, Tsujun Bridge, Aso Station, and more.


©臼井儀人/双葉社・シンエイ・テレビ朝日・ADK
©2010熊本くまモン

 ⒸNeos Corporation
Nintendo Switchのロゴ・Nintendo Switchは任天堂の商標です。

Sanrio Releases Hello Sweet Days Dress-Up App in the US, Canada, and South Korea

Digital content enterprise Cocone has made Sanrio's popular character dress-up game Hello Sweet Days available in the US, Canada, and South Korea. The app hit the overseas countries on June 10, allowing for fans outside Japan to enjoy dressing their avatars up like their favourite Sanrio characters.

Hello Sweet Days first launched in Japan back in August 2017 and has since amassed over 2 million downloads. It rolled out to Taiwan, Hong Kong, and Macao in 2020, and now an English version has finally been made available. There are plans to release the app to even more countries in the future.

Pre-registration opened early in South Korea on May 24 when it garnered 60,000 advance sign-ups. Those who registered early even received K-pop idol-style fashion items. Since releasing last Thursday, it is now being used by over 300,000 fans in South Korea.

Head on over to the App Store or Google Play and enjoy Hello Sweet Days in English now!

© 2021 SANRIO CO., LTD. TOKYO, JAPAN Ⓗ. APPROVAL NO. S620438 ©cocone corp.

Demon Slayer: Kimetsu no Yaiba Collaborates With Fujifilm's instax Cameras

Fujifilm Imaging Systems is collaborating with the popular TV anime series Demon Slayer: Kimetsu you Yaiba to release two models of its instant photo-printing instax cameras based on the main characters Tanjiro and Nezuko. Pre-orders will open in Japan at Fujifilm as well as camera and electronic stores in Japan on November 25 at 10:00am (JST) and be released on December 10.

First introduced in 1998, the instax instant camera allows users to take and produce photos on the spot. The new Demon Slayer models are packed in limited-edition boxes in promotion of the recently-released anime film Demon Slayer: Mugen Train which hit theatres in Japan on October 16, 2020.


Tanjiro Model

Nezuko Model

The collaboration uses the instax mini 11 model as its base are adds motifs that reference Tanjiro and Nezuko.

Each comes with its own themed accessories too including a shoulder pouch and camera strap. All these items are exclusive to those who purchase the box.

More info as well as a promotional video can be found over on instax's official website here.

©Koyoharu Gotouge/Shueisha・Aniplex・ufotable

Information

instax mini 11 x Demon Slayer: Kimetsu no Yaiba Box
Pre-Orders: November 25, 2020 at 10:00am

Release Date: December 10, 2020
Official Website: https://instax.jp/kimetsu/

Canon to Release Special Hello Kitty iNSPiC Mobile Printer

Canon Marketing Japan has announced the release of a special Hello Kitty model of its iNSPiC PV-123 pocket-sized mini printer.

The iNSPiC PV-123 is a mini printer designed for the smartphone generation that lets users print photos instantly. Canon's new model is made in collaboration with Sanrio's popular character Hello Kitty.

Not only does the printer itself feature a cute Hello Kitty design, it also lets users print special Hello Kitty themed frames and stamps using the Canon Mini Print app. These are available until October 31, 2021 for the Hello Kitty model only.

The iNSPiC PV-123 HELLO KITTY is the perfect companion for mobile printing, making it super easy to print your memories wherever you are.

Canon Reveals Pikachu Design iNSPiC REC Camera

Canon Marketing Japan has announced that a Pikachu model of its new concept camera iNSPiC REC will be released in Japan at the end of October this year.

iNSPiC REC PIKACHU MODEL – Front face design


Camera's back design

The cover is coloured in a bright Pikachu yellow with a print of his adorable and chubby winking face.

Other face design (8 designs)

As well as the standard front face Pikachu design, customers will also get an additional one of the above eight possible designs too as a set. These other face designs are chosen randomly.

Cusomers who order the iNSPiC REC PIKACHU MODEL early will also get a Pikachu tail neck strap, key ring, and additional front cover too.

Captain Tsubasa Mobile Game TSUBASA+ Releasing Worldwide This Autumn

TSUBASA+, a 'real world' mobile game developed by MIRAIRE that's based on the popular football manga series Captain Tsubasa, is set to begin rolling out worldwide this autumn.

TSUBASA+ is a collaboration between football players throughout the world and Captain Tsubasa's players, bringing them together in real world locations using GPS and Google Maps Platform. Development of the game was supervised by video game designer Yoshiki Okamoto (Monster Strike; Street Fighter II; Red Dead Revolver).

TSUBASA+ in-game image

Players walk around real world locations and battle with Captain Tsubasa characters and real-life FIFPro football players at stadiums found around the game.

Stadium check-in

Example of a team formation

Players can create their own unique teams and play 1-on-1 with 3 players around the world.

Playing a match

Match Results screen

Players must pick a stadium in-game which will be registered as their home stadium where they can level up by playing with others. As your stadium levels up, it becomes easier to recruit more famous and high level football players. Players can also receive a variety of items at their stadium.

The map

The game can be played indoors too using the map system, so you don't have to worry about having to go outdoors to play during the pandemic. Players can also warp to other users they follow too.

The soundtrack for TSUBASA+, including the background music and sound effects, is composed and produced by Taku Takahashi.

☆Taku Takahashi (m-flo) | Comment

"I'm really proud to have had the opportunity to be involved for this game which is based on a series popular worldwide. I have become a football lover, supporter, and rival supporter through this game. I was conscious when making the music for it to be a way for people who love football to quickly connect to one another. I'm really looking forward to playing too."

©Yoichi Takahashi/SHUEISHA
©"The use of images and names of the football players in this game is under license from FIFPro Commercial Enterprises BV. FIFPro is a registered trademark of FIFPro Commercial Enterprises BV"
©LICENSED BY JAPAN PROFESSIONAL FOOTBALL LEAGUE
©miraire Inc.

Information

TSUBASA+

Release Date: Autumn 2020 (Worldwide)

Platform: iOS/AndroidTM

Market: App Store / Google Play

Genre: Real World Game

Official Website: https://tsubasa.plus/en/

ISEKAI App That Lets You Talk With Anime Characters Begins Summer Event

The ISEKAI app began its summer event on July 20, 2020. The app, developed by BOOK WALKER, lets you have conversations with anime characters.

The summer event will be split into two different phases. The first phase is running from July 20 to August 3 and lets you talk about the ocean, while the second phase which will run from August 3 to 17 lets you have conversations about Japanese festivals. The event also introduces a new swimsuit costume for Megumin from KonoSuba who is also the first character introduced on the app.

To get more people playing the game, users can now talk with Megumin for free up until August 3, 2020. The usual paying price is ¥360, so don't miss out on this opportunity.

The light novel series, which is written by Natsume Akatsuki and illustrated by Kurone Mishima, concluded with its 17th volume on May 1, 2020. The series is being published in English by Yen Press.

©2019 Natsume Akatsuki・Kurone Mishima/KADOKAWA/映画このすば製作委員会

Information

ISEKAI 2 Week Free Trial (Usual Price: ¥360)
Running: July 20, 2020 – August 3, 2020

Summer Event
Phase 1: July 20, 2020 – August 3, 2020 / Conversation Theme: Ocean
Phase 2: August 3, 2020 – August 17, 2020 / Conversation Theme: Japanese Festivals

Functions: English Pack (Voice Acting/Text) / Conversation / Alarm / Timer / Stopwatch / Costumes

Official Website: https://isekai.app/

KonoSuba Official Website: http://konosuba.com/

Smartphone App 'Tipsys' That Helps Women in Japan Make Friends Expands Service

Tipsys, a social app for women in Japan, has expanded its reach to the whole of Japan on March 17, 2020. It was previously only usable in major cities throughout the country.

Tipsys is an app aimed at women who are at a turning point in their livesーwhether it be going to university, looking for work, changing jobsーand helps them make friends with other women to hang out with so they can go going shopping, get a drink at a bar, and so on.

The app launched its service in Tokyo in March 2017, and subsequently rolled out at surrounding major cities. It has over 60,000 users, and that number is set to grow as the app now caters for the entire country.

The app allows you to customise your profile with tags and details, like hobbies, where you want to meet up with people, if you drink and what you like to drink, your outing budget, and so on. Tipsys aims to introduce more functions that cater to the needs of its users and their matchmaking needs too.

Information

tipsys

Price: Free (*Select services require fee)

Official Website:  https://tipsys.me

*Cannot be used by males or minors

Protect Yourself From Natural Disasters in Japan With the Multilingual 'Safety Tips' App

"Safety Tips" is an app for foreign travellers in Japan that was developed by the Japan Tourism Agency. The app has added three new languagesーKhmer, Burmese, and Mongolianーbringing the total number up to 14. The languages were added together with the new 3.4.0 version of the app on March 17, which is available on iOS and Android.

Safety Tips was launched in October 2014 and enables push notifications and alerts for sudden earthquakes, tsunamis, breaking news, volcano eruptions, virus outbreaks, civil protection news, evacuation announcements, and more. It also displays flow charts that showcases the spread of the particular disaster, links on where to get important and helpful information at the time of disaster, and more.

Compatible languages include: English, Japanese, Chinese (Simplified/Traditional), Korean, Spanish, Portuguese, Vietnamese, Thai, Indonesian, Tagalog, Nepali, Khmer, Burmese, and Mongolian.

If you're worried about natural disasters when travelling to Japan, arm yourself by downloading Safety Tips for all the necessary information.

Fujifilm's New Instax Mini 11 Adds Selfie Mode For Those Perfect Close-Up Shots

Fujifilm has revealed its new Instax Mini 11 (Mini 11), which is set for release in early April 2020. The camera is the latest addition to the company's "Instax" series of cameras which allow for instant printing of photos.

The Mini 11 is the first Instax model to introduce an "Automatic Exposure" function which enables the camera to automatically detect the level of ambient light in the frame when the shutter button is pressed. As a result, the camera will optimise the shutter speed and flash output accordingly. This allows users to snap pictures optimally exposed to the main subject of the photo as well as the background in all situations, whether it be in the bright outdoors or in a dark restaurant or party.

The new Mini 11 also introduces a new "Selfie Mode," which has perfected the art of close-up selfies. It's activated simply by pulling out the front end edge of the lens you've powered the camera on.

The camera's design has also been completely revamped for optimal use. Not only is the Mini 11 thinner and lighter, it has a rounded body that makes it fit perfectly into users' hands. A different material from the main body of the camera is used around the lens to make it more stylish, and the "Instax" brand logo is engraved on the back.

The Mini 11 comes in five pale tone colours ((Blush Pink, Sky Blue, Charcoal Gray, Ice White and Lilac Purple) and two replaceable accessories for the shutter button.

Chat With My Melody Via Text Message Everyday With Sanrio's Official New App

My Melody's birthday was yesterday (January 18), and in the run up to it, Sanrio released a new smartphone app on Friday named "Itsudemo Issho ni My Melody" (Together Always With My Melody). Described as a "healing app," the app is My Melody's way of cheering on those who are working hard every day; it continues her support of healing people on Twitter and radio with her personality.

This app was developed together with fans, with 300 of them participating in a questionnaire for it. It has three major functions including "Text Chat," "Schedule," and "Alarm," all of which incorporate everybody's favourite bunny.

Receive texts from My Melody with Talk Chat

The Talk Chat function enables you to chat with My Melody via text messages. Replies are given 24 hours a day, so you can send her a text at any time, whether it's idle chit-chat or telling her a secret you can't tell anyone else. Whatever it is you want to talk to her about, her words are sure to leave you feeling warm and fluffy.

The messaging service has 12 special stamps which can only be used on the app. If you send a certain stamp, you'll even receive a call from My Melody. You can also customise the chat backgrounds as you please.

My Melody keeps your days organised with the Schedule

Using the app's cute calendar, you can enter your schedule for each month.

My Melody will even send you reminders of upcoming plans in the chat too, even if the app is closed, so you won't miss a thing.

There are 10 "Schedule Seals" you can use depending on what kind of reminder you are setting. Depending on which seal you use, My Melody will send you a different message. Setting a schedule has never been so much fun!

Look forward to waking up to My Melody's voice with the Alarm

The Alarm function makes use of My Melody's voice, which is sure to support you during your busy days. There are six voice functions you can set, from waking up in the morning to break time and more.

Additional convenient functions to be released in the future

More functions are set to be released in the future, including the Weather function in March which will have My Melody informing you what the weather will be like outside. If you ask her about the weather in the chat room, she'll tell you the weather type, temperature, and more to help you prep for each day.

Download the My Melody app and make your days even more fun♡

©'76,'20 SANRIO

Tokyo Disney Resort® To Release FASTPASS App

On July 23, 2019, Tokyo Disney Resort will launch a new Tokyo Disney Resort App for smartphones which allows you to obtain FASTPASS tickets for rides from any location in the park.

After entering the park, you can download your FASTPASS tickets using the app. This allows visitors to fully immerse themselves in the magical atmosphere of the park, giving them more time to enjoy the delicious food and discover the shops without having to rush to the other side of the park to get to the machines selling the FASTPASS tickets. 

You can use the app to get FASTPASS tickets at a total of 18 park attractions at the resort. This even includes tickets for the brand new DisneySea® attraction Soaring: Fantastic Flight, which will open on July 23, 2019. 

Downloading the Tokyo Disney Resort App is sure to save a lot of time and energy so you and your friends and family can focus on having a good time and discovering this enchanted world. 

©️Disney