Model Yuna Yabe reports on "Sriracha Japan Festival" in Thailand and live performance by TEMPURA KIDZ
Hi, everyone. I'm Yuna Yabe, and this is the first article I've ever written on the MOSHI MOSHI NIPPON website!
Let's get to it. So, what's today's article about I hear you ask?
Well, I recently went to Thailand!
Although we went to Thailand, the place we went to was about an hour and thirty minutes from Bangkok in a town called Si Racha!
Si Racha is Thailand's town of Japanese people as there are many Japanese living there!
So when you're walking around there, you'll see the Japanese language scattered around!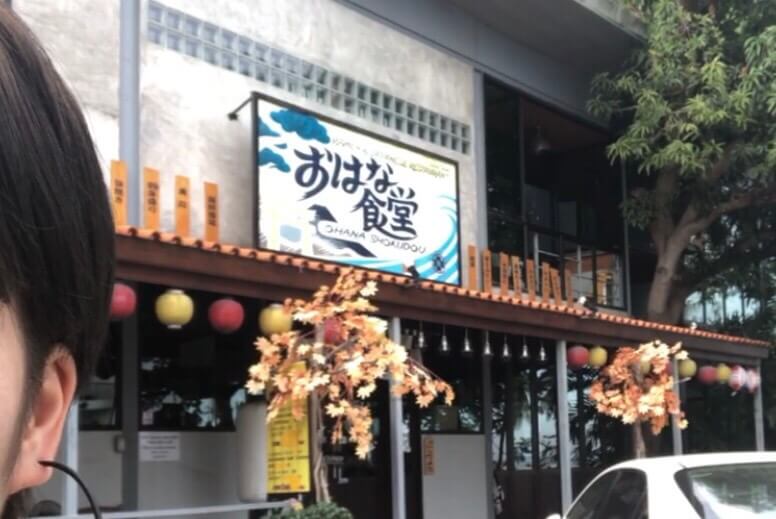 The feeling of Japan is so prevalent there that it doesn't seem like you're in Thailand at all!
It was there that we headed to a Japanese style festival✨
The festival took place at a large park alongside the sea.
The air there was very warm, the kind of climate characteristic of a festival!!
No waiting around…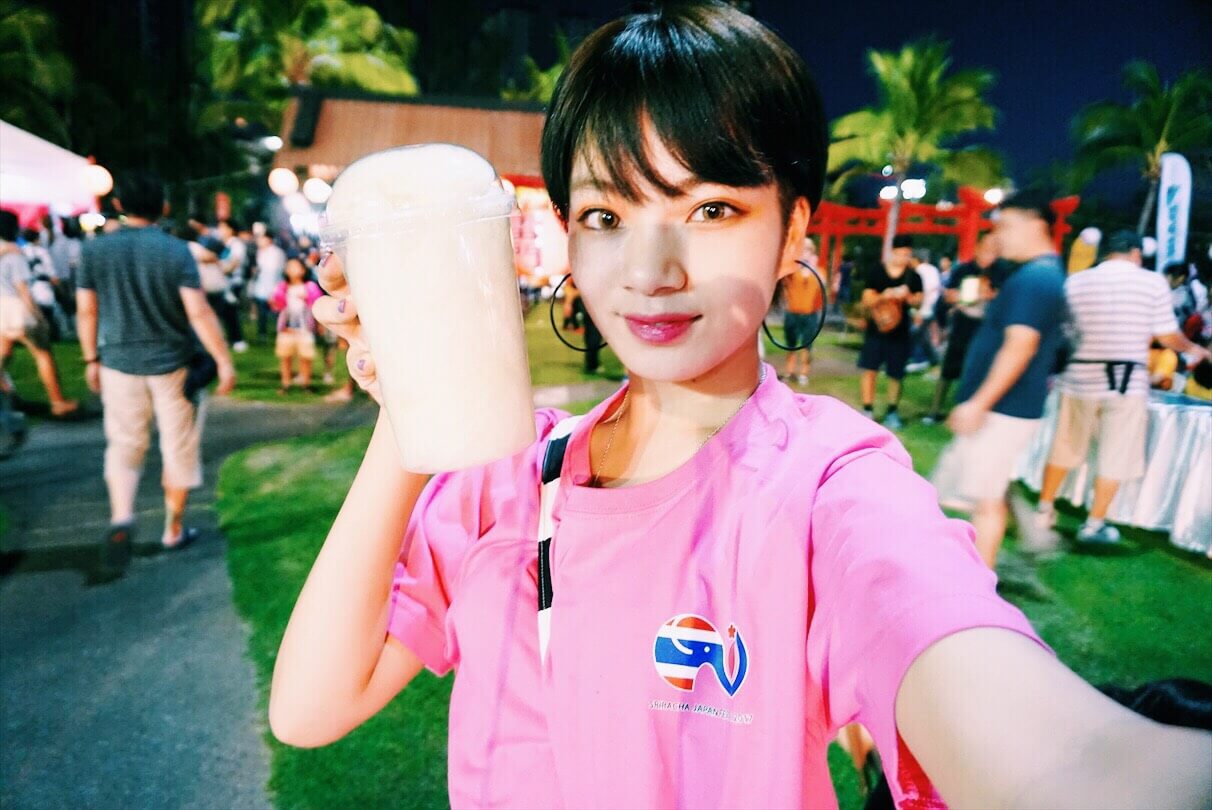 …I got myself some cotton candy✨🙋🙋🙋⛅
I've traveled to Thailand before, so even someone like me kept calm and composed when it came to shopping.
Whoa! Sushi!
Whoa! Washoku Sato!
When you see a place that you know, you get this welling affinity and just have to buy something, right?
So…
Got some kakigori! ( ᐛ)
It felt like I had come to a festival in actual Japan, so I had a lot of fun! ♡
Oh! Let me show you my outfit!
Since I was in Thailand I wanted to wear some Thai pants, but I didn't have any with me, so I wore some wide tie-dye pants along with one of the t-shirts being handed out at the festival👚!
It was so flashy, I really stood out ( ´・‿・`)
The temperature was 30°c so of course I wore short sleeves.
And then, and then, oh, how I waited!
TEMPURA KIDZ live!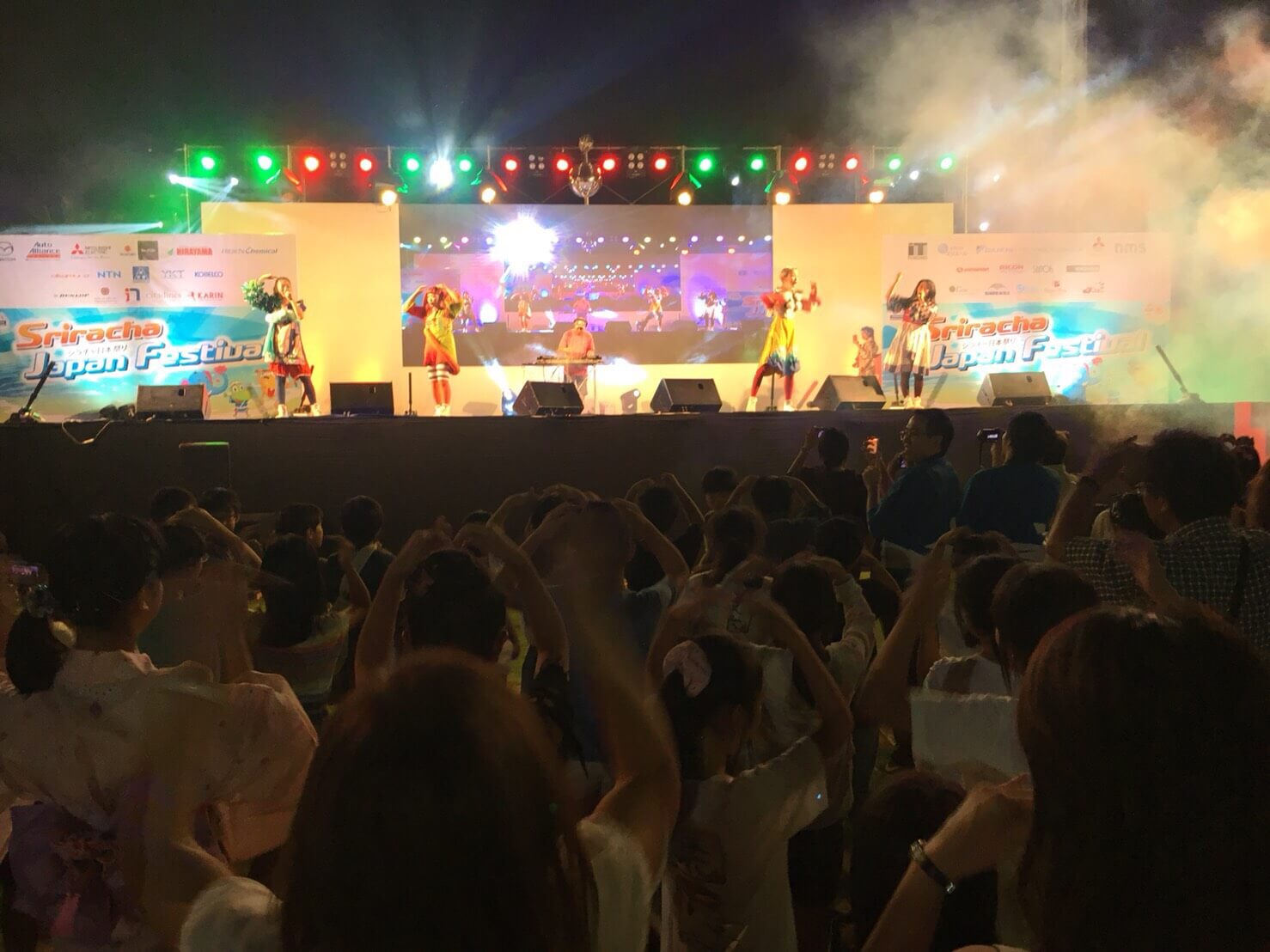 I get along with TEMPURA KIDZ on a regular basis, and this was their live performance! They've performed at the Sriracha Japan Festival in the past, so they have a lot of fans there! 😜
They have fans not just in Japan but overseas too, so in order for them to connect with the fans there, they had practiced lots and lots of the Thai language among other things. Seeing them up there, they looked so cool and were shining✨
I had so much fun at the Japan festival in Si Racha. It was just like a festival back home, so much so that it makes you forget you're even in Thailand! I had a really Japanese time.
I think this kind of event was initiated to introduce both the local Japanese people and local Thai people to the great things about Japan, so I hope the Sriracha Japan Festival events can make there way overseas to other places too✨
I'm super happy I was able to go.
How does visiting Si Racha for yourself sound if you go to Thailand?
(Writer:Yuna Yabe)
Sriracha Japan Festival report by KARIN of TEMPURA KIDZ:
KARIN of TEMPURA KIDZ reports on the "Sriracha Japan Festival" in Si Racha, Thailand
RELATED ENTRIES
TEMPURA KIDZ Members Announce Departure From Group After Their Concert in March

Four-member dance and vocal unit TEMPURA KIDZ announced on their official website on Thursday (February 18) that YU-KA, AO, and P→★ will depart from the group following their concert at Shibuya Veats on March 28, 2021.

TEMPURA KIDZ began their career as backup dancers for Japan's queen of pop Kyary Pamyu Pamyu where they were known as the "Kyary Kids." The original five-member line-up of YU-KA, AO, P→★, KARIN, and NaNaHo made their major debut in 2013. At the young ages of just 15, the group took their unmatched, high-energy dance performances across Japan and overseas. The big stage was ahead of them as they embarked on a world tour to perform in 17 cities throughout 13 countries, beginning with a performance at the Thai music festival TOFU MUSIC FES 2014 where they performed alongside the acclaimed K-pop artists 2NE1 and GOT7.

TEMPURA KIDZ at TOFU MUSIC FES 2014

TEMPURA KIDZ also performed at the world's largest indoor arena, Philippine Arena, in Manila, Philippines for the 2015 New Year's countdown event. In the performer line-up, TEMPURA KIDZ were just one act behind Chris Brown.

TEMPURA KIDZ at Philippine Arena in 2015

TEMPURA KIDZ have taken their exceptional dance skills around the world where they have hosted dance workshops to children at schools. One was hosted in Payatas in the Philippines as part of an Official Development Assistance (ODA) effort and was filmed to be shown on TV.

Over the course of their career, TEMPURA KIDZ have also lent their creative choreography to countless artists as well as for commercials and TV shows. In 2019, they performed their iconic "Puputto Fumutto Kaiketsu Dance" on Kōhaku Uta Gassen, an annual New Year's Eve television special in Japan. The dance was created by the group for the animation series Butt Detective.

In 2018, group member NaNaHo graduated for the group, leaving TEMPURA KIDZ with just four members: YU-KA , AO, P→★, and KARIN. However, YU-KA , AO, and P→★ will now be graduating from the group at their solo concert together at Shibuya Veats on March 28, 2021 to focus on their own individual careers.

YU-KA aims to become a performer on many different levels and so wants to focus on enhancing her current skill. AO wants to become an actress, and P→★ wants to challenge himself to many new things such as being a DJ, model, and performer to arm himself with a talented skill set. The remaining member KARIN will announce her plans in the near future.

This March will be the final time that the four members stand on stage together as TEMPURA KIDZ. Tickets went on sale on Thursday (February 18), including special tickets that include signings from the members and an invitation to their rehearsal.

Comment From TEMPURA KIDZ

"We want to convey our utmost gratitude to you all for supporting us for so long. On March 28, at our solo concert, YU-KA, AO, and P→★ will graduate from TEMPURA KIDZ. Each member has decided to pursue their own paths. This of course means a big change for TEMPURA KIDZ, but all four of us will go all out to put on a hugely successful final show for you that captures out past 8 years together. Truly, from the bottom of our hearts, we thank you. And remember, this isn't the end—we're working super hard to get off to a new start, so we ask you kindly for your continued support."

—From all the members of TEMPURA KIDZ

Each member of TEMPURA KIDZ also wrote their own handwritten letters to fans which you can read here. 

Made in OME: Japan's Millennials Promote Micro Tourism Project For Ome in Tokyo

Ome—a city located in western Tokyo that's about an hour's train ride from the populous Shinjuku. It's a place enjoyed by many for its hiking and river swimming locales, as well as its architecture, in which one can still feel the influences of Japan's Edo period, and kindness of the locals.

MATINOEKI OUME, an Ome-based company, recently launched its "Made in OME" project which aims to revitalise the city. The project will create a new kind of Ome through the eyes of the millennial generation. Its goal is to polish and refine the appealing aspects of Ome to offer up new tourism opportunities while bringing in new fans to the city.

Made in OME's first step towards that is teaming up with DJ and YouTuber Yuna Yabe and illustrator and streamer MIOCHIN, two models signed to ASOBISYSTEM who will represent the millennial generation as the navigators of this journey as they participate in workshops with local producers and manufacturers, developing a variety of products such as sweets made with ingredients from Ome, like baumkuchen and chocolate rolls, and more.

You can catch their activity live over on MIOCHIN's official Instagram page. Visit Made in OME's official website below for more details.

Yuna Yabe


MIOCHIN

The two of them will host a free 'monitor tour' on February 21, 2021. These monitor tours aim to have people developing a strong relationship with new products from Ome. Participants will learn about the history and culture of Ome via local producers and manufacturers with products such as sake and indigo dyeing. Made in OME plants to expand their range of tourist monitor tours in the future.

Local Ome residents will also be invited to the tour in the evening of the same day. Learn all there is to know about Ome at Made in OME's website which is available in English, Japanese, and Chinese.

Information

Made in OME
Instagram: made_in_ome
Official Website (English): http://madeinome.com/en/

MATINOEKI OUME opened in November 2016. Its focus is on livening up the city of Ome and getting more people to learn about its wonders by offering information on famous tourist spots, stocking a bounty of local products, and more.

MATINOEKI OUME Official Website: https://www.matinoeki-oume.com/

Review | ART AQUARIUM MUSEUM: A Magical Place Swimming With Life

ART AQUARIUM MUSEUM officially opened permanently in Nihonbashi, Tokyo, on August 28, 2020. Before that, it was simply an exhibition that was held around Tokyo which brought together over 10 million visitors throughout its run, exhibiting goldfish in a variety of breathtaking ways.

We visited ART AQUARIUM MUSEUM together with Japanese model Yuna Yabe to take a deeper dive into what lies within those doors.

ART AQUARIUM MUSEUM can be found in Nihonbashi, an area of which served as one of many places where ART AQUARIUM previously held its exhibitions. Nihonbashi is steeped in tradition and is actually the place where Japan's goldfish culture spawned from during the Edo Period.

ART AQUARIUM was conceived and is managed by Hidetomo Kimura, an author and general producer. It's a collaboration between art, design, and entertainment, all fused into an aquarium to create a completely unique experience. The museum has taken what was once a pop-up exhibition and expanded it many-fold, housing close around 30,000 goldfish.


The aquarium is divided into different areas each with its own unique theme that plunges visitors into a multitude of fantastical worlds. One of the must-sees when visiting ART AQUARIUM MUSEUM is the masterful Oiran works—giant goldfish bowls as pictured above—which are inspired by the red light district of the Edo Period.

Perhaps the most striking and gorgeous part of the Edo Period was Hanamachi, the districts where geisha worked. The high-ranking courtesans, known as Oiran, engaged in what was known as the Oiran Dochu, or procession of the courtesans, and this too has been captured at the museum in the designs of the beautiful fish tanks in this area.


Another unmissable part when visiting the aquarium are the Goldfish Shrines, towering fish tanks lined up like a column of water trees which make for an incredible viewing experience.

The lighting and music is ever-changing, and so transports visitors into a completely different realm every time. It can be one way one moment, and in the next instant it changes entirely.


From the second floor you can overlook the fish shrines with dynamic 3D visuals in the background. These visuals change depending on the season, so you'll be in for a treat however many times you visit.

There are countless works of goldfish art scattered throughout the aquarium—too many to count, so your eyes will never grow tired.


Suigian Lounge – Old Pine Tree Area

ART AQUARMIUM MUSEUM even has its own dining lounge where guests can enjoy a meal while gazing at a painting of old pine trees, a cultural property of the Edo Period said to have been painted by those of the Kano school of Japanese painting. Traditional performances are also carried out on the stage for diners.


These drinks are ¥1,200 each (before tax)

Every five days, a new line-up of cocktails is served at Suigian Lounge. Japan used to be divided into 24 sekki rather than the now-used four seasons of springs, summer, autumn, and winter. These were further divided into 72 Kō, which are five days apart each. That's where the lounge gets its idea for changing its cocktails every five days. So you're sure to find an interesting flavour on every visit.


Kagyo Ryoran – Joy Area 

Kagyo Ryoran is a separate cafe lounge at the aquarium where they serve authentic Japanese sweets in collaboration with famous confectionery shops.


From Left Clockwise: Goldfish Sarasa ¥750 / Palet D'or Cacao Soda ¥900 / Echire Butter & Cream Castella ¥800 / lohasbeans coffee Matcha Tiramisu ¥850 / Goldfish Jelly ¥750 (All Before Tax)

The cafe serves up range of tasty Japanese desserts, from traditional ones to others inspired by goldfish and some made in collaboration with other shops.

Large Plush Toys: ¥3,200 Each (Before Tax)

The aquarium event sells its own souvenirs, such as goldfish plushies in various sizes, original confections, collaborative products, and more.

"Everything was magical—the goldfish, the sounds, the lights, the atmosphere!" explains Yuna. "They have a lot of different varieties of goldfish, and the fish tanks come in all shapes and sizes, which makes for plenty of Instagram-worthy moments. And since it's inspired by Edo culture, it has a Japanese vibe to it too. The fish are always swimming around, so no two moments are ever the same, meaning you're offered something fresh every time you visit."

If you're visiting Tokyo, be sure to pay a visit to ART AQUARIUM MUSEUM.

Information

ART AQUARIUM MUSEUM
Address: 1-3 Nihonbashihoncho, Chuo Ward, Tokyo
Opening Hours: 10:00-22:00 (subject to change)
No Fixed Holidays
General Admission: Adults (13 and over) ¥2,300 (Tax Included) / After Dark Ticket: Adults (13 and over) ¥2,000 (Tax Included)

*Free for 12 and under
Official Website: https://artaquarium.jp/en/

*ART AQUARIUM MUSEUM is currently operating with social distancing and COVID-19 preventative measures. Special permission was granted to take these photos safely without a mask.

Stay Home With TEMPURA KIDZ: Polish Your Skills And Look to the Future During the Lockdown

Here at MOSHI MOSHI NIPPON, we post news and information about Japan in six languages. Our aim is to deliver a variety of content related to Japan for those who love and enjoy Japanese culture.

Right now, people across the globe are in self-isolation as a result of the coronavirus pandemic. The same goes for Japan too, so we've taken this opportunity to create a new series on the website to show how we're spending time at home here in Japan. The future is yet uncertain, and we hope for normality to return for all of us soon. We created a new articles series called Stay Home with which we hope to take your mind off the situation, even for just a little bit, to help you feel calmer. It might give you some tips on what you can do while spending time at home.

Today, we are joined by all four members of Japanese dance and vocal group TEMPURA KIDZ who have shared with us what they have been doing at home recently.

Stay Home With AO

1: Watching movies

I've been sipping on nice hot drinks while cosied up watching movies. One that I want to recommend that makes me cry is The Green Mile. For comedy is would be A Story of Yonosuke!

2: Reading

Reading at home! I don't make a lot of progress with reading, but I can concentrate better setting time aside to read at home alone rather than when I usually would on trains or in my spare time. So I've developed the ability to read a lot quicker now! I want to use this time to read lots and lots!

What's your secret to spending time at home?

It's all about putting the time in right now! I usually don't get this kind of time to enjoy chilling at home, so I'm consuming lots of media like movies, dramas, anime, and books. I think it's great time spent to power up my power as a human, by laughing and crying while increasing my knowledge and sensibility!

Please give a message to those reading this article

With more time spent at home because of the lockdown period, you might feel a sense of loneliness or anxiety, but it's important to increase your immunity, even a little, and make your mind and body strong! I hear that tears and laughter are a way of de-stressing and upping your immunity. Let's immerse ourselves in some kind of media and laugh and cry so we can eliminate stress, increase our immunity, and level ourselves up.

Stay Home With KARIN

1: Feeling better with candied fruit!

I'm lifting my mood at home by making candied fruit! It's super simple, you just need fruit, sugar, and water.

Though I'm at home indoors, it makes me feel like I'm at a stall at a Japanese festival, so it makes me happy!

It's really easy to do, so why not give it a go yourself?

What's your secret to spending time at home?

If you use your time at home wisely to try out things you normally don't have time for you're bound to discover something new. I think that's important.

Please give a message to those reading this article

Wash your hands, be aware that each and every person is a potential danger, and make the right decision until the fun days return. Let's all get through this together!

Stay Home With YU-KA

1: Dancing on TikTok at home!

I started using TikTok just recently. Since the lockdown means being at home everyday, I'm posting dance videos everyday as part of my daily routine!

They're super easy to make and post, I think it's the best kind of content to enjoy with everyone. Plus, you feel refreshed after moving your body about, and it lifts your mood!

2: I can't meet with the other members, but…

I'm also doing duet dances in my videos too! When the lockdown finally ends and I get to meet with everyone again, my happiness won't feel incomplete anymore.

Doing this means you can stay connected with people even if you're at home. It made me realise again what a convenient time we live in. I'm posting everyday, so I hope it kills a bit of time for everyone at home!

Check out my videos here: https://www.tiktok.com/@yuka_tempurakidz

What's your secret to spending time at home?

This period we're in now might actually be a great opportunity to do those things you've been neglecting everyday, or to challenge yourself to something new! You might also realise something you didn't before because of this very situation. It's made me reconsider the peaceful life I took for granted, so let's think of it as a plus because of the good time we've been granted!

Please give a message to those reading this article

Our want for the lives we loved together to continue will ensure that they return quicker. Let's pray for things to turn back to normal and work hard to get through this together!み

Stay Home With P→☆

1: Making music and editing YouTube videos

I'm set on making music and editing YouTube videos, and other things too. I'm using my time at home to do the things I normally wouldn't be able to because it takes time. I'm also absorbing myself in a lot of research and making things. Keeping myself busy by looking up the things I love relieves my stress and makes me feel great.

What's your secret to spending time at home?

Feeling positive trying out things you normally can't!

Please give a message to those reading this article

Make sure to properly self-isolate at home, and let's all look forward to and work towards when we can enjoy outdoors again! I'll work hard to deliver entertainment to everyone from home too!

TEMPURA KIDZ Collaborate With Moe Shop to Release Tapioca-Themed Song 'Tapi Tapi'

Dance and vocal unit TEMPURA KIDZ―who have taken their boisterous personalities to 13 countries around the world―have just dropped a new song entitled Tapi Tapi in collaboration with French DJ and music producer Moe Shop.

This marks their second collaboration with Moe Shop, the first being the release of UKIYO back in June.

The bubble tea-inspired song takes on a future funk sound, a genre which Moe Shop is at the forefront of. The lyrics were written by singer-songwriter Aoi Yamazaki. It's a colourful pop dance anthem littered with the TEMPURA KIDZ members' unique character.

You're sure to be humming the words "tapi tapi" along to this catchy tune in which the members sing positive things like, "Let's drink tapioca and be happy" and "Something good'll happen if you live life smiling."

With the Olympics right around the corner, TEMPURA KIDZ are looking to continue their global activities to help spread Japanese culture to the world. Be sure to give Tapi Tapi a listen which is also available now on Spotify.

Tokyo Stroll: Shopping & Sightseeing with Mozuku-kun the Dog #5 – Uzumako Ceramic Art School

It's been a minute since we last ventured out with Japanese model Yuna Yabe and her beloved pet pup Mozuku. If you're new to this feature, Yuna Yabe takes her trusty partner Mozuku to various hot spots in Japan that you can enjoy with your pet dog. Their relationship continues to deepen in this priceless experience.

Today, Yuna and Mozuku head to Uzumako Ceramic Art School which is close to Shiba Park. You can get a good view of TokyoTower from this famous park.

What's unique about this art school is that visitors are allowed to take their pets with them. So this means you can take your dog with you to do some ceramics!

Yuna has always had an interest in ceramics. And what better way to experience creating something than with her partner in crime Mozuku! With him tottering beside her, she headed through the entrance curtain with a spring in her step.

When you enter the classroom, there are lots of examples of pottery ware lining the shelves. The room has that smell of craftsmanship which lingers as you begin the class with a demonstration by the teacher. Once you have your apron on and are fired up to begin, it's time to start.

The work begins with kneading the clay to make its firmness uniform. This step helps prevent air bubbles from forming.

Yuna asked the teacher many different questions as she enjoyed kneading her clay. "Where does ceramic work originate from?" "What kind of things to other dog owners make when they come here?"

"What's Yuna up to?" Mozuku's puzzled face seemed to imply as he listened to Yuna and the teacher talk.

Yuna turned to Mozuku and said to him, "I'm going to make you a food bowl!" It seemed like the message got through as his face read, "Looks like my owner is making something just for me."

Yuna wet her hands with some water and began forming a hole in the centre of her clay bundle. The hole forms and gets bigger as the pottery wheel spins.

Next, she used both of her hands to ensure the thickness of the bowl was even all the way around.

"Amazing! The shape of the clay changes in an instant!"

By adding a little bit of pressure the pile of clay can change shape rapidly. It's like a living thing.

"It's like the clay is my own child. I wanna wrap it up!"

Once the shape is formed, Yuna cut around the edges. She is a skilled individual, she got the hang of it straight away.

Mozuku sat right beside Yuna, quiet and curious.

"Is it my turn yet?"

He seemed itching to have a go at making something himself too.

He watched over Yuna's work from atop the table.

"I wanna try spinning the wheel too!"

Mozuku in fact had the most important job of all. Yuna popped a wooden mould onto his paw and stamped a paw print into thebottom of the bowl.

"There we go!" said Yuna

Mozuku mustered all of his strength to make his mark, his facial expression unusually serious as he carried out his big task.

Time to check if the print was done properly!

Here's the final product―Mozuku did a great job!

Their teamwork paid off as they were able to create a really cute dog bowl. The tiny footprint is packed with pet love. The art school actually sells a lot of different cute and stylish pet items but the owner making their own makes it unique―the only one in the world.

If that love is able to get through to your pup, the food they eat from the bowl is sure to be even more delicious.

Thanks for your help, Mozuku.

"I can't wait to fire it!" Yuna's excitement was peak from start to finish. She was very satisfied after the class finished.

After two weeks of waiting, the bowl was completely finished.

Why not try creating something unique special for your own pet―together with them?

Model: Yuna Yabe/Mozuku @yunaaay1030

Text: Ai Watanabe

Photographer: Kayo Sekiguchi

Translator: Joshua Kitosi-Isanga

Information

Uzumako Ceramic Art School
Address: Sekisui House Floor 1F, 3-29-11 Shiba, Minato Ward, Tokyo

Business Hours: 10:00-19:00

Access: https://www.uzumakotougei.com/en/access.html

TEL: 03-6809-6363

Official Website: https://www.uzumakotougei.com/en/index.html

*The course Yuna took with Mozuku was the "Pet Ceramics Plan" where you can make 2-4 ceramic items and fire them. For your first try the staff will carve and glaze the final product to completion. This can be picked up one to one-and-a-half months after your course for ¥4,500. Please check the website for more details.

*Obedient dogs permitted. Please note that there are other participants so dogs who bark a lot or cannot relax are not permitted.

TALENT PROFILE

Yuna Yabe

Yuna Yabe won the grand prix prize at the "Zipper×ASOBISYSTEM Model Auditions" at the age of 15. She is an expert not only in fashion but make-up and video editing too. She's an influential figure to the people in her generation. Recently, her work has expanded greatly, such as appearing in music videos. Her activity continues to grow and looks to be very promising indeed.

TEMPURA KIDZ Collaborate With Moe Shop to Release New Song 'UKIYO'

News photos of dance and vocal unit TEMPURA KIDZ have been released. The photos were taken under the supervision of the leader of Harajuku's kawaii culture Sebastian Masuda.

It has also been announced that the group are set to perform at the KAWAII MONSTER CAFE in Harajuku every Wednesday for a new event aimed at foreign and locals tourists entitled TOKYO POP CULTURE NIGHT ~HARAJUKU CELEBRATION~.

The theme of this event is "Harajuku Tribe" which sees TEMPURA KIDZ dressed up in colourful tribe-like Harajuku wares in which they will put on a new performance called "Harajuku Celebration." The group teamed up with French DJ and producer Moe Shop to create original music for the performance.

Both artists will release their collaborative track UKIYO on June 18. The song features a "Future Funk," a genre which sees Moe Shop as its spearhead. It is a colourful pop anthem that fuses with TEMPURA KIDZ and the members' personalities.。

With the Tokyo 2020 Olympics right around the corner, TEMPURA KIDZ continue their mission to spread Japanese culture around the world.

P→★ (TEMPURA KIDZ) Animal Café Diary #5: Visiting Japan's First Micro Pig Cafe 'mipig cafe'

P→★ of Japanese pop dance and vocal group TEMPURA KIDZ loves animals, and this is his featured series in which he visits animal cafes around Tokyo. For diary entry No. 5, our P→★ heads to mipig cafe, Japan's first ever micro pig cafe that opened in Meguro just last month.

Micro pigs are a super small type of pig bred in the UK through selective breeding. They are smaller than miniature pigs. The concept of the cafe is "A Backwoods For Micro Pigs." The pigs are given a huge space to live and play around in. As soon as you enter the cafe they are there to greet you.

The building is four storeys high. Each floor has been made into a house for the micro pigs. The initial entry payment is ¥800 for 30 minutes and an extra ¥500 for every 30 minute extension. If you want a drink the prices start from ¥600. The cafe is very new and so is very popular right now, so if you're looking to visit we recommend making a reservation in advance. It's possible to get extensions on the day but you won't be able to if lots of reservations have been made.

The pigs are very friendly with people. As soon as P→★ entered the room the pigs came right up to him. They climbed straight onto his lap.

They stayed in P→★'s arms the entire time without moving. Perhaps it's because they feel safe and relaxed when embraced. P→★ was happy with it too: "I feel so peaceful♡. I want to stay here forever!" he announced.

Micro pigs aren't their own species, they are mix of different species, so even if the piglets are born at the same, their size and colour will be completely different. The four pigs in the photos above are all 4-month-old siblings. Currently there are 10 micro pigs at the cafe. Pigs are tidy and very intelligent animals, so with enough practice they can be trained like dogs. There are pigs in the mipig cafe that can turn around and sit on command.

Since the pigs are so friendly with humans, one meeting is enough to have you captive and want to stay with them. They will stay close to you and not move so there's plenty of opportunities for photos!

As well as drinks the cafe also serves food including cakes. They even serve "Tokusei Cheesecake" (¥850 before tax) from Hasegawa Minoru, a top dining restaurant in Japan. The restaurant is so popular that you have to make reservations up to 2 years in advance. And on weekends and holidays only the cafe sells 10 servings of their special "Pig Cake."

It's common in the US and UK for people to have pet pigs, but in Japan they're still mostly regarded as domestic animals. mipig raises their micro pigs in a way like cats and dogs are in Japan. They are also in contact with farms in the UK and sell micro pigs too. Although they are called micro pigs they can weigh up to 40kg when fully grown. There is a floor in the cafe where you can see a grown up micro pig as shown in P→★'s photo above. Perhaps you can add a new member to your family too. But since the pigs are popular right now it could take over a year for you to receive one.

How did you find the mipig cafe, P→★?

"Of all the animal cafes I have been to so far this one was the most fun! It was fun being able have contact with them the entire time. Now I want a micro pig of my own! They don't smell either, I could be with them forever. I wasn't able to get an extension because there were a lot of reservations, so I recommend booking a long stay when you make one! And the cheesecake was super tasty too, so definitely be sure to try it yourself!"

If you're in or planning a trip to Tokyo then be sure to get your reservations in for the newly-opened mipig cafe in Meguro ASAP!

Model: P→★(TEMPURA KIDZ)@0830_pika

Photo: Haruka  Yamamoto

Text: Sayoko Ishii

Translation: Joshua Kitosi-Isanga

Information

mipig cafe

Address: 4-11-3 Meguro, Meguro Ward, Tokyo

Access: 15-minutes on foot from Meguro Station / 1-minute on foot from Meguro Racecourse via the Tokkyu Bus from Meguro Station

Business Hours: 10:00-20:00

No Fixed Holidays.

Entry Fee: ¥800 (Before Tax) for 30 minutes (*¥500 for 30 minute extensions)

Official Website: https://mipig.cafe

P→★ (TEMPURA KIDZ) Animal Café Diary #4: Feeling at Peace With Shiba Inu at the Harajuku Mame-Shiba Café

The long-awaited next entry to P→★'s Animal Café Diary is finally here!

P→★ of Japanese pop dance and vocal group TEMPURA KIDZ loves animals, and this is his featured series in which he visits animal cafés around Tokyo. For diary entry No. 4, our P→★ visits the Harajuku Mame-Shiba Cafe located along Harajuku's famous Takeshita Street.

Harajuku Mame-Shiba Café is Tokyo's first animal café for Mame-Shiba Inu. It's very easy to find being just a 3-minute walk from Harajuku Station and 5-minutes from Meiji-Jingumae Station so you can pop in during your Harajuku sightseeing.

There is also an owl cafe called Harajuku Owl's Forest in the same building on floor B1F which you can see in the picture above. P→★ also visited another owl cafe in Harajuku called Owl's Garden.

Upon stepping your paws into the Harajuku Mame-Shiba Café you are met by Mame-Shiba dogs wearing bandana around their necks. The café itself has retro style decor with Showa music providing your soundtrack. It also has tatami flooring so you will need to take your shoes off beforehand.

Tickets can only be bought at the café. It's ¥880 for an adult for for 30 minutes. Once you have your ticket you wait until your designated time. It's not uncommon for tickets to be sold out on the day so we recommend buying yours early in the day.

You can pick out one drink from the vending machine with your ticket. Pick from a range of teas, coffees and juices, sit down on the tatami mat and enjoy playing with the adorable Mame-Shiba. The café also as a retro TV and Japanese-style 'chabudai' tables for sitting on the floor.

The pups are very energetic in the morning and each enjoy living their own lives in their own way as they please. A popular site to see is the dogs basking in the sunlight that shines through the café windows.

Customers are prohibited from picking up and embracing the dogs, but like P→★ they may give you one instead! Stroking and interacting with the bouncy bunch however is fine.

Use toys to play with them, give them food and treats, and find your favourite Mame-Shiba Inu from the pack.

When noon draws in the dogs start going into nap mode. You'll see the number of them tumbling over for a sleep increase one by one. This makes it easy to snap some photos, so if you're looking to take lots of photos with them you should go at midday!

There's also merchandise on sale including items based on popular Shiba Inu characters like Chuken Mochi Shiba and Shibata-san. The most popular item is the key ring of Chuken Mochi Shiba laid sprawled.

P→★ was very happy with his trip: "My grandma had a Shiba Inu called Aka-chan when I was small. Since then I always come into contact with Shiba Inu! I prefer Mame-Shiba who have a bit of individuality compared to the cute ones that look like Chihuahuas. The café has Japanese taste, is spacious and relaxed. I had the best time!"

Harajuku Mame-Shiba Café brings in countless customers everyday from those who do not own pets to foreigners visiting Japan. Reservations cannot be made online or over the phone, so pop in to book when you're in Harajuku.

Information

Harajuku Mame-Shiba Café

Address: Harajuku Mame-Shiba Café Floor 3F, 1-6-10 Jingumae, Shibuya, Tokyo

Access: 3-minutes on foot from the Takeshita Exit of Harajuku Station via the JR Line / 5-minutes on foot from Exit 5 of Meiji-Jingumae Station via the Tokyo Metro Line

Business Hours: Weekdays 11:00-19:00 / Weekends & Holidays 10:30-19:30

No Fixed Holidays.

Price: ¥880 (13+ Years) / ¥580 (4-12 Years With Parent/Guardian) / Free (3 Years and Below With Parent/Guardian)

*You can also get a ticket for the owl cafe there. ¥1,400 for adults, ¥1,000 for children.

Website: http://owls-cats-forest.com/free/mameshiba-harajuku

Model: P→★(TEMPURA KIDZ)@0830_pika

Photography: Kayo Sekiguchi

Text: Sayoko Ishii

Translator: Joshua Kitosi-Isanga

Tokyo Stroll: Shopping & Sightseeing with Mozuku-kun the Dog #4 – Instagram Hat Photoshoot

In this featured series, dog lover and model Yuna Yabe heads out with her trusty partner Mozuku to visit hot spots that people and their dogs enjoy, while deepening her bond with him.

In today's article, Yuna dresses up Mozuku with hats from a capsule toy series she likes called 'Inu no Kaburi Mono' (Things for Dogs to Wear).

The 'Inu no Kaburi Mono' series Yuna is interested in is by Kitan Club. She found capsule toy items for cats that she wanted Mozuku to try on, but she also wanted to try the dog ones, so she ended up having him wear a variety of things.

The Kitan Club hat series features 3 different designs: baseball caps, school caps and cop hats – and they all come in different colours!

First up is the black baseball caps, fittingly co-ordinated with a striped Marines uniform to complete this sporty look! A perfect outfit for exercise in the park.

Next is the white doggy cop hat. Mozuku is looking summery with the outdoor white polo shirt too. He looks like sailor!

This big dropping t-shirt gives Mozuku a kid look. He has a yellow school cap on and looks just like a Japanese kindergartener. It matches perfectly with the green!

The one Yuna wanted him to wear the most was the camo one. He's wearing it together with a border-type Western outfit remade by her grandma. He looks like a fashionable and heroic guy!

The last look is the red and navy co-ord. Wearing matching navy caps is a lot of fun.

Yuna said, "We got to see many different sides to Mozuku today. It's good to protect your head with a hat during summertime. If I wear a hat I can match looks with my dog, so I recommend it!"

If you're in Japan and come across capsule toy machines, known as gashapon, then be sure to look out for this series. They're ¥300 each.

■Information

Kitan Club Capsule Toys – Kaburi Mono

Price: ¥300 each (pre-tax)

Model:Yuna Yabe/Mozuku @yunaaay1030

Yuna Yabe won the grand prix prize at the "Zipper×ASOBISYSTEM Model Auditions" at the age of 15. She is an expert not only in fashion but make-up and video editing too. She's an influential figure to the people in her generation. Recently, her work has expanded greatly, such as appearing in music videos. Her activity continues to grow and looks to be very promising indeed.

Text: Sayoko Ishii

Photograph: Kayo Sekiguchi

Translation: Joshua Kitosi-Isanga

P→★ Animal Café Diary #2: Making Friends with Owls & Hawks at Owl's Garden in Harajuku

P→★ from TEMPURA KIDZ loves animals. This is his featured series in which he visits animal cafés in the city.

In this second entry, he made a trip to Owl's Garden in Harajuku which houses not only owls, but hawks too!

The café can be found behind Tokyu Plaza, a very favourable location since you can stop by after shopping in Harajuku. It's a 6-minute walk from Harajuku Station or a 2-minute walk from Meiji-Jingumae Station. Today, P→★ is wearing an outfit inspired by Harry Potter!

The café interior is styled on an English garden. There are 12 owls and hawks that live there. It's full of natural light and greenery, making it a nice and comfortable place to relax.

There are several price plans. The Standard Plan is ¥1,500 which gets you 60 minutes inside. During that time, you're free to touch the birds, take photos of them and sit them on your arm as much as you like.

P→★ met with the owls first. You can gently touch the top of their head down to their back as well as their chest. This owl is a Chaco Owl.

If you want to hold the birds just ask the staff. You'll be given a glove to wear for the bird to sit on.

P→★ is now holding an American kestrel. This is the only falcon in the café. If you're careful not to move your hand it will stay relaxed on your hand.

This is a barn owl. Apparently lots of customers are captivated by its striking face.

"This one's so fluffy!" commented P→★.

P→★ was particularly interested in this Little Owl (that's the actual name of the species!) Its tiny size is enough to tug your heartstrings♡

Owls save energy and don't move around much, so they're perfect for snapping photos of. That goes for selfies too.

Next is to try out being a falconer. There's a number of cafés where you can come into contact with hawks but not that many where you can actually have one fly over to you, so some customers can spend several hours here.

You begin with your back against the wall and bring your hand up to the same height as your shoulders at the count of 3.

The hawk responded to the signal several meters way and flew right onto P→★'s hand.

It costs ¥500 for one turn which consists of two flights.

"It's like I've become a wizard!" The bird that flew to P→★ is the Harris's hawk. They are known for their intelligence. Hawks are often perceived as scary but they're actually very friendly to humans.

You can enjoy a drink at this café while playing with the owls and hawks. If you make a reservation you get a drink on the house, otherwise it's ¥100. It's better to make a reservation if you're planning to go there.

The earrings they sell there are popular. They're made from feathers that have fallen from the owls at the café. Be sure to find the feather of the bird you like there the most. They also sell a range of other merchandise including a photo collection of the owls.

P→★ was very satisfied with his experience. It was his first time coming into contact with them, and his first time having a hawk fly to him.

"After watching Harry Potter, I wanted to own my own owl. It was a lot of fun interacting with them today. My image of hawks has changed too! If I'm rich in the future I want to have my own pet owl. Until then, I'll be sure to come back here!"

P→★ sure enjoyed Owl's Garden. The café is arranged in a way that makes it easy to take photos. The natural lighting and greenery make it a great choice for Instagram. Be sure to make a reservation if you're interested.

Check out the time P→★ went to Harajuku Terrace Café in his first Animal Diary Café entry here.

■Information

Owl's Garden

Address: Ingresso 2F, 4-31-5 Jingumae, Shibuya, Tokyo

Opening Hours: 10:00am-7:00pm (Until 6:00pm on Tuesdays, Wednesday & Thursdays except on National Holidays)

No Fixed Holidays.

Access: 6-minutes on foot from Harajuku Station via JR / 2-minutes on foot from Meiji-Jingumae Station via Tokyo Metro

Website:https://owls-garden.jp

Model: P→★(TEMPURA KIDZ)@0830_pika

Photo: Kayo Sekiguchi

Text: Sayoko Ishii

Translation: Joshua Kitosi-Isanga

Interview: Yuna Yabe discusses why people attend music festivals

In our previous article, we considered the appeal of FUJI ROCK FESTIVAL in the run up to this year's event and looked over our past coverage of it. In this article we interviewed Yuna Yabe, a model and DJ who made her real festival debut last year and who is a festival fanatic. We asked her what attracts young girls to festivals, her personal experiences attending them, and her advice to those who have never been to a festival but are thinking about going.

■Yuna Yabe – Profile

Born: October 30, 1997
Origin: Shizuoka Prefecture
Hobby: Shopping

Speciality: Dancing

Yuna Yabe has appeared in magazines, events and even music videos as a model, making full use of her unique fashion sense. Her love for music has taken her on the path of being a DJ. The moment she began her DJ career, she performed at EDJ JAPAN 2018.

==

—You love music and are often perceived as someone who has been attending festivals for a long time, but I heard you actually started going only last year.

Yes, last year's ITADAKI Festival was my first proper experience at a festival. Up to then I never had much interest in them and had never thought about going, but ITADAKI is in my hometown of Shizuoka and there were a lot of artists playing that I like. I thought wow, Shizuoka is going for it, so I decided to attend. EBIS BEATS and Tavito Nanao were the best!

—So, how was it actually going and experiencing one?

I was able to see so many of my favourite artists in one day, it was amazing! There was one on every hour, so I felt it was one of the fullest days of my life! I was guaranteed a front row spot for my favourite artists. I went all out, had the best time ever and came to be completely crazy about festivals.

One of the reasons I had never gone to one before was because I perceived them as being like a continuous riotous party, but I was glad to find out it was chill and open.

—Are there any memories or incidents from the festival that have stuck with you?

It wasn't an incident per se, but I met a lot of acquaintances by chance. That's one of the most fun things about a festival! Although it was a local festival I bumped into people I know from Tokyo. That moment when you see them and say "Huh!? Why are you here!?" is so much fun.

—If you were to choose the best act or performance you've seen so far which would it be?

I can't pick just one! But Tavito Nanao of GREEN ROOM this year and Sakanaction at ROCK IN JAPAN FES last year are unforgettable.

—You've already been to several festivals this year, correct? And you also performed at EDC. What festivals do you plan to go to or want to go to next, and which artists do you want to see?

I've been to JAPAN JAM BEACH, GREEN ROOM and KAMIKANE3000 this year.

The ones I'm planning to go to are FUJI ROCK and Summer Sonic. I want to go to RINGO FES at the start of summer too. I definitely want to see Kendrick Lamar at FUJI ROCK and Jorja Smith at Summer Sonic!

—You performed at EDC JAPAN very early in your DJ career. That's an incredible achievement, congratulations! How was it performing there?

I thought to myself all I can do is practice. There's a studio in front of EDC so I practiced there! The set was going to be a continuous hour with no changeovers, so I wondered to myself whether the real performance would turn out alright. My hands were sweating and I was very anxious, but the moment it started everybody put their hands up and danced. It was so much fun! In my set I moved from track to track while DJing, and I saw a lot of foreigners on board the entire time, so that made me extremely happy. Before I knew it I was having a lot of fun too, and the hour went by in an instant. It was my first time as a DJ experiencing the thrill of so many people listening to your favourite songs. I felt that if I get even better and play more boldly it'll be the best thing ever!

—How's your enthusiasm for this year's festivals?

I'm having fun knocking them down one by one!

 

—I'd now like to ask if you have any advice for people your age who are interested in attending a festival but have never gone before, or who want to try it out. What kind of preparation do you need in terms of fashion or things to take?

For fashion, I see a lot of people coordinating flashy colours, like reds and yellows. A lot of people wear baggy clothing too because it's easier to move around.

I take a cap and sunglasses to protect myself from the sun. Sunglasses make you look pretty in photos too (laughs). Most people wear their hair up. Also, a towel is a must!

I'm short, so I recommend sandals with thick soles if you're short too, since you want to be able to see the stage properly! You'll also be walking around a lot and spend long hours there, so it's important to wear something that your feet are used to and won't  get tired in!

Only wear small bags on your back that aren't going to be a nuisance to other people, and only take the absolute essentials. But I never fail to take my phone charger! (laughs)

—Are there any mistakes you've made at festivals?

I came down with heatstroke by only drinking alcohol despite it being so hot! It's very important to drink water so you don't get heatstroke.

—Is there any other advice you have for festival beginners or tips on how they can have fun?

Be weary of going to the toilet when travelling! Make an effort to know where the toilets are. You'll be in very long lines, so don't go the second you need it. Go well in advance and find windows of opportunity to go. Going in advance is very important!

Also, it's good not to meet up with a lot of friends or move around in big groups. I recommend moving around on your own or with just a few people. Seeing artists I didn't know or unexpected artists is great. Encounters like that are fun.

—Finally, what's the appeal of festivals for you?

There are many, but if I was to sum it up in a word, it would be the sense of openness! It's like taking off your shell. Everybody there is a lover of music and you can feel their excitement, so there's a sense of unity too which can be enjoyed!

==

Be sure to reference Yuna Yabe's advice and go and enjoy Japanese pop culture at a festival!

==

==

FUJI ROCK FESTIVAL '18

Running: July 27, 2018 – July 29, 2018

Venue: Naeba Ski Resort, Yuzawa, Niigata Prefecture

Time: Doors 9:00am / Start 11:00am / Finish 11:00pm

Official Website: http://www.fujirockfestival.com/