FELISSIMO releases a mini Japanese style marshmallow
The sundry brand of FELISSIMO "YOU + MORE!" started selling "Taberarenai Kawaisa Mini Wafu Marshmallow Usagi Hozui <chocolate an>" on the Internet.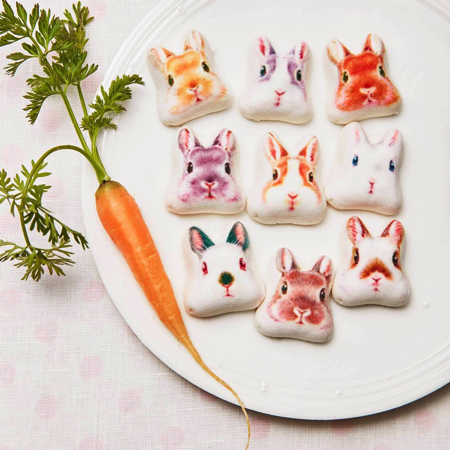 "Hozui" is a Japanese style marshmallow which has been eaten in Kyoto from a long time ago. A bean jam with the flavor of chocolate is stuffed inside the product. The product is a little harder than usual marshmallows since it is made of egg white and ager.
A cute rabbit is printed on the product. Each piece looks very cute and is made by hand.
9 varieties such as "Orange" and "Himalayan" with a spotted pattern and red eyes are available which rabbit-lovers will love. The product is suitable to be bought as a gift since the package is very elegant.
Let's enjoy these rabbit marshmallows.
◼︎Information
Taberarenai Kawaisa Mini Wafu Marshmallow Usagi Hozui <Chocolate An>
Price: 1,200 yen (tax not included)
TEL:1210-055-820
URL:http://www.feli.jp/s/pr180123/2/
※ please not that the color of the product might change if it is exposed to sunlight
※ this product will be shipped during the month when the reservation is made (produced in Japan)
※ the product cannot be returned or exchanged unless a reject item is shipped accidently. (please take a look at the website below RE their returning/exchanging policy.
YOU+MORE!webssite
http://www.feli.jp/s/pr180123/4/
RECOMMENDED ENTRIES
A cat shaped bread "Ironeko Syokupan" will be sold at Hotel New Hankyu Osaka

A cat shaped bread will be purchased at bakery&café, "BLUE JEAN" which will be opened renewable in Hotel New Hankyu Osaka from May 26th.

"Ironeko series" is one of the popular series of BLUE JEAN. They have been selling over 180,000 of cat shaped breads and cakes for five years. They will sell a new item of "ironeko series" to celebrate their renewal open on May 26th.

A cat shaped bread is used water roux to make it more soft and chewy. They made a special cutter only for this bread to make a real cat shaped, "Ironeko chan".

You will enjoy this new bread especially if you really like a cat and chewy bread.

It's too cute to eat if you decollate with chocolate pens or fruits.

It's not only cute looking bread but also the taste is good. You should try it for your breakfast.

Related article:A cake shop in Kansai that is popular for its cute cat logo "Chat noir"

Related article:Cat Pastry Chef's beautiful sweet treats available at this Cat-themed Tearoom!

Felissimo Neko-bu Collaborate With Internet Cat Sensation "Foo-chan" to Release Tissue Box Covers!

Felissimo Neku-bu have collaborated with the popular internet get "Foo-chan" to release tissue box covers pictured with the feline's notorious expressions. They were released on August 3rd.

 

Foo-chan is known for his always-disappointed look. Now you can have your tissues on standby to pull out of Foo-chan's triangular neko mouth, with the tissues acting as his tongue.

 

Not only do the covers have variations of Foo-chan's disappointed face,  but they are fluffy too, so it will really be like having your own disappointed Foo-chan ready to offer you a tissue. There are 3 designs to choose from: disappointed, cute, and elderly. Now you can have fun by choosing where to place your tissue box in your house to set Foo-chan up to give you your tissues.

As always with Felissimo Neko-bu products, part of the price of these tissue box covers go towards numerous causes including shelter for animals with no owners and for helping find them owners, as well as aiding towards getting stray cats off the street to avoid overpopulation, and for protecting animals during times of disaster.

 

The whisker pads are soft and fun to touch. The material itself is soft and its nap is raised slightly which makes you want to just keep petting it. What's more is that the print is realistic to really give your own Foo-chan that lifelikeness.

The side of the cover is wrapped in fake fur that is the same colour as Foo-chan's coat and, of course, super soft. The lining comes with bands attached so you can fit it around your tissue box.

The covers fit can fit around big tissue boxes, but if you can put it around a smaller one, then you can recreate one of Foo-chan's famous poses as pictured above where he just completely flops.

 

〈Disappointed〉Foo-chan's famous disappointed face. This one needs no introduction.

 

〈Cute〉The face Foo-chan makes when begging for treats!

 

〈Elderly〉The face of a wise cat who look like it has seen it all.

Fellow cat lovers out there – you can now enjoy the cuteness of the internet sensation "Foo-chan" in their very own house!

■Information

"Foo-chan" Collaborative Tissue Box Covers

Price: ¥1,850 (+8% ¥1,993)

→¥55 of the money will go towards the "Felissimo Cat Foundation". (The money donated is tax exempt)

・From the three cover types, one will be available each month. Sales will end once each variety has been made available, sales will end. (Made in China)

For full details, visit: http://www.feli.jp/s/pr17080802/2/

Foo-chan Homepage: http://www.feli.jp/s/pr17080802/3/

Related Article:Get out the tub and join the cat club with Felissimo's Cat-Ear Turbans!

Related Article:These New Kawaii Sweets by "Felissimo Nekobu" & "Corocorocoronya" are too Cute to Eat!

Felissimo Neko-bu now selling Christmas themed cat marshmallow sets!

"Felissimo Neko-bu" are selling a set of 12 cat shaped and Christmas themed marshmallows on their website. They are available to order until December 6th.

 

These soft and spongy marshmallows feature Felissimo's cat mascot "Tsundere Nyan" wearing Christmas themed outfits. As always with Felissimo Neko-bu products, part of the sales of these marshmallows go towards numerous causes including shelter for animals with no owners, and for helping find them owners, as well as aiding towards getting stray cats off the street to avoid overpopulation, and for protecting animals during times of disaster.

 

There are 6 "Nya-shmallows" with Tsundere Nyan dressed up in Christmas clothing and 6 regular Tsundere Nyan designs for a total of 12 in the set.

 

These would be perfect to hand out at a Christmas party held by friends or family. But Tsundere Nyan's facial expression makes them just too cute to eat! The 3D shape of the marshmallows will have you poking Tsundere Nyan's round ears without even realizing.

 

The marshmallows are fairly large and are filled with rich chocolate cream so you'll be satisfied after just 1.

Everybody will be smiling and talking about these tasty treats the moment you open the box. What's better is that each marshmallow is conveniently packaged individually so you can give them away as presents.

Don't miss out on these scrumptiously satisfying and absolutely adorable Nya-shmallows!

■Information

"Kokoro Odoru Tsundere Nyan no Nyashumaro Christmas – Set of 12"

Price: 1 set = ¥2,900 (+8% tax = ¥3,125) *includes shipping fee

*Shipping fee not included in the product's price. An additional ¥540 (=¥500 + tax) shipping fee will be added to the displayed price.

→¥87 of the money will go towards the "Felissimo Cat Foundation". (The money donated is tax exempt)

Set Contents: 12 marshmallows

Storage: Store at room temperature up to 40 days from the date of production.

Made in Japan.

*Exchanges and refunds are only available for defective products.

*Please do not feed the marshmallows to real cats.

Product Details – http://www.feli.jp/s/pr171117/2/

*Available to order until December 6, 2017

*Product will be shipped between December 18, 2017-December 22, 2017

Put your paws together for the debut release of Felissimo's aMAOWzing cat-themed sweet manju!

"Felissimo neko-bu" announced the start of their "3-month course" of delicious steamed buns (manju) called "Neko no nyamucha" ー a cute, palm-sized, soft-textured manju which takes on the shape of a cat. Sales commenced on 18th May 2016 and the deadline to purchase this irresistible manju collection is 10th July, so there is still plenty of time to get your paws on it!

These manju were lovingly made by a Yam cha specialist (a person who specialises in making snacks for tea). There will be a variety of 6 flavours of these maow-tastic steamed buns for you to enjoy including Japanese tea, milk egg yolk, coffee, sweet potato, caramel milk, and lemon flavours, all finished with a soft and fluffy skin and made using an original method.

If you purchase "Neko no nyamucha", then you will receive a 3-month course which includes 2 varieties of 4 different manju, totalling to a variety of 8 scrumptious manju that will get you feline good! Furthermore, with every purchase of the "Neko no nyamucha" course, ¥77 will be donated to animal welfare groups which take action to protect stray animals, unite stray animals with new owners, and prevent the excess breeding of animals, and much more!

■Information

Neko no nyamucha 【3-month course】 
・Best before date/ 365 days from date of production if kept refrigerated (Made in Japan)

・Purchase deadline: Sunday 10th July 2016
・Delivery period : July 〜 September 2016 (From the end of the month)

・ Product information and purchase details >>> http://www.feli.jp/s/pr16051802/2/

※ Defective products cannot be returned.
※ For every order placed, the full 3-month course will be purchased and therefore there is no need to make a new order every single month.
※ Please ensure that your cat does not eat this product.

■ Related article: A wild Pokémon Café will appear in Singapore serving up an original Singaporean menu and a side dish of Pokémon goods to level up your hungry stomach!!

■ Related article:The purr-fect summer gift? Neko Atsume cookies from Lawson convenience stores!

All you need is a sense of humor! "Standing Ears Shiba Inu Portion Bag" will debut from "YOU+MORE!".

FELISSIMO's humorous general goods brand, "YOU+MORE!" will debut its new product "Standing Ears Shiba Inu Portion Bag" on March 27th from its website.

You can enjoy 3 kinds of expressions. The expressions are "smile," "relaxing," and "wink." You can use these expressions depending on your situation.

Tie the opening of the bag with a string and fold it up! Then cute little ears will appear.

Of course, you can use it without tying the opening and only folding it. The design is also very cute like this.

You can put some presents or souvenirs in it. You should purchase it and give it to someone with a smile. Why don't you distribute some humor to somebody!

■Information

On-sale date: from March 27th

Price: Once a month ¥918 (including tax)

Contents: 10 portion bags and 10 strings

(You will receive 3 kinds of bags once every month)

Apply here: http://www.feli.jp/s/pr170407/2/

−−−

Related article:You won't be able to stop stroking this Felissimo mini pouch which looks and feels just like a small bird!

Related article:New cat items from the FELISSIMO neko section: "Floppy Ears Hair Turban" & "Indoor Cat Socks"

Cute Shiba Inu pouches recreate scenes of not wanting to go on a walk or return home

Felissimo's 'humour' sundry brand "YOU + MORE!" released a line of Shiba Inu dog pouches on their website on December 14th.

The cute pouches recreate number of different scenes where an owner's Shiba Inu suddenly stops in its tracks and won't budge. They come with string attached around the dog's neck to look like a lead, so when you pull them, it looks like they're saying, "No, I don't wanna go!" Their stubborn faces are look annoyed yet adorable at the same time. With one of these, you can have fun putting in and taking out your things while also feeling like you're taking your own Shiba Inu for a walk.

There are four designs to choose from: two of them don't want to go for a walk and come in black and brown, and the other two don't want to go back home from their walk and also come in black and brown. With these four fluffy cuties, it'll feel like you have a companion with you when traveling or going out. It'll feel like a dog walk every day. If you're a dog lover or know someone that is obsessed with dogs, then this makes for a great gift.

The pouches fit perfectly in one's hand making it the perfect size for hygiene items, make-up and other little trinkets.

Their gallant appearance from behind is cute too. Just look at those wrapped up tails!

If you loosen the string, it becomes flat, so you can put it away neatly when you're not using it.

It opens up 10.5cm and the inside is a nice and simple design.

Get your very own Shiba Inu pouch and take it on a trip somewhere.

■Information

YOU+MORE! Shiba Inu no Iya Iya Kinchaku no Kai

¥2,400 each (+8% tax = ¥2,592)

・Materials: 100% polyester / Lining: 100% cotton / String: 100% polyester

・Size: 11.5cm x 10.5cm x 23.5cm

・One of the four bag designs will be available per month. Once all four have been shipped, they will no longer be available.

Made in Japan. For more information and how to order, please visit: http://www.feli.jp/s/pr17122002/2/ (Japanese)
RELATED ENTRIES
Sebastian Masuda and Felissimo Release Kawaii Multicoloured Miwa Soumen Noodles

Felissimo and Sebastian Masuda's cute and happy KAWAII COMPANY project released a new collection of multicoloured soumen noodles at Senjutei Somen Chaya on July 11 which are available for a limited time until August 31. The colours of the noodles are naturally-derived.

KAWAII COMPANY 5 Kawaii Soumen Noodles | 1 Set = ¥2,420 (Tax Included)

Digital Catalogue

The cute Miwa soumen noodles are made by Ikeri, a long-standing shop that was established in Nara over 170 years ago. Each noodle colour signifies a different colour: Japanese purple sweet potato, plum, kabosu citrus, beefsteak, and plain. The noodles are packaged in a wooden box featuring KAWAII COMPANY's key visual designed by Sebastian Masuda along with golf leaf.

The noodles aren't designed just to look cute – they are authentic in flavour and in how they are made with traditional Japanese techniques.

Japan's Ultimate Confectionery Collaboration Invites Shiroi Koibito, Hagi no Tsuki, and Hakata Torimon

Japanese confectionery giants ISHIYA, KASHO SANZEN, and MEIGETSUDO launched the "Nippon no Omiyagenki Project" (Japan's Happy Souvenir Project) on May 16, 2021.

The project arrives in response to the decrease in tourism as a result of the COVID-19 pandemic. The three brands have come together to start a project to cheer people up with the power of snacks.

For the project's first release, they rolled out their Omiyagenki Box via the project's official website on May 16 which includes confections by all three companies wrapped in an original furoshiki cloth.

Omiyagenki Box | ¥5,400 (Tax Included)

Comments from the 3 Companies' Representatives (Translated by MMN)

Hajime Ishimizu (President and CEO at ISHIYA CO., LTD.)

"The Omiyagenki Project is a joint effort between our three companies to show hospitality to our customers whose roots lay in their birth-place, who love their home, and yet who kindly travel to us. Though we cannot travel at this moment in time, we hope that our snacks remind the people of Japan of our great regions."

Hidefumi Tanaka (President and CEO at KASHO SANZEN.CO.,LTD.)

"This is the season to enjoy the green scenery of the mountains and rivers, the countryside, the ocean that glimmers endlessly, and the sights of Tohoku, while enjoying something tasty. We deliver these feelings to you in a single wrapper with our brand that represents Hokkaido and Kyushu, and the feeling of travelling to these places."

Shinichiro Akimaru (CEO at MEIGETSUDO CO., LTD.)

"We are unable to travel or go on business trips due to COVID. It's a time where we have become unable to think about souvenirs. But we want to deliver happiness to the hearts of people in any way we can, and so we hope to give strength and happiness to Japan, even if it's only a little, with the power of souvenirs from three companies based in Hokkaido, Miyazaki, and Fukuoka."

Keep up to date with the project's latest additions at their official website below.

Information

Omiyagenki Box

Released: May 16, 2021

First Batch Shipping: Late May 2021

Second Batch Shipping: Early June 2021

Official Website: https://omiyagenki.base.ec/

Felissimo's Summer 2021 Hair Turbans Are Made Using Traditional Japanese Banshu-Ori Weaving

As part of Felissimo's "Japanese Craftsman Project," the fashion retailer released a new collection of jacquard hair turbans in collaboration with POLS, a textile brand based in Nishiwaki, Hyogo.

Green x Brown – Pink x Brown – Light Grey x Orange – Sky Blue x Yellow | ¥4,800 Each (Before Tax)

The hair turbans are made using a traditional Japanese weaving technique called banshu-ori whereby threads are dyed before they are woven, allowing for items to maintain their colour for much longer.

POLS is a textile company that uses a jacquard loom to create designs brimming with originality. The hair turban collection features colours that aren't over the top so can be enjoyed by anyone and everyone. They are also a great item for doing your hair and makeup while working remotely and add a little something to your look if you're in a situation when you need to wear a mask.

USGMEN x Village Vanguard Clothing Collection Releases

The popular Japanese LINE sticker character series USGMEN is now taking orders for a new collection of merchandise on Village Vanguard for a limited time. The collection dropped on March 13.

The Line-Up

USGMEN White T-Shirt | Medium, Large | ¥4,180 (Tax Included)

USGMEN Yellow T-Shirt | Medium, Large | ¥4,180 (Tax Included)

USGMEN Black Suuetto T-Shirt | Medium, Large | ¥5,830 (Tax Included)

USGMEN Hoodie | Medium, Large | ¥6,380 (Tax Included)

USGMEN Cap | ¥3,630 (Tax Included)

USGMEN Face Mask | ¥1,430 (Tax Included)

USGMEN Clear Pencil Case | ¥2,200 (Tax Included)

USGMEN – Usagi & Same Acrylic Key Rings | ¥770 Each (Tax Included)

USGMEN Tote Bag | ¥2,530 (Tax Included)

USGMEN Sacoche | ¥2,420 (Tax Included)

©︎うさぎメン

Sumikko Gurashi transformed into Japanese sweets

The Japanese character motif sweets series Tabemasu released a new sweets collection inspired by 4 of San-X's popular Sumikko Gurashi characters on March 2 at FamilyMart convenience stores in Japan.

Tabemasu Sumikko Gurashi Collection: Shirokuma (Strawberry Milk) & Tokage (Peach) / Tonkatsu (Chocolate) & Ebi Furaino Shippo (Banana) | 1 Box 2 Sets – ¥369 Each (Before Tax)

The popular characters Shirokuma and Tokage's bellies are filled with strawberry milk and peach flavoured sweet red bean paste. The besties Tonkatsu and Ebi Furai are making their first appearance on in the Tabemasu series with tales filled with chocolate and banana flavoured red bean paste. Their cute and plump charms are represented as edible Japanese traditional sweets which are too cute to eat!

The newcomer Tonkatsu represents a leftover piece of tonkatsu and who dreams to be eaten someday… his longtime dream is about to be accomplished with your help! Check out these cute and delicious sweets of Sumikko Gurashi.

(C)2021 San-X Co., Ltd. All Rights Reserved.

Sebastian Masuda x Felissimo Launch KAWAII COMPANY

Felissimo and Sebastian Masuda have collaborated to launch the all-new KAWAII COMPANY.

KAWAII COMPANY opened its website on November 16, 2020. It is a project for those who love the kawaii side of life, aiming to add spice to everyday normality and expand everyone's inner-kawaii. KAWAII COMPANY's website will house a whole range of original items, such as the "Roomy Monster" outfit which lets you transform into a colourful monster.

Roomy Monster | ¥12,000 (Before Tax)

With many people working from home now, online meetings are the new norm, which can be a stress for a lot of us. But KAWAII COMPANY has come up with a way to bring smiles to fellow colleagues with their "Roomy Monster" outfit which is sure to elicit surprise and smiles when everyone sees a colourful monster on the webcam. The design is inspired by a monster that Sebastian Masuda conceived as a child, and now the colourful and fluffy beast has come to life.

Monster Multi Pouch | ¥3,400 (Before Tax)


This monster multi pouch is like a plush toy, featuring fluffy fur, colourful hair, sparkly eyes, and a flowing, frilly dress. Its enormous mouth is closed with a zip which when opened reveals a place for storing all your bits and bobs.

Mini Eco Bag | ¥1,500 (Before Tax)

These colourfully kawaii eco-bags may only be 19cm long they're more reliable than they look. They can be wrapped up small for easy storage and unravelled for when you need to do a bit of shopping.

Double Gauze Mask | ¥1,600 (Before Tax)


Anti-bacterial Mask Case (Set of 3) | ¥1,400 (Before Tax)


Add some fun to your routine face mask wearing with a super cute mask and mask case for storage. They're not just for show either – made with double gauze, the material is of high quality and feels soft on the face. The masks are pleated and so curve to fit the face nice and snug. The cases are also made so that they are anti-bacterial, keeping your mask hygienic.

Kawaii Tansan Senbei (5 Included) | ¥2,000 (Before Tax)


The Kawaii Tansan Senbei is the first entry to the KAWAII TANBO series in which items that KAWAII COMPANY discover while travelling Japan are made into 'kawaii versions.' These senbei rice crackers are light, crunchy, and have great flavour. They are tinned and wrapped in cute packaging too making for a perfect gift.

Discover and enhance your love of kawaii with Sebastian Masuda's new project.

Minions Confections Sneak Their Way Into Lawson Convenience Stores in Japan

Bandai Candy's character-inspired Japanese confectionery series Tabemas released a new batch of Minion-themed Japanese wagashi confections at Lawson convenience stores in Japan (excluding Lawson Store 100 branches) on August 4, 2020.

'Tabemas' is an abbreviation of the Japanese words taberareru masukotto, meaning 'mascots that you can eat.' It is a Japanese confectionery series that combines well-known characters and Japanese sweets made from ingredients like red bean paste, sugar and rice flour.

Tabemas Minions | ¥264 (Before Tax)

The line-up includes familiar faces from the Despicable Me and Minions films, namely the childish Bob, Stuart—who loves a prank—and Kevin who has a leader presence about him. The confections feature all the little details for each character, from the goggles and hair to the colouring.

Each character has its own delicious bean paste flavouring too: Bob is banana flavoured (his favourote), Stuart is strawberry, and Kevin is chocolate. Which do you want to try the most?

© Universal City Studios LLC. All Rights Reserved.

Information

Tabemas Minion
Release Date: August 4, 2020

Available: At the chilled desserts section of Lawson convenience stores in Japan

*Not available at Lawson Store 100

*Available while supplies last

*Stock date may differ from branch to branch

*Select stores not participating

Colourful Yukata and Jinbei Collaboration Launches by Subikiawa and Felissimo

Felissimo has joined hands with popular Kyoto-based store Subikiawa to launch a new collaborative series of items. They are now available to purchase via Felissimo's official website.

Who are Subikiawa?

Subikiawa is a tableware store known to all in Kyoto that's open around three days a month. "Tabletop Circus" is the theme of their hand drawn tableware series which is mainly centred around glassware. Subikiawa first began their collaboration series with Felissimo back in 2016. Since then, they have teamed up to make yukata, jinbei, pyjamas, clothes, and moreーall with Subikiawa's cute illustrative designs.

The new yukata and jinbei they have developed for this summer features a colourful underwater theme with various fishes, pebbles, and water plants.


Kyoto Subikiawa Shokki to Tsukutta Suichu Dance Yukata – ¥5,500 (Before Tax)

Kyoto Subikiawa Shokki to Tsukutta Suichu Dance Yukata (Women's) – ¥7,300 (Before Tax)

The collection features yukata and jinbei made with designs so that parents and kids can dress up together. The clothes are made from 100% slub cotton yarn, giving them a nice feeling against the skin. The waist is also fitted with string so that even beginners to yukata can tie them easily.


Kyoto Subikiawa Shokki to Tsukutta Nail Seals (1 Set) – ¥1,400 (Before Tax)

Kyoto Subikiawa Shokki to Tsukutta Suichu Dance Bib Kit (1 Set) – ¥2,800 (Before Tax)

The new collection also includes nail seals to make your fingertips bright and beautiful, as well as an embroidery kit to make your own cute bibーthis is part of Felissimo's brand Couturier. The bib is soft and made using 100% Banshu-ori cotton fabric. Banshu-ori is a fabric from Hyogo Prefecture. The cotton is also dyed before being woven so the colour won't fade as quickly when washed.

Beautiful Jellyfish Umbrellas Designed by Kamo Aquarium Will Keep You Dry

YOU+MORE!, a brand of humorous merchandise and accessories developed by Felissimo, has teamed up with the famous Kamo Aquarium to release a series of jellyfish umbrellas.

The intricate umbrella designs were developed in cooperation with the staff at Kamo Aquarium's Jellyfish Dream House. Three different kinds of jellyfish were used as inspiration for the umbrellas.

Moon Jelly Umbrella

YOU+MORE! Moon Jelly Umbrella – ¥1,600

Moon jellyfish are perhaps one of the most popular kinds of jellyfish out there. What may be the most striking part of this umbrella is the colour gradation which gives it a transparent effect. The edges of the umbrella are also curved, giving it a delicate silhouette and making it look even more like the real things.

The umbrella's frames are built strong, and the material of the umbrella itself is a white glass fibre which serves not only to mimic the colour of a moon jelly, but so that you can still see through it too. (As a side note, all three of the umbrella designs are made from glass fibre.)

Northern Sea Nettle Umbrella

YOU+MORE! Northern Sea Nettle Umbrella – ¥1,600

Like the northern sea nettle itself, this umbrella features a dome shape and incorporates a stripe design. A northern sea nettle has 16 stripes, and so that many were added to the umbrella. The jellyfish staff at the aquarium praised this one as the most realistic.

Spotted Jelly

YOU+MORE! Spotted Jelly Umbrella – ¥1,600

Like the northern sea nettle, the spotted jelly too as a cute dome-shaped body. If someone who has never seen one of these jellyfish umbrellas before sees this design, they'll think of it as just having cute spotted design. However, a jellyfish enthusiast is sure to get excited as the sight of this one with its details like its orange colour and the dots around the edges.

Kamo Aquarium will begin selling limited edition versions from the end of June this year which come with an ephyra charmーthat's the name for a baby jellyfish. The aquarium is currently closed until May 6 due to the coronavirus. The latest updates can be found on their official website.

Cute New Doraemon Merchandise From Felissimo Can Be Enjoyed By Adults Too

Felissimo launched online pre-orders for its new line of 12 Doraemon themed items on February 20, 2020. Doraemon is a symbol of Japanーa national treasure that continues to be be adored by kids and adults alike around the country.

The collection is centred around everyday practical items that can even be enjoyed nonchalantly by grown-ups.

Doraemon Laundry Net Set – ¥1,400 (Before Tax)

There are four in this collection of laundry nets, big and small. Designs include "Mini Doraemon," "Memory Bread," "Anywhere Door," and "Dress-Up Camera."

Doraemon & Nobita-kun Slippers – ¥2,100 (Before Tax)

 Doraemon and Nobita-kun features on this collection of slippers. There are four designs, with the tops being made from corduroy, and all with beautiful colours.

Doraemon Pull Pass Case – ¥2,300 (Before Tax)

These three pass cases all have Doraemon designs and come with a pullable elastic string. Each has its own classy one tone colour. Perfect for storing small items and heading out.

Doraemon Smartphone Cases – ¥2,900 (Before Tax)

The three cute smartphone cases come in chic colours and designs, with an additional colour inside for the four card pockets.

Doraemon Plastic Bottle Towels – ¥950 (Before Tax)

Decorate your drinking bottle with one of these four cute Doraemon bottle towels, all with a cute tail. They can be used for other things like deodorant too.

Doraemon Zipper Bag Set – ¥800 (Before Tax)

Keep your food stored and safe in an adorable Doraemon zipper bag, whether it be snacks or ingredients. They're perfect for giving gifts in too.

Doraemon Nail Seals <Basic> – ¥1,450 (Before Tax)

Glam up with some cute Doraemon nail seals, ranging from natural colours to gold leaf and more, which can cater to a variety of different situations.

Doraemon Embroidered Pouches – ¥3,000 (Before Tax)

These kits embroidery equipment to make your own Doraemon-design pouch. Make the pouch, attach the fastener, and you've got yourself a place to store your items.

Doraemon Manga's 50th Anniversary Celebrated With Kawaii Confections by Tabemas

Character-inspired Japanese confectionery series Tabemas is celebrating the 50th anniversary of the Doraemon manga series with two adorable new confections which will release at Lawson convenience stores around Japan on March 3, 2020.

Tabemas Doraemon 2020 Chocolate Flavour – ¥285 (Tax Included)

Tabemas have produced Doraemon confections before to huge popularity amongst fans, and this time around he's got a new facial expression. There's also a special "Ganso Doraemon" version.

Tabemas Doraemon 2020 (Ganso Doraemon Ver.) Custard Flavour – ¥285 (Tax Included)

Ganso Doraemon, who was born in the future, is a bright yellow colour with cute ears. Both confections sit plump and adorable, and each have little Doraemon details like the bell, whiskers, and a tail.

The sweets are also made with a dough called "nerikiri" which is used in making traditional Japanese wagashi sweets. Doraemon is chocolate flavoured while Ganso Doraemon is custard flavoured. Perfect for snacks and would look great on an Instagram feed!

Information

Tabemas Doraemon 2020

Release Date: March 3, 2020

Available: At chilled desserts section of Lawson convenience stores across Japan

*Not available at Natural Lawson or Lawson Store 100

*Available while supplies last

*Stock date may differ from branch to branch

*Select stores not participating

Product Page: https://www.bandai.co.jp/candy/tabemas/doraemon3/

Cute and Chewy Pompompurin Confection Now Being Sold at Lawson Convenience Stores in Japan

Lawson, one of the main convenience store chains in Japan, has released the all-new Mochi Mochi Pompompurin Yaki, a cute and chewy confection filled with custard pudding flavoured cream.

The kawaii sweet recreates Pompompurin's adorable sleeping form. Inside of him is a squirt of purin, or Japanese custard pudding, flavoured cream, which happens to be Sanrio Golden Retriever's favourite treat. You'll find yourself reaching for your phone to snap a photo of him to post online before tucking in.

The confection will be discontinued once all have been sold, so if you're in Japan, head to your closest Lawson.

©1996, 2020 SANRIO CO., LTD. APPROVAL NO.S604266