To become a Jedi, I took a samurai lessons
In the world-famous movie, Star Wars, you can find many elements of Japanese samurai culture.
As many of you might know, George Lucas is a big fan of Kurosawa Akira's movies and it is a famous story that he offered Toshiro Mifune, an actor who played in many of Kurosawa's movies, the part of Obi-Wan Kenobi in Star Wars.
This time, I joined the course called "Samurai Training" held by the kimono rental shop, "Yumenoya" in Asakusa to enjoy STAR WARS™/Jedi Challenges to the fullest.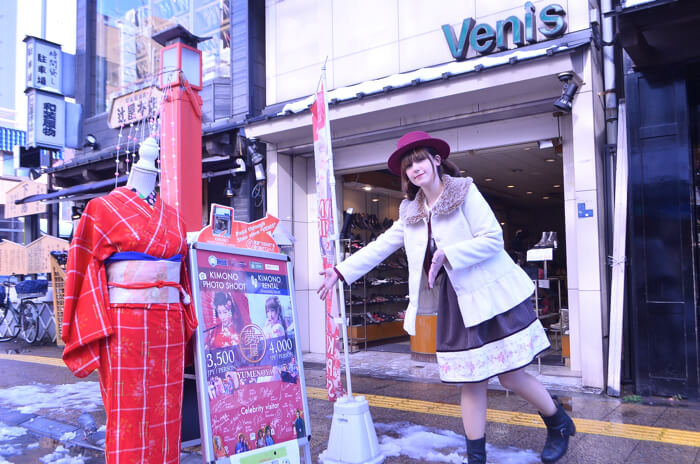 To get to Yumenoya, go through the Kaminarimon and turn right at Nakamisedori. And you will see it on your right. Look for the mannequin wearing a kimono.
It is just a 5 minutes on foot from Asakusa station on Tokyo Metro Ginza line. It's in a very convenient location.
You must wear wafuku (traditional Japanese clothes) to participate in Samurai Training. There are many kinds of kimonos available.
This time, I chose a red kimono which looks strong.
Now Ruki's ready to meet the challenge. She learned how to hold a katana and make a stroke pose.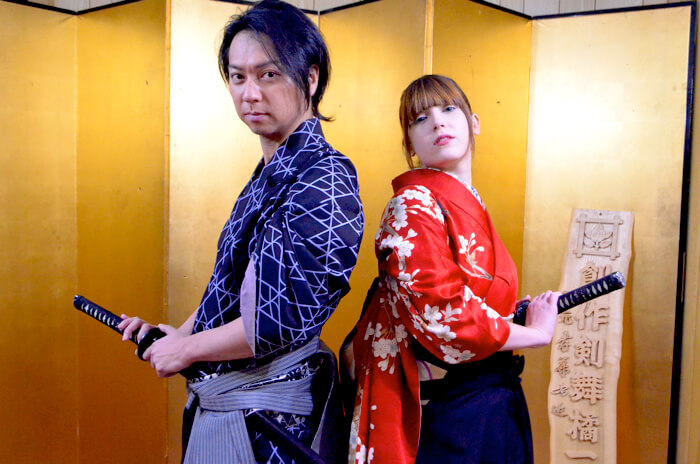 Today's teacher is Ukon Takafuji who is the second generation of "Buto Takafujiryu" from Kanazawa-shi, Ishikawa Prefecture.
In addition to offering lectures, both in Japan and abroad, he established an exercise routine called, "Katana Exercise" to introduce the charms of traditional arts.
Now let's start the training program. Get dressed in your "furisode" and let's begin the battle!
First, Ruki learned how to bow.
Ruki "the Katana is much longer than I thought it would be and it's difficult to use.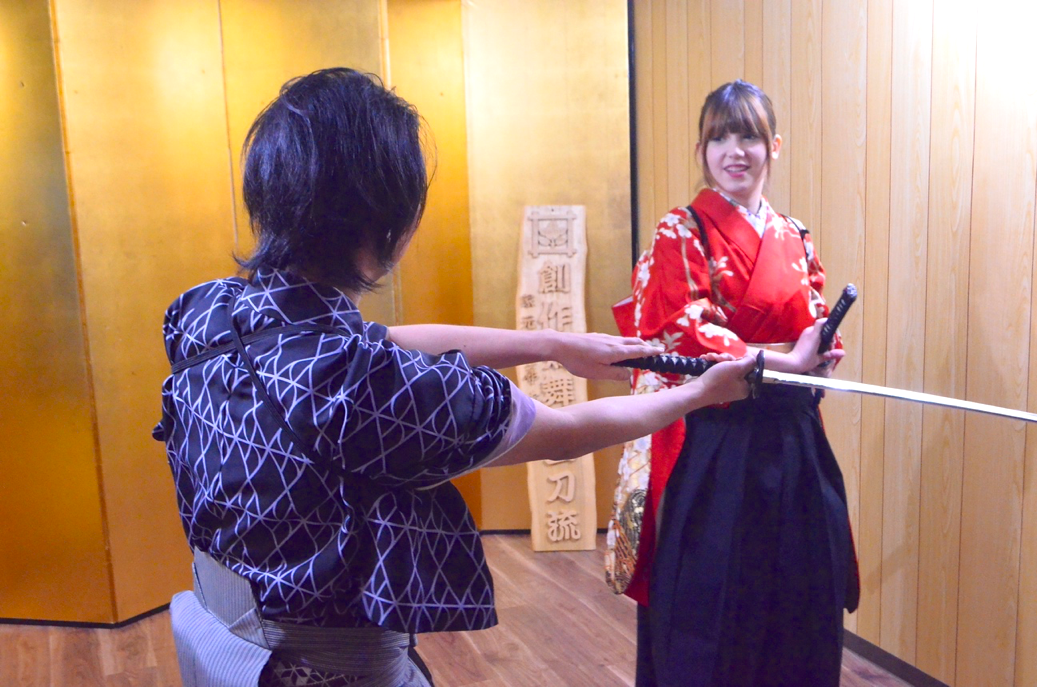 After rehearsing for 30 minutes, Luki could use the katana fairy well.
And now let's beggingSTAR WARS™/Jedi Challenges.
This isSTAR WARS™/Jedi Challenges which Lenovo developed. First , download the Jedi Challenges application and set your smartphone in the goggle. 
The models which this app can be used are iPhone 6, Plus, iPhone X, Galaxy 7, edge, S8, Pixel / Pixel XL, LG G6, Moto Z2 Force Edition and Android smartphones.
English, French, Italian, German, Spanish, Japanese and Chinese are can be used. (2018 January )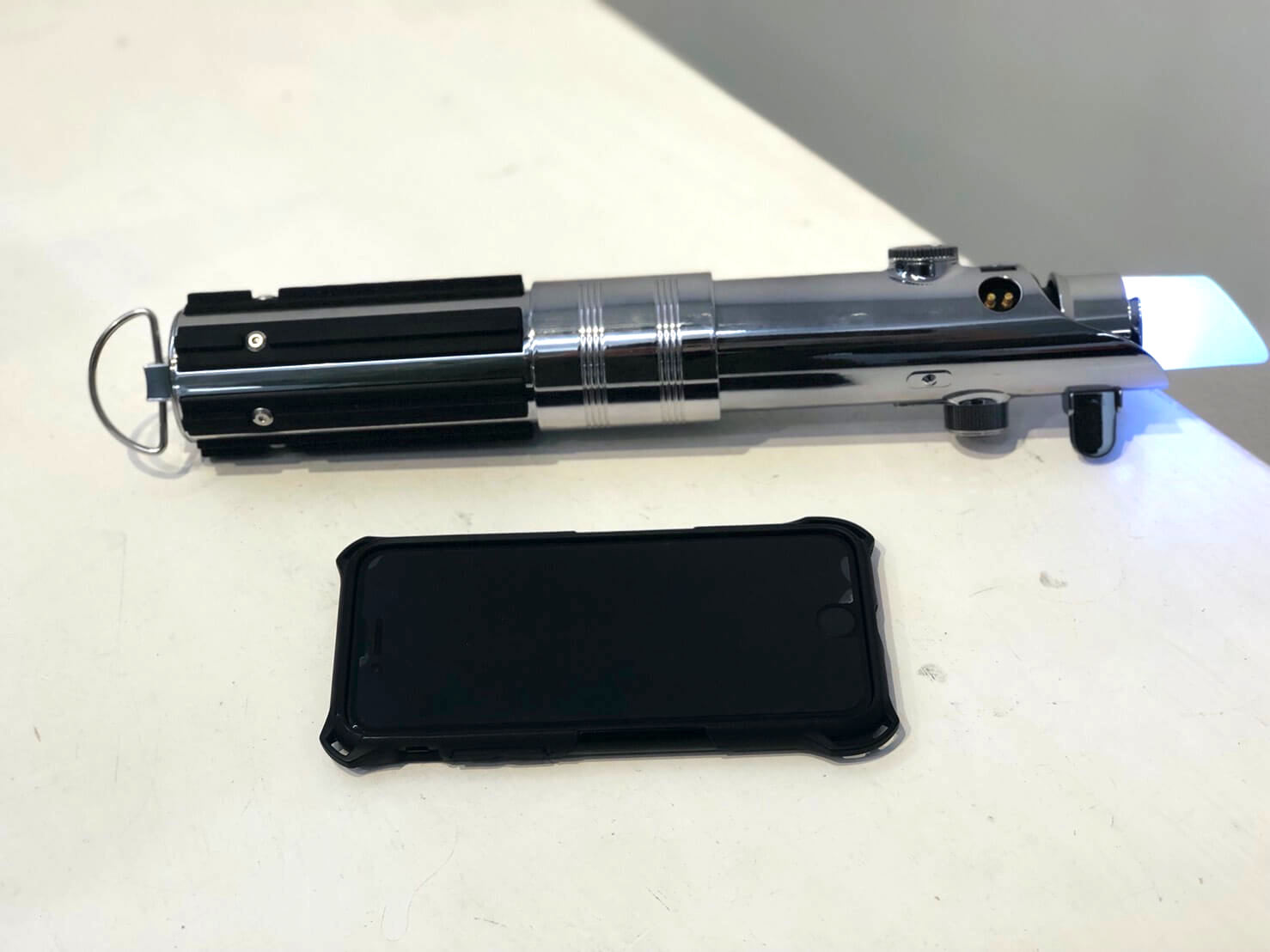 First, connect the light saver and smartphone to Bluetooth. It's good its wireless.
It's much lighter than you would think and it won't slip because it has a good grip.
This light saver is just like a real thing in every detail. Just by looking at it, you can enjoy the world view of this game.
Fasten the the smartphone to the goggles as is instructed in the app. It cannot be used with other apps.
It is also recommended that you turn your banner off so that it's not interrupt your game.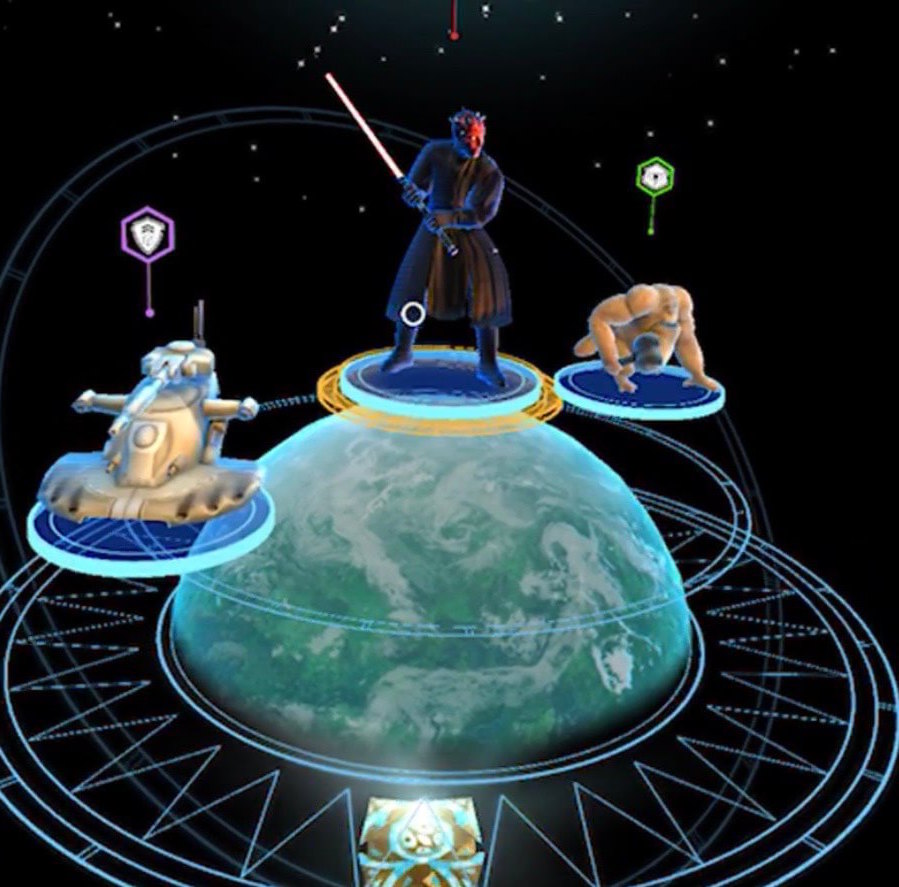 When you put your AR goggles on, a 360 degree 3D image will appear. Look around and you can enter the world Star Wars.
The half invisible characters will appear as life-sized characters. You can experience the scene where Princess Leia asks Obi-Wan for help – the best scene in EP4.
If you play the game in the darkened room the images will be even clear and the atmosphere will be awesome.
There are 3 types of games in total, however the best game is "light saver battle."
In this game you can actually fight with the characters that appeared in the story using the light saver.
"I can see the light saver!" says Ruki in excitement. If it was for real you would have to do special training to be able to use the light saver. But in this game it is so easy to use. The power of technology is amazing. Thank you, Lenovo!!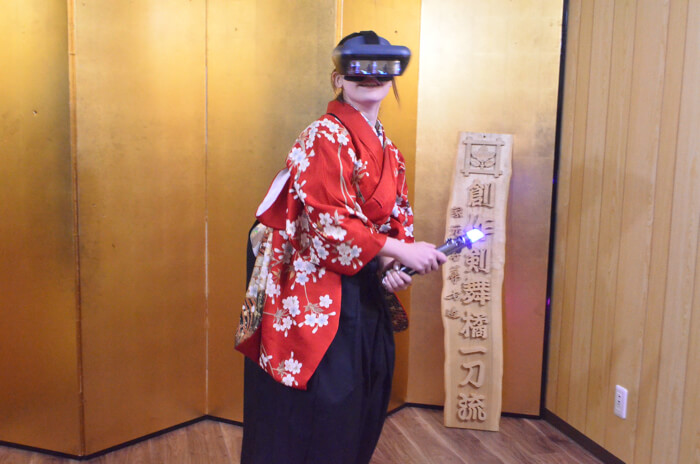 At the early stage you can successfully finish but as the stages advance you enemies will become stronger and stronger. This time it is battle with Darth Maul. The life-size characters coming this way look so real-looking. Ruki looks like he is going to run away.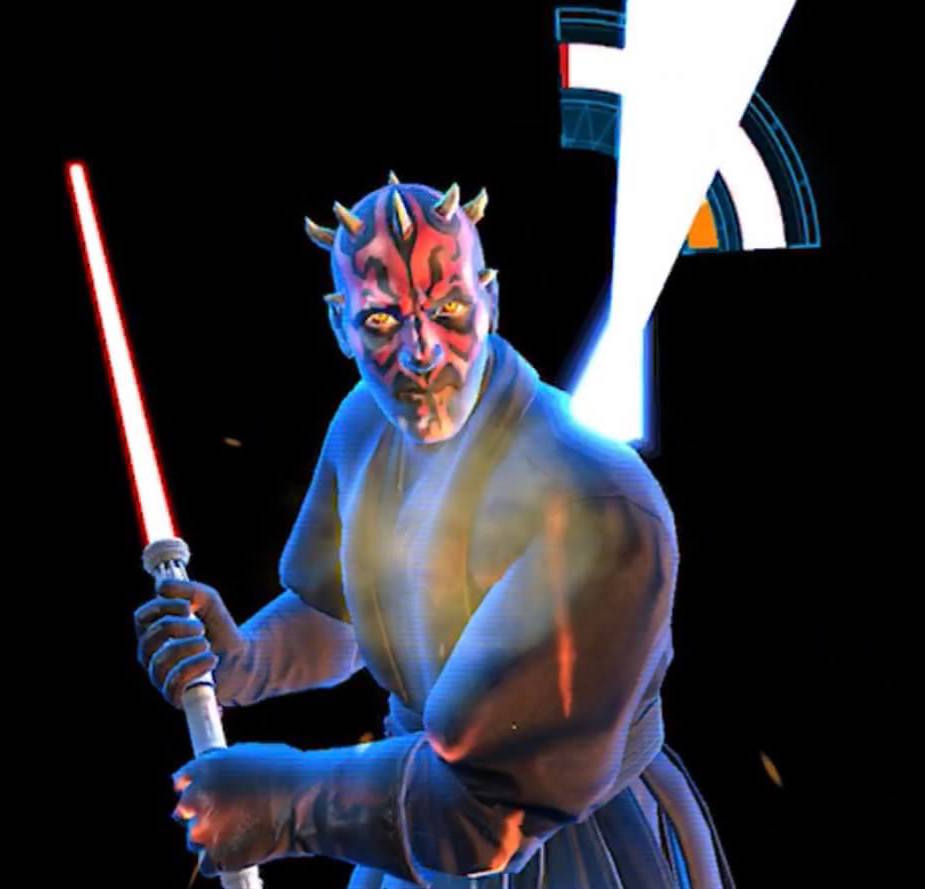 In the light saver battle, you have to stop you opponent's light saver and then duck your opponent's light saver, all the while looking for a moment for you to attack. Using AR you can experience a real battle scene. A hint will appear momentarily on the screen to suggest to you how to convey a big damage when your opponent is off guard. You have a chance to cause major damage. Don't miss this chance. While you are playing this game you will no doubt be moving about, so make sure that there are no obstacles in your way and it is best to play the game in a wide space.
Ruki: "When you cut your opponent with the light saver, the light saver shakes and it is as if it is for real. It really feels like you have entered the world of the movie."
Using sword-work learned directly from teacher Ukon, and after a desperate struggle, somehow you were able to win over Darth Maul.
The light saver is not for real but this is the way you will feel.
We finished Samurai training and got a certificate.
Overall Luki becoming a closer to be Jedi…?
In addition, STAR WARS™/Jedi Challenge includes other games.
Your concentration and strategy will be tested in Holochess.
By making best use of the aliens in this game you are trying to increase your territory in the chessboard.
This is a strategy game where rebel forces fight with the mighty empire forces.
Enlarge your front line bases and repel the empire forces!
You might be able to become a Jedi by playing STAR WARS™/Jedi Challenge!
May the force be with you!
Model:Ruki
Writer:Nao Shiota
◼︎Information
STAR WARS™/Jedi Challenges
URL:https://www3.lenovo.com/jp/ja/jedichallenges/
Yumenoya Asakusa 
Address: 1-36-8 Venis 2F, Asakusa, Taito-ku, Tokyo
Opening Hours : 10:00-18:00
No Fixed Holidays.
Access: 2 minutes on foot from Asakusa station on Tokyo Metro Ginza Line
TEL:03-5770-5131
RELATED ENTRIES
Flower Miffy Juice Garden in Asakusa Offering Limited-Time Drink Perfect for Early Summer

Flower Miffy Juice Garden, a drink stand inspired by Flower Miffy, a florist version of the Dutch character Miffy, has begun selling the perfect drink for the early summer weather. The Marguerite Cream Soda is on sale now at the Asakusa location.

Marguerite Cream Soda

Flower Miffy Glass Vase Flower Frame

The Marguerite Cream Soda features refreshing lemon soda topped with sliced lemon, thick vanilla ice cream, a Miffy cookie and a marguerite flower. Visitors can also find a special Miffy glass vase at the Asakusa store for a limited time, perfect for displaying flowers at home.


Come enjoy shopping for Miffy goods while sipping a refreshing beverage this summer!

Illustrations Dick Bruna Ⓒ copyright Mercis bv,1953-2022 www.miffy.com

Information

Flower Miffy Juice Garden
Address: Flower Miffy Juice Garden Asakusa
Limited Time Beverage: Marguerite Cream Soda
Available starting April 28, 2022
Official Site: https://www.benelic-flower.com

Asakusa Hanayashiki and the TV animation Gintama announces Details of the Collaboration Event

The amusement park Asakusa Hanayashiki will hold a collaboration event with the TV anime Gintama titled Gintama Festival from December 20, 2021 to January 16, 2022.

Mission clear bonus acrylic coasters (4 types/randomly distributed).

Original Merchandise (example)

Reward for ordering original food: one original coaster (10 types/randomly distributed).

The lineup for the Gintama Festival includes sales of event-exclusive original merchandise, a riddle solving rally, and collaboration food. In addition, the special ticket, an advance ticket with special offers that will make the event even more enjoyable, will be available for purchase.

Please look forward to this special event that Gintama fans can enjoy to the fullest.

©空知英秋/集英社・テレビ東京・電通・BNP・アニプレックス

Information

Gintama Festival

Running: From December 20 until January 16, 2022.

Closed on January 11 and 12.

Where: Asakusa Hanayashiki.

Opening Hours: 10:00~18:00 (Subject to weather conditions).

*Opening hours for January 10 to 14, 2022: 10:00-17:00.

*Last entry is 30 minutes before closing.

Details: https://hanayashiki-event.com/info/753

Tokyo Mega Illumination at Tokyo City Keiba to Collaborate with NAKED for AR Experience

2021 marks the fourth year that the Oi Racecourse, also called Tokyo City Keiba, will be bathed in a sea of over eight million colorful lights! The Tokyo Mega Illumination is back from October 16, 2021, until April 10, 2022, and features a water fountain show synchronized to music, a 100-meter tunnel covered in twinkling lights, and more. This year, in the Twinkle area of the event, guests can enjoy various AR illuminations created as a collaboration with NAKED, a creative production company headquartered in Shibuya. The NAKED BIG BOOK interactive experience will also welcome visitors to enjoy a projection mapping experience like no other.

NAKED BIG BOOK

Pergola (Interactive)

Illuminated Logo

AR Horse Camera Filter

AR Lights
Limited-Time Area: Tree Playing with Lights (Lawn Area)

NAKED's most popular work, NAKED BIG BOOK, utilizes projection mapping to allow guests to turn the pages of a giant book and experience a unique world separate from their own. Using web filters and AR, guests can also see the object as a pop-up picture book! 

During this special collaboration held on a horse racing track, visitors can also see a giant white horse in AR as they explore the grounds. Colorful horseshoes and stars will pop up from people's footprints, and the sound of visitors' steps will take on the sound of a horse's hooves instead. Be sure to make some memories by snapping commemorative photos with themed filters during the event!

Information

Tokyo Mega Illumination 2021-2022

Open: 

October 16, 2021 – April 10, 2022

Open Saturday and Sunday throughout October (Closed October 31)

Open Daily from November 1, 2021 – January 10, 2022 (Closed on Race Days and January 1)

Open Friday, Saturday, Sunday, and Holidays from January 11, 2022 – April 10, 2022 (Closed April 1)

Tickets are sold for the following week. New tickets for the following week go on sale each day at 0:00. 

Tickets: https://www.asoview.com/channel/tickets/gCscCKZ8EA/

Official Site: https://www.tokyomegaillumi.jp/

Tennis Star Naomi Osaka Releases Upcycled Denim Collection with Levi's®

Naomi Osaka is one of the fiercest young athletes in sports today. Now a four-time Grand Slam singles champion, she's caught the attention of aspiring athletes all over the world with her authenticity and skill. Now, she's teaming up with Levi's® to release a new collection, available at select stores in Japan beginning August 24. The pieces will also be sold at the official online store. 

Crystal Fringe Short : ¥33,000 (Tax Included)


Lace-Up Short : ¥19,800 (Tax Included)


Trucker Jacket Bustier: ¥24,200 (Tax Included)


Denim Kimono : ¥40,500 (Tax Included)


 

The collection utilizes vintage or upcycled denim to capture Osaka's preferred silhouette, with each piece utilizing her unique designs based in femininity and sportiness. 

The Denim Kimono is a respectful homage to traditional Japanese culture. "I loved wearing kimono as a child," Osaka commented. "I thought if I included one made of denim in the collection, it would be super unexpected and surprising." 

This collection also includes two denim shorts: the Lace-Up Short is sportier, and is a clever reimagining of the classic Levi's® denim shorts. They feature cutouts above the knees, a feminine lace-up back, and were made from upcycled men's Levi's® jeans. For those wanting something more girly, the Crystal Fringe Short features a collection of shimmering fringe gracefully dropping down the sides of the cut-off pants. 

Rounding out the collection is the Trucker Jacket Bustier, a denim bustier with a lace-up back. This is a remake of the Levi's® trucker jacket, cut in the traditional corset style with classic lines, flap pockets, and recognizable buttons. "When I was sketching, the idea of the bustier came to me and I absolutely loved it. Now that it's been made and is actually real, it's so much cuter than I imagined. I love it even more!" Osaka commented. 

This blend of sporty and feminine makes the collection a perfect shoutout to Naomi Osaka's rich heritage. Most importantly, the collection is made from vintage and upcycled denim, breathing new life into already existing Levi's® items and reducing impact on the environment. "Sustainability initiatives are important to me. What I love most about the collection is how responsibly the pieces were made," the tennis star said. 

Which of these four pieces would you like to rock this summer? 

Information

Levi's® x Naomi Osaka Collection

Release Date: August 24, 2021

Where to Buy: 

Levi's® Harajuku Store

Levi's® Osaka Store

Official Levi's® Online Store: https://www.levi.jp/

Trailer for Star Wars Anime Project 'Star Wars: Visions' Releases Worldwide

The anime Star Wars anthology Star Wars: Visions is coming to Disney Plus on September 22, and ahead of release, a more detailed trailer has been released to excited audiences worldwide. Seven of Japan's leading animation studios are participating in the highly-anticipated project, which will tell nine new stories from the Star Wars universe. Each studio will bring their own unique vision to the epic space opera, and fans worldwide have been blown away by the new teaser footage. 

While details on the nine stories are still scarce, the global trailer does feature some of the show's voice actors: English audiences recognized actors Joseph Gordon-Levitt and David Harbour, while the Japanese trailer featured such well-known performers as Masako Nozawa, Yuichi Nakamura, Junya Enoki, Yuma Uchida, Daisuke Hirakawa, and Hiroyuki Yoshino. 

The project aims to introduce Japanese anime and pop culture to the world in a new way. The trailer contains fantastical lightsaber battles and unique characters along with memorable moments from the films, including the famous line "May the Force be with you." Fans around the world are raising their expectations for the explosive final product. 

Global Trailer (In Japanese with English Subtitles)


English Dubbed Trailer (In English with Japanese Subtitles)


 

Below is a list of the animated shorts featured in Star Wars: Visions, as well as the contributing studio: 

The Duel – Kamikaze Douga

Lop and Ochō – Geno Studio (Twin Engine) 

Tatooine Rhapsody – Studio Colorido (Twin Engine) 

The Twins – Trigger

The Elder – Trigger

The Village Bride – Kinema Citrus

Akakiri – Science Saru

T0-B1 – Science Saru 

The Ninth Jedi – Production IG


George Lucas, the creator of Star Wars, has cited Japanese director Akira Kurosawa, and Japanese culture as a whole, as a great influence on his works. The executive producer of Star Wars: Visions, James Waugh, calls the project 'a love letter from Lucasfilm to Japan, the country that gave the world anime culture.'

©2021 TM & c Lucasfilm Ltd. All Rights Reserved.

Information

Star Wars: Visions

Release Date: September 22, 2021 on Disney+

Official site:https://disneyplus.jp/

Kageki Shojo!! Anime Series Gets Event at Tokyo's Amusement Park Asakusa Hanayashiki

Asakusa Hanayashiki, an amusement park in Tokyo, has announced a summer event in collaboration with the ongoing anime series Kageki Shojo!! which will take place from August 21 to September 12.

Cute original artwork illustrated for the event

Take part in the stamp rally

Original Ticket Folder (With Pseudo Ticket)

Original merchandise

Bromides: ¥550 (Tax Included)

Acrylic Figure: ¥500 (Tax Included) / Acrylic Figures: ¥880 Each (Tax Included)

Acrylic Keyrings | ¥770 Each (Tax Included)

Pins: ¥300 Each (Tax Included)

Receive a free postcard when you order a drink or dessert

Receive a free coaster when ordering a drink

Receive an original tote bag when buying a special ticket

Kageki Shojo!! is a manga series by Kumiko Saiki. The anime adaptation began airing on July 4. A collection of cute original illustrations of 22 characters from the series have been drawn for the event which will be dotted around the park. Fans can also take part in a themed stamp rally, enjoy food inspired by the series, buy merchandise, and more.

Star Wars: Visions First Look and Release Date Revealed

Lucasfilm and Disney+ have unveiled the first look at their new anime anthology series Star Wars: Visions and revealed that all nine episodes will be released on September 22, 2021.

The announcement was shared during Anime Expo Lite 2021, the digital version of the annual Anime Expo in the US, where it was revealed that the anthology of animated short films is being created by seven Japanese anime studios that will use "their signature animation and storytelling styles to realize their own visions of the galaxy far, far away."

George Lucas has publicly expressed how Japanese folktales and the films of Akira Kurosawa have had and continue to have an influence on his work, including Star Wars, which has been poured into its themes, stories, and characters. Now things are being flipped around as Japan's animation studios create their take on the franchise.


Below is the list of studios and the titles of their upcoming animated shorts:

Kamikaze Douga – The Duel

Geno Studio (Twin Engine) – Lop and Ochō

Studio Colorido (Twin Engine) – Tatooine Rhapsody

Trigger – The Twins

Trigger – The Elder

Kinema Citrus – The Village Bride

Science Saru – Akakiri

Science Saru – T0-B1

Production IG – The Ninth Jedi

 

Check out a special look of the series below which was posted on the official Star Wars YouTube channel.





The video features some of the Japanese anime industry's top creators each expressing their love for Star Wars. It also looks at how the unique style of Japanese anime is a perfect lens for expressing the franchise.

Star Wars: Visions will release on Disney+ on September 22, 2021.

©2021 TM & c Lucasfilm Ltd. All Rights Reserved.

LINE Disney Tsum Tsum Puzzle Game Breaks 90 Million Downloads

Japanese messaging app LINE announced that their casual puzzle game LINE: Disney Tsum Tsum has broken 90 million views. The popular game launched a collaboration with the Star Wars franchise on Tuesday which is set to run until May 31.

LINE: Disney Tsum Tsum is based off Disney's collectable stuffed toy series. The game launched first in Japan on January 29, 2014, before rolling out to the US, UK, Europe, Asia, and elsewhere on July 1 of the same year. Tsum Tsum and 400-or-so characters are popular around the world with the toys having appeared in Disney films, commercials, at events, and more.

 

In celebration of the puzzle game reaching 90 million downloads, the Today's Mission feature is offering a 10x bonus. The game is also collaborating with Star Wars until the end of May where Darth Vader and a Stormtrooper are making an appearance. And for the duration of May, the game's title logo and background music has been changed into traditional Japanese styles.

 

Tsum Tsum Tenka Touitsu Event

Another in-game event is also ongoing where players can receive pins and a Princess Minnie by clearing the mission.

©Disney 

©Disney/Pixar 

©& TM Lucasfilm Ltd.

Japan's The Star Wars Book Compiles the Saga of the Galaxy Far Far Away

The Star Wars Book is a new publication being released in Japan that chronicles the entire Star Wars Saga, from the 1977 film A New Hope to the 2019 The Rise of Skywalker. It also includes spin off stories, information on the animated series as well as the characters, creatures, weapons, vehicles, and more.




©&TM LUCASFILM LTD.

The book is a must-have for fans of the series whether you have full knowledge of its rich world and want to relive it in its entirety, or if there is more you want to read into.

Solve Mysterious in Tokyo While Walking Around Asakusa in This New IRL Game

Japanese IRL mystery game production company Haregake is launching a new game in collaboration with Cosmos Hotel Management who are known for managing the apartment hotel chain MIMARU. MIMARU Tokyo Asakusa STATION, a new branch, is set to open on April 22.

This game will take place around Asakusa in Tokyo and can be played by couples, families, and groups. The event is being carried out with all necessary COVID-19 safety measures in place and aims to get people learning more about the wonders of Asakusa with a game that incorporates elements of the district's traditional buildings, culture, and more. It's a chance to sightsee around one of Tokyo's most iconic areas while solving puzzles at the same time.

The game kit can be bought at the vending machine inside MIMARU Tokyo Asakusa STATION when it opens later this month. It includes the story, which you can read below, and everything you need to get yourself started. There's also no time limit, so players can take as long as they like while they enjoy the sights.

The Game's Story

"I want you to find the treasure of Asakusa for me."

So says the request that finds its ways to you – you, who are a detective.



A certain wealthy individual once resided in Asakusa.

He left a letter behind, and now this letter is in your hands.

"This map – perhaps it shows the location of this treasure."

Will you be able to locate the treasure resting in Asakusa?

Head on out and solve the mystery as you walk around the district.

Information

Asakusa Detective Game: The Secrets of the Millionaire's Forgotten Letter

Japanese Game Name: 浅草街歩き探偵録〜富豪の残した手紙の秘密〜

Start Date: April 22, 2021 (Not a limited-time event, will be held permanently)開

Start Point: MIMARU Tokyo Asakusa Station

Address: 2-20-4 Kaminarimon, Taito-ku, Tokyo, 111-0034

Official Website: https://nazotoki.mimaruhotels.com/

Sendai Stroll: Taking a Walk Around Japan's City of Trees With Chinese Influencer Etsuna

Sendai, the capital of Miyagi Prefecture and the largest city in Japan's Tohoku region, is a two-hour bullet train ride from Tokyo. The city has earned the nickname Mori no Miyako, or 'City of Trees,' due to the abundant rows of zelkova trees lining many of its streets. It bustles with charm and is enjoyed by locals and tourists for its history, sights, and events, such as its associations with the Japanese regional ruler Date Masamune, the famous Sendai Tanabata Festival, and more. However, there are many other incredible locations that Sendai has to offer that aren't as well known as the popular sites, so today we are joined by Etsuna who is giving us the latest in what can be found in the city.

Along The Coast

The coast of Sendai was struck by a tsunami when the Great East Japan Earthquake struck back on in March 2011. Today, the area is continuing its re-development efforts. New facilities have and are being built, including plenty of new spots the area never had before. Sendai is home to a memorial hall for remembering those affected during the disaster which is a must-visit if travelling to Sendai.

Sendai Umino-Mori Aquarium

Feel the sea breeze and ocean water of Tohoku against your skin

Sendai Umino-Mori Aquarium opened in 2015 as the larrgest aquarium in the Tohoku region. The first floor is themed on the waters of Tohoku where many rare aquatic species from the Sanriku Coast are housed. The second floor is centred on sea creatures found in the oceans around the world such as tropical fish, jellyfish, marine mammals, and other familiar faces.

Visitors can even meet ascidians there which are famous in the Sanriku Coast.

The large fish tanks let in a lot of natural light, recreating the beauty of the Sanriku sea.


There's also a special spot where you can get up close to some of the fish!


The aquarium offers an optional program where visitors can feed the penguins.


"It's a pretty big aquarium," said Etsuna. "It was great to see all of the different things they have on display. I had a lot of fun feeding the penguins too!"

Sendai Umino-Mori Aquarium

Address: 4-6 Nakano, Miyagino-ku, Sendai-shi, Miyagi Prefecture
Opening Hours: 10:00-17:00 (May change depending ont he season)
No Fixed Holidays
TEL: 022-355-2222
Access: 10-minutes by shuttle bus (free ride) from JR Nakanosakae Station
Price: Adults ¥2,200 / Seniors, High School and Junior High School Children ¥1,600 / Elementary School Children ¥1,100 / Infants ¥600 (All Tax-Inclusive)

Official Website: http://www.uminomori.jp/umino/

Sendai Chuooroshiuri Market

Fresh fish at an affordable price

Sendai Chuooroshiuri Market is like the kitchen of Sendai. The food shops there were opened by locals. Visitors will find many different bites to eat when visiting. Etsuna visited Sushi Yoshi, a restaurant in the area so popular that there's always a line.


The restaurant's name, Sushi Yoshi, suggests that it's a sushi restaurant, but they actually serve common delicacies like rice bowls and set meals.


Maguro Sanshudon | ¥1,500


This rice bowl contains three kinds of maguro tuna, so much in fact that you can't even see the rice!

"You can enjoy delicious fresh fish at a reasonable price. You might have to wait in line, but it's totally worth it!"

 Sushi Yoshi
Address: 4-3-1 Oroshimachi, Wakabayashi-ku, Sendai, Miyagi
Opening Hours: 6:30-13:30
Closed: Wednesdays and Sundays
TEL: 022-232-8042
Access: 20-minutes by bus from Sendai Station

Sendai 3/11 Memorial Community Center

Learn the story of the disaster

Inside Arai Station, which is the last stop on the Tokyo Metro Tozai Line, you can find the Sendai 3/11 Memorial Community Center where visitors can learn all about how the Great East Japan Earthquake affected Sendai through the exhibition rooms and in the communal space.


The first floor features a panel with a 3D map of how the tsunami inundated the region as a result of the earthquake.


Up on the second floor is a permanent exhibition showcasing the restoration and restoration efforts of the community as well as real photos from around the time of the disaster.

There are also staff members there who survived the disaster and can describe their experiences as well as current issues facing Sendai.

"I got teary when the speaker told me about the hardships they faced at that time," explains Etsuna. "The people of Sendai are living their lives looking forward, and I have a lot of respect for them."


Sendai 3/11 Memorial Community Center
Address: Kutsugata-85 Arai, Wakabayashi-ku, Sendai, Miyagi
Opening Hours: 10:00-17:00
Closed: Mondays (or Tuesday if the Monday falls on a public holiday) / Day after public holiday / New Year Holidays
TEL: 022-390-9022
Access: Arai Station
Entry: Free

Official Website: http://sendai311-memorial.jp

 

Sendai Arahama Elementary School

The school that still stands after the earthquake disaster

On the day of the Tohoku earthquake, many local residents fled to Sendai Arahama Elementary School where 320 people were trapped including the evacuees, children, and teachers, before managing to escape safely to the roof. The school is now open as a memorial to preserve the memories of those who survived.

The tsunami that struck after the earthquake made it to the second floor of the school. These first two floors have been kept untouched and are as they were on the day.

There are photos as well as video footage exhibited on the fourth floor where the tsunami didn't reach.


From the school building's roof you can gaze at the peaceful coastline.


"Seeing the place that was hit by the tsunami up close has really changed my outlook on life. There is green in the surrounding area. I felt life budding all around."


Sendai Arahama Elementary School
Address: Shinborihata-32-1 Arahama, Wakabayashi-ku, Sendai, Miyagi
Opening Hours: 9:30-16:00
Closed: Mondays / Every 4th Thursday of the month / New Year Holidays
TEL: 022-355-861
Access: 15-minutes by bus from Arai Station
Entry: Free

Akiu Area


Akiu Onsen is a spa town known to locals as the 'living room' of Sendai. It's a 30-50 minute bus ride from Sendai Station. It has been nicknamed one of Japan's Three Baths alongside Bessho Onsen and Nozawa Onsen, both in Nagano Prefecture. It's another place that Date Masamune frequented many times.

Rairaikyo Gorge

A stroll along the gorge path

Rairaikyo Gorge gets its name from the abundance of enormous rocks that have been eroded by the Natori River and given them strange shapes. The Kanji 'rai' used in the gorge's name literally means 'many rocks.' The gorge is home to a 1-km path that people can walk along and soak up the incredible natural environment that offers sights to behold throughout the year. From late October to mid November, when the autumn leaves are in bloom, the area is also lit up in the evenings.


The heart-shaped hollow in the rocks as pictured above is considered a sacred place for couples.


Taking a stroll along the path one sees maple trees aplenty. Visiting during the height of autumn graces you with a colourful scene you wouldn't want to miss.


"I feel healed having gotten to take a leisurely stroll through nature," explained Etsuna. "The rocks of Akiu have some interesting shapes."


Rairaikyo Gorge

Address: Akiumachi Yumoto, Taihaku Ward, Sendai, Miyagi
Access: Approx. 40 minutes by bus from Sendai Station

Akiu-sha

A stylish, old fashioned cafe in the hot spring town


When taking a trip to Akiu Onsen, one hot spot that's a must-visit is Akiu-sha, a restaurant that was renovated from an old private farm house from the Edo Period. During the day it serves lunch food and drinks while in the evenings it's used for events like private parties.

There's an open garden at the site which is sometimes used for weddings. At the back are vegetable plots tended to by the restaurant.

Akiu-sha Lunch | ¥1,280 (Before Tax)


The Akiu-sha Lunch is made with fresh vegetables grown in both their own plot as well as from around Akiu.

Akiu Saiseki Chocolate | ¥850 (Before Tax)


A white chocolate dessert inspired by the unique rocks of Akiu. Customers can use the little wooden hammer to break apart the dessert to create a rubble of chocolate.

The inside of the restaurant is spacious with towering beams holding it up.


"The vegetables are so fresh, I couldn't believe how tasty they were! This flavour is unique to this place."

Akiu-sha
Address: Nozoki-9-4 Akiumachi Yumoto, Taihaku Ward, Sendai, Miyagi
Opening Hours: 11:00-17:00 (Last Food Orders 14:30 / Cafe Last Orders 16:00)
Closed: Tuesdays
TEL: 022-724-7767 (Bookings not possible)
Access: 50-minutes by bus from Sendai Station

Official Website: http://akiuwinery.co.jp

Akiu Winery

Taste and compare different original wines

Akiu Winery in Akiu Onsen was the first winery to open in Sendai. It's home to an enormous grape field, and inside is the brewery itself as well as a dining area and shop. They serve an array of original wines.

As well as originals, Akiu Winery also stocks famous wines from Sendai.


Merlot Red Wine 2018 (Sample) | Koshu Sur Lie 2019 (750ml) ¥2,300 | Steuben Rosé 2019 (750ml) ¥2,000 (All Before Tax)


Akiu Winery's line-up of wines are famous in Sendai.


At the back of the winery is the expansive grape field.


Craft Grill | ¥1,330


At the outdoor terrace you can enjoy a BBQ grill together with a glass of wine.

"The sight of the grape field made me feel like I was in France. You can enjoy a BBQ too so I definitely want people to come here!"


Akiu Winery
Address: Biwaharanishi-6, Akiumachi Yumoto, Taihaku Ward, Sendai, Miyagi
Official Website: http://akiuwinery.co.jp

Akiu Great Falls

The Three Great Waterfalls of Japan

Akiu Great Falls is considered one of Japan's three most famous waterfalls alongside Kegon Falls in Tochigi Prefecture and Nachi Falls in Wakayama Prefecture. It's about 15-minutes by car downstream from Akiu Onsen and is also accessible by bus.

They have a retro shop at the entrance of the waterfall.


Also located next to the waterfall is Akiu-Otaki Fudoson, a temple surrounded by dense green foliage and enormous gingko trees.


"Being in nature really relaxed me and took away the day's stress! It's quite a walk to the waterfall basin so you get plenty of exercise too."


Akiu Great Falls
Address: Otaki Akiumachi Baba, Taihaku Ward, Sendai, Miyagi
TEL: 022-398-2323 (Akiu Onsen Tourist Information Center)
Access: 50-minutes by bus from Sendai Station (Running on weekends and public holidays only)

Around Sendai Station

Sendai Station can be considered as the doorstep of Japan's Tohoku region. It of course runs JR East's Tohoku Shinkansen bullet trains as well as operates Sendai Subway services and buses. The area around the station is great for finding tasty local delicacies, shopping, and souvenir-buying.

WANOSHOKU NIKAI

Seri-nabe is Sendai's new specialty food

If you're asked to give an example of a famous speciality food product from Sendai, chances are people will jump straight to the city's gyutan beef tongue, but what has been the talk of the town recently is seri-nabe. Seri-nabe is a type of hotpot cooked with Japanese parsley ('seri') – one of Japan's seven spring flowers. Miyagi Prefecture boasts as a top class producer of Japanese parsley. The hotpot is served in a simple duck broth which allows the fragrance of the parsley to come through.


"I can't get enough of the crunchy texture of the [parsley] roots! It was delicious, I had a refreshing soy sauce soup finished with ramen."


WASHOKU NIKAI
Address: 2-5-15 Ichibanchō, Aoba-ku, Sendai, Miyagi
Opening Hours: 17:00-Midnight
No Fixed Holidays
TEL: 022-224-6040

Iroha Yokocho

Bar crawl deep into the back streets

The side streets of the Sunmall Ichibancho arcade have a retro Japanese vibe to them, packed full of shops that make one feel nostalgic.

The long, winding alleys feature plenty of Instagram-worthy spots.

"This is a great spot for enjoying a bar crawl, just having a light drink and then moving onto the next place. Even if you don't drink there's tasty food to enjoy too!"

Iroha Yokocho

Address: 2-3-28 Ichibancho, Aoba-ku, Sendai, Miyagi
TEL: 022-223-3151

S-PAL Sendai

A fashion mall connected to the station

S-PAL is a fashion mall directly connected to Sendai Station, home to apparel stores, restaurants, souvenir shops, sundry sellers, and more. Here are some sundry stores selling a variety of miscellaneous items perfect as souvenir purchases.

Nakagawa Masashichi

This is an old-time chain that has been around for 300 years. Specialising in lifestyle goods, this S-PAL branch is the only one in all of Tohoku.


Its interior design has a retro feel to it with shelves and tables piled with cute bits and bobs.

Kaya-ori Tea Towel | ¥440 (Tax Included)


A specialty product of Tohoku, this tea towel is made using the traditional weaving technique of kaya-ori. Exclusive to Tohoku.

IORI

IORI is another shop you'll only find in the Tohoku area. They sell imabari towels which are perfect as gifts to yourself or another.


Handkerchiefs | ¥600 Each (Tax Included)〜


These handkerchiefs are only sold in Sendai and feature a variety of embroidered motifs like the windsocks of the Sendai Tanabata Festival, kokeshi dolls, the helmet of Date Masamune, and more.

KANEIRI STANDARD STORE

A select shop stocking stationery and other trinkets that promote the culture and craftsmanship of Tohoku. This store is right next to Sendai Station and has plenty of souvenir-worthy items, so it's absolutely worth a visit.


As well as lifestyle goods, the store also sells items made in Miyagi, like kokeshi dolls.

Matsukawa Daruma | ¥1,300 (Before Tax)


These Matsukawa Daruma are super cute, especially the blue one which is inspired by the Sendai Domain, also known as the Date Domain.

Dagashiya Zousan

Dagashiya Zousan sells old-time Japanese sweets and confections, stocked with many popular treats from Tohoku adored by both kids and adults alike.


The traditional sweets are all packed together along the shelves and up the walls.

The popular souvenir shops of Sendai

You can't go home after a fun trip without picking up a souvenir, so here's s line-up of shops that have been surging in popularity recently in Sendai, all of which sell Sendai-specific items.

Drinkable zunda at Agurienomori Mitte


Drinkable Zunda | ¥370 (Before Tax)


Zunda are mashed green soybeans boiled and turned into a sweet paste. They are also a local delicacy. Zunda mochi are very famous, but zunda beverages are popular too. This shop sells a variety of zunda treats to pick from.

Bamboo grass kamaboko at Kanezaki-ya



There are many makers of sasa-kamaboko, or bamboo grass fish paste, but what makes Kanezaki-ya's so great is how it retains the original umami flavour and plump texture of the fish.

Zaou cheese at Tohoku Meguri Irotoiro

Zaou Cream Cheese, Vanilla Cream Spread | ¥557 Each (Before Tax)


A food select shop selling a range of different ingredients. Their kaou cheese with sweet vanilla is their most popular item.

"It's a fashion mall so of course they sell clothes, but they had a bunch of other stuff too, everything from traditional Japanese daruma to food. I really recommend S-PAL Sendai if you're searching for souvenirs!"

S-PAL Sendai
Address: 1-1-1 Chuo, Aoba-ku, Sendai, Miyagi
Opening Hours: 10:00-20:00 (Restaurant wing open 11:00-22:00)
No Fixed Holidays
TEL: 022-267-2111
Access: Connected directly to Sendai Station
Official Website: https://www.s-pal.jp/sendai/ 

"Sendai looking and progressing into the future as it overcomes the effects of the disaster. It's a place with amazing food, fun shops, and is teeming with nature. If you've never been to Sendai before, then be sure to visit and have fun!"

Information

TOHOKU PASIFIC COAST:http://tohoku-pacific-coast.com/

"TOHOKU Pacific Coast" refers to the eastern coastal area of Tohoku, Japan. The area was extensively damaged due to the tsunami caused by the Great East Japan Earthquake in 2011. However, it has overcome this adversity and is once again gaining attention as a sightseeing spot that once attracted tourists from all over due to its flourishing wildlife and delicious seafood.

Taste Authentic Japanese Matcha at Asakusa's New Matcha Specialist Shop Kaminari Issa

Asakusa welcomed the newest and third branch of matcha dessert specialist shop Kaminari Issa on October 2, 2020, which opened its doors along Dempoin Street. The shop is just a 3-minute walk from Asakusa Station and 2-minutes from Kaminarimon.

Signature delights on Kaminari Issa's menu include the Okoicha Warabi Latte and Okoicha Gelato. Everything on the menu is made with rich, high quality matcha, from the matcha tea lattes to the matcha beer, parfaits, ice cream, dacquoise, and more. If you love matcha, and you're in Tokyo, this place is a must-visit.


There are plenty of items to get your hands on in this newest store, which also has its own eat-in space, tea leaf display, and more.

They even sell kits so you can make your own Okoicha Warabi Latte and Wakocha Brown Sugar Warabi Latte at home.

Information

Kaminari Issa Dempoin-dori
Address: 2-2-2 Asakusa, Taito-ku, Tokyo
Opening Hours: 10:00-18:00 (until 17:00 on Mondays)
TEL: 03-5830-6948
Access: 3-minutes on foot from Asakusa Station
Official Website: https://www.kaminari-issa.com/