To become a Jedi, I took a samurai lessons
In the world-famous movie, Star Wars, you can find many elements of Japanese samurai culture.
As many of you might know, George Lucas is a big fan of Kurosawa Akira's movies and it is a famous story that he offered Toshiro Mifune, an actor who played in many of Kurosawa's movies, the part of Obi-Wan Kenobi in Star Wars.
This time, I joined the course called "Samurai Training" held by the kimono rental shop, "Yumenoya" in Asakusa to enjoy STAR WARS™/Jedi Challenges to the fullest.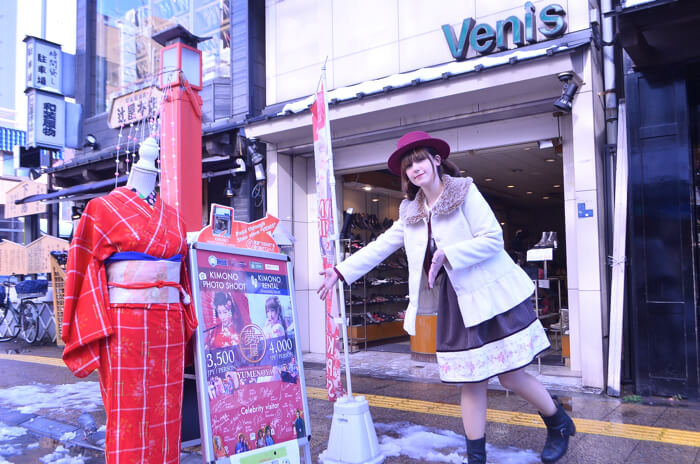 To get to Yumenoya, go through the Kaminarimon and turn right at Nakamisedori. And you will see it on your right. Look for the mannequin wearing a kimono.
It is just a 5 minutes on foot from Asakusa station on Tokyo Metro Ginza line. It's in a very convenient location.
You must wear wafuku (traditional Japanese clothes) to participate in Samurai Training. There are many kinds of kimonos available.
This time, I chose a red kimono which looks strong.
Now Ruki's ready to meet the challenge. She learned how to hold a katana and make a stroke pose.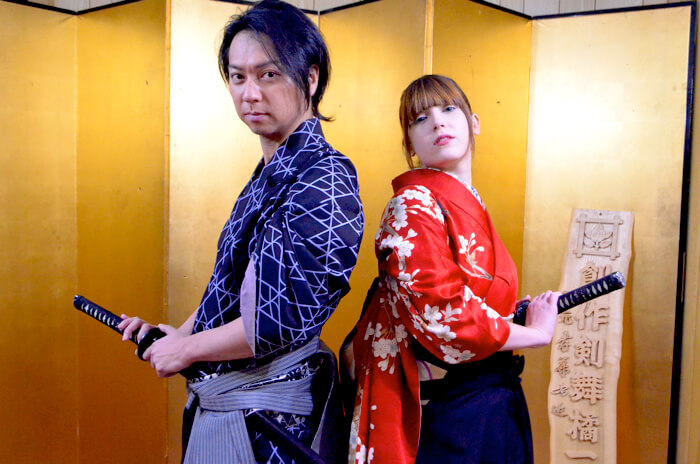 Today's teacher is Ukon Takafuji who is the second generation of "Buto Takafujiryu" from Kanazawa-shi, Ishikawa Prefecture.
In addition to offering lectures, both in Japan and abroad, he established an exercise routine called, "Katana Exercise" to introduce the charms of traditional arts.
Now let's start the training program. Get dressed in your "furisode" and let's begin the battle!
First, Ruki learned how to bow.
Ruki "the Katana is much longer than I thought it would be and it's difficult to use.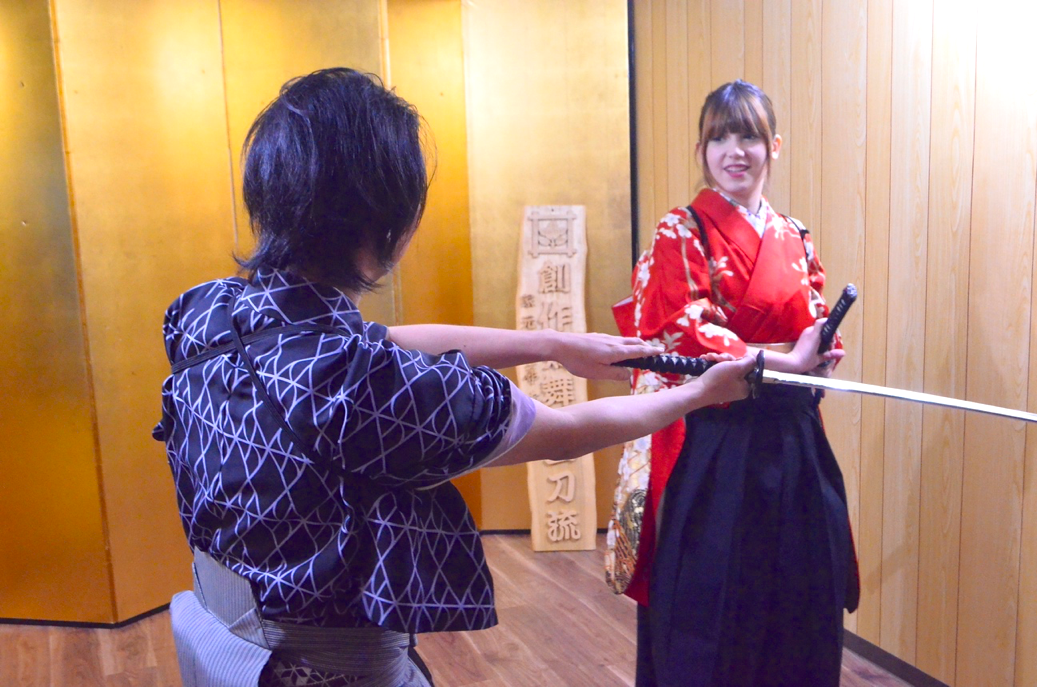 After rehearsing for 30 minutes, Luki could use the katana fairy well.
And now let's beggingSTAR WARS™/Jedi Challenges.
This isSTAR WARS™/Jedi Challenges which Lenovo developed. First , download the Jedi Challenges application and set your smartphone in the goggle. 
The models which this app can be used are iPhone 6, Plus, iPhone X, Galaxy 7, edge, S8, Pixel / Pixel XL, LG G6, Moto Z2 Force Edition and Android smartphones.
English, French, Italian, German, Spanish, Japanese and Chinese are can be used. (2018 January )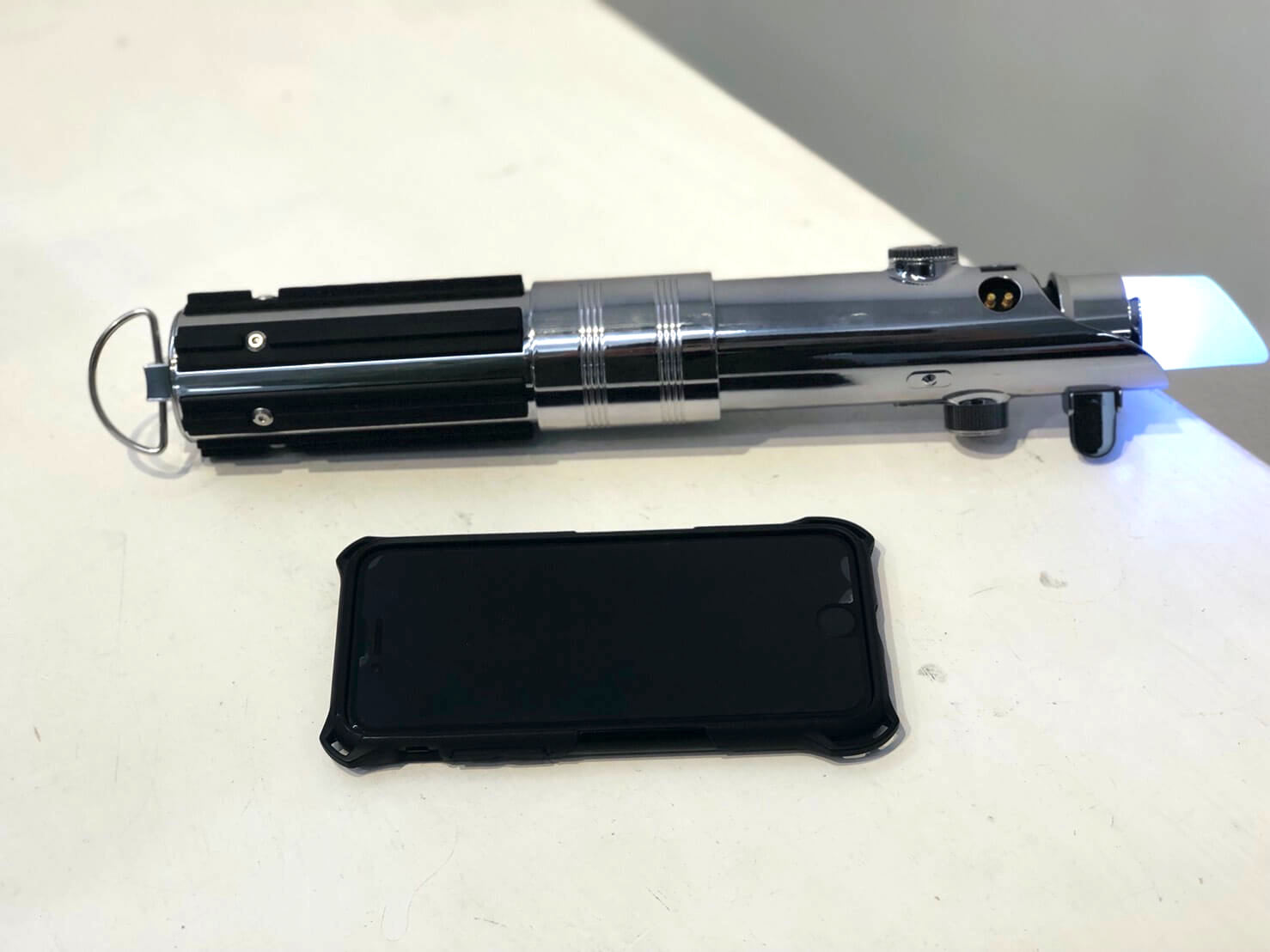 First, connect the light saver and smartphone to Bluetooth. It's good its wireless.
It's much lighter than you would think and it won't slip because it has a good grip.
This light saver is just like a real thing in every detail. Just by looking at it, you can enjoy the world view of this game.
Fasten the the smartphone to the goggles as is instructed in the app. It cannot be used with other apps.
It is also recommended that you turn your banner off so that it's not interrupt your game.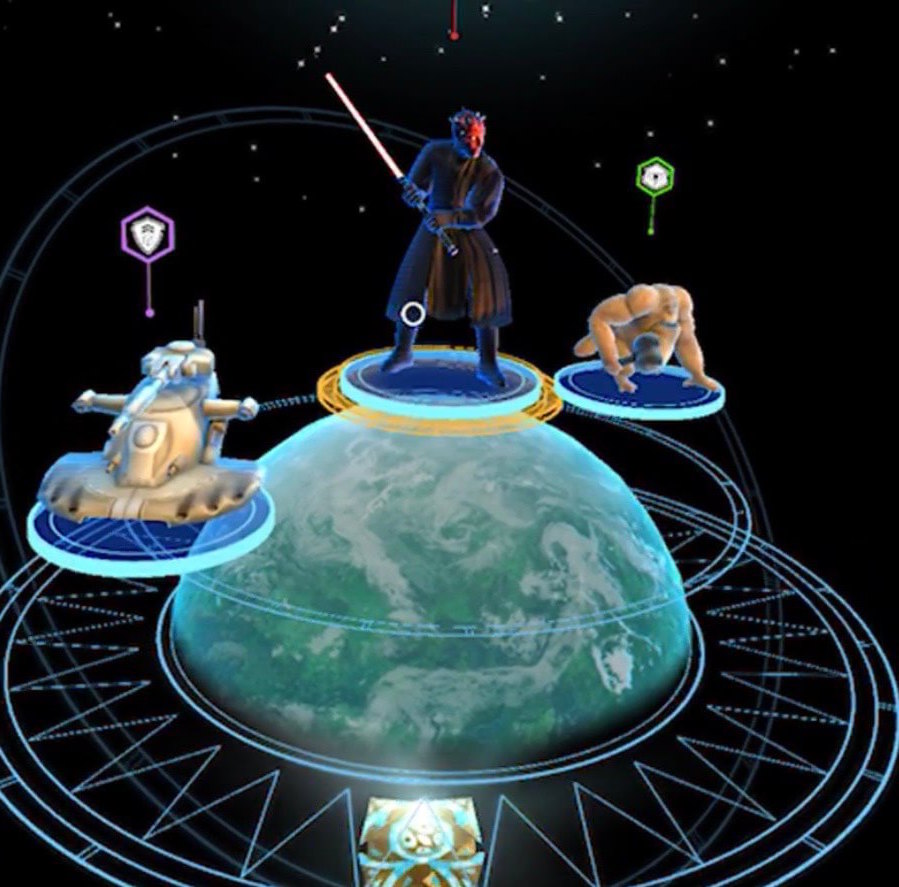 When you put your AR goggles on, a 360 degree 3D image will appear. Look around and you can enter the world Star Wars.
The half invisible characters will appear as life-sized characters. You can experience the scene where Princess Leia asks Obi-Wan for help – the best scene in EP4.
If you play the game in the darkened room the images will be even clear and the atmosphere will be awesome.
There are 3 types of games in total, however the best game is "light saver battle."
In this game you can actually fight with the characters that appeared in the story using the light saver.
"I can see the light saver!" says Ruki in excitement. If it was for real you would have to do special training to be able to use the light saver. But in this game it is so easy to use. The power of technology is amazing. Thank you, Lenovo!!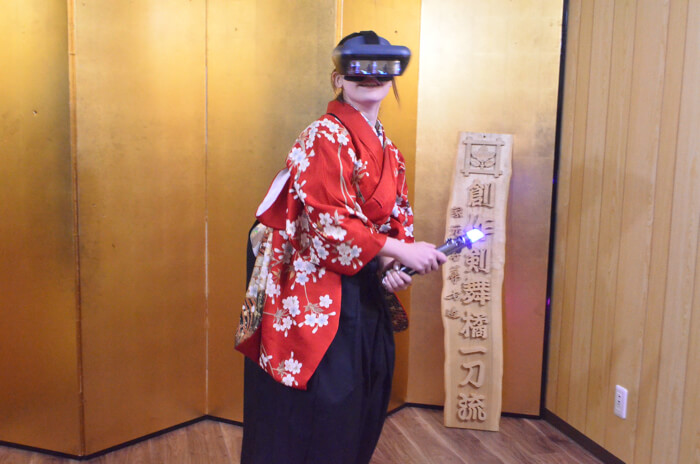 At the early stage you can successfully finish but as the stages advance you enemies will become stronger and stronger. This time it is battle with Darth Maul. The life-size characters coming this way look so real-looking. Ruki looks like he is going to run away.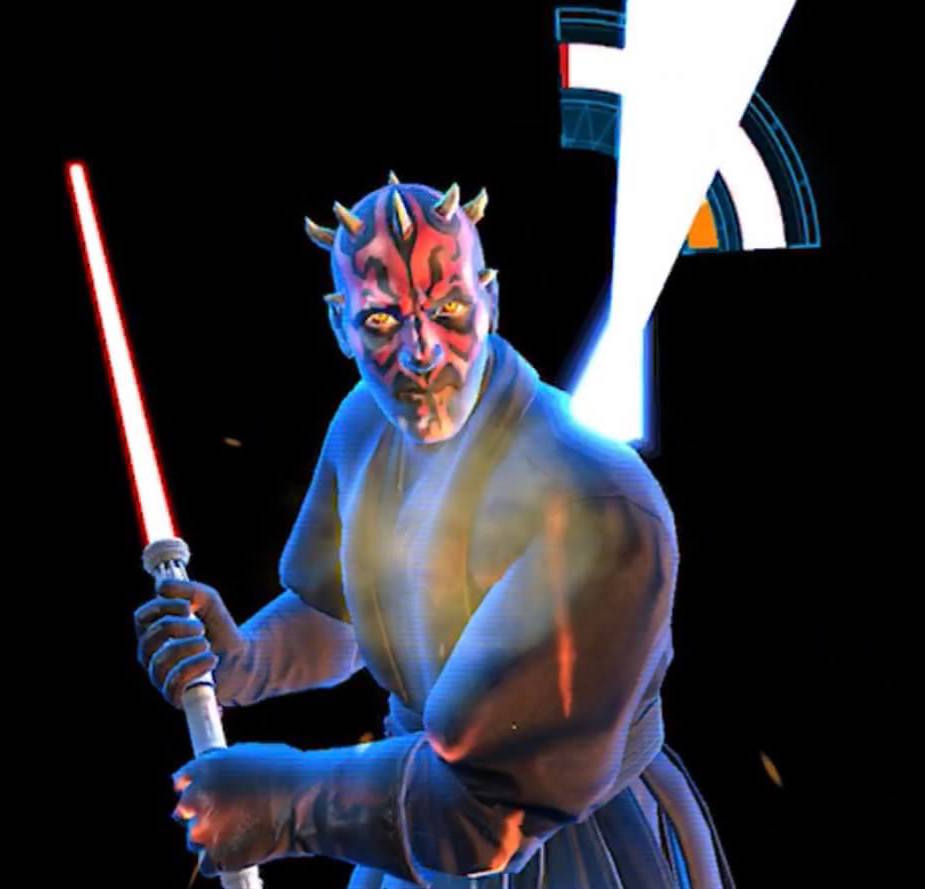 In the light saver battle, you have to stop you opponent's light saver and then duck your opponent's light saver, all the while looking for a moment for you to attack. Using AR you can experience a real battle scene. A hint will appear momentarily on the screen to suggest to you how to convey a big damage when your opponent is off guard. You have a chance to cause major damage. Don't miss this chance. While you are playing this game you will no doubt be moving about, so make sure that there are no obstacles in your way and it is best to play the game in a wide space.
Ruki: "When you cut your opponent with the light saver, the light saver shakes and it is as if it is for real. It really feels like you have entered the world of the movie."
Using sword-work learned directly from teacher Ukon, and after a desperate struggle, somehow you were able to win over Darth Maul.
The light saver is not for real but this is the way you will feel.
We finished Samurai training and got a certificate.
Overall Luki becoming a closer to be Jedi…?
In addition, STAR WARS™/Jedi Challenge includes other games.
Your concentration and strategy will be tested in Holochess.
By making best use of the aliens in this game you are trying to increase your territory in the chessboard.
This is a strategy game where rebel forces fight with the mighty empire forces.
Enlarge your front line bases and repel the empire forces!
You might be able to become a Jedi by playing STAR WARS™/Jedi Challenge!
May the force be with you!
Model:Ruki
Writer:Nao Shiota
◼︎Information
STAR WARS™/Jedi Challenges
URL:https://www3.lenovo.com/jp/ja/jedichallenges/
Yumenoya Asakusa 
Address: 1-36-8 Venis 2F, Asakusa, Taito-ku, Tokyo
Opening Hours : 10:00-18:00
No Fixed Holidays.
Access: 2 minutes on foot from Asakusa station on Tokyo Metro Ginza Line
TEL:03-5770-5131
RELATED ENTRIES
My Film Recommendation | 5 Nostalgic Japanese Movies

ASOBINEXT is a new project launched by event management and talent agency ASOBISYSTEM, which is known for managing artists like Kyary Pamyu Pamyu. The project aims to create next generation icons who will promote their unique personalities and outlooks to the world using social media and in turn bring about new forms of culture.

As part of ASOBINEXT, MOSHI MOSHI NIPPON will be publishing content from each talent that is tied to ASOBINEXT in the form of their favourite and recommended things. Today, we take a look at 5 recommended nostalgic Japanese films from ASOBINEXT's Mirai who makes sure to watch at least one film a week.

Our Little Sister

©2015 吉田秋生・小学館/フジテレビジョン 小学館 東宝 ギャガ

・Film Summary
The film follows three sisters: Sachi, Yoshino, and Chika who all live in the house of their grandparents in Kamakura where they all grew up together. One day, they receive news of the death of their father. At his funeral, they meet their 14-year-old half-sister Suzu for the first time, whose mother is already dead. She had been living with their father and her stepmom after he remarried. When the eldest daughter Sachi looks at Suzu as the sisters are saying goodbye to her, she invites Suzu to go and live with them in Asakusa. Suzu agrees to go, and thus begins the sisters' journey together to deepen their relationship with Suzu. Its a very 'Japanese' film in many ways, and has a nostalgic Asakusa feel to it from the scenery and how people interact with one another.

・Why I Chose This Film
The story really gripped my heart. It's heartwarming, sad, and has a kind of nostalgia I can't quite put my finger on which makes me want to go back home. I love Asakusa, the setting of the movie, and go there every year to have fun with my family. We're also four siblings, brothers and sisters, so this film felt more relatable to me as I watched it. If you're someone who feels like they want to return to their hometown, or see someone you treasure, or want to feel something Japanese, then I recommend giving this film a go!

My Neighbor Totoro


・Film Summary
In the early summer, Satsuki and her younger sister Mei move into the countryside with their father to be closer to their mother who is hospitalised. They meet a mysterious creature who Mei gives the name "Totoro," a being which cannot be seen by adults. Satsuki and Mei get whisked into a fantastical world as we see them grow.

・Why I Chose This Film
I've loved it since I was a kid. It's one of Ghibli's films I've always watched. The film is set to be set in 1952 during the Showa Period. I was born in the Heisei Period so I wasn't even born yet when the film was released. Even so, this is a film that continues to receive love, so much so that it wouldn't be an exaggeration to say that it's known to all in Japan, and all have seen it. I believe there are still lots of kids who are watching Totoro even now. This film is an emotion that continues to live in our hearts as a memory, one that's like a dream we had when we were young. I want the people of the world to watch this regardless of their age or gender!

Always: Sunset on Third Street

・Film Summary
Mutsuko Hoshino arrives in Tokyo from Aomori Prefecture to begin her employment at the auto repair shop Suzuki Auto. Captivated by the prospect of living and working in the sparkling city of Tokyo, Mutsuku is disappointed to find that Suzuki Auto is actually a rundown shop in Tokyo's lower districts. Despite this, she goes into her job with will-power and positivity, and finds herself becoming a member of the Suzuki family. There is also the struggling writer Ryunosuke Chagawa, who accepts the custody of Junnosuke from Hiromi. Junnosuke is the orphaned offspring of the previous tenant of the building where Hiromi opens a bar. All of the cast members convey love, courage, and warmth in this story about being human.

・Why I Chose This Film
The moment I saw this film, it felt like I had been transported back in time to 1926, even though I was born in the Heisei Period and not the Showa Period. Despite that, it still fills me with a sense of nostalgia, and it makes me well up with a feeling of courage. The film is set in a time where smartphones, PCs, and TVs aren't a thing yet, so it really made me realise the importance of our connection to others. I want to recommend this film to anyone who wants to know about old time Japan, or is looking for a film with heart!

Kimi ni Todoke

©2010映画「君に届け」製作委員会 ©椎名軽穂 / 集英社

・Film Summary
Sawako is avoided by her classmates in elementary school because of her appearance which leads them to name-call her "Sadako," the main character from the film The Ring. They also call her a zashiki-warashi, a child spirit. But her father teachers her that a zashiki-warashi is a spirit that actually makes people happy. This makes her happy, since her motto is to "do one good thing a day." When she becomes a high school stduent, she meets a certain boy, which marks the start of this cute and pure love story.

・Why I Chose This Film
This is my favourite of Japan's love stories. It makes you feel that pure, butterfly stomach kind of youthful love. The music and the backgrounds in the film serve to add another layer to their relationship too. The film makes you want to cheer the two of them on from the shadows as they come to face complicated emotions they have never felt before. Everyone should check this out, regardless of age or gender, if they're wanting a heart-throb story or feel like returning to their youthful days!

Korede iinoda! Eiga Akatsuka Fujio

・Film Summary
This film covers the life of manga artist Fujio Akatsuka—known for such popular series as Tensai Bakabon—and his 35 year relationship with his editor Toshiki Takei. You get to learn about the unique life of the manga artist, who has been called a genius.

・Why I Chose This Film
This comedy film is set in the 1970s and shows how the popular weekly manga magazine Weekly Shonen Sunday came about, a magazine which it wouldn't be an exaggeration to call the start of Japanese manga. Of course, if you love Japanese manga, you should watch this, but I want all of the people of the world who are interested in the history of Japanese anime to see it!

Mirai

A 19-year-old affiliated with ASOBINEXT and known for her trademark black bob hair. Her hobby is watching movies—she watches one a week. Her goal for the future is to become an idol that stands out from the crowd and can work not just in Japan but around the world. She wants to work in many areas and endeavours to become a person that people look up to.

My Anime Recommendation | Darling in the Franxx: Children Paving the Way For Their Future

ASOBINEXT is a new project launched by event management and talent agency ASOBISYSTEM, which is known for managing artists like Kyary Pamyu Pamyu. The project aims to create next generation icons who will promote their unique personalities and outlooks to the world using social media and in turn bring about new forms of culture.

As part of ASOBINEXT, MOSHI MOSHI NIPPON will be publishing content from each talent that is tied to ASOBINEXT in the form of their favourite and recommended things. Today, we take a look at a recommended anime series by ASOBINEXT's Yuka Koyama who always watches anime on the weekend without fail and is always on the lookout for new series.

©Darling in the Franxx Production Committee

Darling in the Franxx's Story

The story is centred on children who are deprived of individuality and are raised solely for piloting Franxx, giant robot mecha, in boy-girl pairs. These children fight against strange creatures known as Klaxosaurs and various other kinds of enemies.

What led you to watch Darling in the Franxx?

I decided to watch it after seeing the character Zero Two in the recommendations column of the app I always use when I'm watching anime. Her pink hair really left an impression on me.

Why do you want to recommend the series?

The children in the series face many different emotions and conflicts. It's a wonderful story about their growth. The art style an animation is really beautiful too, so if you're stuck on what anime to watch next, I recommend trying this one out.

Who is your favourite character?

The pink-haired Zero Two. She's a cute and mischievous girl, and I find myself really drawn to her merciless side which she shows on occasion. In this anime, where we see the kids experience numerous conflicts while growing as individuals, Zero Two, who used to be a loner, experiences what it's like to treasure friends and enjoy being around people, as well as at times feel the bitterness of losing friends. She's a very human character, and really like that.

What's your favourite scene?

The scene where Zero Two and Hiro run away from the adults when they're young kids. The adults restrict their freedom, but the two of them frantically escape the facility when they are young to find their freedom. It moved me in a big way, since I'm one to normally hesitate when it comes to something big.

Who do you want to watch it?

I definitely want anyone who is challenging themselves to something new, or anyone who is going through something right now, to watch it. The kids really go through a lot but carve out their own path in the process. Seeing that really gives you courage.

Any final comments?

You end up empathising with the characters in Darling in the Franxx without even realising. It's a story of war with romance and friendship built into it. You always want to know what happens next, so I really recommend it. A second season is coming too, so be sure to check it out.

Yuka Koyama

16-years-old and a second-year high school student. Affiliated with ASOBINEXT. Currently taking lessons with the goal of becoming a model. Her hobby is discovering anime she hasn't seen yet. She's part anime otaku, never failing to watch anime on the weekends. In the future, she aims to become a regular model of a magazine that people admire and feature on the front cover. She also wants to expand her talent not only to magazines but TV too.

KAIKA TOKYO by THE SHARE HOTELS: Asakusa's New Artist Lounge and Hotel Fusion

KAIKA TOKYO by THE SHARE HOTELS is set to open on July 15, 2020 as the 8th branch of THE SHARE HOTELS, a chain of renovated hotels which aim to find and share new beauty of the local area.

KAIKA TOKYO is renovated from a 7-floor 1966 warehouse building and is comprised of an artist lounge and a hotel. It aims to become a new hub for contemporary art in Japan.

The name "KAIKA" is derived from several Japanese words, all of which are read as kaika: "開架" which means open-access i.e. giving open access to the warehouse, "開化" which means enlightenment i.e. to spread and make known Japan's art culture, and "開花" which means blossom, i.e. to bring out the talent of future artists.

Sumida is a city popular amongst local and foreign tourists for its many art and cultural facilities. It is a promoter of art and culture in many ways, and KAIKA Tokyo aims to be a part of that process. One way in which it will do this will be with the new "KAIKA TOKYO AWARD." The judge for awarding the prize is Yūji Akimoto—the director of and lecturer at Tokyo University of the Arts—and Japanese artist Noritaka Tatehana. The prize itself will be having your art piece displayed inside KAIKA TOKYO. To commemorate the grand opening, an exhibition by Noritaka Tatehana himself entitled FORM AND COLOR will be displayed until August 16, 2020.

The downstairs lounge which is accessible to guests will include the art storage area as well as the KAIKA TOKYO AWARD winning pieces. There are also appliances and amenities for guests to freely use too, like kettles, microwaves, plates, cutlery, washing machine, and a vending machine.

Rooms have a relaxed vibe to them thanks to the colours and materials used. There are 73 rooms in total split across 10 different types which can cater to 2, 4, and even 6 people.

The 1st floor bar lounge is open to non-guests during the evenings where they sell Japanese tea cocktails, coffee, Japanese finger food, and more. The coffee served uses single-origin beans from a local cafe in Sumida, Tokyo. The bar is open 19:00 to midnight, with last orders ringing in at 23:30.

Information

KAIKA Tokyo by THE SHARE HOTELS
Grand Opening: July 15, 2020
Address: 2-16-5 Honjo Sumida Ward, Tokyo
Access: 8-minutes on foot from Asakusa Station / 9-minutes on foot from Honjo-Azumabashi Station / 9-minutes on foot from Kuramae Station

Official Website: https://www.thesharehotels.com/kaika/

Japanese attire brand Relier81 began selling its "OBI Square Sandals" on the official UNITED TOKYO online store on Thursday. The sandals are made using dead stock obi which are the sashes used to tie kimono.

Who are Relier81?

Relier81 is a Kyoto-based upcycling brand which aims to maintain Japanese tradition, culture, and the original craftsmanship of its creations.

In today's era, there are less opportunities for people to wear kimono in Japan. Beautiful and breathtaking kimono, obi, and other kimono related items are gathering dust in people's wardrobes. So Relier81 began to think of a way that would enable them to still make use of kimono and kimono accessories that would fit the modern lady. That's where their upcycling skills come into play.

OBI Square Sandals – ¥29,700 (Before Tax) | Size 1: 23cm-23.5cm, Size 2: 24cm-24.5cm

Relier81 have collaborated with UNITED TOKYO for these new OBI Square Sandals, a brand which prides themselves on products that are "Made in Japan." The sandals use Relier81's "OBI Sandals" as the base which have been wrapped in carefully selected dead stock obi by UNITED TOKYO's designers. There are 12 sandal designs in total with two different kinds of elastic insoles used. The sandals lighten the burden of the feet and are super comfortable to ensure that your feet don't get tired easily.

The sandals are shipped in a special "kiribako" box with both company's logos branded on it to keep with the traditional theme.

All of these sandals are manufactured in Japan, but the ageing of artisans and lack of successors is of real concern. UNITED TOKYO's official online store has posted photos of the manufacturing process of one shoes to show people how it's done.

Tokyo's New Sake Ice Cream Shop Launches Crowdfunding Campaign to Ship Ice Cream Around Japan

SAKEICE is an ice cream shop that offers a new kind of ice cream experience, combining Japanese sake and alcohol together with the frozen treat. The shop opened in Akusaka, Tokyo in March this year.

However, due to the outbreak of the COVID-19 pandemic, the store has had to close temporarily. SAKEICE wants to cheer people up during these turbulent times with their ice cream, and has therefore announced the launch of a crowdfunding campaign so they can set up a website where people can order ice cream in Japan and have it delivered to them.

I tried out their ice cream

Otokoyama / Nihonshu Ice

SAKEICE's ice cream is laced with lots of Japanese alcohol. I tried the Otokoyama and the Nihonshu Ice, the latter of which is an original ice cream flavour exclusive to SAKEICE. They both contains around 4% alcohol. I were curious exactly how they would taste.

I started with the Nihonshu Ice. The moment the ice cream hits your tongue, your taste buds are met with its smooth texture, and your nose is filled with the full bodied flavour of nihonshu. The velvety texture on your tongue as it melts is to die for. The Otokoyama has a refreshing kick to it when compared to the Nihonshu Ice. It's creamy, but the aftertaste is refreshing, so we recommend it for people who aren't a fan of sweet treats. Both are sure to leave you feeling satisfied, and maybe a little flushed afterwards.

These ice creams contain alcohol, so keep that in mind when coming here with minors, kids, pregnant women, or if you're driving.

 

They have non-alcoholic flavours too!

Matcha / Cherry Blossom

Of course, they have non-alcoholic options too. I tried out the matcha and cherry blossom flavours.

The matcha one has an irresistible bitterness layered inside the sweetness. You get that real rich matcha taste too. The cherry blossom ice cream is a cute light pink colour and has a subtle sweetness to it. If you don't like alcohol then you'll definitely want to try one of delights.

mūya: Tokyo's New Cafe Opening by 'Bread, Espresso &' Serving Fluffy Mū Bread

Bread, Espresso & is a cafe chain with 17 branches in Japan, including Omotesando. The company is set to open an entirely new cafeーspecialising in Bread, Espresso &'s popular mū breadーcalled mūya on April 17, 2020 in Asakusa Mizumachi.

Bread, Espresso &: https://www.moshimoshi-nippon.jp/254815

Mizumachi is a new shopping centre also opening on April 17, 2020. It's near Solamachi in Tokyo Skytree Town, and sits betwixt Kaminarimon and Tokyo Skytree.

mū

Mū is an original bread recipe baked up by Bread, Espresso & that's made with lots of butter, giving it a rich taste. The word means "soft" in French. When you break a piece off the fluffy loaf, that rich buttery smell fills your nose.

inside the cafe

The mū loaf is a cube shape, and the interior of the shop has cube designs all over it.

Customers sit at tables with chairs that stack up like cubes – a unique and original design.

French toast

Mū is the main dish at mūya, which can be served as it is, as a sandwich, as French toast, or even in a parfait.

When you're passing through Asakusa, be sure to pop into mūya to try the famous mū bread of Bread, Espresso &.

Information

mūya

Address: 1-2-12 Mukojima, Sumida City, Tokyo 131-0033
Opening Hours: 8:00-20:00
No Fixed Holidays

TEL: 03-6240-4880
Homepage: http://www.bread-espresso.jp/

Winners Announced For The 7th Washoku World Challenge Competition

The final round for the 7th Washoku World Challenge Competition was held in Tokyo on February 20 and 21, which saw WANG Wei Ping of China, and chef at SUN with AQUA JAPANESE DINING SUNTORY, as the winner.

The two-day event brought together five chefs from Hong Kong, Singapore, Paris, Donostia-San Sebastian, and New York come together to compete and show their skills create dishes based on the competition's main theme of "Umami" and this year's theme of "Texture and Mouthfeel."

The judges said: "This 7th edition demonstrates that the finalists' technical level keeps improving every year. Creating Japanese dishes that incorporate the characteristics and unique ideas of other countries' culinary cultures, while respecting the fundamentals of Japanese cuisine built on the concept of umami, expands the potential of Japanese cuisine. The creations of each one of the finalists embodied this notion."

Middle Contender: WANG Wei Ping, 1st Place Winner

WANG Wei Ping's Dish

On the first day, the chefs used the same ingredients to create a "nimonowan." On the second day, they forged their own original dishes using five or more ingredients which they arranged on a Japanese "hangetsubon" tray.

When reacting to his victory, Wang Wei Ping said: "I thank the owner and other members of my restaurant. After returning to Shanghai, I would like to continue conveying the excellence of Japanese cuisine, which is both healthy and tasty."

Finalists

Hong Kong

First Place: WANG Wei Ping (China, SUN with AQUA JAPANESE DINING SUNTORY)

USA

Second Place: Yael PEET (USA, Fury's) *The restaurant will be open this summer.

Singapore

Third Place: Loh Man HONG (Singapore, FAT COW)

Paris

Wojciech POPOW (Poland, Beaverbrook)

Judges

– Head Judge: Mr. Yoshihiro MURATA

(Chairman of Japanese Culinary Academy, Owner and chef of Kikunoi, Japanese Cuisine Goodwill ambassador)

– Deputy Head Judge: Mr. Masahiro NAKATA

(Director of Taiwa Gakuen Education Inc. President of Kyoto Culinary Art College)
– Judge: Mr. Hideaki MATSUO

(Owner of Japanese Cuisine KASHIWAYA, Japanese Cuisine Goodwill ambassador)
– Special Judge: Yoshio KOJIMA

(Comedian)

Japanese Tea Crepe Cafe OCHABA Opens Second Branch in Asakusa

OCHABA opened its first branch in Shinjuku in March last year as the first cafe in Japan specialising in Japanese milk tea. The cafe has announced that it will open its second branch in Asakusa on February 22, 2020. The new cafe will introduce a new item to the menu: crepes. The chewy wraps are made with matcha and Japanese tea and filled with mascarpone and fresh cream.

Plain Tiramisu – ¥600


Kogashi Houjicha Puree – ¥650

Strawberry Daifuku – ¥730

The cafe will also serve OCHABA's famous Japanese milk tea topped up with warabimochi, made using carefully-selected tea leaves from Maruzen Tea, a Shizuoka-based tea company with a history spanning more than 70 years.

If you love Japanese tea, you'll love OCHABA's desserts made using all different kinds of teas.

Information

OCHABA Asakusa

Address: Asakusa Orange Street, 1-39-14 Asakusa, Taito Ward, Tokyo

Opening Hours: 11:00-19:00

Official Website: https://ochaba.net

Star Wars Theme Cafe Opens in Tokyo, Osaka, Nagoya, Hokkaido & Fukuoka

With The Rise of Skywalker concluding the Skywalker saga of the Star Wars film franchise, fans are left craving more from the galaxy far far away.

If you're one of those people, and need a fix before season two of The Mandalorian, which is coming in late 2020, then you'll want to hit up the all-new Star Wars-themed cafes now open for a limited time at branches of OH MY CAFE across Japan in Tokyo, Osaka, Nagoya, Hokkaido, and Fukuoka.

We visited the Tokyo branch of the cafe which is located inside Tokyu Plaza Omotesando Harajuku. Here's our report of this must-see cafe for Star Wars fans, a museum-like space chock-full of concept art.

Ready to greet you as you walk into the cafe is none other than Darth Vader. This life-size recreation of the Sith Lord is really striking, but don't worryーthough he is realistic, he won't use his Force choke on you, he only wishes for you to have a nice meal.

Plastered across the cafe walls are pieces of concept art used during the production of the Star Wars film series.

Here's a galactic showcasing of the cafe's menu. There are 7 food items and 5 drinks to choose from, all inspired by the franchise and its characters.

<STAR WARS> Far Far Away Galaxy Black Curry – ¥1,590

A signature dish of the cafe, this black curry features the Star Wars logo which is actually an edible wafer. The space design is bamboo charcoal-cooked rice which is mixed with spicy sauce and topped with peanuts for stars.

<BB-8> Seafood BB-8 Gratin – ¥1,690

Fans of BB-8 won't be able to resist this delicious gratin, served with salad and French bread for a full belly.

<Yoda> Root Leaf Stew – ¥1,590

This stew is inspired by Yoda living his final years in his little shack in Dagobah during Star Wars: Episode V – The Empire Strikes Back. It's packed full of vegetables and will no doubt be enjoyed by both kids and adults alike.

<R2-D2 & C-3PO> Buddy Burger Plate – ¥1,990

This set of two chicken burgers comes with an R2-D2 seasoned with béchamel sauce and a C-3PO burger seasoned with meat sauce. You can take the flags home with you too. We recommend sharing this between two people.

Portion Bread – ¥500

This is the one I was most interested in personally, because I was curious to know from its appearance how it would taste. It's the portion bread that Rey tries eating in the film. At first glance it looks crunchy, but to my surprise it was soft with a subtle sweet flavour.

Lightsaber Drinks – ¥600 Each (w/ Coaster ¥1,300)

From the left, the flavours are Darth Vader blood orange, Luke Skywalker ramune, and Yoda melon. When you draw your straw from the paper wrapping, it turns into a lightsaber!

<STAR WARS > Jet Black Coffee – ¥600 (w/Bottle ¥1,750)

These limited edition bottles of black coffee feature the famous Star Wars opening crawl credits. Which one you get is randomーa must-have for all fans!

After enjoying some Star Wars food and drink, it's time to check out the cafe's exclusive merchandise. There are 13 types of merch in total all bearing artwork from across the film series.

Folder – ¥350

I recommend picking up one of these folders made in collaboration with the cafe. It has illustrations of the food and drinks being sold there.

Tote Bag – ¥3,500

This tote bag has illustrations of characters from Star Wars and how they are all connected.

There's plenty of other must-grab merch too, from music to stationery and more.

Customers who spend over ¥1,000 (excluding tax) on any of these exclusive items will receive the above-pictured limited edition bag. These are limited in stock so are available while supplies last.

There's plenty of places inside for fans to take great photos, so make sure you snap lots.

Also, if you book a table in advance and order something from the menu, you'll receive one of these 25 possible A5 folders, so be sure to book before you go!

© & TM Lucasfilm Ltd.

*All listed prices are pre-tax. Photos are for illustrative purposes only.

Information

"Star Wars" at OH MY CAFE

Locations/Dates:

■Tokyo: OH MY CAFE TOKYO (Tokyu Plaza Omotesando Harajuku) / January 18, 2020 – February 23, 2020

■Osaka: kawara CAFE&DINING Shinsaibashi / January 17, 2020 – February 23, 2020
■Nagoya: kawara CAFE&KITCHEN Nagoya PARCO / January 23, 2020 – February 25, 2020

■Hokkaido: Cafe Interlude, Coach & Four Shinkawa-dori / January 24, 2020 – February 24, 2020

■Fukuoka: kawara CAFE & DINING KITTE Hakata / January 24, 2020 – February 26, 2020

"Star Wars" OH MY CAFE Official Website: https://sw.ohmycafe.jp/

Asakusa's New Conveyor Belt Sushi Chain Kura Sushi Offers a Traditional Japanese Space

Muten Kura Sushi opened the first of its its all-new chain of "global flagship" sushi restaurants in Asakusa BOX on January 22.

This kaitenzushi restaurant, or "conveyor belt sushi," aims to promote Japanese culture. It wants people, both Japanese and foreign, to rediscover the wonders of kaitezsushi, and what better place to open its first branch than Asakusaーone of the biggest tourist hot spots in Tokyo?

The restaurant's design and decor takes on a more traditional approach, drawing inspiration of Japan's Edo period with classic ukiyo-e paintings and paper lanterns adorning the walls, amongst many other things. This classic image of Japan has found its way to the dining space itself too, with flat tables made from plain wood and chairs topped with tatami. This gives it that air of grace and beauty which is typically associated with traditional Japanese culture, as well as a relaxed atmosphere.

The logo used on the restaurant's paper lanterns, crockery, staff uniform and elsewhere was designed by Japanese art director and creative director Kashiwa Sato. It was created for the brand to be used on all future branches, including all Japanese restaurants and those planned for the US and Taiwan.

The restaurant even has several Japanese festival games for customers to play, like target practice and ring toss. They can win coupons that can be used in the restaurant, and kids can win toys too.

Some of the staff can speak foreign languages too, and tablets that you order food from are available in 4 languages.

Staff also carry a "Langogo Genesis," a speech translation machine, to allow for smooth customer service. It's connected to an AI language server which can speak and translate quickly in 104 languages.

This global flagship restaurant also has a self check-in and payment system. Using touch screen, customers will be shown their seats automatically. The AI also adds up how many plates you have used by scanning their QR codes, and this is used to determine how much you need to pay. This means you needn't wait for someone to bring the bill, you just head straight to the till.

There's also a smartphone app (called スマホでくら) which you can use to book a table and makes for easy checking in when you arrive at the restaurant.

Head to Kura in Asakusa, Tokyo to enjoy Japan's longtime affordable and delicious fast food: sushi.

Information

Kura Sushi Asakusa ROX

Address: Asakusa ROX Floor 4F, 1-25-15, Asakusa, Taito Ward, Tokyo)

Opening Hours:

January 22-26 @ 12:00-21:00 (Last Orders 20:30)

From January 27 @ 11:00-23:00 (Last Orders 22:30)

Official Website (English): http://www.kura-corpo.co.jp/en/

8 Delicious Breakfasts to Enjoy in Tokyo's Traditional District Asakusa

Asakusa is one of the most touristic spots in Tokyo and enjoys its traditional temples as much as its modern scene. If you're up early with a day of sightseeing and shopping ahead, starting your day with a good breakfast is the best way to make the most of it. To help out, we've got a list of eight recommendations for breakfast in Asakusa which includes both Japanese and western-style foods – bon appetit!

Pelican Cafe 

Pelican Cafe runs the old bakery called Pan no Pelican which was established in 1942. This delicious menu is not available anywhere else. The scrumptious breakfast menu includes five different meals to choose from. The picture above shows the Ham Katsu Sandwich – a filling breakfast sandwich containing a thick slice of Asakusa ham.

Pelican Cafe 

Address: Floor 1, 3-9-11, Kotobuki, Tokyo

Opening Hours: 

Breakfast: 9:00 – 11:00

Regular Menu: 11:00- 17:00 (Last Orders)

Closed: Sundays, National Holidays

Closed for summer holidays and the New Year's Period

Official Website: https://pelicancafe.jp/index.html

February café

We've previously visited February café for their scrumptious french toast and now we're back for seconds. You can order the breakfast bread set (Asa Pan Set) from 8:10 am to 11:00 am. The bread used for the set is actually Pelican no Pan bread. This is ideal for those of you who want to enjoy breakfast near Kappabashi.

February café

Address:1-7-8 Kaminarimon, Taito, Tokyo 

Opening Hours: 8:10-19:00 (Last Orders: 18:30)

No Regular Holidays

Official Website: http://www016.upp.so-net.ne.jp/February-Cafe/

Coffee Lodge Akaishi

Coffee Lodge Akaishi is located behind Asakusa Kannon and is open from 9:00 am to 4:00 am. This place is loved by everybody from tourists to locals. Their top dish is their Ebi Sando – a sandwich that contains battered shrimp, tartar sauce, cabbage and sauce. The old traditional-style interior provides the perfect relaxing atmosphere to catch your breath between sightseeing and shopping. 

Coffee Lodge Akaishi

Address: 3-8-4 Asakusa, Taito, Tokyo

Opening Hours: 

Tuesday to Saturday: 09:00 – 04:00/ Sundays and National Holidays: 09:00 – 01:00

Closed: Mondays

Tabelog: https://tabelog.com/tokyo/A1311/A131102/13058004/

Misojyu

Misojyu's popular breakfast set includes miso soup, one onigiri, a delicious half-boiled egg, and pickled vegetables. Misojyu is committed to using organic vegetables in their miso soups for healthy and balanced meals so this is the perfect way to start your day. 

Misojyu (Miso Soup Shop)

Address: 1-7-5 Asakusa, Taito, Tokyo

Opening Hours: 

Breakfast: 8:30 – 10:00

Regular Menu: 10:00 – 19:00

No Regular Holidays

Official Website: https://misojyu.jp/

SUKE6 DINER

SUKE6 DINER serves up delicious brunches from the morning and homemade sausages and smoked fish dishes in the evening. The breakfast menu is available from 8:00 am to 11:00 am and serves up homemade granola and bread freshly baked on the third floor of the diner. You can also enjoy their scrumptious sandwiches which are topped with meat and vegetables.

SUKE6 DINER

Address: Ayumi Building Floor 1-2, 1-11-1, Hanakawado, Taito, Tokyo

Opening Hours: 

Tuesday – Friday: 8:00-22:00

Lunch:10:00 – 17:00

Weekends and National Holidays: 8:00 – 21:00

Closed: Mondays

Official Website: http://suke6diner.com/

SaboAsaichi

If you're near Inarichō then pop into Sabö Asaichi for a delicious breakfast, shokupan or Okara bread that is made from bean curd lees. Toppings include red bean paste and butter, honey and butter and red bean paste and cream cheese. Besides bread, you can also add an onigiri and miso soup to your meal so you can enjoy both a western-style and Japanese-style breakfast in one go.

SaboAsaichi

Address: 6-1-15, Higashiueno, Taito, Tokyo

Opening Hours: 8:00 – 20:00 

Closed: Sundays and Mondays

Official Twitter: https://twitter.com/saboasaichi

SUKEMASA COFFEE

If you're looking for a good latte or espresso to start your day then SUKEMASA COFFEE got your back. A unique feature of the café is that the staff are all dressed in kimonos. The picture above shows the café's Red Bean Paste and Butter Dog. A rich filling of red bean paste and butter is sandwiched inside crispy bread.

SUKEMASA COFFEE

Address: Kimizuka Bldg. 102, 2-29-2, Asakusa, Taito, Tokyo

Opening Hours: 8:00 – 19:00

Closed: Tuesdays

Official Website: https://sukemasa.tokyo/

MIMOSA

MIMOSA's morning menu sees toast, sandwiches and the best of Asakusa's delicious breakfasts. The star of the show is the Big Hotcake (¥720 After Tax) which is a five-layer pancake topped with Calpis butter and a side of whipped cream. You'll want to savour the nostalgic flavour forever. If you cannot finish your meal, you can take it away with you.

MIMOSA

Address: 4-28-6 Asakusa, Taito City, Tokyo

Opening Hours: 8:00 – 17:00

Closed: Mondays

Tabelog: https://tabelog.com/tokyo/A1311/A131102/13088749/

 If you're an early bird in Asakusa, treat yourself to a hearty western or Japanese breakfast at one of these cafés and you'll be sure to have a fantastic day. 

*The cafés and restaurants may update their opening hours and menus at any time so please check their official websites and social media for the most accurate information.

Kimono IN LAFORET 2020: Kimono Brands Galore to Gather at Event in Harajuku

Laforet Harajuku has announced that its next "Kimono IN LAFORET" kimono and furisode pop-up shop will run from January 4 to 22 next year.

Iroca Kimono "Leopard Gecko" – ¥63,800 (Tax Included) / Half-Width Obi – ¥26,400 (Tax Included)

Pure Silk Butterfly Black Cloth Furisode – ¥132,000 (Tax Included)

Light Blue Dove Print Polyester Furisode – ¥128,150 (Tax Included)

Eight brands will line the shelves of the annual pop-up shop, with kimono, furisode, accessories and more available for purchase, including new items.

Model and actress Shen Tanaka features as the star of the main visual for Kimono IN LAFORET 2020, mixing colourful kimono with western clothing to create a unique look. Marie Higuchi, who was the stylist for the visual, has also released some dress advice for those who love kimono or those who are beginners and newcomers to the scene.

Mixing kimono with the kind of regular clothing that screams you

Marie Higuchi is a stylist who also writes columns in Nylon Japan and Sozen. Her advice can be used by both beginners and experts alike: by mixing kimono with some of your own clothing, you can simply and easily create a stylish look that's you. This makes for a perfect outfit for a special occasion.

Styling Point

This outfit combines fishnet tights with sandals that have thick metallic soles to create an edgy kimono style. Using thick sandals makes them really stand out when wearing kimono, so you can easily incorporate them with any kimono you wear.

Items Used

Kimono/Obi/Other: iroca

Haneri: C.H.O.K.O

Obi Clip: conoco

Styling Point

The gorgeous flower head dress brings a strikingly elegant touch to the overall look of this outfit. Whether used with kimono or in your regular day-to-day outfits, it's sure to bloom beauty with whatever style you go with.

Items Used

Kimono: MIKI SAKURA

Head Dress: Atelier Senka

One Piece Shirt: Ank Rouge (Laforet Harajuku Floor 4F)

Styling Point

Coloured turtlenecks are in right now for the current season in Japan, and this kimono look incorporates one underneath the kimono. The mix of loose socks and thick-sole sneakers really adds to the flavour of this style, even more so with the addition of personal items like the vinyl record headband and lip clutch bag which make it unique.

Items Used

Kimono/Obi: Tamao Shigemune

Headband/Clutch Bag: SINZ (Laforet Harajuku Floor B0.5F)

Other: Personal items

If you're looking for kimono and furisode when visiting Japan in January, be sure to hit up Kimono IN LAFORET at Laforet Harajuku, located in Tokyo's fashion central: Harajuku.