"Character 'bento' box lunch" recipe! A rice ball of Rilakkuma turned into a Japanese-Hina Doll
With just a small bit of ingenuity, turn everyday food into something cute using Kaori's recipe series! With a few simple ideas, an ordinary recipe magically transforms into a cute dish.
 "Hinamatsuri" is a festival in Japan which is held on the 3rd of March to wish for the health and happiness of a girl child and each house displays a set of Hina Dolls on the 3rd March.
In this article, I will introduce to you how to make "Rilakkuma Ohinasama ni Henshin! Onigiri (rice ball)"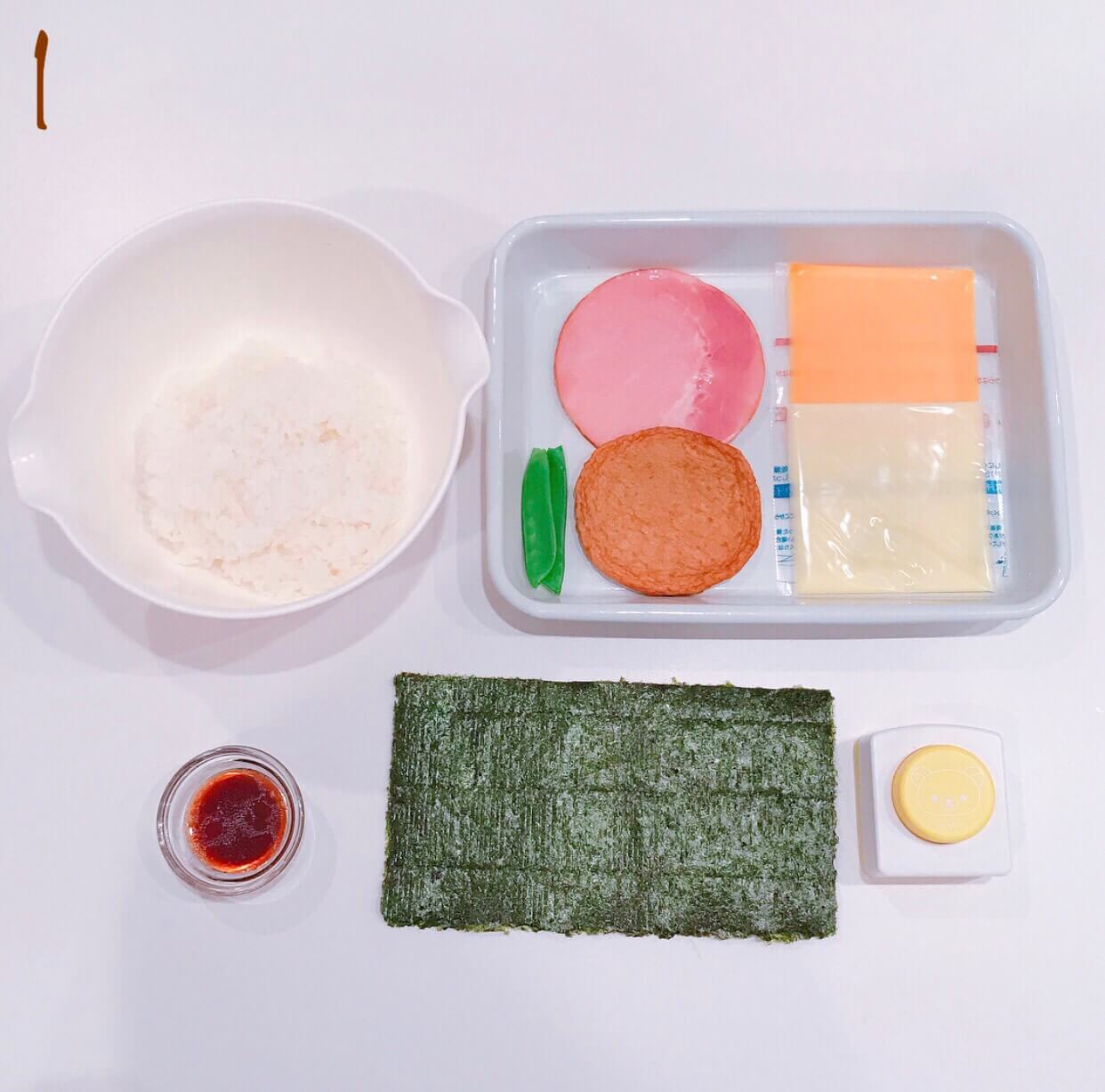 1:Ingredients
Rice – 200g
Yakiniku no Tare (Japanese BBQ sauce)
Seaweed
Sliced ham
Cheddar cheese
Sliced cheese
Satsumaage (deep-fried ball of fish paste)
Kinusaya (snow peas)
Seaweed cutout
2: Separate the rice in half and add "yakiniku no tare" (1 tablespoon) to one of the halves and mix. Shape the rice like an egg and place it on top of some plastic wrap until it gets cold.
☆You can use "mentsuyu" (noodle soup) instead of "yakiniku no tare."
3: Cut out the satsuma age as shown in the photo to make the ears of Rilakkuma by cutting it out.
Take off the thin part of the satsuma age and cutout the white part to make the parts of Korilakkuma. Use the leftover satsuma age to make the round-shaped hands.
4: Make the other parts. Use the kinusaya to make the hat and rod and use sliced ham to make the crown and fan. Use cheder cheese and sliced ham to make the inside of the ears.
5:Wrap the seaweed on the rice ball as shown in the photo. Use sliced ham for Korilakkuma's rice ball. This time, I also used frill lettuce as shown in the photo.
Arrange the shape of the bottom line of the ham/lettuce to make it look like a kimono.
6: Fix the hat, rod, crown and fan with fried pasta. Finished!
How to make fried pasta:https://www.moshimoshi-nippon.jp/38676
Let's make hinamatsuri-rice balls and put them into a "bento" lunch box.
Kaori also invites you into her world of character-themed rice dishes in her recipe series! Please check out her Instagram where she has uploaded many pictures of her character dishes!
Kaori Kubota (@kaopan27)
I live in Hokkaido and I love to make character-shaped meals, desserts and breads.
I enjoy making character foods because I want to see my family smiling,
My character foods and character bento boxes are introduced in my Instagram page→@kaopan27
RECOMMENDED ENTRIES
Kaori's easy recipe – Learn how to make "Hello Kitty Chocolate Ganache Mini Tarts"

With just a small bit of ingenuity, turn everyday food into something cute using Kaori's recipe series! With a few simple ideas, an ordinary recipe magically transforms into a cute dish.

In this article, you'll learn how to easily make "Hello Kitty Chocolate Ganache Mini Tarts." You can still make it in time before Valentine's Day arrives!

1: Ingredients

50g Chocolate

50g White Whocolate

4 Large Servings of Fresh Cream

9 Mini Tart Pastries

Chocolate Pens

Decorative Fresh Cream

Strawberries

2: Divide the milk chocolate and white chocolate into two separate large servings of fresh cream and melt over a pan of hot water. Pour the melted chocolate into the mini tart pastries.

3: Leave the chocolate to cool and set. Afterwards, draw Hello Kitty's face onto the white chocolate tarts with your chocolate pens.

4: Slice the strawberries vertically and then cut into heart shapes. Top the milk chocolate tarts with fresh cream and decorate with your heart-shaped strawberries and some silver balls. (Don't worry if you don't have silver balls.)

5: Done!

And there you have it – your creation is complete in no time at all with ingredients you can buy from the shop. The flavour of the chocolate becomes a little soft when you put in ganache and can be enjoyed deliciously even after some time♡

There's plenty more character-themed dishes on the way from Kaori! In the mean time, please check out her Instagram page where she has uploaded many pictures of her character dishes.

■Profile

Kaori Kubota(@kaopan27)

I live in Hokkaido and enjoy making dinner, sweet treats and character food using bread♡

I want to see my family smile, so I enjoy transforming food into characters and making cute meals♡

You can see more of my character food and bentos on my Instagram page → @kaopan27

Kaori's easy recipe – Learn how to make " "KITTY's Chocolate Spoon"

With just a small bit of ingenuity, turn everyday food into something cute using Kaori's recipe series! With a few simple ideas, an ordinary recipe magically transforms into a cute dish.

In this article, I will introduce to you how to make KITTY-chan's chocolate spoon which is suitable to be used as a gift for friends.

1: Ingredients

Chocolate

※Each piece is 30g. This time, we will use 180g of chocolate since we are going to make six pieces.

Chocolate pen

Marshmallows

Nuts (any type of nuts you want to eat)

Dried fruits

Silicon cup (available at Seria – 100 yen – 3 cups)

Wooden spoon (Available at Seria)

 

2: Dissolve the chocolate by putting the bowl into hot water.

 

3: Pour the melted chocolate into the silicon cups.

 

4: Draw the face of KITTY-chan on the marshmallow. Draw the parts of the face in the following order / nose → eyes, whiskers → ribbon.

 

5: Insert the wooden spoon into the chocolate before the chocolate gets hard.

 

6: After inserting the wooden spoon, place your favorite nuts and dried fruits on the top.

Put a little bit of chocolate underneath the marshmallow and place it on top of the surface of the chocolate.

 

7: After decorating the chocolate, put it in the refrigerator and wait for one night.

 

8: Remove the silicon cup after the chocolate gets hard. Finished!

 

The chocolate itself is very tasty but it is recommended that you put it into hot milk to make hot chocolate.

Since the chocolate is easy to be wrapped, you can give it to your kids' frineds♡

Kaori also invites you into her world of character-themed rice dishes in her recipe series! Please check out her Instagram where she has uploaded many pictures of her character dishes!

■Profile

Kaori Kubota (@kaopan27)

I live in Hokkaido and I love to make character-shaped meals, desserts and breads.

I enjoy making character foods because I want to see my family smiling,

My character foods and character bento boxes are introduced in my Instagram page→@kaopan27

How to make a KITTY-chan chocolate parfait!

With just a small bit of ingenuity, turn everyday food into something cute using Kaori's recipe series! With a few simple ideas, an ordinary recipe magically transforms into a cute dish.

In this article, I will introduce to you how to make a KITTY-chan chocolate parfait which you can easily make with ready-made ingredients.

1: Ingredients

Chocolate mousse's ingredients

Chocolate 150g

Fresh cream (animal derived) 200g

Roll cake (ready-made product), vanilla, chocolate

Coating chocolate

strawberries

Blueberries

Granola

Chocolate pen

Decoration fresh cream

Lollipop candy's stick

Parfait glass

※The lollipop stick was bought at Seria.

2:First make the chocolate moouse.

※Shred the chocolate

I used diced chocolate, but you can use other kinds of chocolate such as bar chocolate. Make sure to shred it well so that it will melt smoothly,

➁ Warm up the fresh cream (100g)

➂ Beat the fresh cream (100g)

※Add ➀ and ➁ and mix them together well.

➄Now, add ➂ to  ➃ and mix them together well.

Place the ingredients into a container. Since this mousse will become firm in a short time, you don't have to put it into a refrigerator.

3:Let's make the lollipops.

➀ Put the ready-made vanilla roll cake inside a bowl and mix them together well.

※You usually mix fresh cream with the sponge cake to make a lollipop, but such work is unnecessary because ready-made lollipops include fresh cream.

➁Put the ingredients inside the KITTY-chan mold.

➂Place the sticks on top of the KITTY-chan forms and make them hard by putting them inside a refrigerator.

(Make sure that the sticks do not wobble.)

➃Dip the KITTY-chan forms into chocolate and wait until the chocolate gets hard.

4:Draw KITTY-chan's face using the chocolate pen.

※Draw the face after the coating chocolate becomes hard.

5:Decorate the parfait.

Put the chocolate roll cake cut into small pieces on the bottom of the glass and layer all the ingredients -the chocolate mousse, strawberries, blueberries and granola.

Whatever you prefer but, I don't put the fresh cream inside the glass since the taste of chocolate mousse is thick.

After making the layers, place the fresh cream, strawberries and KITTY-chan's lollipop on top of the parfait. Voila, your KITTY-chan parfait is complete!

Here is a chocolate parfait that you can make with ready-made products in a short amount of time.

Of course, the parfait tastes terrific even if you do not put a lollipop on top of it.

Kaori also invites you into her world of character-themed rice dishes in her recipe series! Please check out her Instagram where she has uploaded many pictures of her character dishes!

■profile

Kaori Kubota (@kaopan27)

I live in Hokkaido and I love to make character-shaped meals, desserts and breads.

I enjoy making character foods because I want to see my family smiling,

The character foods and character bento boxes are introduced in my Instaglam page→@kaopan27

Kaori's easy recipe – learn to make a character-themed chocolate gateau!

With just a small bit of ingenuity, turn everyday food into something cute using Kaori's recipe series! With a few simple ideas, an ordinary recipe magically transforms into a cute dish. Today we'll be looking at a recipe perfect for Valentine's Day – a super delicious chocolate gateau!

1: Ingredients

・15cm diameter round bowls

・ 200g coverture chocolate

・ 150g unsalted butter

・ 4 egg yolks

・ 50g salt

・ 25g wheat flour

・ 25g Van Houten cocoa powder

・ 4 egg whites

・ 30g granulated sugar

2: Mix the egg yolks and sugar well.

3: Melt the coverture chocolate and unsalted butter in a bowl over hot water. Add this to the egg yolks and sugar and mix.

4: ① Whisk the egg whites and granulated sugar until soft peaks form and add a small amount of this to the mixture made in step 3.

② Sieve the wheat flour and cocoa powder into the mixture.

 ③ Add the remaining egg whites into the mix and stir well.

④ Spread the mixture into a baking tin. (As the mixture will rise then sink whilst being cooked, it is ok to fill the tin up to 9/10 of the way.

5: Put the cake mix into the oven at 170℃ for 10 minutes and then turn it down to 160℃ for 20 – 25 minutes. After rising, a dip will form in the centre of the cake.

6: Make the decoration cookies for the top of the cake. (See Kaori's Hello Kitty Halloween Cookies recipe: https://www.moshimoshi-nippon.jp/65290 )

You will need 50g of icing sugar and 9g of egg white to make the icing for the cookies. Add the egg whites bit by bit to the icing sugar whilst mixing well. After mixing, you can start decorating the cookies. (Today I've put the icing on using my finger).

Once the icing has hardened, melt a chocolate pen (or any kind of chocolate) and use a toothpick to draw Hello Kitty's nose and eyes in the centre of each cookie. Fill the hole in the centre of your chocolate gateau 8/10 of the way with fresh cream and then add the cookies and some strawberries to the top to decorate.

※ A few important points*

1. The cake will still be delicious after 3 days.

2. This cake is best enjoyed at room temperature. If you store it in the fridge, I recommend leaving it out at room temperature about an hour before serving.

3. If you are going to give this to somebody as a gift, then I recommend either avoiding the fresh cream or decorating just before presenting to the recipient. Today I've put my cake in a gift box purchased from Seria.

Kaori invites you into her world of character-themed dishes in her recipe series! Please check out her Instagram where she has uploaded many pictures!

■ Profile

Kaori Kubota (@kaopan27)

I live in Hokkaido and I love to make character-themed meals, desserts and breads. ♡

I enjoy adding just a few small touches to a recipe to make cute bentos and character-themed dishes that put smiles on my family's faces.

Please check out my character-themed bento boxes on my Instagram page→@kaopan27

Kaori's easy recipe – Learn how to make " "Soft and Juicy Rilakkuma Buread"

With just a small bit of ingenuity, turn everyday food into something cute using Kaori's recipe series! With a few simple ideas, an ordinary recipe magically transforms into a cute dish.

This time, I will introduce to you "Soft and Juicy Rilakkuma Bun."

It is a rich-tasting heavy bun which has lots of eggs and butter inside.

1: ingredients

Bread flour – 320g

Dry yeast – 2 tea spoons

Sugar – 3 table spoons

Salt – 2/3 tea spoons

Egg – 1 to 2 (100g)

Warm butter – 80cc

Salt-free butter – 80g

Cocoa, pumpkin powder – moderate amount

Chocolate pen

2:

Put the flour, yeast, sugar and salt into a bowl. Place the yeast beside the sugar and place the salt on the opposite side to enhance fermentation.

➁ Mix warm water and the eggs.

Put ➁ into ➂ and ① and mix thoroughly then add butter.

★You can use a beater or mix the ingredients by hand.

Put cocoa and pumpkin powder into a small amount of water and mix it.
Color the ingredients.

The amount of the dough→640g

Pumpkin powder dough (Kiiroi Tori)→80g

Cocoa powder dough→(Rilakkuma and the tree trunk)→320g

Place dough (Kolirakkuma)→240g

3:

Color each dough and leave them for about 40 minutes (put wet towels on them) to enhance primary fermentation.

★Refer to the recipe of KITTY Chan's Chigiri Pan regarding the method of fermentation.

4:

Separate the doughs after primary fermentation is done.

Kiiroi Tori→80g

Rilakkuma→face 72g / ear 4g ×2

Tree trunk→160g

Korilakkuma→face 72g, ear 4g ×2

★The weights noted above are approximate weights since the dough differs according to the amount of water and the weather conditions.

Place wet towels on the doughs and leave them for about 30 minutes to enhance the second fermentation.

Put the dough inside the oven (180 degrees) after the second fermentation is finished. Lower the oven's temperature to between 140 to 150 degrees and bake the dough for about 20 minutes. Place an aluminum foil on top of the dough if it looks like they are it is getting burnt.

5:

Draw the face after the buns are cooled.

Use the round side of the toothpick to draw the ears, mouth and eyes and use the tip of the toothpick to draw the nose.

Voila! You are finished.

It is now the Christmas season so I decorated it to match the season.

Kaori also invites you into her world of character-themed rice dishes in her recipe series! Please check out her Instagram where she has uploaded many pictures of her character dishes!

■profile

Kaori Kubota (@kaopan27)

I live in Hokkaido and I love to make character-shaped meals, desserts and breads.

I enjoy making character foods because I want to see my family smiling,

The character foods and character bento boxes are introduced in my Instagram page→@kaopan27

Kaori's easy recipe – learn how to make "Rilakkuma Rice Hamburgers!"

With just a small bit of ingenuity, turn everyday food into something cute using Kaori's recipe series! With a few simple ideas, an ordinary recipe magically transforms into a cute dish.

This time, let us introduce to you, "Rilakkuma Rice Hamburgers" which can be created by using a "gacha gacha capsule."

■Ingredients

・Rice / 360 to 400g

・Sliced cheese / one piece

・Cheder cheese / one piece

・Ham / one piece

・Seaweed / one piece

・Cutlet (or a croquette) / three pieces

・Leaf lettuce / moderate amount

・Mentsuyu (Japanese noodle soup) / moderate amount

・Yellow "decofuri" (decoration furikake) / moderate amount

・Seaweed punch

・Cookie cutter

・Fried pasta

・Gacha gacha capsule

2:

2: Divide the rice into three blocks and color each character

Korilakkuma→white

Rilakkuma→color it in brown using "mentsuyu"

Kiiroi Tori→mix the yellow "decofuri"

After coloring each character, divide the white rice and the mentsuyu-flavored rice into two pieces (10g per piece).

Put rice into the gacha gacha capsule.

50g→base

50g→face

10g×2→ears

(the quantity noted above can be changed)

☆Pack the rice into the capsule tightly so that the rice will not crumble

3:Round out the rice (10g piece) as shown in the photo.

4:It should look like this. (refer to the photo)

5:

Rillakuma and Korillakumas' mouths→sliced cheese

Kiiroi Tori's mouth→Cheder cheese

Rilakkuma's ears→Cheder cheese

Korilakkuma's ears→ham

Eyes, ears and the nose of Kiiroi Tori will be shaped by punched out seaweed.

6:It should like this (refer to the photo) after finishing the directions above.

7:Place the base rice→frill lettuce→cutlet→rice and fix the ears with fried pasta. ※ To make the fried pasta, see the article "Pom Pom Purin no Milk Pudding."

8:Place the mouth (sliced cheese) and place the eyes on the face.

Place the slice cheese and ham behind the ears.

Finished♡

Kaori also invites you into her world of character-themed rice dishes in her recipe series! Please check out her Instagram where she has uploaded many pictures of her character dishes!

■Profile

Kaori Kubota(@kaopan27)

Kaori lives in Hokkaido and enjoys making dinners, sweet treats and character food using bread ♡

Kaori also loves to experiment with small tricks to crate easy character-themed sweets @kaopan27
RELATED ENTRIES
Chairoikoguma Market to Open at KIDDYLAND Osaka Umeda This Spring

Japanese character goods and toy chain KIDDYLAND is collaborating with San-X, the creators of the iconic Rilakkuma and its friends, to open the Chairoikogumarché, a market themed on Chairoikoguma, at KIDDYLAND Osaka Umeda. It will be open for a limited time this spring from March 11 to 25.

Chairoikoguma is a popular honey-loving bear character created by San-X who lives in the Honey Forest. This year marks the 5th anniversary since its debut.

In 2018 and 2019, San-X opened the limited-time Korilakkuma Meets Chairoikoguma Store which was hugely popular amongst Rilakkuma fans, with repeat buyers returning multiple times. Chairoikogumarché was originally scheduled to open at KIDDYLAND Osaka Umeda in April 2020, but it was postponed and will now open next month. Once they book their attendance, fans can look forward to laying their eyes on original Chairoikoguma artwork coupled with phrases spoken in the Kansai dialect. There will be exclusive items to purchase, merch pre-sales, bonus goodies, and more.

Merchandise Line-Up Excerpt

Charm Set | ¥1,320 (Tax Included)

Mask Case | ¥660 (Tax Included)

Pre-Sale Merchandise

Pre-Sale Release: March 11, 2021

*This product will be released for general sale at Rilakkuma Stores in Japan, excluding the Osaka Umeda branch, on March 13.

Chairoikogumarché & Nakayoshi Plush Toy (Sakuranokorisu) | ¥3,080 (Tax Included)

*Not available at Rilakkuma Store Umeda Osaka. Pre-sale exclusive to Chairoikogumarché.

*Will also be released on San-X's online shop.

Pre-Sale Release: March 11, 2021

*This product will be released for general sale at all Rilakkuma Stores in Japan on April 3, 2021.

Long Plush Pillow | ¥6,600 (Tax Included)

Mini Shoulder Bag | ¥5,500 (Tax Included)

*Will also be released on San-X's online shop.

Bonus Items

1. Customers who spend over ¥3,000 (tax included) at Chairoikogumarché will receive a random free zipper case from a possible two designs. First-come, first-served.

*One per person, per transaction. Design chosen randomly.

*Available while supplies last.

*Will be released at all Rilakkuma Stores except the Osaka Umeda branch on March 13.

2. Customers who spend over ¥5,000 (tax included) at Chairoikogumarché will receive a free tote bag. First-come, first-served.

*One per person, per transaction. Design chosen randomly.

*Available while supplies last.

©2021 SAN-X CO., LTD. ALL RIGHTS RESERVED.

Information

Chairoikogumarché

Running: March 11, 2021 – March 25, 2021

Where: KIDDYLAND Osaka Umeda

Address: Hankyu Sanbangai Floor B1F, 1-1-3 Shibata, Kita-ku, Osaka-shi, Osaka

Opening Hours: 10:00-20:00

*Opening hours subject to change

Event Page: https://www.kiddyland.co.jp/event/chairoikogumarche/

Hinamatsuri Festival Celebrated by Japan's Leading Cake Website For 2021

Japanese cake website Cake.jp is celebrating Japan's annual Hinamatsuri festival this year by stocking a range of themed cakes and sweets by famous confectionery stores in the country.

Hinamatsuri, also known as Doll's Day, is an annual Japanese festival to pray for the health and wellbeing of female children. Cake.jp has a very special line-up of around 100 sweet treats ready for enjoyment with cute motifs like unicorns and traditional Hinamatsuri dolls.

Hinamatsuri 2021: Hinamatsuri Unicorn

Hinamatsuri 2021: Hinamatsuri-Exclusive Chiffon Cakes

Hinamatsuri 2021: Yogurt Cake

Hinamatsuri 2021: Hinamatsuri-Exclusive Flower Cupcakes

This is just a select look at some of the delicious cakes on offer – visit Cake.jp to see the full line-up!

Rilakkuma Opens Official Fan Club

Fans of Rilakumma are in for a real treat as San-X, the company behind the internationally-beloved bear, opened the "Rilakkuma Tomonokai Official Fan Club" on Wednesday (February 10).

Plush Toy Set

Folder

Acryluc Key Ring

Signing up to the fan club means getting your hands on a range of merchandise from exclusive goods to new member items, a new wallpaper every month, access to the Rilakkuma Community, birthday mail, and more. Those who do sign up will receive a Rilakkuma plush toy and folder for free as thanks.

*Images are for illustrative purposes only. Size, colour, and design may vary from actual products.

©2021 SAN-X CO., LTD. ALL RIGHTS RESERVED.

Kaori's Easy Valentine's Recipe: Learn to Make Strawberry Milk Chocolate Pudding

With just a small bit of ingenuity, turn everyday food into something cute using Kaori's Easy Recipe! With a few simple ideas, an ordinary recipe magically transforms into a cute dish.

Today, I'll be showing you how to make Strawberry Milk Chocolate Pudding, a delicious recipe whipped up with love for Valentine's Day.

Ingredients

✩Ingredients For Chocolate Pudding
35g chocolate
300ml milk
30g-35g granulated salt
5g gelatine (dissolved in 1 tbsp water)

✩Ingredients For Strawberry Pudding
100g strawberries (fresh or frozen)
350ml milk
30g-35g granulated salt
5g gelatine (dissolved in 1 tbsp water)

Weck jars for the dessert.

1

First, we'll make the chocolate pudding.

Put the milk and granulated sugar into a pot and heat on the hob until the sugar melts. Turn the heat off, throw in the chocolate, and allow to fully melt. Once melted and the mixture is cooled, add the gelatine to dissolve.

2

Now, we'll make the strawberry pudding.

Put the milk and granulated sugar into a pot and heat on the hob until the sugar melts.

Add the mix to a blender with the strawberries and blitz. Add back onto the hob and heat through slightly. Allow the mixture to cool then add the gelatine to dissolve.

3

Once both mixtures are completely cooled, add them to the jars in an alternating pattern and chill until set.

⚠️Make sure the dessert is completely set and not runny before serving. About an hour each in the refrigerator should be sufficient.

Top with cream and strawberries and enjoy!

Kaori Kubota (@kaopan27)

I live in Hokkaido and I love to make character themed foods, desserts and pastries♡

I want to see my family smile, so I enjoy putting in a bit of effort to make character foods and changing food into something cute♡

You can see more of my character foods and character bento boxes on my Instagram page → @kaopan72

Cat Shaped Bread Releases at Neko Neko Shokupan For Hinamatsuri Festival

Neko Neko Shokupan is celebrating Japan's annual Hinamatsuri festival, also known as Doll's Day, by releasing a set of three limited-edition flavours of its popular cat-shaped bread. It is now available via their online store until March 3, 2021.

Strawberry / Plain / Matcha – ¥4,600 (Tax & Shipping Included)

Neko Neko Shokupan Hinamatsuri Strawberry

Neko Neko Shokupan Hinamatsuri Plain

Neko Neko Shokupan Hinamatsuri Matcha

Neko Neko House

The cute set includes pink-coloured strawberry, white-coloured plain, and green-coloured matcha breads which are available for delivery at addresses in Japan. They arrive in a cute house-shaped box.

Kaori's Easy Valentine's Recipe: Learn to Make Rilakkuma Hot Chocolate Sticks

With just a small bit of ingenuity, turn everyday food into something cute using Kaori's Easy Recipe! With a few simple ideas, an ordinary recipe magically transforms into a cute dish.

Today, I'll be showing you a simple recipe for Valentine's Day made with ingredients bought entirely from the 100 yen store Seria. I call it the "Rilakkuma Hot Chocolate Stick."

Ingredients

Square mould from Seria (makes six sticks)
1 bag of milk chocolates

1 bag of white chocolates

1 bag of dark chocolates

Toppings of your choice (I used caramel chocolate chips and walnuts)

1

Melt all the chocolates separately over a bain-marie.

2

Create layers with each chocolate type. Pick your first choice and pour into the mould and wait for it to set lightly before adding the next chocolate. For this recipe, I went ahead and added the chocolate a little before layers had finished setting to create a marbling effect.

✩I also added some strawberry chocolate I had left over from my Rilakkuma chocolates.

3

Once all your chocolate is in the mould, stick in some lollipops and add toppings of your choice making sure they don't overflow. This will ensure they set together with the chocolate.

4

Allow to set overnight and your chocolate stick is ready.

5

I made Rilakkuma chocolates from scratch and added those to the sticks to finish.

Kaori invites you into her world of character-themed food dishes in her recipe series. Be sure to check out her Instagram where she has uploaded many pictures of her character dishes!

Kaori Kubota (@kaopan27)

I live in Hokkaido and I love to make character themed foods, desserts and pastries♡

I want to see my family smile, so I enjoy putting in a bit of effort to make character foods and changing food into something cute♡

You can see more of my character foods and character bento boxes on my Instagram page → @kaopan72

Get Fit With These Cute New Rilakkuma Dumbbell Balls

Japanese company Mizuno released a new series of Rilakkuma dumbbell balls, the "Ballretch Rilakkuma," on its official online store and San-X's online shop last week.

About Ballretch

The Ballretch is part of Mizuno's series of at-home training equipment. First released in June 2019, the Ballretch is a ball weighted at 500g which can be used for easy weight training. The balls are all made from soft material so do not cause calluses often associated with weightlifting.

Ballretch Rilakkuma


Rilakkuma & Kiiroitori Set | ¥3,960


Chairoikoguma & Korilakkuma Set | ¥3,960

Pick between the Rilakkuma & Kiiroitori Set or Chairoikoguma & Korilakkuma Set for helping to encourage and cheer you on during training. They also double as cute room decorations.

If your New Year's Resolution for 2021 is to exercise and train more, then why not let Rilakkuma and co help you along?

©2020 San-X Co., Ltd. All Rights Reserved.

Netflix Series Rilakkuma and Kaoru Gets Exhibition in Tokyo

An exhibition for the popular stop-motion animation Netflix series Rilakkuma and Kaoru will run at SEIBU Ikebukuro in Tokyo from December 27, 2020 to January 5, 2021. Fans of the series can look forward to plunging themselves into its adorable world with recreated sets, statues, photo spots, limited-edition merchandise, and more.

Stop-motion sets and figures used in the animated series

The actual sets and set pieces used for the stop-motion animation will be exhibited at the event including Kaoru's apartment, Rilakkuma who looks like he's about to pop to life, and more.

Stop-motion animation behind-the-scenes

Catch a behind-the-scene glimpse of the efforts put into creating the series including early sketches, character reference, designs, and more.

Take a photo at Kaoru's apartment

Fans of the series won't want to miss out on a special photo spot recreating Kaoru's apartment with Rilakkuma and co waiting to greet you inside.

Over 500 pieces of limited-edition merchandise

Special Replica Plush Toy Korilakkuma With Serial Number | ¥25,300 (300 available in Japan / 200 elsewhere)

Kaoru's Album Post Card Set | ¥1,650

Plush Pouch | ¥2,200 Each

Fans can get their hands on a selection of exclusive limited-edition merchandise, including a replica Korilakkuma plush toy of which only 200 are available, each with its own unique serial number on the foot.

Bonus Items

Designs given randomly

For every ¥5,000 spent in one transaction (tax included), visitors can receive a free original bag. These are available to the first 200 people per day of the exhibition.

© 2020 San-X Co., Ltd. All Rights Reserved.

Information

Rilakkuma and Kaoru Exhibition
Running: December 27, 2020 – January 5, 2021

Location: SEIBU Ikebukuro Floor 7F
SEIBU Ikebukuro Official Website: https://www.sogo-seibu.jp/ikebukuro/

A Dream Collaboration Between Rilakkuma and Sumikko Gurashi Announced For Hirakata Park

Hirakata Park in Osaka has announced a special collaborative event with San-X's popular characters Rilakkuma and Sumikko Gurashi which will begin on March 6, 2021.

Park entrance

Rilakkuma and friends as well as the characters of Sumikko Gurashi will both have their own special pavilions raised at the park entrance. At the Rilakkuma tent, the cute bear and his comrades where will be showcasing their three fundamental elements that go into having a leisurely and relaxing time. Over at the Sumikko Gurashi tent, you'll get a peek into the lives of these cute characters which are known for their lifestyle of dwelling in the corner.

The event will welcome a range of original Rilakkuma and Sumikko Gurashi themed food and merchandise too.

©2020 San-X Co., Ltd. All Rights Reserved.

Information

Rilakkuma & Sumikko Gurashi Festival
Running: March 6, 2021 – June 27, 2020

Opening Hours: 10:00-17:00 (Last Entries 16:30)

Location: Hirakata Park Event Hall I

Enquiries 0570-016-855 (10:00-17:00)
Event Page: https://www.ntv.co.jp/rilakkuma-and-sumikko-fest/

Decorate With These Fabulous Rilakkuma Flower Boxes Made With Colourful Preserved Flowers

If you're looking to brighten up and kawaii-fy your room this holiday season, then you'll want to check out the new Goyururi Rilakkuma Flower collection which hit Okada Shokai's online shop on Thursday (December 10).

Goyururi Rilakkuma Flower is a collection of flower boxes made with a variety of colourfully preserved flowers like roses, showy baby's-breath, hydrangeas, carnations, and more, bunched together with Rilakkuma, Korilakkuma, Kiiroitori, and Chairoikoguma.

Goyururi Rilakkuma Flower: Rilakkuma / Korilakkuma / Kiiroitori / Chairoikoguma

Goyururi Rilakkuma Flower Box

The characters are made from a combination of petals to look like a picture. And since the flowers are preserved, no watering is needed, so your box will stay eternally cute.

The boxes come wrapped in candy-like wrapping too which makes them perfect as a gift.

©2020 San-X Co.,Ltd. All Rights Reserved.

Information

Goyururi Rilakkuma Flower
Pre-Orders: December 10, 2020 – December 17, 2020
Release Date: December 18, 2020
My peridot Official Website: http://myperidot.com/

Kaori's Easy Recipe: Learn to Make Banana and Black Tea Muffins

With just a small bit of ingenuity, turn everyday food into something cute using Kaori's Easy Recipe! With a few simple ideas, an ordinary recipe magically transforms into a cute dish.

Today, I'll be showing you a super simple dessert made using hotcake mix. I decorated the muffins with strawberries and a dusting of icing sugar to give them that Christmas feel.

Ingredients
1 bag of hotcake mix (150g)
1 large egg
20g sugar
25ml vegetable oil
30ml milk
2 ripe bananas
1 tbsp black tea leaves
*If you don't have loose black tea leaves you can use the leaves from inside of a black tea bag

1

Slice half of one banana for topping later. Mash the remaining one and a half in a bowl with a fork or potato masher.

2


In a different bowl, add all of the ingredients and mix together. Once mixed, add the mashed banana and mix again to combine.

3


Add the mix to muffin tins. The muffins will rise quite a bit so you may want to use less mix. Finish by adding the sliced bananas from Step 1 on top.
上に1でスライスしておいたバナナをトッピングする。

4
Bake at 180℃ on the middle shelf for 25 minutes.

5


Complete your muffins by dusting with icing sugar, fresh cream, and strawberries. I added a chocolate Hello Kitty on mine!

Kaori invites you into her world of character-themed food dishes in her recipe series. Be sure to check out her Instagram where she has uploaded many pictures of her character dishes!

Kaori Kubota (@kaopan27)

I live in Hokkaido and I love to make character themed foods, desserts and pastries♡

I want to see my family smile, so I enjoy putting in a bit of effort to make character foods and changing food into something cute♡

You can see more of my character foods and character bento boxes on my Instagram page → @kaopan72

New Stop-Motion Animated Series 'Rilakkuma's Theme Park Adventure' To Premiere on Netflix

Japanese character manufacturing company San-x has teamed up with TYO Group's animation studio dwarf studios to produce an original Netflix series called Rilakkuma's Theme Park Adventure.

The series is a follow-up to Rilakkuma's first ever stop-motion animated series Rilakkuma and Kaoru which premiered worldwide on Netflix in April 2019. The new series is also a stop-motion animation adventure.

The new series features Kaoru (voiced by Mikako Tabe), Rilakkuma, Korilakkuma and Kiiroitori who are all set for a fun-filled day at an amusement park. Join the gang as they face a number of exciting incidents and make some new encounters at closing time.  There are a total of eight episodes, each of which lasts approximately ten minutes.

The Rilakkuma and Kaoru series ranked at number two on Netflix's list of top 10 most watched shows of 2019 in Japan. The new series will be available to watch in over 190 countries worldwide.

Rilakkuma's fun adventures have only just begun so stay tuned!

©2020 SAN-X CO., LTD. ALL RIGHTS RESERVED